50+ Best WordPress Themes for Beginners 2024 (Free & Premium)
Whether you're new to WordPress or you're just looking for a theme that's easy to use, this collection of the best WordPress themes for beginners will provide you with plenty of options.
Becoming familiar with WordPress and learning how to publish content online can take time. Then there's installing the right plugins and choosing the best design for your new website to think about. A good place to start finding your feet is with our collection of tips for choosing your first WordPress theme!
Although WordPress does make it relatively easy to upload a theme and change the appearance of your website, some WordPress themes are easier to use than others. Due to this, we've created a collection of the best WordPress themes for beginners.
To qualify for a place in this collection, a theme but be either very easy to use or is supported by a good set of online documentation. Some of the best WordPress themes for beginners have simple designs and layouts that are easy to recreate on your own website. Other themes here might feature more complex configurations but have easy-to-use tools that automate the setup process.
If you've ever bought a WordPress theme in the past and been overwhelmed by its options and settings or you're new to WordPress and need a quick way to get started, this collection contains many themes that are perfect for WordPress beginners (along with our top tips for beginning with WordPress!)
5 Top Tips for Beginning With WordPress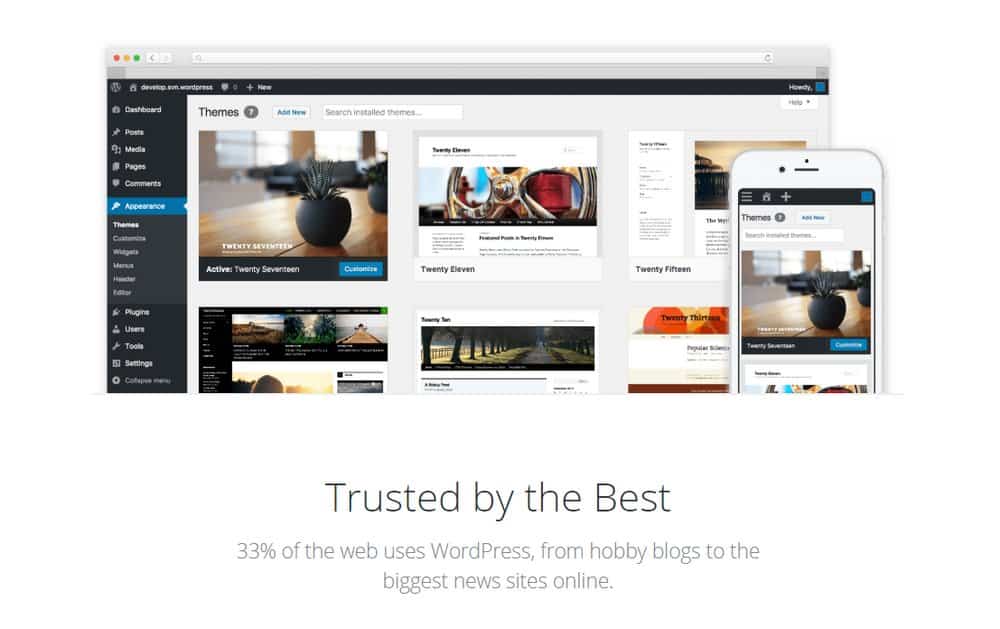 Setting up a WordPress website for the first time can feel a bit overwhelming since you have to make many important choices that determine the overall quality of your website.
Follow these tips to get a basic understand of the best choices you can make to create a more efficient and professional website.
1. Choose A WordPress-Optimized Web Hosting Provider
When making a new WordPress website, the first and the most important decision you'll have to make is to choose a web hosting provider to host your website. Often times, most people choose the cheapest option and end up with a terrible user experience.
WordPress is a software that performs better in an optimized environment. While a shared hosting plan is sufficient for making a WordPress website, using a managed WordPress hosting provider will allow you to supercharge your website by improving performance, protecting your site from hackers, daily backups, and much more.
Contrary to popular belief, managed WordPress hosting is not expensive. In fact, you can get a managed WordPress hosting account for the same price of a shared hosting plan from a platform like Siteground, which offers plans starting at $3.95 per month.
2. Try To Avoid Free WordPress Themes
There's nothing wrong about using a free WordPress theme. We get it. You want to cut down costs and stick to your budget. Although, there are a few things you should be aware of when using a free WordPress theme.
Outdated Designs: Most of the free themes available in WordPress directory feature outdated designs that especially look terrible on mobile devices.
Compatibility Issues: Free themes aren't always optimized to work with most third-party plugins. You'll often discover compatibility issues when trying to extend the functions of your website with plugins.
Used By Many Others: Free themes are always being used by thousands of other websites, including low-quality and scam websites. When you're using the same theme of a scam website, it will only hurt your reputation.
No Customer Support Or Updates: Premium themes provide you with unlimited updates to address the latest WordPress features and even offer customer support to customize the theme to your preference.
Keep in mind your website is an investment that will reward you well in the future. Don't cheap out when making a long-term investment.
3. Optimize Website For Fast Performance
Faster website loading speed is the key to making a professional website and getting higher rankings on Google. Optimizing your site for better performance will help you get an advantage over your competition as well.
Choose a lightweight and fast-loading theme
Install a caching plugin (eg: WP Super Cache)
Use a CDN (eg: Cloudflare)
Consider using Google AMP
Avoid installing too many plugins
4. Setup Analytics, Caching, and SEO
There are a few WordPress plugins and third-party services that you should consider using to make the most of your website and make sure it runs smoothly.
Setup Google Analytics: Google Analytics is a free service that allows you to collect important data about your website to learn how visitors interact with your website. Follow this guide to learn how to set it up.
Use A Caching Plugin: Install a caching plugin to speed up your website. If you're using Siteground hosting, you can use SG Optimizer to get more advanced caching options.
Install Yoast SEO: This plugin will help you optimize your website and all of its pages for Google to make pages rank well in search results.
5. Take Steps To Protect Your Website
Think of your website a piece of online property that you own. Much like how you build fences around your land, you also need to take necessary steps to protect your website from hackers and malware.
Be sure to setup an automatic backup system and install a security plugin to keep your website safe.