55+ Best Political WordPress Themes 2023 (Free & Premium)
WordPress is the perfect choice for creating a political website and with this collection of the best political WordPress themes, you'll have no trouble building a professional and stylish site for your project.
Thanks to the great options in this collection of the best political WordPress themes, you'll be able to create almost any type of political website in no time at all. Most of these themes include a selection of color schemes and prebuilt website demos, giving you plenty of flexibility when setting up your website.
Other popular features found in the best political WordPress themes include easy event management to help you promote upcoming events and flexible donate buttons that allow you to raise funds online. Some of these political WordPress themes give you the option of listing items for sale from your website such as campaign merchandise or other related products.
All of these political WordPress themes feature a mobile responsive design. This ensures that your website will look just as good on a small screen smartphone as it does on a full-sized desktop computer – something that's vital if you want to connect with today's busy voters.
Although WordPress is very flexible and most of these themes can be easily personalized to help you create a custom website, if you are short on time and need to get your website online as quickly as possible, look for a theme with a demo that closely matches your vision. Then creating your political website will simply be a case of importing the demo, adding your own custom content, and following our tips for building a political website.
5 Tips for Building a Political Website
Back when Barack Obama was running for the US presidency, he managed to raise a whopping $60 million in donations using his official website. If you need to convince your clients of the power of having a political website, be sure to use that as an example.
However, even Obama's website needed a bit of tweaking to get to that $60 million goals. In fact, it was accomplished thanks to A/B testing. Follow these simple tips to make sure that your political website also lives up to user expectations.
1. Include A Call To Action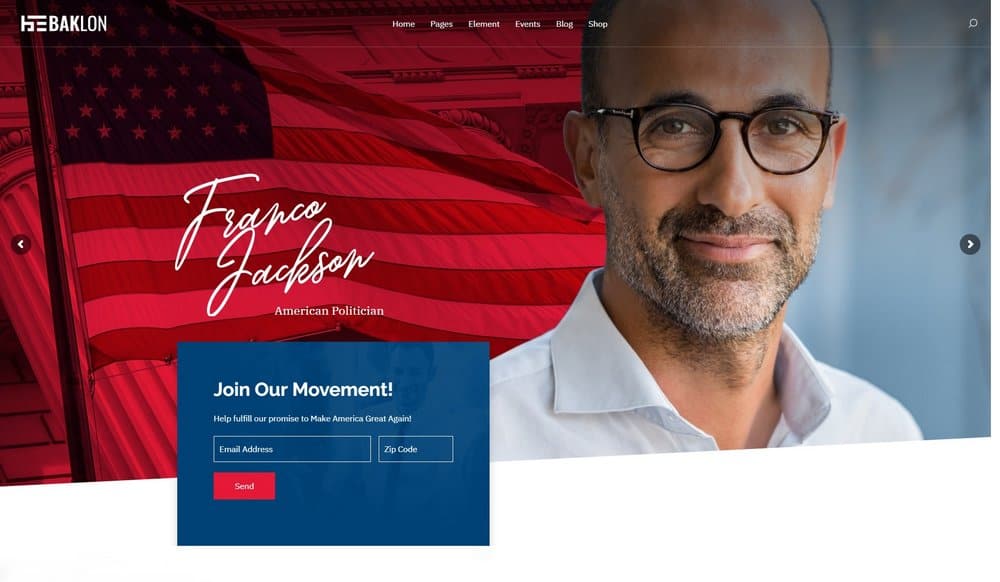 The header section is the most important part of a political website. Since its the first section your website visitors see you should utilize it in a way to not only introduce your candidate but also to encourage people to take action.
The best way to do that is to add a call to action section on the website. Whether your main goal is to generate more donations, get more people to sign up for your email list, or explain your vision for the future, use an effective call to action button or a signup form that catches visitor attention.
2. Showcase Your Vision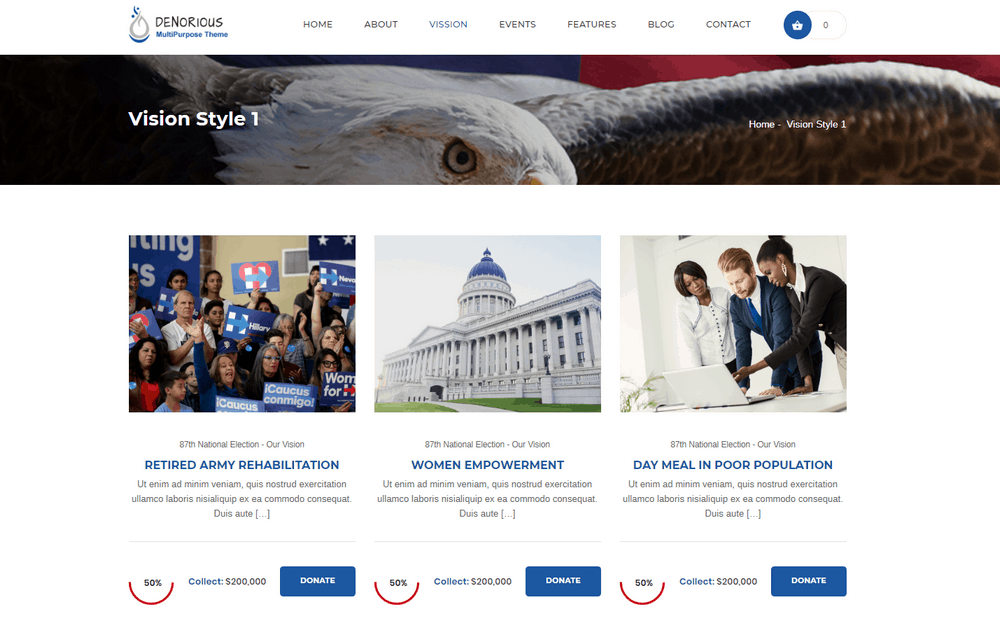 You can also use your website as a hub to showcase your entire vision for the campaign and show people what you have planned to improve the community and the economy after winning the election.
In this page, you can divide the page to a different section to describe your plans for each sector. Or, you can use a timeline to include a complete schedule on how you plan on accomplishing your goals.
3. Drive More Donations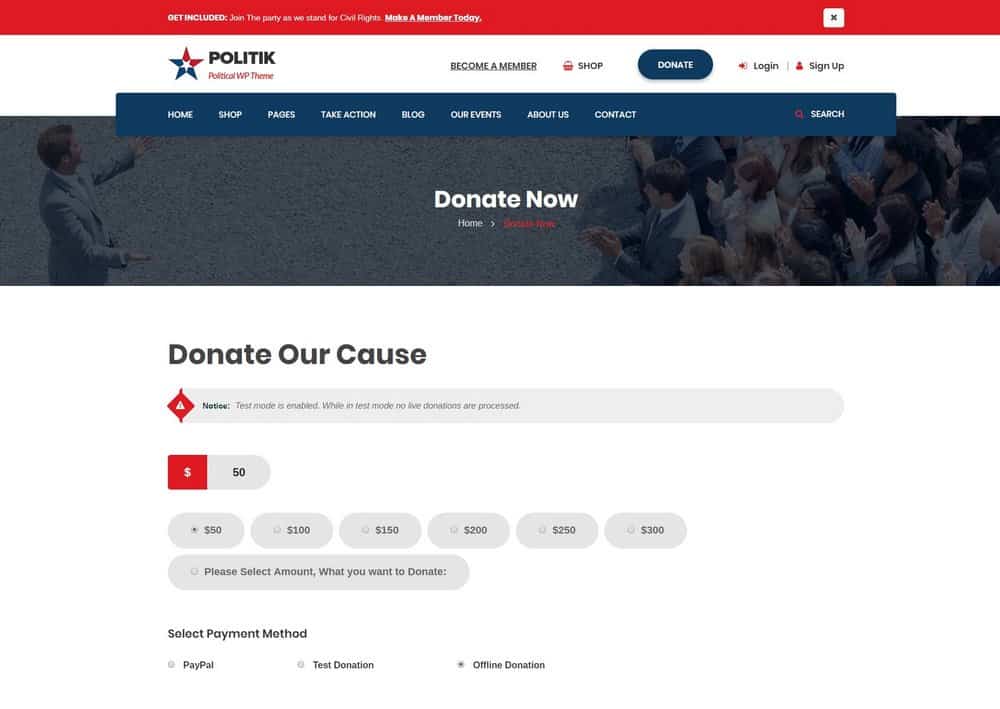 Gathering donations is another main benefit of having a political website. Thanks to WordPress plugins, you can easily set up a system to accept donations from your website all by yourself.
Make sure you pick a WordPress theme that supports popular donation plugins and payment gateway options for easily setting up a way to process payments online.
4. Add An Events Page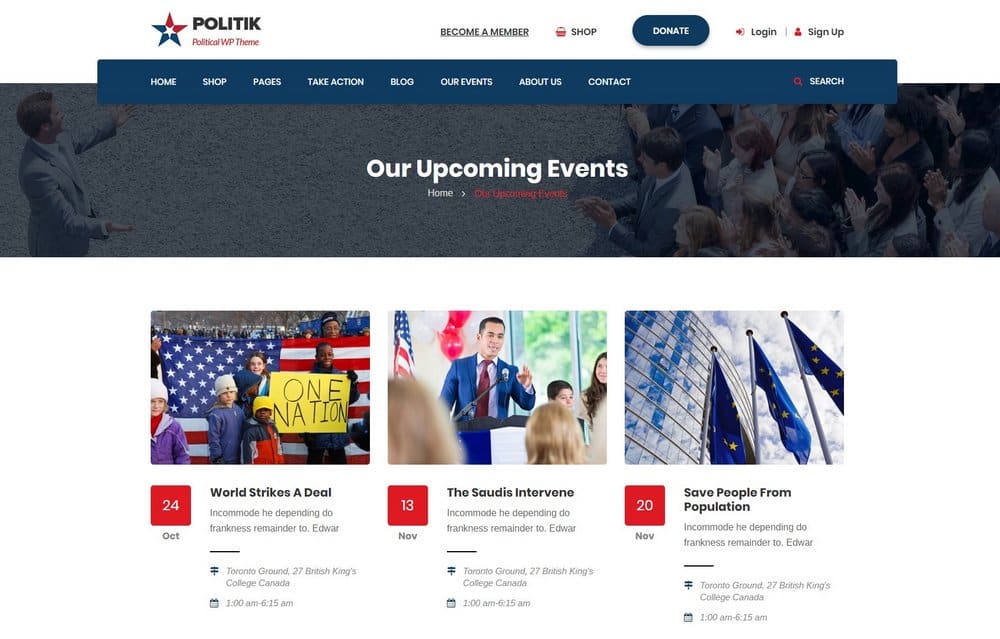 It's also important to showcase your public appearances on your website to get more people to visit your special events to support you no matter where you go. Having an events page on your website with the complete schedule will help you promote your upcoming events to your followers.
5. Sell Merchandise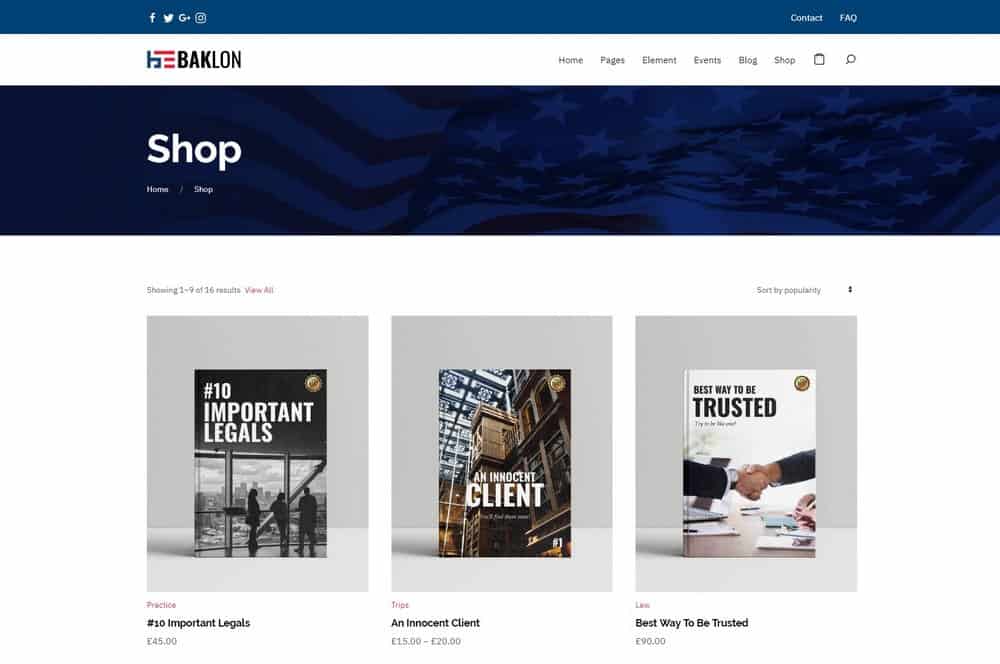 Another great way to raise funds and to promote your slogans for your campaign is to sell merchandise through your website. Donald Trump took advantage of this strategy by selling his Make America Great Again merchandise through his official website to raise millions for the campaign.
Pick a WordPress theme that supports eCommerce plugins such as WooCommerce and you'll be able to set up an online shop on your website to sell your own merchandise as well.