7 Best WordPress Video Background Plugins in 2021
Videos are an effective way of increasing engagement and boosting sales on websites. According to a report, landing pages with videos performs 80% better than pages without videos. So why not use a video as your website or landing page background?
For this guide, we handpicked a collection of video background WordPress plugins. You can use them to easily add a video background to your website homepage or landing page with just a few clicks.
We made sure to include both free and premium options in the list. Have a look.
What is a Video Background Plugin?
Video background plugins are an easy and cost-effective way to add a video as the background of your website header or landing page.
Instead of using static backgrounds, video backgrounds can be used to attract the attention of the user and showcase some cool features of your product at the same time.
With a video background plugin, you can easily set a YouTube, Vimeo, or even self-hosted video as the website background. Without having to write code or manually edit the theme code. You won't even have to hire a designer to do it for you. Setting up the plugin is very easy and you can add the background using a simple shortcode or a Gutenberg block.
Top Video Background WordPress Plugins
There are a few great plugins you can use to add a video background to your website. These are some of the best and most affordable of them all.
Before we get to the plugins, it's important to know that these plugins may not work well with some WordPress themes, especially older themes. Contact the theme developer to make sure the plugins are compatible with the design. Or upgrade to a video background WordPress theme instead.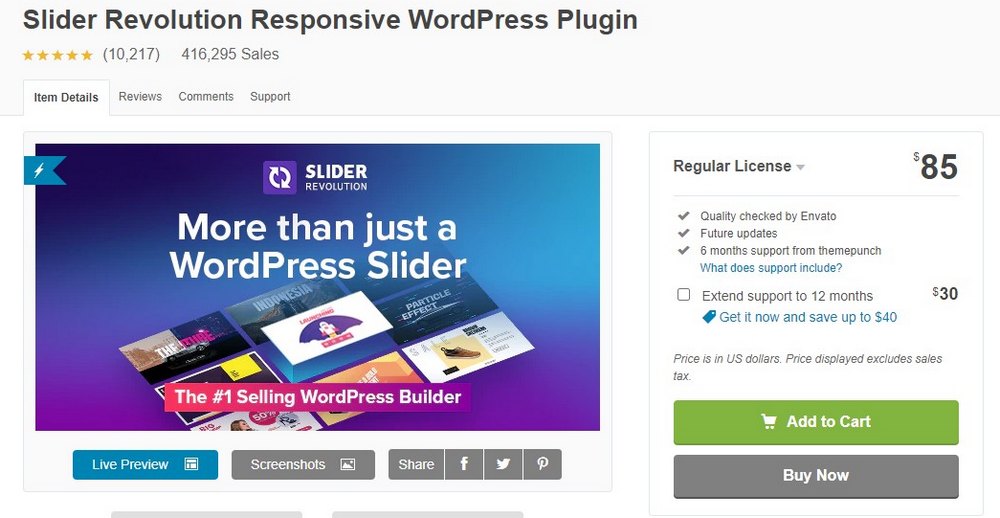 Slider Revolution is a very popular plugin that allows you to create beautiful and professional website headers with slideshows and carousels. The plugin can also be used to create hero sections and landing pages with video backgrounds as well.
We wanted to give special attention to this plugin for its versatility and ease of use. Using Slider Revolution, you can not only create websites with video backgrounds but also make professional sliders with attractive special effects.
Slider Revolution also features an easy-to-use visual editor for creating hero sections and landing pages. The drag and drop interface makes it effortless for crafting unique designs and adding video backgrounds.
Best Features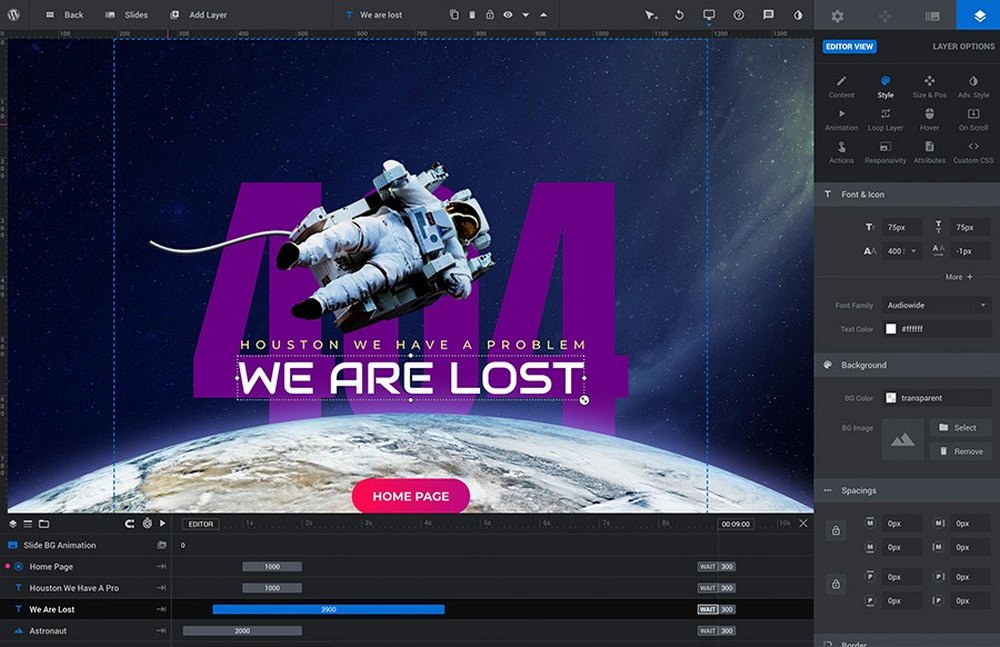 Design headers, hero sections, and websites with video backgrounds
Use the visual editor with drag and drop to easily craft designs
Choose from over 200 pre-made templates
Add special effects, forms, and call-to-actions to your headers
Total freedom to customize and create designs however you like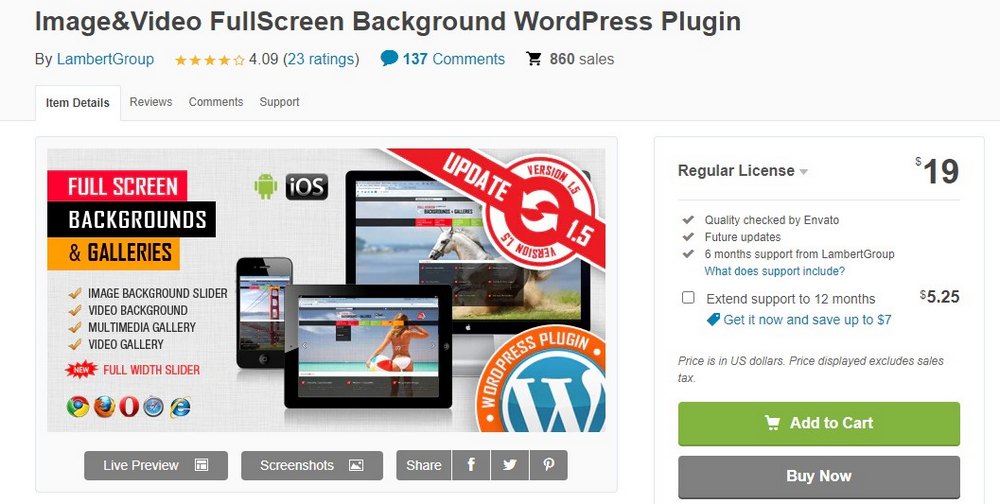 If you're looking for a simple plugin to add just a video background to your website and nothing else, this plugin is perfect for you. Fullscreen Video Background is a plugin that just does what it says in the name. It allows you to add a video background to your website pages.
Using the plugin, you can add a video background to any page or post on your WordPress websites using a shortcode. It's a very easy process and there's a video tutorial on how it's done as well.
This plugin supports both self-hosted videos and videos from third-party platforms, including YouTube and Vimeo.
Best Features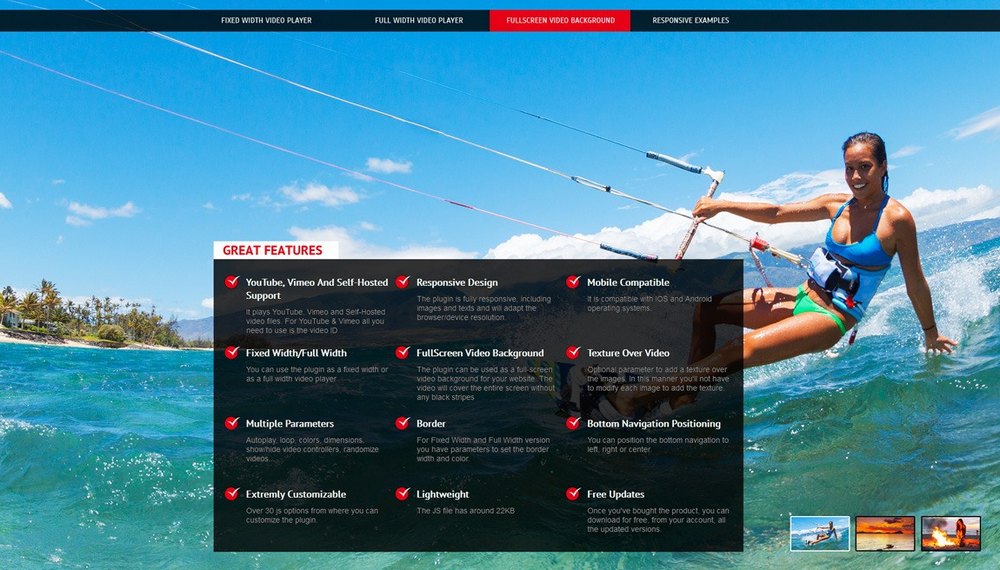 Easily add video backgrounds to any page or post
Supports YouTube, Vimeo, and self-hosted videos
Also includes an HTML5 video player with 30 customizable parameters
Fully compatible with mobile devices
Ability to create fixed-width and fullscreen backgrounds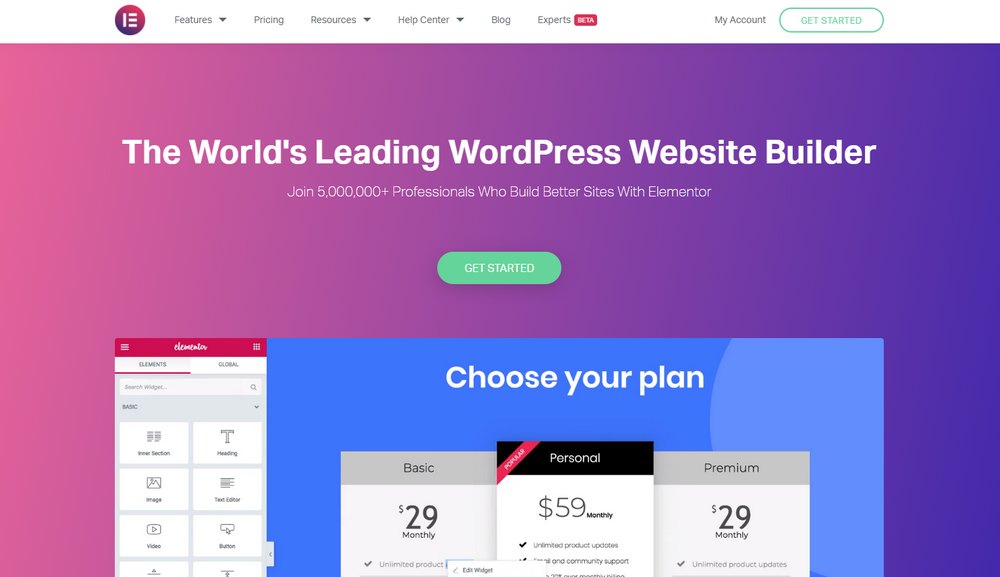 Elementor is one of the most popular page builder plugins available on WordPress. You can use it to create landing pages, email optin pages, or even entire WordPress themes using template kits. It also lets you create designs with video backgrounds.
While you can't use Elementor to add a video background to any page or post on your website, it can be used to create unique landing pages or homepage layouts with video backgrounds. This video tutorial shows you how it's done.
It's arguably the best free option for adding a professional-looking video background to your landing pages or homepage.
Best Features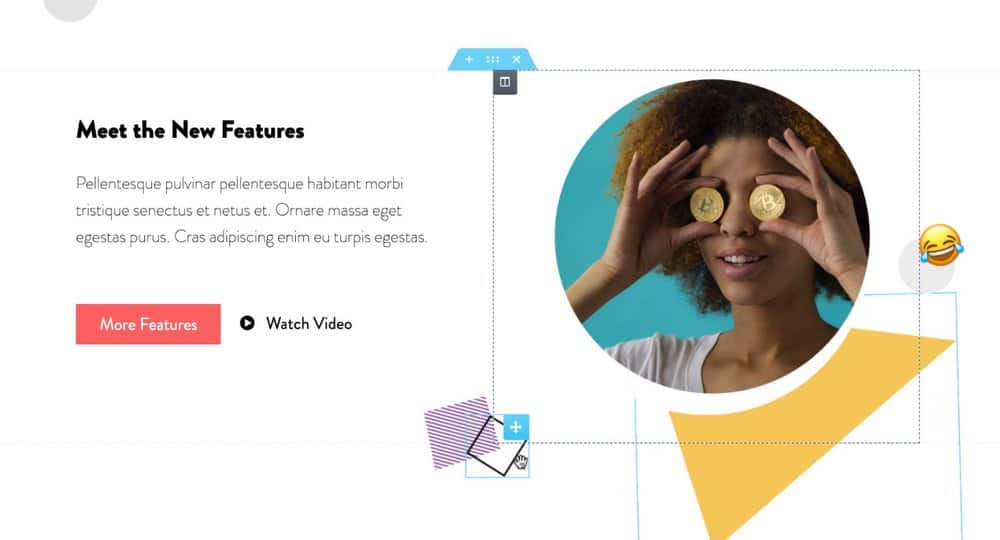 Create landing pages and website homepages with video backgrounds
Choose from pre-made templates to create page designs
Craft and customize your designs using easy to use drag and drop live editor
Generous free plan with lots of content blocks and widgets
Supports YouTube, Vimeo, and self-hosted videos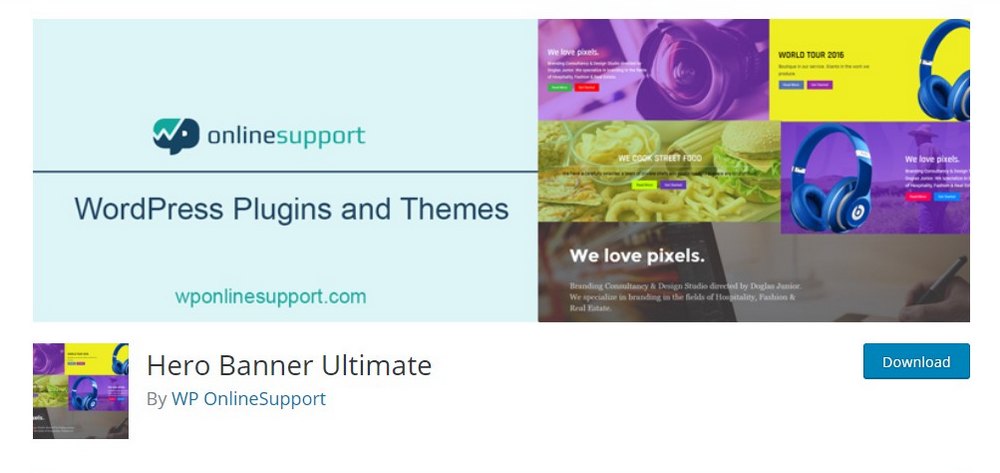 Hero Banner Ultimate is a great free plugin you can use to add a hero section with a video background to your website. It also includes a Gutenberg block that lets you add content blocks in pages with video backgrounds.
This plugin lets you choose from 3 different types of background designs, including image, color, and video. The plugin also features hero layouts where you can add a title, CTA buttons, and images.
The premium version of the plugin includes more layouts, gradient color backgrounds, and other customization options.
Best Features

Create a simple hero or header section with video, image, or color backgrounds
Add call to actions, buttons, and links to your header section
Use the Gutenberg block or shortcodes to add the video background
Settings for making mobile-friendly designs (pro)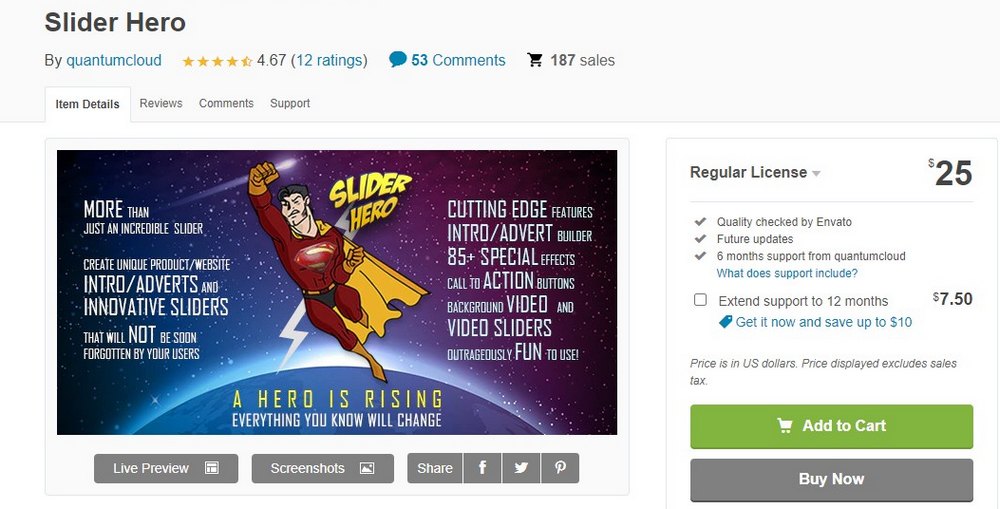 Slider Hero is a premium plugin for designing headers and hero sections for websites. You can use it to create hero sections with video backgrounds as well as video sliders.
This plugin features slightly more advanced features. Creating backgrounds and sliders can also be a bit complex. So it's more suitable for experienced WordPress users.
However, Slider Hero offers lots of customization options, visual effects, in-and-out animations, call-to-action sections, and much more. It's also compatible with page builder plugins and Gutenberg editor.
Best Features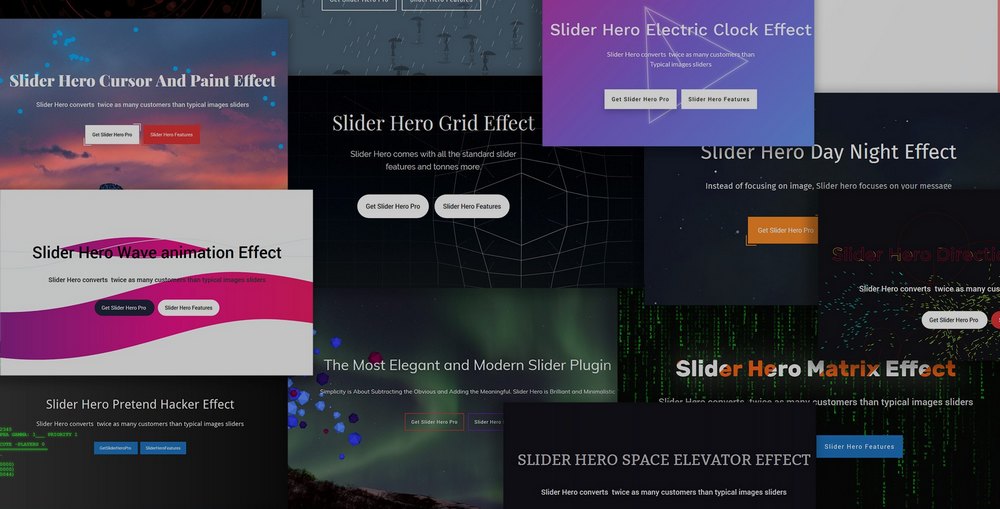 Create advanced headers and hero sections with video content and backgrounds
Supports YouTube, Vimeo, and self-hosted videos
Create video sliders with CTAs, links, and product promotions
Choose from over 80 special effects and lots of customization options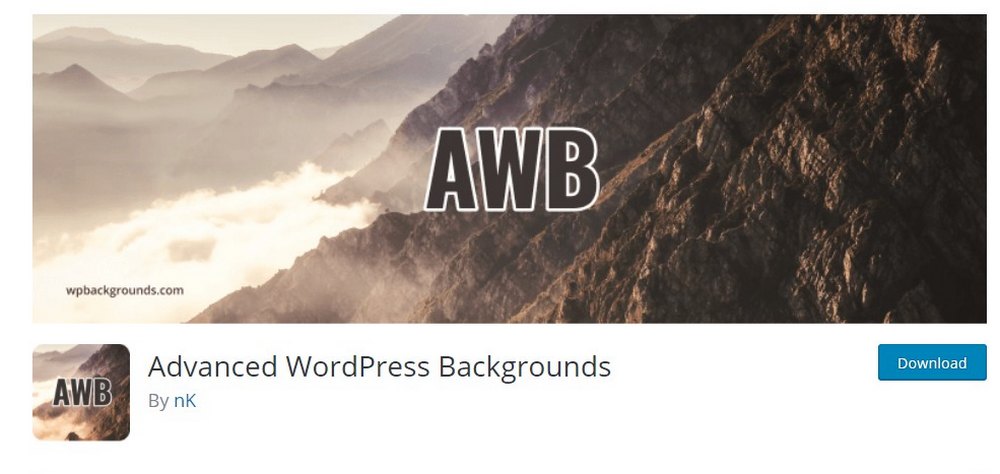 This free plugin helps you add parallax-style video backgrounds to your page designs using either self-hosted video or YouTube videos. The plugin is easy to use and supports Gutenberg block editor and WPBakery Page Builder as well.
In addition to video backgrounds, the plugin also includes image and color background styles. You can also choose from multiple parallax scrolling effects to make your designs look modern.
This plugin is most suitable for adding video backgrounds to your in-page content blocks. Especially for pages you craft with the WordPress block editor.
Best Features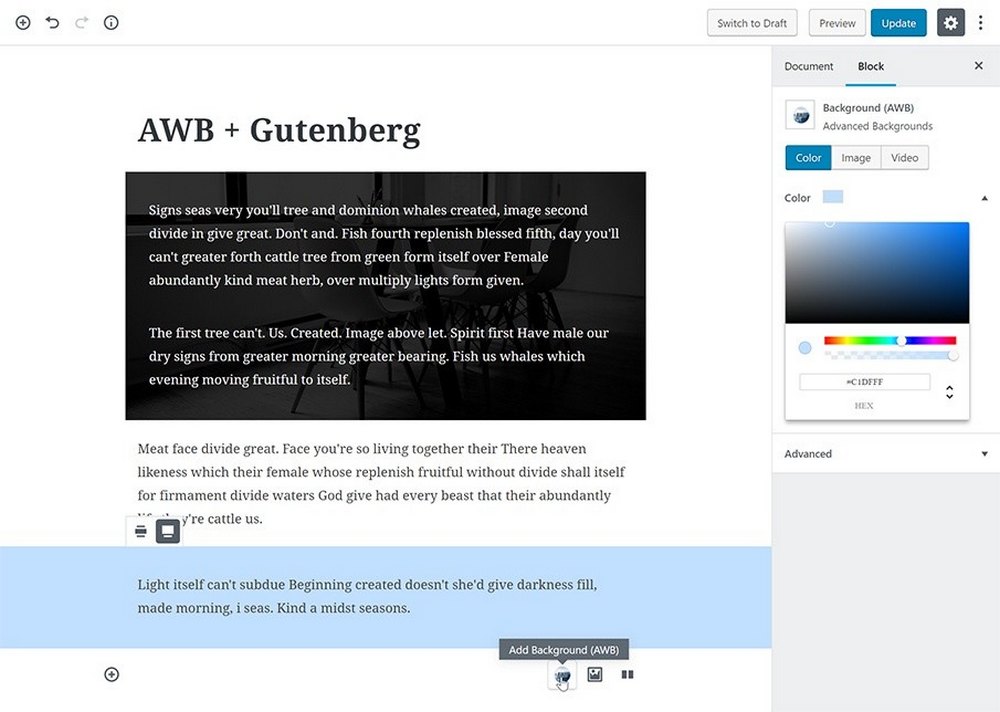 Add video backgrounds to content in your page designs
Supports YouTube, Vimeo, and self-hosted videos
Compatible with WPBakery page builder and Gutenberg block editor
Choose from video, color, image, and pattern background styles
Add stylish parallax scrolling effects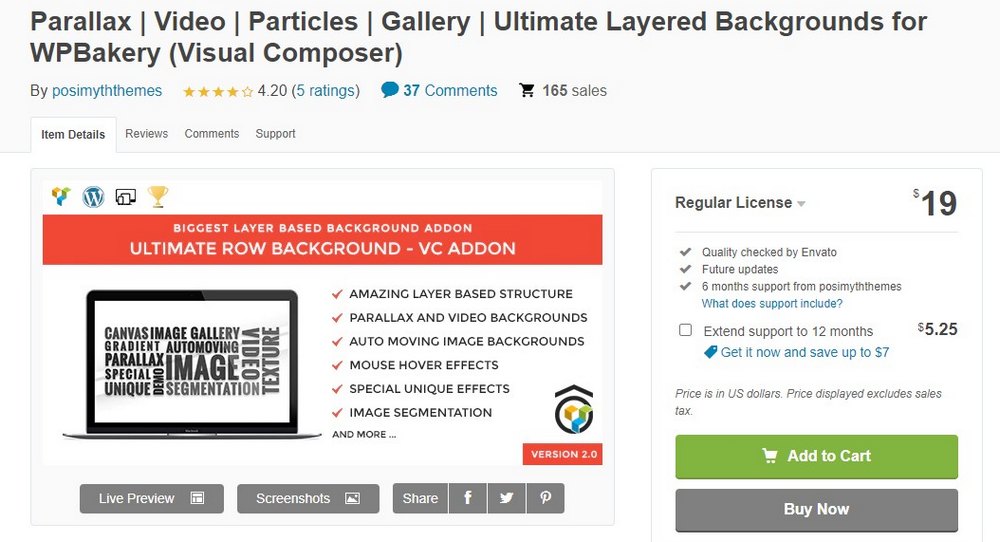 If you're using a WordPress theme made with WPBakery page builder (Visual Composer) or if you already have the page builder plugin installed on your website, use this plugin to easily add layered video backgrounds to your page designs.
Ultimate Layered Backgrounds is an add-on plugin for WPBakery page builder. It basically adds additional features to the page builder to let you add video background sections with layers.
For example, if you want to add a call-to-action section with a video background, this plugin will help you craft it with multiple layers by adding a transparent gradient layer on top of the video background with effects and animations.
Best Features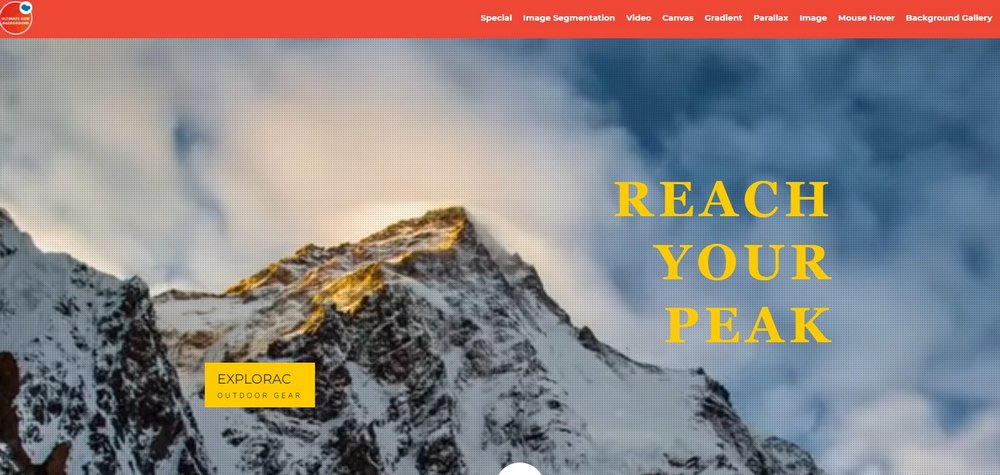 Create sophisticated video backgrounds with multiple layers
Customize with your own effects, animations, and layer styles
Fully responsive and compatible with mobile devices
Lightweight design offers faster page loading times
Which WordPress Video Background Plugin is Best?
If you're an experienced WordPress user or a web designer, use the Slider Revolution plugin. It will allow you to create more professional and stylish headers and landing pages with stunning visual effects as well as video backgrounds.
For beginners, the Fullscreen Video Background plugin is a more suitable choice as it features a simplified setup process.
Good free alternatives are Elementor and the Hero Banner Ultimate plugins.
Make sure to use a plugin depending on your needs. If you plan on building multiple landing pages with video backgrounds, it's better to use a plugin that comes with more effects.
If you're in the market for a new theme, be sure to check out our exclusive WordPress themes bundle. It includes over 60 premium themes for the price of one.
Looking for WordPress hosting? We use Kinsta. They offer world-class WordPress hosting, built to keep your website fast, secure, and always online.