5 Best Wix Alternatives Compared 2023
Whenever you search for a website builder, Wix is a platform that always pops up on top of the list. Wix is one of the most popular website builders out there, and for good reason as well.
Wix is easy to use, has a fluid drag and drop editor, and it's very developer-friendly. However, there are a few downsides to using Wix as well.
Wix offers a very limited collection of themes to choose from. This makes it very difficult to build websites that look unique. Optimizing a Wix website for SEO can also be quite painful. And the list goes on.
If any of these limitations made you feel frustrated with Wix and want to find a Wix alternative, you've come to the right place.
Here, we compare some of the top website builders you can use to setup a website way better than Wix. Without further ado, let's dive in.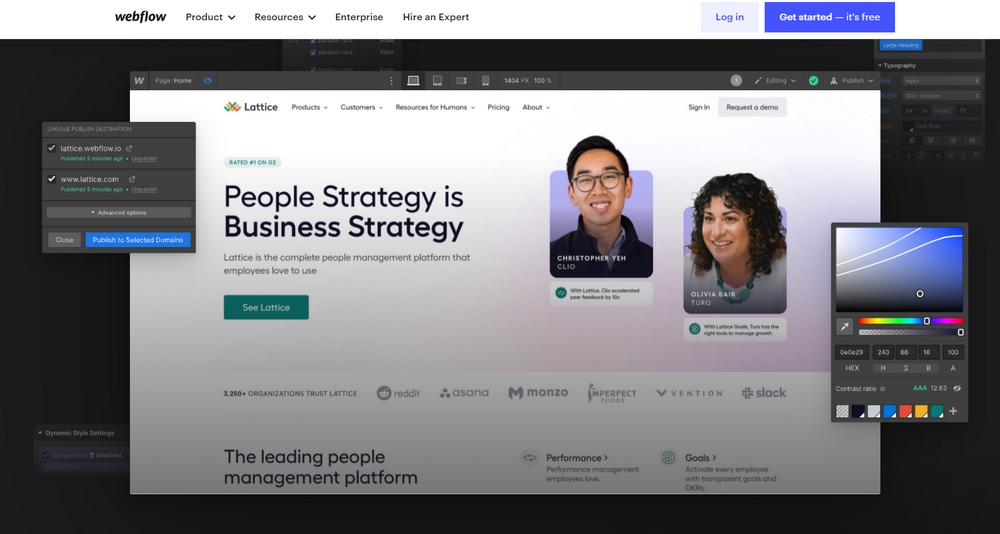 Webflow is a website builder platform that's been around for many years. With its continuous improvements and recent updates, Webflow is now a top choice among web designers.
It's safe to think of Webflow as the next generation of website builders. Webflow offers some amazing features unlike any other website builder out there. The innovative animations and interaction design systems alone make Webflow worth ranking at top of the list.
Webflow also has a built-in content management system (CMS), similar to WordPress, that lets you manage your content better after setting up the website.
If you're a beginner, you can build websites quite easily with Webflow. If you have some experience in web design, you can build complex websites with unique designs, without any coding, of course.
Main Features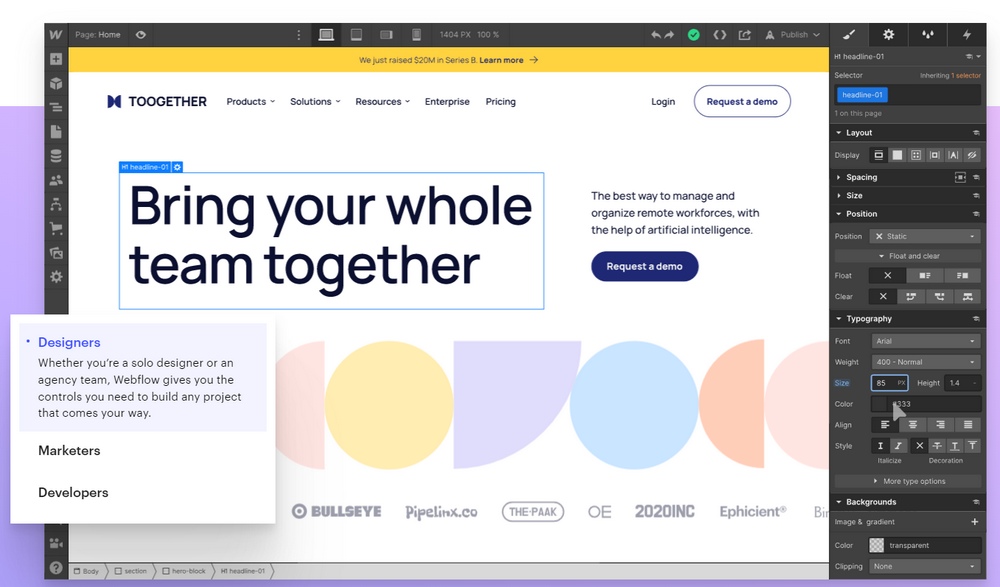 Building websites is easier with the beginner-friendly WYSIWYG builder
Lets you add animations and interactive objects to wow your visitors
Supports third-party custom themes, hundreds of designs to choose from
Developers have more freedom to customize designs however they like
Built-in CMS makes it easier to create and manage content
Pricing
Webflow is a bit pricier than other website builders. It offers a free plan for testing the platform and you can publish a website for free on a subdomain. For more features, you'll need a premium subscription.
Webflow pricing plans start at $12 per month, $16 per month, and $36 per month. They allow you to generate 25k, 100k, and 500k website visitors per month.
In addition, you are also limited to keeping your website under 100 pages.
Who Should Use Webflow
The limits on monthly visits and page count are two of the biggest reasons to avoid Webflow. It's especially not suitable for making online stores, blogs, and magazines.
Other than that, the platform is great for building business websites, product landing pages, portfolios, and one-page websites.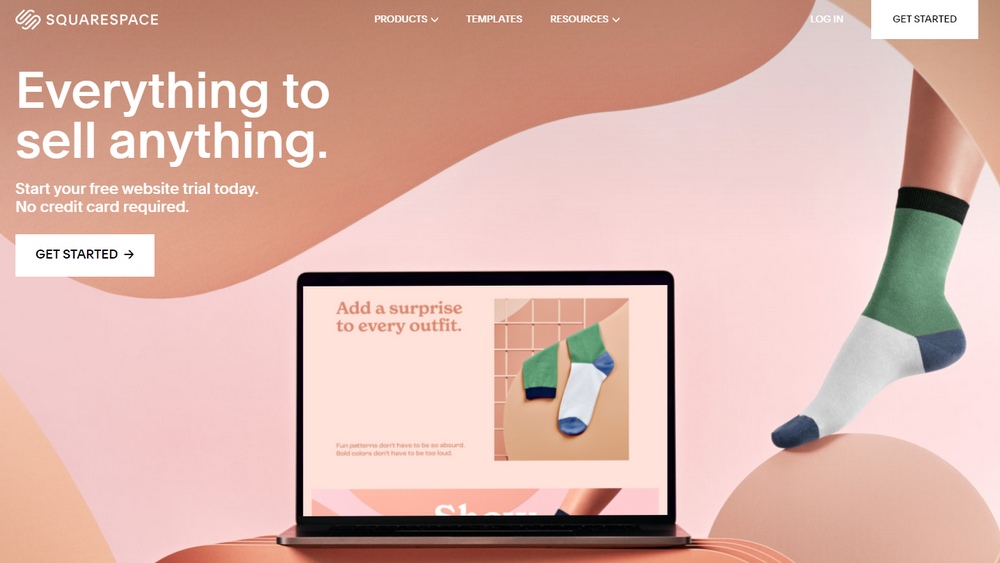 Wix and Squarespace have a long-running competition between the platforms. They are both similar in many ways and offer pretty much the same features.
Similar to Wix, Squarespace also has a limited collection of themes and doesn't support custom themes from third-party marketplaces.
But, Squarespace offers simpler solutions for building eCommerce websites as well as blogs. It also has built-in email marketing tools.
Unlike Webflow, Squarespace lets you make websites with up to 1,000 pages. And there's no limit for blog pages as well.
Main Features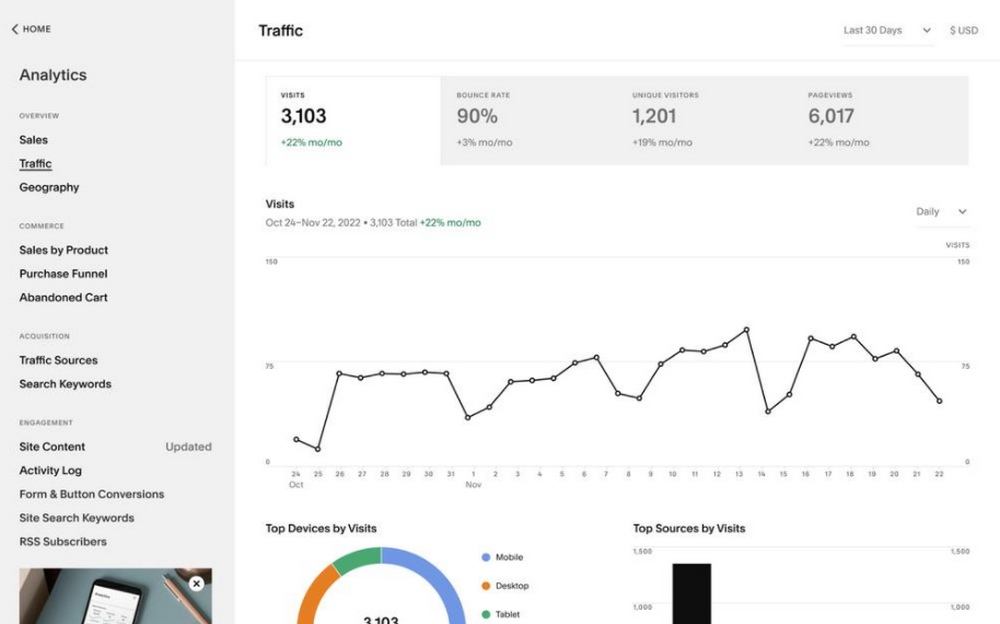 Easy to use website builder is very beginner-friendly
Gives you unlimited bandwidth and space to build websites of any size
Built-in email marketing and social media integrations for promoting your website
Offers eCommerce tools for making niche online stores
Built-in analytics helps you keep track of website growth
Pricing
Squarespace does not offer a free plan. So you'll have to jump straight into a premium plan to use the platform.
Pricing plans start at $12 per month, $18 per month, $26 per month, and $40 per month. The main differences between plans are access to marketing tools, the number of contributors you can have, and eCommerce features.
Who Should Use Squarespace
Even with its many features, Squarespace is still limited in many ways. So it's not suitable for making big sites such as online marketplaces or magazine websites.
It's best for portfolio websites, agencies, small businesses, and niche online stores.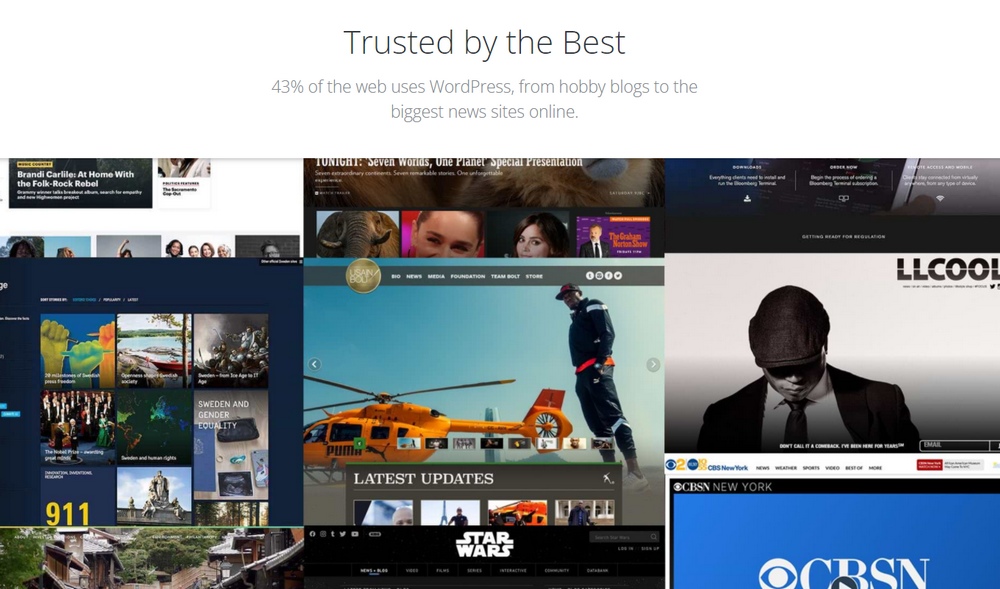 WordPress is the most popular content management software (CMS) in the world. It's being used by more than 43% of the websites on the Internet.
BBC, Bloomberg, Rolling Stone, and even the Swedish government website are built with WordPress. That's how powerful this software can be.
When using WordPress, you don't have to worry about any of the limitations of using a website builder. You can customize your site with custom themes, add as many pages as you like, add more features and functions with plugins, and basically build any type of website you want.
WordPress lets you build websites on your own terms. You can publish content without having to worry about getting banned or having to abide by any rules.
Setting up a website with WordPress, however, is not as easy as using Wix or Squarespace. It involves a little bit of work. But it's not that difficult.
Main Features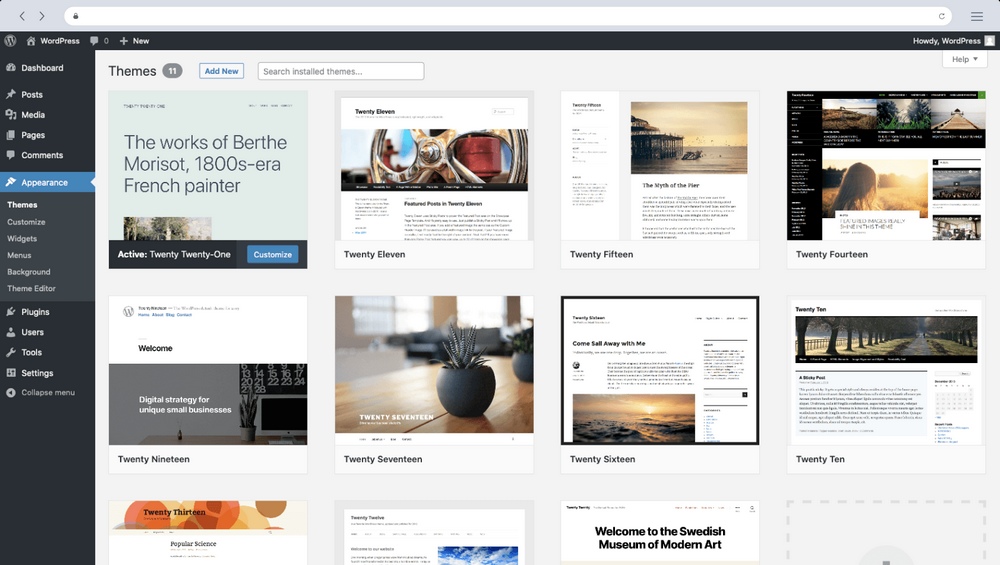 Let's you build and self-host websites on your own terms
You can choose from thousands of theme designs from third-party marketplaces
Add various features and functions with thousands of plugins
There's no better solution for website SEO than WordPress
Have the freedom to build websites of any size
Pricing
While WordPress software itself is free to use, you do have to buy a domain name and web hosting to setup your website.
Pricing for web hosting differs from one platform to another. You could find cheap hosting for as low as $2 per month or more beneficial hosting for around $30 per month. It depends on what type of website you're building.
Who Should Use WordPress
WordPress requires a bit of a learning curve, which can be remedied by watching a couple of YouTube tutorials.
Other than that, WordPress is the perfect solution for building any type of website. Whether it's a small personal blog, online magazine, or a massive Amazon-like marketplace, WordPress can handle any type of website.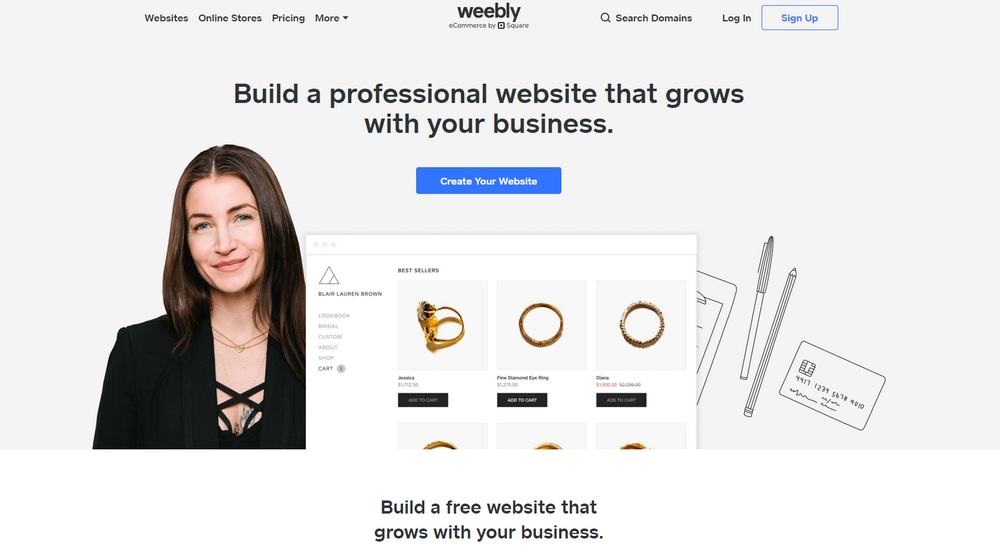 Weebly is another popular website builder that includes similar features to Wix and Squarespace. It offers a forever free plan and affordable pricing plans for building basic websites.
In comparison, Weebly is not as innovative as Squarespace or Webflow. The website builder offers a decent experience with drag and drop editing. But when it comes to customizability, it falls behind.
Weebly was acquired by Square in 2018. Since then, the platform shifted to focus on offering a more eCommerce-centric solution. So the platform is now much more suitable for building online stores, especially with Square integration.
Main Features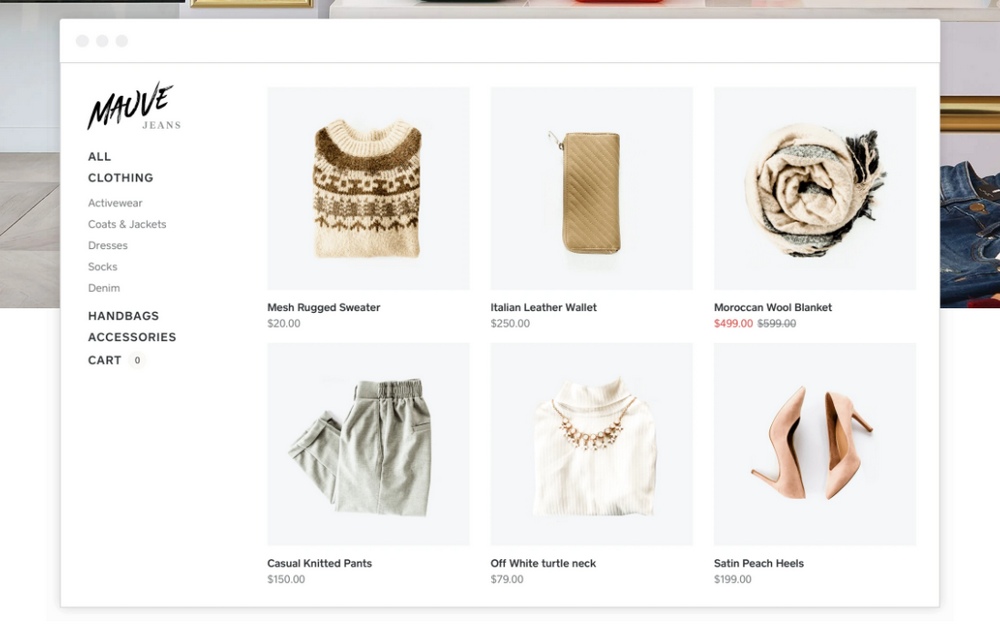 Offers a simpler and beginner-friendly experience for building basic websites
The drag and drop editor is very easy to learn and use
Offers eCommerce solutions with Square integration for setting up online stores
Includes built-in email marketing solutions
Pricing
Weebly offers a free-forever plan where you can publish a website on a subdomain. It also has very affordable premium plans.
The $5 a month plan lets you connect a domain name to your website. $12 a month plan gives you unlimited space, eCommerce tools, and lets you remove Weebly ads. The $25 per month plan gives you even more customization options for online stores.
Who Should Use Weebly
Weebly is most suitable for building small business websites and niche online stores. It's also great for portfolio websites.
Although you should avoid using it for building blogs and magazines due to its limited SEO capabilities and the lack of custom theme designs.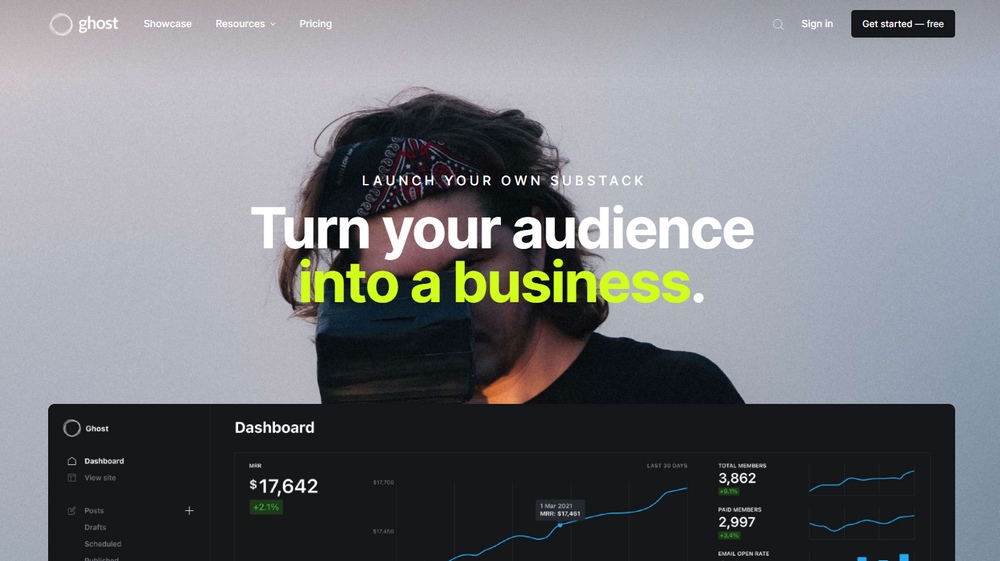 Ghost is not exactly a website builder but we wanted to feature it in the list for all the great benefits that come with it.
If you're thinking of building a blog or a membership platform, you'll find plenty of useful features with Ghost.
Ghost is known as a simple blogging platform, especially for its minimal and clean CMS. But the platform has grown so much over the years it's now much bigger than just a blogging tool.
You can now use Ghost to build a blog, easily manage your content, create an email newsletter, and build a community with paid memberships, all from the same platform.
Main Features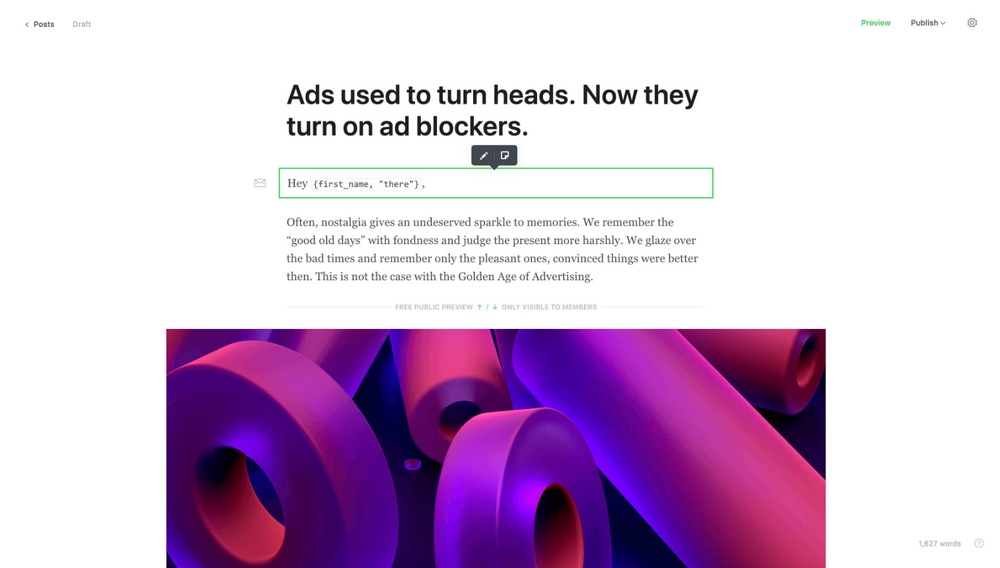 Create a blog, write articles, and manage content better with a minimal interface
Setup and send email newsletters to grow your community
Create gated content exclusively for your paid members
Choose from hundreds of custom theme designs
Integrations with hundreds of third-party apps
Pricing
Similar to WordPress, you can use Ghost software for free and build a self-hosted website on a third-party web hosting platform. Or you can use Ghost Pro, the service offered by the official Ghost developers.
Pricing for Ghost Pro starts at $9 per month, which is enough for making a blog with 500 members. The price increases as you grow your community based on the number of members you host.
Who Should Use Ghost
Ghost is perfect for content creators, writers, authors, and professionals who want to build a membership platform and grow an audience of their own.
Of course, it's not capable of building online stores or business websites.
Which Wix Alternative Is Best?
It's difficult to pick the best platform since each has its own pros and cons. As well as limitations. So it depends on your needs, requirements, and the level of experience you have with making websites.
If you're new to making websites, you can stick with a website builder like Squarespace or Webflow. Otherwise, you can never go wrong with WordPress.
Sure, building a website with WordPress requires a bit more work. But, once you have the site up and running, you'll have all the freedom to expand and build the website you dream of.
To learn more, you can read our Wix vs WordPress guide for a much detailed comparison.