How To Delete or Unpublish a Wix Website (Step by Step Guide)
Wix is one of the best platforms for building websites. The platform is not only easy to use but also lets you create unlimited sites, even with its free plan.
It's easy to get carried away and create dozens of unnecessary websites and create a whole mess in your Wix account. So in this guide, we'll help you clean up your account by getting rid of some of the websites.
We'll walk you through the process of deleting a website from your Wix account. As well as how to unpublish a site and cancel your Wix account.
Let's get started.
How to Edit Your Wix Website
Before we start deleting websites, let's figure out how to edit an existing Wix site. Because there's really no need to delete a website just because you've accidentally deleted a section on your website or want to change the theme. You can easily edit and customize the site using the Wix editor.
Here's how it's done.
Step 1: Select the Website
Start by selecting the website you want to edit.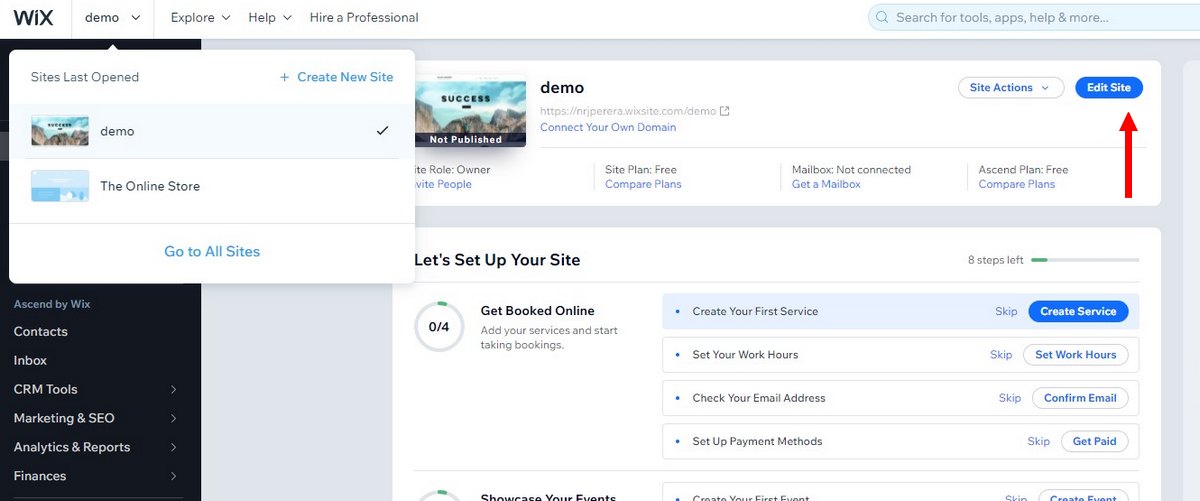 Click on the site selection drop-down menu at the top to find all the websites you've created in your account. Once you've selected a site, click on the Edit Site button on the dashboard to start editing.
Step 2: Edit Using Wix Website Editor
Once you're on the Wix Website Editor, you can easily edit the site layouts, add pages, change colors, fonts, and so much more using the visual editor.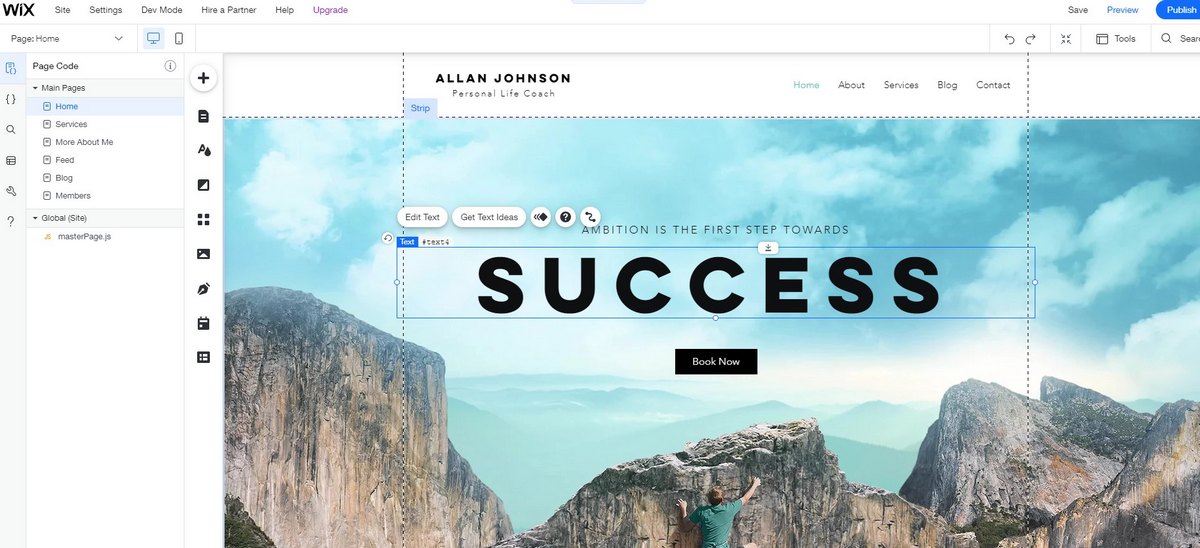 Simply click on any element or section on your website and the editing options will pop up. Make any changes and hit the Publish button. It's that simple.
Step 3: Add Your Own Code
Did you know that you can also add your own code to your Wix websites?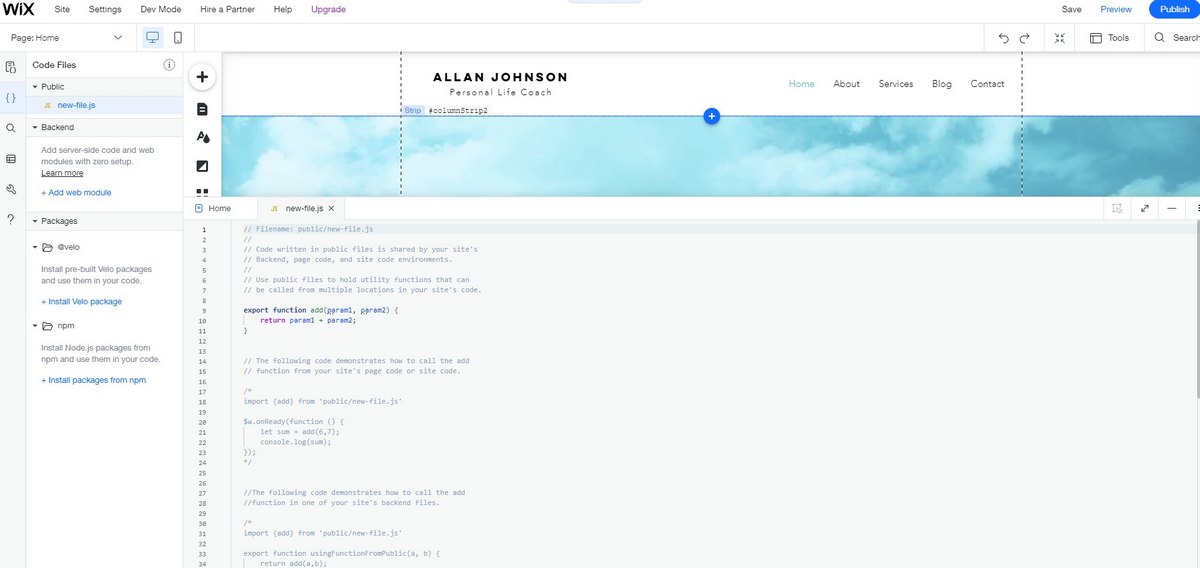 With the Wix Code Files section, you can add various code scripts to the front-end side as well as back-end server-side code. This is something for experienced web developers to experiment with.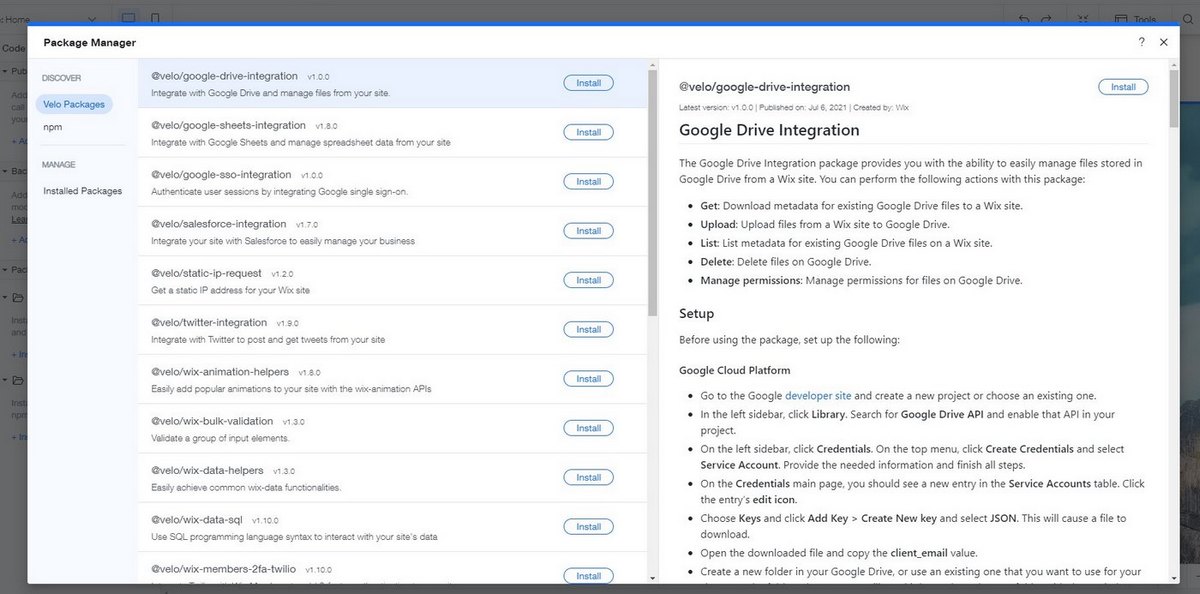 However, with Velo packages, you can add pre-made code scripts with just a few clicks. Like for adding Google Drive or Zapier integrations.
How to Unpublish a Wix Site
Before deleting your website, consider unpublishing it. With this option, you can take your website offline so that the public can't see it. But you'll still be able to edit and work on your website.
Step 1: Select Your Website
First, select the website you want to unpublish.
Use the drop-down menu at the top to choose the website. Or use the Go to All Sites option to access your website collection.
Step 2: Go to the Settings Page
Now, from the Wix dashboard go to the Settings page.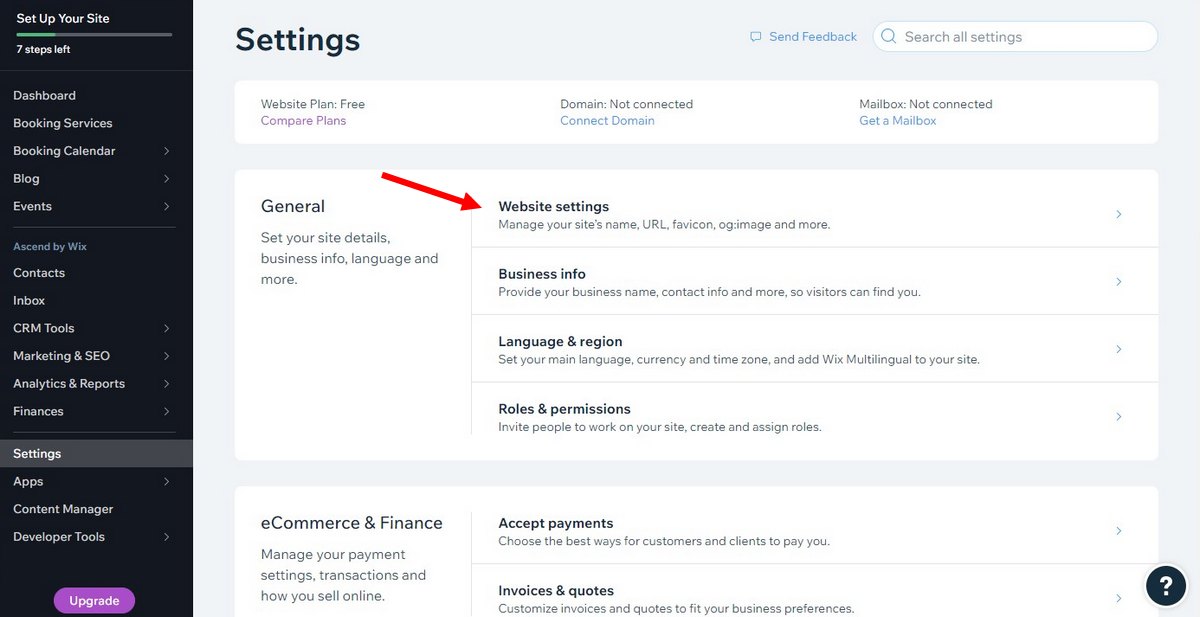 In the General section, select the Website Settings option.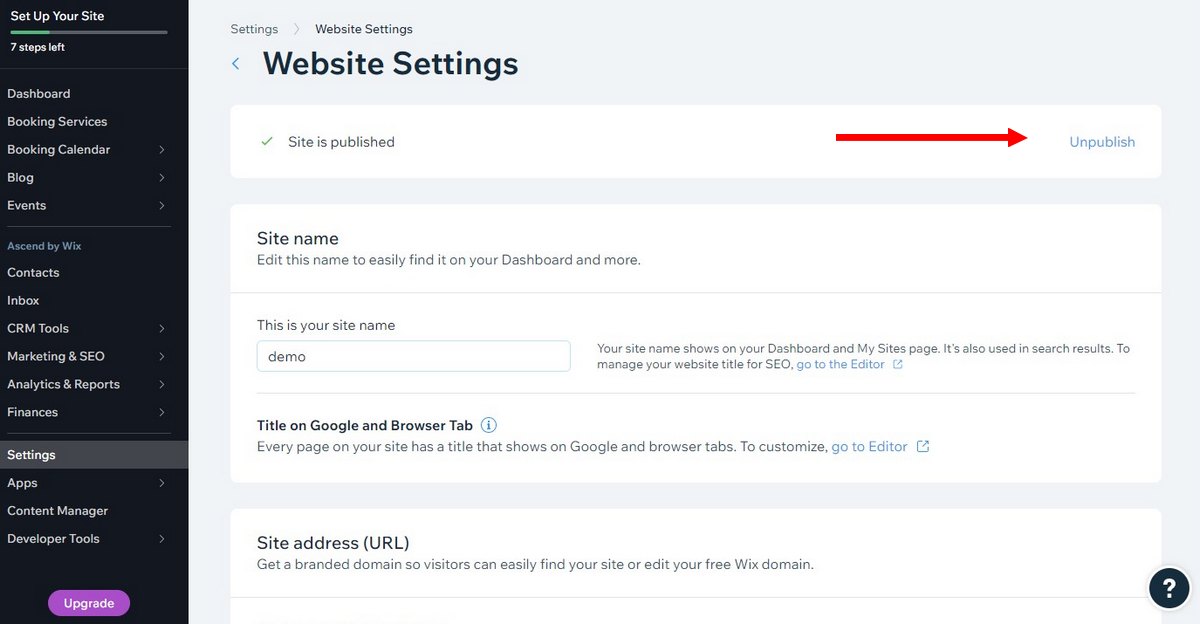 Then click on the Unpublish button. It will ask you to confirm your decision. Don't worry, you can publish your site again whenever you want to.
This method is the best and safest way to bring a site offline or prevent the public from accessing your website. It's especially useful when you're working on updating the website.
How to Delete a Wix Website
If you've made up your mind to get rid of your website, you can delete it from your account. It's actually easier to delete a Wix site than unpublishing it.
Here's how to do it.
Step 1: Select the Wix Website
First, make sure that you select the right website.
Use the drop-down menu or select Go to All Sites and double-check that you selected the right website. Because you wouldn't want to delete an important website.
Step 2: Use the Site Actions Menu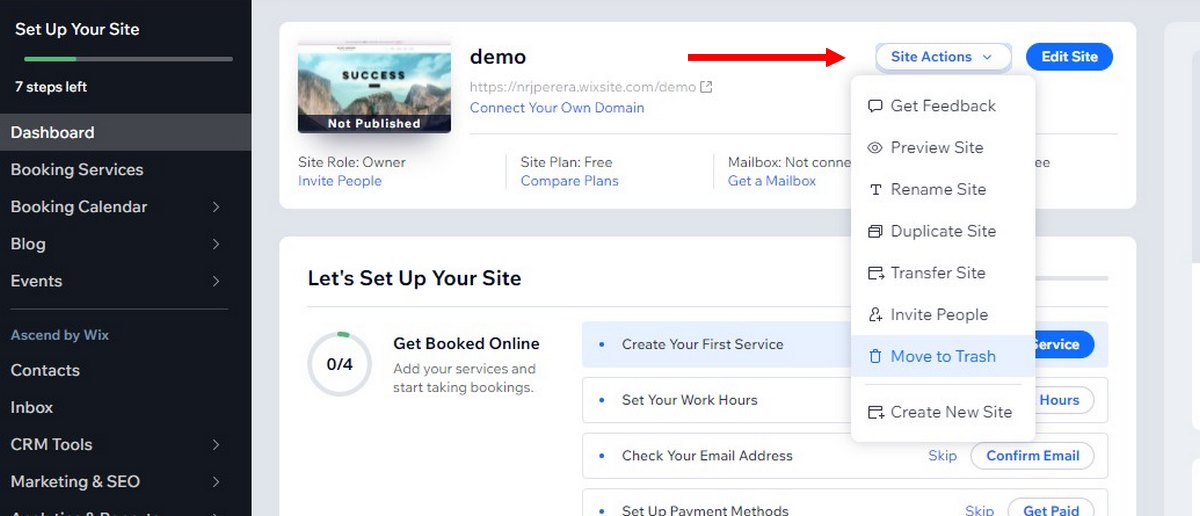 To delete the selected website, simply click on the Site Actions drop-down menu on the dashboard. Then select the Move to Trash option. It will prompt you to confirm your action. Confirming it will throw your website into the trash.
This will unpublish your site and move it to the trash.
Step 3: How to Recover or Remove a Wix Website
If you want, you can still recover your website from the trash. Simply click on the site selection menu and select Go to All Sites.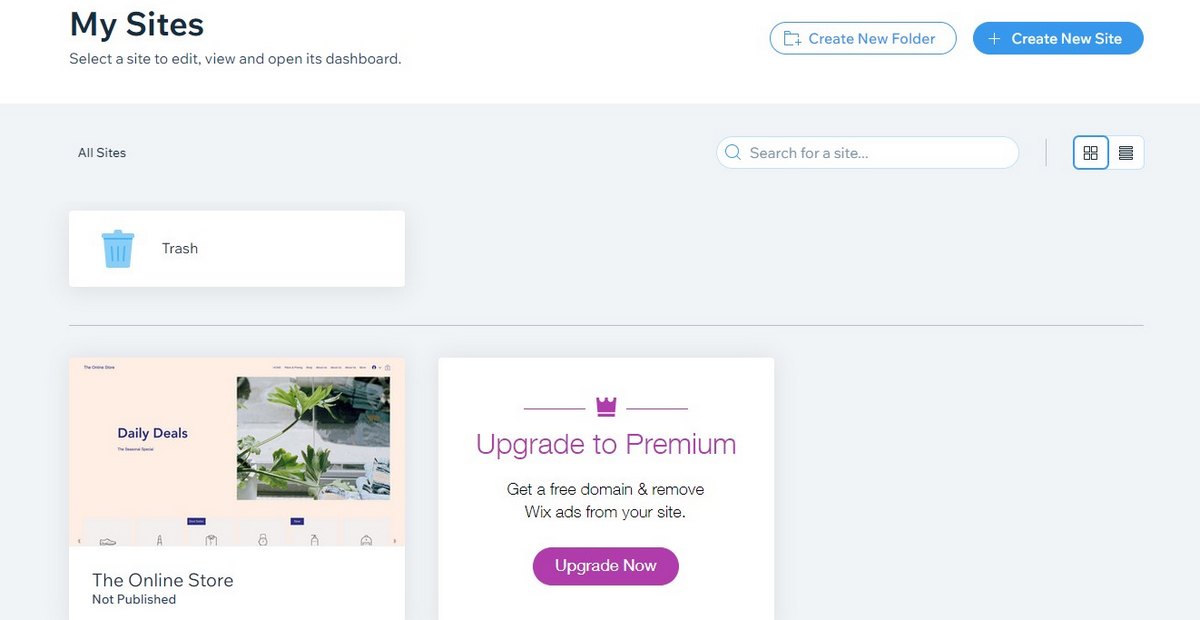 Here, you'll find all the sites in the Trash folder.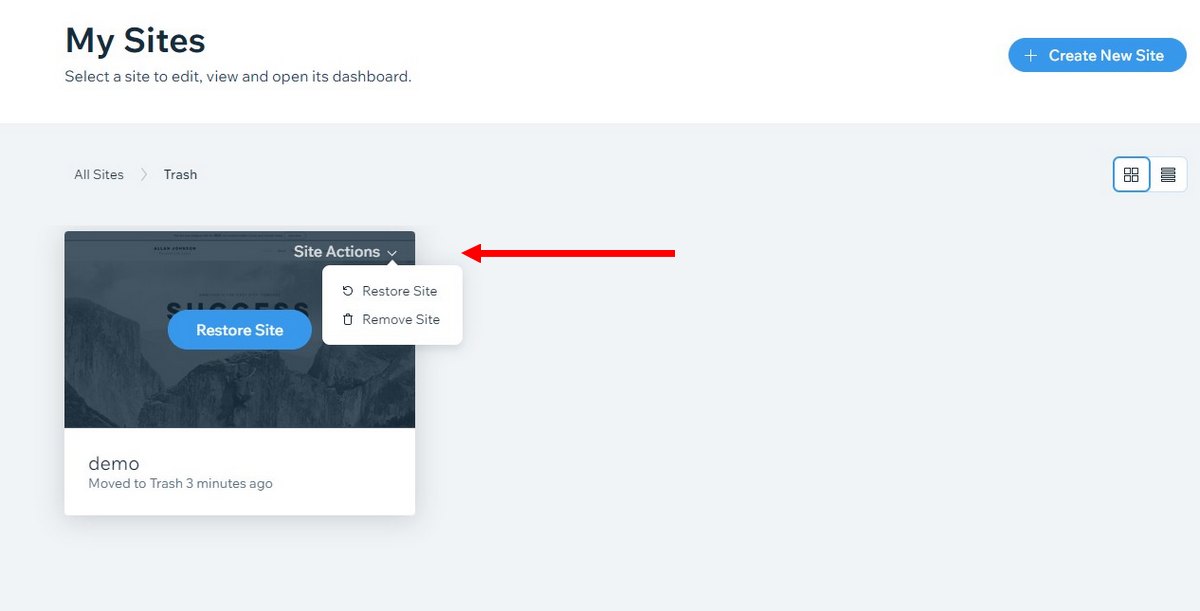 You can hover over a site in the Trash folder and click on the Site Actions menu to restore the website from the trash.
Or you can select the Remove Site option to completely remove the site from the trash and from your account.
Keep in mind that if you're using a premium subscription, deleting a site does not cancel the subscription. You'll have to cancel it from your account's Premium Subscriptions section.
How to Delete Your Wix Account
If you're done using Wix and want to remove your account from the platform, here's how to do it.
Step 1: Cancel the Subscriptions
Before closing the account, make sure to cancel any premium subscriptions you have. If you're using a free account, you can skip this step.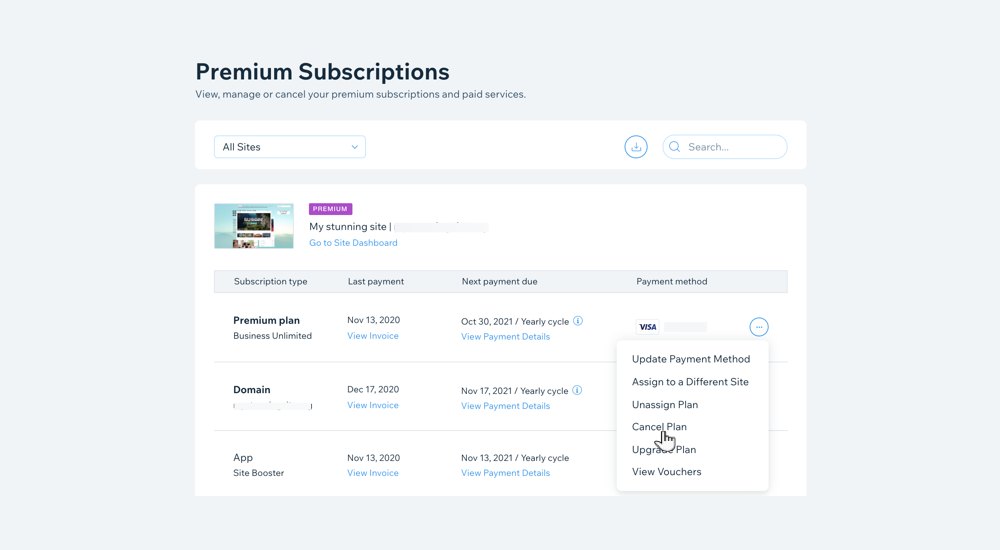 Go to your Premium Subscriptions page to cancel the premium plans you've bought for any of the sites you own.
Step 2: Delete All Your Sites
Delete all the sites you have on your account.
Moving the sites to the trash folder would suffice. You can follow the steps we've detailed in the "How to Delete a Wix Website" section above.
You'll also have to remove any of the domains you have connected to the websites. If you've bought a domain from Wix, you'll need to cancel it first.
Step 3: Close the Account
Once you have taken care of all the above steps, you can go ahead and delete your account.
Go to the Account Settings page by clicking on the menu at the top-right corner.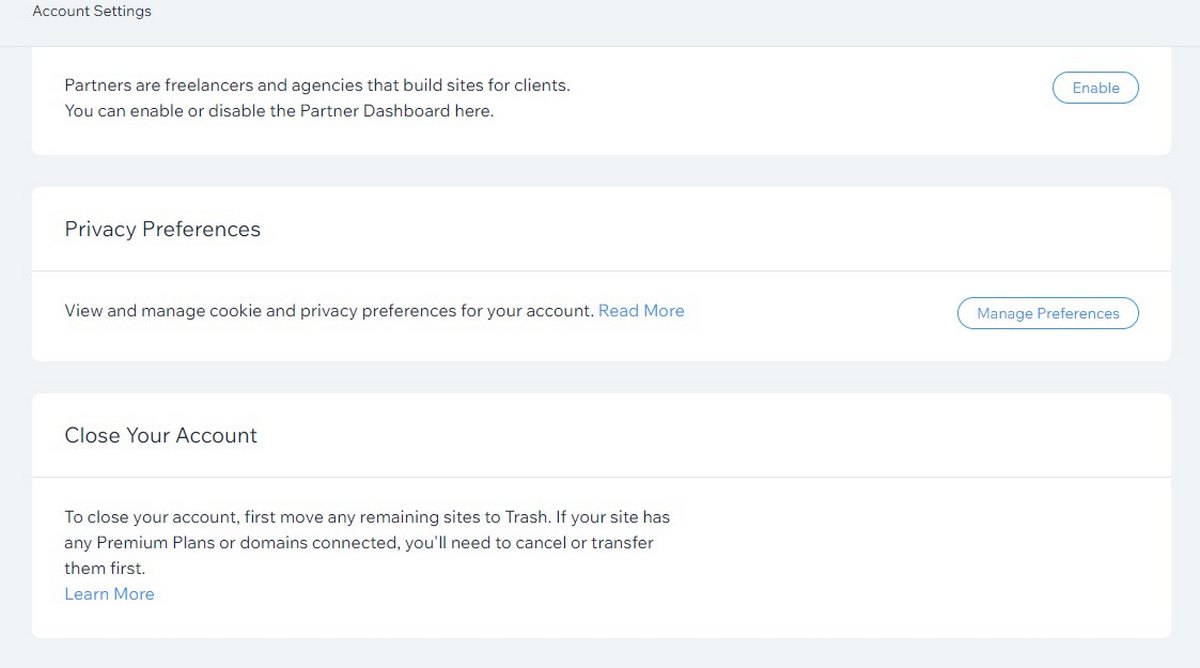 Then scroll all the way to the bottom of the page to find the close account section. After completing all the necessary steps, a button for closing the account will appear here. Or follow this link to delete the account.
In Conclusion
Wix is a good platform for making simple websites. But it's not the best place for making larger and more complex websites. If you're thinking of migrating to a better platform, we recommend using WordPress. Read our Wix vs WordPress comparison to see if it's the right fit for your project.
5 FAQs on How To Use Wix
If you're having trouble using Wix, maybe these frequently asked questions will help you find solutions.
How to Remove Wix Ads
Wix offers a free plan where you can build and publish a website on a subdomain name. In exchange for this free service, Wix will show ads on your website.
To get remove the Wix ads, you'll have to subscribe to the $8.50 per month premium plan. This plan also includes a free domain name for one year.
How to Contact Wix Support
If you have any issues with your website or need help getting something done, you can always contact Wix customer support.
You can find customer support representatives for different departments from here. Support is available 24/7. Premium users get priority support so if you're a free user, you'll have to wait a while for a response.
How to Change Page URL in Wix
You can easily change the URL of a Wix website page from the Wix website editor. Go to the Menus and Pages section, click on the menu icon next to a page and select the SEO Basics option.
How to Add Popups in Wix
Wix now allows you to easily add lightbox popups directly from the editor. To add one to your website, simply open the Wix Website Editor and then click on the plus (+) icon. Then go to Interactive >> Lightbox section to find all kinds of popups available.
How to Accept Payments on Wix
If you're planning on using Wix for eCommerce websites, you'll need to setup your payment options before accepting payments through your website. To do this, go to the website Settings page from the dashboard. Then find the eCommerce & Finance section and select Accept Payments option. From there you'll be able to setup a payment gateway for your website.