PowerPoint: Ultimate Guide for 2020
When it comes to creating presentations, Microsoft PowerPoint comes out on top. PowerPoint is so popular that we're now even using it as a verb to refer to presentations.
PowerPoint, however, is capable of much more than just making presentation slideshows. You can use it in many different ways to create posters, PDF documents, turn presentations into videos, and much more.
In this ultimate guide, we cover all aspects of PowerPoint from making a presentation to embedding videos, exporting slideshows, adding animations, and all the tips and tricks in between.
What is PowerPoint?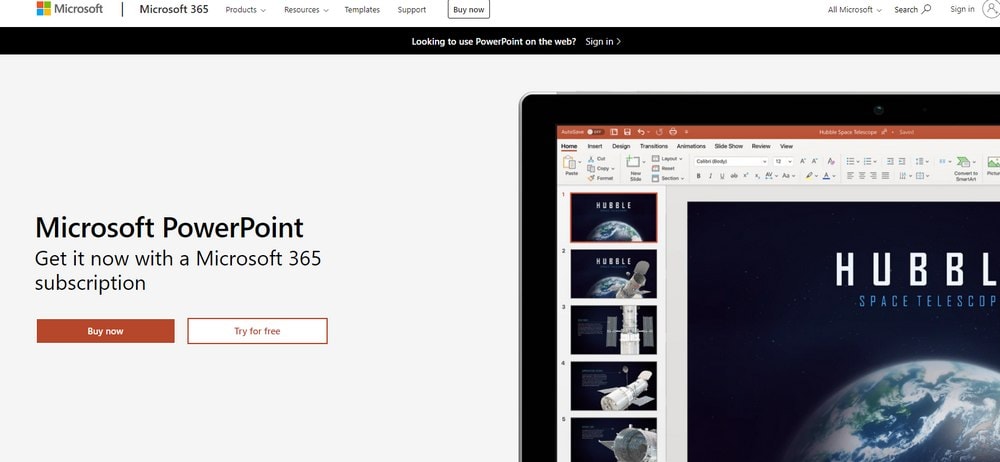 Microsoft PowerPoint is used to create presentation slideshows. The software was initially released back in 1990. And it has come a long way since then to establish itself as the leading software for presentations.
PowerPoint is quite popular for its beginner-friendly and easy to use user interface.
Whether you're doing a presentation at a conference in front of a live audience, presenting a business idea for a group of investors, or teaching a topic to a class of students, PowerPoint is the go-to software for creating an effective slideshow for all kinds of presentations.
Microsoft PowerPoint comes with the Microsoft Office suite and it's available in two versions. You can either pay a one-time fee for the slightly older version of the Office software suite (Office 2019) or subscribe to the Office 365 version by paying a monthly fee.
How to Make a PowerPoint Presentation
Creating a presentation in PowerPoint is easy. Once you make yourself familiar with the tools palette and the user interface, you'll be able to easily find your way around the software.
Generally, there are two main ways to create a presentation—Create a presentation from scratch. Or use a pre-made template.
Using a PowerPoint template to create a presentation is the easiest way to make an amazing-looking slideshow with minimum effort. All you have to do is download the template file, open it in PowerPoint, and start customizing the design according to your needs.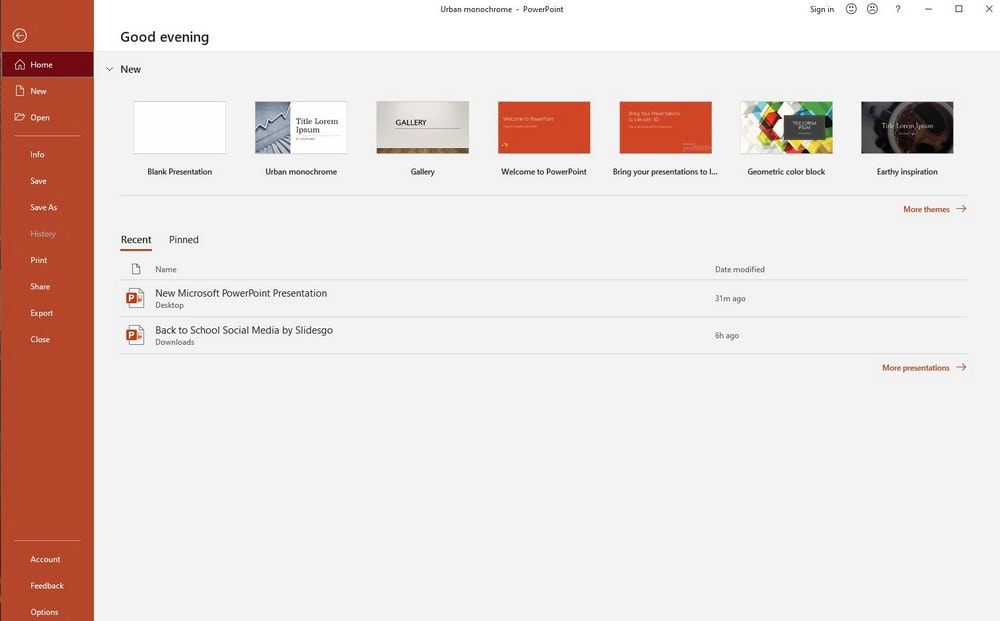 To get started, simply launch the PowerPoint app and select to create slideshow from scratch using a blank presentation. Or open a downloaded template to customize the design.
Follow these guides to learn more about getting started with PowerPoint:
You can also download pre-made templates to get started on your projects more quickly. Have a look at our best PowerPoint templates collection for inspiration.
Note: We're using Microsoft PowerPoint 2019 for the demonstrations in this guide. But, the user interface and the functionality are almost the same across older and newer versions of the software, including Office 365 and the Mac versions.
Embedding Media
When making presentations, you'll want to embed different types of media in your slides. Like videos and audio files to play alongside the presentation. Here's how you can do that.
How to Embed a YouTube Video in PowerPoint (Mac & Windows)
The easiest way to embed a video in PowerPoint is to embed a video hosted on YouTube. This method also help reduce your PowerPoint file size.
Step 1: First, copy the URL of the video from YouTube
Step 2: Open PowerPoint and go to the slide where you want to embed the video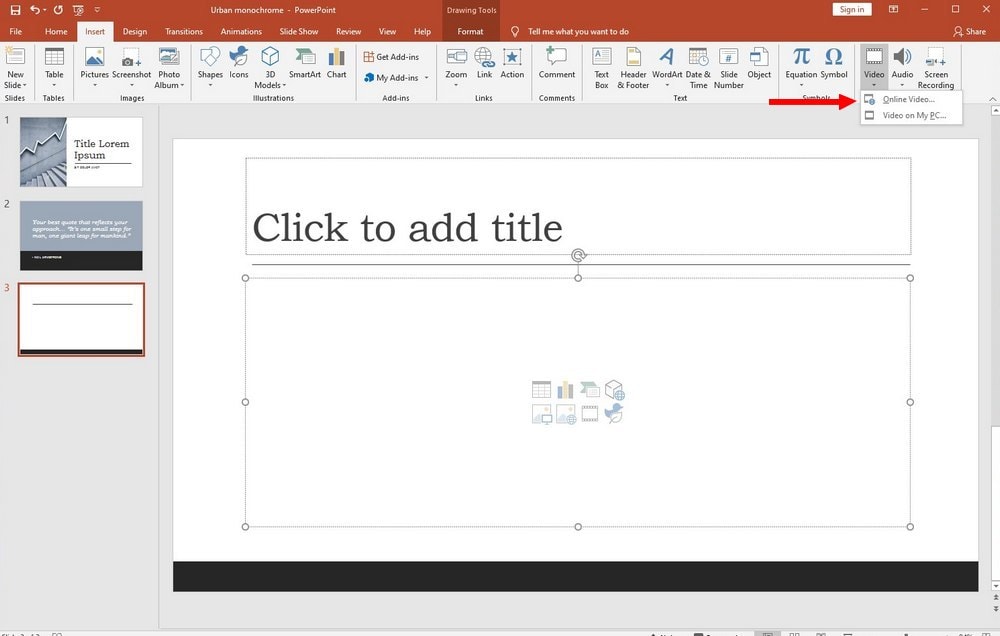 Step 3: Click on the Insert tab and then select Video >> Online Video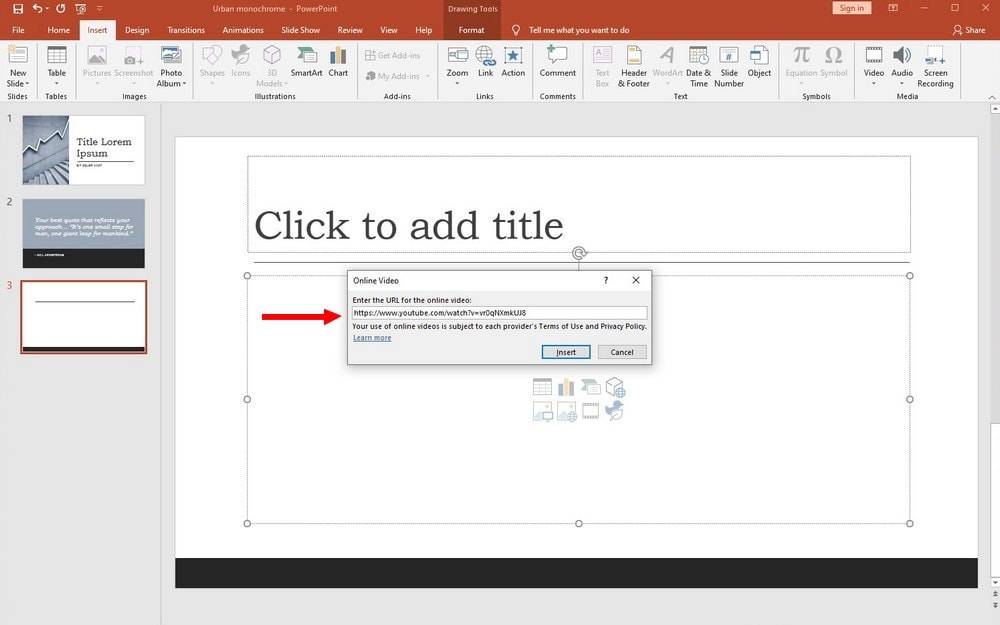 Step 4: Paste the YouTube video URL and click Insert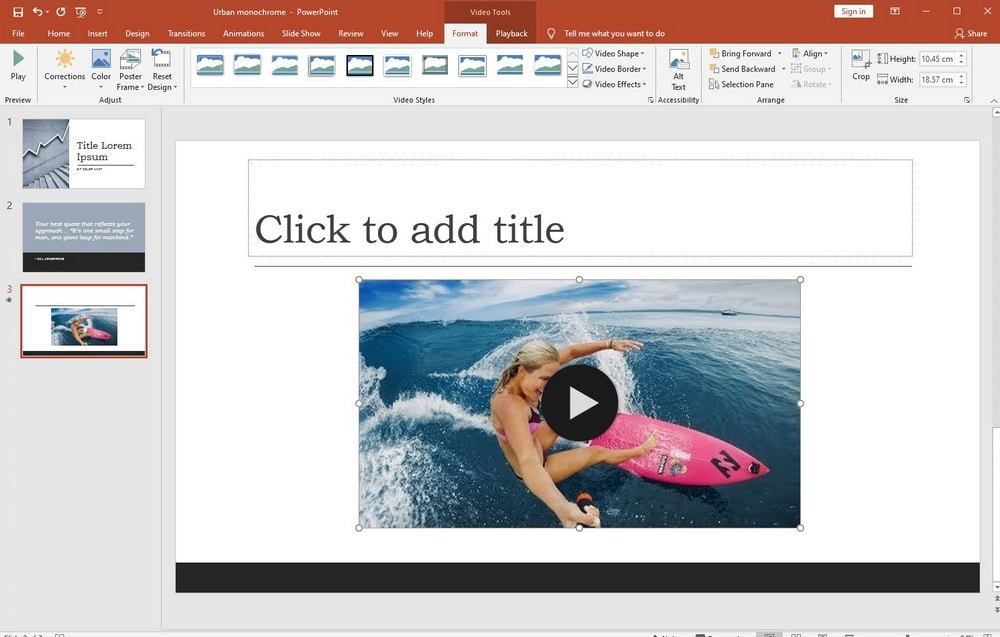 Remember that you'll have to stay connected to the Internet in order to play the YouTube video during the presentation.
How to Embed a Video in PowerPoint (From Anywhere)
In addition to embedding YouTube videos, you can also embed videos that you have stored on your computer.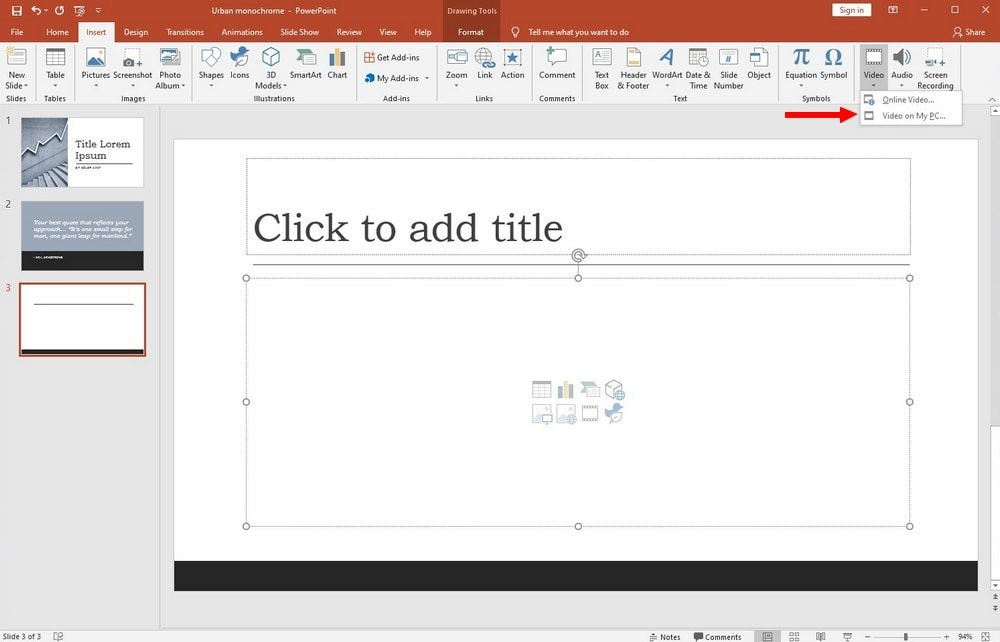 Step 1: On PowerPoint, go to Insert tab and Video >> Video on my PC
Step 2: Locate the video file you want to embed on your computer and select Insert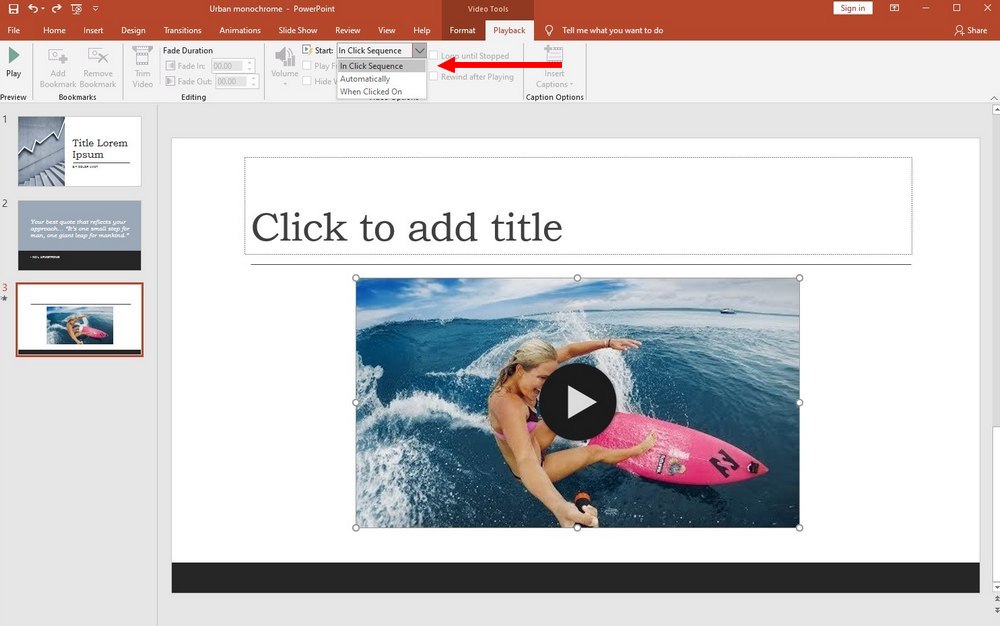 You'll also have to make videos auto-play with the presentation. Go to the Video Tools >> Playback tab and select the Automatically play option from the Start menu.
How to Add Music & Audio to PowerPoint
You can also add music and embed audio files in your presentations using the same method.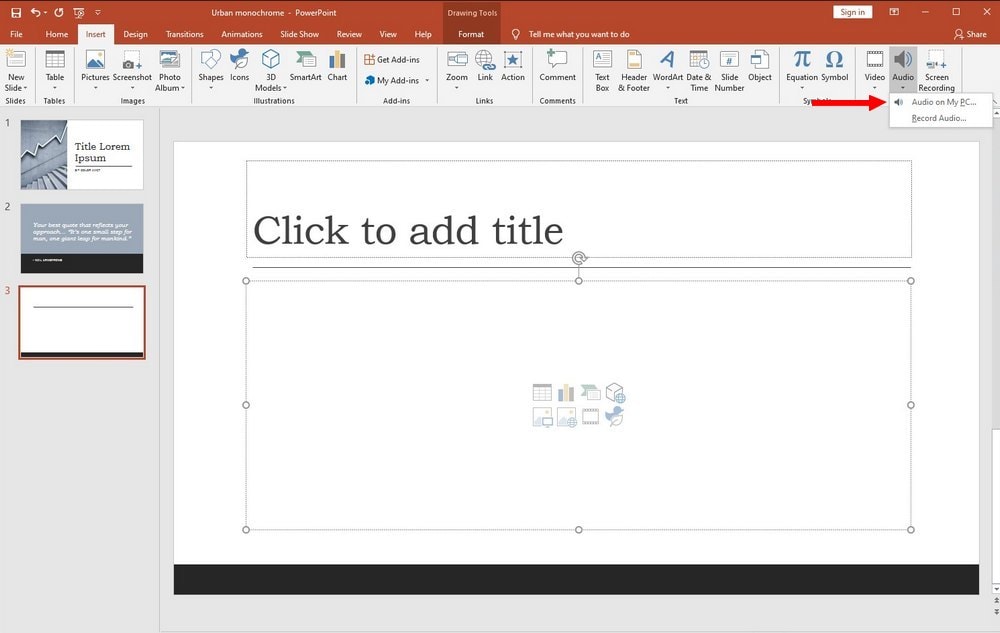 Step 1: Go to the Insert tab on PowerPoint and select Audio >> Audio on My PC
Step 2: Find the audio file you want to embed and click Insert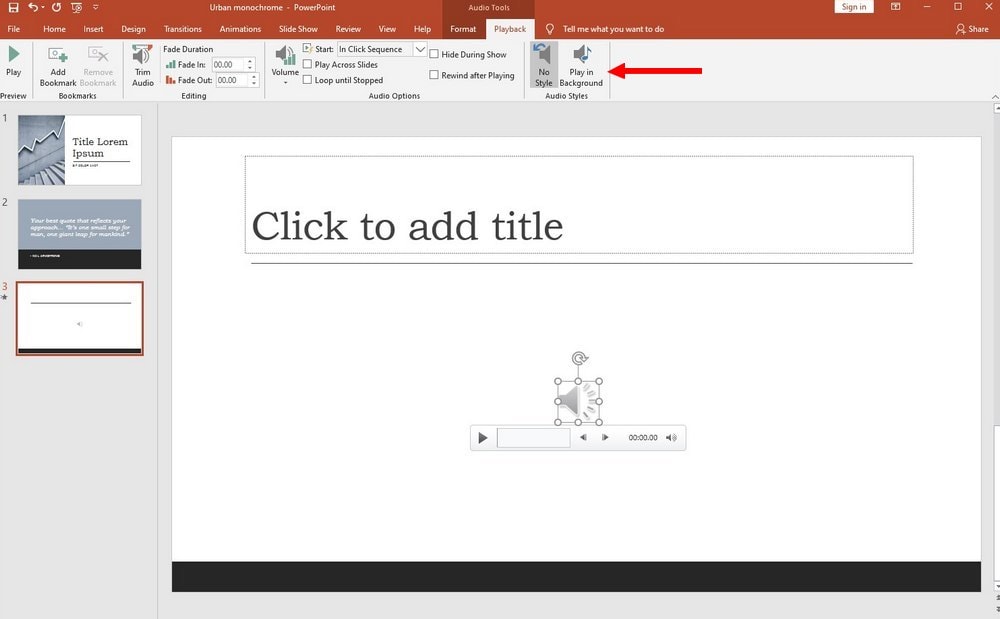 Step 3 (Optional): If you want the audio to play in the background during the presentation, select the audio icon in the slide and then go to the Playback tab and select Play in Background option.
Printing PowerPoint Presentations
There are times when you'll want to print a PowerPoint presentation. Like when you want feedback from a client or collaborate with a team. Or even just to keep track of your projects.
How to Print PowerPoint With Notes
Printing a PowerPoint presentation is easy. All you have to do is go to the File menu and then select Print.
It will show a dialog box where you can setup your output format and then hit Print.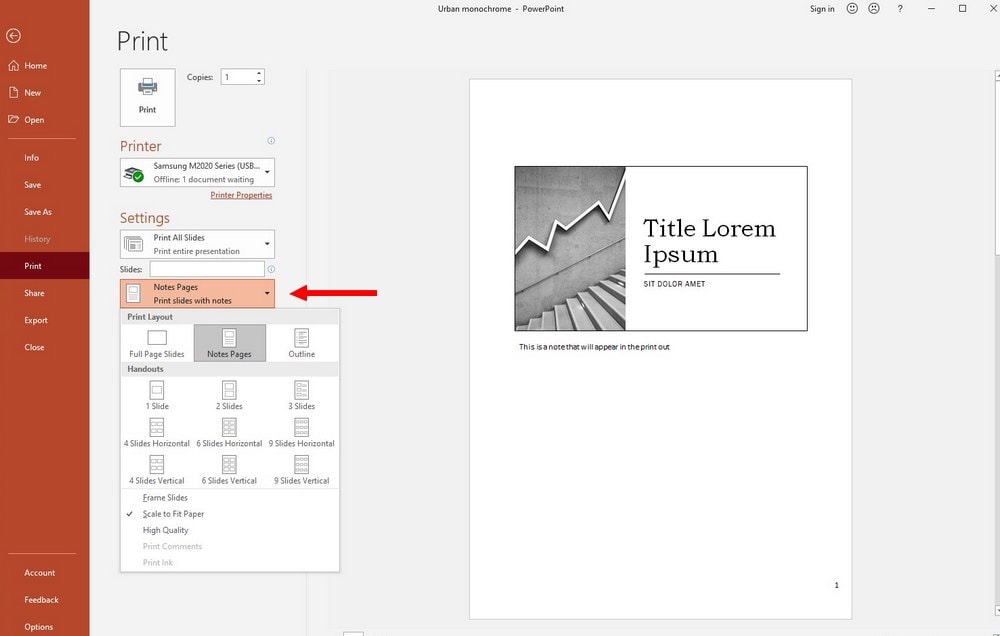 If you also want to include the notes in the print documents, simply select Notes Pages from the Print Layout menu.
Creative PowerPoint Uses
As we've mentioned earlier, PowerPoint is capable of some amazing things. You can use the software in many creative ways to craft various other documents and designs.
How to Make a Poster In PowerPoint
You can actually make posters in PowerPoint. It'll take a lot of work, but it'll be cheaper than buying a software like Photoshop and learning to use it.
Of course, the easiest way to design a poster in PowerPoint is to grab a PowerPoint poster template and use it instead. You'll be saving a lot of time.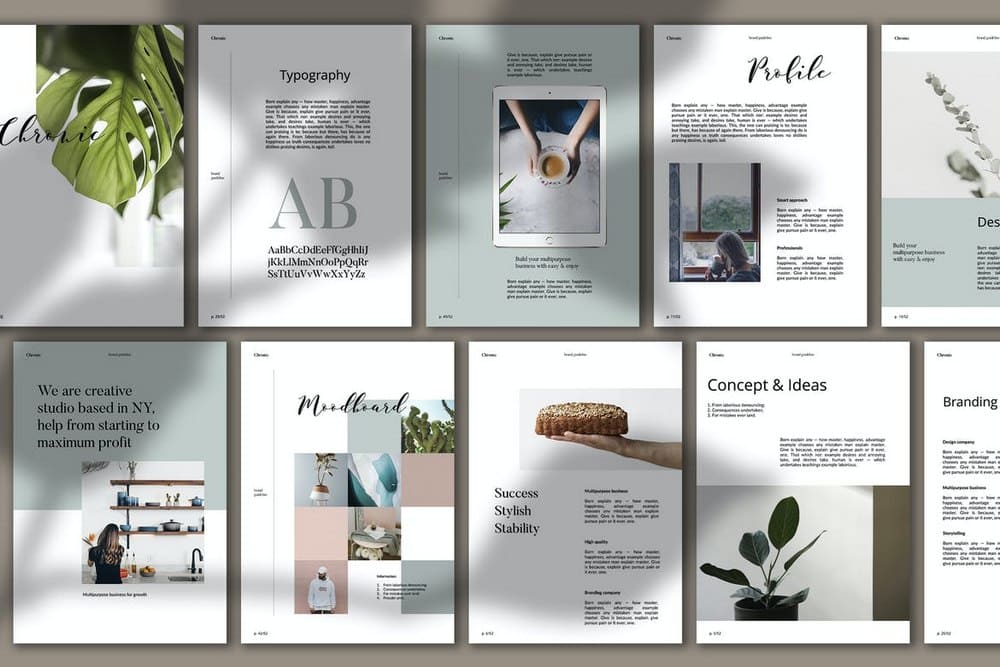 Or follow the simple steps below to create one from scratch.
Step 1: Get started by creating a new blank document with a vertical A4 size page layout.
Step 2: Add a background image or use a color
Step 3: Add text, logos, shapes, and images to make the design look more like a poster
Step 4: Print it out when it's ready
How to Create A Flowchart In PowerPoint
Flowcharts are an essential part of many presentations. They especially help when visualizing data, projections, and business ideas.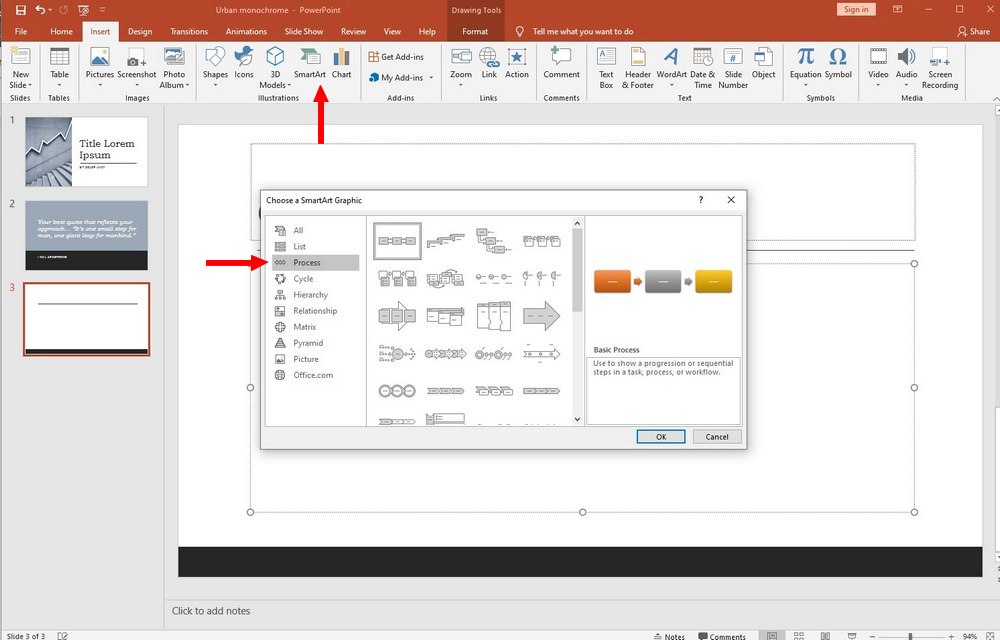 Step 1: Go to the Insert tab and select SmartArt
Step 2: Now go to the Process category and select a flowchart and click OK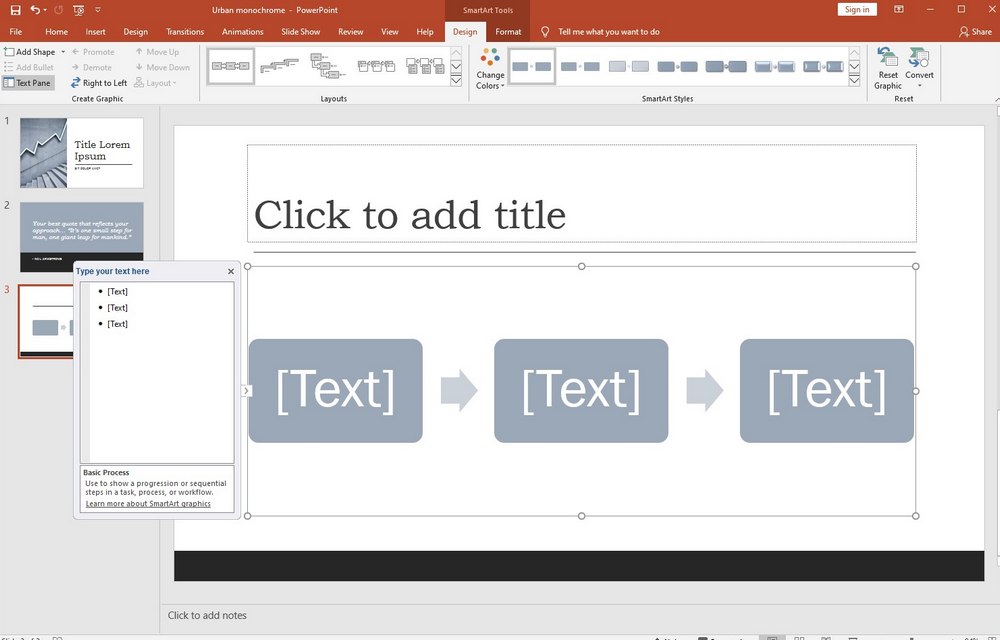 Step 3: Click on the flowchart to edit the text and design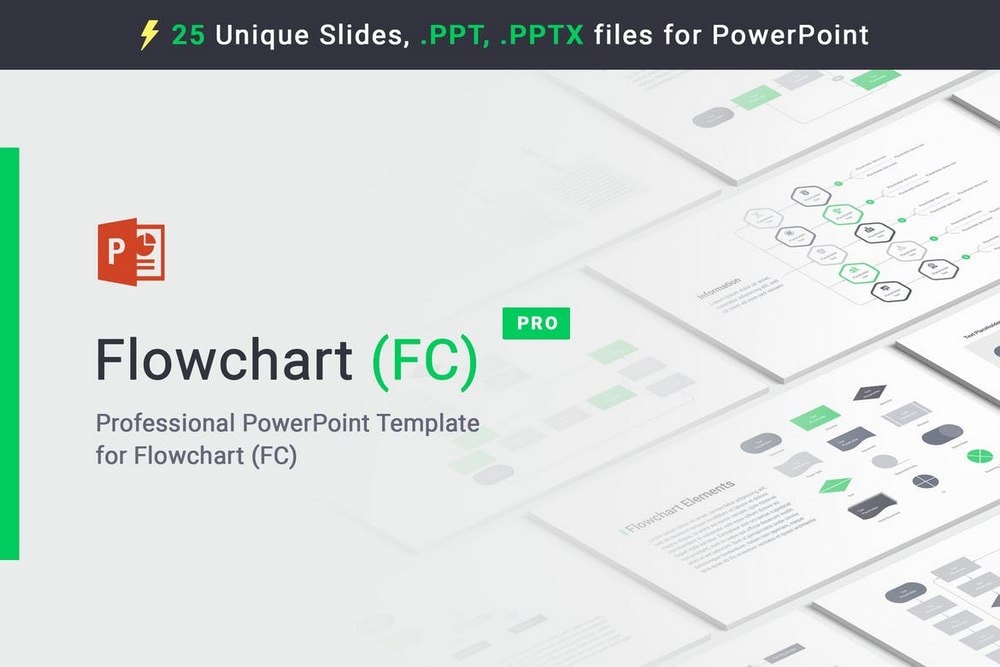 You can also use a simple PowerPoint flowchart template to set it up without an effort.
Converting & Exporting PowerPoint Presentations
Re-purposing content is a great way to make the most of your efforts and achieve great results. PowerPoint is a tool that advocates content re-purposing. You can use the software to create videos out of presentations or convert PDF files into slideshows. Here's how.
How to Convert PDF to PowerPoint
You can easily convert a PDF file into a PowerPoint presentation.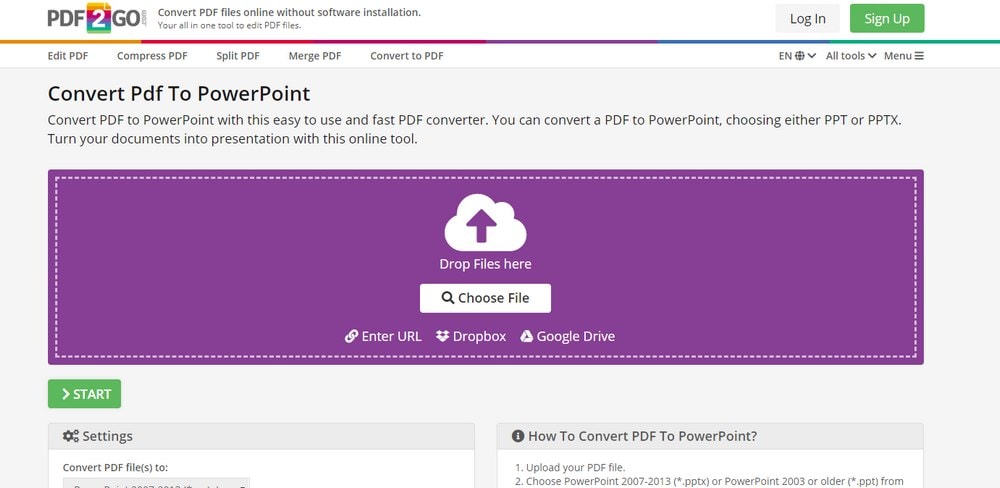 Step 1: Go to the PDF2Go website and upload your PDF file
Step 2: Start the conversion. Once it's complete, download the PPT file
That's it!
If you have Adobe Acrobat installed on your computer, you can use it to convert PDF files to PowerPoint as well.
How to Compress A PowerPoint File
Often times, when you create long presentations with highly visual slides full of images and graphics, the file size of your PowerPoint file will end up at huge file sizes.
It can be a problem when you have to share your PowerPoint files online or with colleagues. To avoid that issue, you can compress the PowerPoint file.
There are two steps to compressing PowerPoint files. First, start by compressing the images in your presentation.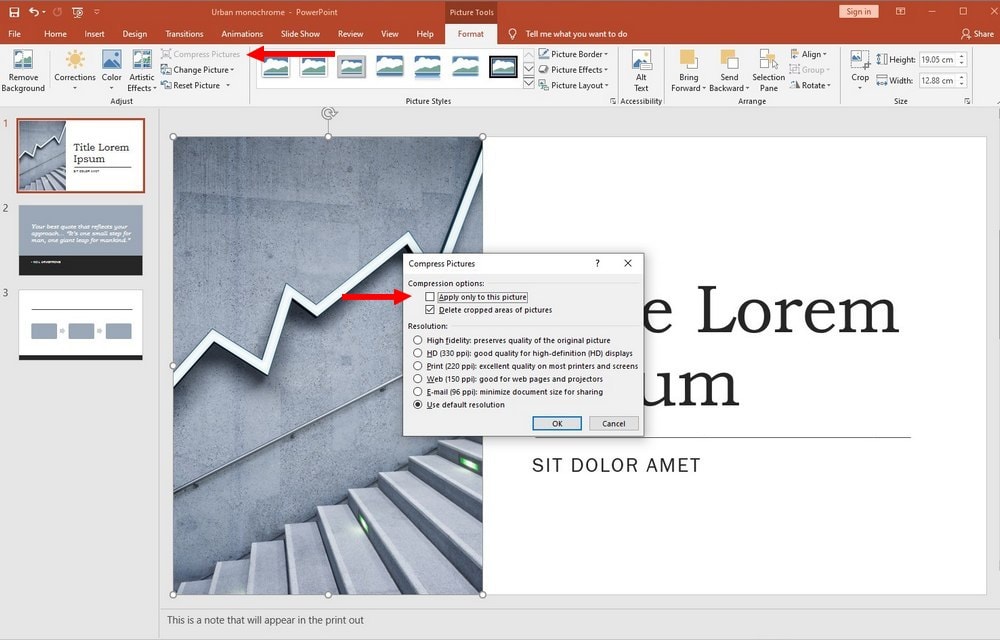 Select an image in your presentation slides and go to the Format tab and select Compress Pictures.
On the Compress Pictures dialog, uncheck the top tickbox to compress all images on the slideshow. And check the second tickbox to crop out any parts of the image that aren't visible in the slide area.
Select the resolution you want to compress the images. If you're unsure which option to choose, select the Use Default Resolution option.
In the second step, you can reduce the resolution of the PowerPoint file to save file size.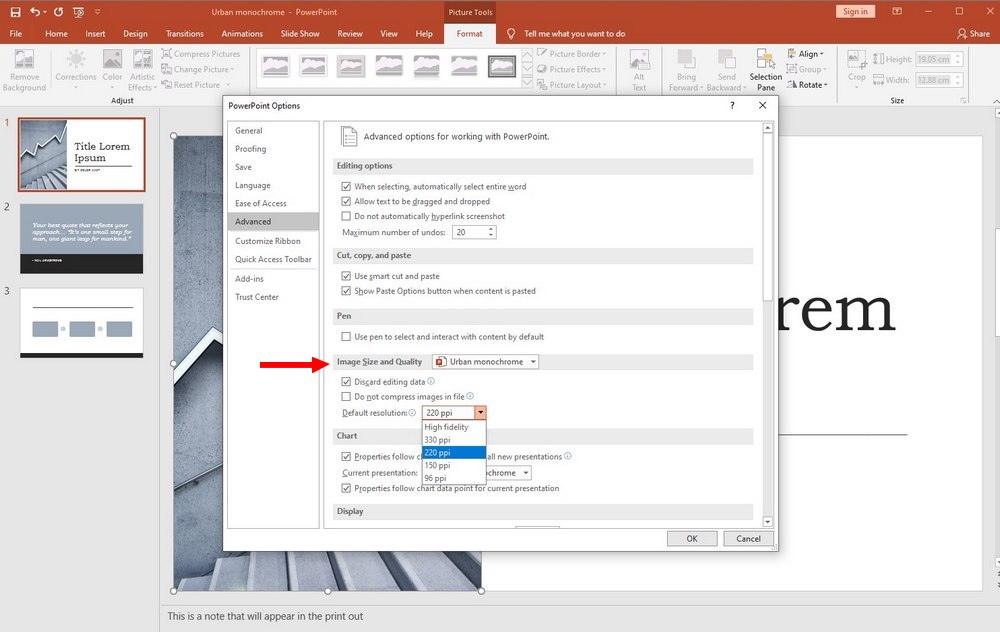 Go to File >> Options and then go to the Advanced page. In the Image Size and Quality section, tick the box for Discard Editing Data and select a lower resolution for the Default Resolution.
Once all steps are complete, go to File >> Save As and save your compressed PowerPoint file.
How to Make A PowerPoint Into A Video
Another useful feature in PowerPoint is that you can convert your slideshows into videos.
Let's say that you have to show the presentation on a different computer that doesn't have Microsoft Office installed. When you have the presentation saved as a video, you can easily show it to anyone and anywhere.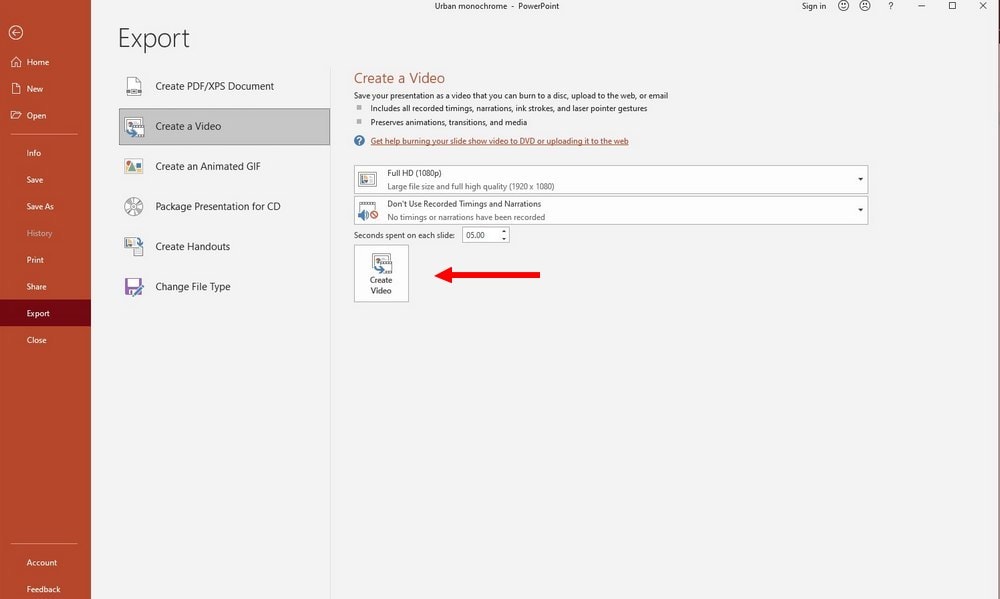 Step 1: Click on the File menu and go to Export
Step 2: Select Create a Video and choose the quality of the video you want to save
Step 3: Choose whether you want to include the recorded narrations in the video as well as the delay between the slides
Step 4: Click on Create Video and then for the Save As type select MPEG4 as the video format
Step 5: Click Save to complete the process
Looking for WordPress hosting? We use Kinsta. They offer world-class WordPress hosting, built to keep your website fast, secure, and always online.