50+ Best Simple PowerPoint Templates 2024
We've all been there – trying to focus on a presentation at work or school and finding ourselves losing interest and drifting away. And even worse? When you're the one presenting! Thankfully, drab and dull presentations can be a thing of the past with this list of exciting and engaging simple PowerPoint templates for your next presentation.
Whether you're pitching a project idea, giving a lecture to a classroom full of students, or simply sharing your passions and ideas to those who matter, there's a template here that's perfect for you.
No more late nights trying to build the perfect set of slides for your project, only to deliver it the next day to a room full of people that can't stop yawning! Leave the tricky design work to the professionals, and choose one of these beautiful premade presentation templates that will really wow your audience, and help your content make the impact it deserves.
Get everything you need to give the perfect presentation. From just $16, get unlimited access to thousands of PowerPoint presentation templates, graphics, fonts, and photos.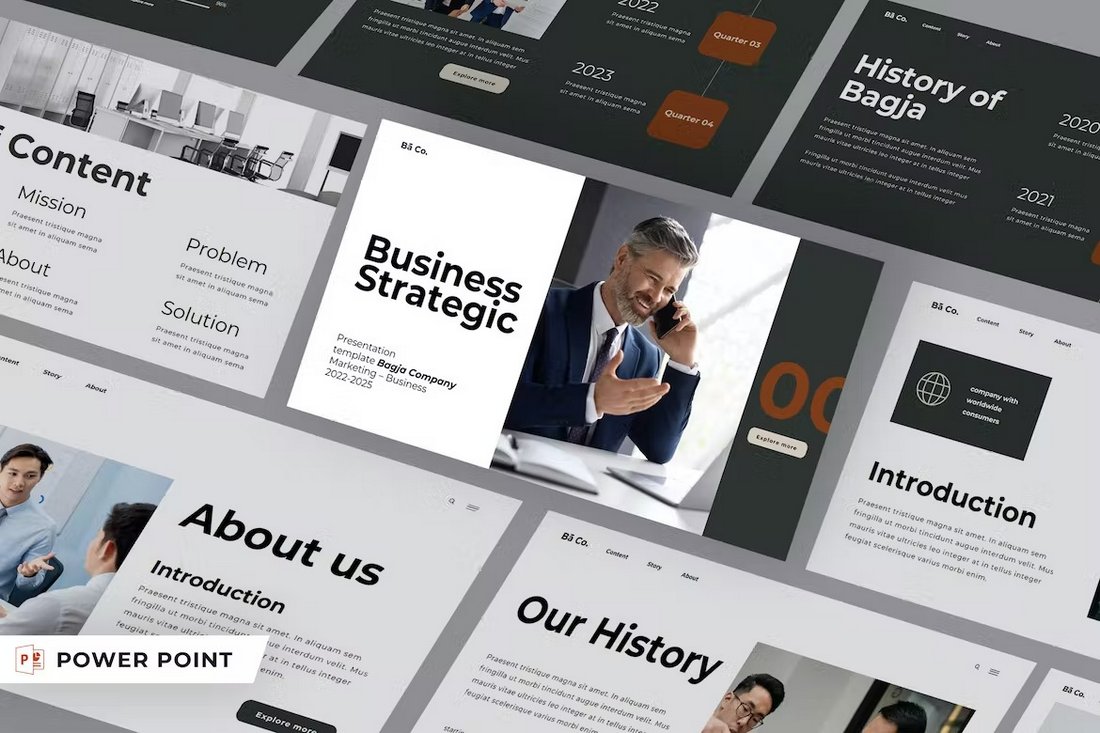 This is the ideal PowerPoint template for making professional presentations for business projects. It features a clean and simple design with big bold typography and image placeholders. There are 30 different slides in this template and you can fully customize them to your preference.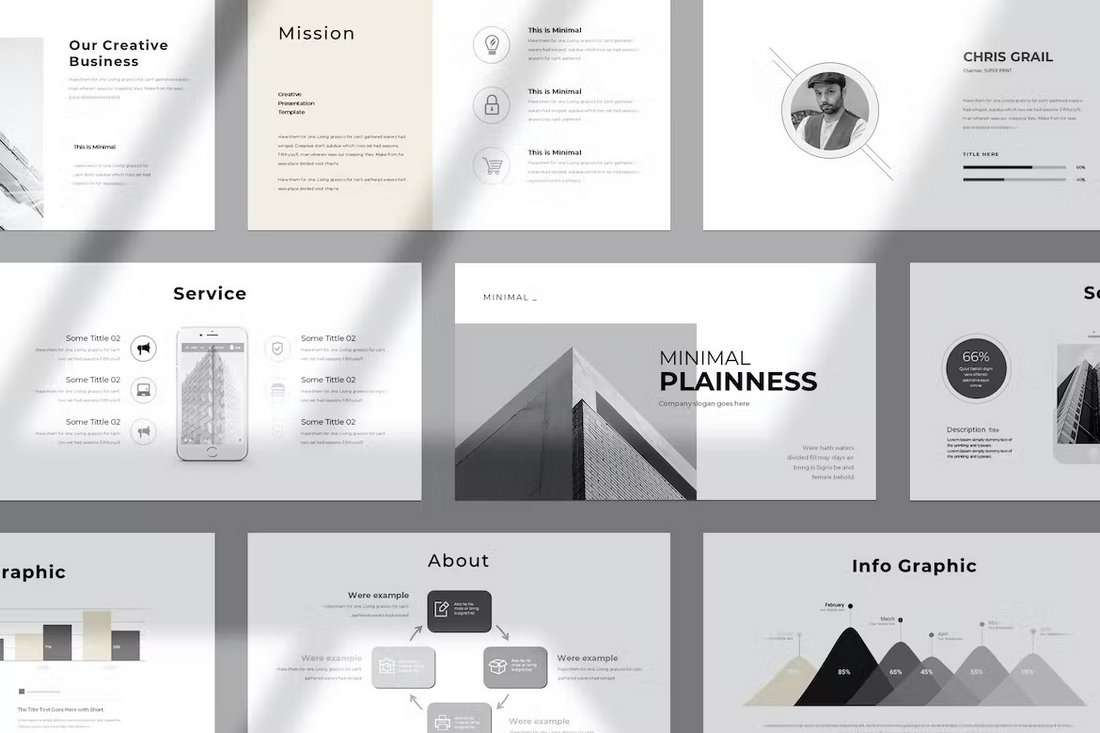 This PowerPoint template comes with a minimalist design with a very simple content layout. It has removed all the unnecessary objects and decorative elements to bring focus to your main content. The template has 30 slides with editable graphics and colors.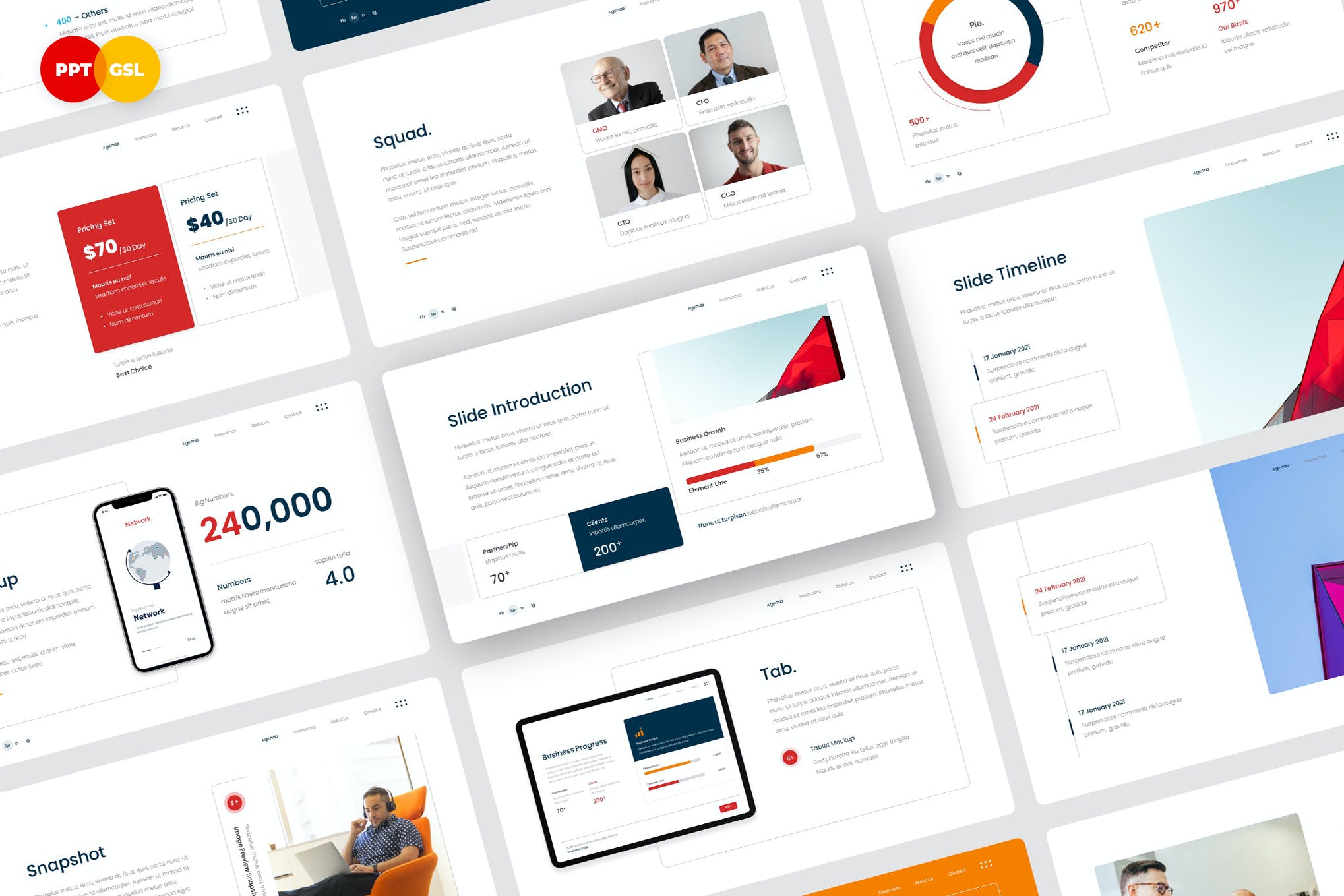 Featuring a strictly professional design, Biznis is an excellent contender for your cash. The versatile template can be used for a number of business topics and includes almost everything you'd ever need to deliver a kickass presentation.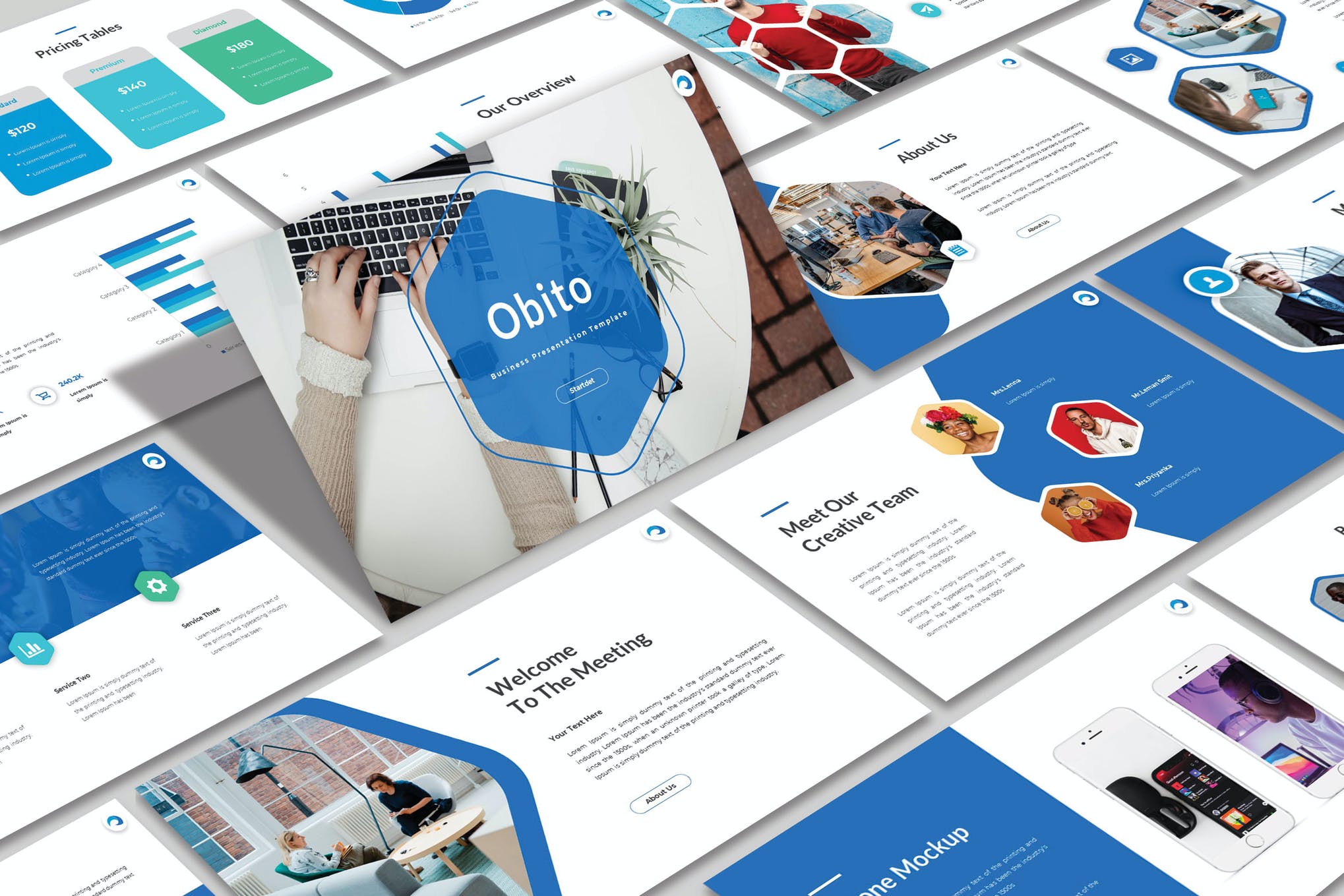 Obito is a great candidate for those who truly value standing out from the pack. It features 30 modern, and multipurpose slide designs, fully editable in Microsoft PowerPoint. When it comes to the best simple PowerPoint templates, Obito is at the top of the league.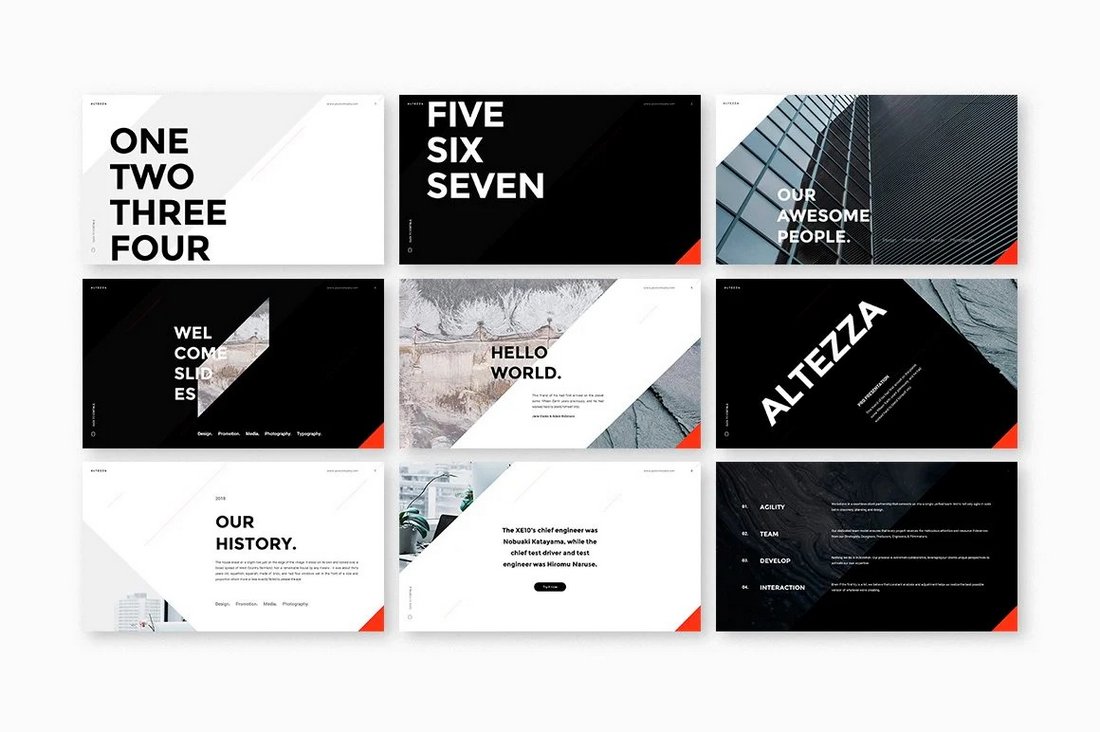 You can download this PowerPoint template for free to design a professional presentation on a budget. It includes 11 unique slides with modern yet simple content designs. The template is compatible with Google Slides and Keynote as well.
This free PowerPoint template has an elegant and stylish design for crafting beautiful lookbook-style presentations. The template comes with lots of unique slides and multiple color schemes to choose from.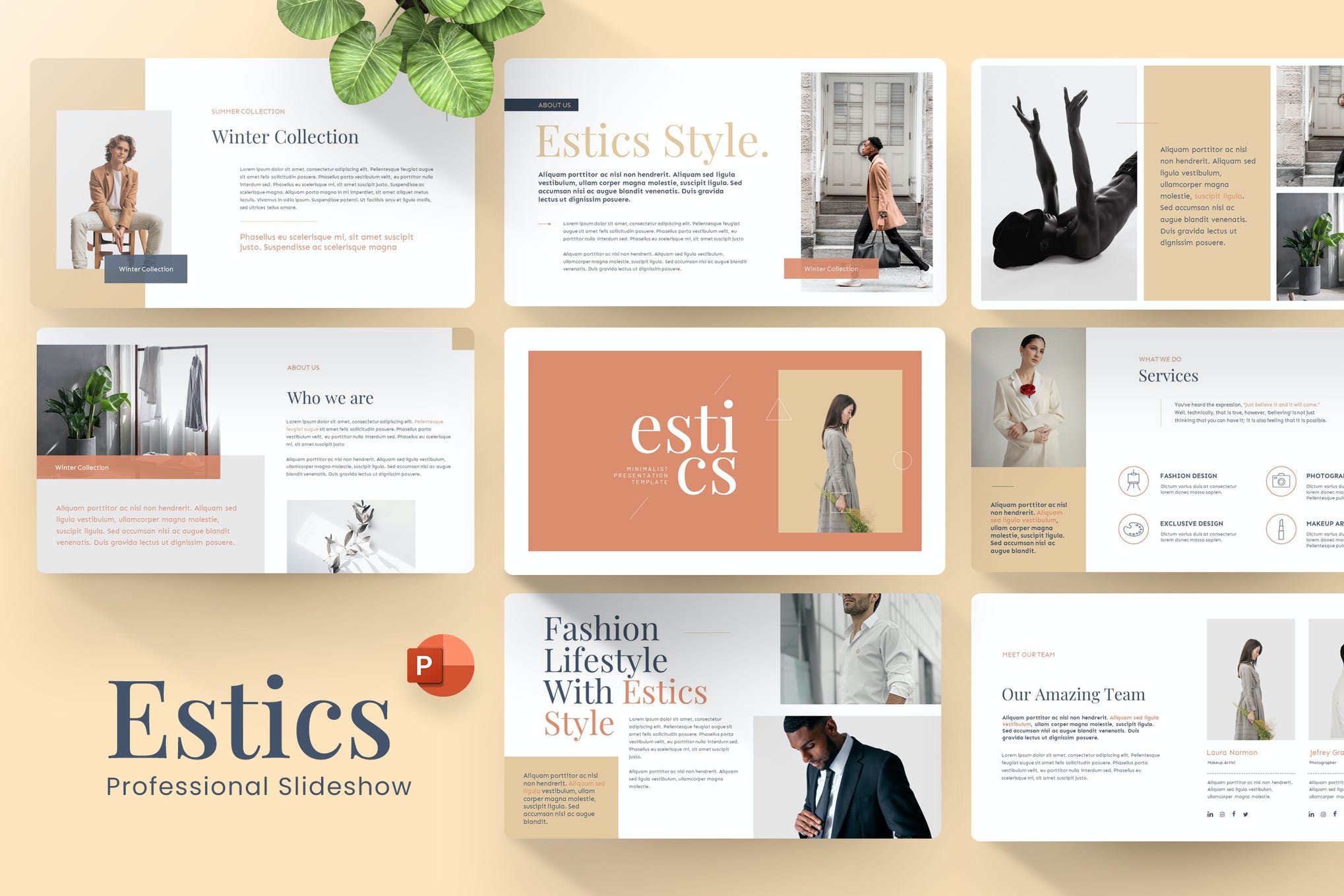 A simple presentation doesn't have to be boring. It should be chic, and modern while still maintaining minimalism. Estics is a PowerPoint template that will quench your thirst for an elegant and trendy presentation and draw the attention of clients right in.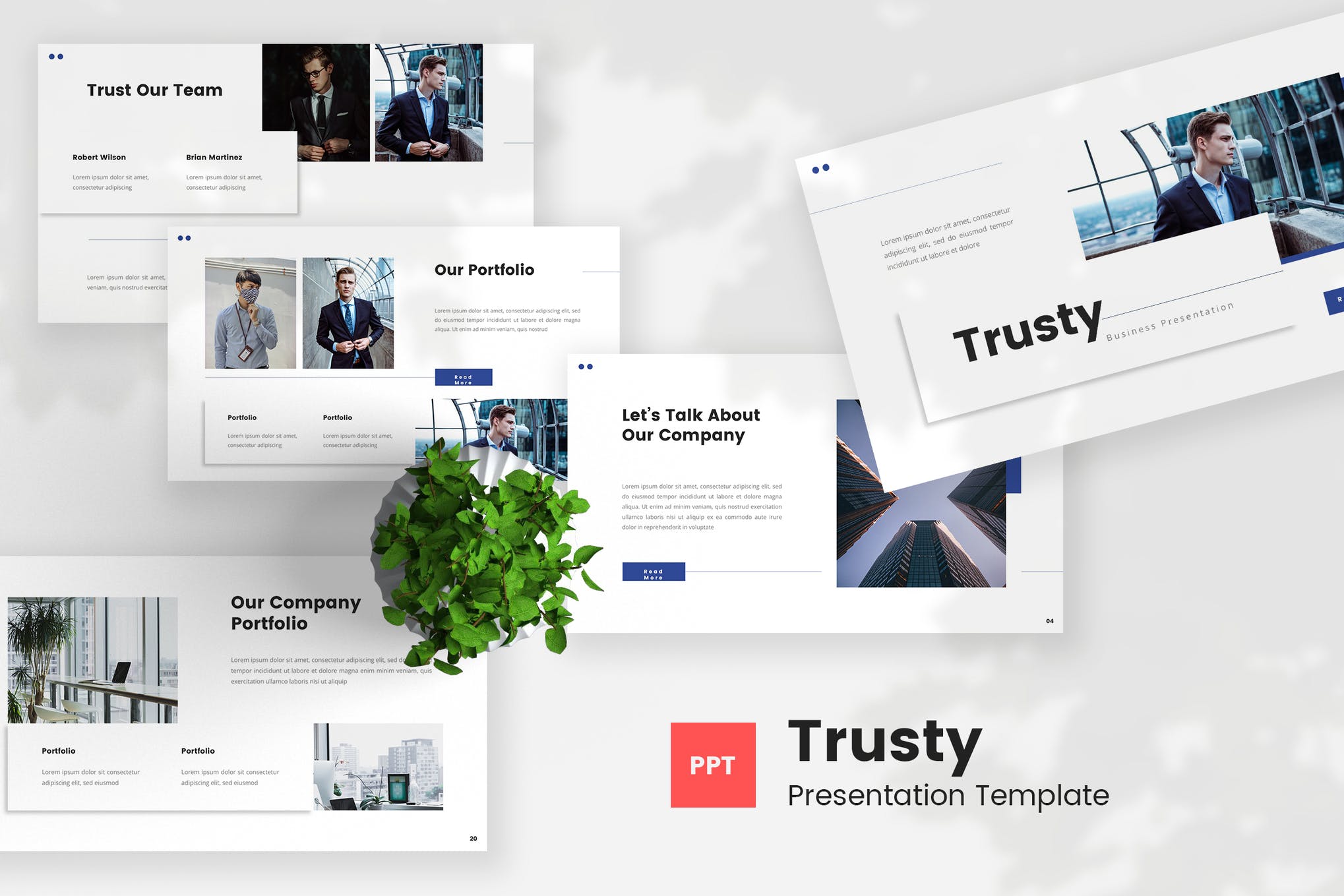 Trusty is an absolute delight for minimalists. It features a simple, clean design fitting to a large pool of business and corporate purposes. There are 30 slides included in the package, with each one providing easy customization using the drag and drop feature.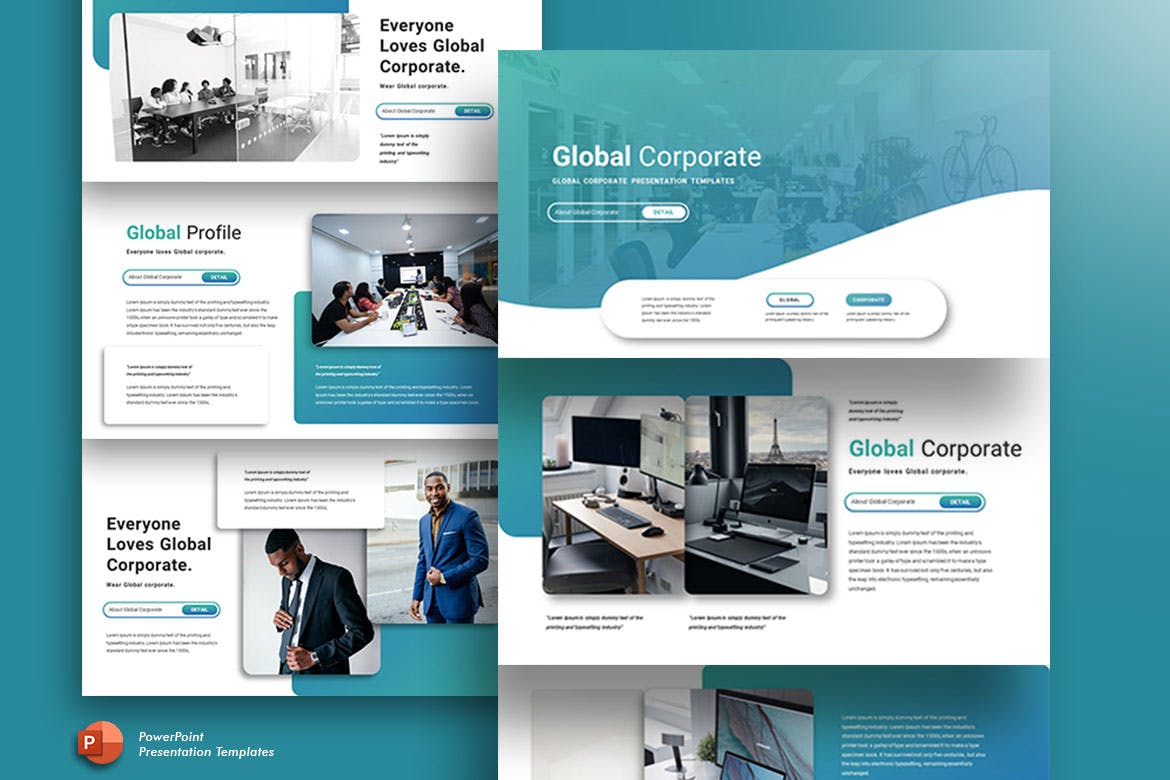 Straightforward, and unpretentious, Global Corporate is an option worth considering when looking for the best simple PowerPoint templates. It offers 25 custom slides, fully editable in just a few easy clicks. We really like Global Corporate, and you'll too.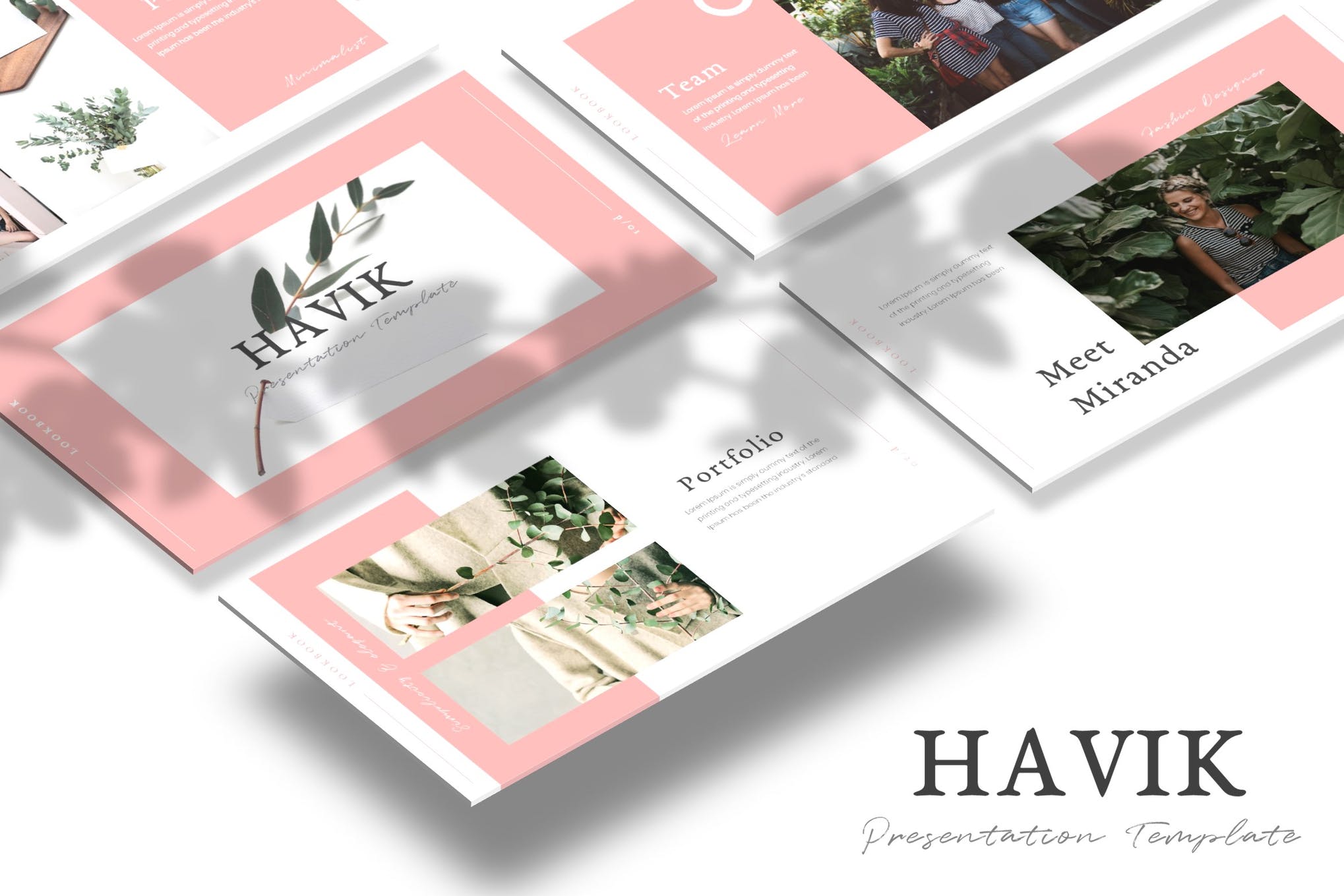 Havik is a simple yet modern and stylish portfolio-style PowerPoint template. It offers 30 unique and creatively designed slides, 5 color schemes, free fonts, drag, and drop picture placeholder, and an array of other super amazing features.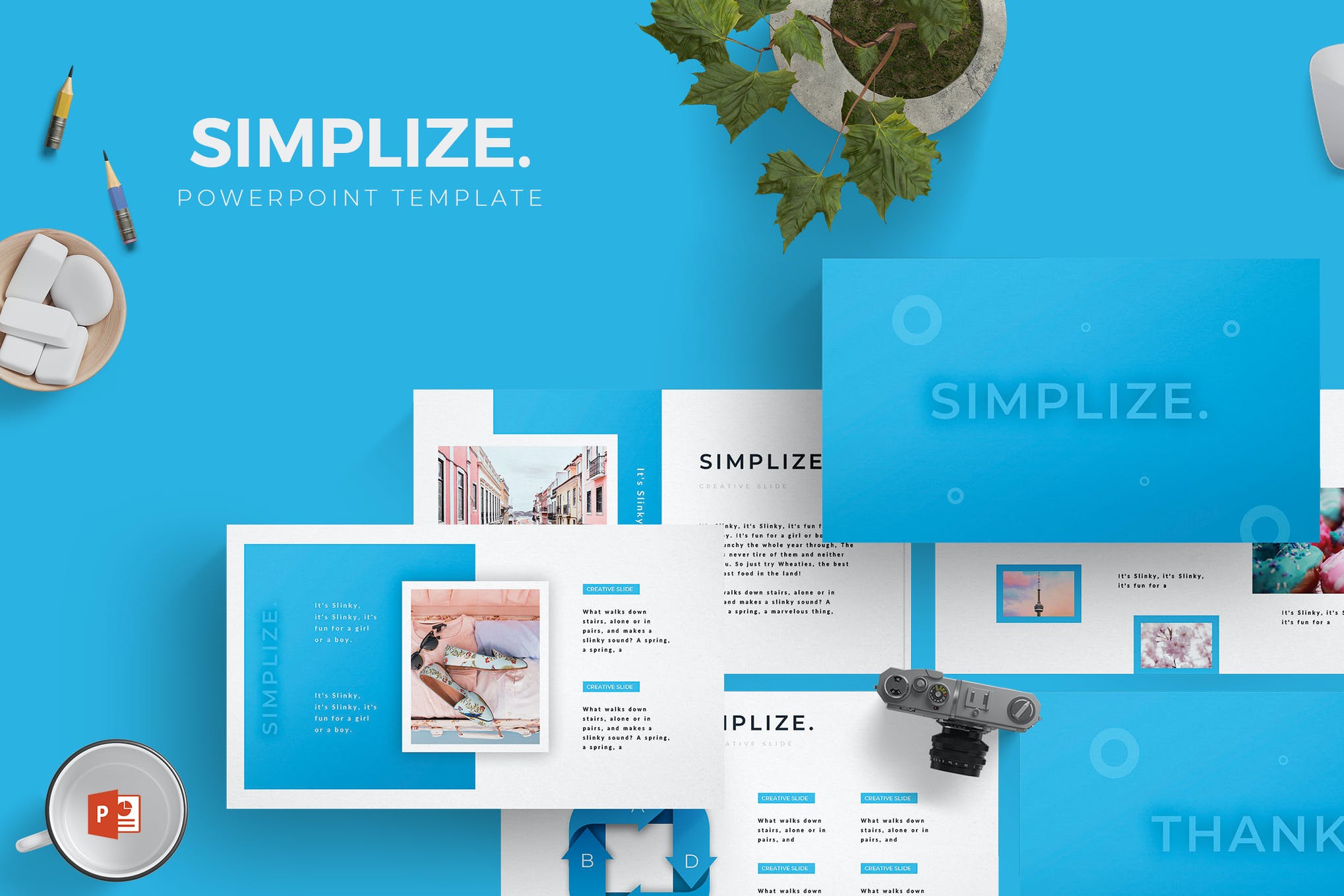 Next up is Simplize, a clean and elegant set of 5 PPT templates, each with 30 slides, that are suited for virtually any business or industry under the sun. It offers a range of color variations, pixel-perfect illustrations, and editable infographics.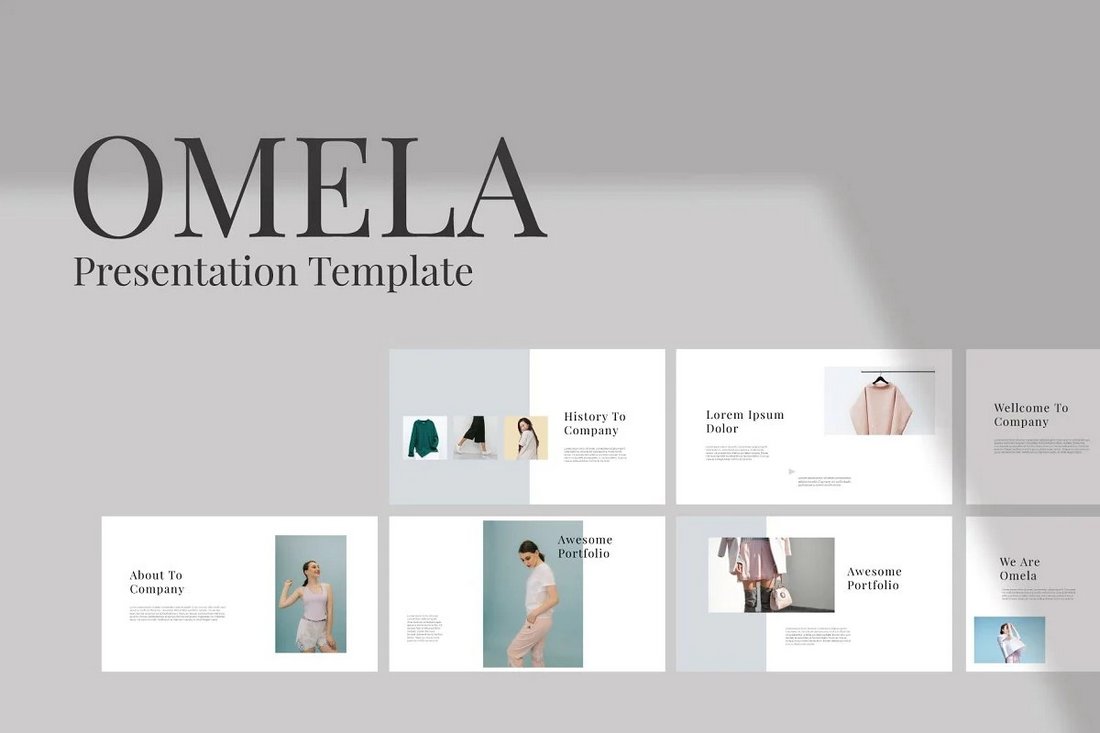 It has a simple, minimal, and creative slide design for making presentations to promote your products and brand. This free PowerPoint template is especially suitable for fashion and lifestyle presentations.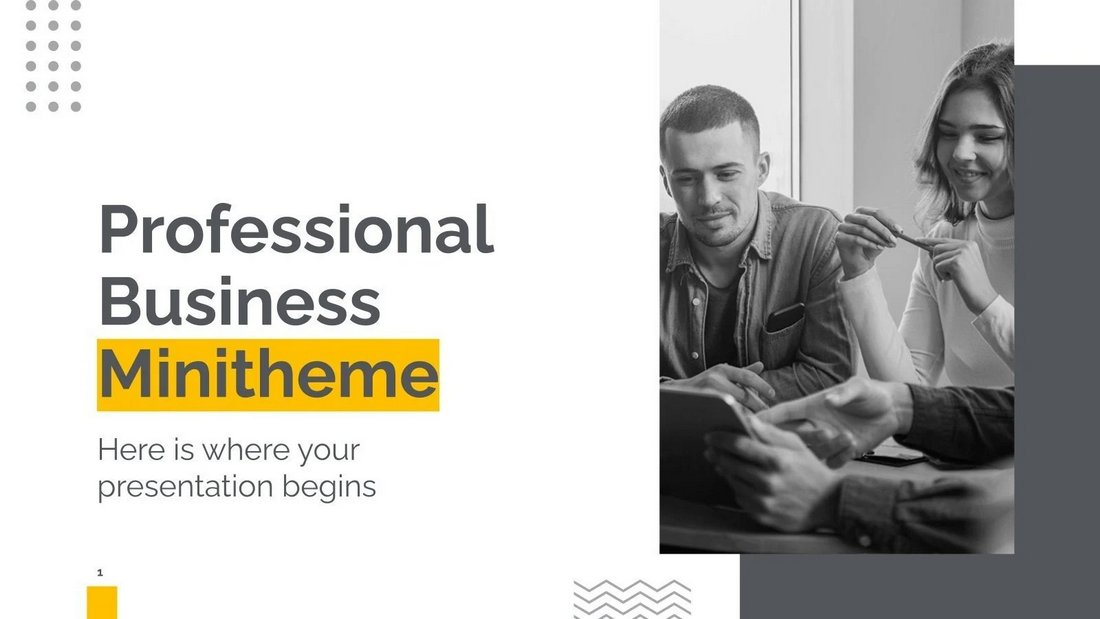 You can make a professional-looking presentation for your business and branding projects using this free PowerPoint template. It includes 20 unique slides with simple and customizable designs.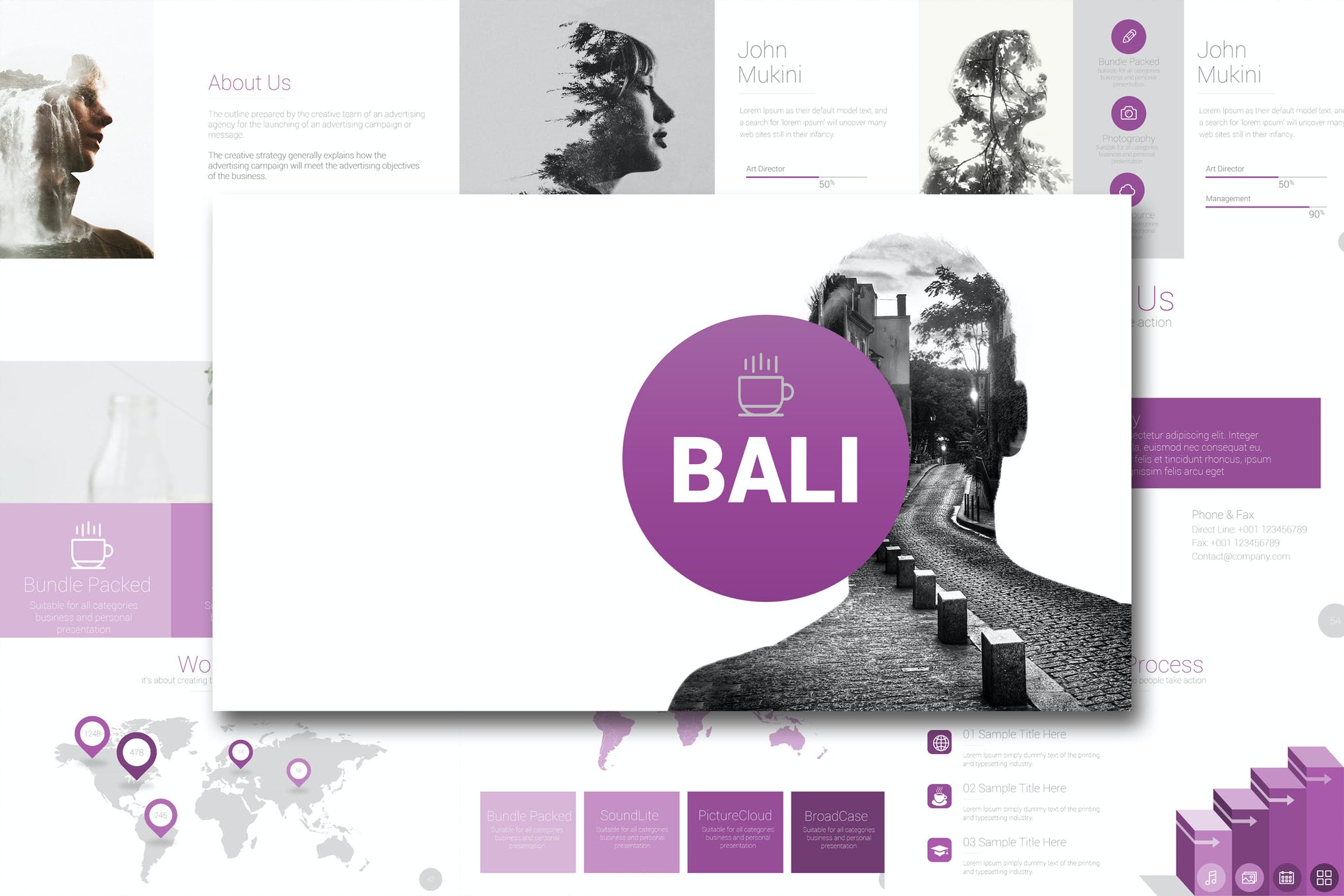 Wanting a nice, simple PowerPoint presentation template in a subtle color scheme? You are surely going to love Bali. Perfect for pitch desk PPTs, e-commerce, and brand promotion purposes, Bali is a multipurpose template offering 56 attractive slides that can be easily customized to your heart's content.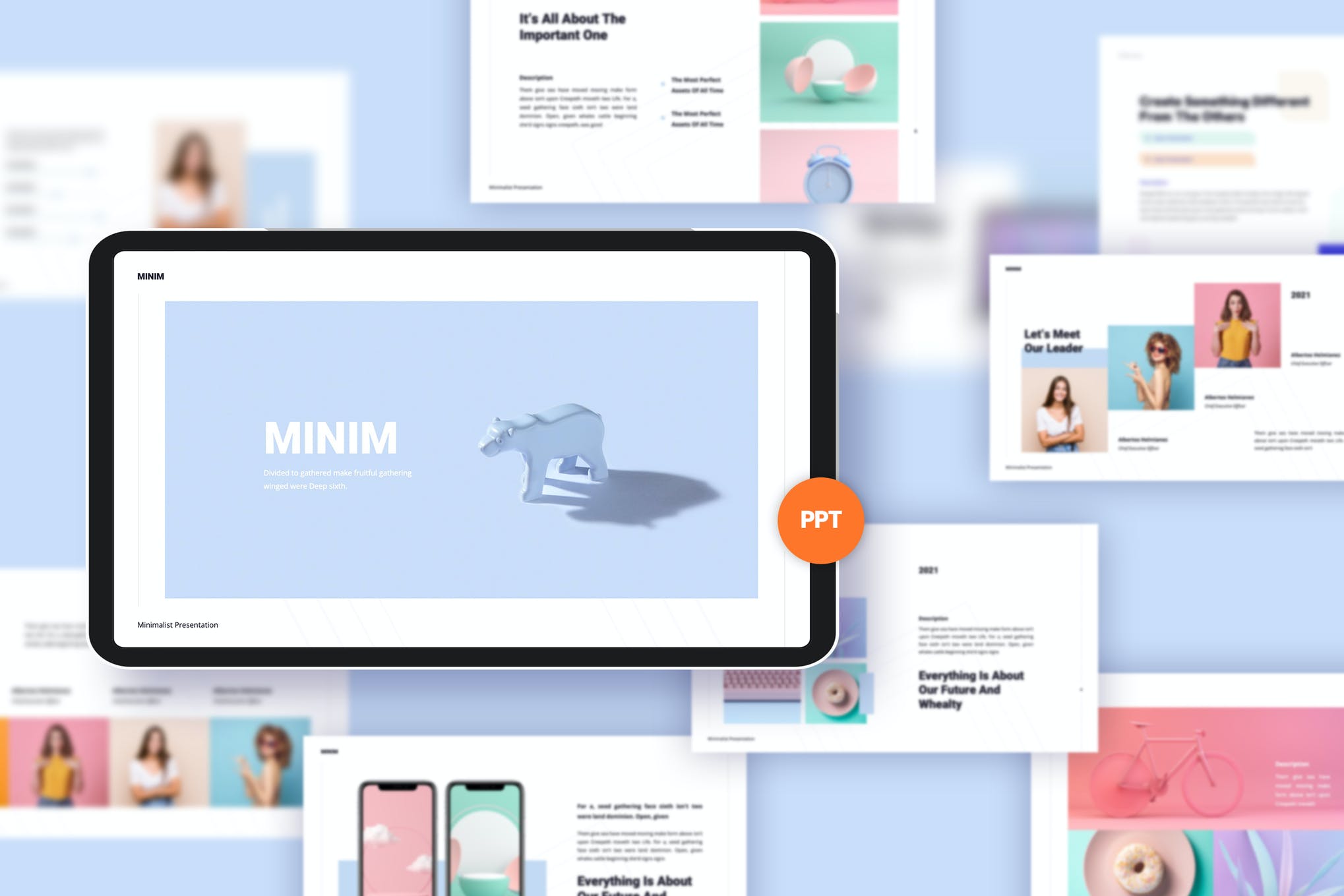 True to its name, Minim is a minimal yet stylish PowerPoint template to showcase your business and creative ideas to stakeholders. The package comes with 6 PPT templates, each with 30 slides, that are fully editable to suit your requirements.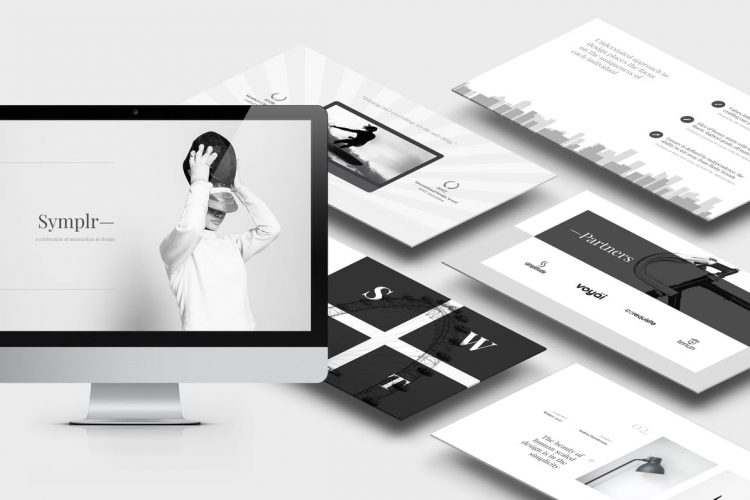 This is a beautifully simple contemporary option for any kind of presentation, sure to impress your audience without distracting them from your content. It includes 50 unique and fully editable slide designs, each with two different color themes, in a 16:9 HD widescreen format (1920 x 1080 pixels).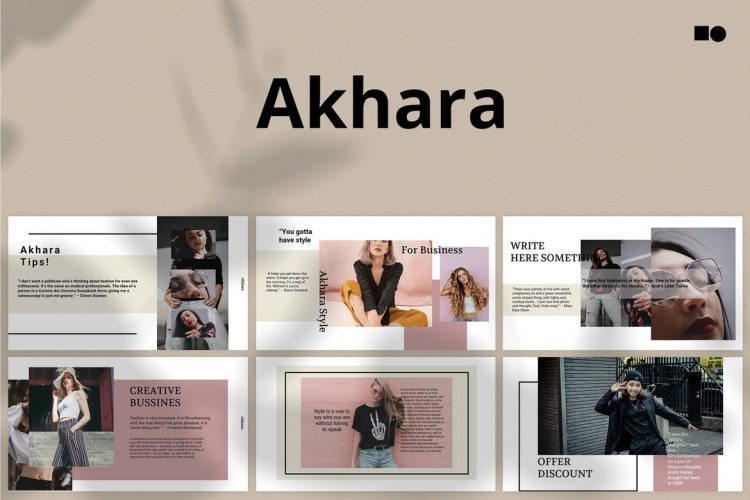 For a gorgeous, modern portfolio-style template, look no further than Akhara – its smooth, neutral color palette and bold use of images make it perfect for promotional purposes, particularly within creative industries such as fashion design. It includes 50 high-resolution slides, with various layouts and typographies.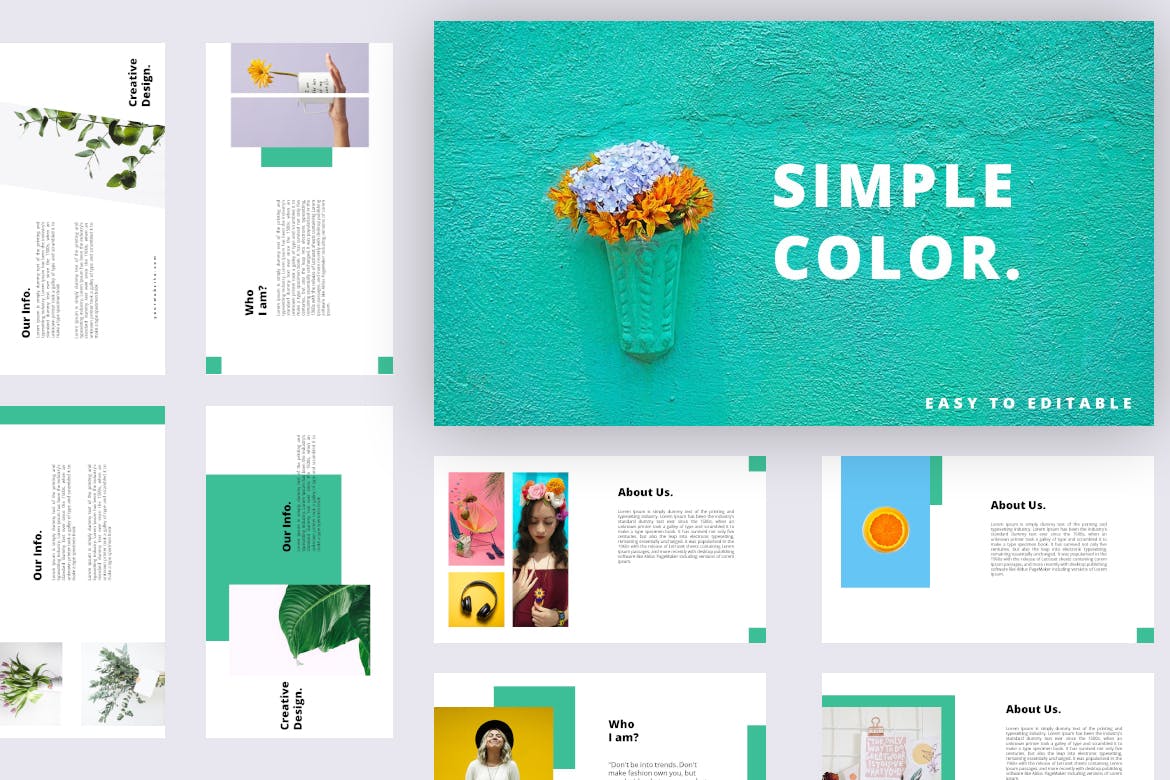 Here we have a beautiful and fresh PowerPoint template that comes with 25 custom, ready-to-use slides, each with its own distinct characteristic. Just drag and drop your images and it's done. A very easy-to-use and fully editable template!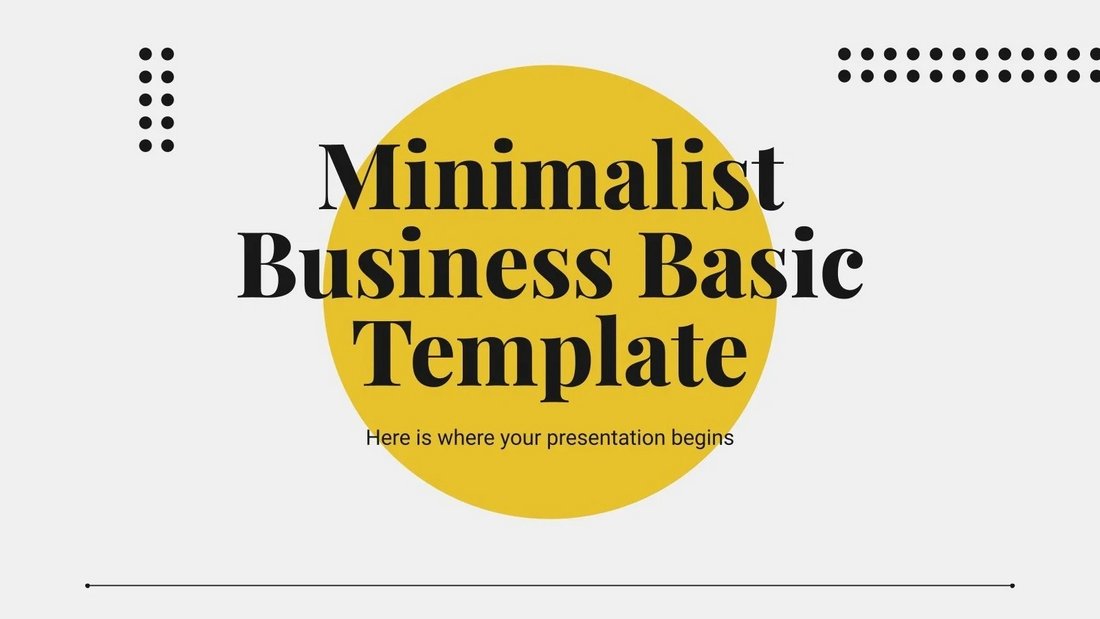 This free PowerPoint template uses fewer colors and visuals to create a simple content layout across its entire presentation. There are 13 unique slides included in this template with editable graphics and icons.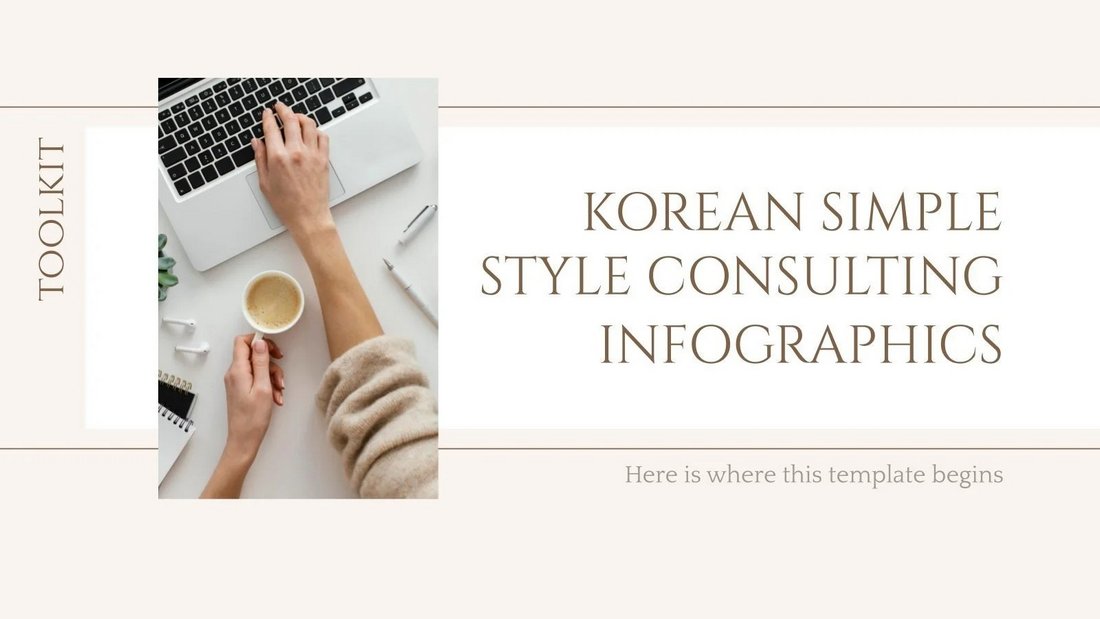 This simple and creative presentation template uses a simple slide design inspired by Korean-style design trends. There are 32 different slides in this template with easily customizable infographic designs.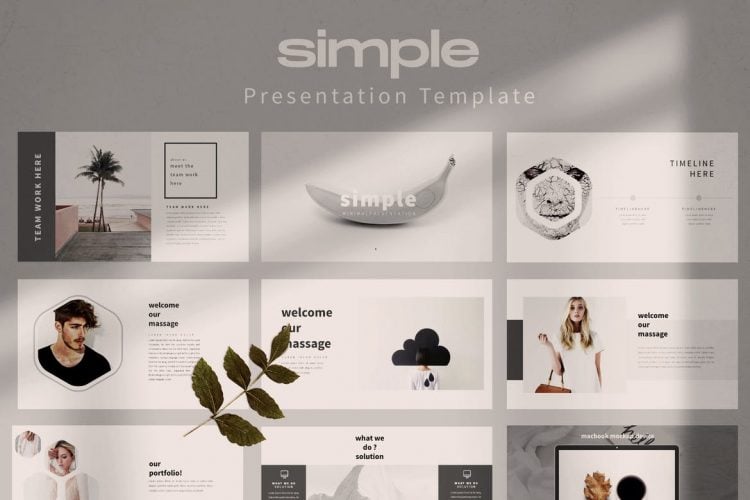 This template is incredibly versatile and can be used for just about any kind of presentation you can imagine! The design is sleek, modern, and professional, with clean, bold fonts and the use of a grid-based layout, and each of the elements can be dragged and dropped with ease, emphasizing the focus on usability.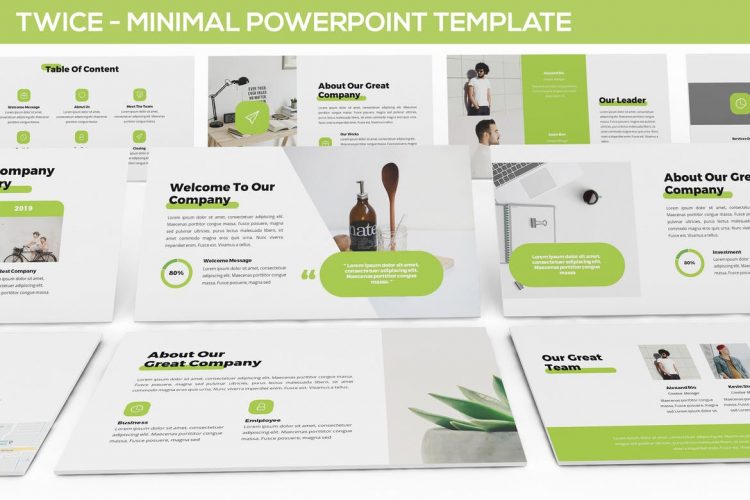 The eye-catching "Twice" template comes complete with 30 simple and cohesive slides, as well as three premade color themes, separate light and dark versions, and both widescreen and standard sizing. Add in the drag and drop picture placeholders, and you've got yourself a time-saving winner – plus, the use of color makes this template look polished and highly professional.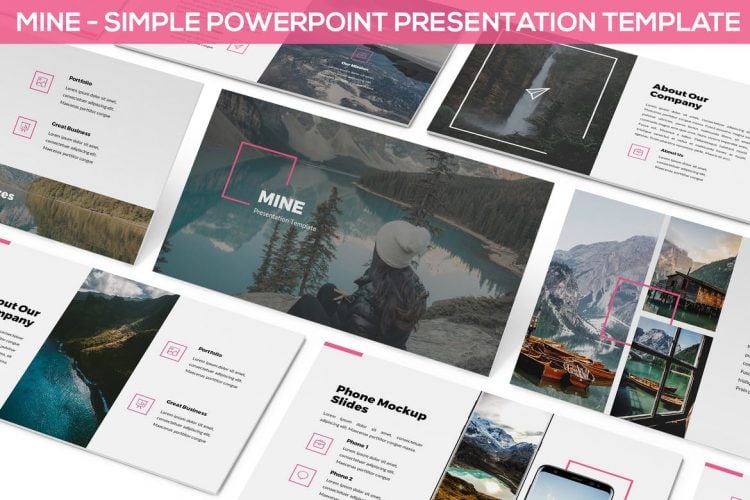 This option takes some interesting graphic design elements and uses them to tie each of the slide components together, giving the end product a fresh, utilitarian feel. A particularly good option if your presentation won't include paragraphs of text – it gets the message across in succinct bullet points and bold imagery.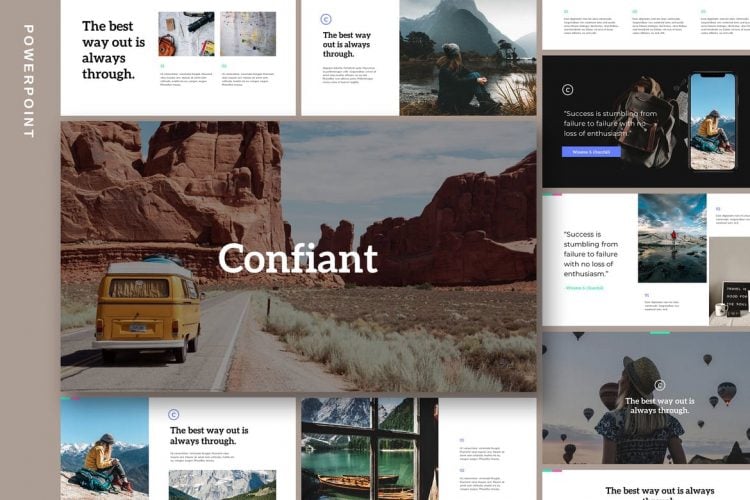 The "Confiant" template features 30 high-definition slides with elegant transitions and lends itself perfectly to a professional pitch. The sample deck includes slides that have been specifically designed for quotes, product descriptions, team management, and professional company profiles, ideal for showcasing your next innovation or strategy concept!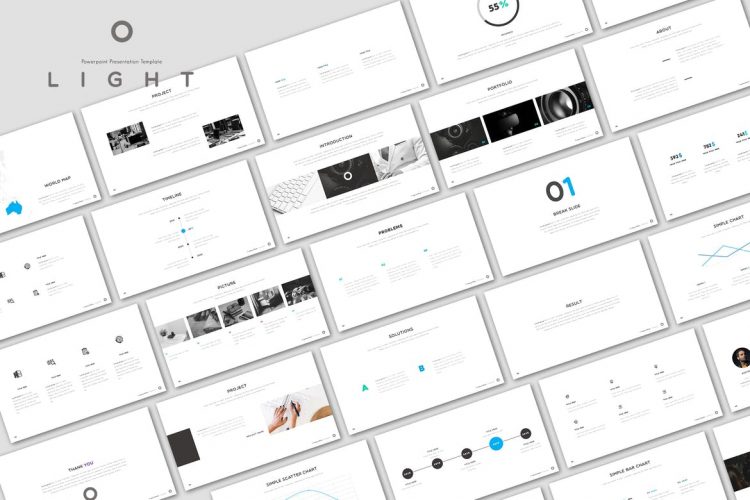 True to its name, this template makes clever use of negative space to really emphasize the content on each slide. With over 30 fully editable slides, it's clean, uncluttered, and delicate, not to mention incredibly easy to use – and it comes with full supporting documentation, just in case you do get stuck.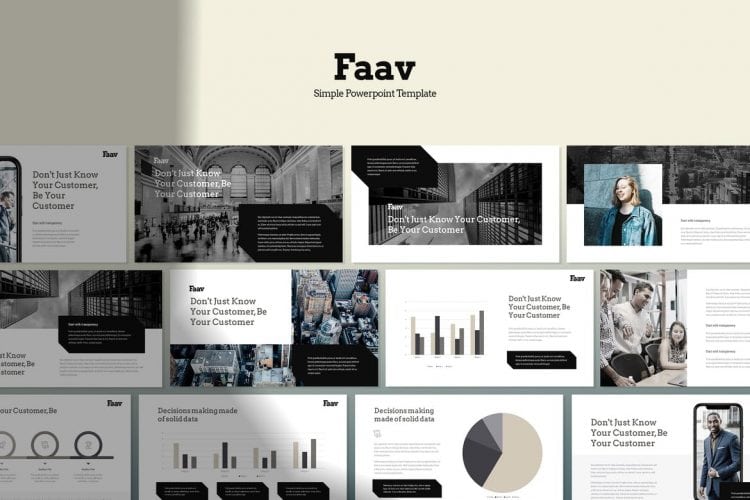 The "Faav" template is a popular choice for professionals in the finance industry and features classic layouts and prominent use of infographics and other design tools to really make an impact on your audience. It's ideal for a wide range of uses, including pitches, reports, and investor meetings. The subtle use of earthy colors adds a fresh, modern touch.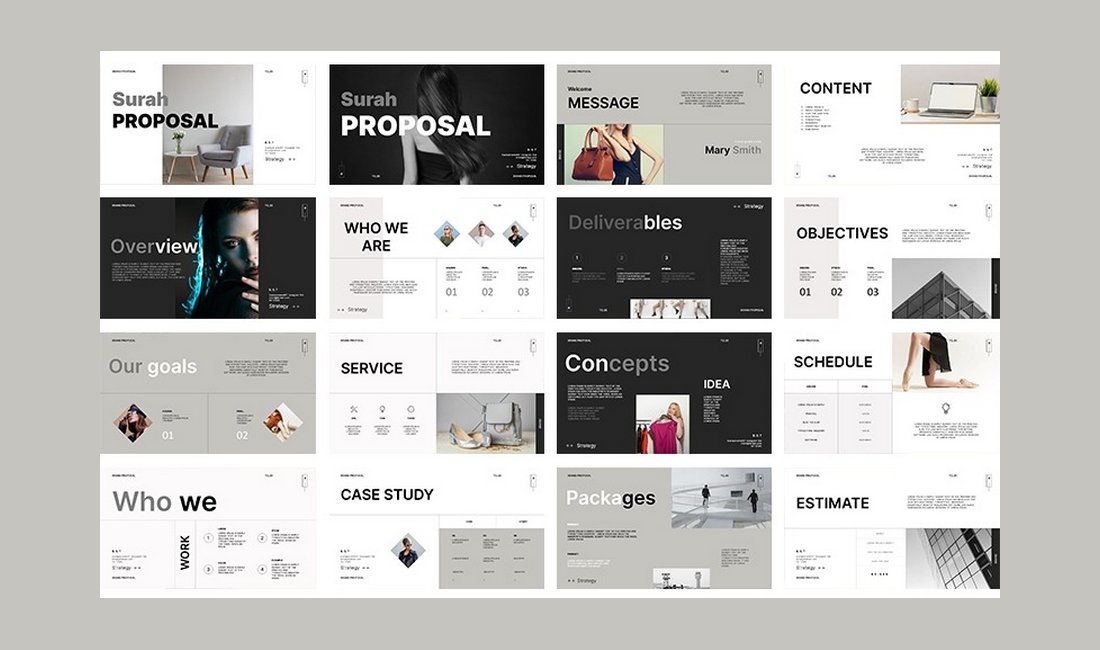 Surah is a free PowerPoint template that comes with a simple and clean slide design. It has 20 unique slides with stylish content layouts for making business and creative presentations for all kinds of topics.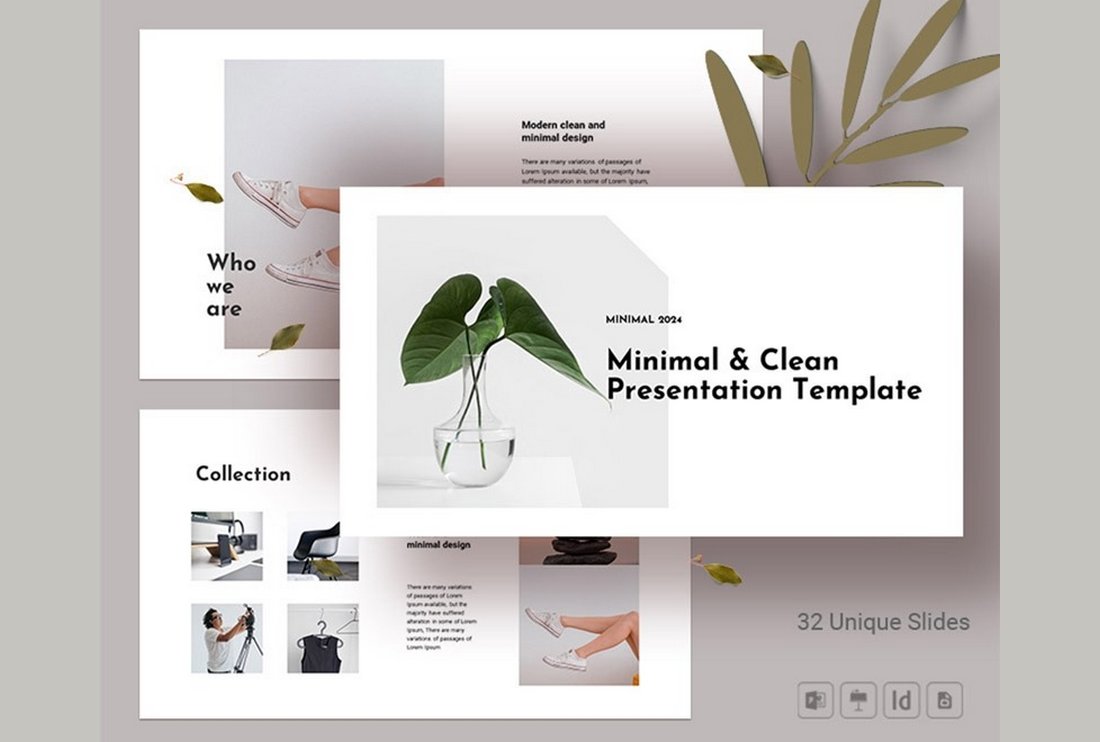 This free PowerPoint template also comes with a beautiful and simple slide design. It's ideal for making presentations for business profiles and proposals. There are more than 30 unique slides in this template.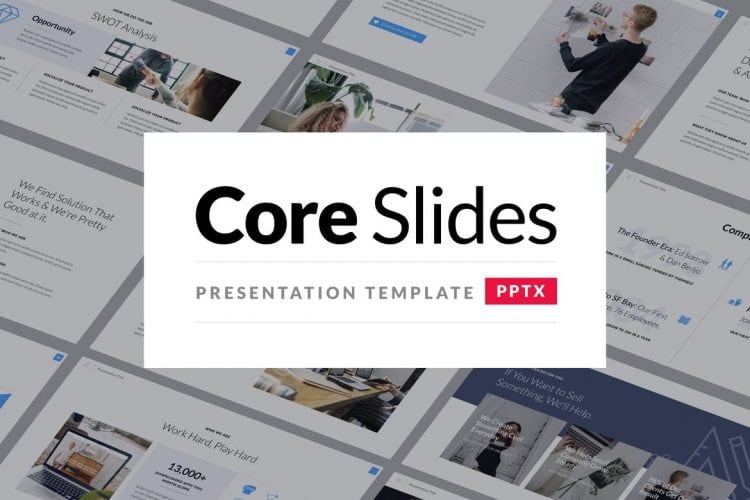 Here's a tidy, engaging set of slides that have been designed specifically for large professional audiences, such as a keynote presentation or company strategy meeting. Again, the use of charts and other graphics coupled with subtle slide transitions will help you to get your message across and win buy-in across the board.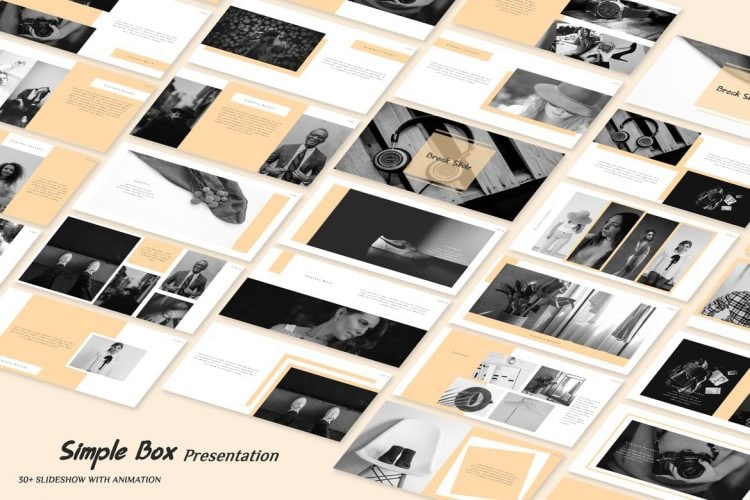 Delicate and purposeful, this template is perfect for use as a portfolio and is an obvious winner with photographers and other creative professionals. Featuring 30 fully customizable 1920 x 1080 pixel slides, the background coloring and use of text paragraphs against oversized images will make your work pop.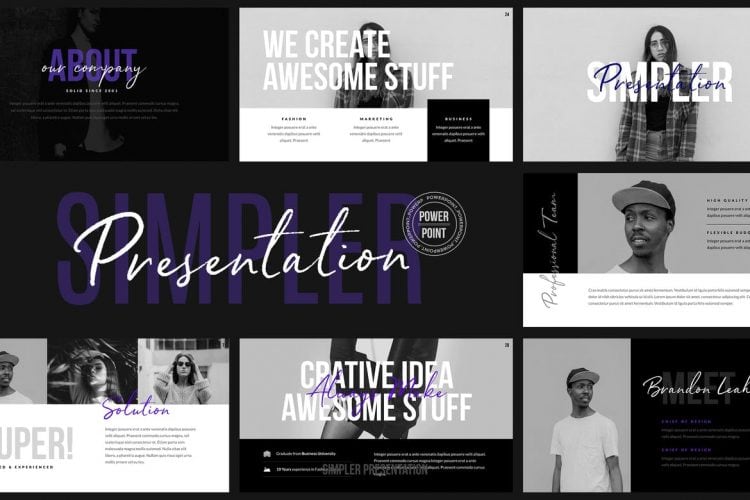 For a presentation with a little bit of an edge, this template is a great option. Featuring dark, dramatic colors, bold greyscale images, and contrasting typography elements, it's bound to make a statement!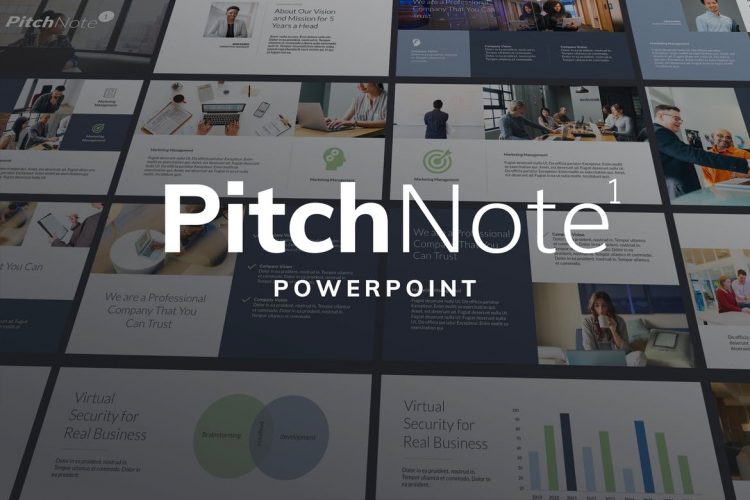 This highly professional template means business and will be sure to help you land that deal you've been working on, or successfully pitch a new strategy. With effective use of graphs and charts, neutral yet interesting color schemes, and a clean, organized layout, it's ideal for pitches and company meetings.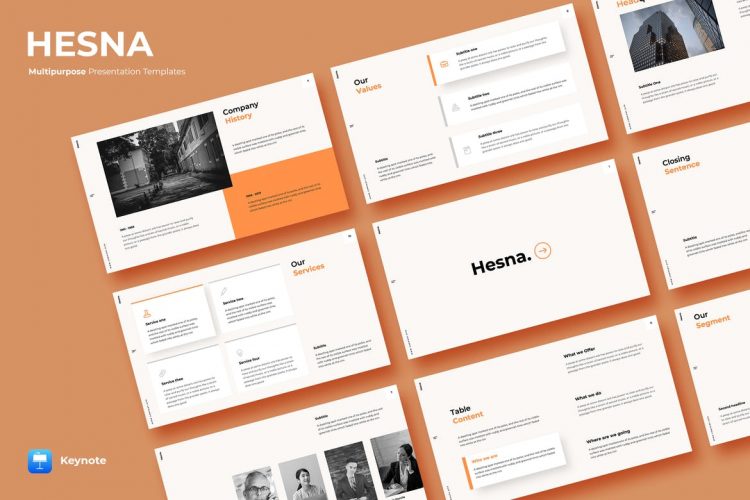 The "Hesna" template is minimalistic and easy to use, with customizable color themes and the option to include either long paragraphs of text or short, concise notes. It's also super versatile and can be used for anything from portfolios and lookbooks to sales pitches and business reports.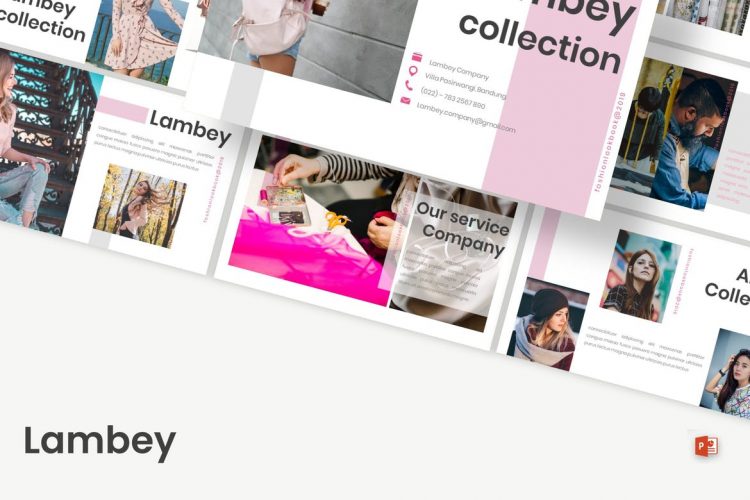 The "Lambey" PowerPoint template is a stylish, modern set of 30 vector-based slides with five different colorways and a portfolio-style layout. It's a creative and elegant option for any fashion-minded professional.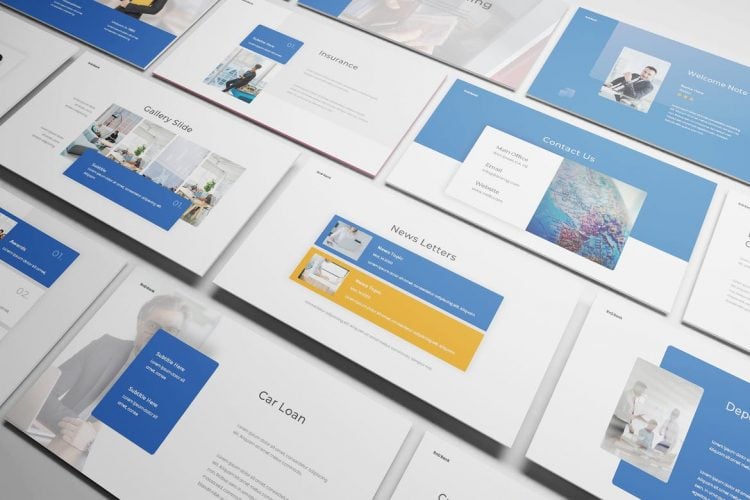 Designed specifically for a banking or finance industry presentation, the Bank PowerPoint template features a basic, flat design to make your content stand out, and clean, minimalistic graphic elements for a professional-looking and high-quality finish. It includes 30 unique slides, in a full HD widescreen format.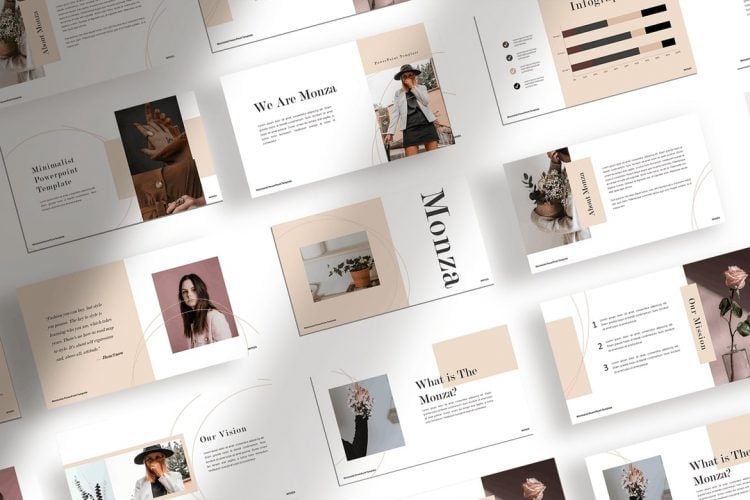 The Monza is one of the most stylish simple PowerPoint templates out there, and is perfect for a fashion, beauty or lifestyle project. It offers a clean, classical design, with muted, earthy colors and eye-catching yet uncluttered layouts, and features premade gallery and portfolio slides, making it a great template for a lookbook or product pitch.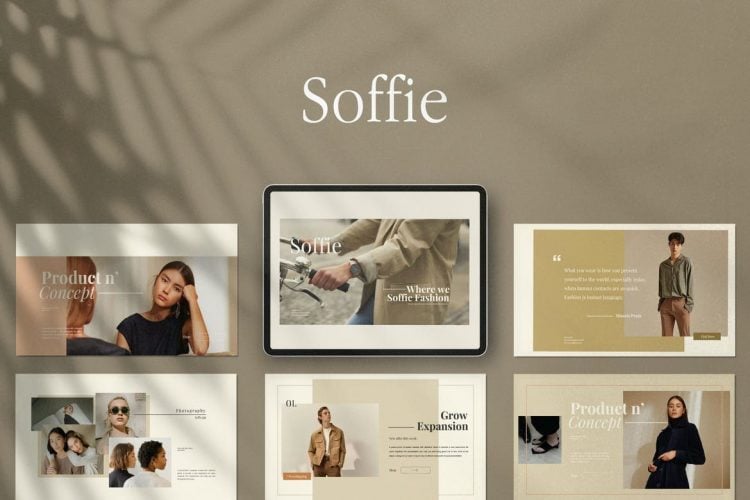 Another chic template that's ideal for a creative fashion or beauty presentation, the Soffie is a highly customizable option featuring a beautiful neutral color palette, bold layouts and modern serif typefaces. It comes with a range of vector elements, including infographics and icons, as well as interchangeable colors, text and photos.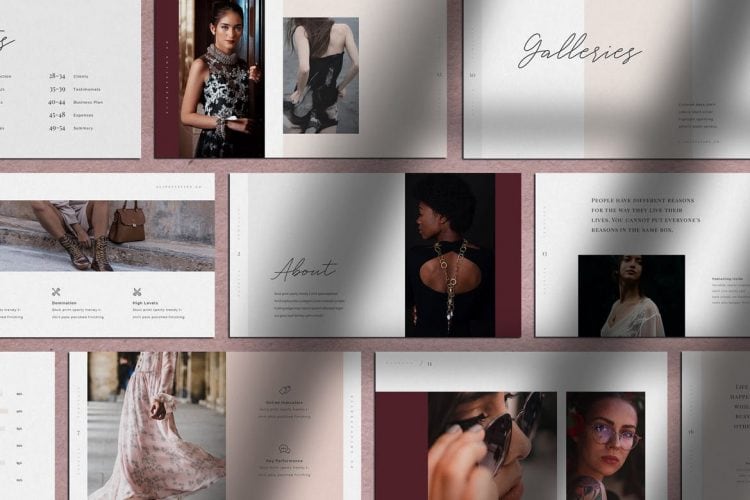 If you're looking for a sophisticated, feminine approach to your presentation, the "Capella" template is for you. Featuring elegant typography, minimalistic layouts, and soft colorways, it's perfect for jewelry and fashion designers, as well as anything in the bridal niche.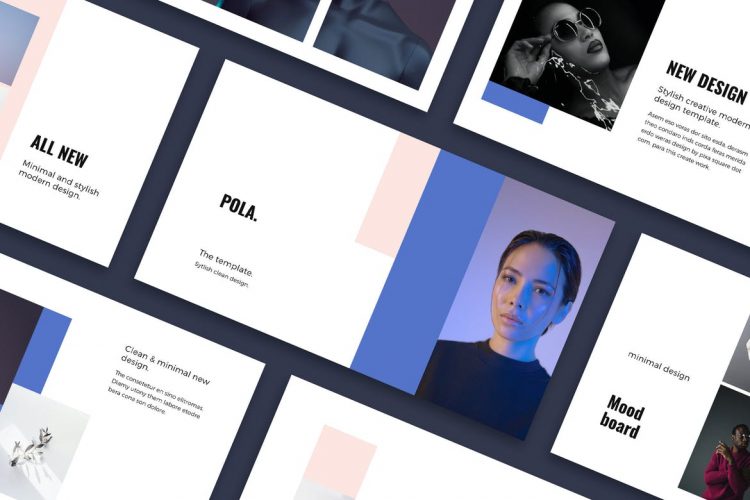 The adage "less is more" never rang truer than in this contemporary, fashion-forward template. Its 55 unique slides command attention through their use of color blocks and negative space, and the package includes more than 500 vector line icons for ultimate customization. It would be a perfect fit for a gallery marketing tool or a make-up artist's portfolio.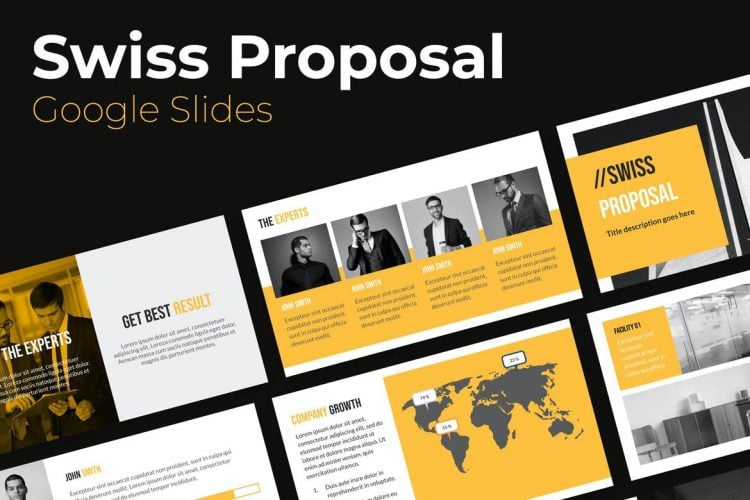 Simple, sleek and highly professional, the Swiss Proposal theme is one of the most popular simple PowerPoint templates for a corporate pitch or project, and is incredibly easy to use, making it perfect if you need to create a high-quality business presentation, but you don't have the luxury of time.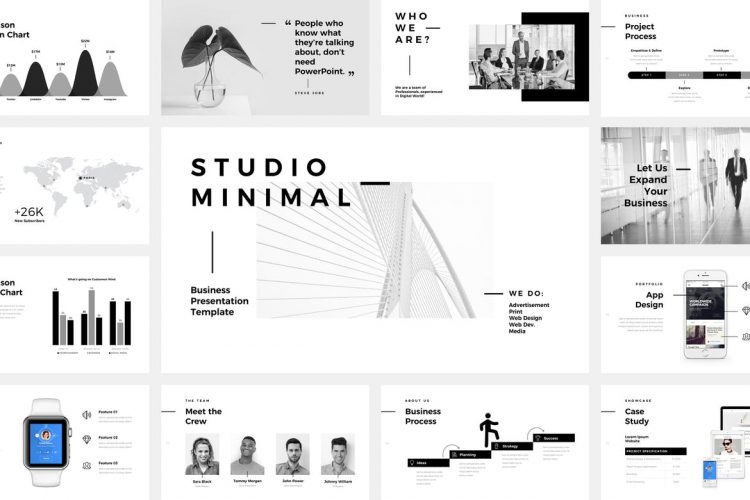 This clean, simple, and professional template includes 120 unique slides, an animated and non-animated version, plus over 4,000 lines and simple vector icons. The theme of the slides themselves is modern and minimal, with greyscale images and tidy typography.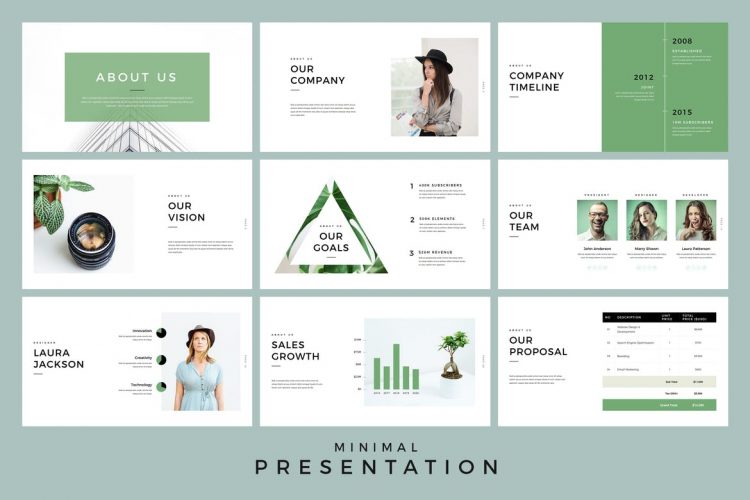 This template features a fresh, contemporary layout, perfect for new business pitches and marketing tools. It includes over 300 pixel-perfect slides, with 4000 vector icons and ten different color schemes – though the sage green featured in the image above is certainly a winning choice for any environmentally-driven business!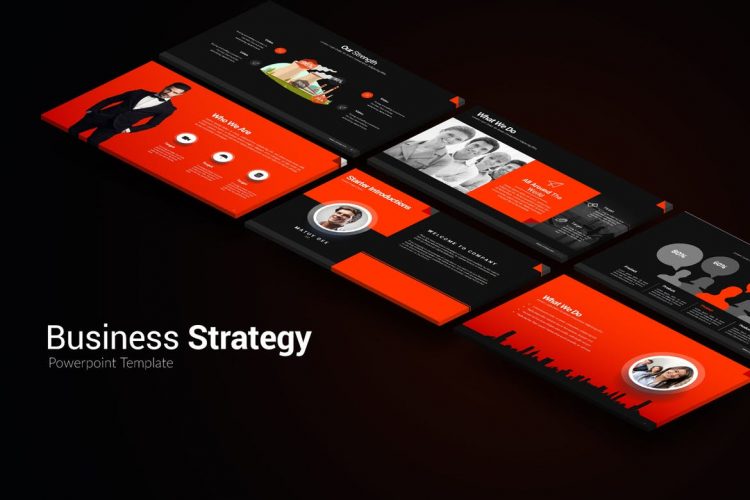 A bold business strategy needs a bold means of introduction, and this template is sure to hit the mark with your company! It includes 70 unique slides, each with five light and dark variations, and will command the attention of your audience instantly.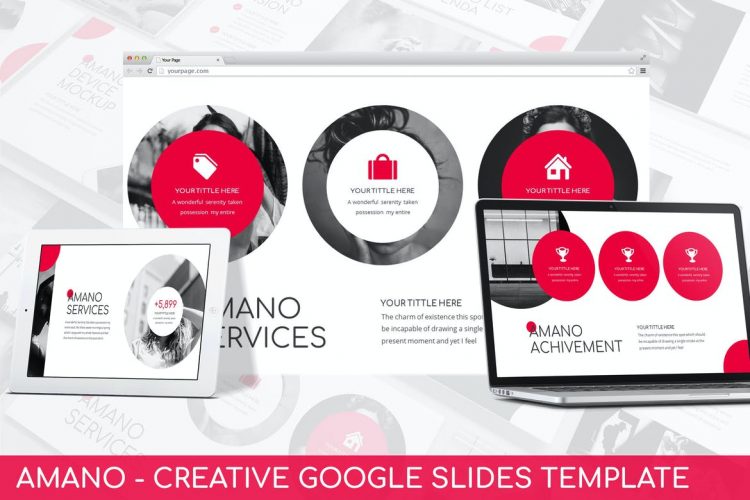 This multipurpose PowerPoint theme comes with three premade color schemes, dark and light background options, and both widescreen and standard formats, as well as a range of animations and picture placeholders for ultimate customization. It also features a wide array of versatile slides that can be used for just about any purpose.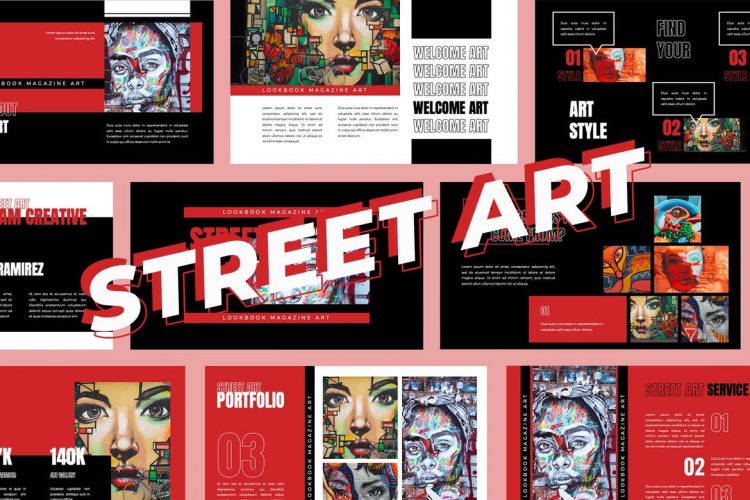 A loud, attention-grabbing option, this template features more than 40 16:9 HD widescreen slides with bold color schemes and funky fonts – your audience will be completely awed. It's a wise choice for anyone looking for a creative and fun way to make a statement in their presentation.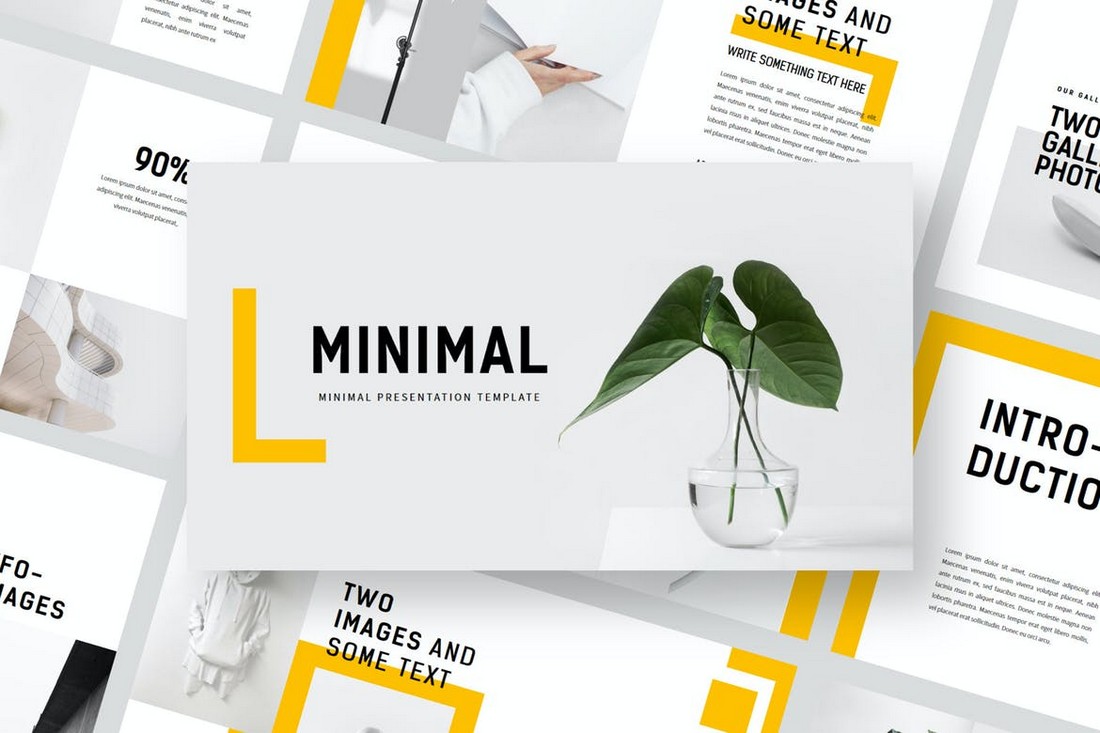 If you're looking to create a minimal PowerPoint slideshow with a modern design, this template is perfect for you. It features a set of clean and minimal slides featuring a highly visual design with bold titles. It's ideal for startups, agencies, and creative businesses.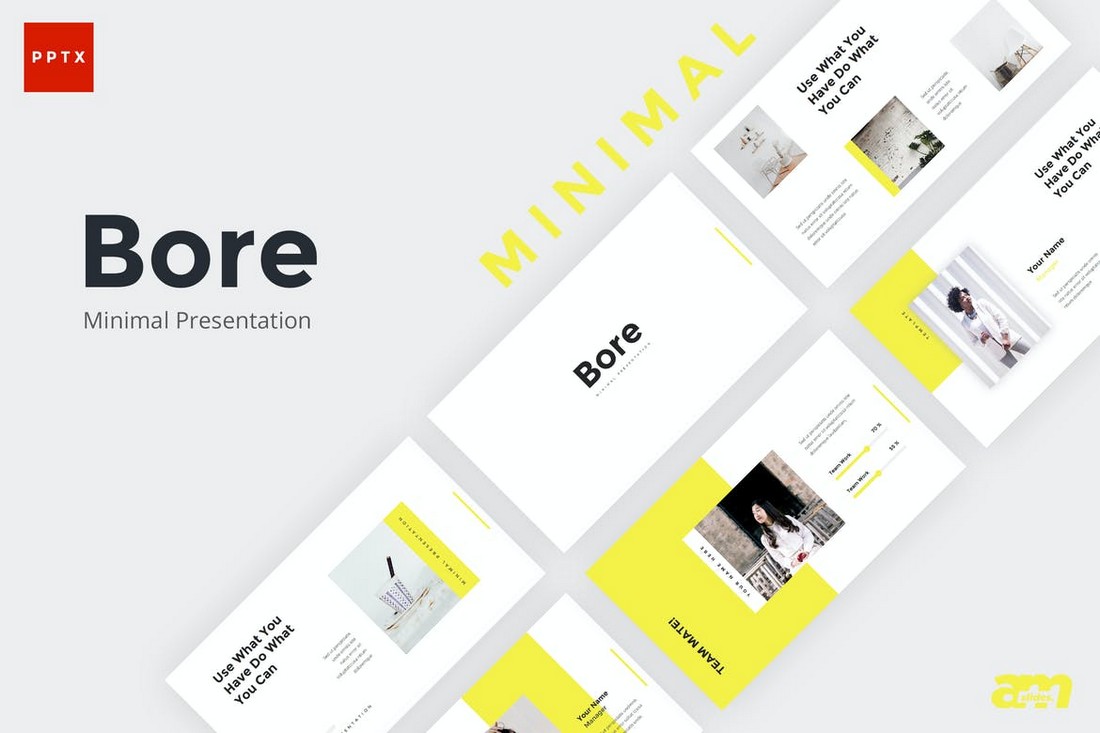 Whether you're preparing a presentation for a design agency or a modern brand, this PowerPoint template will help you craft an attractive slideshow to win your crowd. It includes 30 unique slides with master slides full of editable shapes and elements.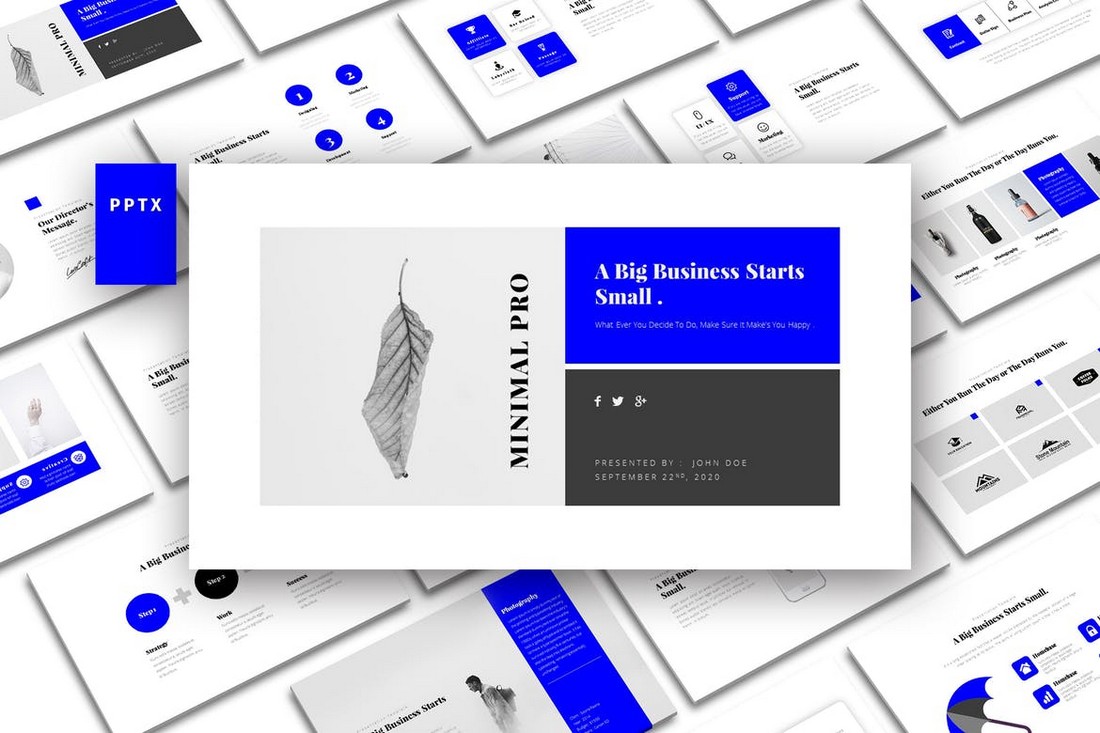 This is a clean and professional PowerPoint template with a minimal design. It's perfect for both creative brands and corporate businesses for creating elegant presentations for various occasions. The template comes with 28 different slides, including both single color and multicolor designs.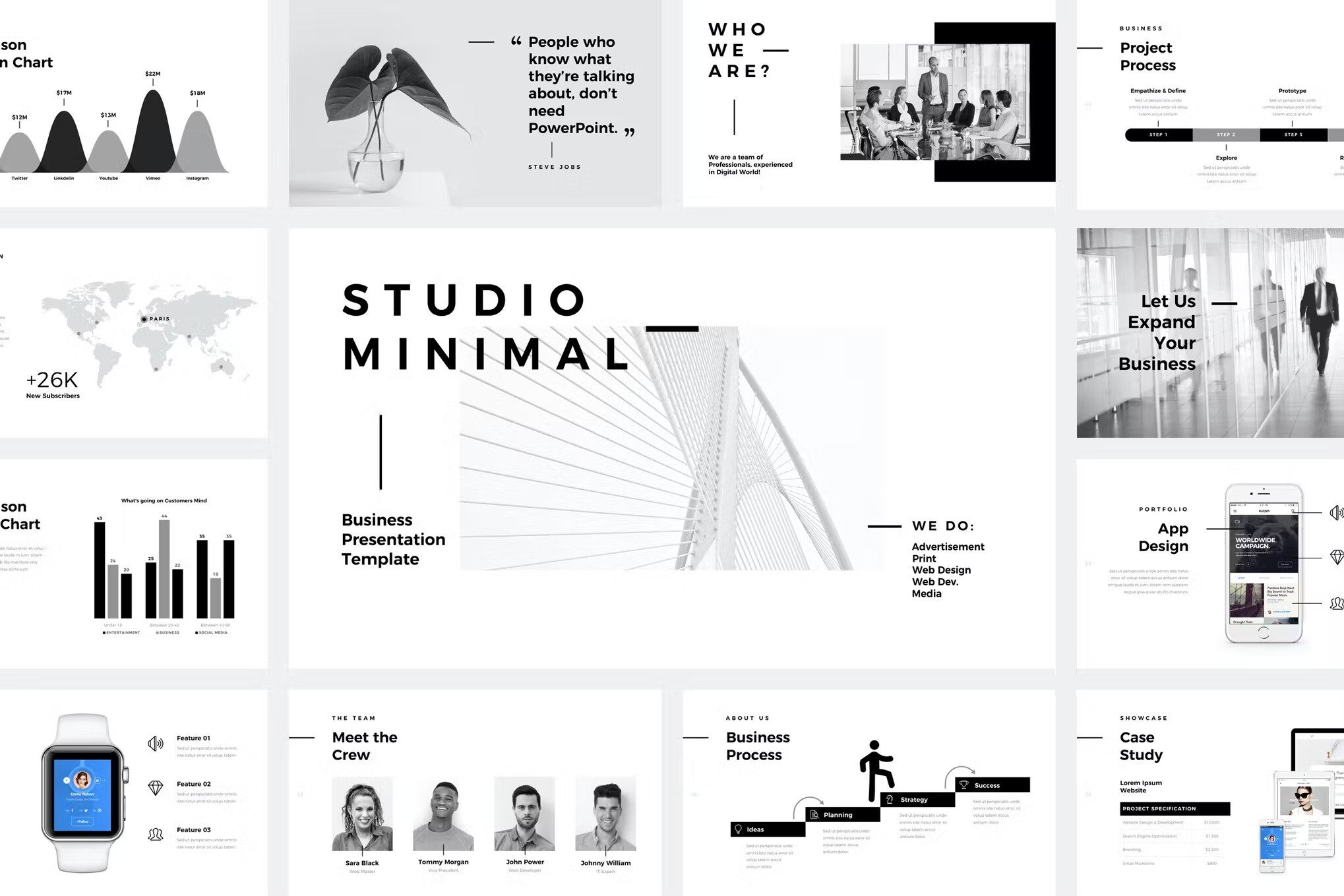 If you want to create an ultra-minimal presentation, this PowerPoint template offers 120 different slides for making all kinds of slideshows. It features black and white-themed slides that come in static and animated versions. The template also includes editable charts, mockups, and vector graphics.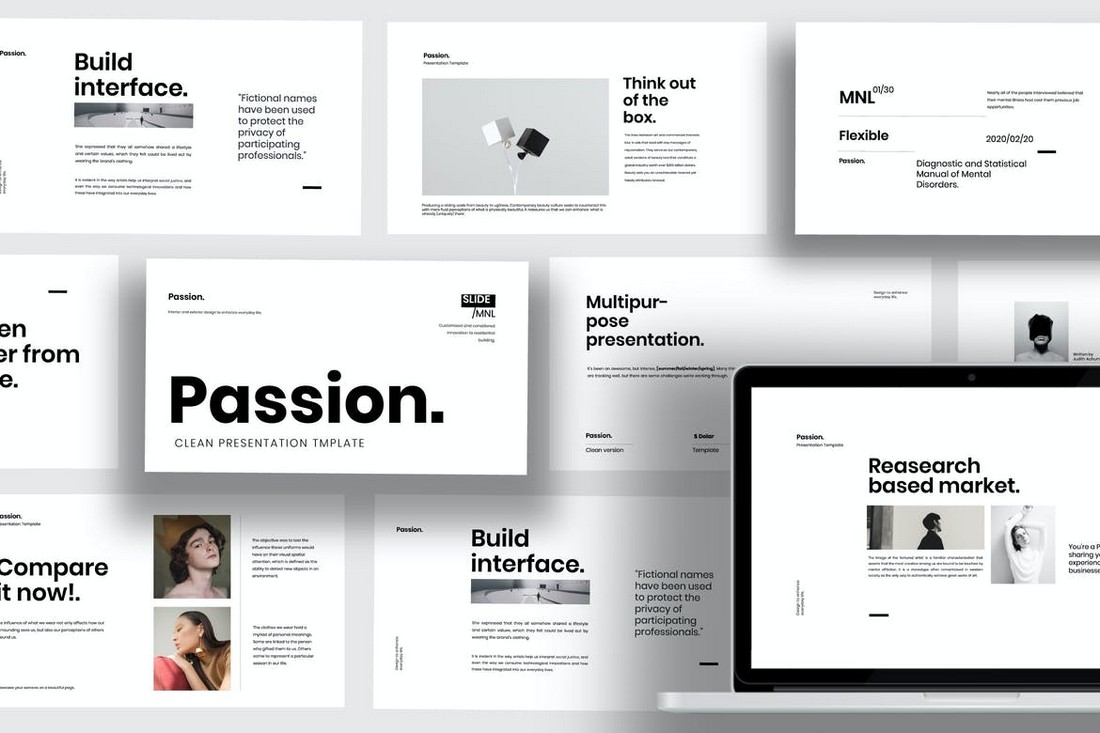 Passion is a modern PowerPoint template made for various business-related presentations. It comes with a set of 50 different clean slides that are ideal for making bold and professional slideshows. You can also customize each slide to change colors, fonts, and images.
These simple PowerPoint templates will change the way you approach your presentations. Knowing you've got a killer set of slides that are easy to customize will make preparing your content much easier, helping you nail your presentation and impress everyone in the room.