5 WordPress Plugins to Create Your Own Website Builder
When you're trying to setup your first website, it's easy to get confused by all the platforms, software, and all the decisions you have to make.
Which website builder is best for beginners? Which platform is the cheapest? Or should I hire someone else to build the website for me?
Well, no need to worry about all those decisions anymore. In this post, we'll tell you about some of the best plugins you can use to easily create your own website builder using WordPress.
What Is A Website Builder?
If you've ever heard about Squarespace or Wix, then you may already have an idea of what a website builder is. A website builder is often known as a web-based tool that allows you to effortlessly design and publish websites without having to write code and having any web design experience. (Here's a useful guide that introduces the concept!)
Squarespace, Wix, and Weebly are some of the popular SaaS (Software as a Service) businesses that provide website building tools as a service to its users. Usually, you have to pay a monthly fee to access those tools.
But, there's an easier approach to this. You can actually use WordPress as a website builder too.
Why Use WordPress To Build Websites?
While using cloud-based website builders can be more convenient, it often comes at a cost. When using online platforms, you'll be limited to the only customization features offered by the platform and you'll be sacrificing the freedom to control your website.
WordPress, on the other hand, puts you in control of your own website. You can make your website using any web hosting provider of your choice and customize the website and add more functions and pages to your website whenever you like.
With a little bit of work, you can even turn your WordPress website into a website builder as well. There are many plugins that allow you to build unique website designs, landing pages, and custom-built themes in WordPress without coding. Most of those plugins are free to download and use as well.
Here are some of the best plugins you can use to create a website builder with WordPress.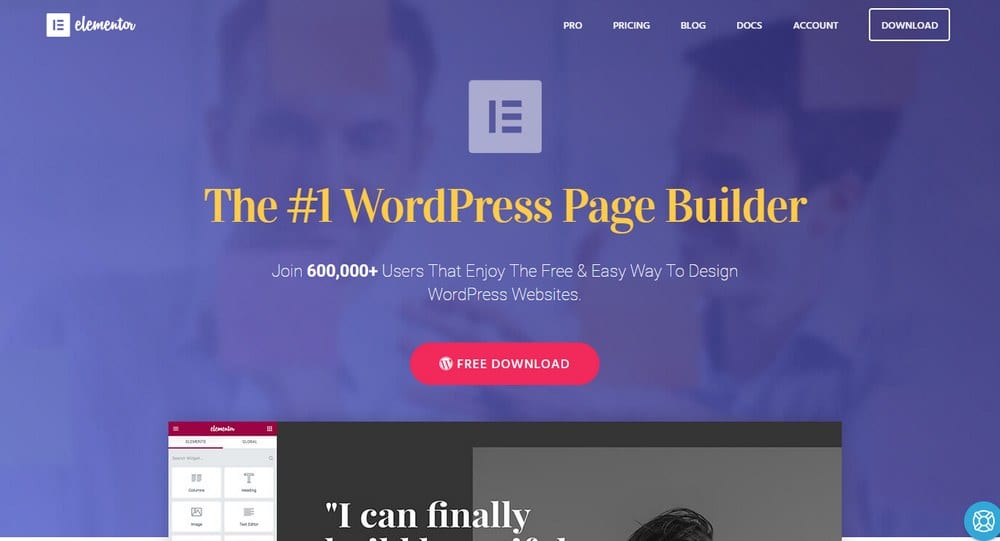 Price: Free
Best For: Beginners & advanced users
Main Features: Drag and drop editor, free templates library
Page builder plugins help you create landing pages, sales pages, and many other types of custom designs in WordPress without any web design knowledge. With over 600,000 active installs, Elementor is one of the most popular free page builders available on WordPress.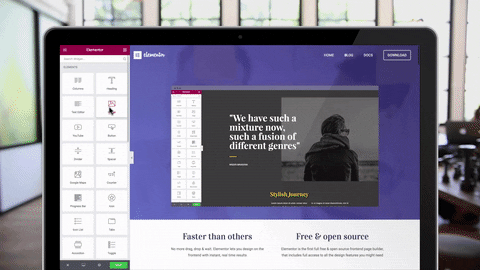 The best feature of Elementor is its drag and drop editor, that allows even the complete beginners to easily build and customize the theme design without any effort. It also includes a library of over 100 pre-built templates and lots of elements for crafting unique website designs.
Elementor can be used to build unique WordPress themes as well. Follow our guide to learn how to install Elementor and get started building websites.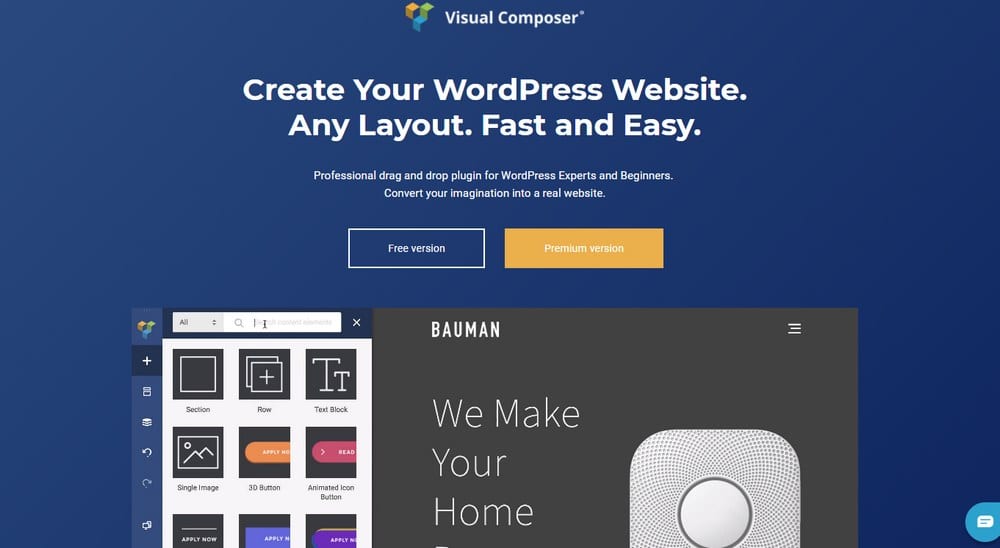 Price: Free
Best For: Beginners
Main Features: WYSIWYG editor, fully responsive designs
Ever since the release of the Elementor, the demand for the Visual Composer premium page builder started to fade. So the team behind the plugin recently released a new version of the plugin called Visual Composer Website Builder, with a free option.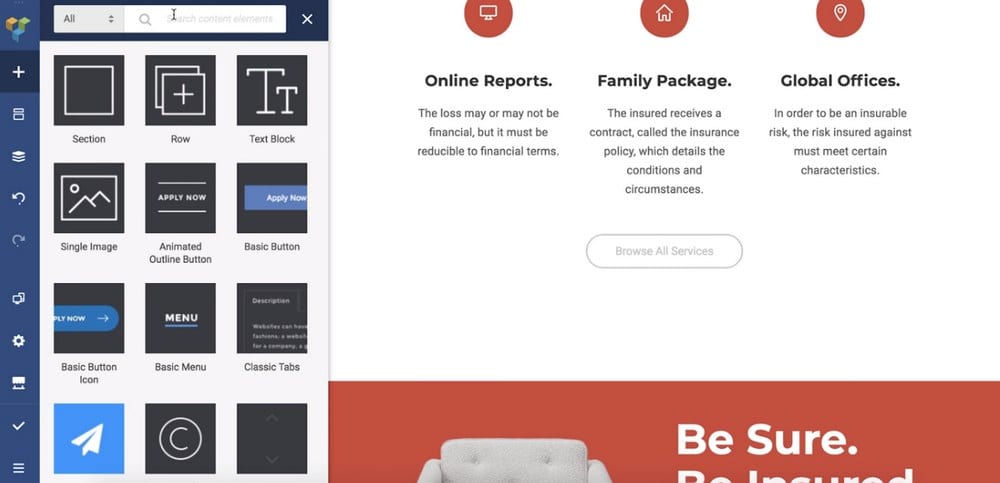 Unlike its predecessor, Visual Composer Website Builder is a plugin that aims to offer a complete solution to building entire websites in WordPress. The plugin comes with an easy to use drag and drop WYSIWYG editor and it includes lots of components like different styles of buttons, content blocks, custom layouts, and more for building personalized websites with ease.
The premium version of the plugin extends the features of the free plugin with pre-built templates, extensions, access to Google Fonts, and more.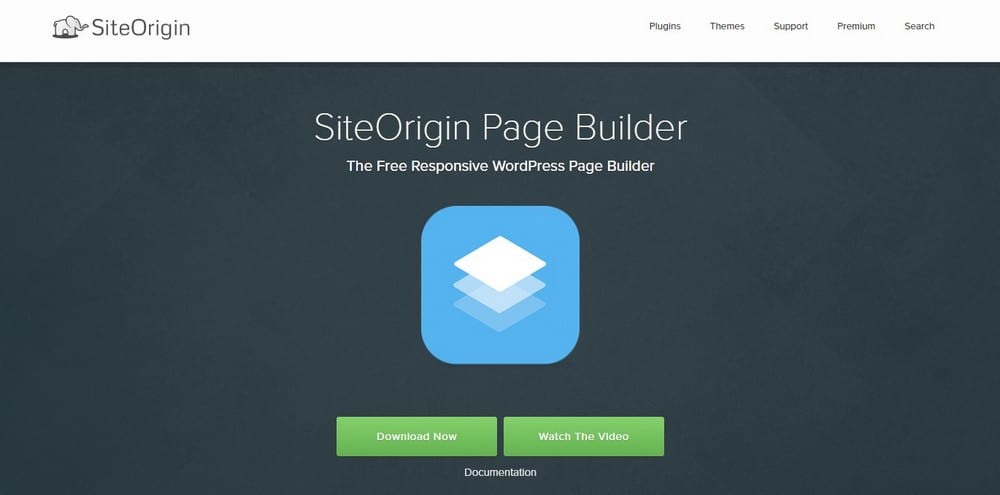 Price: Free
Best For: Advanced users
Main Features: Live editor, history browser
SiteOrigin page builder is the most popular page builder plugin on WordPress with over 1 million active installs. Mostly because this plugin has been around for many years. And you can definitely notice that from its outdated editor and user interface.

Even with its old-school editor that uses widgets and a column based layout, SiteOrigin page builder does its job well by letting you easily build websites and landing pages in WordPress.
The plugin supports the default WordPress widgets so you can easily integrate them into your designs. SiteOrigin also has a free widgets bundle that extends the features of the page builder.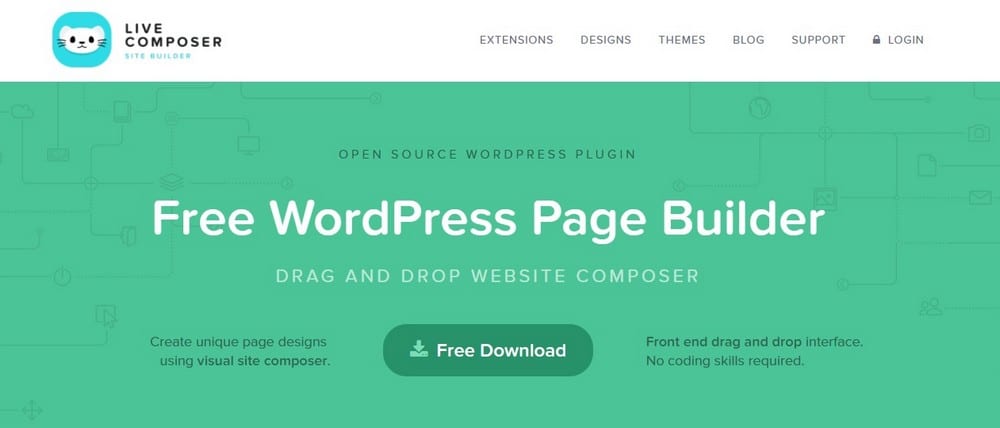 Price: Free
Best For: Beginners & advanced users
Main Features: Live front-end editor, export/import layouts
Live Composer is another free page builder plugin you can use to setup your own website builder in WordPress. The plugin is not quite as versatile as Elementor, but it's more beginner-friendly than the SiteOrigin page builder.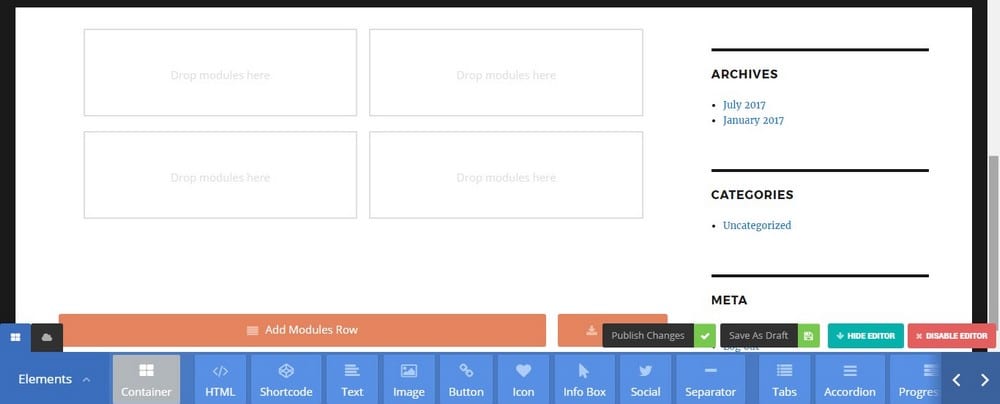 The plugin includes a drag and drop editor that allows you to build custom designs that are also fully responsive. Live Composer also supports WooCommerce for building eCommerce websites and comes with a collection of premium add-ons for extending its features.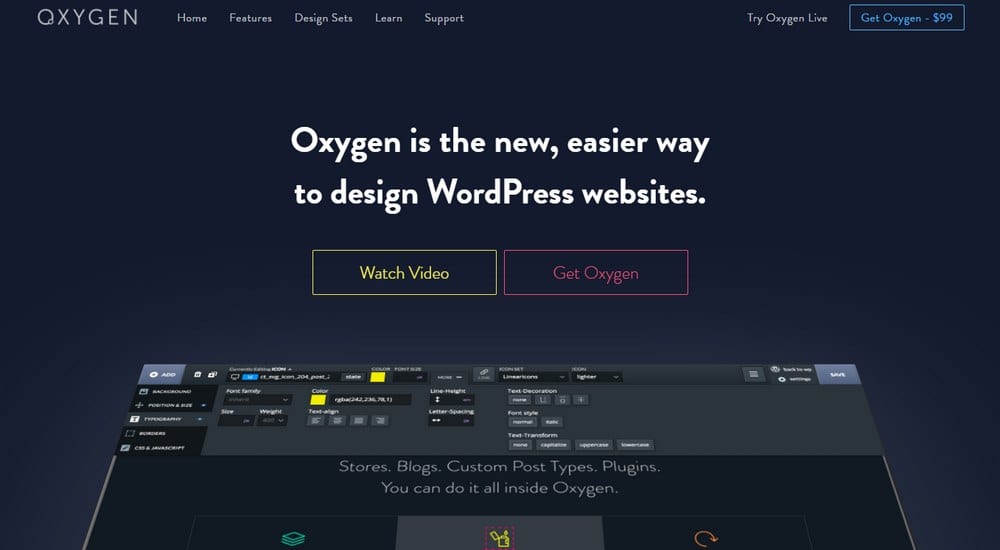 Price: $99
Best For: Advanced users
Main Features: WYSIWYG editor, premium templates
Oxygen is an advanced website builder made specifically for web designers and developers. The plugin comes as a complete solution that transforms a WordPress installation into a website editor with a drag and drop editor, built-in components, premium templates, a plugin editor, and a code editor.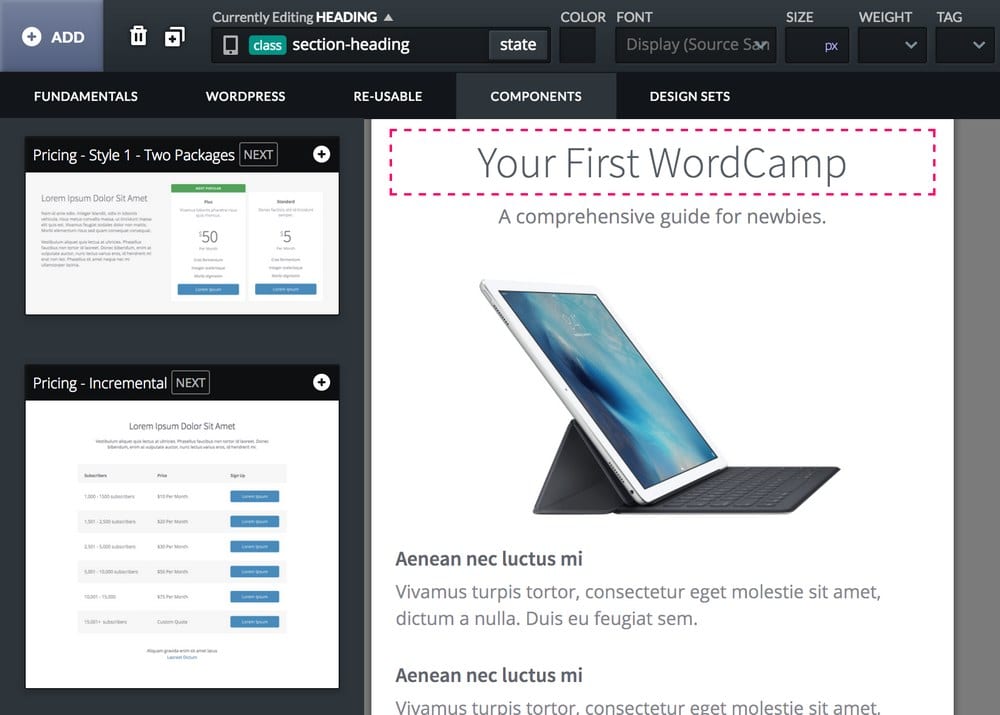 If you're a website designer who builds lots of client websites, this plugin will help you design unique websites in WordPress with minimum code. The plugin costs a one-time fee of $99 and lets you use it with unlimited websites. It also includes lifetime plugin updates for both your sites and client sites.
In Conclusion
Building a website is not as complicated as it sounds. With the right plugin, you can build your own unique website designs without having to limit your freedom of customization or spending a lot of money.
Whether you prefer a hands-on approach to making websites using page builder plugins or rather use a pre-built theme to conveniently setup a website with a few clicks, WordPress has a solution for all types of users.