What is Live Composer for WordPress?
Creating landing pages and customizing WordPress themes used to be a nightmare before page builders. These beginner-friendly page builder plugins allowed anyone to create custom layouts without coding or any web design experience.
The only problem was these page builder plugins were a bit expensive and had slightly complicating user interfaces. However, things are now starting to change. Especially with new and open source page builders like Elementor in the market, bloggers and web developers now have free and even better alternatives to the expensive page builders.
Live Composer is the latest to join the WordPress page builder family. This plugin comes with several special features that make it one of a kind.
If you've been looking for a great free page builder plugin for your blog or website, Live Composer might be the perfect tool for you. Keep reading to find out why.
What Is Live Composer?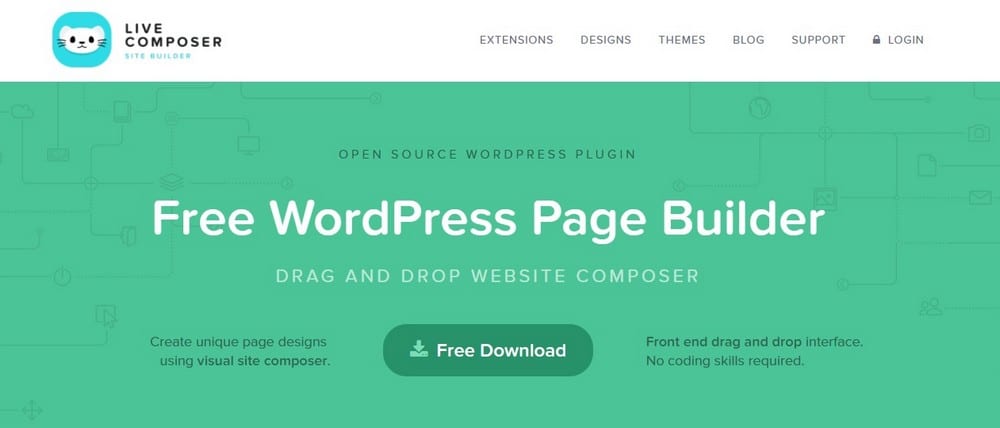 Live Composer is an all new page builder plugin for WordPress. It's an open-source plugin, which means you get access to the plugin free of charge. The developers monetize the plugin through premium extensions, themes, and paid customer support.
However, the plugin offers plenty of premium-quality features, such as modules for creating custom landing pages, post modules for creating blogs, post types, galleries, and a template system for creating unique designs and reusing them however you like.
Main Features Of Live Composer
The plugin also comes with several other benefits. Here are some of the best features of Live Composer in a nutshell.
It's Free To Use
Live Composer is an open-source project. Which means you can download and use it for as long as you like for free of charge.
Live Front-End Editor
The page builder features a live editor that lets you edit your designs through a front-end interface while watching the changes appear on your design.
Over 30 Modules To Choose From
Live Composer includes a set of modules for designing your own unique layouts, including buttons, tabs, accordions, sliders, and more.
Free And Premium Extensions
You can also add more functions to Live Composer with extensions. The plugin features a collection of both premium and free extensions like animations, video embeds, and Gravity Forms integration.
Developer-Friendly Templates System
Another useful feature that comes with Live Composer is the ability to save your designs to use later. The templates system of the plugin allows you to export and import your designs to use on other websites or even share with others.
What Can You Do With It?
Like any other page builder, Live Composer can also be used to do many things to help you build your dream website. It also comes with a special feature that makes it one of a kind.
Create Landing Pages
The most common reason to use a page builder is to create landing pages. Live Composer is also capable of creating stylish landing pages for your promotions, app landing pages, and more, thanks to its 30+ modules collection.
Design Portfolios
If you're planning on creating a portfolio website to showcase your best work or creating a gallery for a photography website, Live Composer will help you get that job done and design a unique portfolio to look just the way you want.
Build WooCommerce Shops
Live Composer comes with support for WooCommerce post modules. Which means you can easily build stylish online store layouts and product pages using the page builder without having to rely on your default theme or having to hire developers.
Design Blog Layouts
If you'd like to add a blog to your current website or create a new layout for your current blog, you can easily create a unique blog layout using Live Composer to showcase your blog posts.
Create And Sell Unique Themes
Live Composer is a developer-friendly plugin that encourages web designers to use the plugin to build their own Live Composer WordPress themes and even sell them. Unlike other page builders, you don't need a developer license to build themes with Live Composer.
How Live Composer Works
Live Composer only works on already published pages and posts. So, before you can design a page, you need to create a new page and publish it.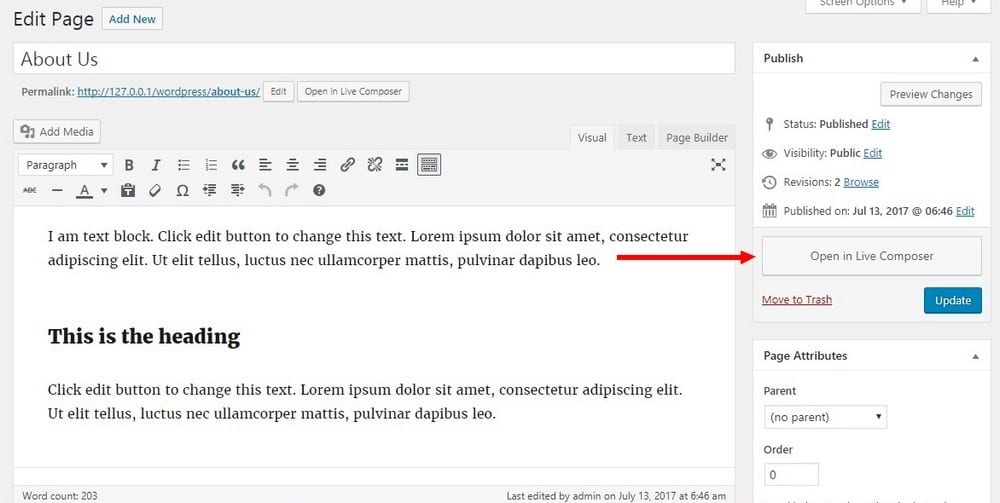 Then you can open the Live Composer editor to design your page.
From the front-end editor, you can easily design your page by dragging and dropping elements from the bottom tab.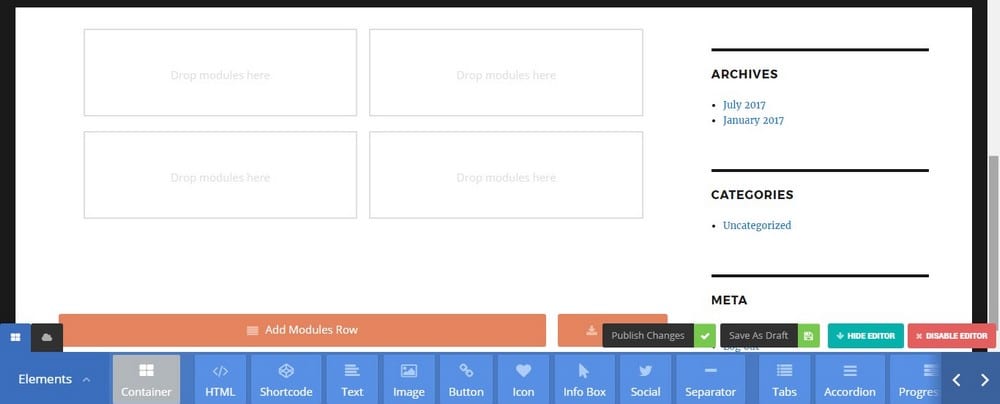 You can create new rows and change the width of the content blocks to create columns.
Live Composer also comes with a set of pre-built templates for creating different types of sections for pages, such as blog layouts, portfolios, and about pages.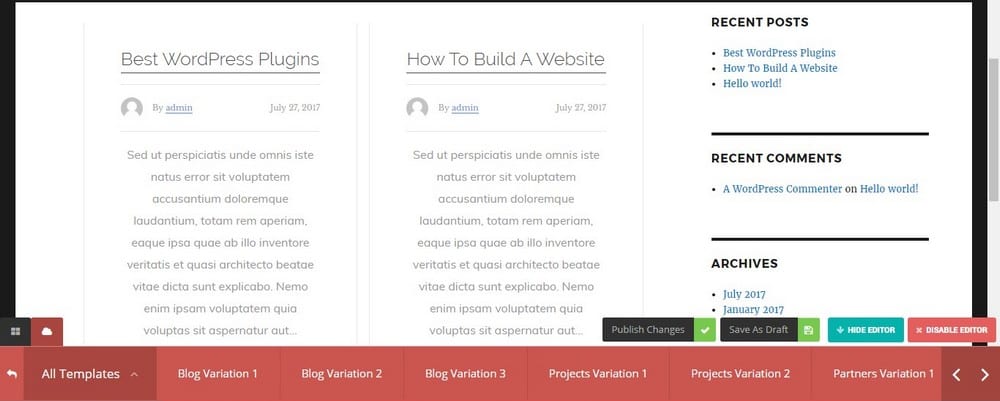 You can also install standalone themes that use Live Composer and start customizing the design to fit your preference.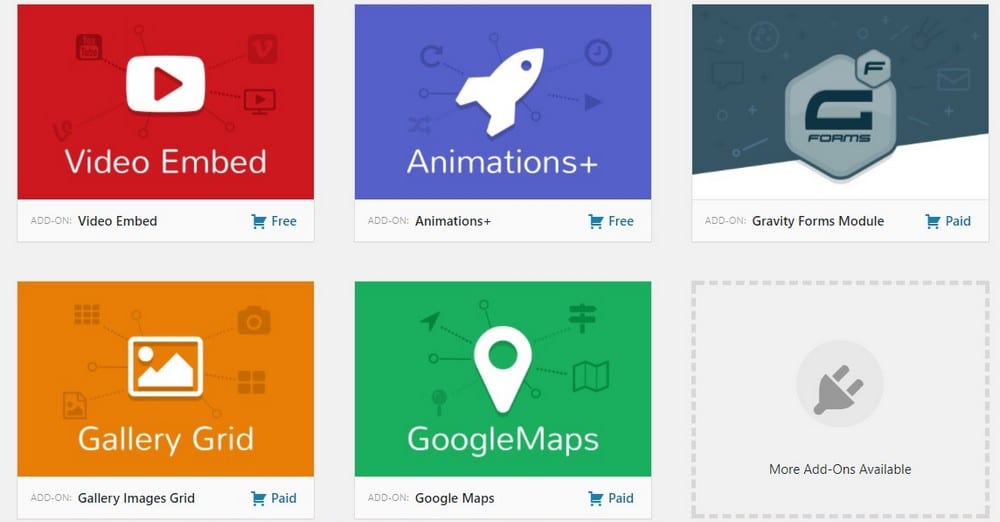 Additionally, you can buy premium design elements such as line icons and pre-build header/footer designs to make your page building process easier.
Live Composer Themes
While you can use Live Composer to create unique landing pages and website layouts, your current WordPress theme might limit how far you can use the page builder to customize your website design.
The best way to get around that problem is to get a theme that fully supports Live Composer. There are plenty of WordPress themes that's been built with Live Composer. Using such a theme will allow you to easily customize your theme using the page builder and create new layouts without having to hire web developers.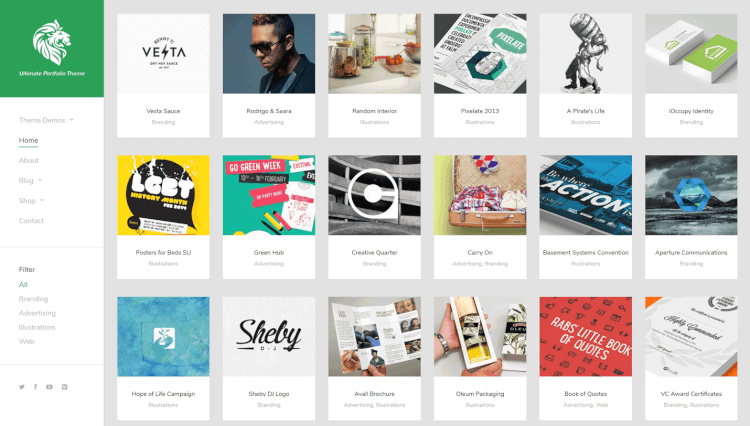 Check out our collection of the best Live Composer WordPress themes to find a theme that fits your website.
Is Live Composer The Right Plugin For You?
Even though Live Composer is still a new competitor, it's far better than most other free page builder plugins available on WordPress. For budget-minded bloggers and web designers, this page builder offers plenty of benefits at the low price of Free.
However, Live Composer has a long way to go before it can be compared with other established page builders such as Visual Composer and Elementor. Live Composer is still far behind in many aspects, especially in terms of add-ons and pre-built templates. Just keep that in mind while you give this page builder a try.