Introducing the All-New Theme Junkie
We've been making some big changes and improvements at Theme Junkie over the past month. It's all culminating in today's completely new design, platform, and updated version of the site!
Read on to find out more about our new design, completely re-vamped blog, theme collections, improved affiliate program, forum, and more. There's lots to explore, and we'd love your feedback and thoughts.
A New Design
It was time for a change! We've taken a look at every page and section of Theme Junkie, and considered how it could be simpler. Our homepage now features our latest and greatest themes, but makes it easy to see a full page of every theme, organised into simple categories. As before, we also have pages showcasing our HTML templates and our WordPress plugins, so they're easy to find.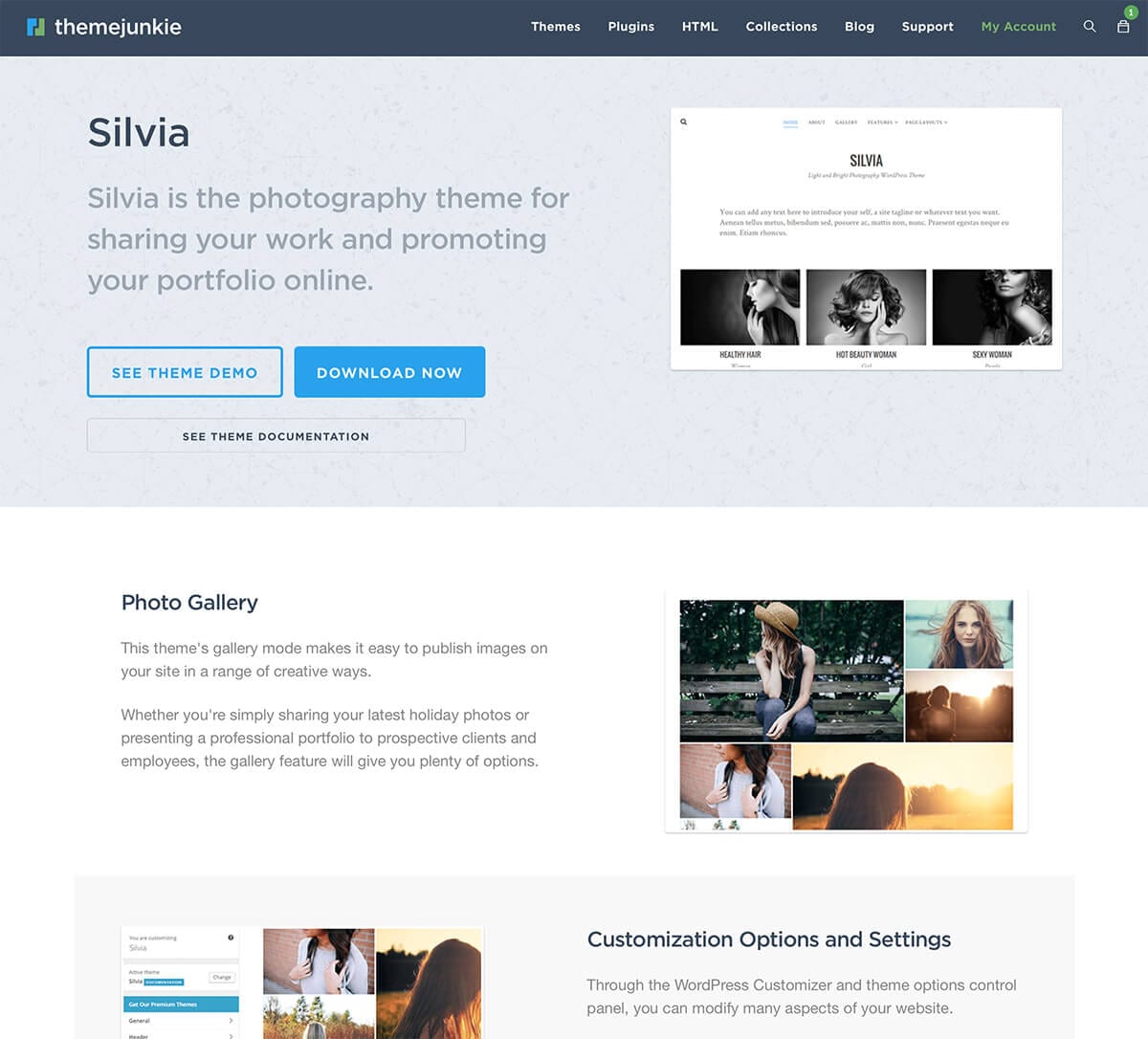 Theme pages themselves have had a major overhaul, with more screenshots of each theme, our favourite highlighted features, and a list of everything else that comes with the theme. As before, we have three pricing tiers, letting you either buy a single theme, access to all our current themes, or a full lifetime package (and all our prices at the same).
If you're looking for a discount or deal on your next theme purchase, be sure to visit our discounts and offers page to see all the coupons we currently have on offer. (We have a few special deals for the launch of the new site!)
We've also retired some of our older themes (those that weren't responsive, and didn't work on mobile devices), so we're offering a more modern set of themes across the board.
Collections & Reviews
Our blog has had a complete overhaul, and we've introduced two areas:
The Blog — Featuring news, updates on the site, theme reviews, tips, how-to's and general articles about WordPress
Collections — These are in-depth roundups of the best WordPress themes in different categories and themes, for you to find the best theme for the job (whether or not it's one that we make!)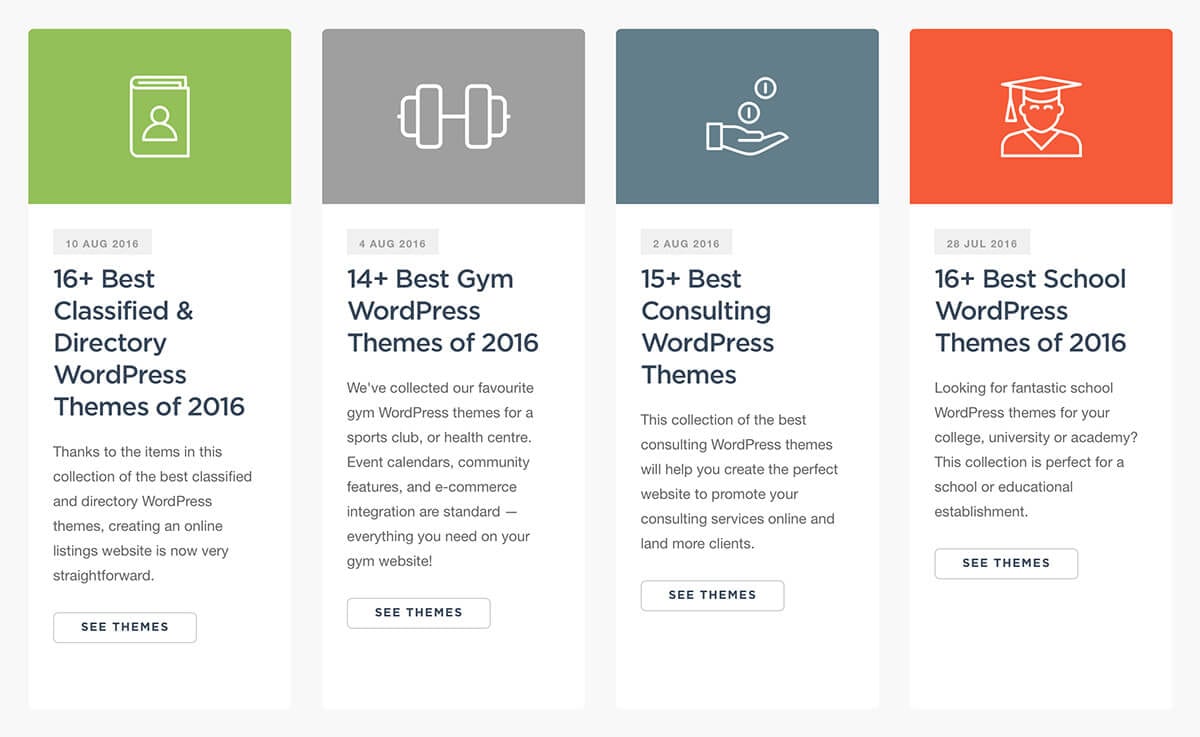 Hopefully you'll enjoy all the new content we'll have to offer! You can subscribe via Twitter or Facebook, or good old RSS if you'd like to keep up with the new articles and posts that we publish.
50% for Affiliates
We've given our affiliate program an overhaul, with a bigger commission rate, and improved tools to track your earnings and statistics. We've emailed all our affiliates with more information, but here's a summary of the key changes:
We've upped our affiliate commission rate to 50%, giving you the chance to earn more from the sales that you refer to Theme Junkie
You'll need to login to your new account and access our affiliate area to get your new affiliate link
There are lots of new ways to track your commissions, referrals, and sales in your dashboard
We've done our best to attribute any old affiliate clicks to your new account, but we strongly recommend updating your affiliate links to the new URL in your affiliate area to ensure you keep earning commission
Payouts will happen as they always have, but you'll need to re-enter your payment details in your affiliate account to ensure you get paid on time
You can read a bit more about our new affiliate program if you're interested, and we look forward to sharing sales 50/50 with you!
An Improved Forum
Our old support forum was feeling a little dated (and getting pretty slow!). We've launched a new forum that's directly linked to your Theme Junkie account, so you don't need to log in twice. It's built on the excellent bbPress, and is a great new way to get support for the themes that you purchase.
Our old forum archive has been maintained, if you need to access any old tickets or questions, but all new support will be given through the new platform.
How to Access Your Account
We've migrated all our existing members and accounts directly over to our new platform. Your username will stay the same, but you'll need to reset your password before logging in for the first time. You can do that here — it just takes a few seconds. After doing that, you'll be able to access your new account area, and download your previously purchased themes (as well as access our support forum).
If you have any problems accessing your account, try doing a password reset to your email address. You should be up and running in no time.
Any Questions?
We'd love to hear what you think about the new site. Feel free to share your thoughts and feedback on Twitter or Facebook, where we'll be keeping an eye on any ideas and suggestions that you have! Thanks for being a Theme Junkie customer, and we look forward to seeing how you use our newly designed site.
Next up, we're getting straight back into theme development. So keep your eyes peeled for some new WordPress themes hitting the site in the near future!