4 Tips to Create an Online Course That Sells
With the eLearning industry at its peak, it seems like everyone is launching online courses these days. However, not all of them can be considered successful.
Just look at two courses at random on popular eLearning marketplaces like Udemy. One course may have attracted millions of learners, boasting an impressive rating. In contrast, another course, even when on a related topic, might struggle to enroll even a hundred learners and may have less favorable reviews.
So, what makes one course so successful while another one struggles to gain traction? We've curated four proven tips to help you ensure that your course achieves the success it deserves.
Tip 1: Make Sure Your Topic Is in-Demand
Ideally, the course topic should be an area in which you have expertise. However, your knowledge isn't the only ingredient needed to have great sales.
Any worthwhile course needs to solve a problem or resolve a pain point. To make sure your course will attract learners and won't get lost in the shuffle, choose trending topics. The key to a successful online course is to match your expertise with market demand.
How can you find topics that people strive to learn about? Here's what we recommend:
Discover popular queries on Reddit or Quora
These forums can provide a lot of insight into what people are eager to learn about at the moment. Take advantage of this by searching for frequently asked questions or trending topics within your niche. Pay special attention to questions that appear repeatedly — this could indicate a knowledge gap that your course can fill.
Check out Google trends
This tool offers a global perspective on in-demand subjects and can indicate their popularity across different regions, languages, and seasons. Look for popular requests in your niche or topics that show consistent or growing interest over time. This can sometimes help you identify promising ones before they become extremely popular.
Find bestsellers in course marketplaces
Popular marketplaces like Udemy, Coursera, or Skillshare can give you a good sense not only of what topics are popular but also what knowledge people are willing to pay for.
However, don't just mirror the successful courses. Look for reviews to understand what learners appreciate and what they feel is missing. This analysis will allow you to both choose a profitable topic and also create a better, more detailed, or practical course that truly meets the needs of your potential audience.
Tip 2: Choose Appropriate Content Authoring Software
The success of a course isn't just defined by a hot topic or the useful information that it contains. Great courses are typically also well designed.
When we talk about course design, it's not merely a matter of visual appeal or color palettes, although those elements do matter. Rather, design encompasses a broader range of factors, including what types of content you use and whether that content is easy to digest.
Content authoring tools are definitely must-have software for all course developers. These are digital programs that are used to create various learning materials and present course information in an engaging manner.
Working with complex, professional-oriented software to build your course can often result in unnecessary headaches and wasted time. Moreover, creating different content, such as videos and knowledge assessments, can require you to subscribe to multiple tools, which is costly. To avoid these obstacles, invest your time in finding the optimal software.
The ideal tool should strike a balance between being easy to use and providing the features you need to produce high-quality, professional-looking content. In this article, we'll look at iSpring Suite, an exceptional toolkit that helps both novice course developers enter a new profession and seasoned instructional designers streamline the course authoring process and increase their income.
iSpring Suite works directly within your familiar PowerPoint, yet expands its capabilities greatly. With this tool, you can easily create various types of mobile-ready content, even if you're doing this for the first time. Let's take a closer look.
Slide-Based Courses
Slide-based courses are a classic format in eLearning, and iSpring Suite provides everything you might need and more to create them with minimal effort.
The tool stands out for its extensive Content Library, with over 89,000 beautiful ready-made slide templates, a variety of characters, icons, objects, and backgrounds, so you won't have to spend time searching for them on the Internet: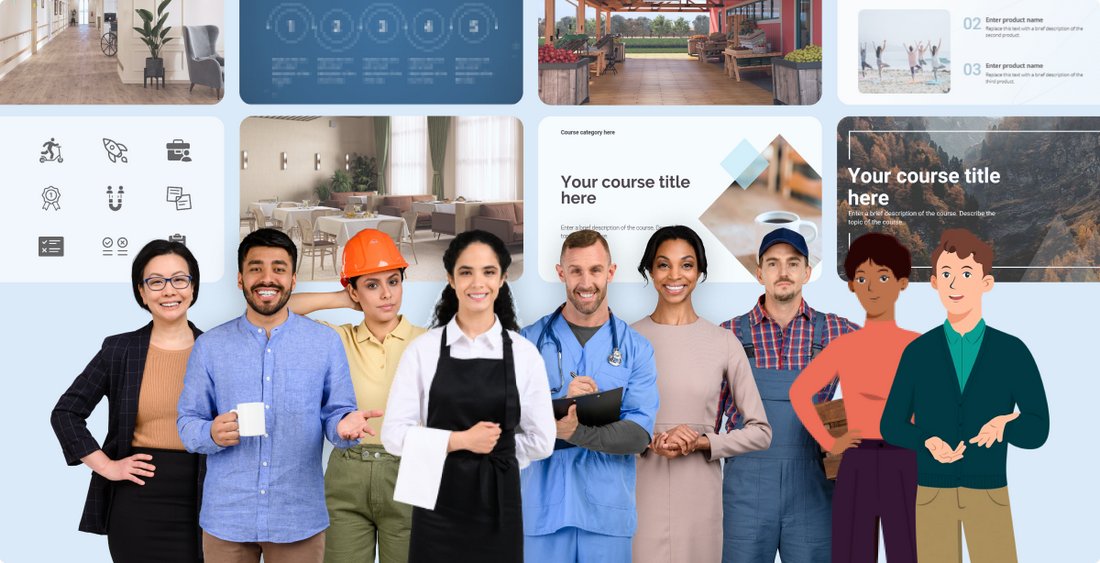 The tool goes even further and includes Character Builder, which allows designers to customize almost everything from the character's skin tone and hairstyle to clothing and accessories: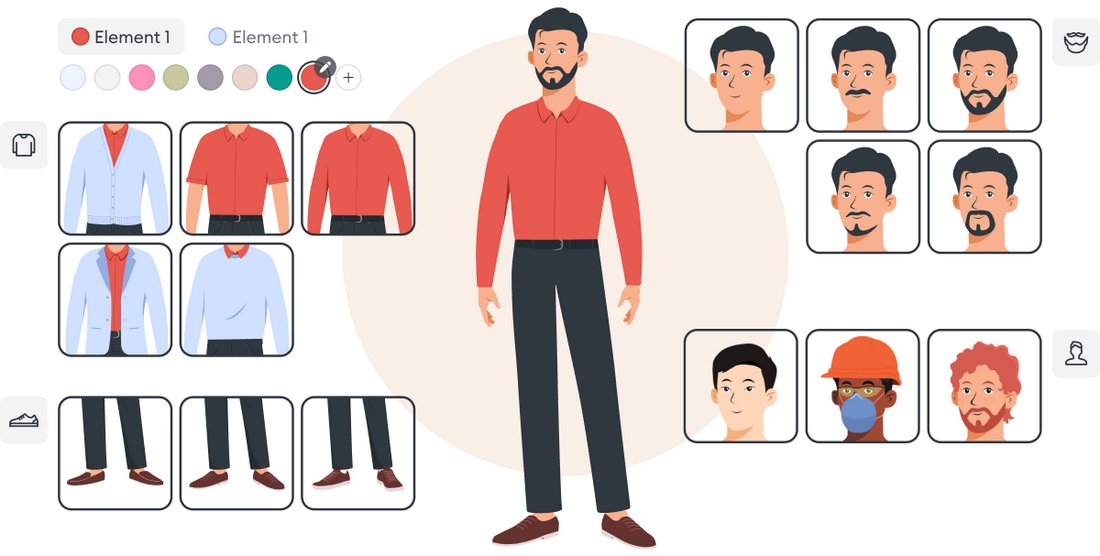 With this feature, you can easily craft unique characters tailored to the specific context or your audience without the help of a graphic designer.
Another great thing that can help you streamline the content creation process is a built-in text-to-speech tool. It eliminates the need for manual voice-over work, saving time and resources. Using both characters and the text-to-speech feature, you can easily apply storytelling to engage the learners and make complex topics easier to understand.
Video Lectures and Screencasts
iSpring Suite provides a flexible and comprehensive tool for recording video content. You can create a standalone video using your webcam, perfect for personal introductions or direct-to-camera lectures, or integrate it with PowerPoint slides or screencasts.
Editing videos is also straightforward with iSpring Suite. You can change the speed, add captions and images, remove background noise, or automatically display hotkeys when recording screencasts. And all from a single toolkit.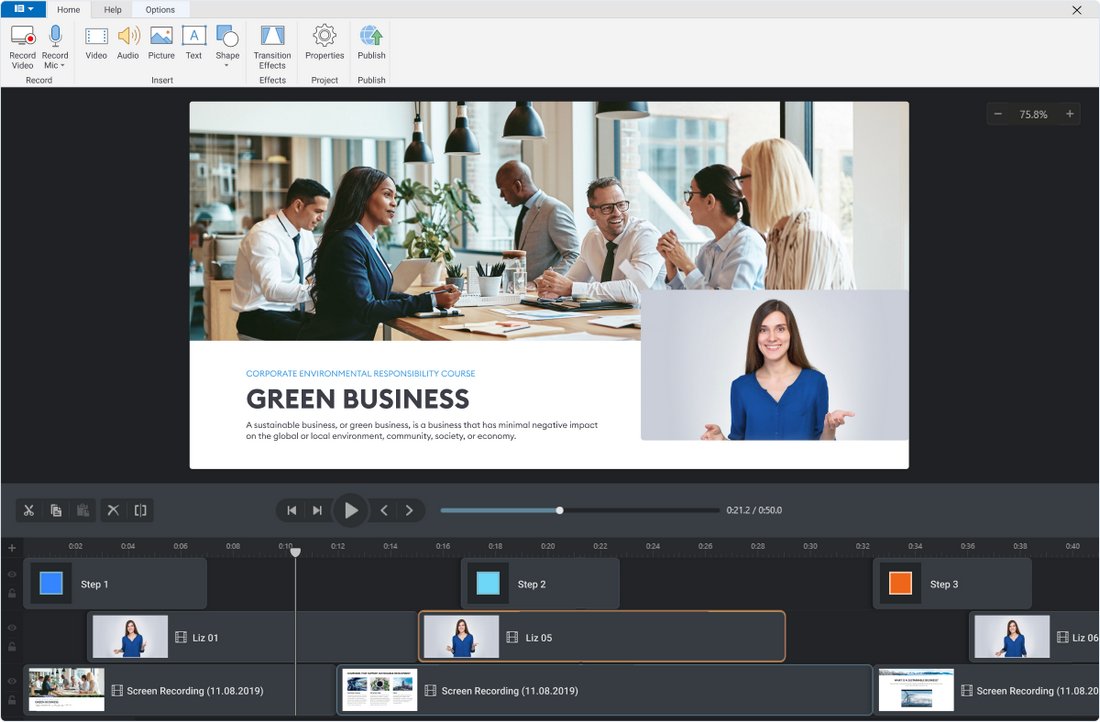 Role-Play Simulations
This is another type of interactive eLearning content that you can create on your own with iSpring Suite. Role-play simulations are based on prepared scenarios and are designed to imitate real-life conversations. This is precisely where the characters and backgrounds from the content library come in handy:
While they are particularly effective for courses that focus on communication skills, their use isn't limited to that purpose. They can be integrated into virtually any type of course to add a personal touch and foster a sense of human interaction — an aspect often missing from many online courses.
Best of all, creating these branching scenarios is surprisingly easy with iSpring Suite's drag-and-drop editor: just create the first scene and provide response options that will lead to other scenes based on the learner's choices.
Quizzes
Don't neglect knowledge checks if you want the audience to take the course seriously and not consider it to be inferior or poorly prepared. Quizzes can be used to review important information, either as a self-check or as a requirement for receiving a certificate of completion.
With the 14 ready-to-use question templates available in iSpring Suite, it will take you a couple of minutes to design quizzes that cater to different learning styles and difficulty levels. To make them more reliable, you can set time limits, choose the number of attempts, shuffle questions and answer options, and provide feedback on incorrect answers. You can also apply branching to create a non-linear scenario in your quiz and make it more personalized.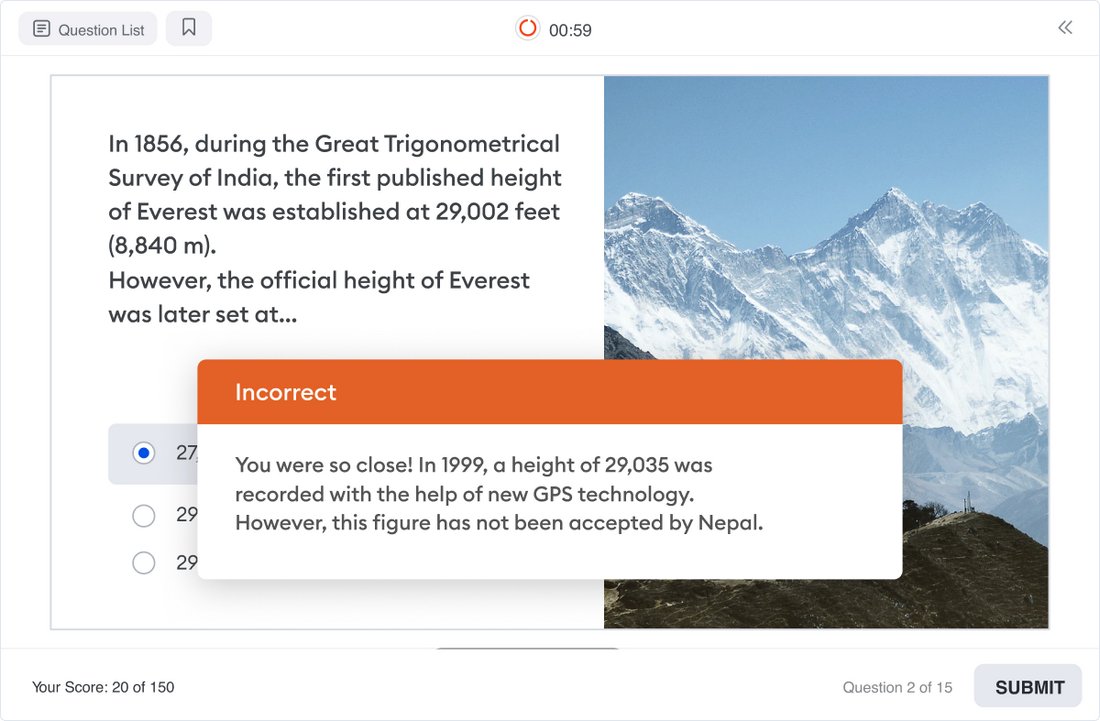 These are key, but not the only features iSpring Suite offers. All the content you create will look great on any device, including desktops, tablets, and smartphones, and can be shared both via the web and any learning management system you use.
With such a comprehensive yet easy-to-use solution, you'll reduce the cost and time required to create the content for your online course significantly.
Tip 3: Set a Reasonable Price for Your Course
Another challenge is to find that middle ground, where the price of your course reflects the value it provides, but doesn't discourage potential learners. When determining the cost of your course, consider the following factors:
Production costs. Take into account all the costs you've incurred while creating the course, such as software subscriptions, hiring subject matter experts, or purchasing images or video content.
Value of the course. This can include the skills the learners will gain, the time they will save by taking your course instead of others, or the potential increase in income they could achieve after applying the knowledge they gain from your course.
Market prices. Research the prices of similar courses in your niche. This will give you a ballpark figure and help you understand how much your potential learners are willing to pay.
Target audience. Understand the financial capacity of your target audience. Are they students, working professionals, or business owners? Each demographic will have a different budget that you need to keep in mind.
Tip 4: Enhance Your Online Brand
A significant part of a course price is typically attributed to the people who developed it. A well-known and recognizable name adds credibility to the course in the eyes of potential learners and justifies its price. So, invest time building your own brand.
The first step toward this is putting together a quality portfolio. This is a collection of your best projects that will showcase your expertise, style, and experience, and will give potential learners a taste of what they can expect from your course. The portfolio should be clear, well-structured, and visually appealing. And the good news is that you don't have to go to great lengths to create it.
iSpring Suite provides an online space for storing and sharing eLearning projects, with a portfolio builder designed specifically for course developers, designers, and other eLearning professionals.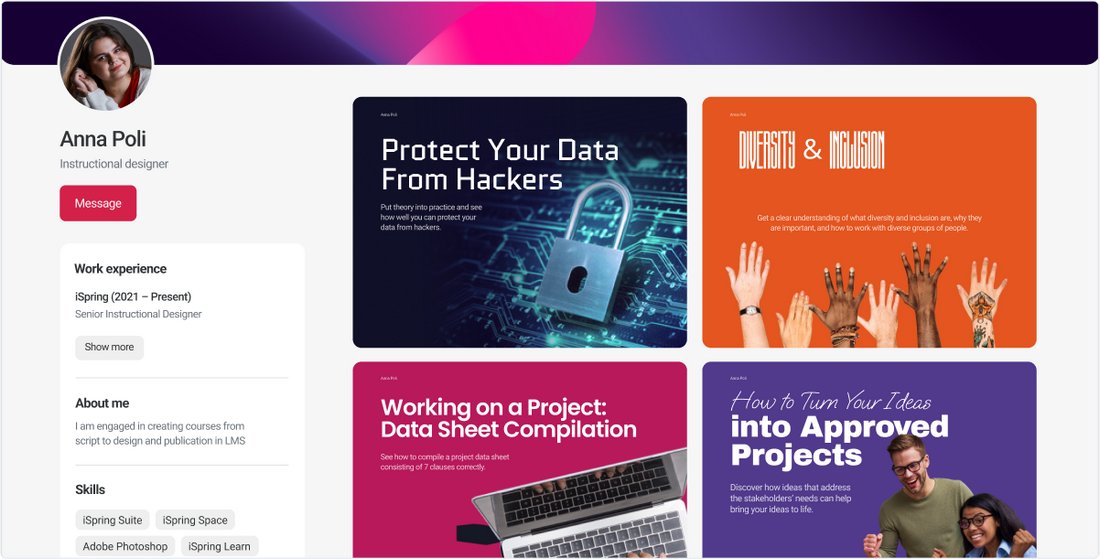 All you need to do is add your photo, write about your work experience, highlight your skills, upload your best eLearning projects, and then share a link with your potential clients or learners. Thanks to its captivating and well-organized layout, such a portfolio will definitely showcase you as a top choice for instructional design needs.
In addition to creating a portfolio, use social media to build your brand. Platforms like LinkedIn, Twitter, and Instagram can serve as outlets to share your insights, engage with your audience, and promote your courses. Post about industry trends, insider tips, or even start a podcast. In essence, the more you engage with your industry and audience online, the stronger your brand will become, increasing the value of your courses and your success as an online course creator.
Final Words
We hope you found these tips helpful. And don't worry if your first launch doesn't quite hit the mark — every course you create is a learning experience and an opportunity to refine your approach. Armed with a thorough strategy and reliable tools, you're well on your way to success.
If you're impressed by the features of iSpring Suite, download the free 14-day trial to experience the tool and take the first step toward creating an outstanding online course that has all the chances of becoming a bestseller.