25+ Best Child Fonts + Kids Handwriting Typefaces 2022
Crafting designs for kids is always fun for designers because you get to bring out that inner-child inside of you to play without boundaries, which we rarely get to do anymore.
Even when choosing fonts for a kid-friendly design, you get a rare chance to disobey most of the conventional typography rules and guidelines. Kids fonts are creative, colorful, and have wild shapes. That's why it's almost impossible to find children fonts with similar designs. But, in this case, that's actually a good thing.
Today, we also get to have some fun by bringing you this list of child fonts with amusing, creative, and wild designs.
Whether you're working on a poster for a children's event or a book cover, there are many different styles of fonts to choose from in this list. Have a look.
Get every varied font and typeface you could ever need with one simple subscription. From just $16, get unlimited access to thousands of fonts, typefaces, graphics, templates, photos and illustrations.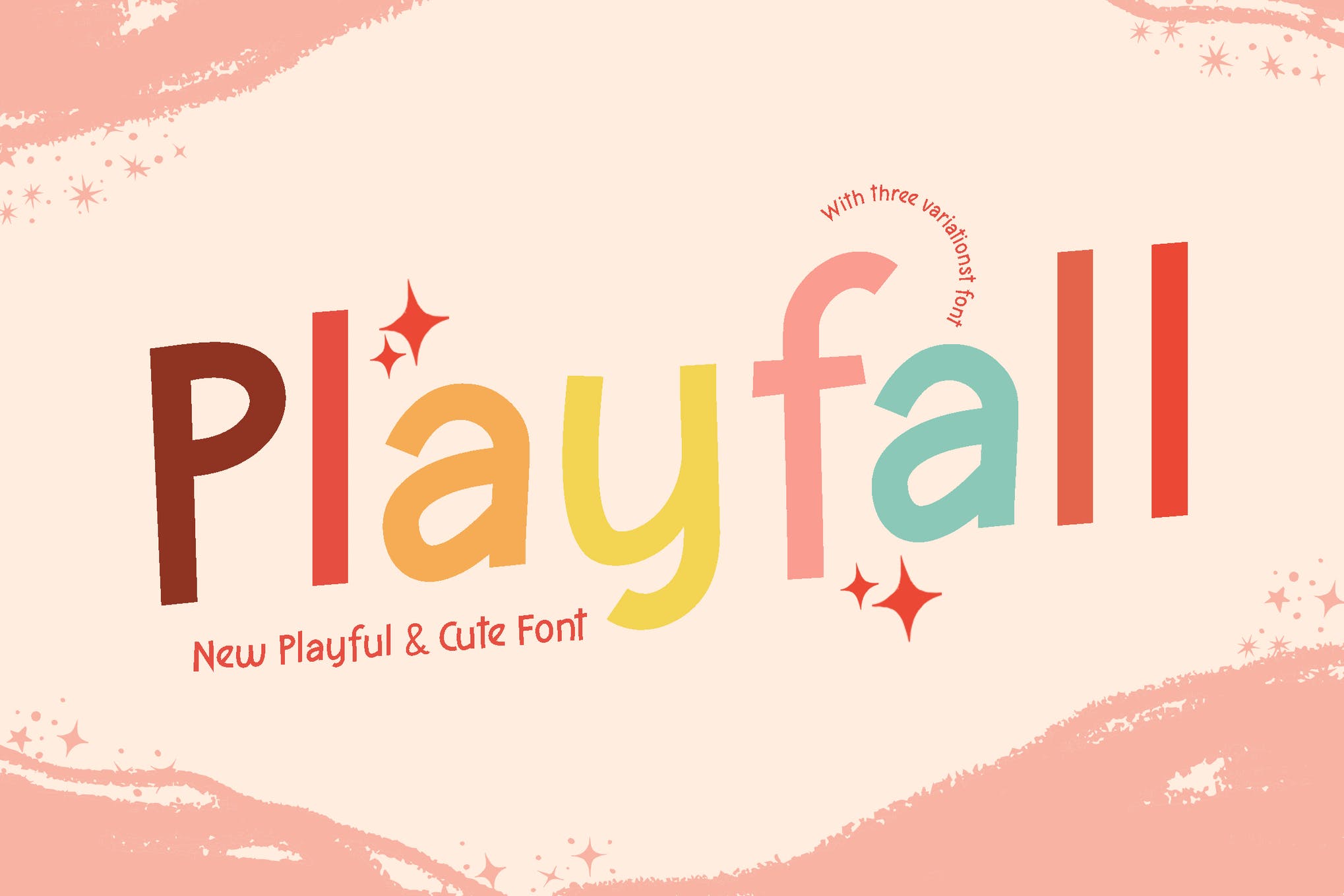 Playfull is a cute, and adorable sans-serif typeface perfectly fit for a pool of kids' educational designs including posters, book covers, apparel, stationery, and more. Don't hesitate to take this incredibly remarkable font for a spin.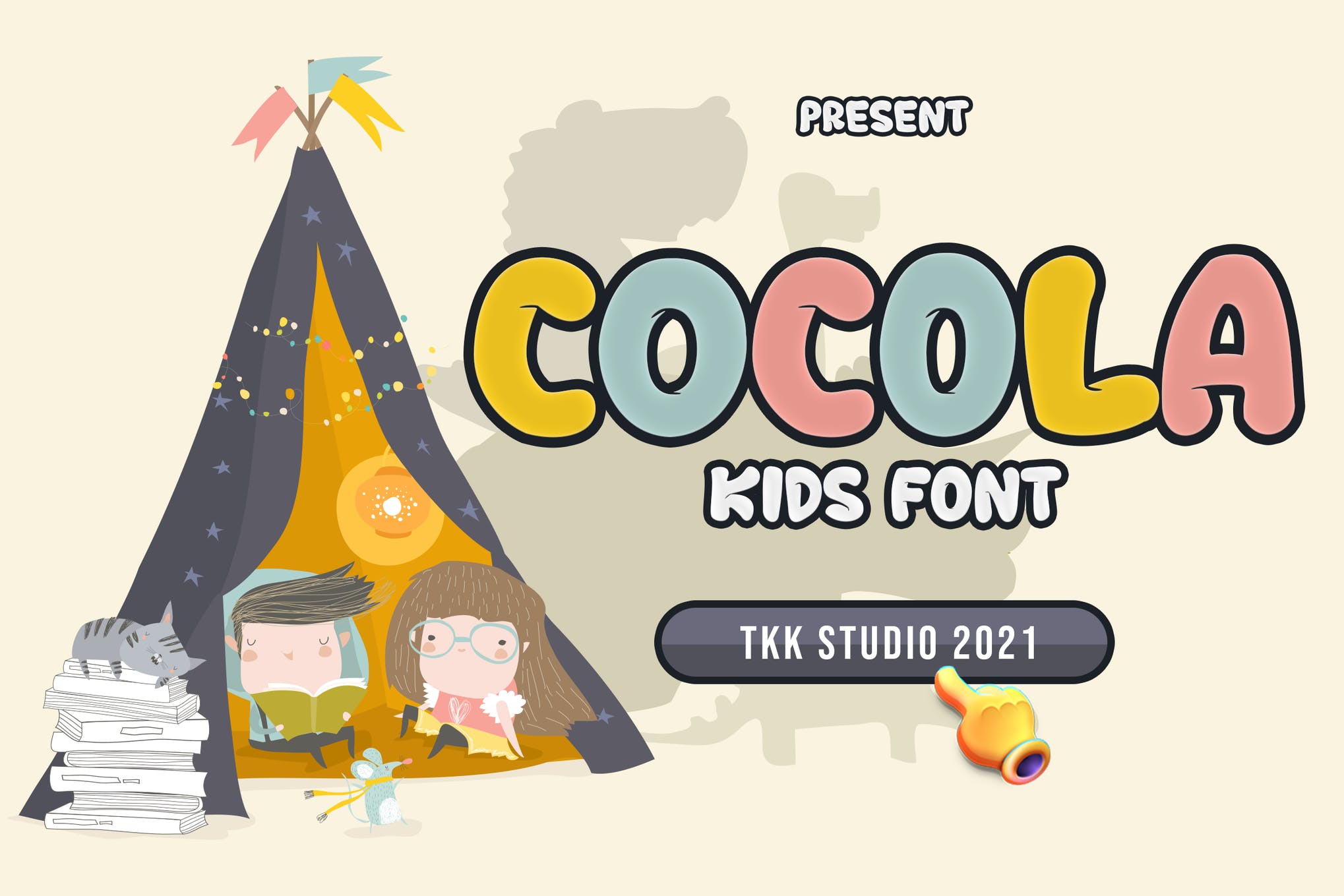 Cocola is a bubble-shaped all-caps font that you must have in your toolbox for projects that demand a happy, and playful vibe. Use it with confidence for kids-themed online games, posters, thumbnails, fast food menus, magazines, and many more designs.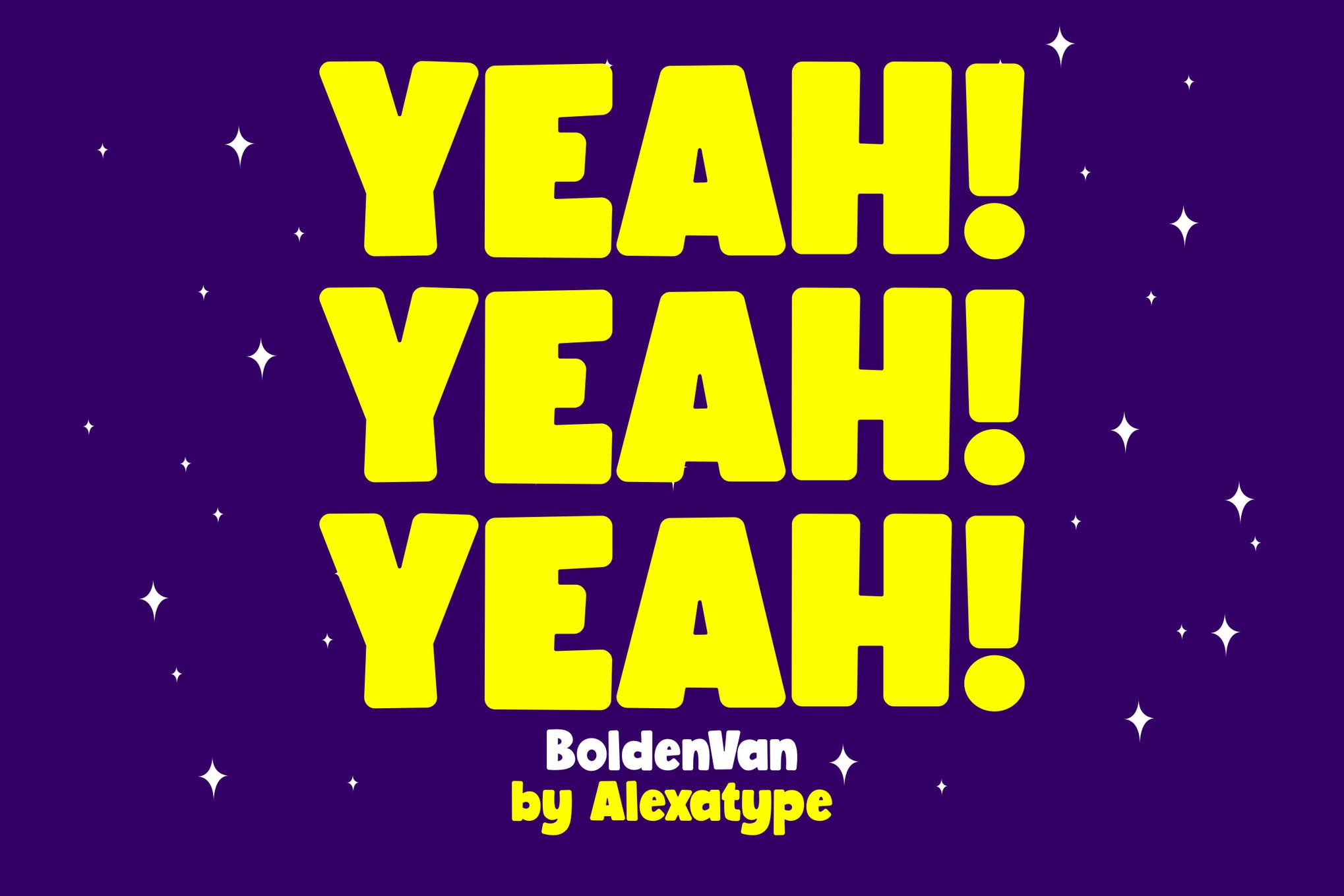 BoldenVan is a thick, and chubby typeface with well-rounded corners, and the ability to add an element of pure joy, and cheerfulness to your upcoming projects. Use it on anything, and it will never leave you disappointed.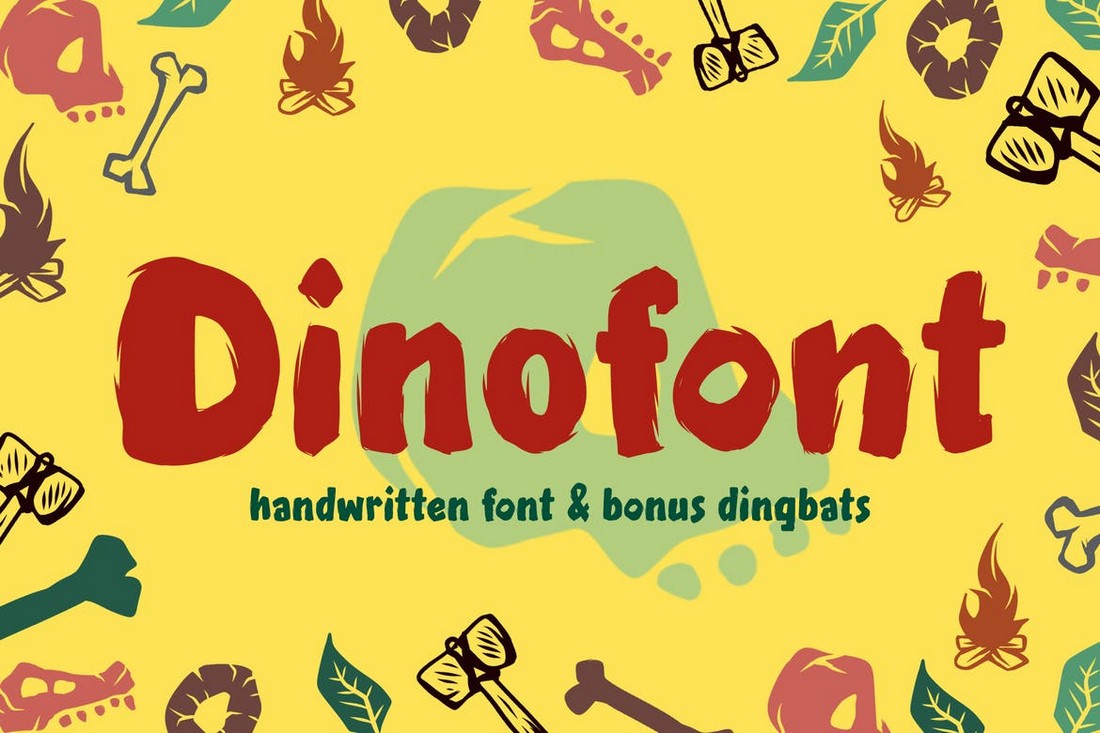 Kids love dinosaurs so with this font you can create big bold titles for your dinosaur-themed designs. The rough handwritten design of the font will also make the text look hand-crafted, which kids will surely appreciate more. It's perfect for everything from posters to T-shirts, banners, flyers, and more.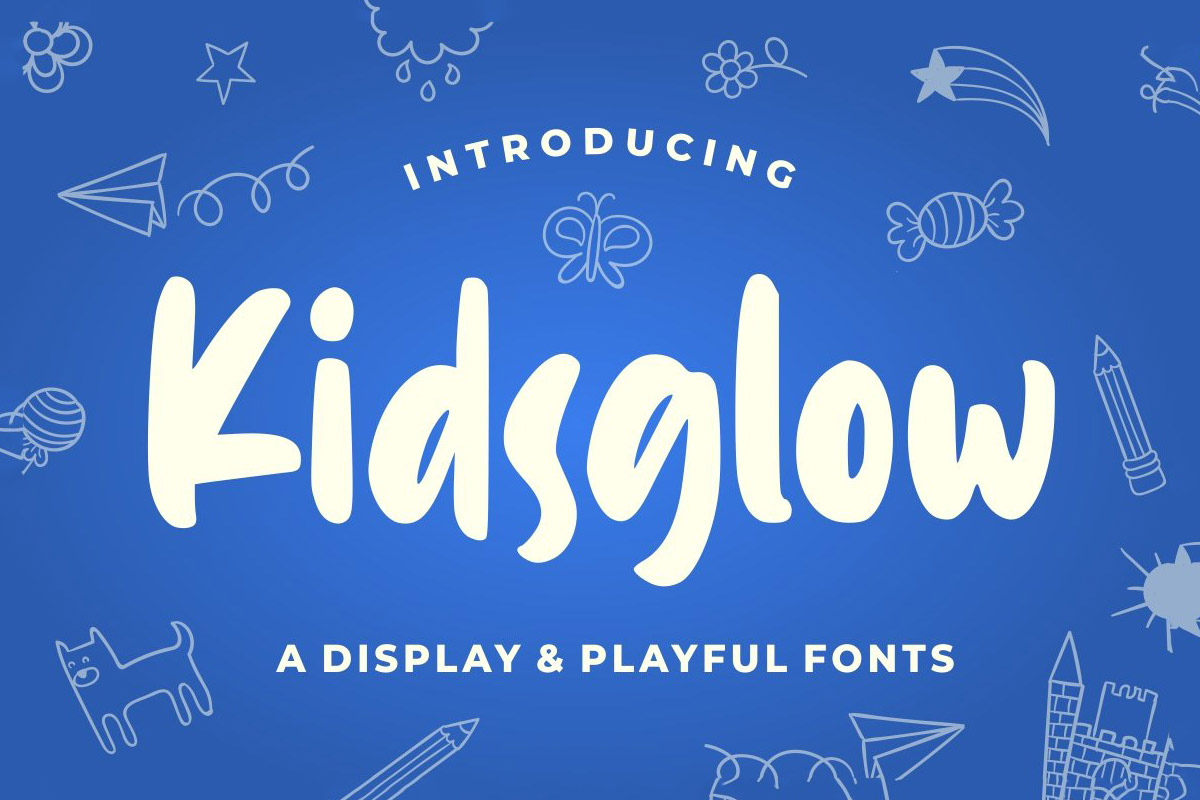 If you're looking for a free typeface for kids-themed projects, you must take a closer look at Kidsglow. A truly impressive font, Kidsglow features a minimal and playful design that comes with uppercase and lowercase characters, numerals, symbols, punctuation, and multilingual support.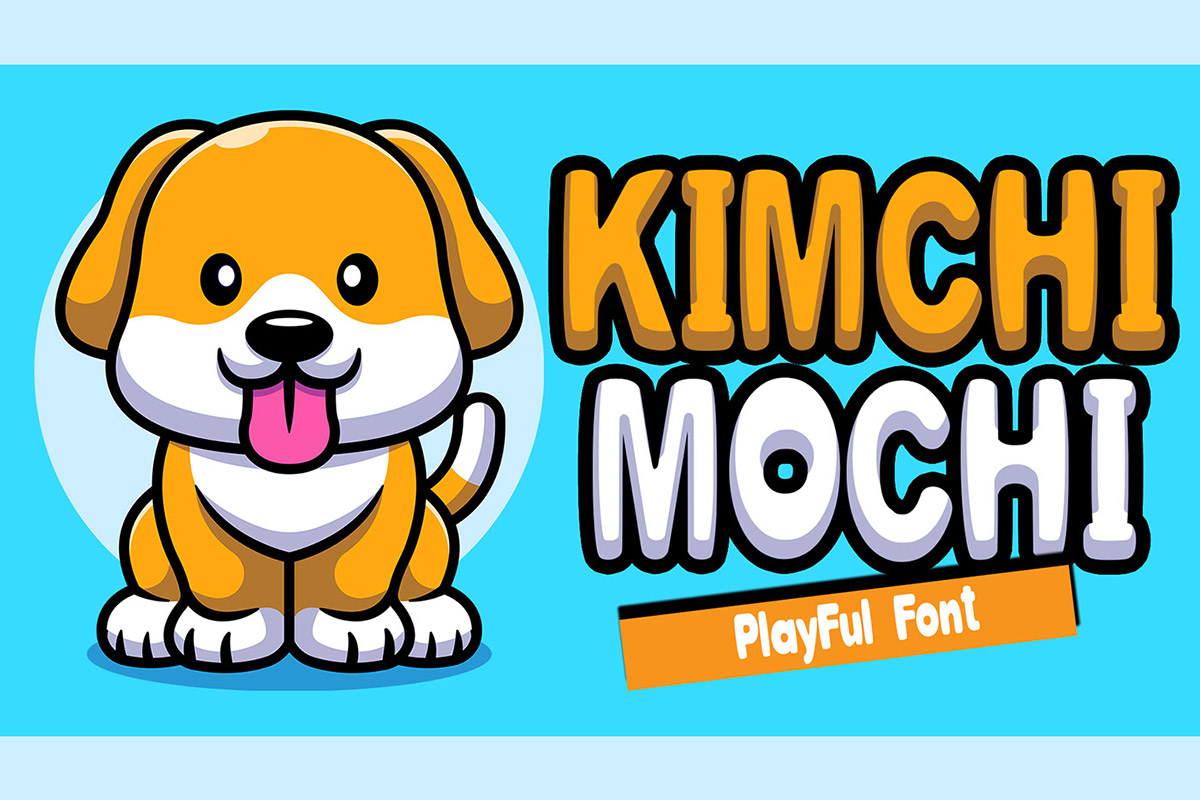 Kimchi Mochi is a cute, and cuddly typeface with modern, and chubby lettering. It's a versatile font that can easily give virtually any premium option a run for it's money. Get your hands on it today!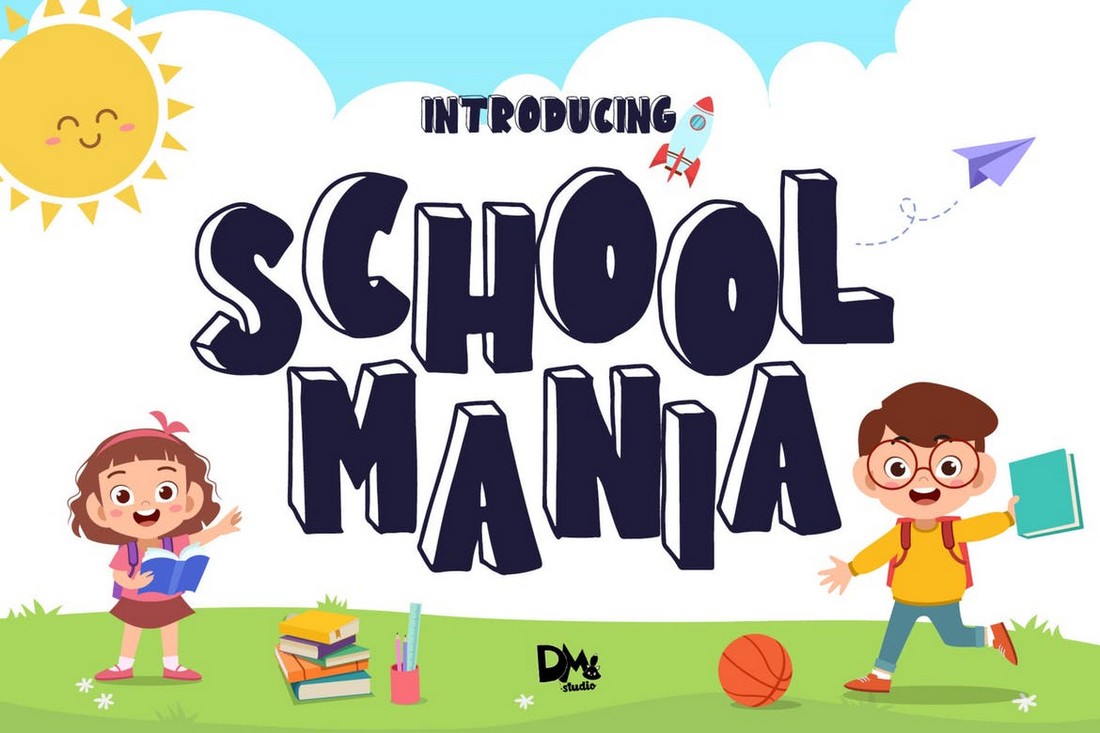 The 3D-like blocky design of the letters makes this font one of the most unique fonts on our list. If you want to attract kid's attention with big titles, this font is perfect for the job. It's an all-caps font that includes uppercase and lowercase modes with higher and lower character positions. You can mix and match to create fun-looking designs.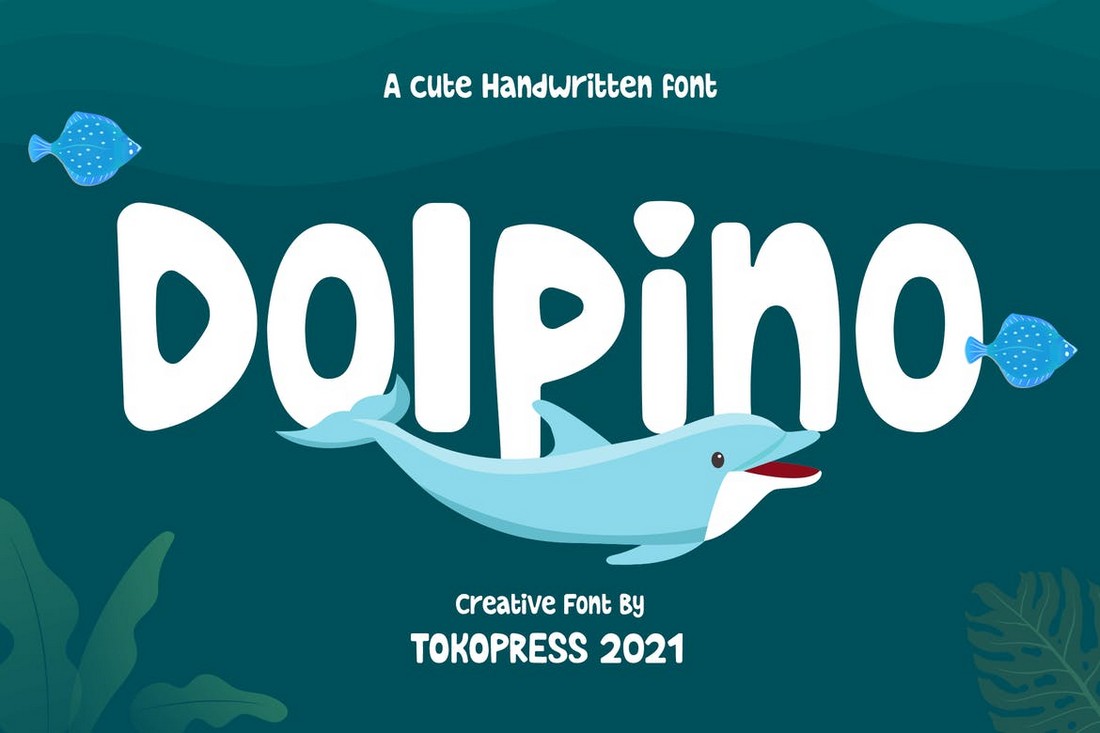 Dolpino is a creative kids font with a handwritten letter design. This font has a simple design that makes it suitable for various kid-friendly business and official designs, such as designs for non-profits, events, and advertisements. The font includes both uppercase and lowercase letters.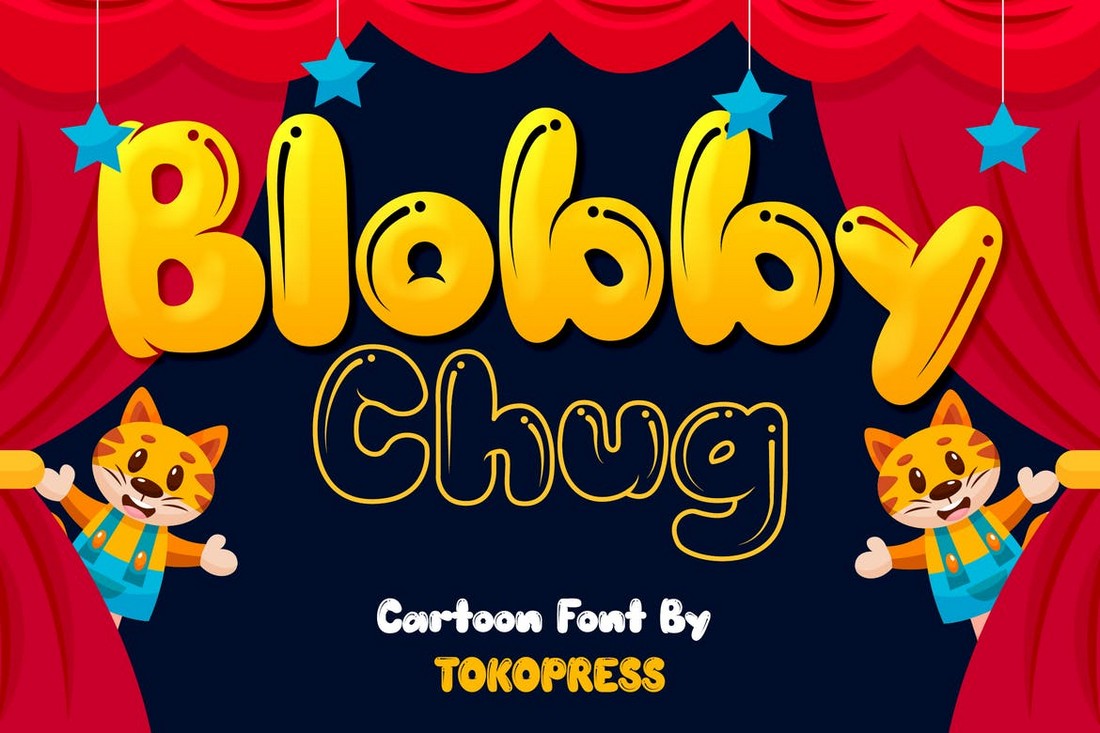 If you want to make your titles and text in kid's designs look like floating balloons, this font is made just for you. It features chunky blob-like letters that will surely grab the attention of the children. The font comes with some cool OpenType features for adding creative elements to your designs as well.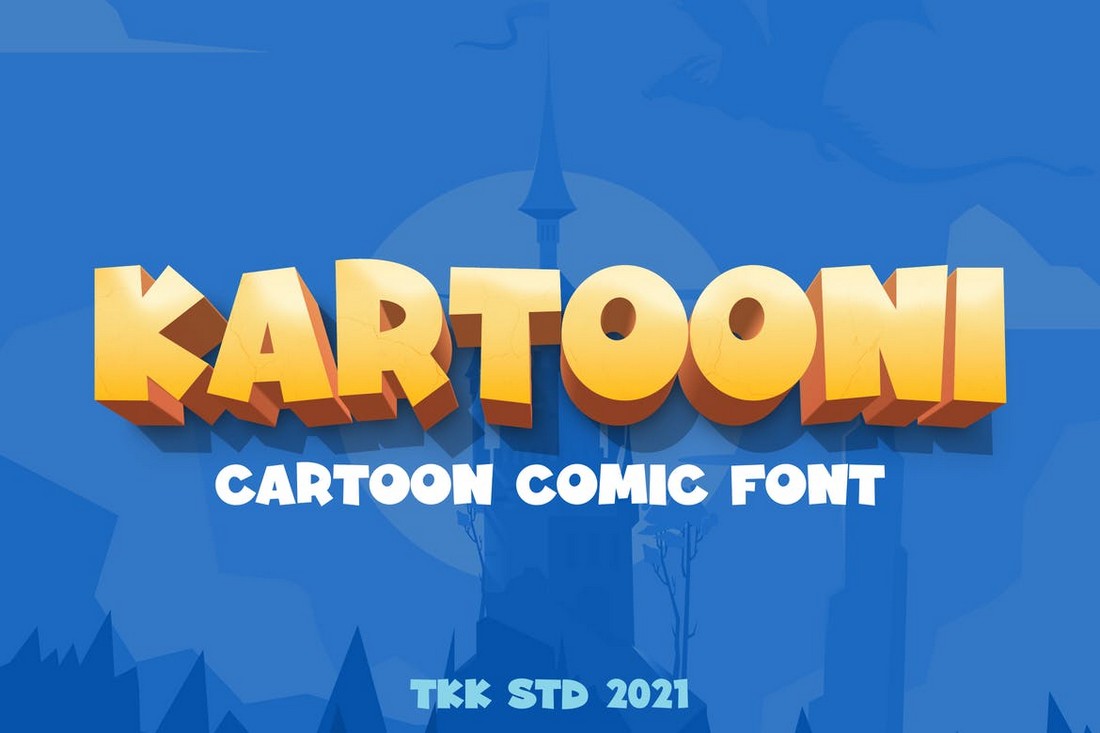 Just as the name suggests, this font comes with a set of letters with cartoon designs. It's especially ideal for kid's illustrations, website design, and social media promotions. The font features uppercase and lowercase letters with numbers and punctuations.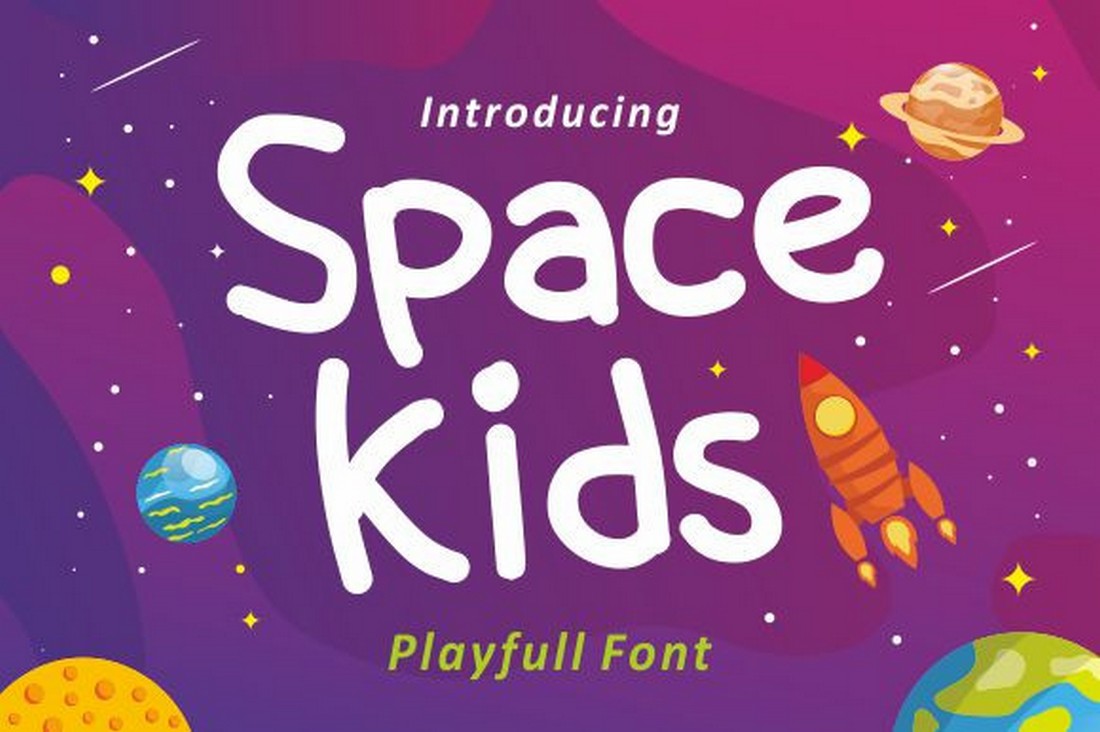 This is a free font you can download and use with your personal projects. It features a creative and fun letter design that goes well along with various kid's designs like posters, stationery, T-shirts, and more.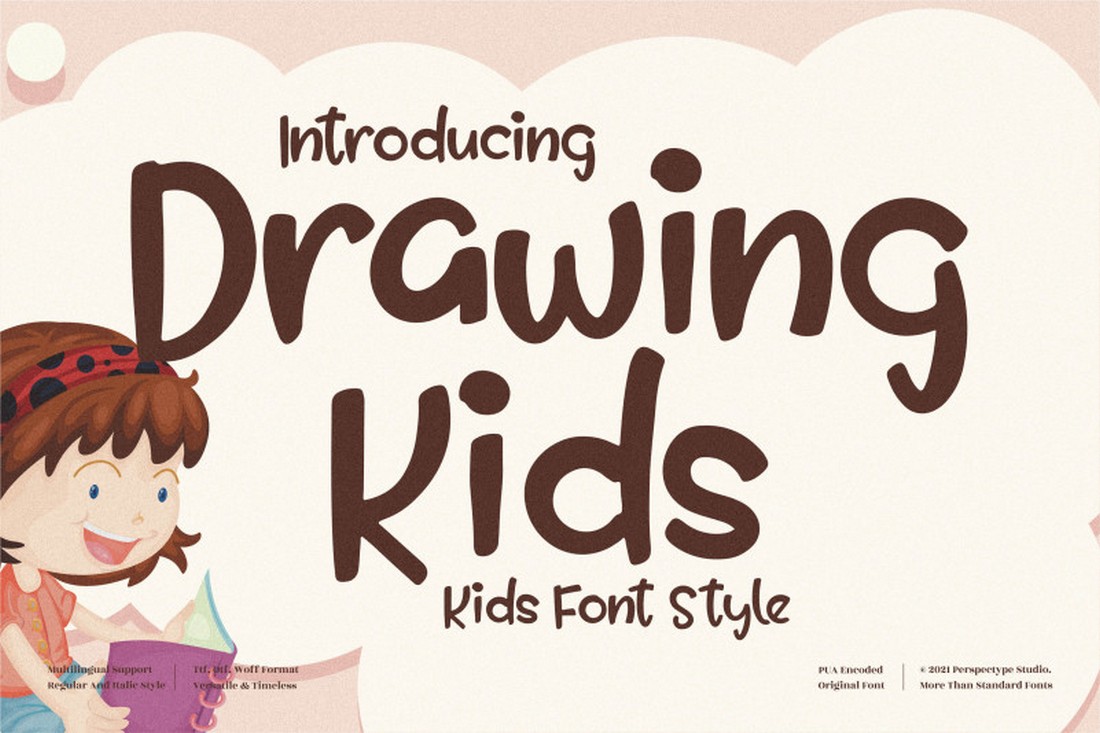 If you're looking for a font to create kid-friendly designs with a hand-crafted look, this font will come in handy. It's free to use with your personal projects.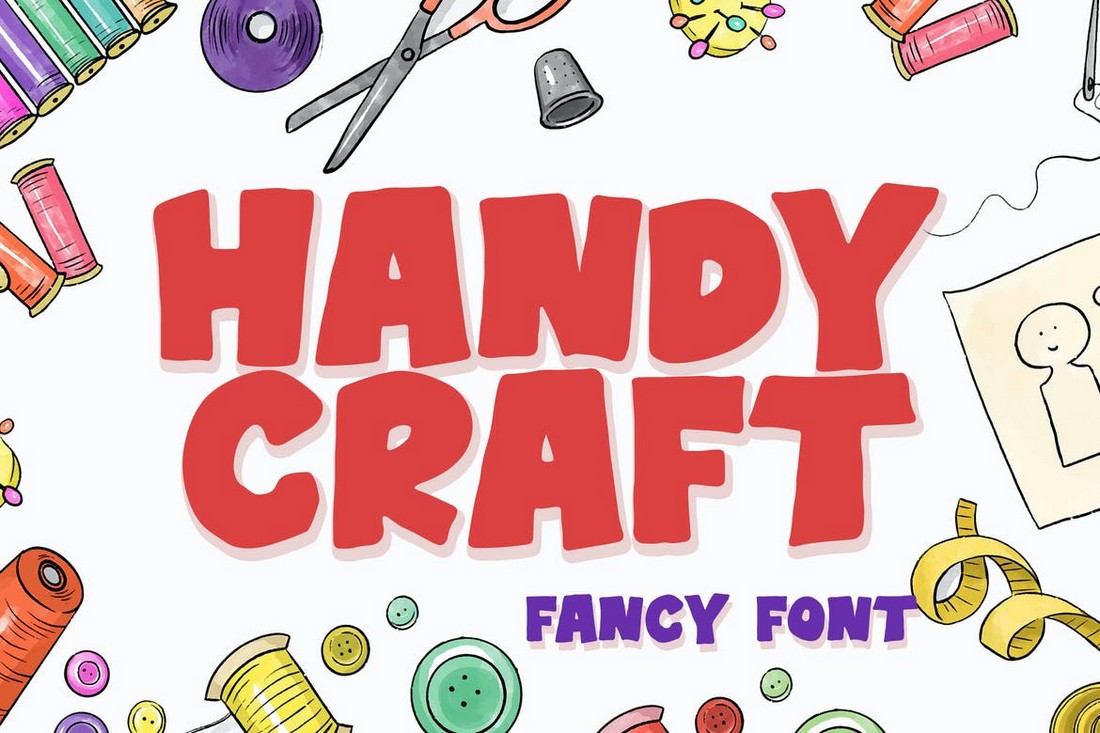 This font comes with a creative and hand-crafted look that fits perfectly with all school-related design projects. It's especially a great choice for making posters and banners for arts and crafts workshops. Of course, you can use it to craft posters, book covers, logos, and much more as well.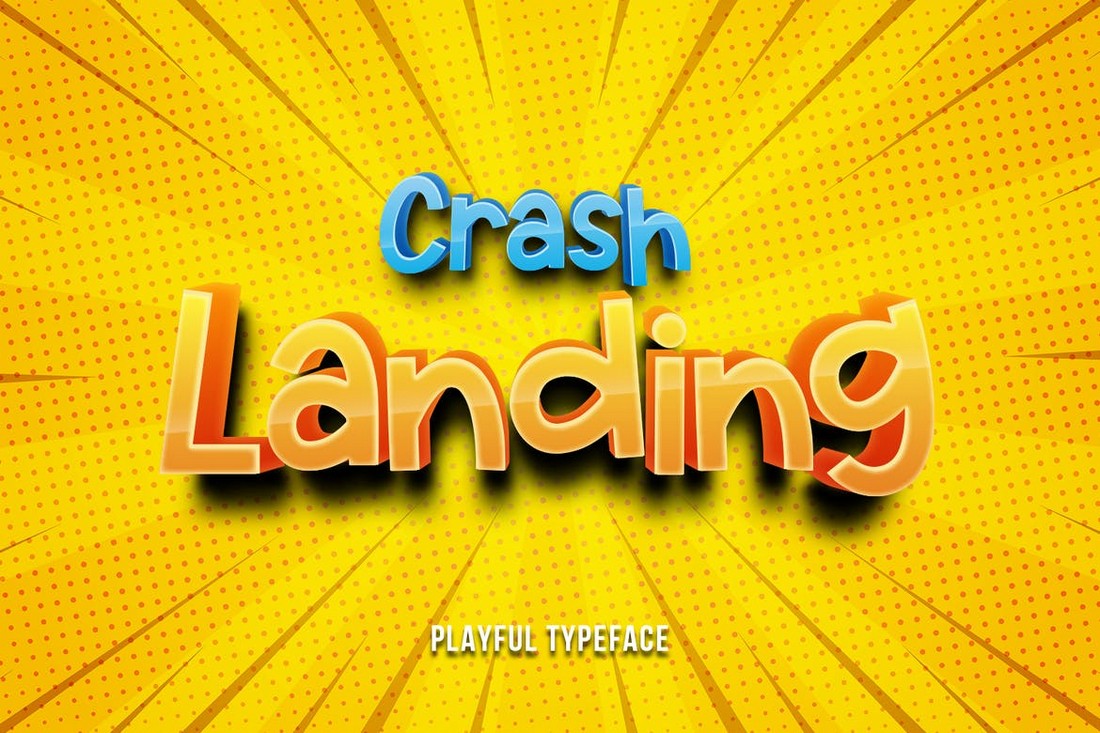 Crash Landing is a playful childrens font that features a set of fun and unique characters. You can use it to design titles for video games, social media posts, promotional material, and even T-shirts. The font includes uppercase and lowercase letters complete with numbers and punctuations.
This adorable kids font features a tall and narrow design that you can squeeze into various cute and kid-friendly designs. Whether it's a kid-friendly brand logo, greeting card, book cover, or school banner, this font will have you covered in all types of kid's designs.
A cute font that comes with a stylish letter design. This font will surely get kids interested in any topic you discuss. It has a playful yet clean design that makes text easier to read as well. The font comes in regular, inline, and clean styles. Each font is available in OpenType and TrueType formats.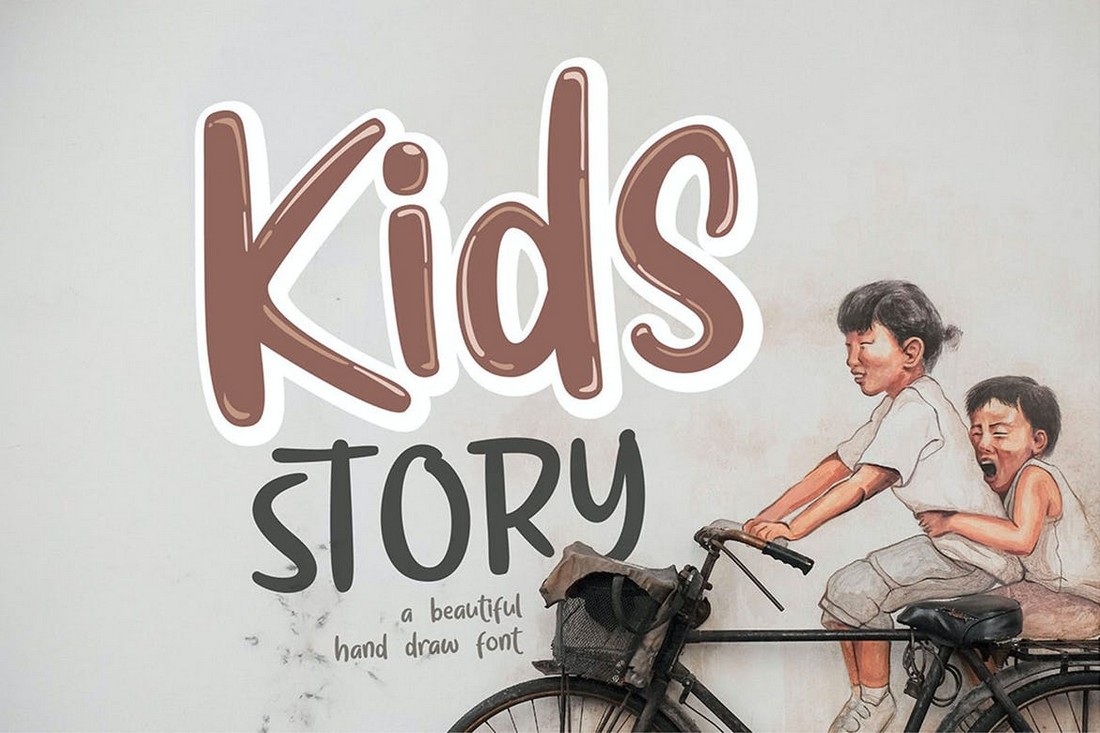 Another great display font with a playful design. This font has a multipurpose design that you can use to craft various kid-friendly designs. With a little bit of color and styling, the font can be completely transformed to use with many different types of creative projects.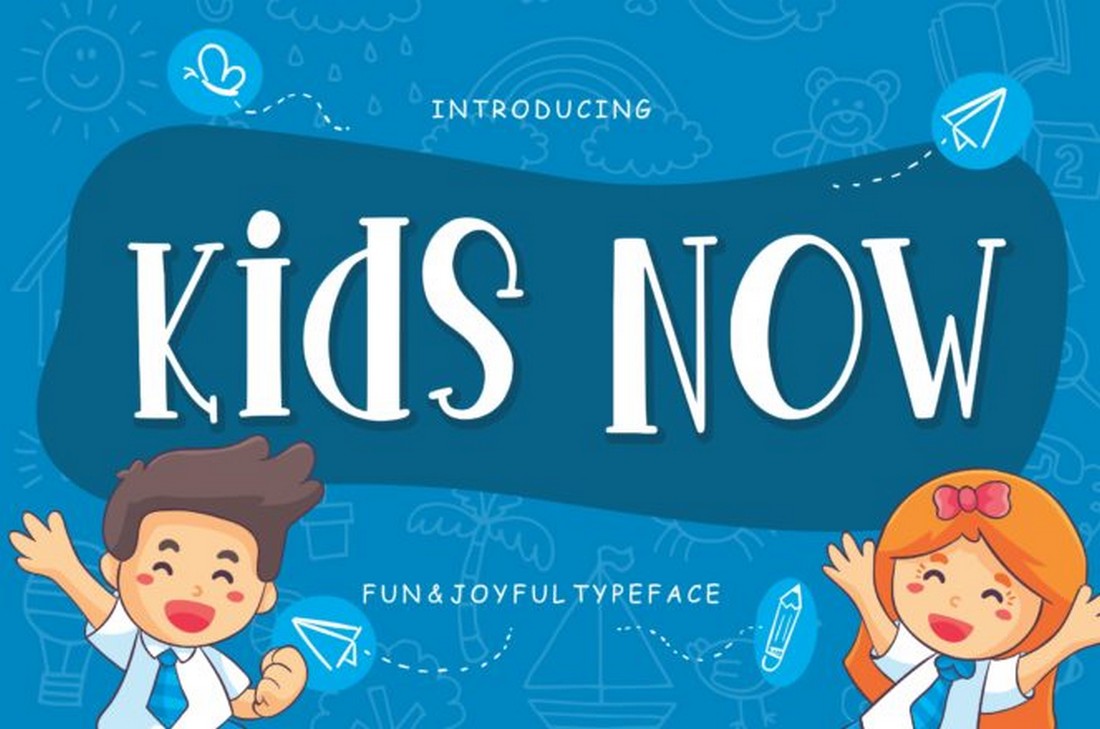 Kids Now is another free child font you can use with your personal projects. This font has a fun and playful design that will make your designs more attractive to children.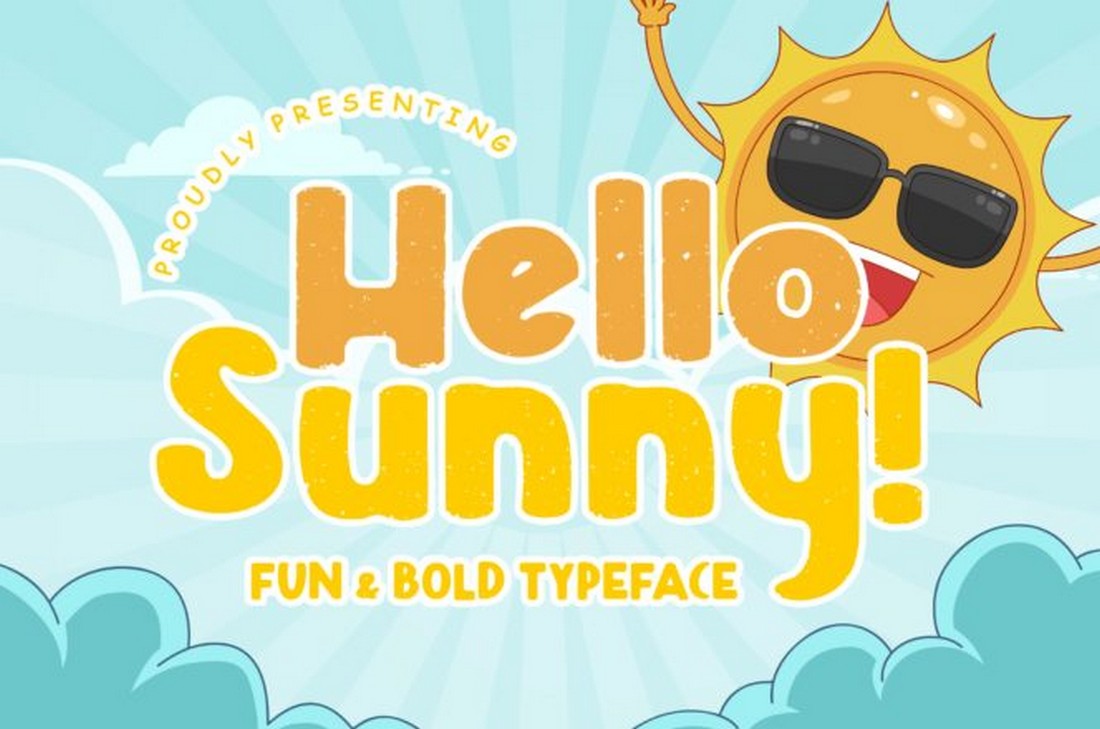 Make your kid's designs more joyful and energetic with this sunny font. This font is also free to download. You can use it with your personal projects without attribution.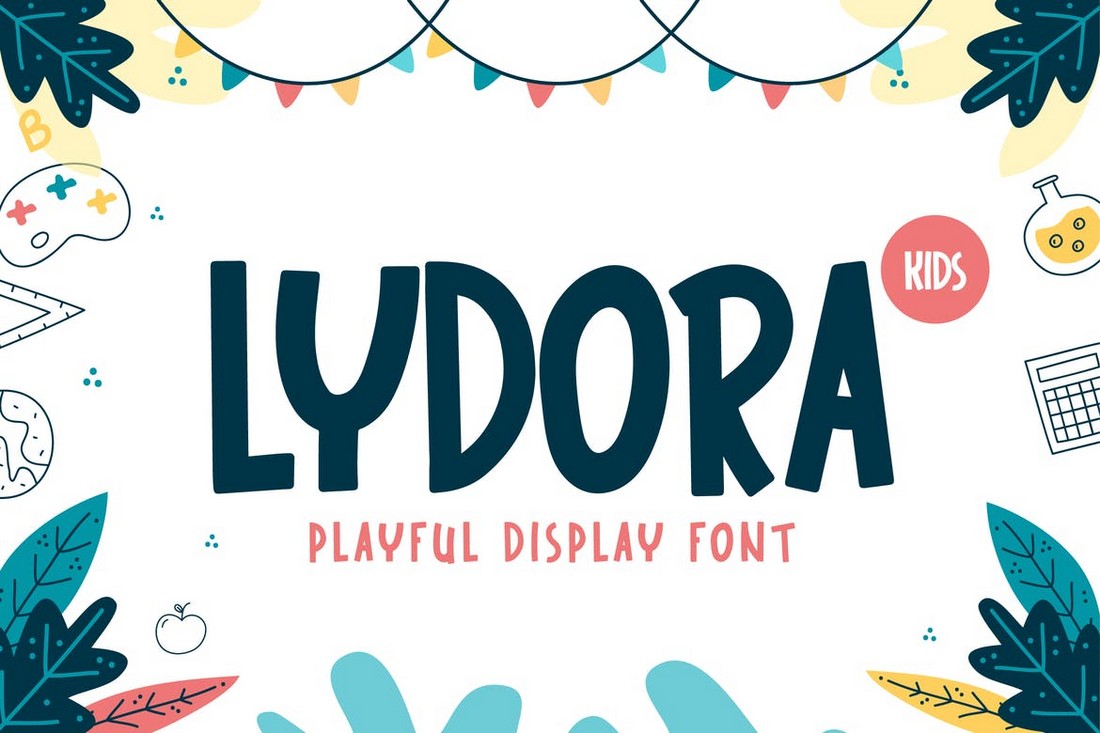 Lydora is a playful display font made just for kids-themed designs. This font features a set of modern yet fun letters that will make your designs stand out from the crowd. It's actually even suitable for various business and professional projects as well. Lydora is an all-caps font with small caps letters.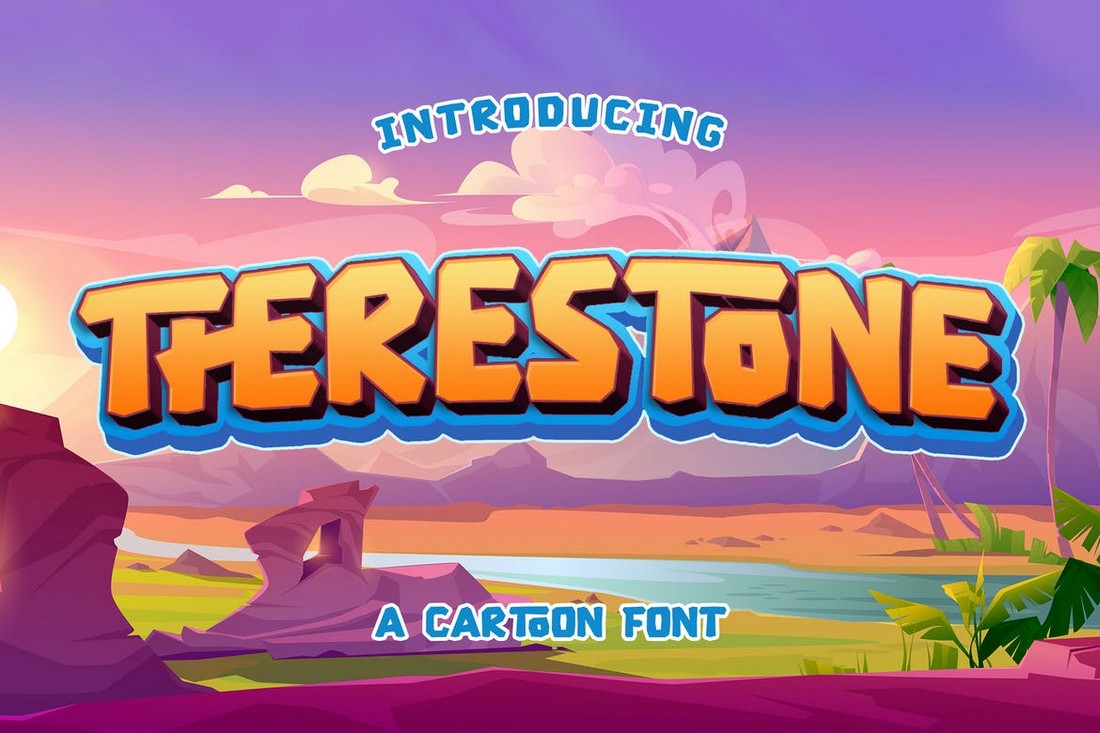 At first glance, you'll be able to tell which famous cartoon this font is inspired from. But its Flinstones-inspired letters are not the only great thing about this font. It also includes lots of glyphs and ligatures for making creative titles for all kinds of kid's projects. It also includes a WebFont version as well.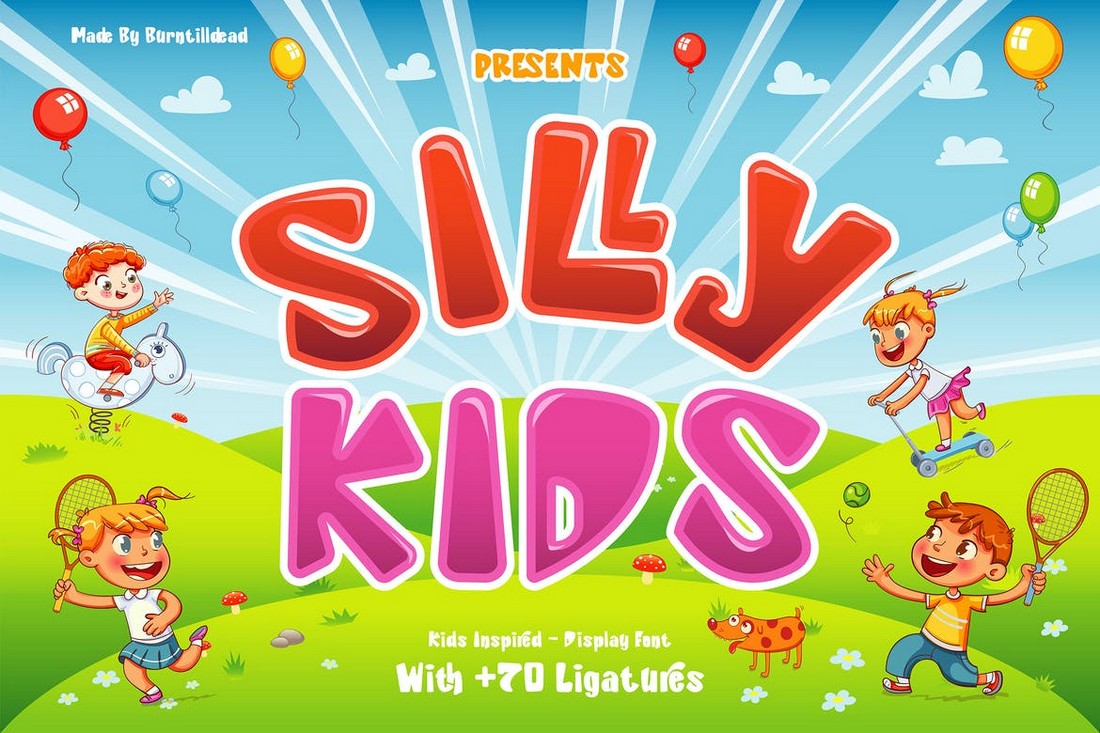 The aptly named Silly Kids font comes with a fun and quirky design. It's perfect for everything from kids posters to social media posts, website banners, book covers, and so much more. The font comes in two styles featuring regular and outline letter designs. And it includes uppercase and lowercase characters.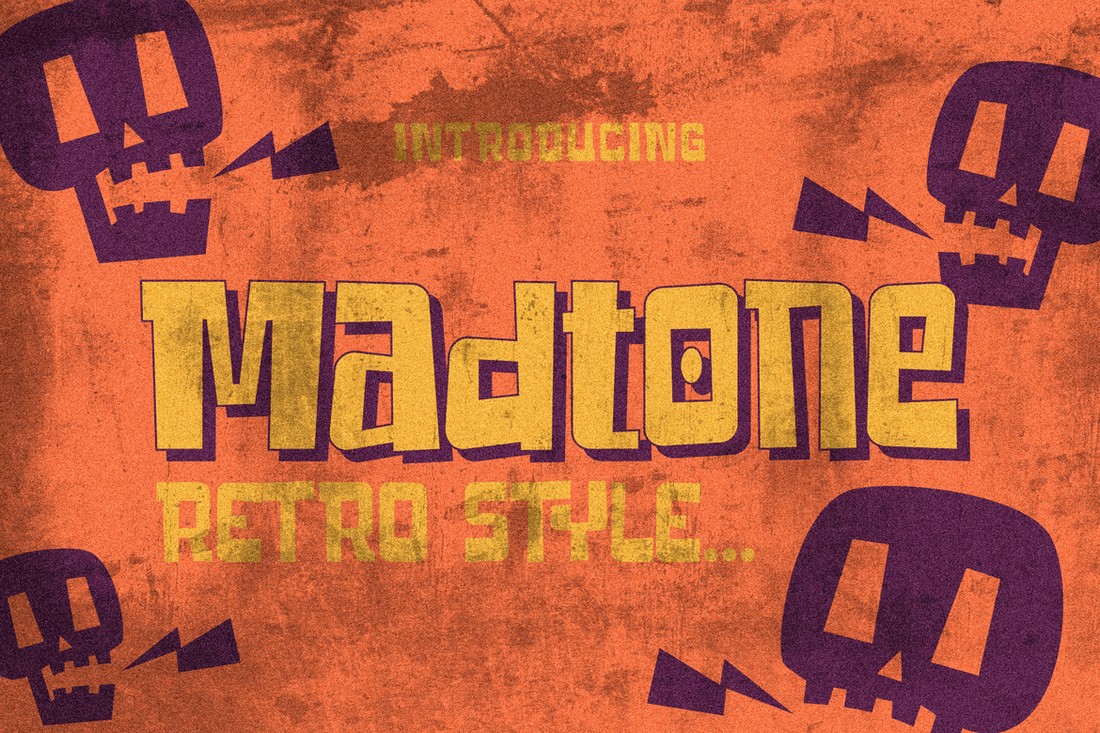 If you're a fan of Spongebob cartoons, it won't take long for you to recognize the same letter design in this font. That makes the font a great choice for designing titles and text that will instantly attract the attention of kids, whether it's packaging for a toy or an event poster.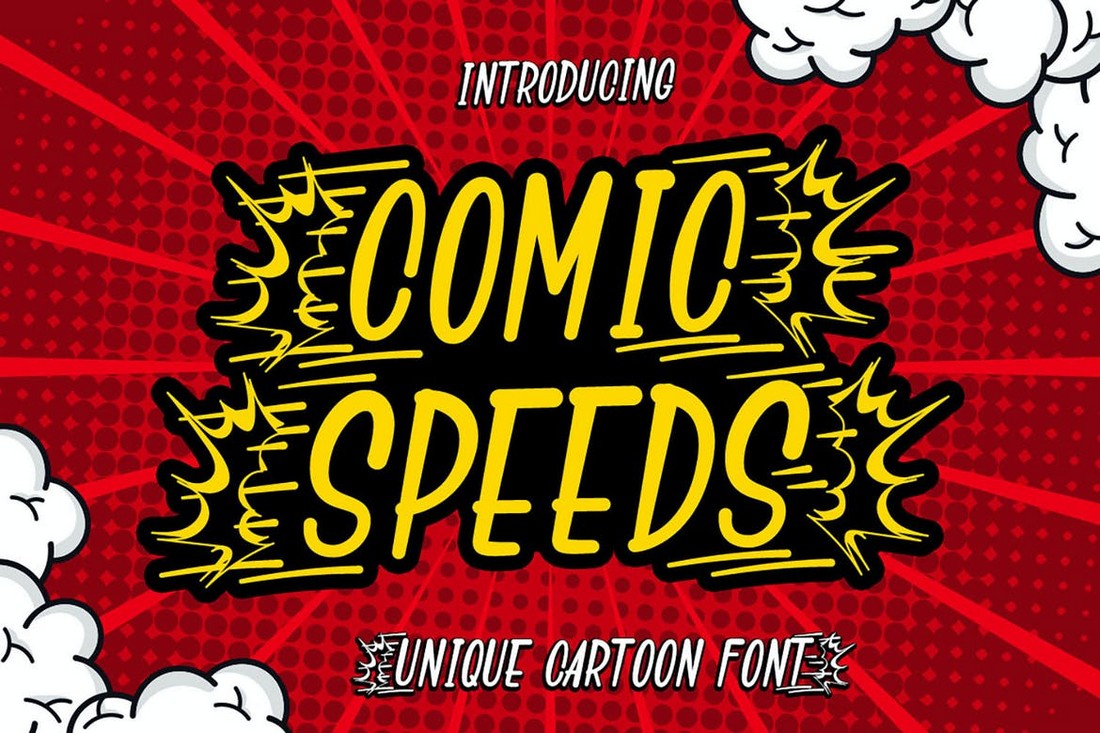 Comic Speeds is a cartoon font inspired by comic book text designs. This font comes with a set of alternate characters that will allow you to craft comic-style titles and headers to get kids interested in your designs. It's especially ideal for poster and flyer design.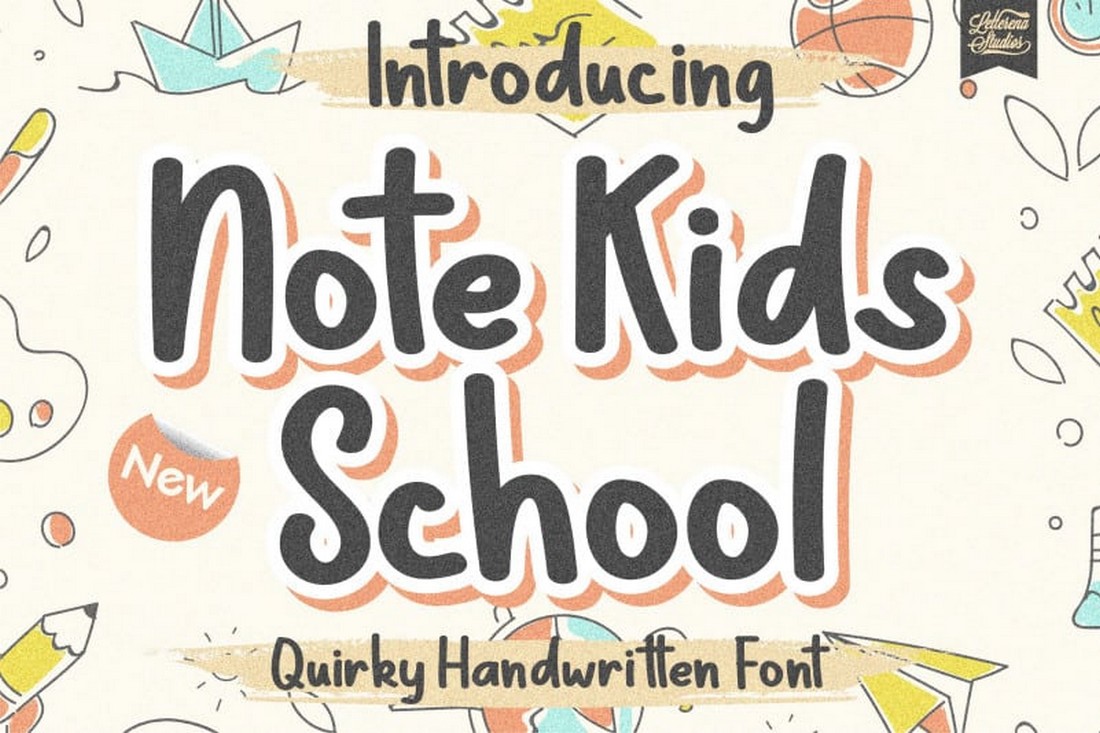 Note Kids School is a free font and it comes with a handwritten letter design. It's perfect for making titles for various kid's event promotions such as posters and flyers.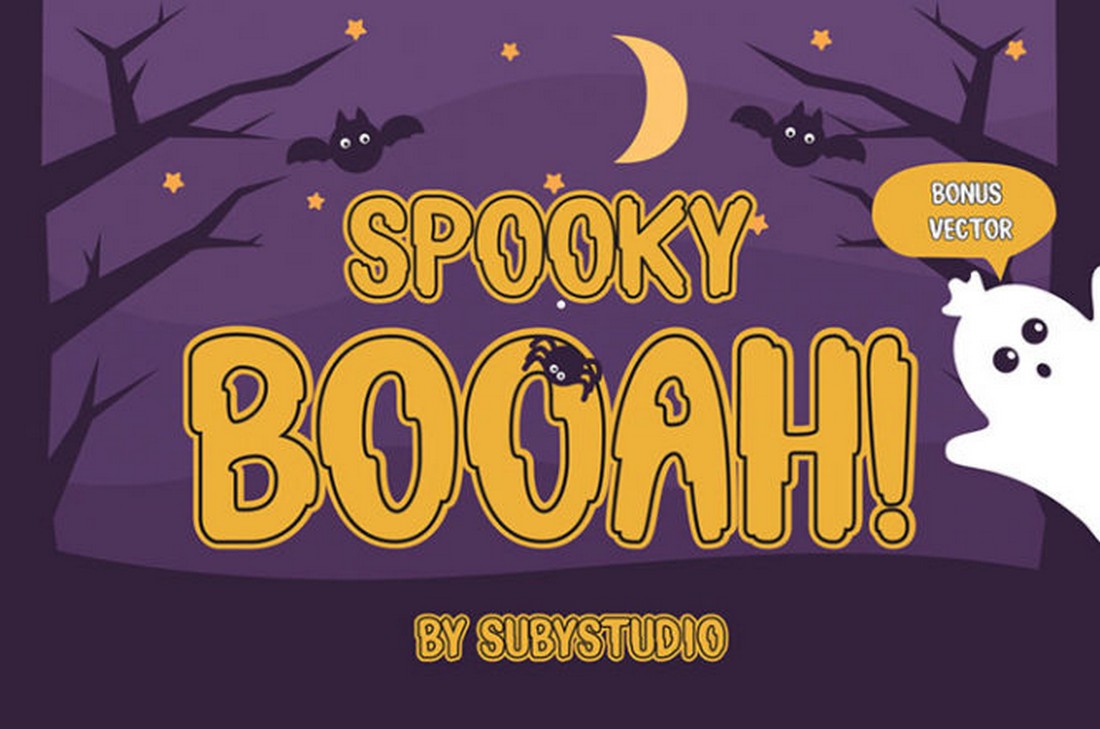 Looking for a kid-friendly spooky font for Halloween designs? Then make sure to download this font. It's free to use with your personal projects.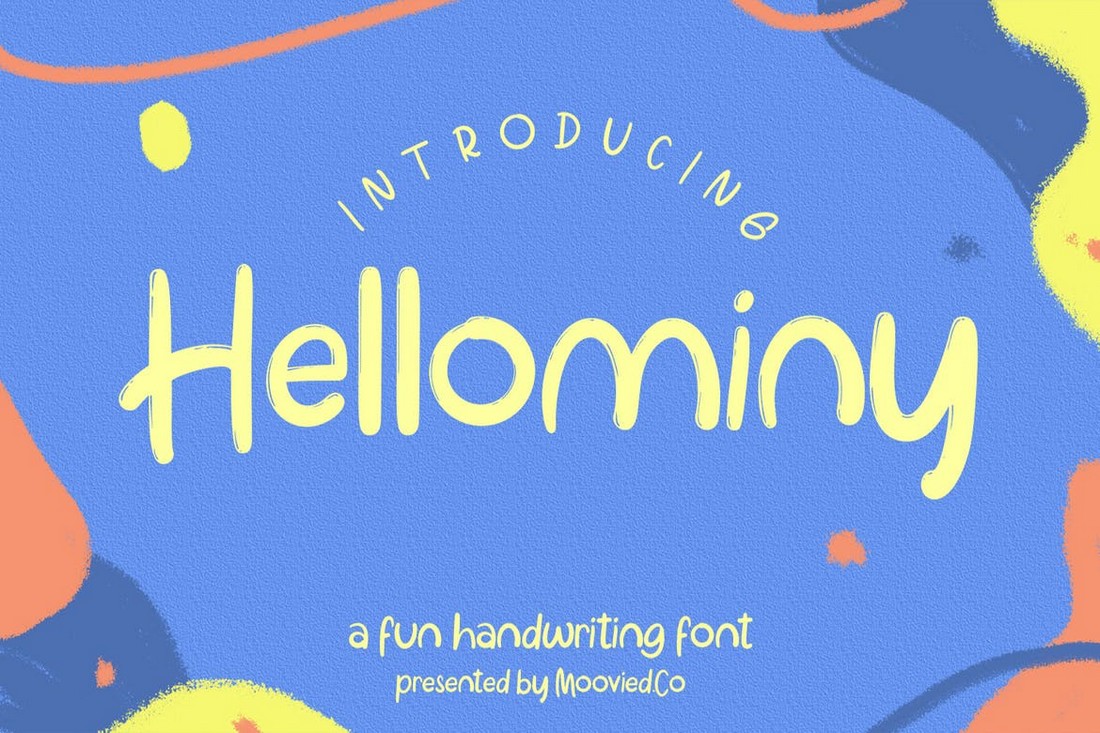 Hellominy is an adorable font featuring a set of cute characters. The clean design of this font mixed with the handwriting letters gives it a unique look and feel. This font is perfect for designing packaging and labels for children's products. It includes both uppercase and lowercase letters.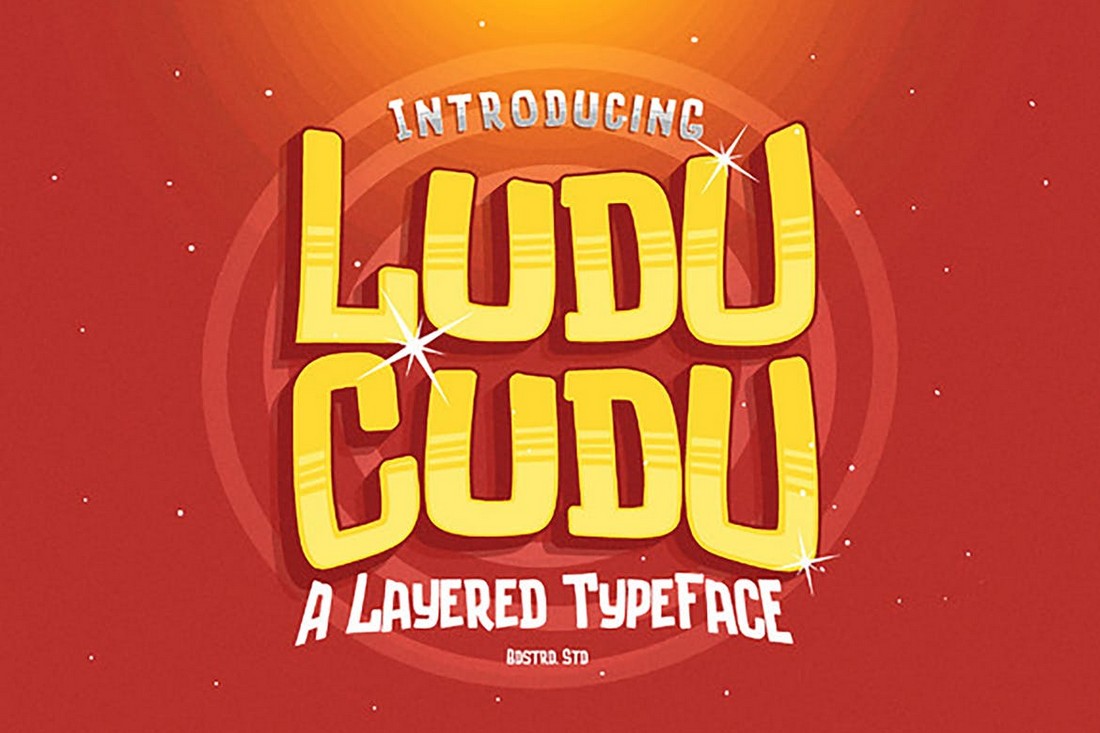 A unique layered font with a fun and entertaining letter design. This font is a great choice for not just kid's designs but also for various other creative projects. It especially has that look for making splash screens for mobile games and even cartoons. The font comes in 3 styles featuring regular, extrude, and gradient.
For more great fonts be sure to check out our best cartoon fonts collection.