25+ Best Comic Fonts 2020
Designing a comic, cartoon, or children-oriented graphic is one of the most fun projects we can think of – but what really makes it is the font! There's a huge range of comic fonts available, from bouncy, bubble style lettering to graffiti-esque characters, and classic comic block letters to horror-themed typefaces.
Once you've decided on your theme, it's time to decide on a font – but how can you comb through the thousands of amazing comic fonts available to find the one that perfectly fits your project?
Fear not – we've rounded up the best comic fonts for every kind of cartoon themed project, and we guarantee that there's an option here that will be perfect for your design! Keep on reading for a detailed list of the best comic and cartoon inspired typefaces, all ready for you to download and use in a matter of seconds!
Get every varied font and typeface you could ever need with one simple subscription. From just $16, get unlimited access to thousands of fonts, typefaces, graphics, templates, photos and illustrations.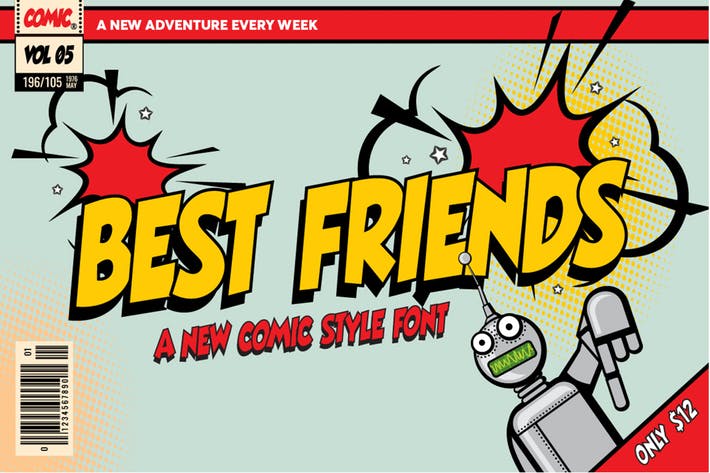 The Best Friends sans serif font is a classic comic book style typeface that's ideal for adding an extra splash of character and energy to your designs. Featuring a condensed letter spacing, additional web font, and free updates, it's also super easy to use.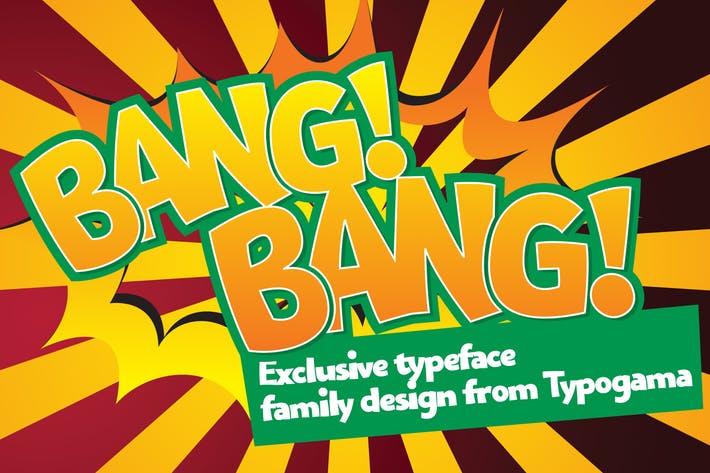 The designer describes Bangbang as "the most ridiculously serious comic font," and we couldn't agree more! With the fun, energetic appearance of a classic comic font, and the foreign language support and Opentype features of a professional typeface, this font gives you the best of both worlds.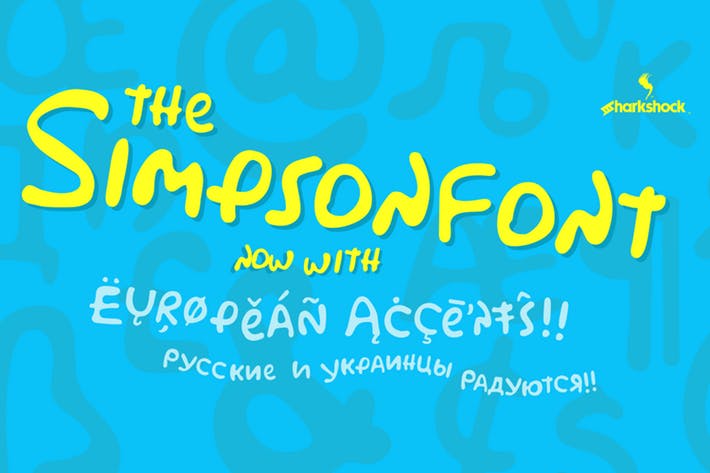 A take on one of the most easily recognized typefaces in modern Western culture, the Simpsonfont features ink-like lines and quirky, asymmetrical shapes for a childlike, handwritten quality. It includes a range of European accents and is ideal for a poster, game, or comic.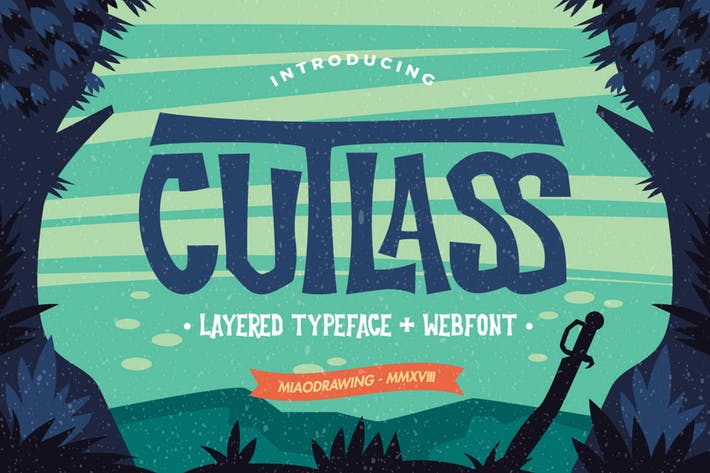 Inspired by classic horror cartoons and combining elements of pirate culture, the Cutlass typeface is one of the best comic fonts for a spooky or dramatic cartoon project. Featuring bold upper and lowercase letters as well as numerals and punctuations, it's brilliant for a poster or the cover of a book, movie, or game.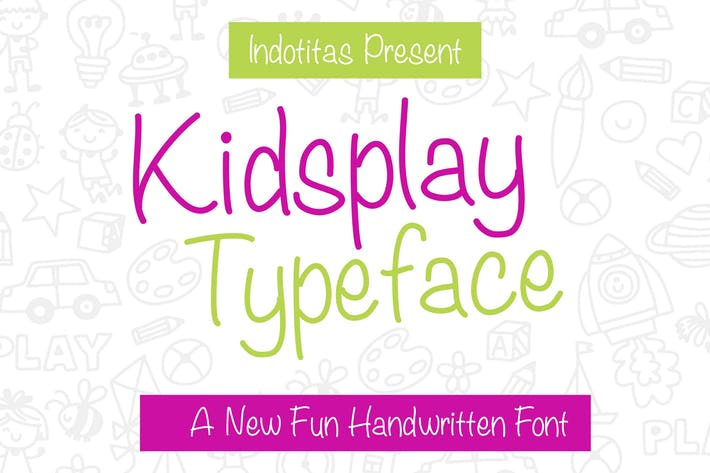 Kidsplay is a fun, handwritten typeface with a clean, simple aesthetic quality that's ideal for children's books, greeting cards, and anything else that's designed to appeal to youngsters! It includes a full suite of upper and lowercase characters, numbers and symbols, as well as ligature and foreign language support.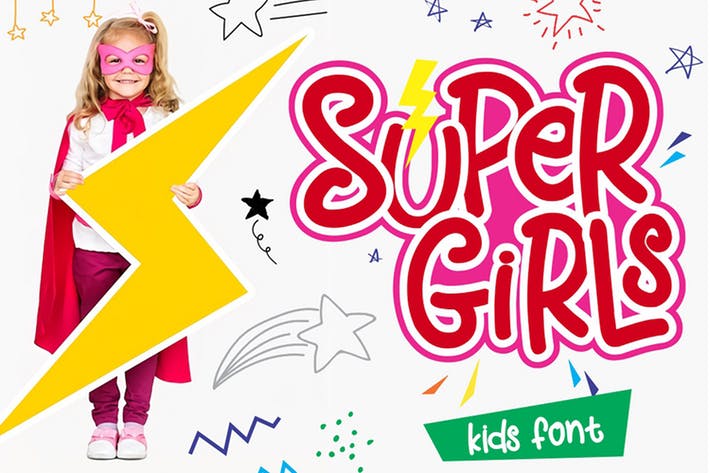 This playful display font is another option that's brilliant for any kid-oriented purpose, from books and cartoons to posters and product packaging! It includes PUA encoding, extensive multilingual support, and is incredibly easy to install and use.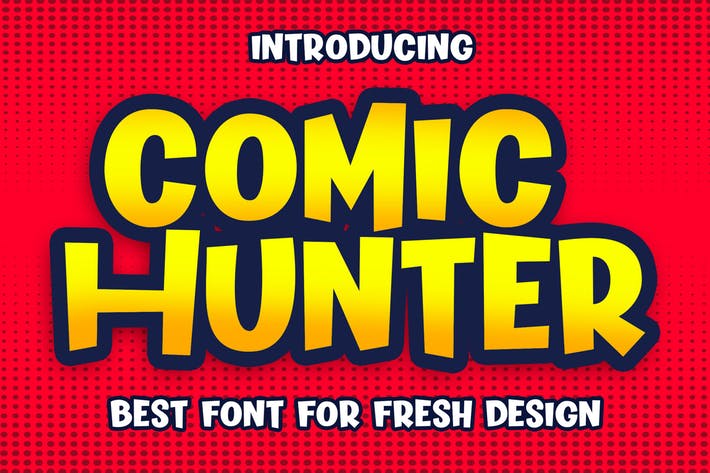 Next in our list of the best comic fonts is Comic Hunter, which is a fresh, bold typeface that's great for children's educational resources, books, magazines and posters, and looks great in both large and small sizes.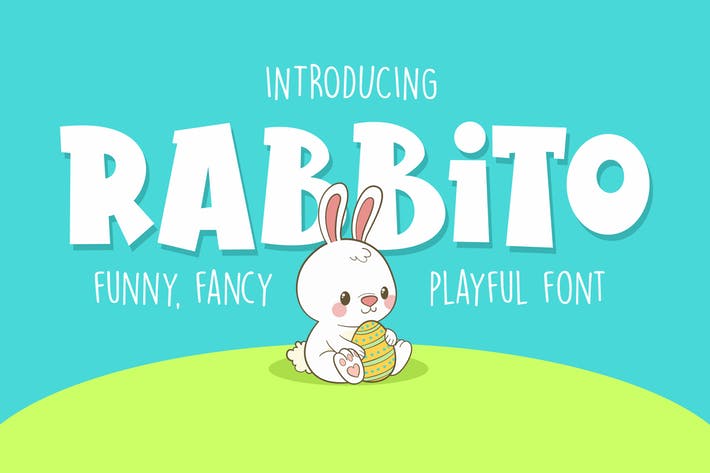 This cute, playful font was inspired by a rabbit in the designer's neighborhood and has been created specifically for children from ages 2 to 8. It's brilliant for a kindergarten or family-themed project, especially logos and posters, and is compatible with both Windows and Mac.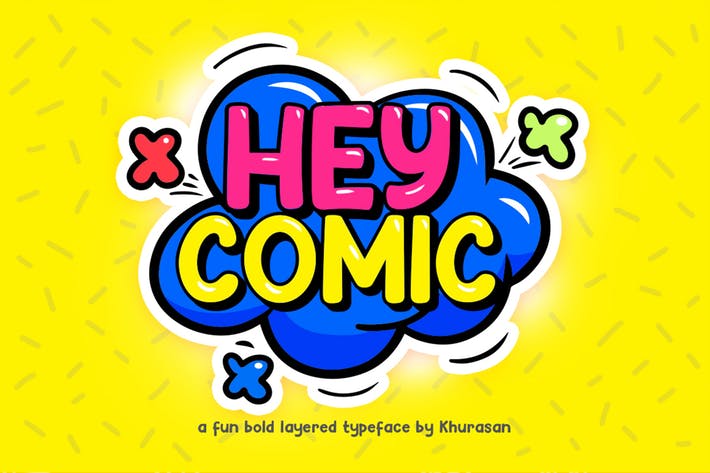 Hey Comic is a bold, cheerful font with a bouncy, bubble inspired appearance, and can be applied to any project or design where a splash of lightheartedness is required! It's a great option for a logo or heading, and comes with two stylistic variations, as well as foreign language functionality.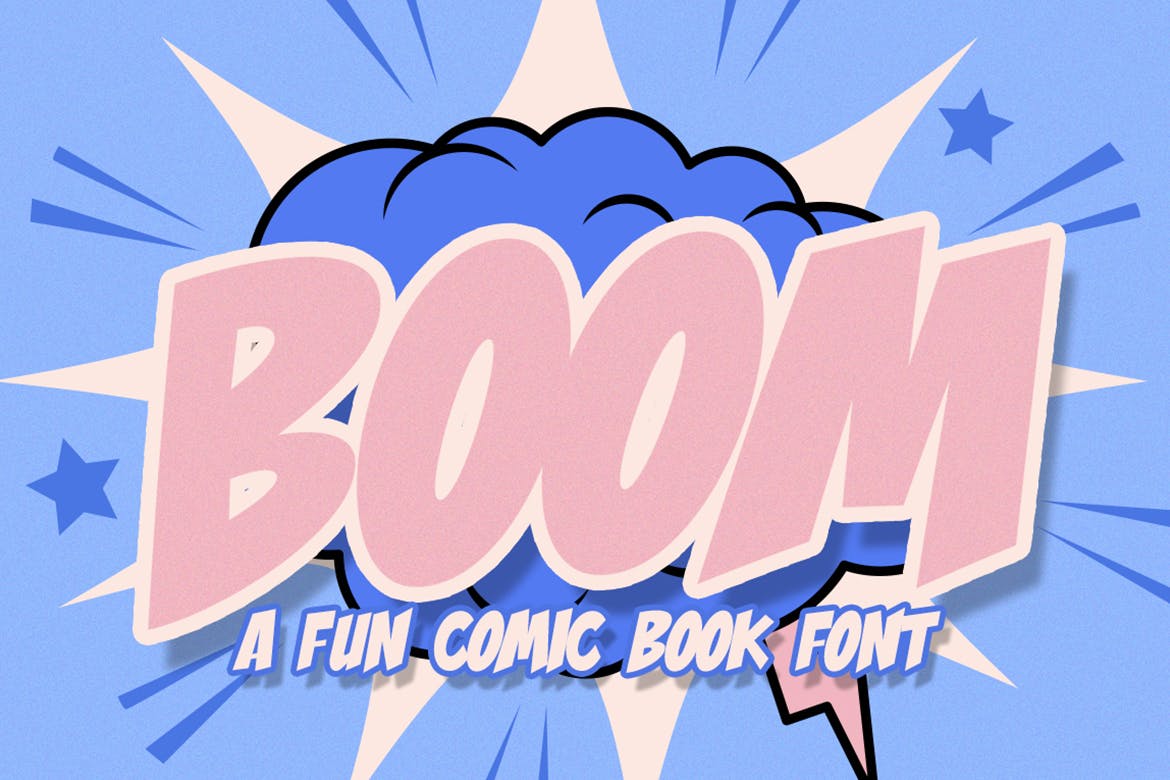 This quintessential comic book style font is a loud, playful sans serif typeface featuring classic comic elements and a thick, highly legible design, perfect for adding a bit of action to your project. It's compatible with a wide range of programs, and comes with four different spacing options.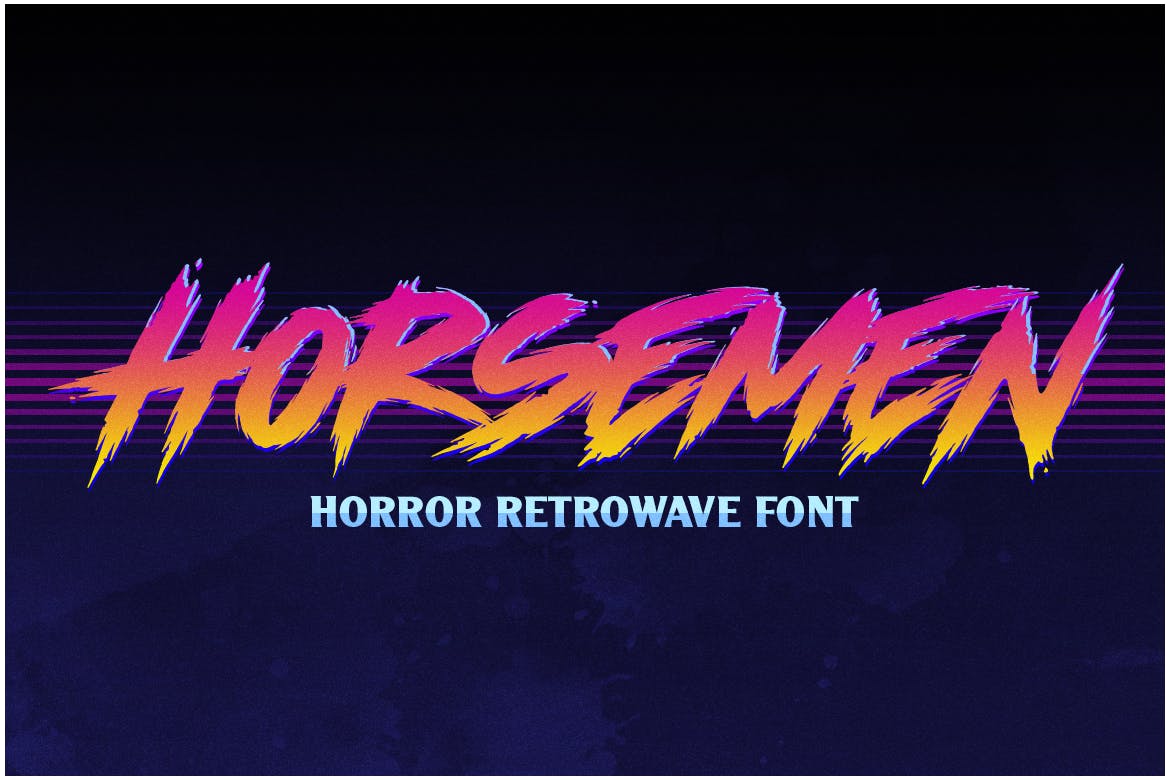 If you need a dark, horror-themed typeface for a spooky or retro style project, look no further than Horsemen, an 80s horror-inspired sans serif comic font that's brilliant for a wide range of purposes, from headlines and poster designs to album covers and product packaging. It includes a regular and slanted version.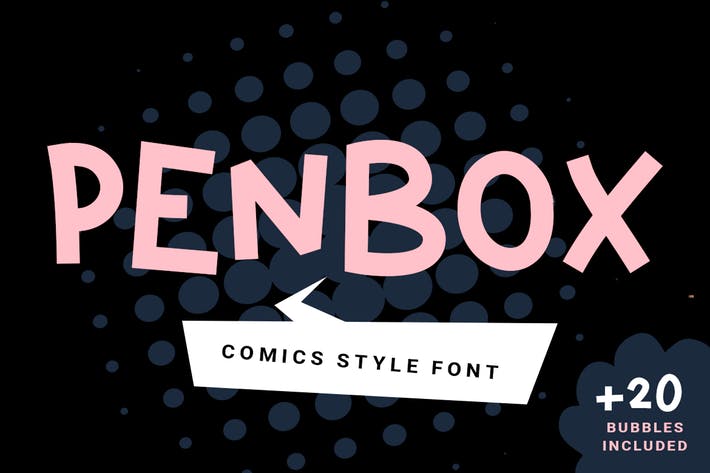 Simple and fun, Penbox uses subtle curves and sharp angular edges to create a balance between minimalism and quirk and is a perfect choice for a lighthearted logo or eye-catching heading. The package also includes a range of colorful speech bubble shapes for you to play around with, making it even more fun to use!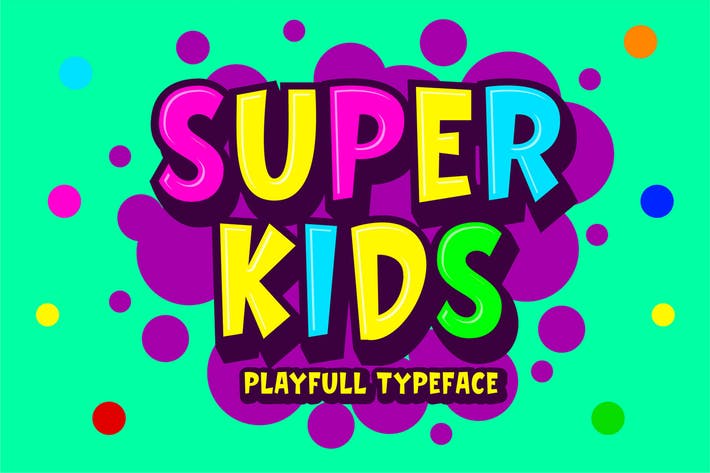 Super Kids is another great example of a classic, colorful font that's fantastic for any kind of children's application, from books and movie posters to educational resources. It includes a wide range of foreign language accents and is PUA encoded for ease of use.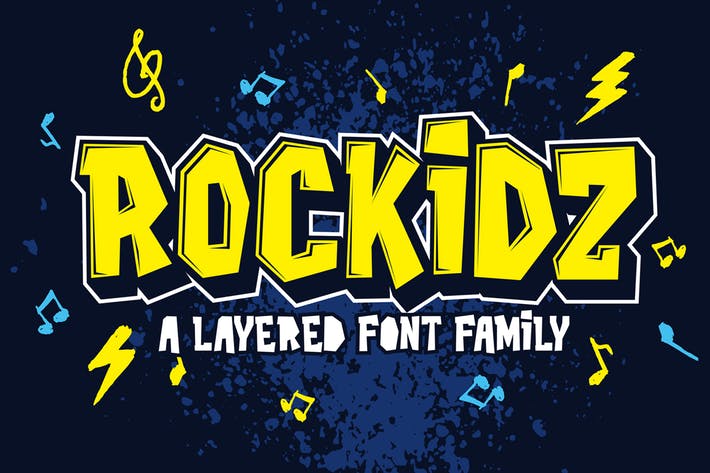 Combining rock music elements and the playful qualities of a classic comic font, the Rockidz font is a unique, bold sans serif typeface that can be used for comics, cartoons, movie posters, prints, apparel, and product packaging. It looks great in larger sizes and works on both Windows and Mac.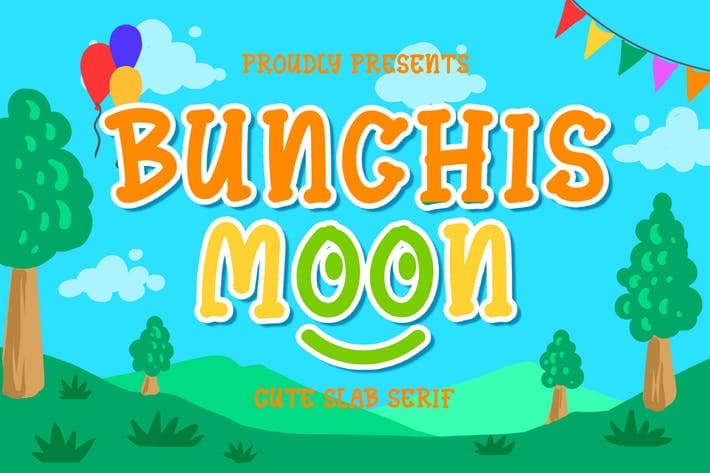 Bunchis Moon is a super cute slab serif typeface, inspired by comic books and altered with younger children in mind. It can be used for picture books, posters, and cartoons, and offers a range of multilingual accents, as well as OpenType functionality and PUA encoding, making it incredibly easy to use.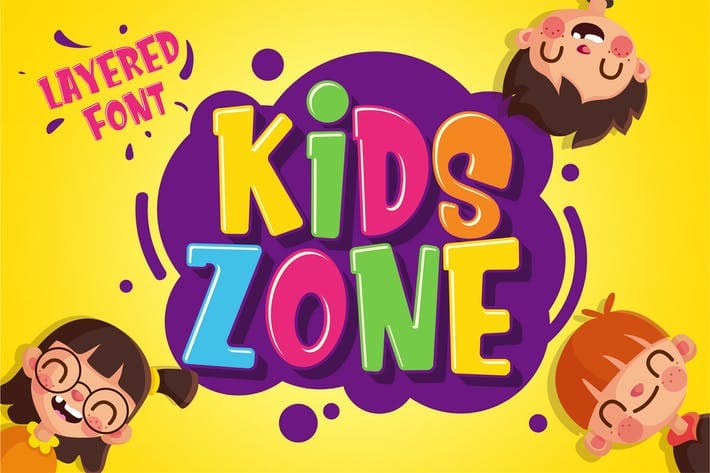 Kids Zone is another classic comic style font, with a slightly softer quality. It offers colorful, rounded lettering with a three dimensional bubble effect and playful asymmetry, as well as multilingual support, making it great for any purpose where young children are the focus.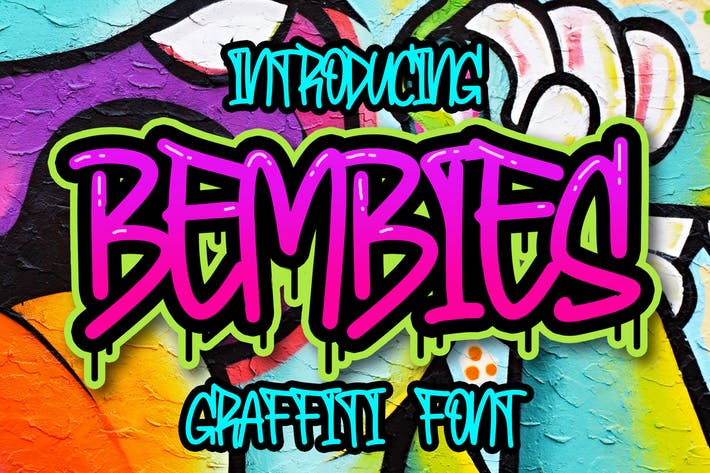 This graffiti style typeface is a fun, edgy choice for both children's cartoons and other applications, and other hip-hop or street inspired projects. It's a particularly effective choice for posters and billboards, or other large scale designs.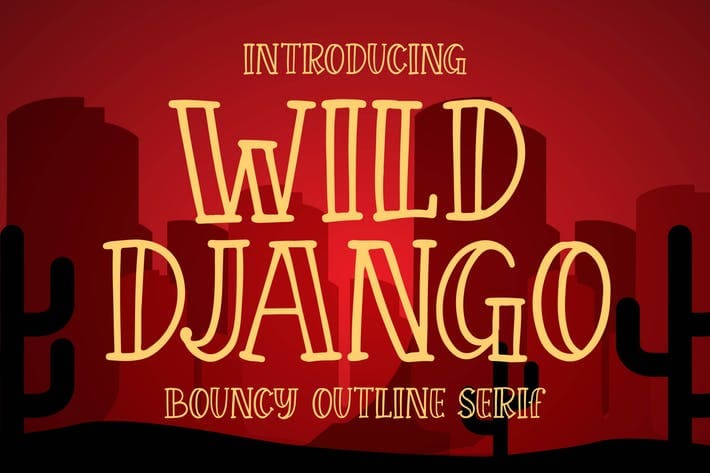 Wild Django is a bouncy outline serif font with a fun comic inspired style, and is a brilliant option for a wide range of purposes, from traditional tattoos to wild west themed projects, and of course, children's entertainment such as books and films.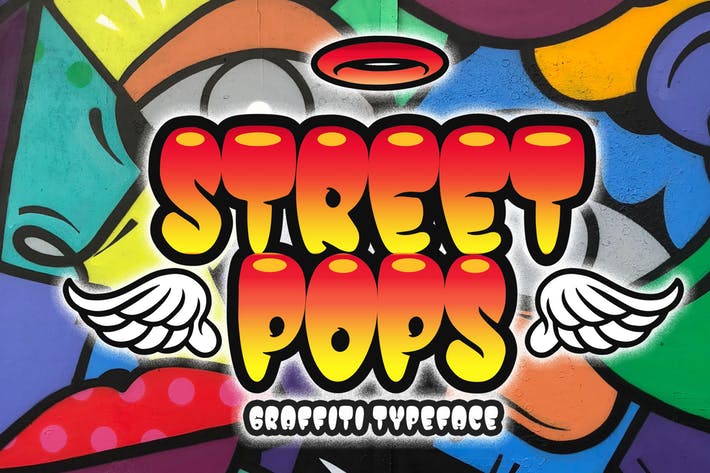 A bubbly, bouncy font with graffiti-inspired elements, Street Pops, is great for posters, flyers, and funky logos. It includes a range of foreign language accents and a full suite of upper and lower case characters, as well as numbers and punctuation.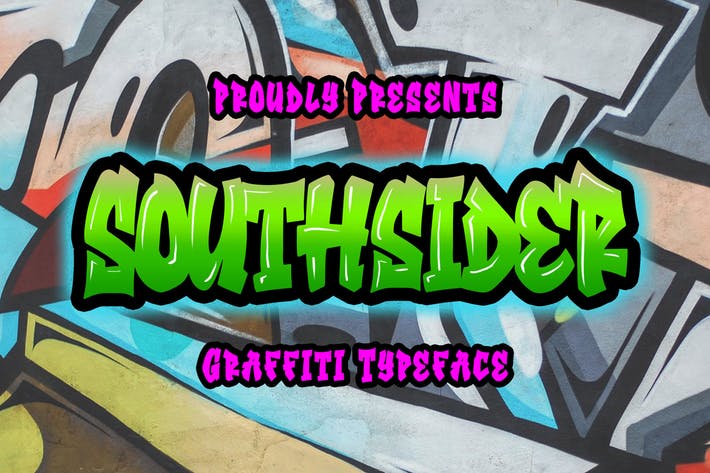 Another example of a comic font with a graffiti vibe, the Southsider typeface, is edgy, playful, and a highly versatile option for a range of applications. It includes a wide variety of glyphs, including both English and foreign language characters.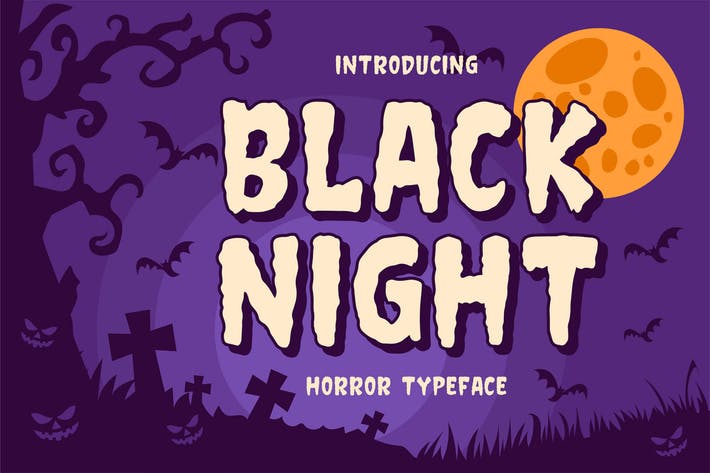 This horror inspired typeface is a great font to choose for your halloween themed projects, from posters and flyers to book covers and apparel! It also makes a great logo for a spooky or horror-themed business, or as an element to use as part of their branding.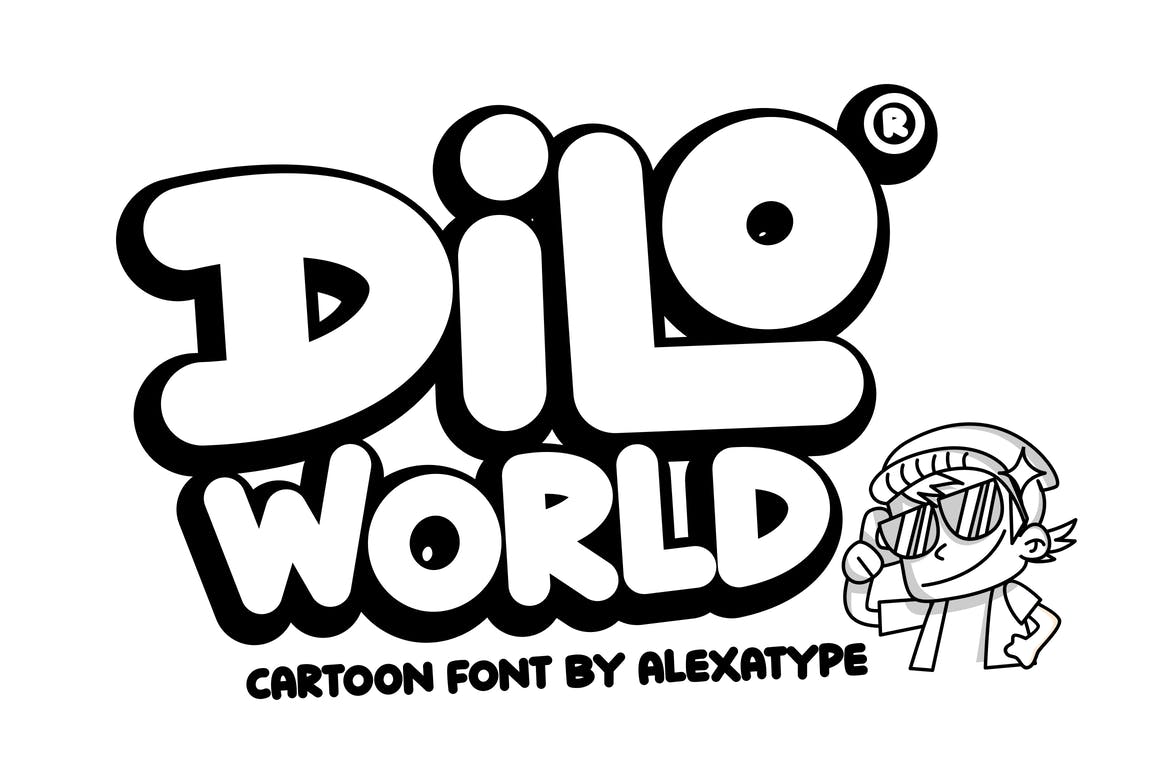 Next up we have Dilo World, a bold, all caps comic font with a strong cartoon vibe. It features rounded corners and a bouncy baseline, making it perfect for a fun, lighthearted comic project, or for use with logos, headlines, apparel, and many other applications.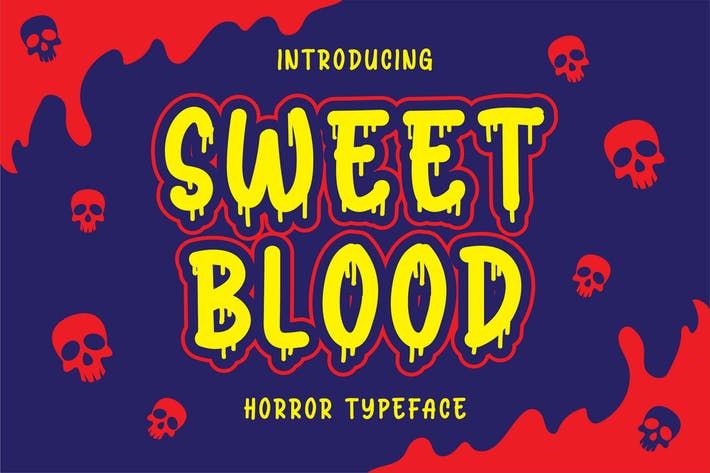 Another one in our list of the best comic fonts is a horror themed option, this time featuring rounded edges and stylization to imitate drops of blood! It's perfect for a creepy, halloween, or vampire themed design, such as an event poster or horror story book or film cover.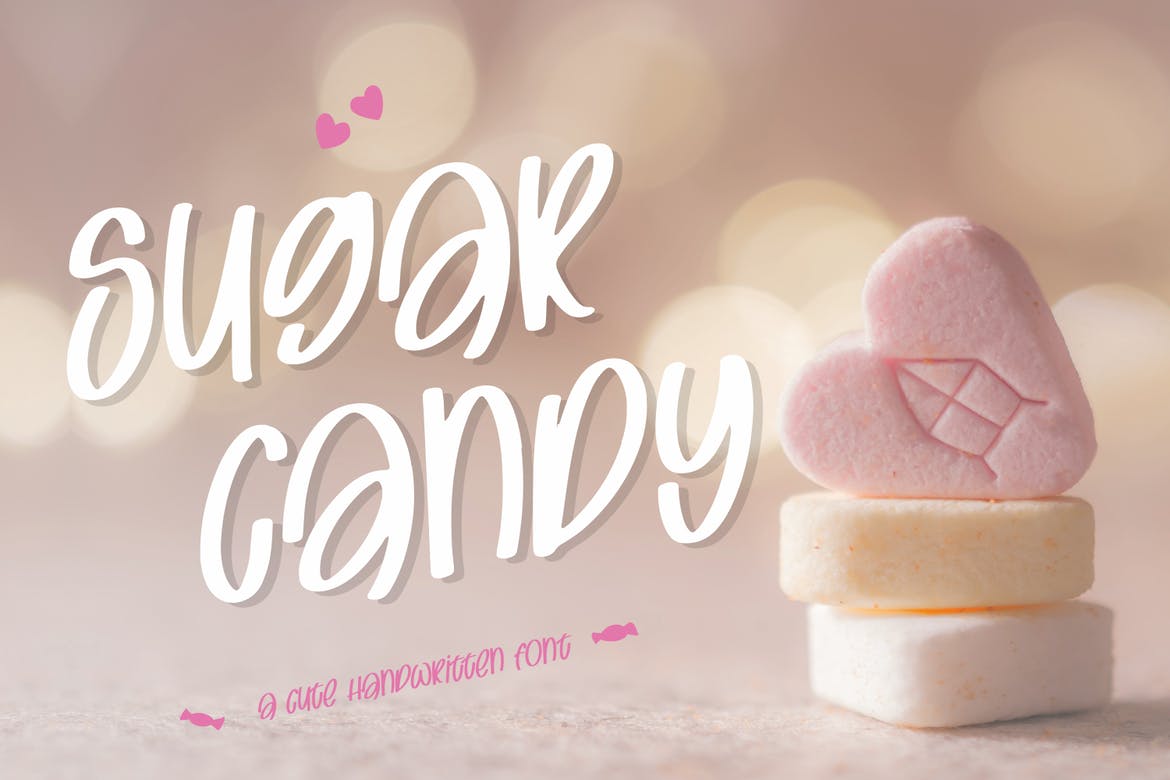 Sugar Candy is a sweet, playful comic sans serif font that's perfect for any child-centric project, or for a business that wants to appear fun and quirky. It includes a mix of upper and lower case letters, as well as numerals, punctuation marks and a range of multilingual characters.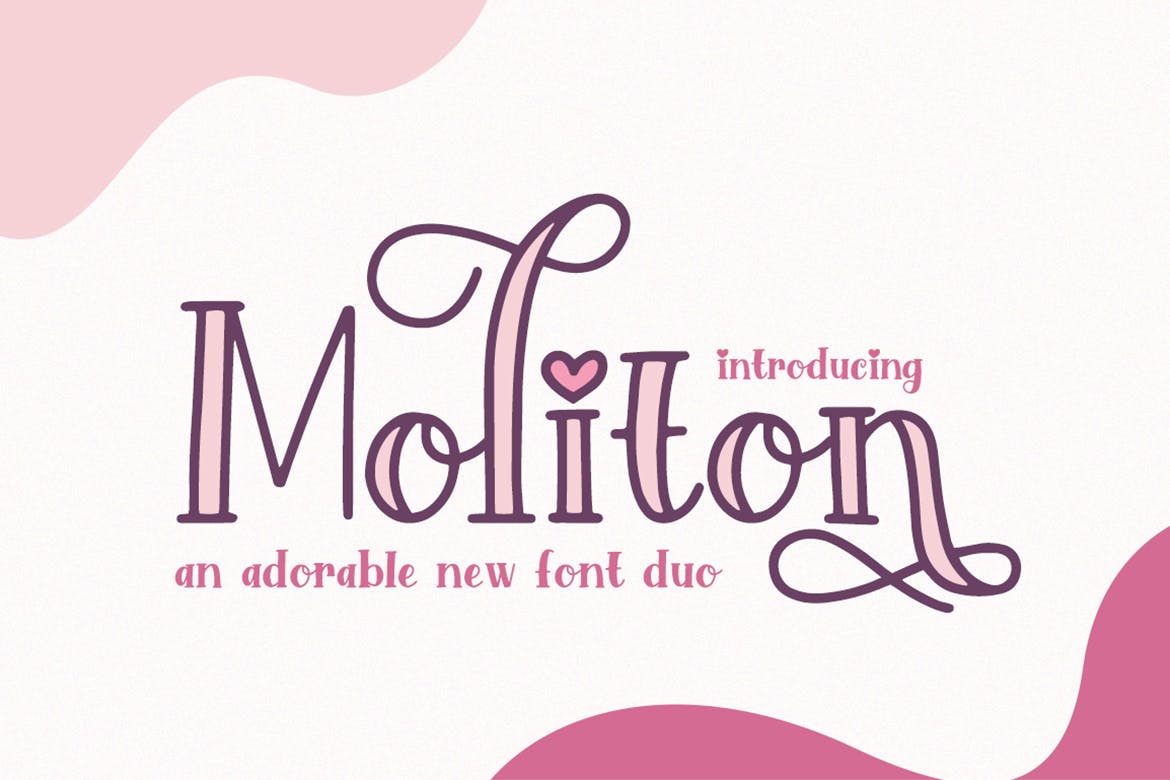 Moliton is an adorable serif comic font featuring several different variations, all of which are perfect for a girly comic project. It features a sweet, swirly design with filled and regular options, and comes with four sizing options. It also looks great as part of a fun, playful branding package.
This list of the best comic fonts is sure to help you to choose the best typeface for a cartoon or comic inspired design project, whether it's for a children's book or poster, or a more adult project. And best of all, all of the amazing options above are ready for download instantly – you're welcome!
Looking for WordPress hosting? We use Kinsta. They offer world-class WordPress hosting, built to keep your website fast, secure, and always online.