InstaShow – WordPress Gallery for Instagram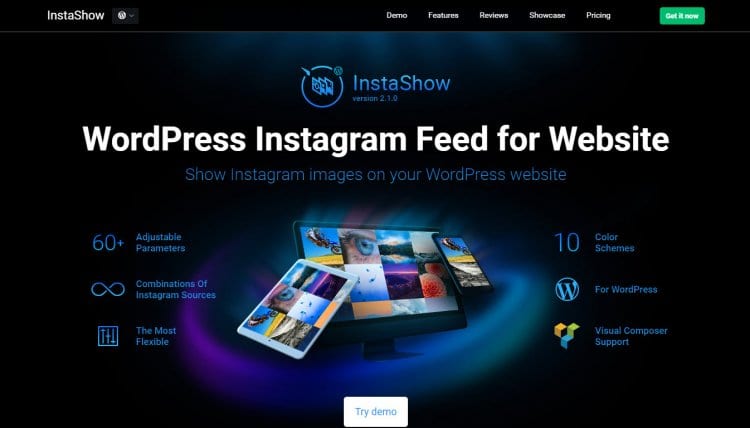 InstaShow is a WordPress plugin that makes it easy to display content from Instagram on your website. When deciding which content from Instagram to display, you're spoiled for choice. Usernames, hashtags, and URLs can all be used to pull in images and videos from Instagram. You also get lots of control over how that content is presented on your WordPress website.
Instagram Auto Poster – WordPress to Instagram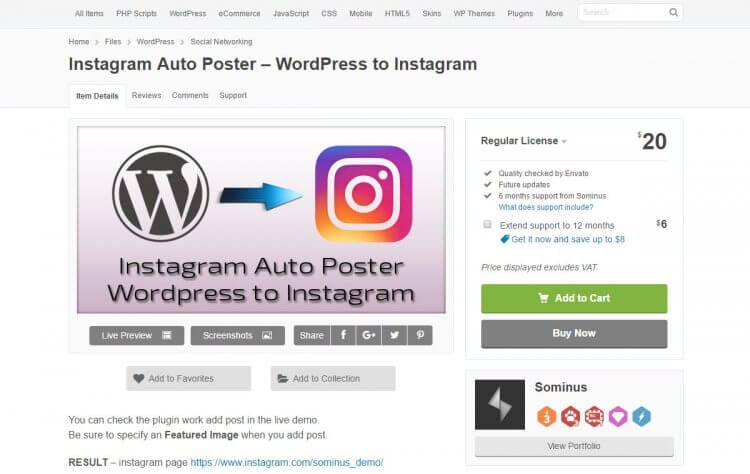 Instagram Auto Poster – WordPress to Instagram has been built to help you grow your Instagram following through the power of automation. After installing this plugin on your WordPress website, it will automatically share your posts on Instagram, publishing them on your account.
InstaLink Instagram Widget – WordPress Plugin for Instagram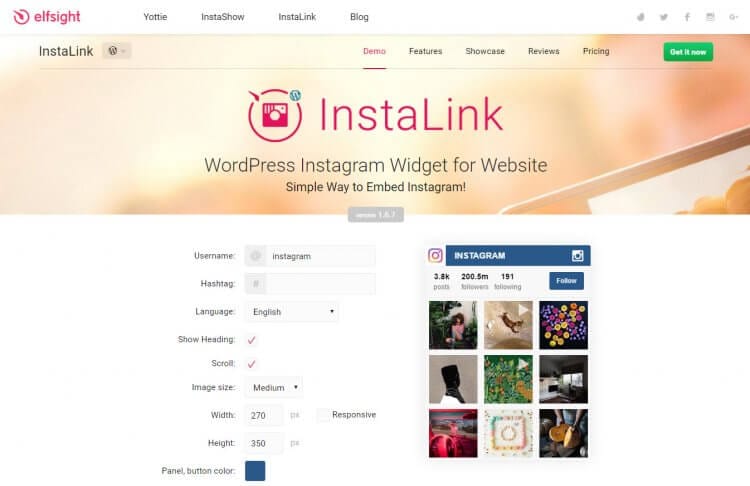 InstaLink Instagram Widget will add a custom widget to your WordPress website that makes it easy to display content from Instagram. Simply enter an Instagram username or series of hashtags and the corresponding content will be pulled into your website and displayed to your audience. There are plenty of customization options to ensure this Instagram widget blends in with your site.
Instagram Journal – WordPress Plugin and Theme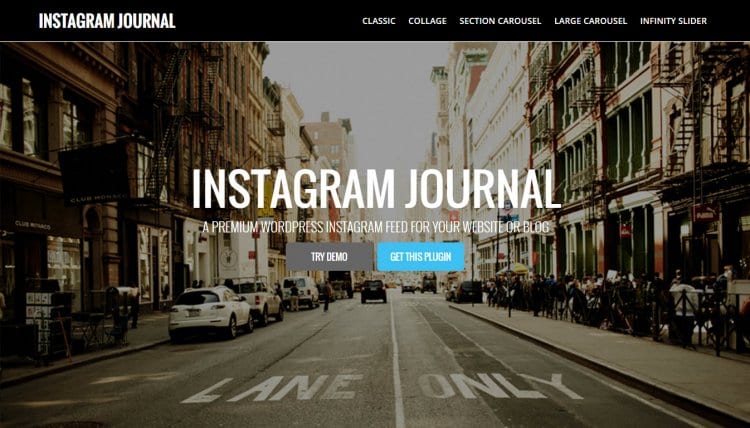 Instagram Journal is a WordPress plugin and theme double pack that gives you all the tools you need to publish your Instagram content on a separate website. Although you can use the Instagram Journey plugin with any theme, if you're yet to start your website, there included theme could be a great option.
Alder - Instagram Header WordPress Theme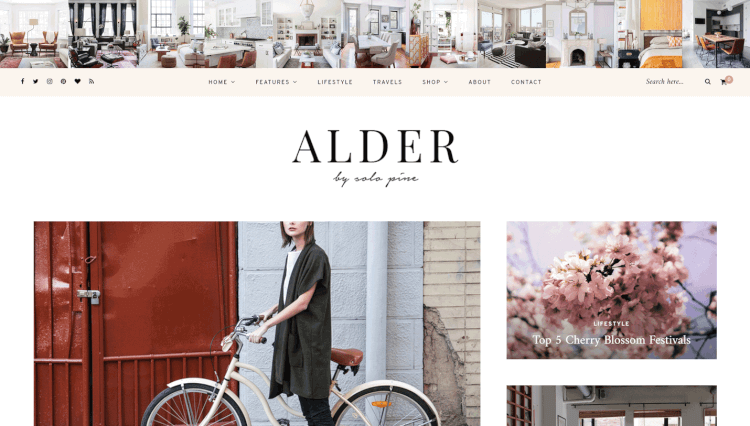 Alder features an eye-catching Instagram header that displays the latest photos from your feed at the top of your site. The same effect can also be applied to the footer area, with the option of also using the sidebar widget to display Instagram photos in other ways. If you want to make your Instagram content the focal point of your website, this WordPress theme is for you.
Ralph Krause - Author Instagram WordPress Theme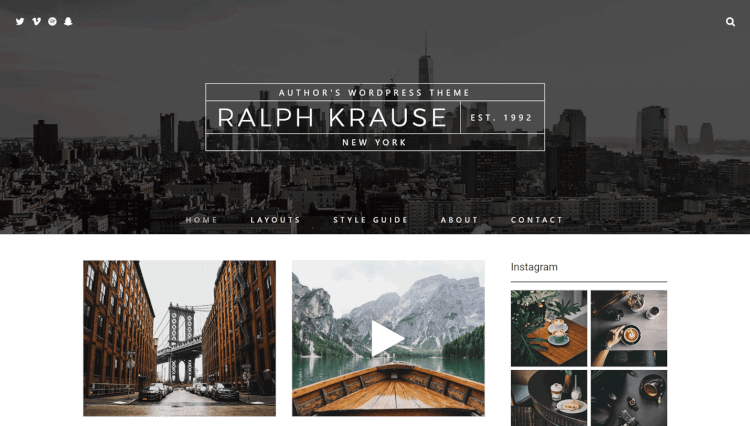 Ralph Krause is a WordPress theme for authors and writers. To help you connect with your audience, this theme makes it easy to display your Instagram feed in the footer and sidebar areas of your site. There are also over 30 site customization options, making this one of the best Instagram WordPress themes for creating a personalized author website.
Lavander - Lifestyle Blogger Instagram WordPress Theme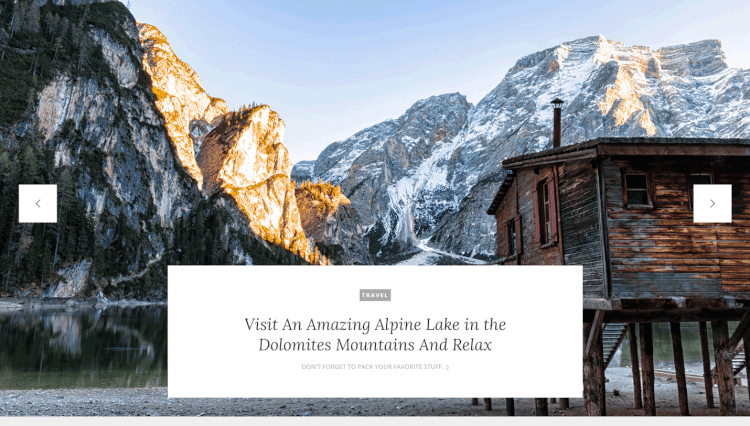 Lavander is another WordPress blogging theme with good Instagram integration. The minimal design of this theme gives your content plenty of room to breathe, whether that's the latest blog post or the photos from your Instagram account. With six homepage demos to choose from, Lavander has plenty of to offer.
Anthein - Instagram WordPress Blog Theme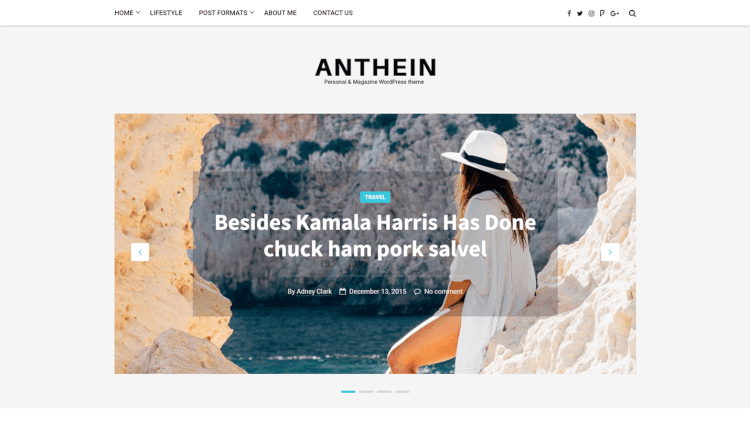 Anthein is a stylish WordPress blog theme with five homepage variations for you to choose from. The different blog layouts give you plenty of options when setting up your website and each time you publish a new article. To help make your blog even more enticing, an Instagram widget is on hand to display your best photos.
PerProg - Minimalist Instagram WordPress Theme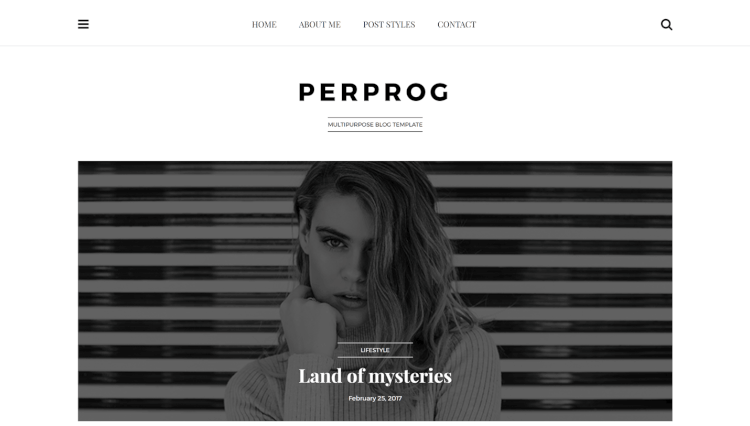 PerProg is a minimalist WordPress theme for personal and business blogs. Although the overall design is minimal, you can easily customize it through the theme options control panel. Using the Instagram feed widget to display your photos gives you another way to enhance your website with PerProg.
Roza – Elegant Diary WordPress Theme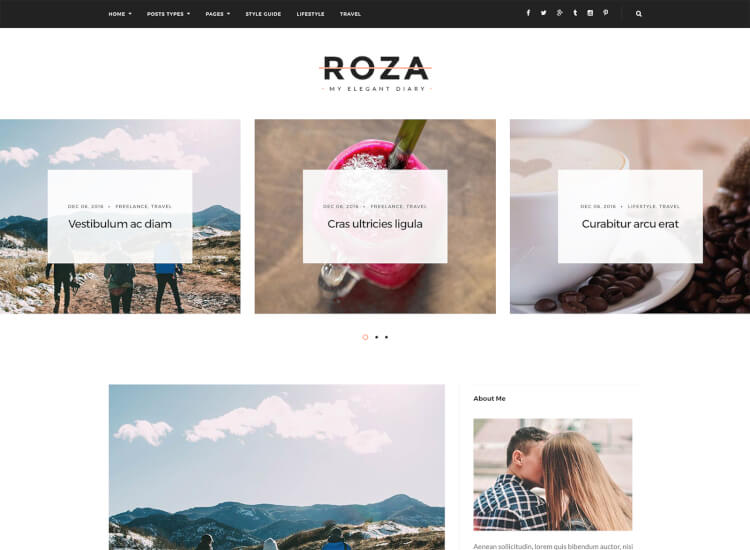 An elegant theme that functions perfectly as your online diary — for stories, photos, videos, and more. It has a crisp and clean design, and works with Visual Composer for drag-and-drop layout creation. Widgets make it easy to show your latest Instagram photos, or Twitter posts, so your visitors can follow along with your social media updates.
Highfill - Modern Blog & Instagram Theme
Highfill is a modern, stylish blog theme that lets you tell your story in a stylish and creative fashion. It's packed with different layouts and post formats that can make your content look beautiful, including an Instagram widget for showing off your beautiful Instagram photos in the sidebar (or footer!). It also works with MailChimp if you're wanting to start an email newsletter. Stylish and flexible!
DAZE - Instagram Blog WordPress Theme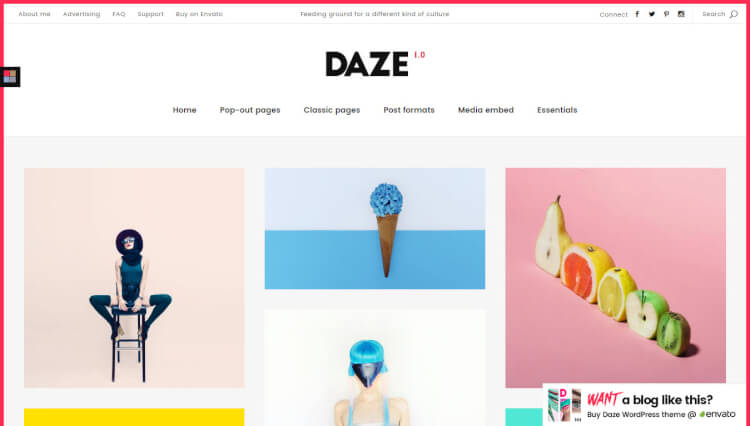 Daze is a bright and colorful WordPress theme for bloggers who want to include their Instagram content on their website. The Daze WordPress theme has two Instagram widgets for your sidebar and footers areas, giving you an easy way to display content from this popular social network.
CookBook - Instagram Food Blogging WordPress Theme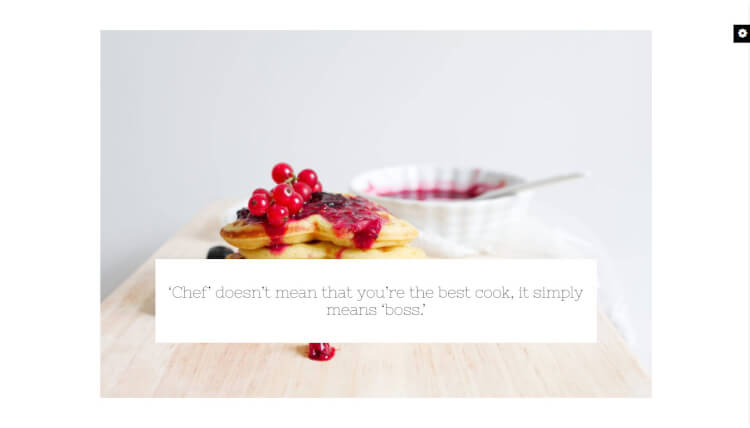 CookBook is a stylish and modern WordPress theme for food bloggers. The focus of this theme is to make your photos look great, no matter what the subject matter. With a good level of social media integration, CookBook is one of the most flexible Instagram WordPress themes in this collection.
Brooklyn- Instagram Portfolio WordPress Theme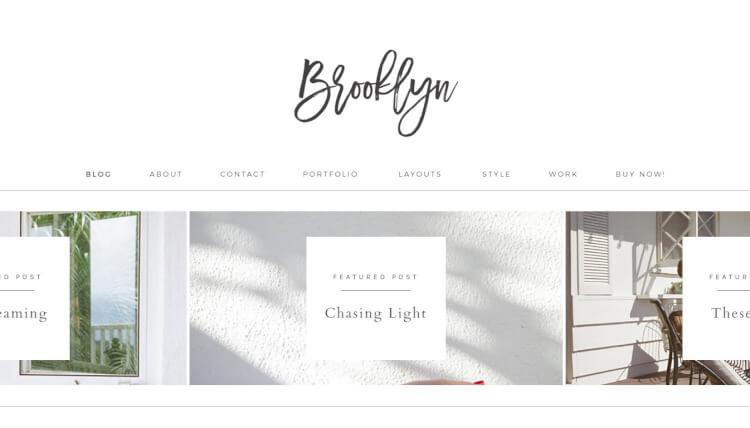 Brooklyn is a stylish WordPress theme that is perfectly suited to blogs and portfolio websites. Displaying your Instagram content is easy, thanks to the custom feed for your site's footer area. There's also a Pinterest sharing button to help you grow your audience and get more traffic from this popular social network.
Inherent - Instagram Blogging and Ecommerce WordPress Theme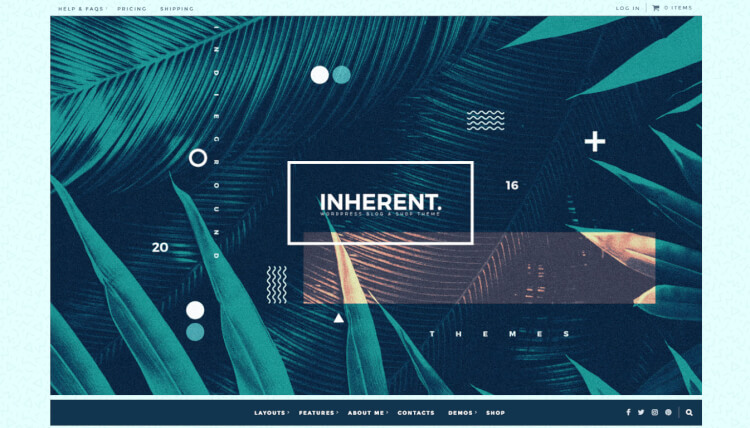 Inherent is a creative WordPress theme for bloggers and online stores. Whether you're selling products or publishing blog posts, the appearance of this theme will help your content stand out on the screen. To help you leverage social media, there's a custom Instagram widget and feed plugin included with Inherent.
Food Magazine - Cookery WordPress Theme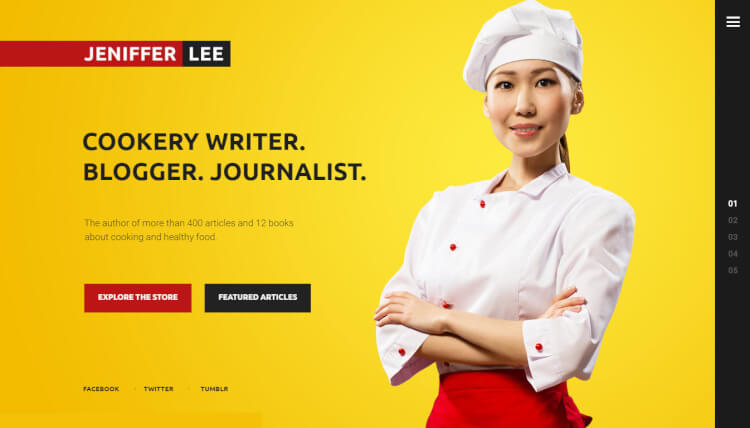 The Food Magazine theme has been created for food bloggers and magazine websites. However, as it's a flexible theme, it can easily be used for a wider range of projects. In fact, the long feature list of Food Magazine has helped it earn a place in this collection of the best Instagram WordPress themes.
Hoki - Multi-Purpose Instagram Wordpress Theme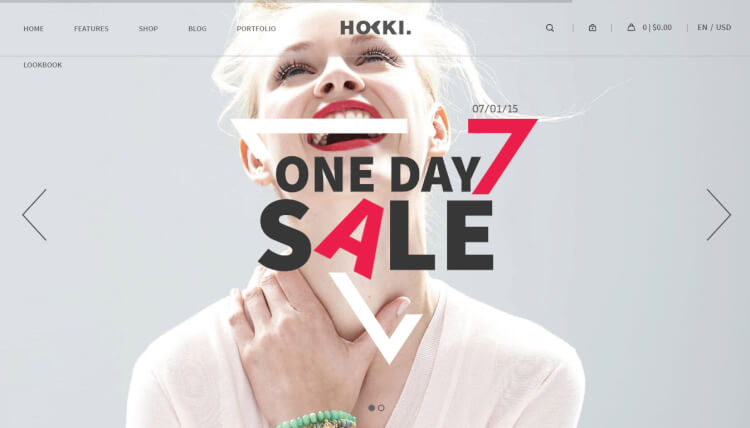 Hoki is a multi-purpose theme that comes with 10 predefined homepage layouts. The Instagram integration comes in the form of a carousel that can share your latest posts from this social network, as well as a tool for presenting images of your latest products should you be using this theme to create an online store with WordPress.
Barouk - Instagram WordPress Blogging Theme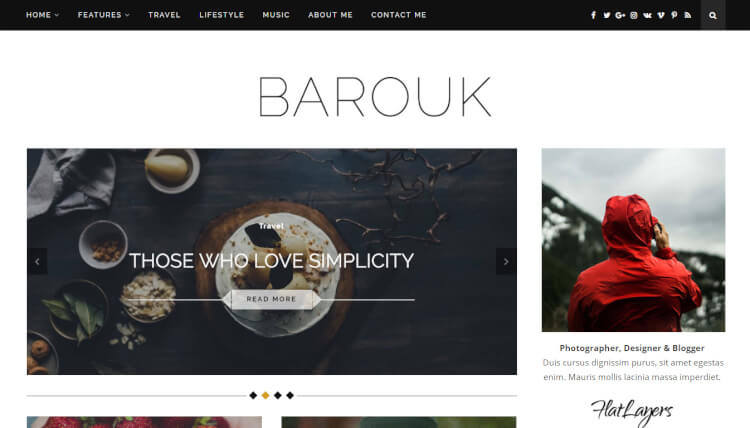 Barouk is packed with page layouts and templates making it a great choice for many different projects. Barouk has a custom widget that's been built to display the latest photos from your Instagram feed anywhere you on your website. There's also a wealth of customization options to help you personalize this theme to meet your needs.
Tran - Minimal Blogging WordPress Theme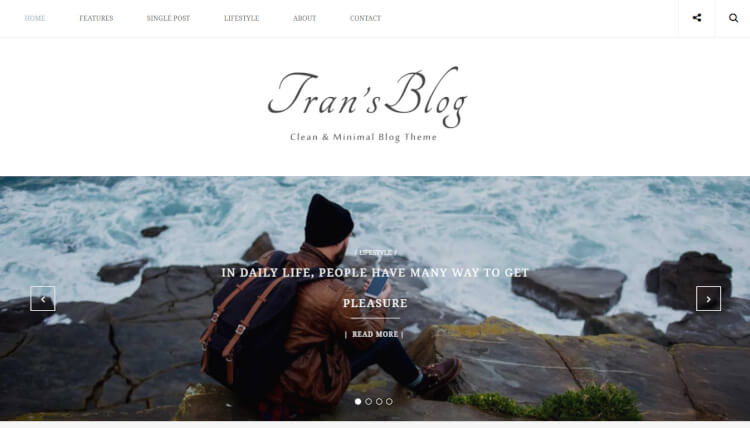 Tran is a clean and minimal WordPress theme for bloggers and writers who want their content to take center stage. As well as all the page layouts and templates that help you publish your content the right way, there's a custom Instagram feed widget that can pull in photos from this popular social media network.
Beaudry - Instagram Wordpress Theme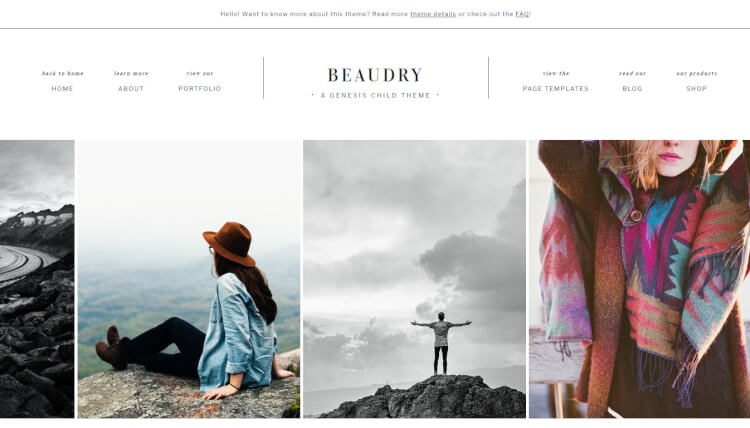 Beaudry is a theme that can be personalized in many ways, giving you a good opportunity to create a custom website for your project. Thanks to the flexible slider tool, you can display your choice of content from Instagram in an attractive slideshow format. Beaudry also has a good selection of page templates to help you publish your content in the right format.
Elletta - Instagram WordPress Theme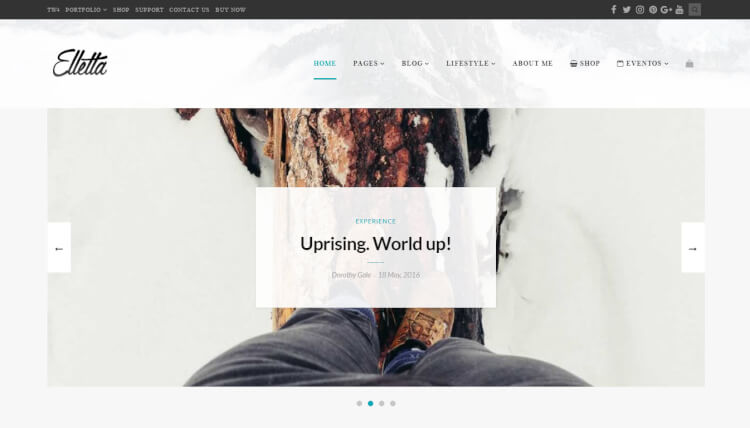 Elletta is something of a multi-purpose WordPress theme. Designed to help you build blogs, news, magazine, and events websites, Elletta also has great Instagram support. When setting up your new website with this theme, you get 12 different demos to choose from. All the demos are WooCommerce-friendly, giving you the ability to sell products online from your website.
TheMin - Elegant WordPress Blog Theme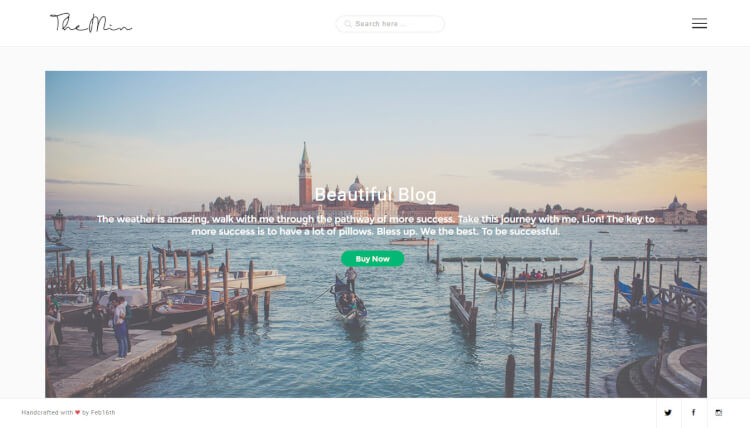 TheMin is all about making your content look great without distracting your visitors from the user experience. This theme has a good selection of custom widgets, including one that displays the latest photos from Instagram. If you want to give your blog a stylish design, then TheMin is an obvious choice from this collection of the best Instagram WordPress themes.
Tuulikki - Instagram Blogging WordPress Theme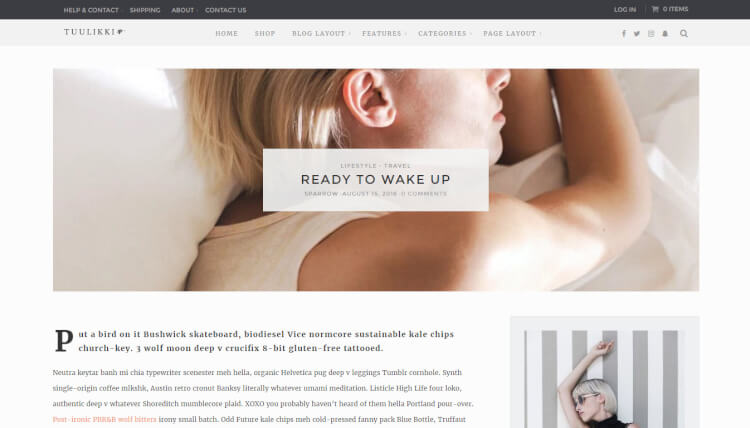 Tuulikki is a WordPress theme with a Nordic influence. If you're creating a blog or ecommerce store that matches well with the Nordic design styles and approach to publishing, Tuulikki could be a great choice. The WP Instagram Widget plugin is included in the theme package, giving you an easy way to display content from this popular social network in your sidebar and other widgetized areas.
Saatchi - Fashion Blogging WordPress Theme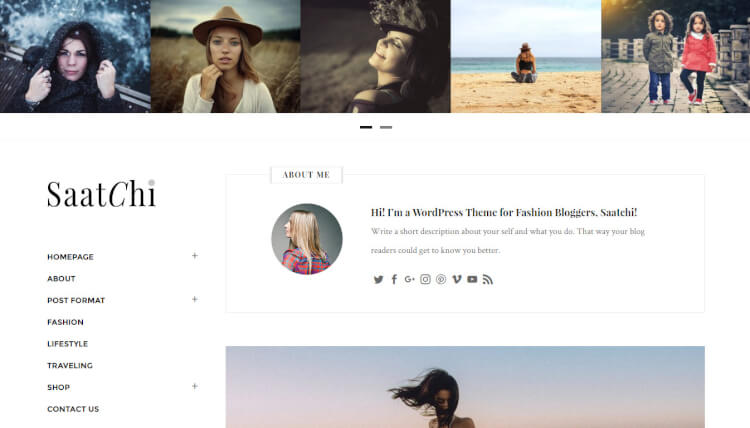 Saatchi is the Instagram-friendly WordPress theme for fashion bloggers. In fact, no matter what creative topics you're blogging about, Saatchi could be a good choice. As well as Instagram feed support, Saatchi was recently updated to include full WooCommerce support to give you the ability to sell products online from your site.
Tithonia - Instagram WordPress Blogging Theme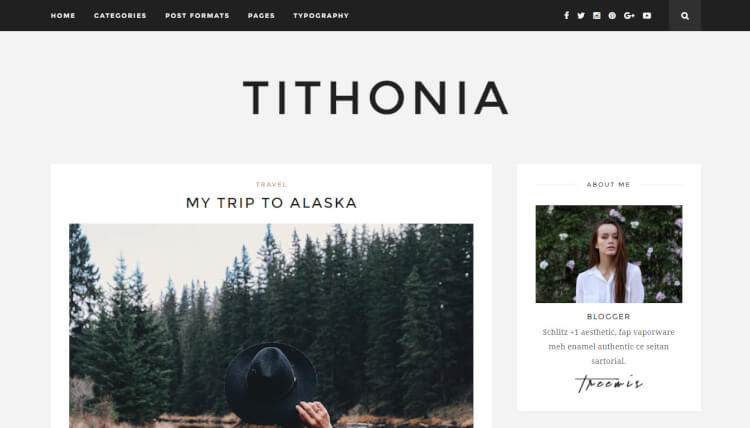 Tithonia is a responsive blogging theme that's been created to help your website load quickly without comprising on design. To make your site's footer area more interesting, there's a custom Instagram widget to display your latest photos or those from a specific user account. With Tithonia, you also get a lot of control over the appearance of your site through the WordPress Customizer.