25+ Best Instagram Carousel Templates (+ Carousel Examples)
Looking for some major inspiration to up your Instagram carousel post-game? You've come to the right place!
Creating consistently engaging content is a challenge for organizations of all sizes, which is why Instagram carousel templates are such a powerful resource for any business, brand, or individual looking to enhance their numbers on Instagram.
Using Instagram carousel templates makes it easier to plan your content without the design guesswork and with free reign of your creativity. Below, we'll help you create Instagram templates that will boost your Instagram profile and reel in customers.
Keep scrolling to take a peek!
Get everything you need to supercharge your Instagram profile and social presence. From just $16, get unlimited access to thousands of Instagram templates, icons, and layouts, as well as Photoshop actions, Lightroom presets, and more.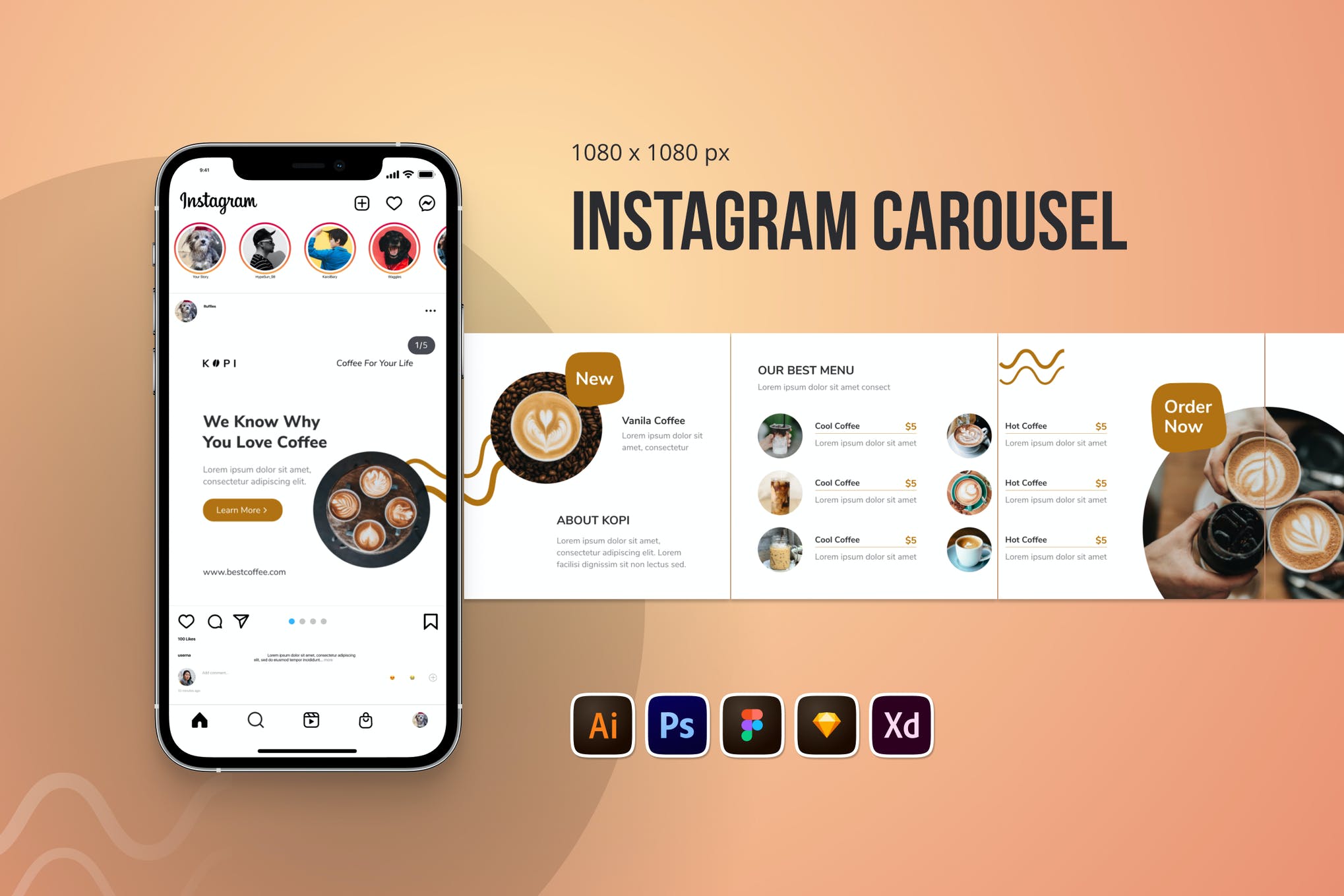 This minimalist template is perfect for creating an Instagram carousel post to promote your coffee house. It includes 5 posts that are fully editable in Sketch, Figma, Adobe XD, Photoshop, and Illustrator. This Instagram carousel template offers stylish typography, loads of cool pictures, and scalable graphics.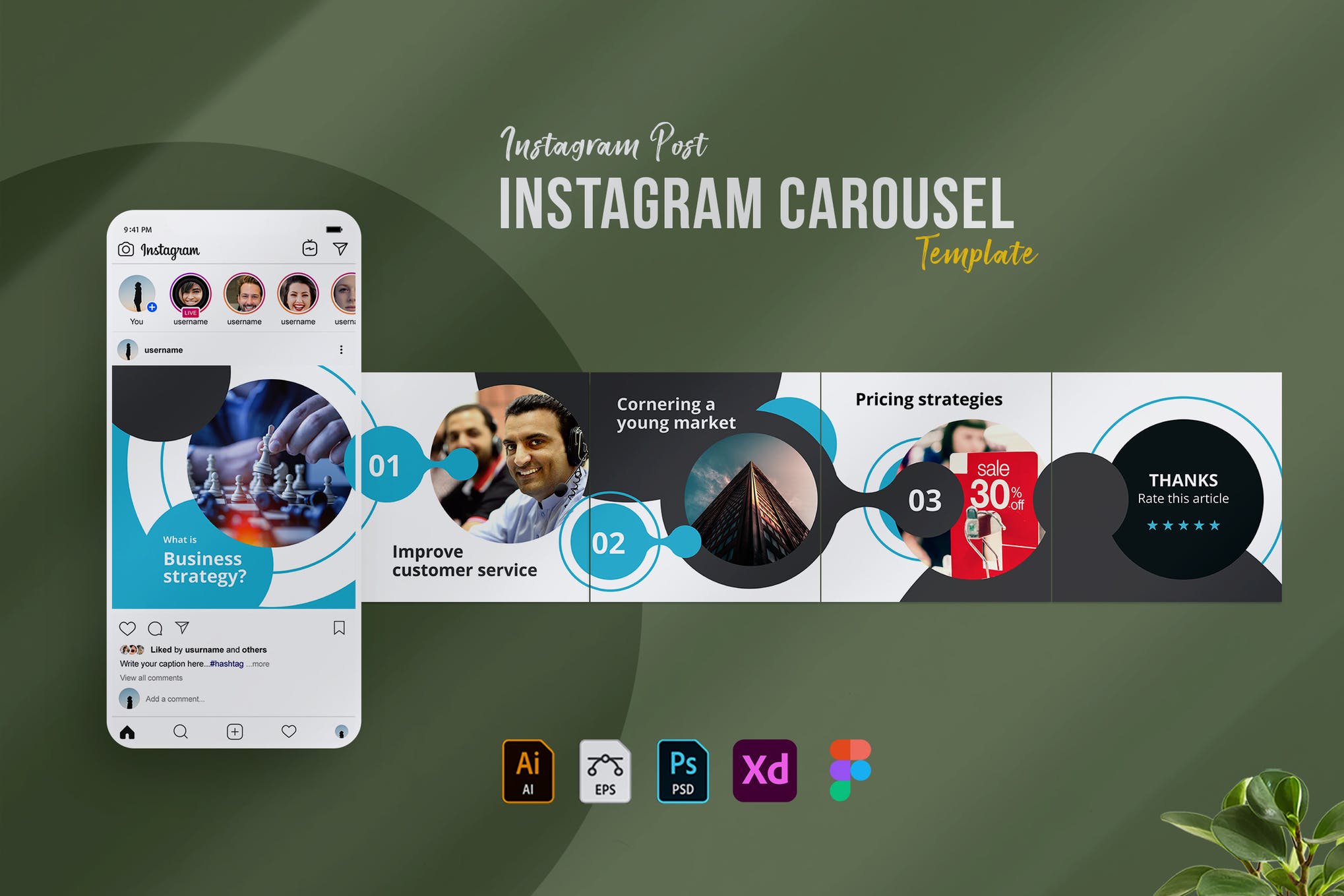 Here we have a great Instagram carousel template for anyone who's going for a clean, professional, and eye-catching look. The template provides you with 5 carousel post designs that when used in the right way will help your business reach new audiences, and even drive product sales.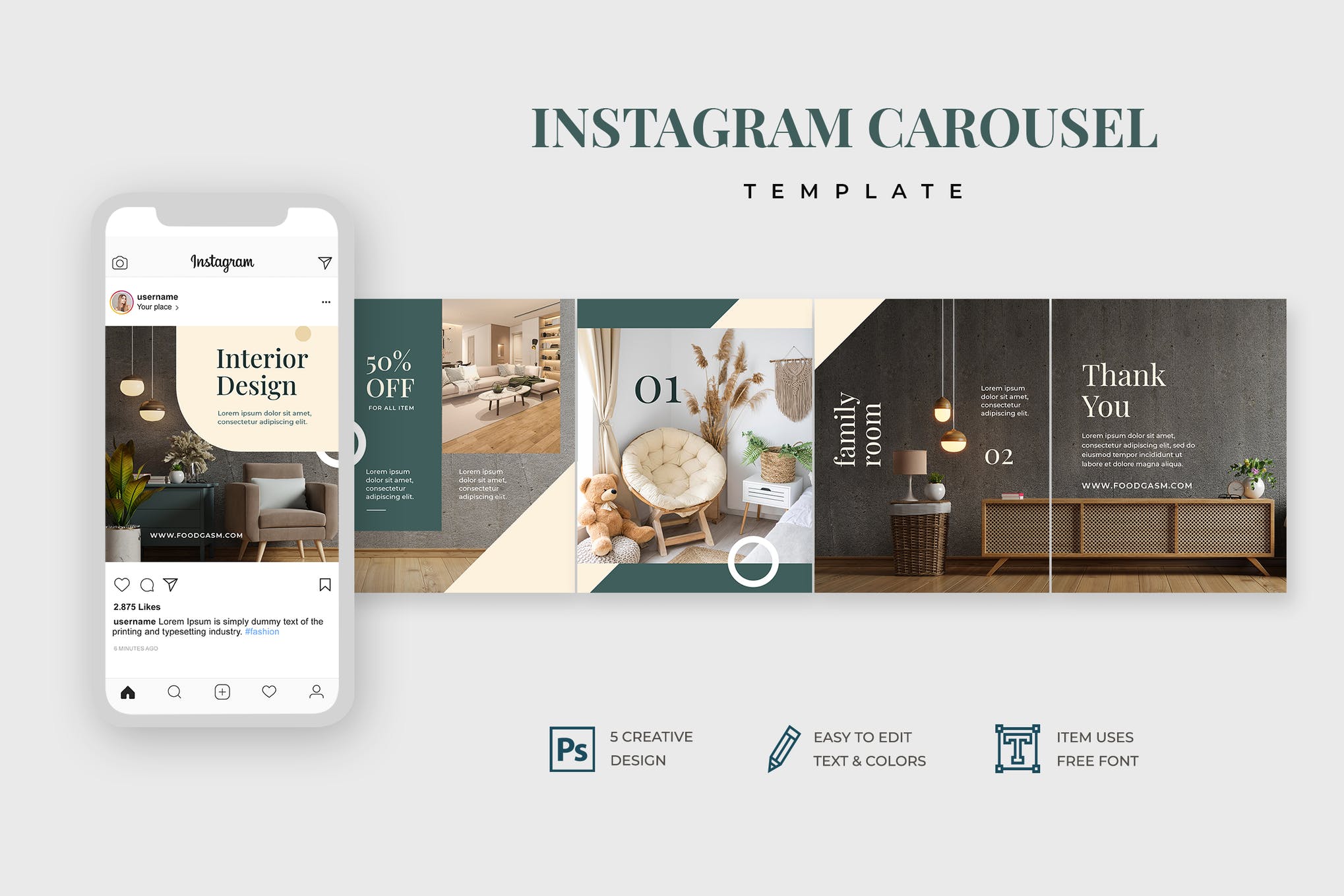 If you're looking for a means to upgrade your Instagram page, and engage your followers, this carousel post template is the right way to go about it. This template is principally designed for interior design and home decor businesses but is flexible enough to be adapted and used for other purposes as well.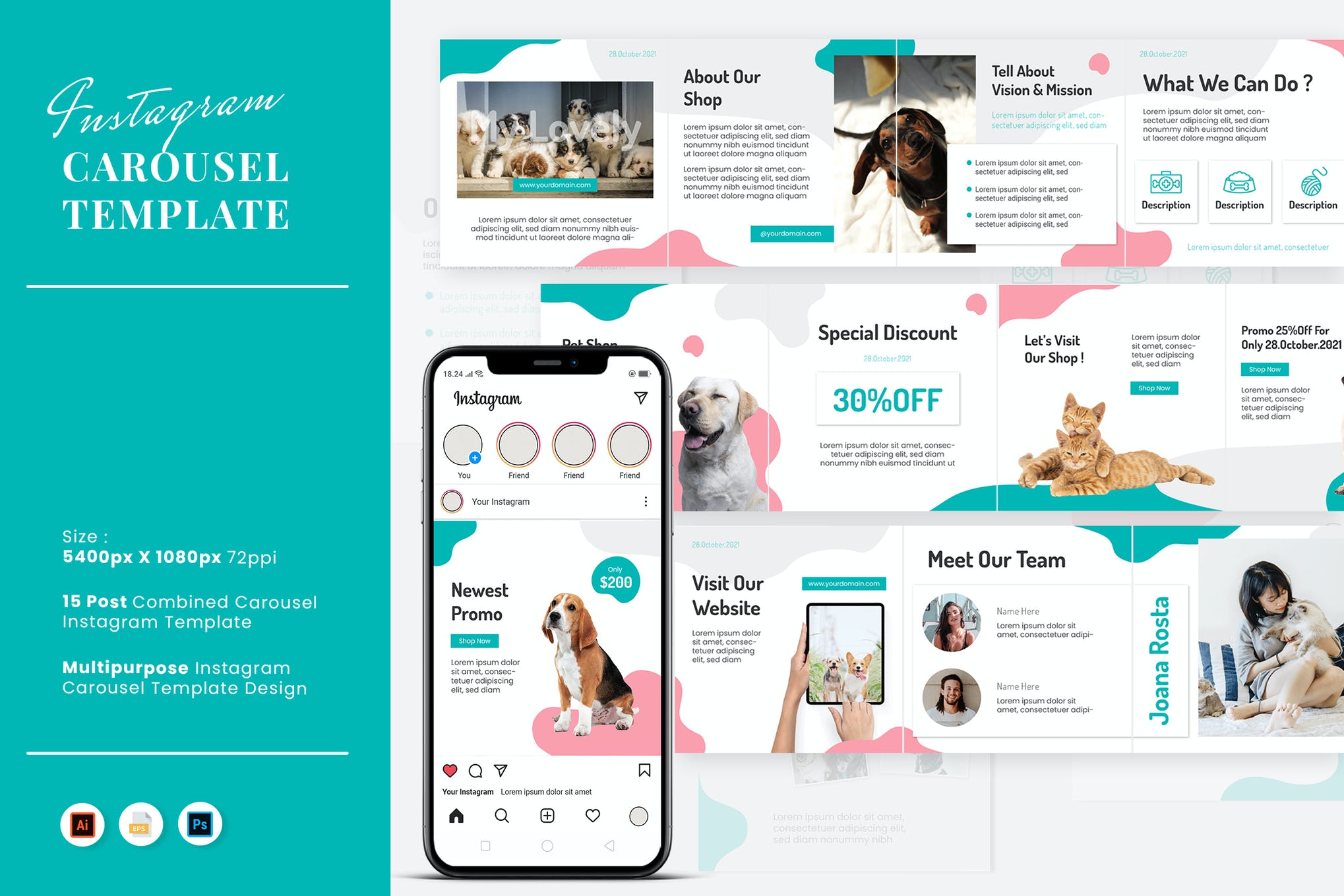 If you're looking for the best Instagram carousel examples to market your pet shop, this playful and creative template is well worth checking out. Customize it to your specific requirements, and get an avalanche of traffic on your Instagram page and website.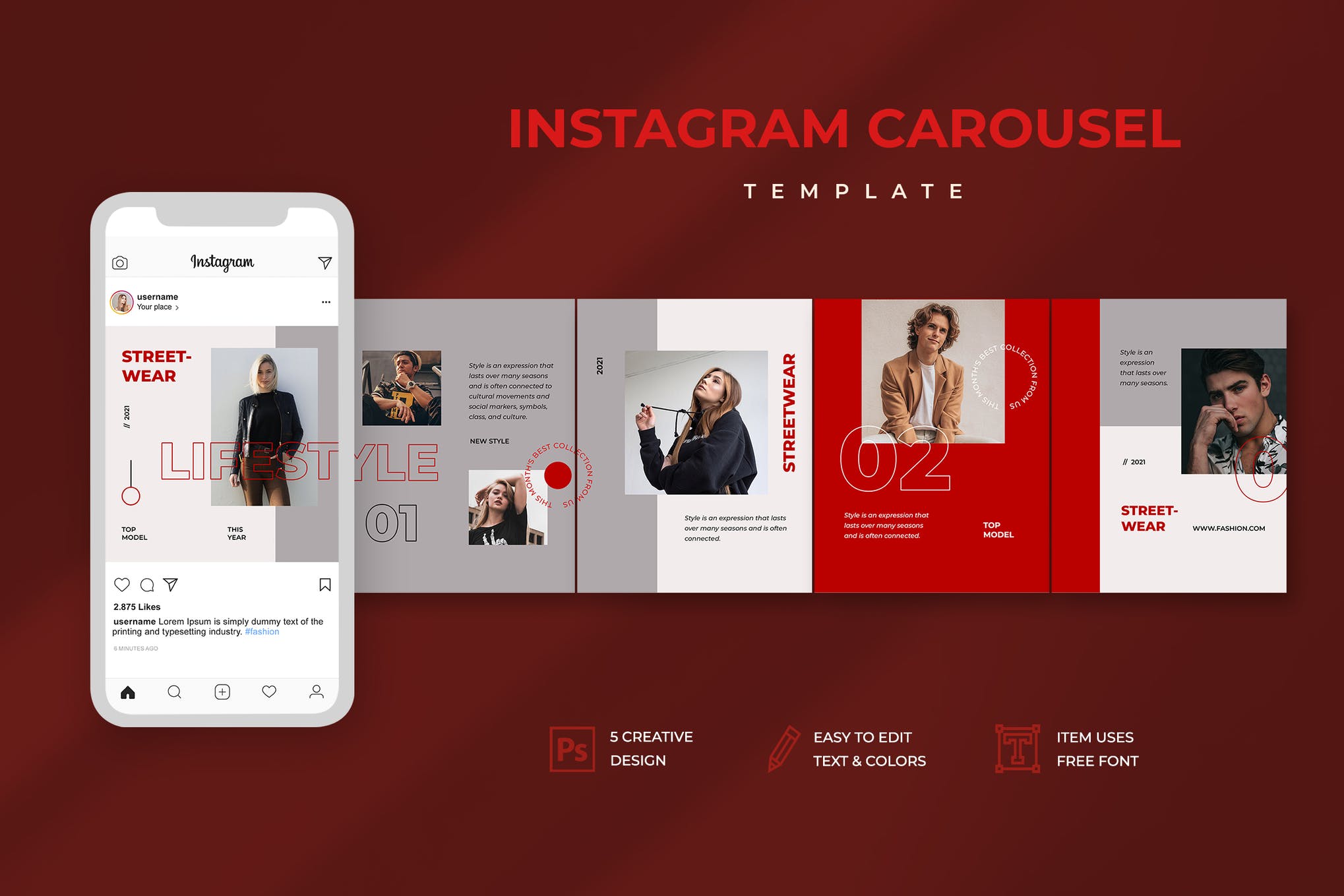 Are you a fashion, or lifestyle brand looking for the best Instagram carousel examples? Check out this ultra-modern, and stylish carousel post template for Instagram that you'll have a great time customizing to your brand's colors and aesthetics.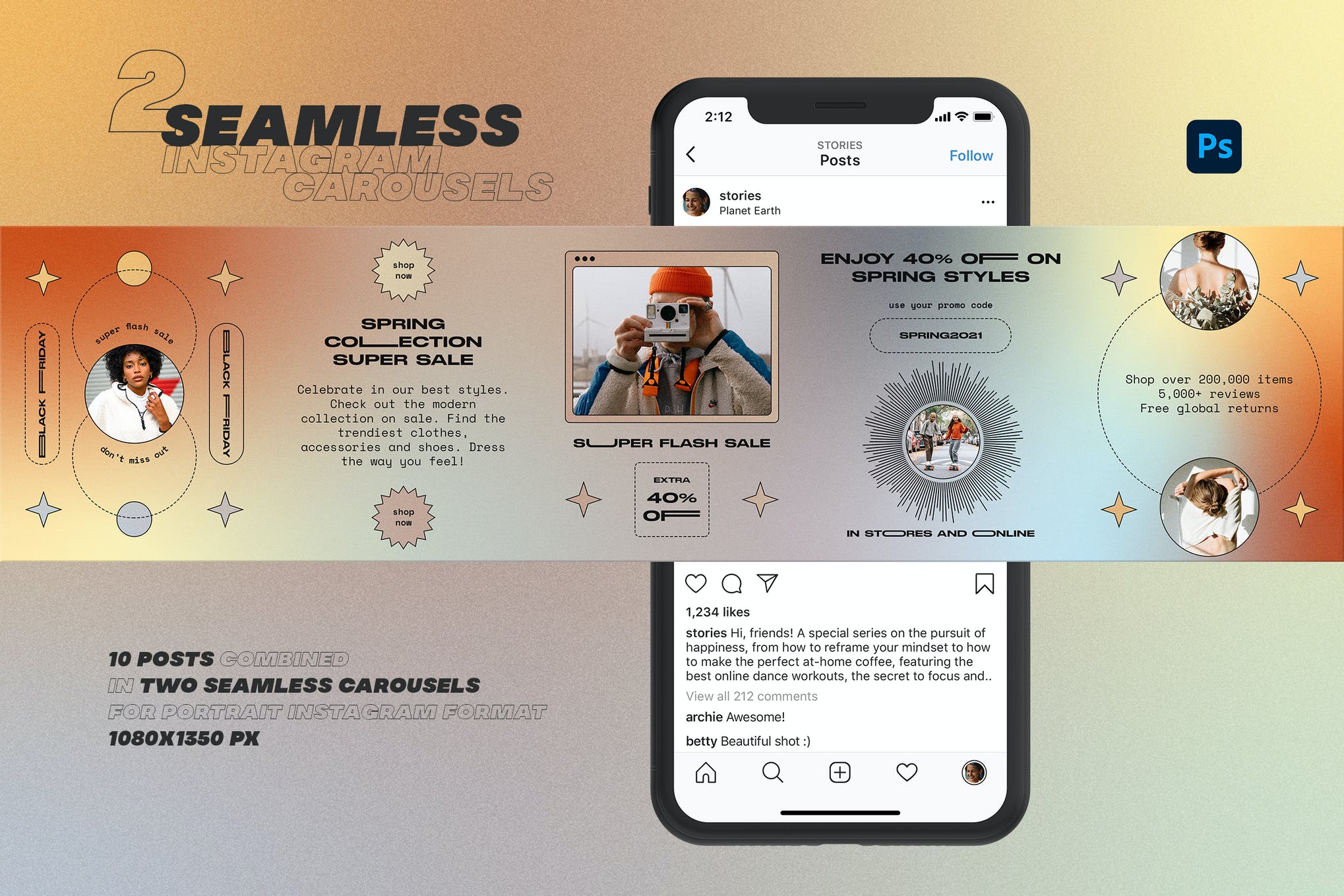 Wanting to create seamless carousel Instagram posts? Look no further than this set of 2 templates with 5 posts in each PSD. Whether you choose to use all the images in a single post or create a puzzle feed by posting them separately, this product is a must-have in your Instagram marketing toolkit.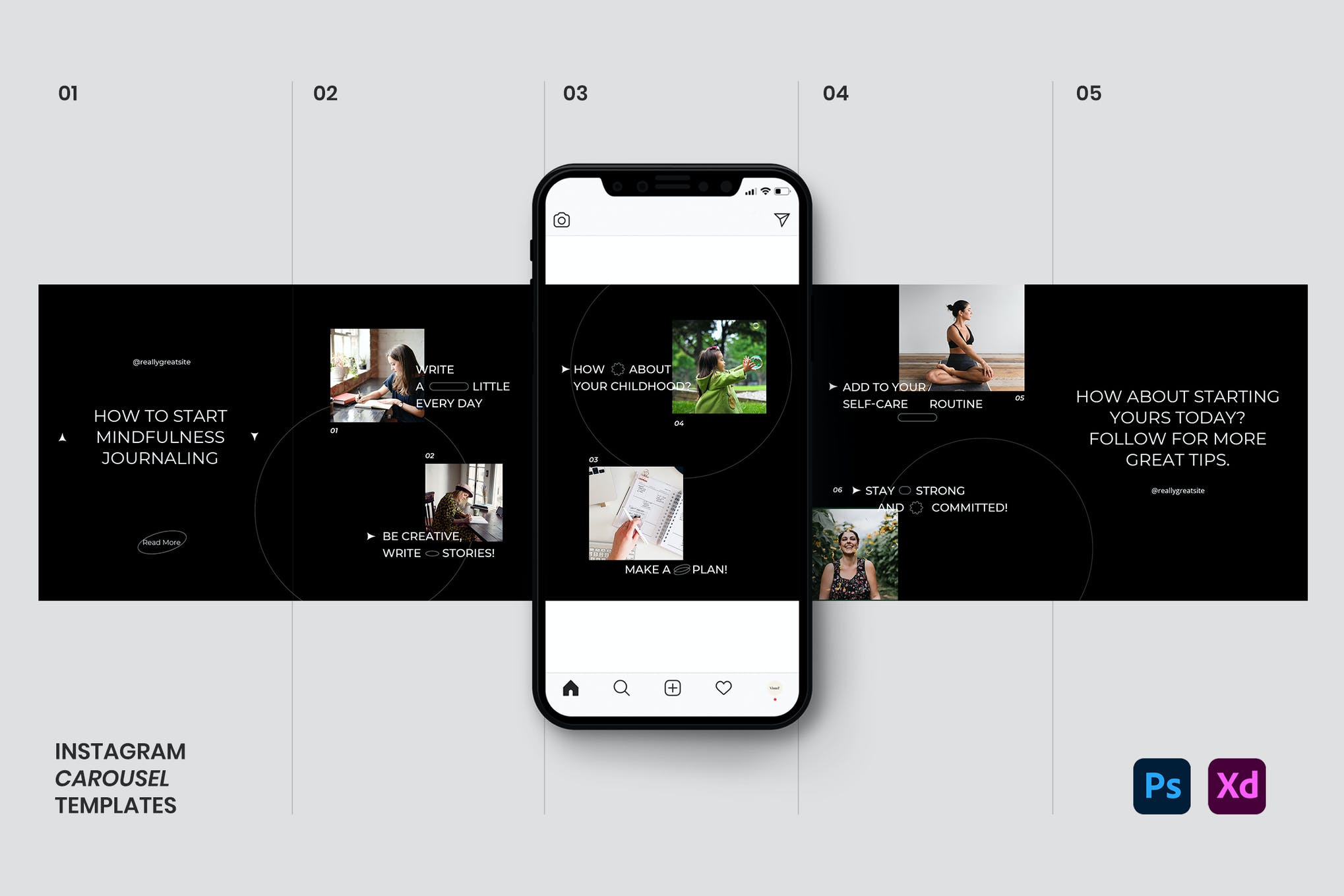 If you really want your post to attract attention in a bustling Instagram timeline, you should take a closer look at this truly impressive seamless carousel template. It provides you with 5 unique Instagram carousel posts, easy customizability, and more.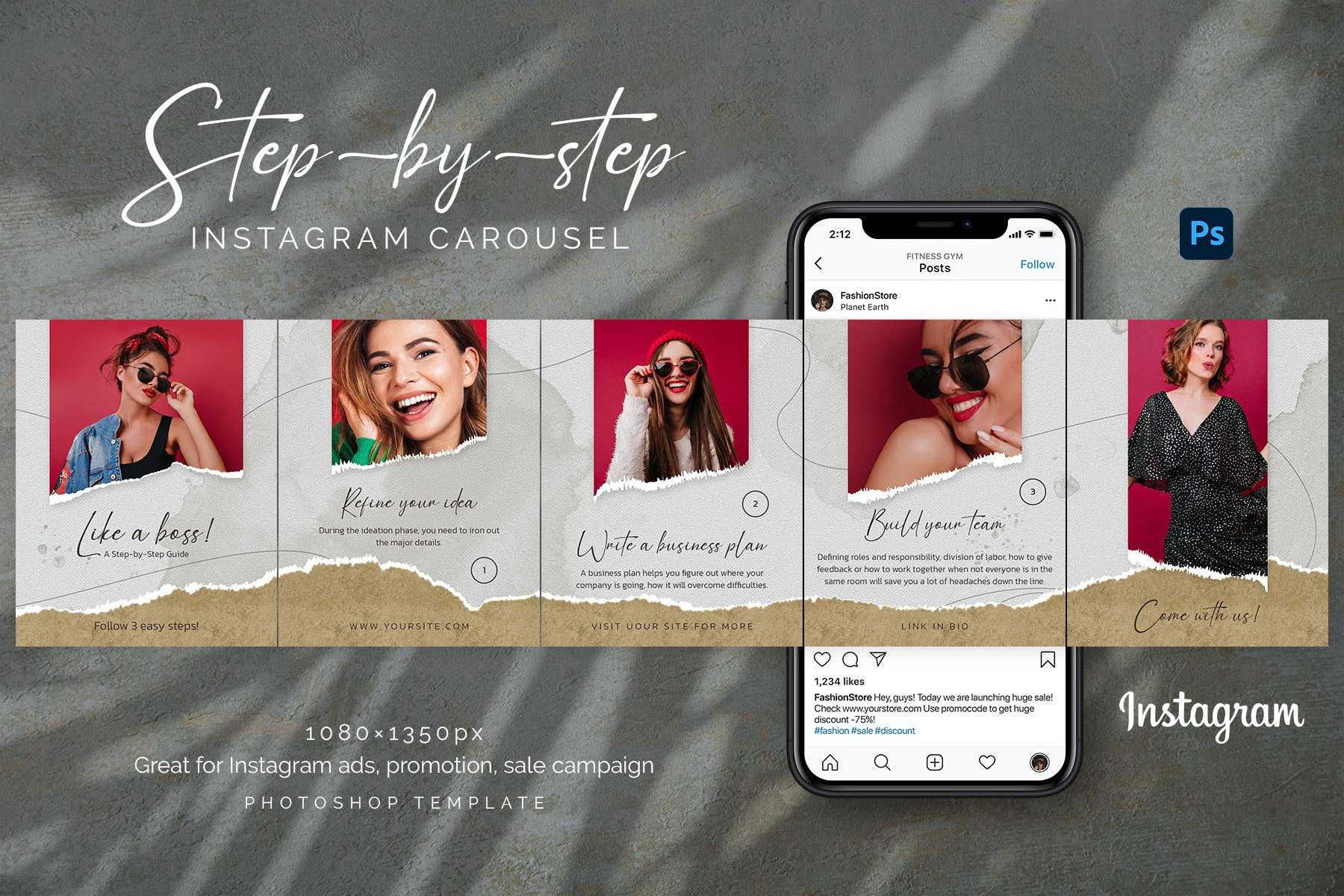 Are you looking for a quick and professional way to share tips, recommendations, and guides with your followers on Instagram? This set of 5 seamless swipeable gallery posts with torn paper effects is the best choice for you. Get your hands on it, and start attracting customers right away.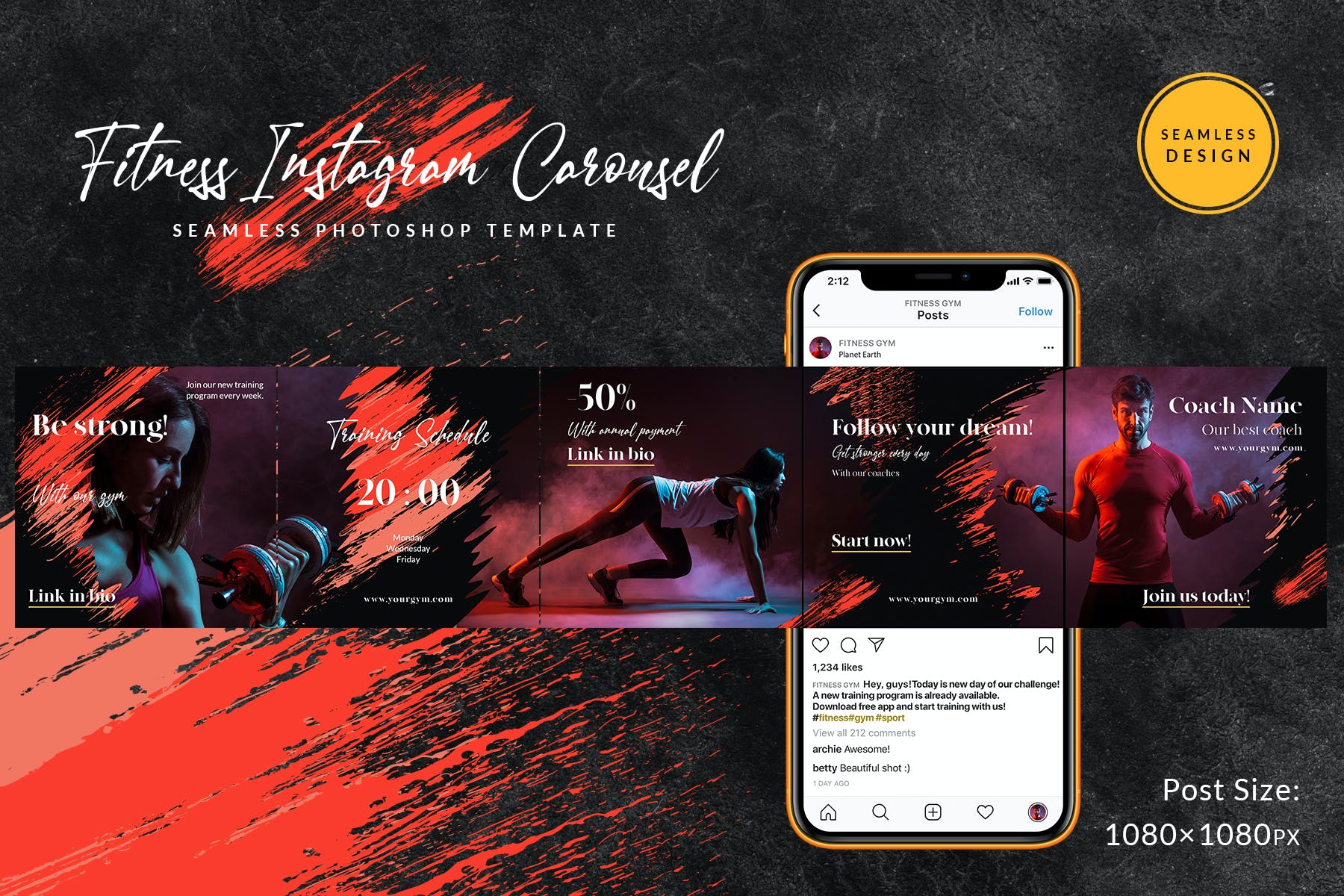 Fancy a super stylish, and trendy seamless Instagram carousel post template to promote your fitness center or personal coach website? This template featuring 5 post designs with red brush splashes is the best contender for your cash.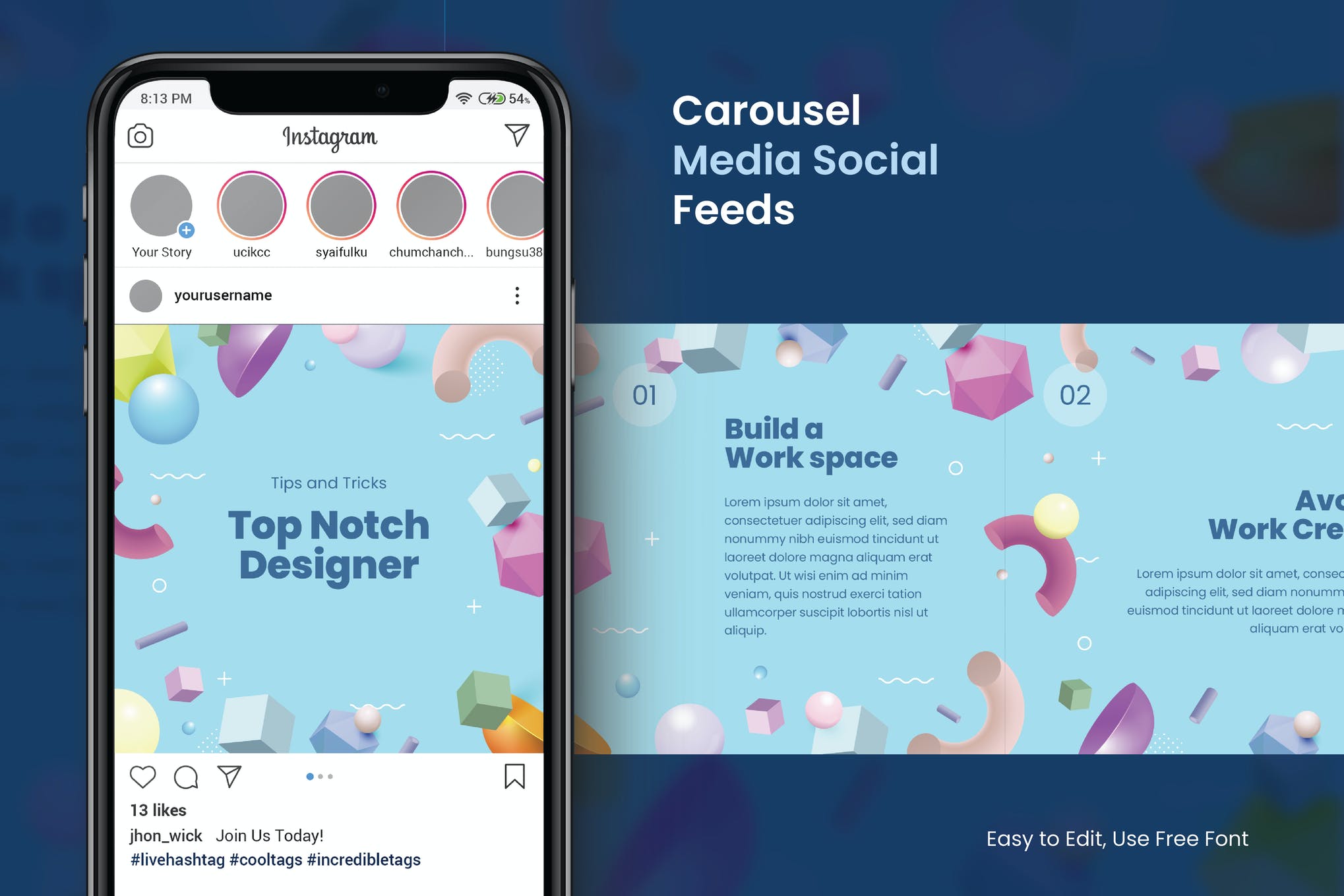 This is one of the best Instagram carousel templates to share tips and tricks with your followers. It offers ample space to accommodate heavy content, 3D shapes, and a pastel color scheme, all of which can be personalized to your personal style, and preference.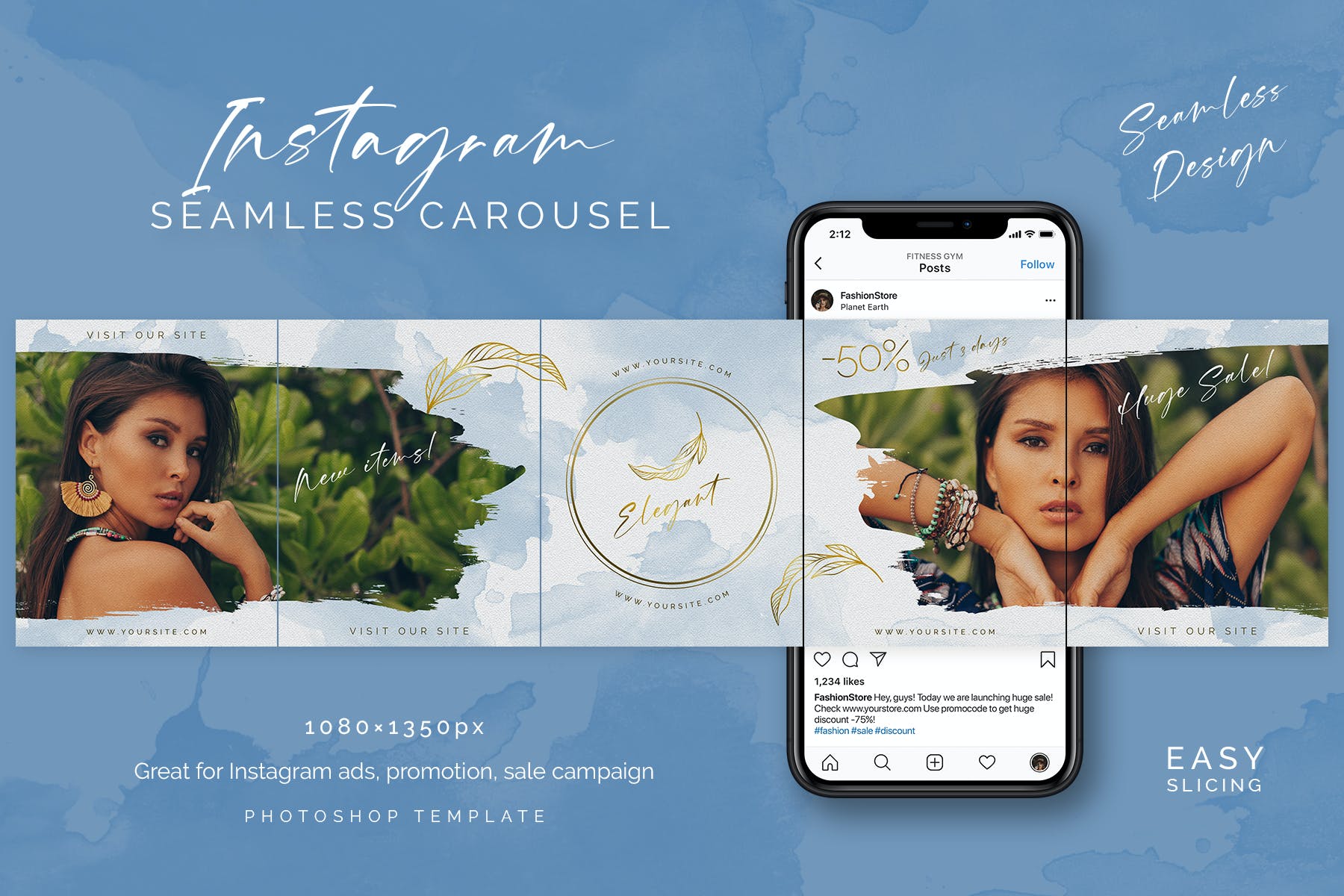 This is a solid seamless carousel Instagram template for any promotional campaign or advertisement that demands a classy, and chic look. Whether you want your followers to know about the latest arrivals or an upcoming sale, this template can be of great help.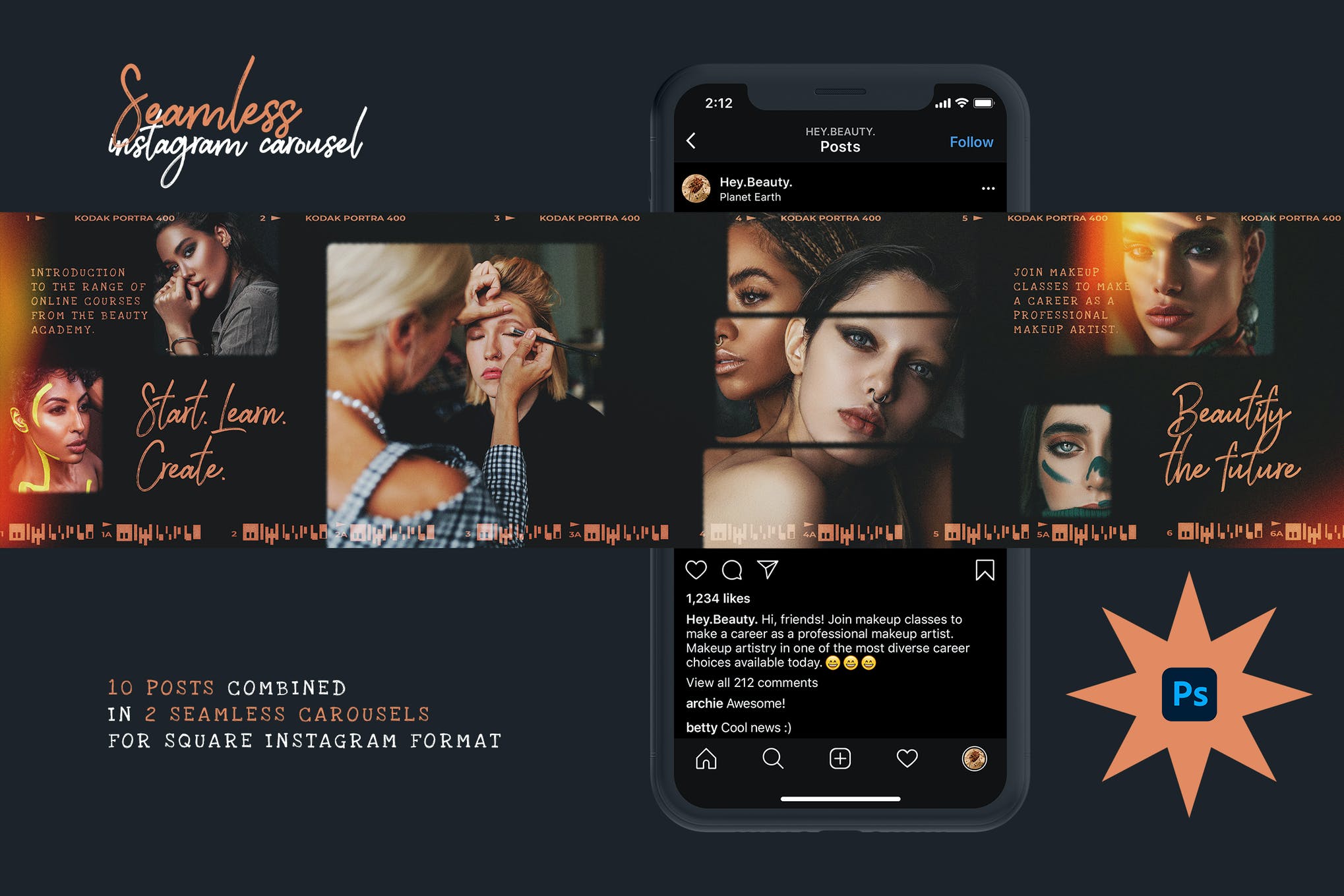 Next up is a fantastic option for anyone looking to get creative with their social media promotional campaign. Inside the pack, you'll receive 2 templates, with 5 seamless carousel Instagram posts in each Photoshop document, and a help file.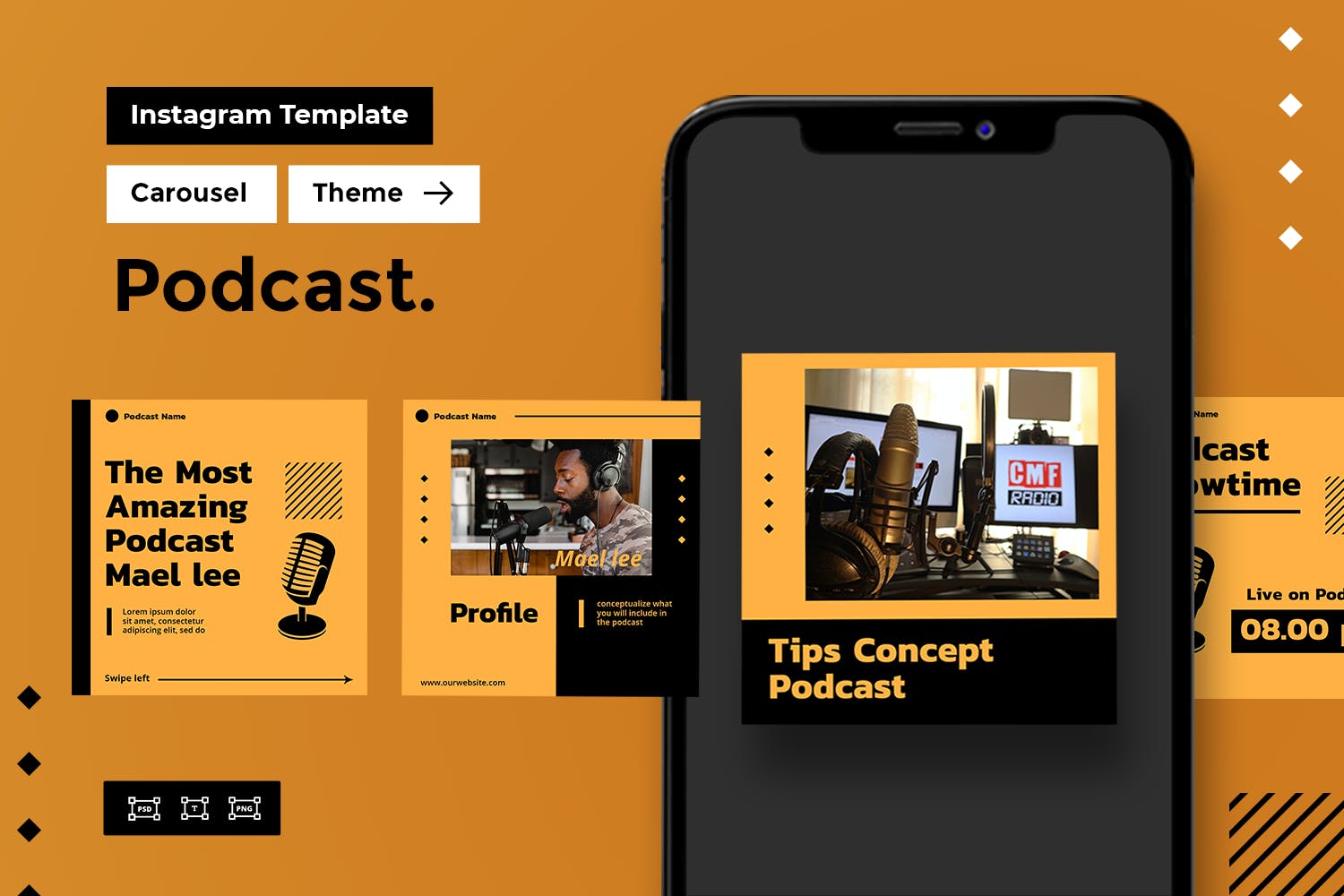 Podcasters looking for the best Instagram carousel templates to introduce a new podcast, or share inspirational quotes, and tips should take this wonderful product for a spin, or add it to their shortlist at the very least. The package contains 12 unique carousel posts that will surely help you boost your presence on Instagram.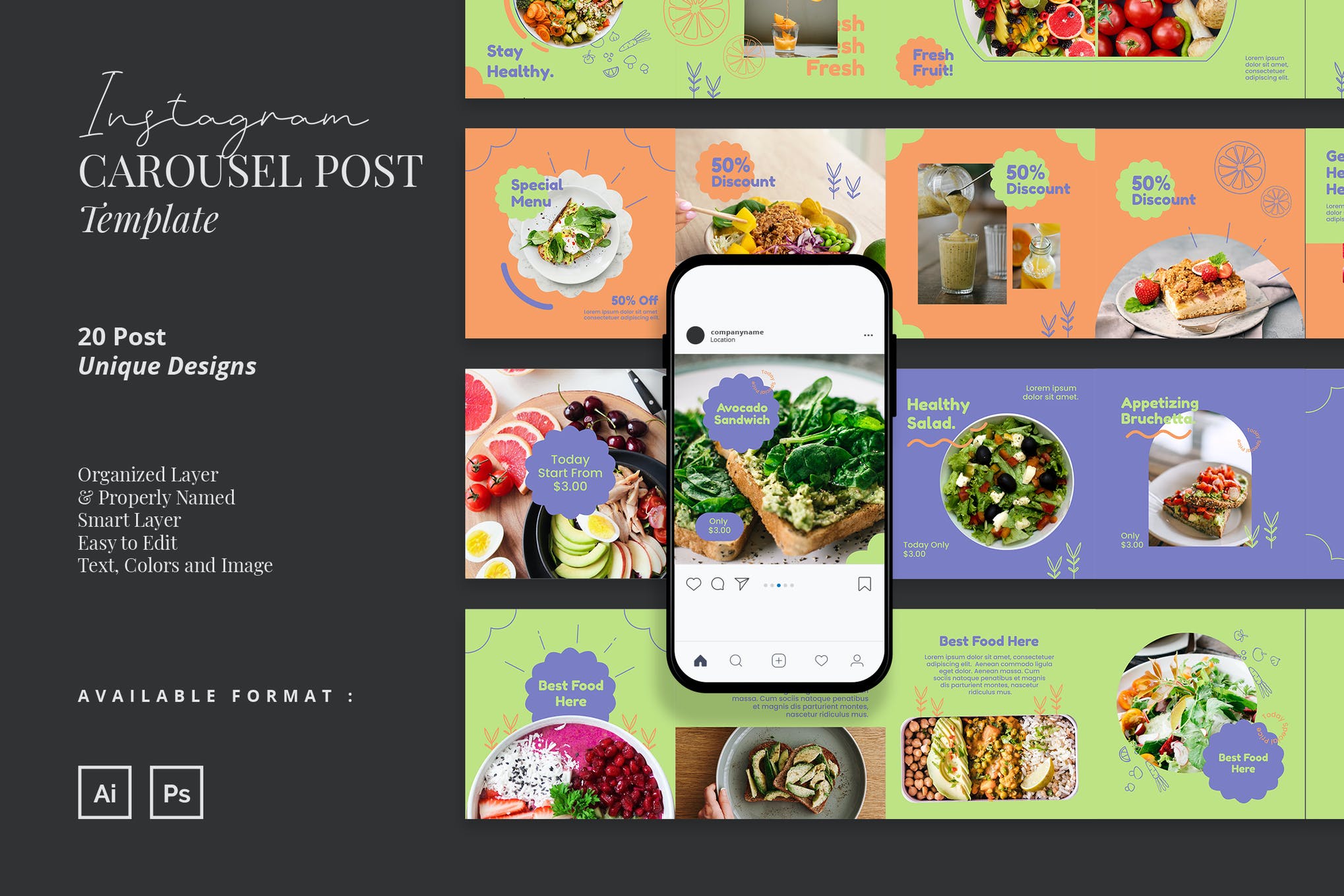 Whether your aim is to promote a food blog or vegan restaurant, this Instagram carousel template can come in very handy. It features 20 carousel post designs that will make your healthy recipes, and food products look more appetizing to your audience.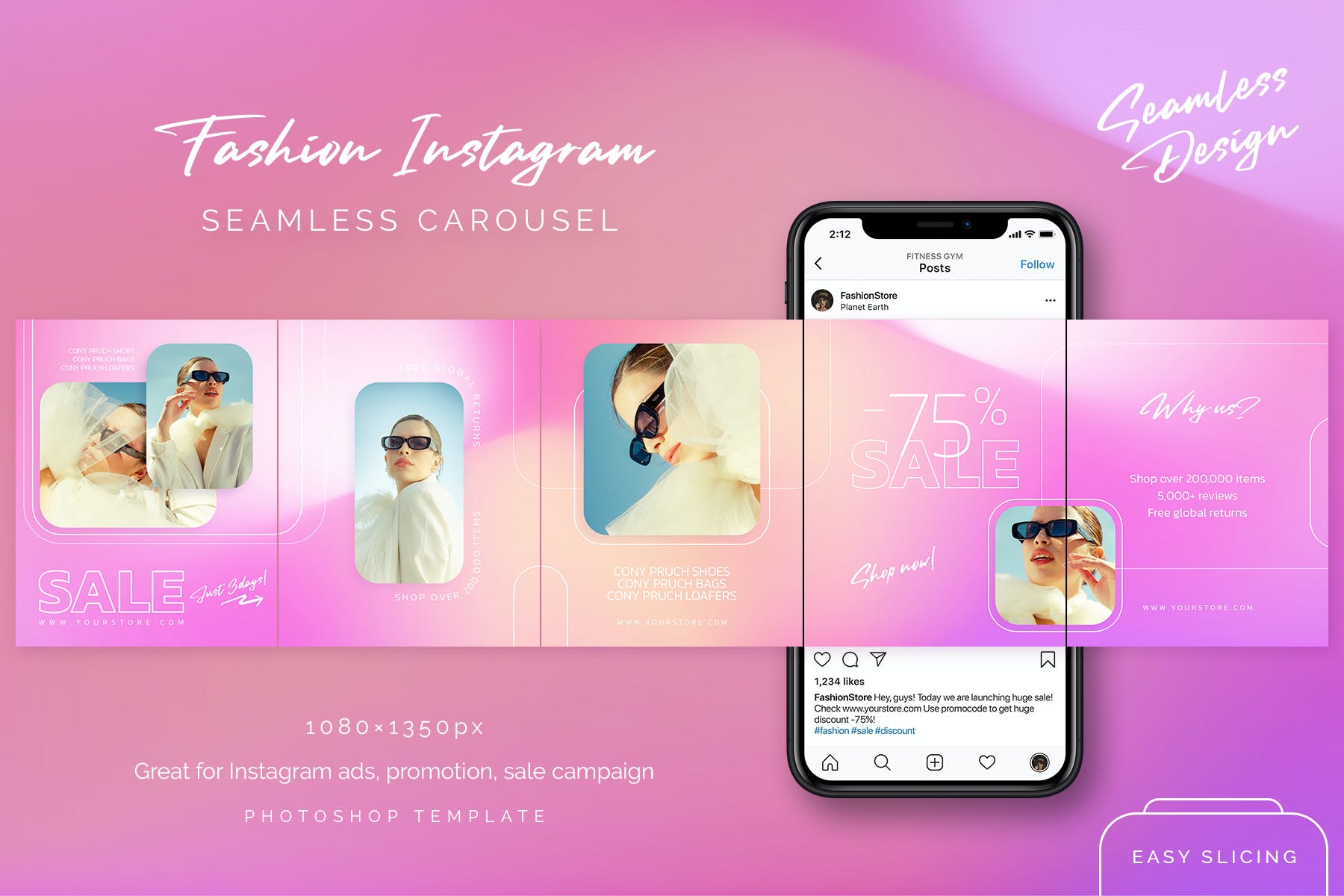 The best seamless carousel Instagram templates are the ones that exude elegance, and luxury. If that's what you're after, this product is right up your alley. Ideal for fashion, and lifestyle brands, this adorable unicorn-esque design with rainbow textures, mesh gradients, and pastel color background is hard to pass up.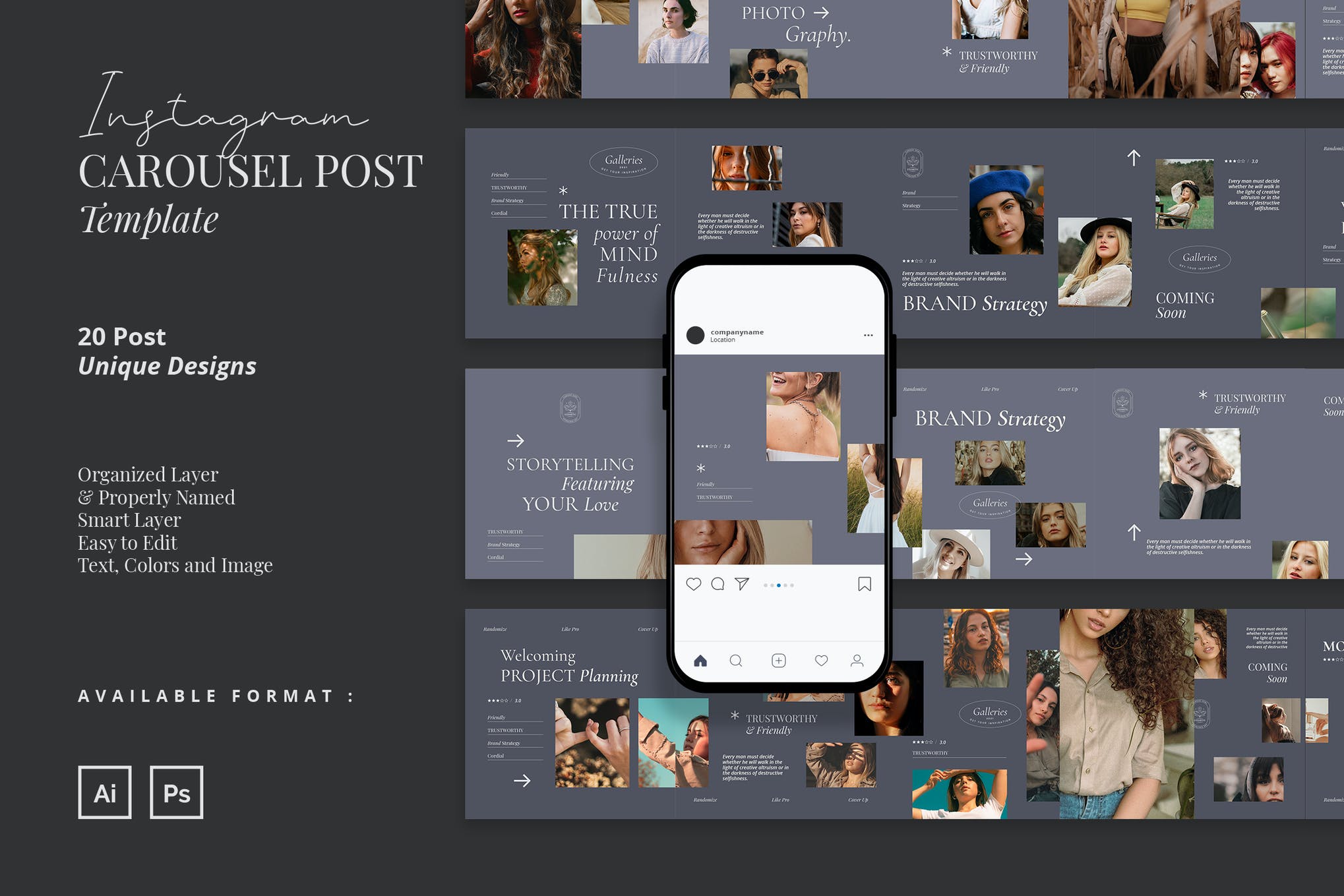 Scoured the internet for the best Instagram carousel examples, but still have not found the one that best suits your needs? This seamless Instagram carousel template with stone gray color gradation will give your profile a warm, and well-organized look.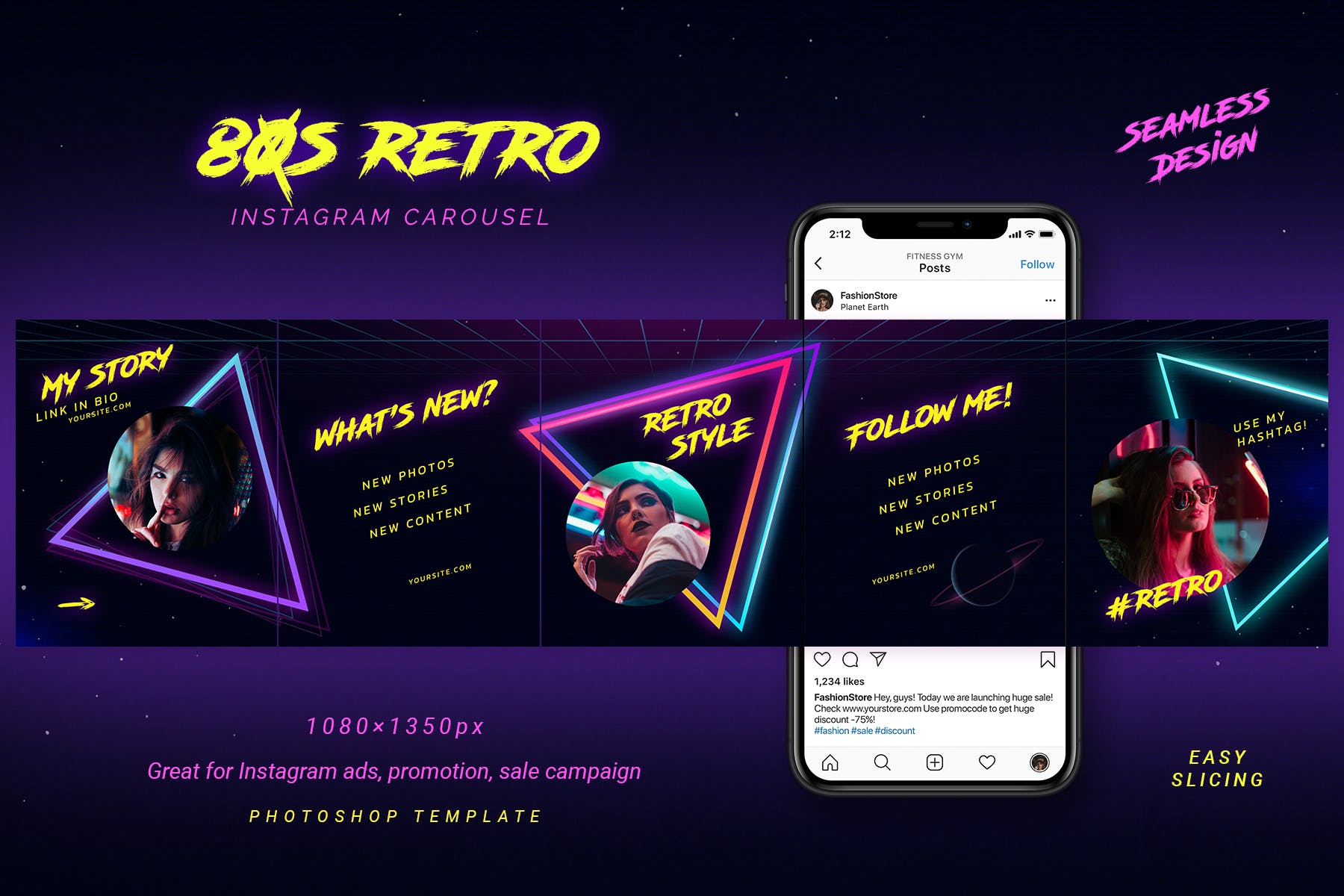 This is one of the best seamless carousel Instagram templates for any project that requires a neon retro look. It features 5 carousel post designs that will take your audience back to the nostalgic days of the 80s, and get them all excited to like, share, and comment.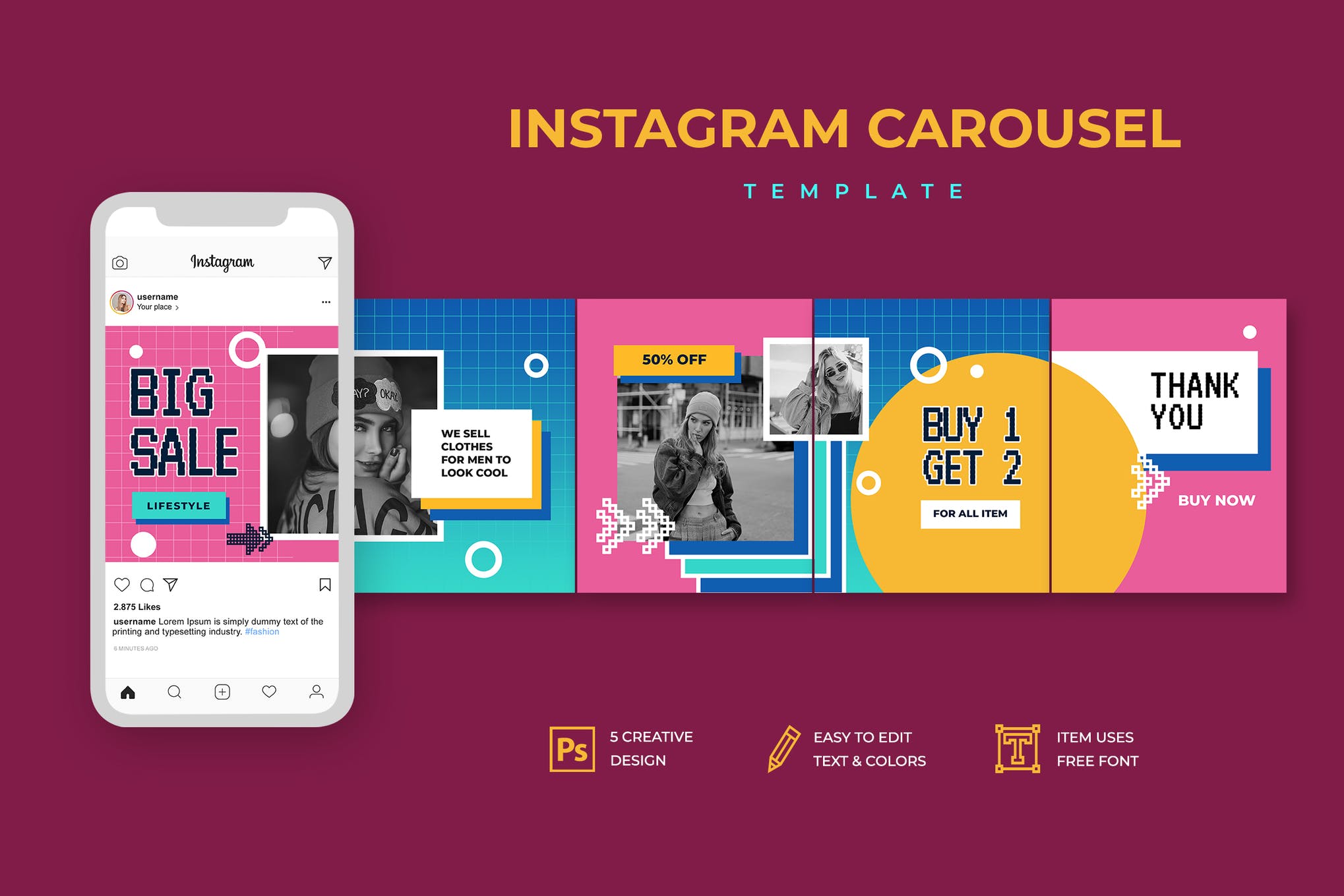 This template uses bright and cheerful colors, attention-grabbing typography, and high-resolution graphics to give your Instagram profile a trendy, and fashionable look. It's one of the best seamless Instagram carousel templates, and it would be remiss of you not to check this out.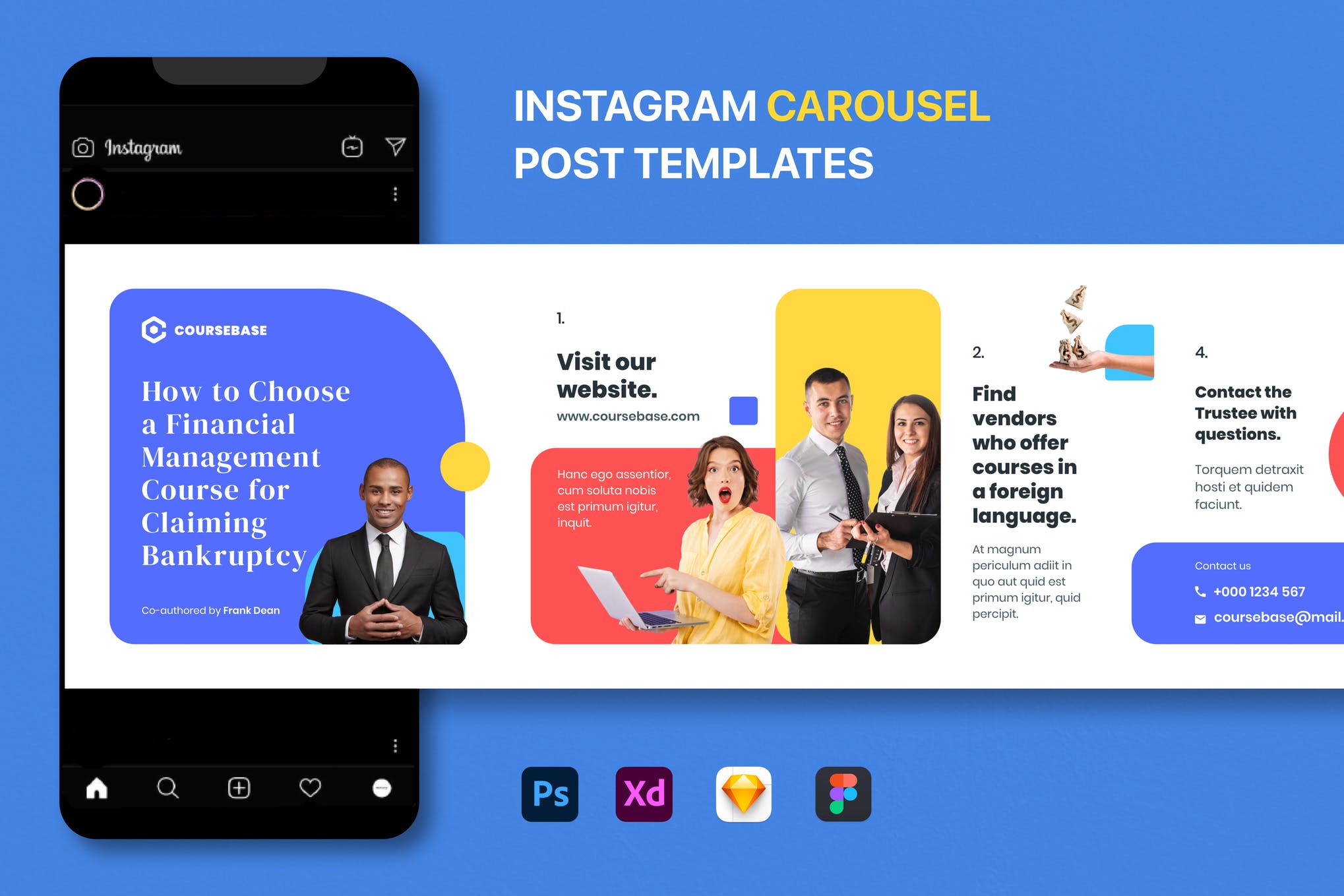 Need a standout Instagram carousel template to promote an online course or webinar? This pack must make it to your shortlist. It contains the best Instagram carousel post designs that will make your profile look professional and scroll-worthy.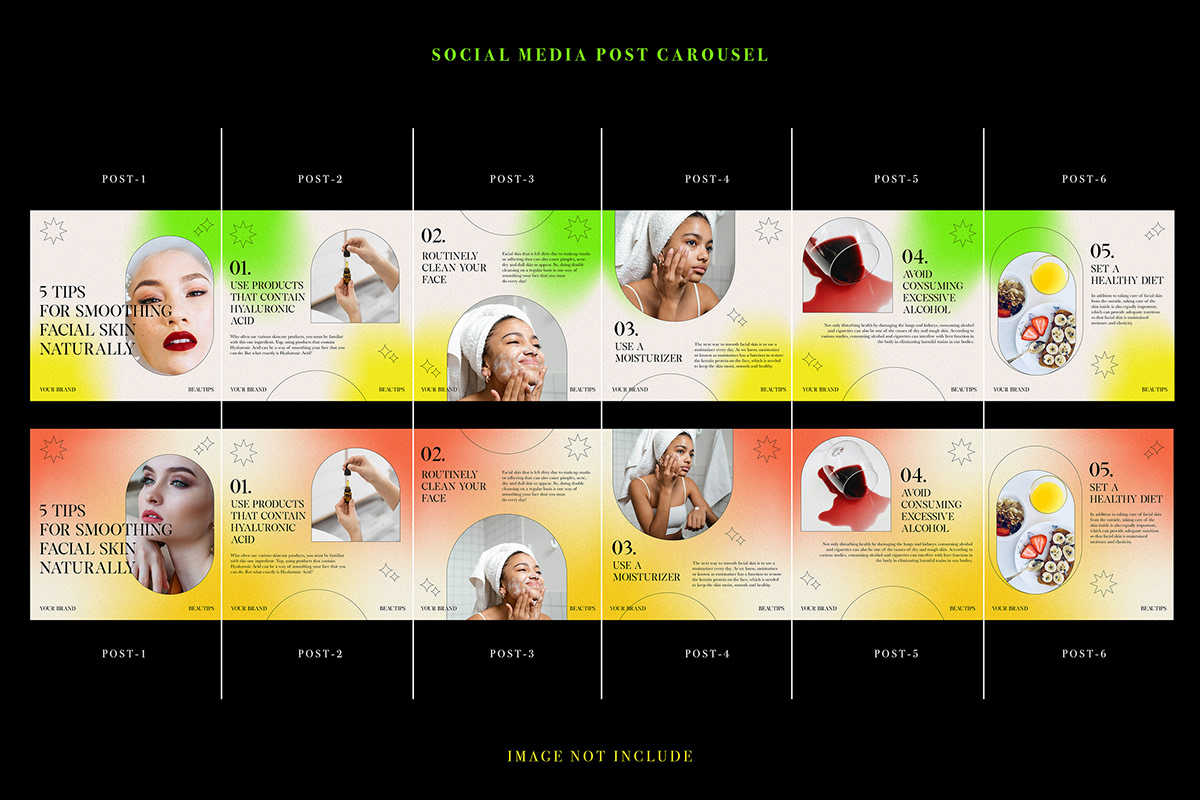 This Instagram template pack is here to help you engage with your followers, readers, viewers, or fans! Once it's in Photoshop, you can make any edits to colors and fonts that you like and change the images using Smart Objects.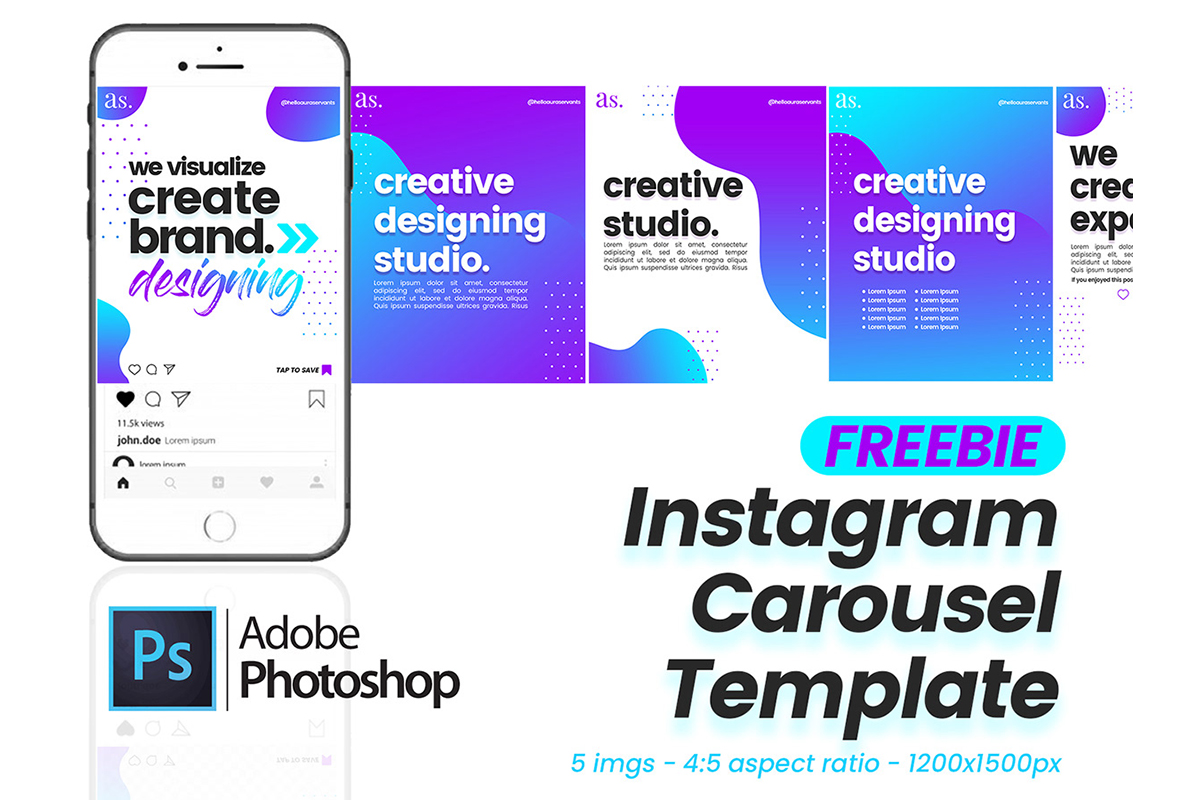 These Useful Carousel Templates can inspire or educate your audience with tips, brief tutorials, interviews, mood boards, photo galleries, quotes, stories, and more.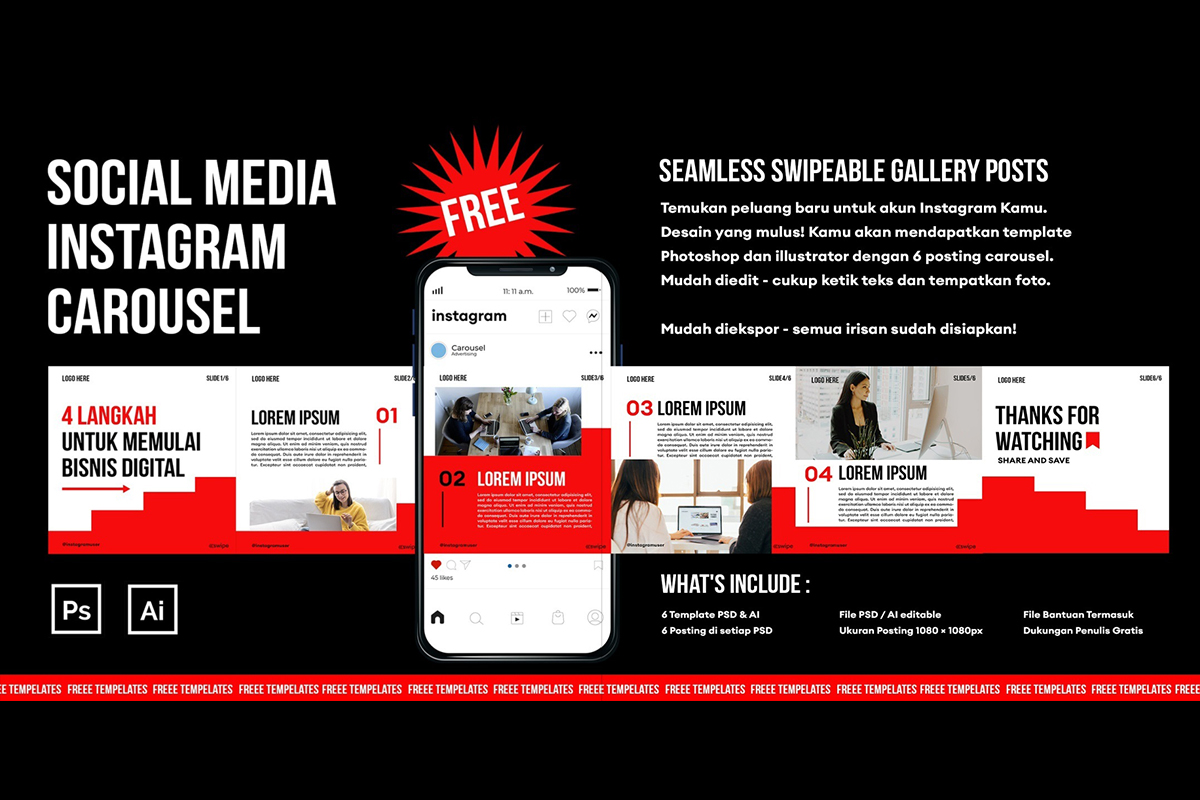 This template pack is perfect for anyone looking for a stylish and professional template that is refreshingly minimalistic.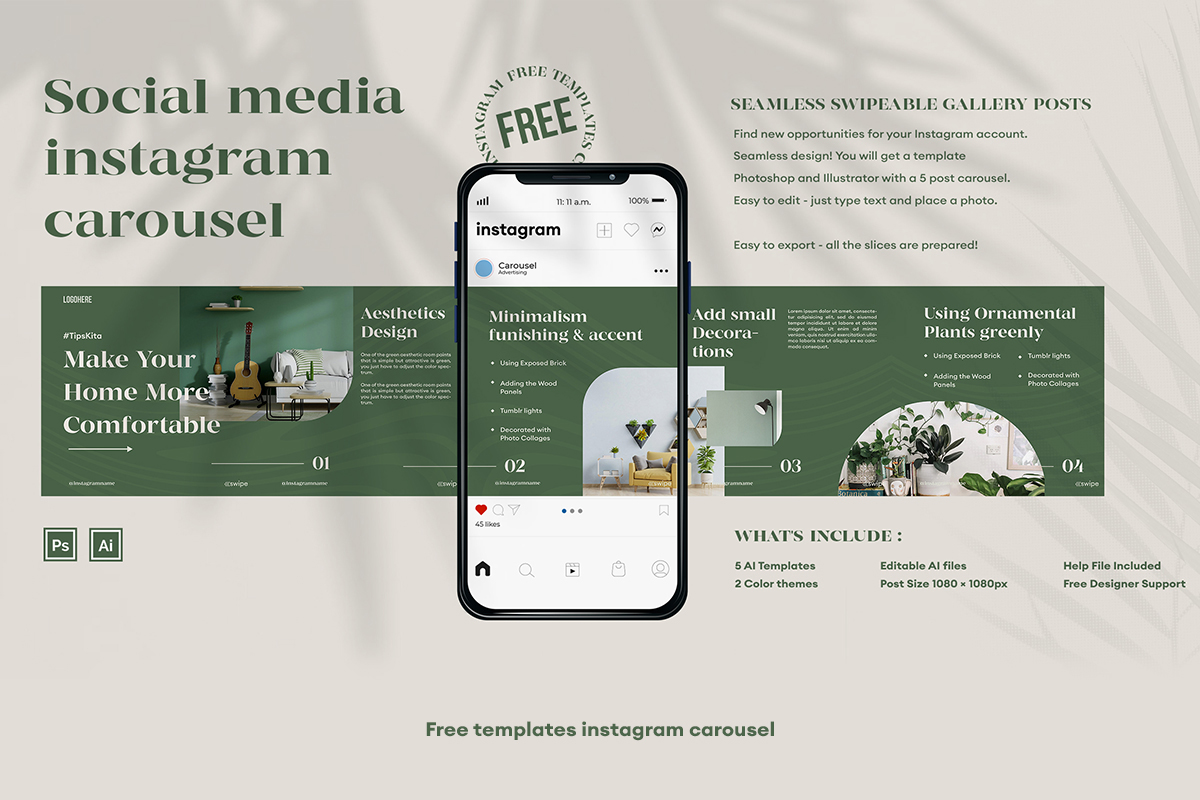 This business social media template is perfect for businesses looking to improve their social media presence. It features clean and professional designs that you can adapt to suit almost any type of business.