60+ Top Instagram Grid Template PSDs for 2023
Instagram is the social network you go to find trends but it's also a platform that creates trends. One of the most popular trends on the platform is Instagram grid designs. If you're also searching for ways to create a grid layout for your own Instagram account, this post is for you.
Everyone's turning their Instagram profiles into grid content feeds these days. Even though it seems easy, there's a lot of work involved in creating Instagram grids. You need at least intermediate-level design knowledge to create them.
Thankfully, there are now Instagram grid templates you can use to create such layouts with ease. These templates come as PSD files and you can easily edit them using Photoshop, save the files, and upload them on Instagram to create a grid.
We gathered a collection of beautiful Instagram grid templates to help you pick a great design for your profile. Have a look.
Get everything you need to supercharge your Instagram profile and social presence. From just $16, get unlimited access to thousands of Instagram templates, icons, and layouts, as well as Photoshop actions, Lightroom presets, and more.
What is an Instagram Grid Template?
What are Instagram grids anyway? In short, it's an Instagram theme people use to create unique designs out of their profile feed.
An Instagram grid (also known as Instagram puzzles) is created by uploading interconnected posts to your feed so that all the images combine to create one beautiful image. You'll see examples of these designs in the templates below.
Usually, an Instagram grid consists of 9 or 12 posts. There are several different types of grid styles used by Instagrammers. Some use perfectly planned post designs while others can be created by pairing post designs.
The easiest way to create an Instagram grid is to use a template. You can check out the templates collection for inspiration.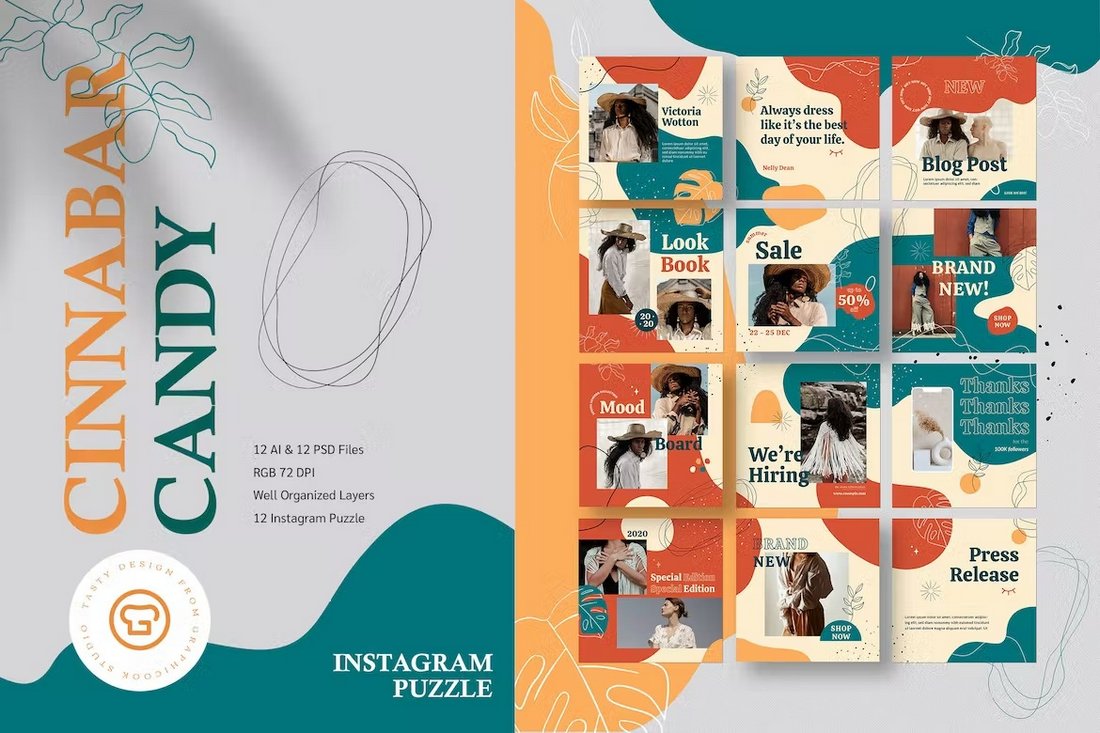 Whether you're promoting your blog, a travel agency, a designer brand, or a personal brand, this Instagram grid template will fit in perfectly with your page. It features a colorful and creative design filled with shapes and objects. It's a 12-piece Instagram puzzle template.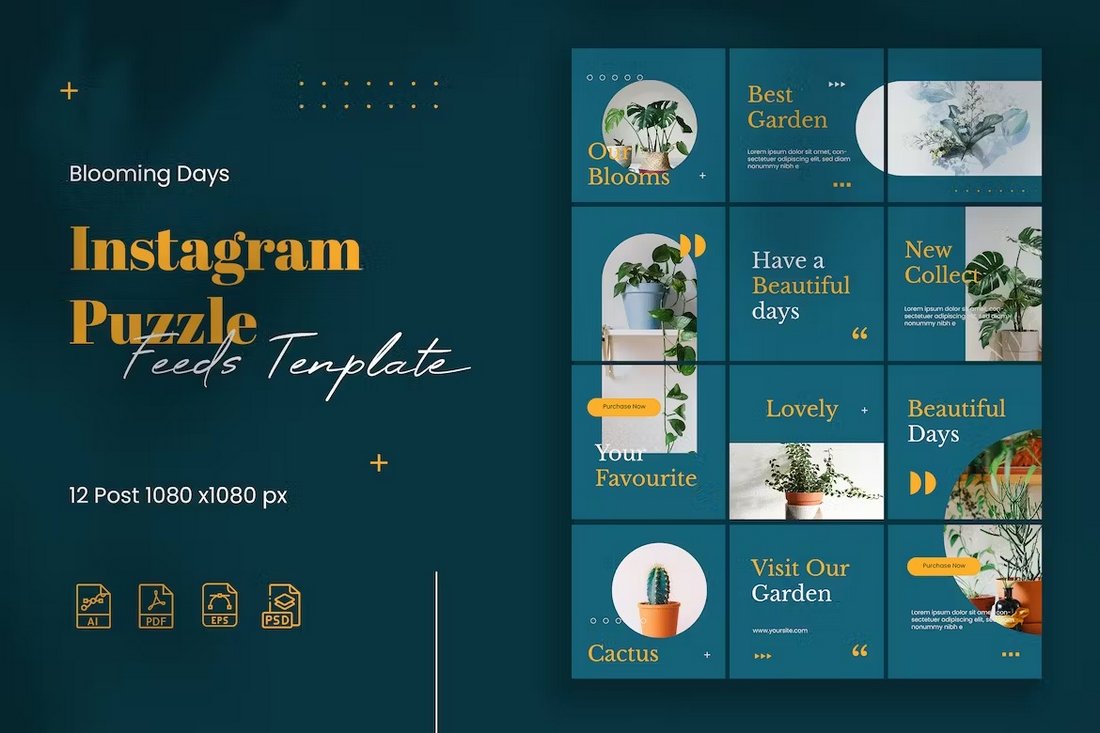 This Instagram puzzle template features a sleek and beautiful design with an aesthetic feel. It's ideal for creating a minimalist Instagram grid layout for modern businesses or brands. There are 12 templates in this pack available in PSD, AI, and EPS formats.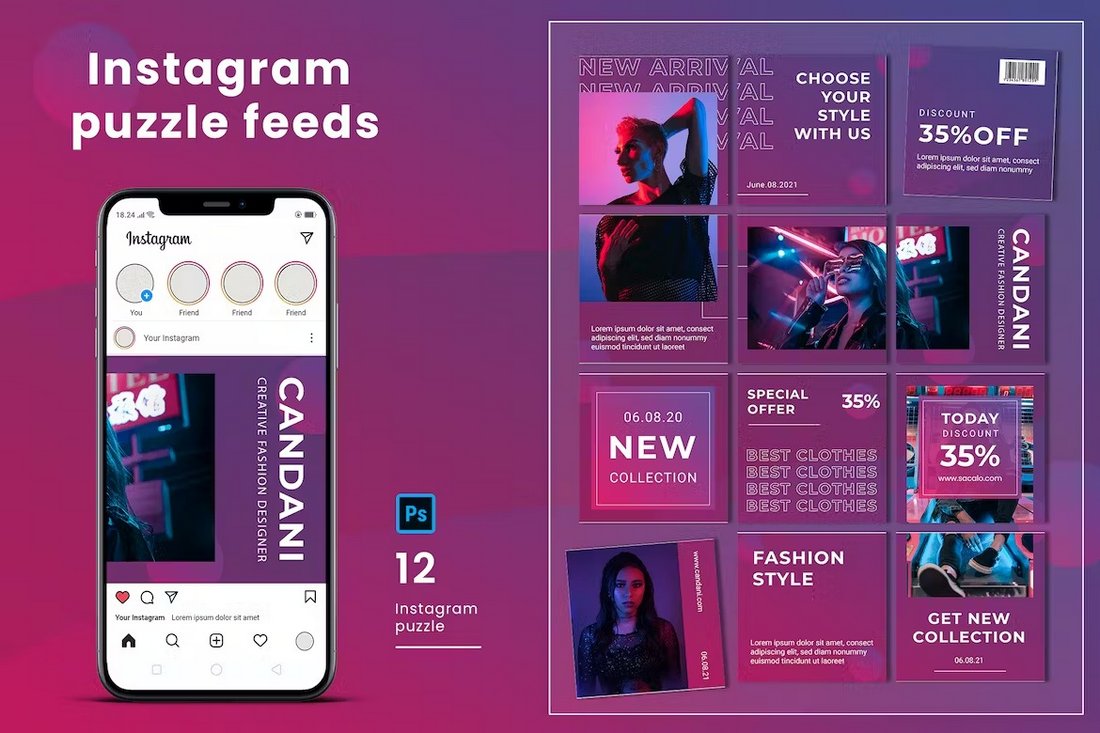 A vibrant and colorful Instagram grid layout for a fashion, music, or lifestyle brand. It includes 12 templates with neon-themed designs that are most suitable for promoting your special offers, sales, and new product lineups.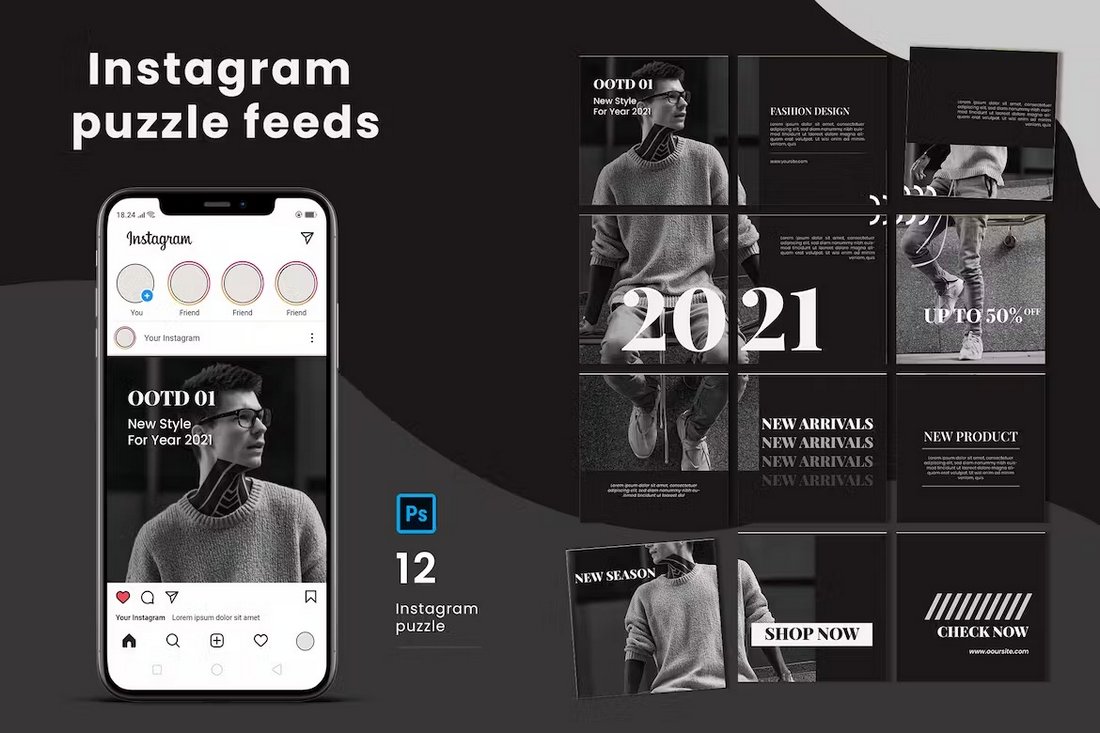 You can create beautiful and minimal Instagram puzzle grid layouts using this template kit. It has black and white post designs that create a luxury and high-end look for your profile.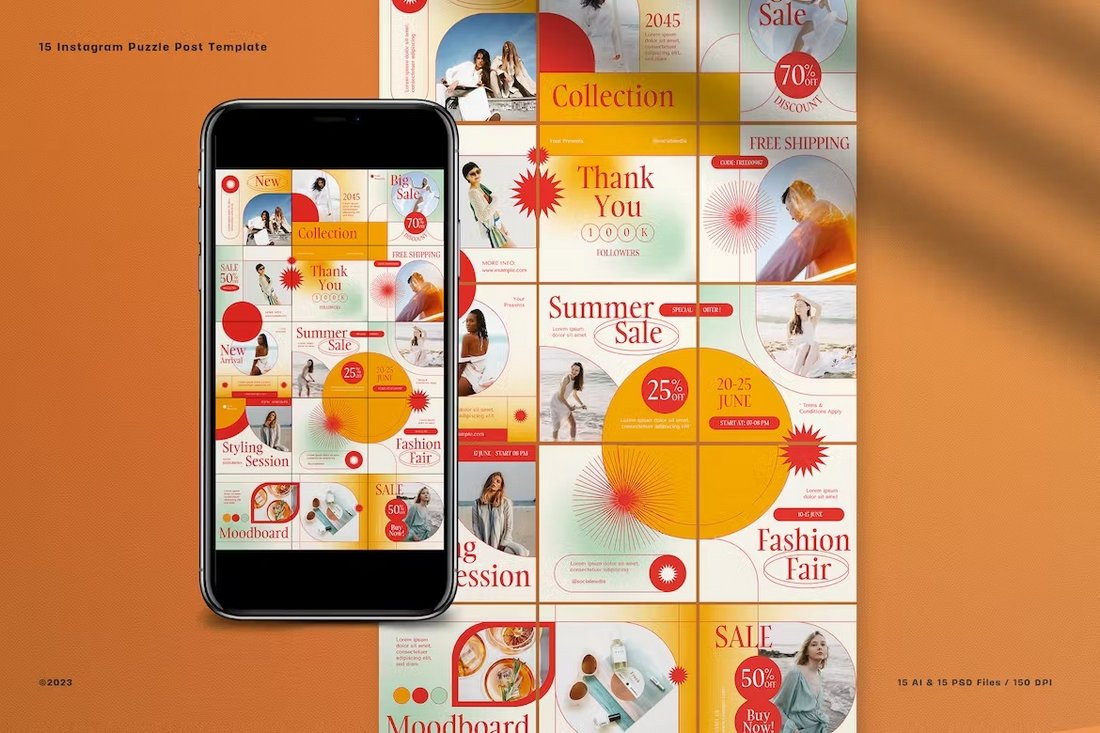 This Instagram puzzle grid template has 15 different post designs. They are all made with summer-themed designs to help promote your seasonal sales and offers. It's great for fashion and lifestyle business pages.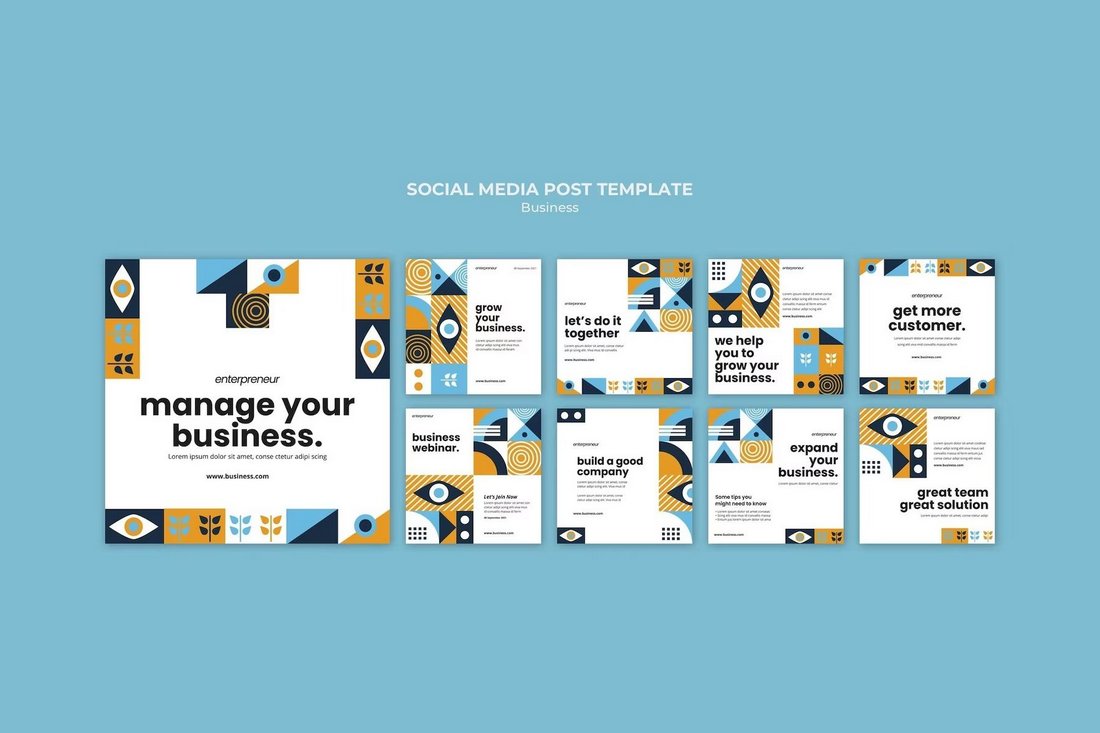 This is a free Instagram grid template you can use to promote your business using creative post layouts. Each post of this grid has unique shapes and illustrations too. You can fully customize it to your preference.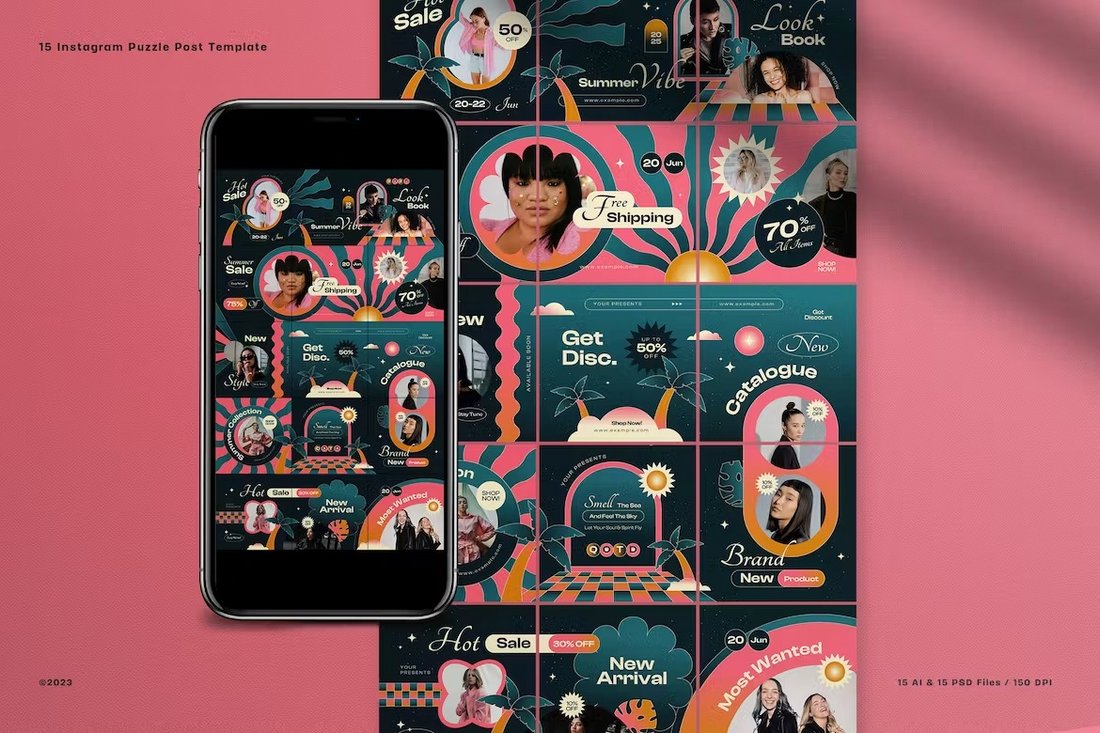 The groovy retro theme of this Instagram puzzle will give your entire profile a cool new makeover. It includes 15 different post layouts to create a long grid layout for your page. The templates come in Photoshop and Illustrator formats.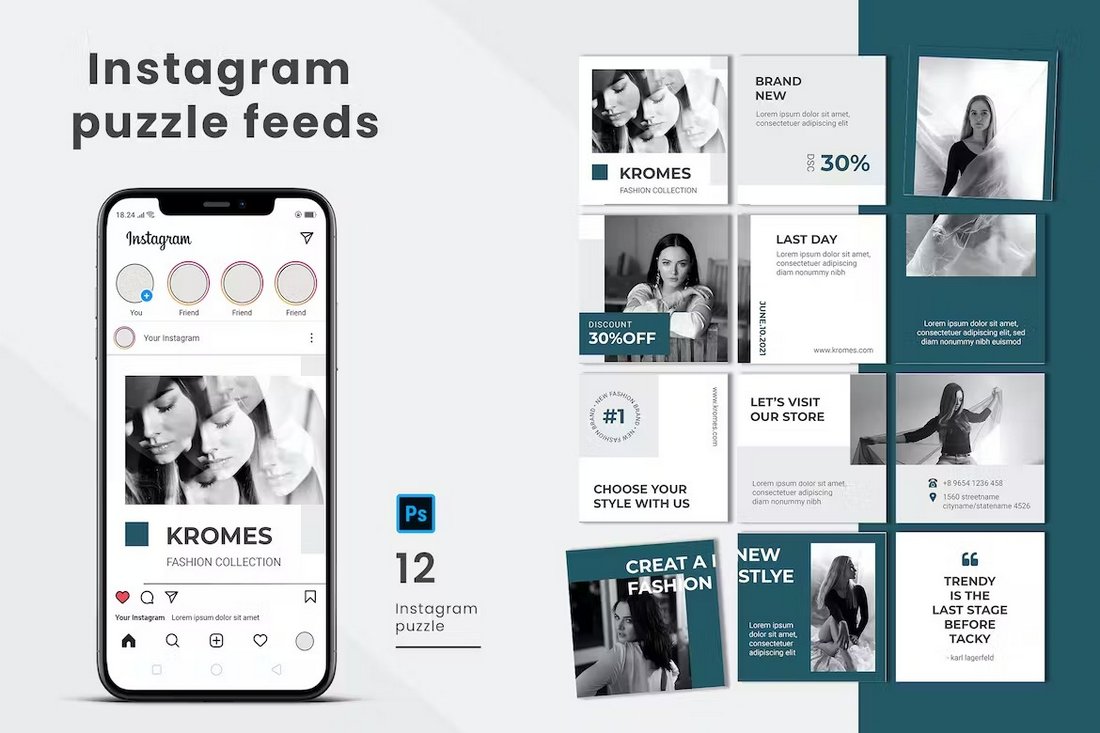 This Instagram grid template features a clean and minimal puzzle feed layout. It's ideal for creating a simple puzzle for a modern fashion or lifestyle brand page. There are 12 post layouts included in this template.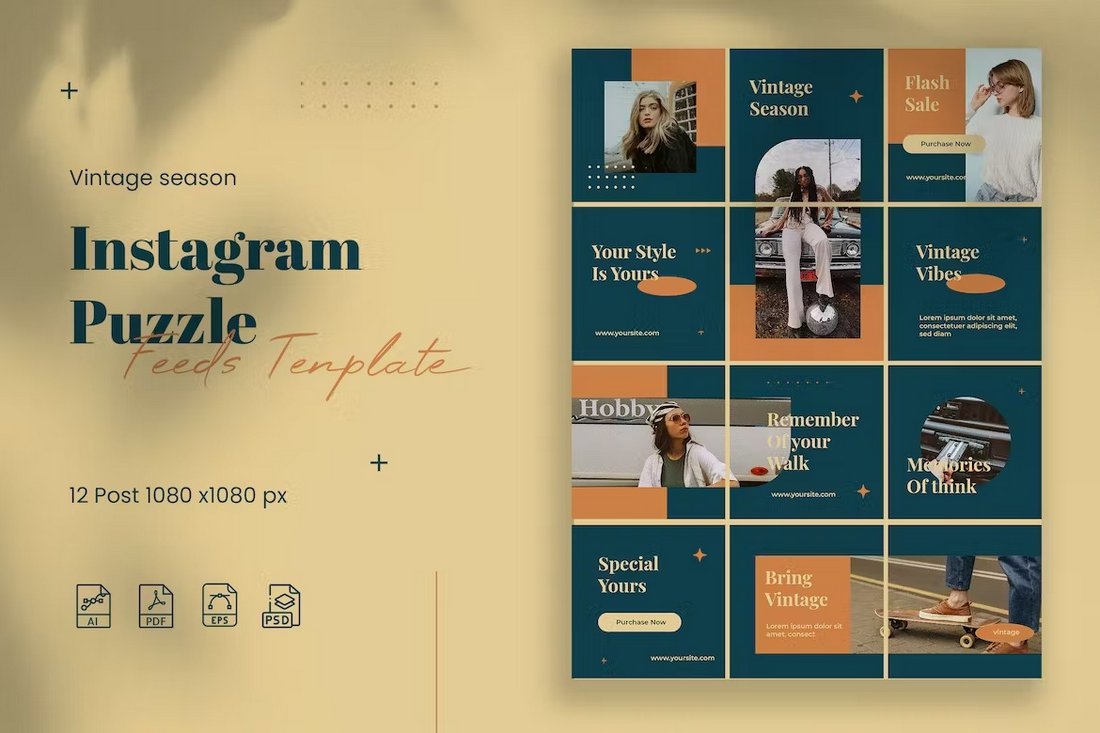 You can use this Instagram grid layout to promote your latest apparel and product lineups on your profile feed. It includes 12 different designs that mesh together to create a cool puzzle grid design.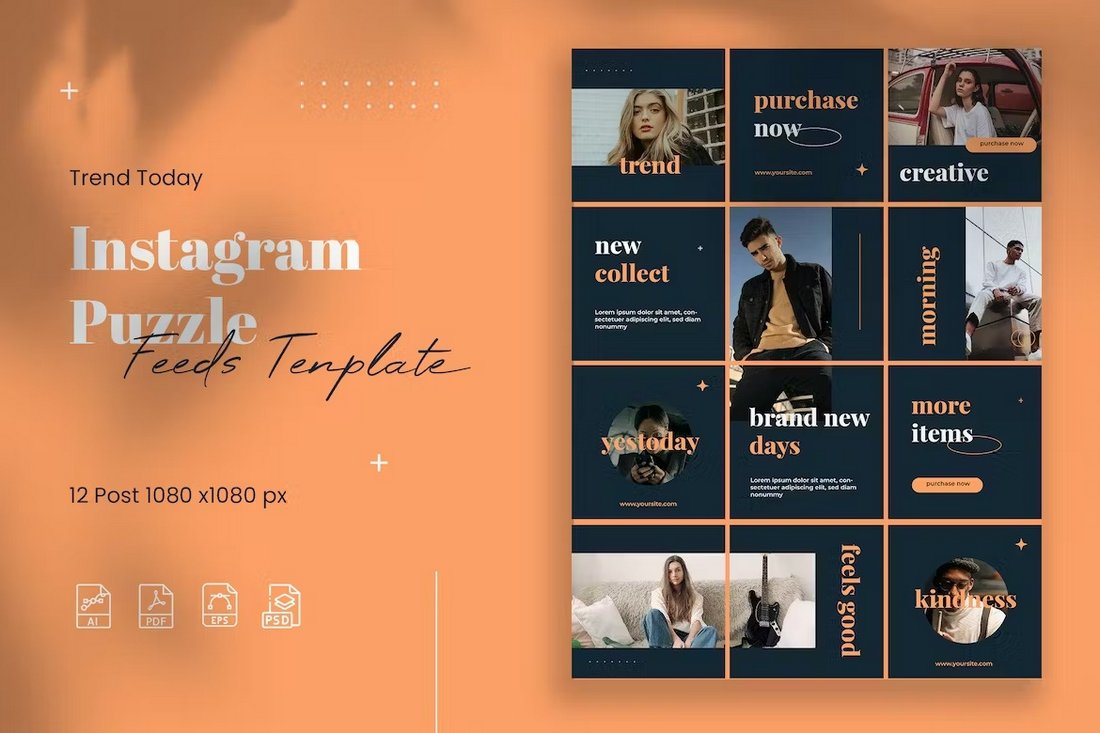 This Instagram grid template also features a colorful puzzle design. It's ideal for showcasing the latest trends in fashion as well as to promote your products. The template comes in customizable PSD and AI formats.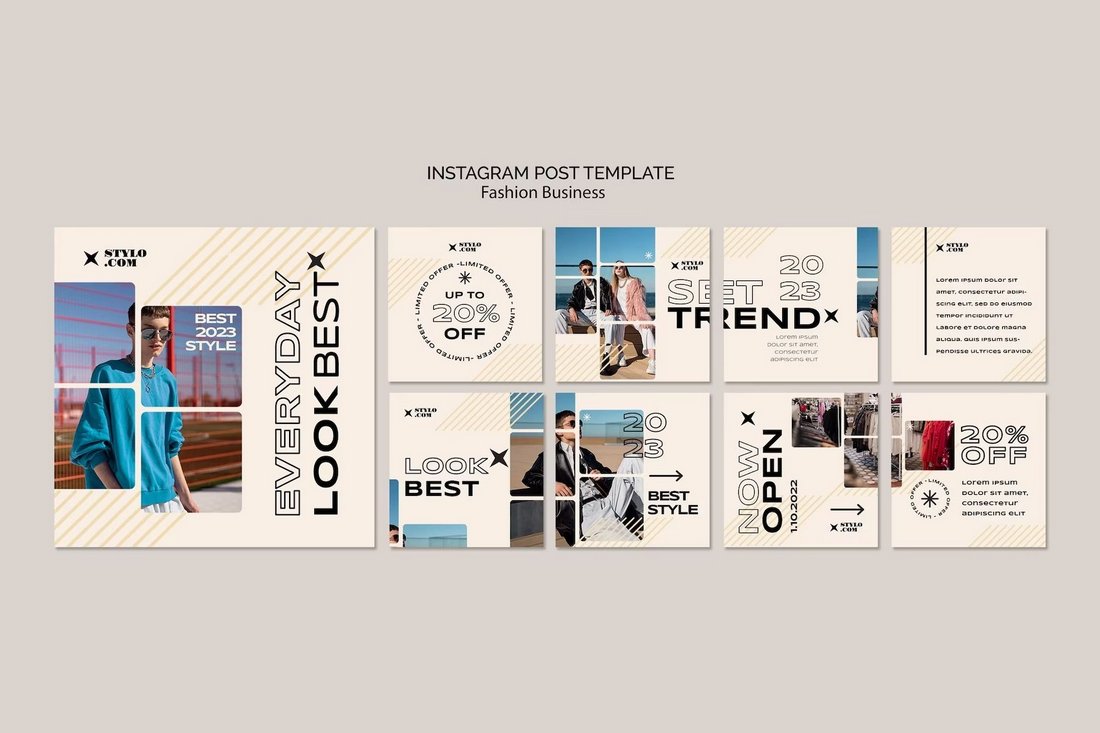 Download this Instagram grid template for free to create a beautiful grid layout for your fashion brand page. It has 9 post layouts with modern and trendy designs. It comes in PSD format with organized layers.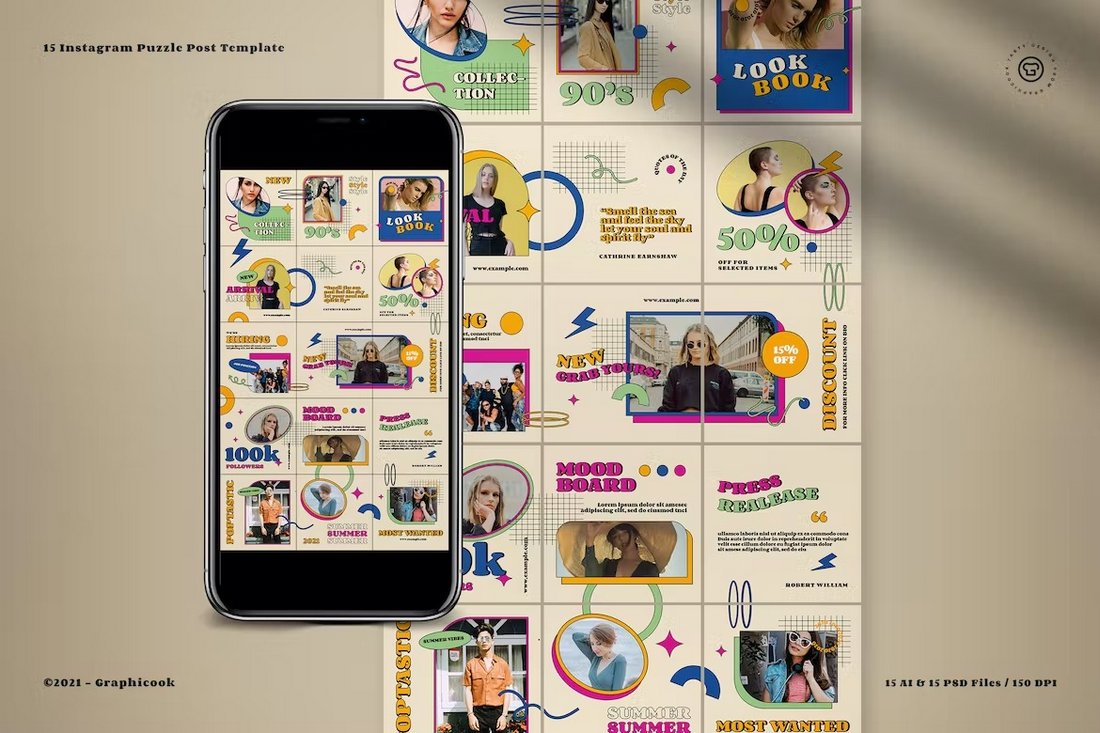 If you're a fan of retro-style design, this Instagram puzzle template is for you. There are 15 post layouts in this template that you can fully customize to your preference. It comes in both Photoshop and Illustrator file formats too.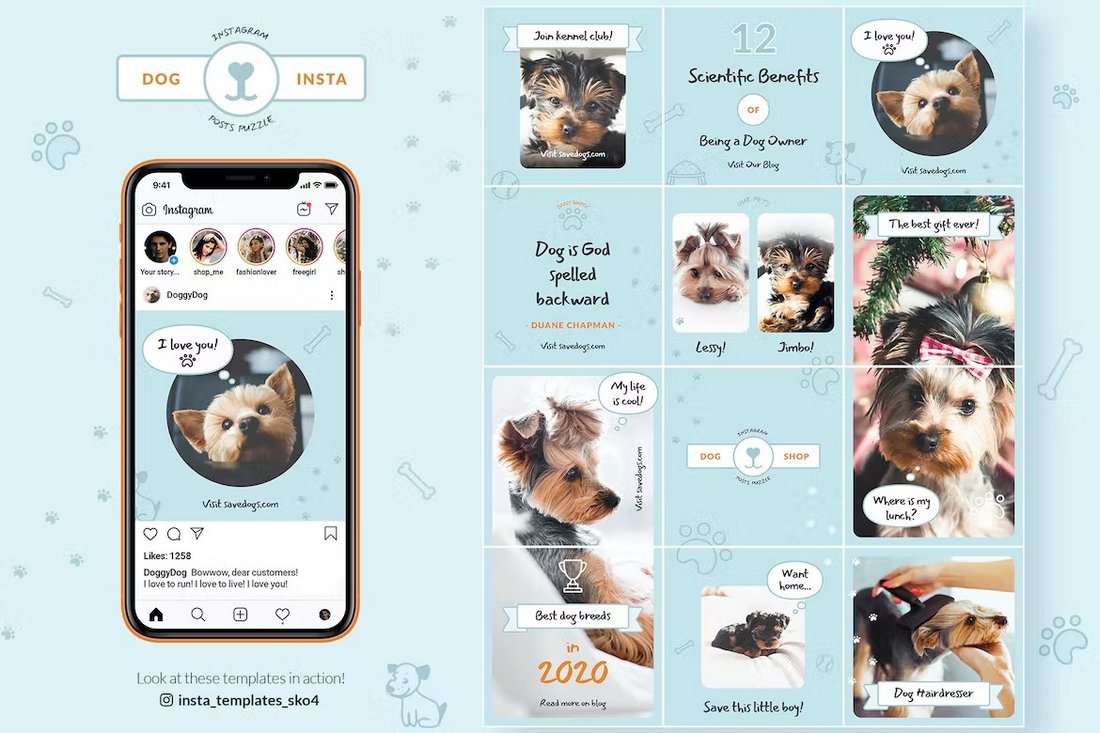 This Instagram grid template is designed with dog-themed brands and pages in mind. However, you can easily customize it to create post grids for other pet care products and brands. The template includes 12 post designs.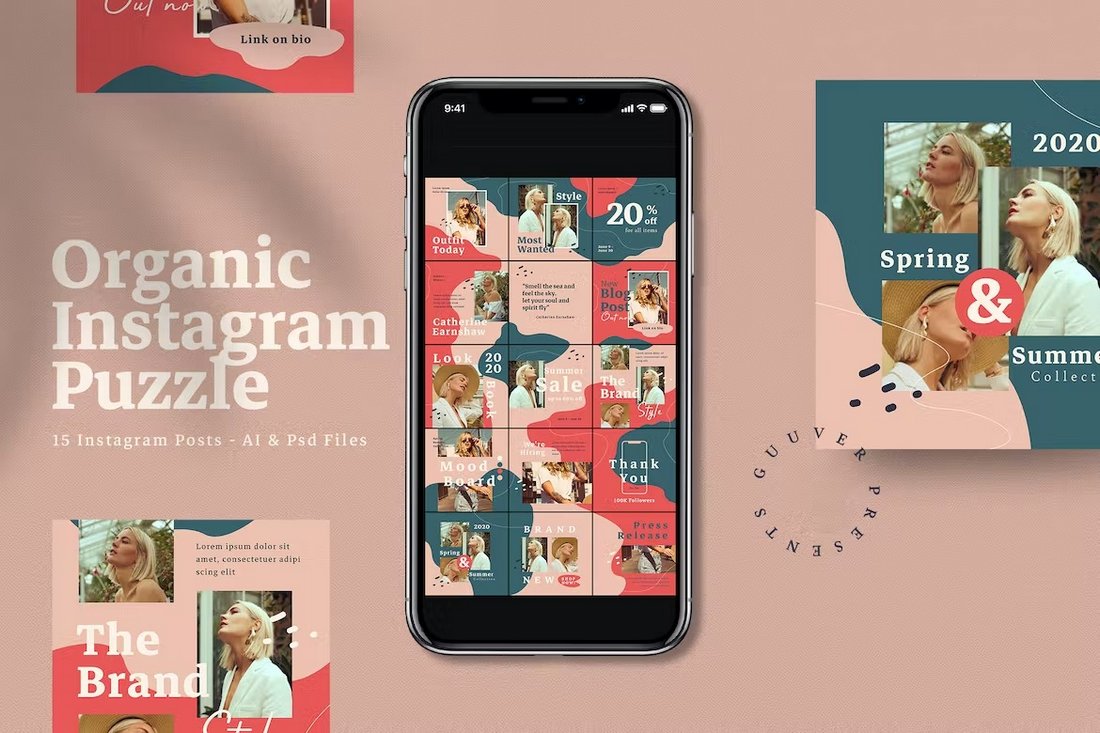 Use this Instagram puzzle template to design bold and beautiful grid layouts for your page. It's especially suitable for lifestyle, fashion, and beauty brands. This template includes 15 post layouts in PSD and AI file formats.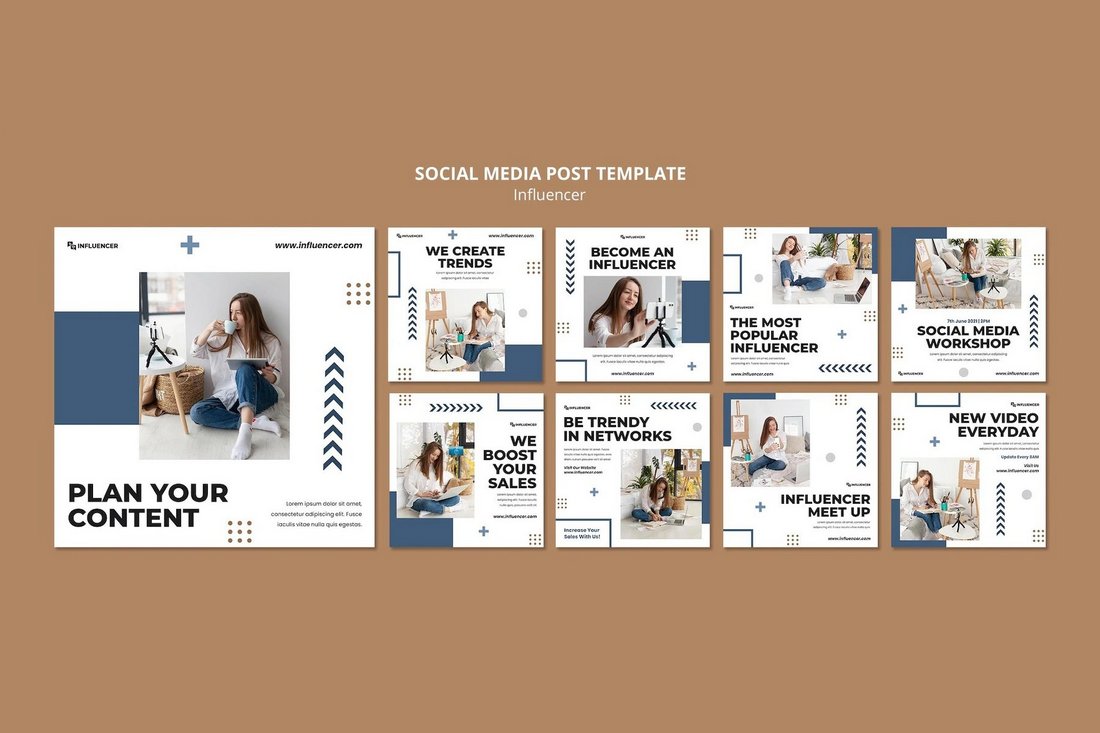 You can download this Instagram grid template for free. It features a clean and simple design that's ideal for influencers for promoting their personal brand. The template includes 9 layouts.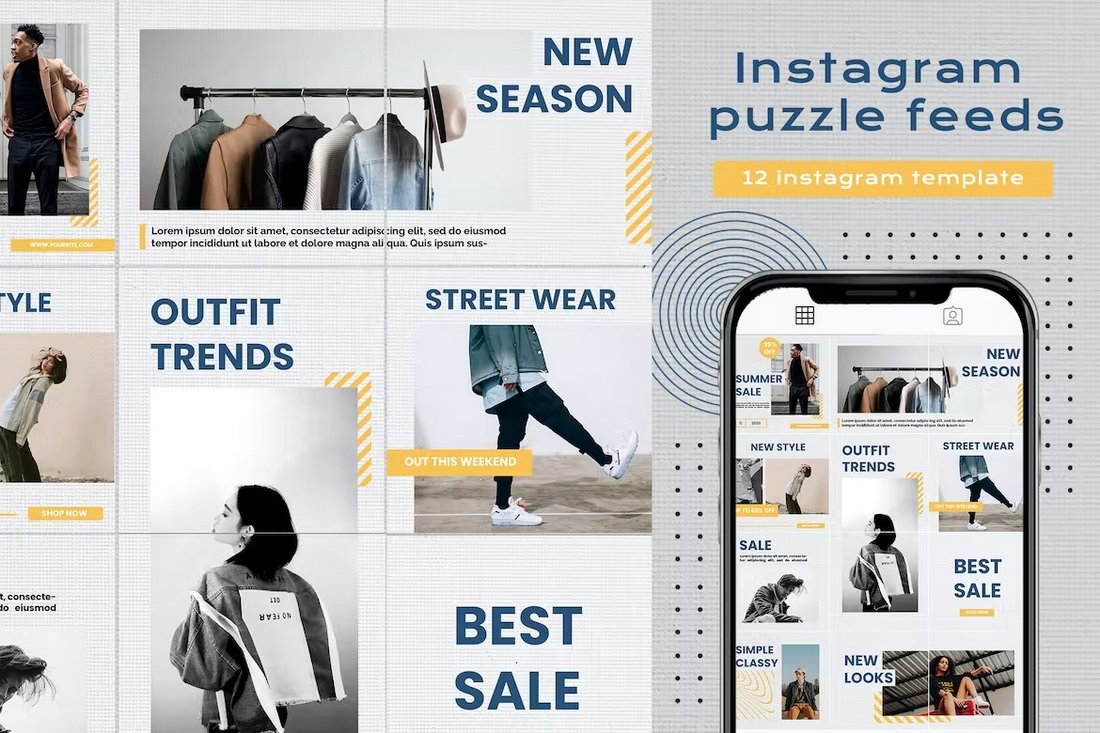 This Instagram puzzle template features a minimal design. It's made with eCommerce stores and fashion brands in mind for promoting products and promo campaigns. The template includes 12 post layouts.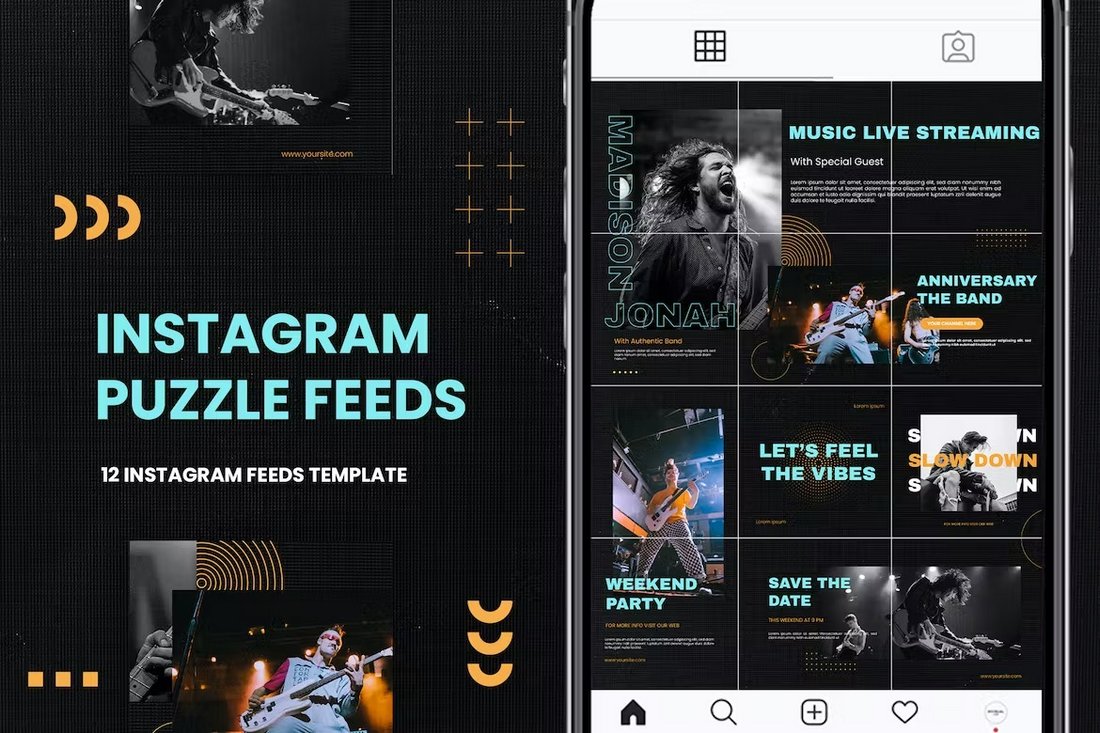 If you have a music-themed Instagram page for an artist or band, grab this grid layout to promote your music albums like a pro. It includes 12 post layouts with fully editable designs. They come in PSD and AI formats.
This puzzle template will help you design a grid layout for promoting healthy food and diet habits. There are 12 post layouts in this template and you can easily customize them to your preference by changing colors, fonts, and images.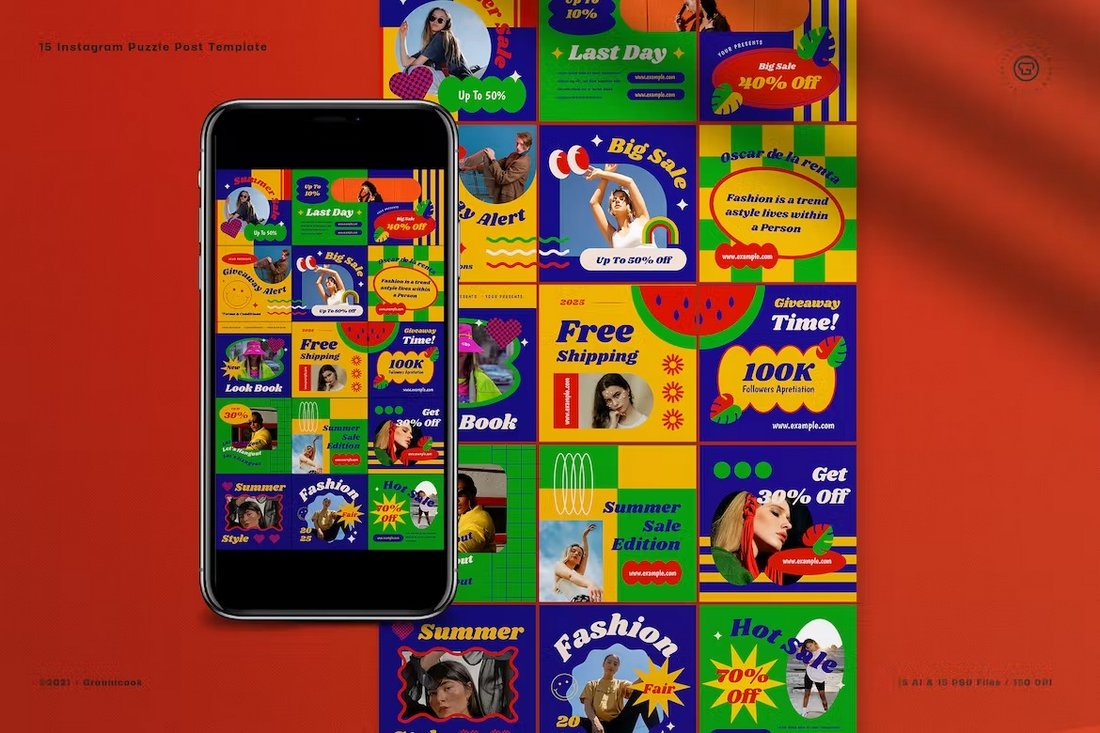 Make your Instagram page more colorful and vibrant with this Instagram grid layout. It features 15 summer-themed post layouts for making your feed look more attractive. These posts are perfect for product and brand promo campaigns.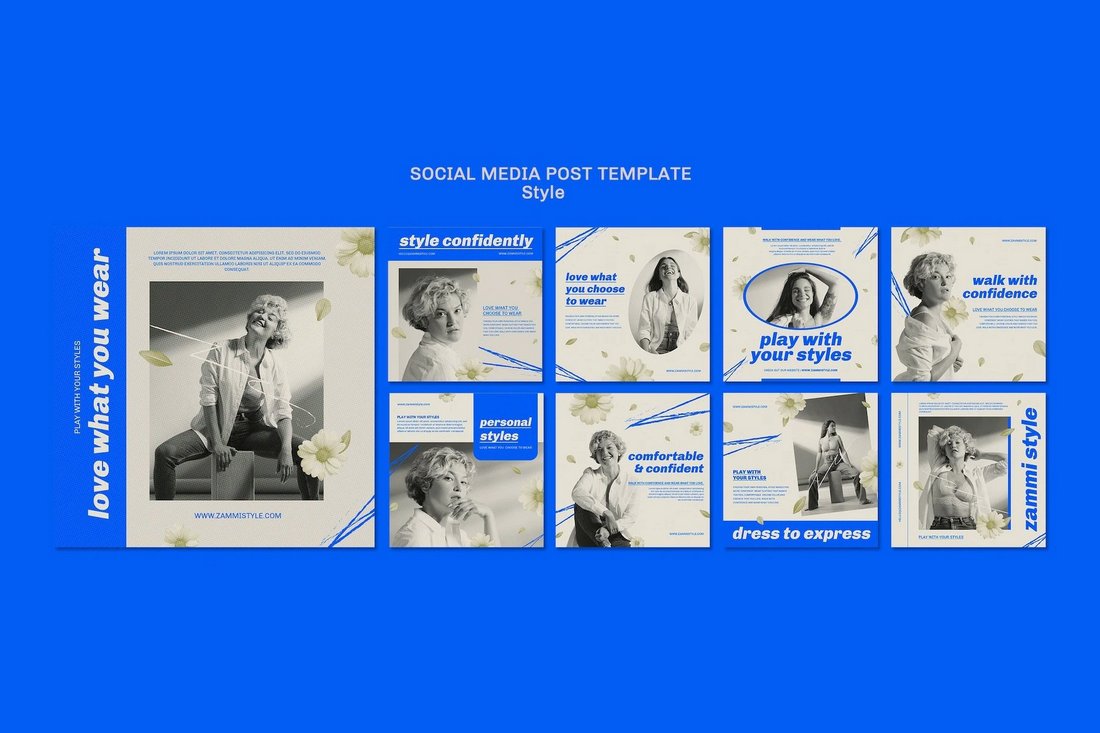 A stylish and modern Instagram puzzle template with creative designs. This template is free to download and it has the perfect look for promoting trendy fashion and apparel brands.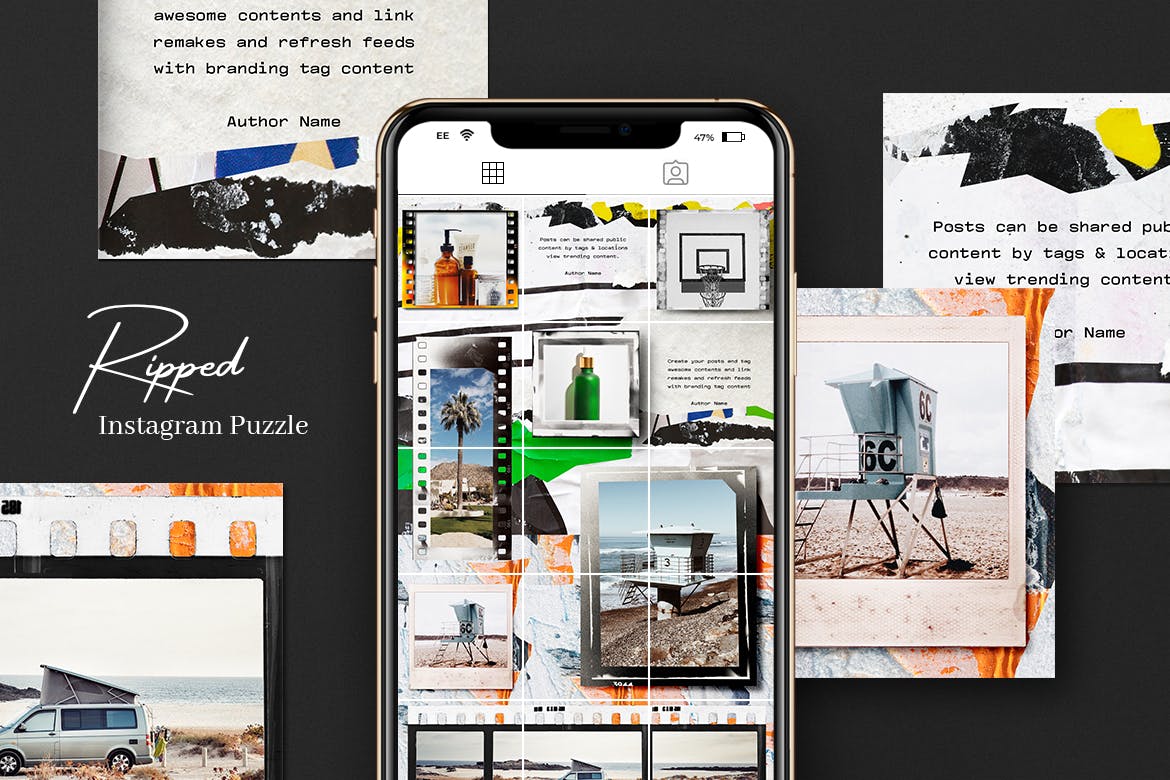 Looking for an attention-grabbing grid template for your Instagram feed? You're in for a treat! Check out this stylish and trendy template featuring 18 post slices that can be fully customized to your liking using smart object.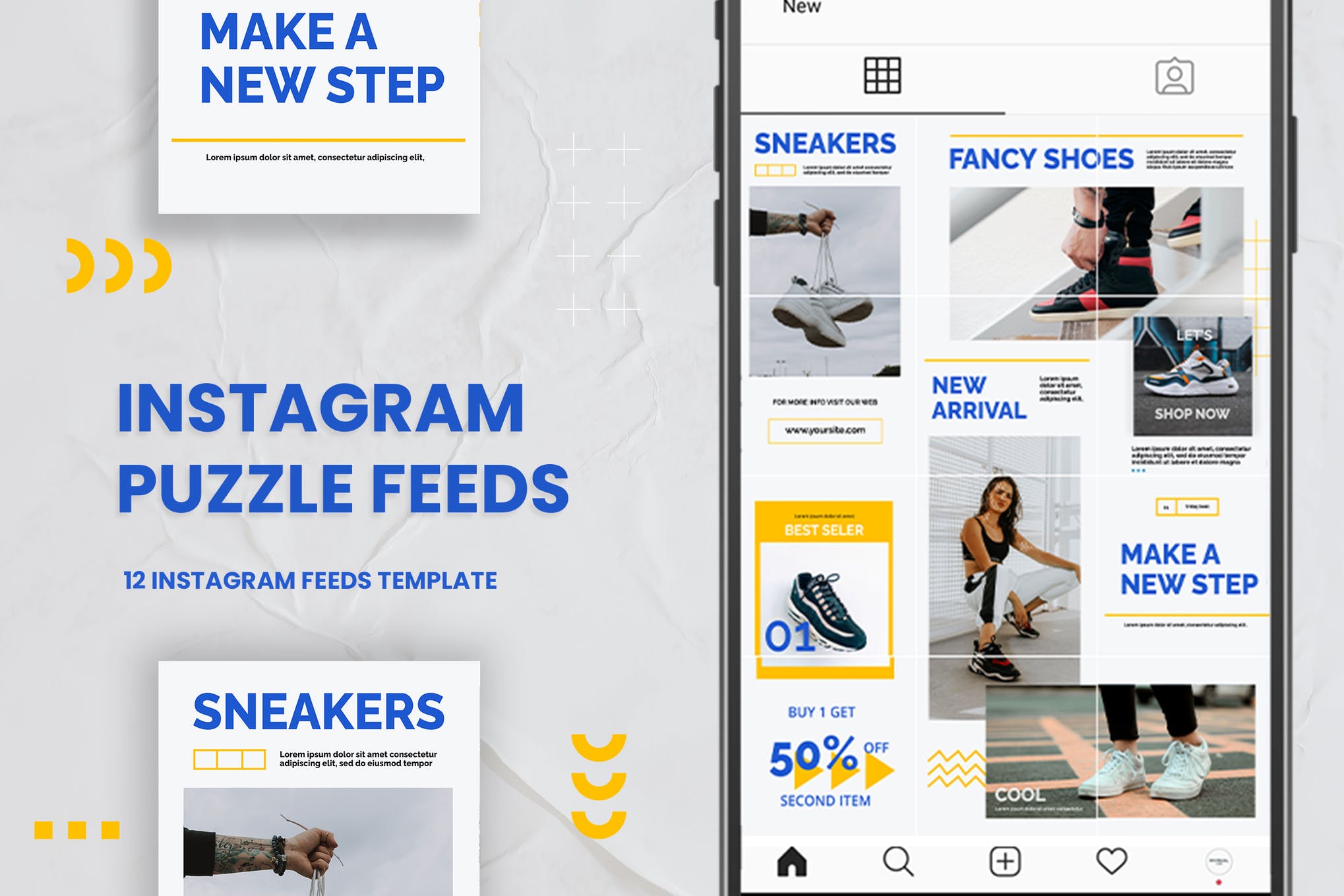 Sneakers is a modern and creative grid template that will leave a solid impression on your profile visitors. It contains 12 square layout templates, free fonts, and a wealth of features that you really have to see to appreciate.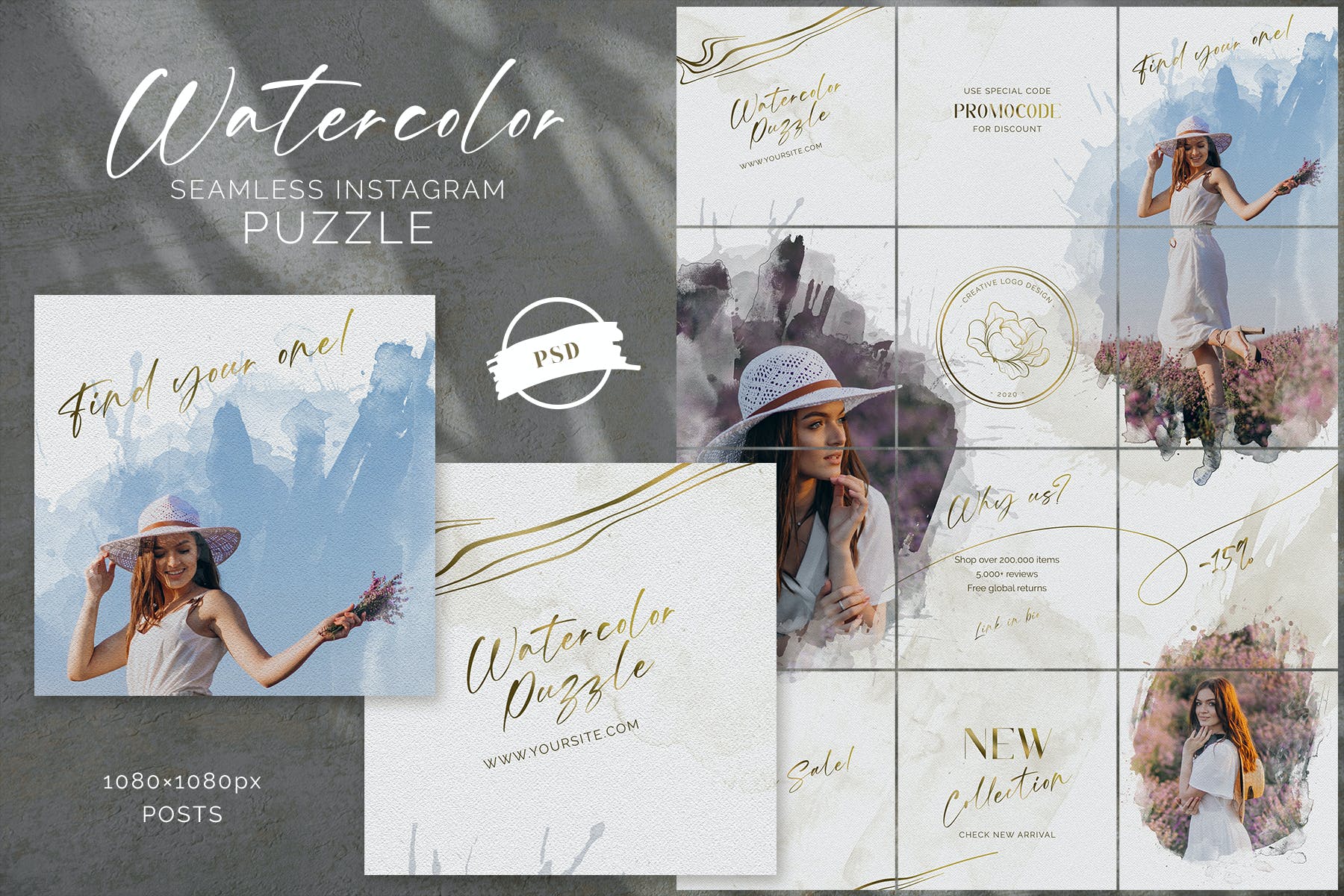 If you want your Instagram followers to scroll your feed for countless hours, this watercolor grid template is what you're looking for. The artistic watercolor effects will attract eyeballs, and make you Insta famous overnight.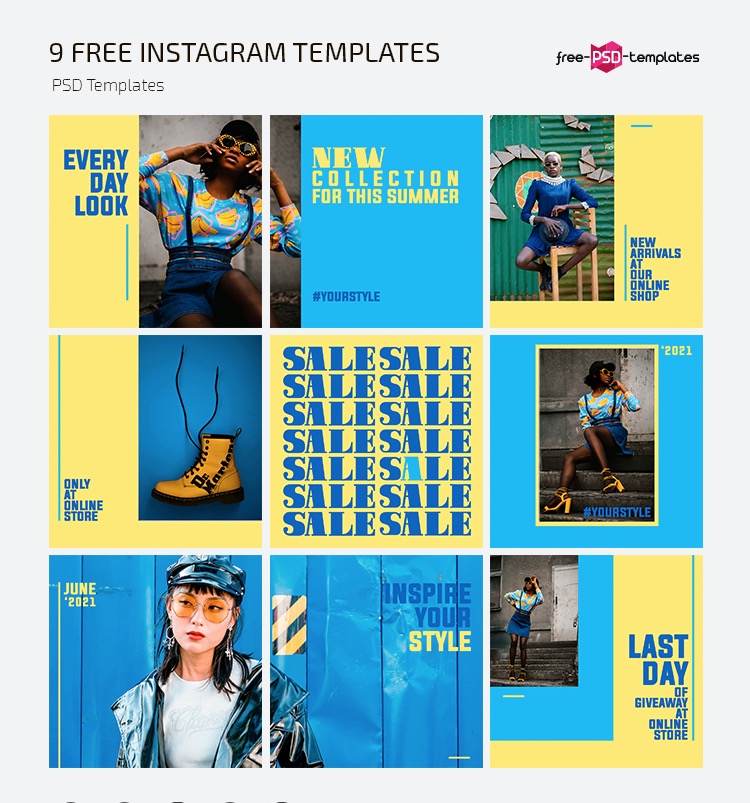 Here we have a bright and upbeat grid template that stands out from the daily flood of post layouts we see on Instagram. The template is fully editable, and comes with a wide range of features for you to take advantage of!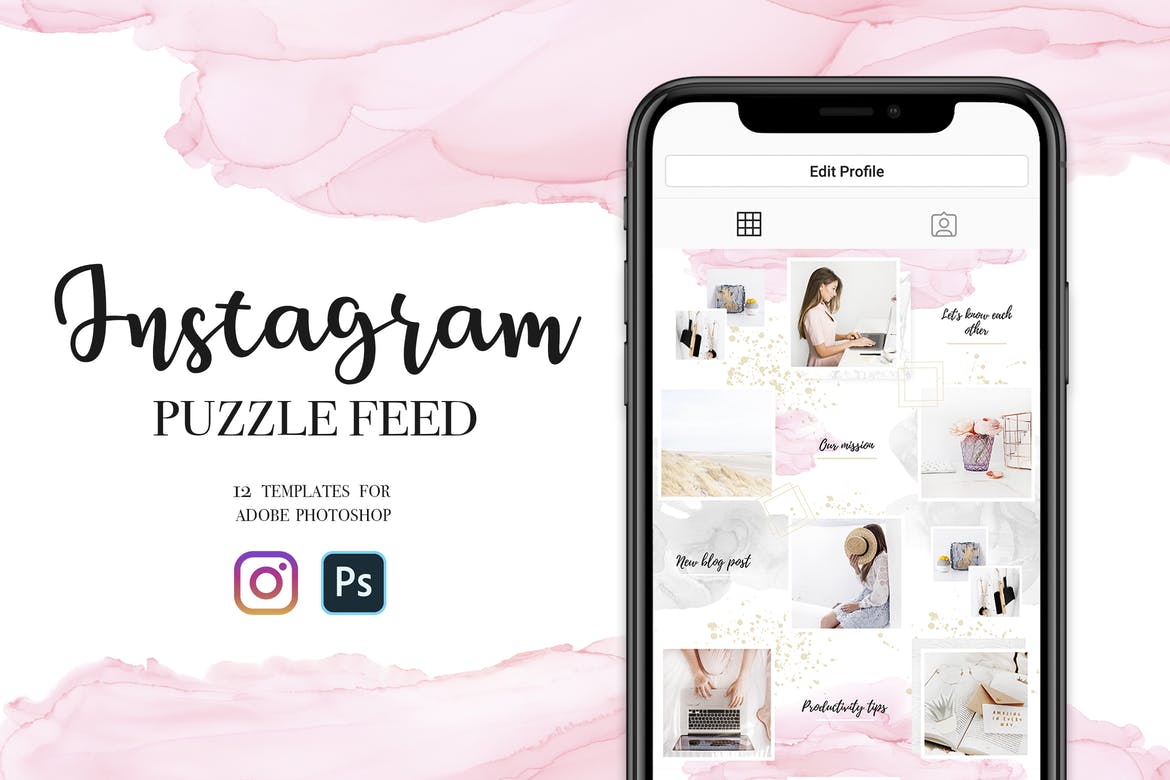 This stunning Instagram grid template will help you to turn your feed into a beautiful and feminine masterpiece and is fully compatible with Adobe Photoshop. It contains 12 posts but limitless possibilities due to the seamless design, and also includes a range of images and fonts.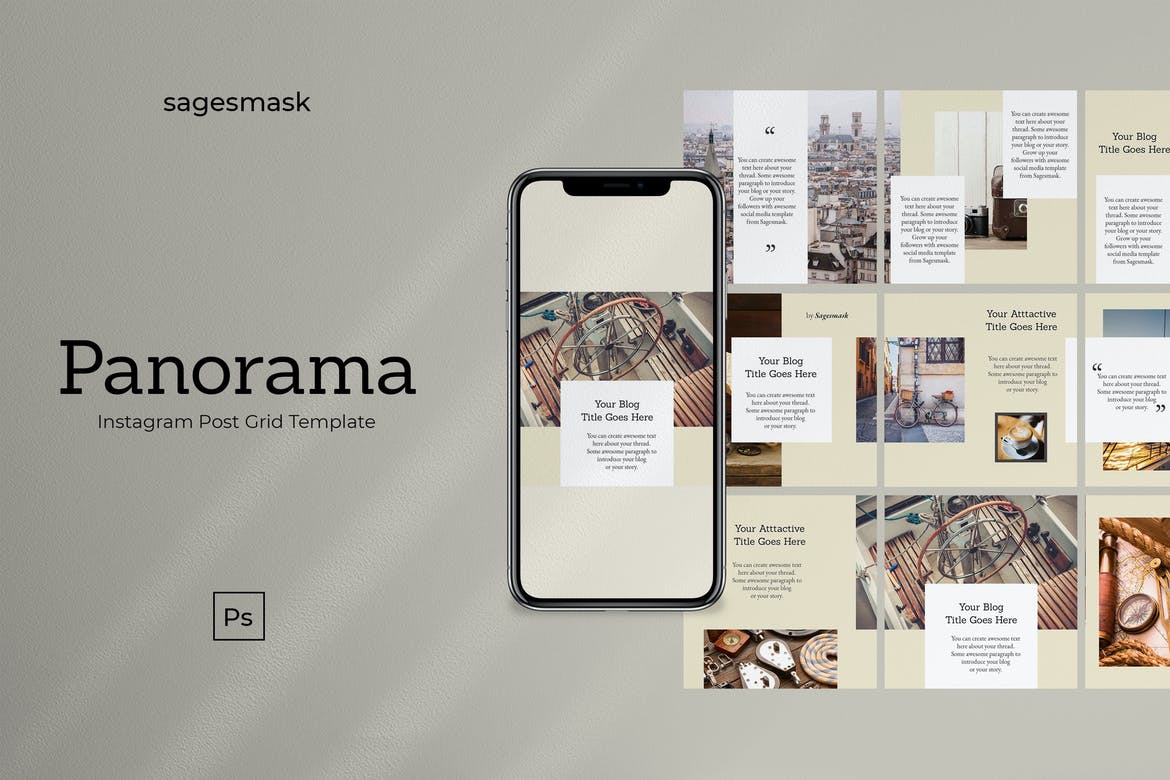 The Panorama Instagram grid template is a modern and geometrically inspired collection of post outlines that includes a range of smart objects, vector shapes, and solid colors plus double click customization and free fonts to help you edit and refresh your feed in a matter of moments.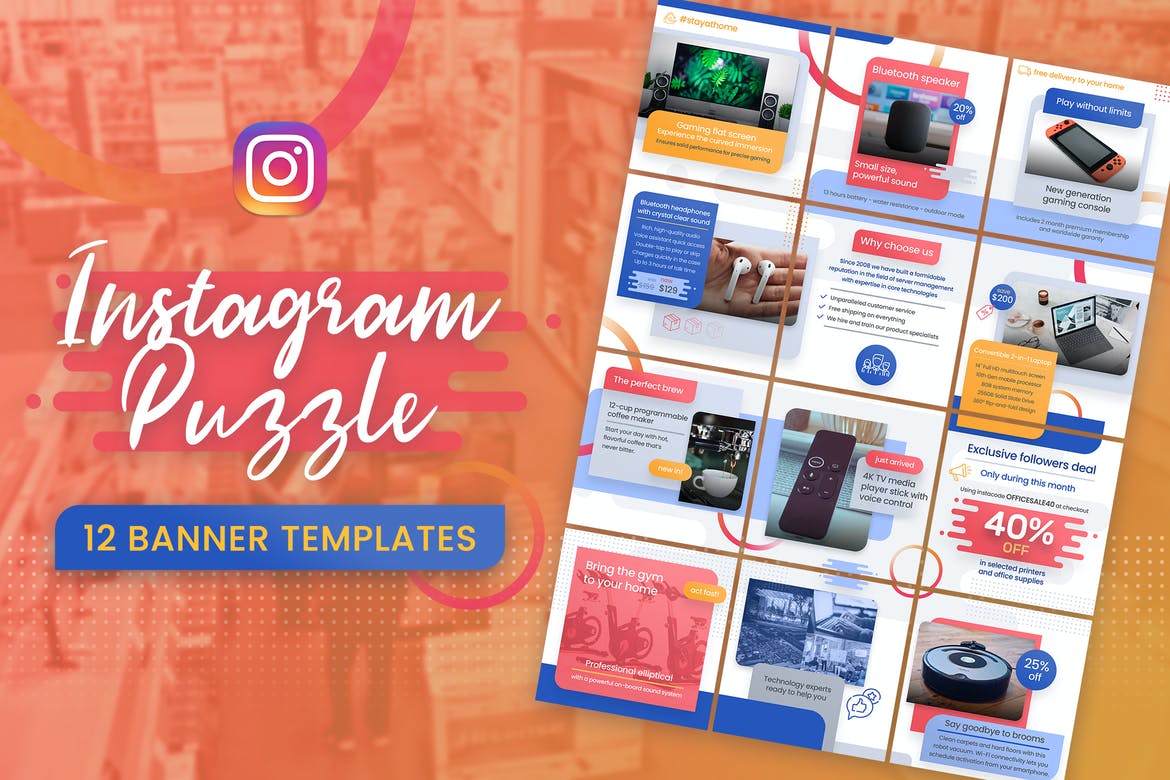 Here we have a set of twelve unique business banner templates for a professional and engaging Instagram feed that's sure to help you grow your business. The creative design is easy to customize and comes in a fully layered and well organized PSD file.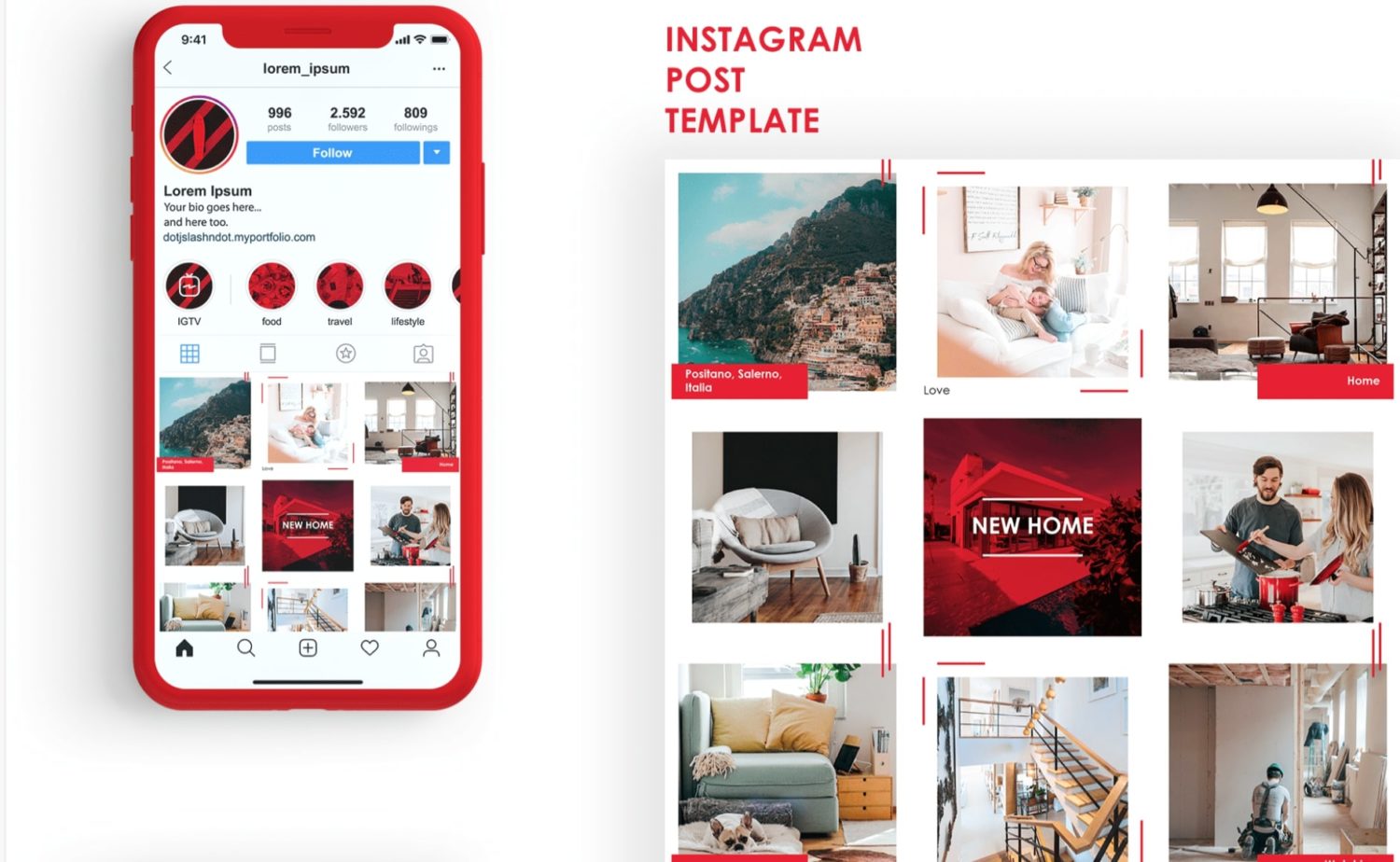 Next in our lineup of the best Instagram grid templates for a cohesive and eye-catching profile is this super creative artistic design featuring bold colors, whimsical script fonts, and abstract patterns that can be customized to suit any aesthetic. It can be downloaded for free from Behance.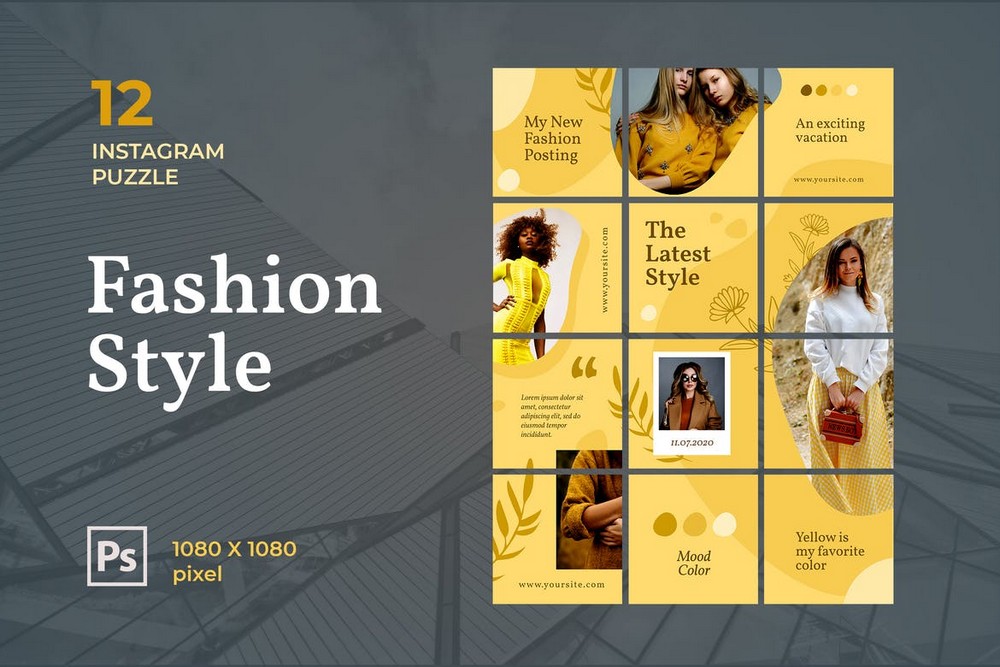 An Instagram grid is a great way to promote products such as fashion designs and branded apparel without making your profile feed look like a spam account. This particular grid template is a perfect example of how to craft a beautiful grid on Instagram. It features a 12-post puzzle-style grid with plenty of space for showcasing your products like a true professional.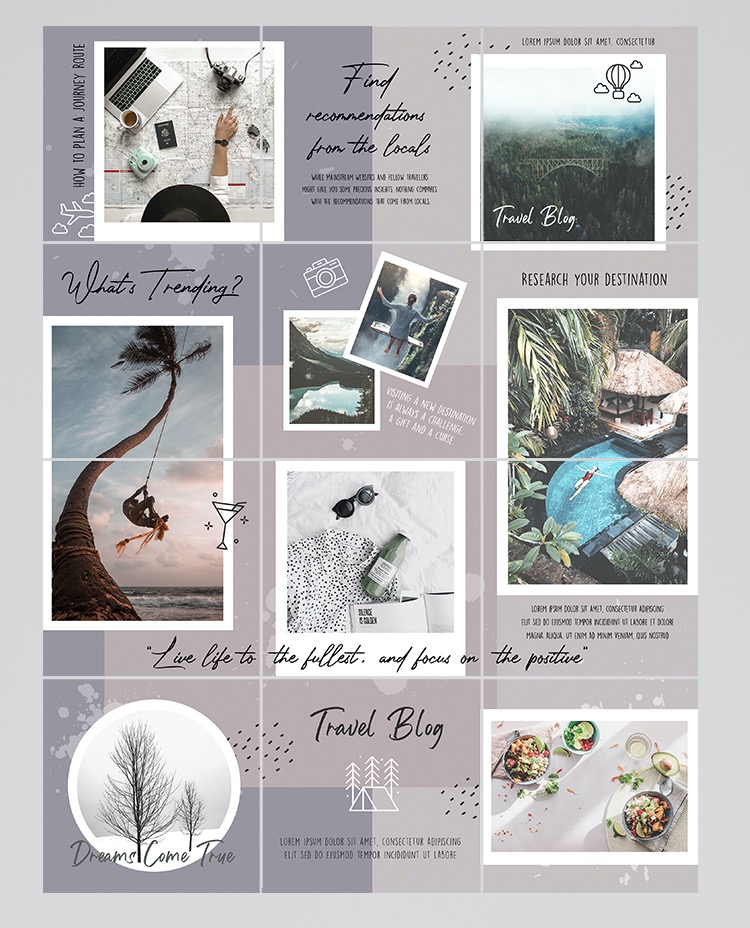 Next up we have a free Instagram grid template that is purpose-built for travel photographs but is versatile enough to be used for virtually any kind of pictures under the sun. A must-have template in an Instagram influencer's toolkit!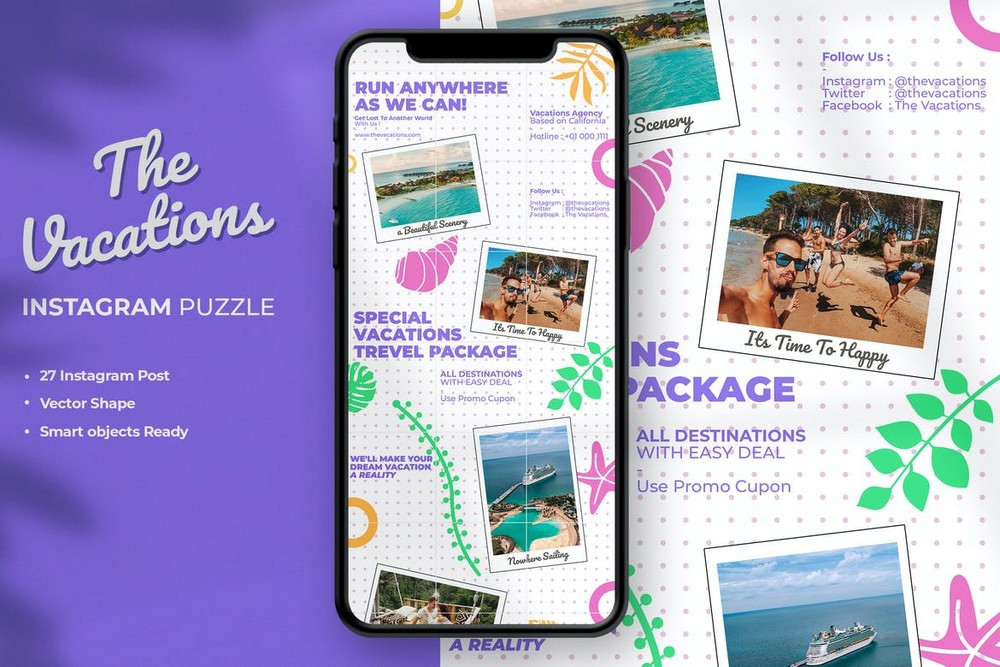 This fun and creative Instagram grid puzzle will definitely attract the attention of your audience and possibly convert more people into followers. It features a very entertaining design that will completely transform your Instagram profile. The template is perfect for travel and tour-related Instagram accounts.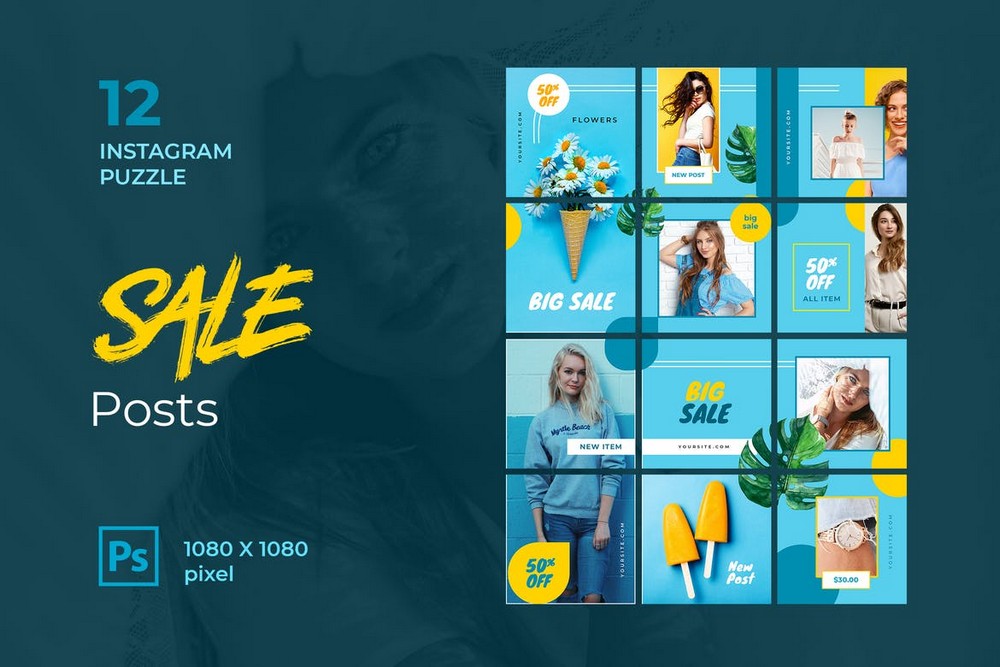 The best way to get more people's attention when promoting sales is to design and share incredible posts. This bundle of templates not only features some beautiful post designs for promoting product sales but they can be combined to create a grid layout as well. It includes 12 post slices with easily customizable designs.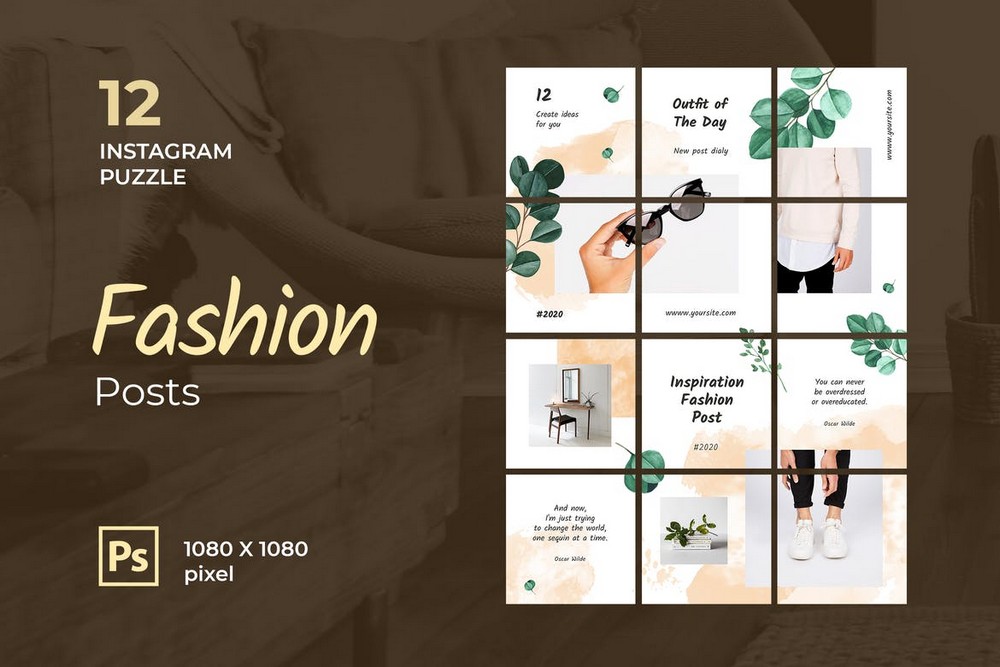 A minimal Instagram grid template for showing off your modern apparel and fashion brands in a creative way. This PSD grid template comes with a stylish design with lots of space for describing your products with text. Everything you see on the template design is fully editable. You can change colors, text, shapes, and more.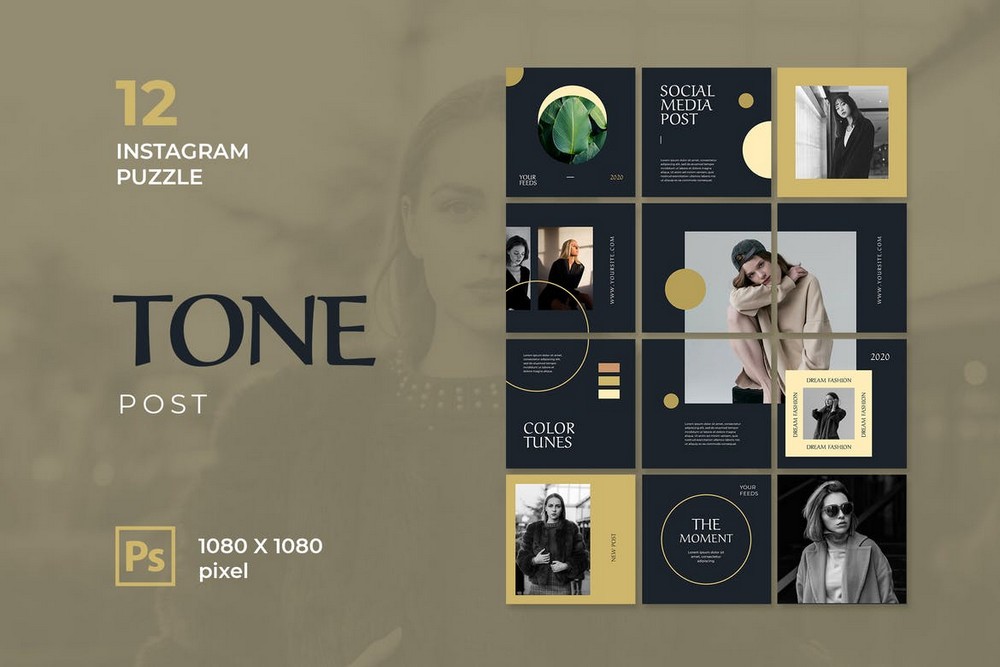 If you have an Instagram account for a luxury brand or high-end product, this template will help you design an attention-grabbing post grid for your profile. It includes 15 post designs with easily editable layouts. It includes smart objects for changing images, free fonts, and editable vector shapes.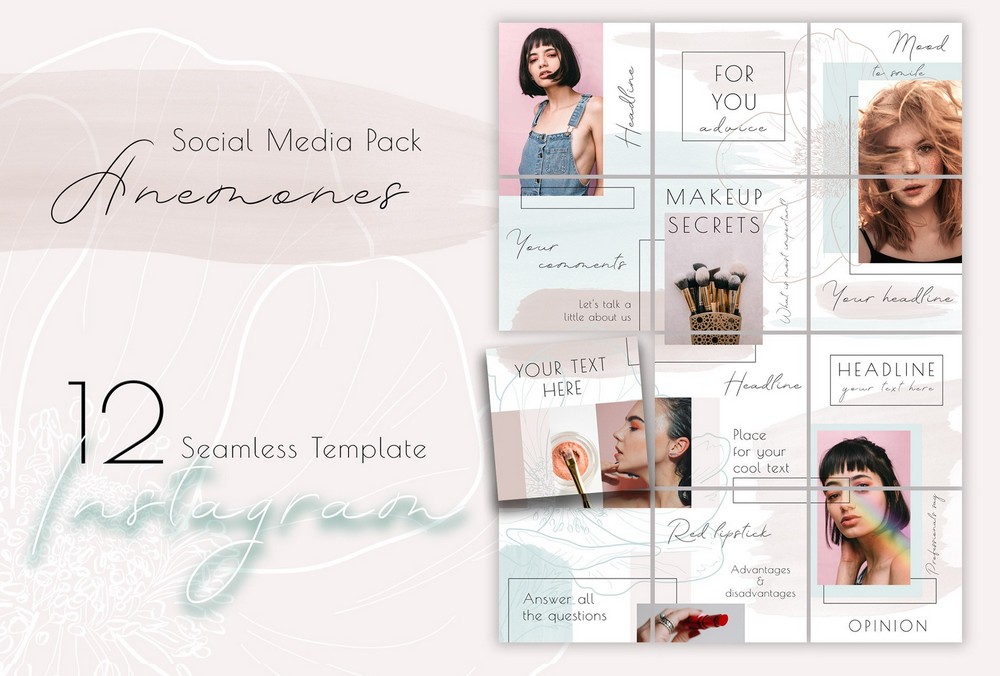 This is a free Instagram grid template you can download and use to create a beautiful puzzle grid for your profile. The template comes as a layered PSD file and it's fully customizable. It's most suitable for promoting fashion brands and products.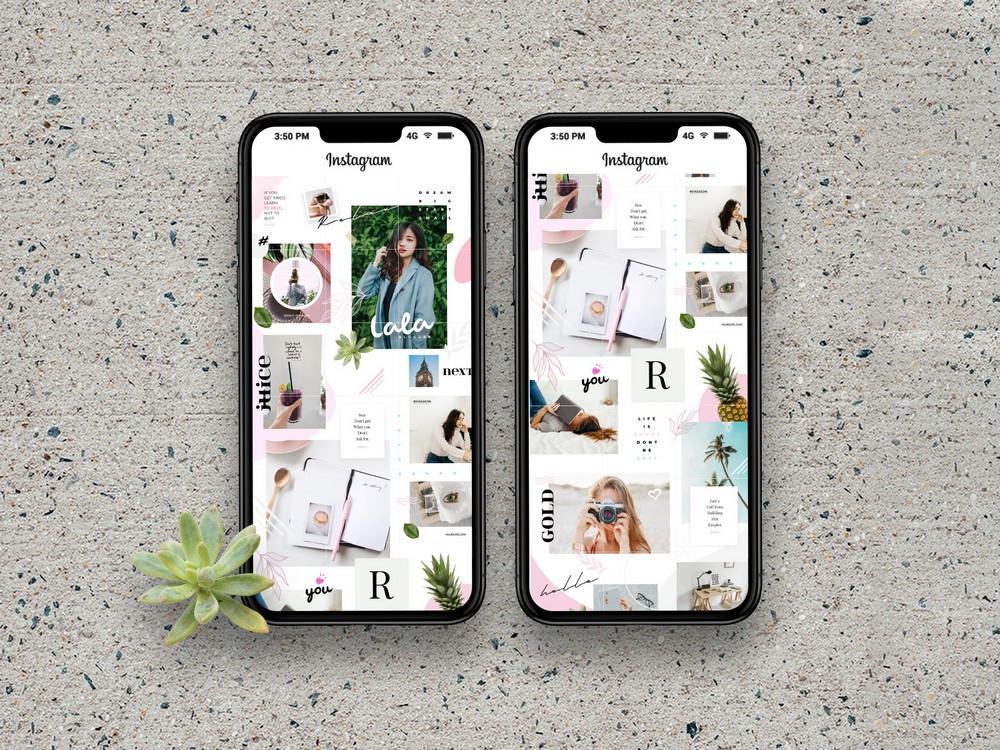 You can use this free Instagram puzzle template to create grid layouts for various types of Instagram accounts. It has a multipurpose design that will fit in well with creative brand and business accounts.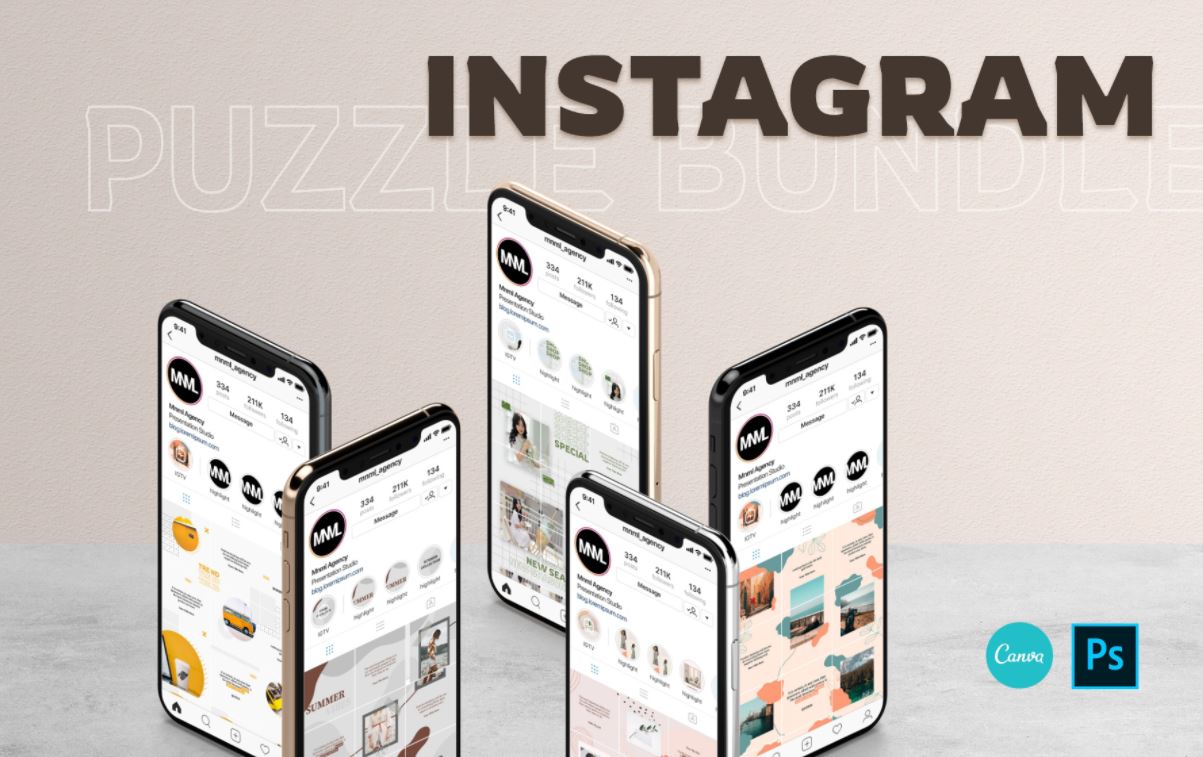 For a fun and versatile Instagram grid template with a cute abstract design that's able to be customised to suit your perfect aesthetic, consider this bundle of five unique Instagram puzzle templates that's available as a free download from Behance.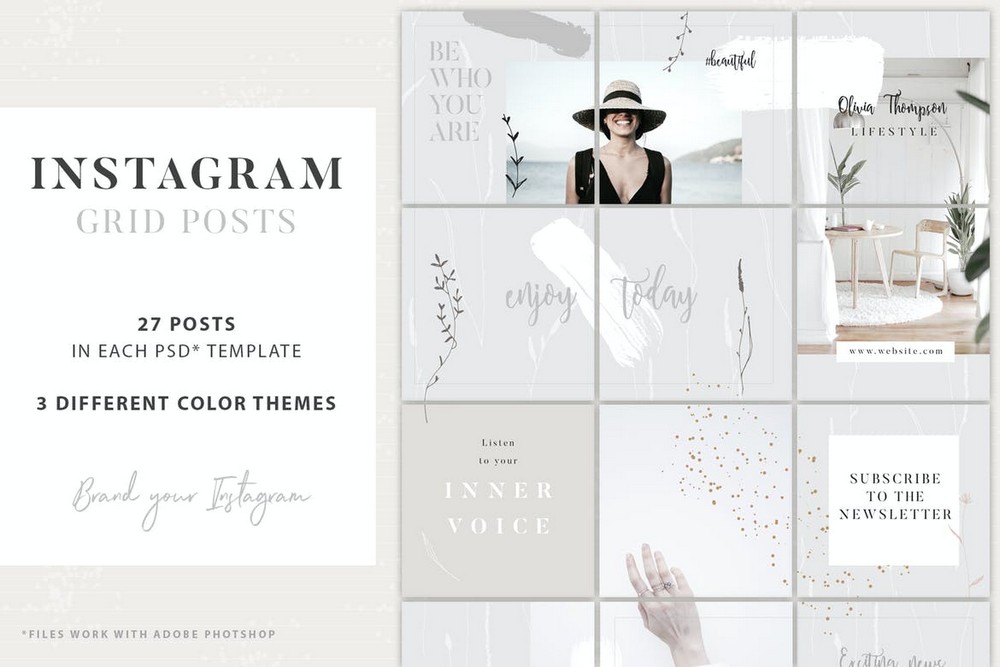 Promoting lifestyle brands and products on Instagram? Then this grid template is perfect for you. It features a very clean post design for creating a beautiful grid design while also showcasing your products at the same time. The template comes as customizable PSD files featuring 27 designs in 3 different color schemes.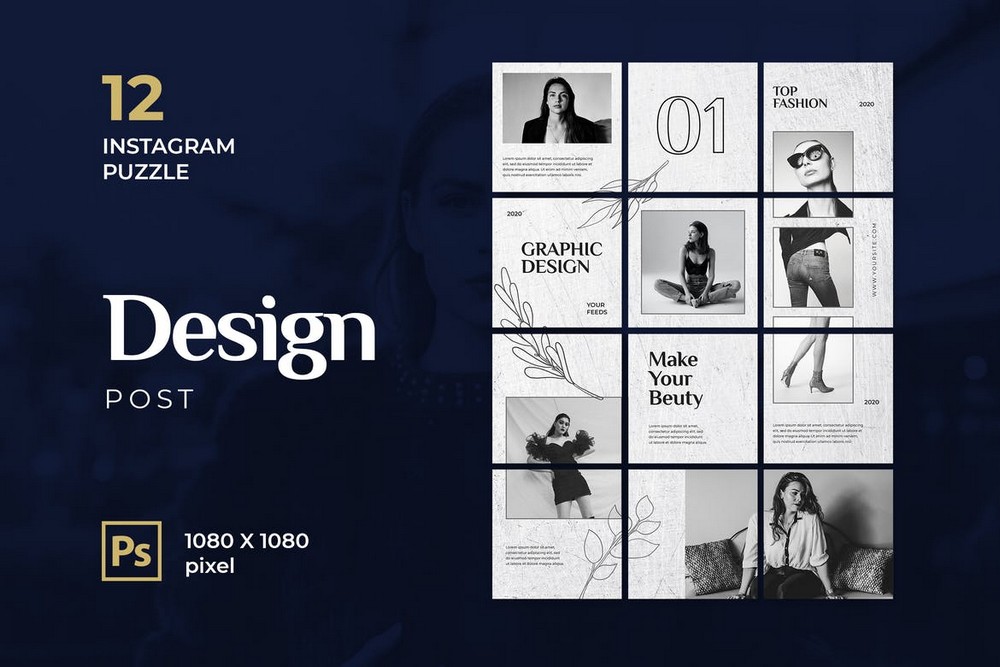 A modern fashion Instagram grid design featuring a minimal and clean design. It includes 15 customizable post designs that you can edit using Photoshop to replace images, colors, and text. The template also features vector shapes that can be resized without losing quality.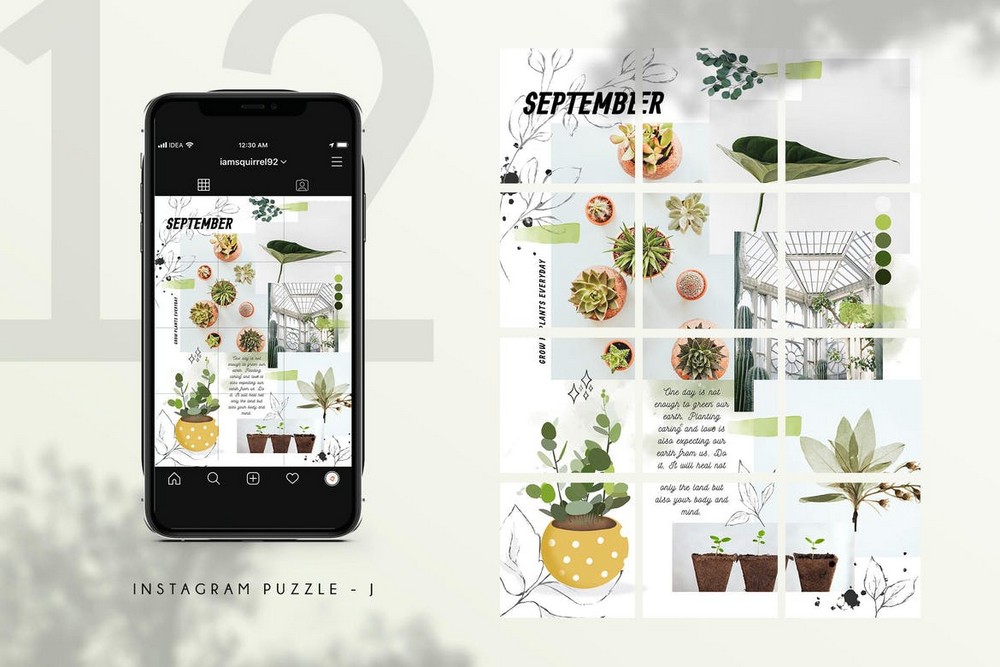 This creative Instagram puzzle grid design is most suitable for promoting nature and gardening businesses and brands. The template features a 12 post grid layout. It comes with a fully-layered PSD file to let you easily edit and customize it however you like.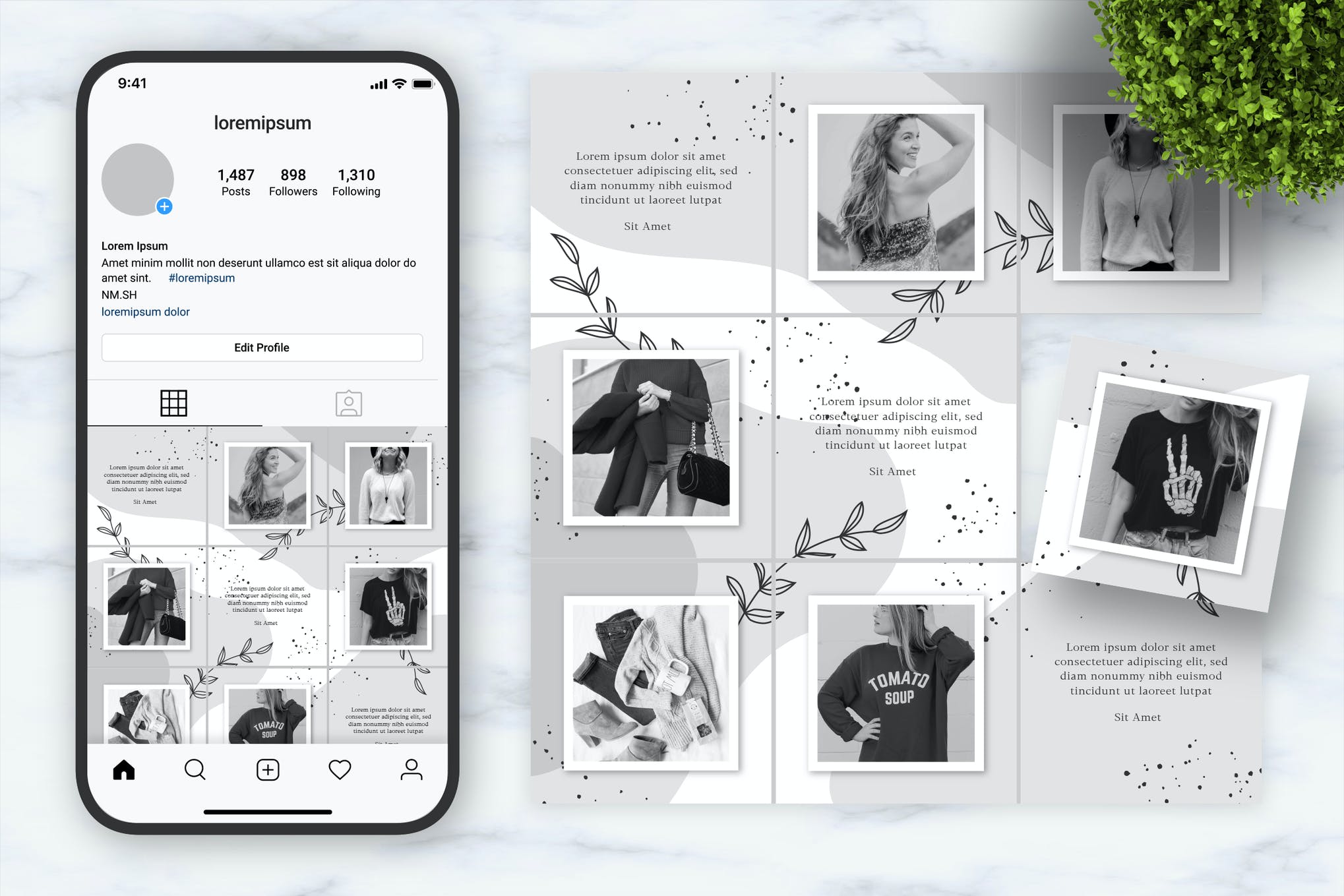 Here we have an aesthetically pleasing template for your Instagram page that's sure to grab the attention of your audience without you having to pay a hefty amount to a professional social media team. Yes, you heard us. You can customize this template very easily, and amp up your social media marketing game all by yourself.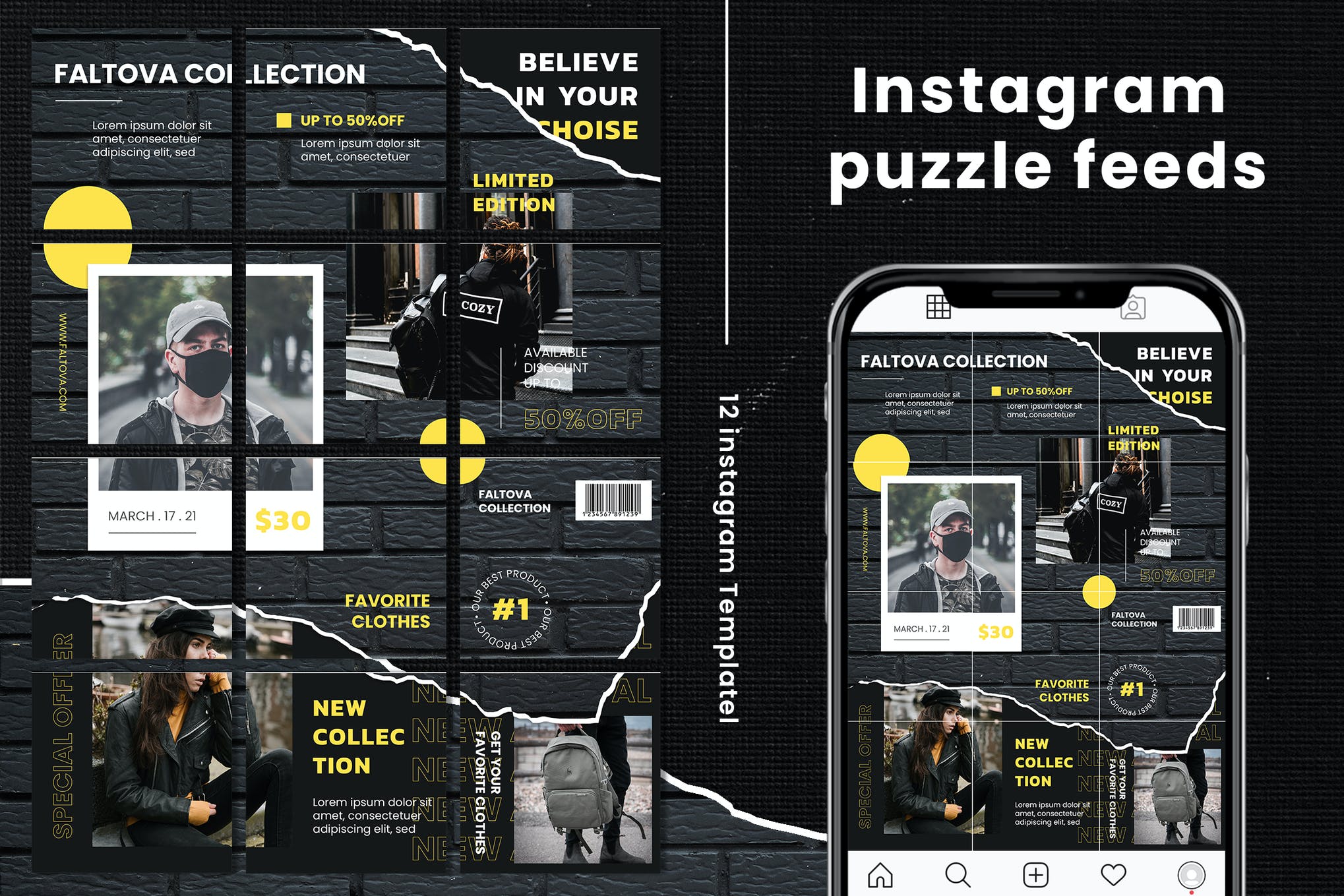 Faltova is a stunning template guaranteed to transform the look and feel of your Instagram page. It contains 12 grid-based Instagram posts, fully customizable in Adobe Photoshop. Get your hands on it right now!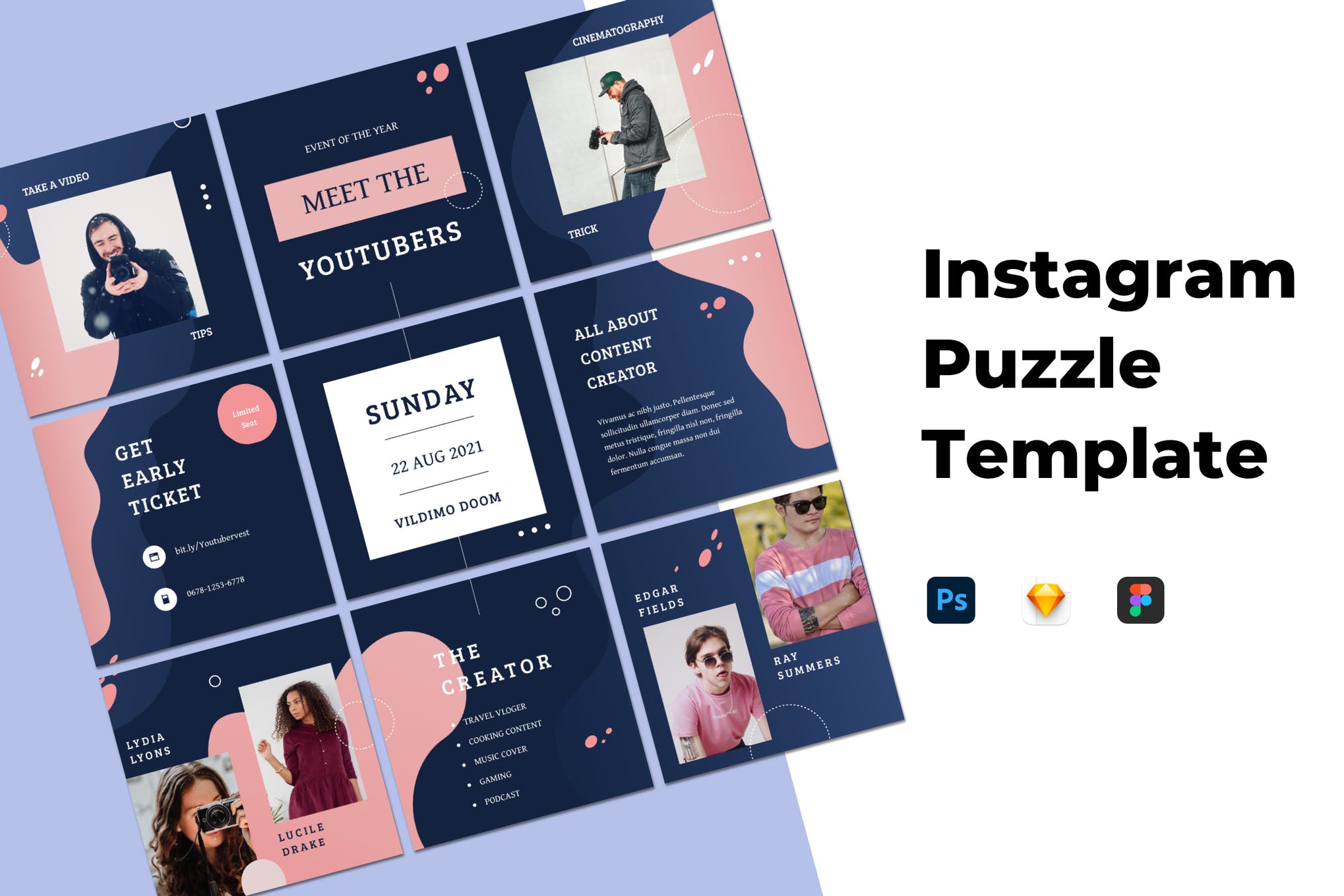 If you truly desire a stylish, and attention-grabbing Instagram feed, you should consider investing in this Photoshop template consisting of 9 grid-based post designs, vector-based shapes, smart object functionality, and editable text, and colors.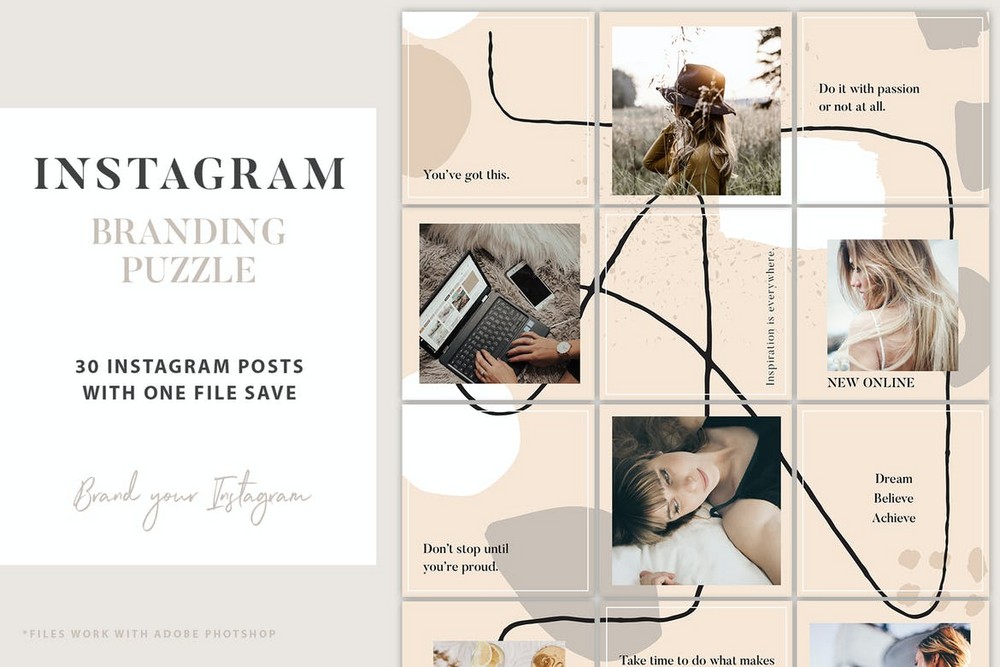 If you want to create a truly puzzle-like Instagram feed to give a mysterious look and feel to your profile, grab this template. It features a very unique design that connects all posts together. It includes 30 different post designs. Just make sure that you plan the posts ahead to avoid getting posts mixed up.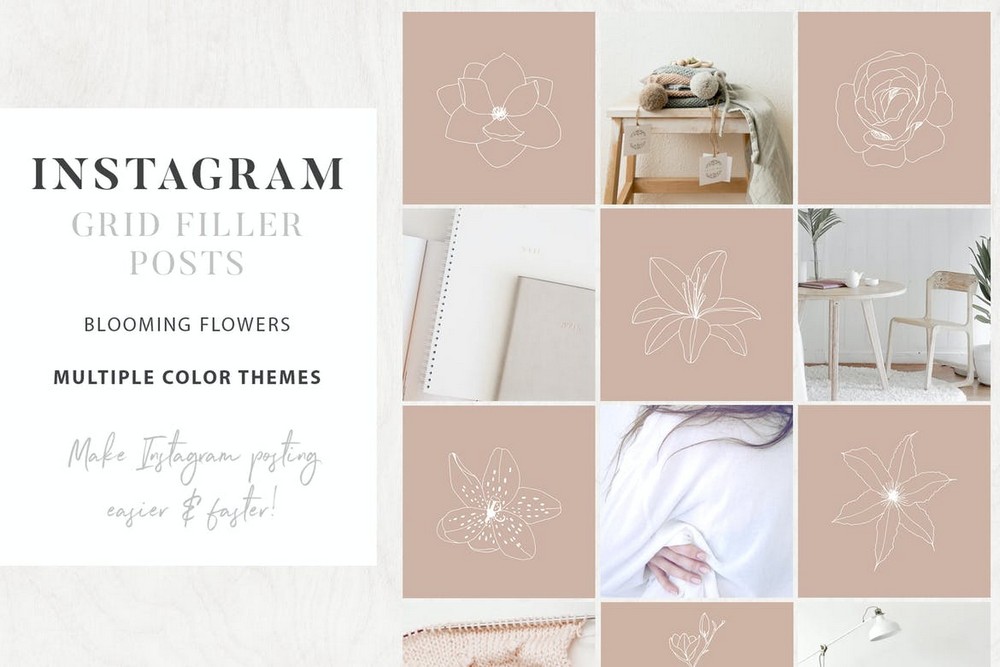 Featuring beautiful and minimal floral designs, this grid template allows you to create a simple post grid that's also easy on the eyes. It includes 20 PSD files and 100 JPG files, all properly sized for Instagram. It's great for promoting wedding and floral businesses.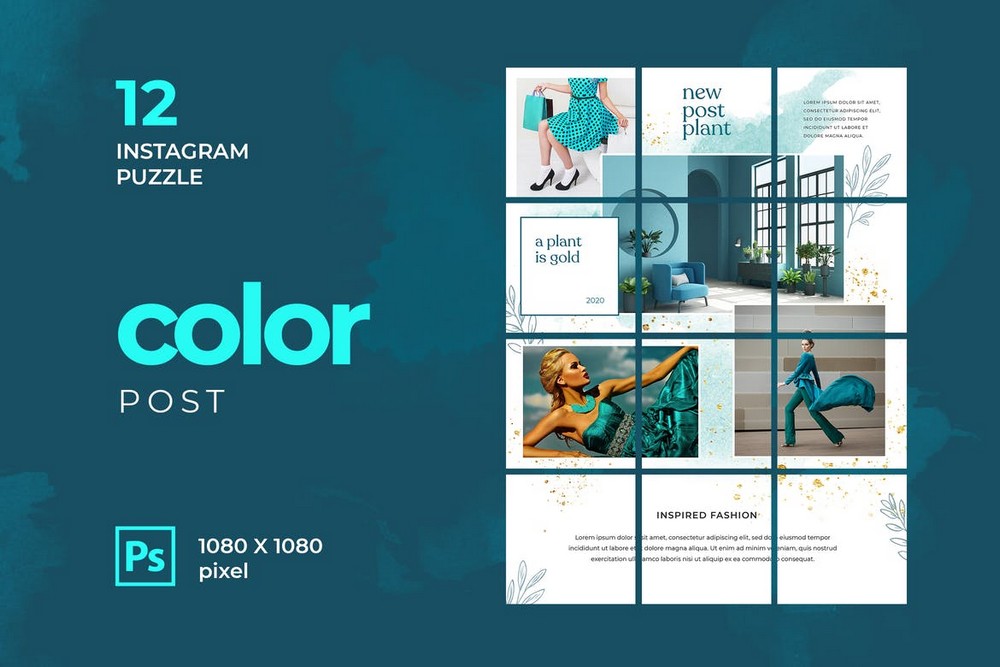 A creative Instagram grid template for promoting fashion brands and products. This template also has lots of space you can use to include written content alongside your product images. It will allow you to create an Instagram grid that offers a unique user experience.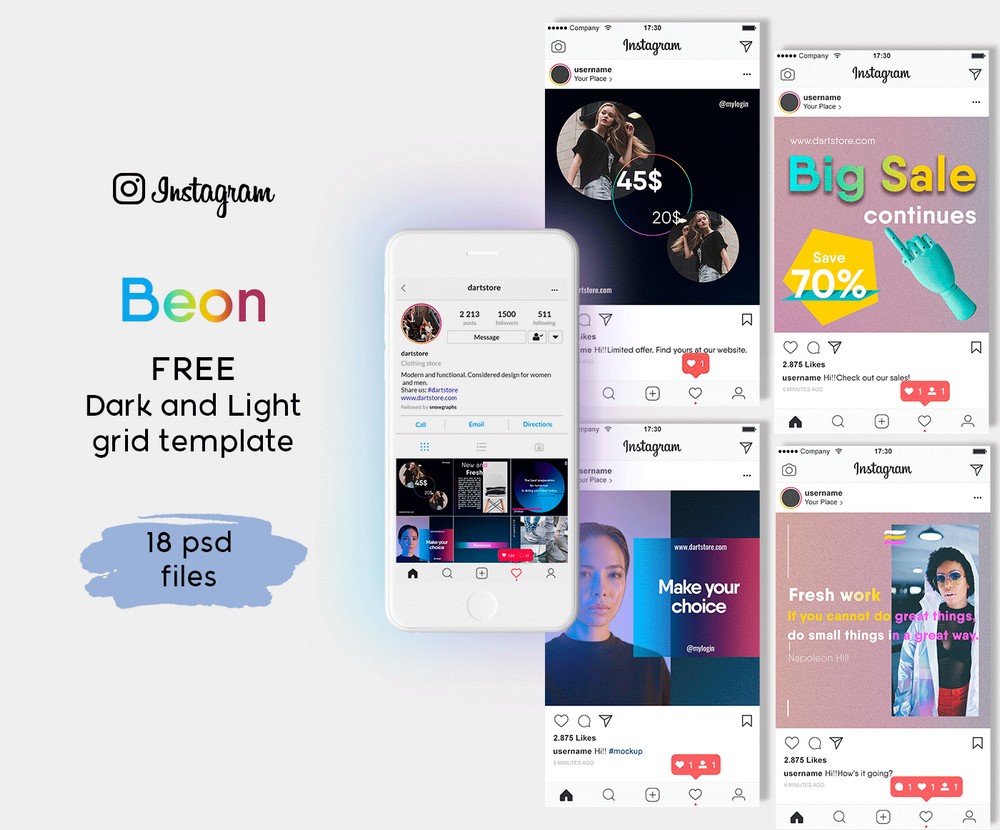 This free Instagram grid account comes with a modern design that can be used to promote businesses and products. The template is also available in both light and dark color themes. It includes 18 different editable PSDs.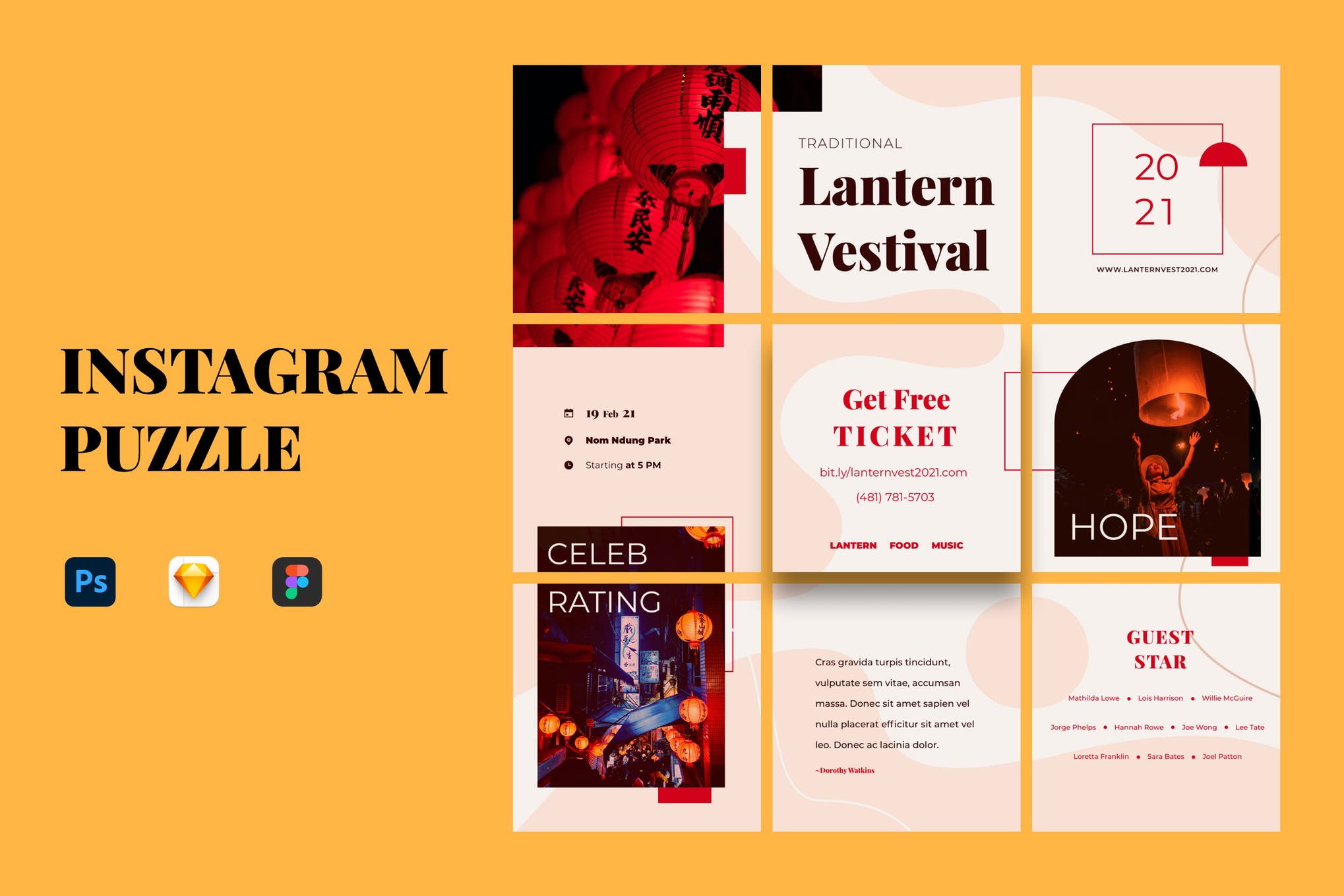 If you find your Instagram page boring and dull, this insanely gorgeous puzzle feed is sure to excite you. It offers 9 Instagram puzzle post designs, fully editable in Adobe Photoshop, Figma, and Sketch. An outstanding template worth trying out!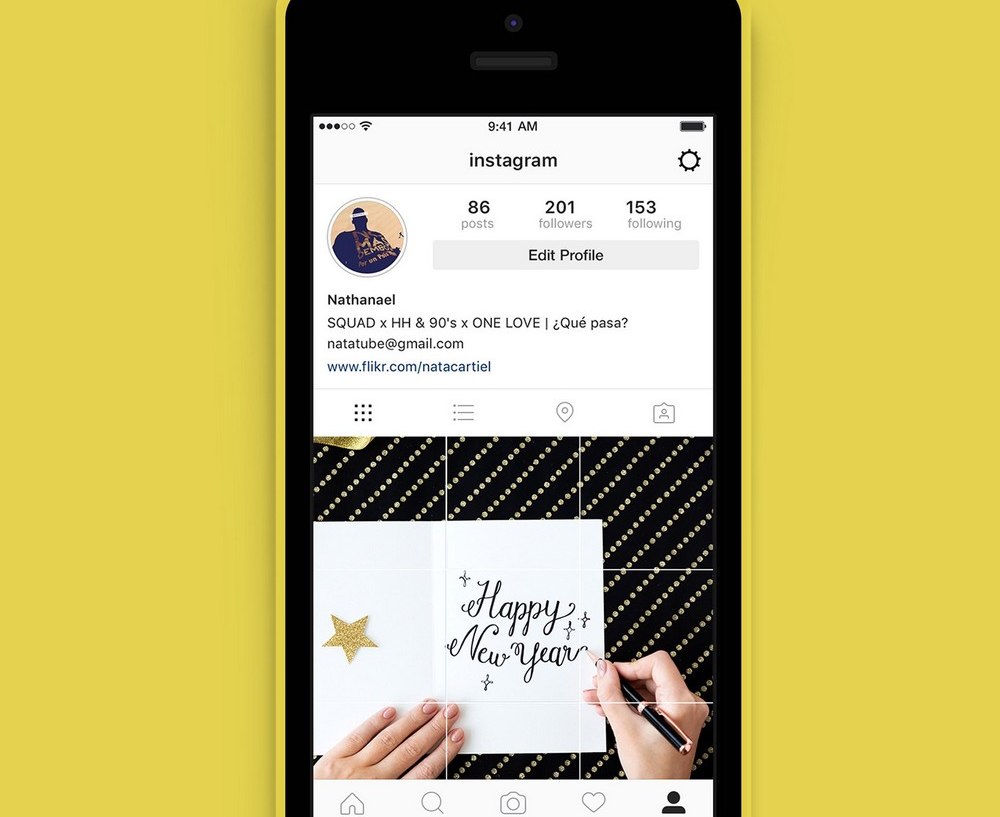 This is a simple and very basic Instagram grid template. It's ideal for creating a welcome grid for personal accounts. The template can be easily customized to change the text and colors to your preference.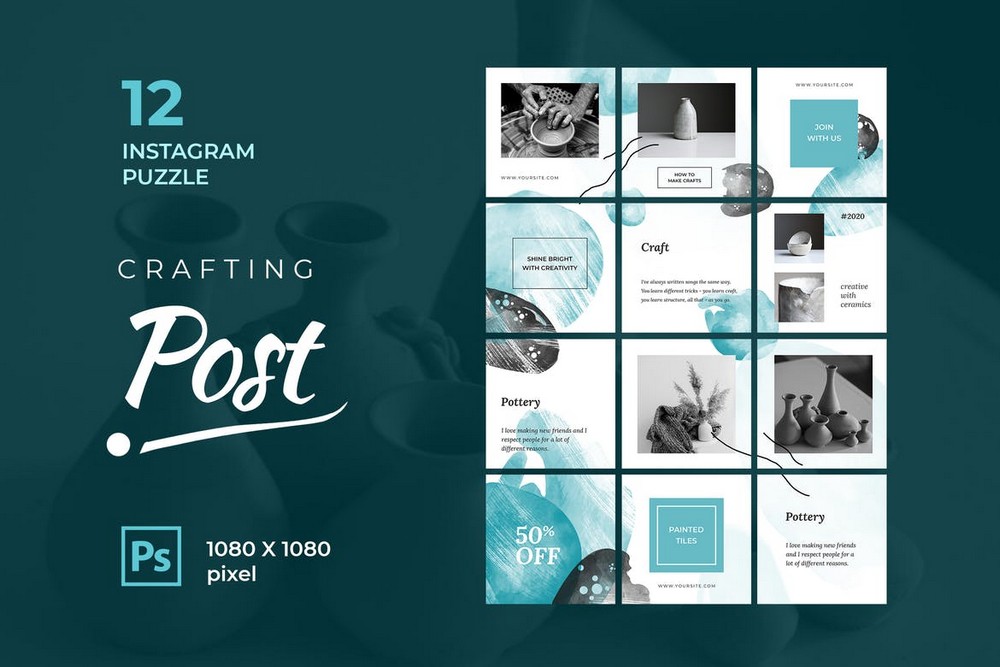 A beautiful Instagram grid template you can use to craft puzzles and grid posts for promoting handcrafted art. This template comes as a fully-layered PSD file featuring 12 post slices. You can easily customize it using Photoshop.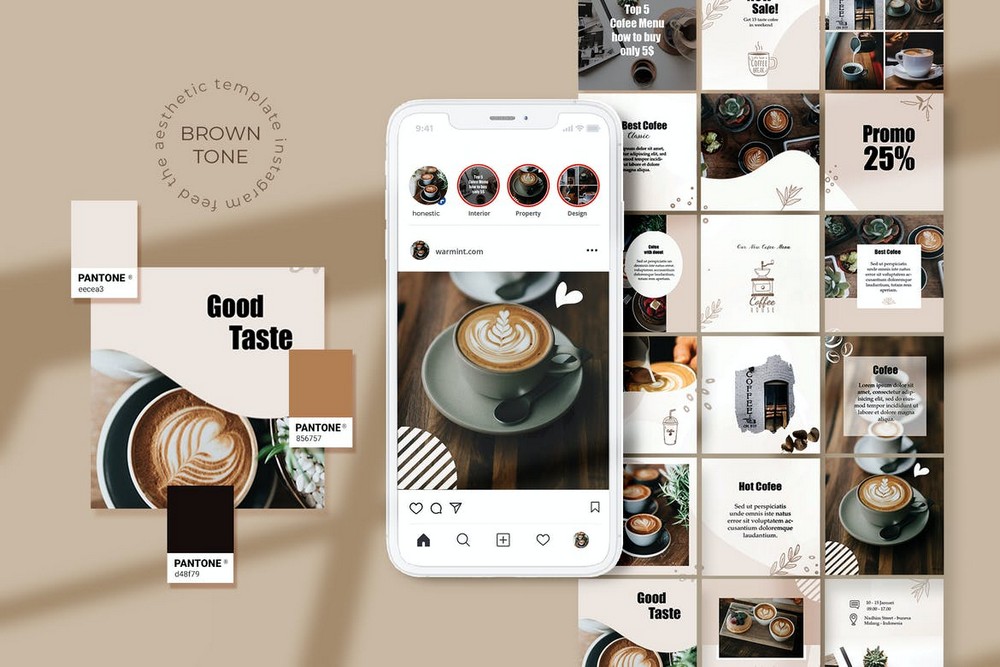 Use this grid template kit to promote your coffee shops in style. It includes 18 unique post designs you can use to create modern and attractive post grids on Instagram. The template features smart objects for easily replacing the images and it's compatible with Photoshop CC 2015 and higher.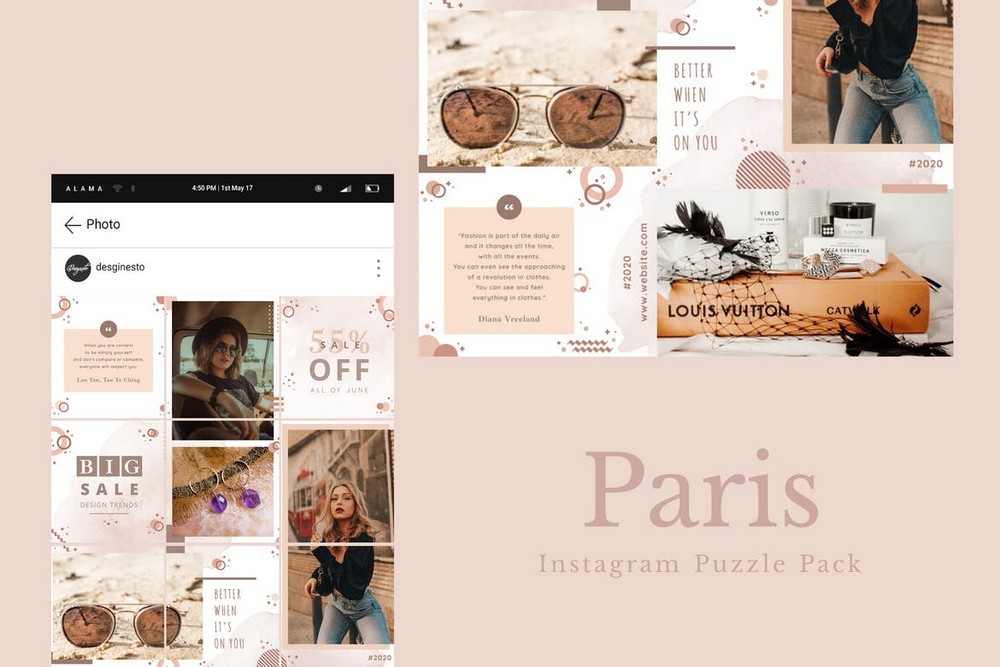 If you run an elegant fashion-themed Instagram account, this grid template will allow you to create an attractive puzzle grid to make your profile stand out from the crowd. The template comes as a fully customizable PSD file and it includes 12 post slices. You can edit each post to change colors, text, fonts, and more.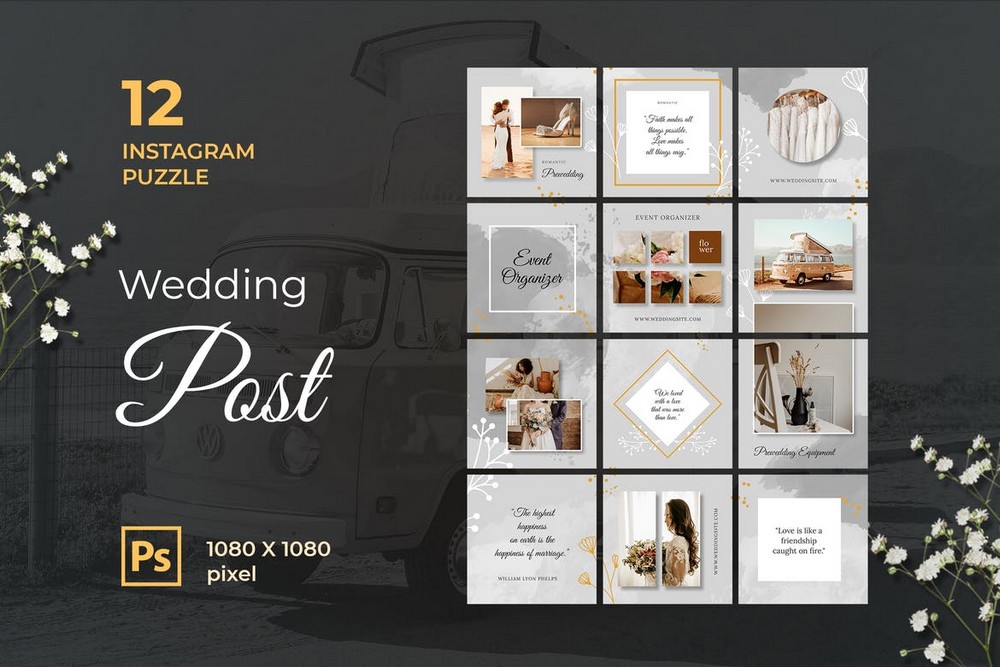 Wedding photography is quite popular on Instagram. Not just photography but wedding planners, designers, and many other also use the platform to promote their services. This is a great grid template for those folks. It features a simple 12-post grid layout you can use to showcase your work in a trendy way.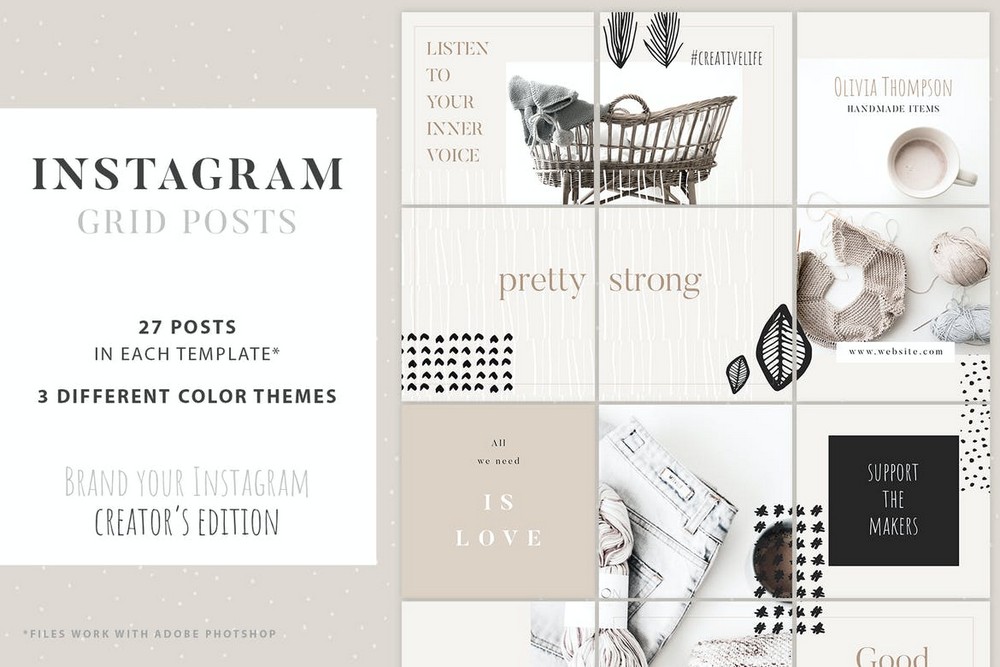 If you're an artist or someone who creates unique arts and crafts, this template will allow you to win over your audience by showing off your designs. The template includes 27 different post designs you can mix and match to create multiple post grids. Each design is also available in 3 different colors. These are perfect for promoting your crafts on Instagram.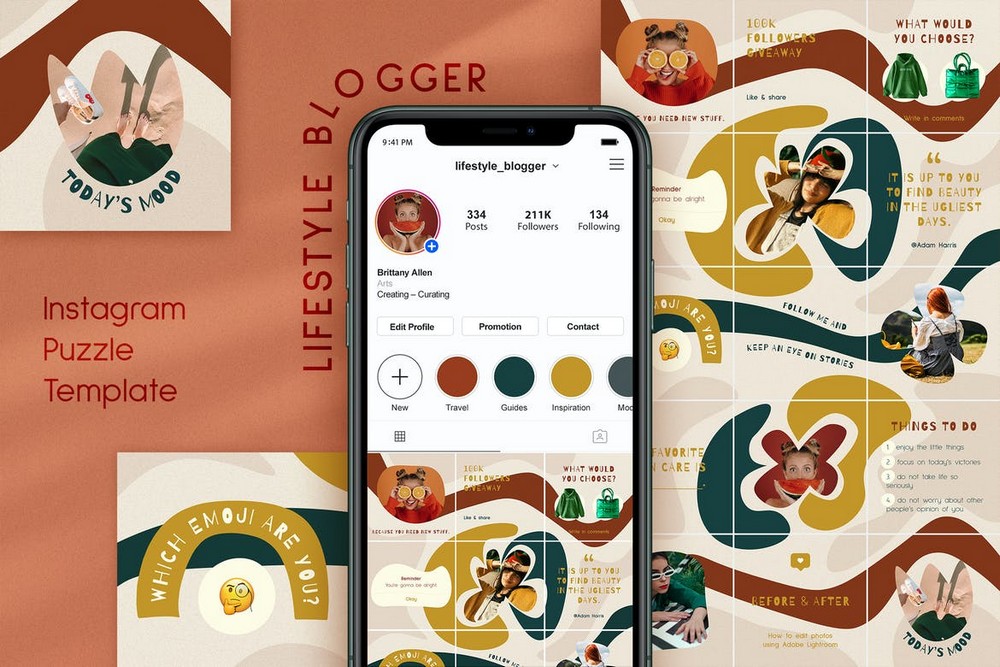 Want to make your lifestyle Instagram account look more creative and unique? Then this template will help you get the job done. It features a colorful and an attractive design that will wow your followers. You can edit and customize it however you like to change colors, images, and text as well.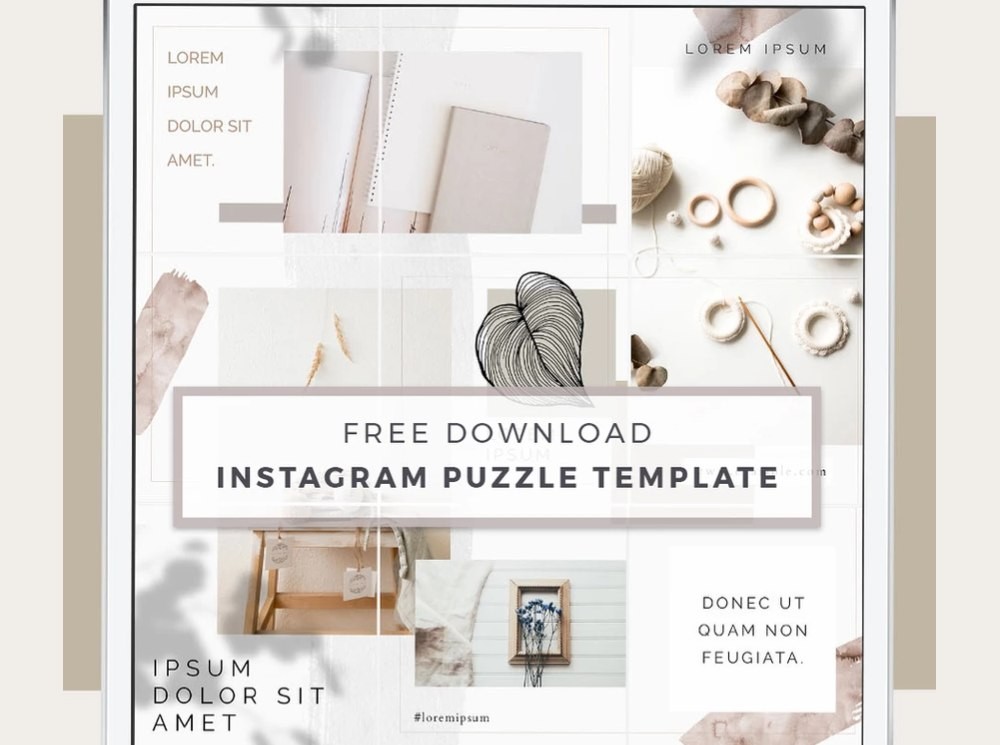 Aura is a beautiful and free Instagram puzzle template you can easily customize to create your own unique grids. The template has a multipurpose design. It's great for promoting travel and nature posts as well as many others.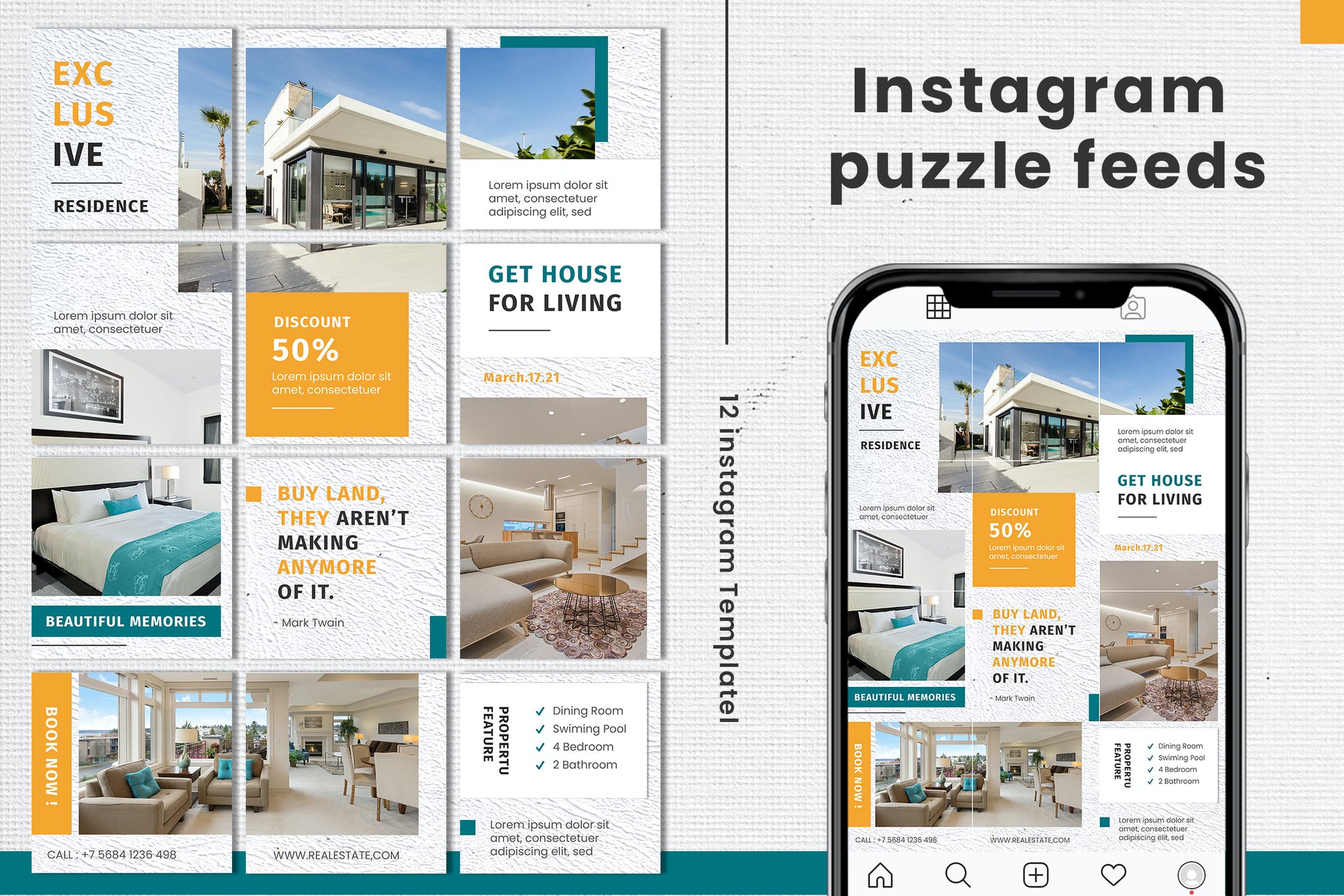 This Instagram template containing 12 square posts is an excellent choice for businesses looking to stand out from the pack. The layout is suitable for a wide range of businesses ranging from real estate to fashion and is very easy to use, and edit.
<a href="https://elements.envato.com/photo-looks-instagram-post-C2A3RK9″Instagram Grid Template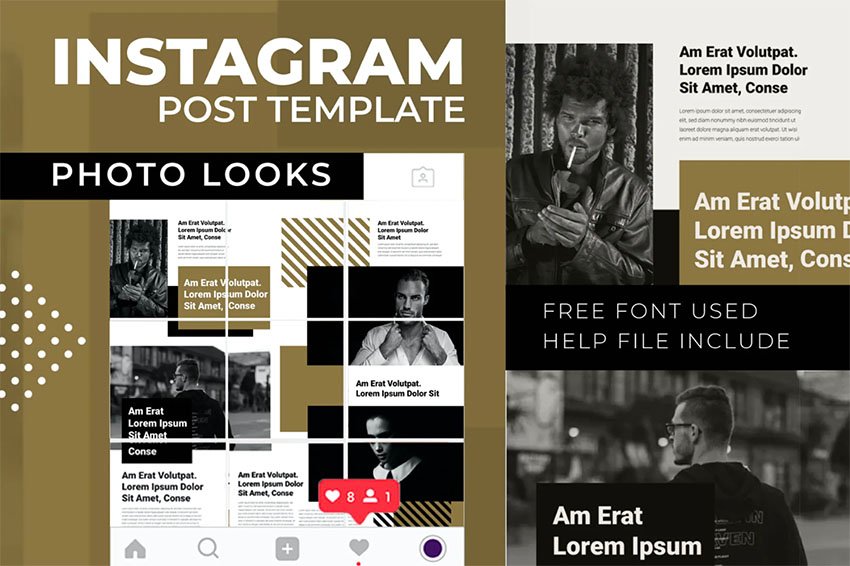 This Instagram photo grid template is ideal for both personal and business posts. It contains one Illustrator and one Photoshop file. Both are fully editable so that you can change the colors and text, and of course, add your own photos.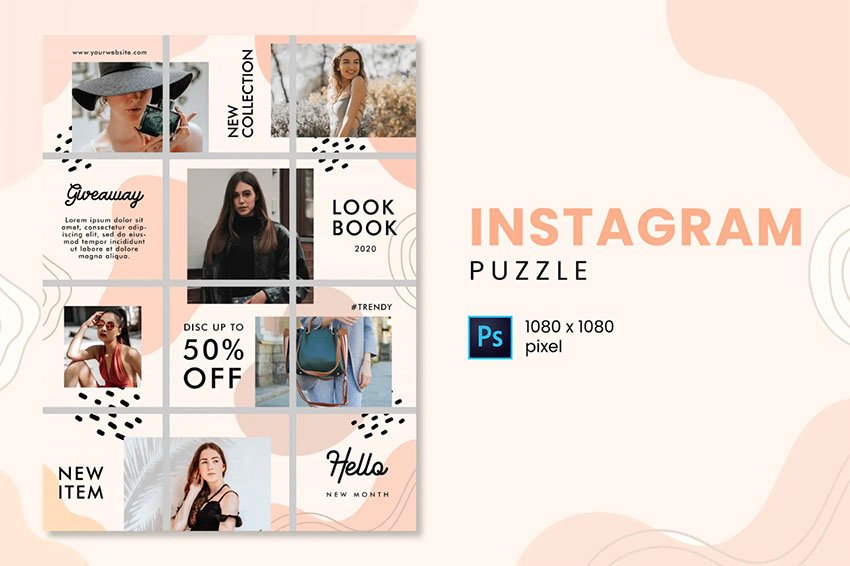 Want to make your Instagram Feed look truly creative and distinct? Then check out this Instagram grid puzzle template. The template contains 12 pieces, as seen in the image above. Well-organized in fully layered Photoshop files, each piece is fully customizable via smart objects and editable text. A great template to have some fun with.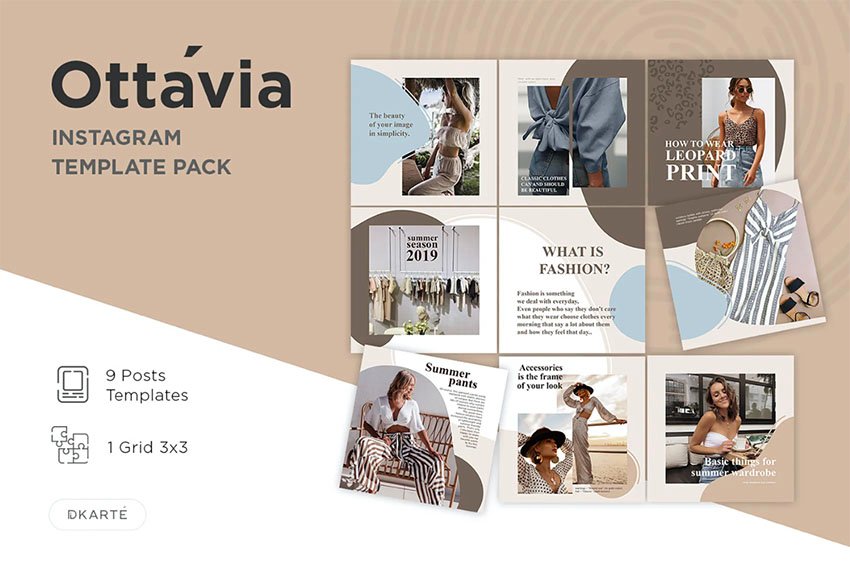 This Instagram grid puzzle template is another awesome template. It offers nine unique posts that can stand on their own as well as together in a specific order. You can replace both images and text, so have fun creating a beautiful and engaging feed.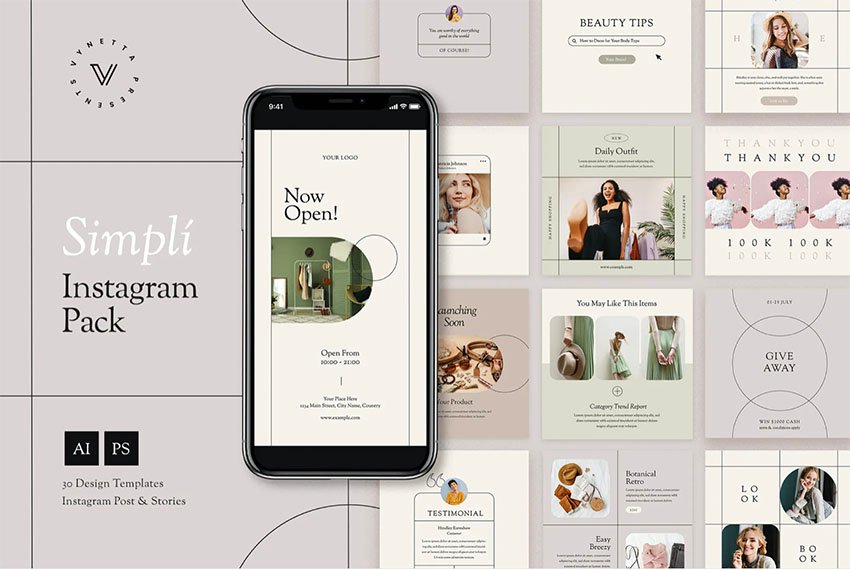 Simplí offers 30 beautiful layouts in both Illustrator and Photoshop for your posts and stories to make your Instagram feed truly stand out. All files are neatly organised and fully editable, so that you can change the fonts and colours easily and replace the placeholder images by double-clicking.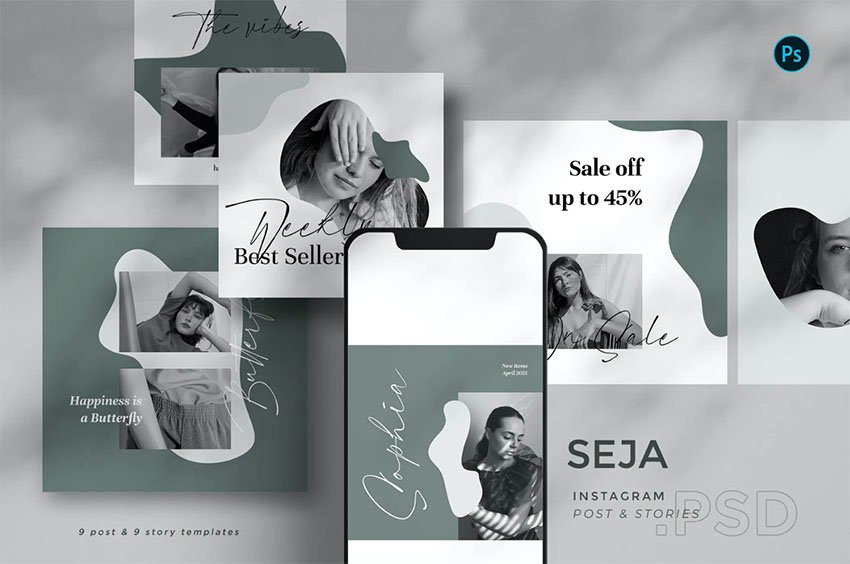 This beautiful collection contains 12 terrific Instagram post and 12 Instagram story templates that can be customised in Photoshop to show off your content to its best advantage.