50+ Best Instagram Templates (Post, Story & Profile) 2023
In this day and age, businesses simply can't survive without good social media engagement. There's even entire career paths built around social media, and people around the world who earn a living solely through their social network channels! But if you're already trying to run a business, how are you meant to find the time to create meaningful and appealing content?
Fear not – there are countless Instagram templates for effective and engaging profiles, posts, and stories available, and we've saved you even more time by finding the best ones! From specific businesses such as gyms and coffee shops to general content templates that can be customized to fit literally any kind of profile, there's a range of options that are sure to suit you.
Get everything you need to supercharge your Instagram profile and social presence. From just $16, get unlimited access to thousands of Instagram templates, icons, and layouts, as well as Photoshop actions, Lightroom presets, and more.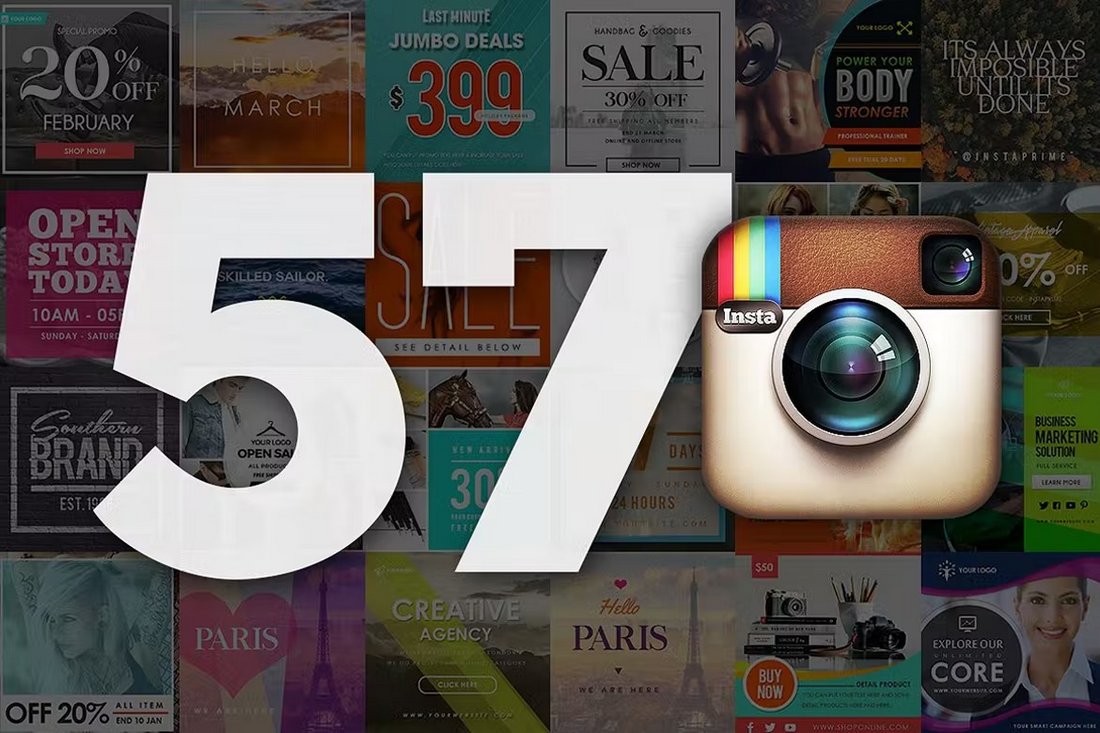 With 57 different Instagram post templates to choose from in this bundle, you will never run out of different ways to promote your brand on social media. There are many different types of template designs in this pack for various businesses. All are available in PSD format.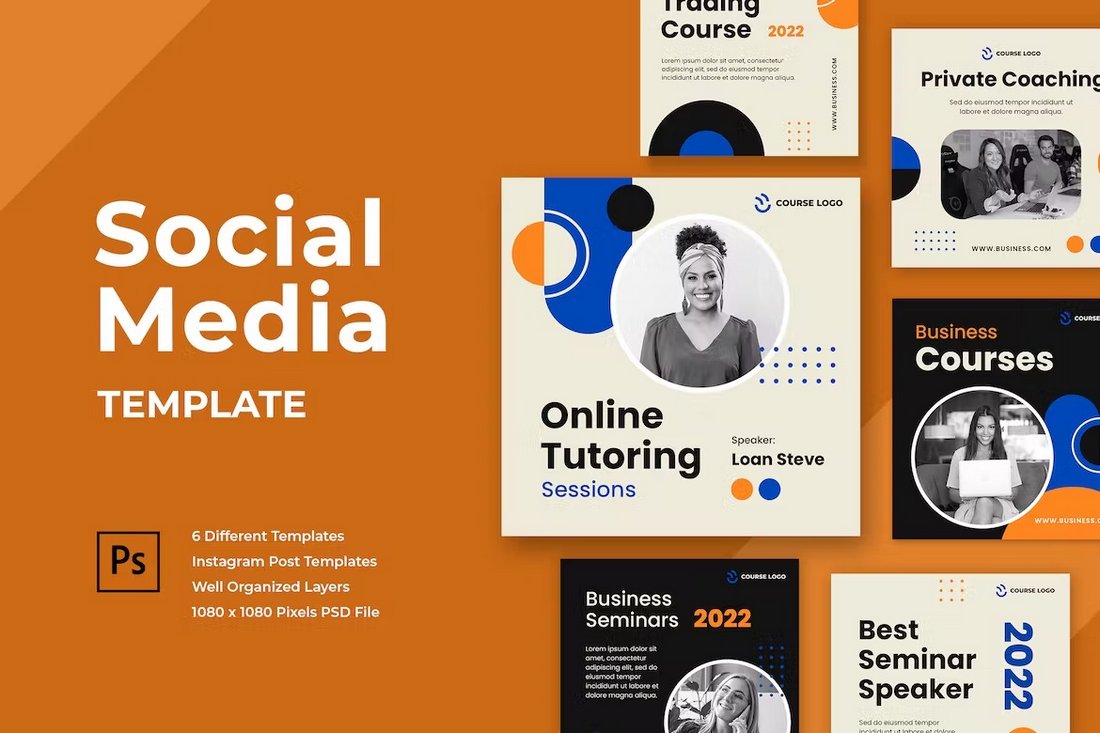 This Instagram template kit includes 6 modern and beautiful post layouts for promoting small businesses, agencies, and brands. The templates have creative layouts filled with colorful shapes that you can easily customize to your preference.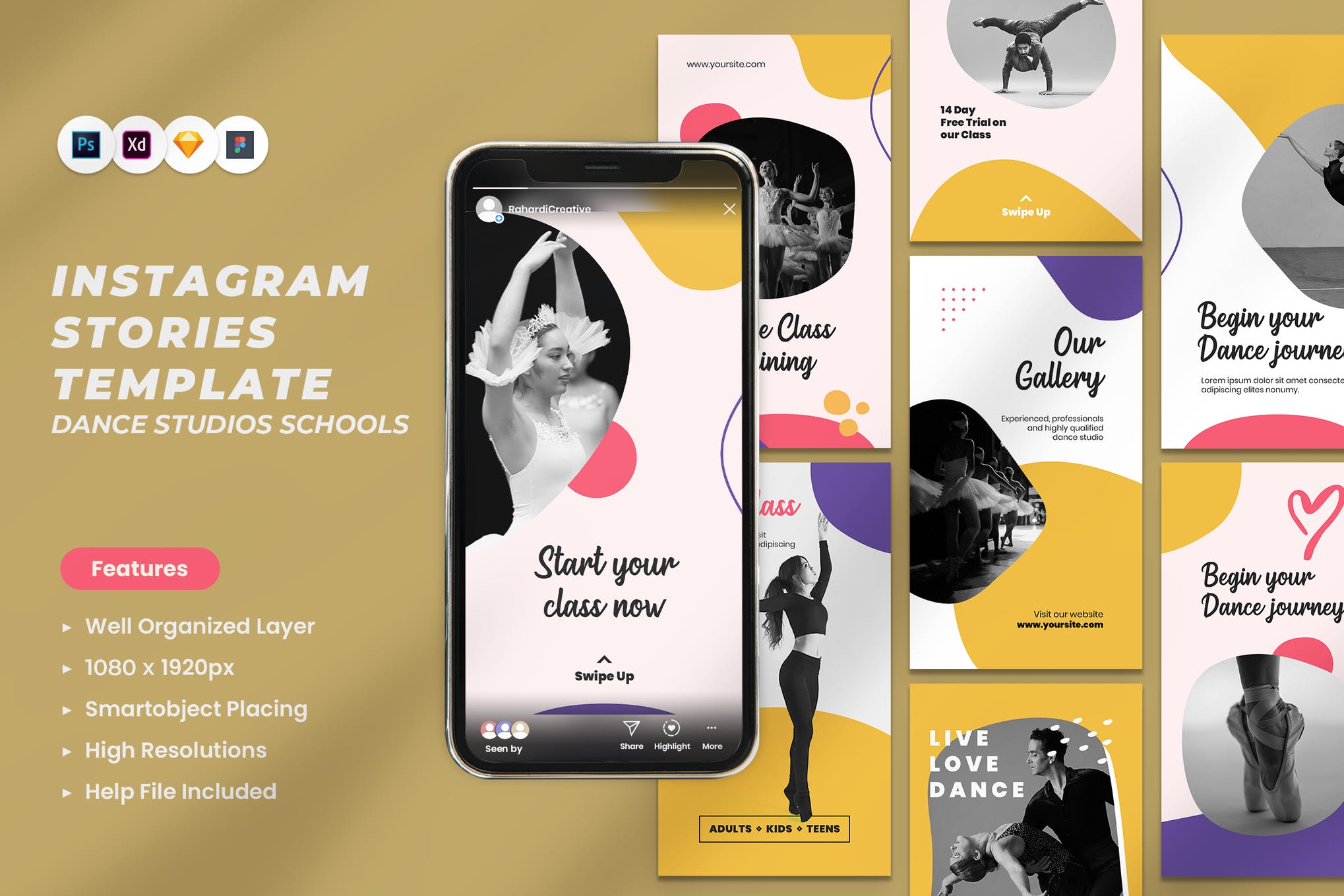 Whether you are a designer, blogger, or entrepreneur, this gorgeous Instagram story template will impress your audience and up your social media marketing game. The pack includes 9 minimal and eye-catching designs.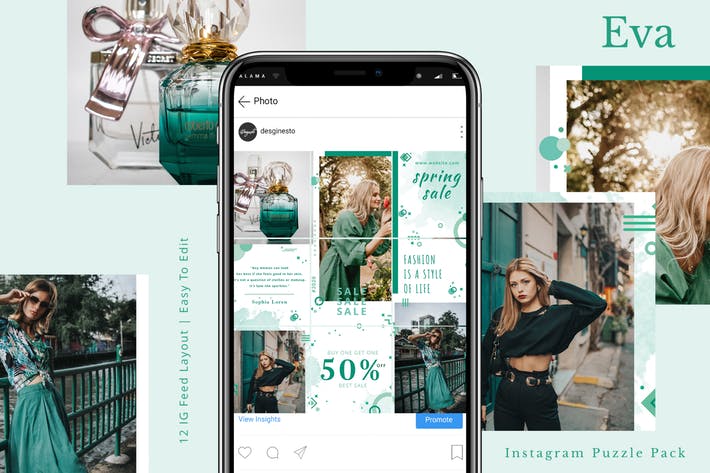 The Eva Instagram profile template is a beautiful, puzzle-style set of post templates designed to add a sense of style and cohesion to your Instagram feed. Each file is fully customizable and compatible with Adobe Photoshop and incorporates smart objects, vector shapes, and full layering for a high-quality finish.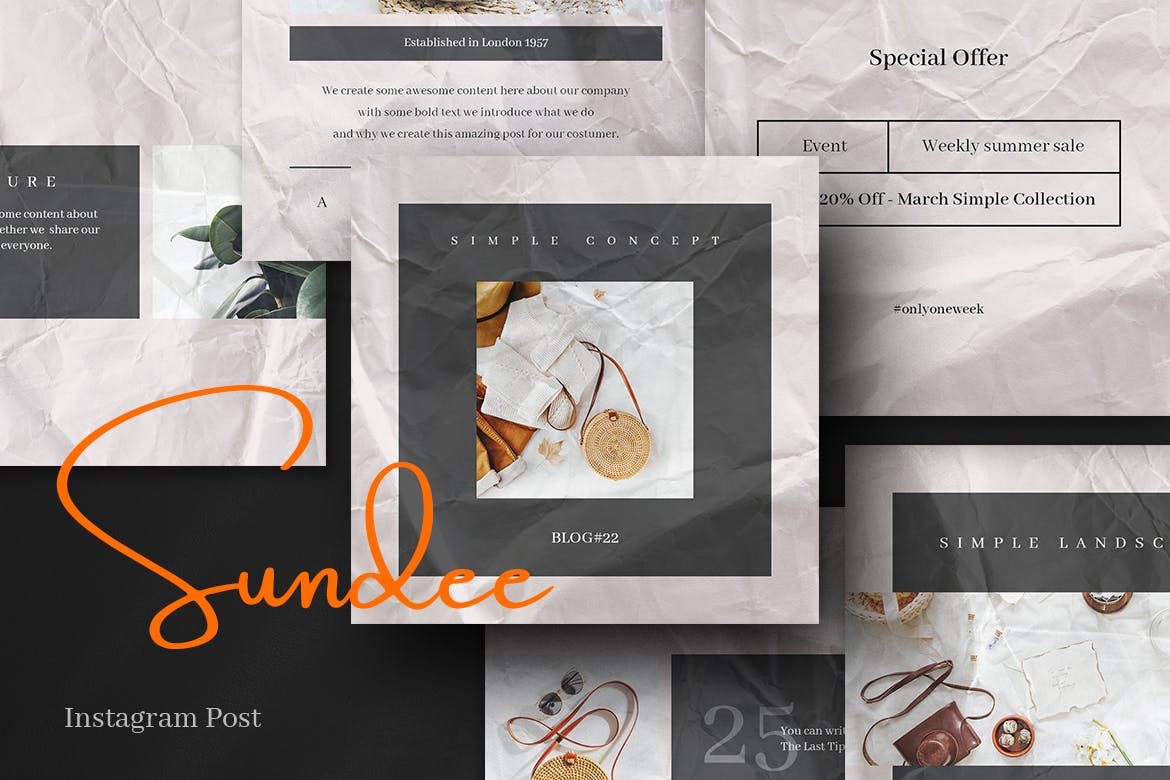 This bundle of six creative Instagram post templates will save you heaps of time in creating catchy and engaging content to help grow your follower base and connect with your audience. It includes free fonts, smart objects, and vector shapes, and the design features bold and thin typography and beautiful solid colors.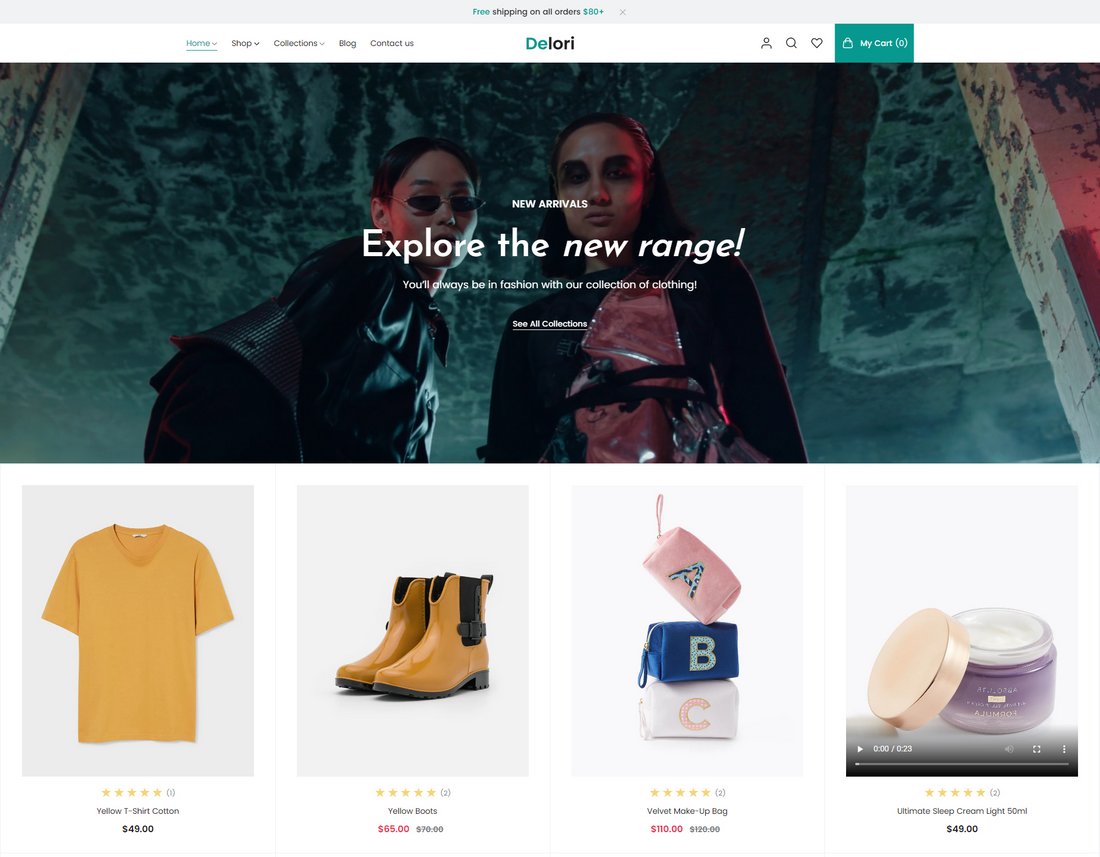 If you want to monetize your Instagram account, one of the best ways to do that is to start an online store to sell your own products to your followers. Even Kylie Jenner started her empire on Shopify with her first online shop.
So even though this is not an Instagram template, we wanted to feature this Shopify theme here to help you start your own Instagram store without an effort.
With the Delori Shopify theme, you can easily setup a fashion store on Shopify to sell products directly to your Instagram followers. It includes 7 pre-made homepage designs, lookbook layouts, a mega menu, compatibility with the Shopify visual builder, and much more.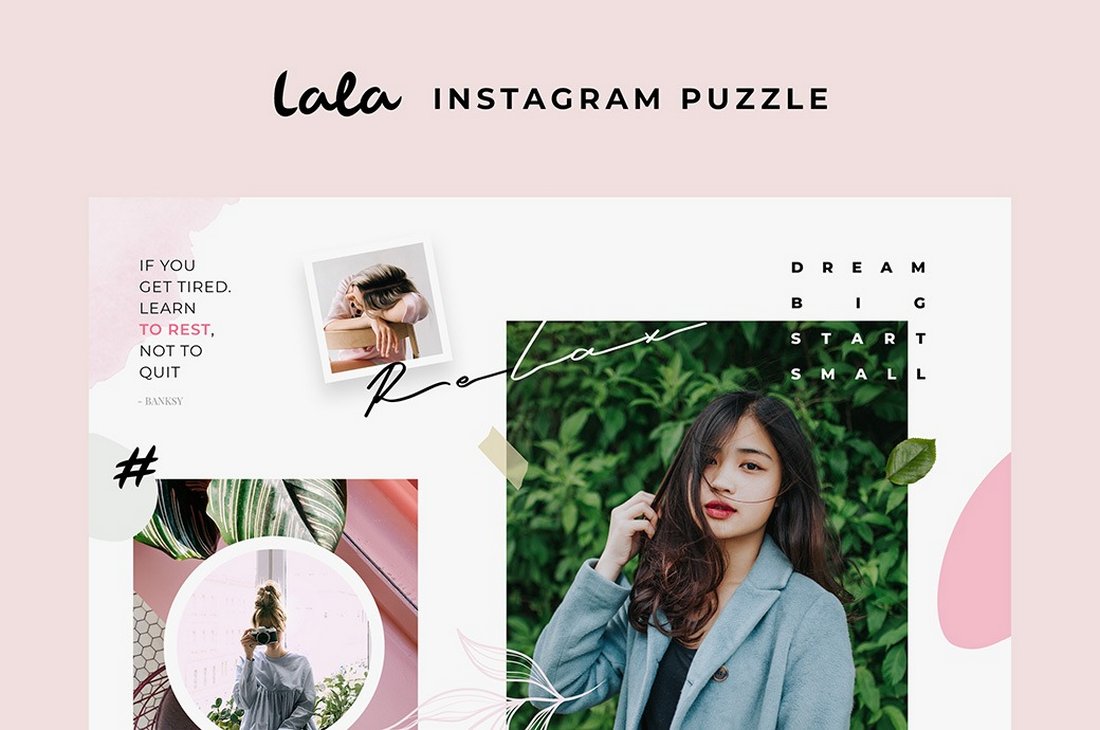 This is an Instagram puzzle feed template that you can download and use for free. It has a beautiful design that will turn your Instagram profile into a stylish mood board. There are 27 different posts in the template with easily editable designs.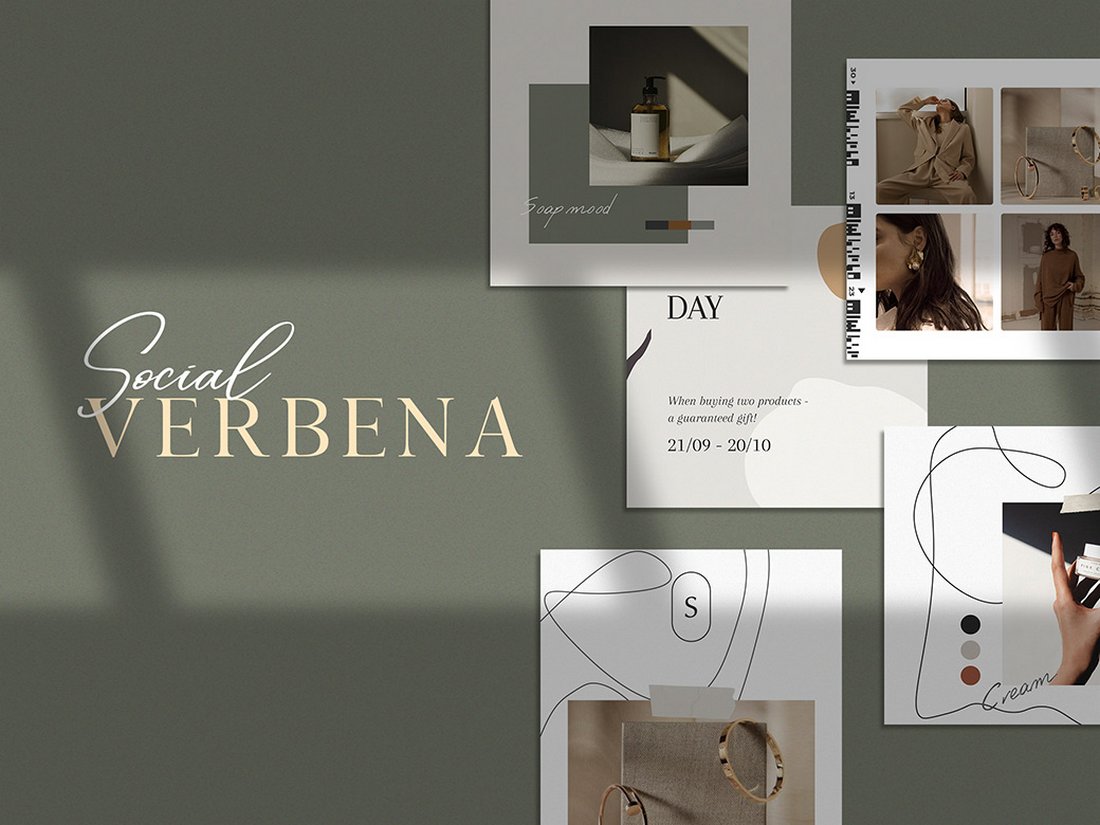 Verbena is another free Instagram post template pack that includes elegant designs for promoting fashion brands. There are 18 Instagram stories and 18 post layouts included in the bundle.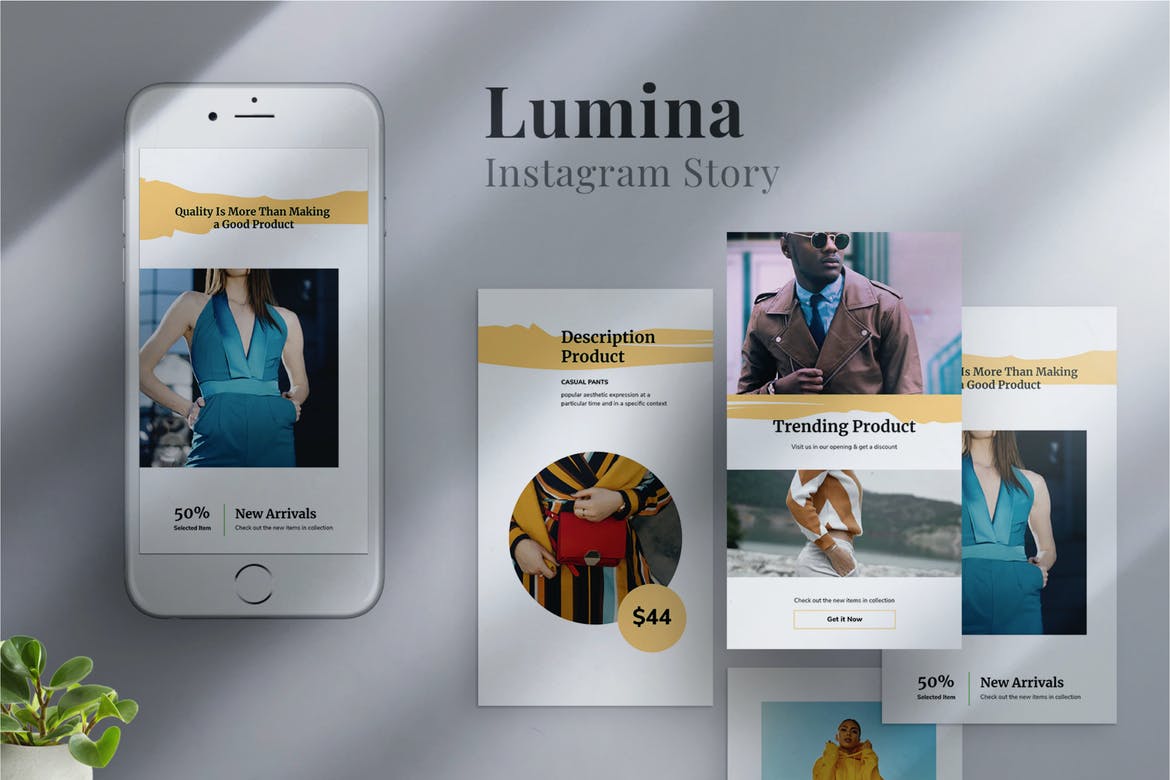 Lumina is a modern and versatile collection of six Instagram story templates that are ideal for any business or influencer account, or even for use with your own personal social media. Designed natively for Instagram, each template features fully editable text, colors, and graphic elements.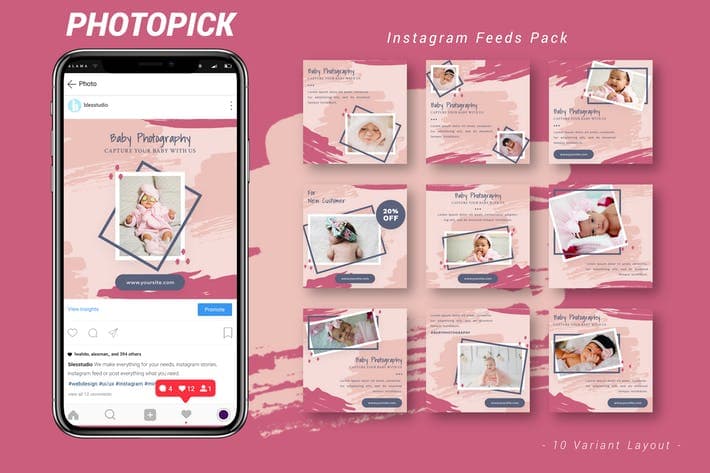 Photopick is a bright, colorful set of Instagram post templates that are fully customizable using Photoshop, and feature fully layered elements, vector based shapes, smart object image placement, and editable fonts and colors. It's a particularly good option for small businesses and creative professionals that want to make an impact!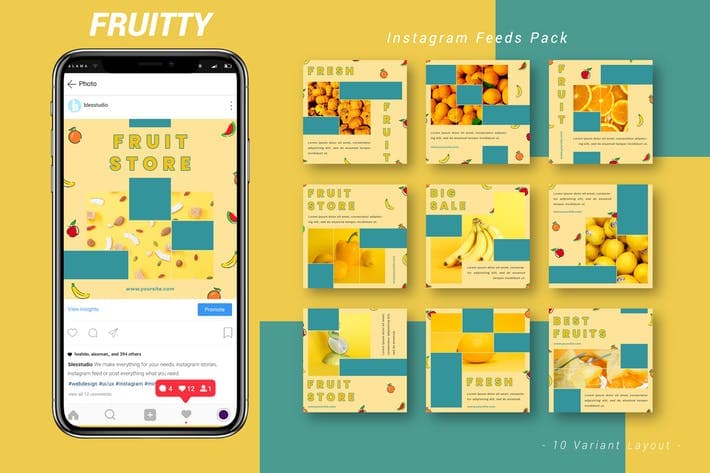 Another fun, colorful option, the Fruitty Instagram post template package, includes a range of ready-to-use post layouts featuring bold fonts, eye-catching hues, and state-of-the-art graphics such as smart objects and vector shapes for seamless editing. It's also fully layered and well organized and comes with supporting documentation.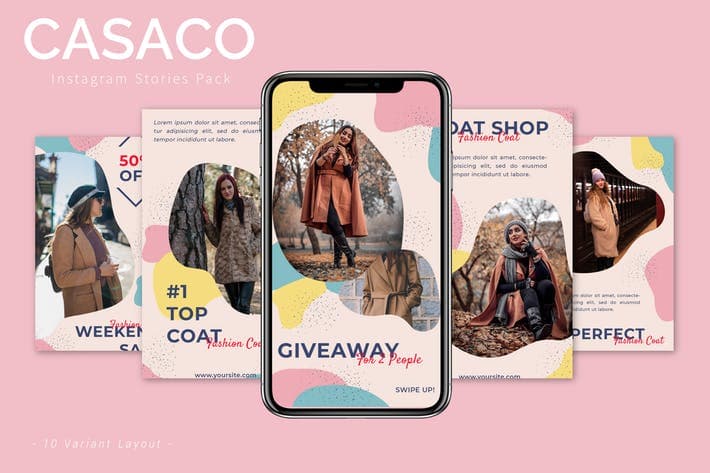 The Casaco is a modern, pastel-hued set of Instagram story templates that's ideal for an ice cream or candy shop, but also for anyone who has a sweet tooth and favors these delicate, fun colors and simple, stylish layouts. All shapes are vector-based, and images can be edited using smart objects.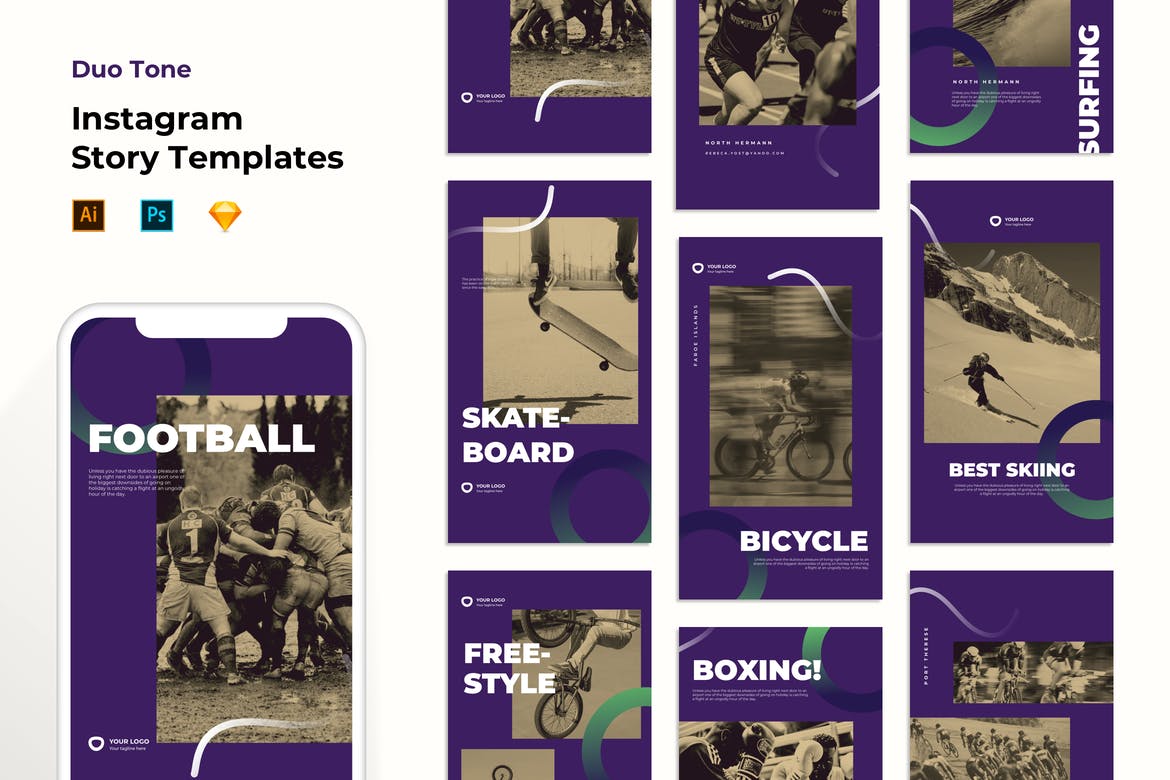 Next up we have this set of nine duo tone sports-themed Instagram story templates with well-organized layers, high-quality vector-based shapes, and easy image placement through smart object functionality, plus fully customizable text and colors.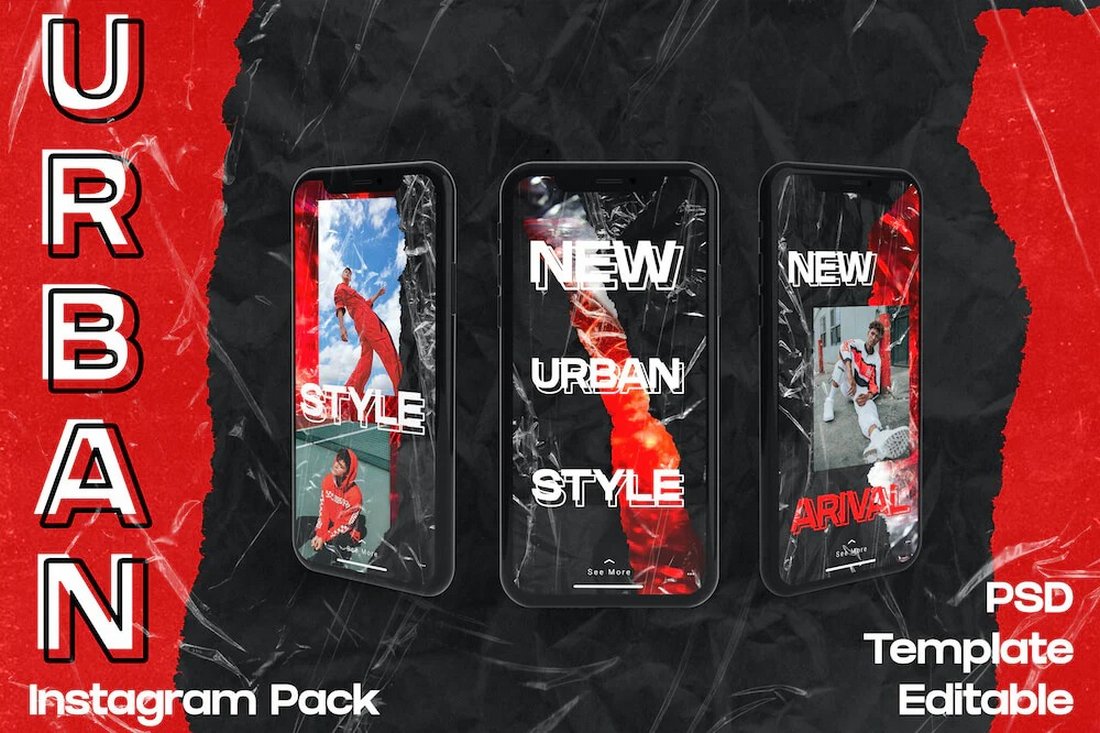 Looking for an affordable template to promote your urban clothing and fashion brand on Instagram? Then grab this Instagram story template kit for free. The templates are easily customizable.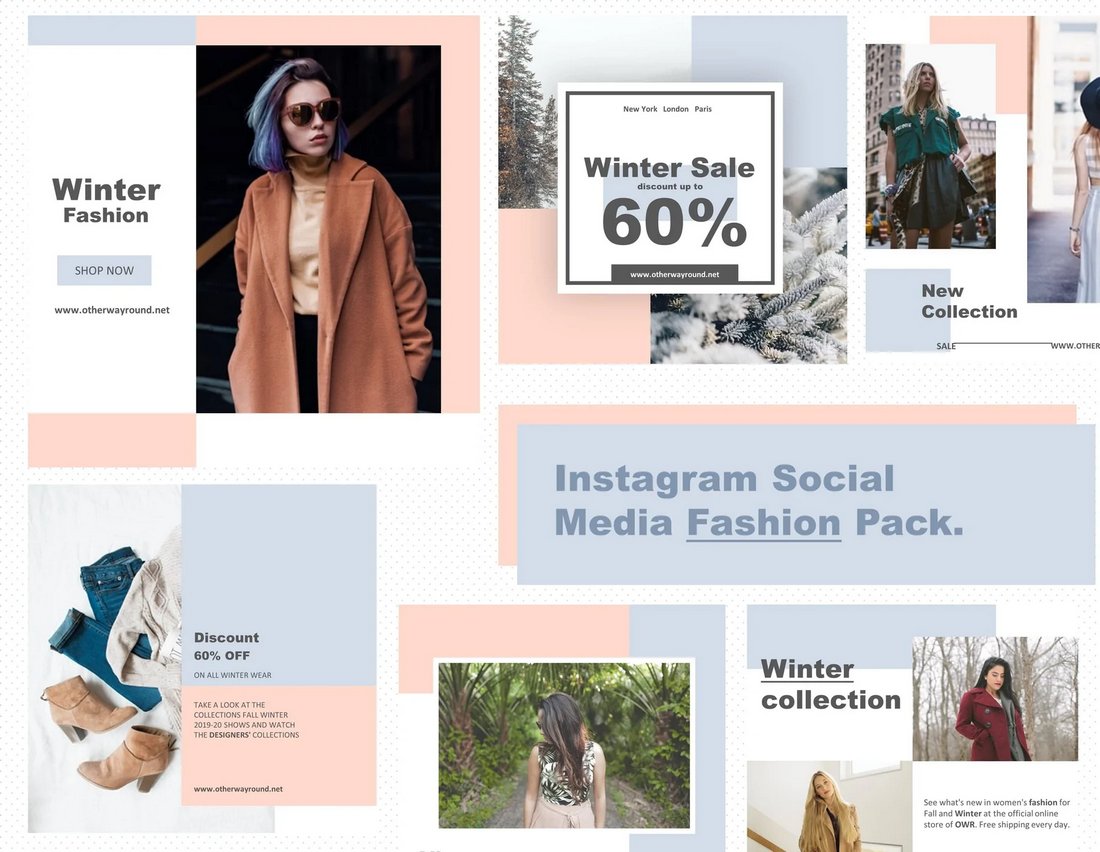 There are 10 Instagram post templates in this bundle and they are all free to download. These templates are especially suitable for promoting fashion brands and eCommerce shops on the social media platform.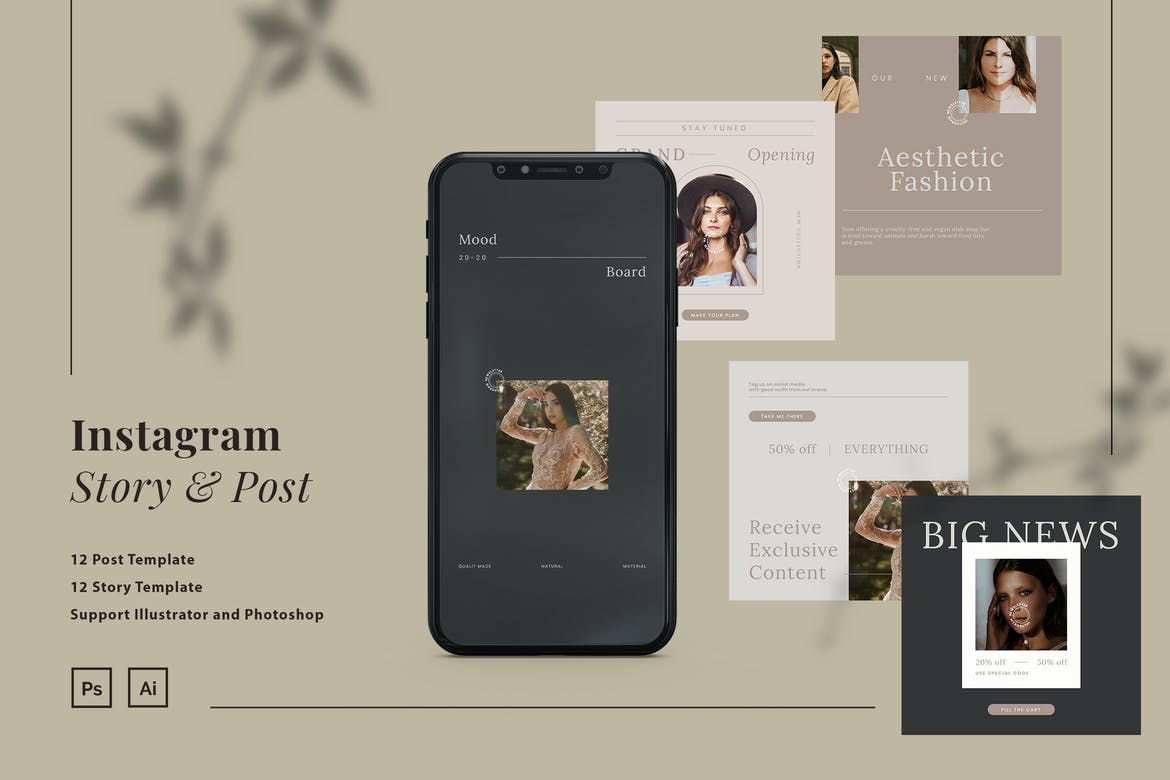 Here we have a gorgeous Instagram template bundle featuring layouts for stories and posts with a modern creative theme that's perfect for any fashion oriented business. It features a total of 24 unique templates with free fonts and full supporting documentation.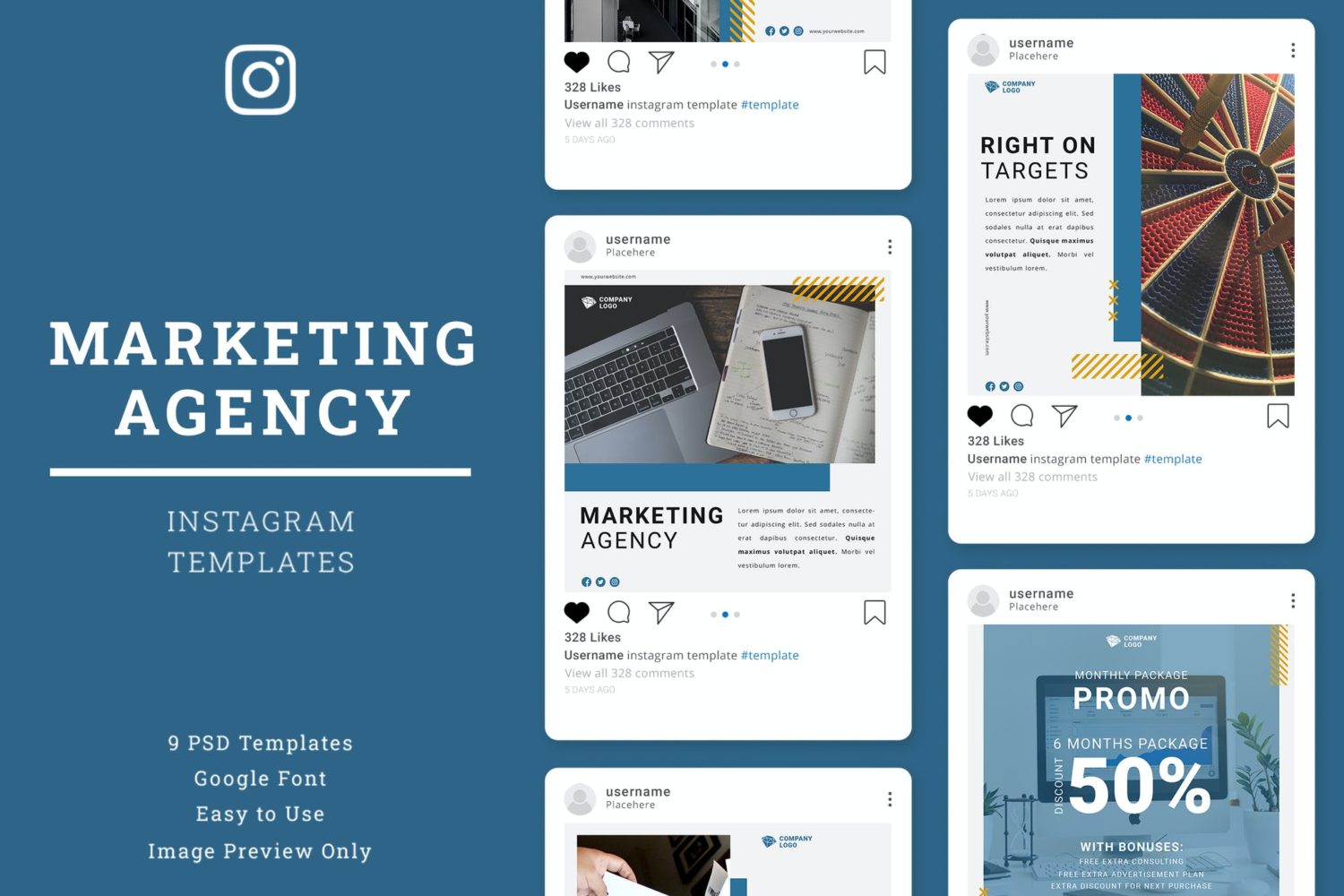 This bright and eye-catching set of Instagram post templates has been specifically developed to help you create engaging content for your business on social media and includes a range of high-resolution layouts in PSD file format with well organized and labeled layers for easy customization.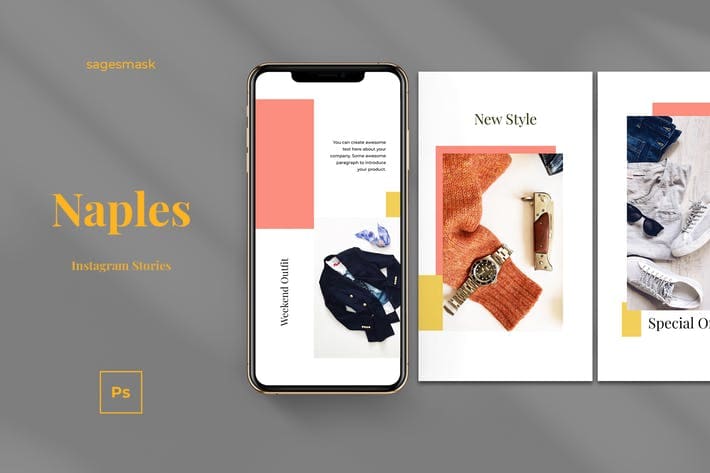 The next Instagram story template in our list provides a range of eye-catching, layered templates featuring stylish solid colors, bold, thin typography, and a range of smart objects and vector shapes to allow for instant customization. It's compatible with all new device screen resolutions and can be edited using Photoshop.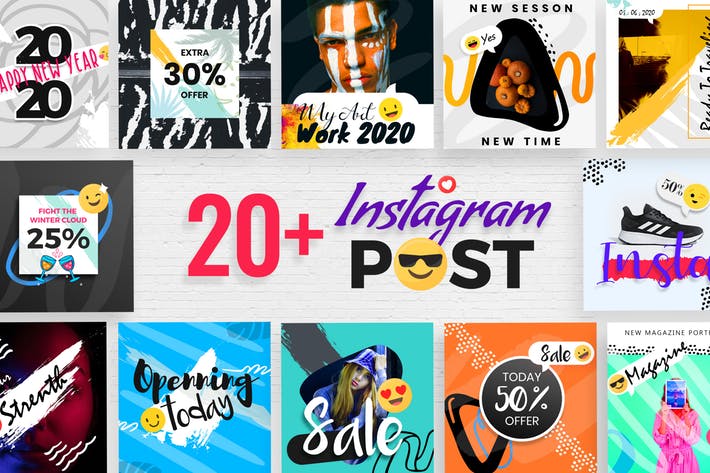 Highly versatile, modern, and bright, this fun set of Instagram post templates provides both Photoshop and Jpeg files featuring layered graphic elements, interchangeable color themes, and a range of free Google fonts. While it comes in an Instagram post size, it can also be adjusted to fit the size of other social media platforms.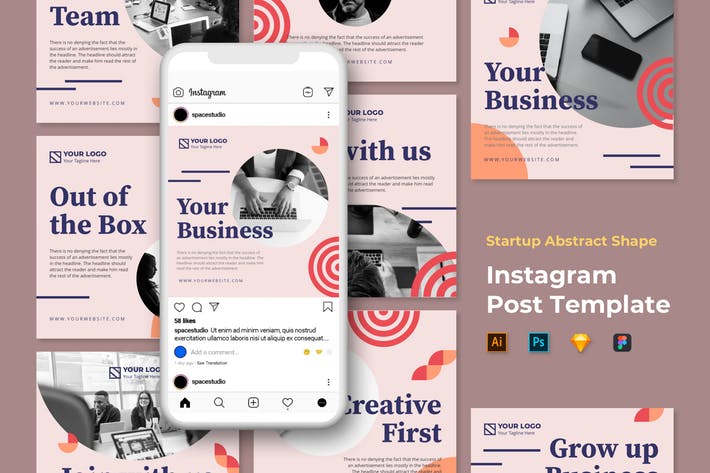 Our next Instagram post template is a creative abstract design that's perfect for new businesses that want to engage new and existing followers using a funky yet professional-looking feed. It's also compatible with Photoshop, Illustrator, Sketch, and Figma, allowing for easy editing regardless of which program you use.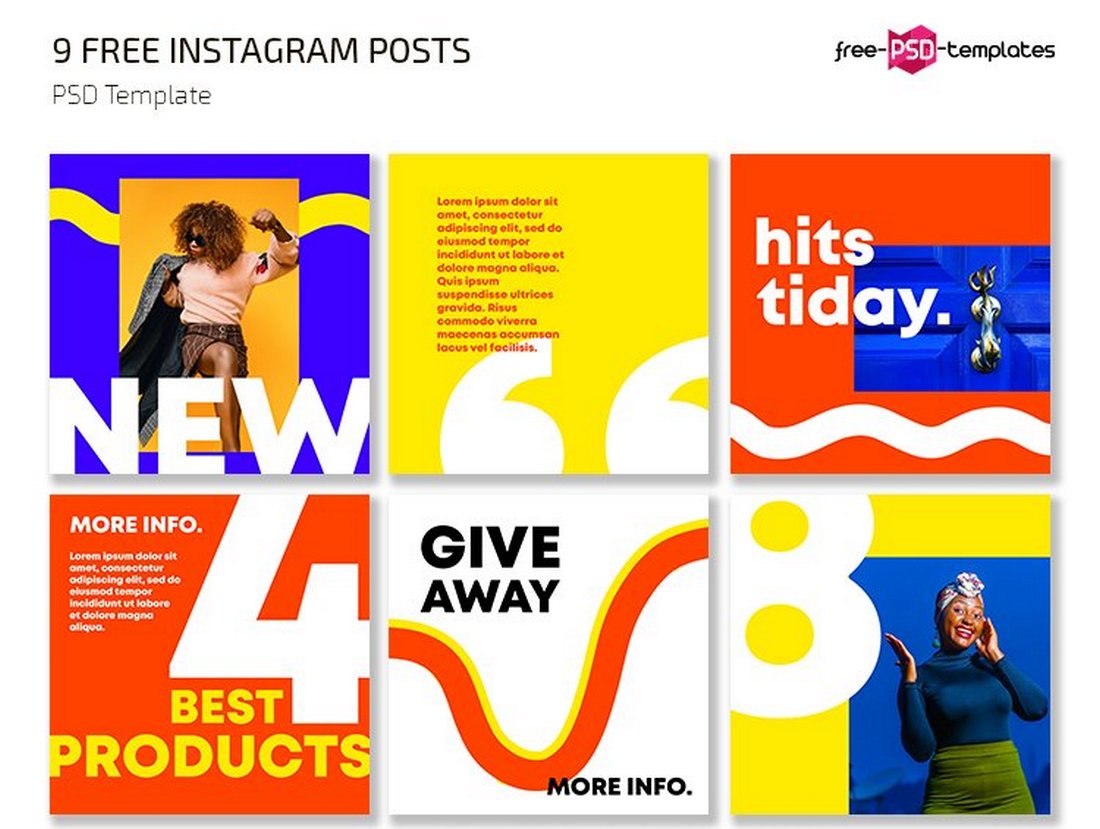 If you prefer bright and colorful post designs, this free Instagram template kit is for you. It has 9 unique post layouts with vibrant designs to instantly attract the attention of your audience.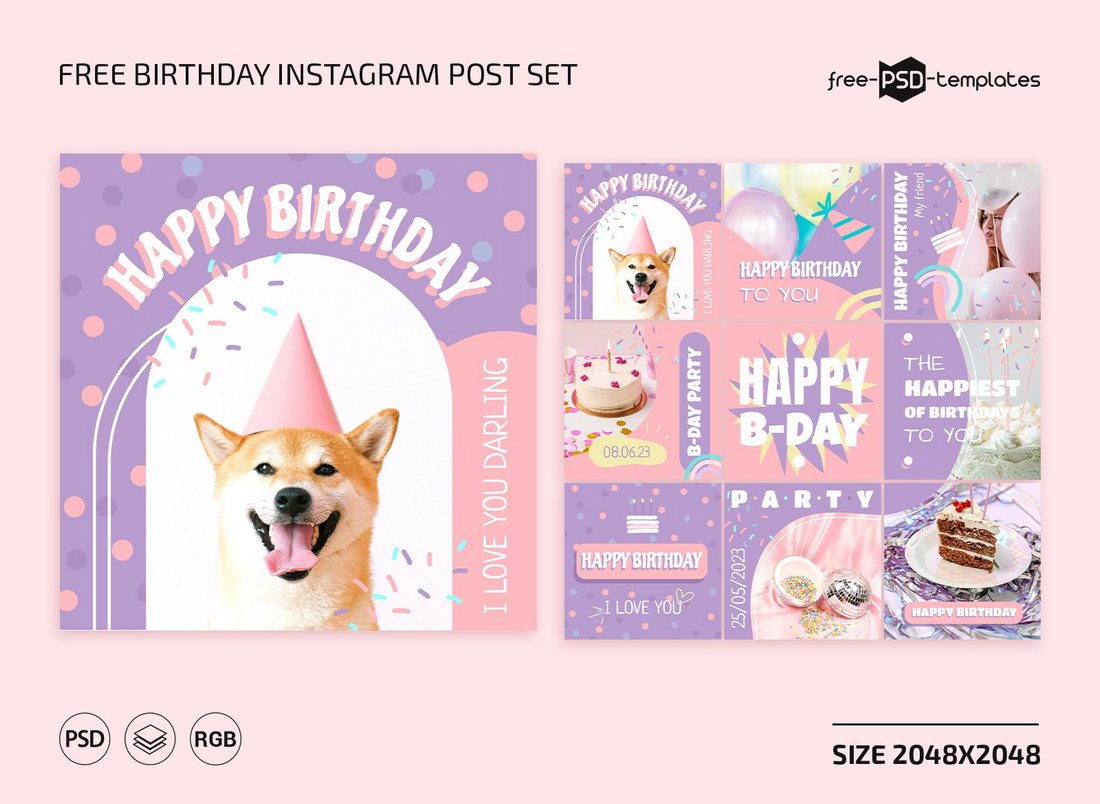 Wish your friends and loved ones a happy birthday by sharing a message on Instagram. This free birthday-themed template kit will definitely help get that job done. It includes 9 post templates.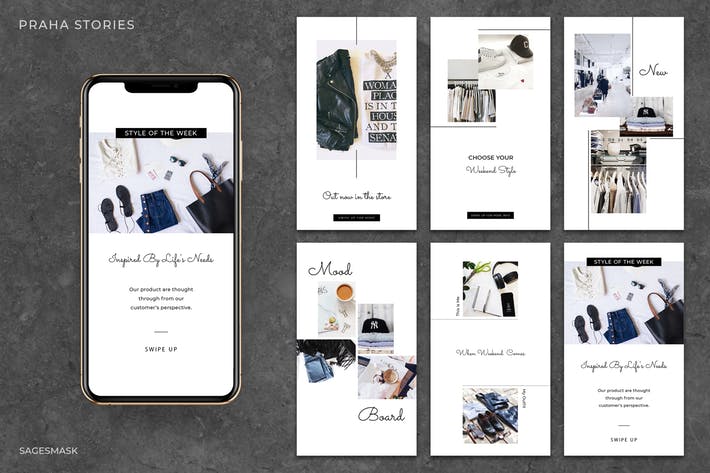 Praha is a clean, elegant set of Instagram story layouts that features beautiful contrasting typefaces, a stylish monochromatic color theme, and a minimalist design that's perfect for any personal or business feed with an eye for fashion and sophistication.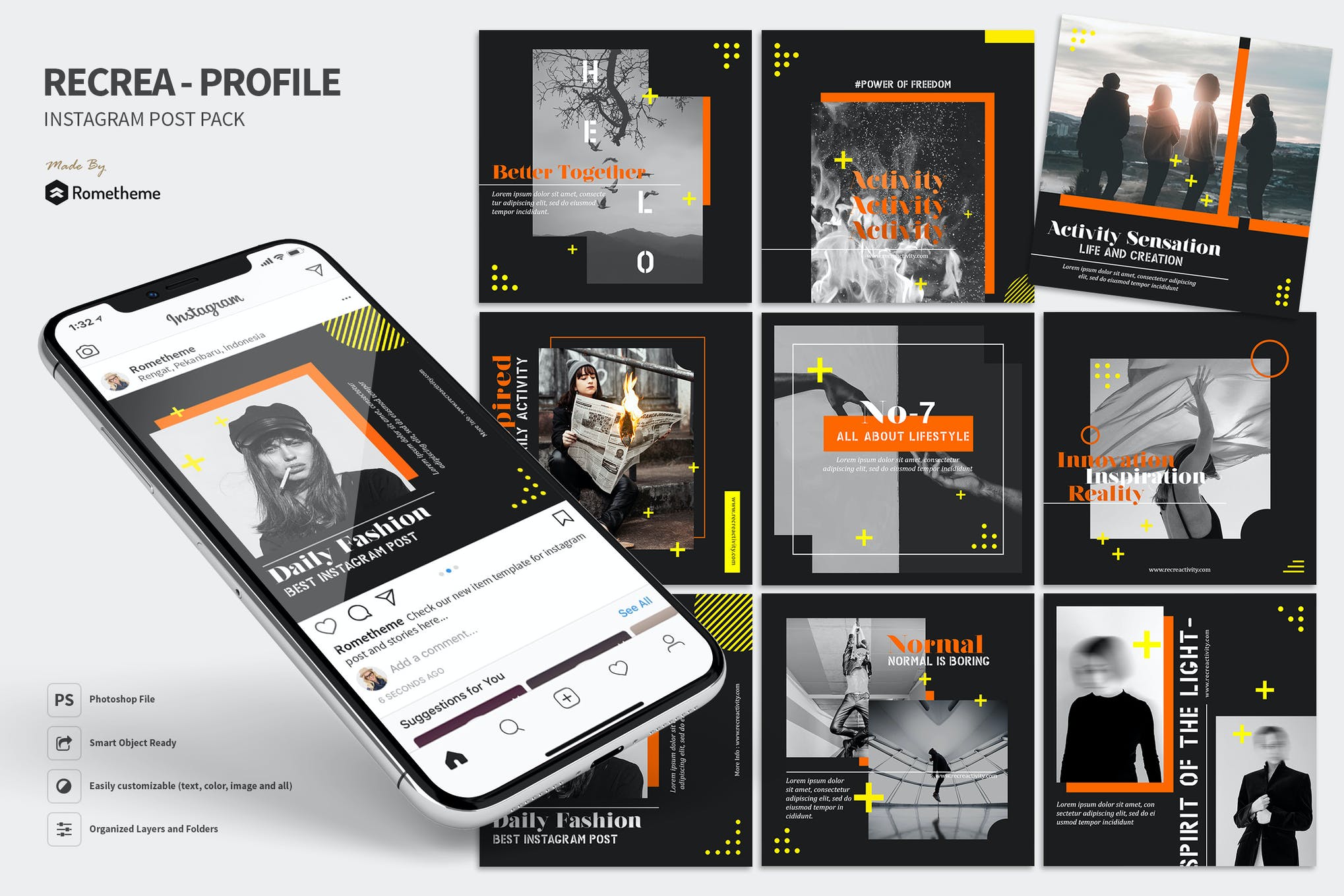 Check out Recrea, a stunning Instagram profile template that you'll be hard-pressed to pass up. The designs are simple and professional, and the pack contains a range of features for you to play with and make the template your own.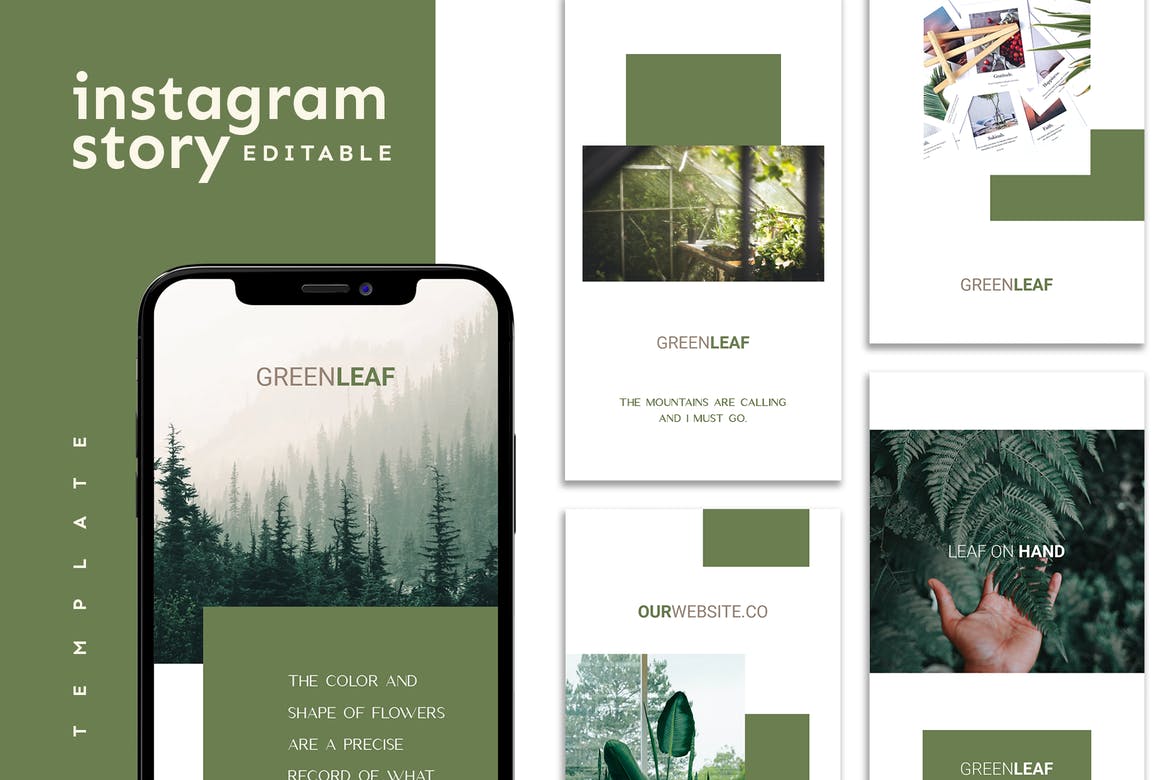 Next on our list of the best Instagram templates is this stunning collection of nature-inspired story templates, featuring 24 professional, Photoshop-compatible layouts with fully customizable text, images, and colors, pixel-perfect graphics, and a high resolution for a beautifully polished finish.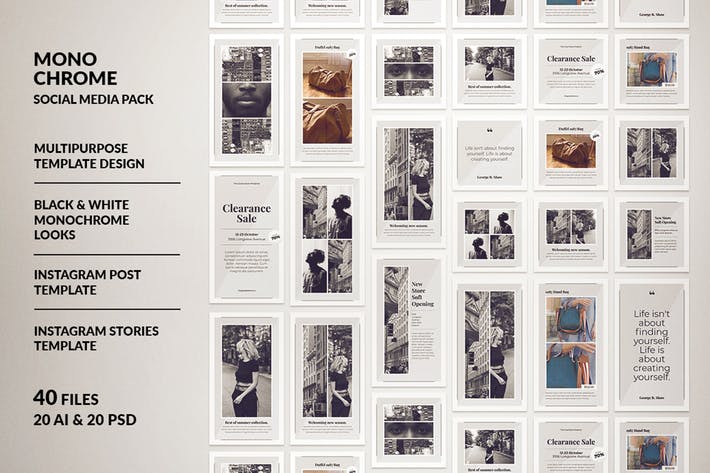 This simple and modern Instagram profile template includes a wide range of multipurpose layouts, including purpose, built-in Instagram story, and post designs, and is compatible with both Illustrator and Photoshop. It's a great way to add a touch of black and white sophistication to your feed.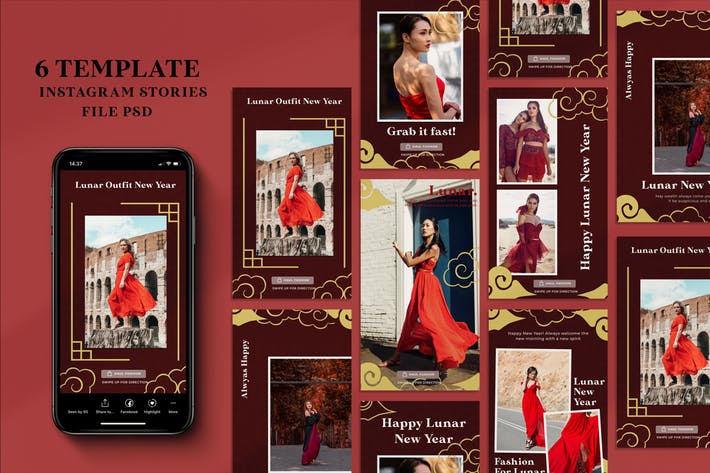 The Lunar Instagram story template is a series of fully editable story layouts that are suitable for a wide range of purposes, from shops and restaurants to creative professionals and bloggers. You can customize each template easily in Photoshop using layered elements and drag and drop functionality.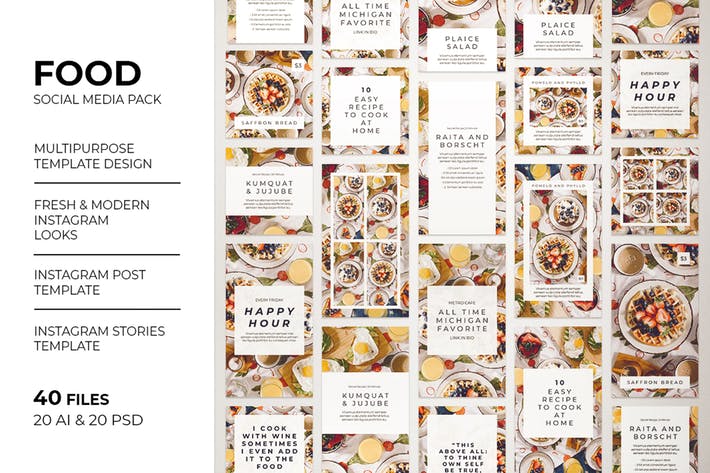 As the name suggests, this Instagram profile template is perfect for a food blogger or business! It includes layouts for both posts and stories, is compatible with both Illustrator and Photoshop, and features fully layered and vector-based graphics for a professional look.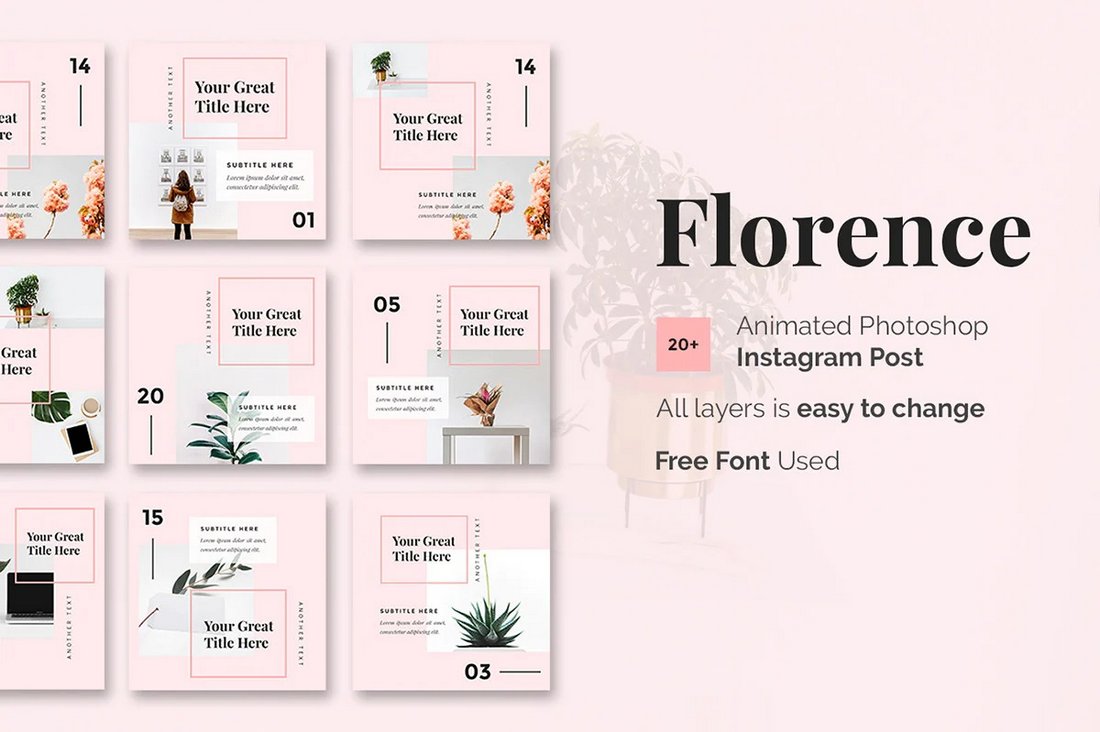 Florence is a collection of beautiful Instagram post layouts for promoting fashion brands. The bundle includes 20 unique post designs with adorable and feminine designs. They are available in PSD and PowerPoint formats.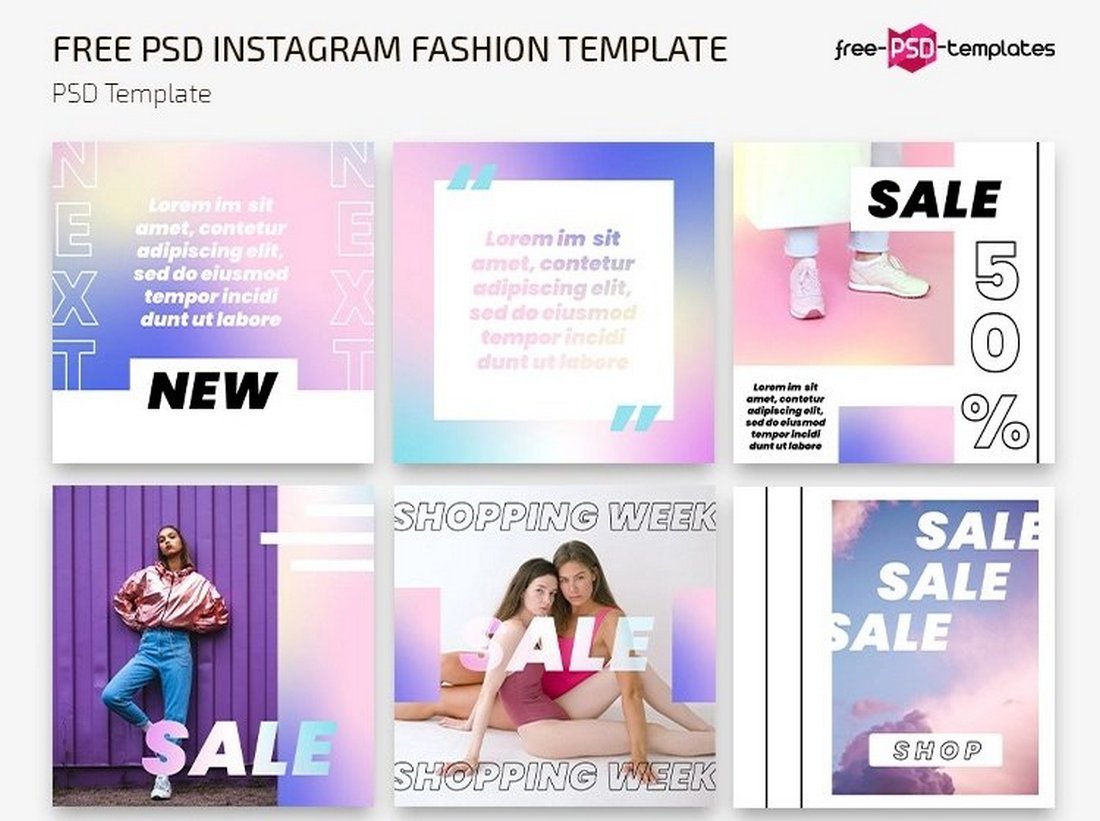 The beautiful gradient color scheme of these post templates will definitely make your Instagram promos stand out from the crowd. There are 9 unique Instagram post templates in this bundle and they are all free to download.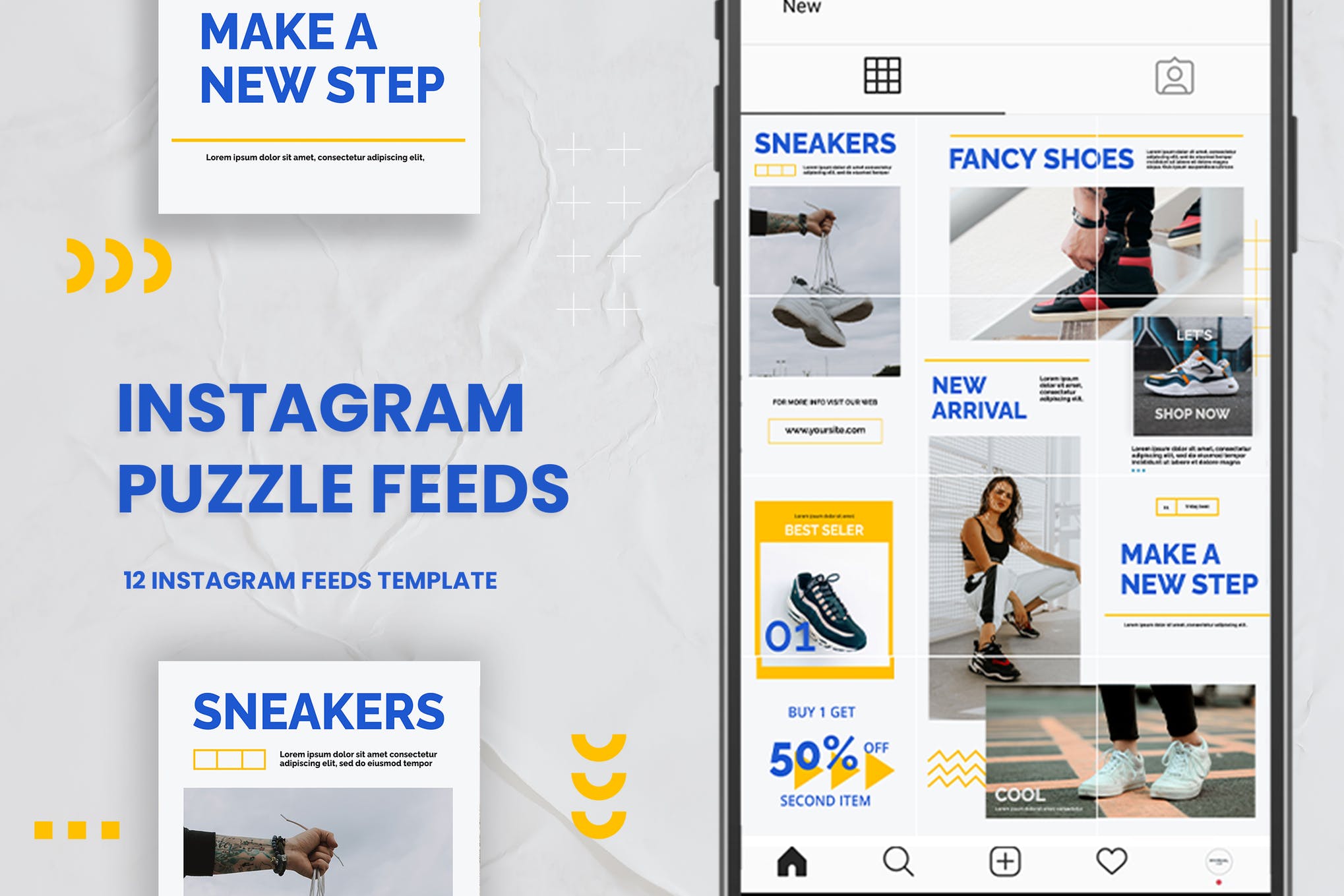 Sneakers is a modern and creative grid template that will leave a solid impression on your profile visitors. It contains 12 square layout templates, free fonts, and a wealth of features that you really have to see to appreciate.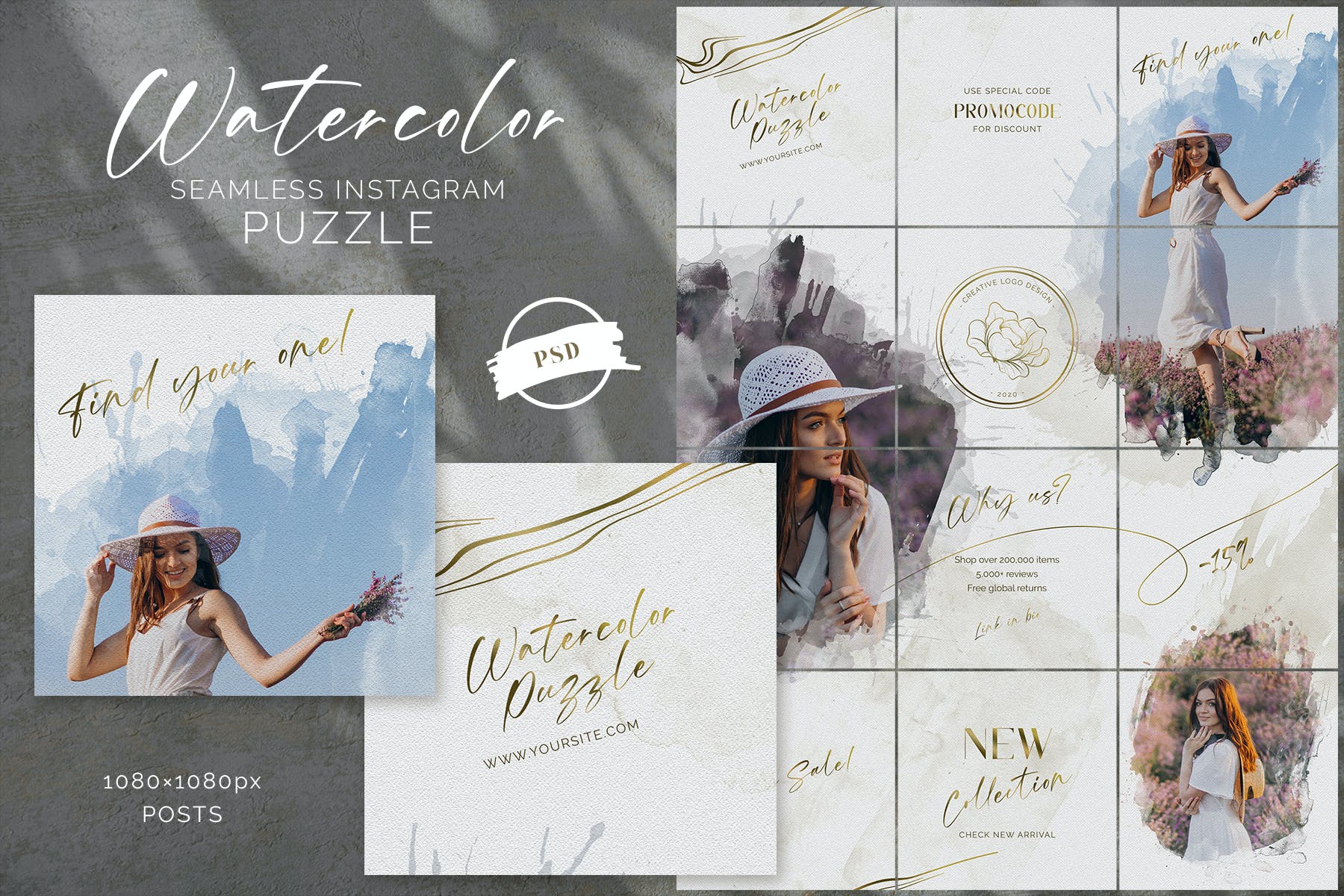 If you want your Instagram followers to scroll your feed for countless hours, this watercolor grid template is what you're looking for. The artistic watercolor effects will attract eyeballs, and make you Insta famous overnight.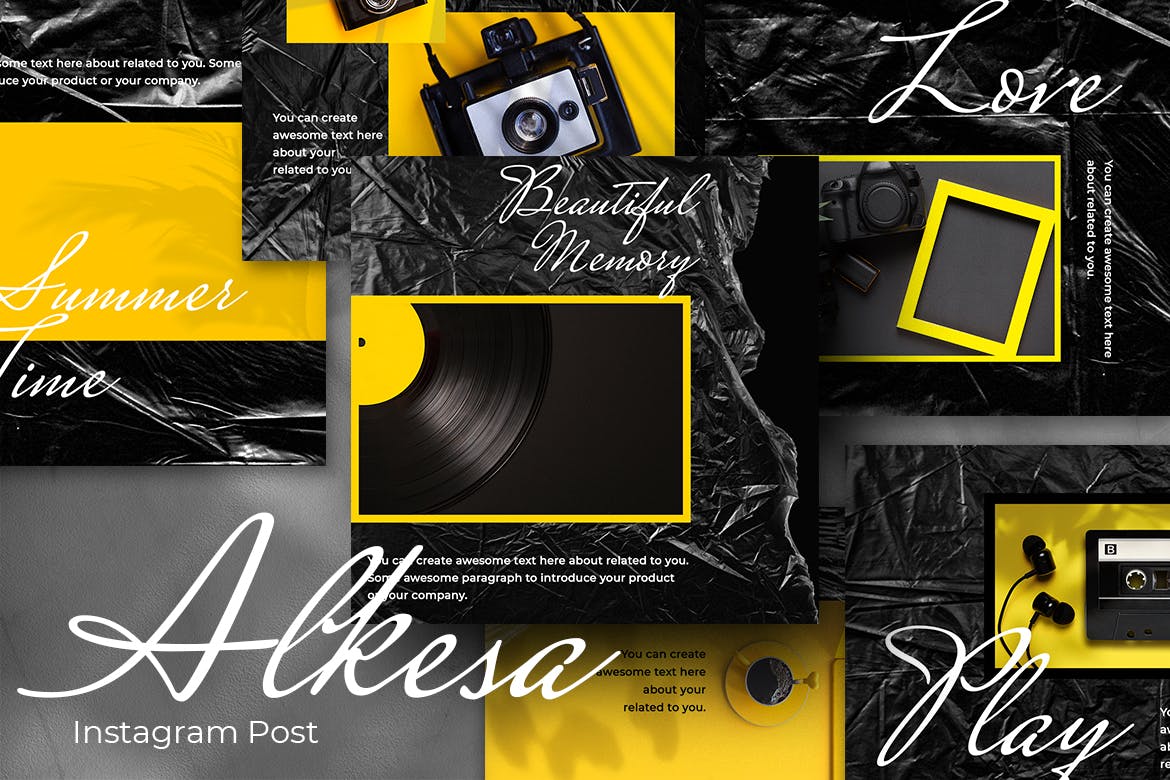 Alkesa is an eye-catching set of six Instagram post templates, featuring bold colors, elegant typography and smart objects to make editing a breeze. The vector graphics and high resolution give it a professional look, and it's easy for any business or influencer to customize for their own brand or aesthetic.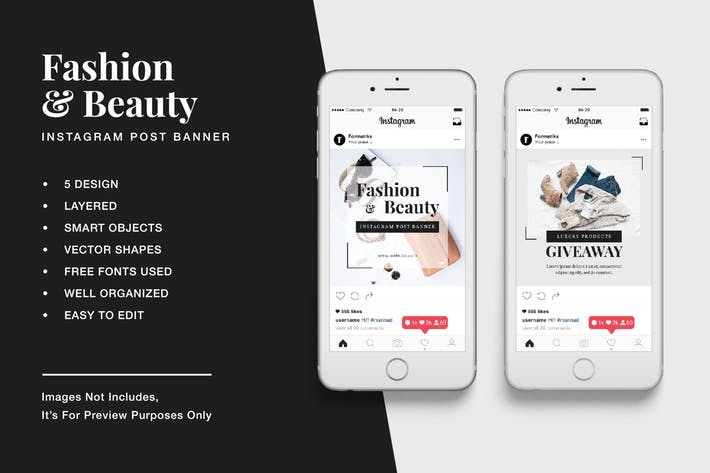 Ideal for a high-end fashion boutique, beauty blogger, or someone who simply wants to give their Instagram profile a sophisticated, high class look, this template features a collection of banner-style post layouts that have been specifically designed for promotions, and is sure to help your Instagram feed stand out!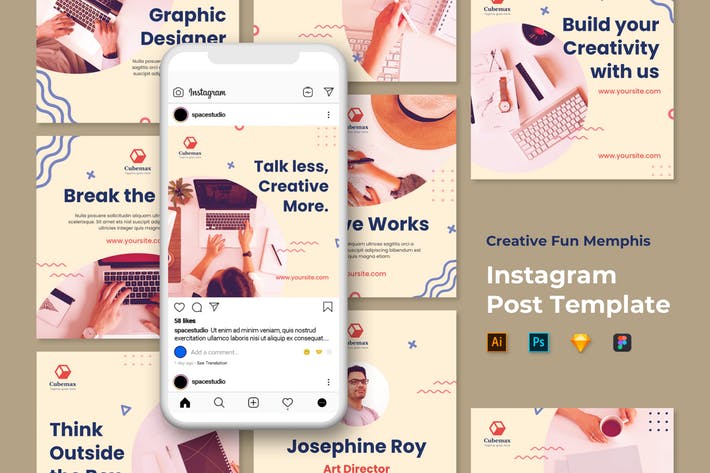 For a funky, retro-inspired yet modern Instagram feed, consider the Memphis Instagram post template, which combines subtle colors and bold typefaces with interesting graphics and unique layouts to create a stylish and versatile set of posts. It's compatible with Photoshop, Illustrator, Figma, and Sketch.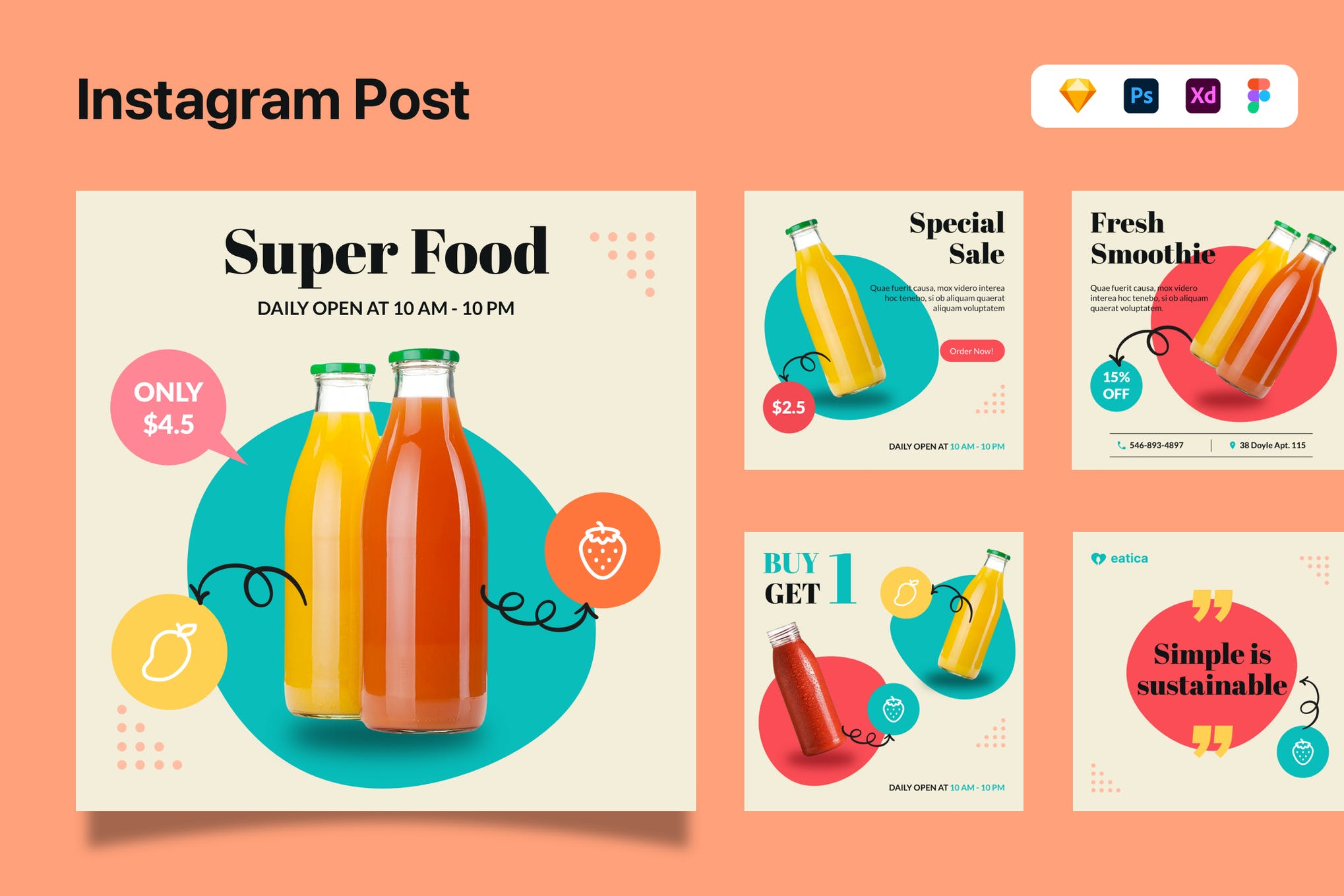 Presenting you a dapper of an Instagram post template that will help you achieve your marketing goals in no time at all. The template can be fully customized to match your brand needs and is compatible with Adobe Photoshop, XD, Figma, and Sketch.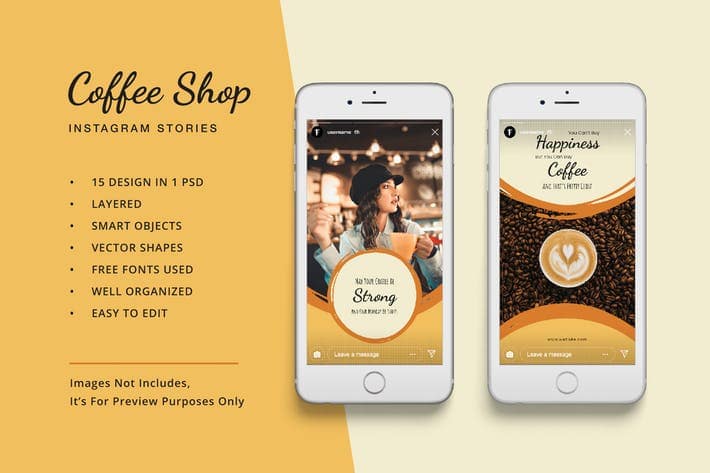 You guessed it – this Instagram story template has been purposefully created for coffee shops and cafes, but it's so easy to edit that you'll soon be able to customize it to suit any kind of Instagram profile! The images, text, and background are all on separate layers, and all elements are vector based for ease of use.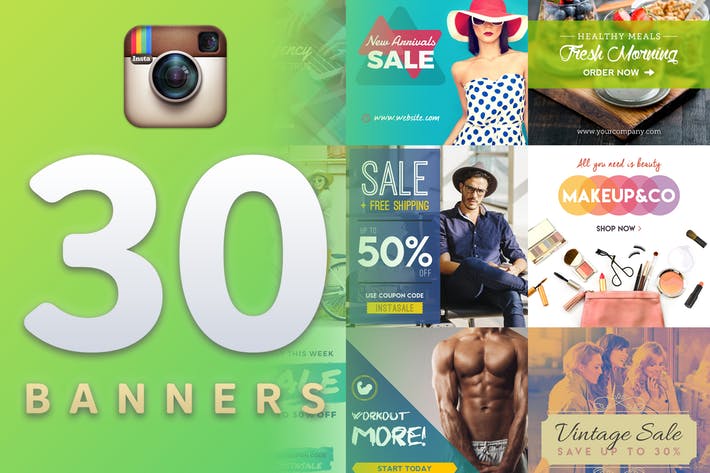 This collection of Instagram post templates is perfect if you need to create promotions or offers for your followers, and provides 30 unique layouts that can each be adapted to your own purposes. The professional and creative design is highly versatile, and the fully layered PSD files couldn't be easier to edit.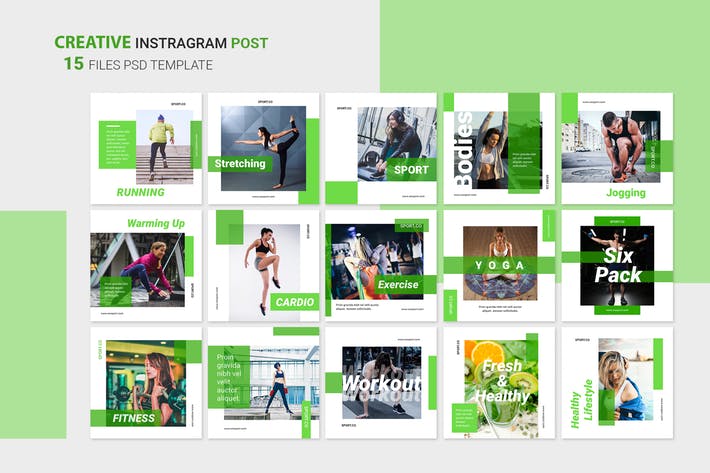 Ideal for fitness professionals and businesses, such as personal trainers, yoga instructors, gyms, and studios, this professional and clean set of 15 Instagram post templates is fully customizable and compatible with Adobe Photoshop. Each layout is aligned to a column grid, giving your posts a high-quality symmetrical look.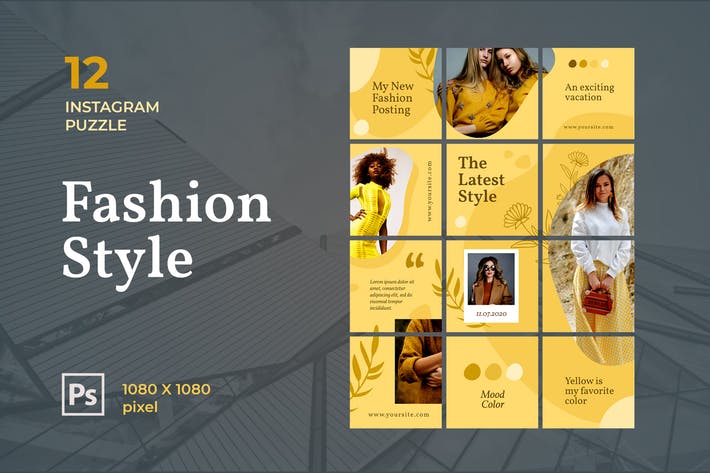 This puzzle template is designed to help you create engaging, stylish Instagram posts that give your profile a stunning overall appearance. All text, colors, shapes, and backgrounds are editable, and each layout is comprised of 12 individual post templates.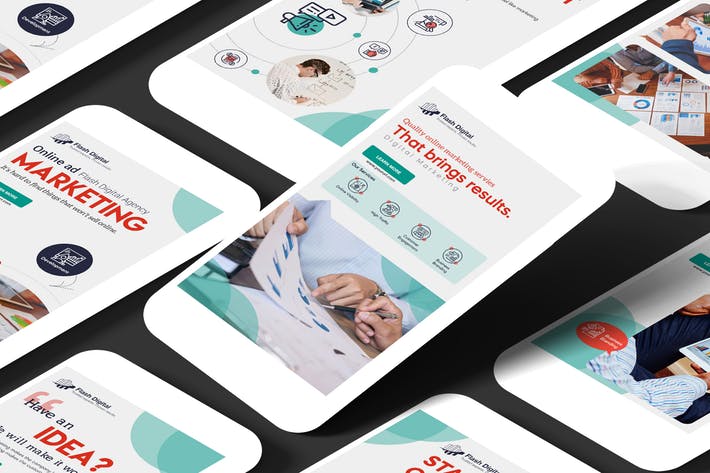 The Business Corporate Instagram story template is a simple yet trendy series of stories that have been specifically designed with a corporate business following in mind and will allow you to create fun and interesting content for your feed while still maintaining a highly professional appearance.
If you are wanting to have a colorful and fun aesthetic for your stories, Emirica is what you are after. It is a gorgeously designed Instagram story template that features 9 ready-to-use designs, google fonts, editable text, colors, and much more.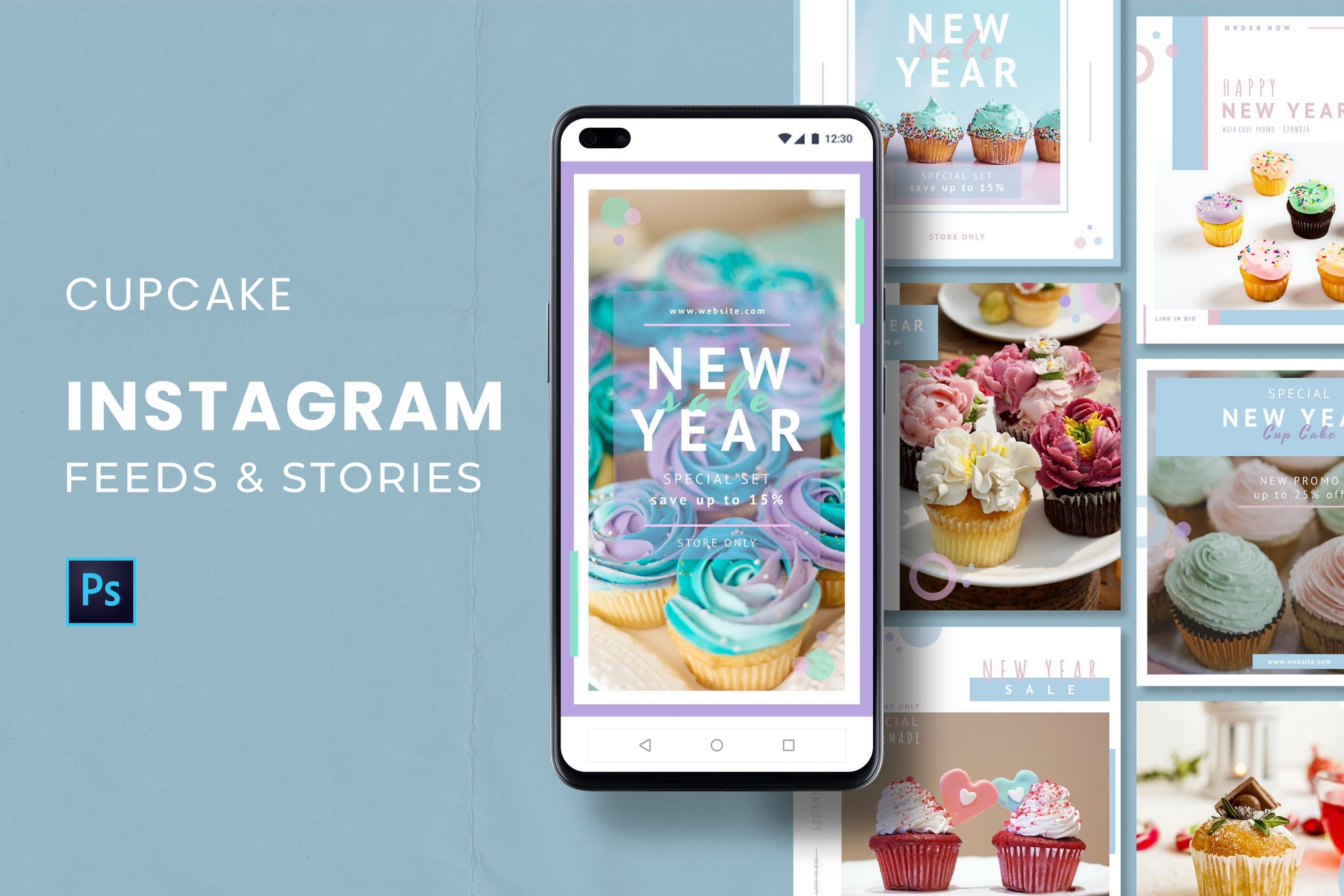 Make your Instagram profile scroll-worthy with Cupcake, a package containing 6 post, and 6 story templates, free fonts, and smart objects making editing a piece of cake. Try it out for your next promotional campaign!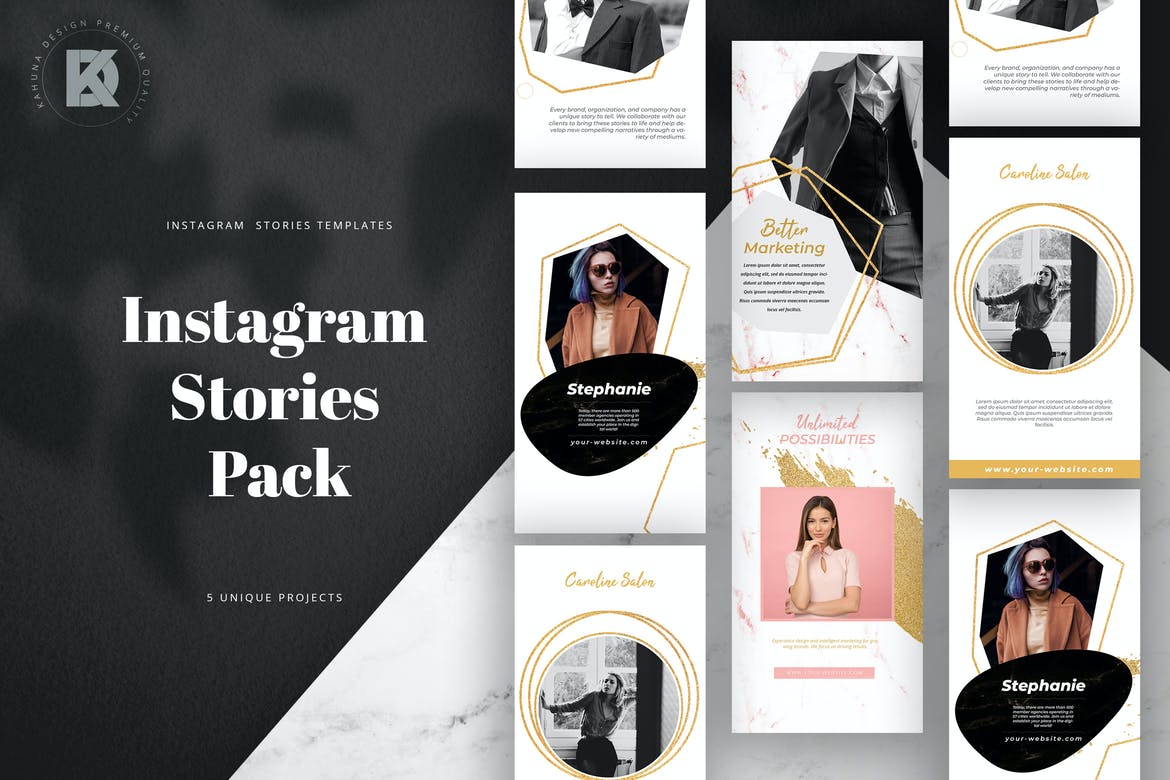 This collection of Instagram story templates is a sleek, sophisticated way to reach your followers, and includes five fully customizable templates that have been optimized for Instagram stories. Smart objects, vector graphics and extensive layering make it easy to edit in Photoshop.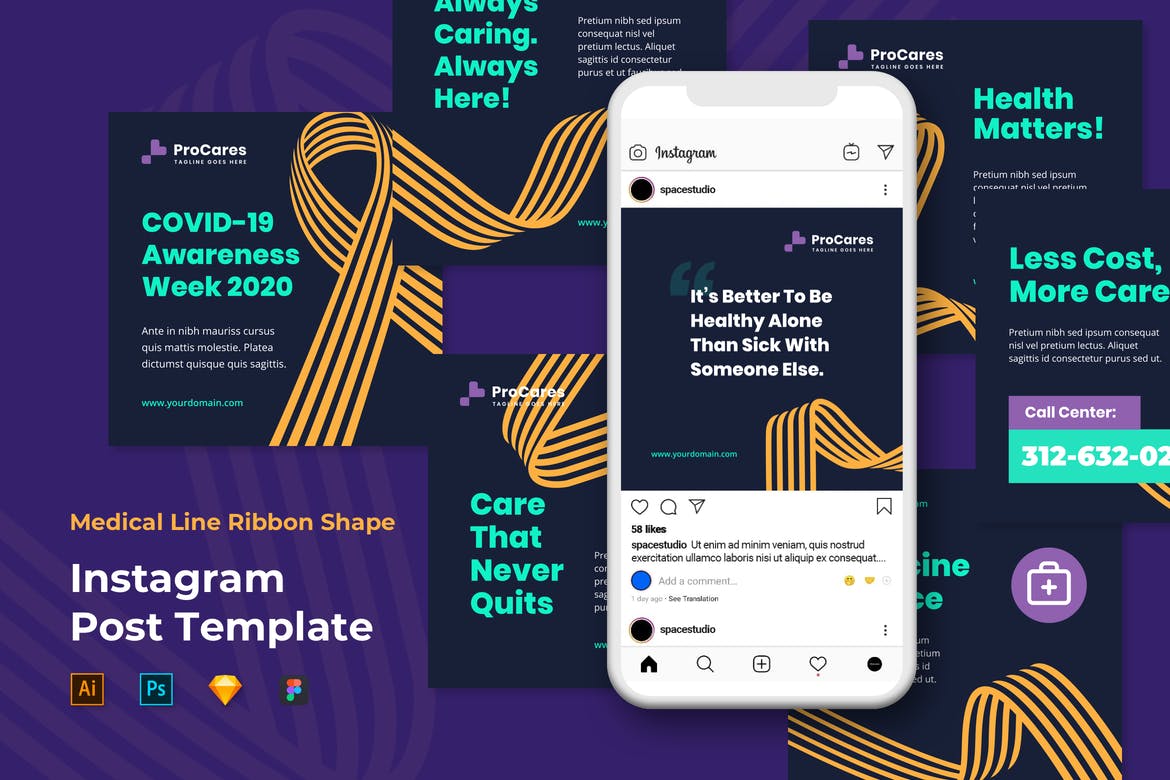 If you're looking for a medical or hospital themed set of Instagram templates, this collection of nine post templates is a winner. Fully layered with vector graphics and a high resolution, it features fully editable and customizable layouts that are compatible with Photoshop, Illustrator, Figma, and Sketch.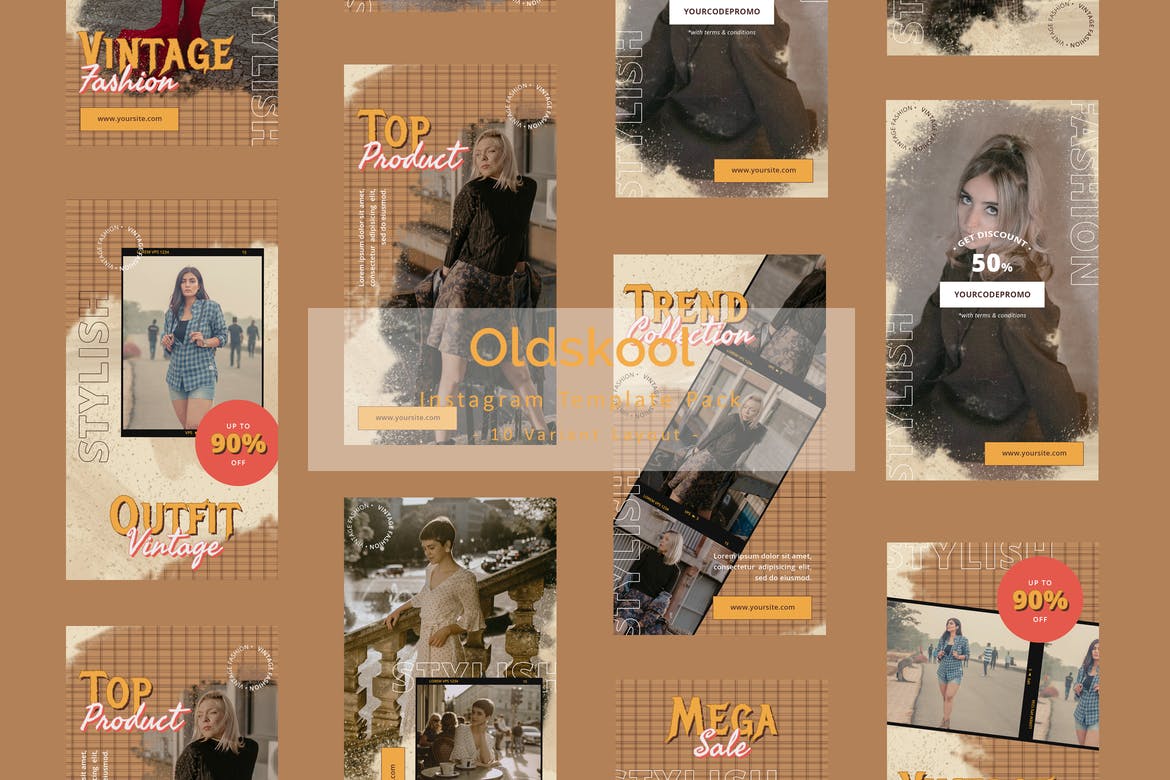 Here we have a collection of vintage-inspired Instagram templates that will give your profile an old school retro feel. It includes 10 story templates and 10 post templates, all of which are fully layered using vector-based shapes, Google fonts, smart object image placement, and editable text and colors.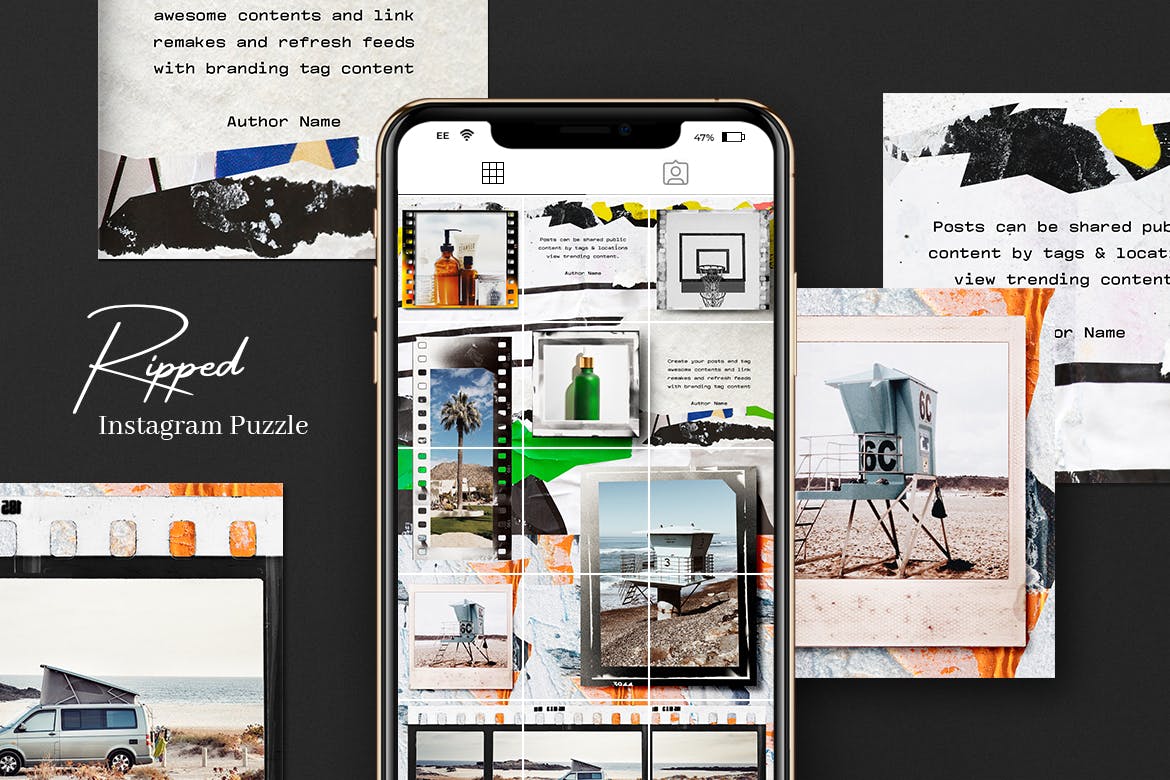 Looking for an attention-grabbing grid template for your Instagram feed? You're in for a treat! Check out this stylish and trendy template featuring 18 post slices that can be fully customized to your liking using smart object.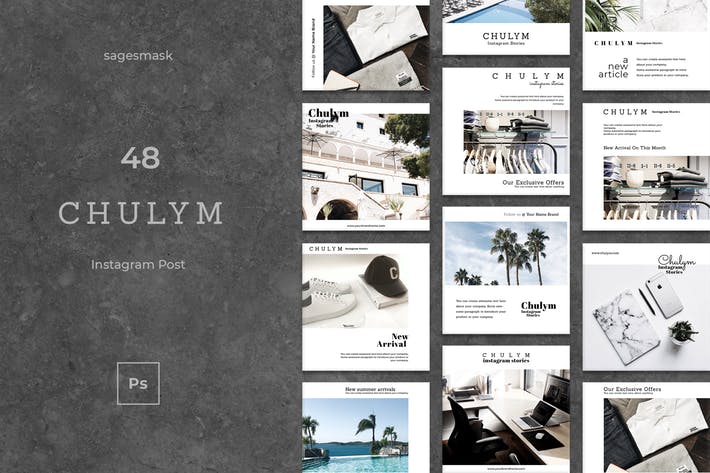 For a highly sophisticated and eye-catching set of Instagram posts templates, the Chulym is a popular choice. It features classy minimalist layouts, modern typefaces, and a clean, elegant finish that will give your feed a sense of style and quality.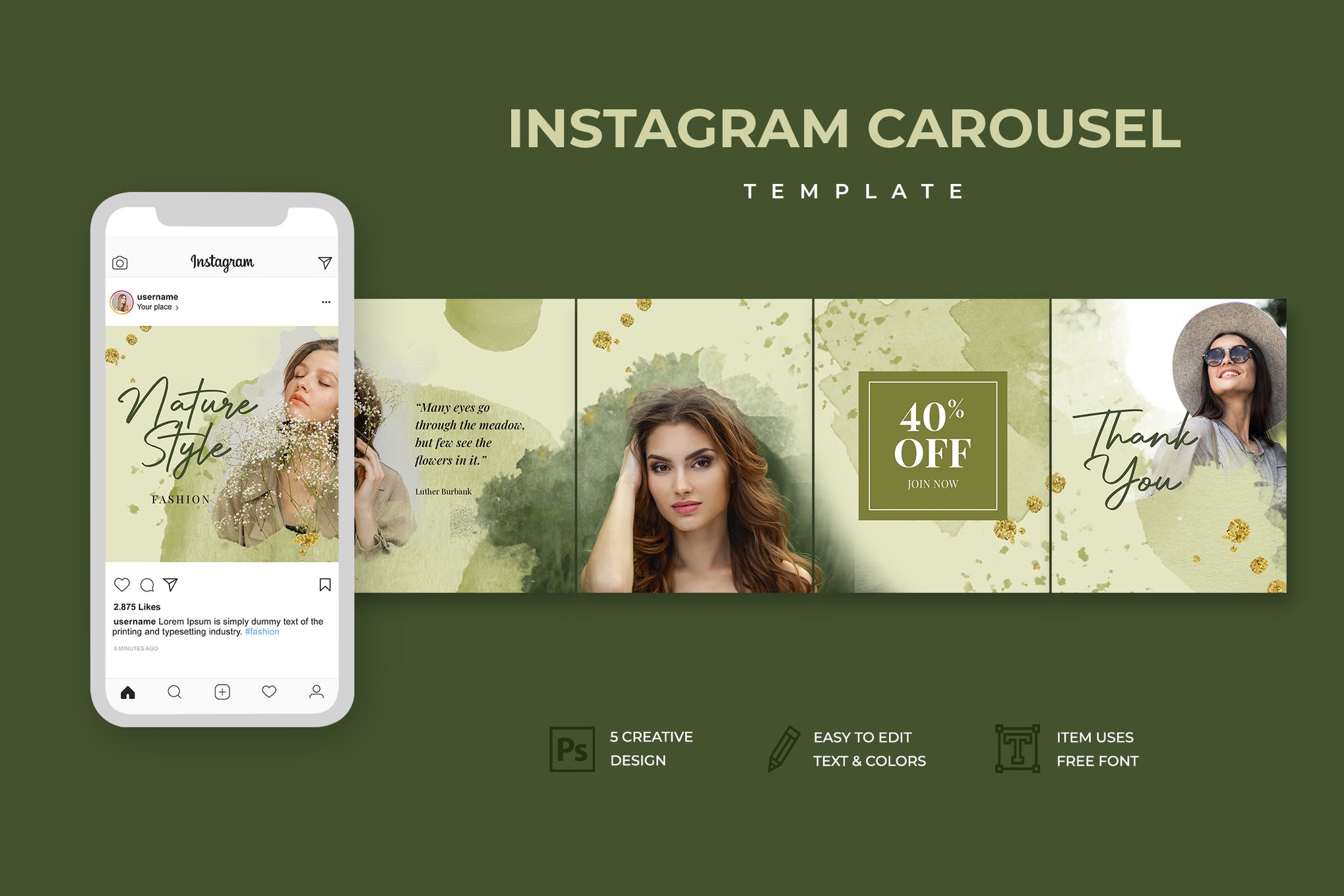 This product contains 5 fully editable and customizable Instagram Template. Every story is professionally designed: they are fully customizable and compatible with Adobe Photoshop. With these Instagram posts, you can easily upgrade your Instagram in a stylish and professional way!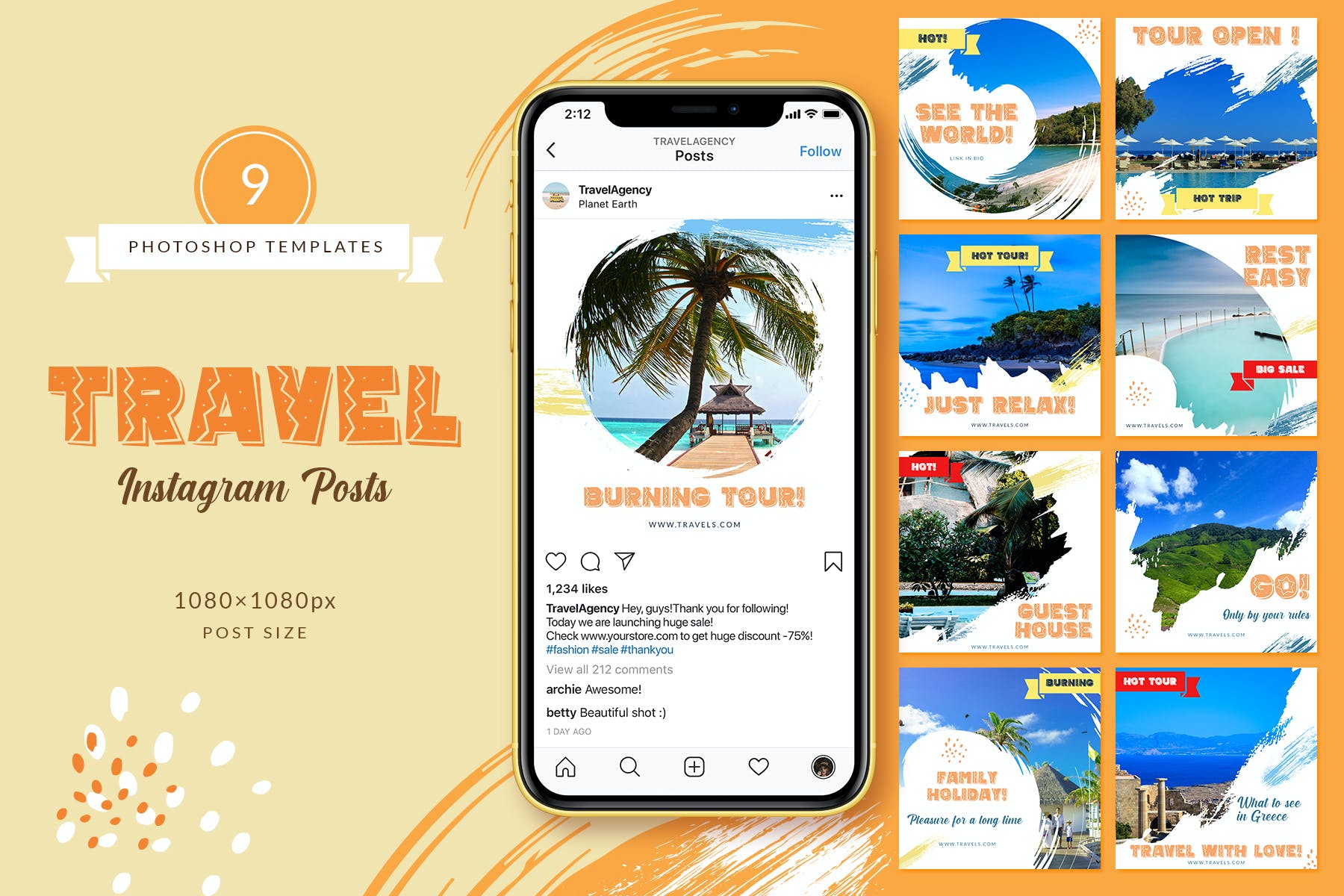 Launch summer ads campaign with 9 banners for your posts and ads. Cool for Instagram promotion, sale campaigns, travel agencies, travel tours.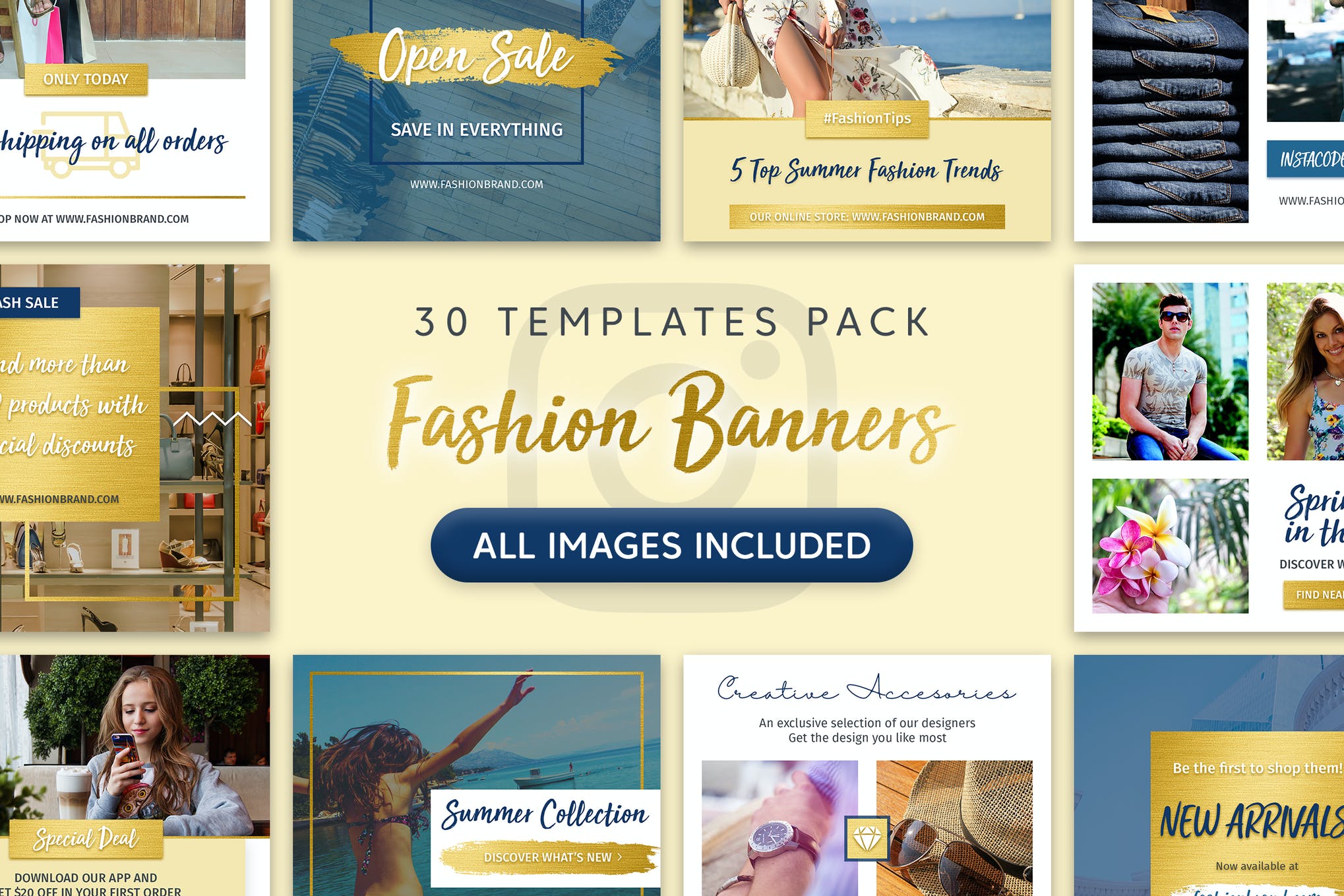 Introducing a professional set of business banners to promote on your social networks, blog or website. This package includes 30 Photoshop designs with creative and unique layouts.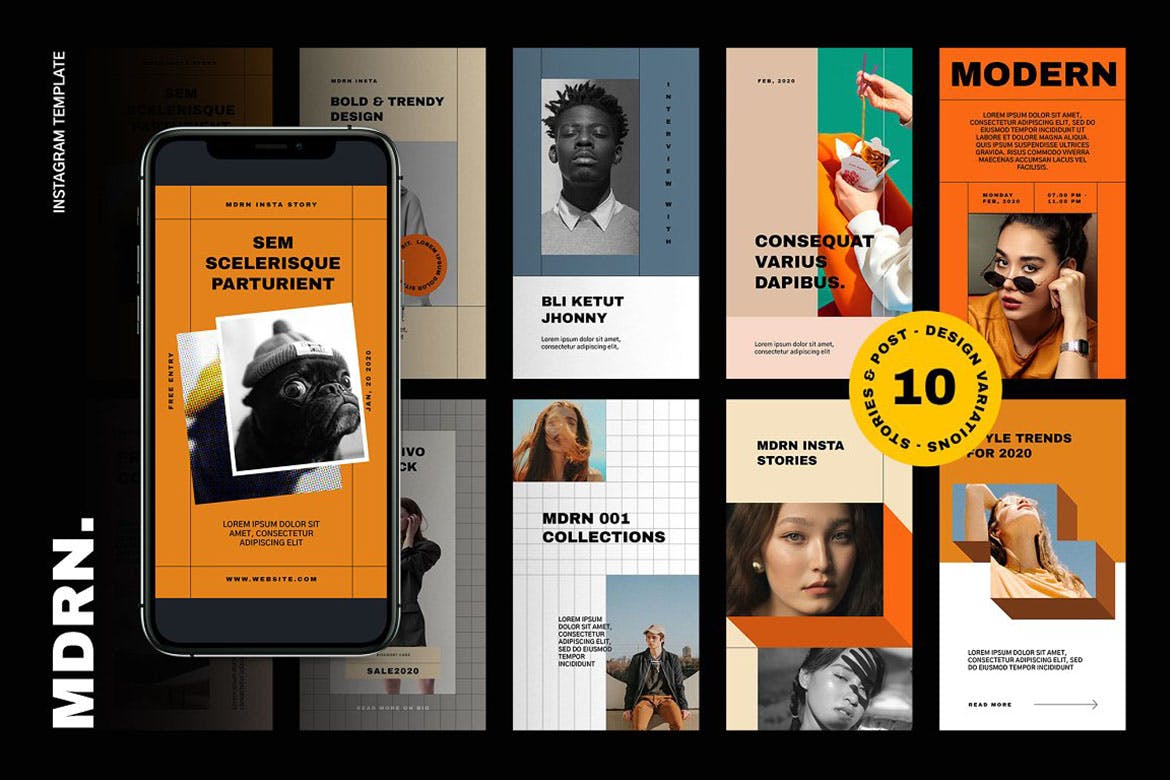 Inspired by bold design trends, applying striking colors, and playing with typography, this template has 10 different layout designs in 2 different size formats for Instagram stories & posts, very easily edited in Adobe Photoshop.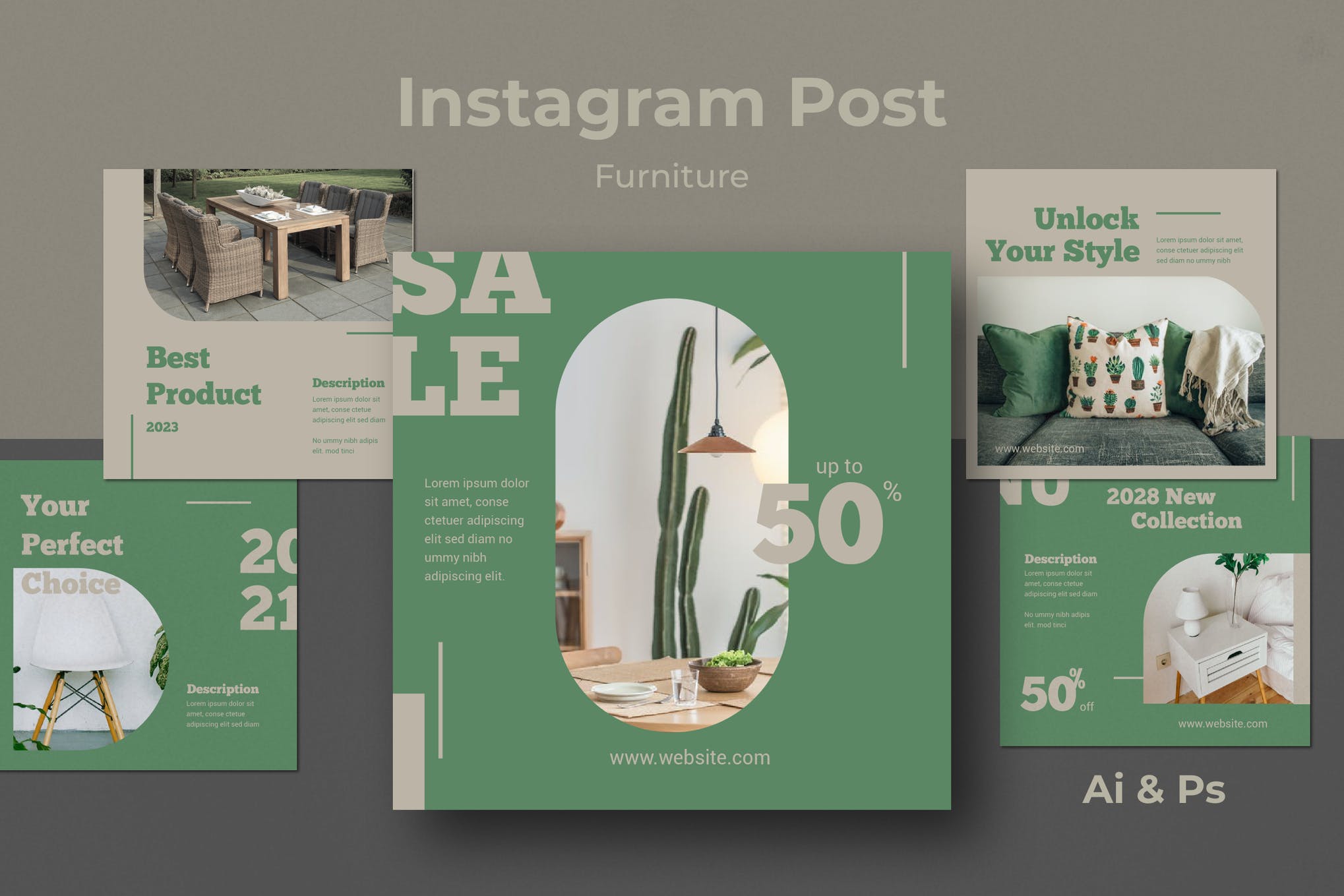 Presenting you Furniture Sale Instagram Post to promote your interior, decoration, table, sofa, cabinet. This set will be perfect to engage your followers, monetize your content, and lead the traffic to your website, shop, and profile. Customize your own need by changing the photos, texts, colors, mockup as all of them are editable and flexibly match for marketing used.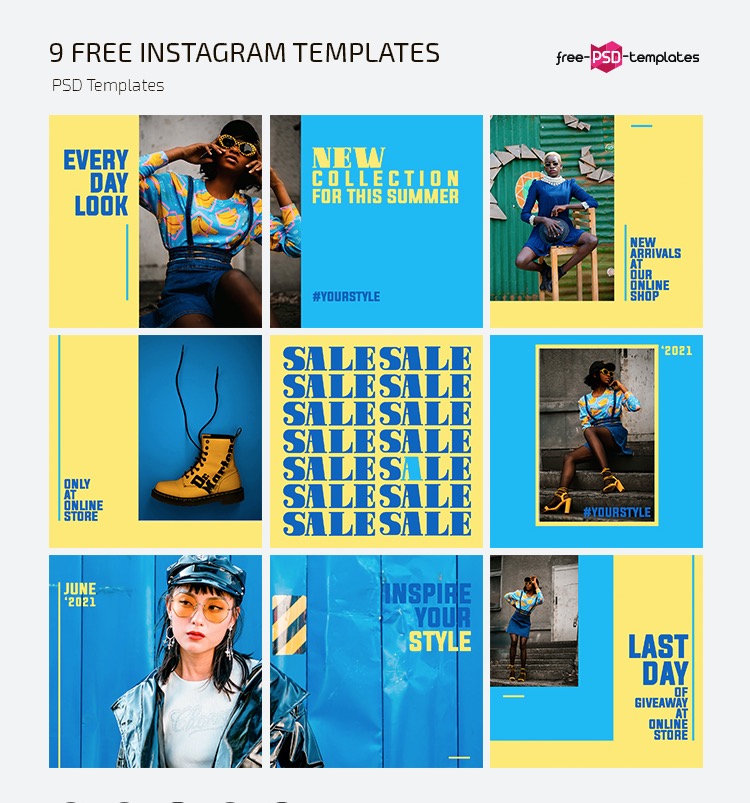 Here we have a bright and upbeat grid template that stands out from the daily flood of post layouts we see on Instagram. The template is fully editable, and comes with a wide range of features for you to take advantage of!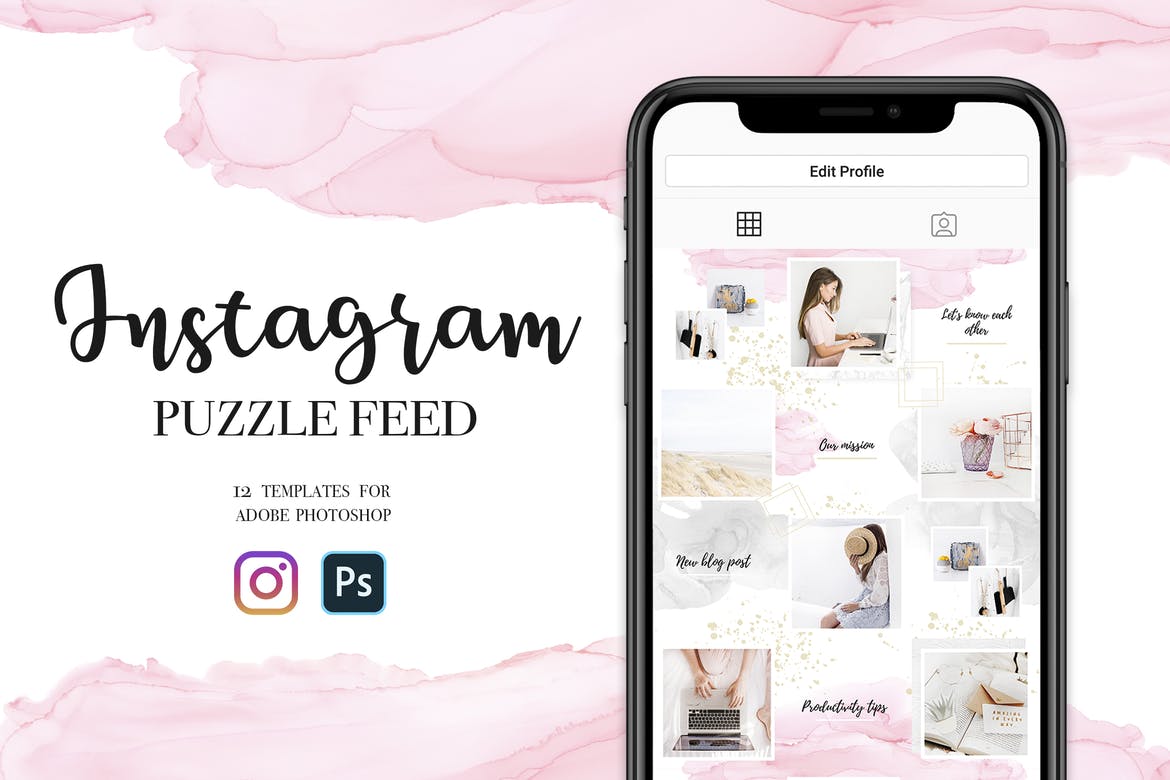 This stunning Instagram grid template will help you to turn your feed into a beautiful and feminine masterpiece and is fully compatible with Adobe Photoshop. It contains 12 posts but limitless possibilities due to the seamless design, and also includes a range of images and fonts.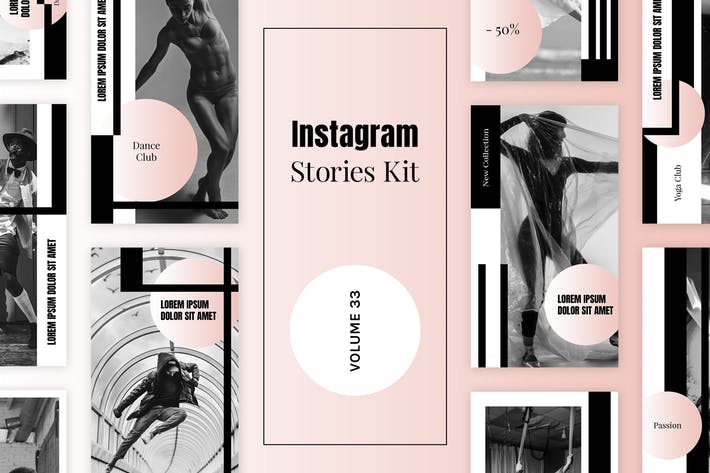 The last Instagram profile template in our list is this gorgeous collection of business-oriented story layouts that have been created for a recreational studio such as a gym, dance club or yoga studio, but could also be used for a personal blog or a beauty salon. All elements are fully customizable using Photoshop.
And there you have it, a selection of the very best Instagram profile, post, and story templates, to help save you time in creating engaging and unique content for your feed!