6 Tips for Finding an Instagram WordPress Theme
With over 600 million monthly active users, Instagram is now one of the most powerful social networks for marketing products and building brand awareness online.
Everyone from bloggers to corporate businesses are now using Instagram to market and grow their business through the photo and video sharing platform, trying out every trick they can to build a large following.
But have you tried converting your website visitors into Instagram followers?
We're not just talking about adding an Instagram follow button on your website. The best way to convert your website visitors into followers is to showcase your content from your Instagram channel directly on your WordPress site. This allows you to easily grab visitor's attention with visual content and build your Instagram following quite easily.
There are several benefits to finding an Instagram WordPress theme, and today we're looking at the key things to watch out for when integrating Instagram with your WordPress site!
Get everything you need to build your next website with one simple subscription. From $16 per month, get unlimited access to nearly 2 million WordPress themes, web templates, fonts, graphics, and photos.
Why Promote Instagram Through Your Website?
In addition to increasing your followers, a WordPress theme that highlights your dedicated content from your Instagram channel will help promote your products, brand, and business more effectively in many different ways.
Since most of your Instagram content is likely real-life photos, showcasing them through your WordPress website will help you connect with your audience on a more human level.
Check out how Pottery Barn use an Instagram hashtag feed on their website to promote its products through photos posted by real customers.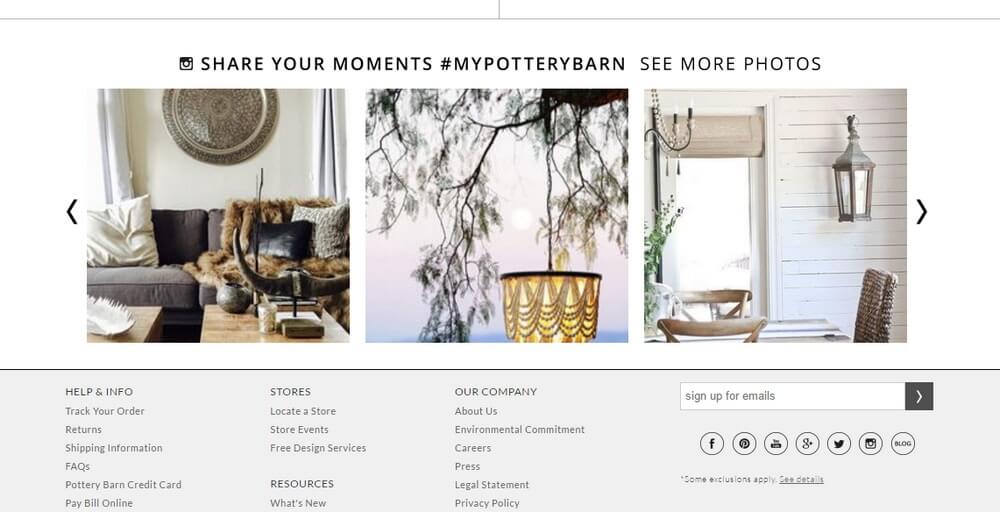 Using an Instagram feed to showcase photos taken by customers is not only a great way to get your customers involved to promote your brand for free, but it's also a great way to tell stories and take your website visitors through a behind-the-scenes tour of your business.
For WordPress users, this process is much easier. All you have to do is find a great-looking Instagram-compatible WordPress theme that lets you integrate your Instagram feed with your website.
Unfortunately, there are no special themes out there that are built specifically to promote Instagram. However, there are WordPress themes that support Instagram, and that come with features and widgets for promoting your content through your website.
Here are a few tips for finding a WordPress theme that works well with Instagram.
1. Re-Post To Instagram
How great would it be if you could automatically re-publish your blog posts to Instagram without having to manually upload photos through the Instagram app? Believe it or not, it's possible.
There are a few plugins available for WordPress websites, like Instagram Auto Poster, which allows you to automatically schedule and publish your WordPress blog posts to your Instagram account.
It's a great way to promote your blog posts through Instagram without a hassle. When you're searching for a new theme, check to see if your theme supports or include such plugins.
2. A Bold And Beautiful Photo Gallery
If Instagram is your main marketing channel, you'll need a beautiful image gallery with big bold images to showcase all the great content from your Instagram channel on your website.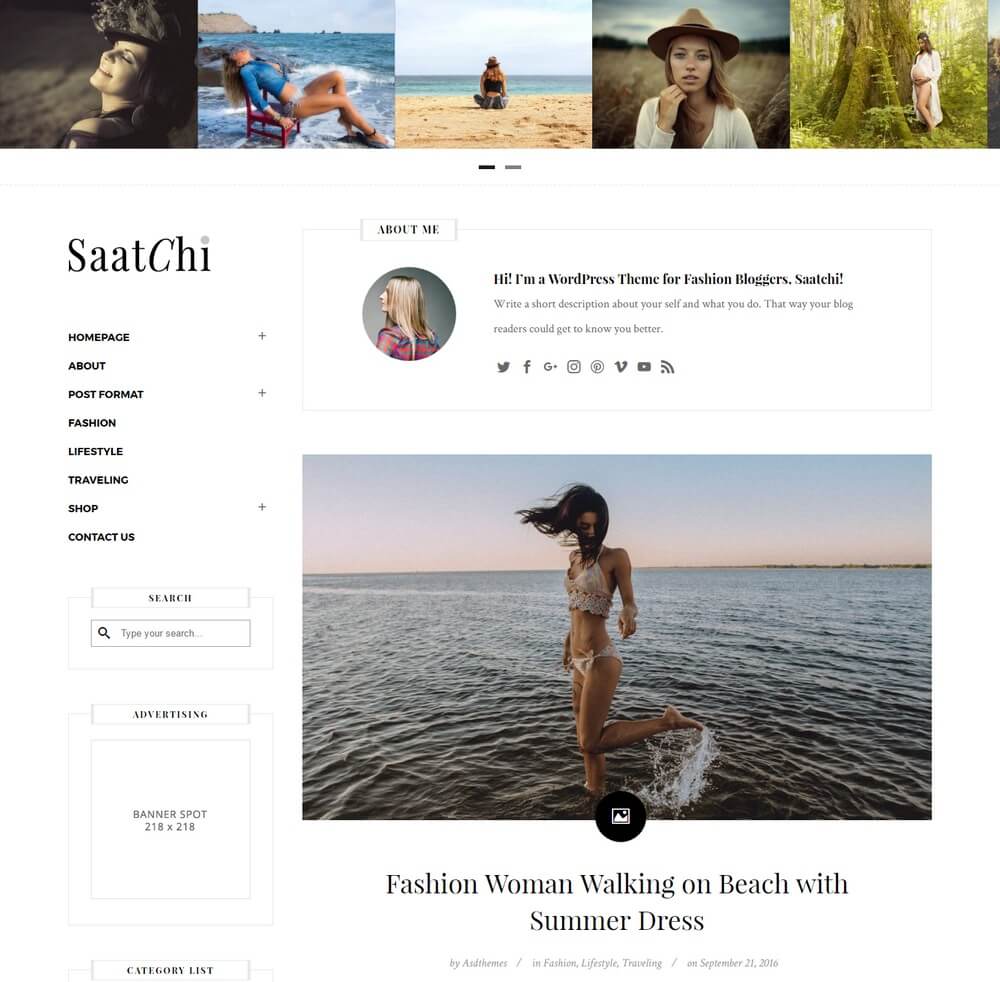 (Example: Saatchi WordPress Theme)
Look for a theme that comes with a great photo gallery with a clean layout. Or at least make sure the theme gives you more than one option to showcase your Instagram photos, like image sliders and carousels.
If you've already purchased a theme that doesn't have a gallery, you can use a plugin like Instagram Feed to easily add an Instagram-powered image gallery to your website.
3. Look For Instagram Widgets
You don't have to buy plugins to add Instagram feeds to your website if you find the right theme in the first place. There are WordPress themes that come integrated with Instagram widgets, where you can easily add your Instagram feed to your website sidebar or footer area.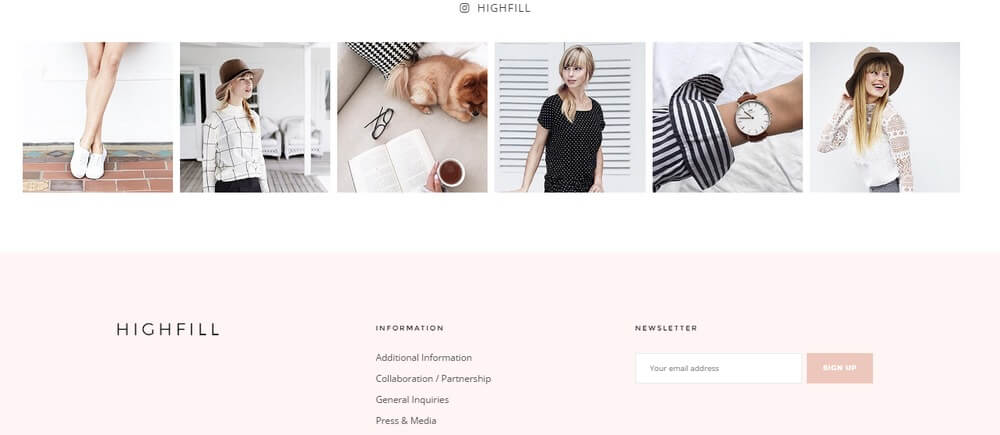 (Example: Highfill WordPress theme)
Highfill is a theme that supports both sidebar and footer Instagram feed widgets. And its footer widget is actually quite similar to the one we saw on the Pottery Barn website.
Not all themes have these widgets built into the design. So, remember to see if your theme has an Instagram widget before buying.
4. Minimalist Layout To Highlight Photography
In addition to all the Instagram integrations and widgets, you should also make sure your WordPress theme has a clean and a minimal layout that gives more focus to your photos.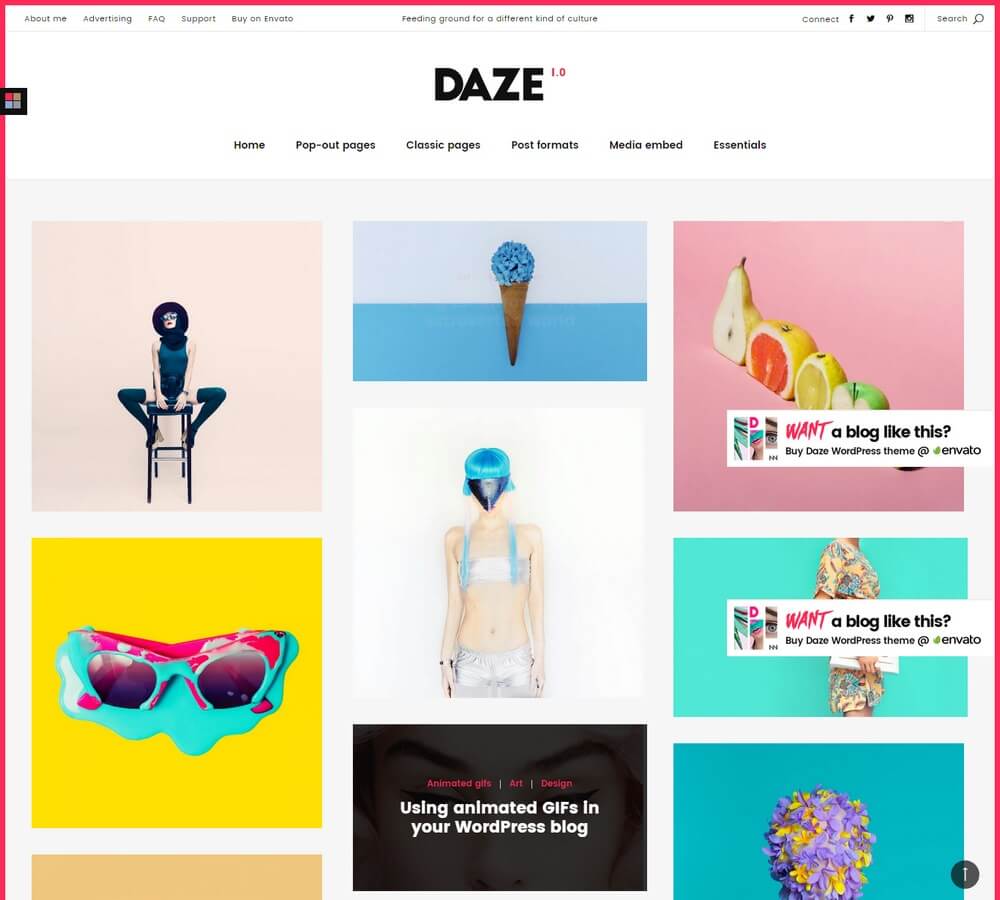 For example, have a look at the Daze WordPress theme. This theme not only comes with widgets for Instagram feeds but also features a beautifully minimalist layout that better highlight your website content with photos.
Look for a theme like this one if you want to take advantage of your photos and Instagram content at the same time.
5. Support For Page Builders
Using a page builder like Visual Composer is another great strategy you can use to build special sections on your website to showcase your Instagram content, like gallery pages, portfolios, and photo tours.
If you combine Visual Composer with a plugin like Instagram Photo & Video Gallery plugin, which supports the page builder and features 4 different gallery types and 7 pre-designed templates, you'll be able to achieve more with your landing pages and portfolios.
Visual Composer supports almost any WordPress theme. But, there are some WordPress themes that comes bundled with Visual Composer. Grab one of those themes and you won't have to buy the Visual Composer plugin separately.
6. Try Using A WordPress Plugin
If you already have a great theme and rather not spend money on a brand new theme, you can still get Instagram integrated into your current theme with a plugin.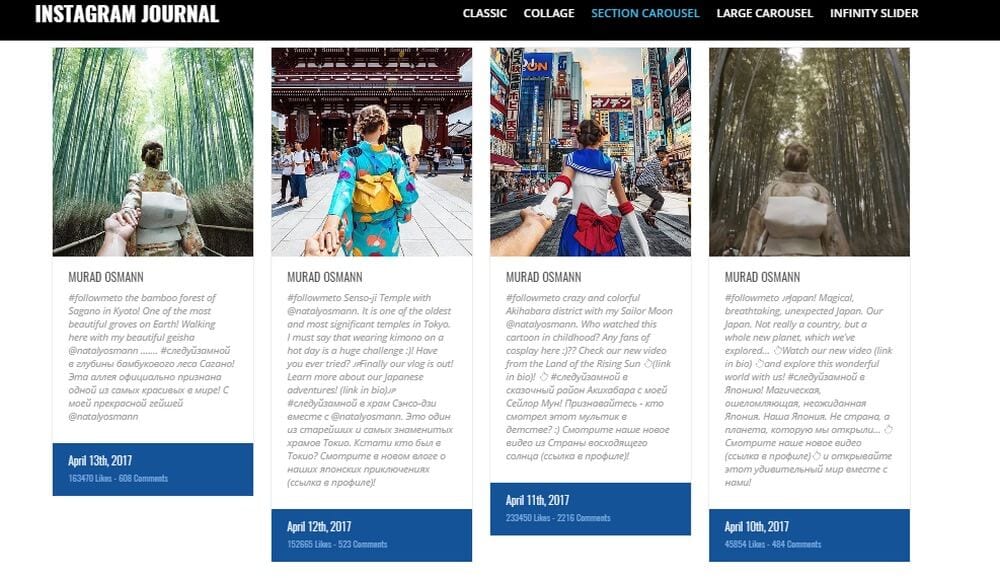 A plugin like Instagram Journal allows you to easily integrate your Instagram account with your WordPress website and showcase your Instagram photos, account feed, and hashtag feeds in many different ways, including galleries, carousels, sliders, collages, and more.
It's an easy and a cost-efficient way to get your old WordPress themes to work with Instagram.
Conclusion
There are so many ways you can use Instagram with your website to promote your business. You can run a hashtag campaign, a giveaway event, hold contests, and do much more. It's easier with WordPress. All you have to do is change your theme or use a plugin.
No need to waste your time looking a theme to promote your Instagram channel. We've already hand-picked some of the best Instagram WordPress themes and plugins just for you. Go have a look.