 Creating a CV or resume website with these WordPress themes is an effective way to promote yourself, your skills, and your services online.
Whether you're brand new to web design and WordPress or an experienced coder, this collection of the best CV and resume themes will help you launch a stylish and professional website with very little effort. The themes in this collection all have at least one pre-built website demo that can be used as the foundation for your own online resume. Some of them even have multiple pre-built designs to choose from, giving you plenty of options for your online CV or resume website.
Once you've imported the demo content, you can start adding your own content to the pre-built templates. Typical templates found in these resume WordPress themes cover the about me page, the employment history section, an online portfolio area, and the educational details overview page. You can also use the blogging capabilities of WordPress and the blog post templates found in these themes to start publishing regular updates and news on your site.
Regardless of what type of opportunities you're looking for, including new employment, more freelance clients, or prospective partnerships, this collection of the best CV and resume WordPress themes can help. They're also suitable for a wide range of industries, fields, and sectors, so whatever area you want to work in, you'll find an appropriate design here.
Ivery - Creative Portfolio and Resume WordPress Theme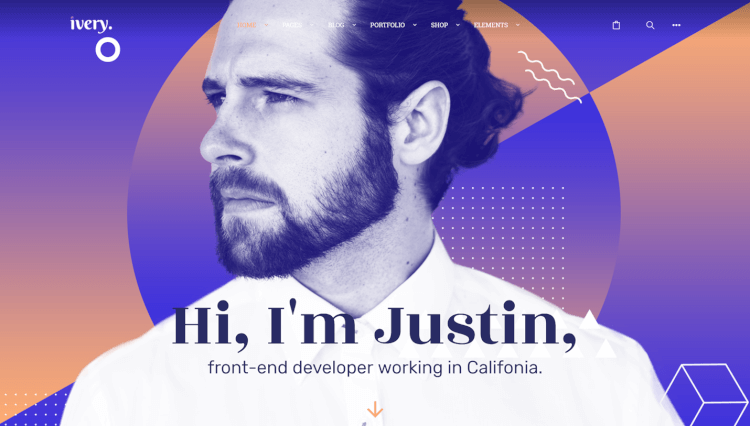 Ivery has a bold and colorful design that will help your online resume stand out from the competition. The five Ivery homepages will certainly appeal to those working in the creative industries. However, thanks to the customization tools and settings, anyone should be able to adjust the Ivery demos to match their preferences.
Rida - Online Portfolio, CV and Resume WordPress Theme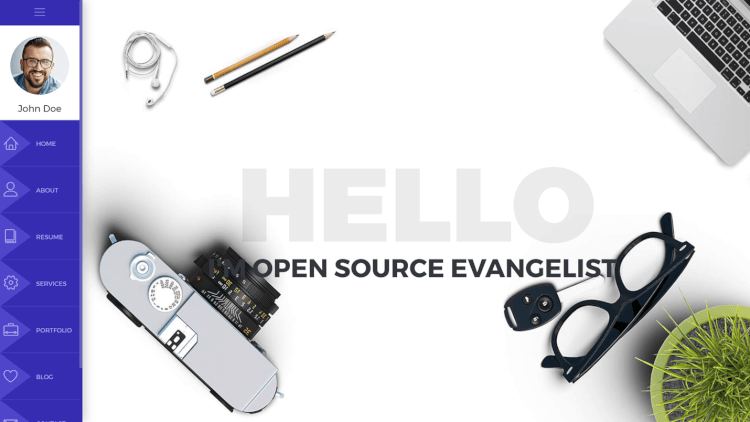 Rida is another flexible option in this collection of the best resume and CV WordPress themes. From creating simple one page online resumes to building out a full portfolio, Rida is easy to setup and customize. As well as the theme options, there's also a drag-and-drop page builder tool to help you create a custom website that reflects your personality.
Me - Creative Portfolio and Resume WordPress Theme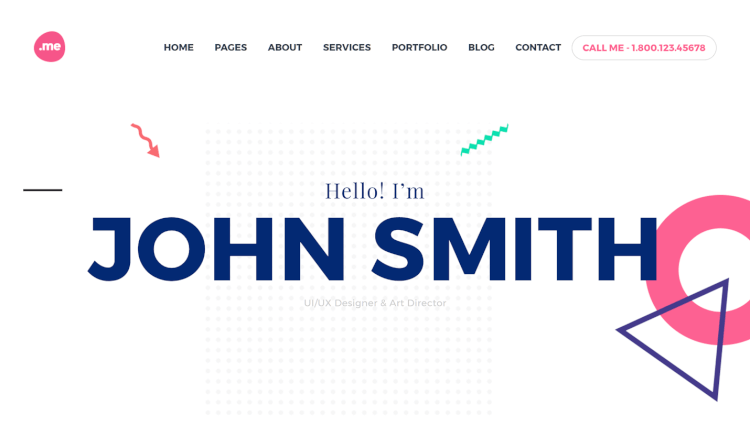 Me is a creative resume and CV WordPress theme that will help you set up a professional online portfolio in no time at all. Whether you simply want to publish your personal details and skills online or you need to share your work and completed projects with the world, Me has all the features, tools, and pre-built content to help you achieve your goals.
Unique - Online Portfolio, CV and Resume WordPress Theme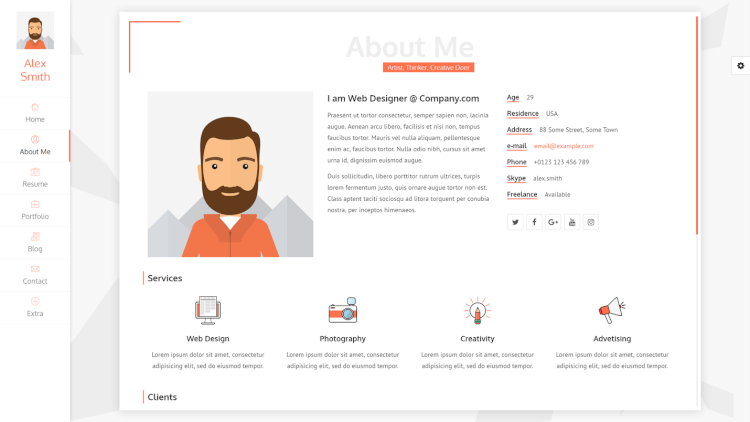 Unique has a simple and straightforward design that will help you communicate effectively with your visitors. Whether you're looking for a new role or seeking more freelance clients, this is a versatile CV and resume WordPress theme that is can be installed in just a few clicks and is easy to use.
Alamgir - Portfolio, CV and Resume WordPress Theme
Alamgir and its five homepage layouts and selection of pre-built templates should provide you with everything needed to start promoting yourself online. The client logo slider, skills graph, and portfolio sections are all ready to display your own custom content, while the theme personalization options make it easy to add some of your personality to your resume website.
Resuma - Resume, CV and Portfolio WordPress Theme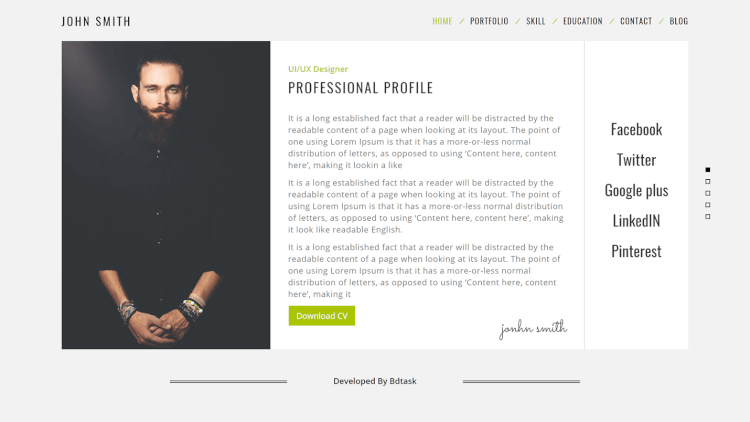 Resuma is ideal for sharing your educational achievements, your employment history, and your current skill set. Prospective employers can find out all about you before getting in touch via the integrated contact form. As the design of this theme is fully responsive, your visitors can access all areas of your online resume regardless of what type of device they are using.
Odessa - VCard, CV and Resume WordPress Theme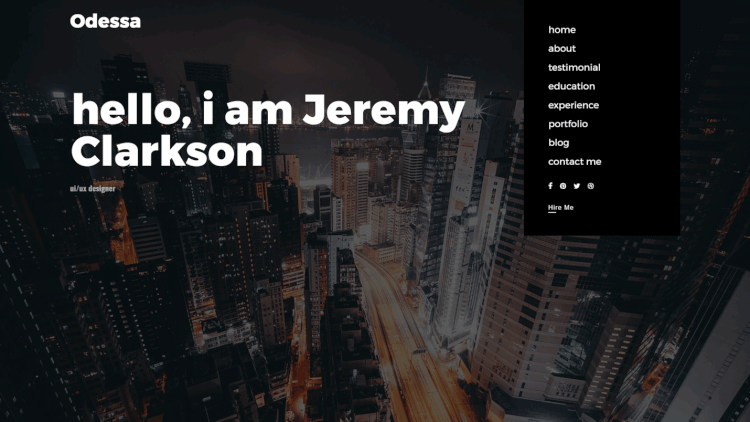 Odessa is a brand new CV and resume WordPress theme with a fully modern design and feature list. Whether you want to publish static, audio, or video content on your online resume website, Odessa is ready to go. You can also add an availability calendar to your site with the option of accepting online bookings. If you want to start landing new clients now, Odessa could be a good choice for your promotional website.
Recoba - Resume, CV and VCard WordPress Theme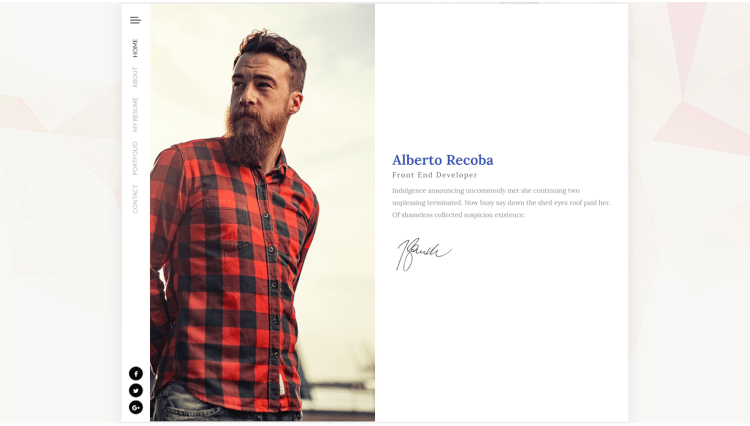 Recoba has three main modes that make it easy to set the background display of your online resume to a static image, a video, or a slider. Once you've made a choice, you can start adding your own content to the rest of the Recoba demo, customizing the colors and fonts, and choosing which of the page templates to enable.
Damon - Personal Resume and CV WordPress Theme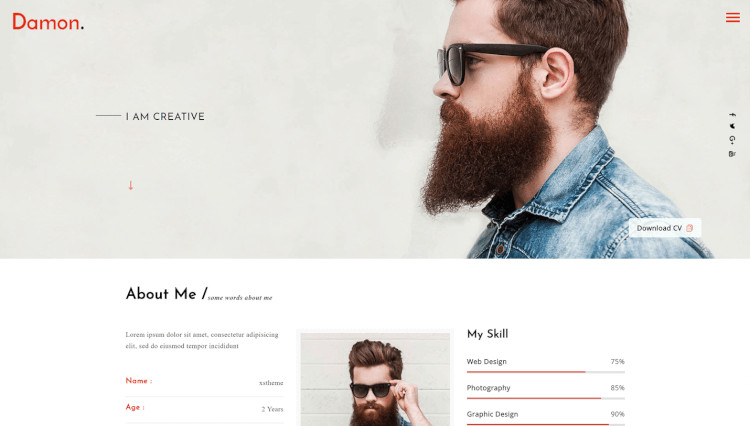 Damon has a few different pre-built homepage options to choose from. All the designs are minimal to ensure fast loading times, maximum mobile device compatibility, and a clean and intuitive user experience. Some of the optional elements you can add to your WordPress resume website include profile photos, skill graphs, testimonial sliders, employment and education timelines, and contact details to name just a few.
GentleMan- vCard, CV and Resume WordPress Theme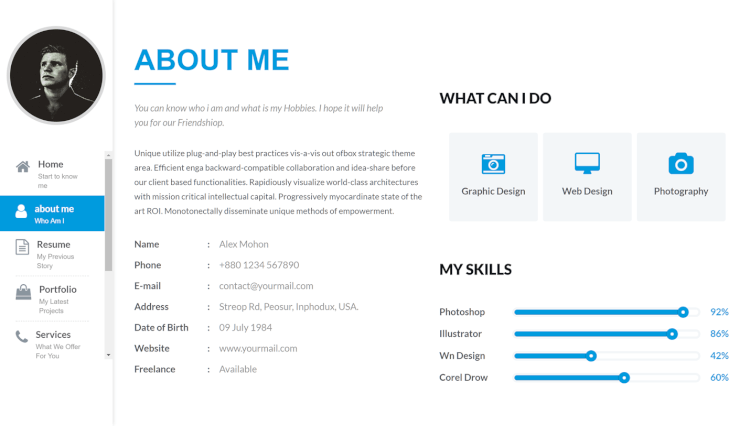 GentleMan has two different homepage layouts to help anyone create an online resume with WordPress. Once you've chosen one of the demos, you can start adding your content to the services page template, the about page layout, and the online resume section. You can also use the portfolio templates to publish your work and completed projects on your website.
See My CV - Resume, CV and vCard WordPress Theme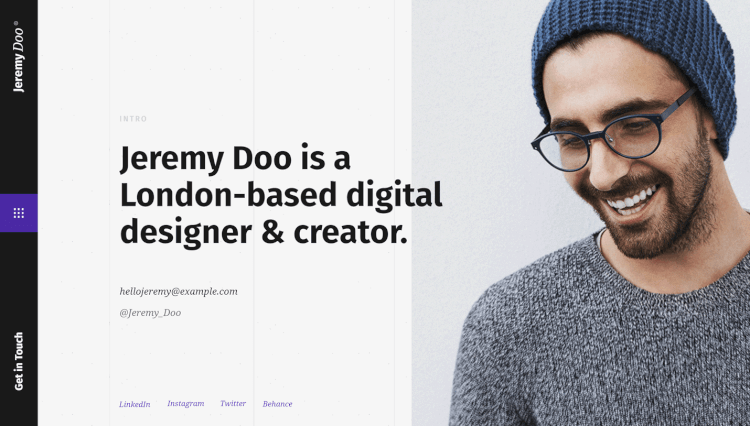 See My CV is ideal for both online resumes and portfolios. In fact, thanks to the great selection of layouts and templates, you can easily transition from a basic online resume website into a fully featured portfolio as your needs change. Adding a blog to your online resume is easy too, helping you share your thoughts and knowledge with prospective employers and partners.
Verka - CV and Resume WordPress Theme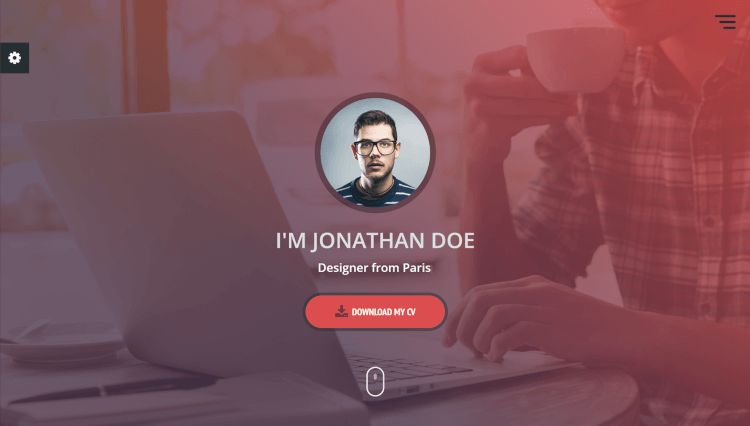 Verka has a professional and straightforward design that should be a good option for anyone who wants to communicate their best qualities without too many distractions. As well as the selection of homepage demos, there's also a library of templates for the other pages your online resume might need, such as the portfolio section, the blog, and contact page.
Promotion - Animated CV and Resume WordPress Theme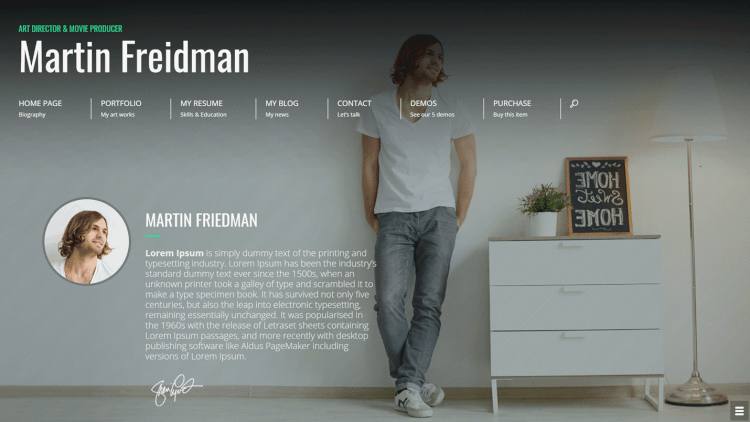 Promotion uses animations to great effect throughout its five resume website demos. You can also use the optional video background displays to catch the attention of your visitors and display any video content you've created. Getting started is easy, thanks to the one-click demo content importer tool making Promotion an interesting option for launching an online resume website today.
RS Card - Resume, CV and vCard WordPress Theme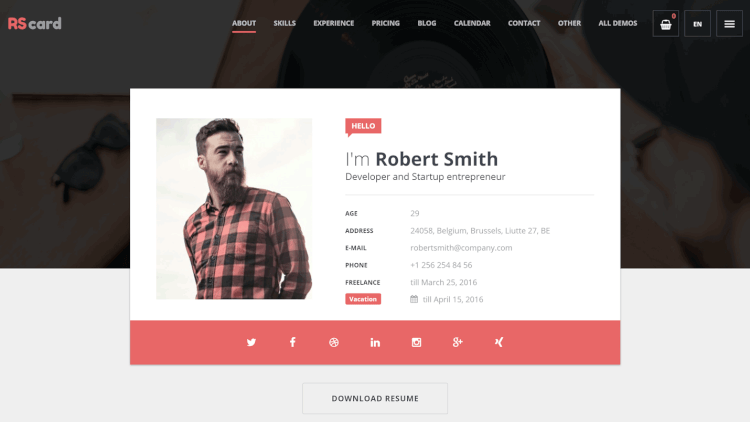 RS Card has a number of pre-built designs that are suitable for different industries. Furthermore, the demo content is all fully customizable through the theme options control panel. RS Card is also packed with useful optional features that can ensure your online resume presents the most important personal information including your professional skills, portfolio pieces, work experiences, and rate details.
Certy - Creative Resume, CV and vCard WordPress Theme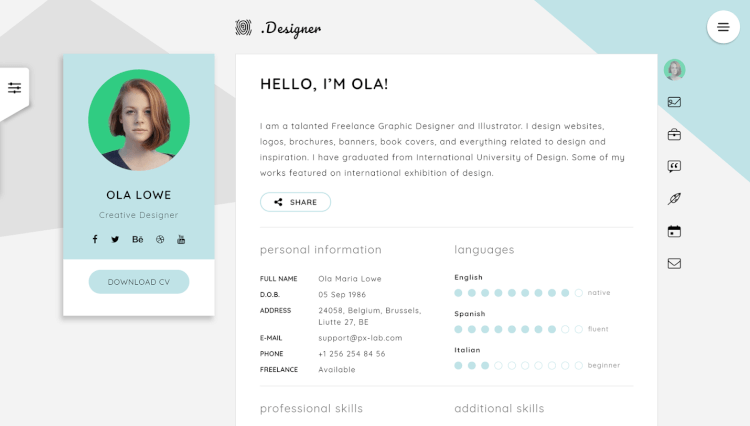 Certy will help you create a custom resume website that perfectly reflects your skills and best qualities. As well as the four pre-built homepage designs, you can use the integrated page builder and unique sections to design a website that's right for your resume. As you'd expect from one of the best CV and resume WordPress themes, Certy is fully mobile responsive to ensure everyone can find and access your website.
Bio - vCard, Resume, and CV WordPress Theme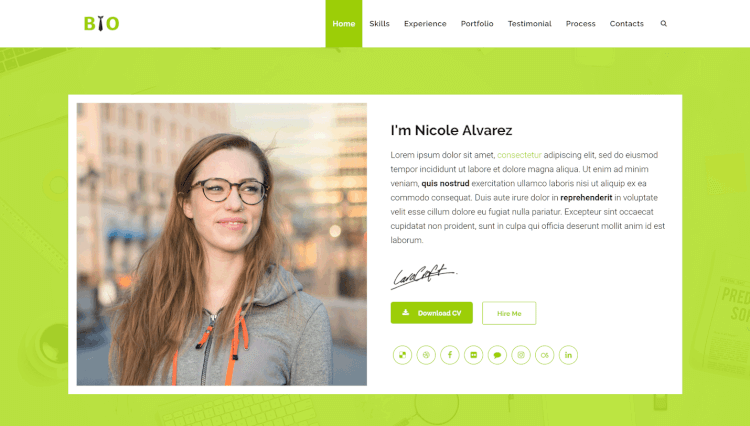 Bio gives you three stylish homepages to choose from when creating your online resume website with WordPress. The creative designs of the Bio homepages make this theme a suitable choice for those working in the design and fashion industries. However, any one should be able to make good use of this theme thanks to its wide range of customization options.