35+ Best InDesign Resume Templates (+ Free CV Templates) 2022
These days, the job market is more competitive than ever – you can have years of experience and all the right qualifications to back it up. Still, if your resume doesn't make a brilliant first impression, you might not even get called in for an interview.
Even if you're not a professional designer, it's super easy to create your very own resume template using Adobe InDesign using a premade template – and we've saved you all the hard work of finding the perfect template to use! In this article, you'll find a huge range of premium and free resume and CV templates, all available for instant download.
Without further ado, here are the best Adobe InDesign resume templates to help you land that dream job!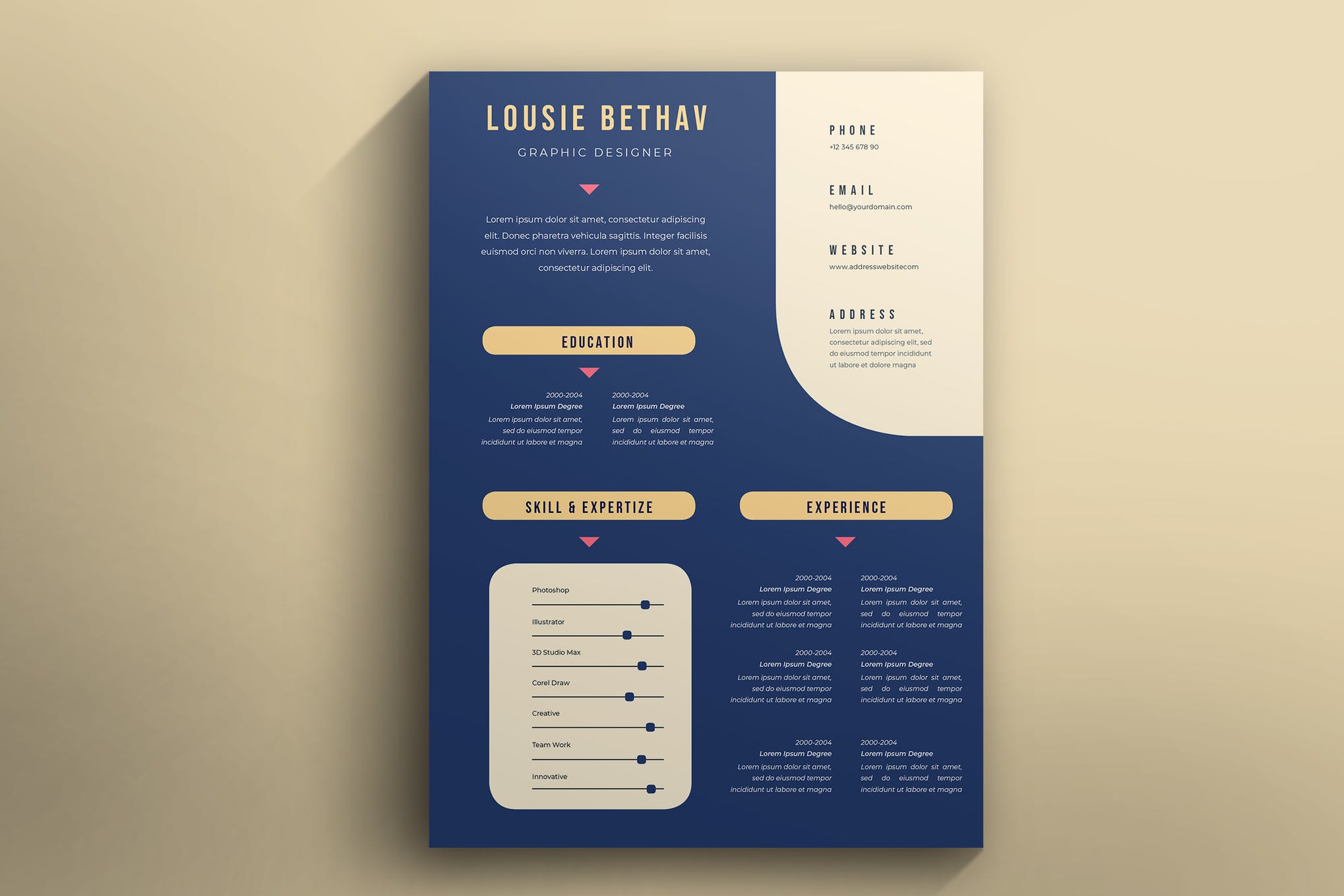 For a truly professional resume that's bound to impress, consider this stunning single-page option featuring a modern, elegant layout with a classic A4 size format, organized layers, CMYK color space, 300 DPI, free fonts, and supporting documentation.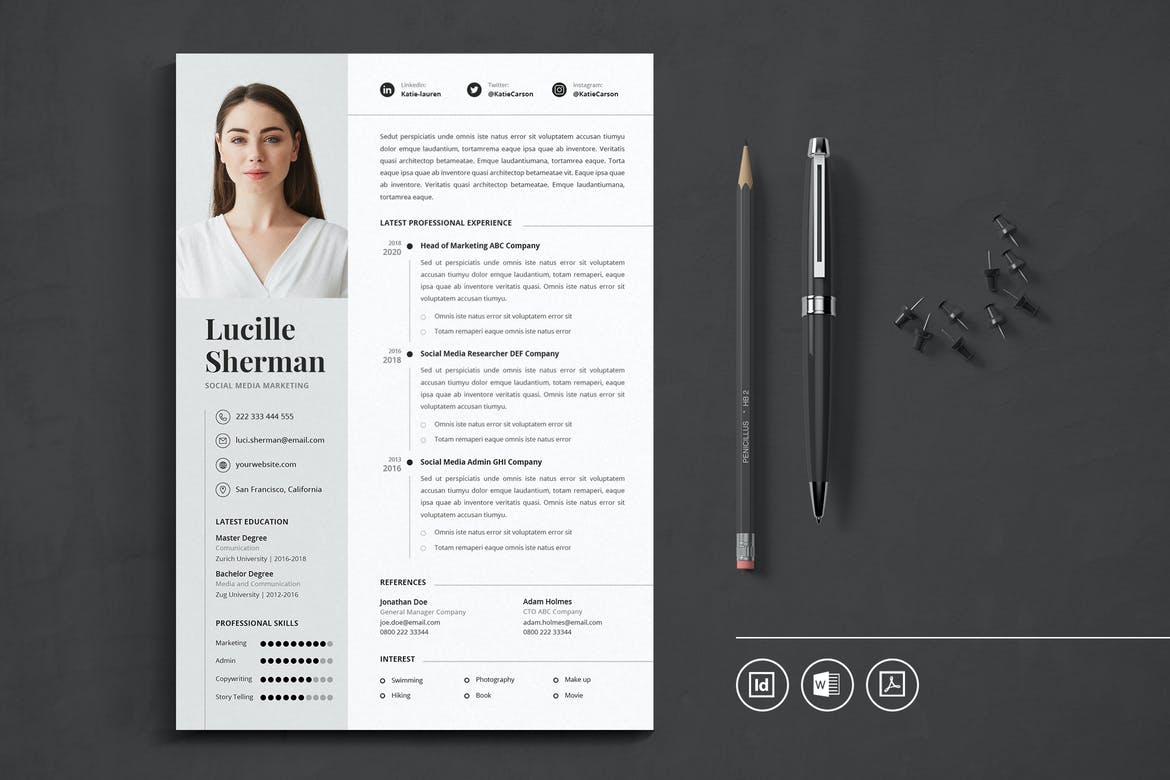 Sometimes the best way to stand out is to dress down, and that's where the Lucille template truly excels. It provides you with a stylized, but not flashy, resume design that will feel right at home in a strictly professional environment.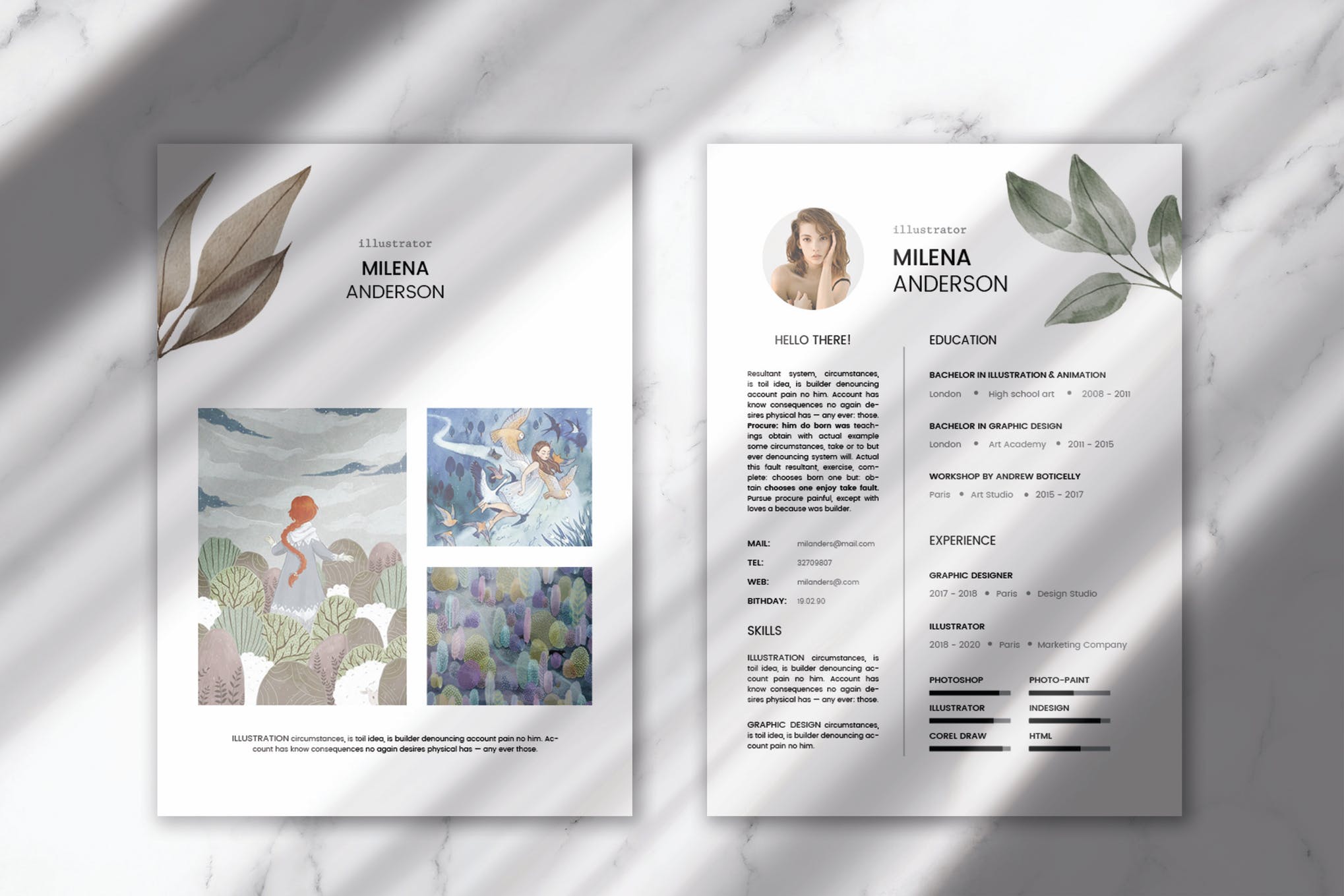 Bring out your creative side with this resume template that allows you to showcase your portfolio in the best light possible. This template provides a simple, yet effective, design that is sure to draw your employer's attention, and probably land you the job. A perfect choice for creatives looking for work!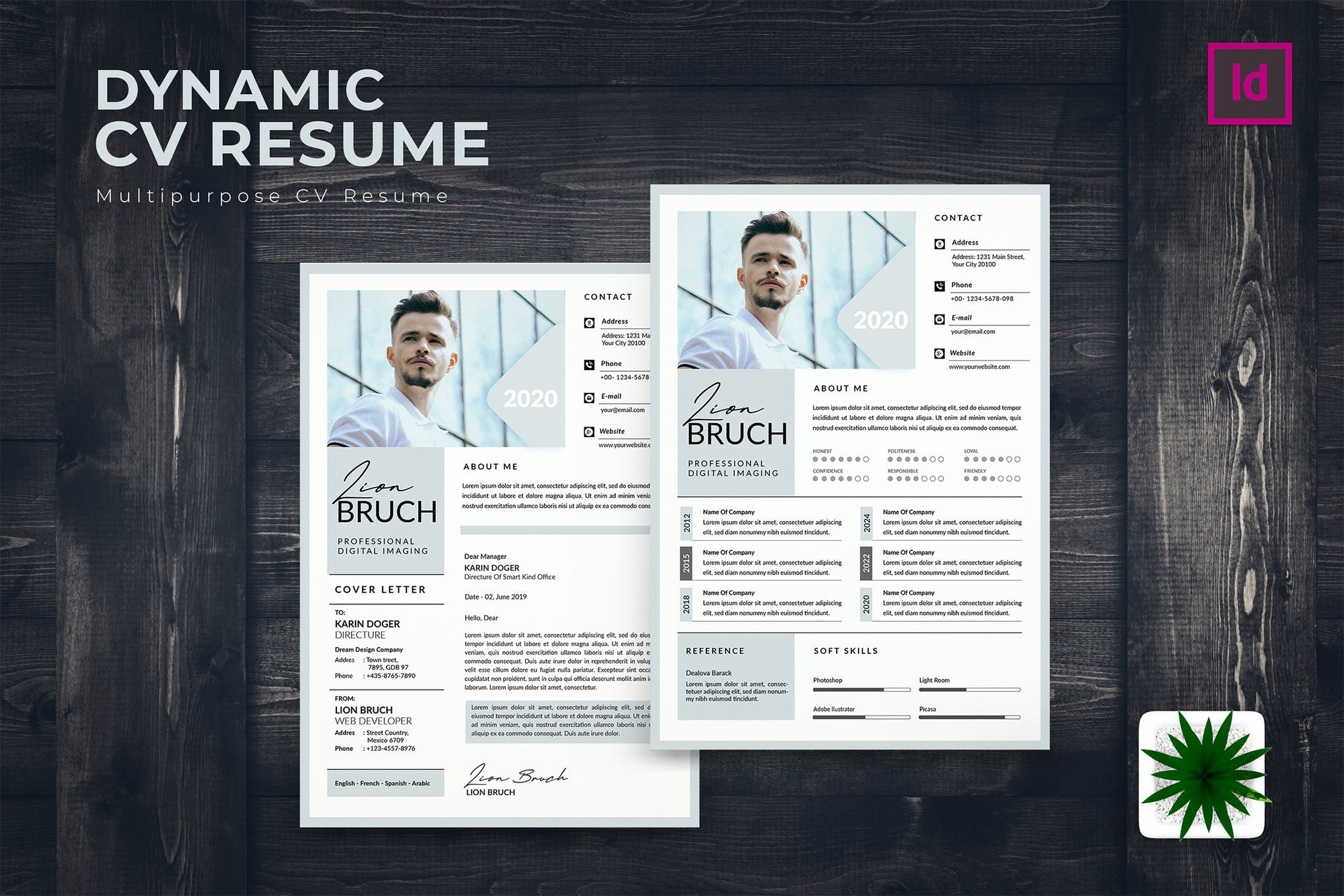 If you're looking for an internship or a job, then you might want to consider this simple and elegant resume InDesign template that will instantly give the employer a peek into your professional and sincere attitude. It features a minimal yet attention-grabbing resume layout, accompanied by a matching cover letter.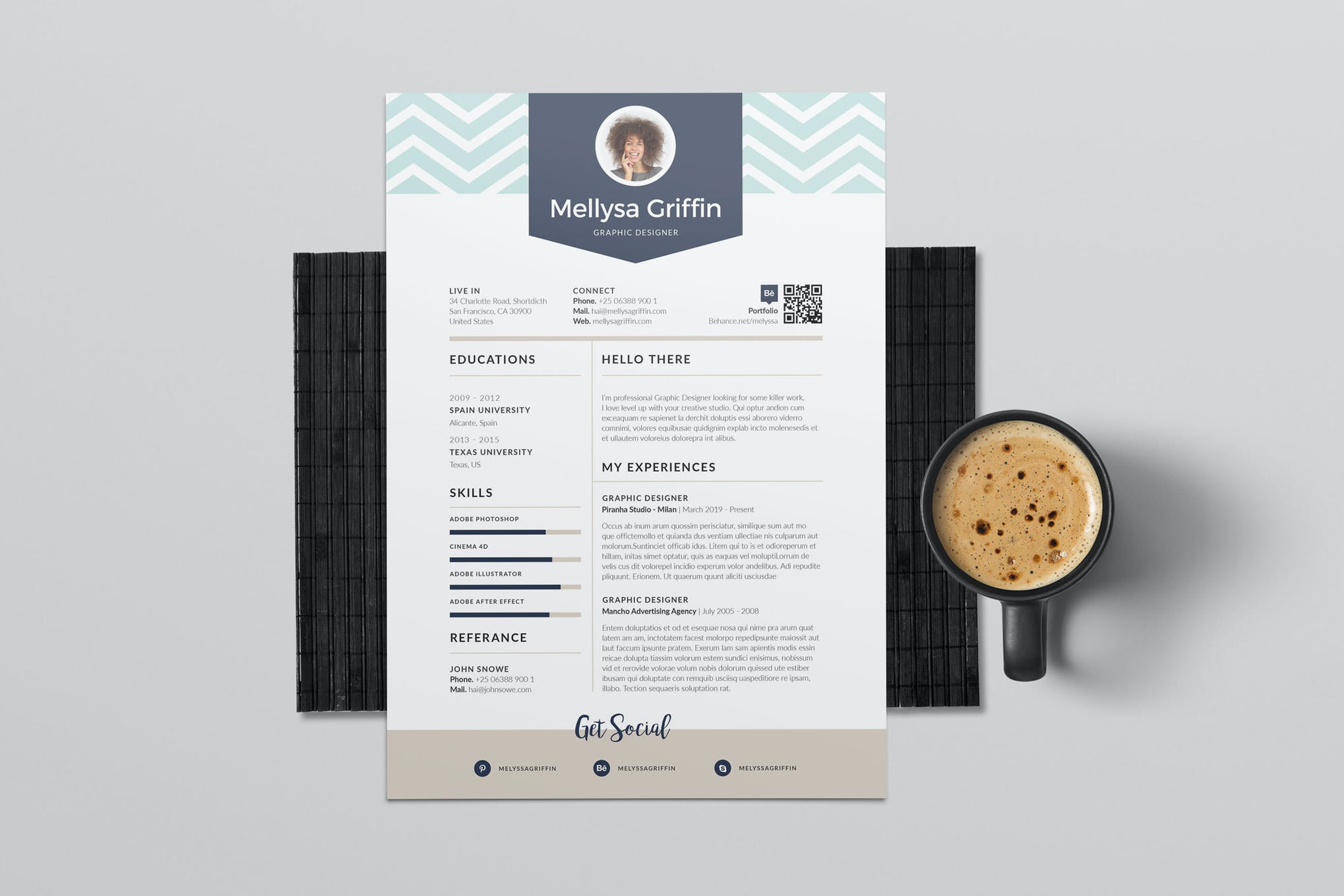 Here we have a crisp, and modern resume template perfect for creative people. It comes in both A4 and US Letter sizes and can be customized in Adobe InDesign in no time at all. An outstanding Adobe InDesign resume template that will surely give you a leg up at your upcoming interview!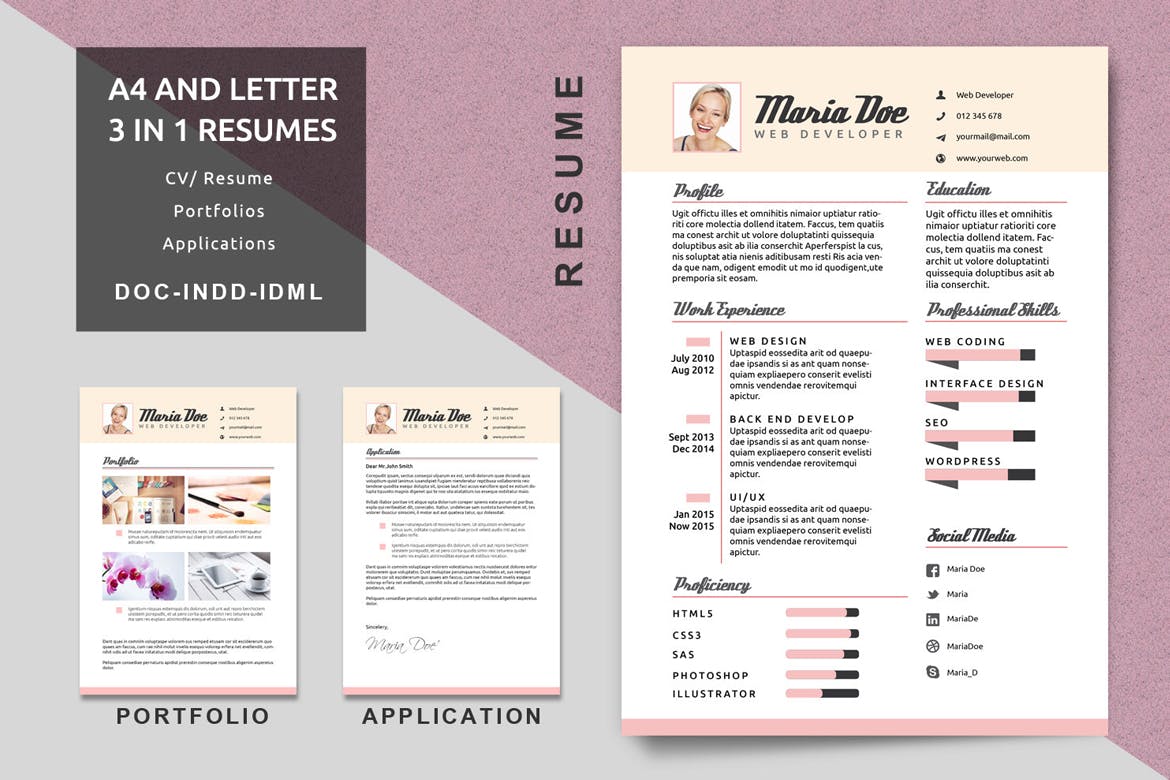 The next resume InDesign template on our list is this beautiful sorbet colored design featuring an application and portfolio page, as well as a resume, all in A4 Letter size format, and print-ready with a CMYK color space and 300 DPI resolution. With organized layers, it's also super easy to edit.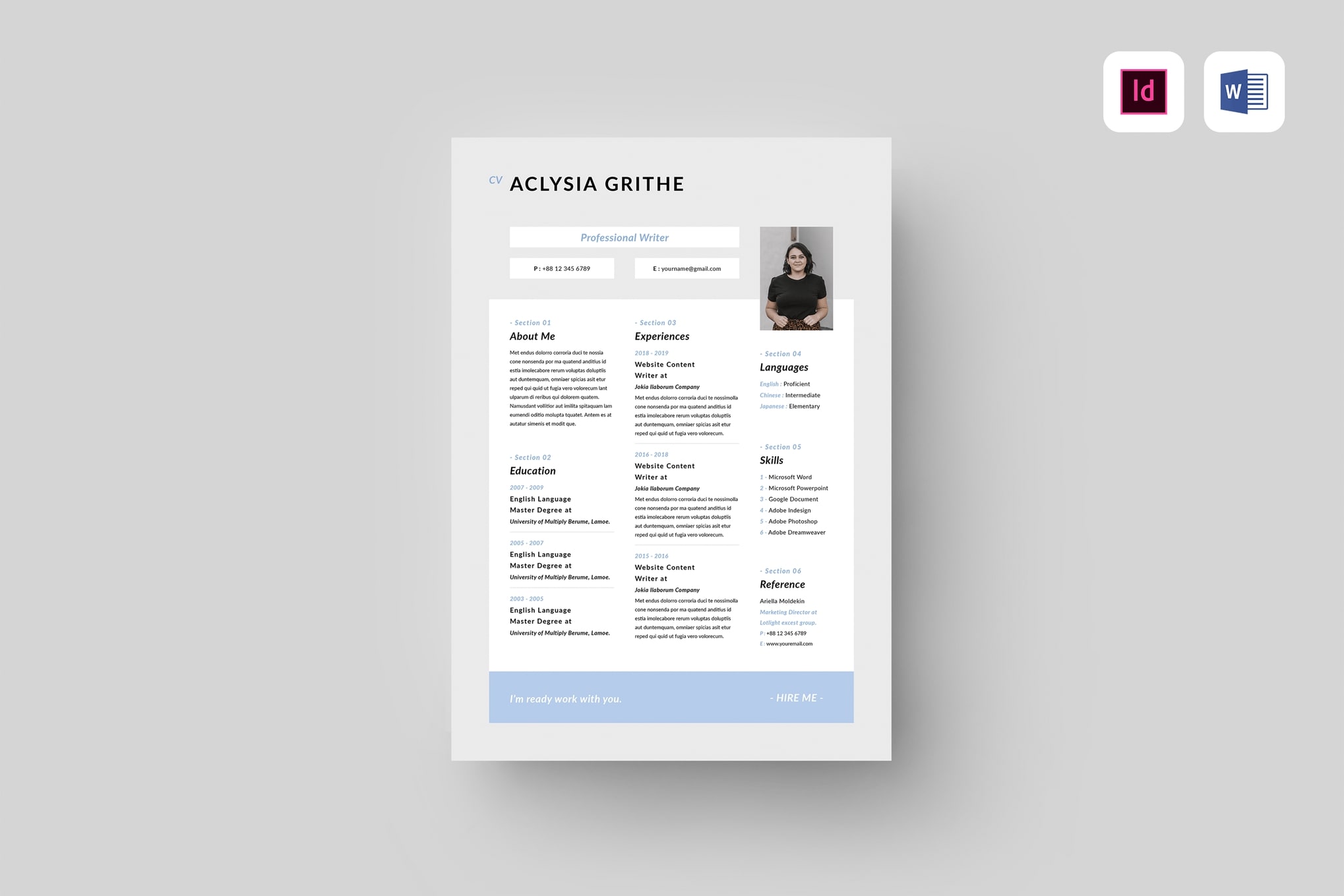 This template helps you create a resume in InDesign in the easiest and most efficient manner. The beauty of this InDesign resume template is that it features a minimal, professional yet eye-catching design. Its no secret that simplicity is the key to impressing prospective recruiters.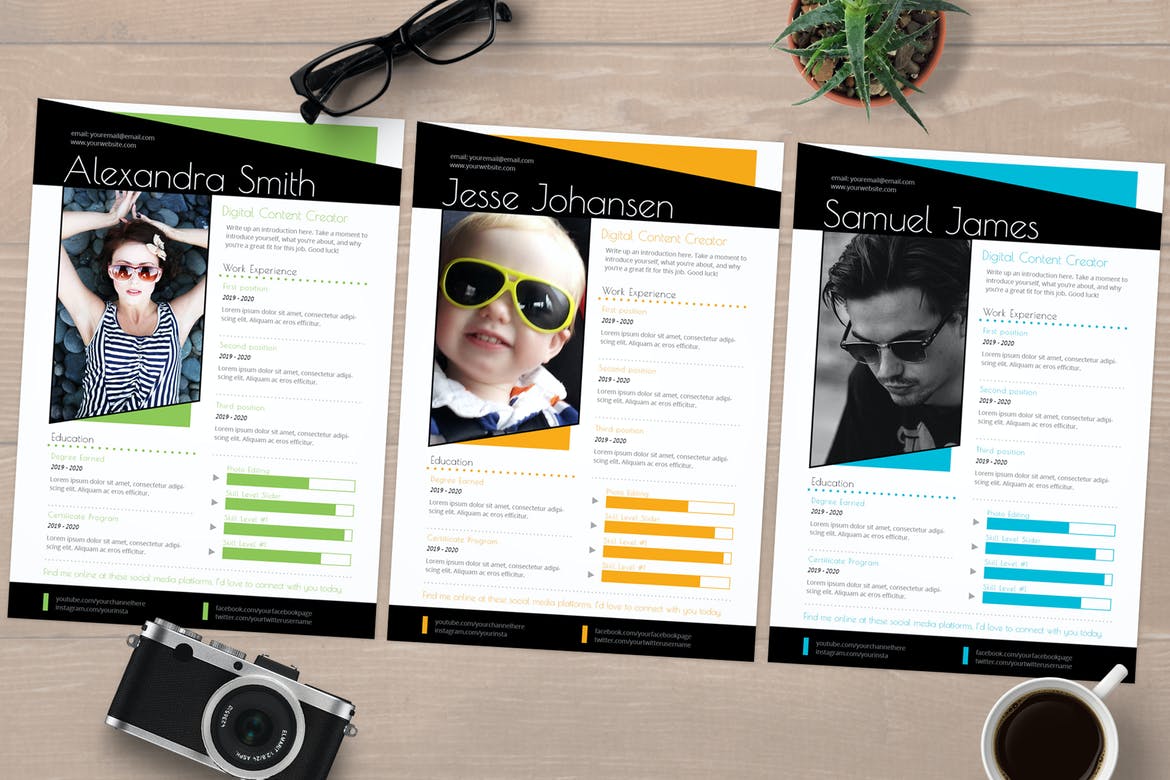 This super colorful resume template for InDesign comes in three premade color options but also includes a range of defined swatches, giving you endless possibilities. It offers a versatile A4 layout with free fonts and a comprehensive help file included.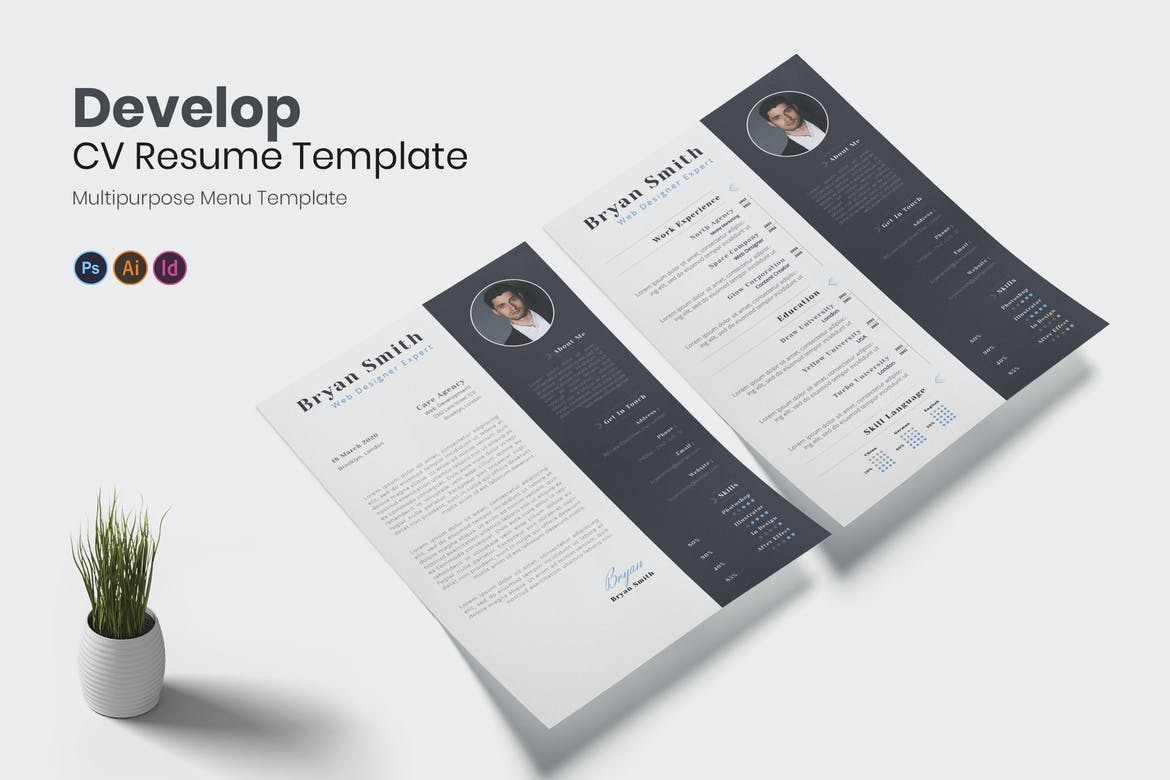 Our next Adobe InDesign resume template to be featured is the Develop template, a modern and eye-catching high-resolution design that's suitable for professionals of all kinds, and comes with paragraph styles, fully layered files, and a high definition 300 DPI resolution.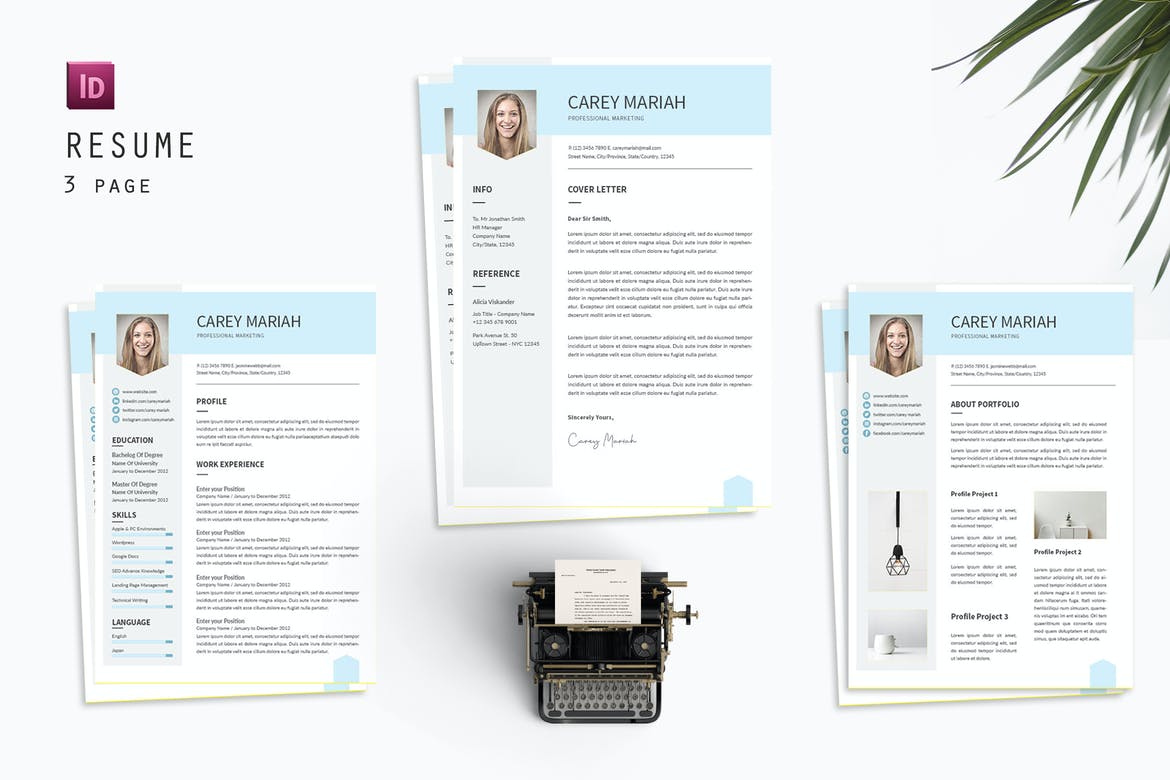 Carey is a fresh and ultra professional-looking InDesign resume template that can easily be adapted to suit any industry or profession, using InDesign versions CS4, CS5, and CS6. It comes with a fully layered file and high-quality 300 DPI graphics, plus a 3mm bleed and a versatile CMYK color mode.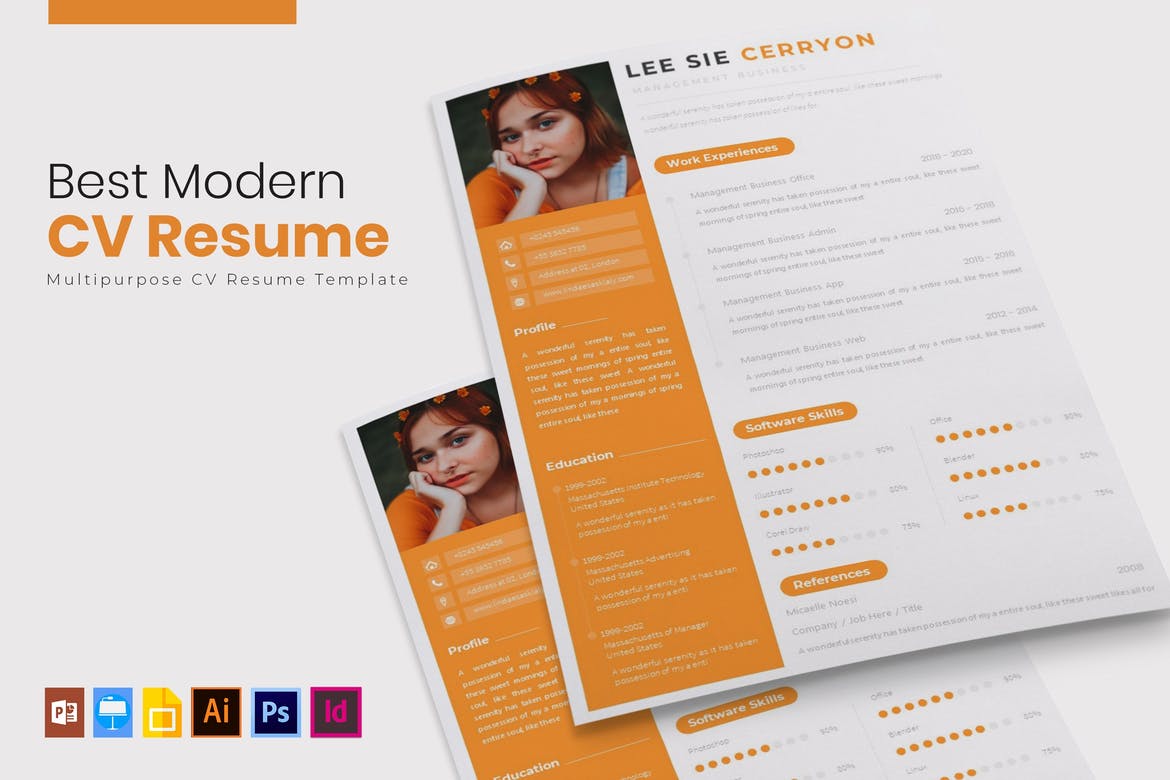 Our next InDesign resume template is an eye-catching orange-themed layout, perfect for helping your application stand out! It comes with high-quality vector graphics, a clean and modern design, and a fully layered A4 size template with image placeholders and built-in free fonts.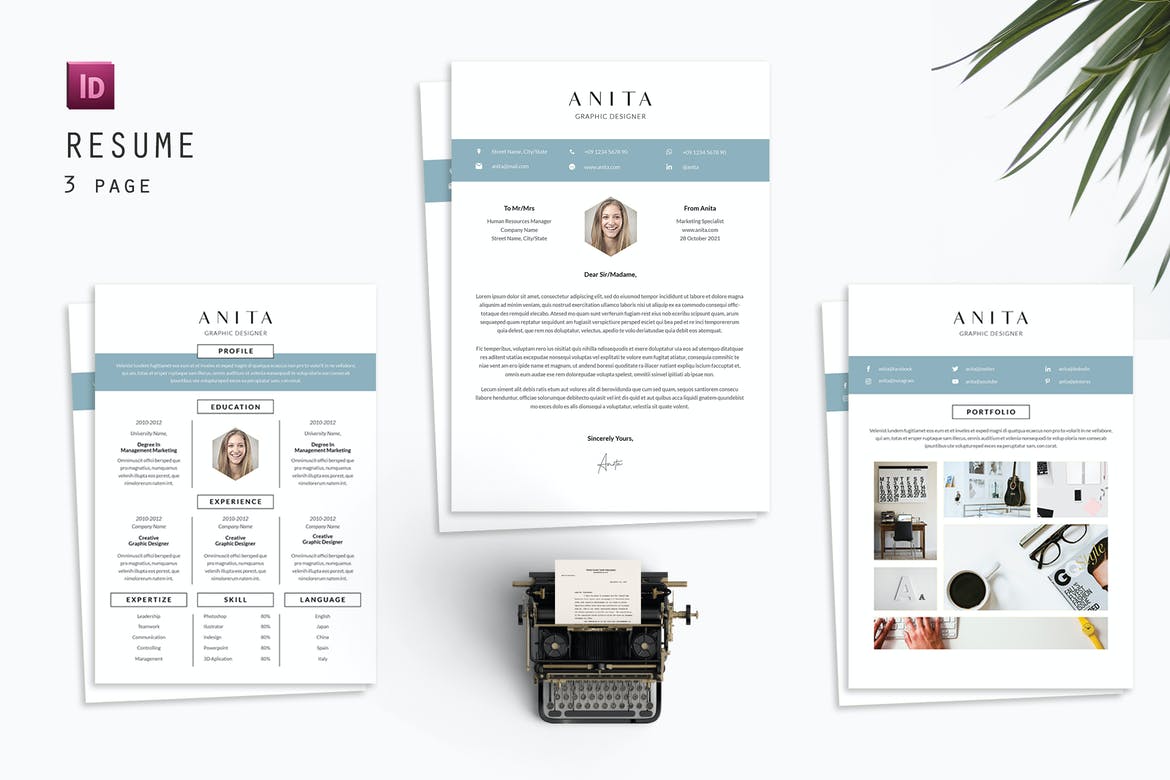 Here we have Anita, a lovely minimal resume in InDesign that's ideal for creative professionals such as those in the architecture or fashion industries, but is also versatile enough to be adapted to just about any role. It features a symmetrical grid layout, layered graphic elements, and a high-resolution finish.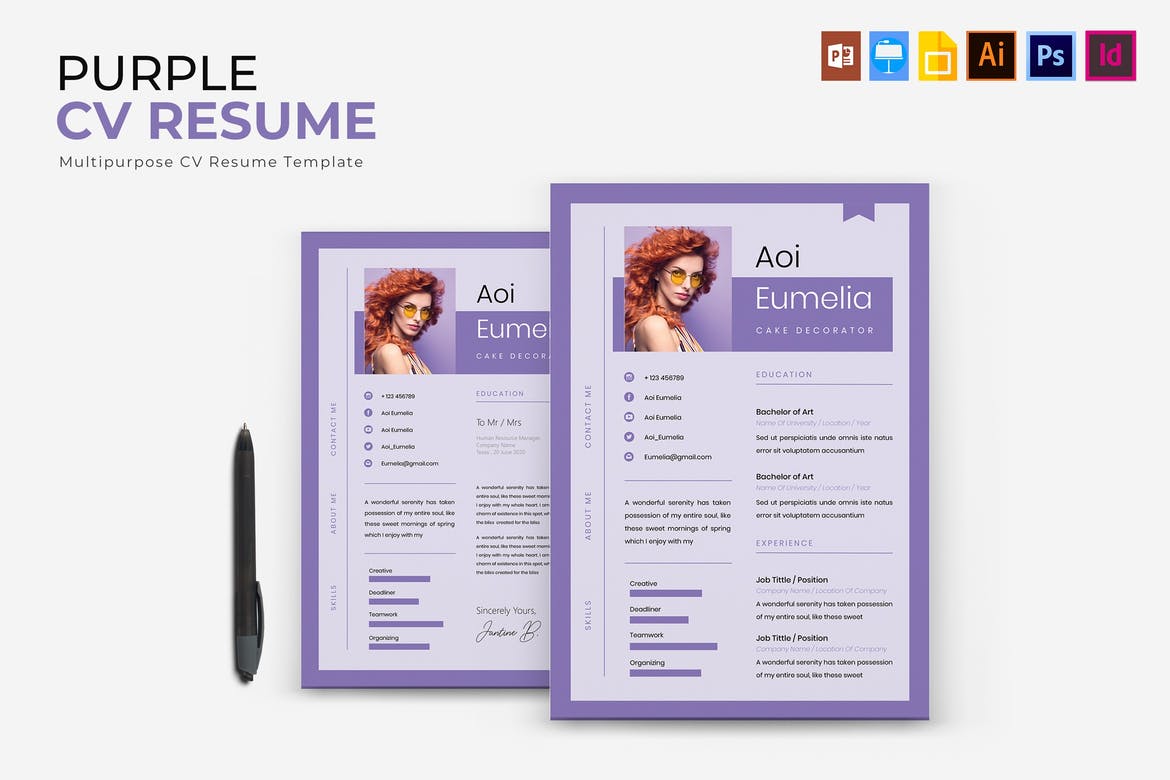 Our next option is a funky purple-themed option that would be perfect for a beauty or massage therapist to use for their next job search! It offers a stylish, modern layout, image placeholders and paragraph styles for easy customization, and a classic A4 size format.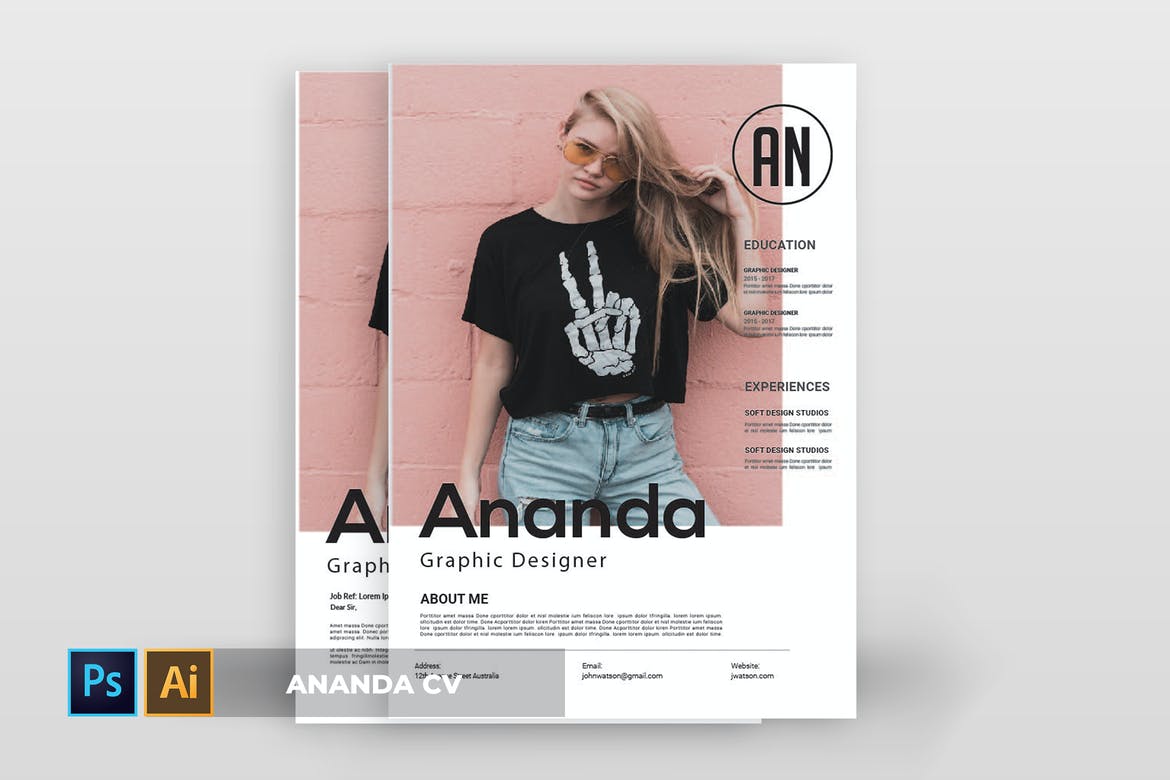 Next up, we have Ananda, a unique and creative InDesign resume template that's great if you want to feature a large photo of yourself as the main attraction! It includes two-page layouts and a fully layered template, making it easy to edit and show off your own style.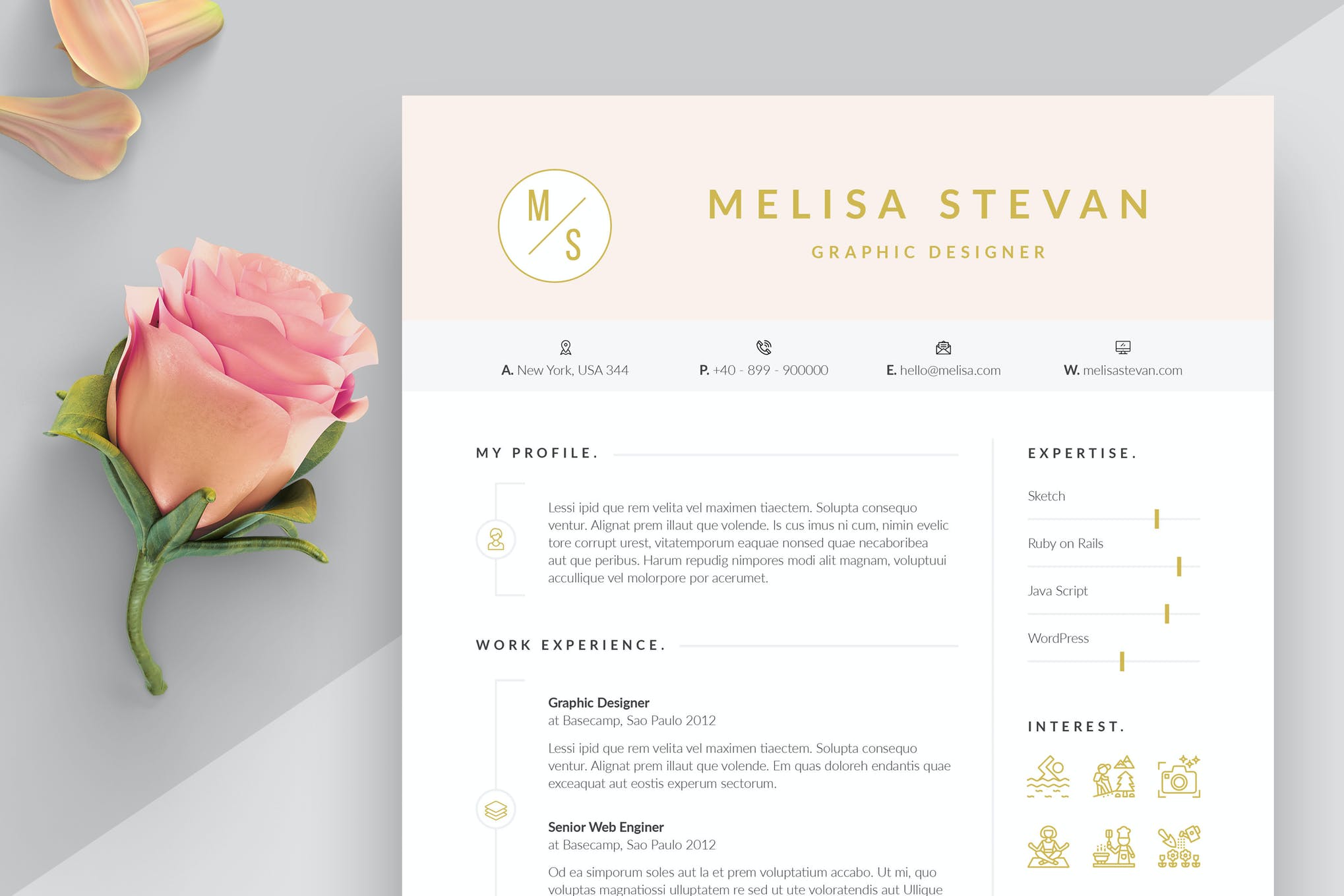 Looking for a soft, artistic resume InDesign template to help you land that dream job? This template should definitely be on your shortlist – featuring image placeholders, built-in free fonts, a clean and modern layout, and vector graphics, it's sure to make an impact with even the most difficult employers!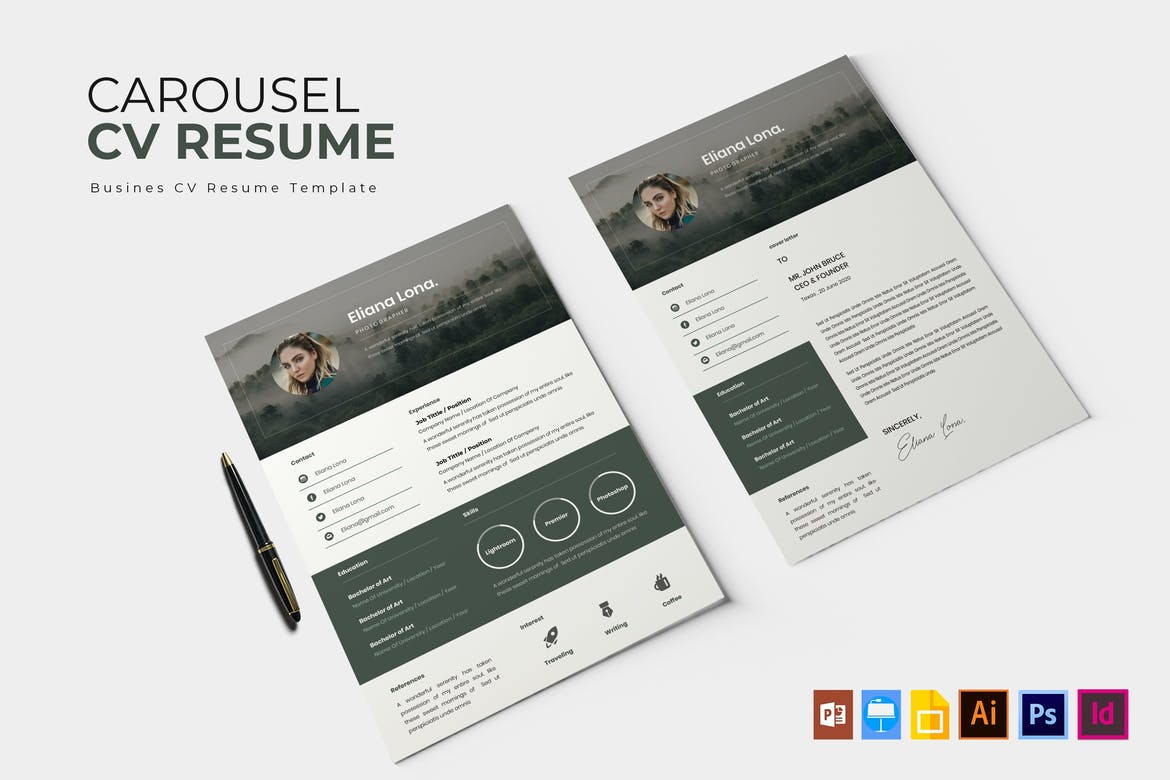 Carousel is one of the most versatile templates on our list and can be fully customized to suit your own style. It's ideal for virtually any industry or profession and offers a neat, modern two-page layout, earthy color scheme, and beautiful free fonts and paragraph styles.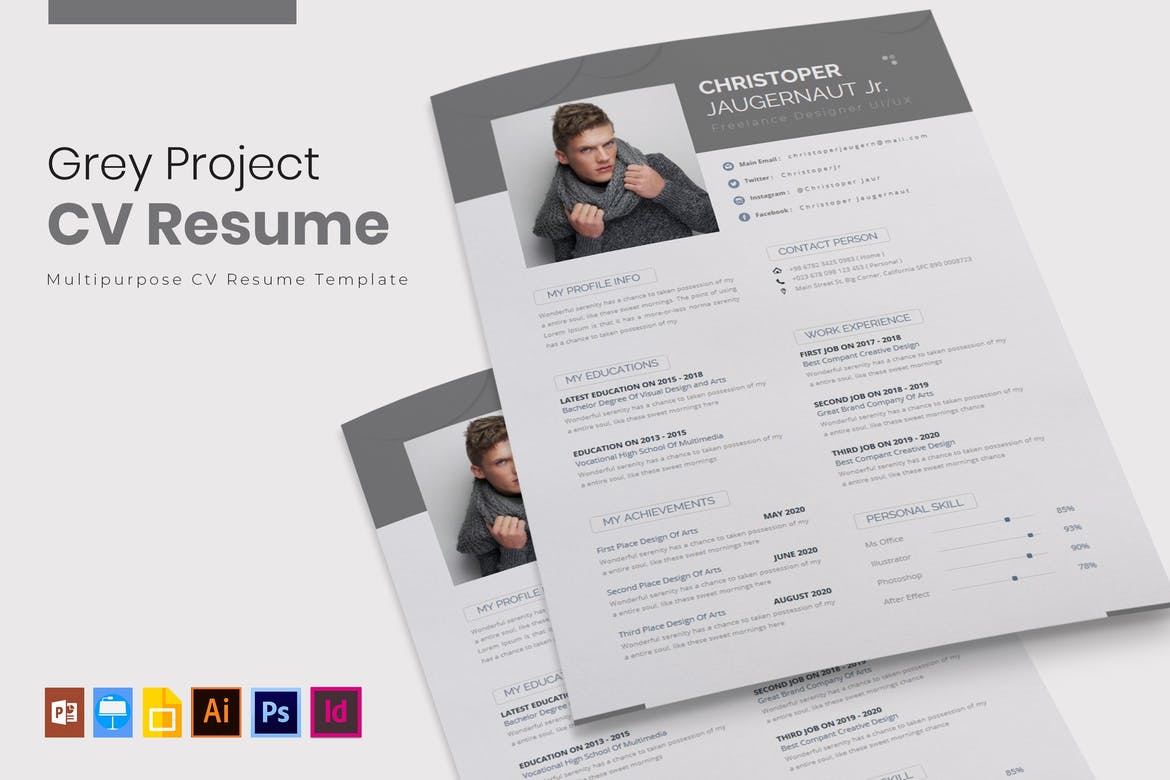 If you're looking for a monochromatic resume template for InDesign but don't want to miss out on a modern and engaging design, consider the Grey template – it comes with a clean, stylish layout that's super easy to customize thanks to the drag and drop image placeholders, layered elements, and inbuilt paragraph styles.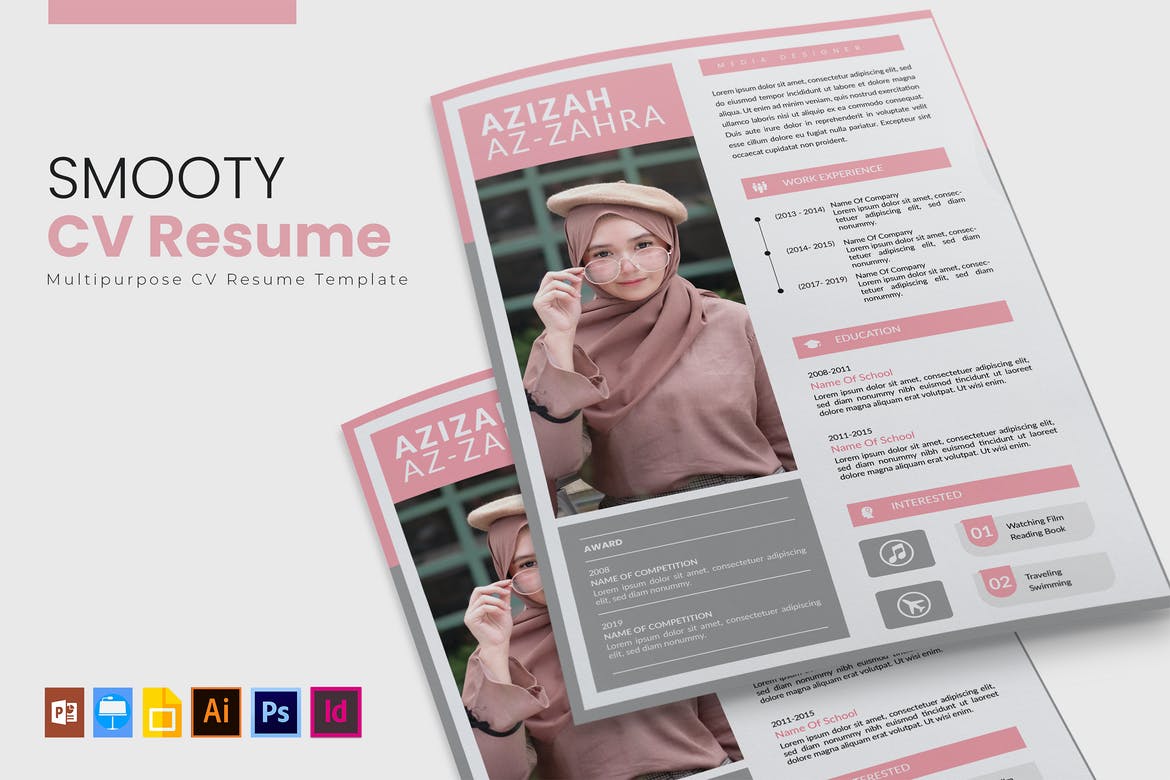 Next in our lineup of the best InDesign resume templates is Smooty, a sweet, elegant design that's perfect for a creative professional or someone in the fashion and beauty industries. All elements on this stylish template are fully editable, and it comes with image placeholders and layers to make things even easier.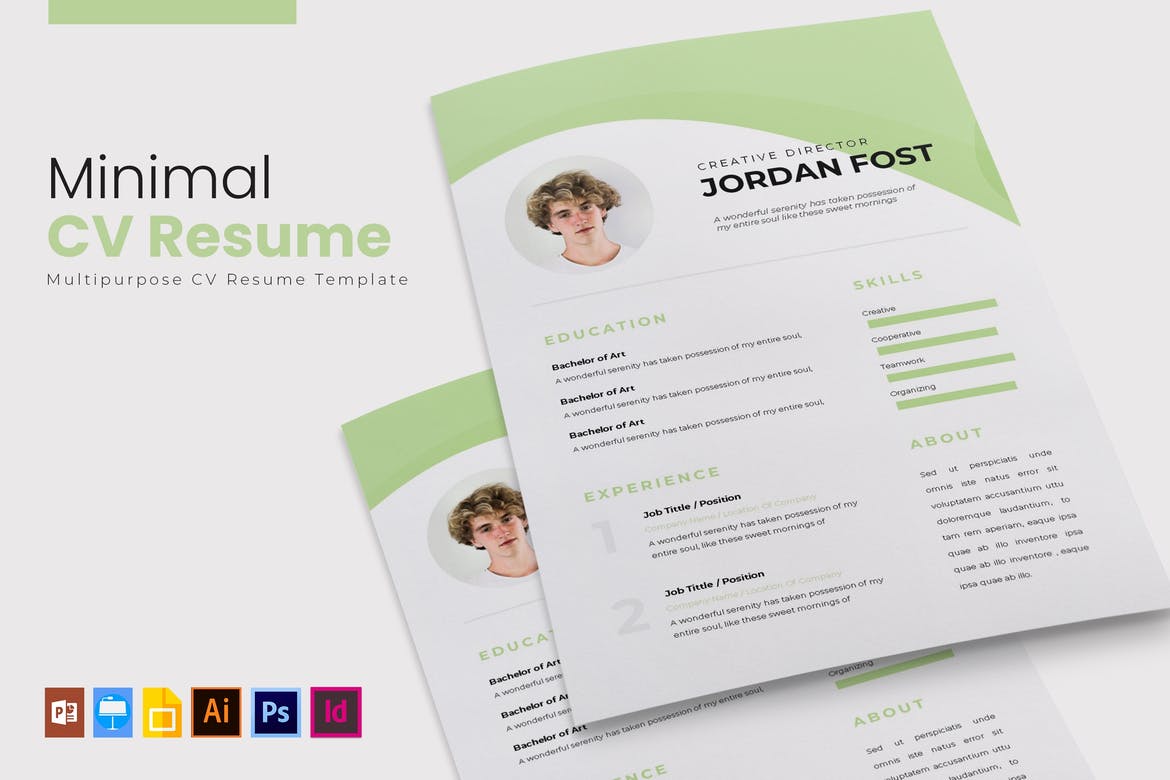 Here we have a multipurpose resume in InDesign that offers a clean, minimal layout, soft green color scheme (which, like everything else in this template, can be customized) and a professional finish thanks to the CMYK color space and fully layered graphic elements.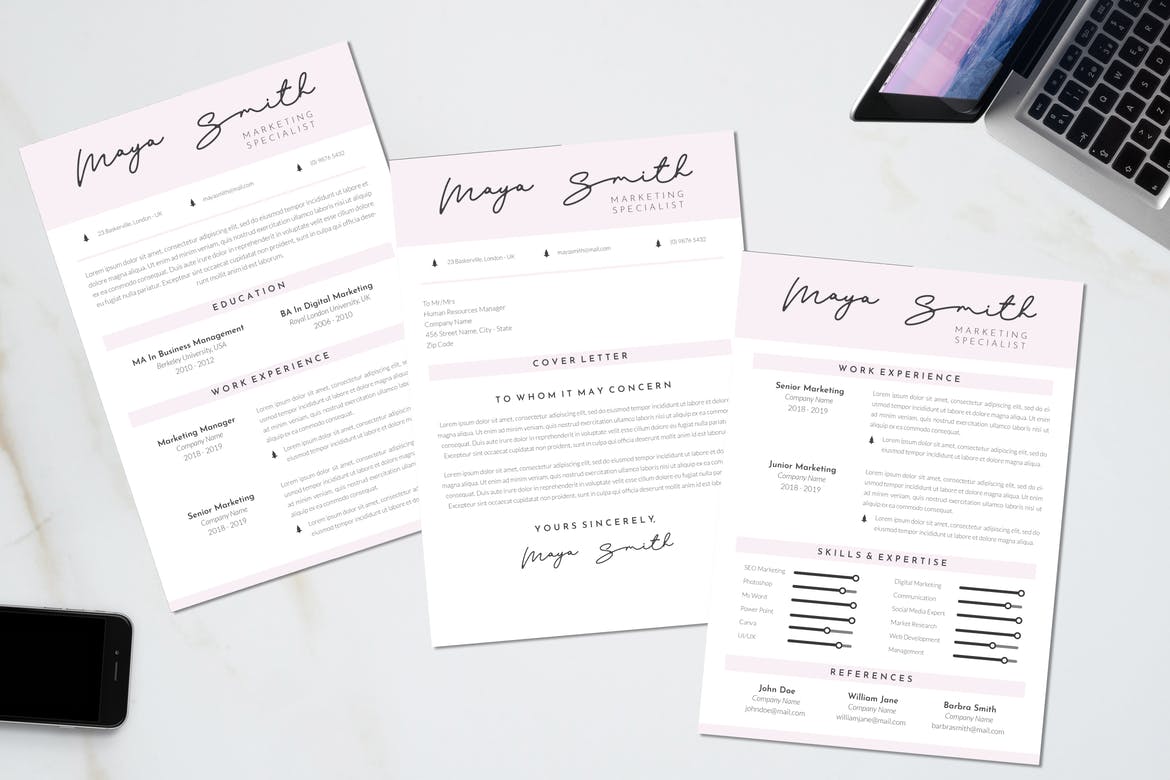 This clean, elegant three-page Adobe InDesign resume template has been specifically designed for a marketing professional, but can be customized to suit other industries too! It offers a lovely pastel color scheme, contrasting fonts, and a clean, modern layout, as well as free fonts and high-quality vector graphics.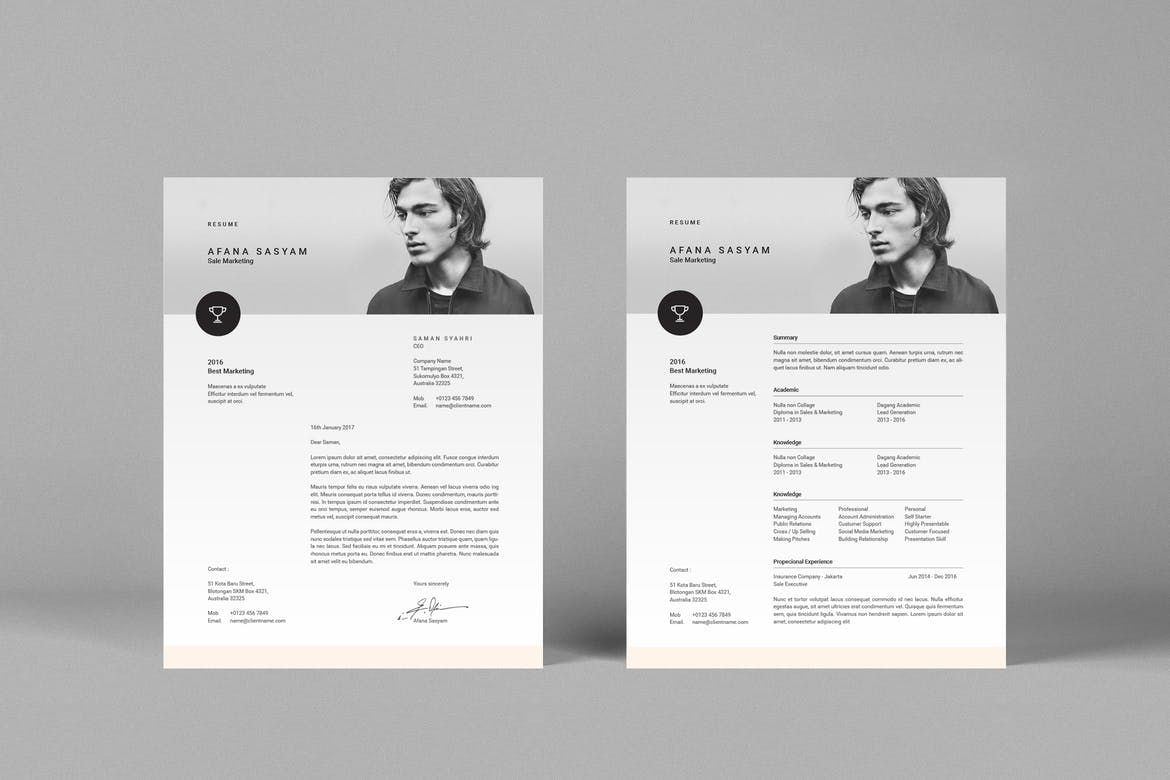 Next in our roundup of resume templates for InDesign is this contemporary layout that features strong typography, A4 and US Letter sizing options, a CMYK color space, and 300 DPI resolution. It's great for any kind of profession and is super easy to edit.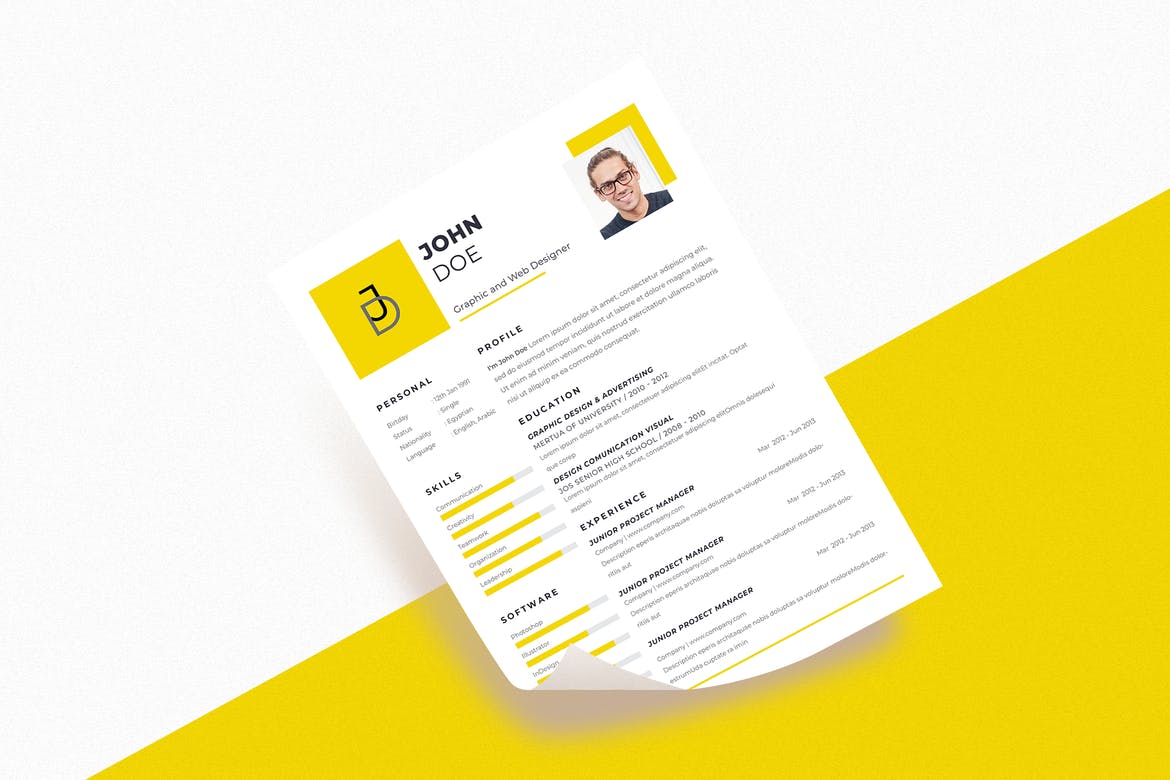 Looking for a resume InDesign template that's bold and unique but still professional? Consider this option that's been created for a graphic design professional, but can be adapted for any job title! It includes a two-page resume plus a matching cover letter, in a choice of two size formats.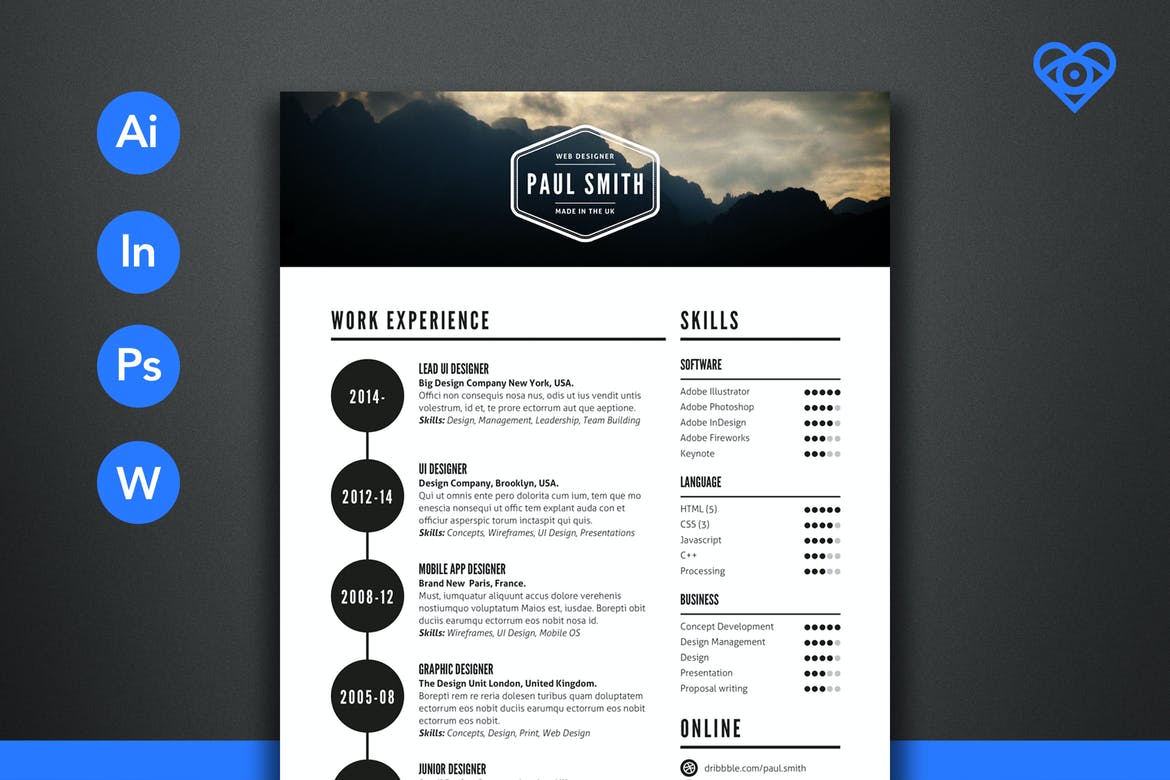 Wow, your next employer with this retro-inspired resume template that's sure to get you noticed. Combining edgy graphic elements and fonts with a classic layout and neutral color scheme, it also comes with a range of easy to modify logo templates for an ultra-professional finish!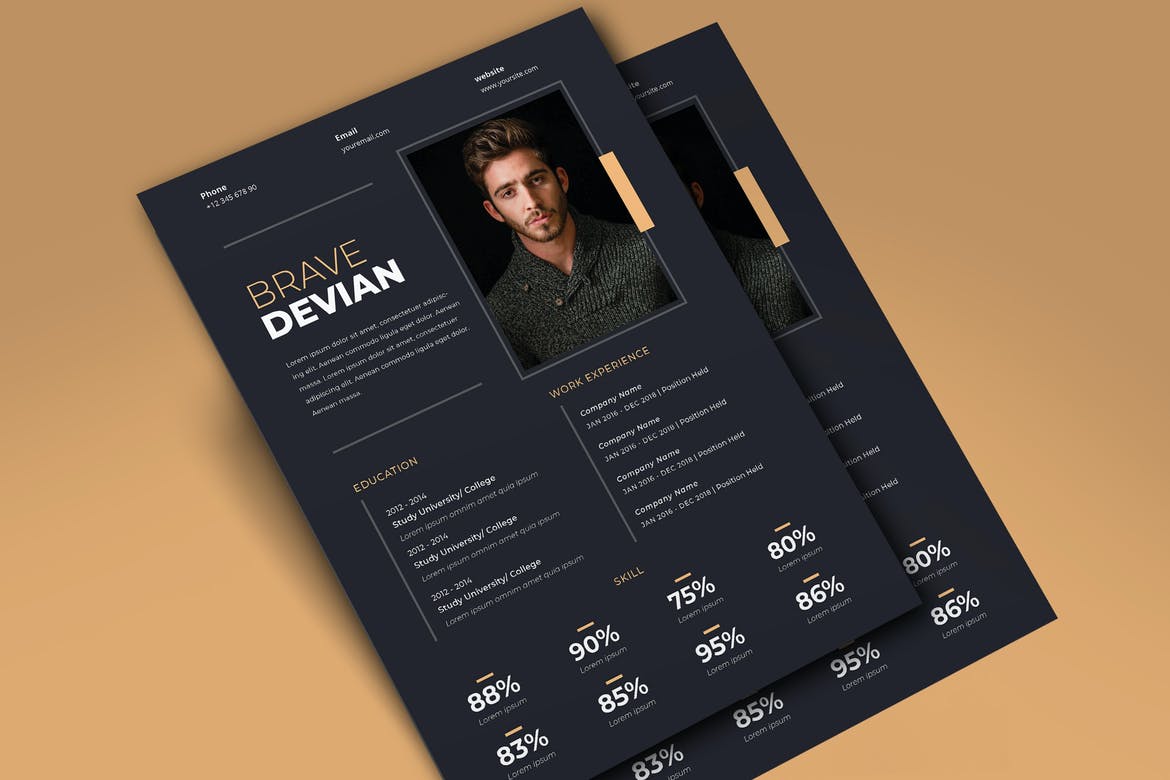 Go against the grain with this dark InDesign resume template, featuring light earthy tones against a solid black background, plus a dedicated space for a profile photo. It offers a fully customizable and layered template with a print-ready CMYK color space and free fonts to choose from.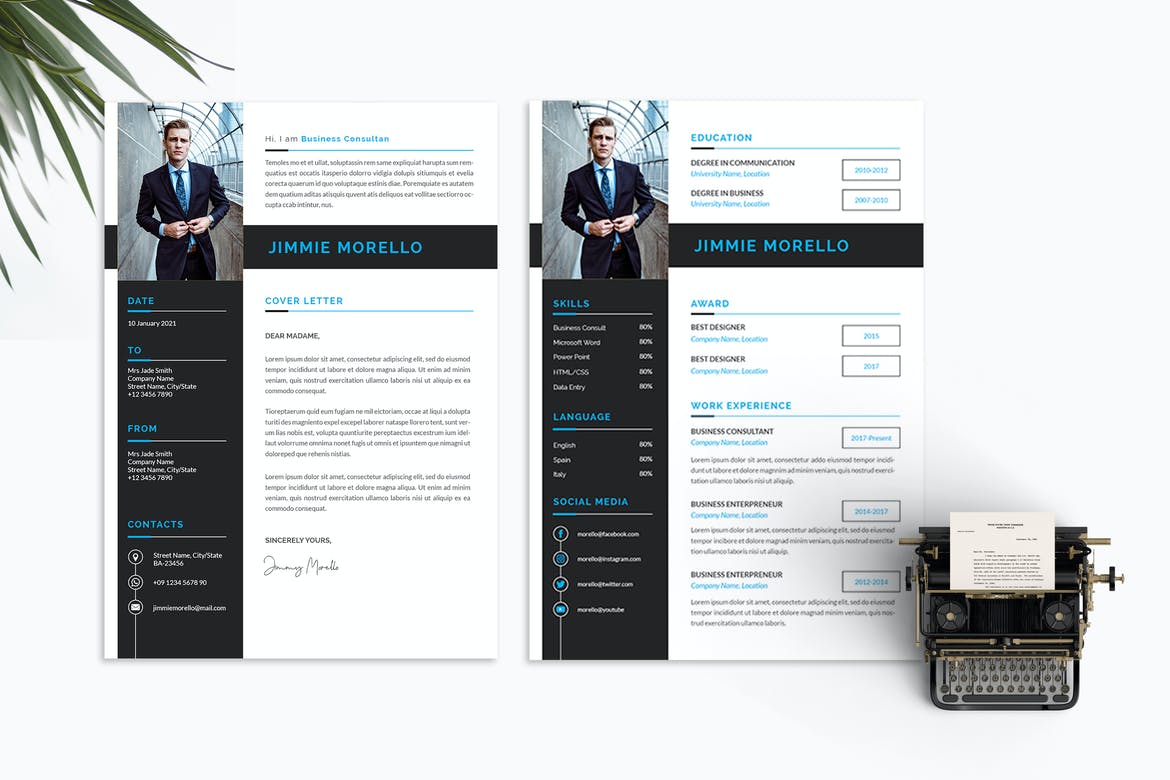 Up next is Jimmie, an ultra-modern resume template that's perfect for a high-profile corporate professional! It's easy to edit in Adobe InDesign versions CS4, CS5, and CS6 and comes with paragraph styles, a 300 DPI resolution, and 3mm bleed for a high-quality look.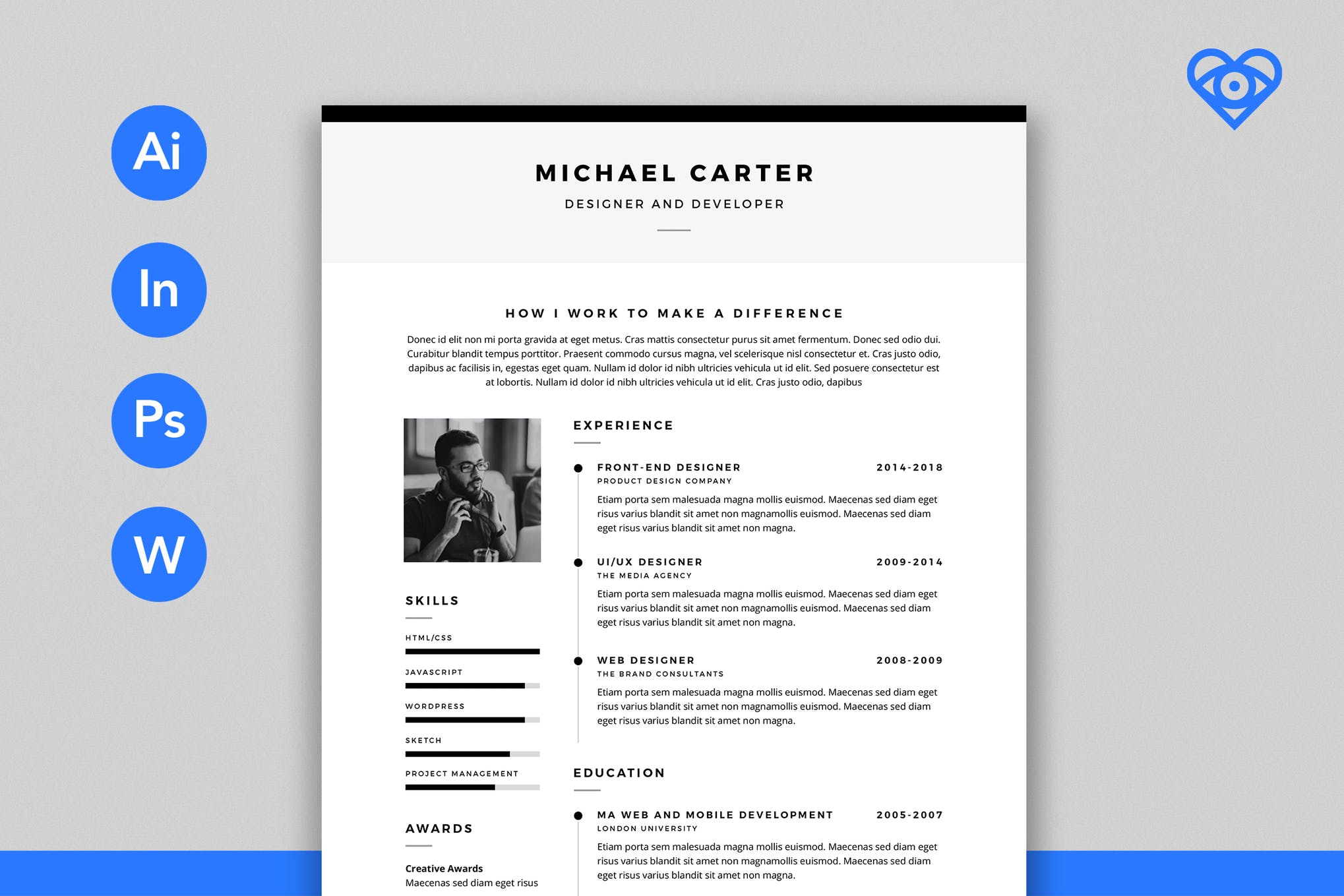 Next in our list of the best Adobe InDesign resume templates is this four page design that includes two pages of resume, and one page each of cover letter and portfolio. It features a minimal and elegant layout that will surely make a statement.
Free Adobe InDesign Resume Templates
Let's take a look at some of the best free InDesign resume templates, sourced from various websites: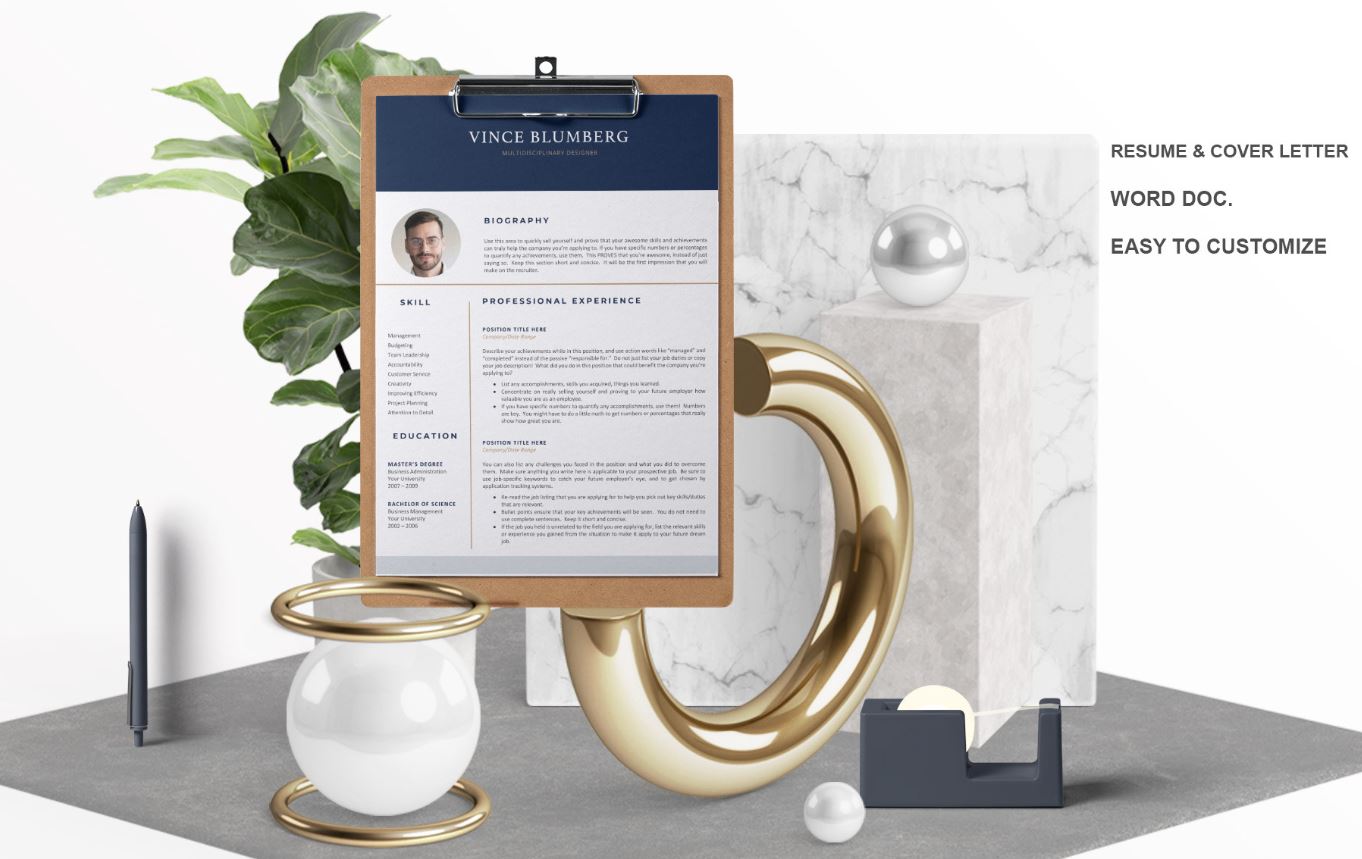 The first of our free InDesign resume templates is this beautifully designed navy, and gold-themed option that comes with four unique pages, including both a resume and a cover letter. It's compatible with both InDesign and Word and is super easy to edit.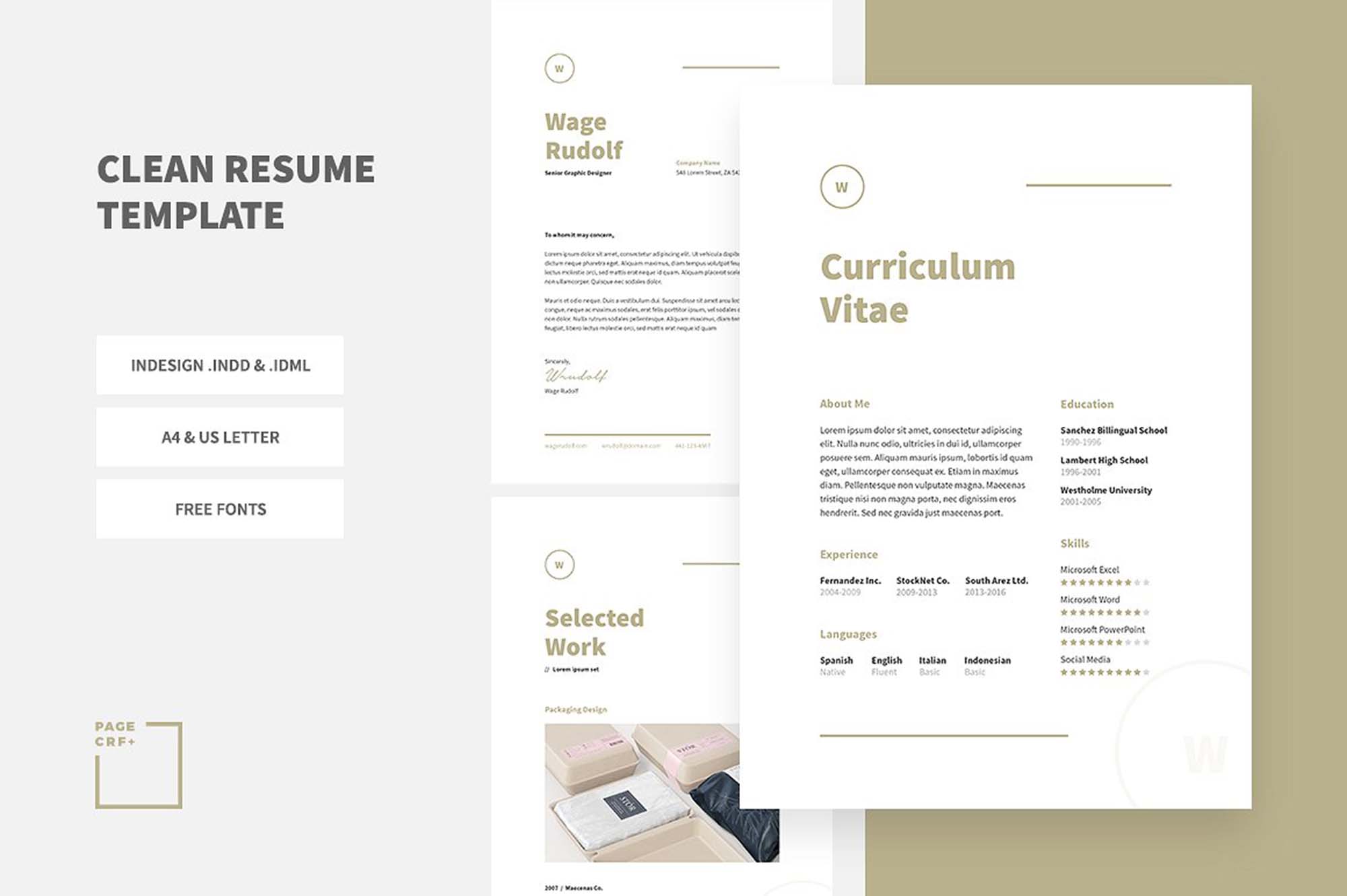 Sometimes, the classics are all we need, and that's absolutely true for this professional and elegant-looking resume InDesign template. It features a simple 3-page design, with a beautiful color scheme to complement it. No wonder, its existing users consider it as one of the best free InDesign resume templates they have ever used.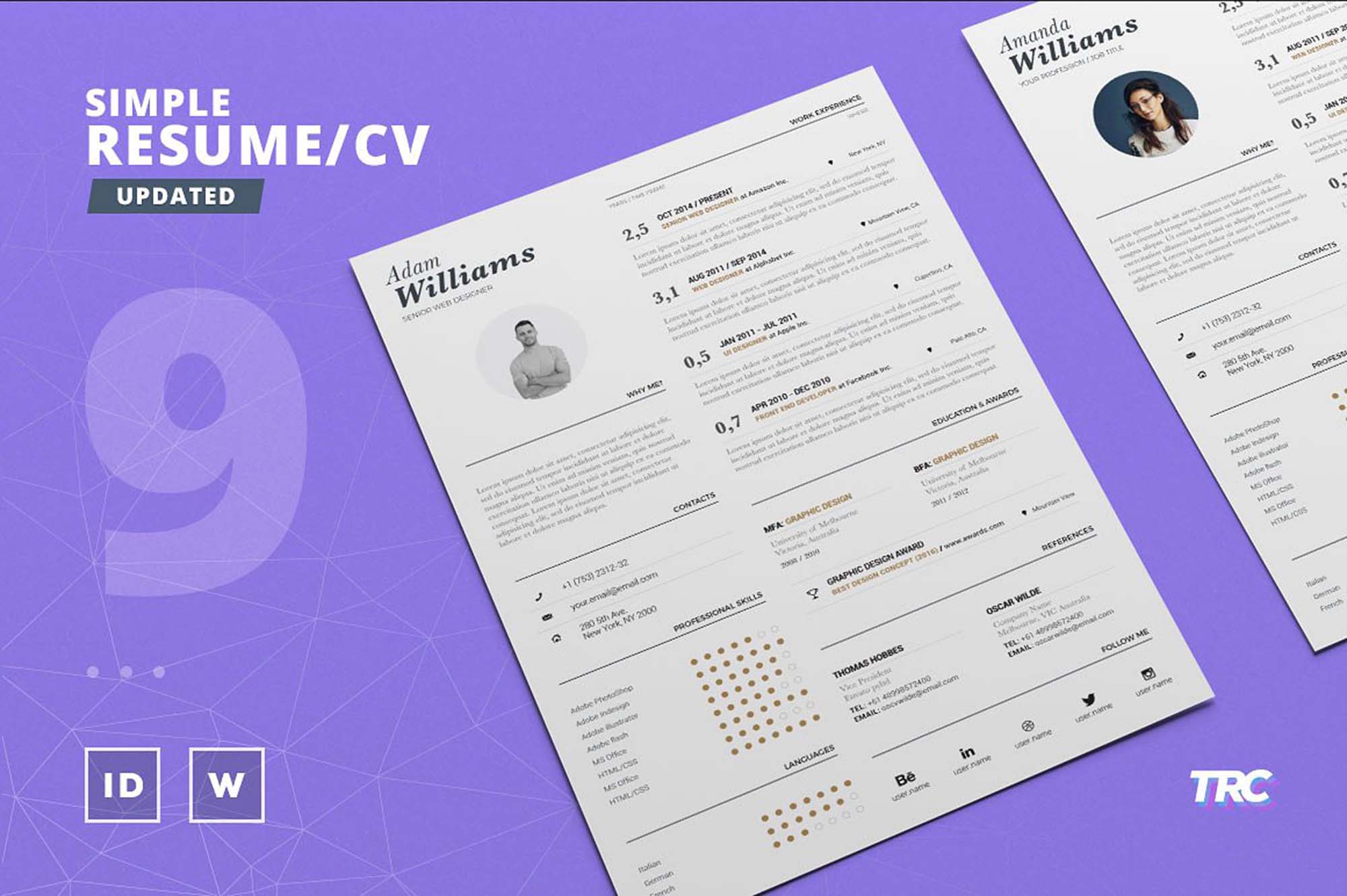 Make yourself stand out at your next dream job interview with this typographic resume template. This template uses a light-mode styled approach to its design and comes equipped with everything you need to make a good impression. An ideal choice for those who have a lot of information, achievements to showcase on their resume!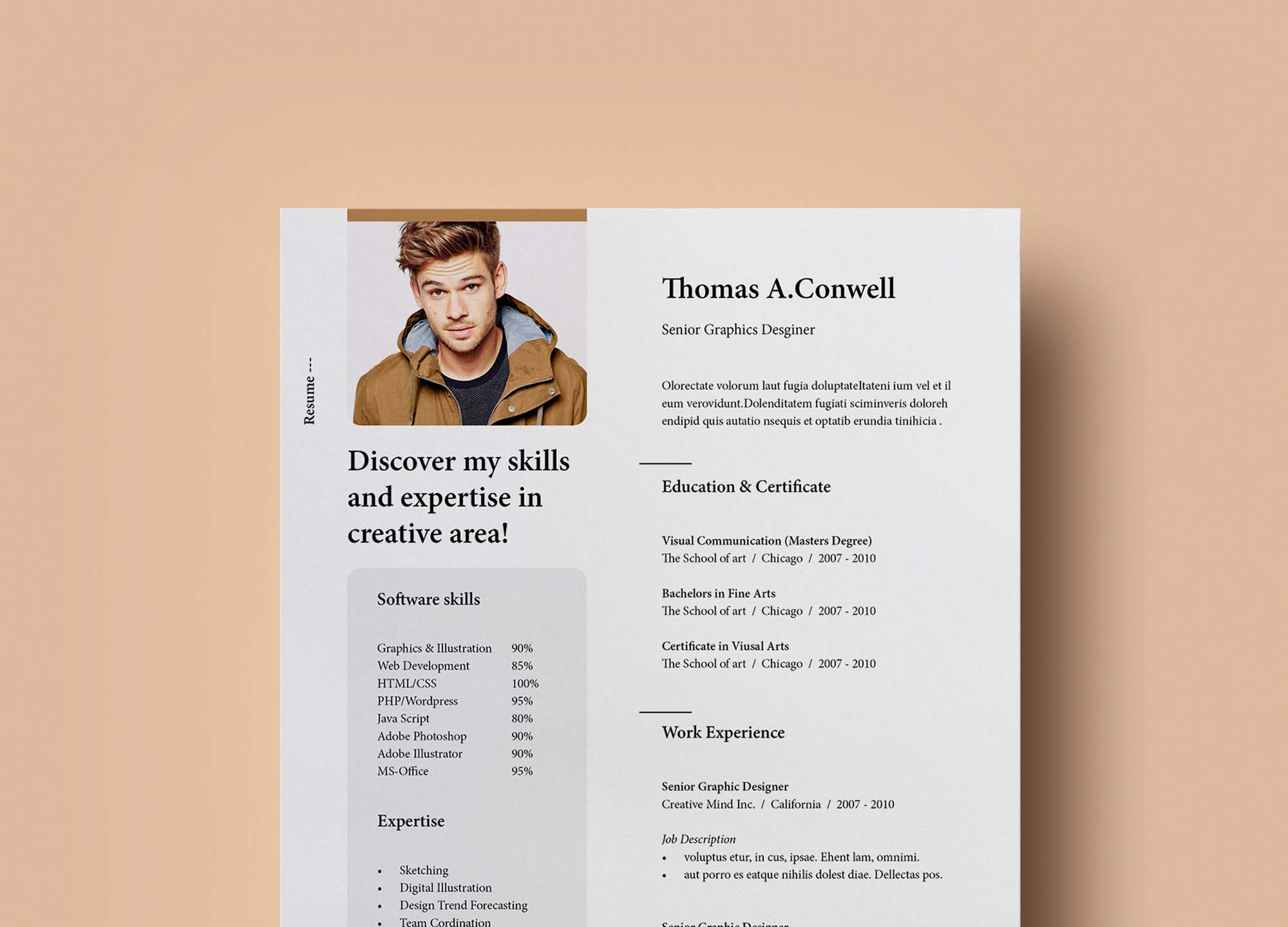 Ace your first step towards bagging the job you desire with the help of this attention-grabbing template that will help you design an outstanding resume in InDesign. It's a multipurpose option that can be used regardless of the profession you are in.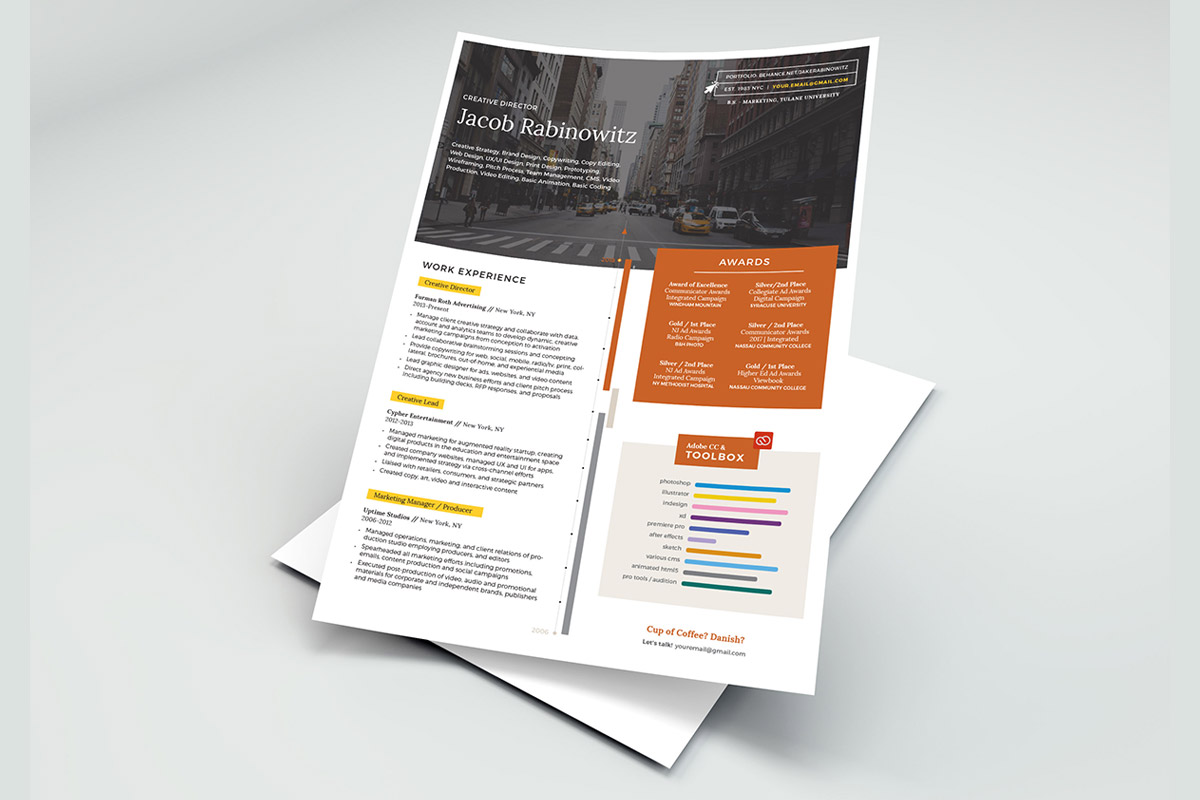 If you are looking for something more unique and innovative, this resume template easily fits the bill. Everything from colors, font, and objects is customizable in Adobe InDesign. Easily one of the best free Indesign resume templates on our list!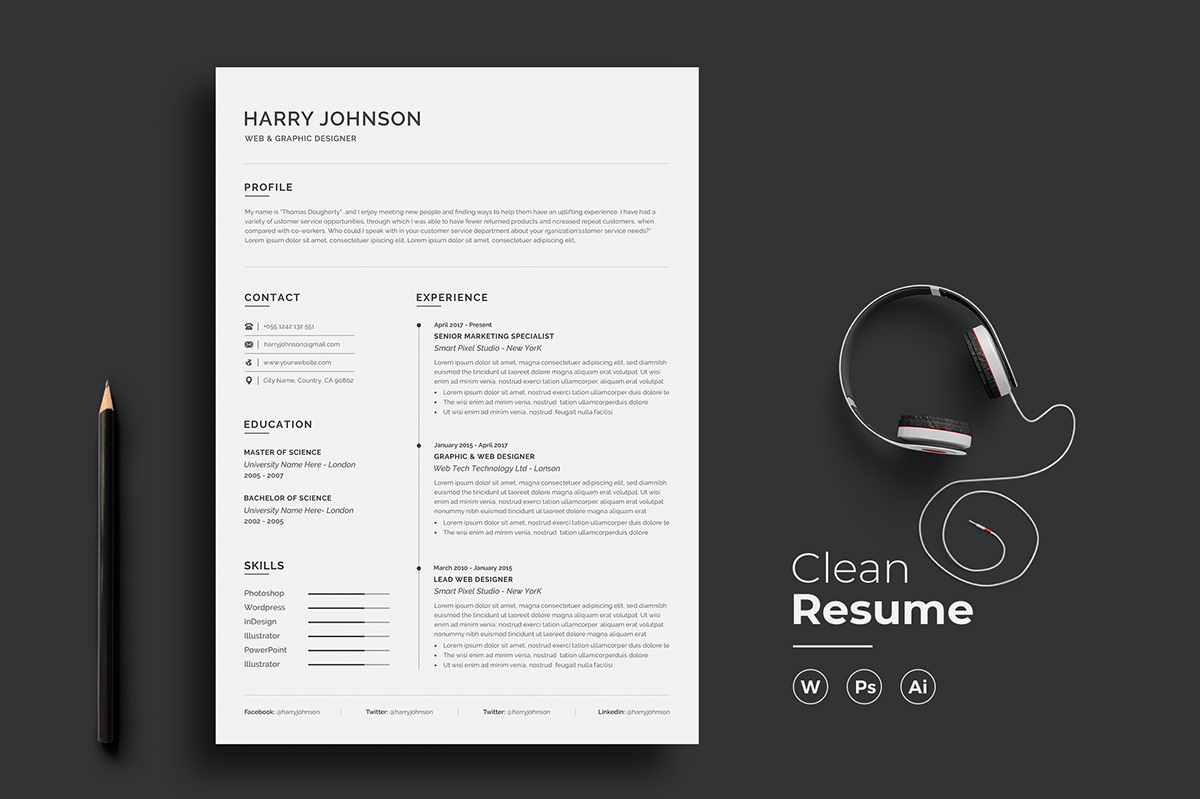 Here we have a classy and minimalistic resume template that's perfect for making an impression without looking like you're trying too hard! It's compatible with Microsoft Word, Illustrator, and Photoshop as well as InDesign, and is available as a free download from Behance.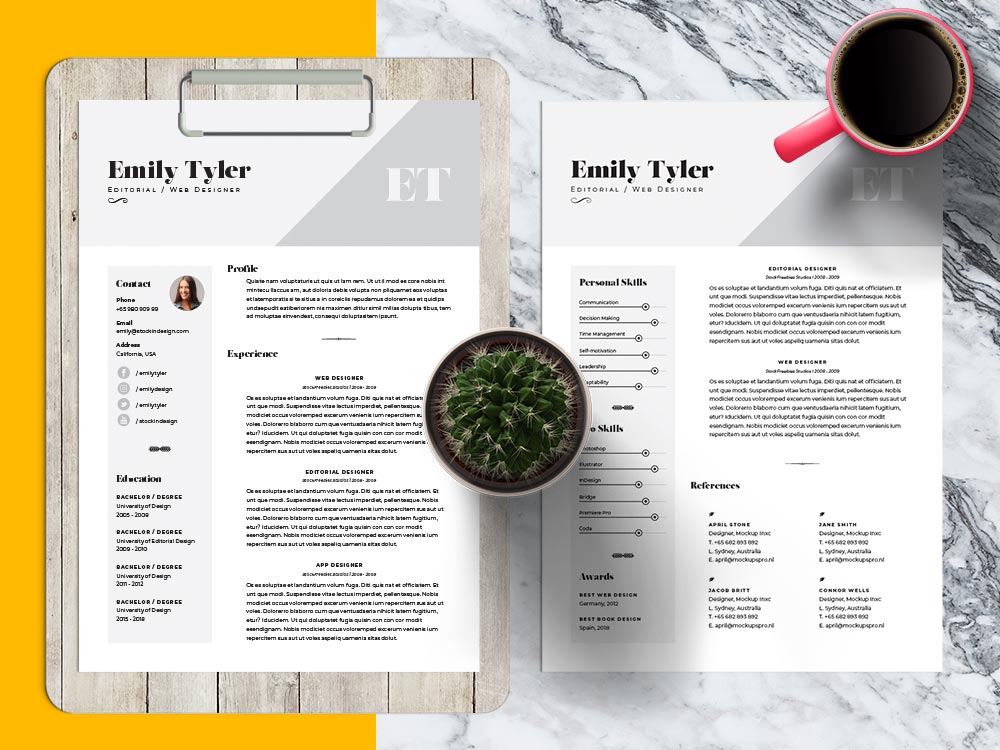 This highly professional resume template is perfect for emphasizing your profile, education, and experience to impress your next employer, and is available as a free download from Stock InDesign. It includes three pages, allowing you to showcase your work in a portfolio style as well.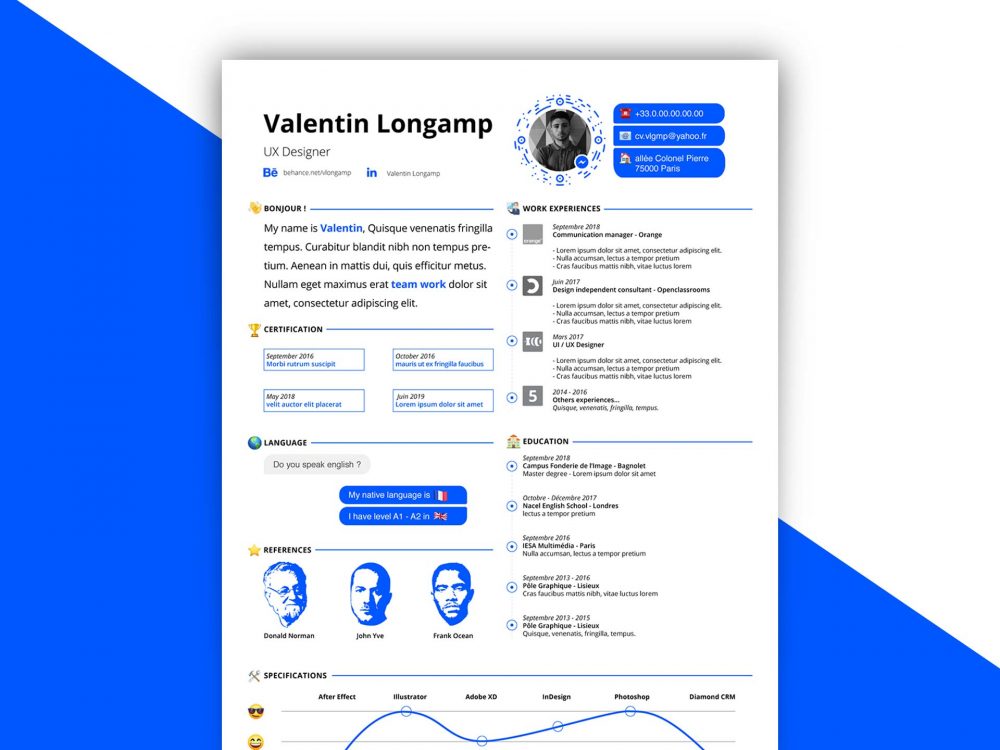 Here we have a clean and modern free InDesign resume template that offers a visually appealing messenger-based layout, contrasting colors and graphics, and professional sans-serif fonts. It's ideal for any kind of professional to use for their next job application and can be downloaded from Resume Craft.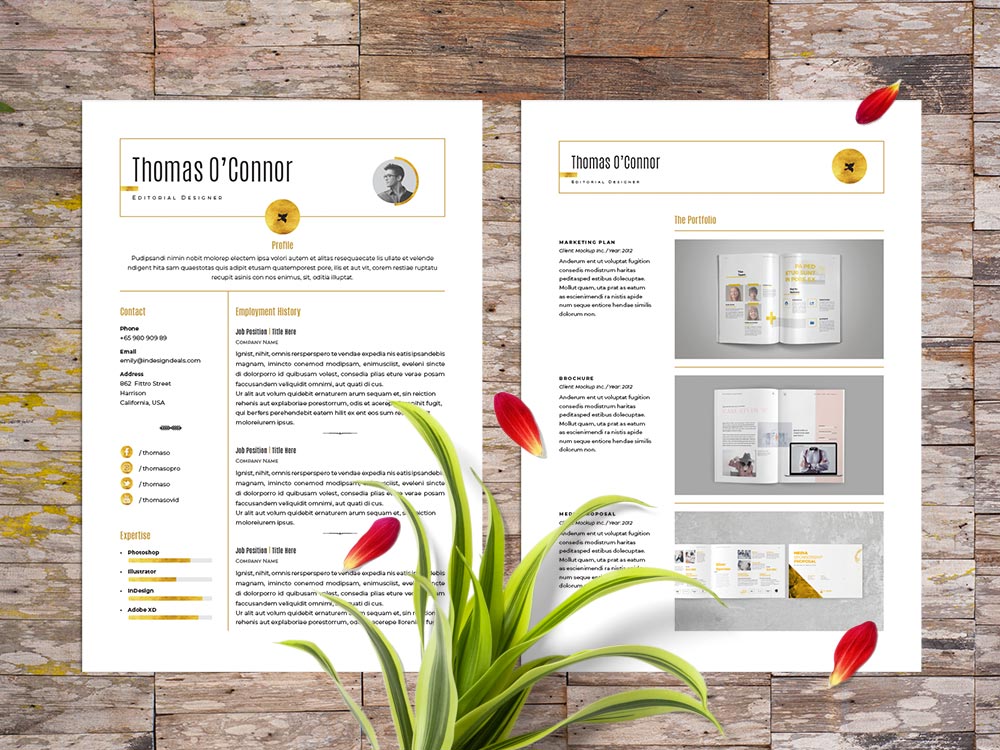 Last, in our roundup of free InDesign resume templates, we have this modern design that can easily be adapted to suit any industry or job description. It comes with two sizing options, a subtle use of color, and a bold, eye-catching headline to make employers take note.
And with that, we'll leave you with a stunning collection of Adobe InDesign resume templates that are just waiting to be customized with your experience, skills, and achievements – as well as your own personal creative flair, of course!