40+ Best InDesign Trifold Templates (For Brochures & More)
The classic trifold brochure is a brilliant marketing tool – one seemingly small piece of paper that suddenly unfolds to reveal a wealth of information about your products and services, with plenty of space for photos and graphics to grab the reader's attention and keep them interested!
It's also a super popular menu format, due to its sleek and easily customizable layout. But if you don't have the time, resources, or knowledge, creating a professional-looking trifold design from scratch can be a difficult task.
That's where we come in – we've found the best professionally designed InDesign trifold templates for brochures, menus, and more, from free and premium sources that can be downloaded instantly! That's right – you could have the perfect trifold template at your fingertips in a matter of minutes. Let's get started!
Get everything you need to supercharge your InDesign projects and workflow, with InDesign templates for every idea you can imagine! From just $16, get unlimited access to thousands of professional InDesign templates for flyers, brochures, books, magazines, proposals, reports, and much more.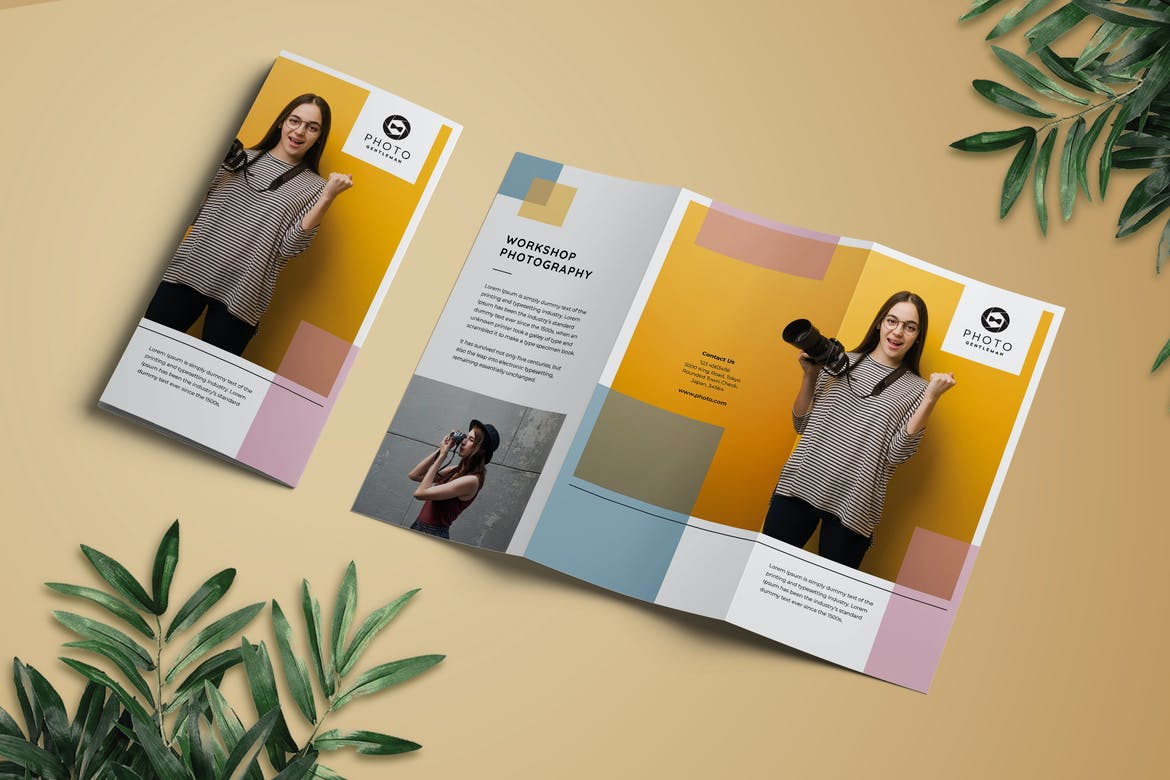 The first of our InDesign trifold templates is this beautiful business brochure that's been designed for photographers to use as a promotional or marketing tool. It offers a clean, double-sided format with neatly organized smart layers and high-quality vector graphics, as well as two size options.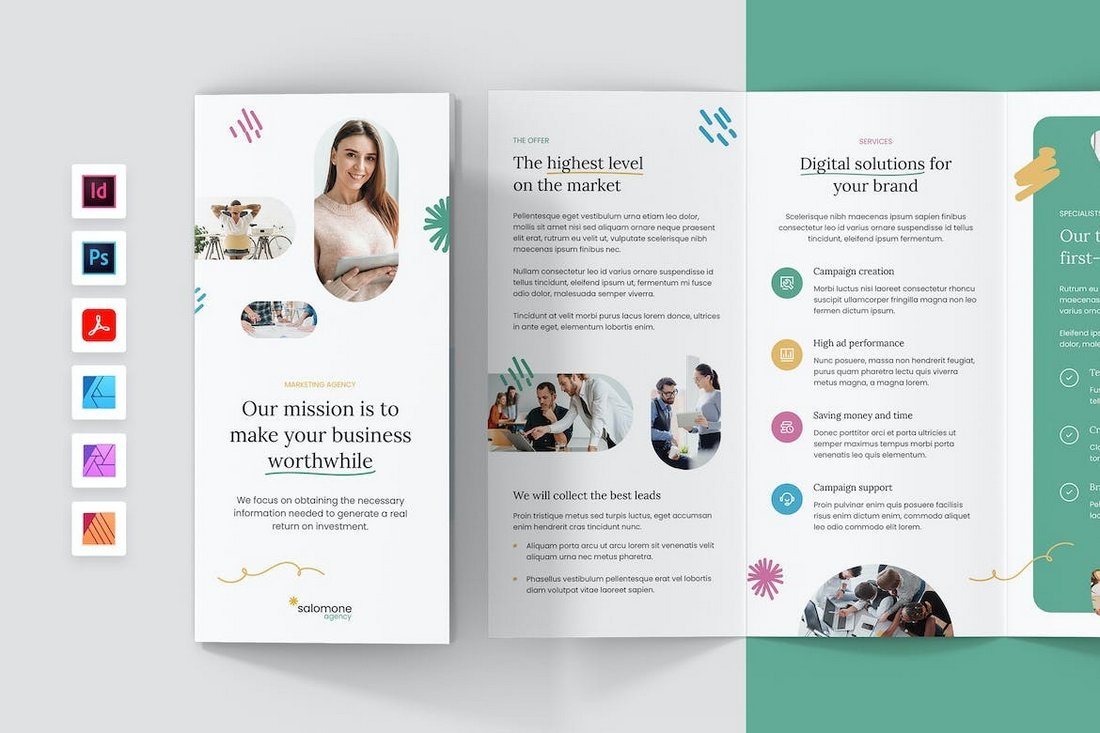 The minimal, clean, and creative design of this brochure template will help highlight your brand and services much more effectively to your audience. This brochure comes in multiple formats, including InDesign, Photoshop, Affinity Designer, and more. It's perfect for agency and consulting brochures.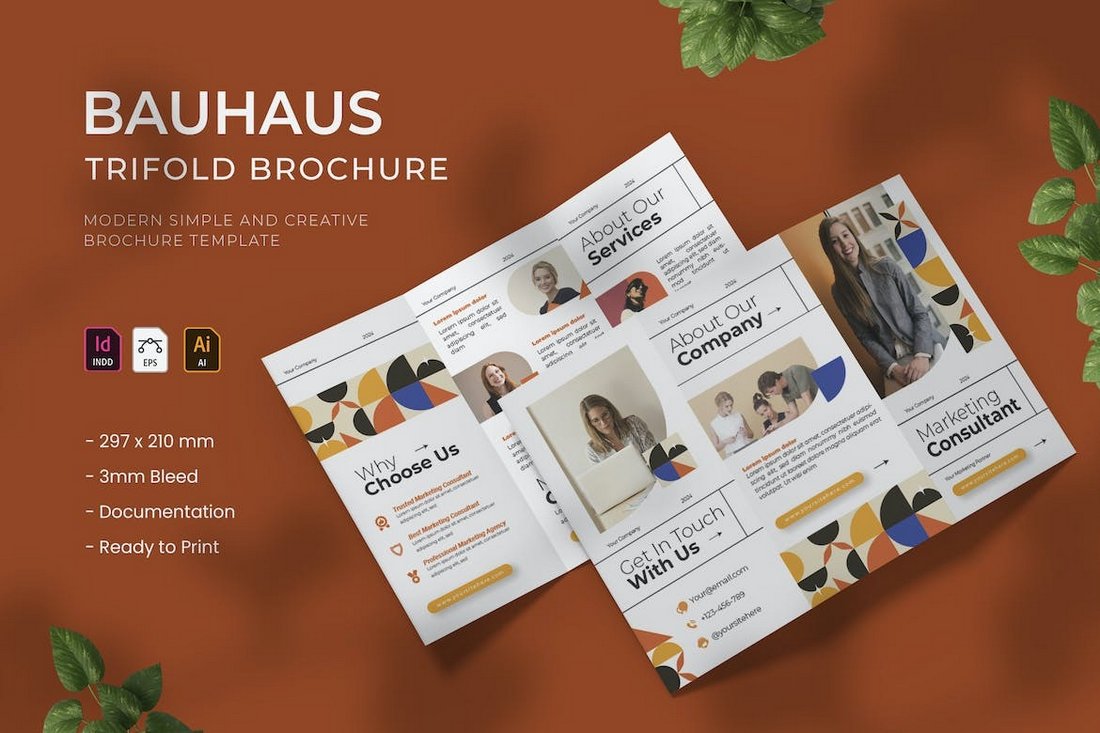 If you want to make your brochures look much more trendy and stylish, this tri-fold template will come in handy. It features a cool layout featuring a Bauhaus-themed design. The template is available in InDesign and Illustrator formats.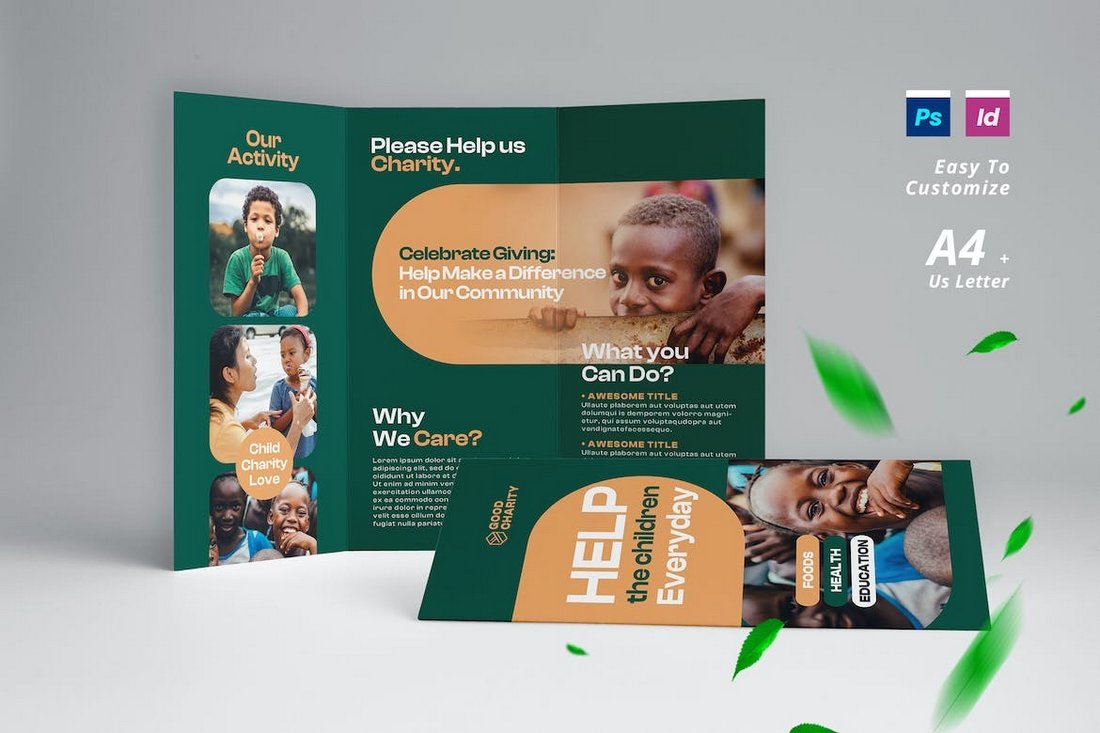 You can design an effective tri-fold brochure that evokes emotions with this InDesign template. It's made with non-profits and charity organizations in mind. You can also customize it using Photoshop as well.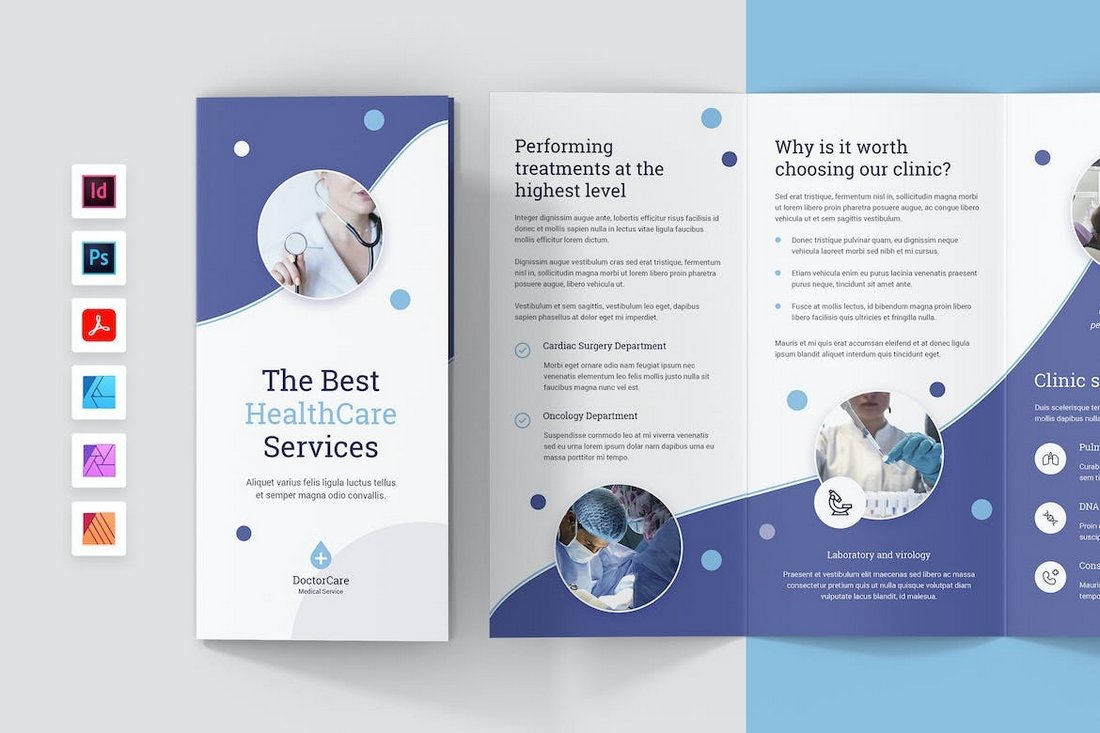 This InDesign tri-fold template is perfect for making professional brochures for doctors, clinics, and various other medical services. The template has an easily customizable design. And it comes in multiple file formats too.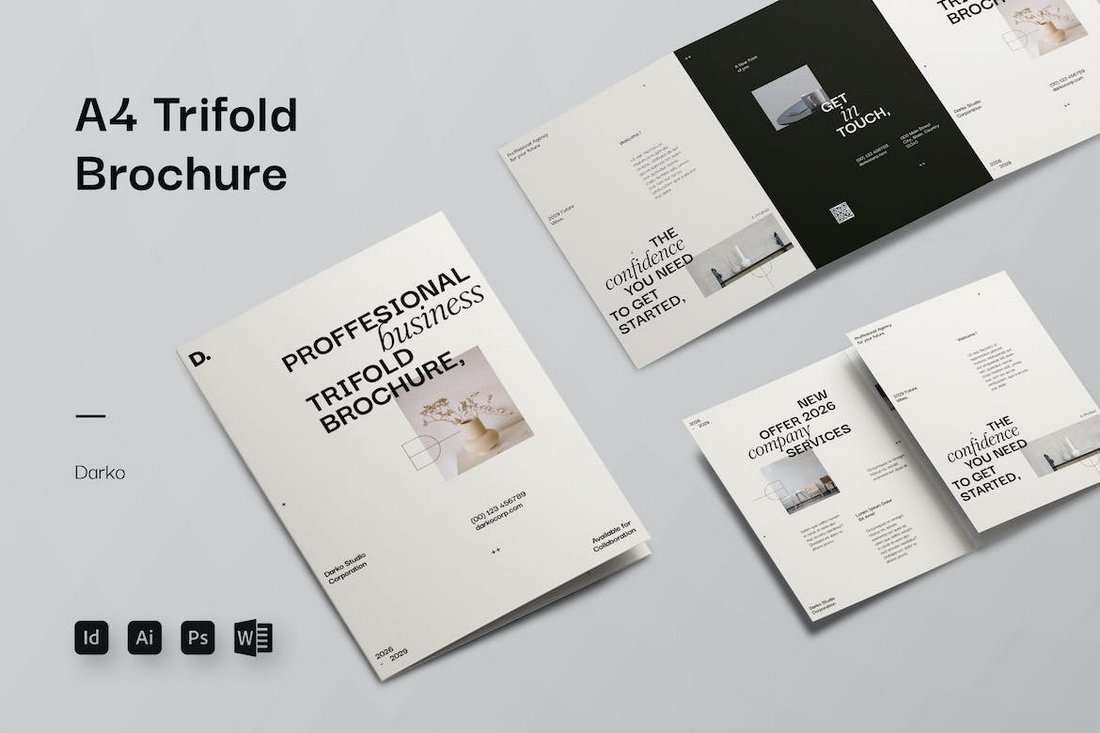 A unique tri-fold brochure that features three folds of A4 size sheets. This template is perfect for making brochures for agencies and creative brands. It's available in InDesign, Photoshop, Illustrator, and MS Word formats.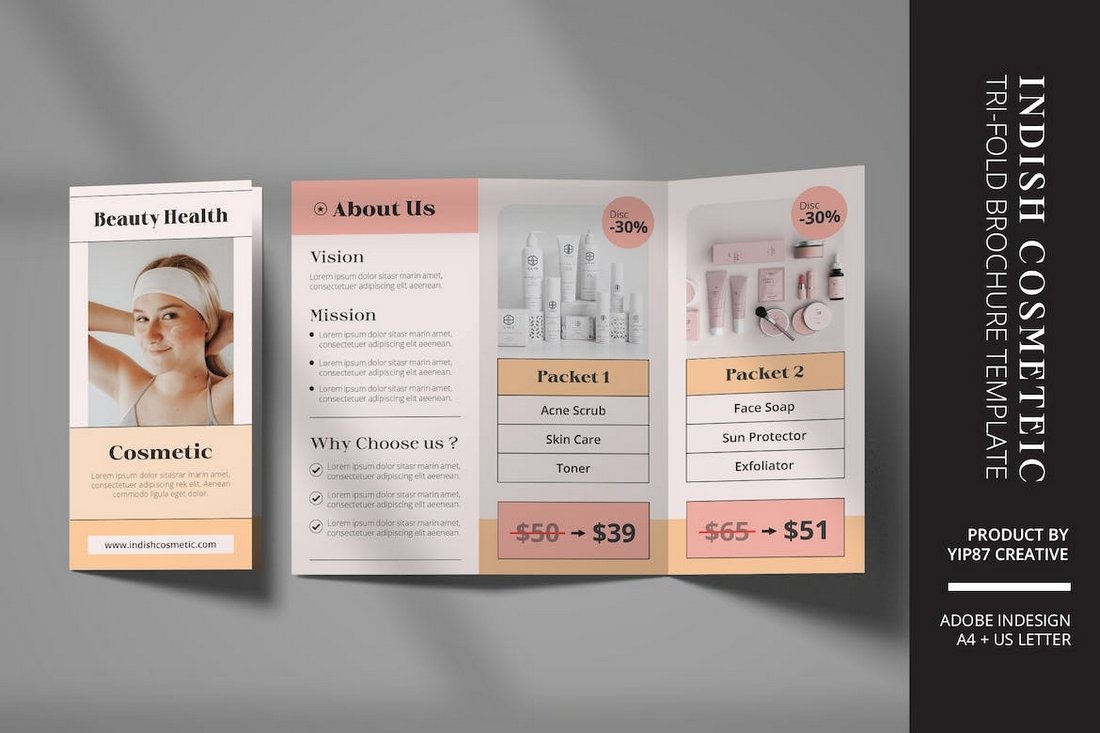 Make attractive brochures to showcase your cosmetic brand and products with this InDesign template. It features a colorful design with a beautifully organized layout for promoting your business. It comes in A4 and US Letter sizes.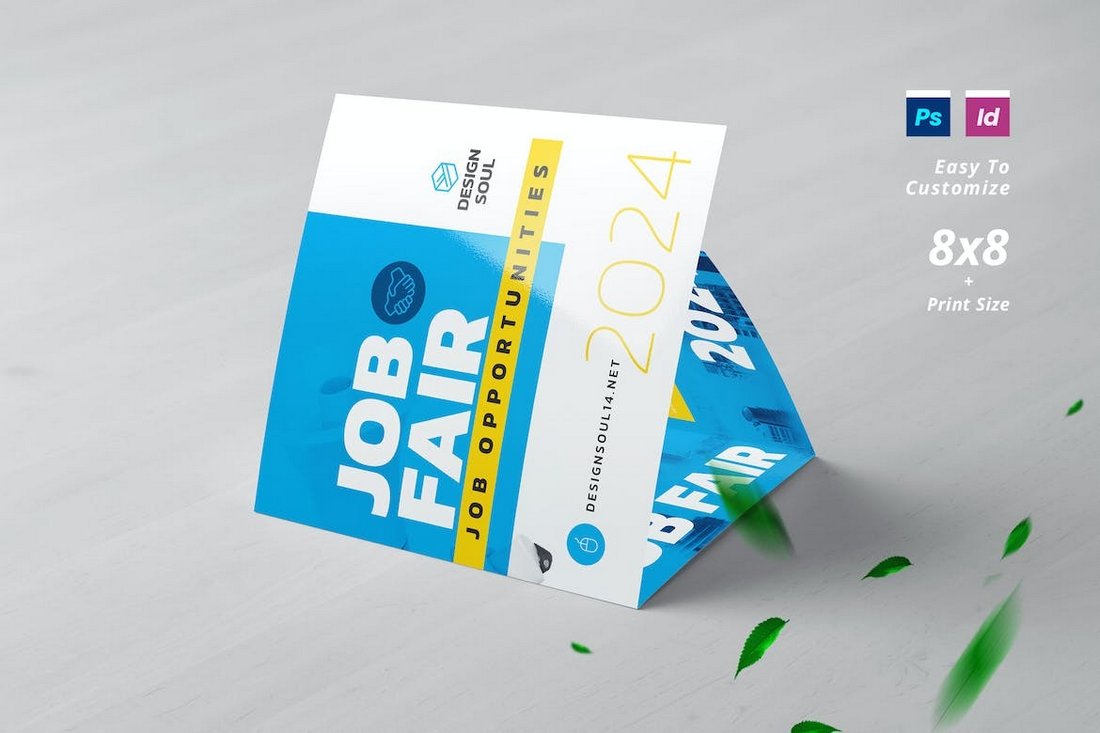 You can use this InDesign template to craft a stylish square-shaped brochure to promote events, fairs, and conferences. It has a highly visual design with image placeholders and editable colors.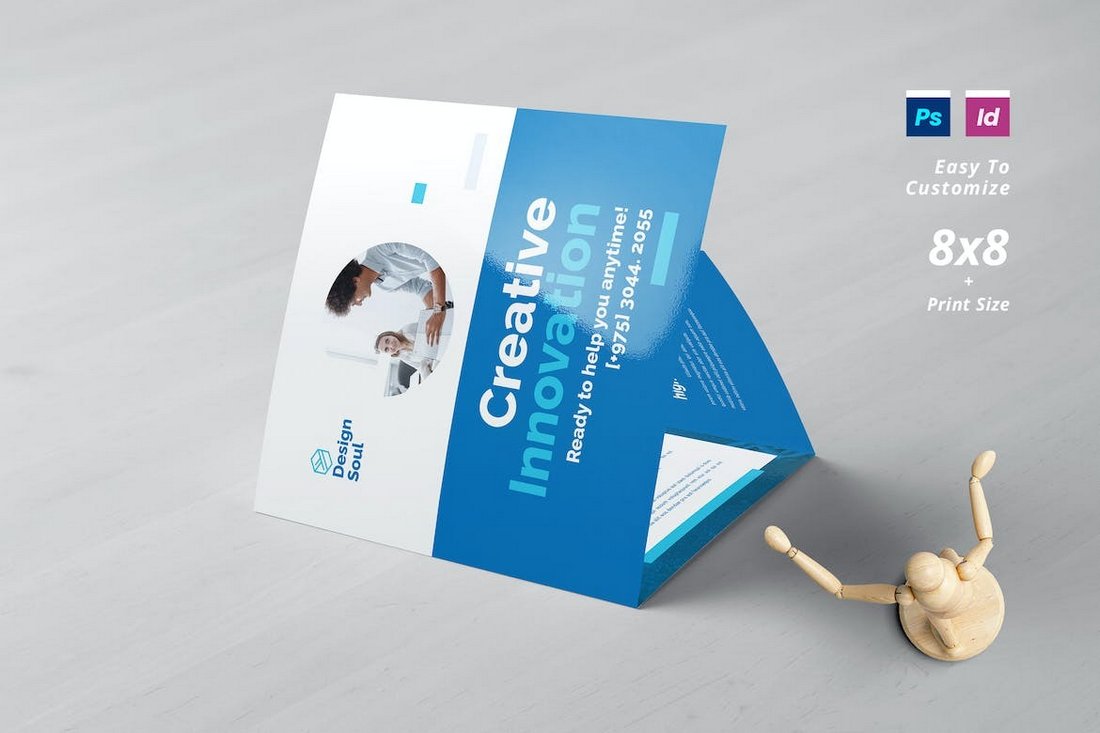 This brochure template also features an 8×8 square design and it's made with corporate businesses and brands in mind. The template is ideal for promoting your services too. It comes in InDesign and Photoshop formats.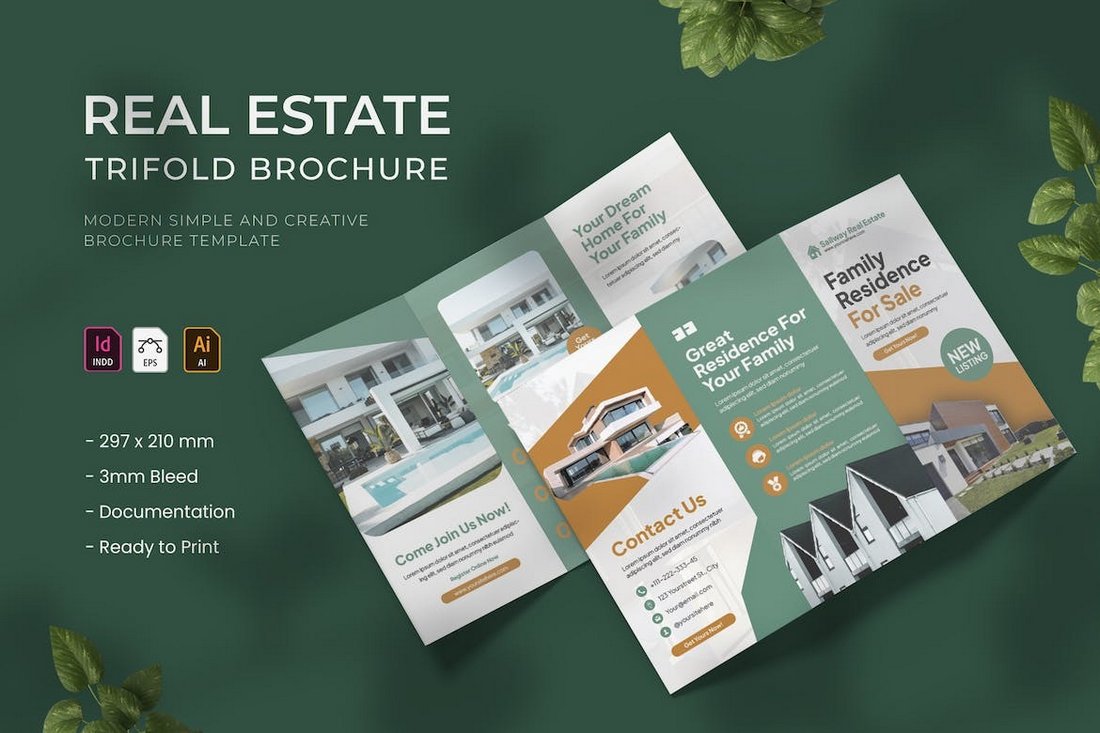 This template is a must-have for real estate agencies. It will help you create attractive brochures to promote your latest property listings to attract new clients. The template features an easily editable layout and it's available in AI and INDD formats.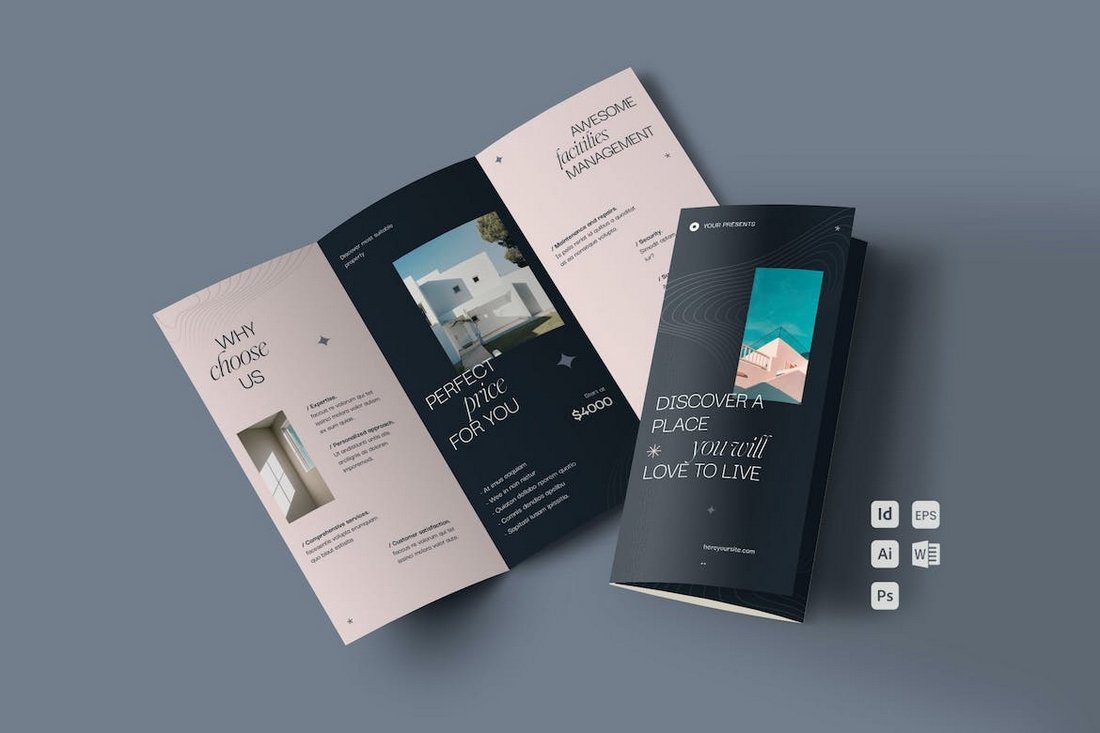 You can design bold and beautiful-looking brochures with this InDesign template. It has a minimalist design with stylish typography and shapes. The template is available in multiple formats including InDesign, Word, and Illustrator.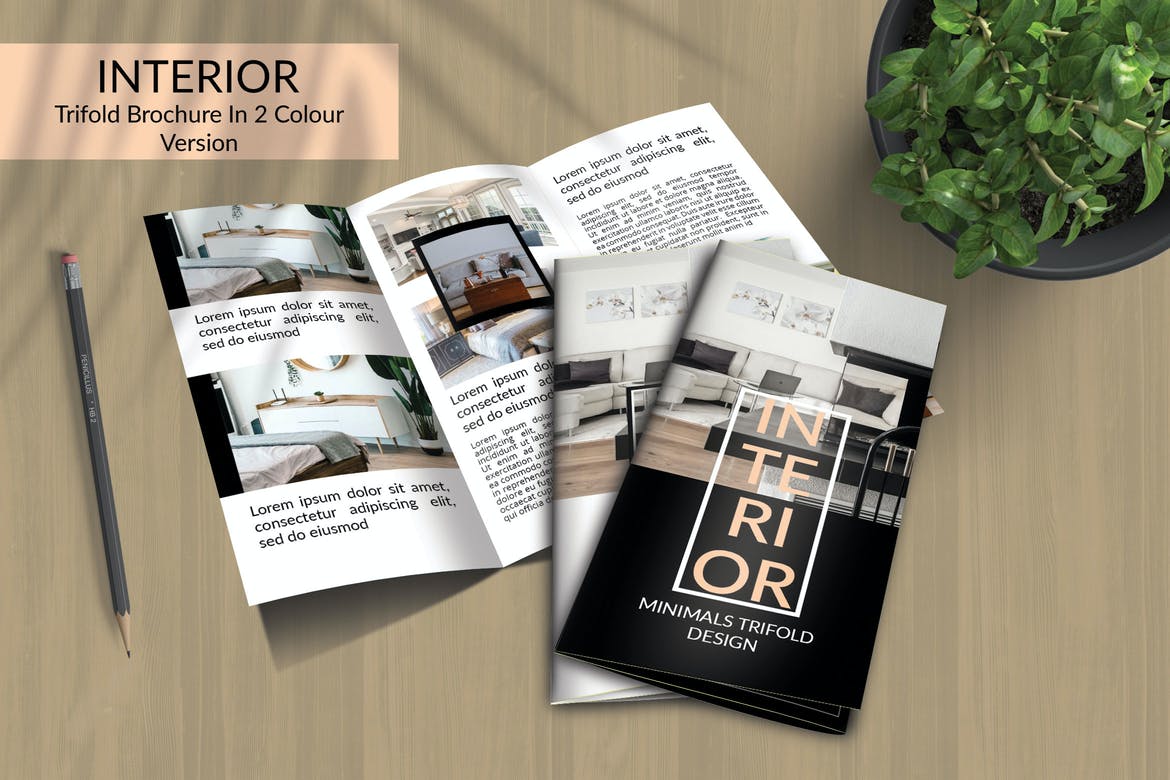 Here we have an InDesign trifold brochure template that's perfect for an interior design firm to use as a promotional tool or services menu. It offers two color variations, a high quality 300 DPI resolution, a versatile CMYK color space, and paragraph styles for easy editing.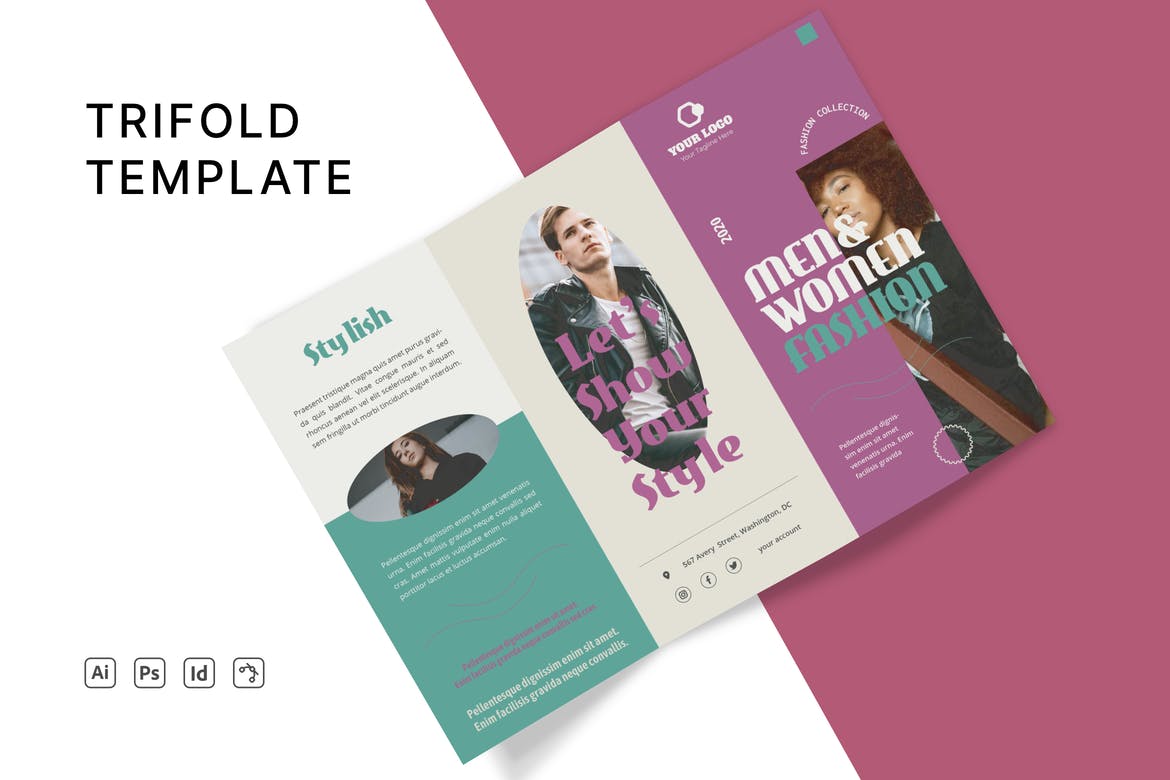 Next in our lineup of the best InDesign trifold brochure templates is this super stylish option that's been specifically designed for use by a fashion designer or retailer and offers a trendy, colorful design with classy typography and abstract graphic elements, as well as a fully layered and vector-based format.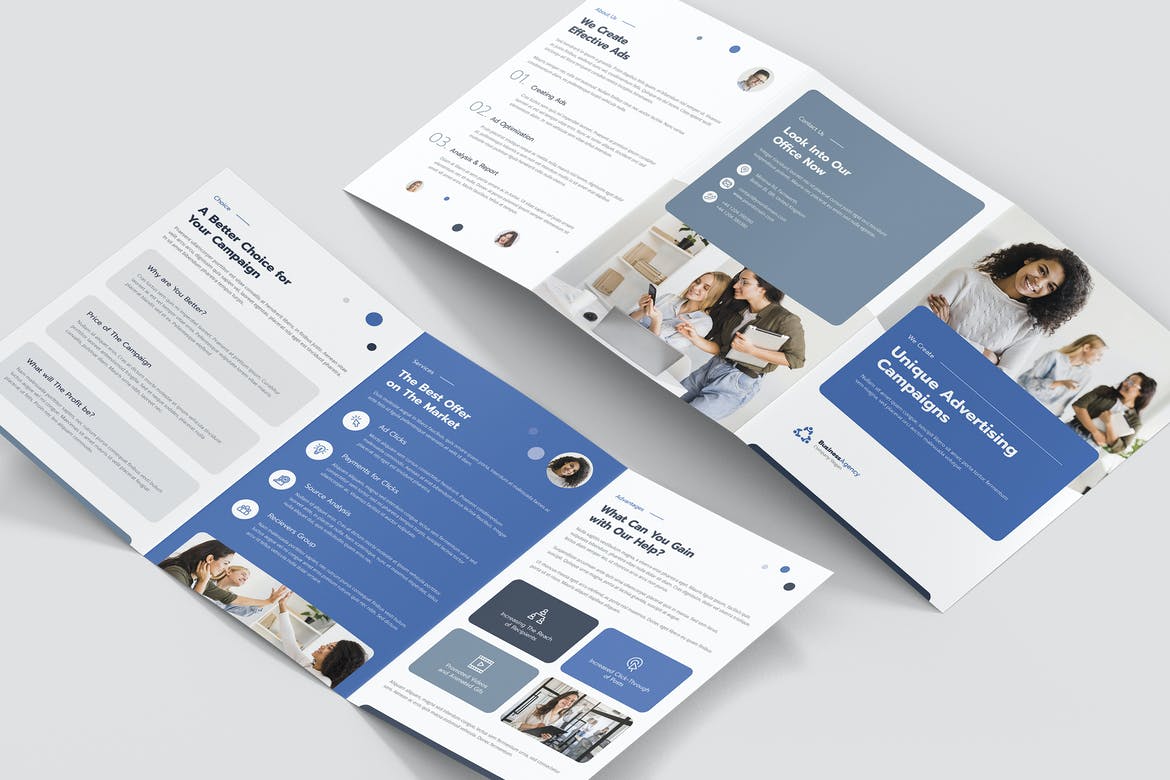 Looking for a versatile and professional-looking business brochure template that's suitable for a corporate agency and can be fully customized to suit your brand? Look no further than this super handy trifold design that features a universal layout and clean, modern design elements.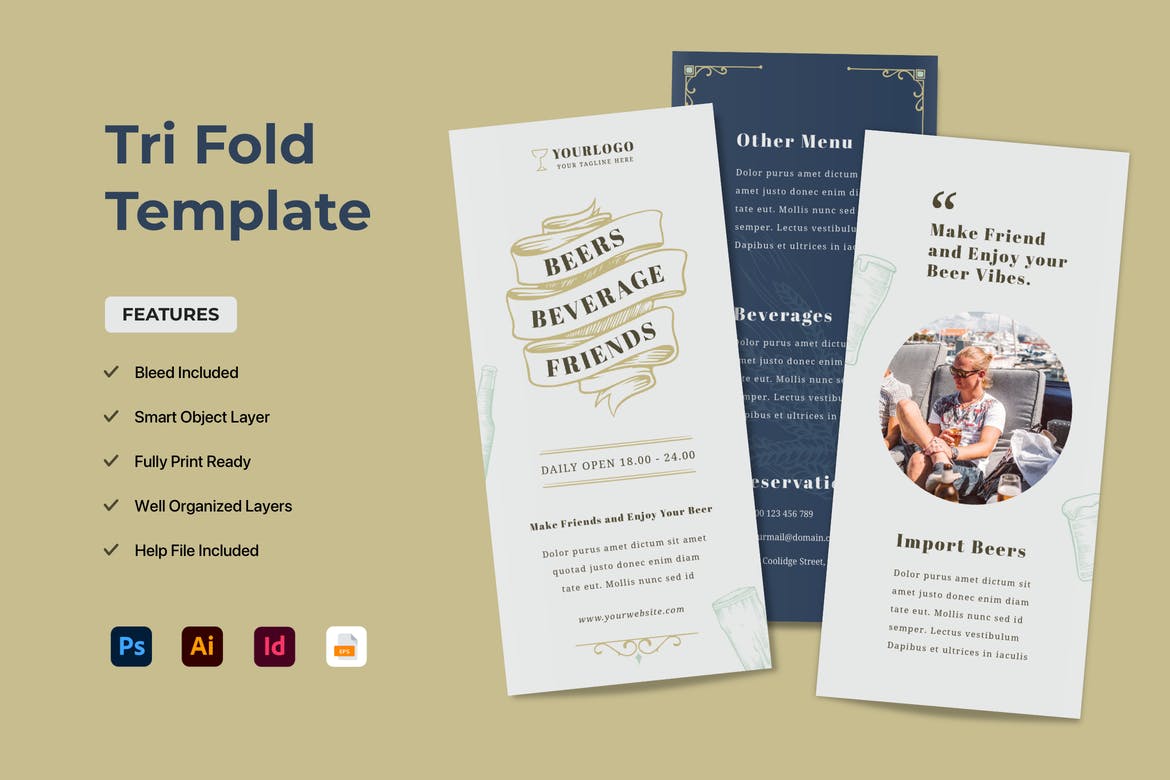 Here we have a retro-themed trifold brochure template for InDesign that offers a professionally designed layout featuring high-quality vector graphics and well-organized layers for ease of editing, plus a versatile A4 size format and print ready finish.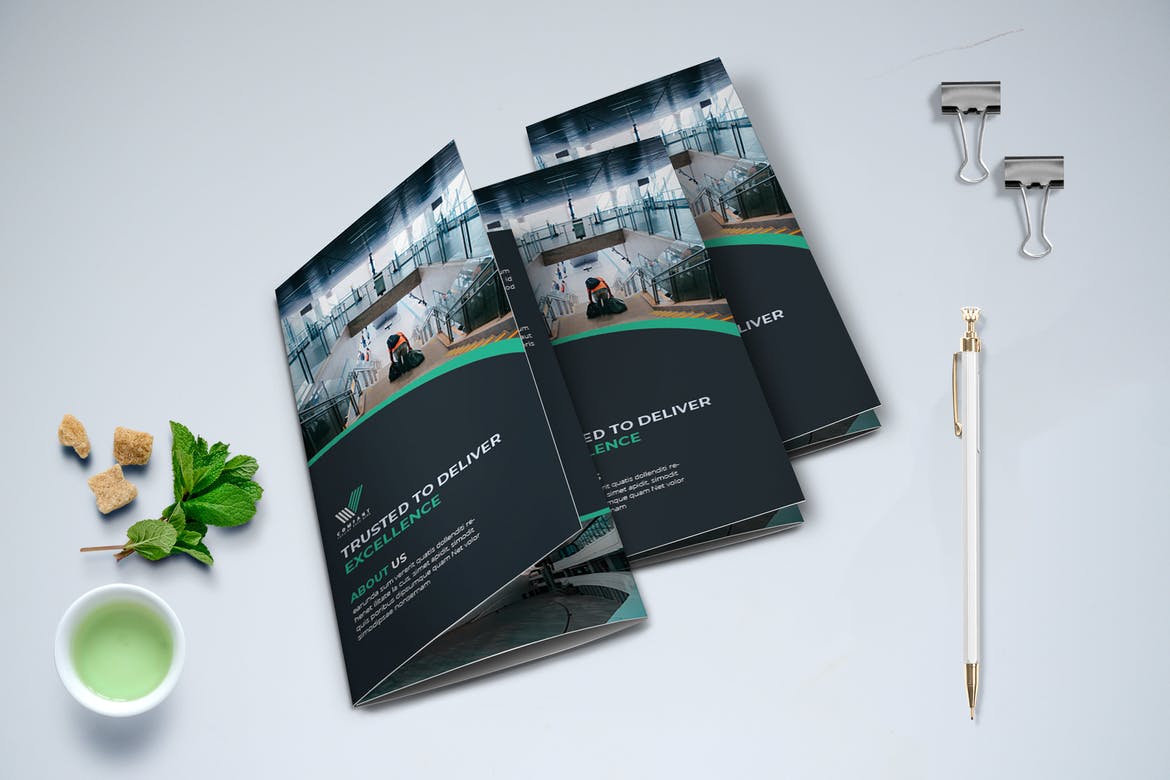 Next up, we have a super professional trifold brochure template that features an elegant, modern design suitable for any corporate purpose! It's fully customizable and comes with both US Letter and A4 size options, well-layered graphics, paragraph styles, and built-in free fonts to make editing a breeze.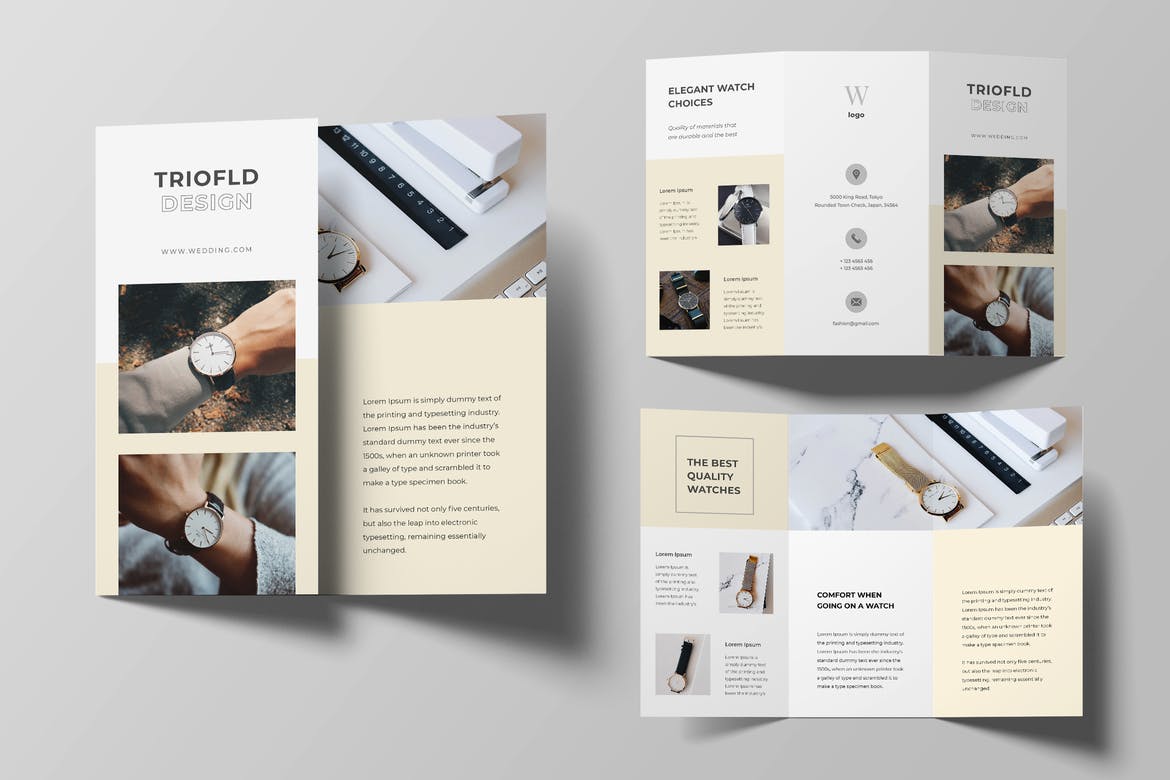 Designed as a product brochure for luxury watches and other pieces of jewelry, this InDesign trifold brochure template offers a professional and sophisticated design with elegant colors and a clean, grid-based design that can easily be customized to suit your own personal taste and brand.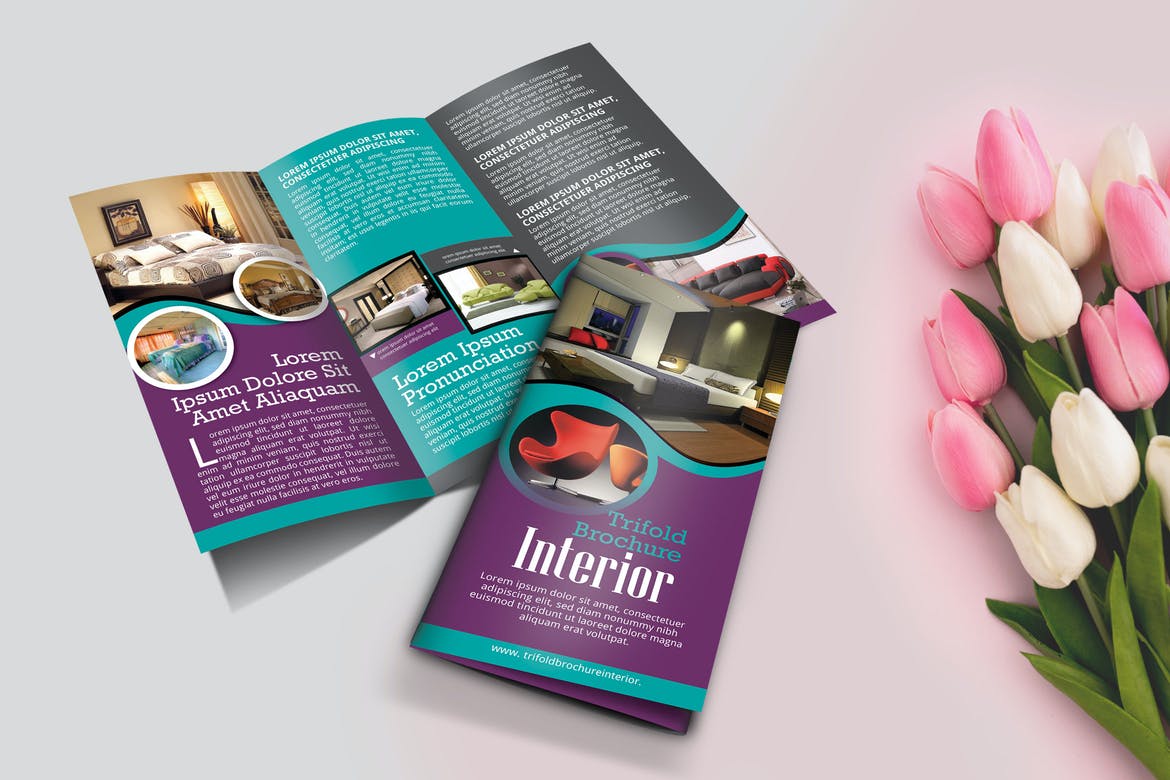 Looking for a bold and modern trifold brochure design that's suitable for a wide range of purposes? This template was created with an interior design business in mind, but can easily be used for countless other industries, thanks to the classic yet sophisticated design and fully customizable graphic elements.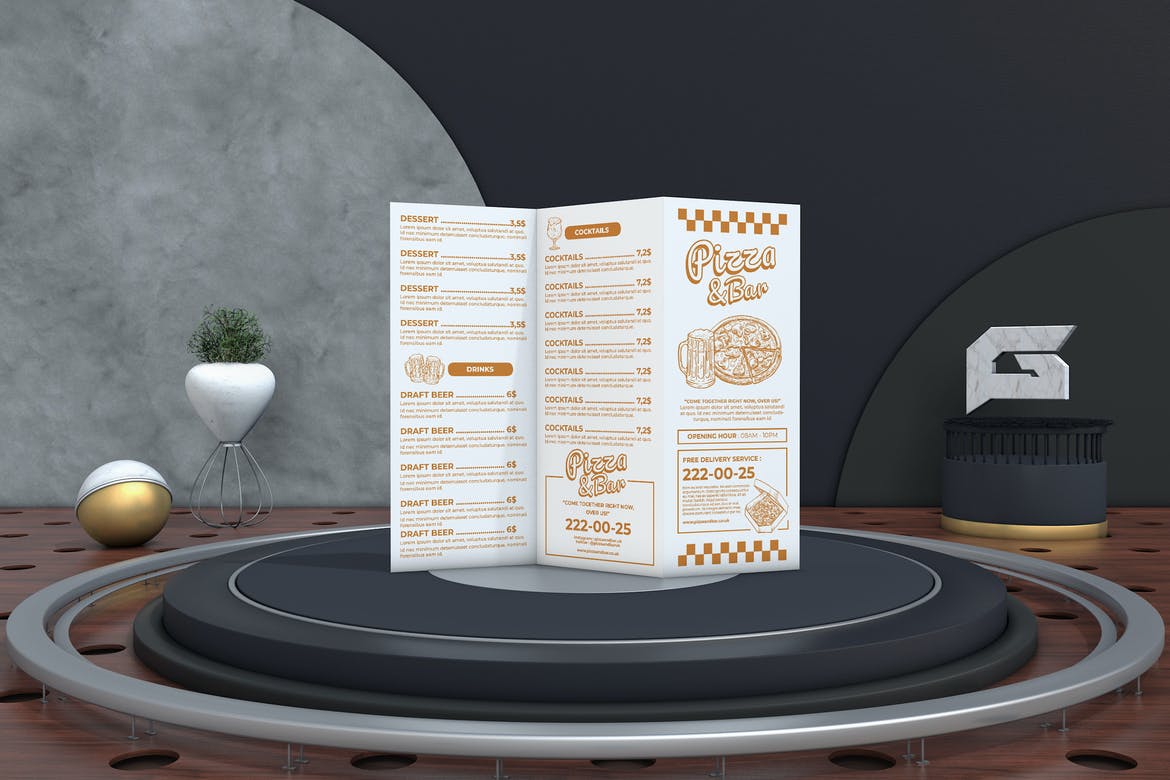 Here we have a simple, well organized trifold menu template that's ideal for any restaurant or cafe to customize with its own brand colors and aesthetic. It offers state of the art vector graphics and smart object functionality and is fully layered for ease of use, plus it comes with a handy tutorial PDF.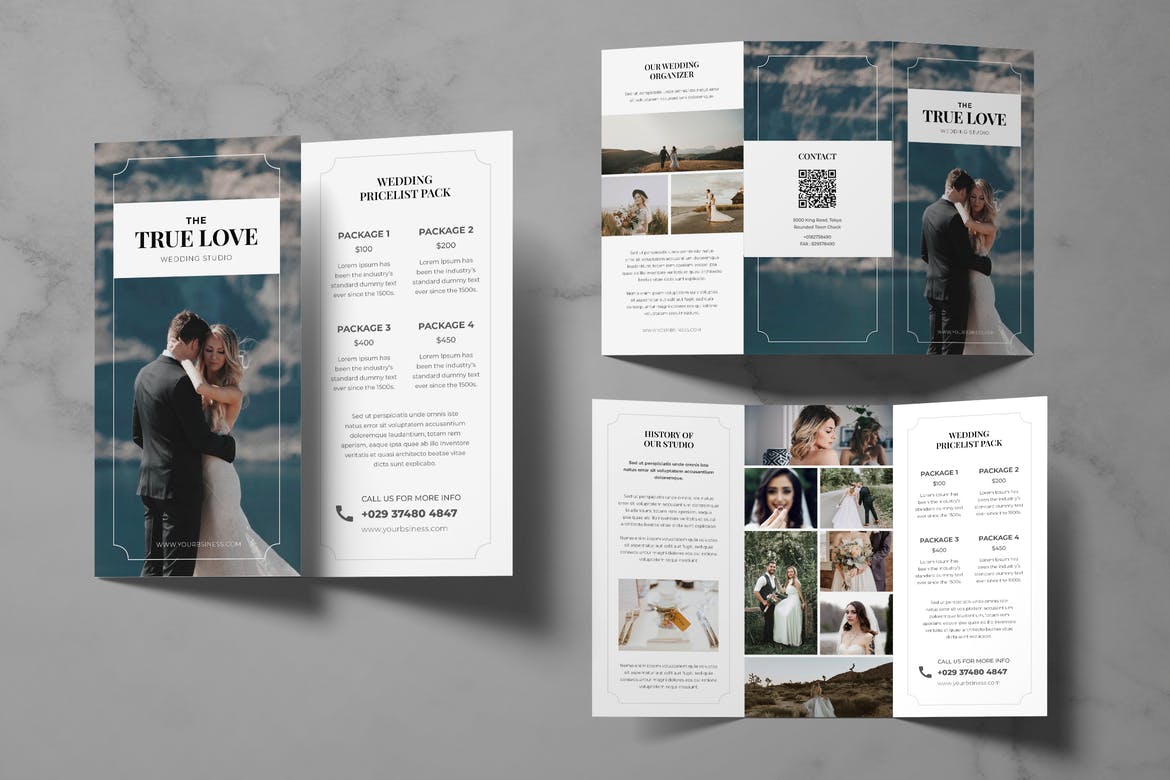 Ideal for any business or professional in the wedding or bridal industry to promote their services, this is one of the most elegant InDesign trifold brochure templates. It offers A4 and US Letter size options and a modern double-sided layout with beautiful graphics and a subtle romantic vibe.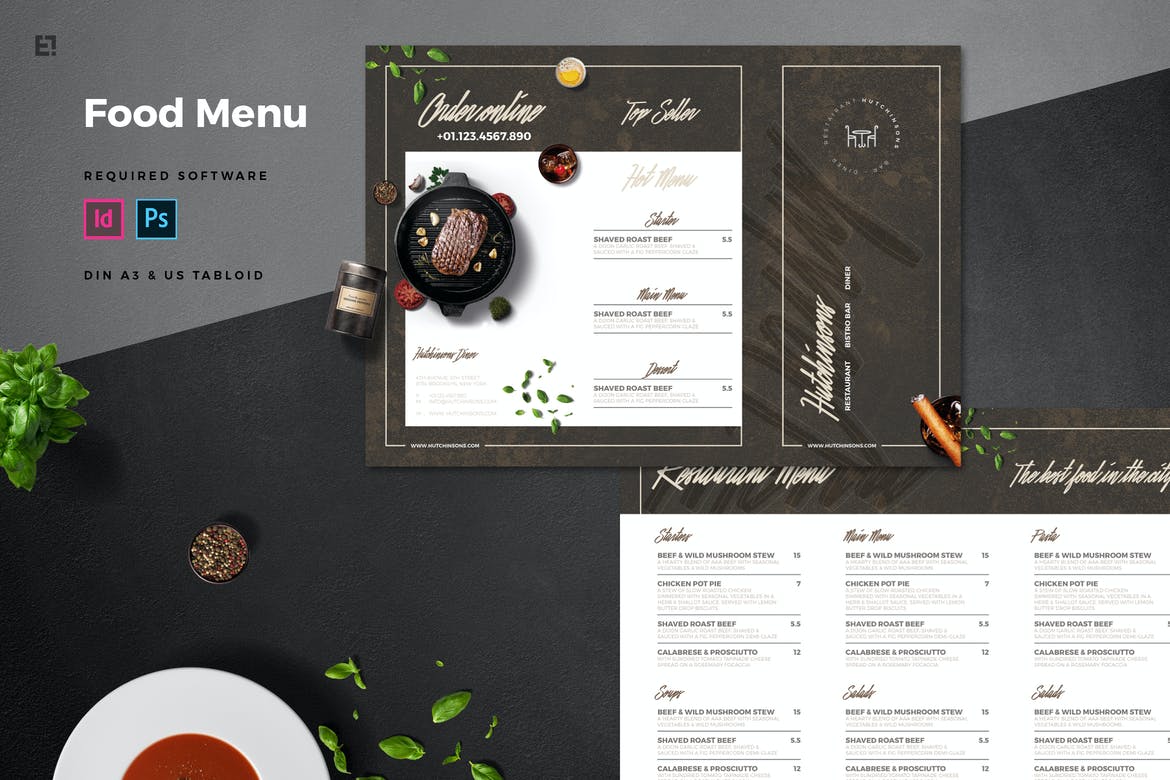 Here we have another option for restaurants to use as a base for their menu design, this time with a slightly more upmarket feel that's great for a fine dining establishment or somewhere that requires a touch of class! It's fully editable and offers a versatile grid-based layout, as well as free fonts and vector graphics.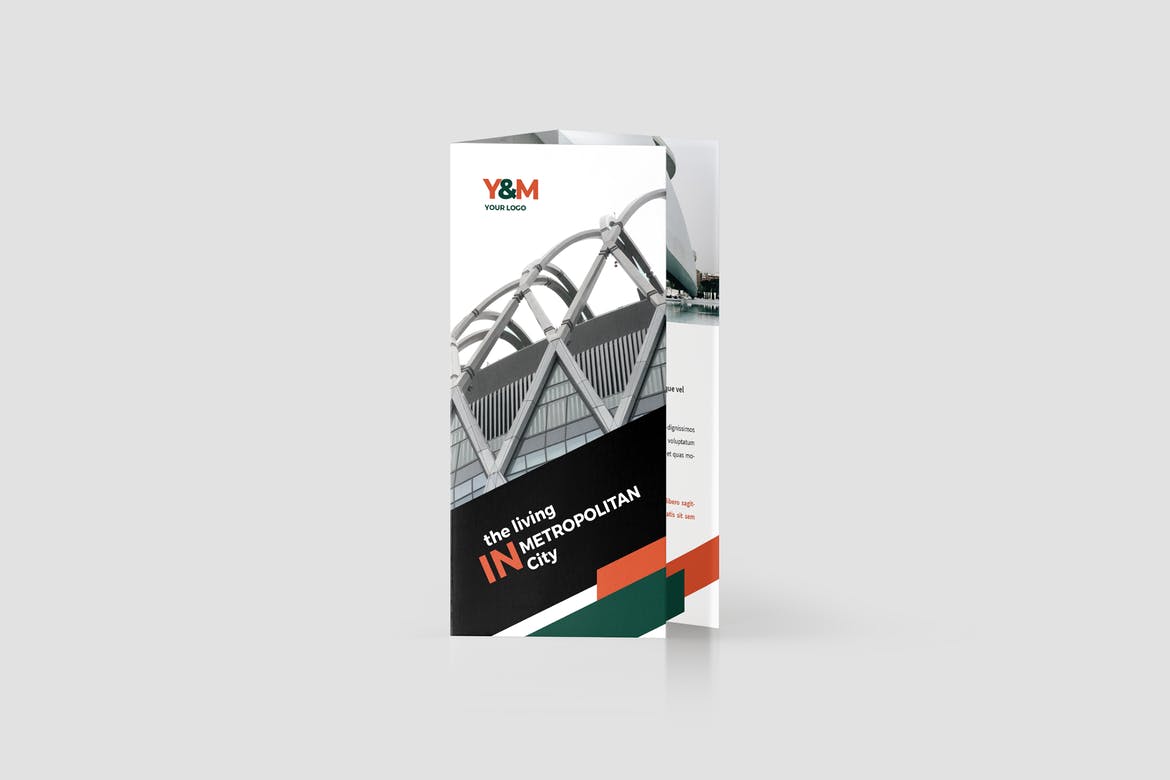 Our next trifold brochure template is perfect for any architecture, graphic design or construction firm, and includes a simple, modern design that can be fully adjusted to reflect your organization's brand. All graphics are vector-based, and the 300 DPI resolution gives it a professional and polished finish.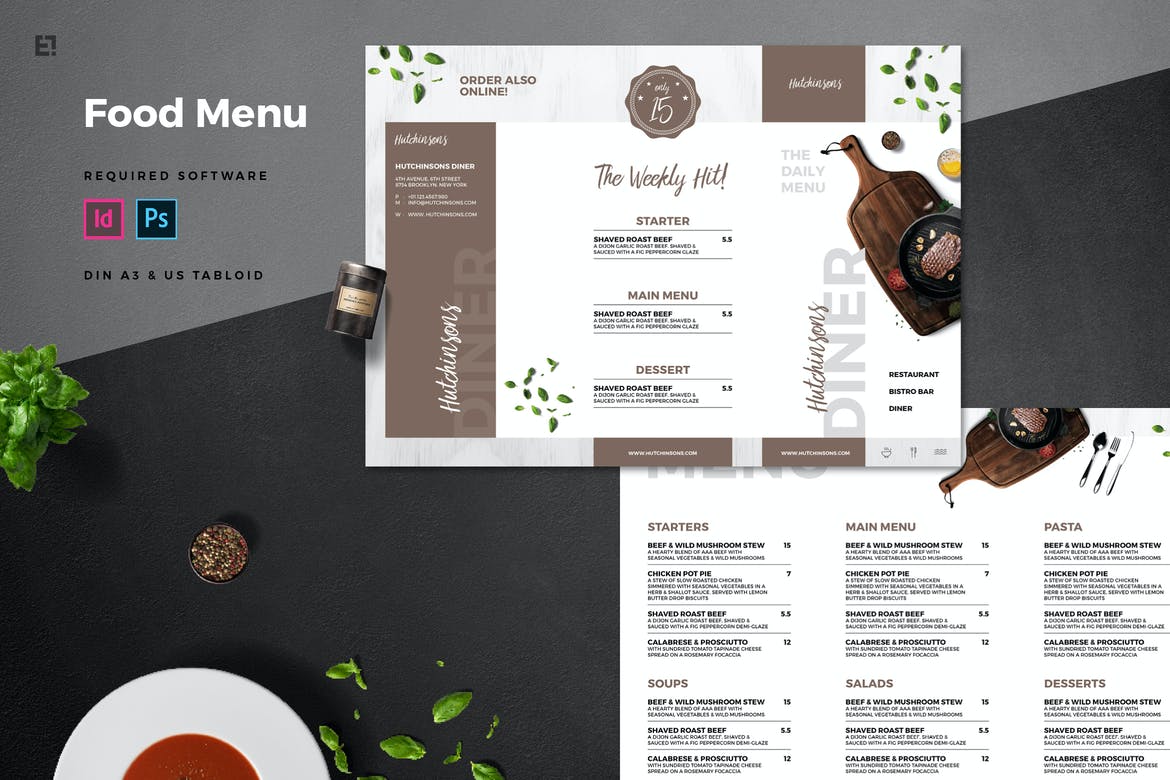 This trifold menu template is ideal for a cafe or casual restaurant and features a minimal and professional looking design that's simple to customize to fit the aesthetic of your venue. It includes paragraph styles, interchangeable colors, and a grid-based, fully layered layout.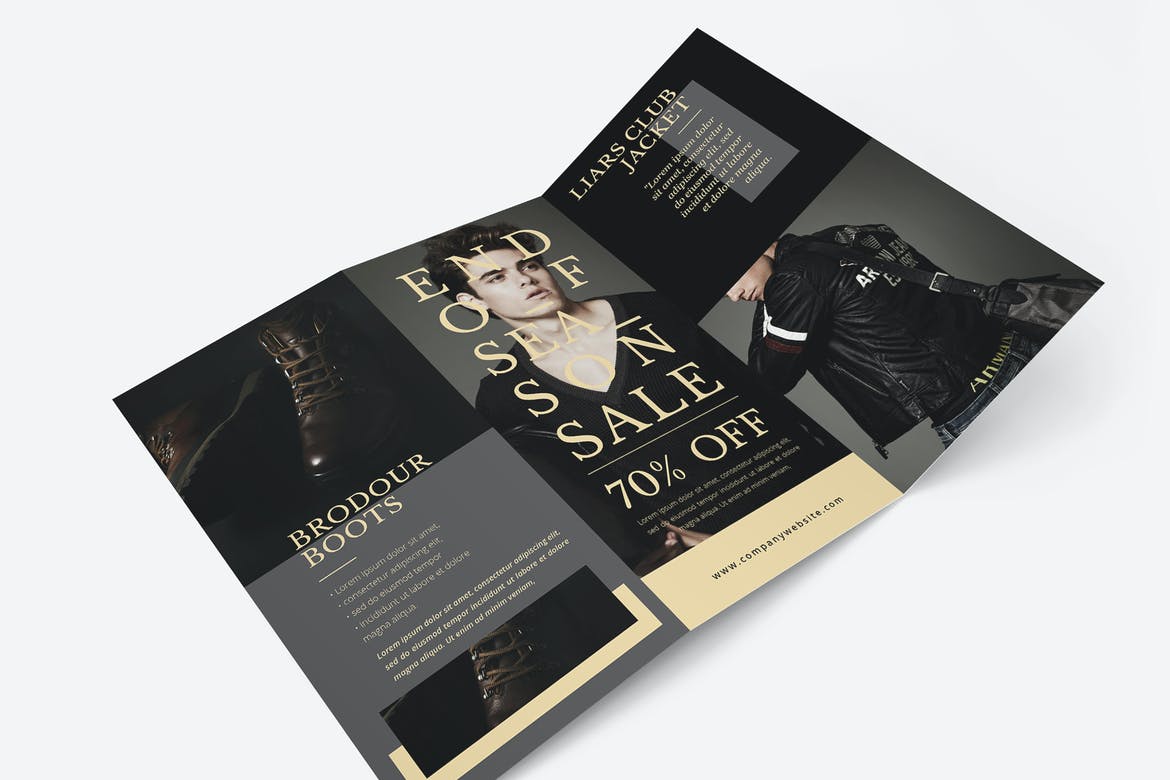 Next in our lineup of the best InDesign trifold brochure templates is this trendy design that's suitable for any use within the fashion or creative industries. It comes in a standard A4 trifold format with a high quality 300 DPI resolution and CMYK color space and is super easy to customize.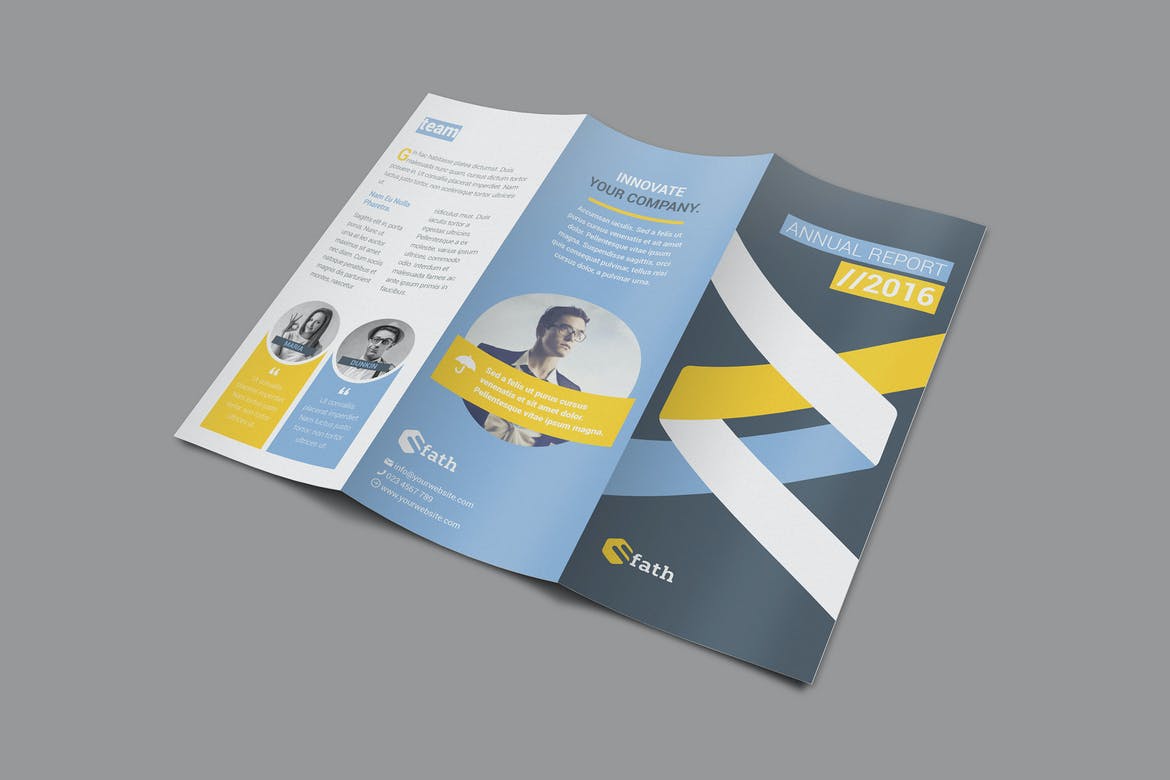 And now, we have a corporate style trifold design that's perfect for presenting your annual results to shareholders, employees, and other stakeholders! It offers a clean, professional design that includes free fonts and a print-ready 300 DPI resolution, plus the use of bold color blocks to help you represent your company's brand.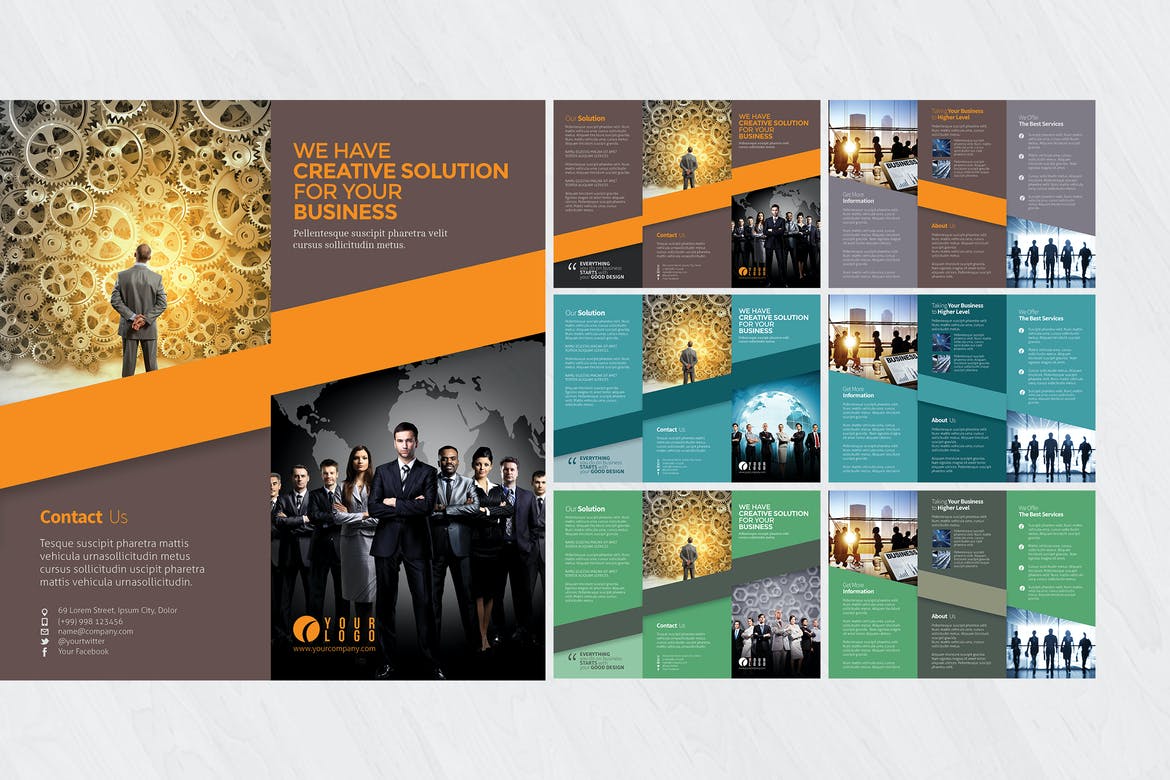 Can't quite find the perfect trifold brochure template for your business or industry? This template is the perfect starting point for any brochure project – its classic layout includes modern design elements, plenty of space for both text and images, and a super professional look that's sure to impress.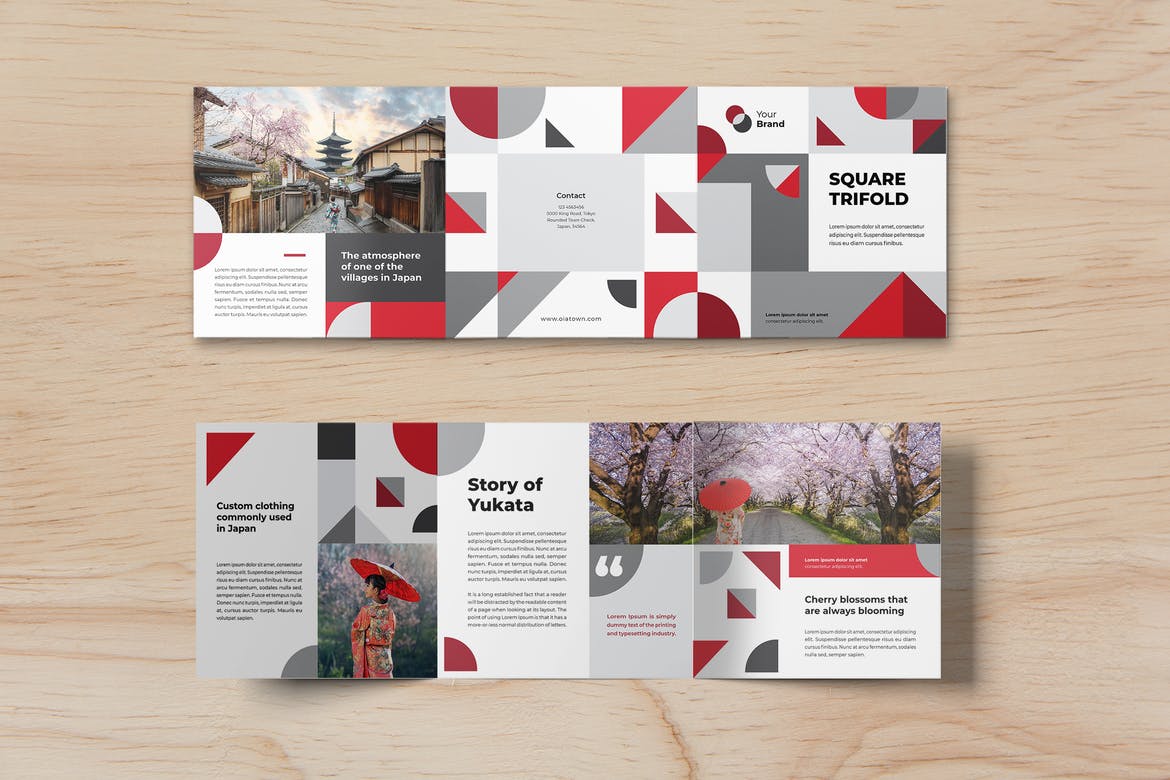 Wanting something a little different to the standard trifold format? Consider the Sakura template, a stunning square design that offers a clean, coordinated design with geometrically inspired graphics and a stylish color scheme. Each aspect of this funky template can be fully adjusted to suit your own style.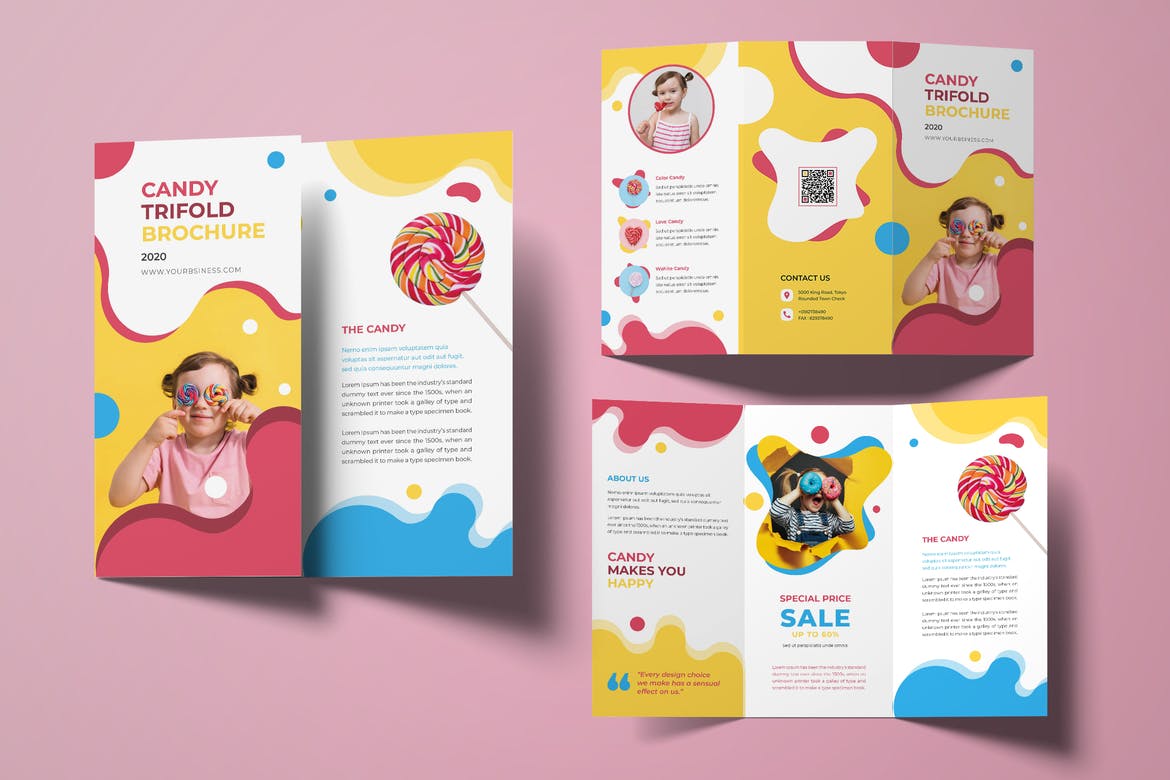 Here we have the perfect InDesign trifold brochure template for a kid-friendly project, or as a promotional tool for a kindergarten or school. Featuring bold, bright colors and a funky candy themed design, it's sure to be a winner with children and adults alike.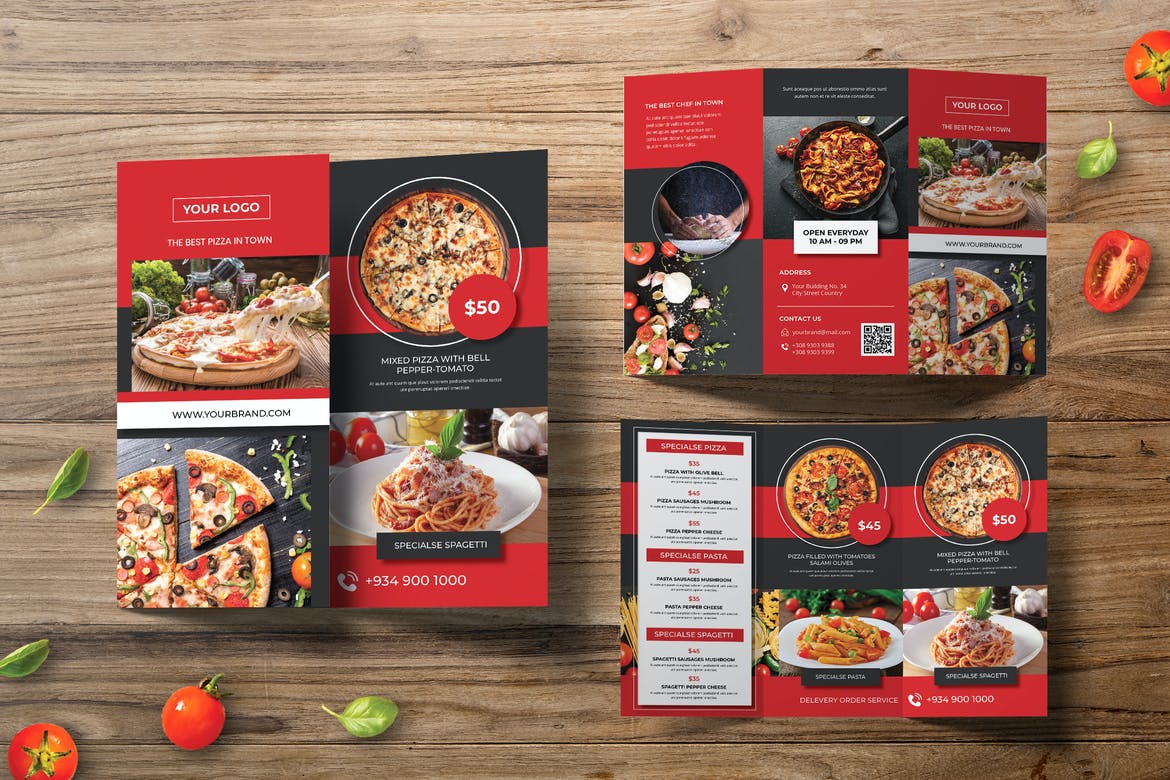 A brilliant choice for any pizza or fast food brochure, this pizza-themed design features a modern, catalog-style layout with plenty of room for images and product descriptions, and is fully editable. It comes in a print-ready CMYK color space with a 300 DPI resolution, and smart layers for seamless customization.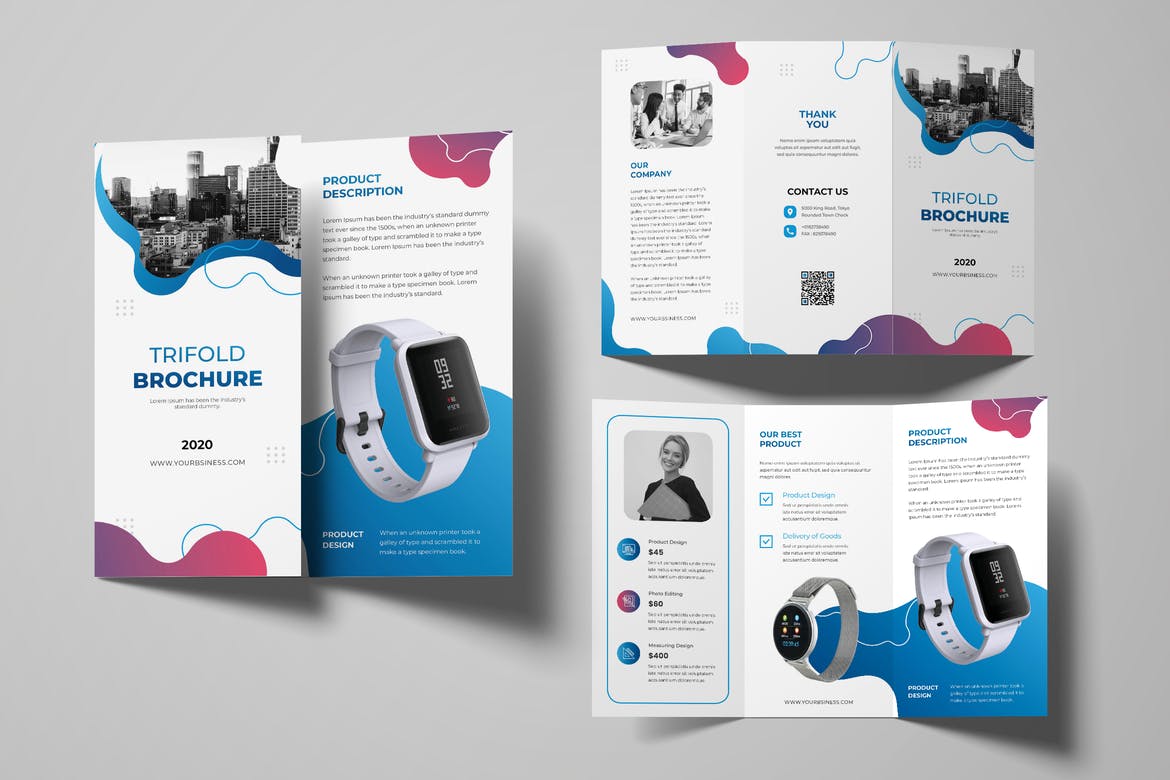 Searching for the perfect balance between creative and professional? This funky trifold brochure from Envato Elements is a great option – it offers an intuitive layout and modern sans serif typography combined with artistic graphics in bold colors, ideal for making an impact while showing off your unique personality or brand!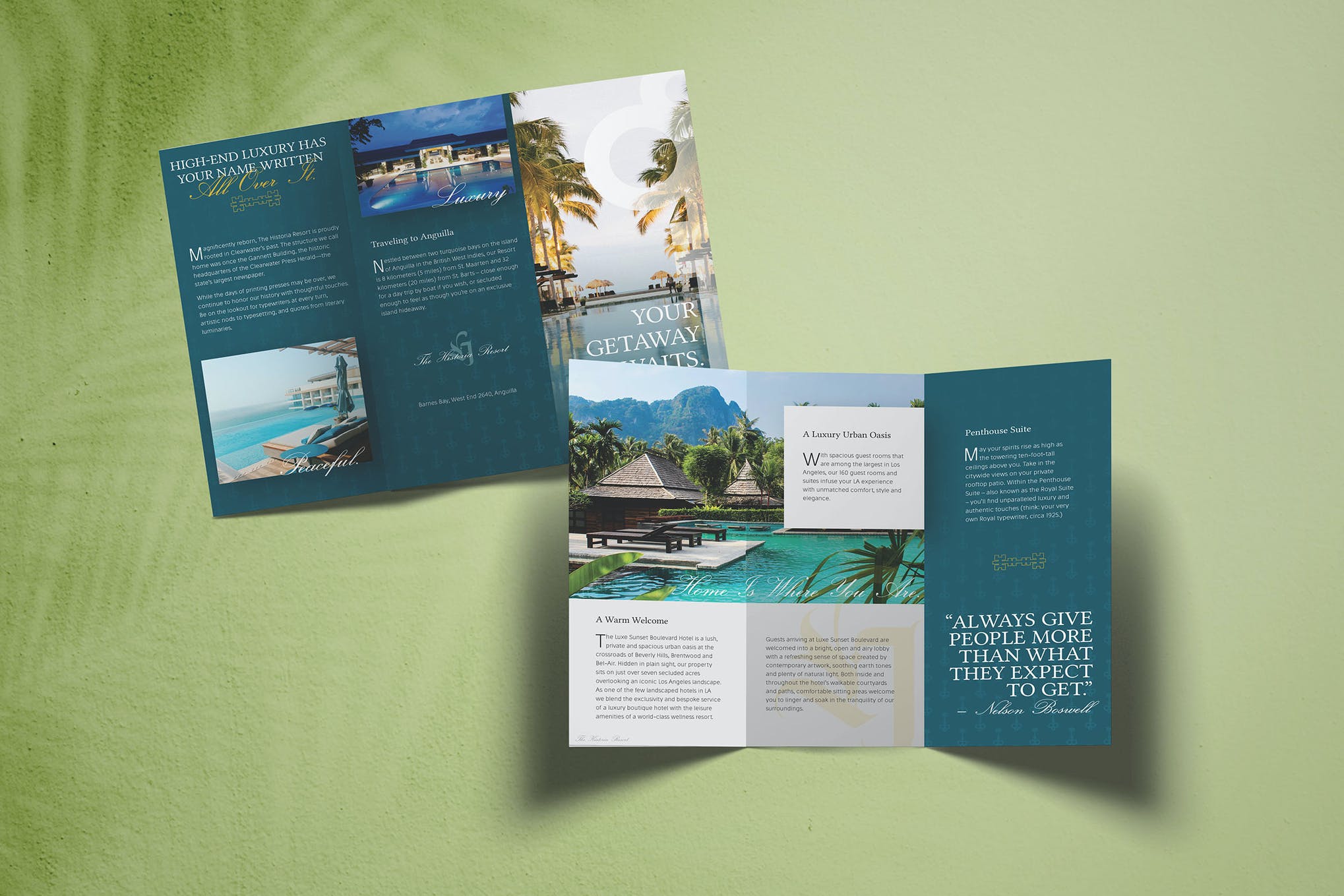 Luxury Historia Resort Trifold Brochure is here to make a statement. WOW your patrons or client with this easy to edit resort brochure. This brochure is great for high-end resorts, hotels or villas. The possibilities are endless.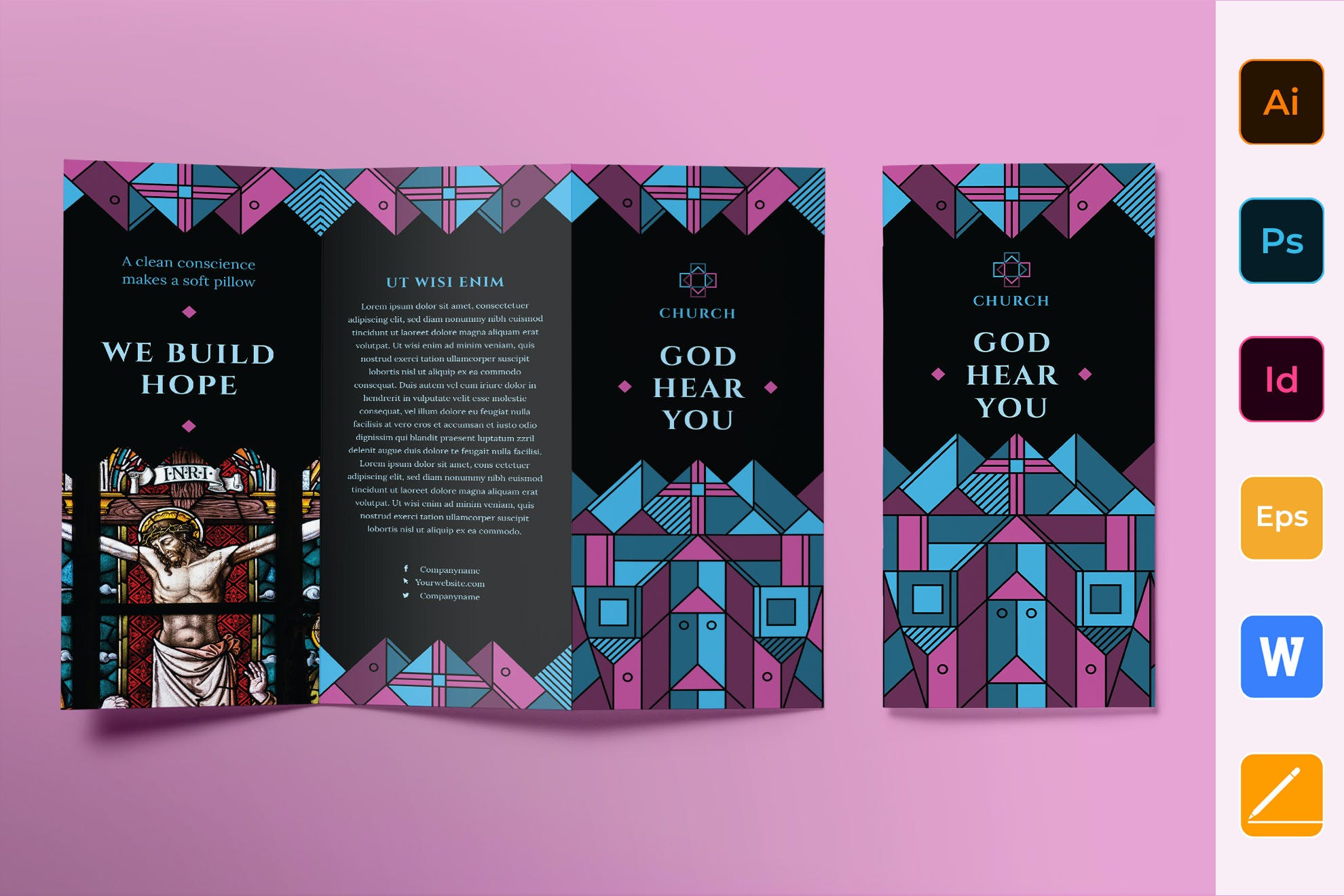 This is Smartstudy, a great Trifold Brochure template for all business and personal needs. This Brochure is Suitable for any kind of business, corporate and can be also used for any other publishing like annual report and company profile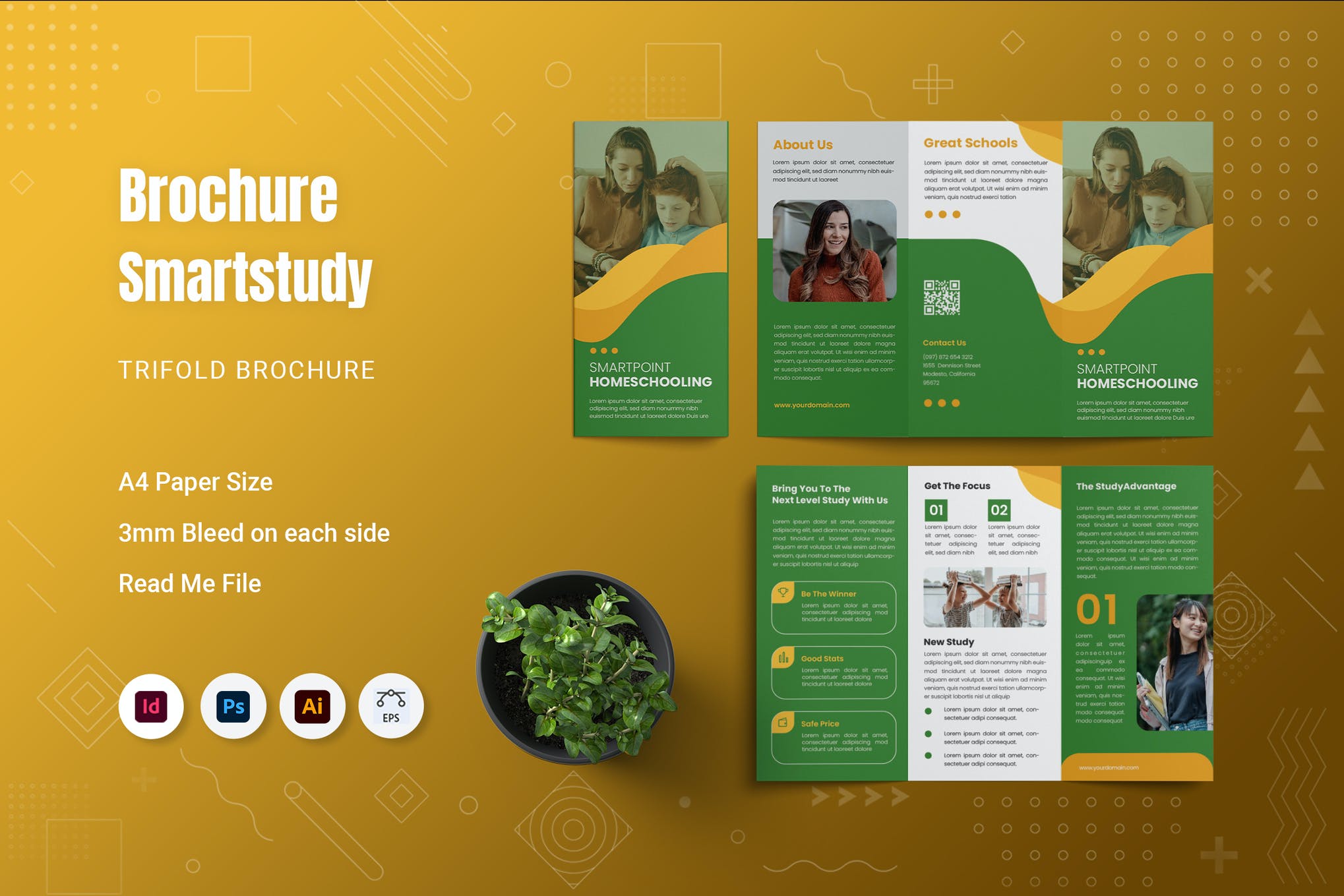 Trifold brochure template is perfect for business and corporate purposes. This package contains clean, modern and high-quality trifold brochure templates. Easy to edit and customize, versatile, attractive design and ready for promotion as well as other marketing goals. Works perfectly for different areas to showcase your business in the best possible way.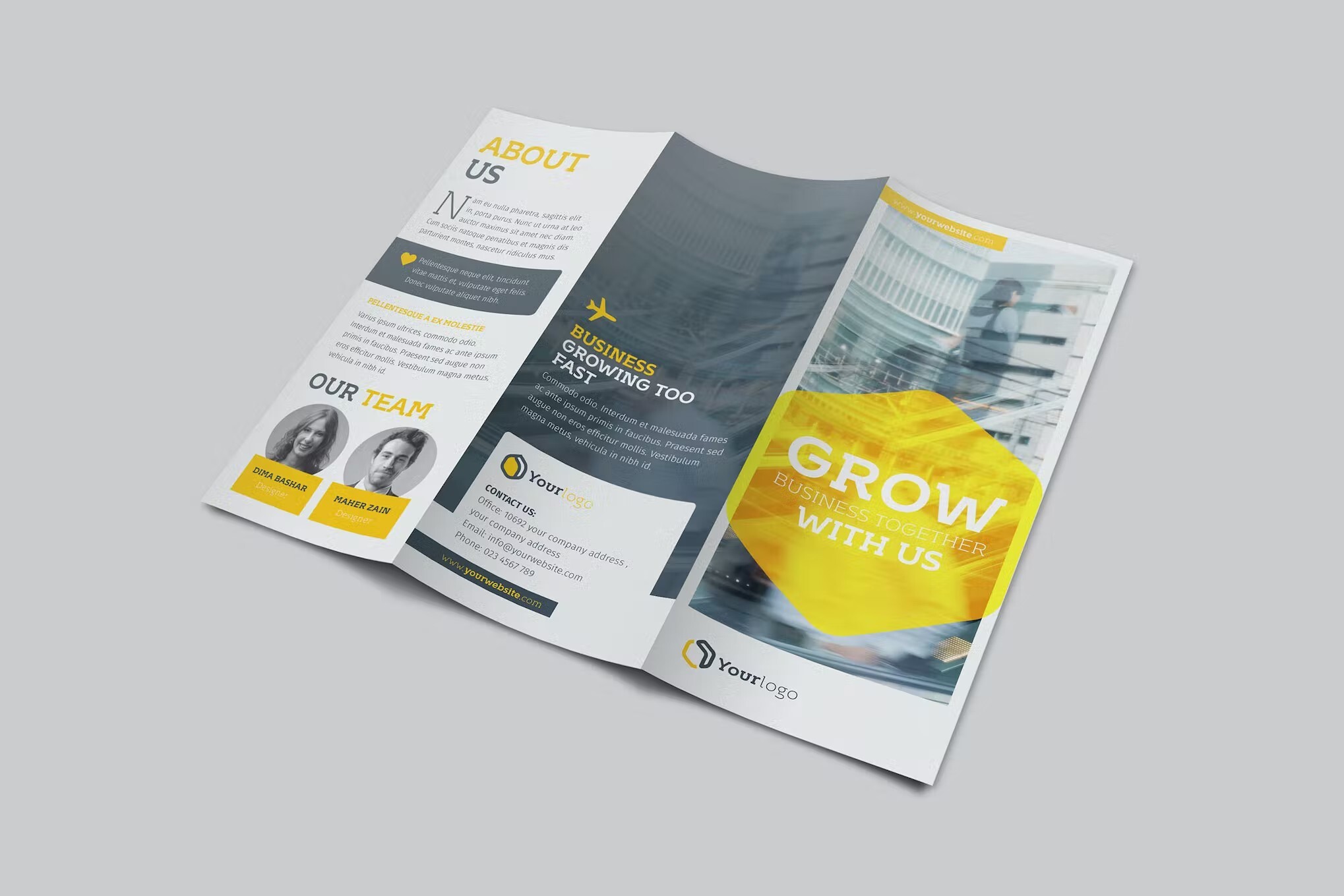 This modern brochure layout design template is easy to use and works for just about any topic. Not only can you add in your own images, but you can also change the fonts and text. The brochure design comes in landscape layout.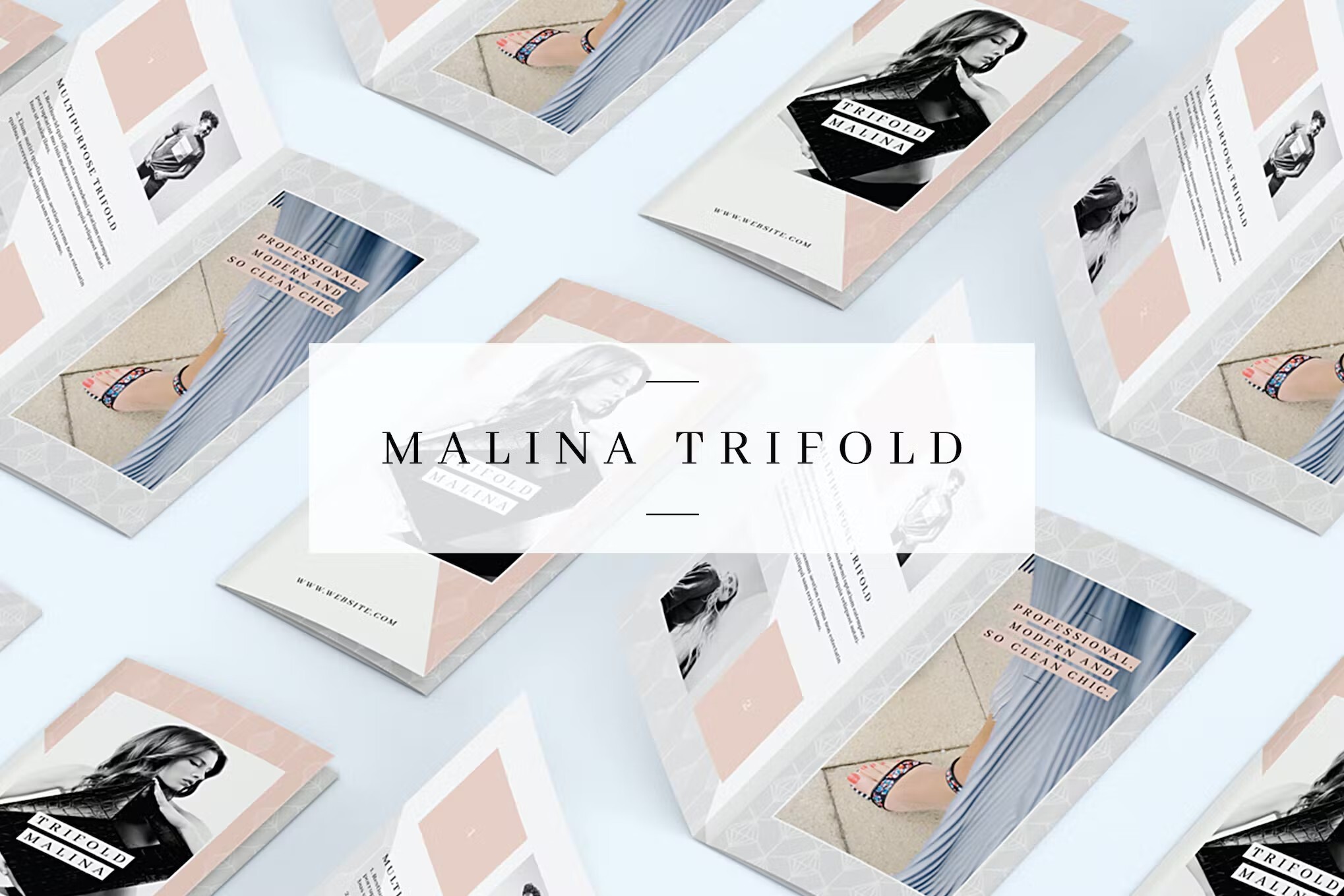 Malina is a modern and clean multipurpose trifold brochure template and perfect to present your projects and business. As a bonus there are also 20 individual hand drawn seamless pattern included.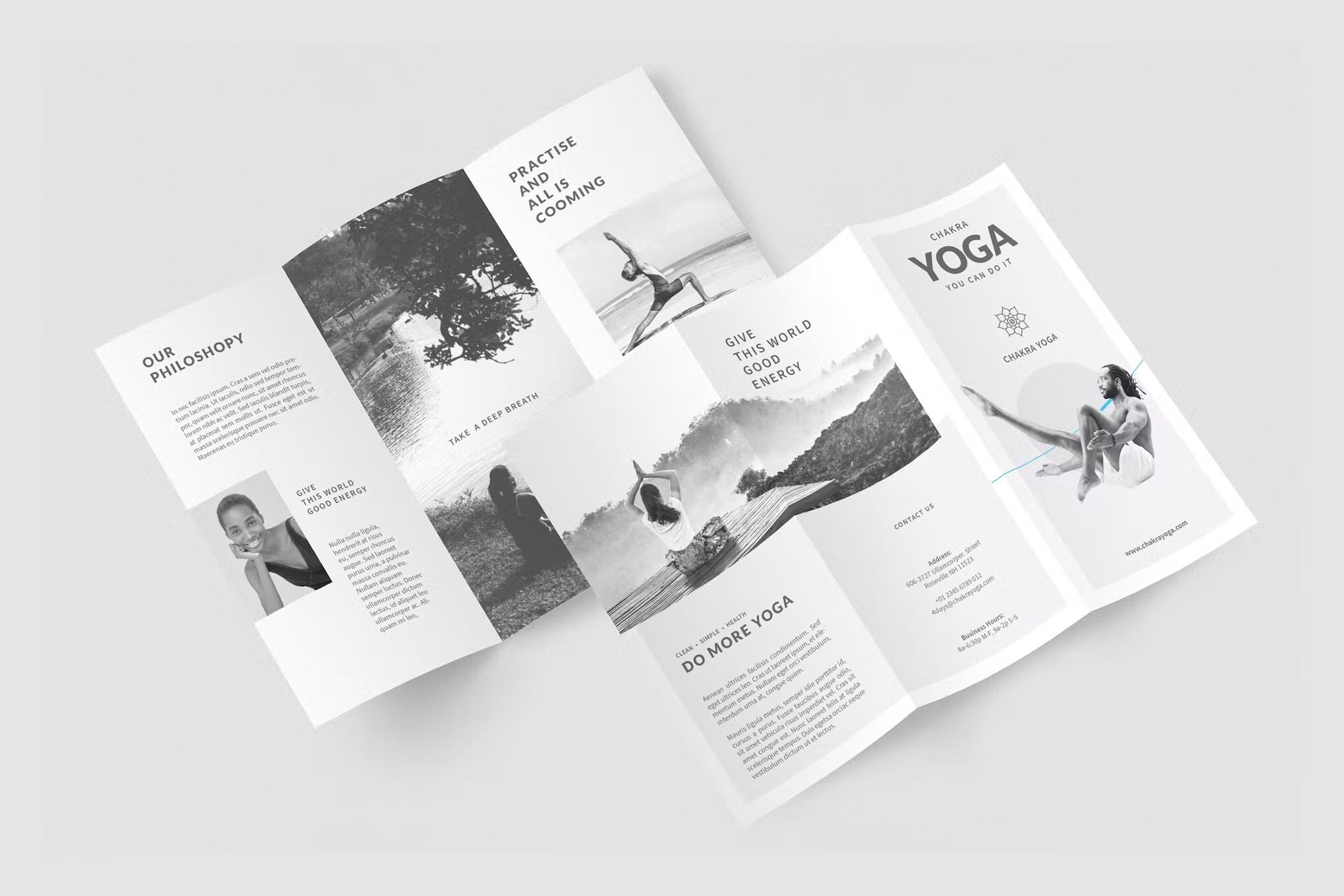 Promote your yoga center with this modern brochure design. It's a trifold layout with image and text placeholders. You can make your edits in Adobe InDesign, and this brochure is an A4 design that's print-ready.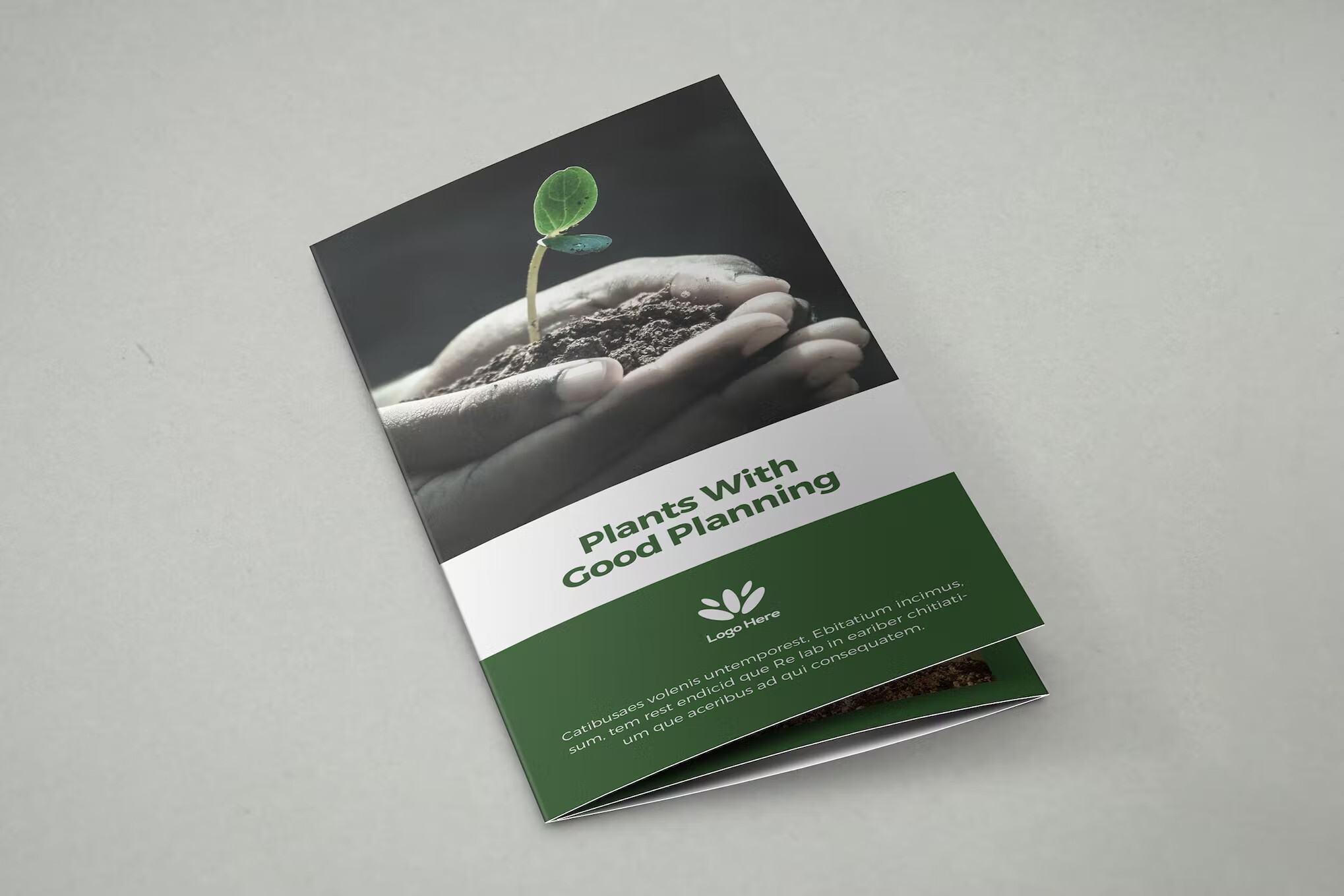 Stand out with this unique trifold professional brochure design. This InDesign template features a clean, modern design with free fonts and placeholders for all your text and images. Just switch out the cover photo for a print-ready brochure.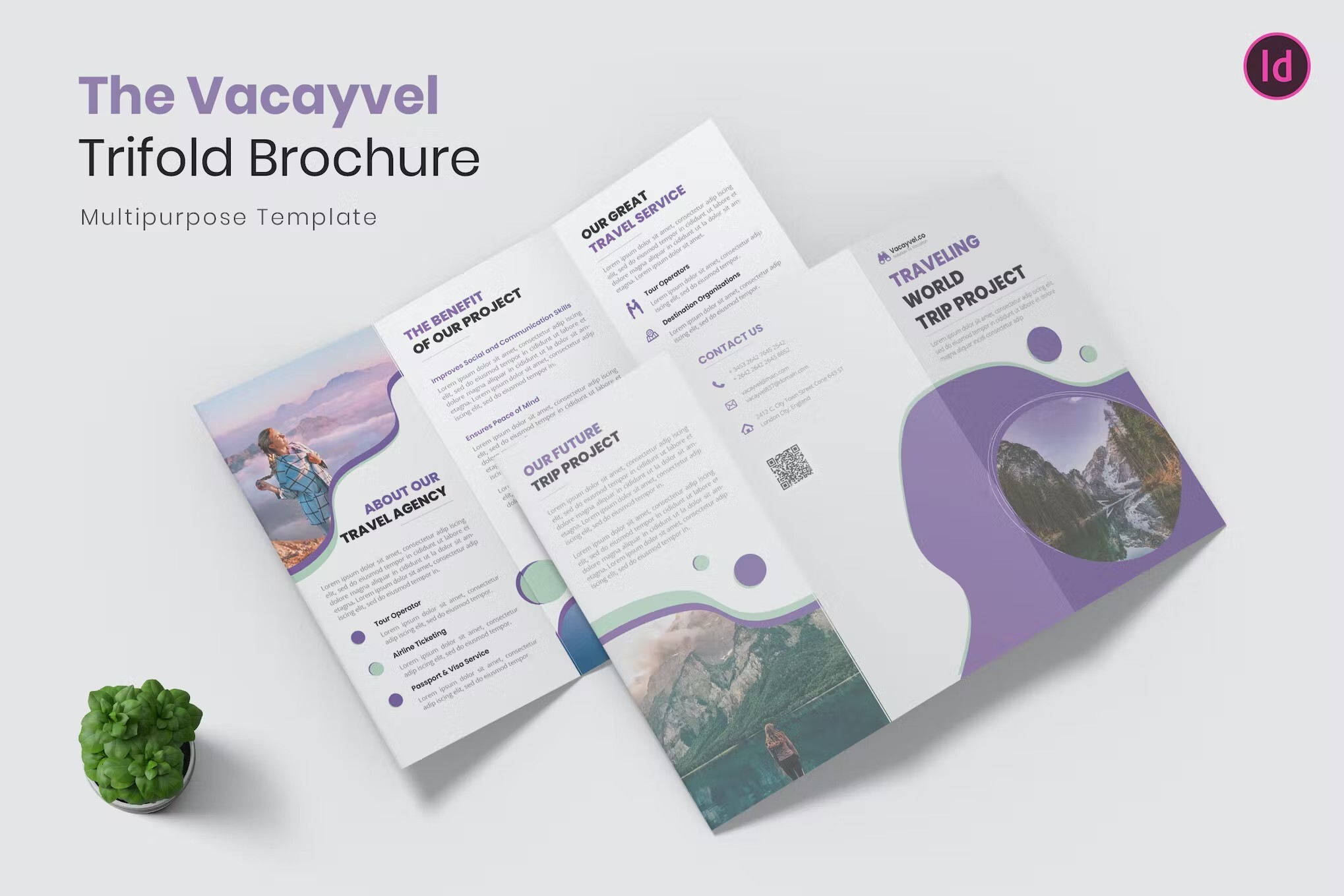 Go modern with this professional trifold brochure design. This brochure template includes beautiful pages and is editable in InDesign. Adding images and text can be done in a few clicks, and the vacayvel is also print-ready.
Free InDesign Trifold Brochure Templates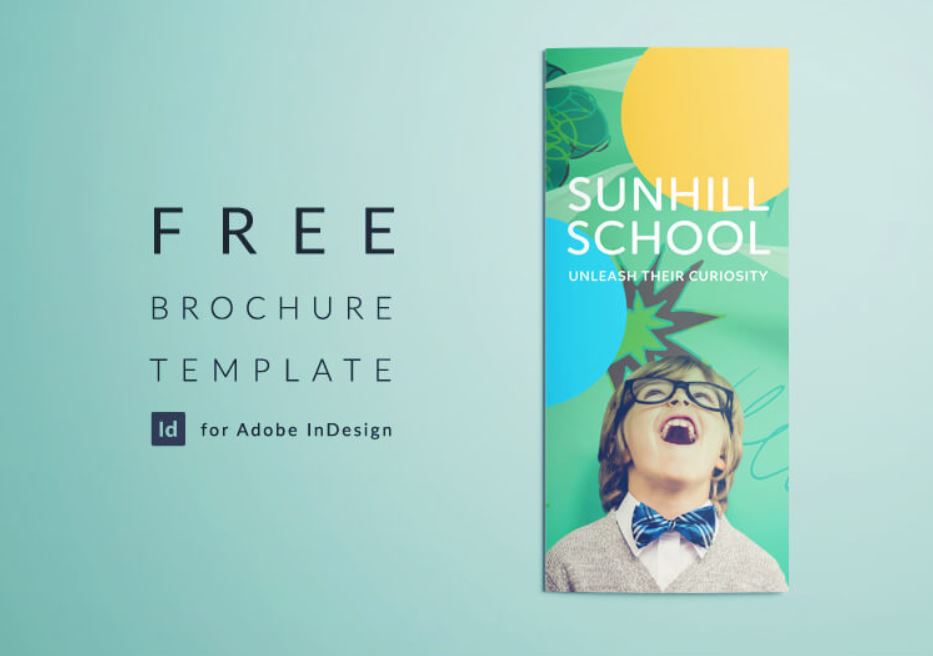 Our first free option is a fun, colorful design featuring a simple, easy to read layout, classic sans serif fonts, and plenty of room for photos and images. This is one of the best InDesign trifold brochure templates for schools and kindergartens, and best of all, it's available as a free download from InDesignSkills.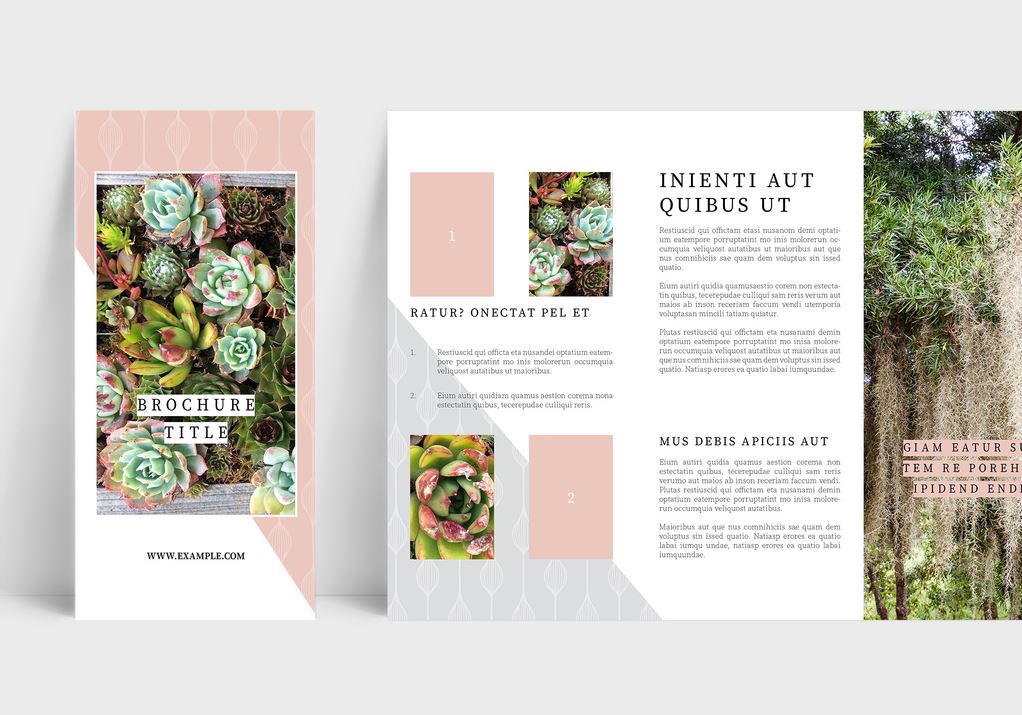 Next up, we have a delightful (as named by the designer) trifold brochure template that features delicately patterned graphics and a lovely pastel color palette and offers a choice of A4 and US Letter sizing, as well as being fully customizable. This template can be licensed for free from Adobe Stock.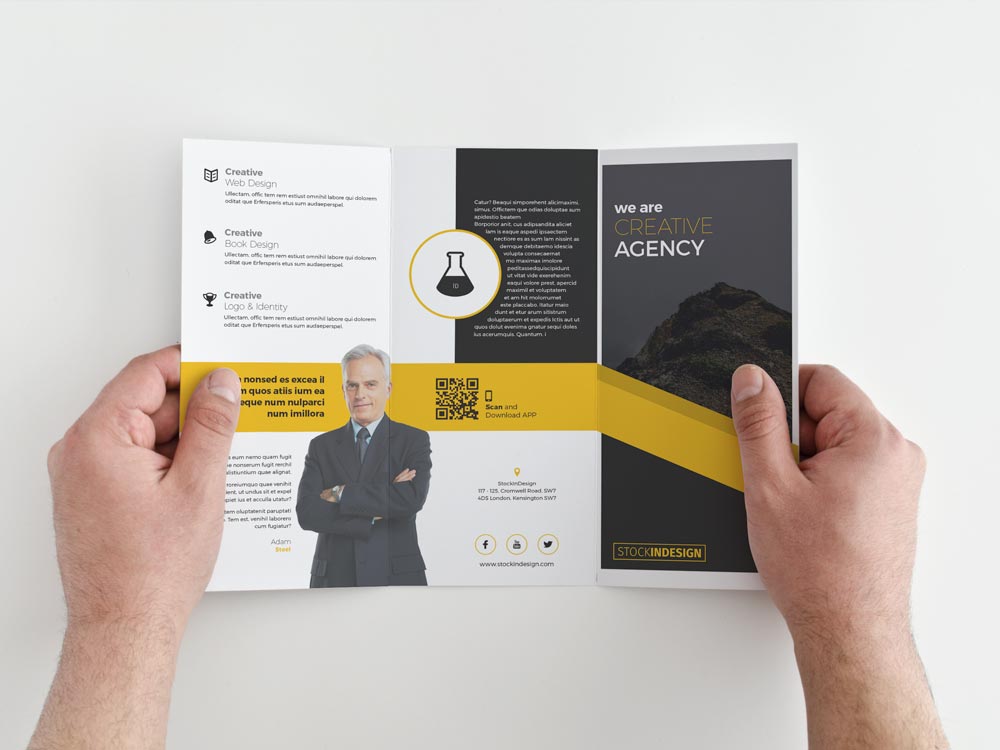 Here we have this super professional corporate tri fold brochure template that's perfect for businesses in the finance, insurance, and banking industries, and offers a multifunctional layout and modern design elements. And what's more, it's available as a free download from StockInDesign.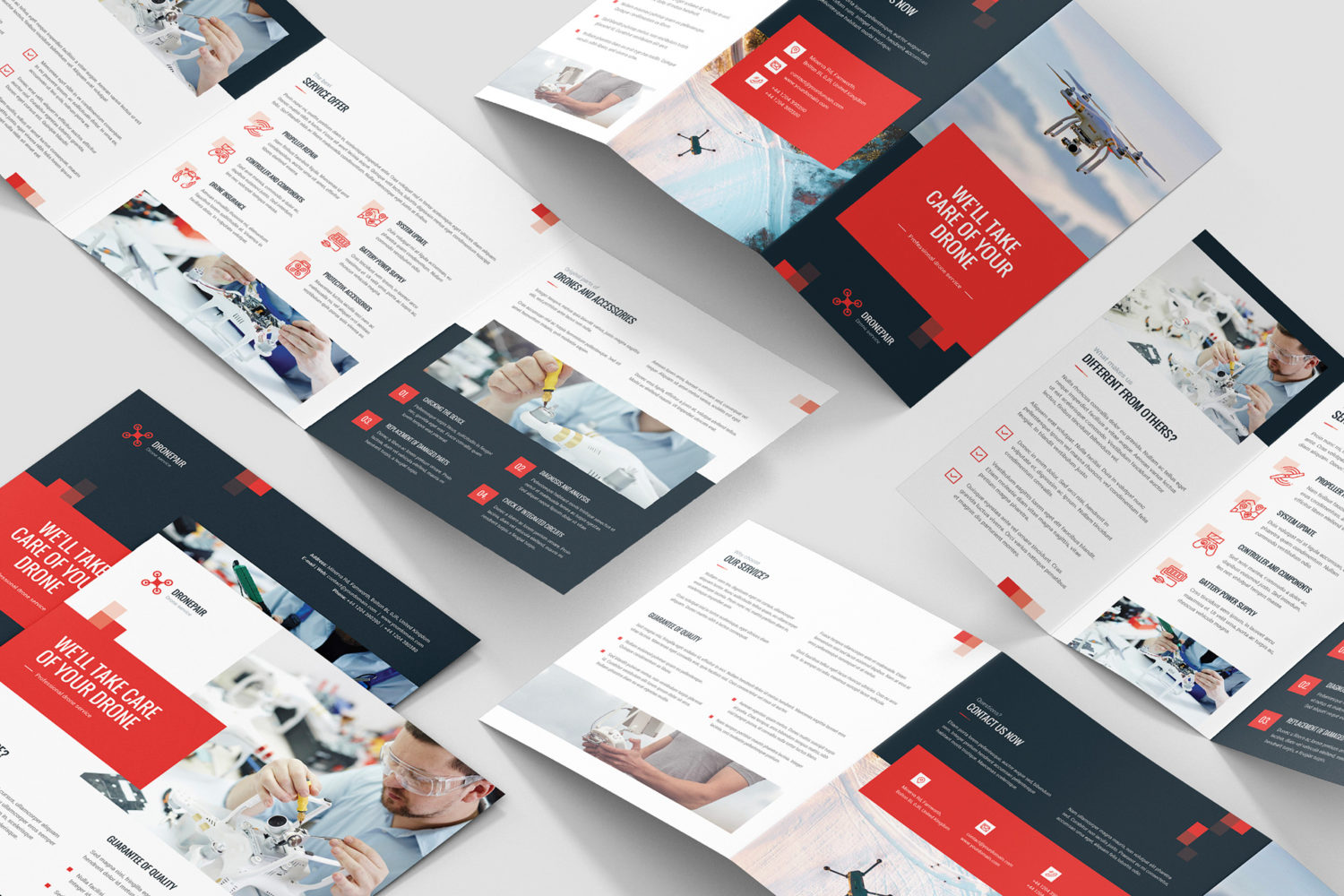 Here we have a great free option from Behance that's been specifically created for drone businesses to use as a promotional or marketing tool. However, it's a versatile tri-fold brochure template and can be used for a variety of other businesses. It's been professionally designed with high quality, fully customizable graphics, and a versatile print-ready layout.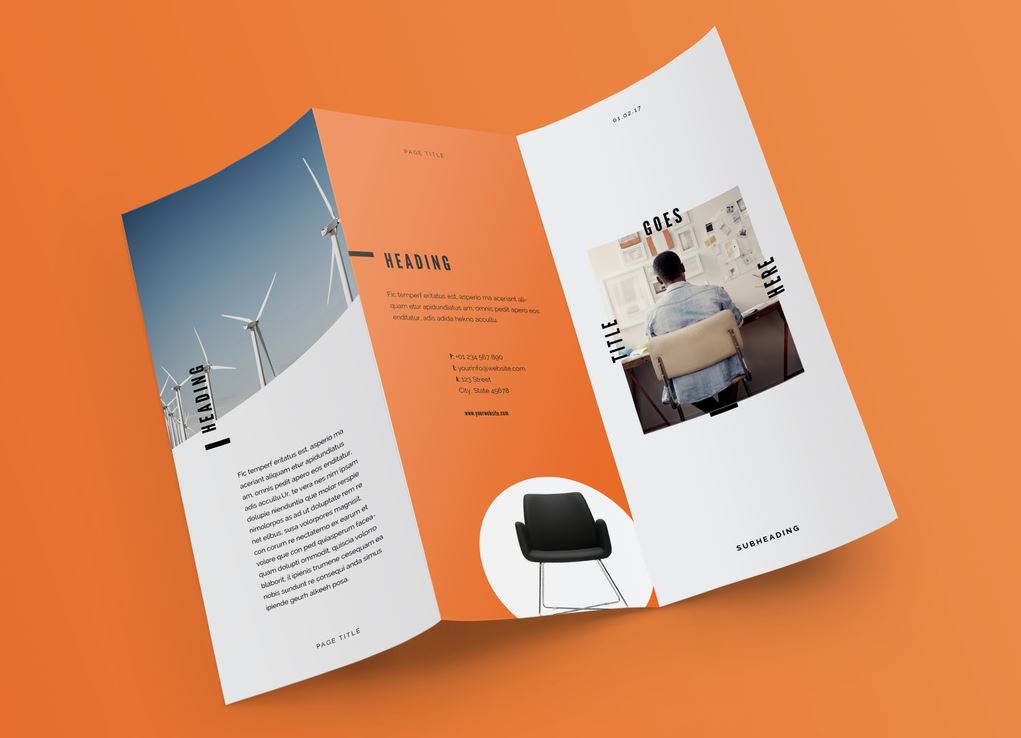 To finish off our selection of the best InDesign tri fold brochure templates, we have this bright and colorful design that features geometric graphic elements and paragraph, character, and object styles for quick customization. You can download it for free from Adobe Stock.
And now, we'll leave you with this selection of top-notch InDesign trifold templates for brochures, menus, and, more – whatever your style, budget, or industry, there's sure to be a template here that's perfect for you!