50+ Best Tri-Fold Brochure Templates for Word & InDesign
When designing a brochure, it's not often that we can look past the tried and tested format of the tri-fold design. Featuring three panels of equal size that fold up neatly into a letter-sized rectangle, it's an efficient and easy way to promote your business in a physical manner.
But creating a tri-fold brochure takes time, effort, and if you're hiring a professional, money. That is until we discovered that there are hundreds of premade, purpose-built tri-fold brochure templates available to download and customize instantly!
To help you choose the best option for your needs, we've rounded up the best tri-fold brochure templates for Word and InDesign. Take a look through this list, pick your favorite, and you'll be on your way to creating a professional and eye-catching brochure for your business!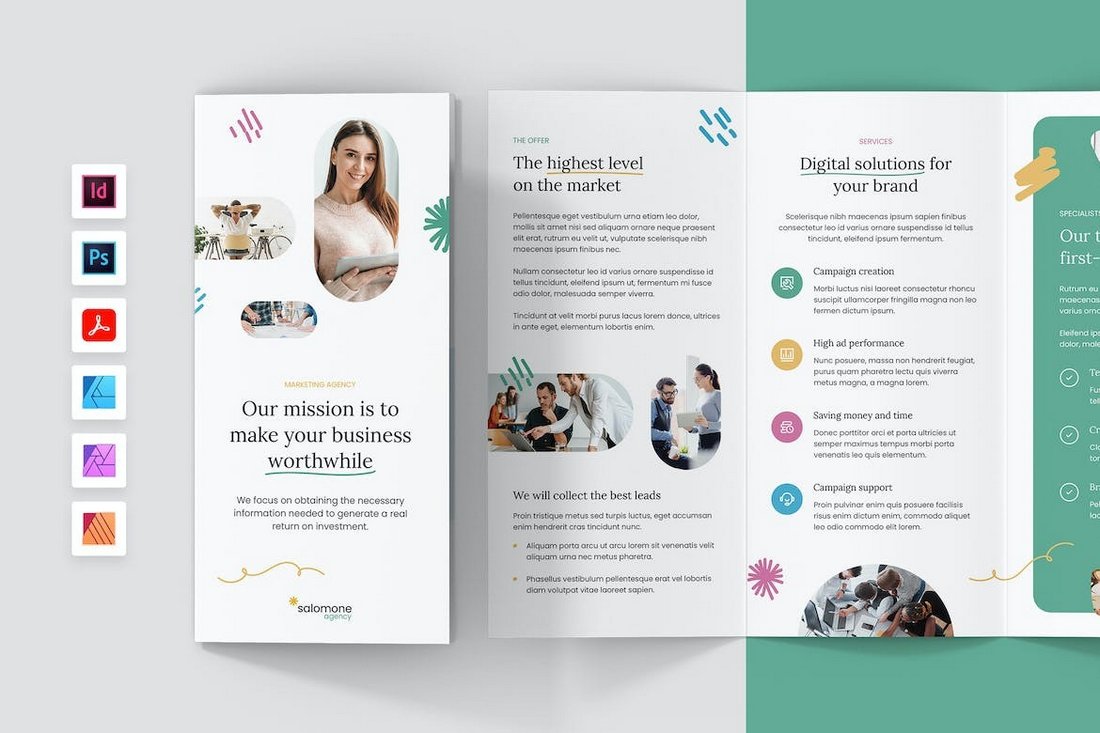 This tri-fold brochure template comes with a clean and minimal design that allows you to effectively showcase your business and services. It's ideal for marketing and design agencies for attracting new clients. The template comes in multiple formats, including InDesign, Photoshop, and Affinity Designer.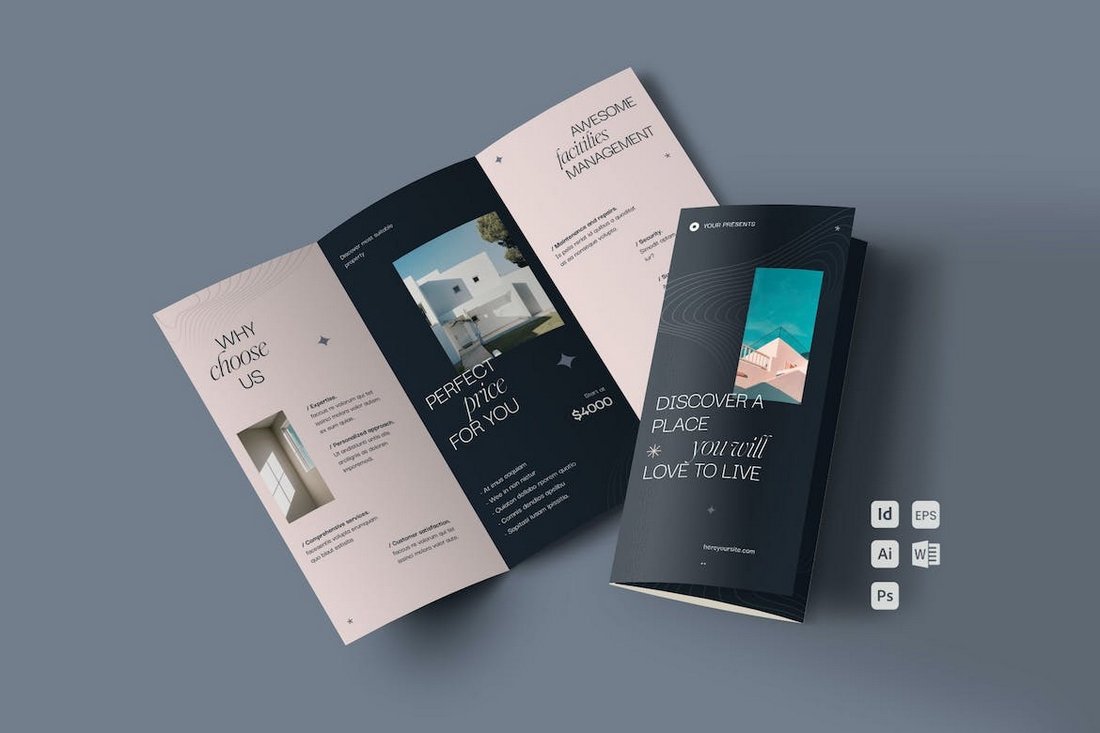 Tropo is another beautiful minimalist brochure that has the perfect design for promoting architecture, interior design, and real-estate businesses. The template has an easily customizable design and comes in Word, InDesign, Illustrator, and Photoshop formats.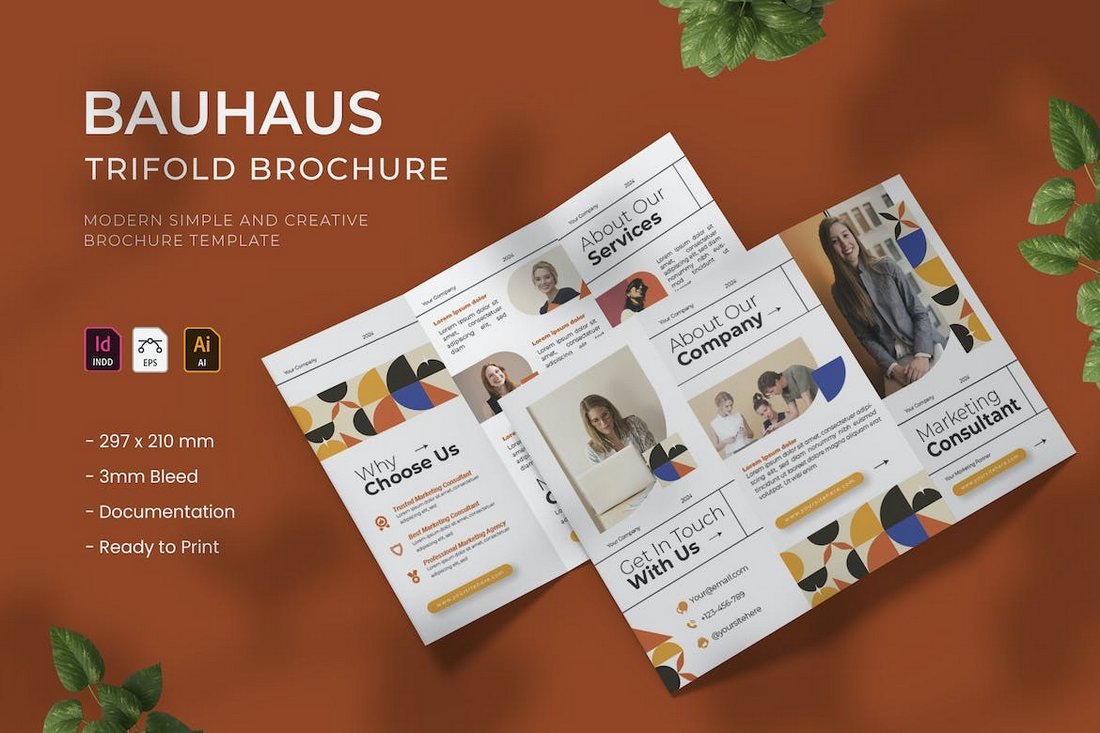 Featuring a colorful design inspired by the Bauhaus style, this tri-fold brochure will allow you to promote various types of businesses and agencies in a stylish way. It has designs for two sides with editable colors, fonts, and image placeholders. The template comes in InDesign and Illustrator formats.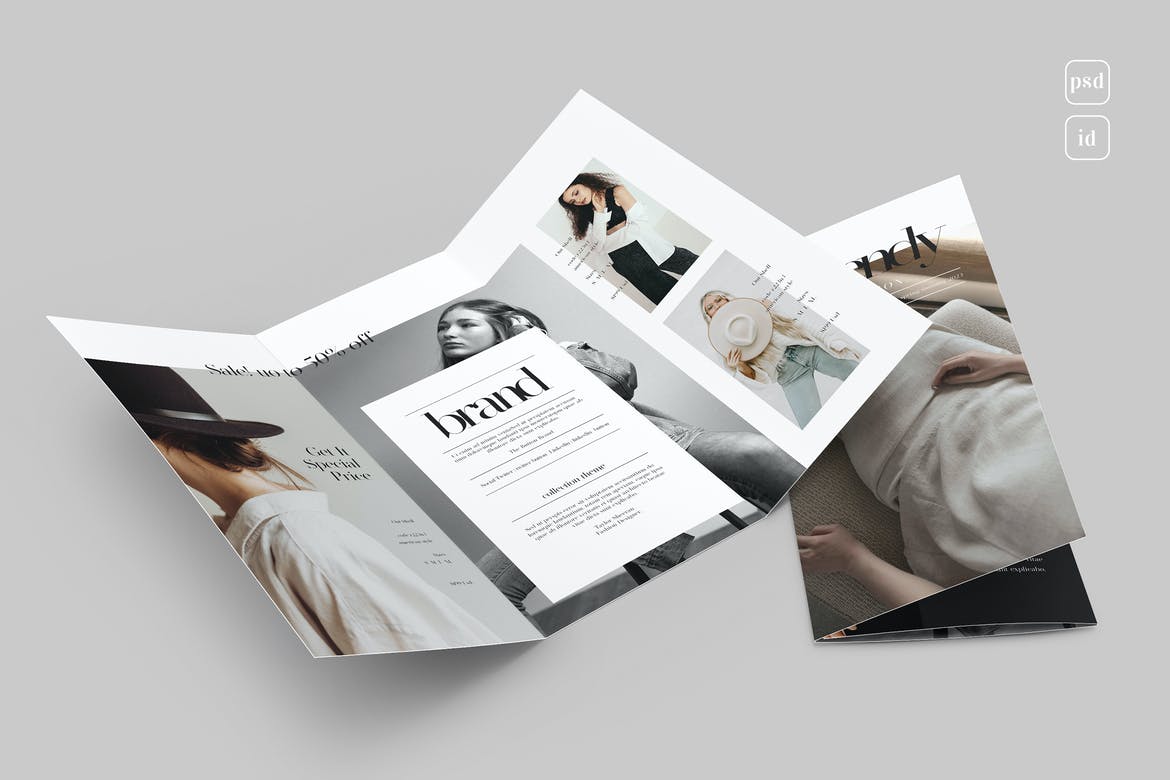 This trifold brochure template for InDesign and Photoshop features a clean, simple, and modern design that's super easy to customize, and comes with a choice of two unique layouts plus A4 and US Letter size formats. It also offers a high-quality 300 DPI resolution and print-ready finish.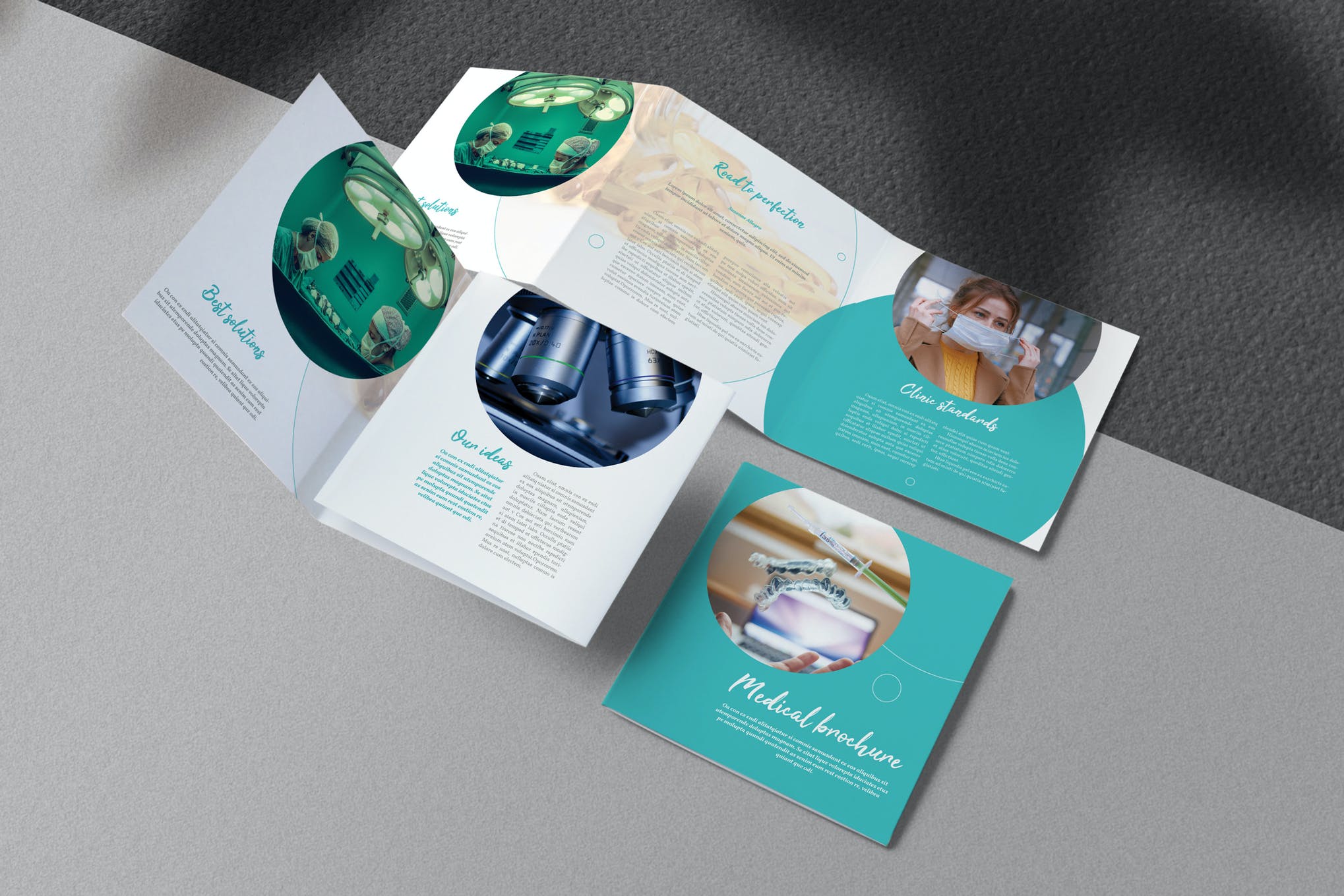 Check out this modern, and trendy trifold brochure template for Word, and InDesign that has been carefully crafted for medical content. That said, the template has a versatile layout that can be put to use for any business needing an elegant and eye-catching design.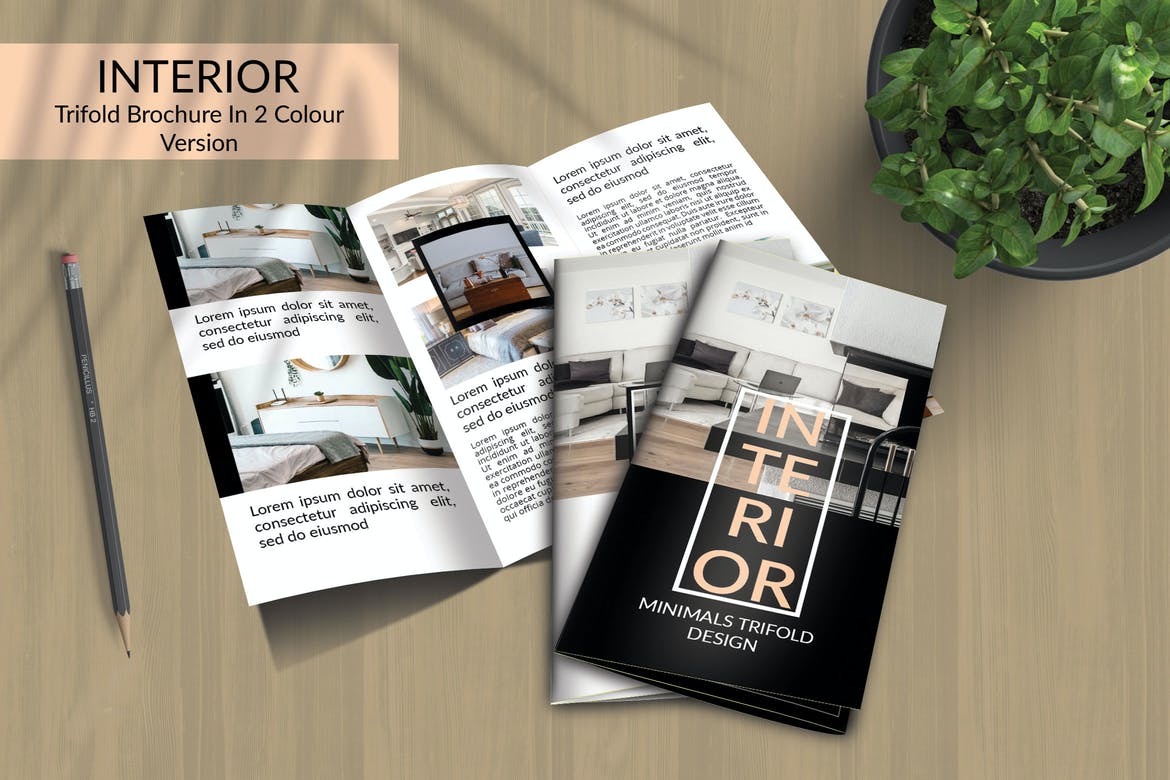 Our next trifold brochure template has been specially designed for use by an interior designer or home decor business to promote their services and win new clients – it features two-color versions, a versatile A4 size format, and a crisp, bold design that's sure to attract attention.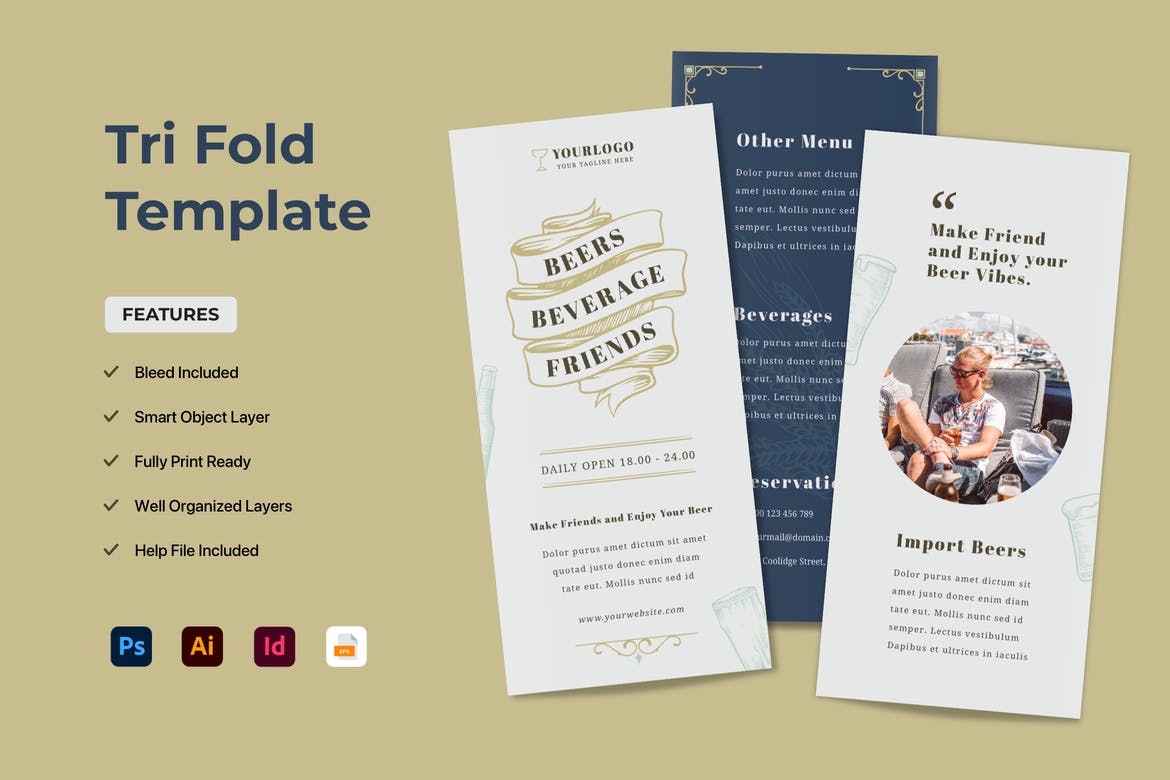 If you're looking for a trifold brochure template with a distinct retro flavor that's suitable for a wide range of purposes, consider this awesome template – it consists of a fully layered and well-organized file in an A4 size format with free fonts and vector graphic elements.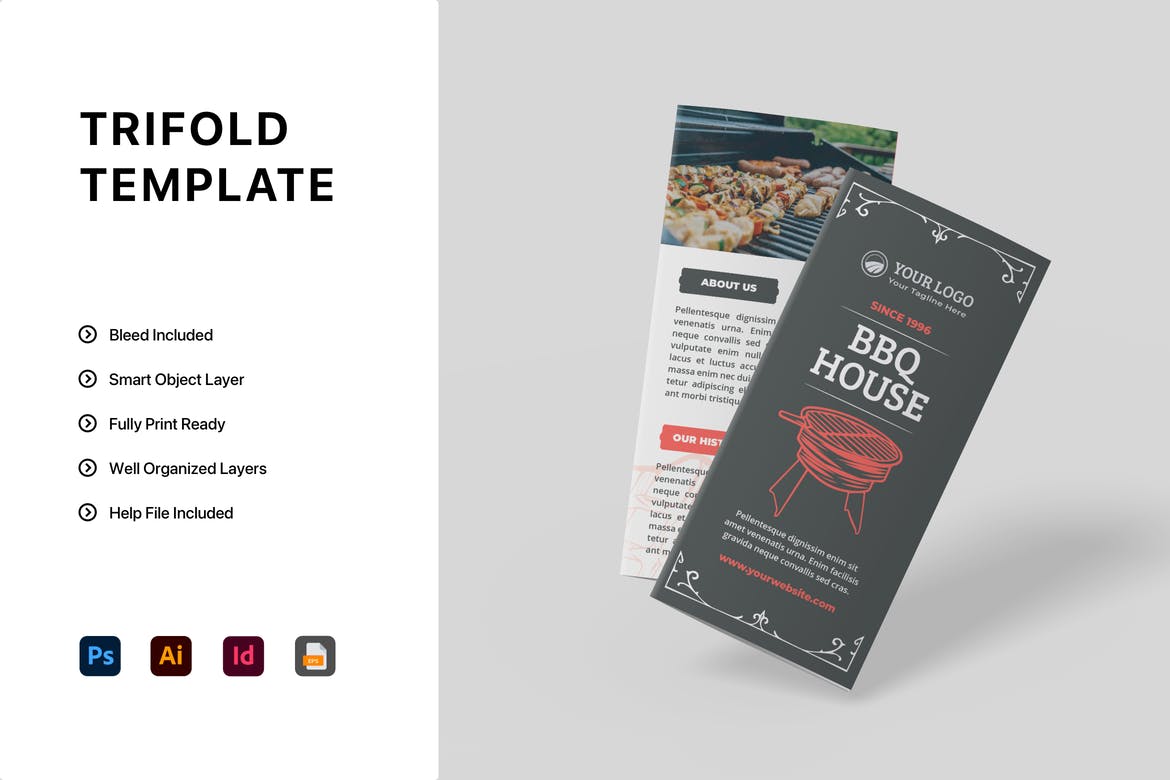 Next in our selection of the best tri fold brochure templates for Word and InDesign is this vintage-inspired option that comes with smart object layers, a 300 DPI resolution, and fully editable vector graphics that make it super easy to customize – plus, it comes with free fonts and a handy help file.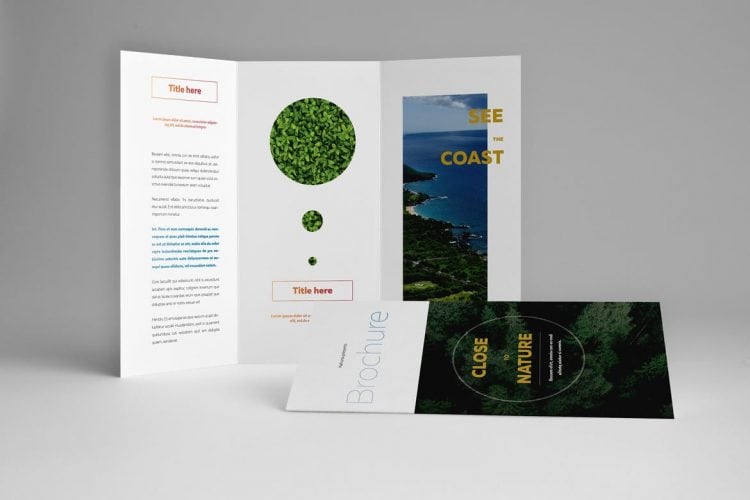 Next on our list of the best trifold brochure templates is a simplistic yet stylish brochure that's been designed specifically for nature-inspired purposes. It includes a clean, elegant layout with a 300 DPI resolution and a high-quality CMYK color space, and allows you to change the color theme with a single click.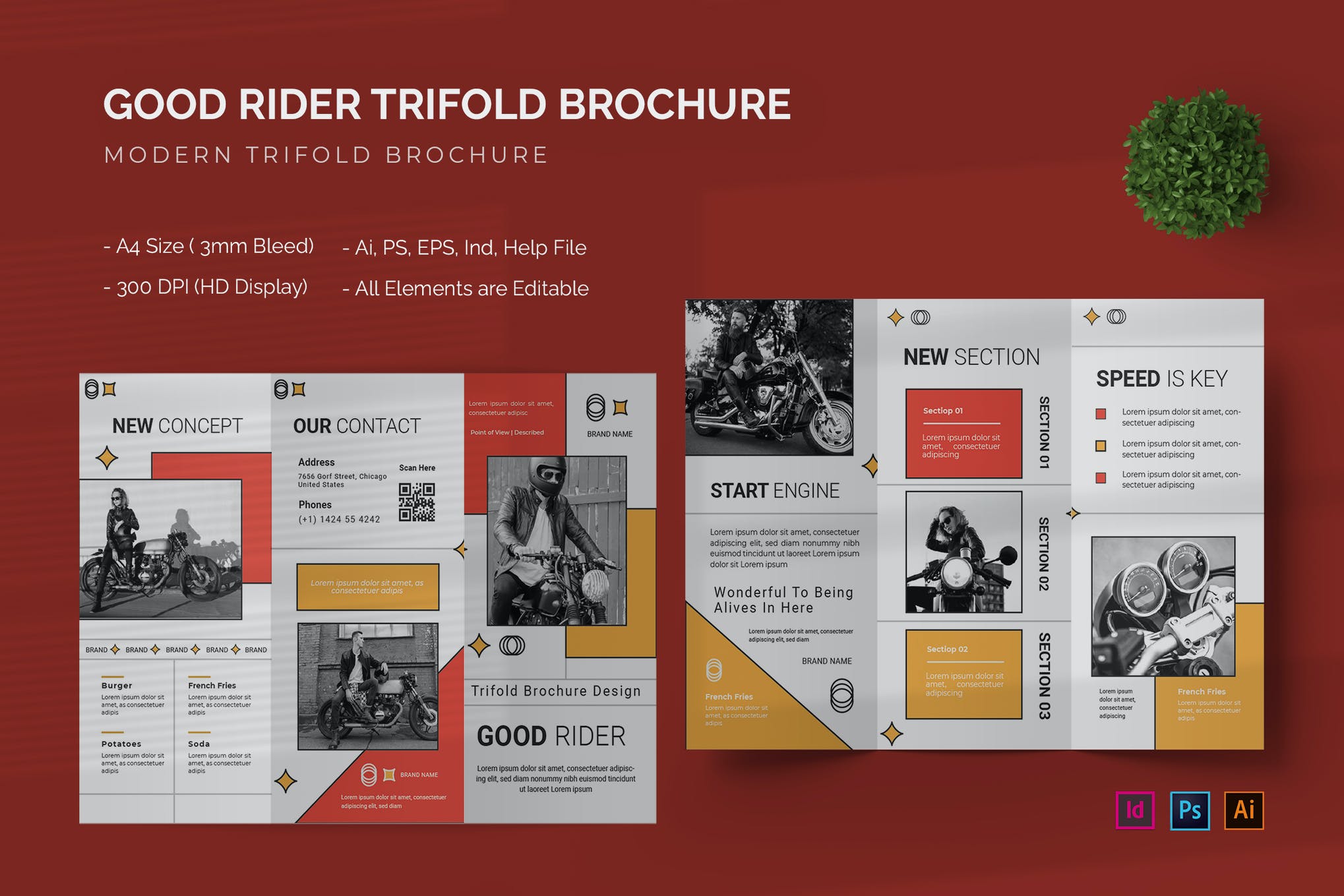 Modern, and stylish, Good Rider is an InDesign trifold brochure template that will leave your audience blown away, thanks to the stunning design, and excellent use of typography. It comes with free fonts, and can be fully customized in just a couple of minutes.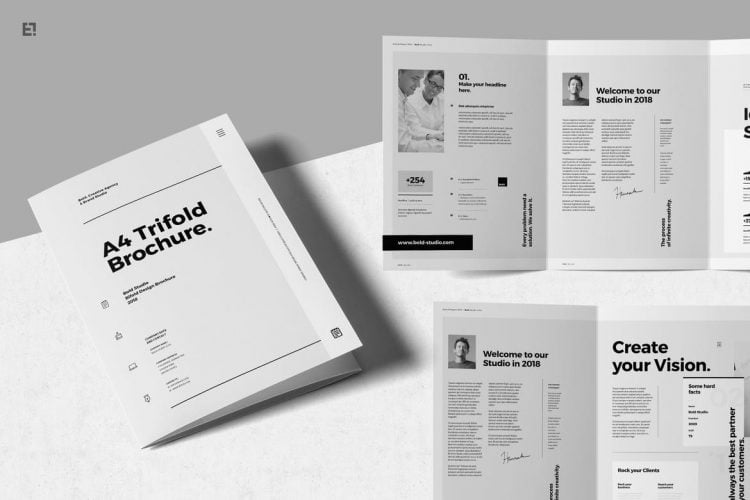 A highly professional and modern option, this template features monochromatic design elements and a minimalist layout for a stunning and versatile trifold brochure. All of the elements can be easily edited, and there are two layout options for the inner pages, as well as two layout options for the cover pages.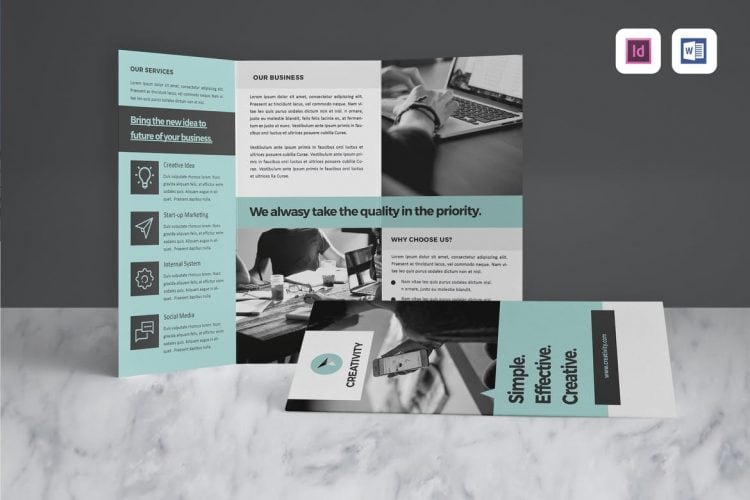 Featuring a cool blue-green color theme, simple grayscale graphics, and an attractive grid-based layout, this stylish brochure template Word is another popular minimalistic option, suitable for any purpose from corporate service offerings to community newsletters. It can also be edited in both Microsoft Word and Adobe InDesign.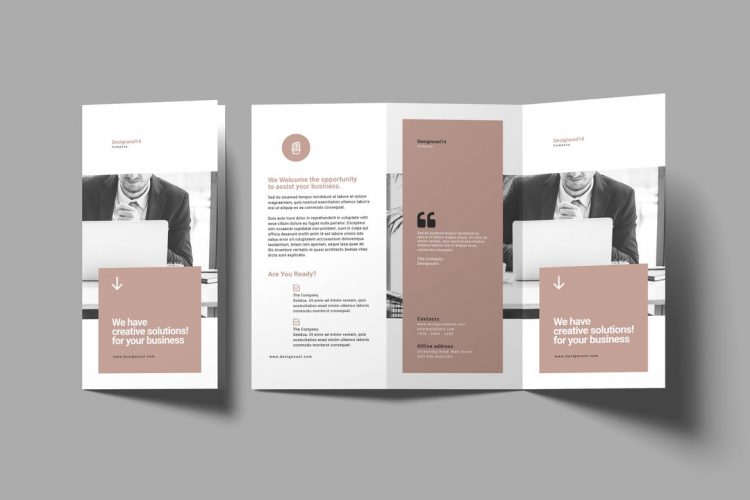 Another minimalistic option featuring an eye-catching color tone to give the design a sense of cohesion and stylish simplicity, this brochure template offers two sizing options, a CMYK color mode, high definition 300 DPI resolution and print-ready format for a high-quality finish.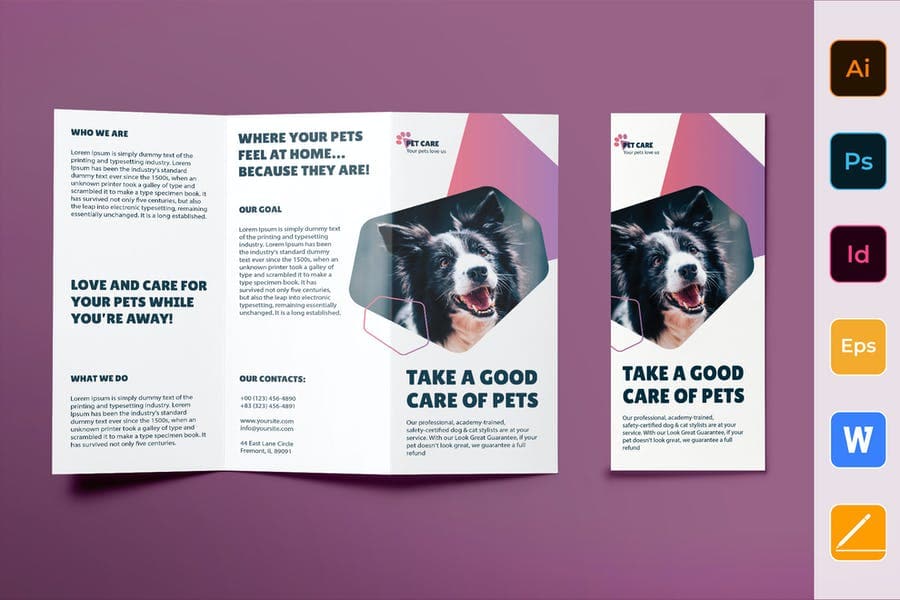 For a fun, lighthearted yet still professional trifold brochure template, consider this pet grooming care themed design. It features clean, funky graphics, a unique double-sided layout in two different sizes, customizable colors and simple sans serif fonts throughout, and is fully compatible with both Adobe InDesign and Microsoft Word.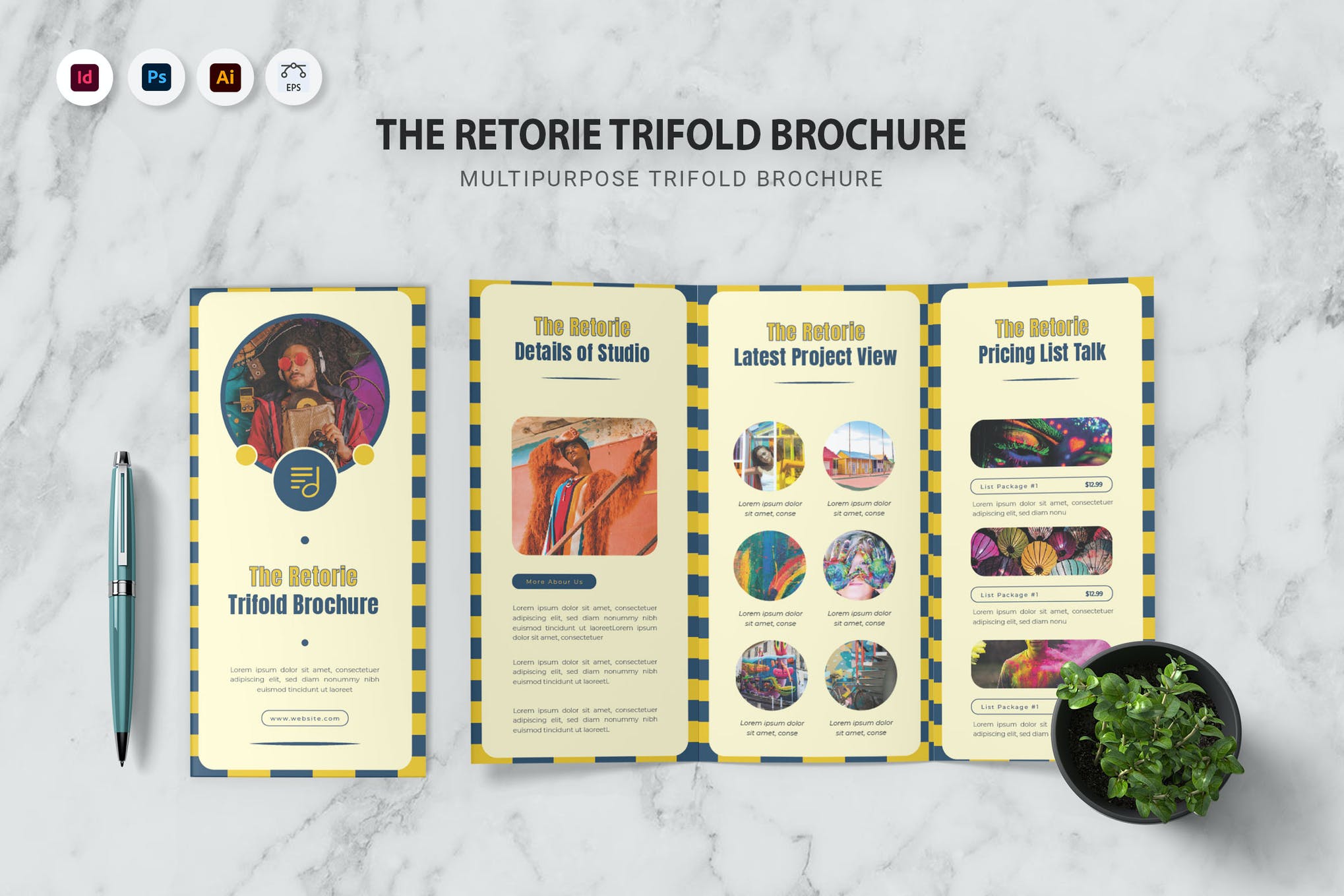 If you are looking for a retro style trifold brochure for Word and InDesign, The Retorie is well worth checking out. It's design has a vintage charm to it that is sure to captivate your audience. We recommend you drop everything, and get your hands on this beauty right now!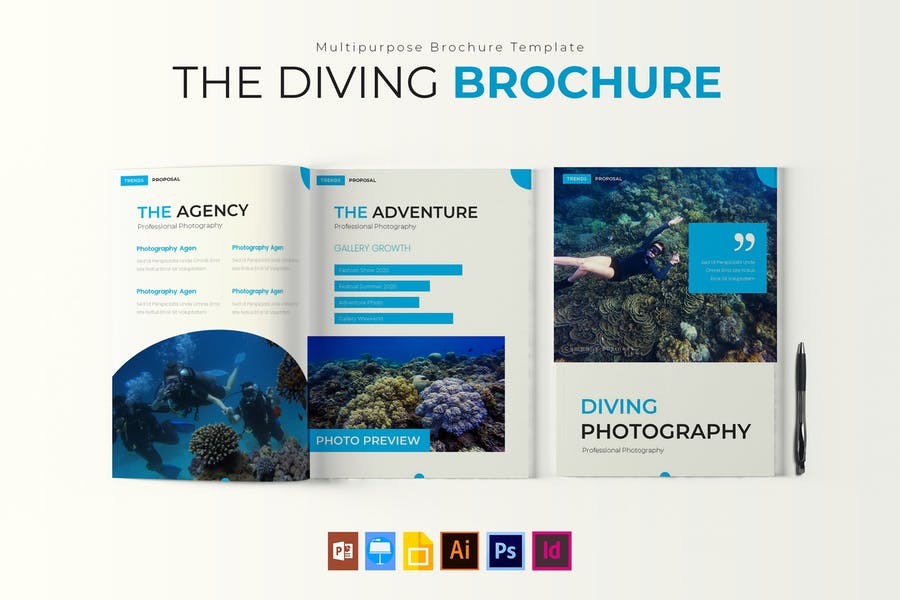 The Diving Photography trifold brochure template has been designed as a multipurpose option for both business and personal needs and includes a clean, modern layout, stylish vector graphic elements, built-in free fonts, and image placeholders. It comes in A4 size and is fully layered for easy editing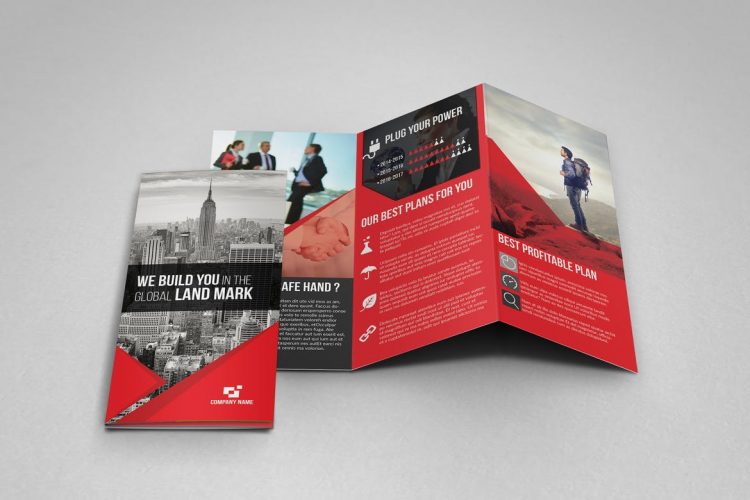 A bold and attention-grabbing multipurpose template featuring a bright red background and contrasting muted images, interspersed with strong sans serif typefaces and effective graphic icons, this brochure is a winner for businesses that want to stand out! It's easily editable using Adobe InDesign.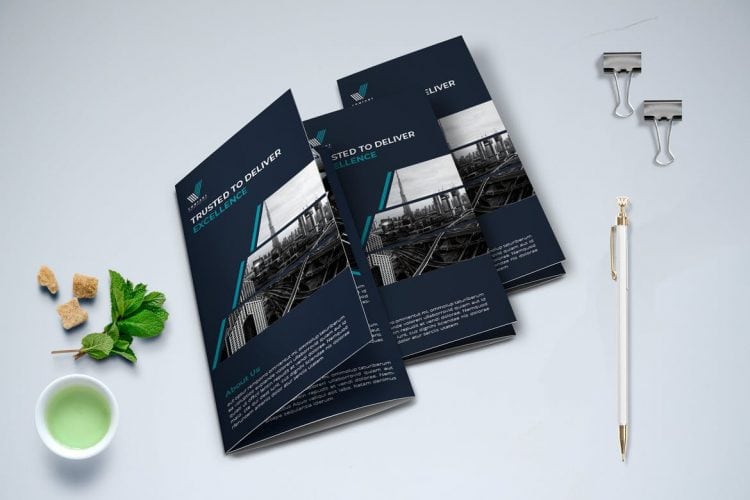 Elegant and dramatic, this modern trifold brochure template features a stunning corporate color scheme with edgy angles and monochromatic photos to create a unique and professional vibe. It can be used as a business promotional tool, or for a range of other publishing needs such as annual reports and company profiles.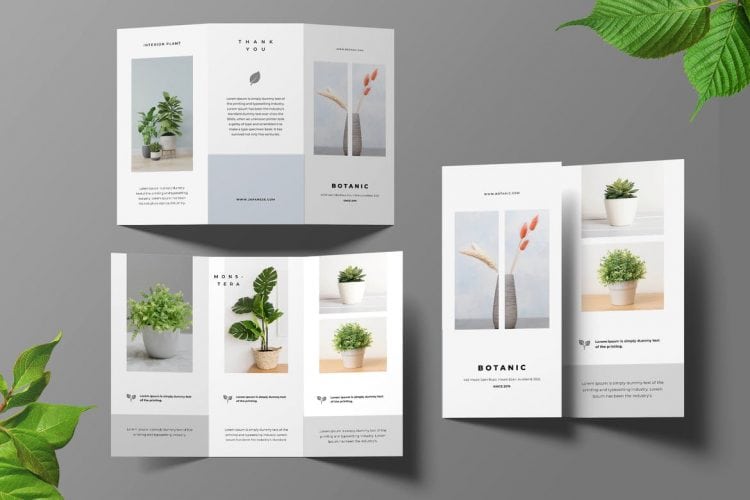 Our next trifold brochure is a gorgeous, flora themed template featuring symmetrical layouts on each panel, stunning sans serif typefaces, and a stylish grey tones color palette to really make the green in each photo pop. It can be customized to suit just about any kind of business or industry.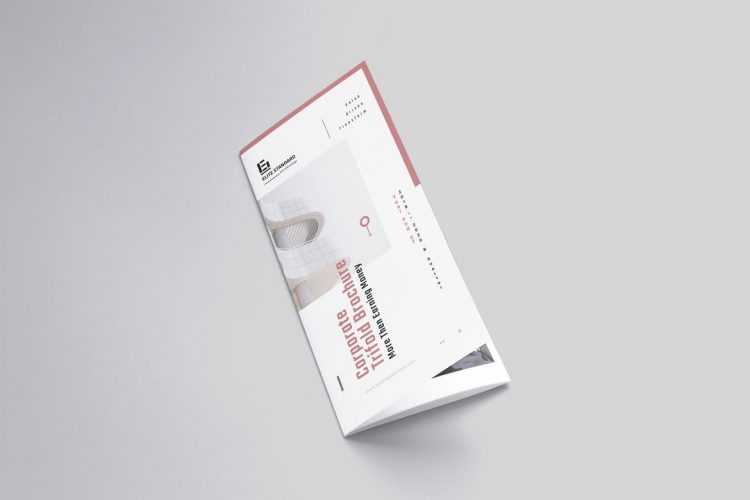 Another popular choice for corporate brochures, this template is a classy, high quality option featuring six unique page layouts, well-organized layers, simple color swatches, and a 300 DPI resolution. It's best for mid to large enterprises and corporations across the professional services and technology industries.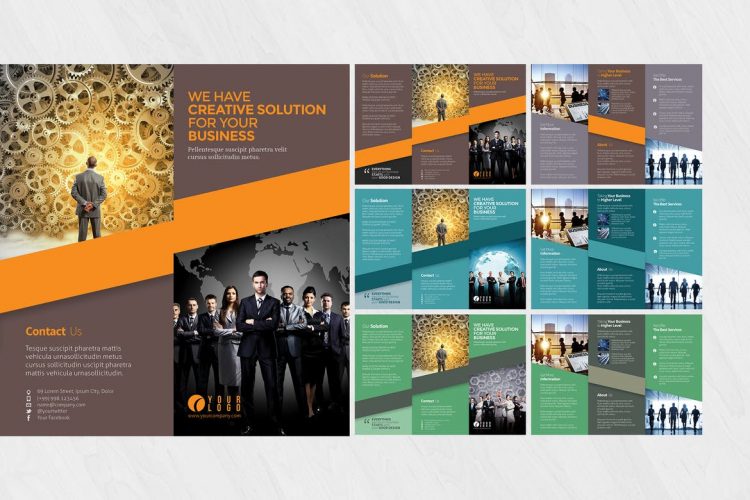 Available in three different yet equally eye-catching color themes, this creative option is a professional and versatile template featuring vivid colors, fresh modern typefaces, and a clean, minimal layout across all six panels. It's ideal for a range of businesses, from start-ups to large organizations.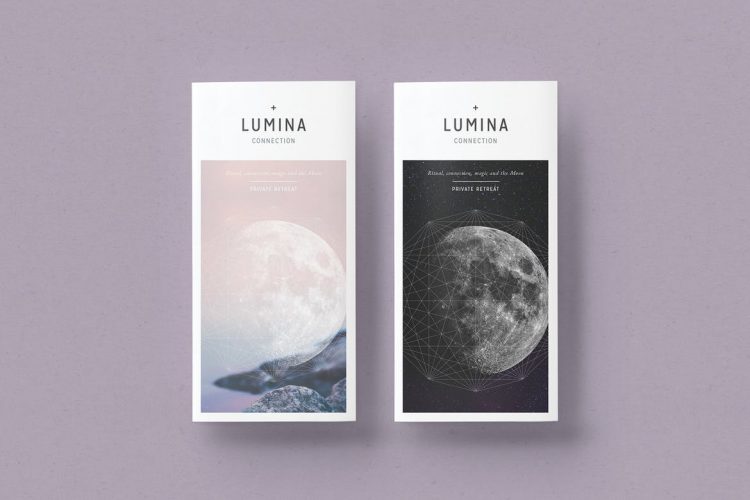 A gorgeous, artistic example of a trifold brochure, the Lumina template includes two image-based design variations with clean, modern, and fully customizable graphics. It's brilliant for any creative business, particularly fashion designers, art galleries, and high end boutiques, and can also be used to promote events or products.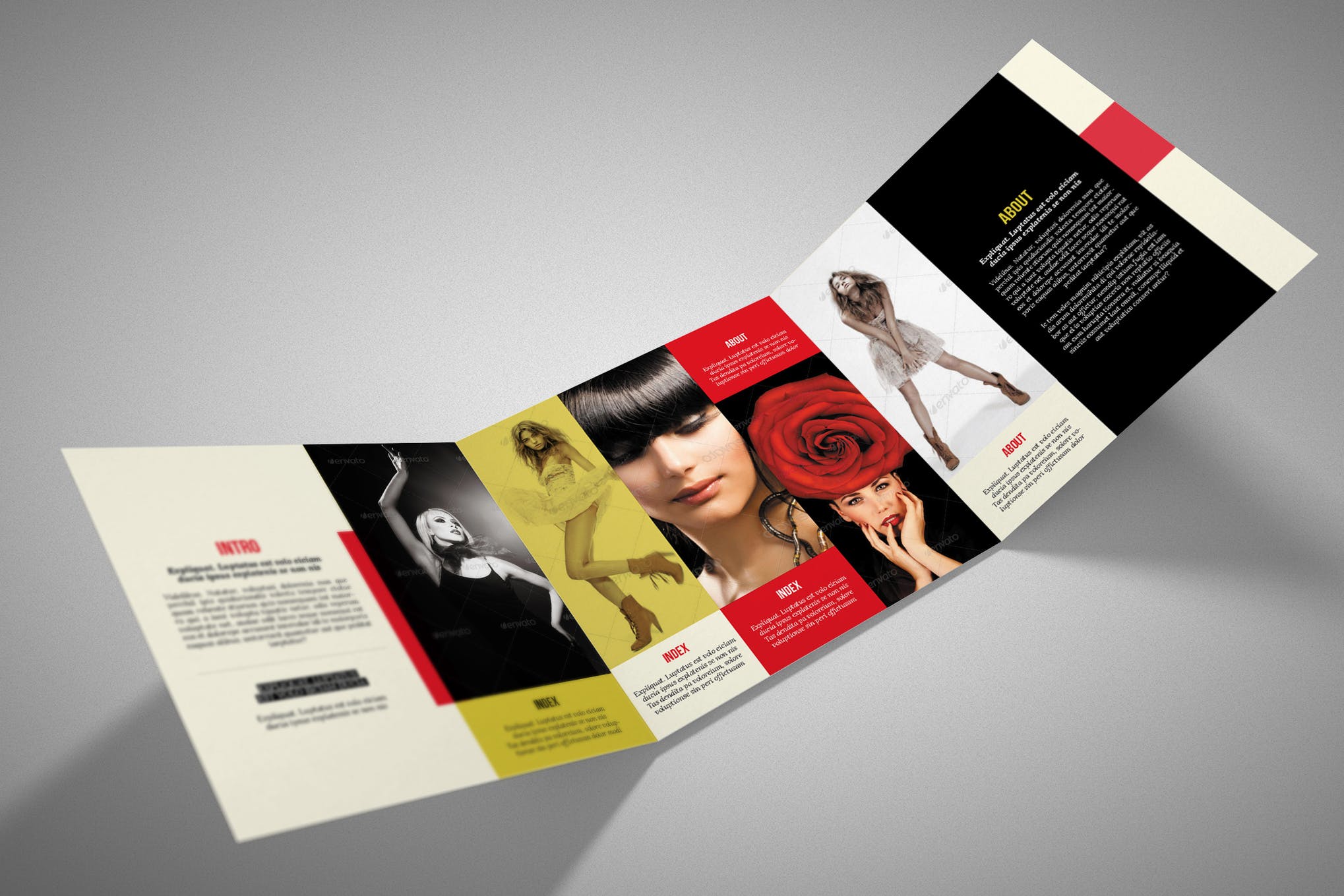 Perfectly suited for projects that need you to go bold, and fearless with the design, this InDesign trifold brochure template features paragraph styles, free fonts, CMYK color space, and a range of features that make customization a piece of cake.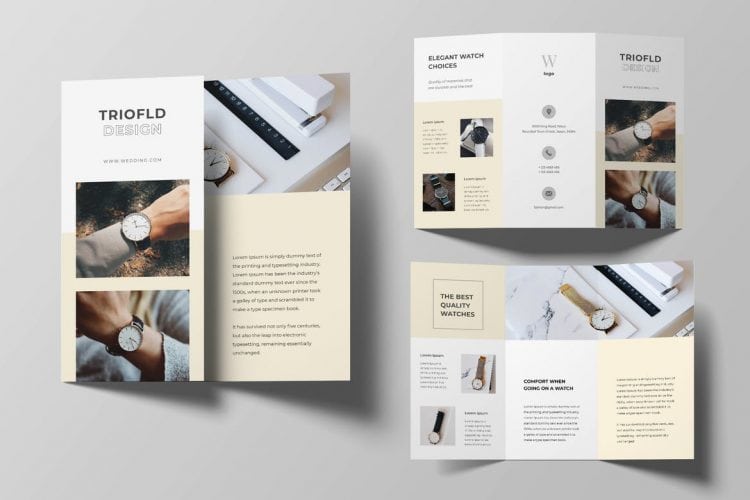 The Watch trifold brochure template is elegant, clean, and understated, featuring pastel tones, symmetrical layouts, contrasting typefaces, and simple graphics to create a professional and modern yet classical look that will suit any fashion-minded business. It's particularly fitting for a high fashion label or jewelry brand.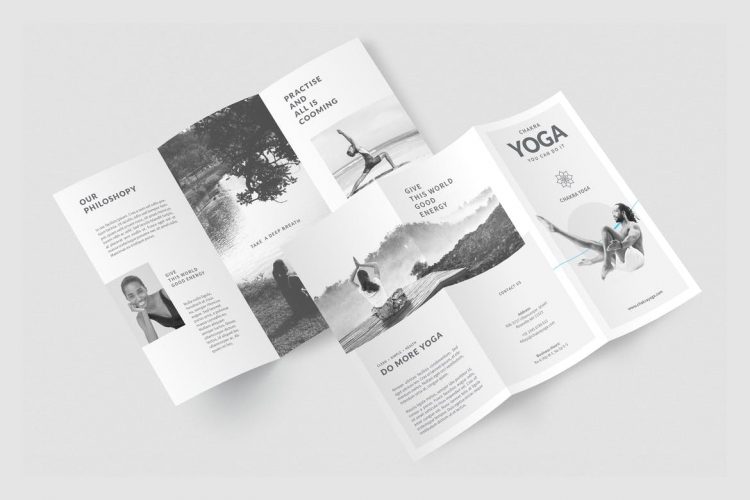 Designed for yoga studios or instructors to promote their work, this modern and minimalist brochure template offers interesting image placement, grayscale graphics, and contrasting text alignment to create a playful yet professional feel, and can easily be edited to suit any health or fitness profession.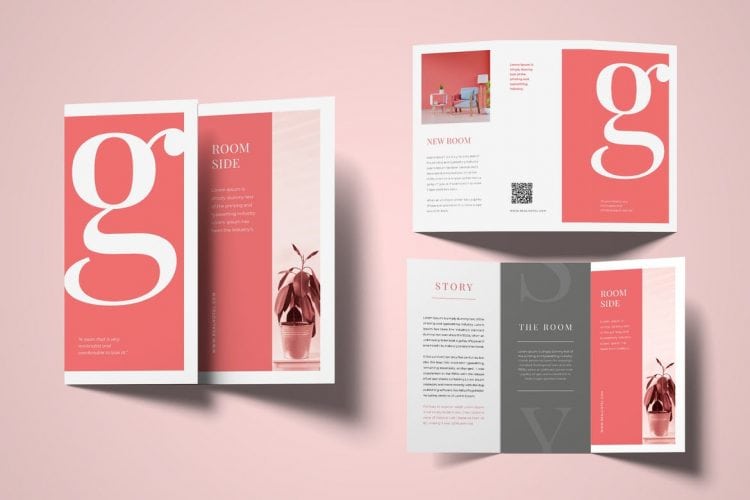 Perfect for interior design, architecture, or other artistic industries, the Room Interior template offers a stunning modern trifold brochure with beautifully stylish color tones, elegant serif typefaces, and eye-catching graphic placement and sizing to make a big statement. The neatly organized layers also make it super easy to customize.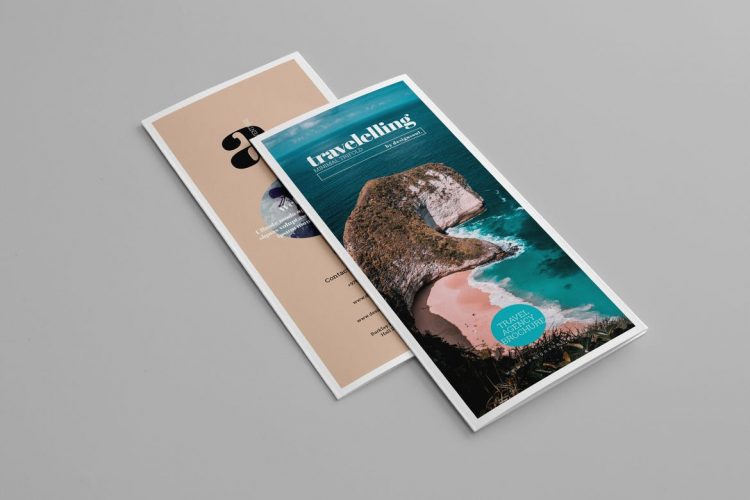 For a clean, professional, and slightly retro feel, consider this travel-themed trifold brochure template, featuring simple panel layouts and an emphasis on images and graphics over text. It comes in two sizing options and utilizes a 300 DPI resolution and CMYK color mode to give a high-quality finish.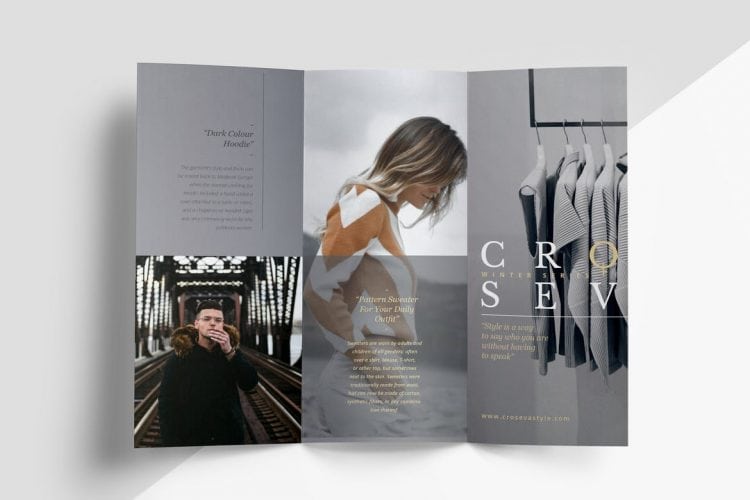 A unique and creative template, this brochure offers grid-based layouts, cool grey and camel color tones, eye-catching use of photos, and selectively placed text to create a modern and stylish feel, perfect for a creative agency or business such as a fashion magazine or high-end retailer.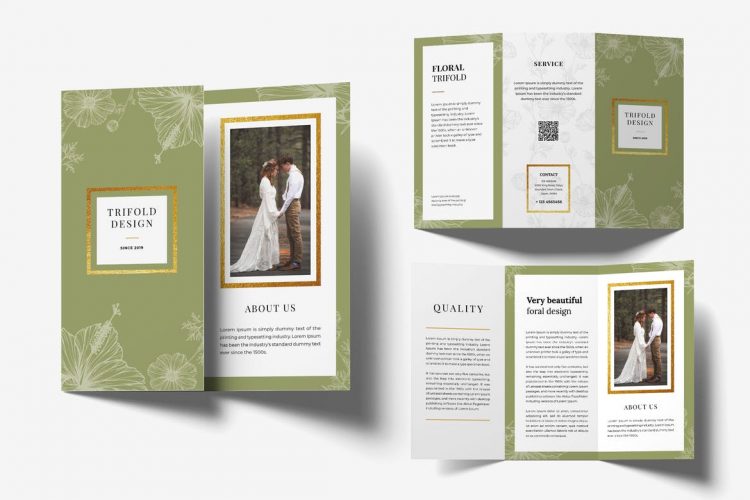 This beautiful, wedding-themed template is ideal for a portfolio or lookbook and will appeal to photographers, florists, and other artistic professionals. It offers clean, elegant, and timeless design elements such as simple serif fonts, perfectly symmetrical layouts, and delicate, neutral color tones.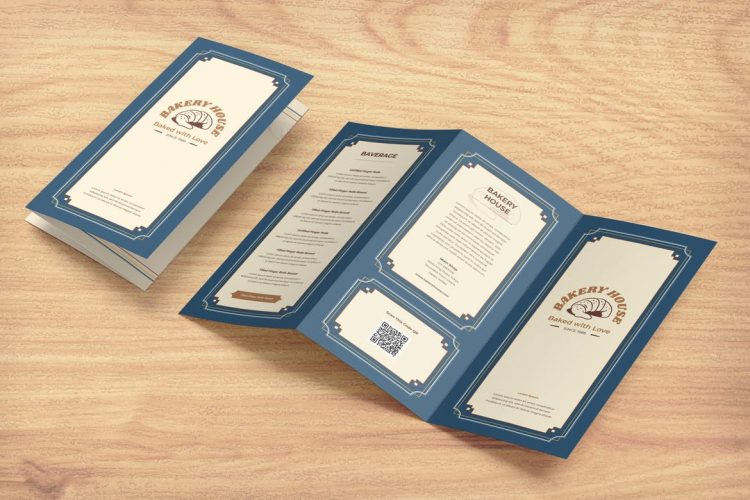 As the name suggests, our next trifold brochure template has been designed as a classy, elegant food menu, but can easily be adapted to showcase any kind of service offerings, such as beauty salon treatments or pet grooming shops. Featuring stylish layouts and vintage-inspired frames, it's a stunning and unique option for a text-based brochure.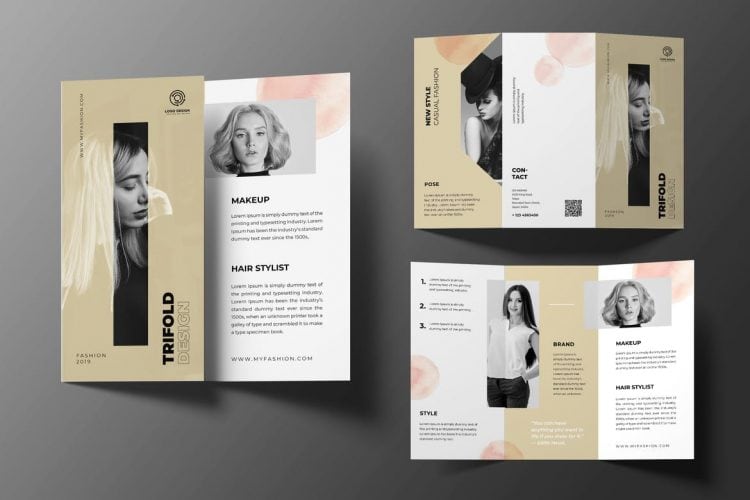 The appropriately named Beauty Care trifold brochure template is ideal for a beauty salon or similar business to use as a portfolio, lookbook, or treatment menu and features stylish graphics, modern fonts, and clean, intuitive layouts to create a professional and classy brochure.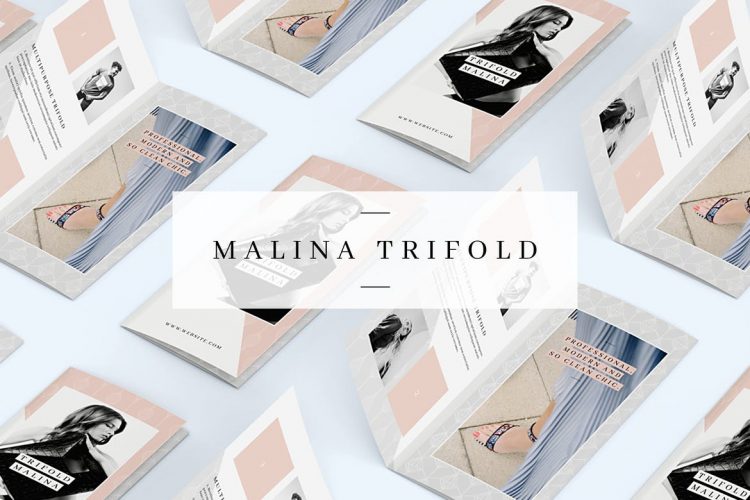 Perfect as a portfolio template for an artist, photographer, or graphic designer, the Malina trifold brochure template is a modern, edgy option featuring stylish color options, textures, and fonts, and includes 20 hand-drawn seamless patterns as part of the package.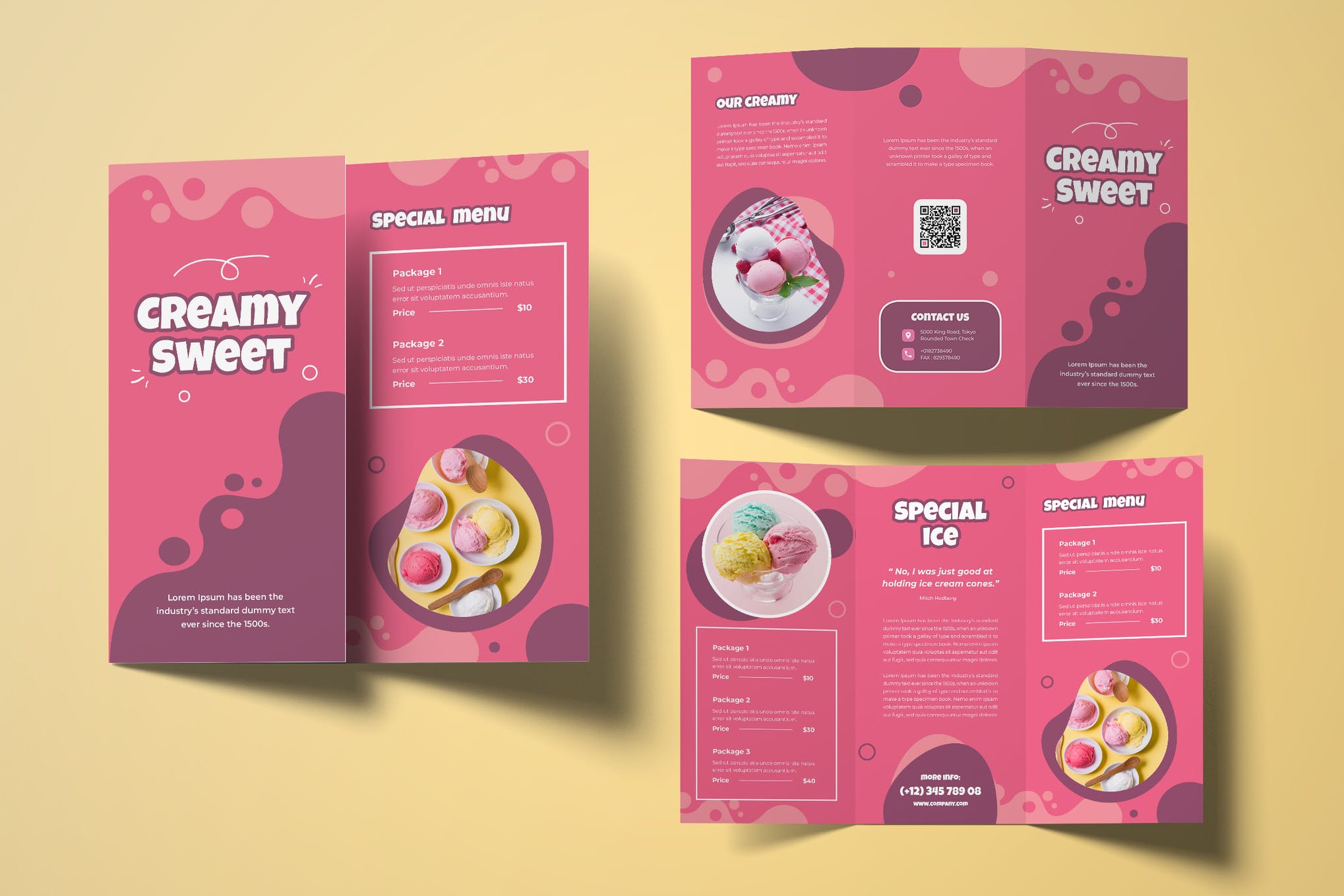 Whether you are starting up an upscale ice cream parlor, or an ordinary food truck, this InDesign trifold brochure template can come in very handy. It has a clean, and modern layout, neatly organized layers, CMYK color mode, 300 DPI, and a lot more.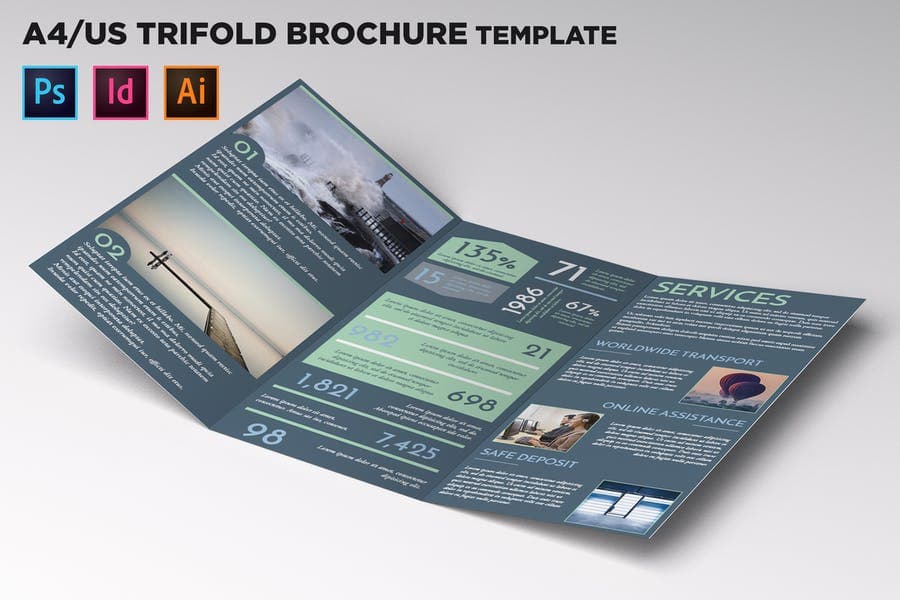 One of the best tri fold brochure templates for InDesign is this trading-themed brochure designed for corporate purposes, featuring an A4 and US letter size format and interchangeable color schemes, and it's easy enough to customize that it can quickly be adapted to suit a range of other purposes.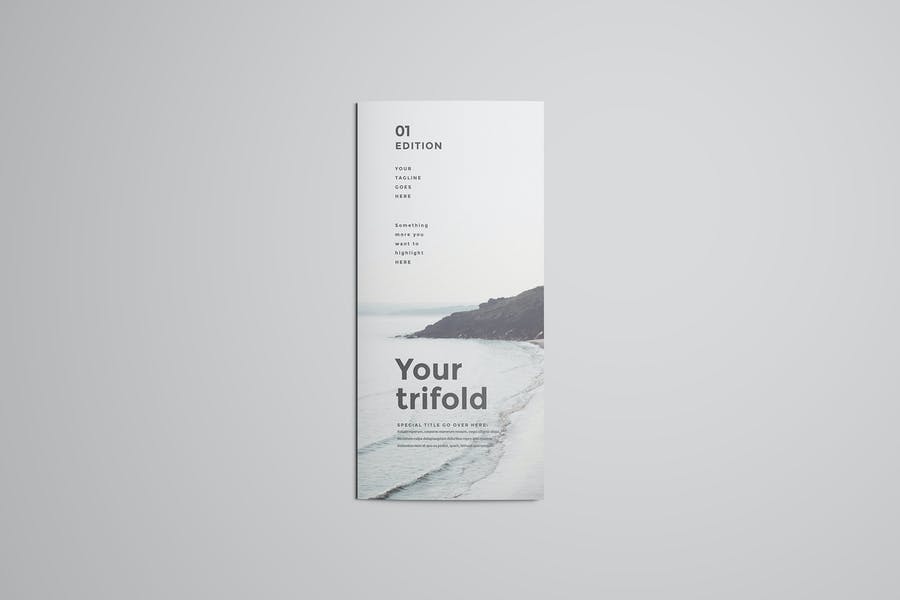 The name says it all – this stunning and elegant trifold brochure features a simple, minimal design and separated layers for easy adaption. It comes in both A4 and letter formats, and uses free fonts, drag and drop image placeholders, and a versatile, sophisticated aesthetic featuring muted colors and classic sans serif typography.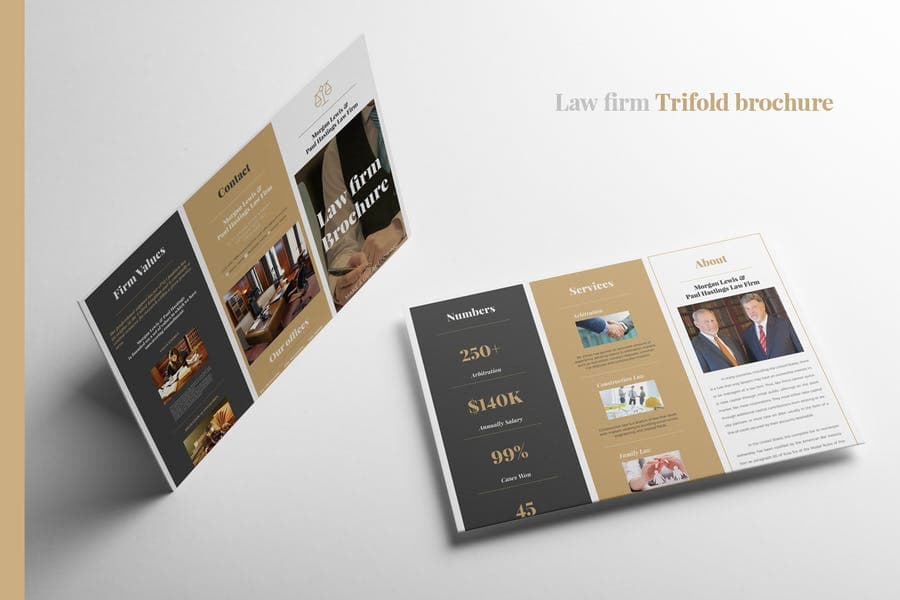 Our next trifold brochure template is perfect for use within the legal industry – it was specifically designed for a law firm, and there is a range of other matching templates available, including flyers and newsletters. It's easy to customize and is equally effective as a digital product as it is in print.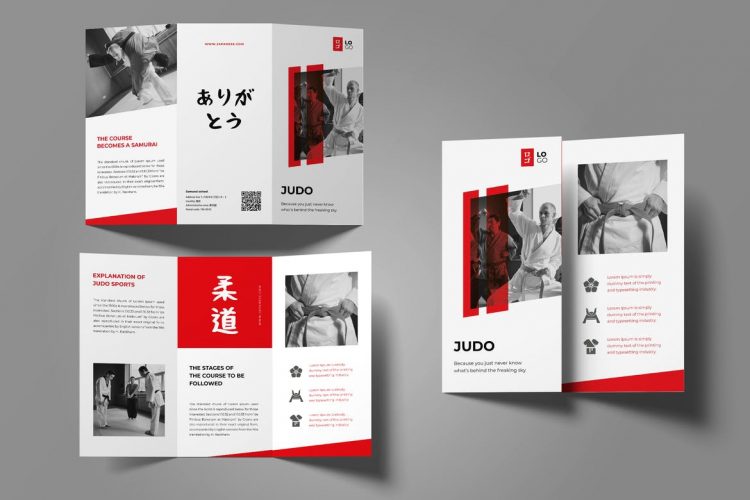 The next of our trifold brochure templates is a clean, Japanese-inspired template featuring a red, white and gray color scheme, fully layered vector graphics, a modern and uncluttered layout, and a high quality 300 DPI resolution. It's highly versatile and can be used for any corporate or business purpose.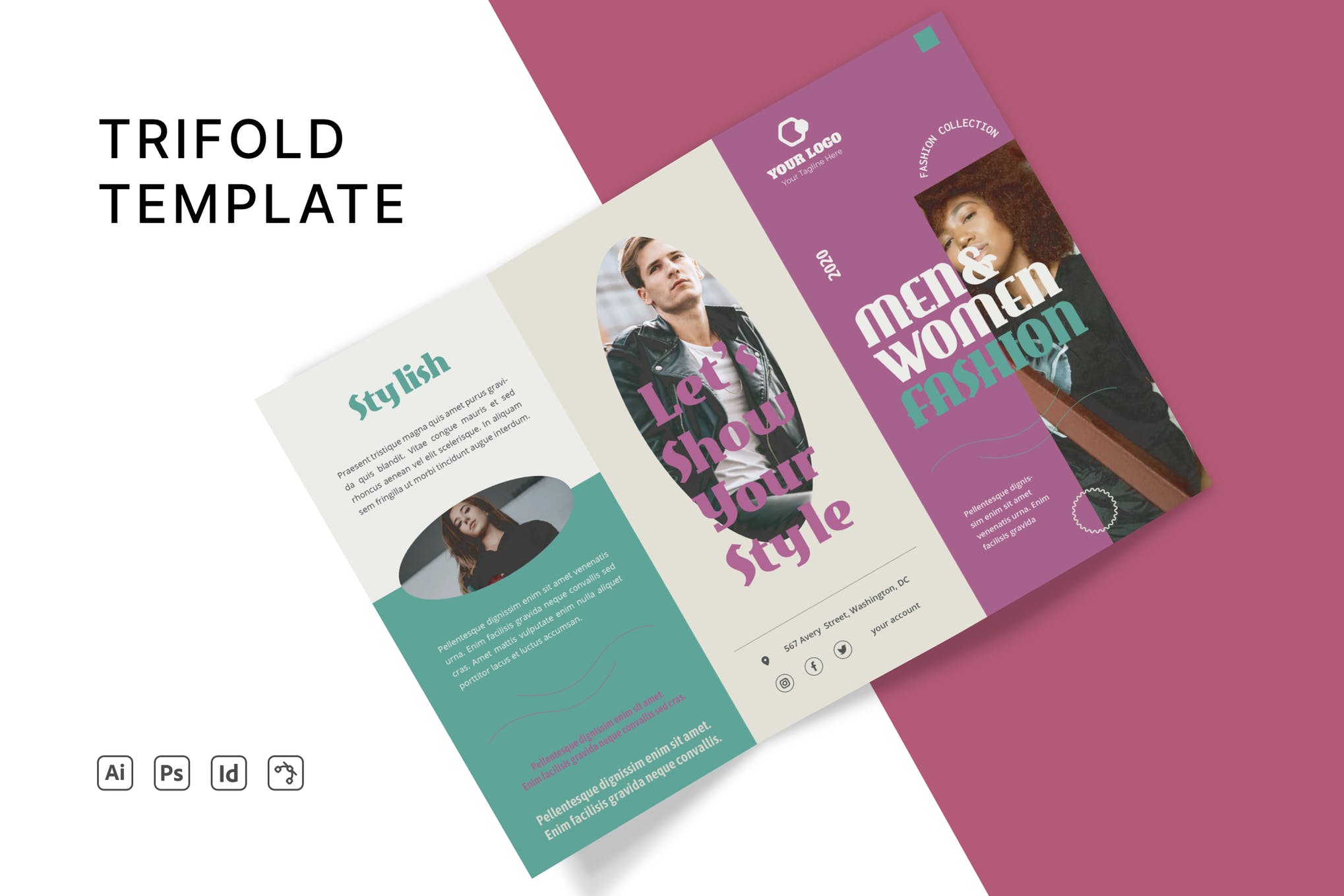 Next in our lineup of the best InDesign trifold brochure templates is this super stylish option that's been specifically designed for use by a fashion designer or retailer and offers a trendy, colorful design with classy typography and abstract graphic elements, as well as a fully layered and vector-based format.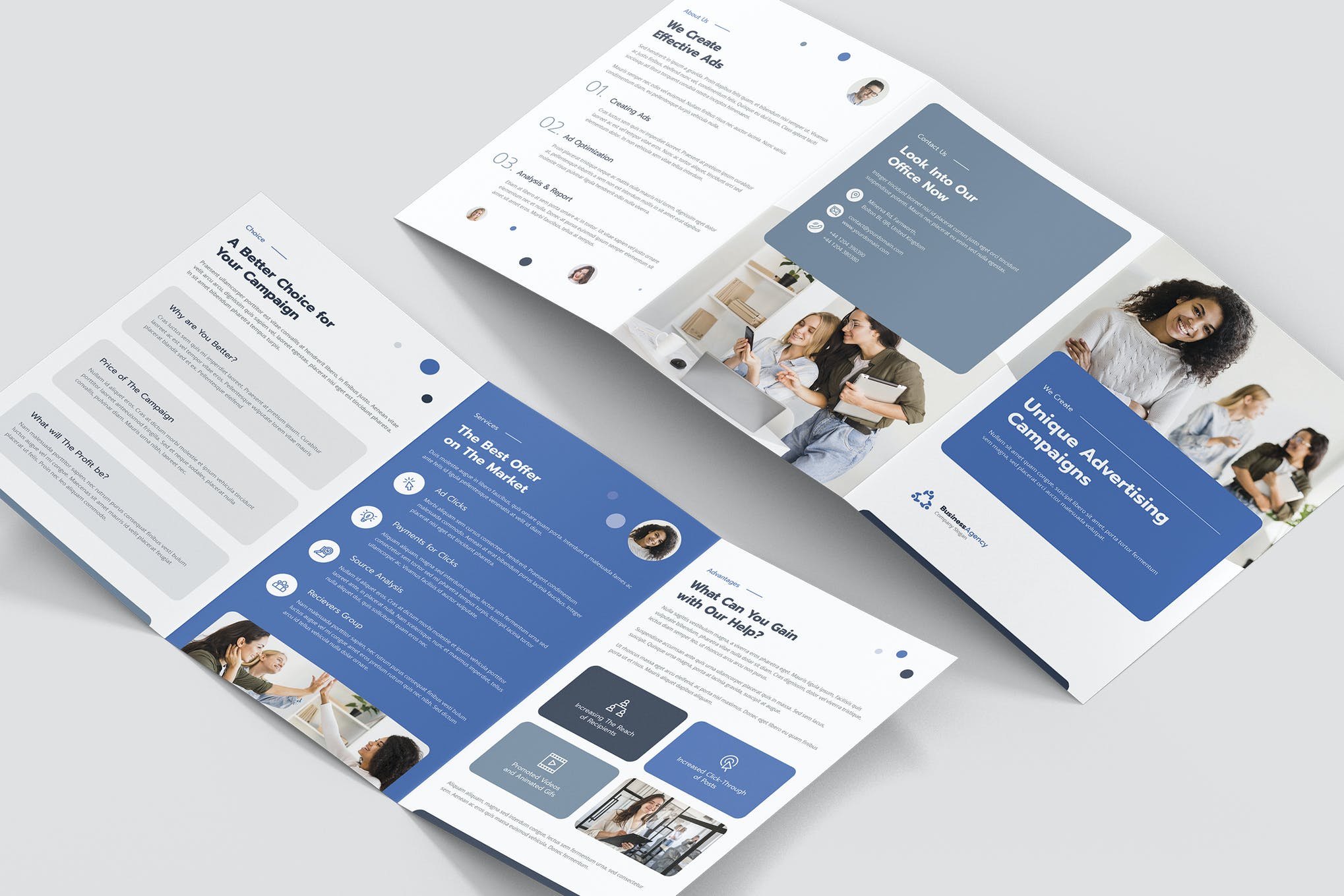 Looking for a versatile and professional-looking business brochure template that's suitable for a corporate agency and can be fully customized to suit your brand? Look no further than this super handy trifold design that features a universal layout and clean, modern design elements.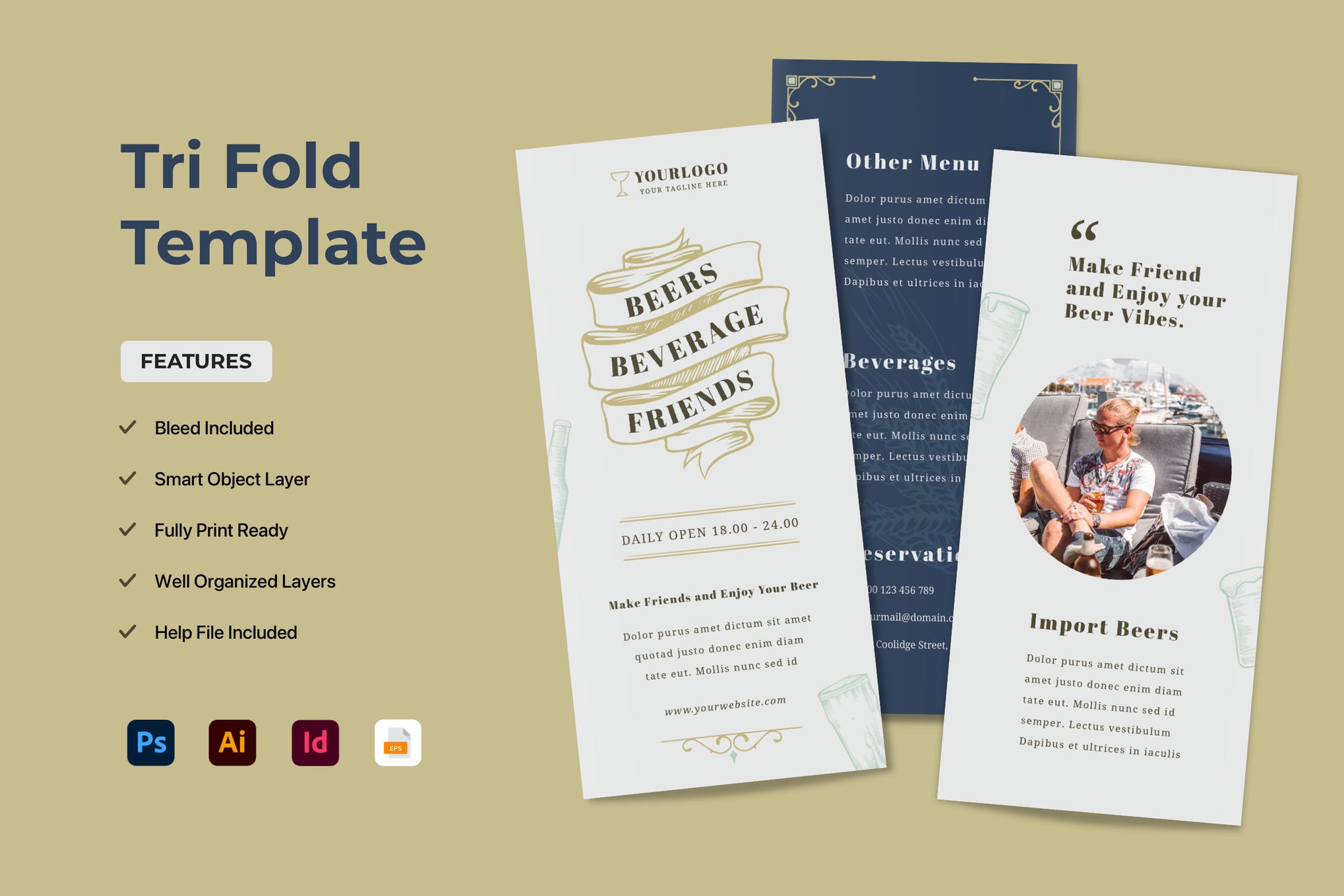 Here we have a retro-themed trifold brochure template for InDesign that offers a professionally designed layout featuring high-quality vector graphics and well-organized layers for ease of editing, plus a versatile A4 size format and print ready finish.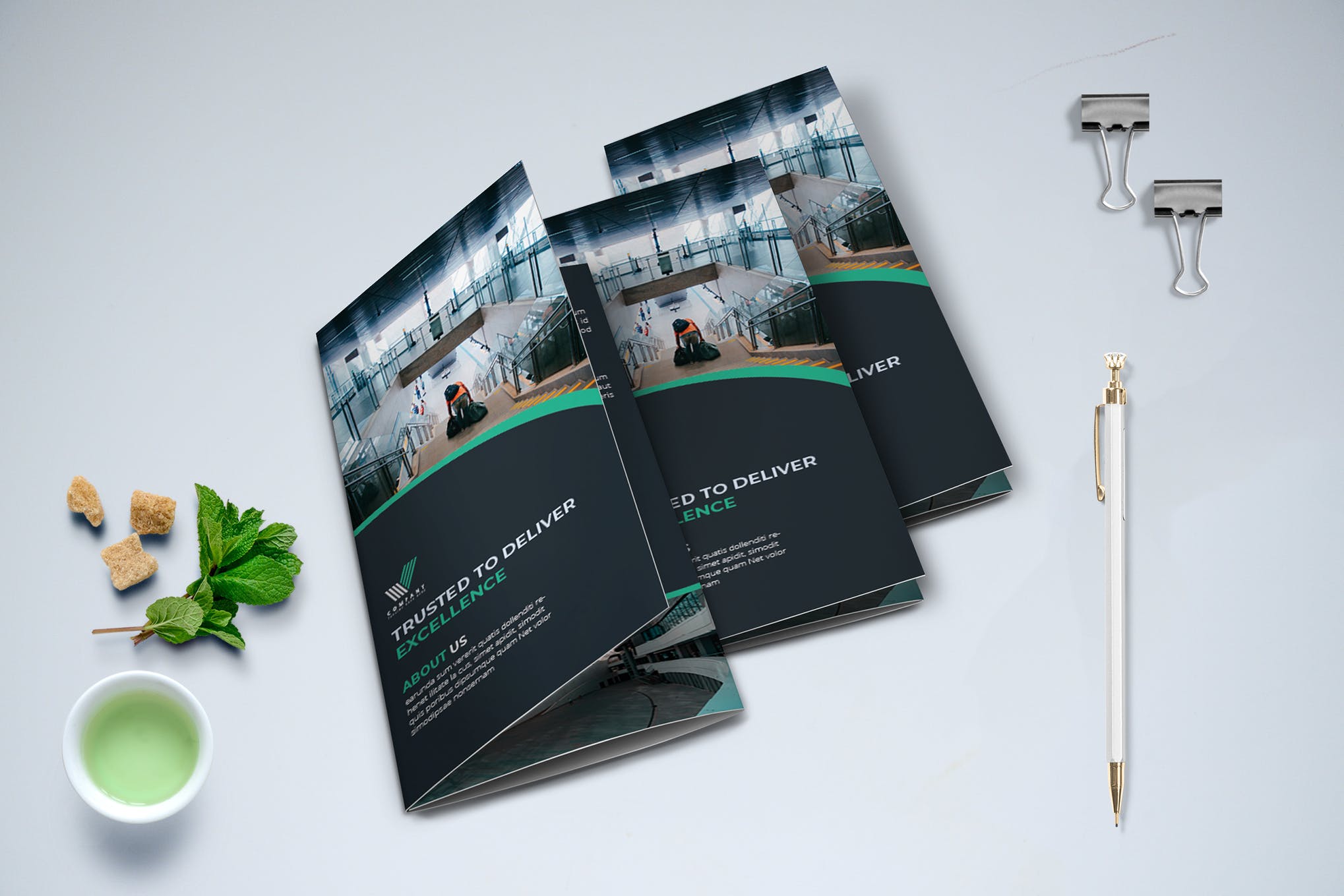 Next up, we have a super professional trifold brochure template that features an elegant, modern design suitable for any corporate purpose! It's fully customizable and comes with both US Letter and A4 size options, well-layered graphics, paragraph styles, and built-in free fonts to make editing a breeze.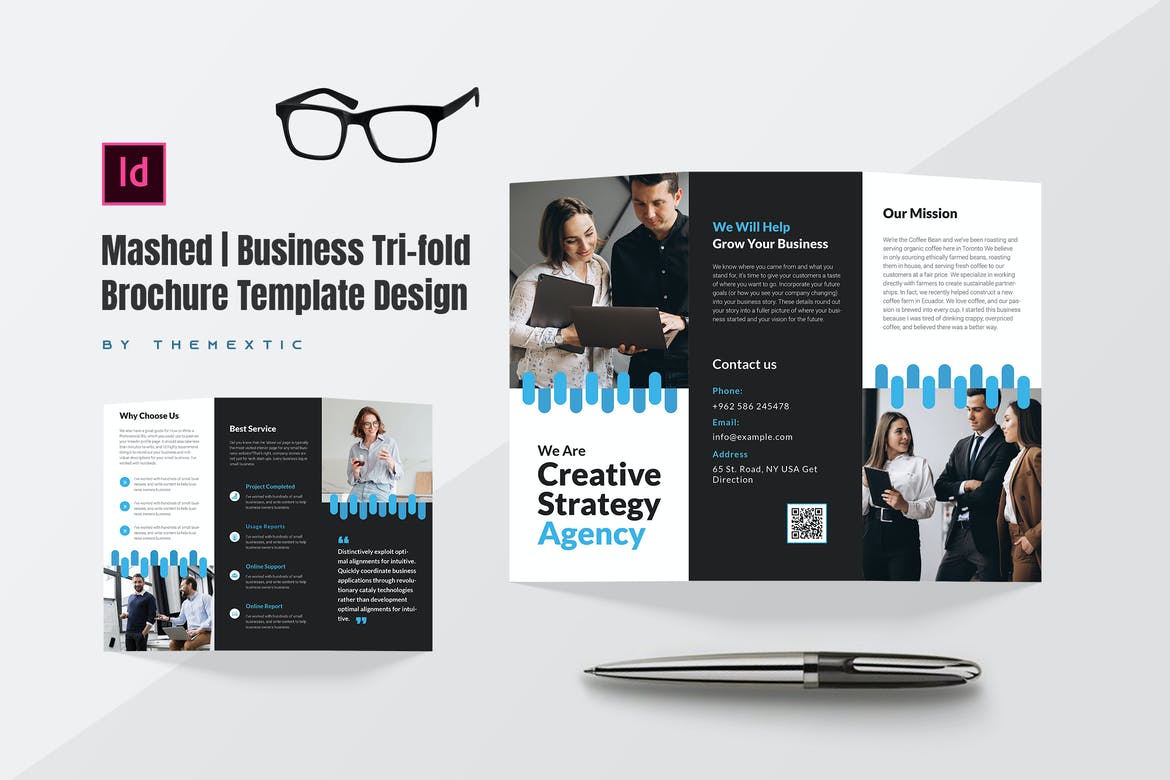 Last but not least, we have the Mashed trifold brochure template for InDesign that's ideal for a corporate or business brochure that needs a professional yet approachable feel. It offers six unique page layouts, all with separated layers and a clean, minimal design, plus easily interchangeable colors and graphics.
Best Free Tri-Fold Brochure Templates
If you're working on a simple personal project, these free brochure templates might come in handy. Have a look.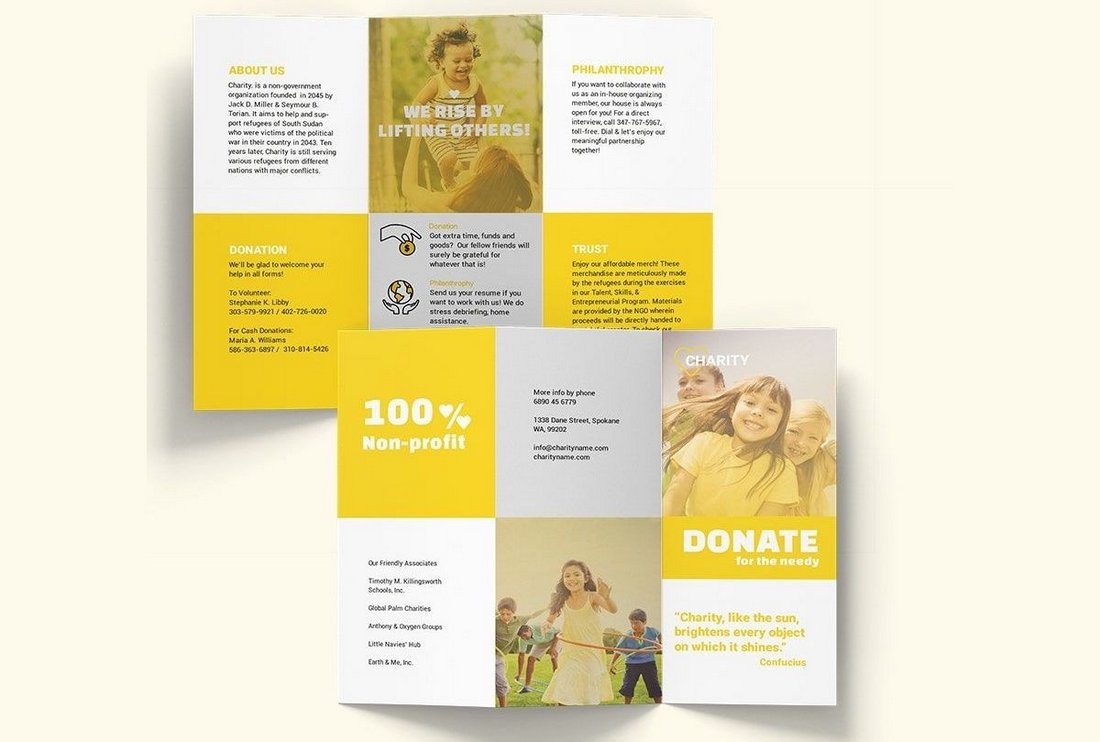 This free tri-fold brochure has been designed with NGO and charity organizations in mind. It features a simple layout that you can easily customize to create brochures to promote your charity drives and funding campaigns. The template is available in several formats, including Word and InDesign.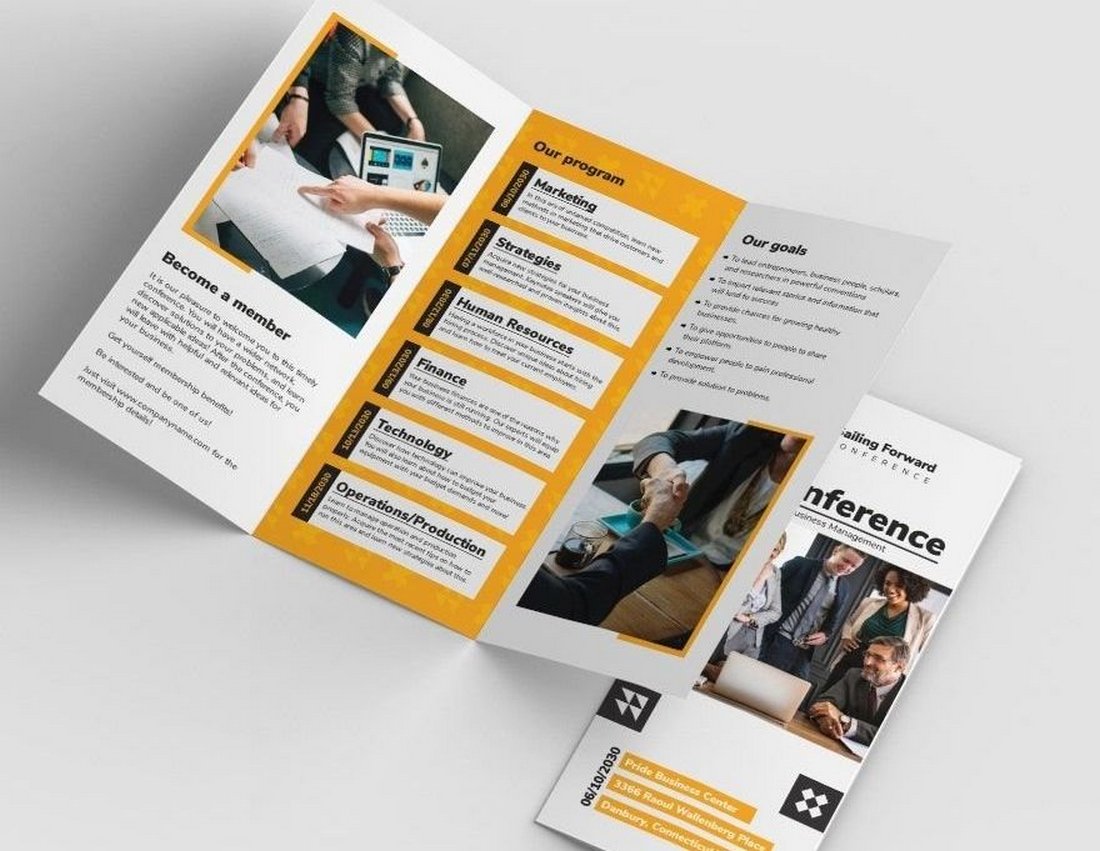 This brochure template is also available in multiple file formats. And it's perfect for making leaflets and brochures to promote special events and conferences. The template has both A4 and US Letter sizes.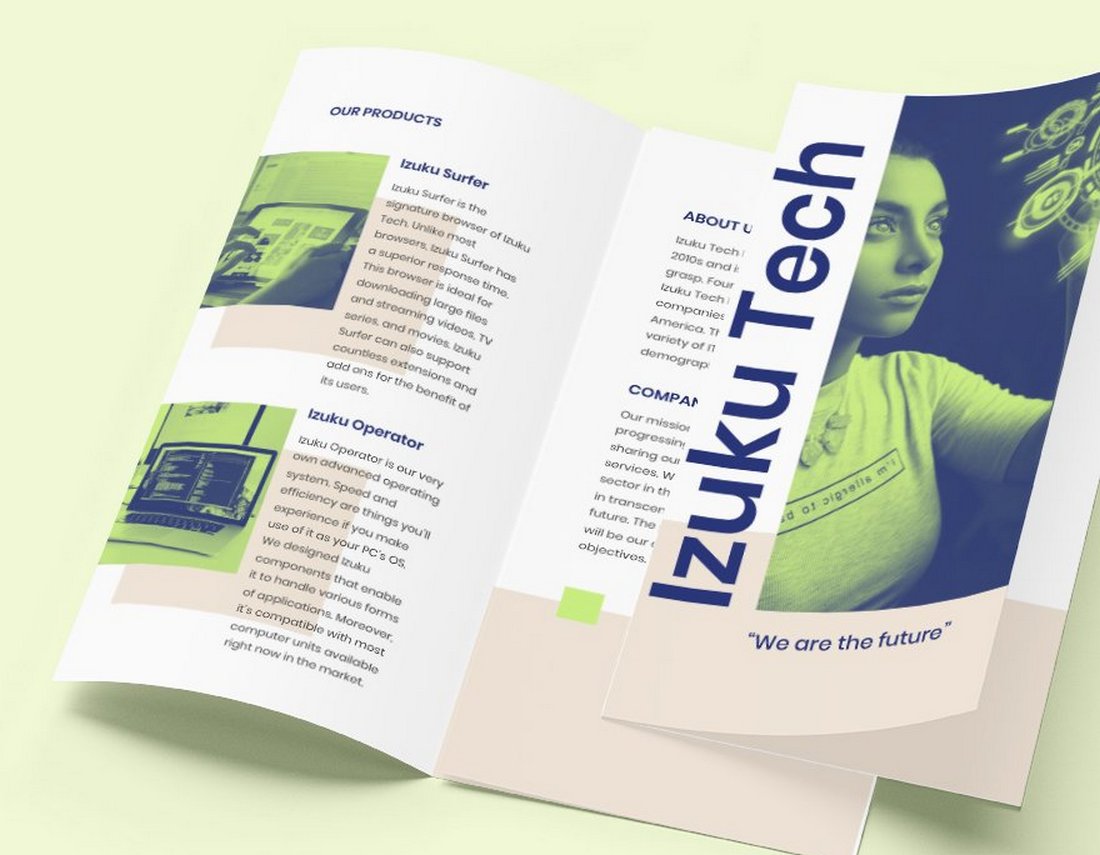 You can grab this brochure for free to craft a modern and stylish tri-fold leaflet to promote your business. It has a basic design where you can describe services and promote products. The template comes in Word, InDesign, Photoshop, and other formats.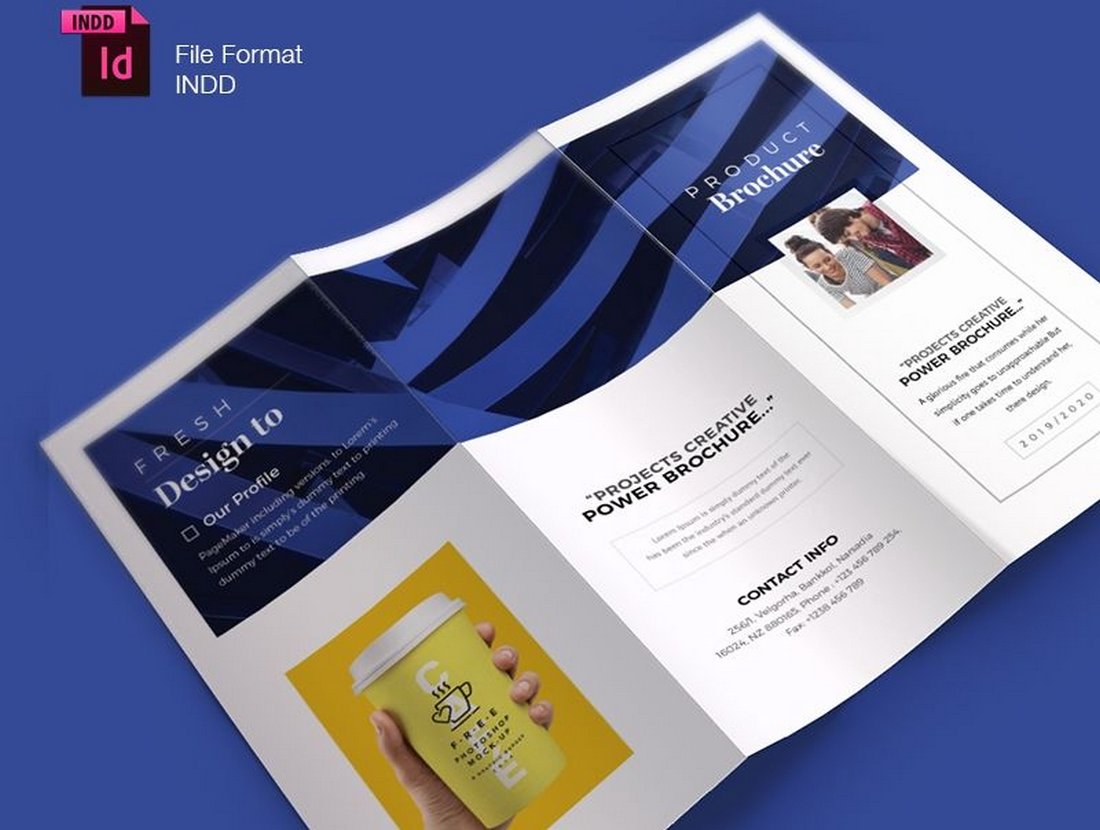 This tri-fold brochure template is perfect for designing a colorful and creative brochure for an agency. It has a simple yet attractive layout with plenty of space to showcase your business. The template is available in InDesign format.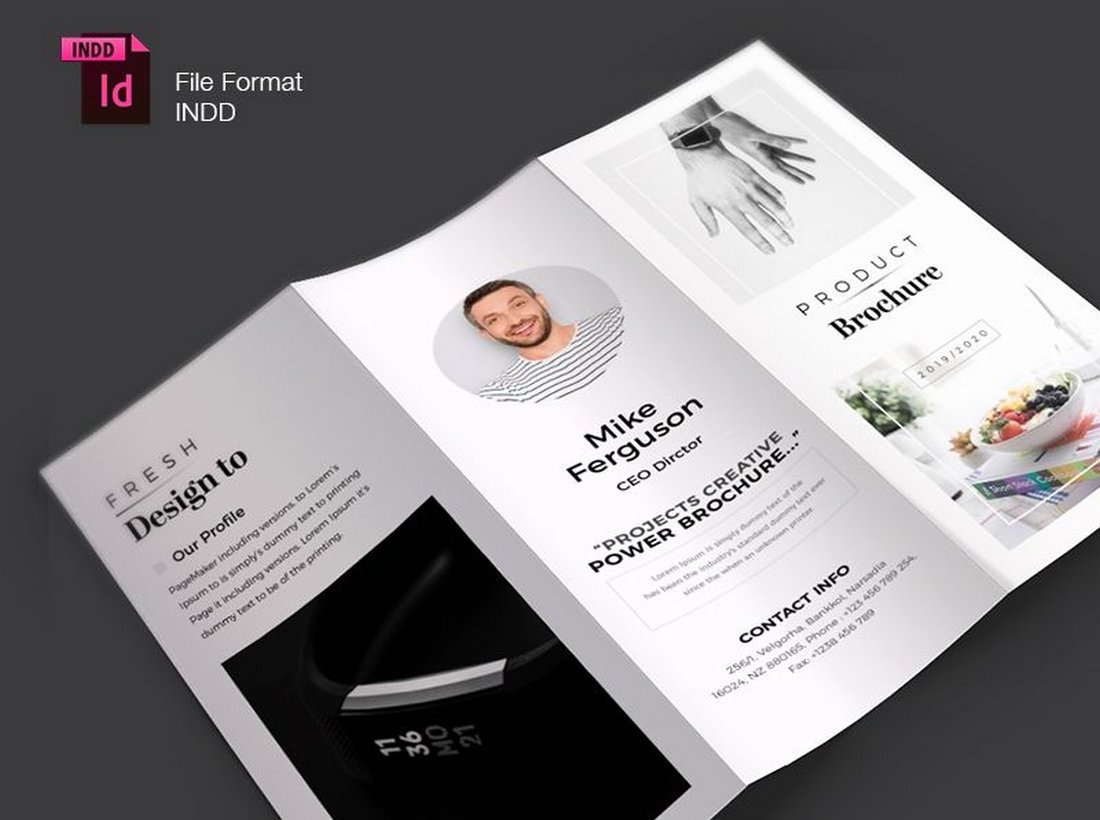 If you're working on a brochure design to promote a product, be sure to use this InDesign template. It has a clean layout that has lots of space for adding details and highlighting features of your product. It's free to download.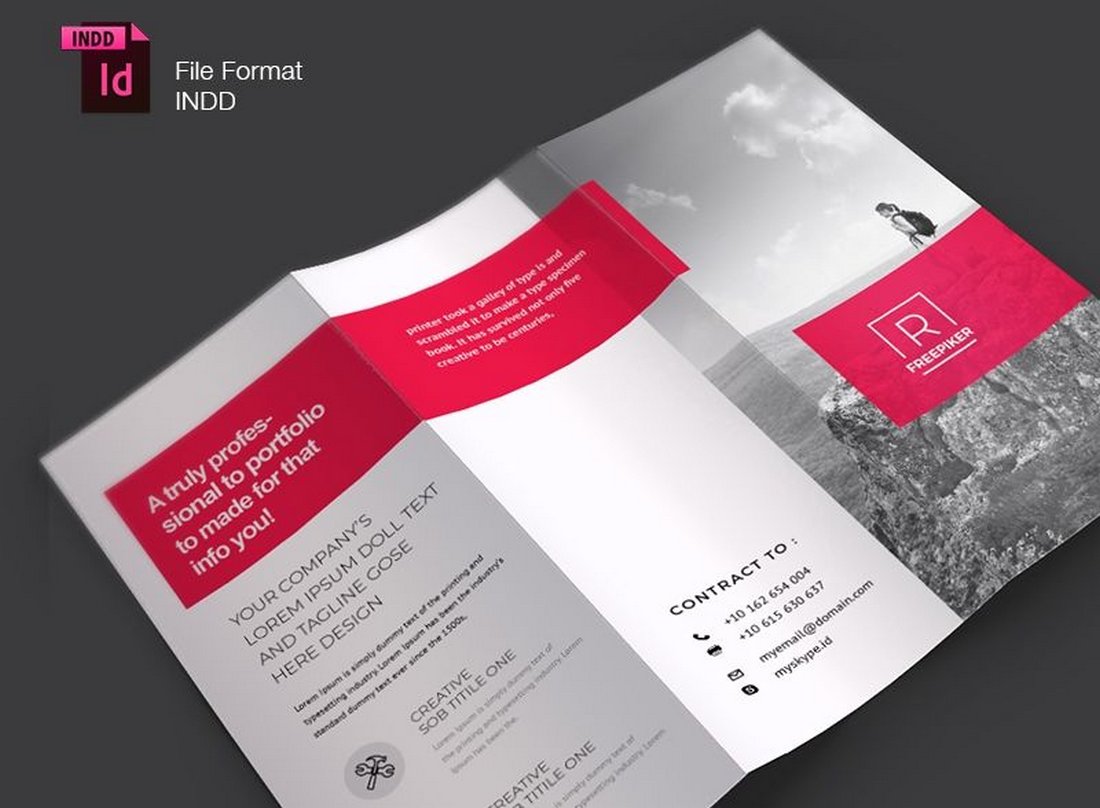 This brochure template comes with a professional design to help you craft attractive tri-fold brochures for corporate businesses. It has designs for both sides with fully customizable colors, fonts, and images.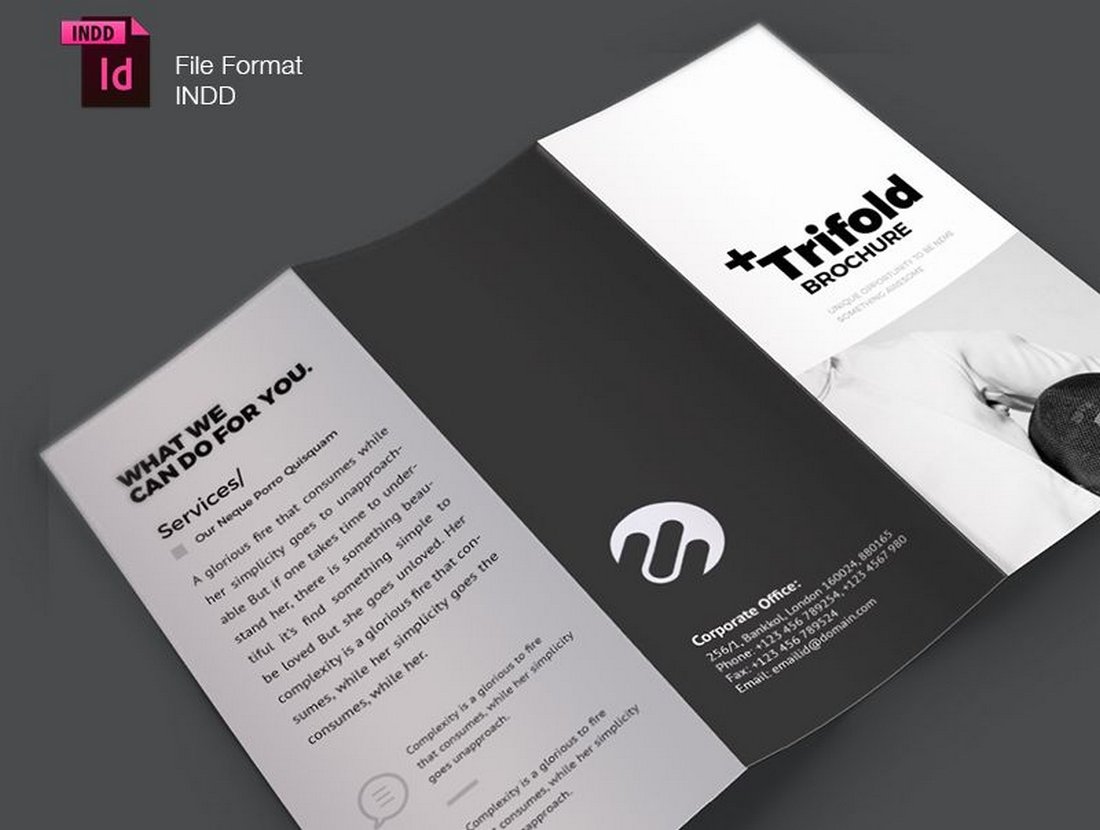 If you prefer cleaner designs with minimal layouts, then this InDesign brochure is for you. It comes with a simple tri-fold design that uses empty space quite well to highlight your information. You can also customize it to add colors if you like.
These trifold brochure templates Word and InDesign are among the best brochure templates available for business purposes and will save you an incredible amount of time and effort in creating the perfect brochure to promote your business.