50+ Best CV & Resume Templates 2024
Typically, resumes illustrate your experience, accomplishments, skills, and educational background. But what makes you stand out from the hordes of other job searchers? Every year the fight for acquiring employment gets more difficult since many people are fighting for the same spot. Our pick of the best CV & resume templates is here to help!
Grab the attention of potential employers by having a dynamic resume. It's your first attempt at making a lasting impact. How else are you going to get your foot in the door? A resume that's rife with clutter and mistakes will get you nowhere during your job search. Get noticed by creating a clear and concise CV and resume.
Show off your proficiency and expertise using a template that will soar above your competition and earn you an interview for your future career. A sleek and clean template can be the difference between a callback and your resume being filed in the trash.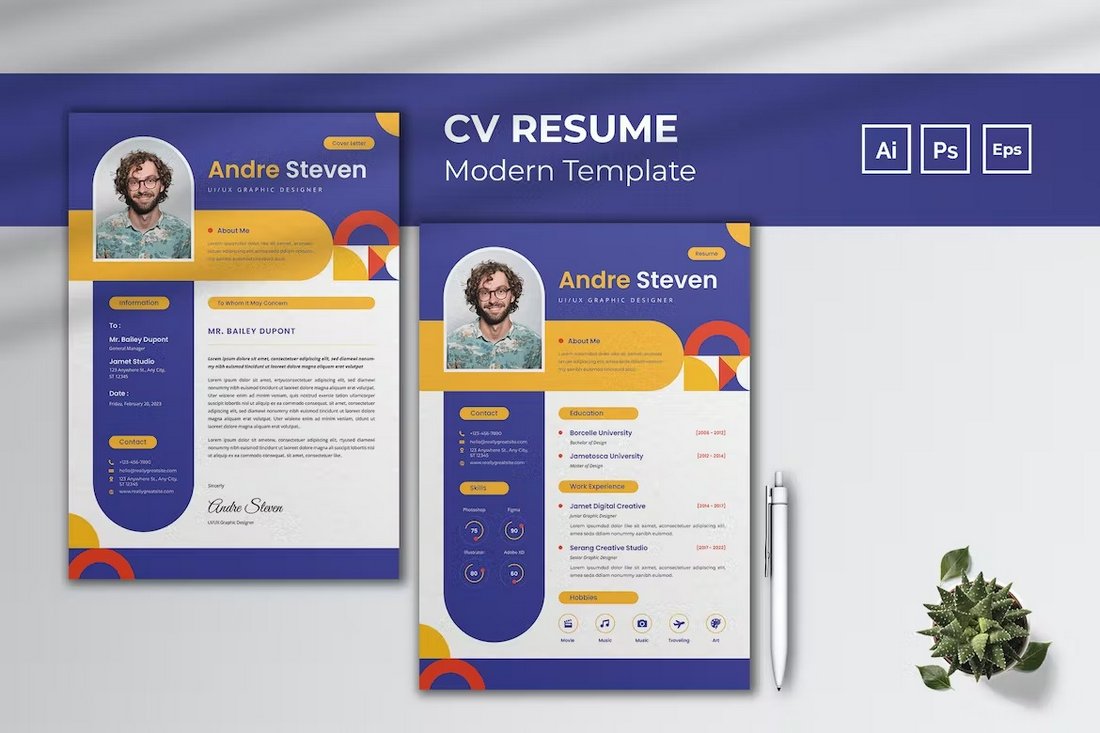 This resume template comes filled with beautiful colors and creative shapes. It has the perfect look for making CVs for graphic designers, web designers, and even artists. The template has a matching cover letter design. And it comes in PSD, AI, and EPS formats.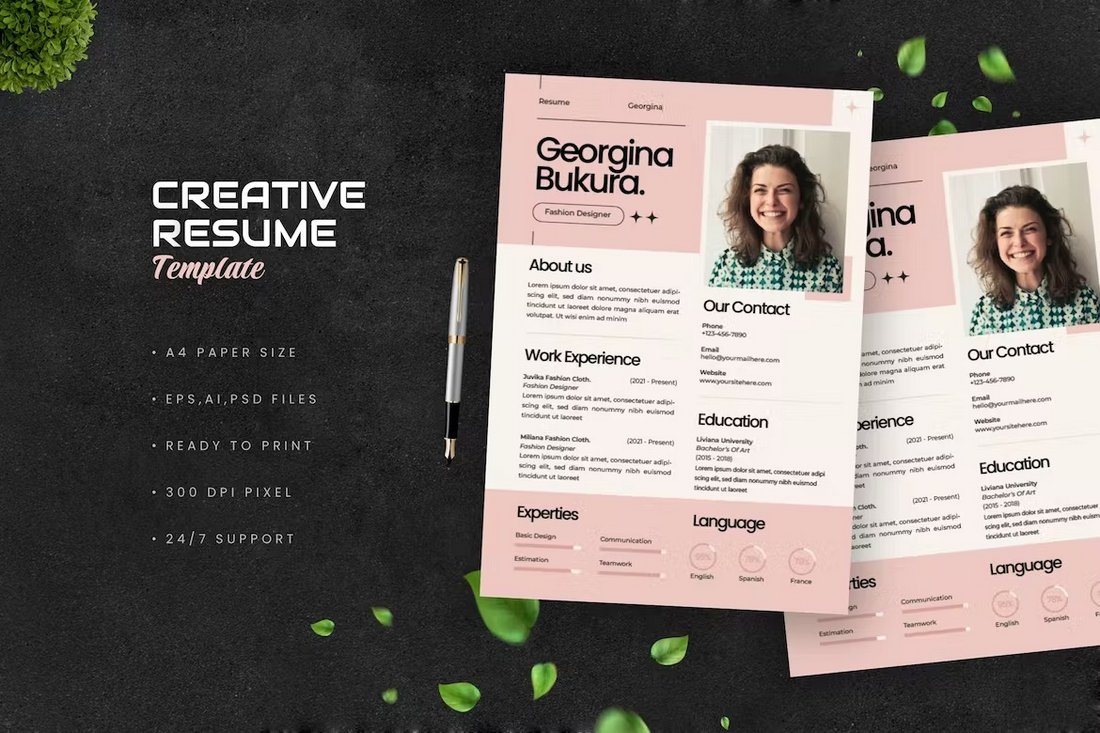 This template has a modern and creative layout for showcasing your skills and experience in a simple yet stylish way. The design can be customized to your preference by changing the colors, fonts, and icons. This template is also available in Photoshop and Illustrator formats.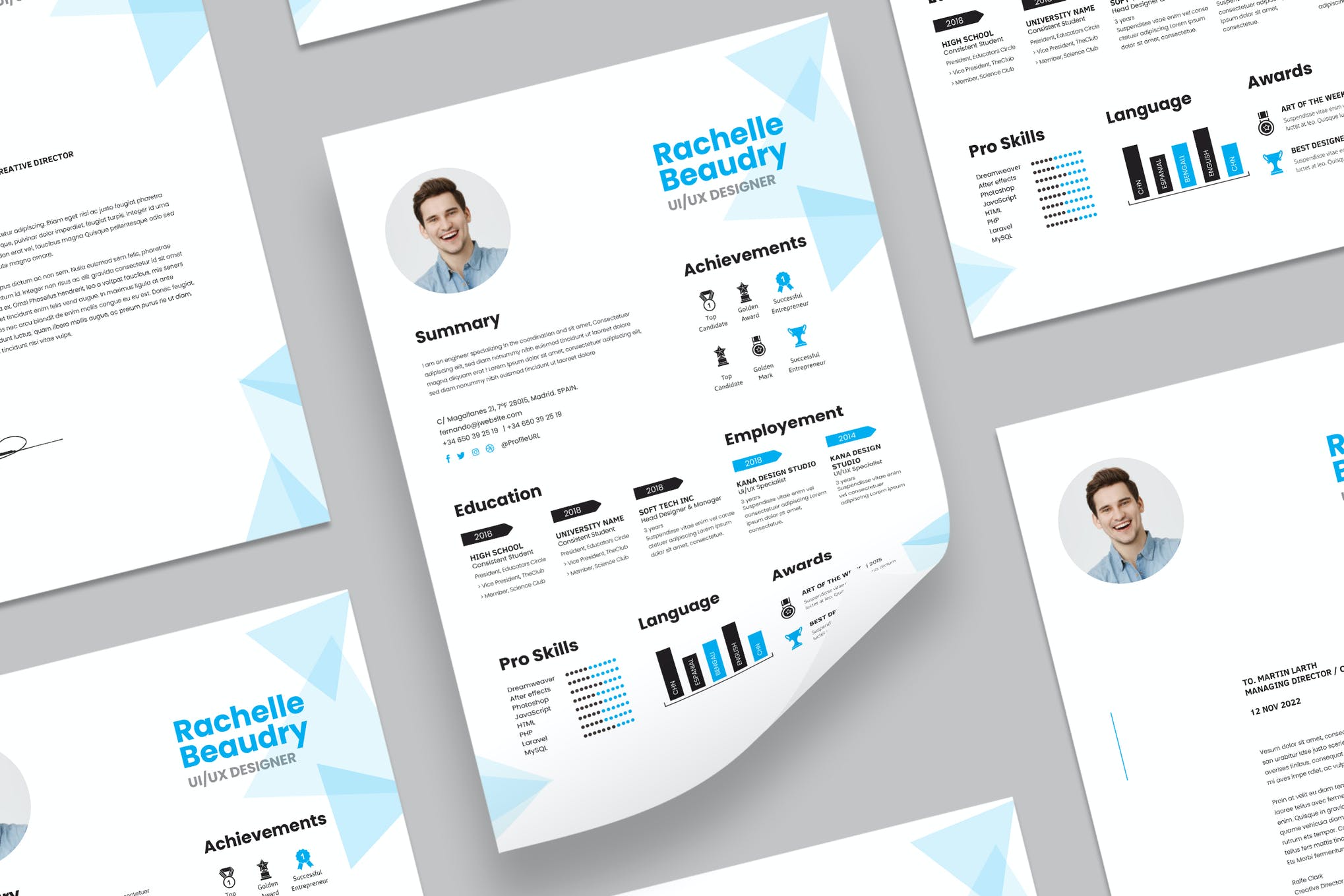 If you're looking to hunt down the best resume templates, the above-featured product is well worth checking out. It offers a minimal yet attention-grabbing design that will instantly draw recruiters' attention, and get them all excited to interview you.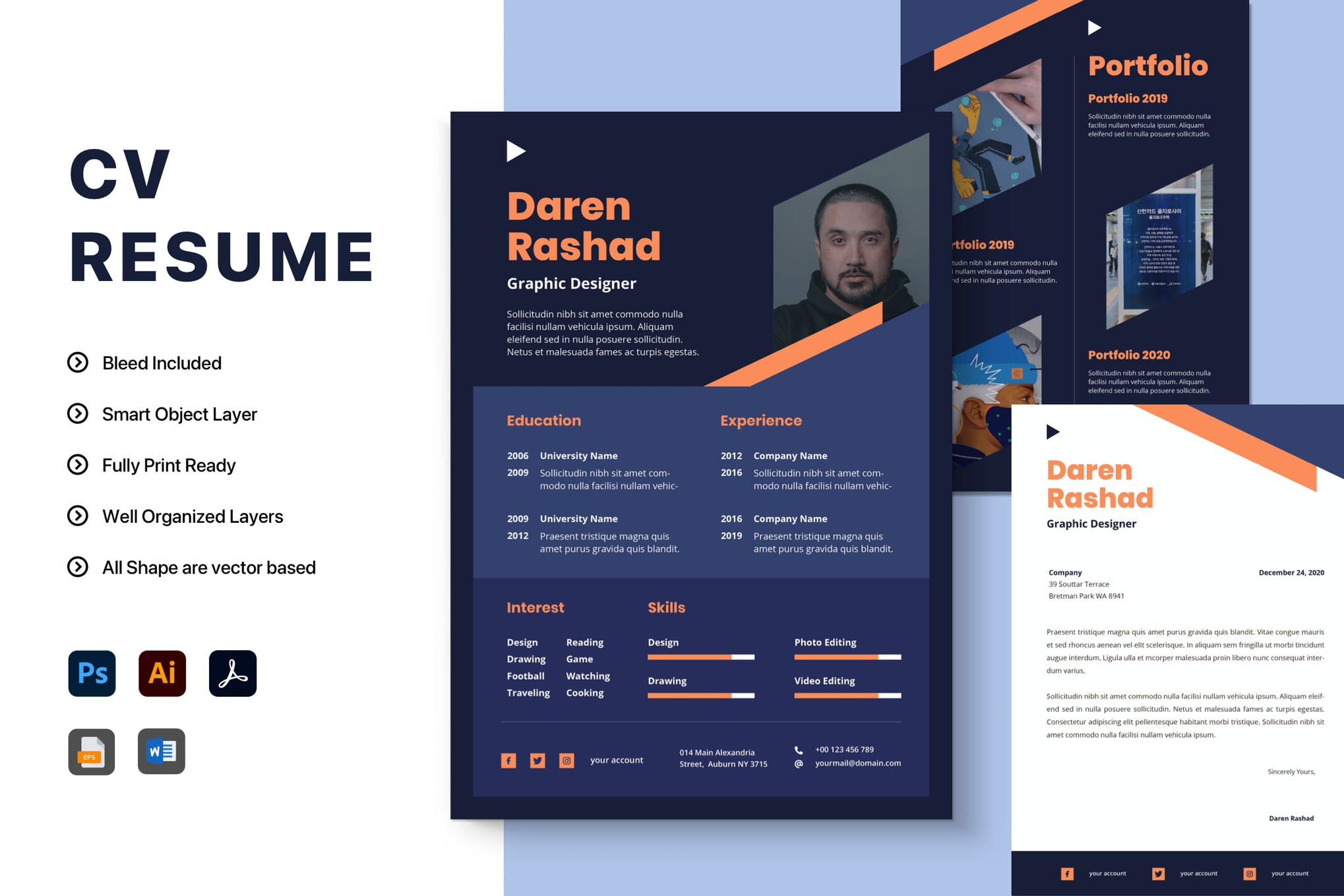 Blow off the competition with this modern, and professional CV template. Customizable in Microsoft Word, Adobe Photoshop, and Illustrator, it's one of the best CV templates you'll find on the market today. Try it out, or add it to your shortlist at the very least.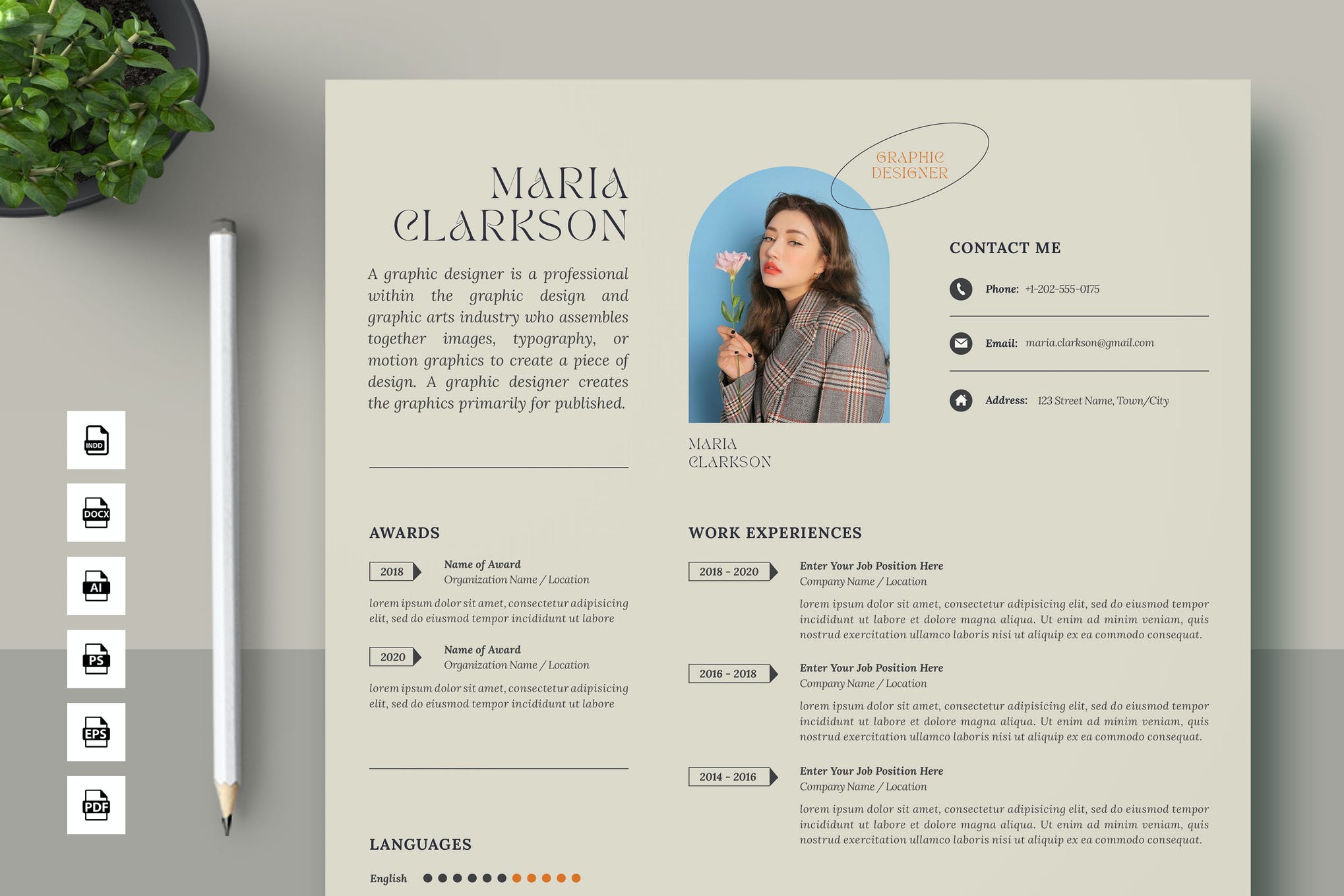 Here we have a CV resume template that exudes class, and elegance. It will help you create a good-looking resume, and leave a lasting impression on your clients. The best part of this template is that it comes packed with a matching cover letter; certainly one of the best CV templates out there.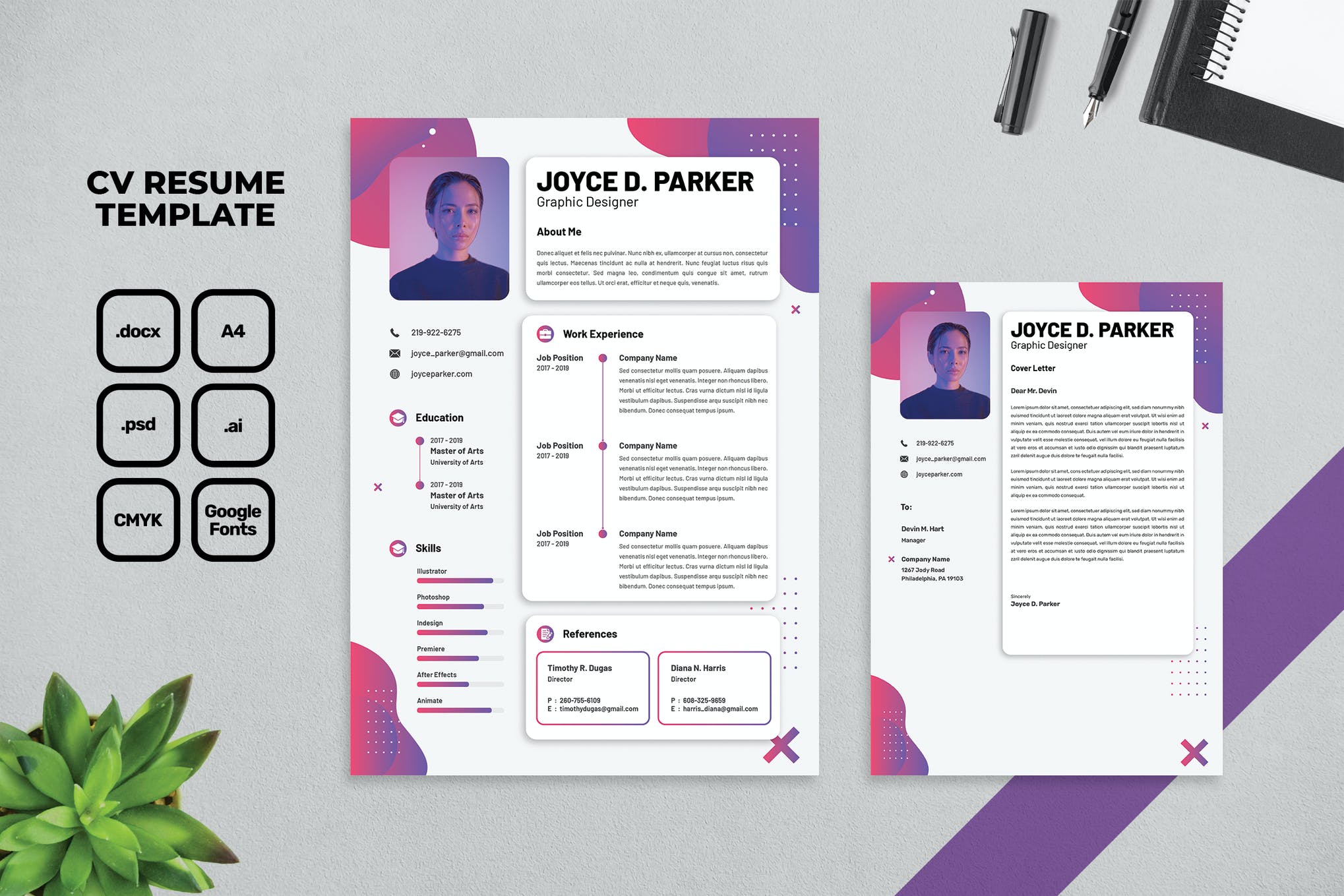 Want to impress the hiring managers at even the most esteemed organizations? Look no further than this template that no recruiter will be able to say no to. When it comes to the best CV templates, this product stands at the top of the league.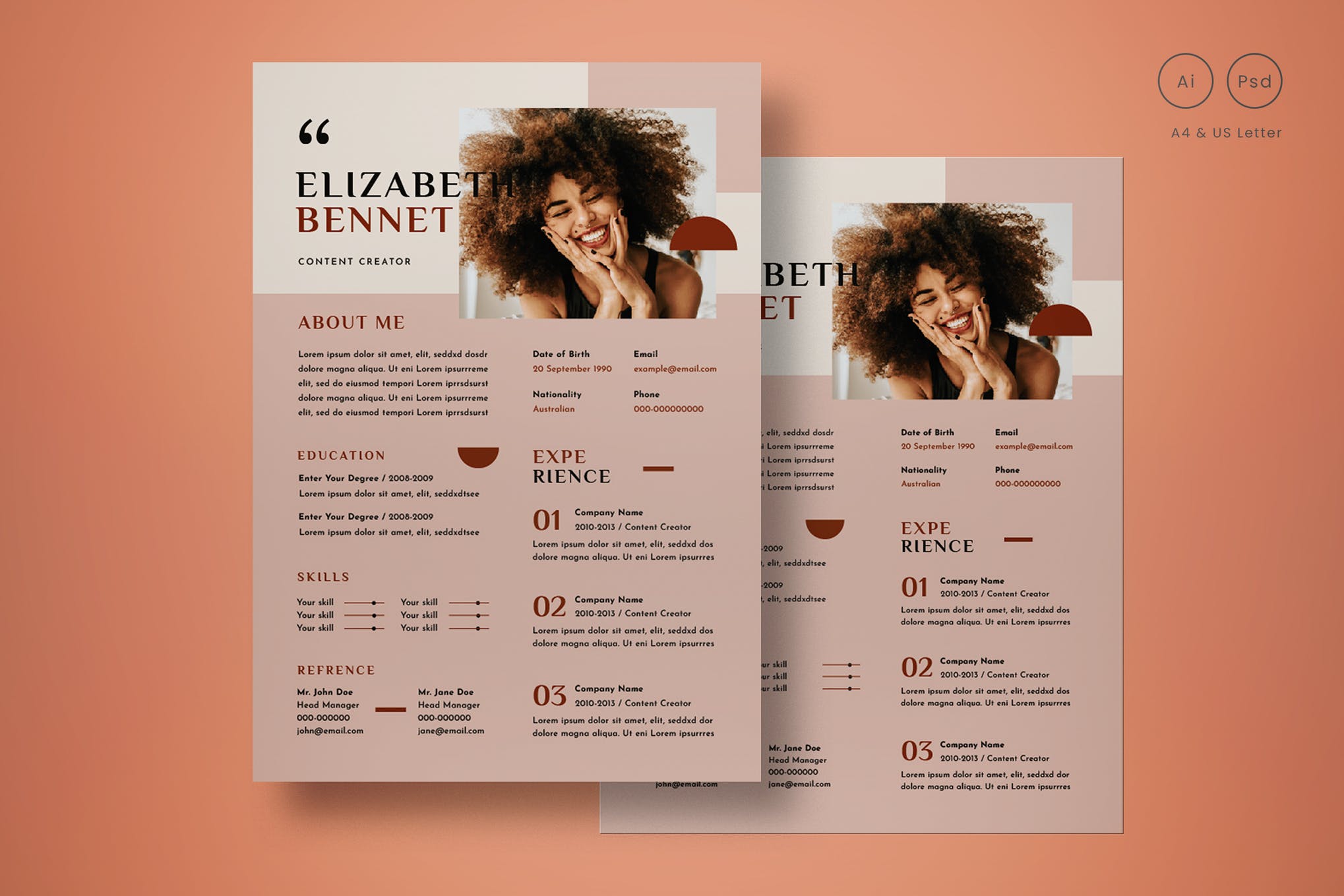 This is an incredibly remarkable resume template that you must add to your job application toolkit. Easy-to-customize, and well-organized, it's one of the best CV templates on our list. we wholeheartedly recommend you give this gem of a template a try.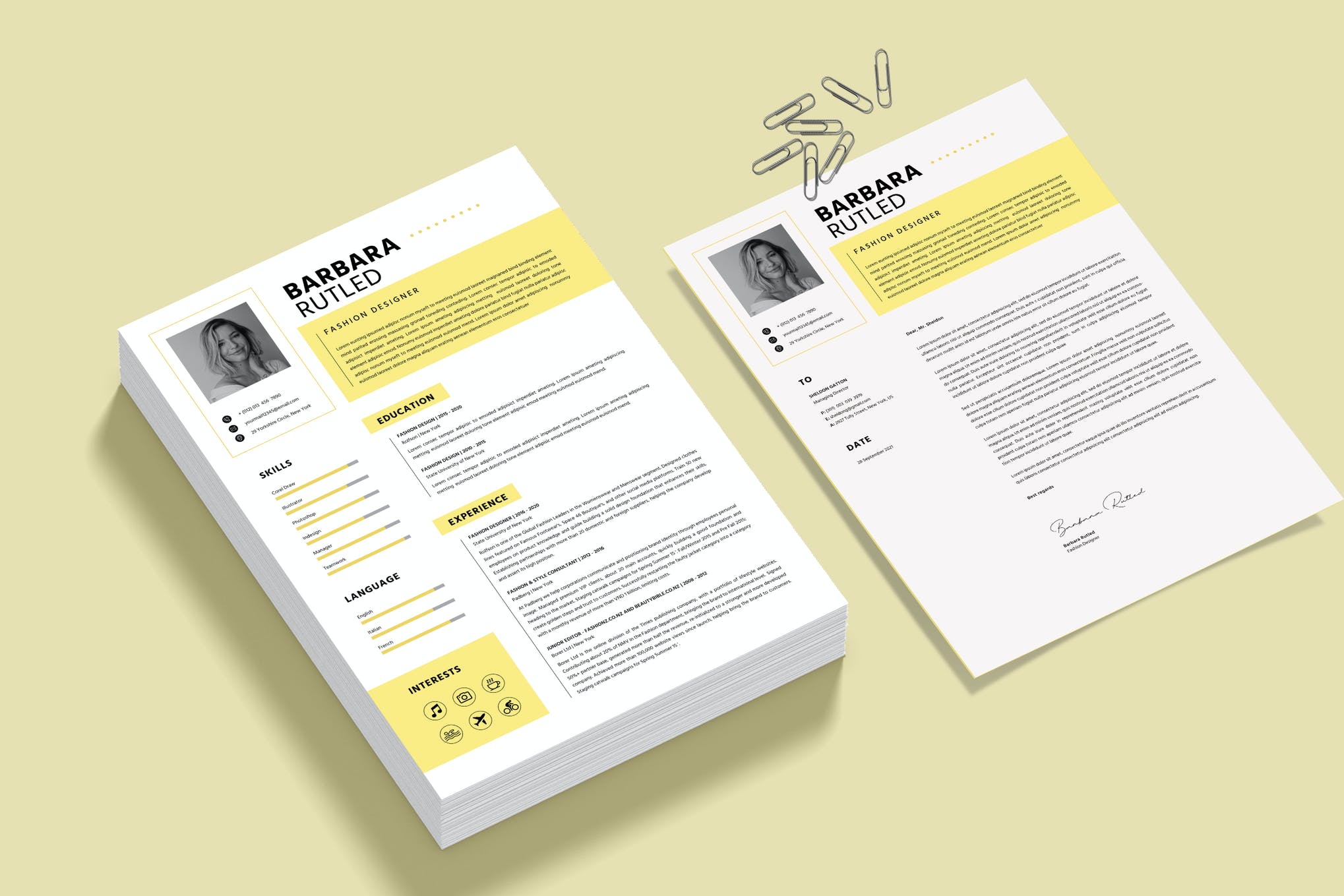 Our next option is a versatile template design, well suited to a wide range of industry standards. If you want a template that isn't going to raise any eyebrows and present you in a good light, then look no further than this skillfully crafted resume.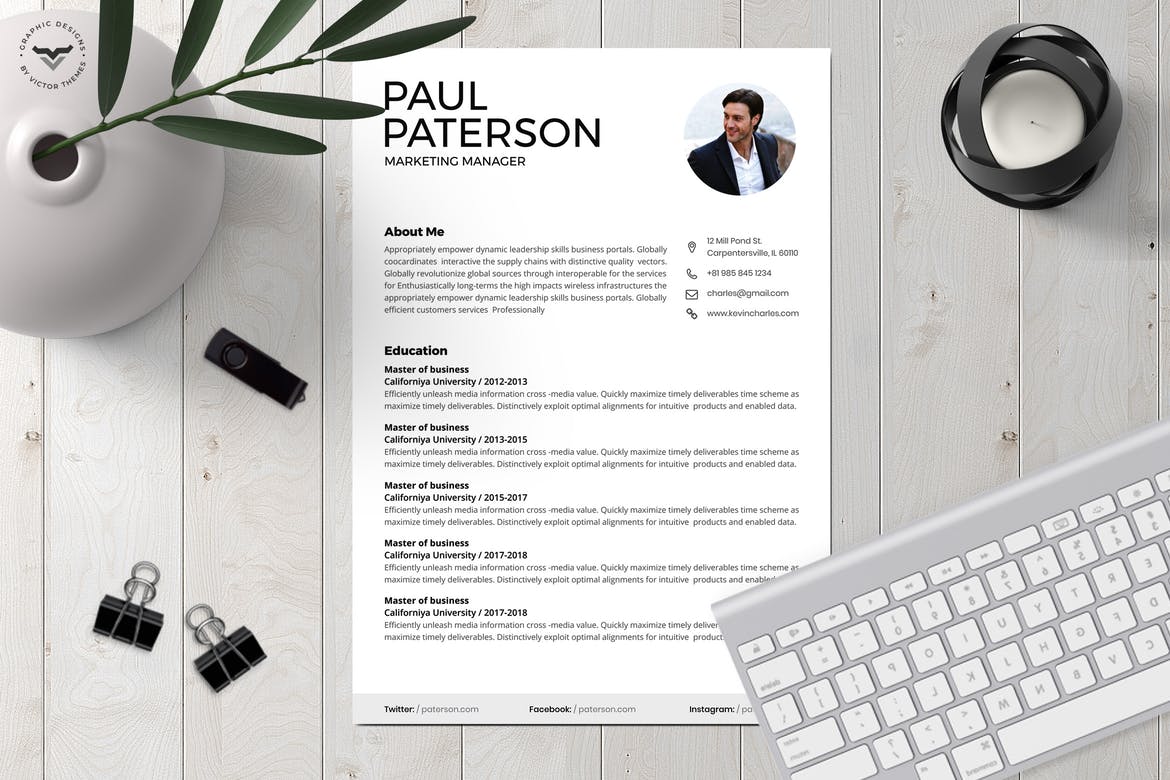 A clean, contemporary take on a classic CV format, this 100% vector template is suitable for a range of industries and can be easily customized using Adobe Illustrator. Using the CMYK color space, it's specifically designed for print and comes complete with supporting documentation.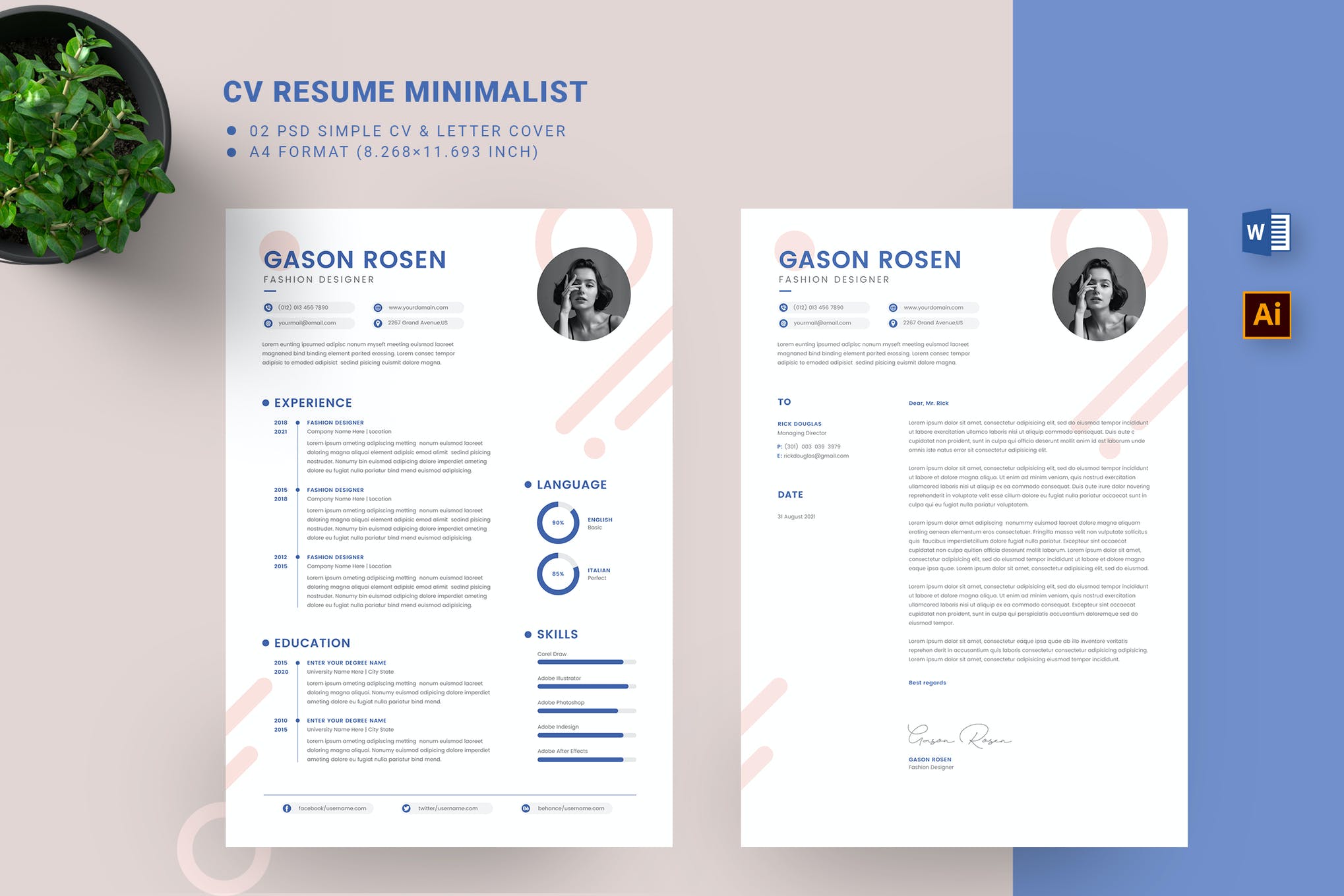 This resume template is specifically designed for fashion designers looking to apply for their dream job. It comes bundled with a matching cover letter, providing an air of professionalism when your resume lands on your next employer's table. When looking for the best resume templates on the market, this option is well worth checking out.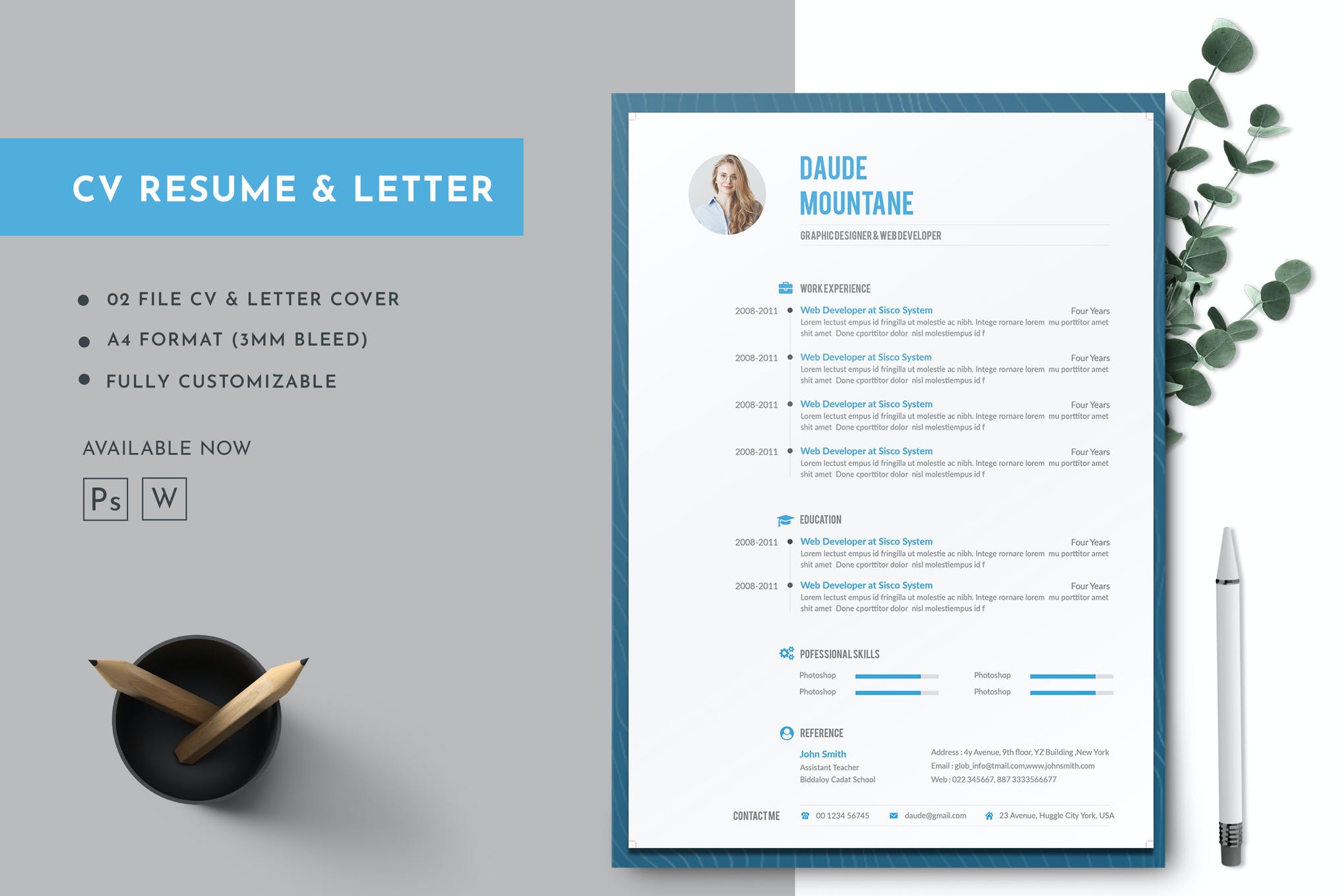 Put your best foot forward with this simple yet eye-catching template for Photoshop and Microsoft Word. It provides you with a gorgeous resume and cover letter design that will fit a wide range of industries. The template is highly customizable and is sure to impress.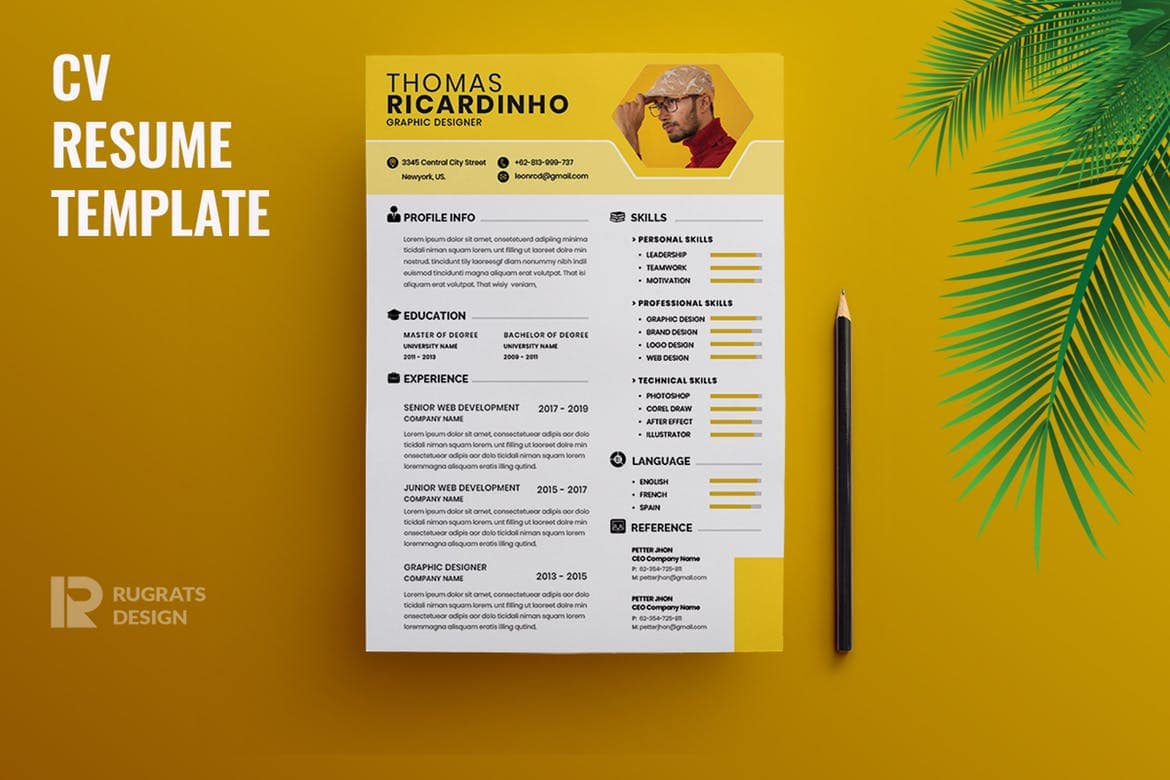 This is a colorful yet professional approach to CV design and includes the use of simple graphics to help you stand out from the crowd. It includes both a resume and a cover letter and is incredibly easy to edit using either Adobe Illustrator or Photoshop.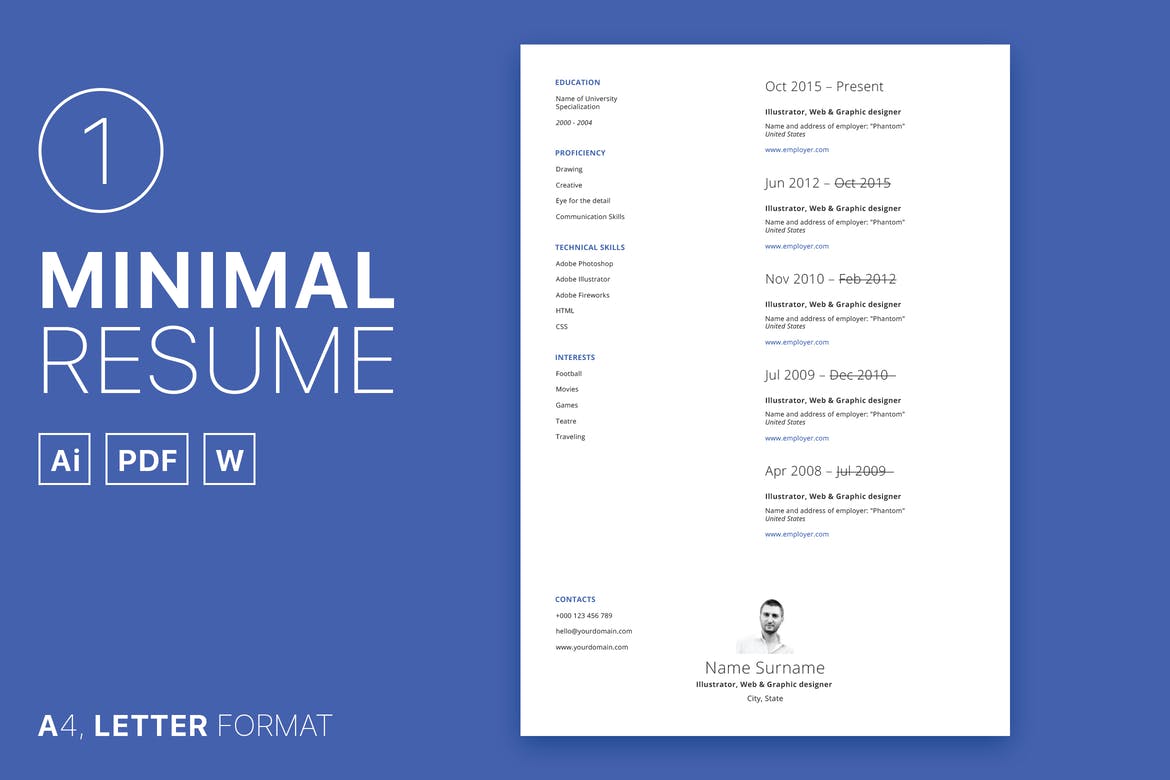 This template is perfect for those who prefer a minimalistic resume and can be fully customized to your requirements by removing, adding, or editing components in Adobe Illustrator. It supports AI, DOC, and PDF file formats, and the subtle use of color in the CMYK model adds to its simple, modern design.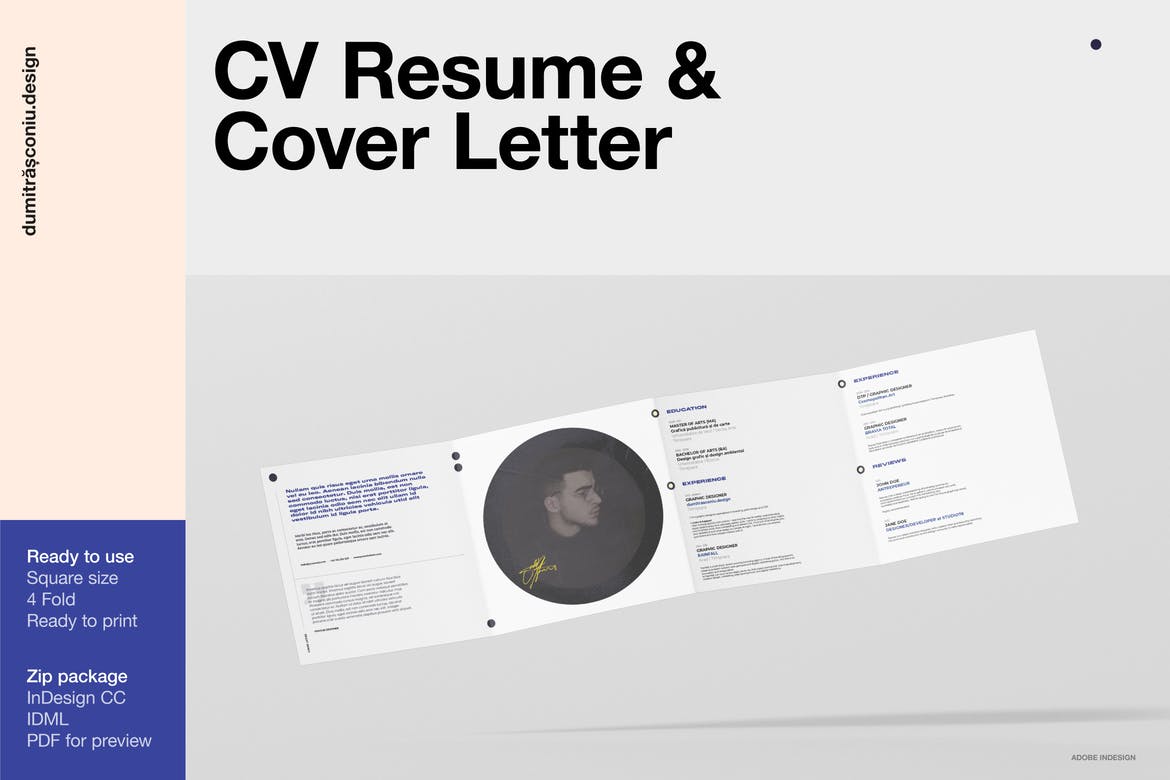 To really make an impact, you can use this layered four-fold template that presents your resume together with a cover letter in a square format, customizable using Adobe InDesign. Of course, this option only works in hard copy, so it's ready to print using the INDD, PDF, and JPG file types.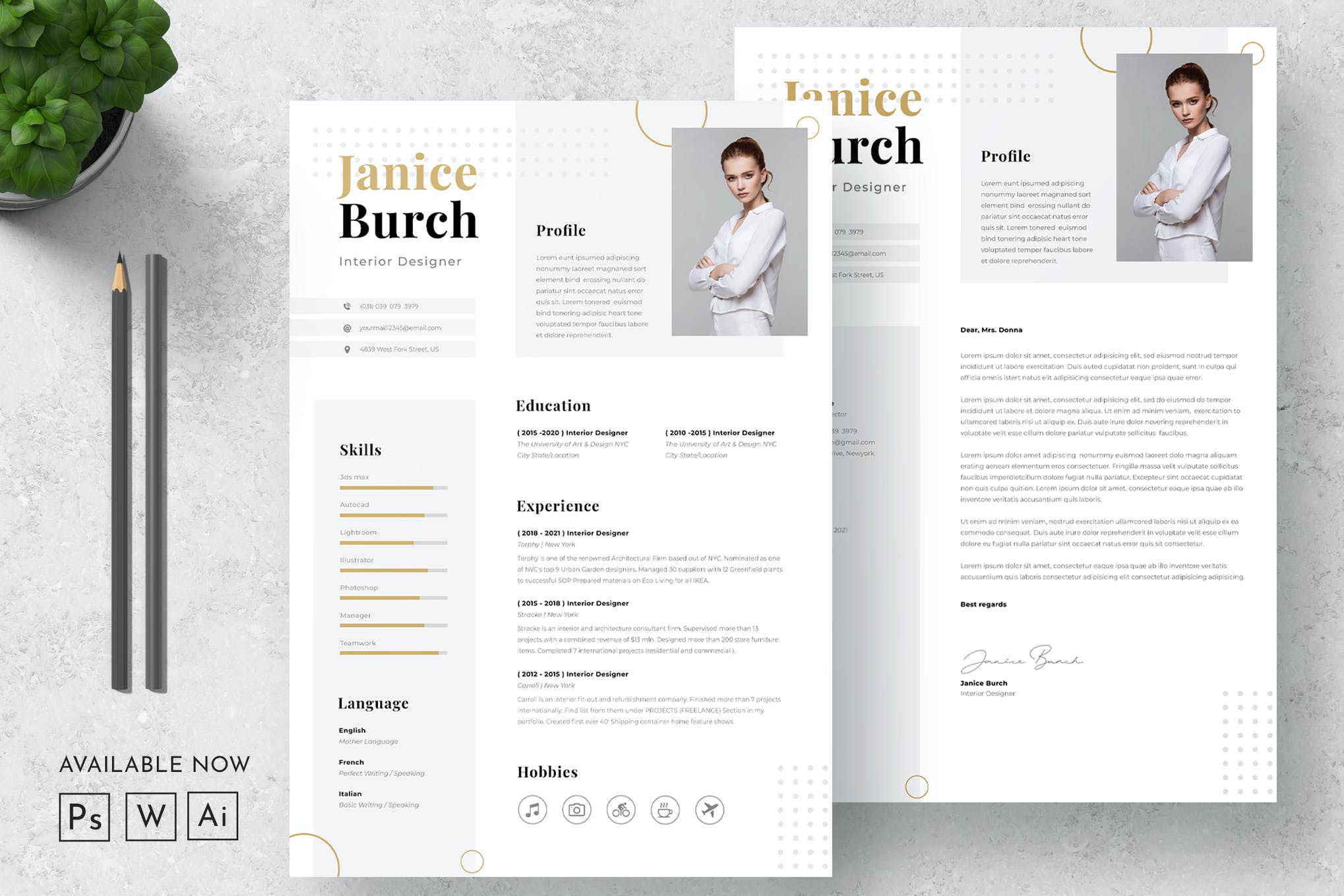 Whether you are a fresher or an experienced professional, this resume template will come in super handy. It's one of the best resume templates that features a gorgeous layout allowing you to show off your skills, and leave a lasting impression with ease.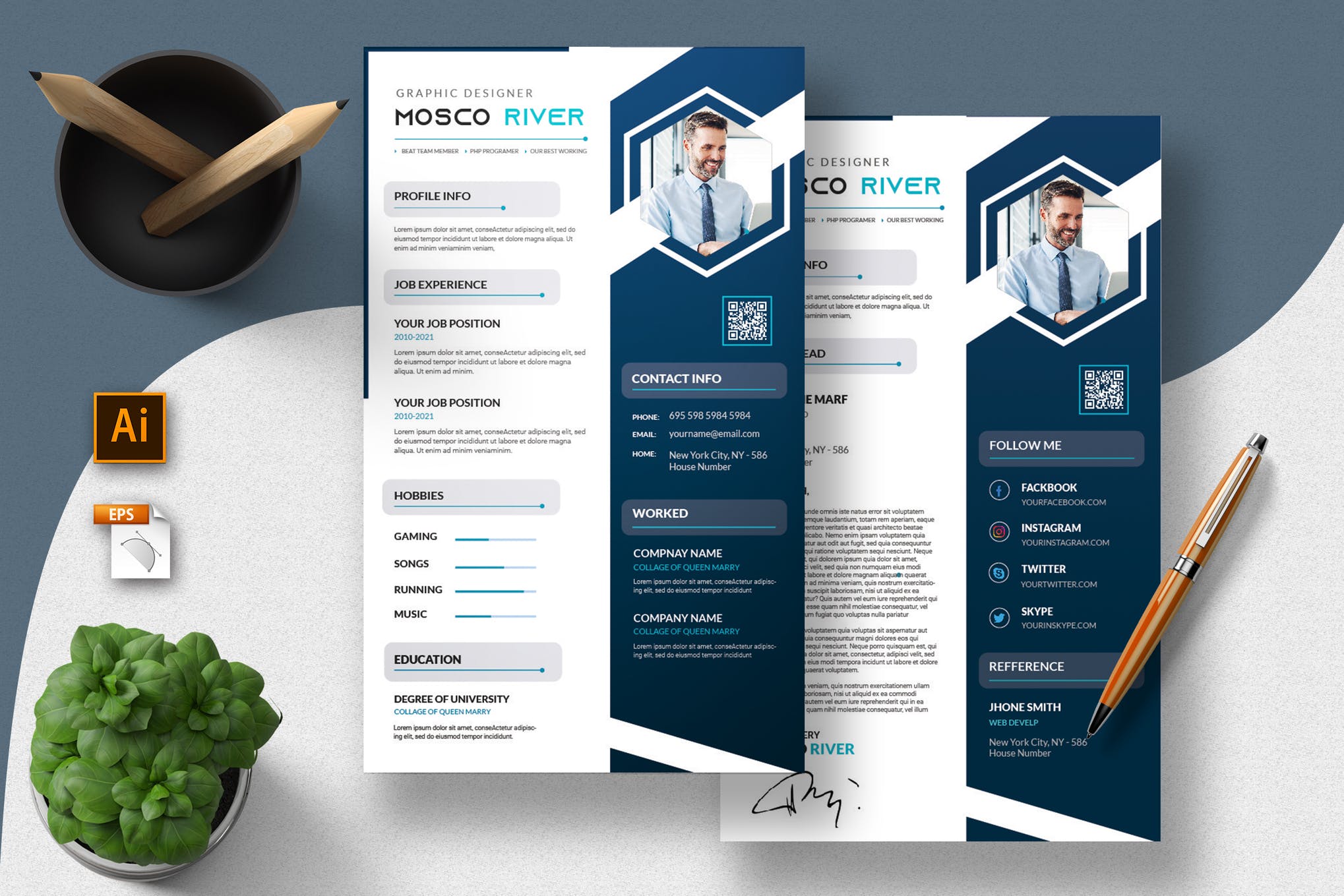 This resume template uses a creative two-column design, with a headshot in the top right. It provides you with a multitude of customization options and is perfect for a wide range of industries. One of the best resume templates for freshers!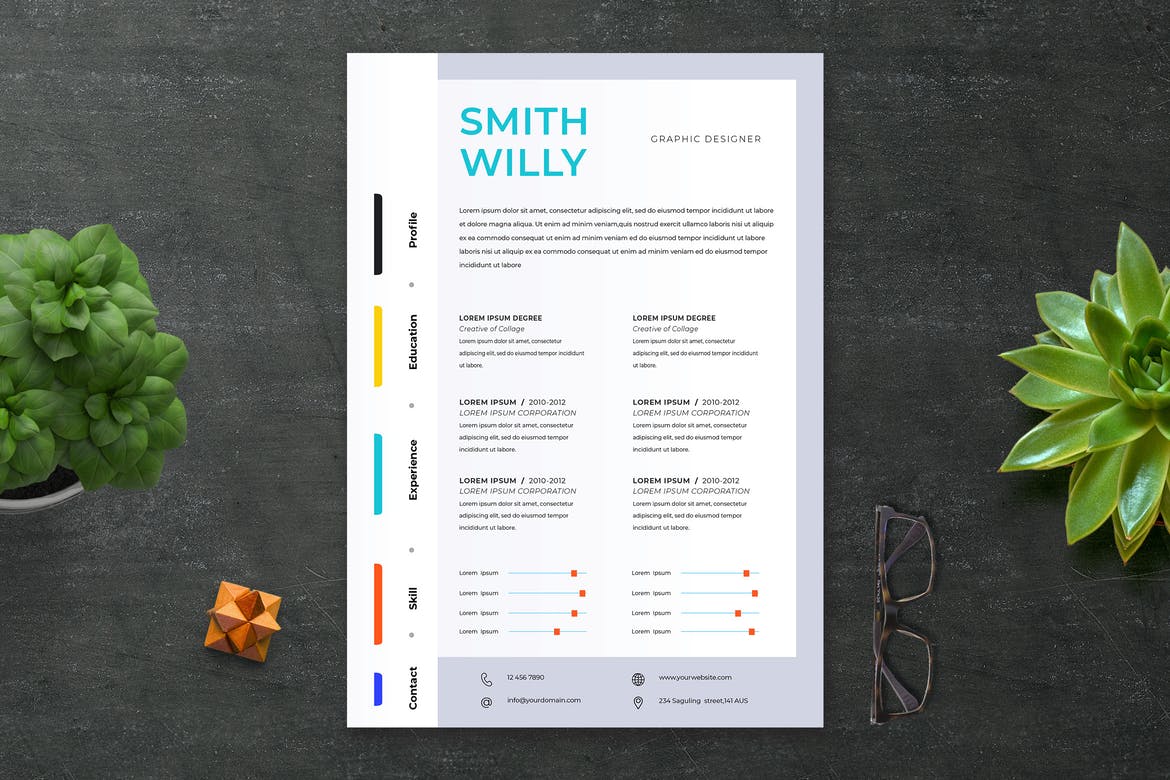 Another example of a minimalist design using clear sections and simple graphic objects to make an impression, this template features organized layers and vector graphics, as well as the CMYK color model, making it easy to customize and print. The contrasting text orientations make it particularly eye-catching to prospective employers.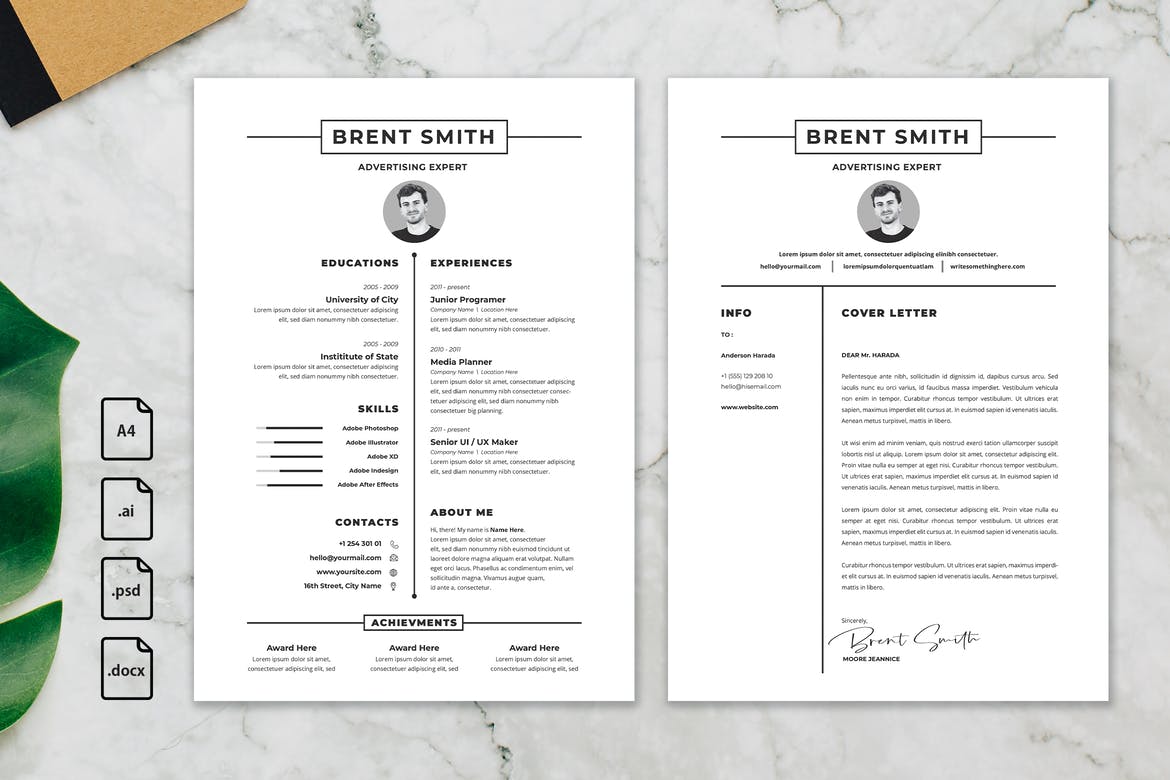 A simple and clean greyscale design featuring attractive elements of symmetry and balance, this template includes both a CV and a cover letter in A4 sizing and is compatible with AI, JPG, PSD, and DOC file types. Its minimal graphics are all vector-based, making for a sharp and effective presentation of each component.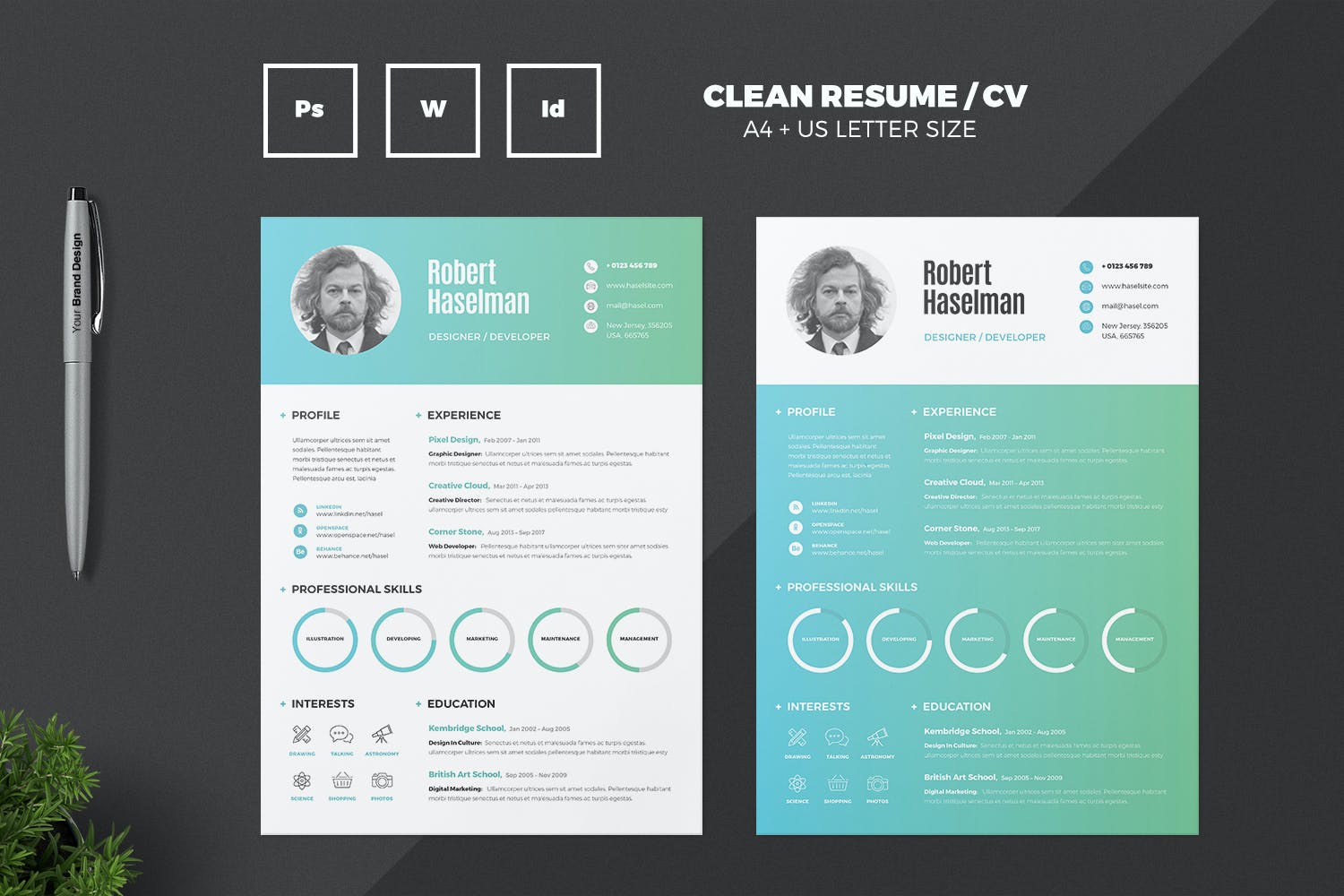 Want a little more personality in your resume design? Check out this modern and stylish template that can be fully customized in Photoshop and Microsoft Word. It provides you a sleek and clean artistic layout, with subtle hues of white and green.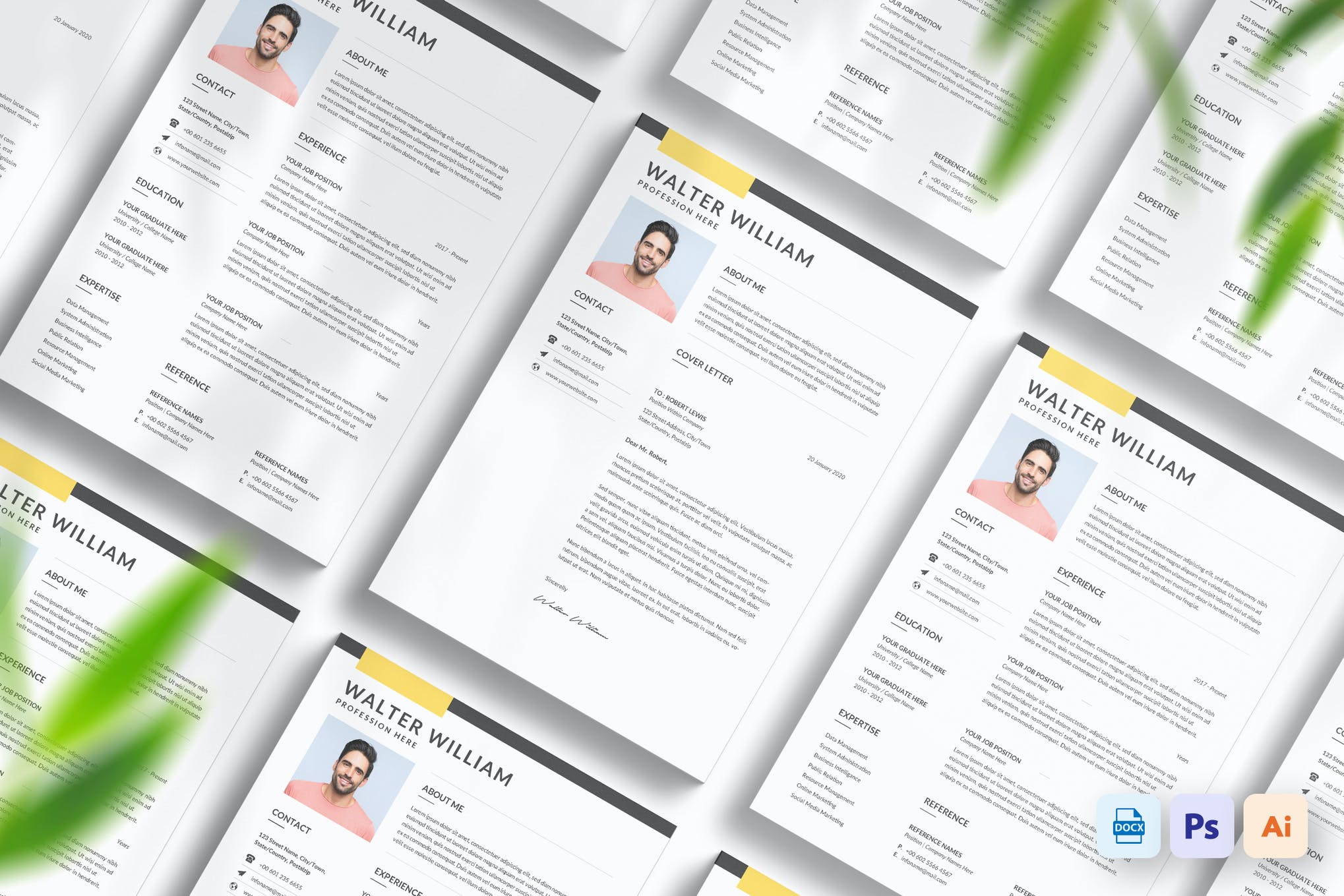 Sometimes it's important that we look modern, and up to date, to land that job. This is where this stunning template truly shines, providing you with a no-frills approach to resume structure. It comes equipped with a range of pre-set options, as well as customizable features.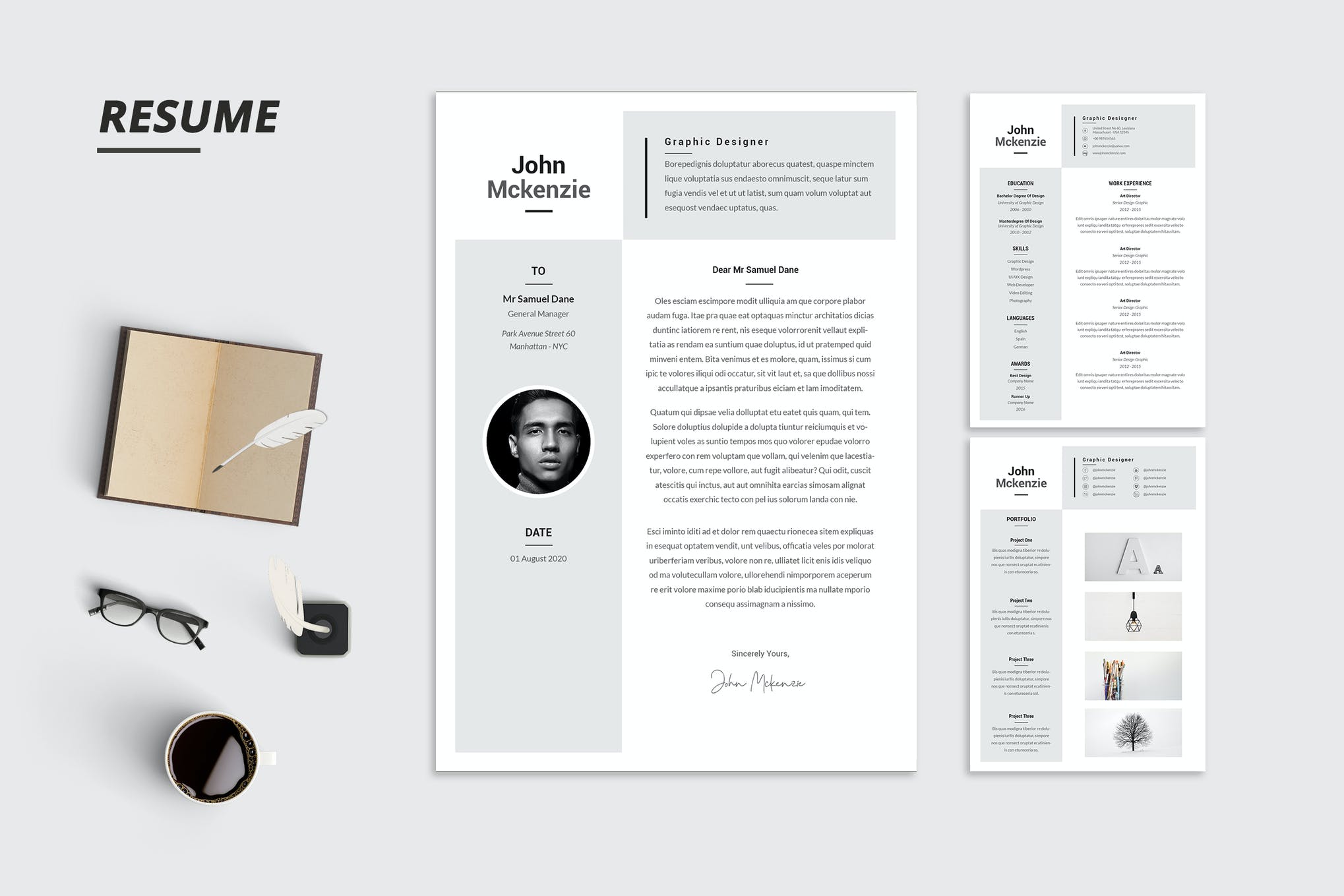 Show off your graphic design skills with this modern resume template that has been specially tailored for those in the design field. It provides you with industry-specific headings, and ample space to showcase the best items of your portfolio; no wonder it's one of our top picks when it comes to the best resume templates out there.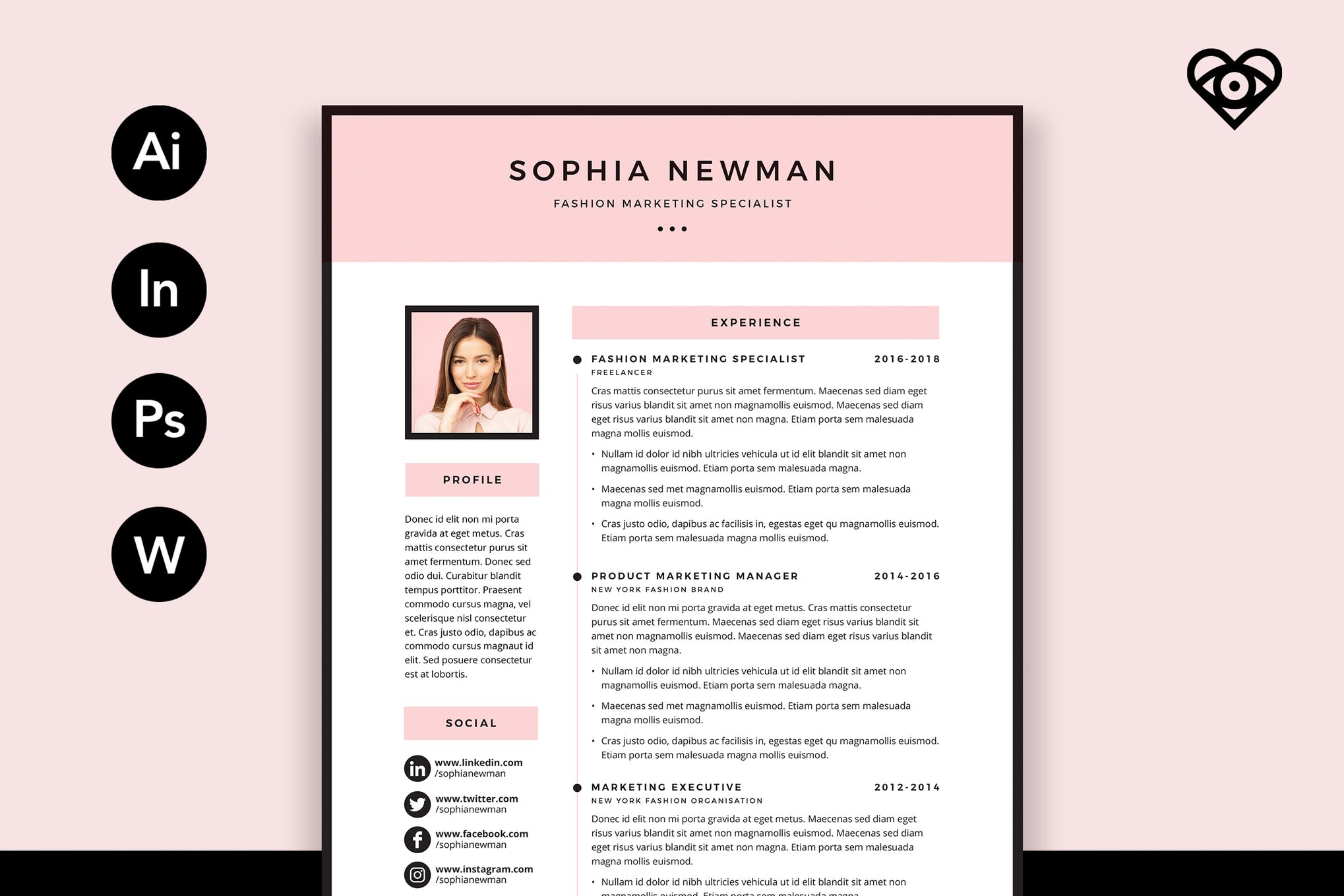 This template is a modern, yet slightly styled, approach to a resume design. It uses clean-cut typography and mixes it with a beautiful accent of pastel color to provide an impressive finish. Available in four colors, it's a great option to stand out in the pile, and land that interview you're looking for!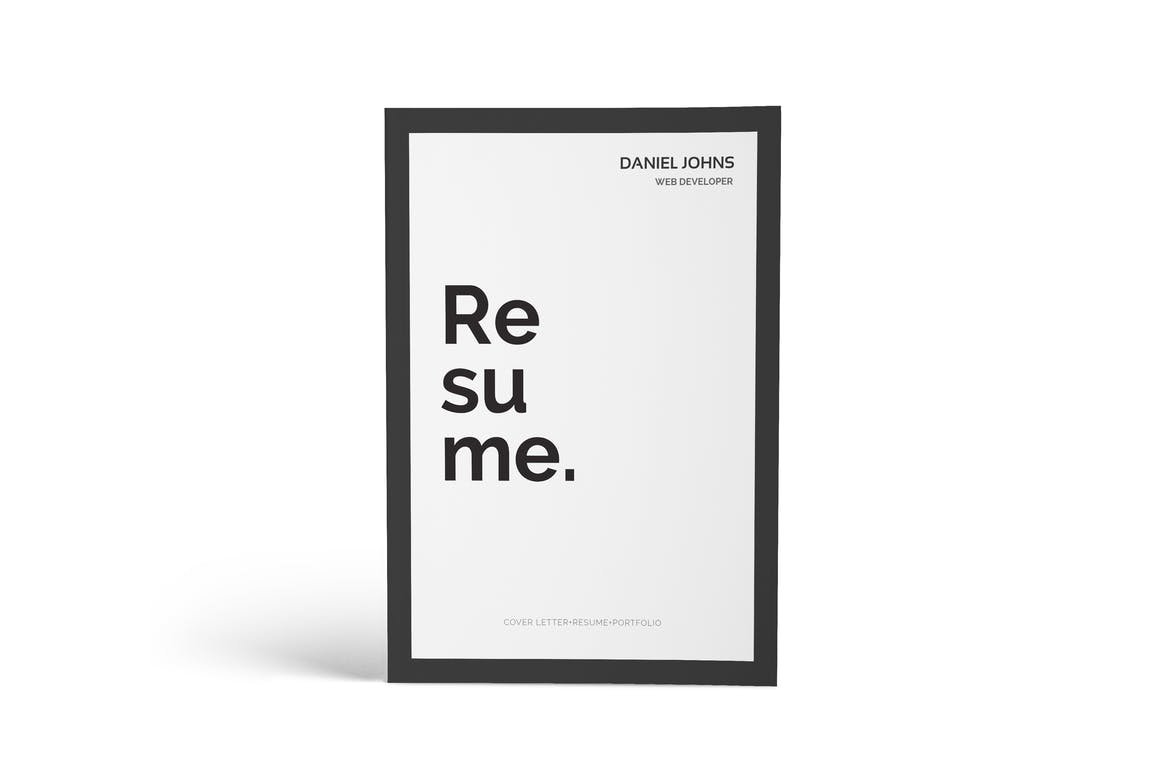 This 10-page portfolio-style template is perfect if you need to include a lot of detail in your resume, and the 300DPI graphics can be easily edited throughout. It includes 9 color options and pages for a front and back cover quote, cover letter, resume, and portfolio – but the minimal design implemented throughout means that the reader won't get overwhelmed.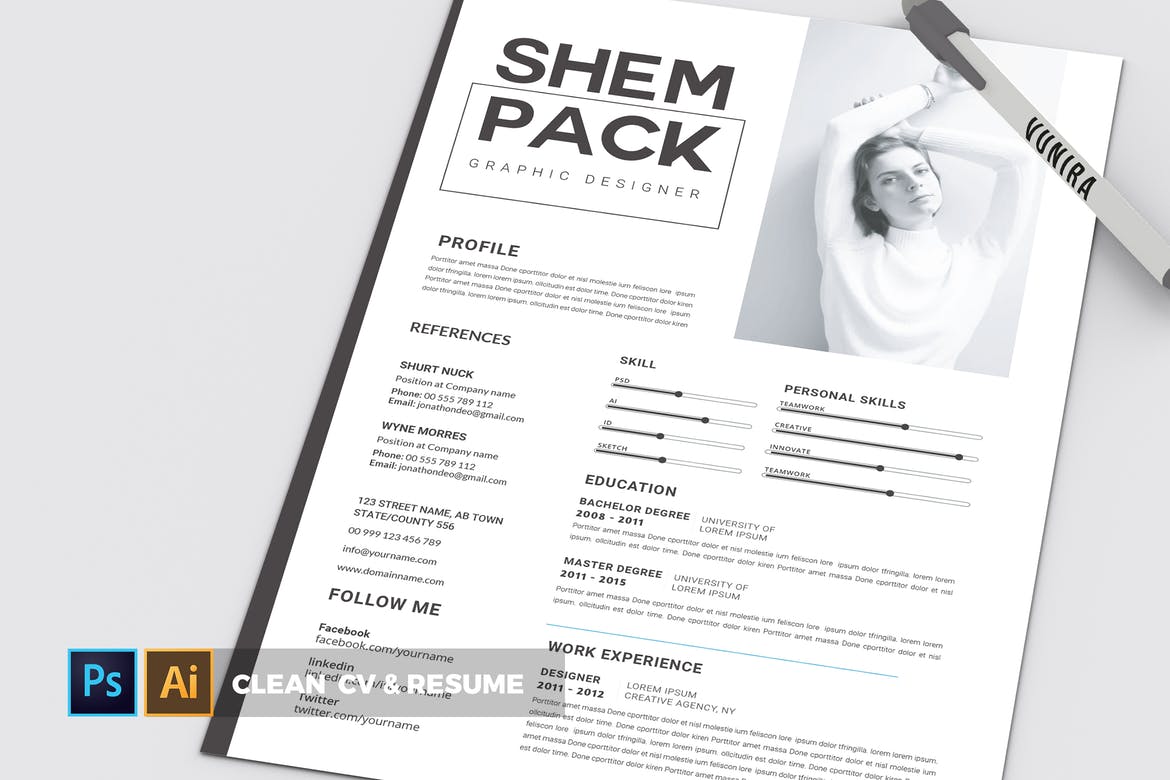 Job opportunities abound with this handsome two-page black and white template. Its compatible with AI, EPS, PSD, and JPG file types, and features a simple, modern format as well as layered graphics and a CMYK color space, making it ideal for both printed and digital media.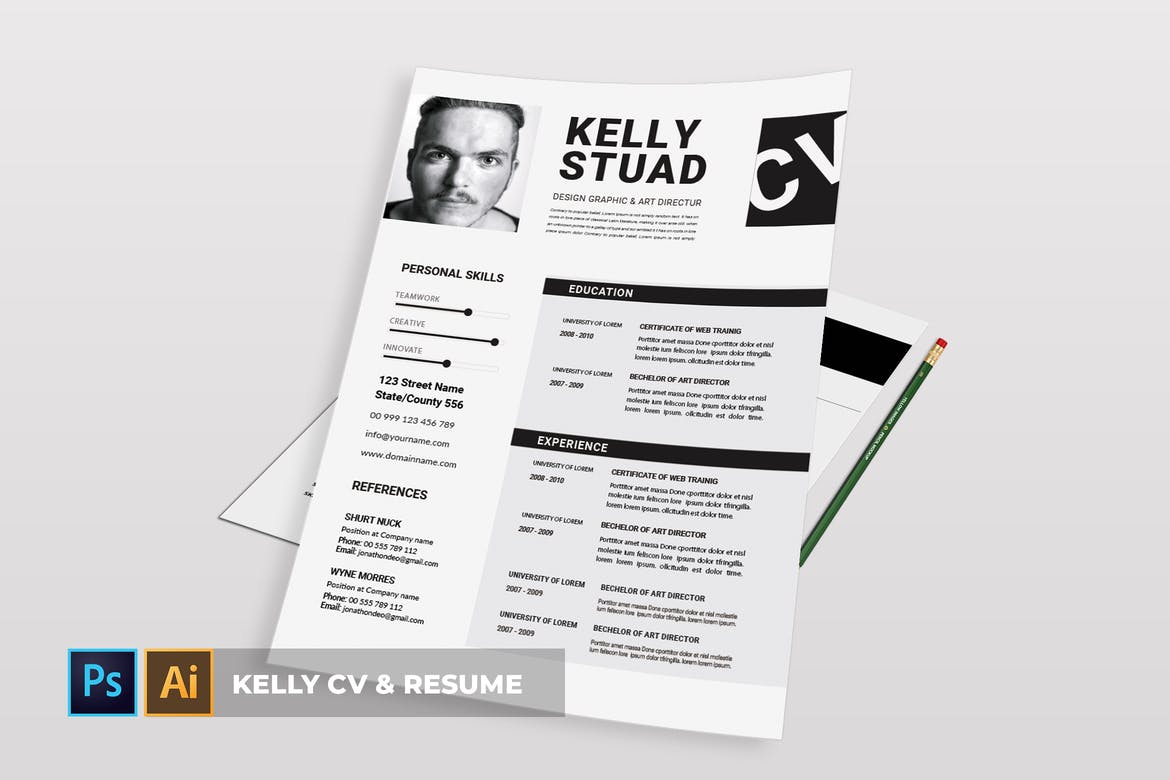 This is another two-page template that features black and white minimalistic graphics, with an intuitive flow of information modules and a no-nonsense design approach. It's approachable, easy to read, and allows you to include additional detail in each component. Get the intended response from prospective employers with this cleanly designed business tool.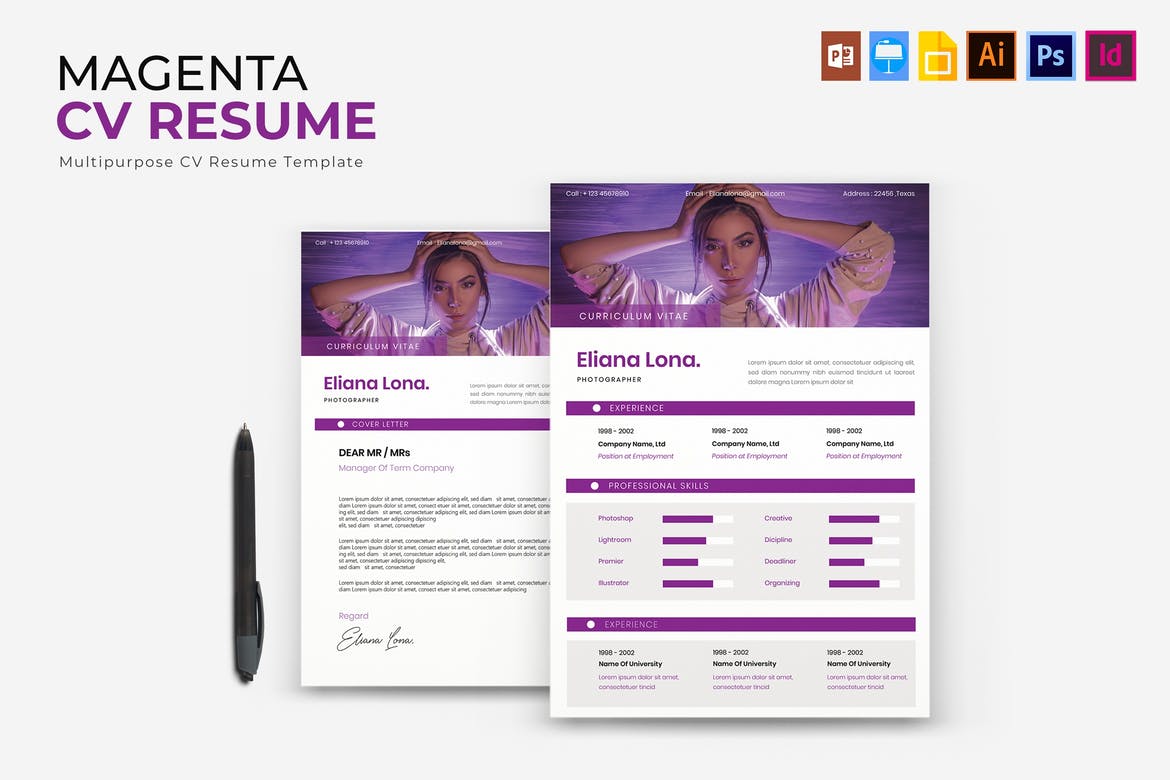 The Magenta template is a definite show stopper, featuring pages for a resume and cover letter that can be fully customized using Adobe Photoshop, Illustrator, and InDesign, as well as PowerPoint, Keynote, & Google Slides. Its use of color commands attention and creates a cohesive, clean design that draws the reader in.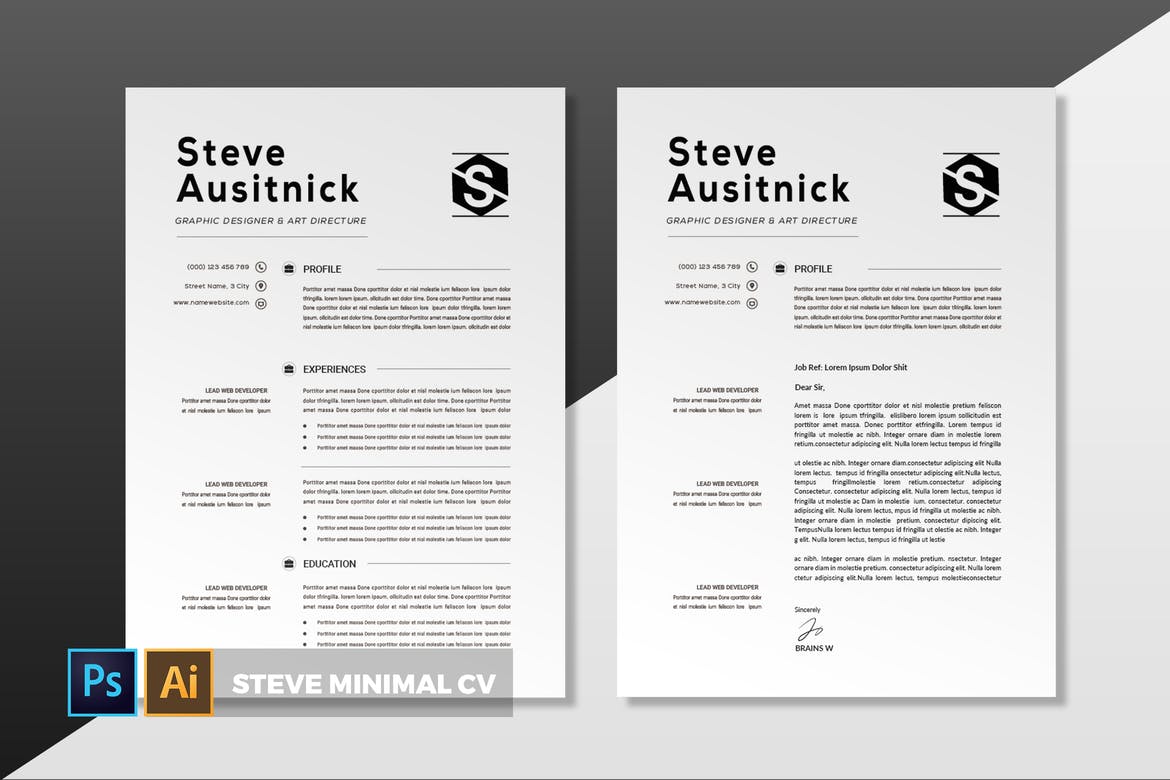 This template is perfect for the job-hunting wordsmith – its lack of emphasis on graphics and images places the focus wholly onto the text fields. Featuring two A4 pages compatible with EPS, JPG, AI, and PSD files, it includes components for everything you need and nothing you don't.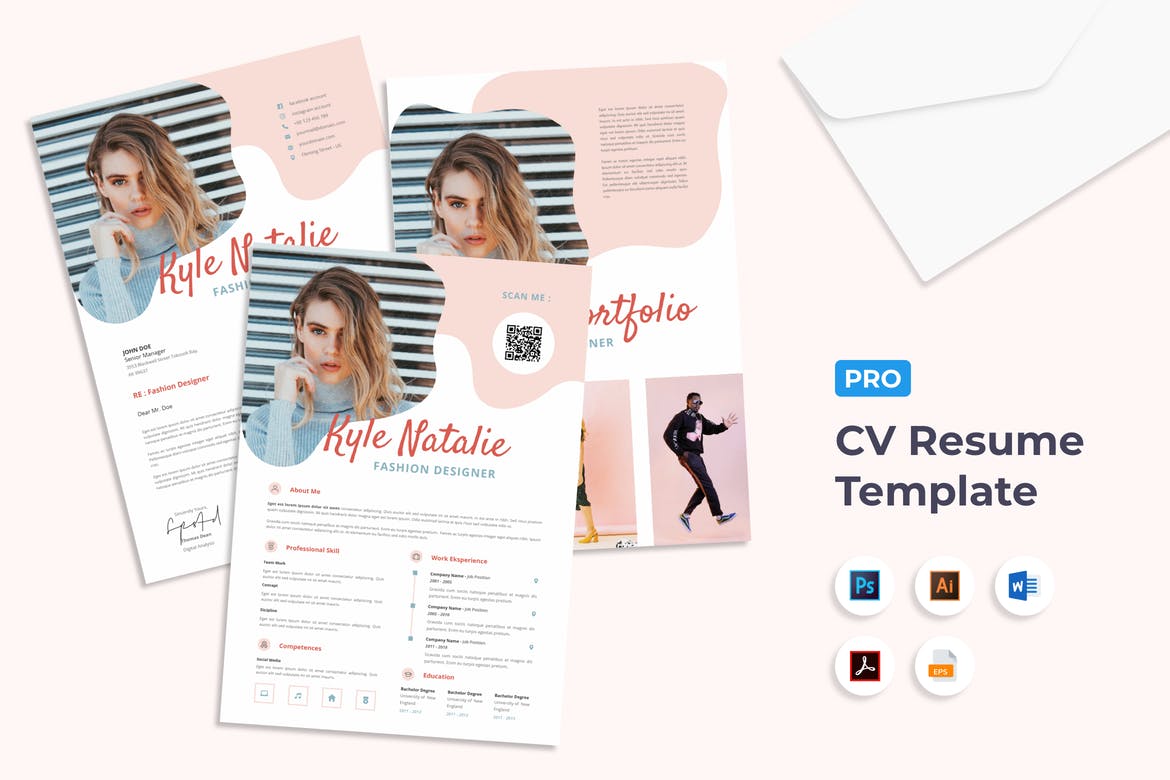 A funky yet clean resume using bold colors and playful fonts that's ideal for a professional within a creative industry, the Fashion Designer template features well-organized layers with sections for a CV, cover letter, and portfolio. The 300DPI resolution ensures a polished and elegant finish. If employers are flipping through a vast amount of resumes, they are sure to stop and take notice of this design.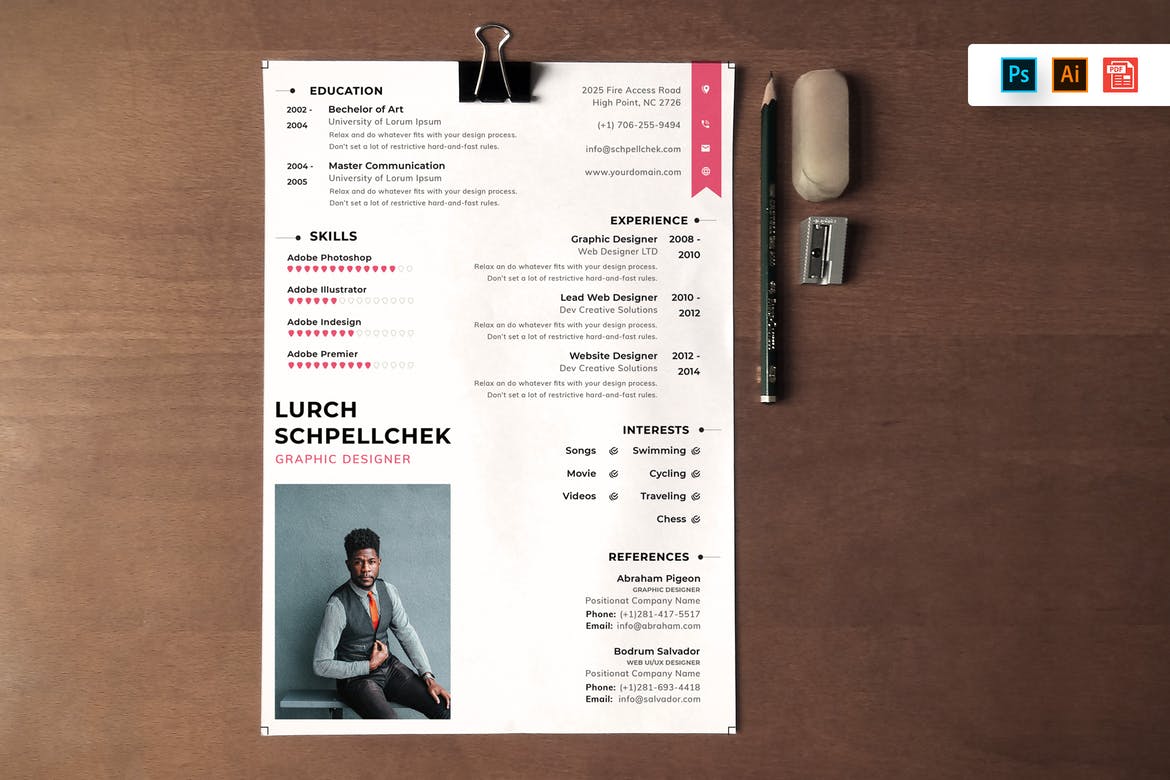 This single-page CV features a clean, modern design with an eye-catching layout. Clever use of vector graphics and concise text paragraphs make for an asymmetrical yet balanced format, and the use of color creates a sense of cohesiveness where otherwise, the template might feel slightly disjointed.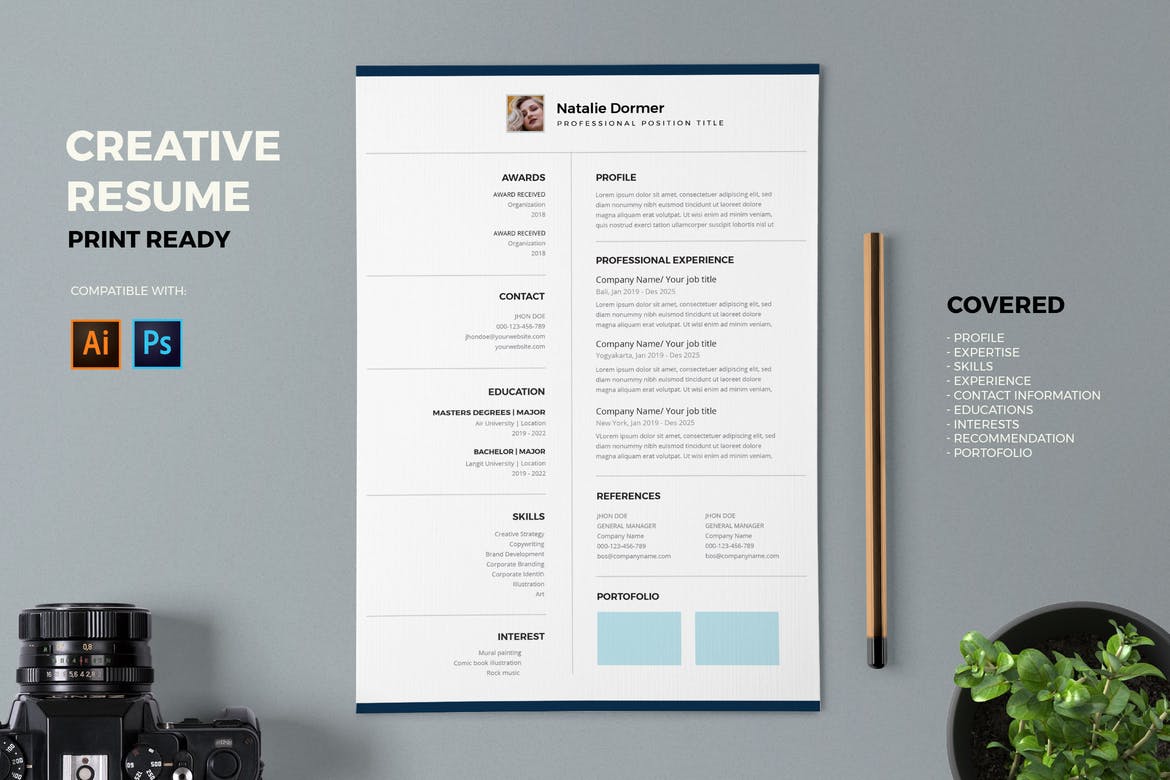 This is a clean and comprehensive layout featuring more components than most other templates, including awards, interests, and references. It's easily customizable, and one of the best options available if you want to really sell yourself through your resume. To avoid information overload on the single-page format, make sure to keep text fields concise.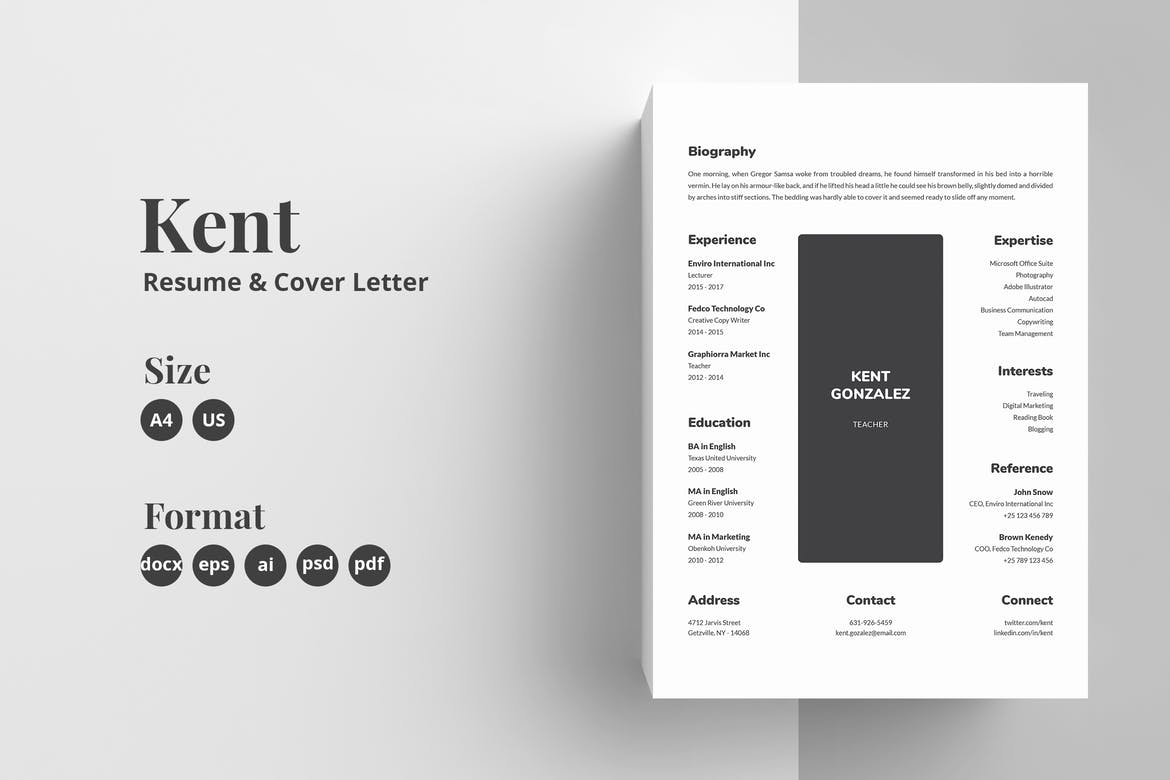 Featuring a bold and powerful layout, this template makes clever use of black and white graphics and contrasting backgrounds to really grab the reader's attention. A versatile and unassuming option, it lends itself to service industries in particular and includes a comprehensive array of documentation.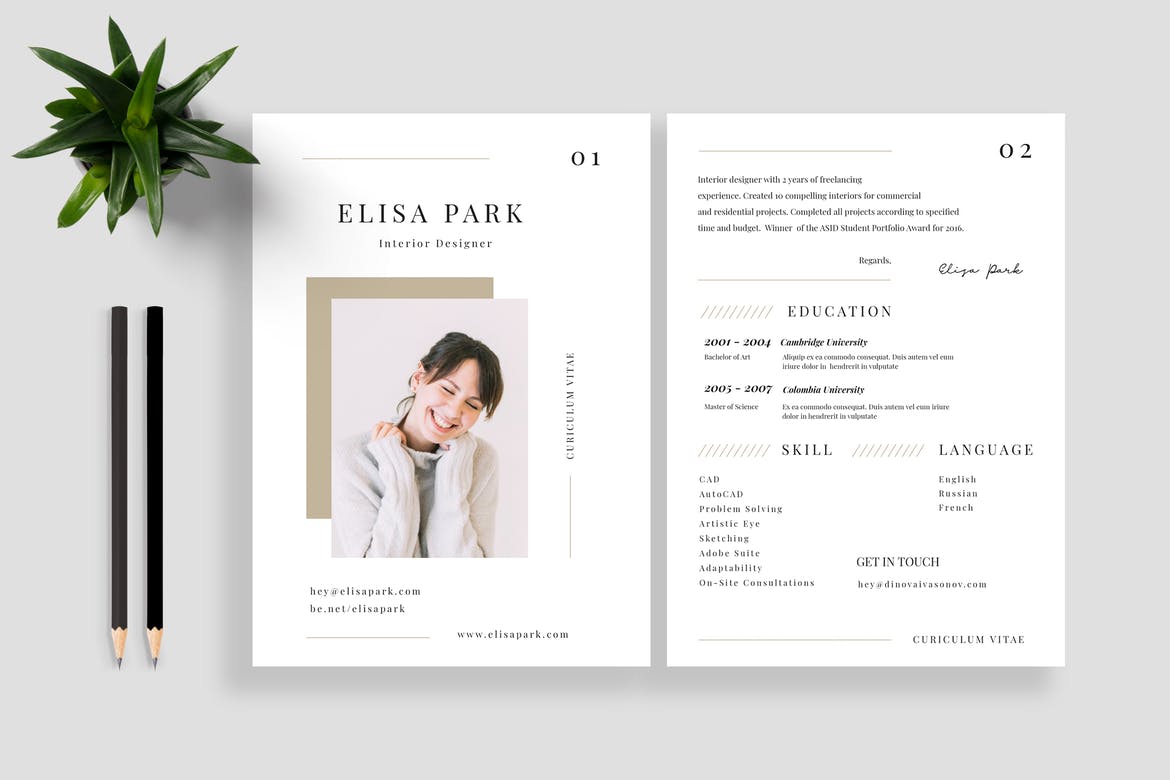 This soft, minimalistic two-page template really proves that less is more! The concise paragraphs and contrasting use of delicate fonts and strong, angular graphics, combined with the neutral, earthy color palette, make this option a popular choice for graphic designers and other creative professionals.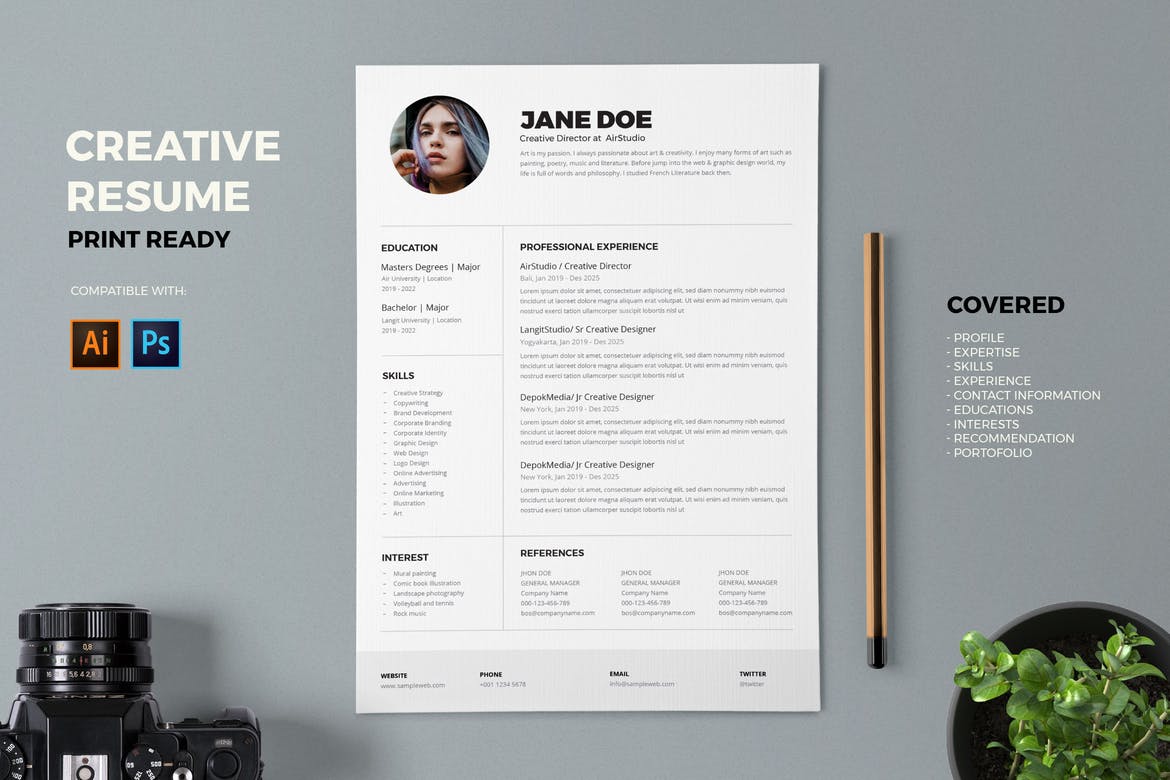 This tidy, asymmetrical template makes use of a grid format and clean basic fonts to make itself a versatile option for any industry or profession. Compatible with both Adobe Photoshop and Illustrator, it comes complete with documentation so that you can fully customize the design to suit your personality.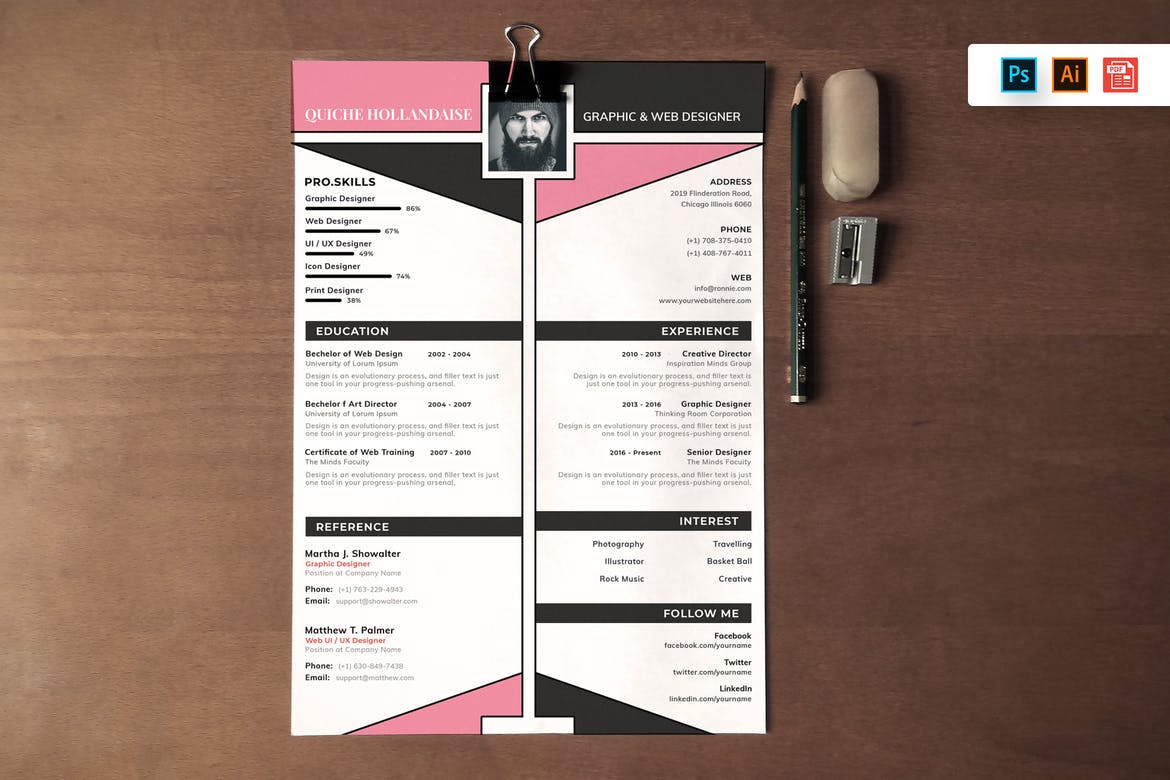 Another example of a grid-based resume layout; this option features the use of bold, eye-catching color to help your CV stand out in a pile! It includes all of the key information components, complete layering, and vectored 300 DPI graphics using the CMYK color model to allow for full customization and flawless printing.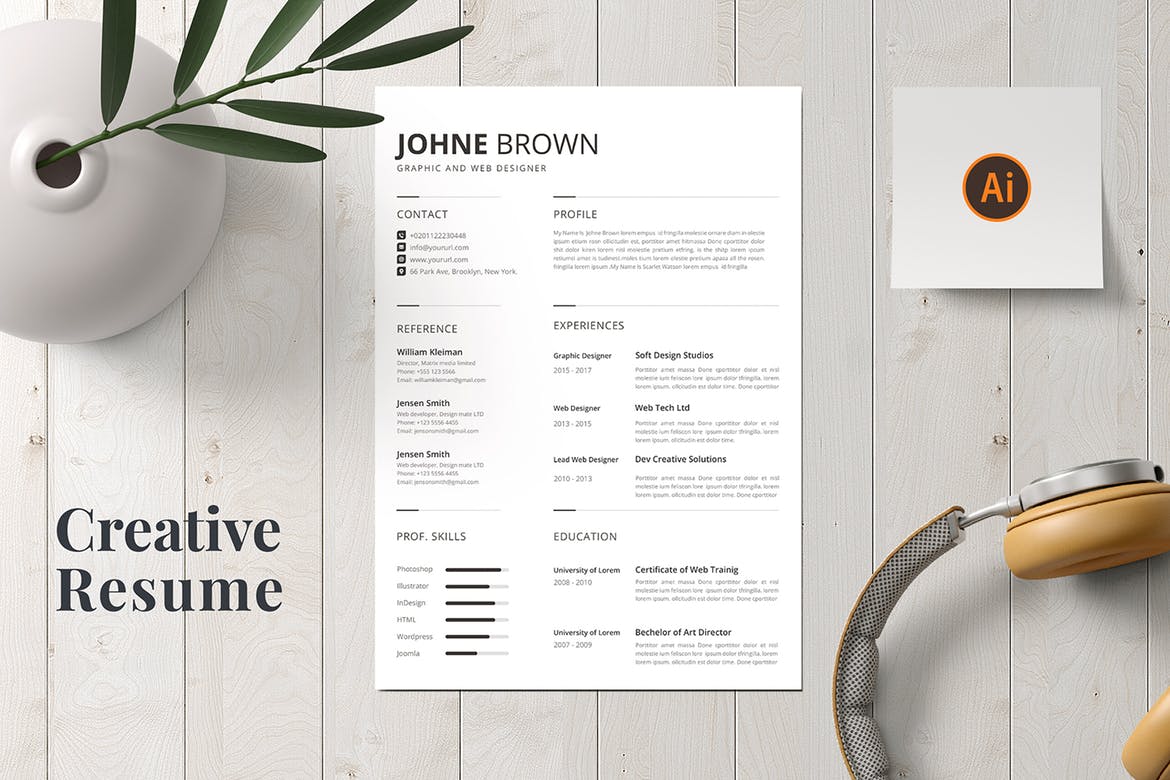 A creative yet minimal design, this template features an attractive, balanced layout, strong typography, and black and white graphic elements for a contemporary spin on a classic resume style. A truly professional-looking option, it can be easily customized to include color or images and features both a CV and cover letter.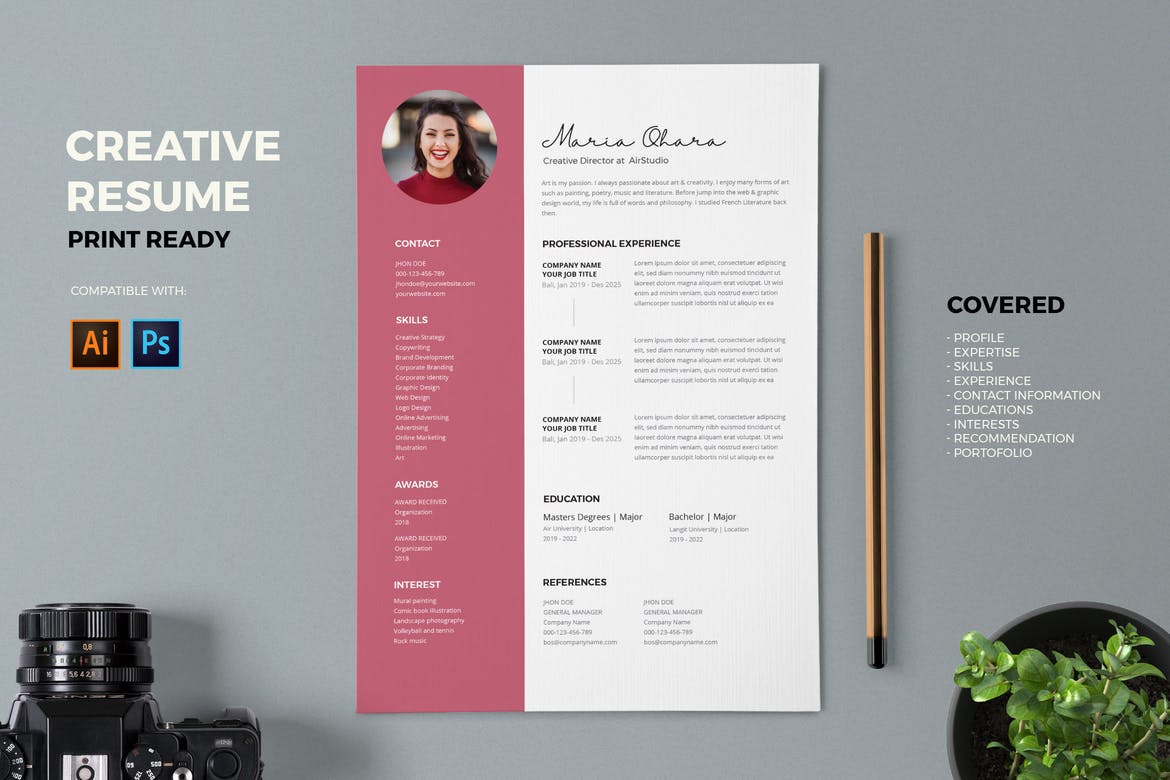 A simple yet stunning option, this highly customizable CMYK 300 DPI template incorporates the use of strong colors with soft, clean fonts, creating a straightforward, professional appearance with just a hint of quirkiness. For a single page, the clever layout allows you to include a lot of vital information without it feeling crowded.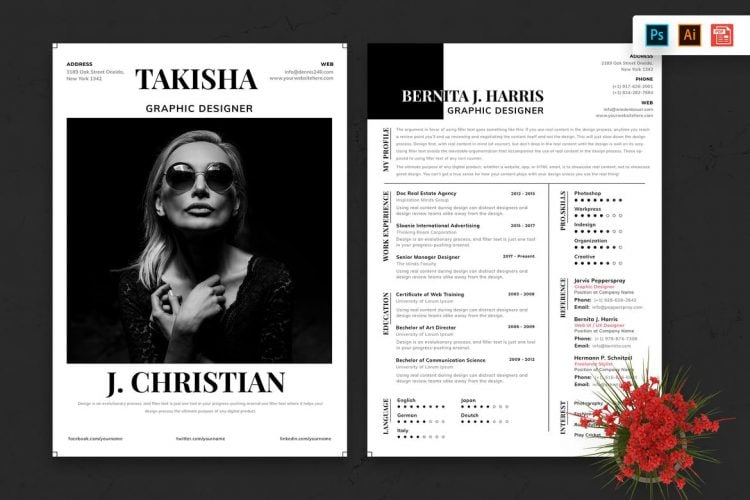 This modern and elegant design is perfect for a driven, career-focused professional. It features a bold cover photo, stark black and white graphics and classic yet contemporary font styles, for a no-nonsense approach that's sure to draw attention to your resume. It features a 300 DPI resolution, organized layers, and fully editable elements.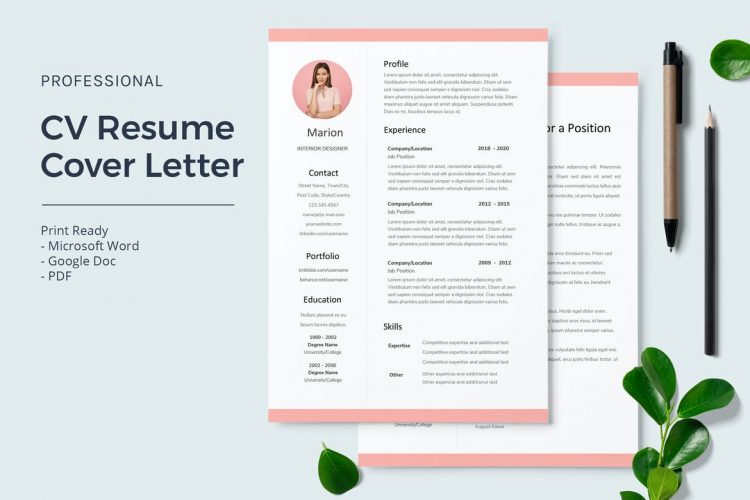 For a softer, more feminine appeal, consider the Marion CV resume template, featuring muted pastel tones, clean sans serif typefaces and a straightforward layout that effortlessly showcases your skills and achievements to your next employer. It's perfect for a creative professional, such as an architect or graphic designer.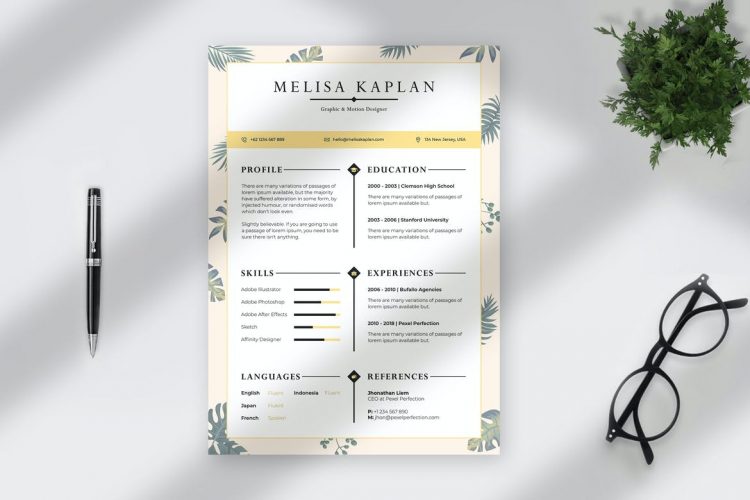 This minimalistic template offers bright, modern graphics, a unique yet cohesive color scheme, and an appealing symmetrical layout for a stunning resume that will be sure to stand out in a pile. Featuring a CMYK colorway, well-organized layers, and smart object image placeholder, it's also easy to edit and produce a high-quality result.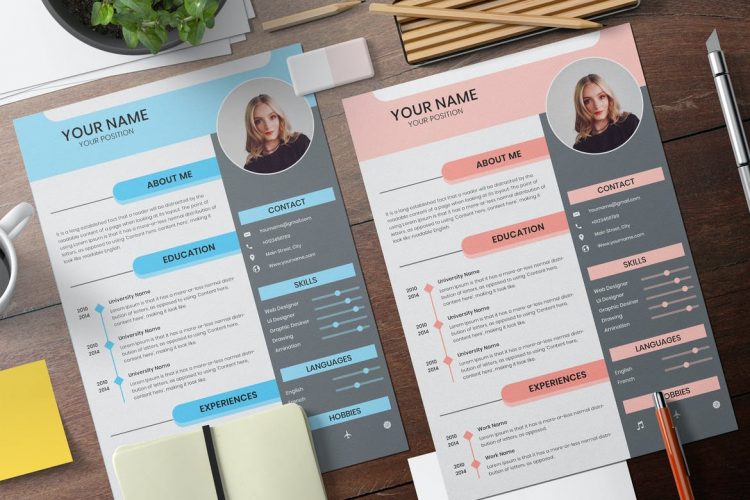 Next in our list of the best CV & resume templates is a clean and modern option that's been professionally designed to appeal to all kinds of employers, and is 100% editable to help you showcase your individual talents. The same sans serif font is used throughout, giving it a polished and uniform look.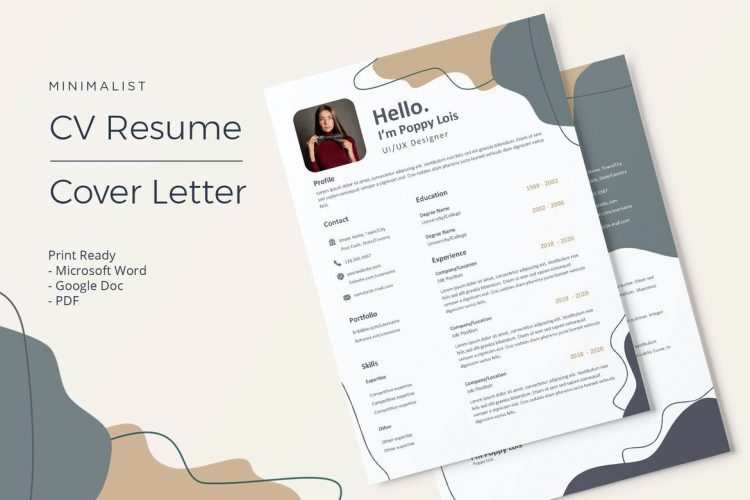 Poppy is a stunningly elegant resume template that features unique, eye-catching graphics and an earthy pastel color theme that recruiters won't be able to help noticing. The layout is clean and minimal, and the organized layers, 300 DPI resolution, and print-ready CMYK color scope give it a professional, high-quality finish.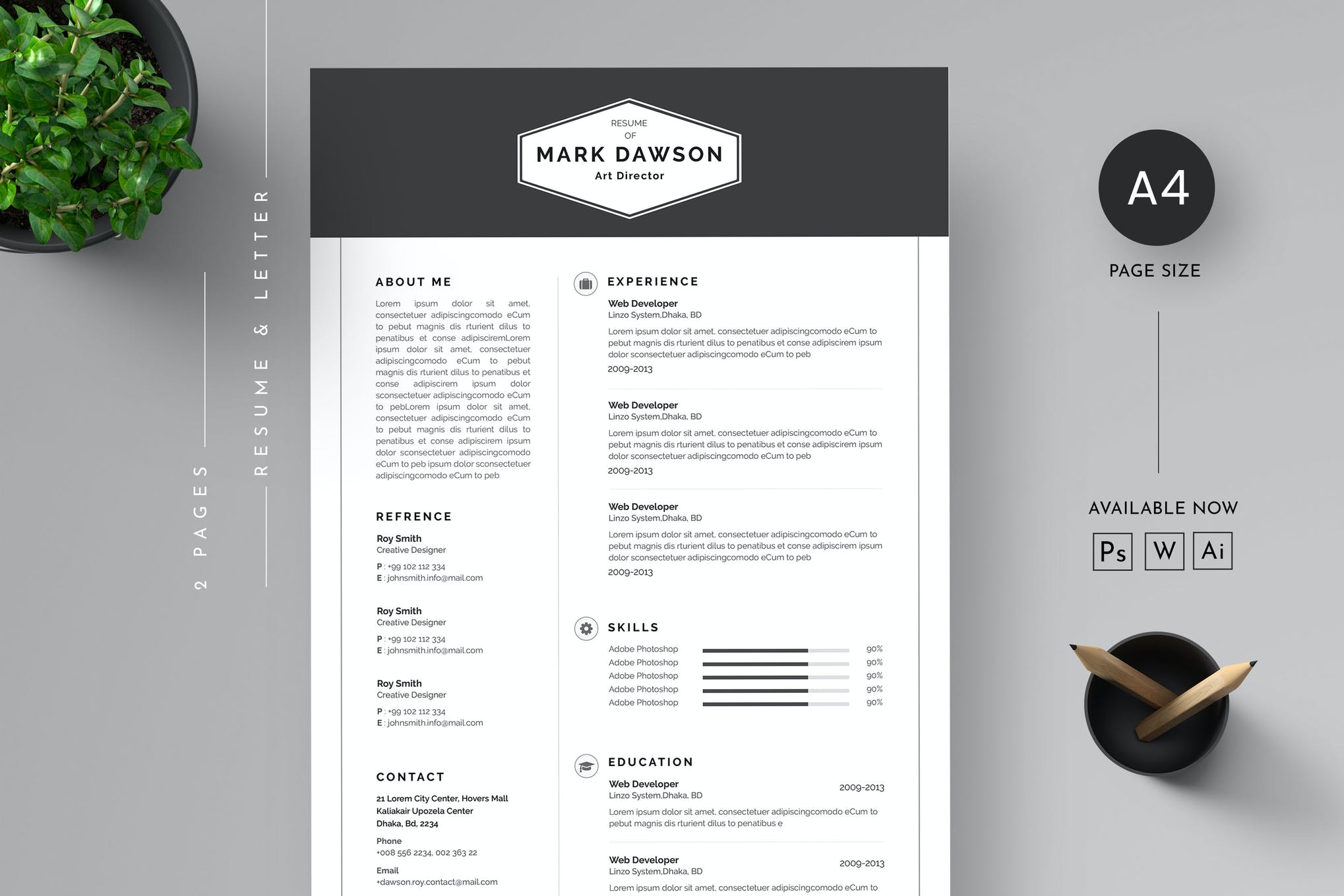 Need your resume to have a truly strict professional feel? Then you need this simple yet attention-grabbing template. Designed to stand out, whilst still keeping a modern professional aesthetic, this resume template has everything you need to make the right impression.
Best Free Resume Templates
If you're low on budget, try some of these free templates to make a simple resume.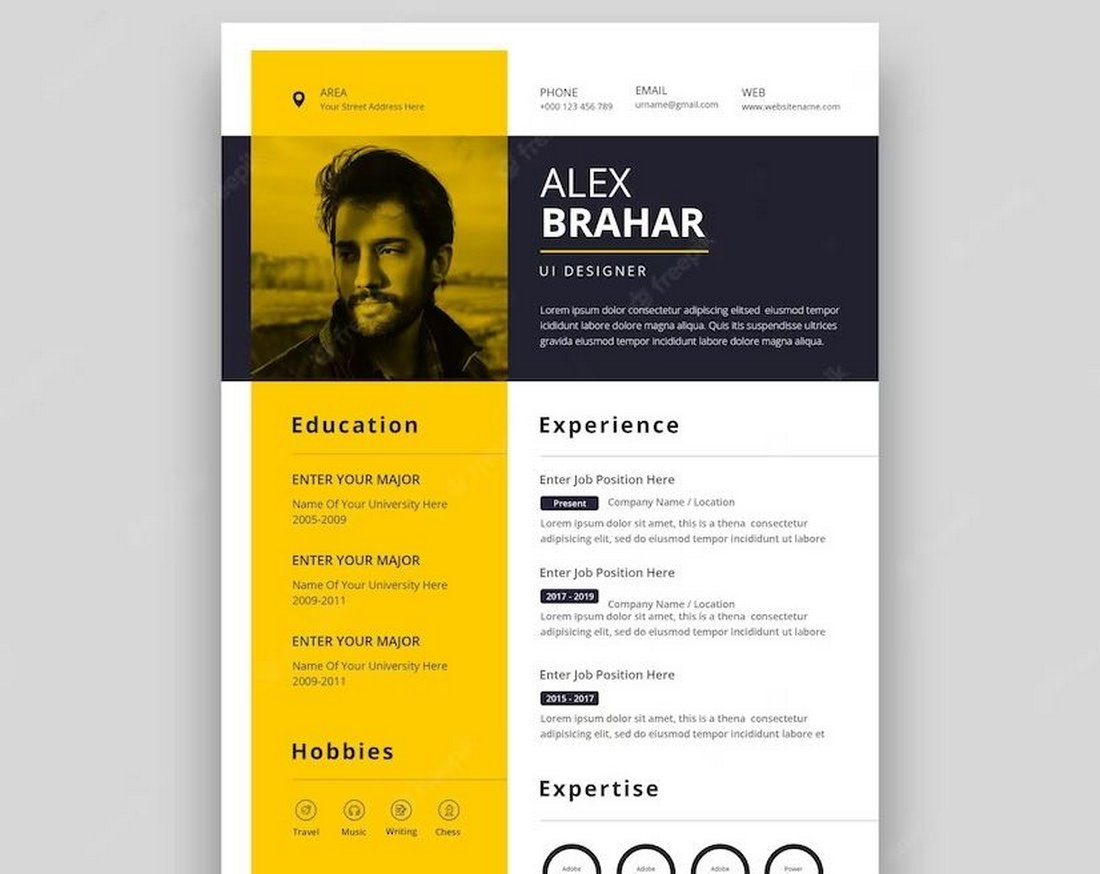 If you want your resume to look cool and stylish, this free template is perfect for you. It features a very visual design that's most suitable for designers. The template is available in PSD format with organized layers.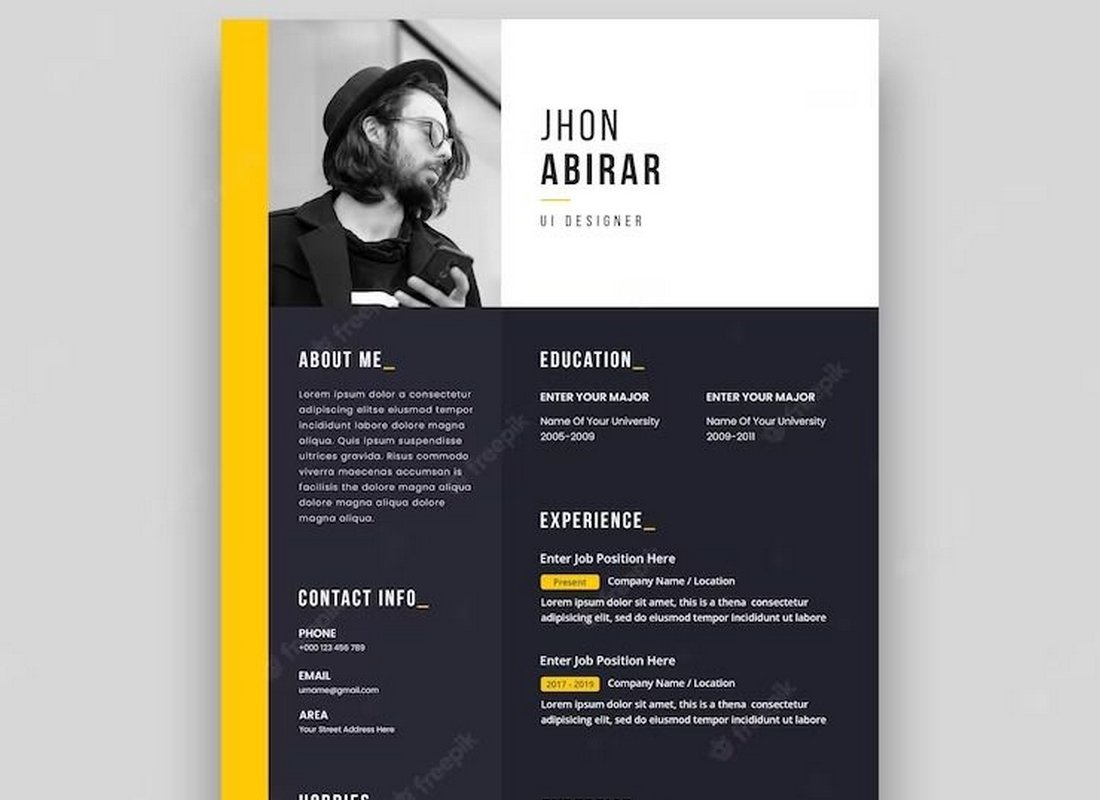 This free resume template also comes in PSD format. You can use it to craft a modern CV or resume with a dark color theme. The fonts, colors, and shapes are easily customizable as well.
With this free resume template, you can design a professional CV or resume for many different types of professionals. It's especially suitable for applying for corporate and agency jobs. It's available in PSD format.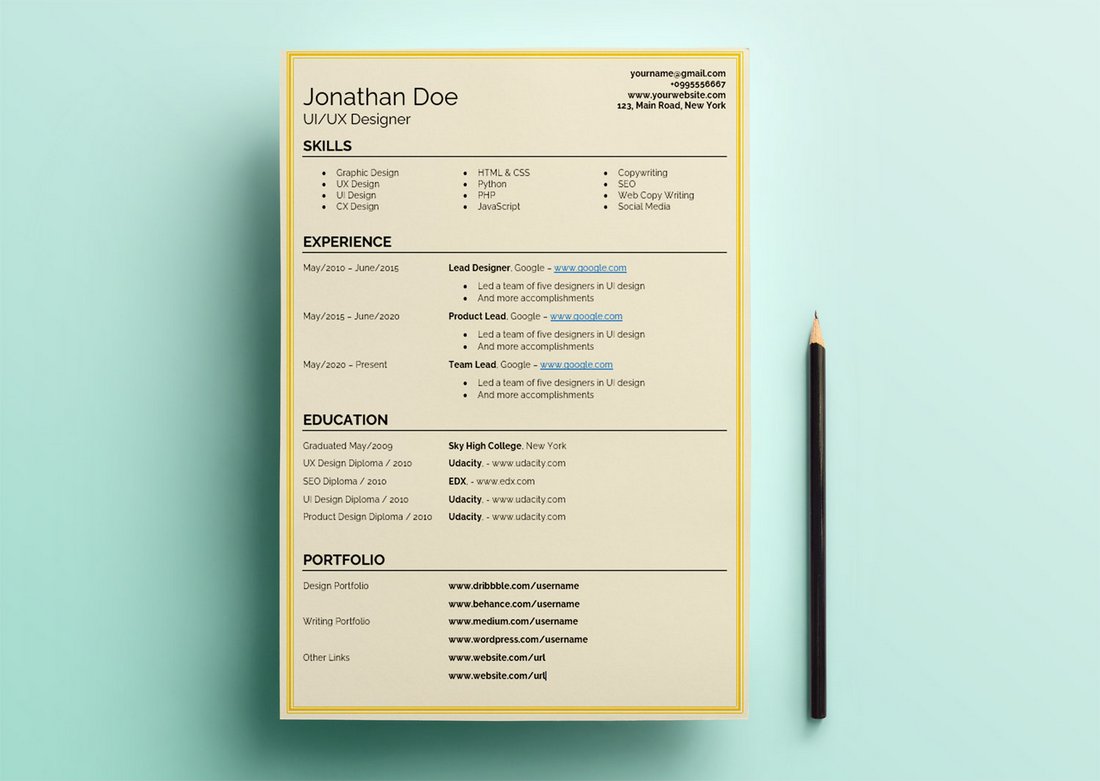 This is a Microsoft Word resume template with a simple and minimalist design. It's specially made for freelancers. You can also customize it to change the fonts, colors, and layout.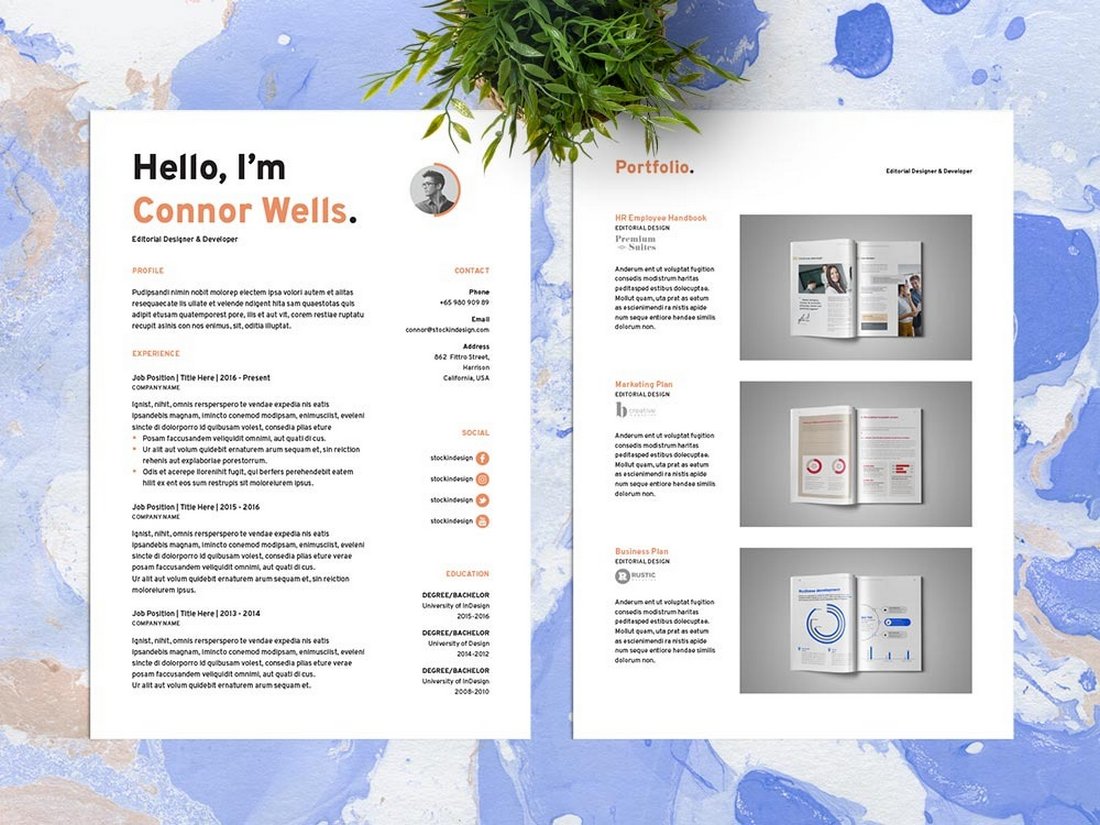 This free resume template has a clean design with lots of empty white space. It's perfect for creative professionals and designers as it includes a layout for showcasing your portfolio.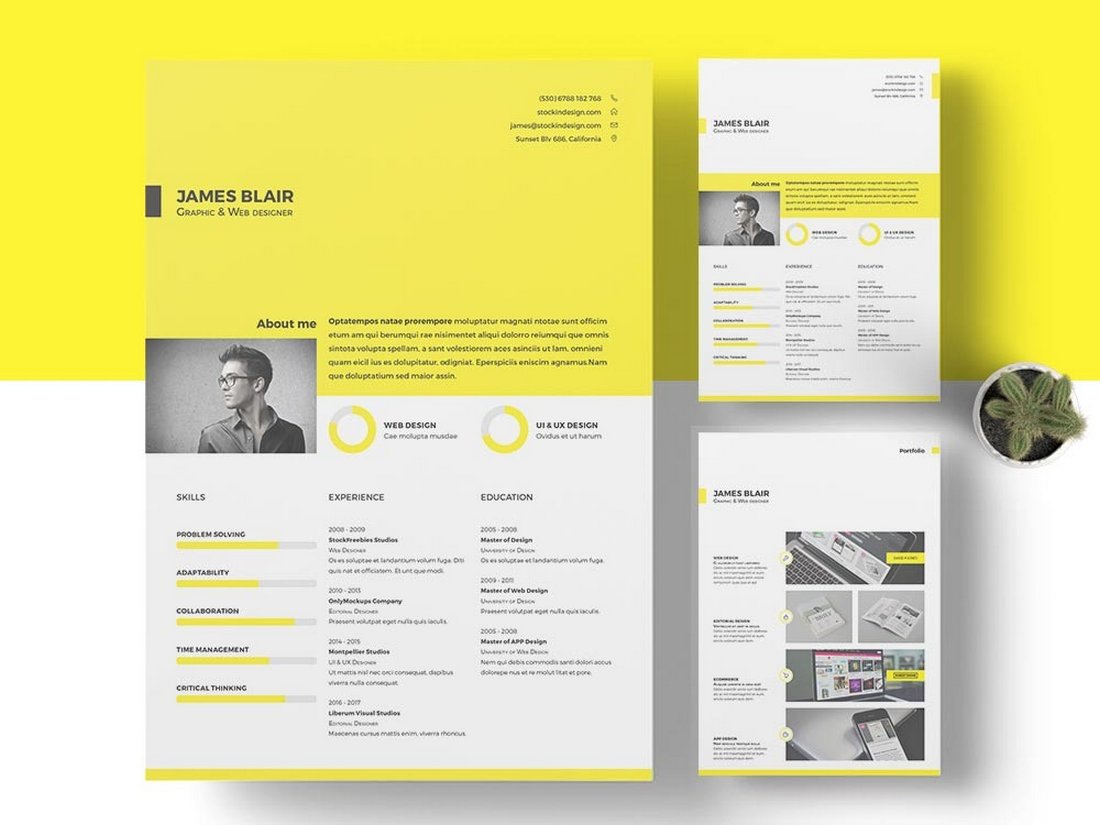 Another free CV template with a unique design. This template uses a different style of design with modern colors and accents. It's ideal for marketers and freelancers for making a resume that stands out from the crowd.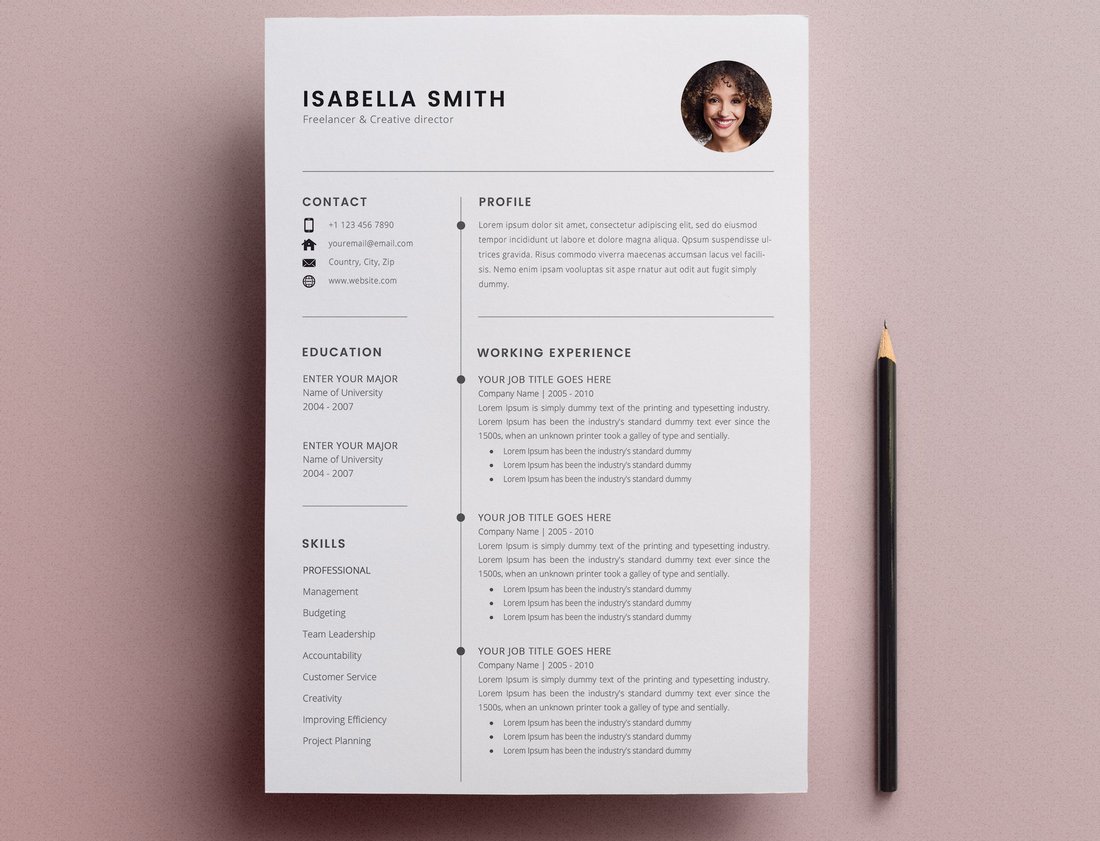 This resume is also free to download. It comes with 3-page layouts, including two pages for the resume and another for the cover letter. All pages have very clean and minimal designs. And it's avaialble in PSD format.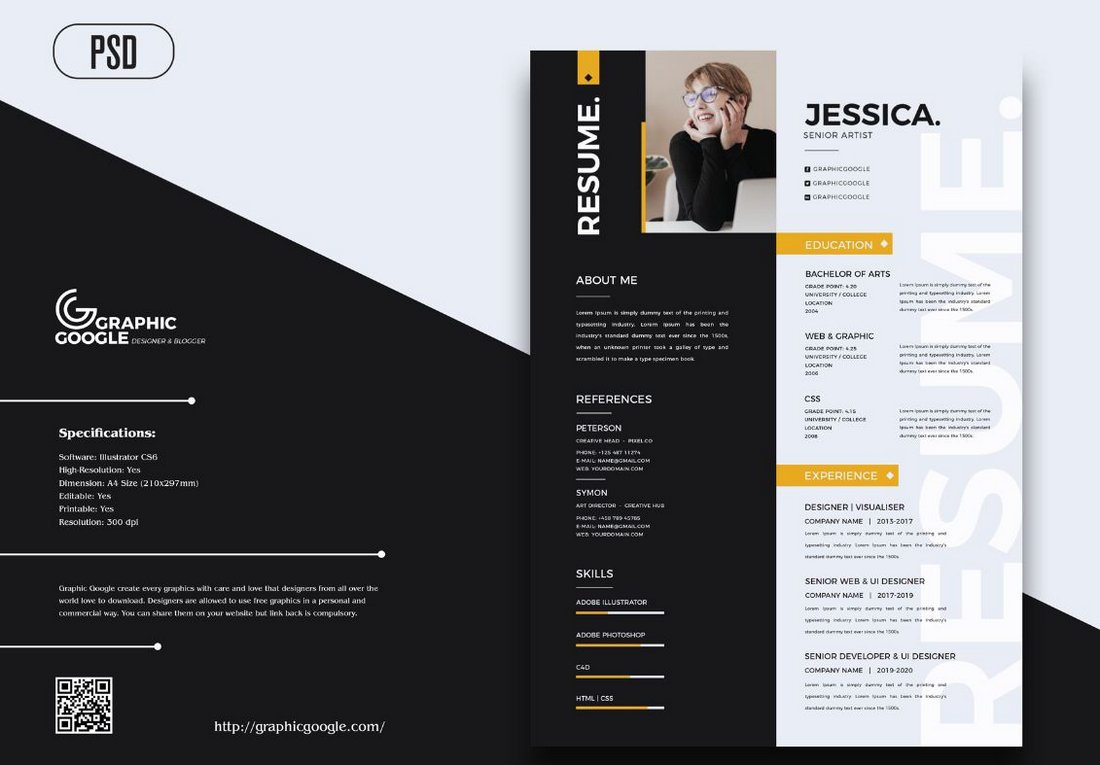 Grab this template for free to make a stylish resume for a graphic designer or web designer. It features a two-column layout with space to clearly showcase your experience and talents. The template can be customized with Photoshop.
So, there you have it- the best CV & Resume Templates. These beautifully designed CV and Resume templates will help you show off your proficiency and expertise, create a lasting impression, and probably land the job of your dreams.