35+ Best Photoshop Resume Templates (PSD) With Modern Designs
On the hunt for a new job, or starting to think about taking the next step in your career? The first thing you'll need is a fabulous new CV that showcases all of your skills, talents, and achievements in a professional and modern manner. How much your resume stands out in a pile of applicants can often determine whether you get selected for an interview, but of course, you don't want to go overboard – so we've put together a collection of the best Photoshop resume templates with modern designs, for you to download and customize!
It gets even better – we've included both premium and free resume templates, so regardless of whether you want to splurge on a top-notch design or save your pennies, there's bound to be a perfect match for you.
Let's take a look at our list of the best Photoshop resumes from Envato Elements and other free online sources.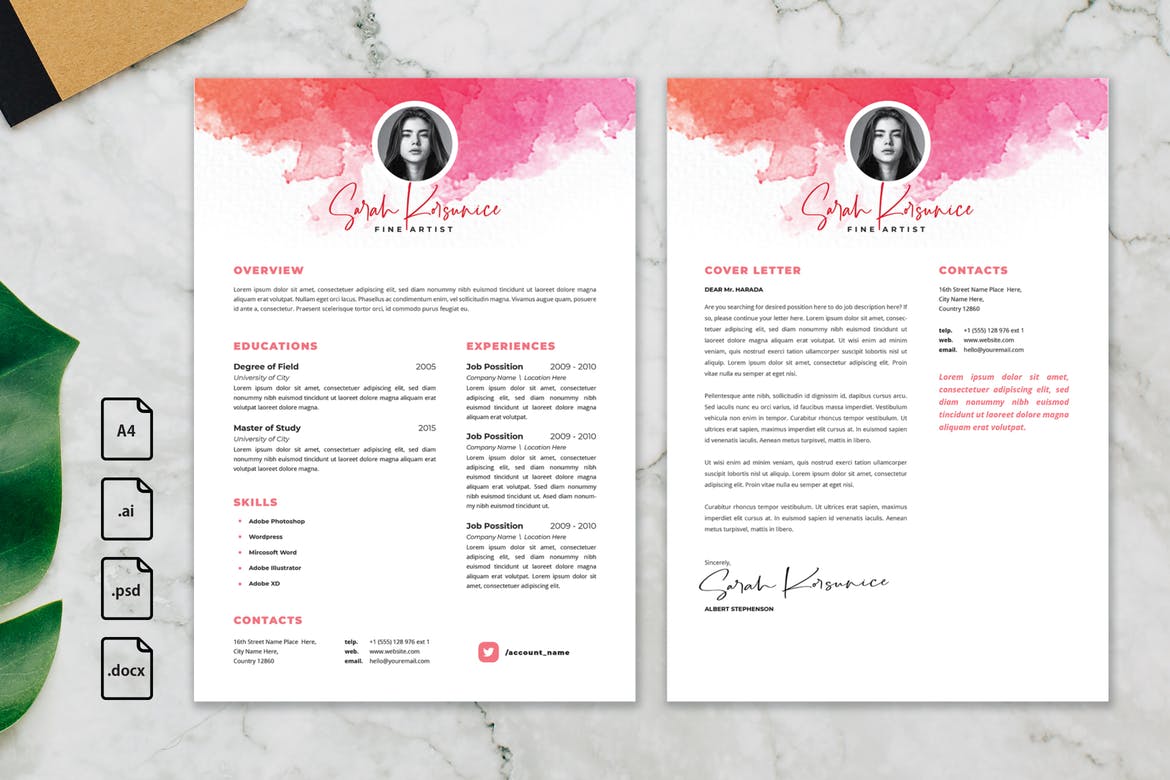 The first of our Photoshop resumes to be featured is a stunning premium template from Envato Elements that offers elegant watercolor-inspired design elements and a beautifully cohesive color scheme. It includes a matching cover letter template and a range of pixel-perfect vector shapes to help you customize.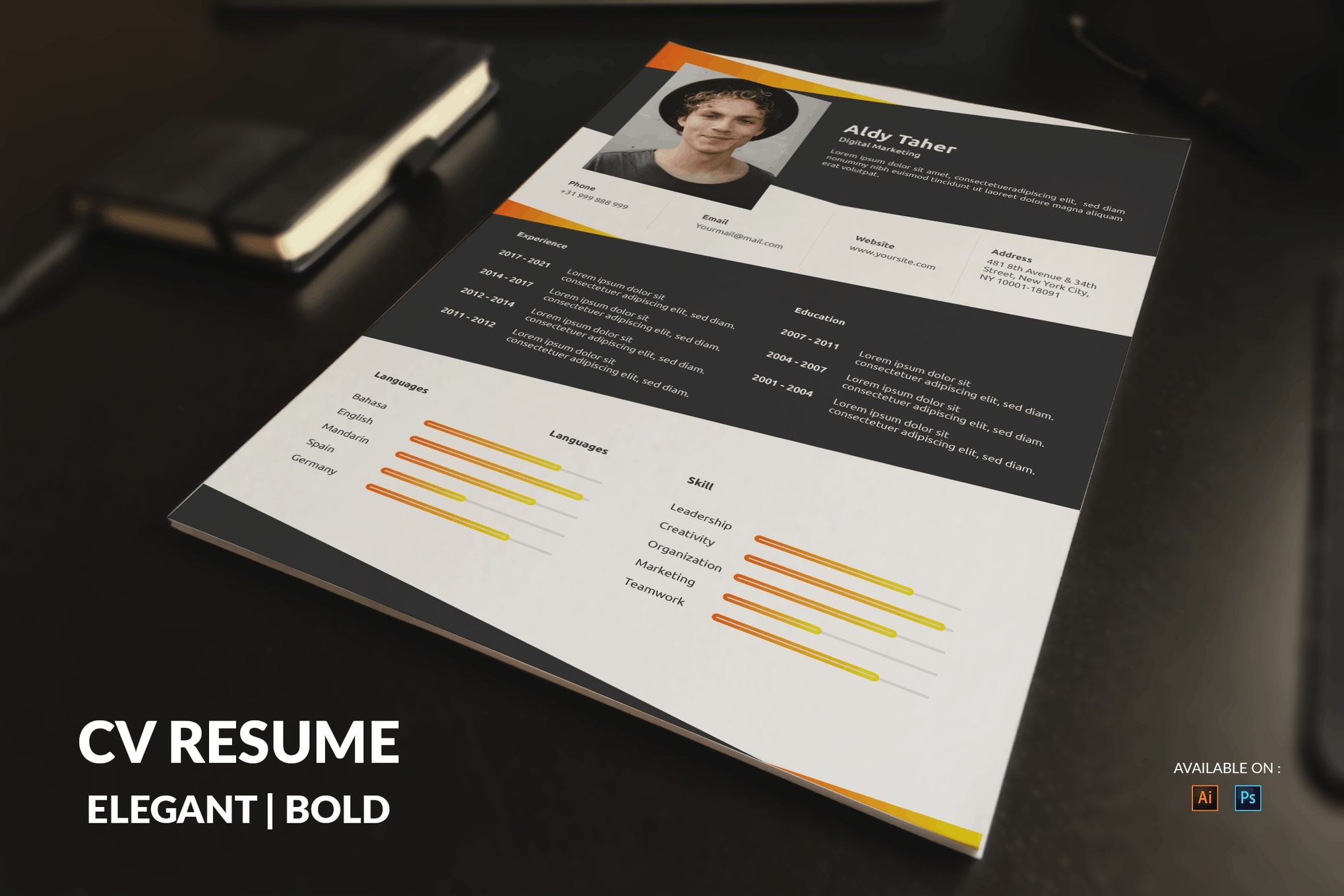 Check out this simple yet elegant PSD resume template that will instantly draw your employer's attention, and get him curious to read more. It features a colorful design that is very easy to customize according to your liking.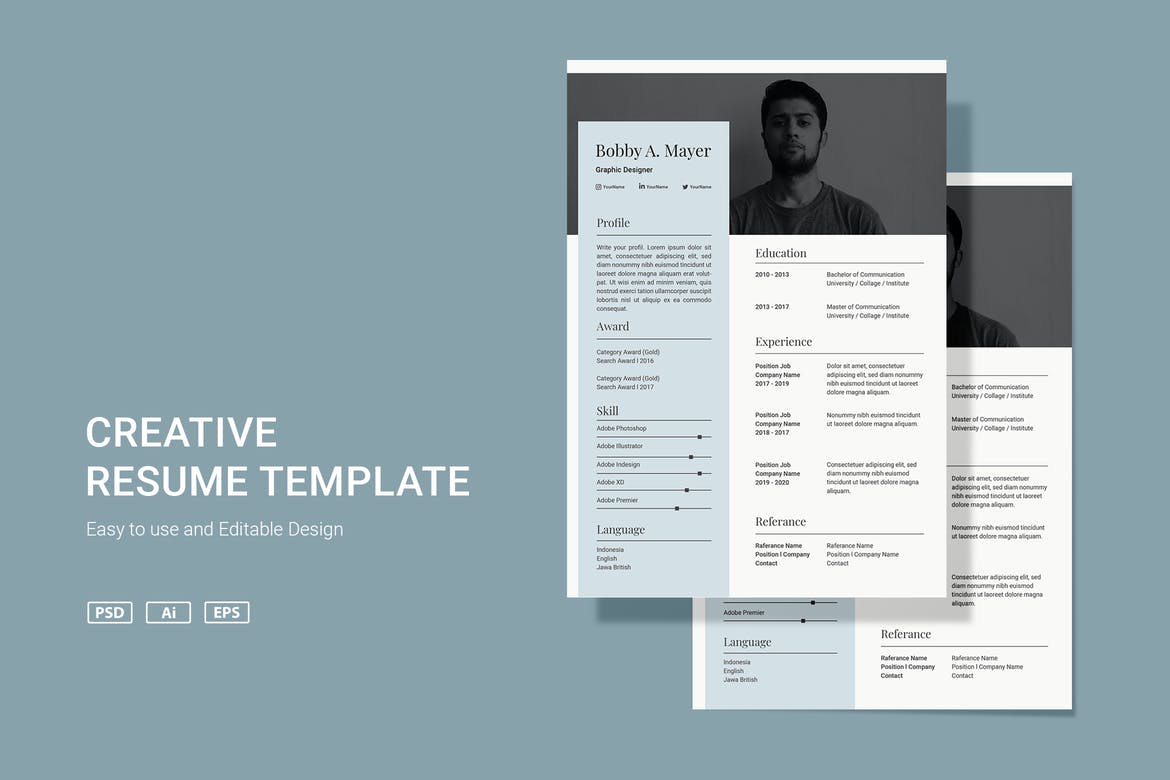 This creative resume template for Photoshop features a well-organized and fully layered file with high-quality vector graphic elements and a 300 DPI resolution for a professional-looking finish. It's super easy to customize using Photoshop or Illustrator.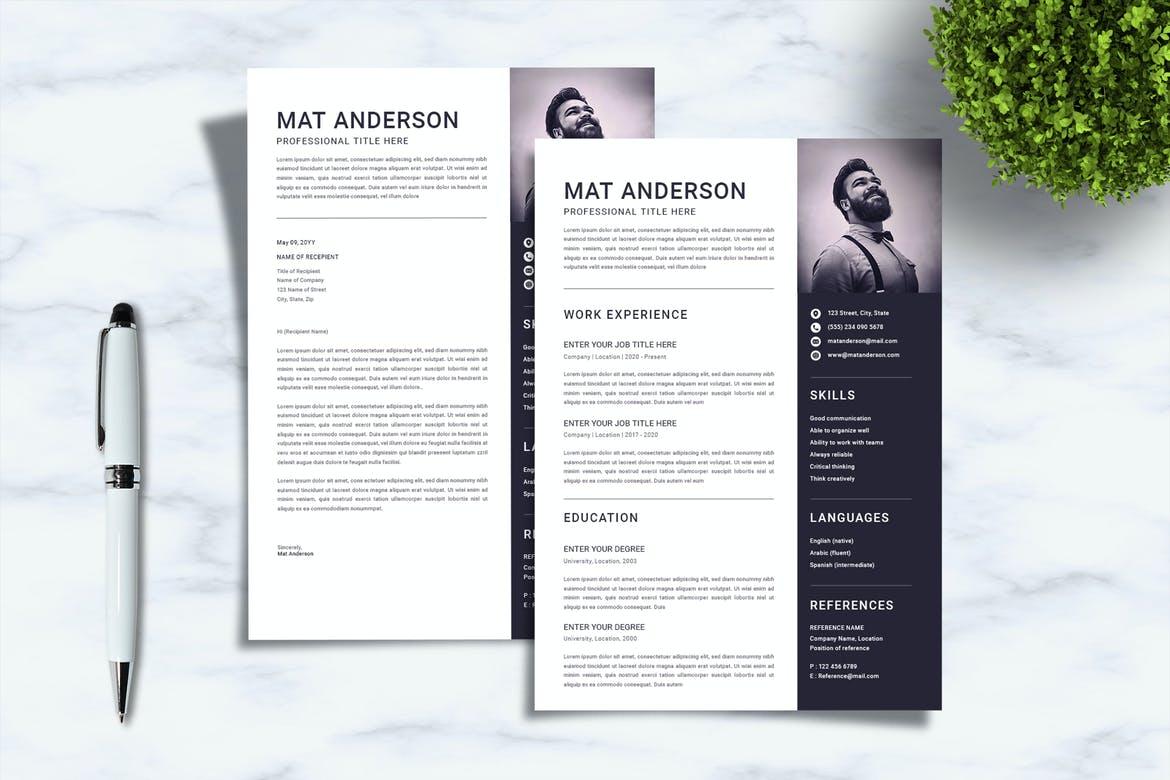 The best resumes should speak for themselves, and this stunning minimal template will help your CV stand out without distracting from your impressive experience and qualifications – it features smart objects and vector graphics plus free fonts and a versatile two-page design.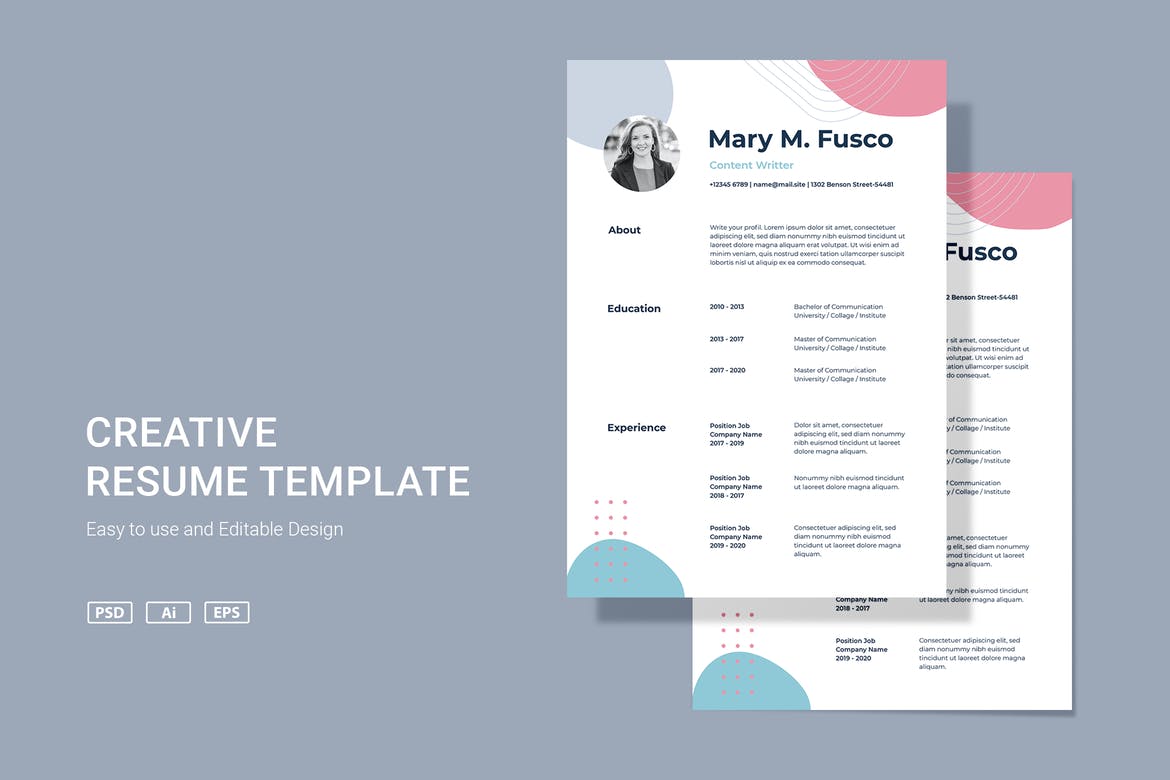 Featuring a colorful abstract design that's sure to help your CV attract the attention of your next employer, this awesome resume template for Photoshop features a range of fully customizable vector graphics and an easy to edit layout, plus a link to download the relevant fonts.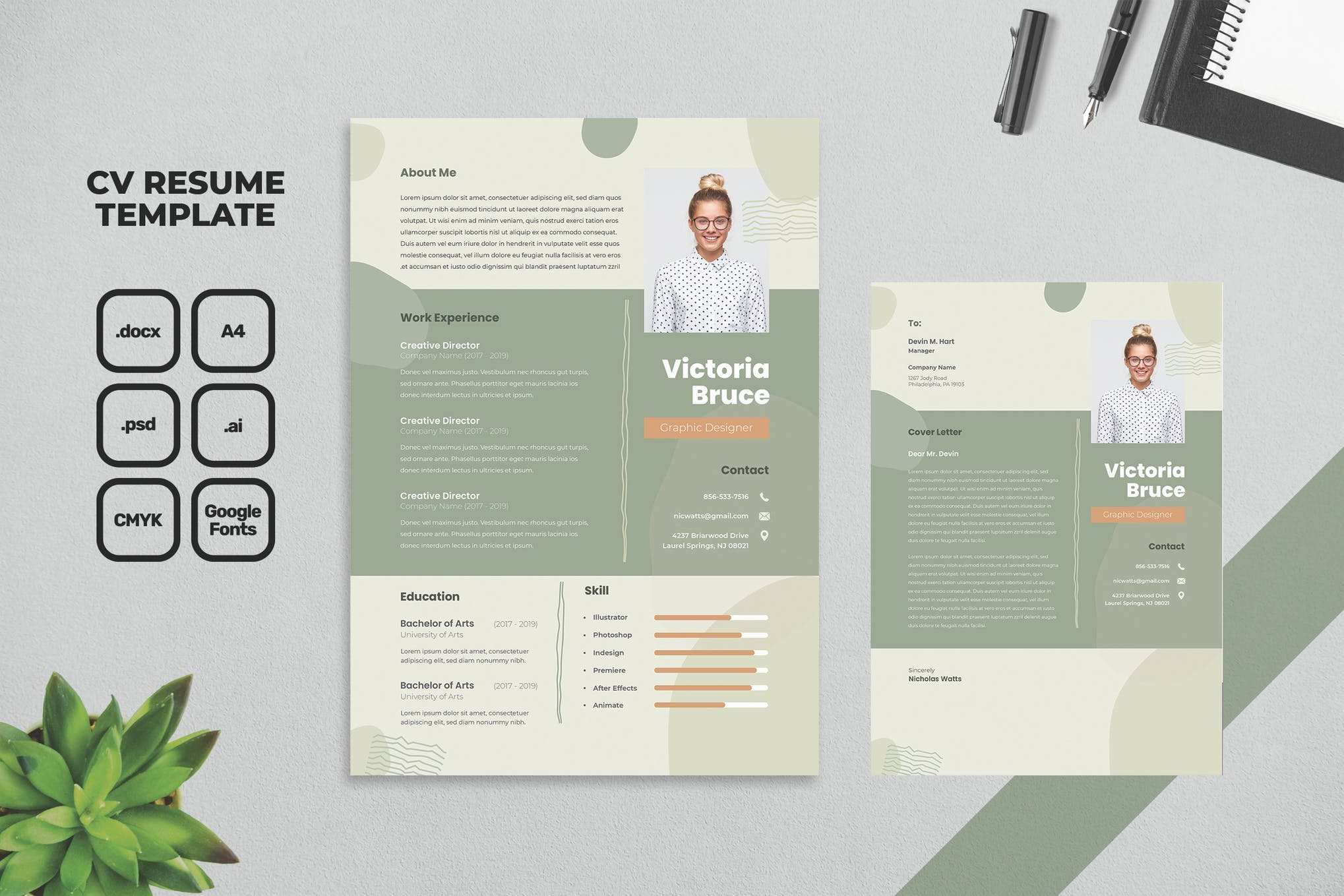 If you are looking for a resume that gives you a leg up at your next interview, consider this beautifully designed template that comes packed with a resume, cover letter, and portfolio page. It can be customized using Photoshop, Microsoft Word, and Illustrator.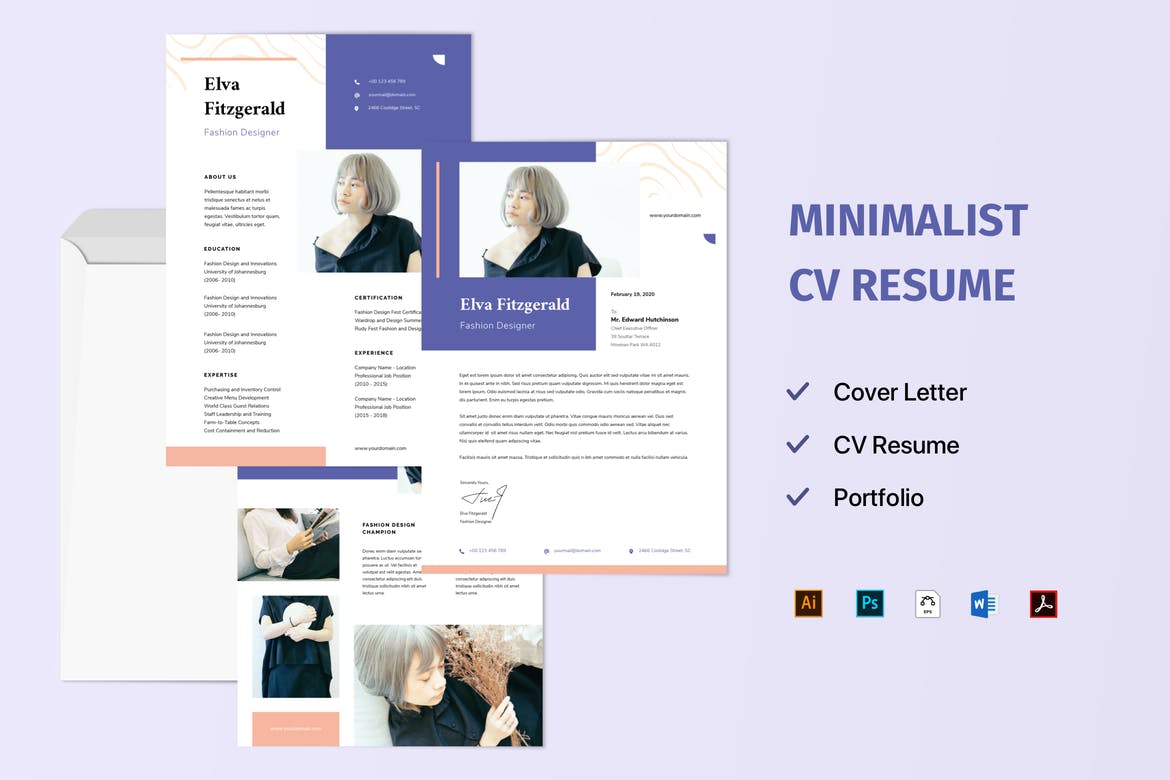 The next of our premium Photoshop resumes from Envato Elements is this lovely minimalist layout that includes a cover letter, CV, and portfolio, making it super versatile. It's fully editable and includes all necessary files for quick and easy customization, as well as free fonts and two-size formats.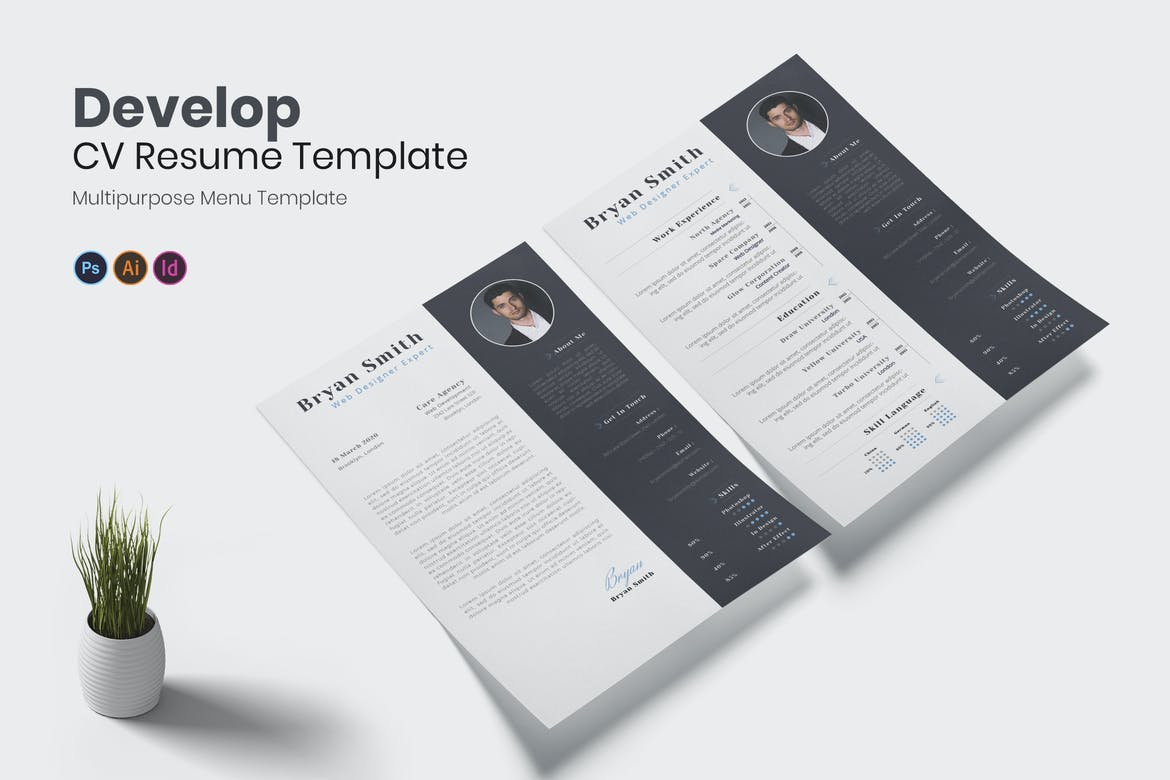 Our next resume template PSD to be featured is the Develop template, a modern and eye-catching design that's suitable for professionals of all kinds. The fully layered file comes with paragraph styles, modern graphic elements, and a high definition 300 DPI resolution.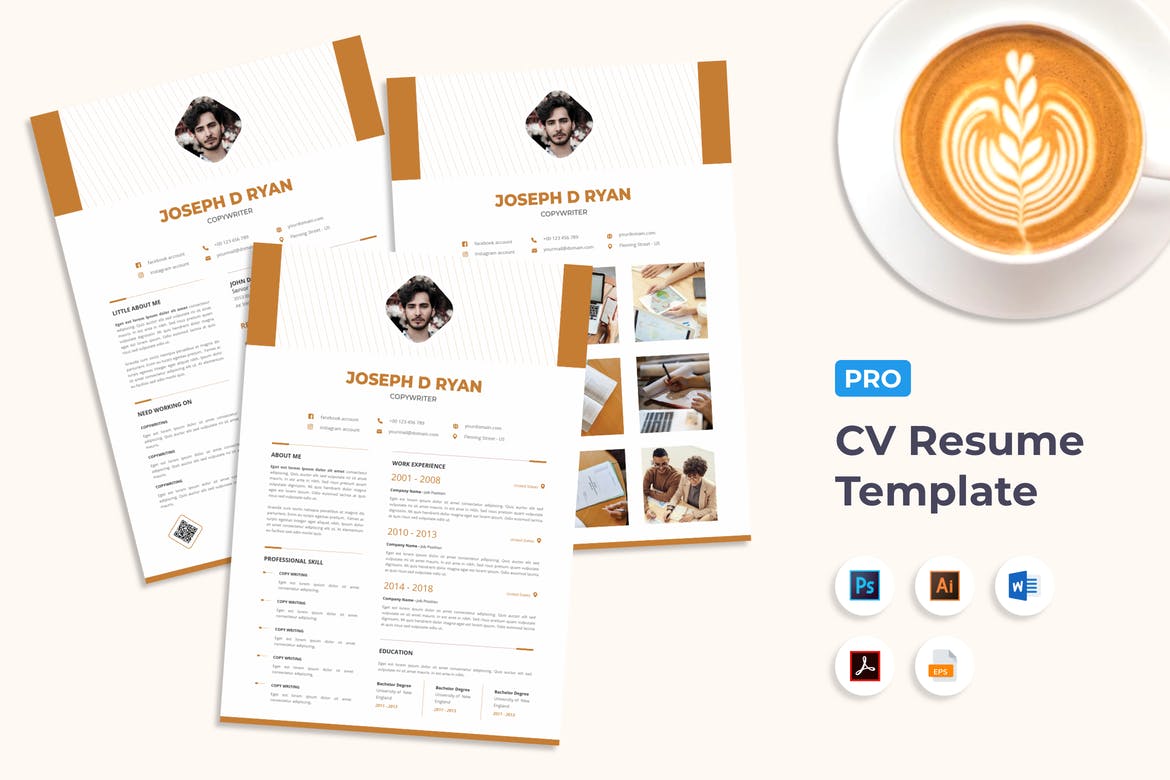 Next up, we have this coffee-colored CV template PSD file that features well-organized layers, a print-ready CMYK color space, 300 DPI resolution, and free fonts. It also comes with a matching cover letter and portfolio template and high-quality vector graphics that can be easily customized.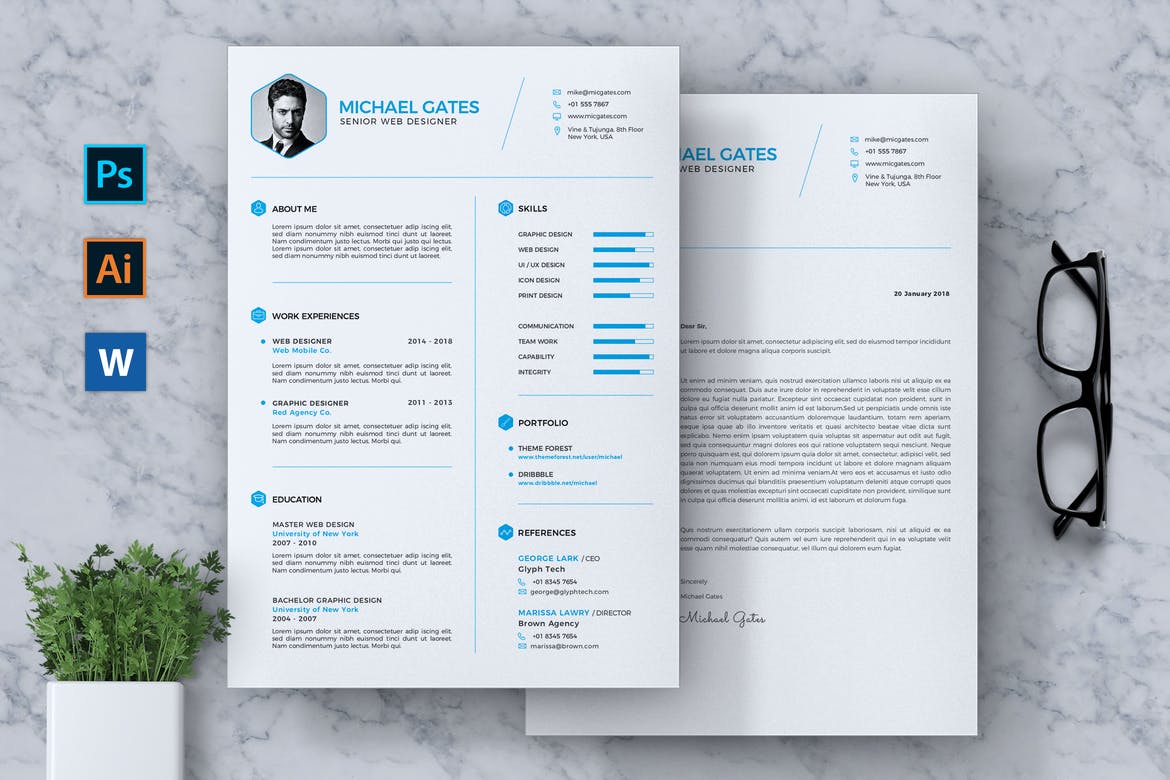 Our next Photoshop resume template is super easy to edit, thanks to a PDF help file that's included with your download. It's also one of the most versatile Photoshop resumes that we've found, and can be used for any job description within any industry.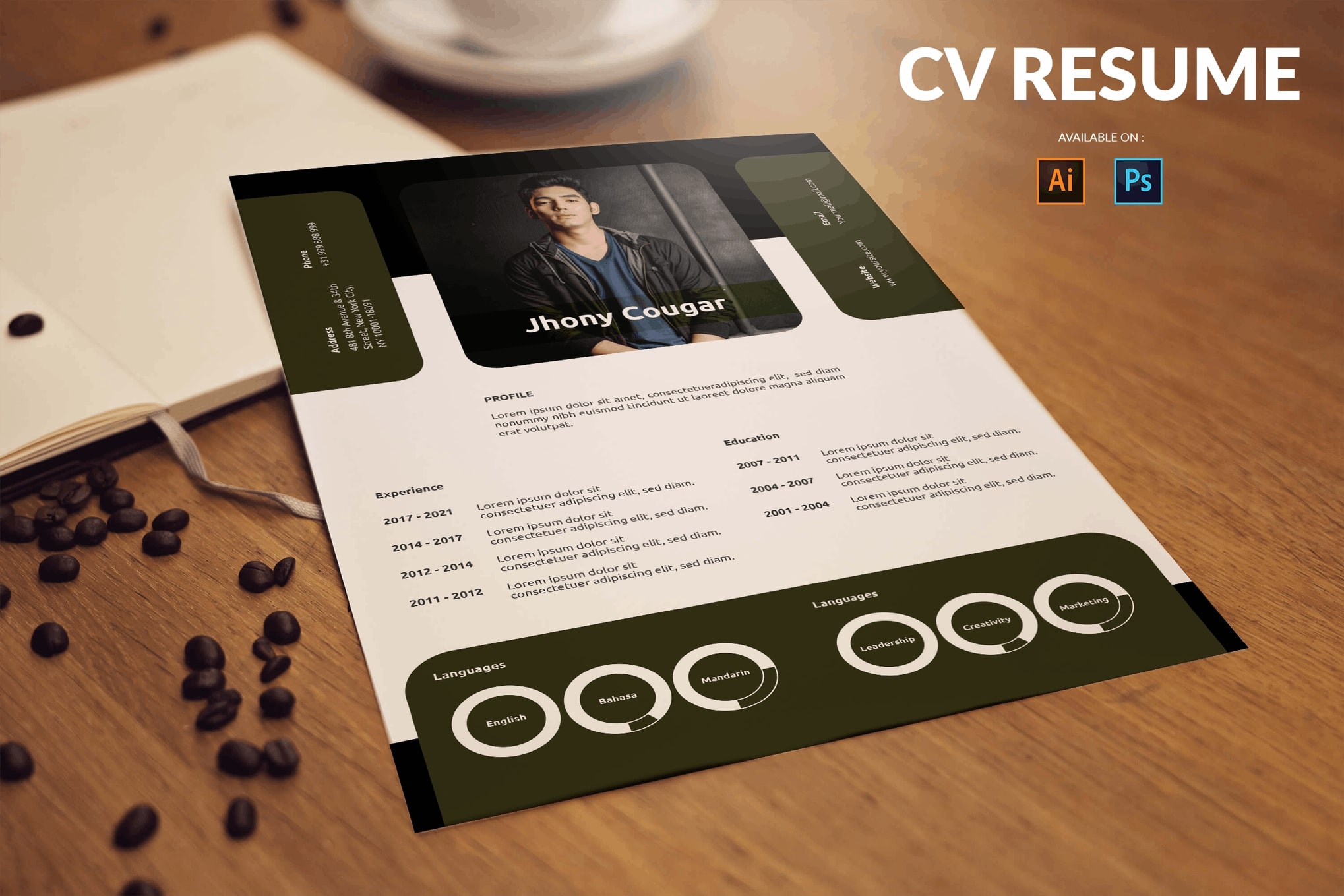 Wanting to create a resume in PSD format that no recruiter can say no to? Take a leap of faith in this gorgeous Photoshop template providing everything you need to create an impressive resume, better than the other candidates.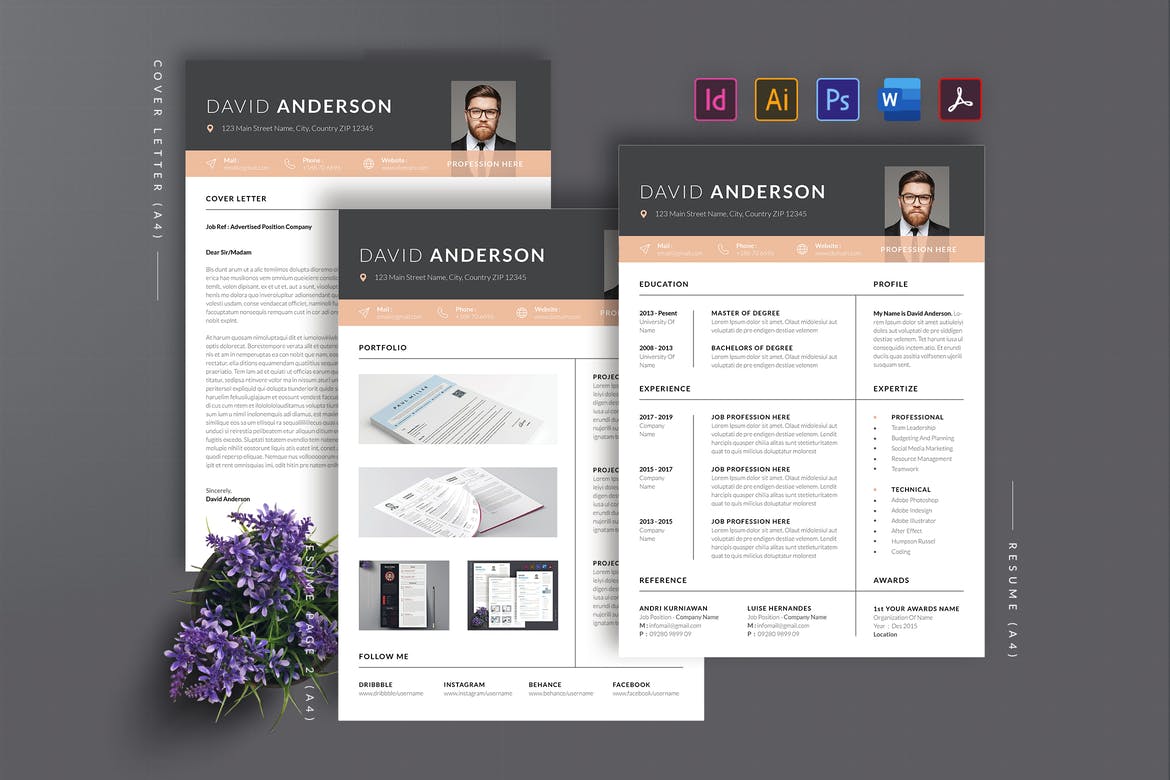 Here we have an elegant minimalist Photoshop resume template that features a fully layered design, smart object images, vector graphics, and a range of free fonts. With a neutral color scheme and strong typography, it's the perfect choice for a corporate professional in the banking, finance, or insurance industries.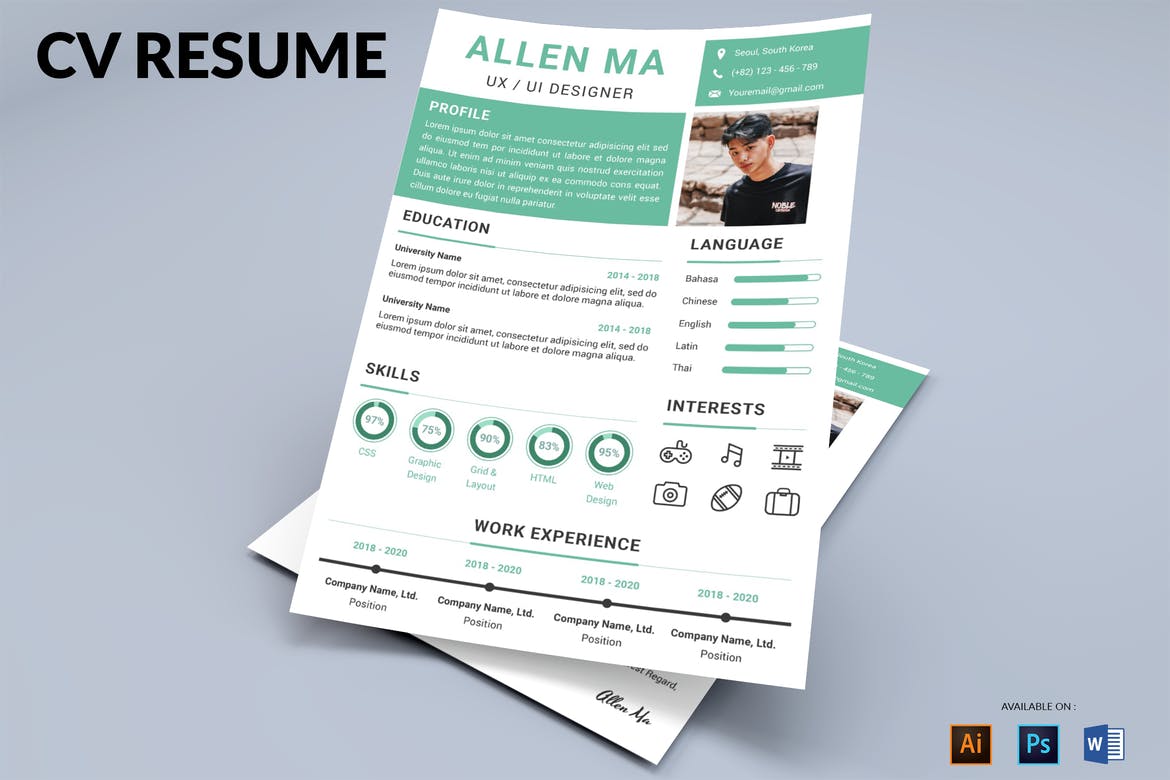 The next resume PSD in our list is this super professional and easy to edit template featuring well-organized layers, vector graphics, a range of customization options, and a print-ready CMYK color space with 300 DPI resolution for a high-quality finish, perfect for securing that interview!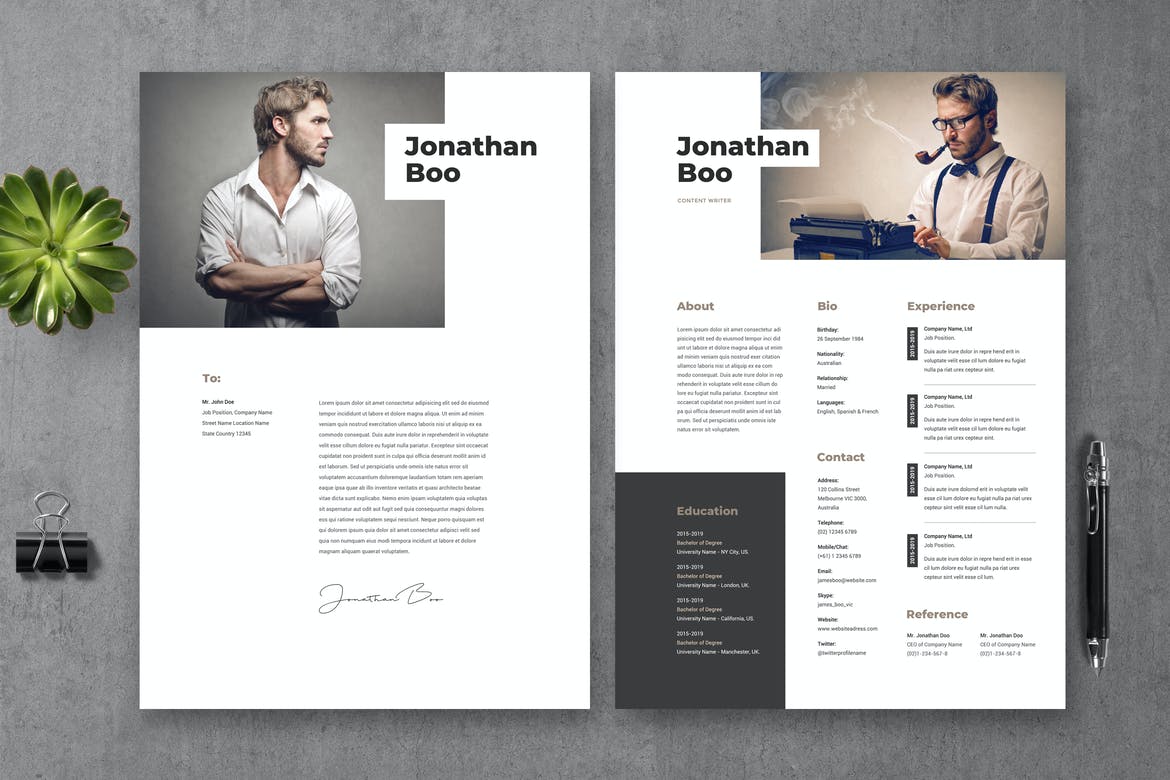 Looking for a classic, minimalist resume layout with professional and modern design elements? This fully customizable template is perfect – it offers fully organized layers, a simple design, and strong, modern typography, and is compatible with Adobe Photoshop versions CS4 and later. It also features prominent use of images, ideal if you want to include a photo.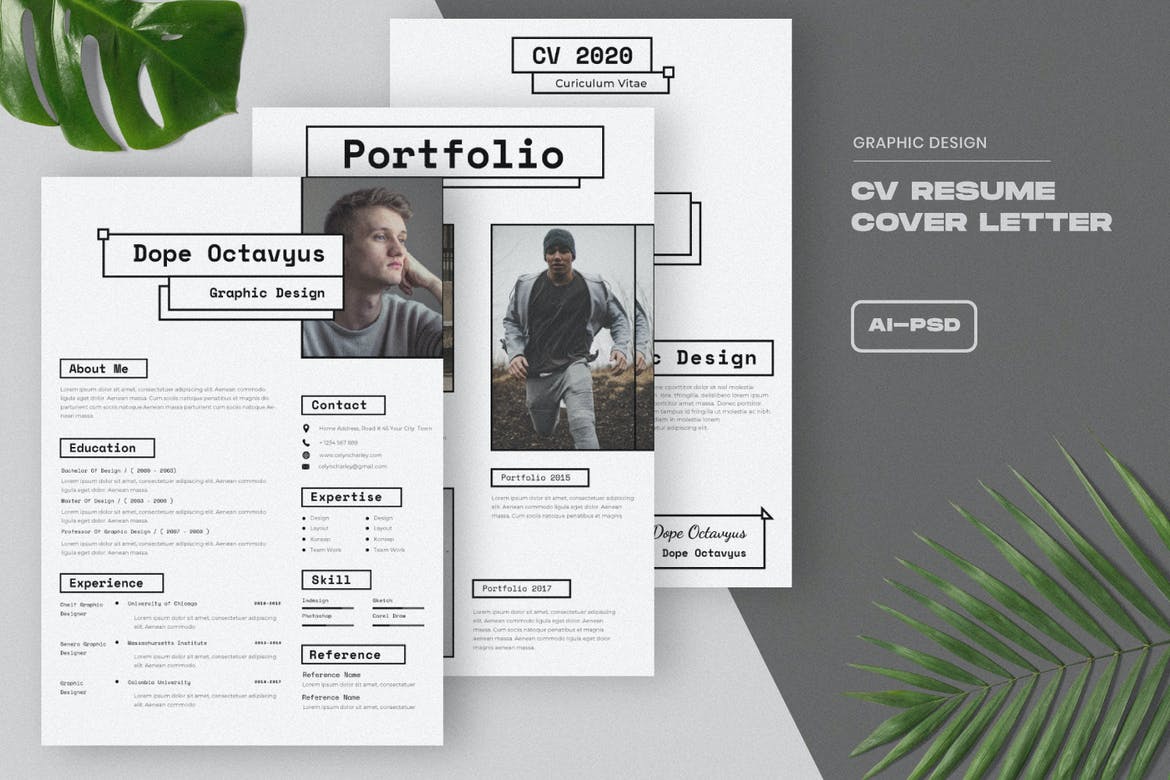 Ideal for a graphic designer or IT professional, this stunning CV template PSD file features futuristic graphic elements and an eye-catching layout inspired by geometrical concepts, plus space for a photo or image that contrasts perfectly with the black and white color scheme.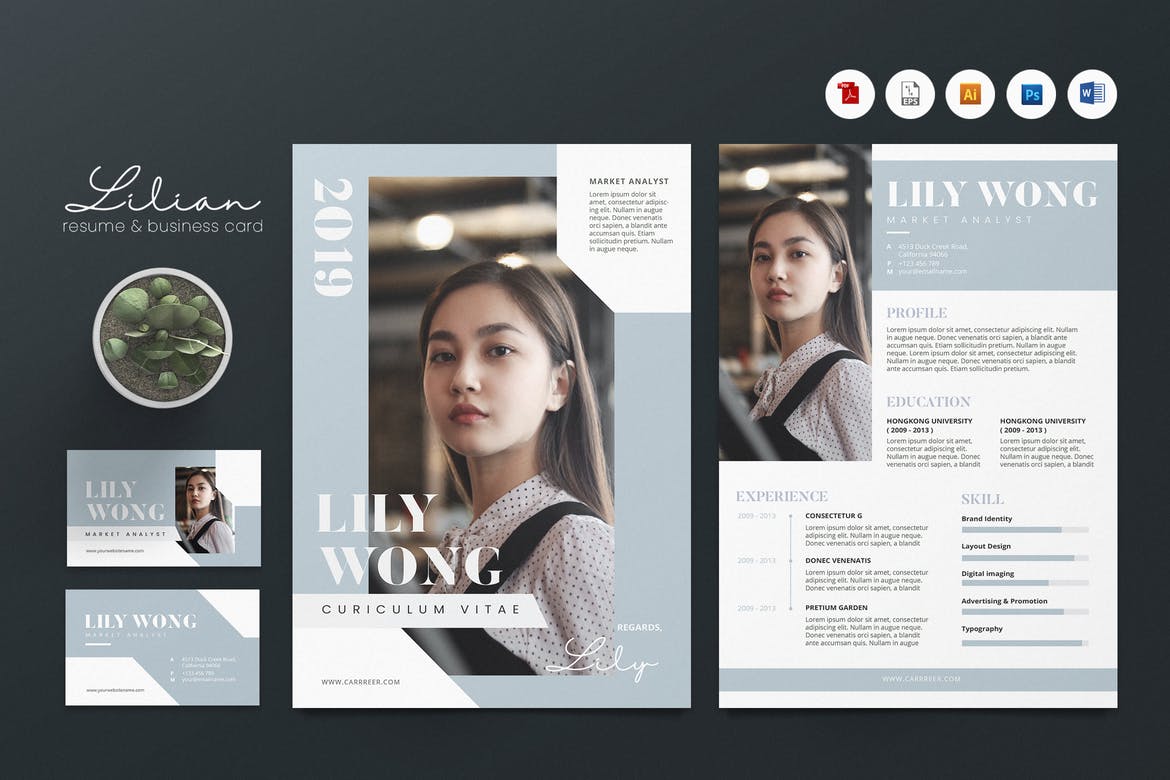 If you're after a beautifully designed resume or CV template with a matching business card to help you make connections and generate job leads, look no further! This elegant and ultra-modern design can be adapted to fit any industry and features a visually appealing structure, perfectly combined graphic elements, and full layering for simple customization.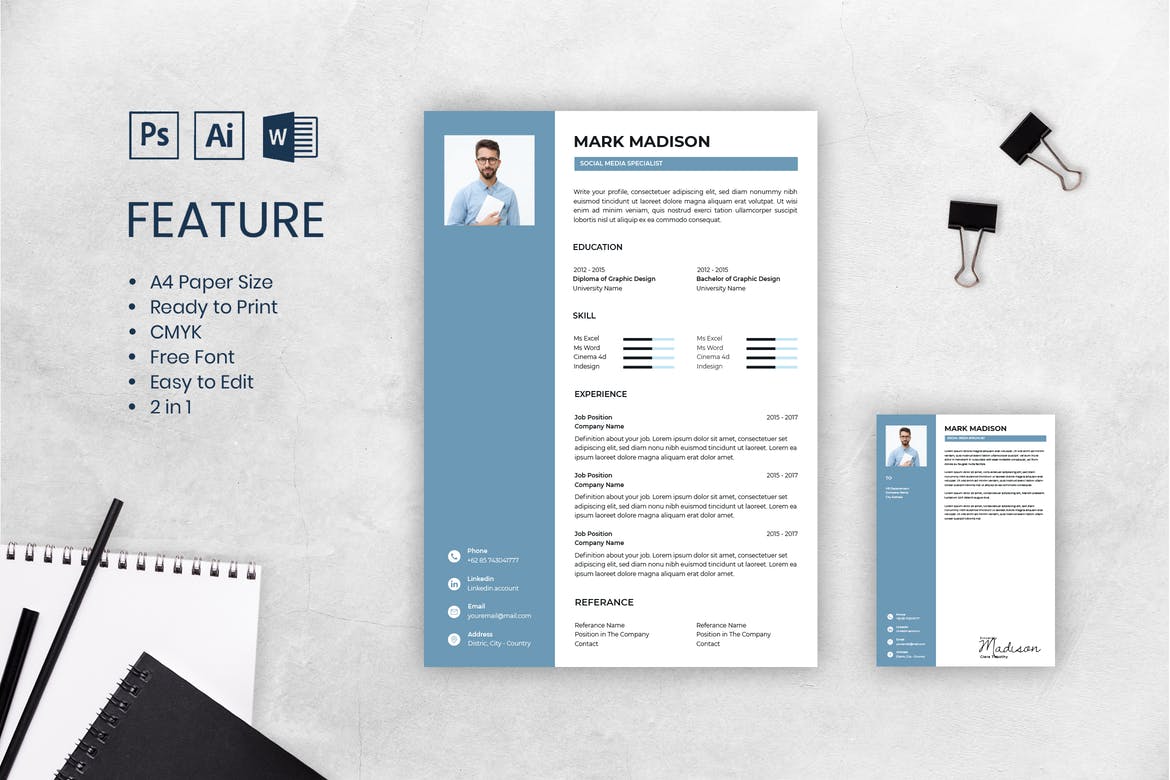 Next up, we have a versatile and intuitively designed resume and cover letter duo that's sure to impress even the most prestigious companies. It offers a customizable layout featuring a professional use of monochromatic graphic elements, and also includes space for a portfolio to showcase your work.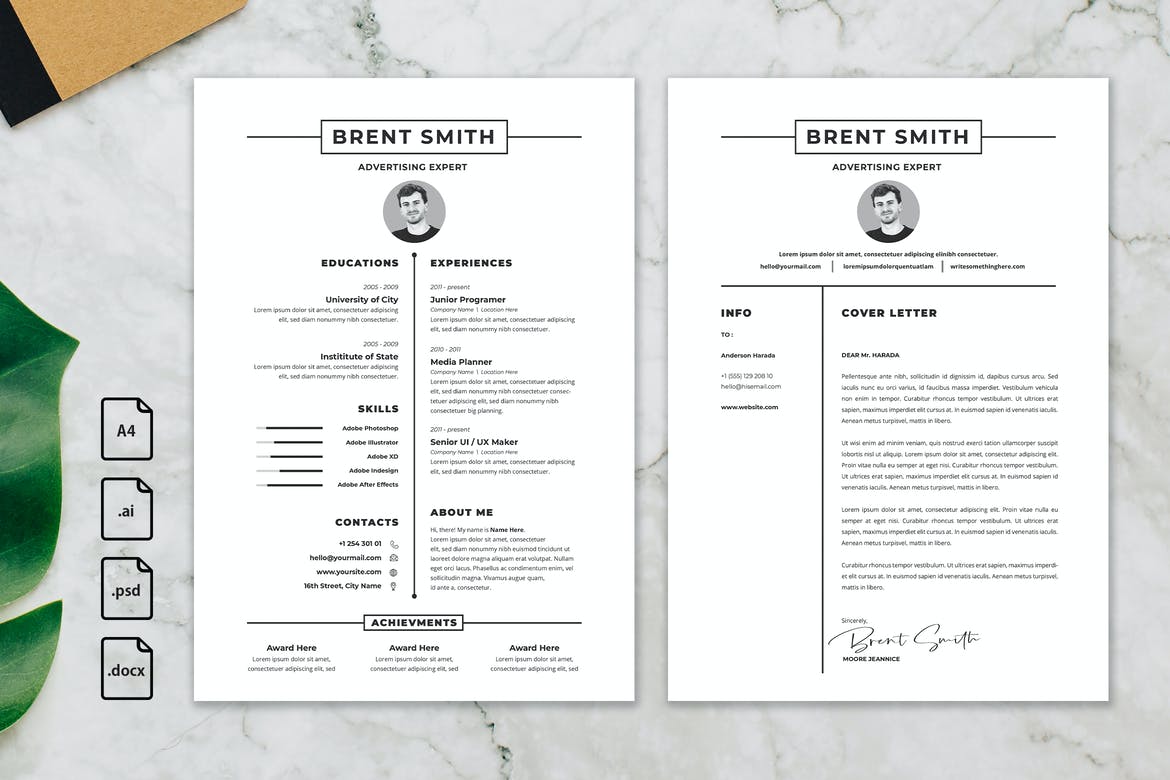 For a stunning symmetrical design with a greyscale color scheme and small profile photo featured at the top, consider this PSD resume template offering a matching cover letter, simple customization and editing options, vector shapes, and pixel-perfect graphics. All elements are able to be adjusted to suit your style.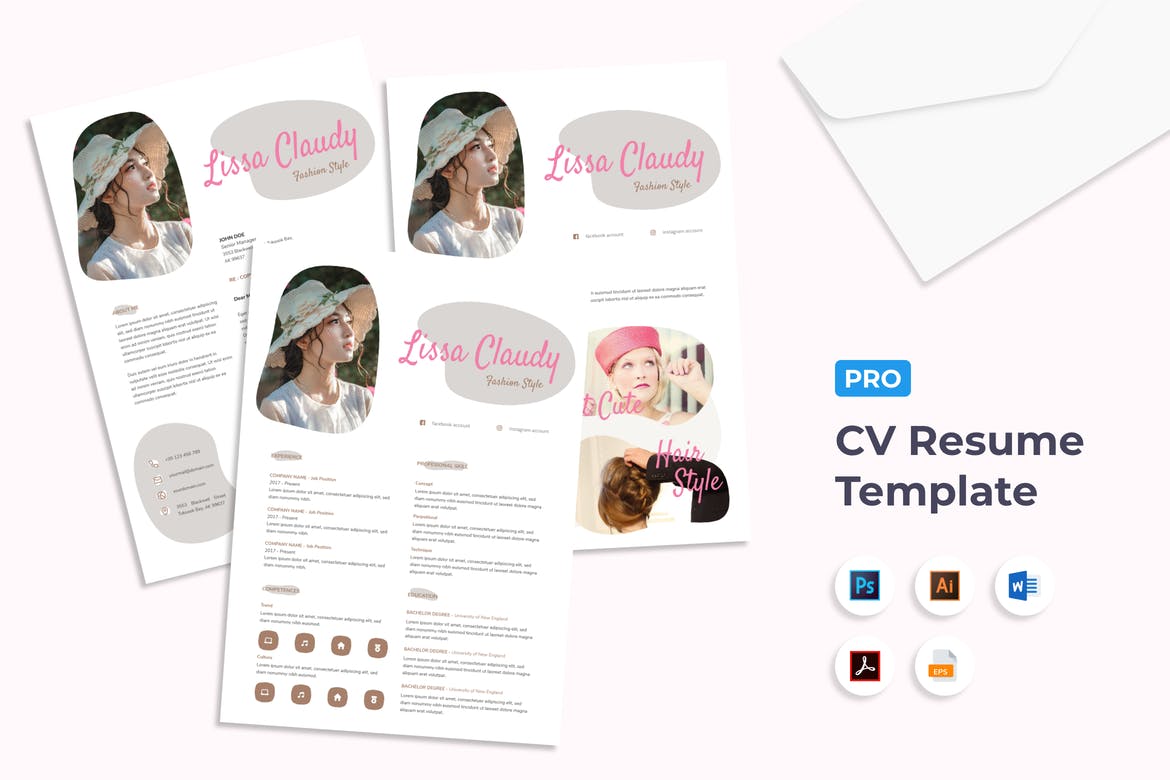 Here we have a creatively designed premium package featuring a resume, cover letter, and portfolio template with eye-catching shapes and colors to help your application stand out. It's compatible with Photoshop, Illustrator, and Word, and is super easy to edit, offering well-organized layers and fully customizable graphics.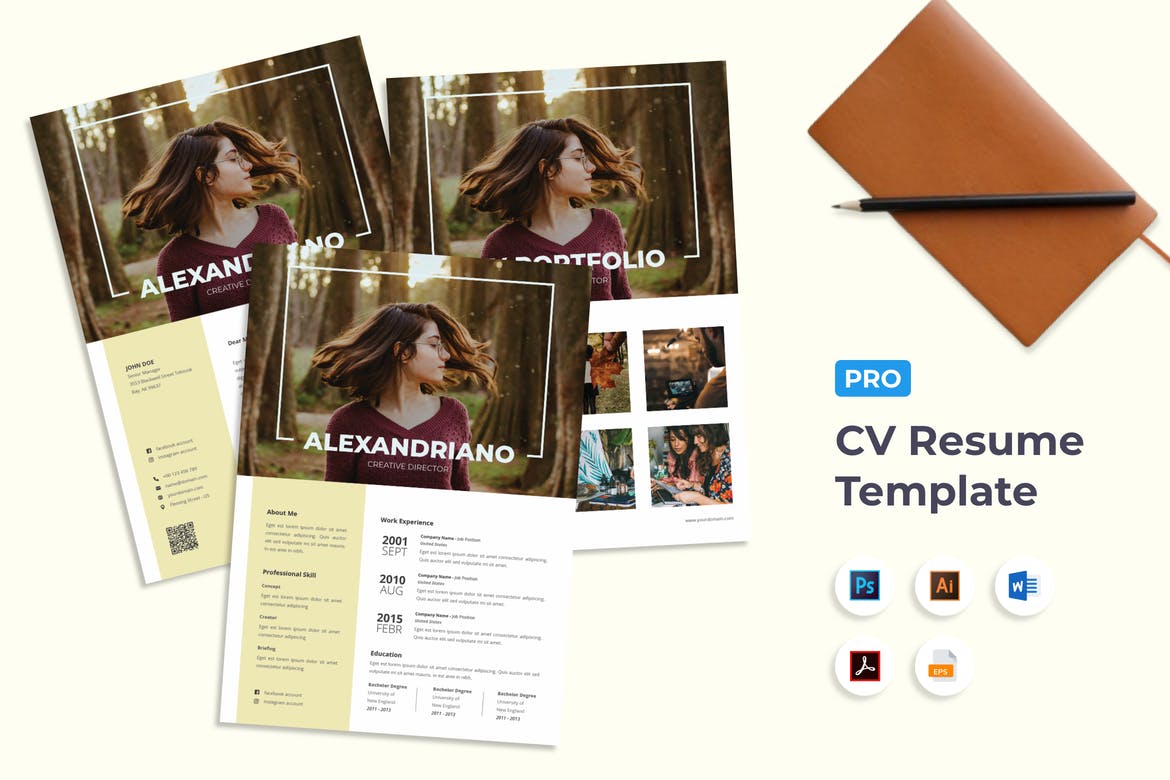 Next up is this creative yet professional resume template set featuring a CV, cover letter, and portfolio, each with a large feature image displayed at the top. It comes in A4 format with a clean and modern design, earthy tones, and strong yet simple typography.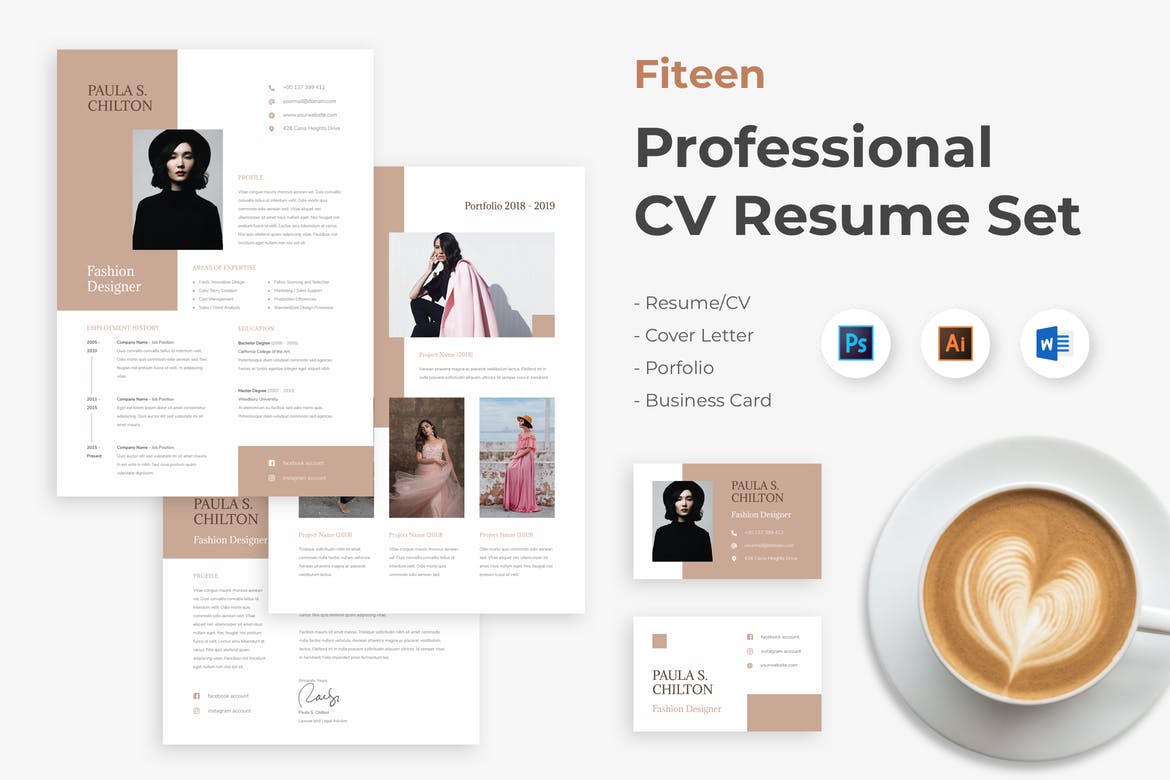 Fiteen is a beautiful geometrically inspired Photoshop resume template set that's ideal for anyone in the fashion or design industries. It comes with a CV, cover letter, portfolio, and business card design, all featuring an elegant combination of neutral colors and classic typography for a highly professional look.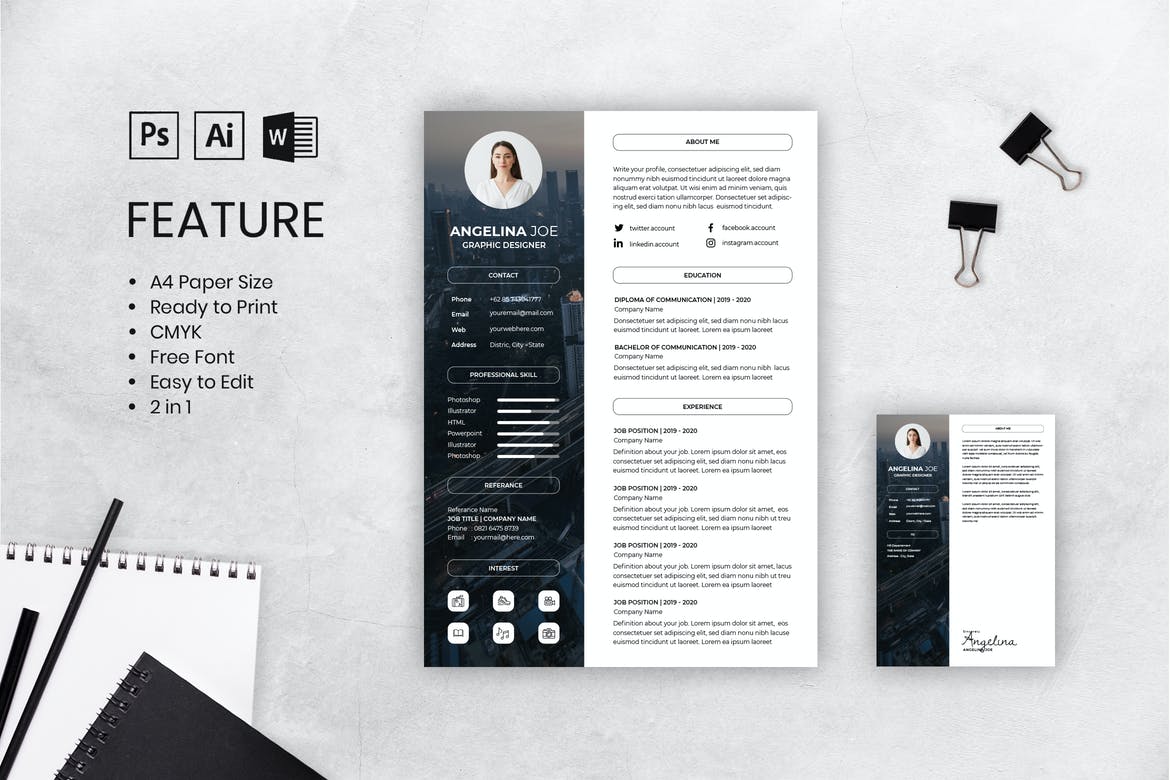 Our next option is Angelina, a modern two-page template offering both a resume and cover letter in A4 format, each of which can be fully customized to show off your own style. It includes free fonts, vector-based shapes, pixel-perfect graphics, and easy image placement.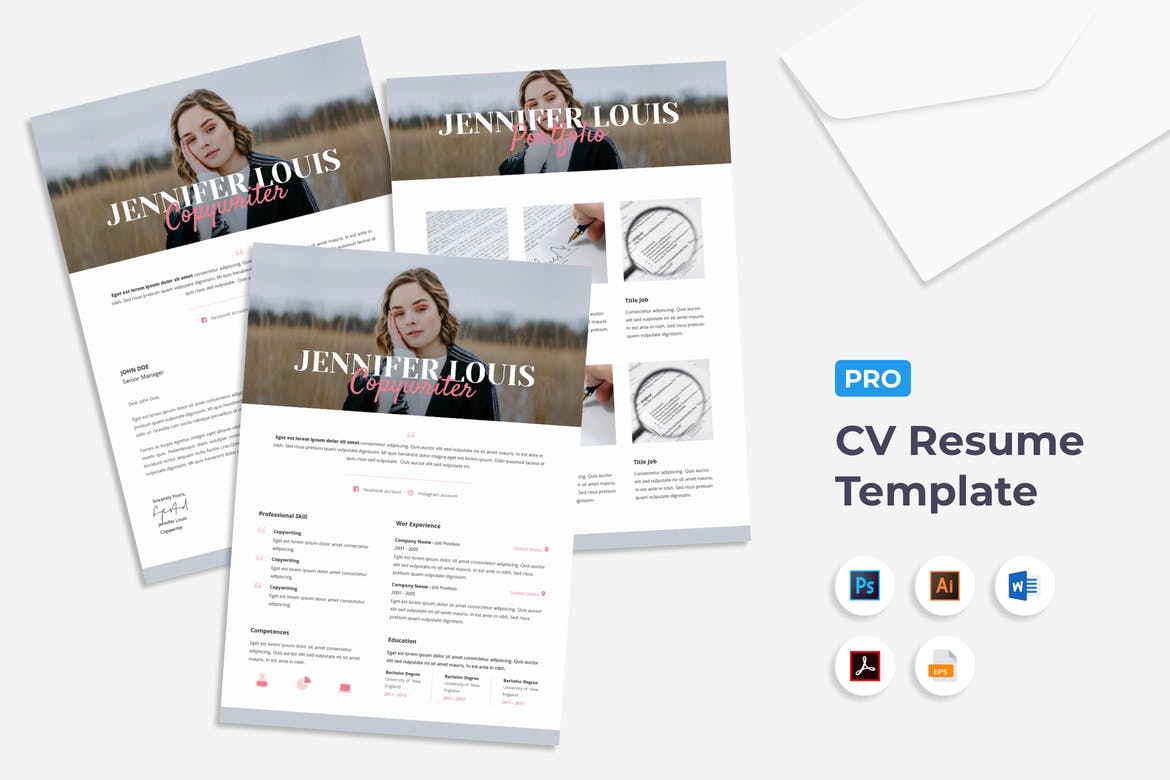 Ideal for a creative professional, this CV template PSD offers a matching resume, portfolio, and cover letter set, each of which includes a clean and modern design, grid-based layout, and a featured image at the top of the page. It comes in A4 size with a print-ready CMYK color space and 300 DPI resolution.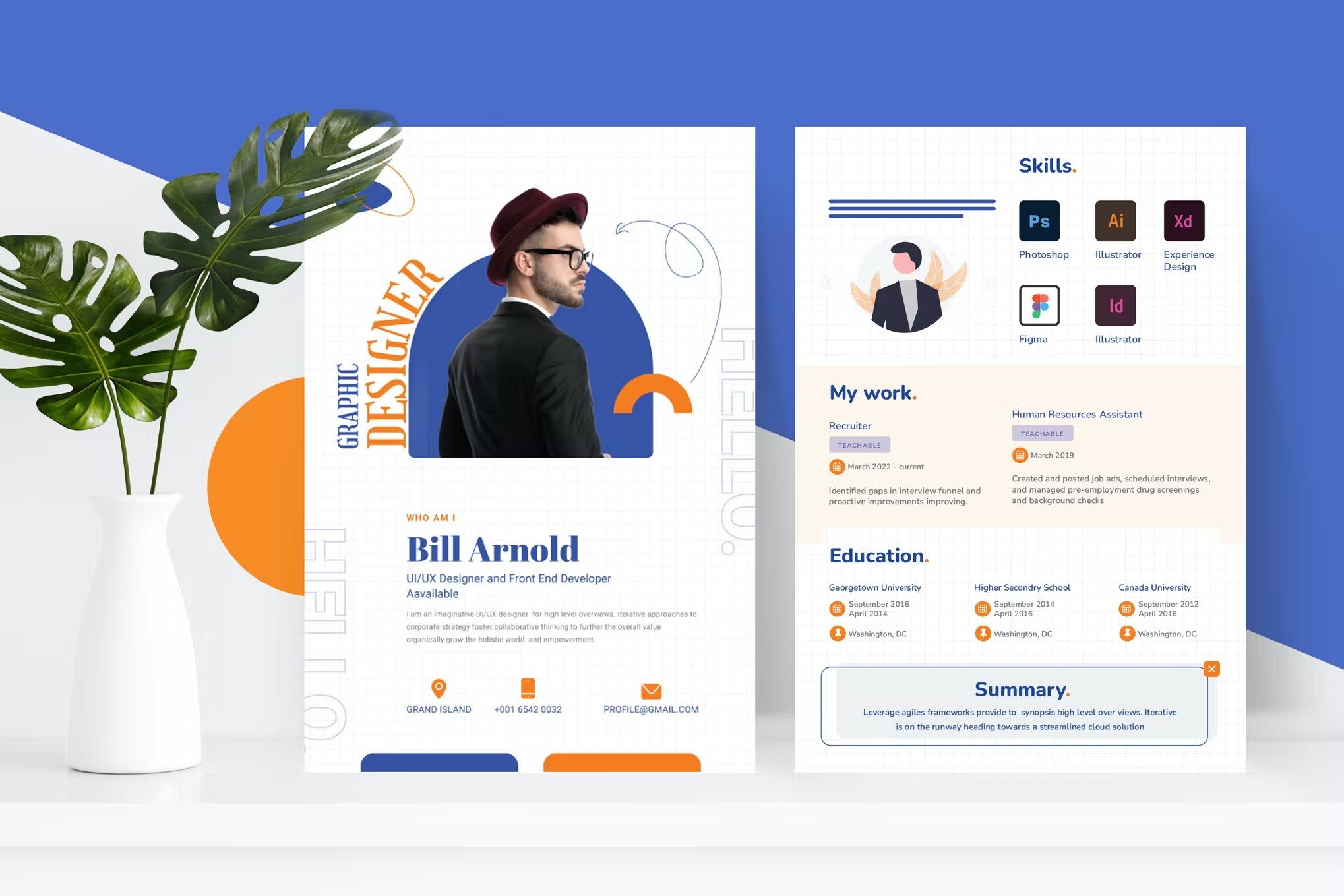 If you're looking for a resume template with a wild and uncommon design, this one is made just for you. It comes with a wild design that will make your resume stand out from the crowd. The template includes multiple pages with highly visual designs ideal for graphic designers. It comes in AI and EPS formats.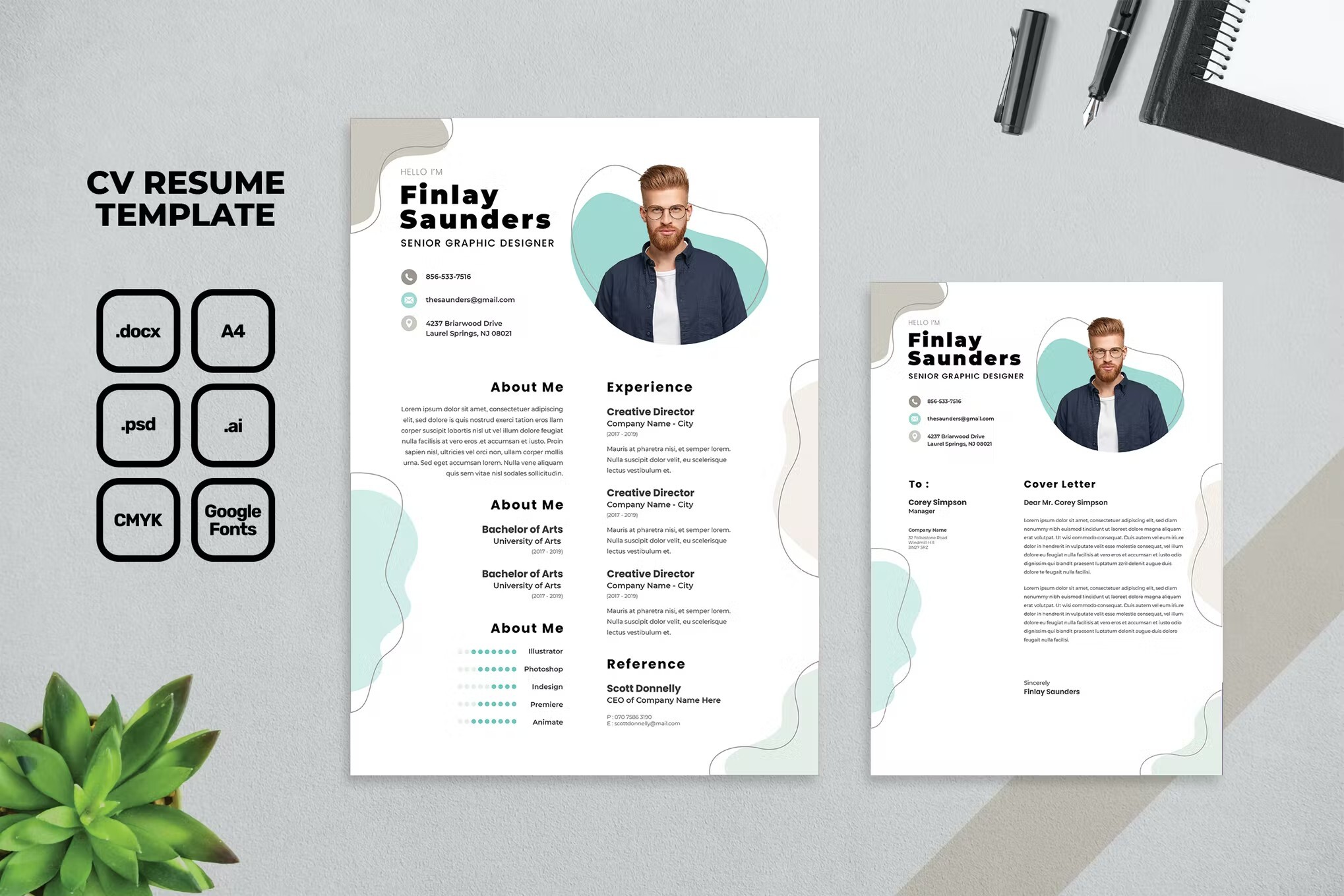 This resume template also features a very stylish and visual design that will help show off your identity as a graphic designer. The template includes both the resume and cover letter designs in A4 size. You can also edit and customize it using MS Word, Photoshop, and Illustrator.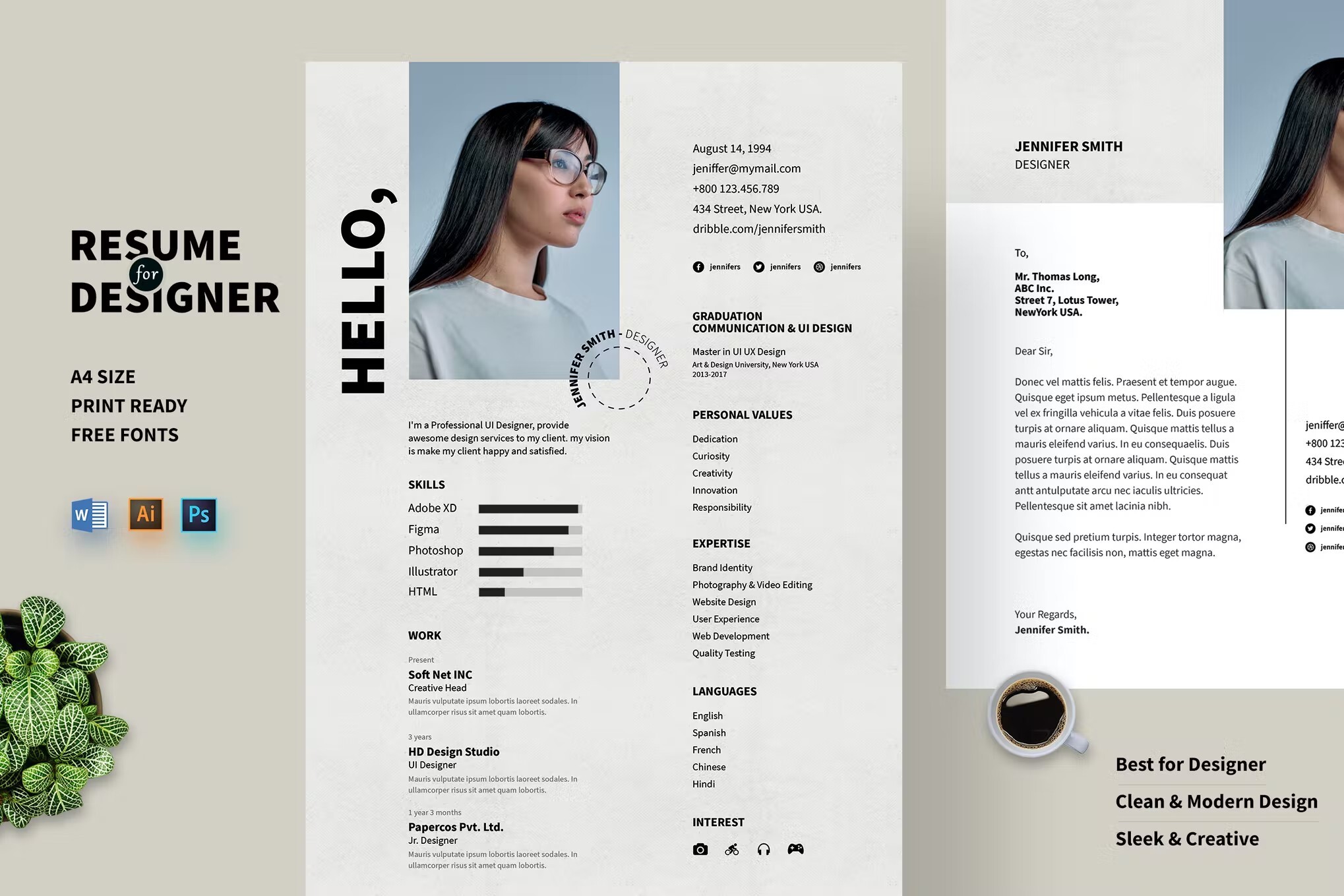 If you're a designer who prefers minimal layouts, this resume is a perfect fit for you. It features a minimal yet elegant design that makes it a great choice for both web designers as well as graphic designers. It comes with a cover letter design and in multiple file formats.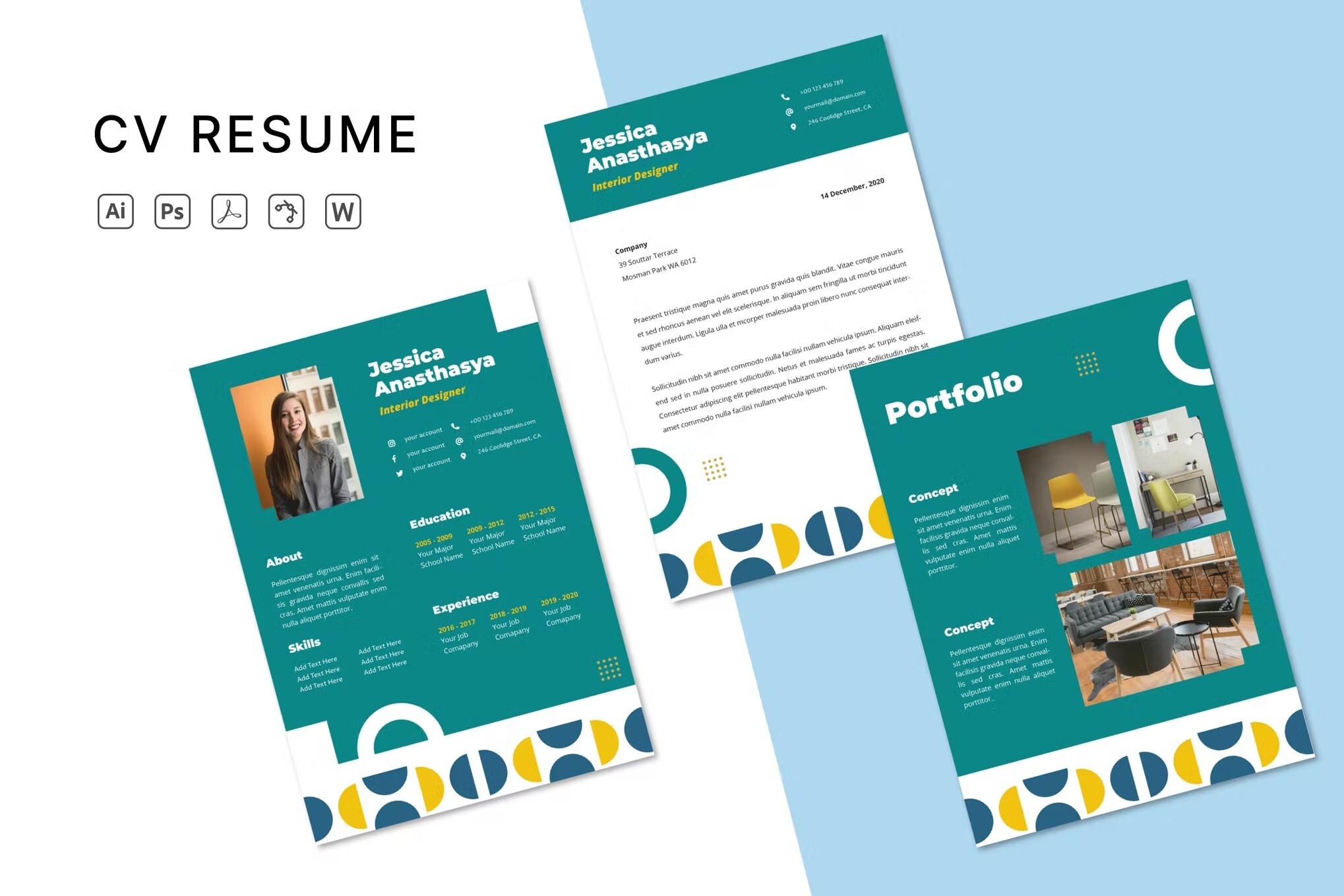 This resume template is designed with interior designers in mind but it's also perfect for making CVs for graphic designers as well. The template comes with 3 page layouts including one for resume, cover letter, and for your portfolio. They are available in MS Word, PSD, AI, and EPS file formats.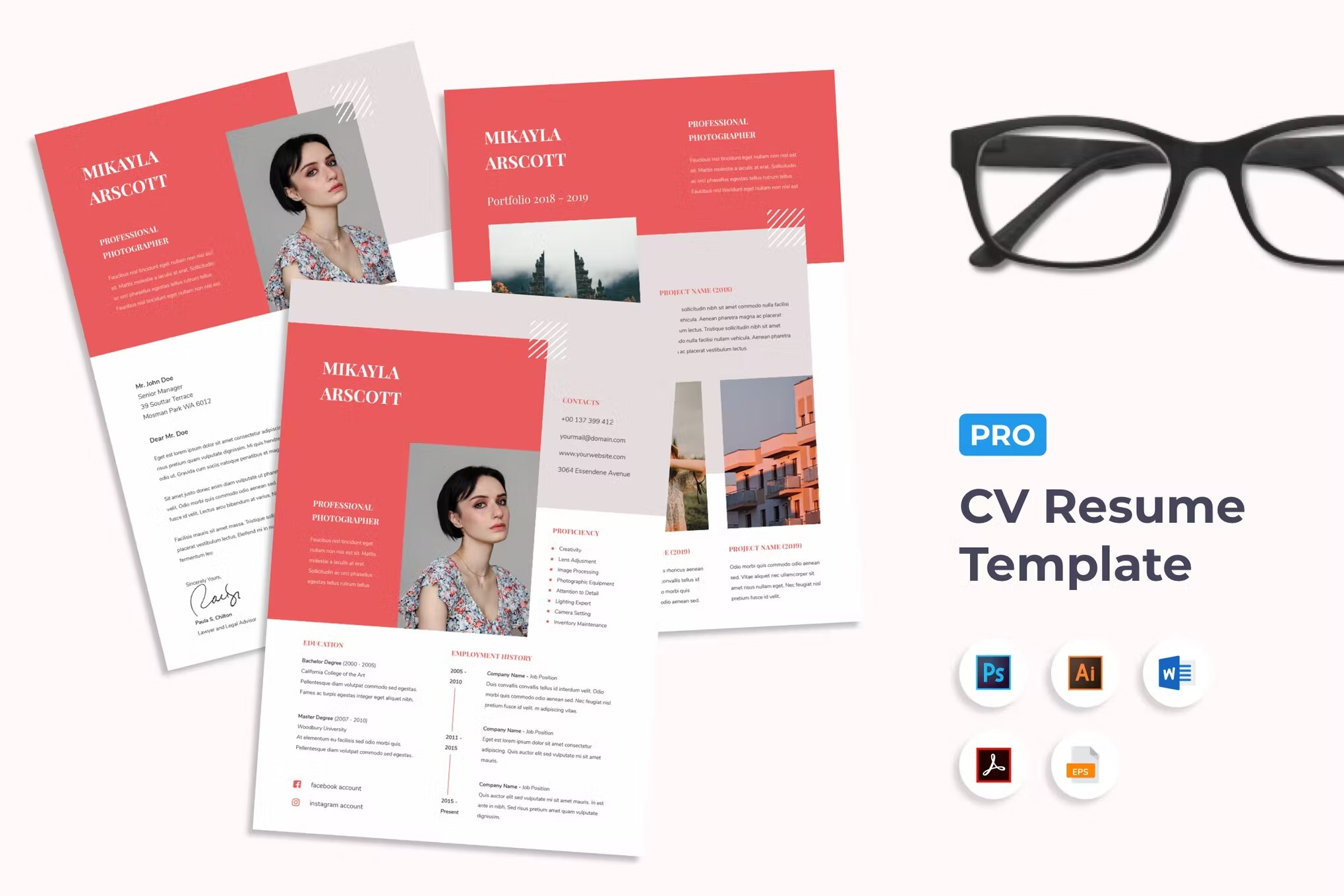 You can use this resume template to design a modern and stylish resume for a web designer. It includes 3 page layouts including two CV pages and a cover letter design. Each template is easily customizable so you can edit them according to your needs. They come in multiple file formats as well.
Free Photoshop Resumes
Nothing beats premium Photoshop resume templates, but if you are someone who does not want to spend money in order to get a professionally designed CV, no worries. Let's take a look at some of the best free Photoshop resumes that truly stand out: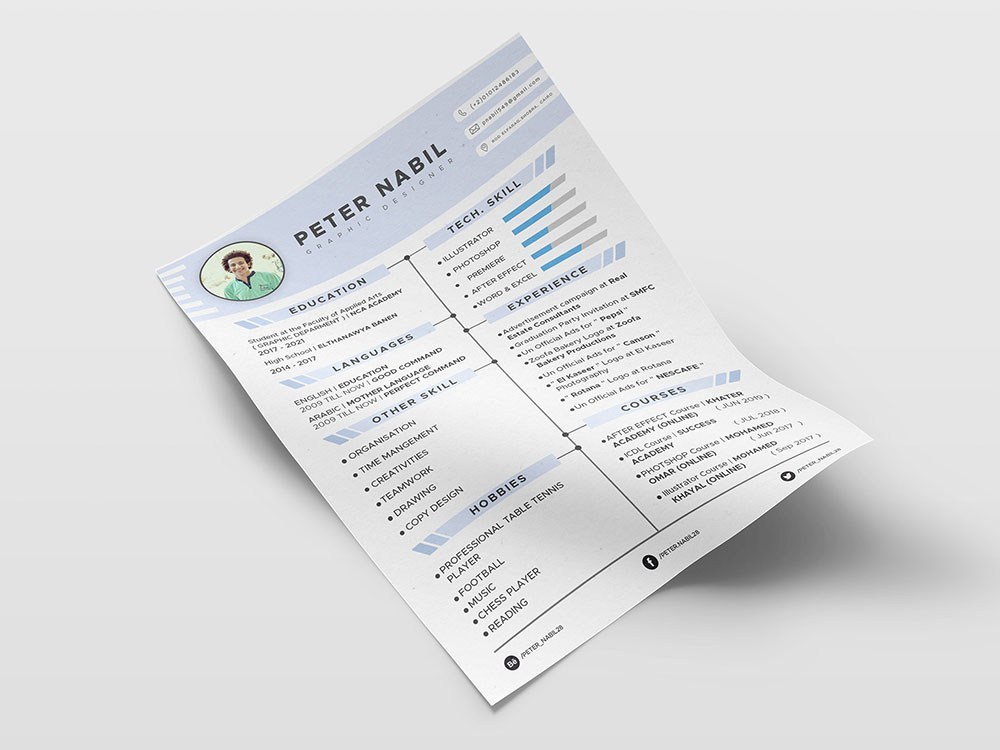 Whether you are a fresher or an experienced professional, this Photoshop resume template will do a great job at getting you the interview you have been chasing for a long time. It's an outstanding free PSD resume template that works for virtually every job position there is.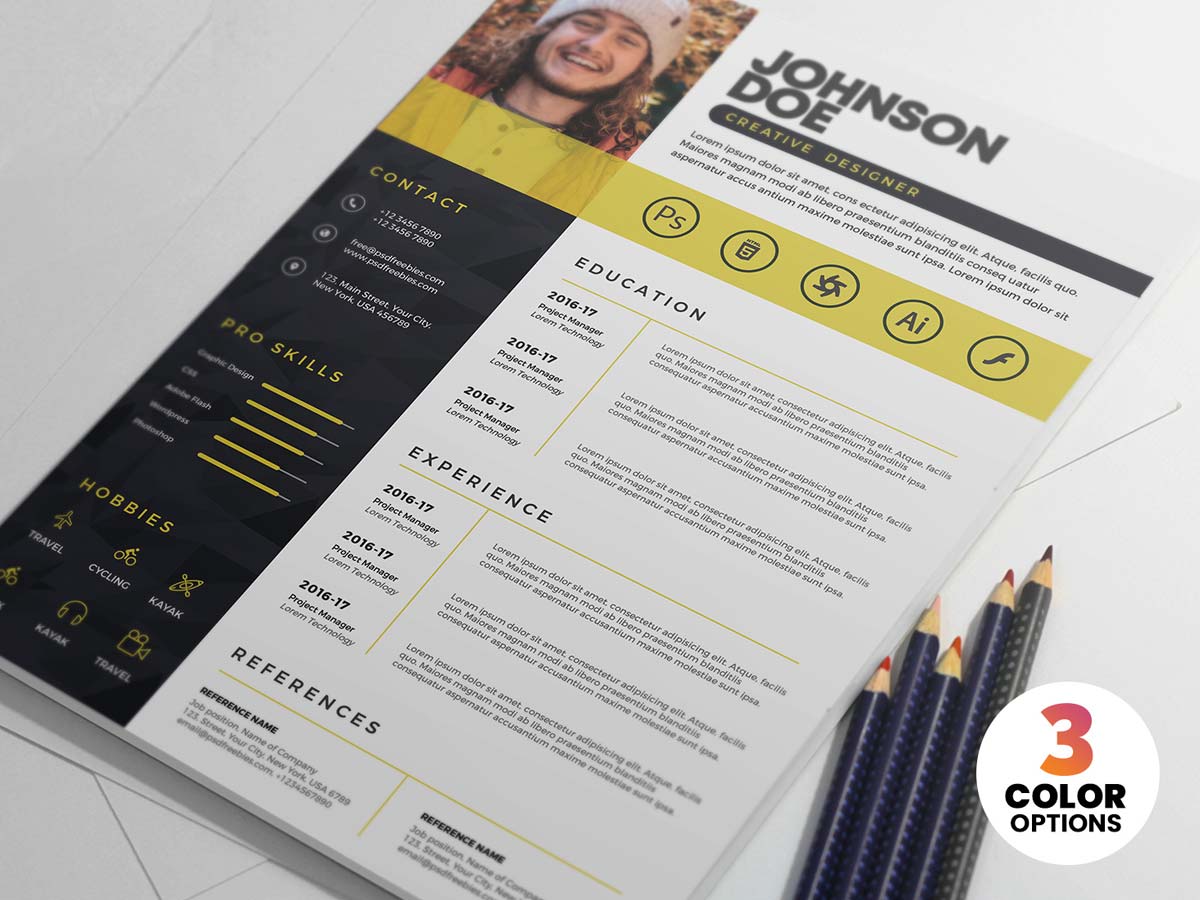 Next in our list of the best free Photoshop resumes is this clean and elegant option perfect for individuals looking to apply for a job opening in the IT sector. It features a dark background sidebar, complemented by yellow color accentuating the look and feel of the CV. The template is available in 3 colors.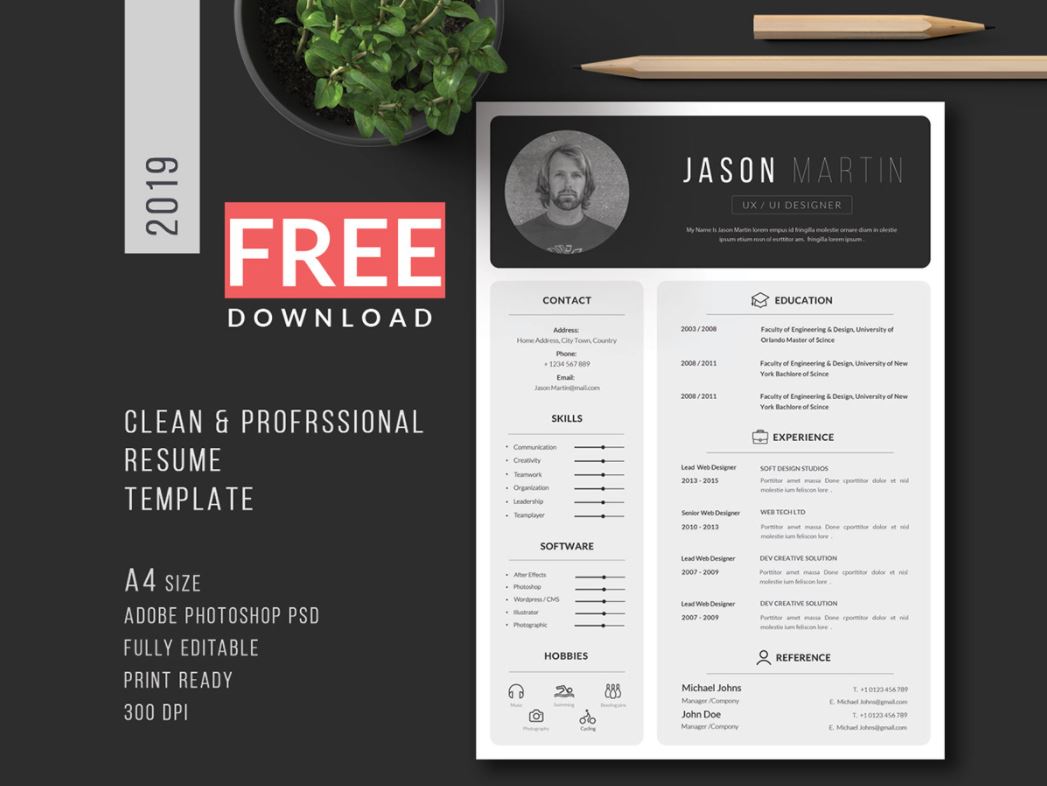 Here we have a classy and monochromatic resume template for Photoshop that's perfect for displaying your skills and qualifications in a simple yet effective manner. It's fully editable, print-ready, and comes in a 300 DPI resolution, and is available as a free download from Behance.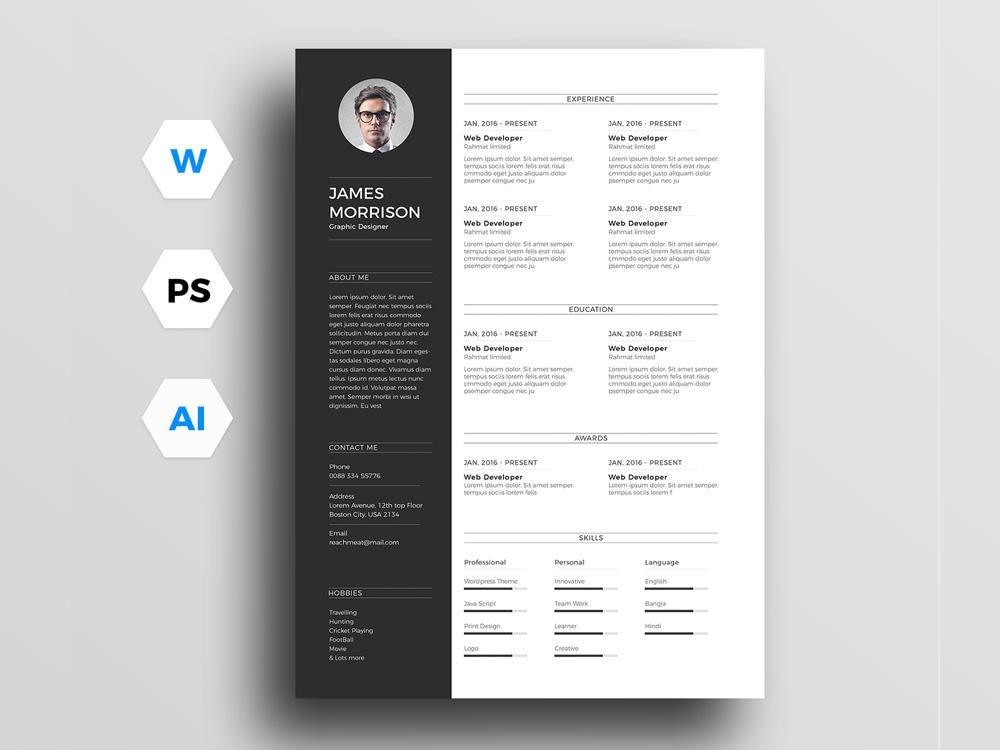 Here we have a free Photoshop resume template that can be downloaded from CreativeBooster and offers a minimal, column-based layout that features a wide range of text fields, plus a small profile photo at the top. The contrasting background and graphic colors give it an eye-catching appeal.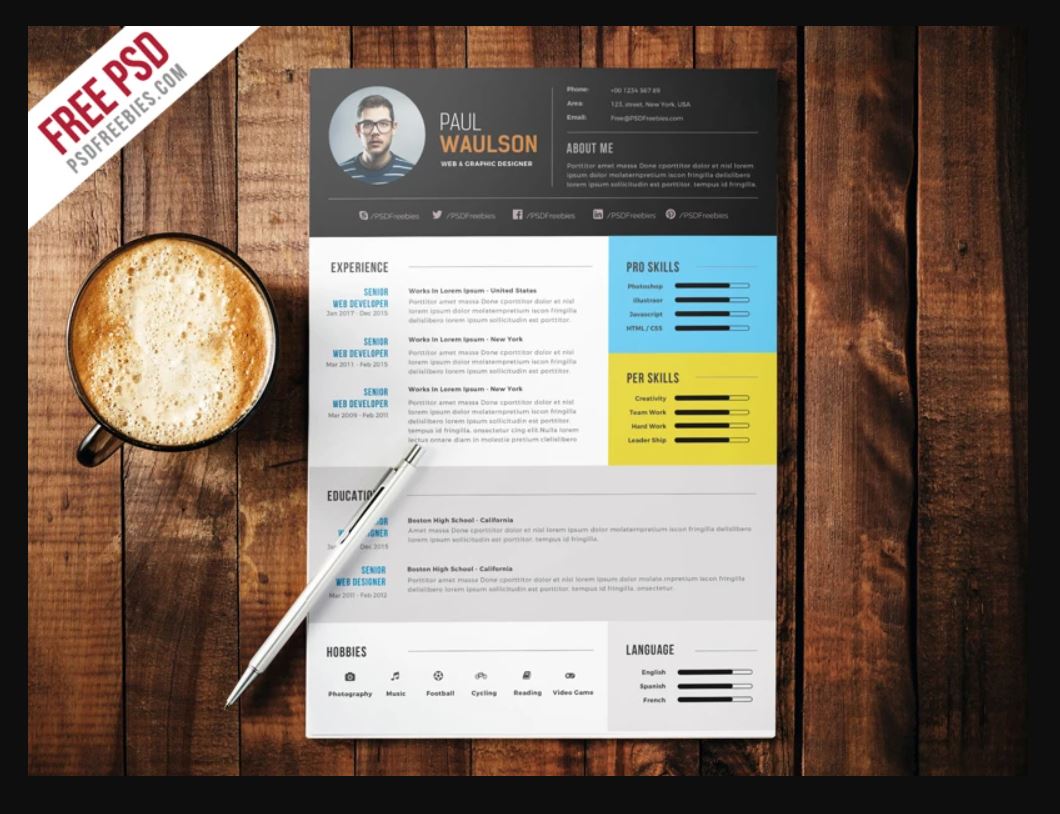 Another free template from CreativeBooster, our next resume offers a simple, modern layout with bright colors scattered throughout, and a profile photo featured next to your name. The grid-based layout and functional serif fonts give it a highly professional look.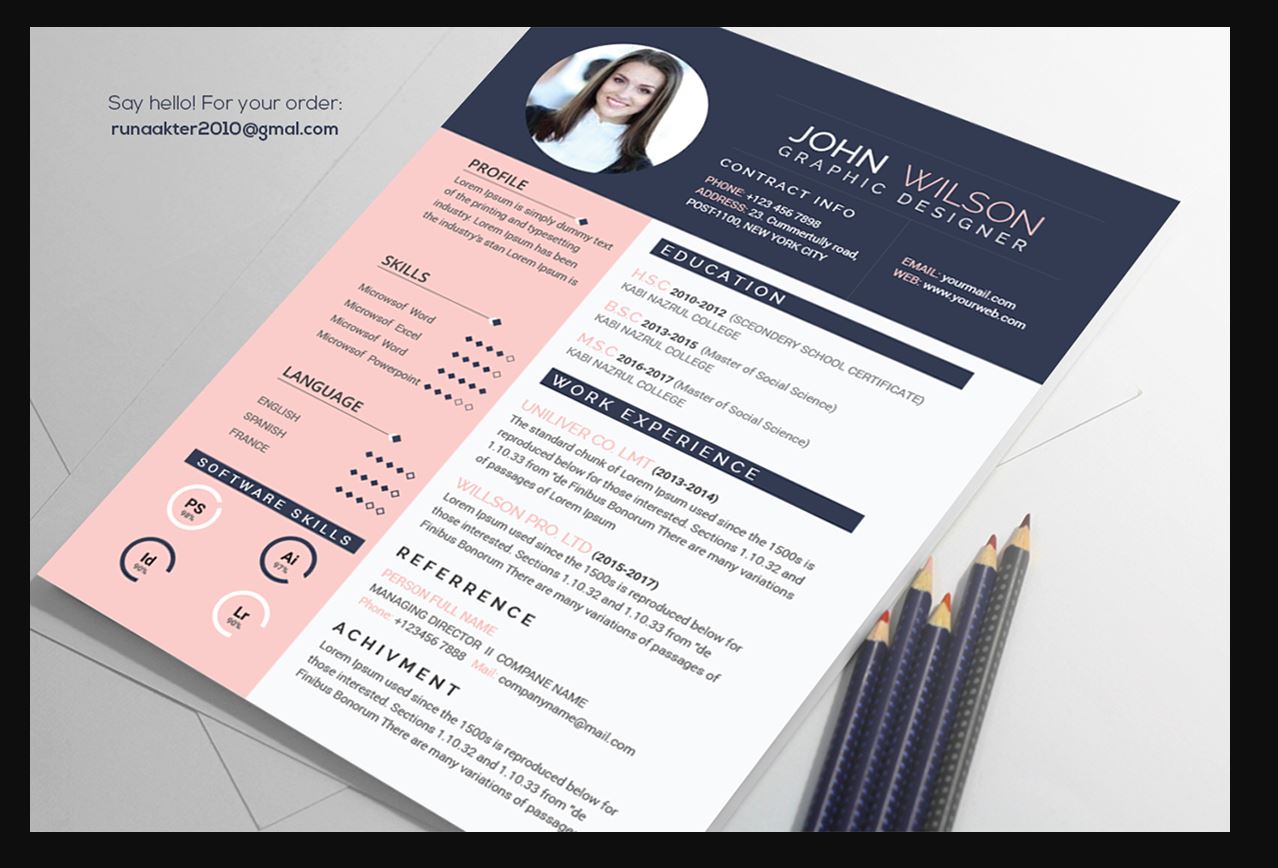 Our next free resume PSD features a creative use of color, including a bold color block on one side of the layout and matching graphics throughout each of the text areas. It can be easily adapted to suit almost any profession and is available as a free download from Behance.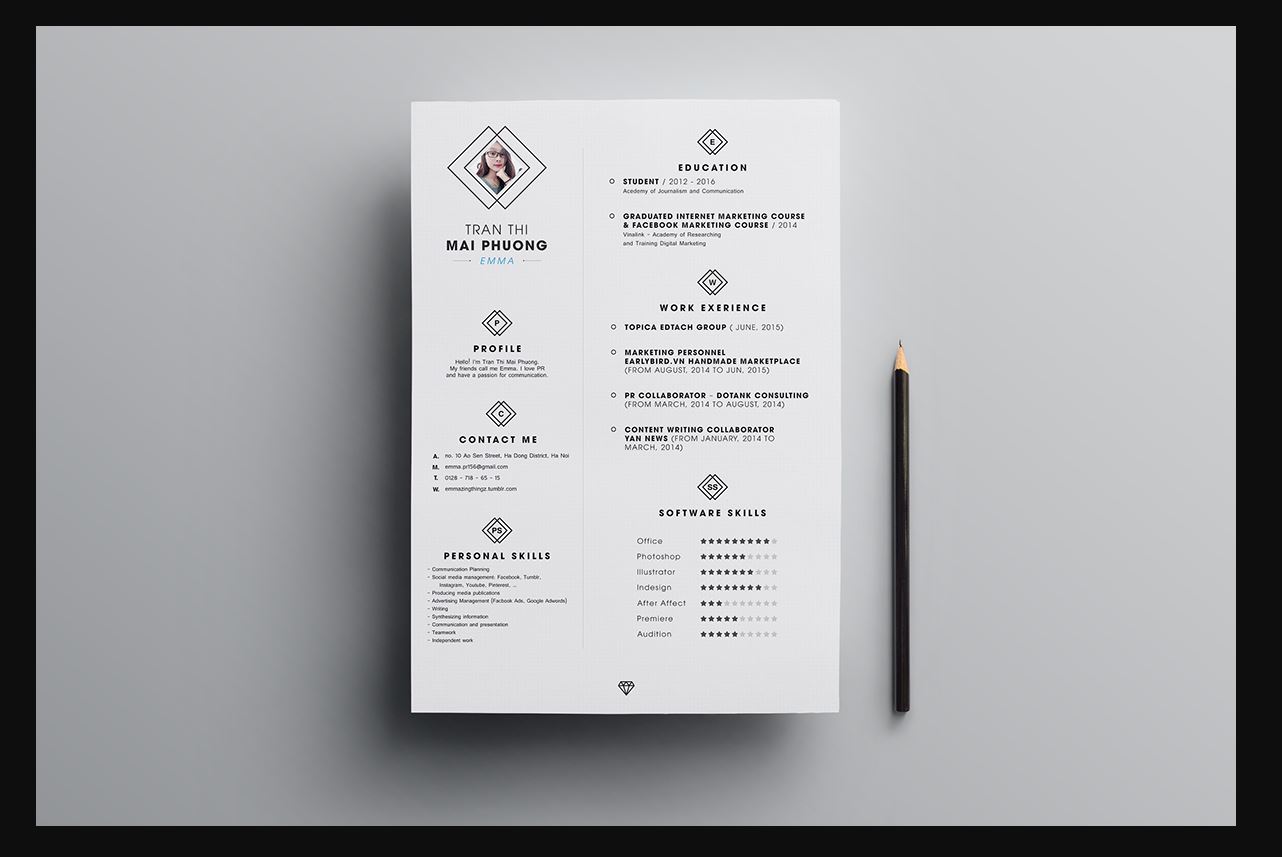 The last template in our lineup of Photoshop resumes is this gorgeous minimal template that features strong, geometrically inspired graphics and a clean black and white design. Incredibly versatile and easy to customize, this free download is available from Behance.
And with that, there's nothing standing in the way of you and that shiny new job! Go forth and apply, knowing that with these professionally designed templates, your resume is bound to make a lasting impression for all the right reasons.