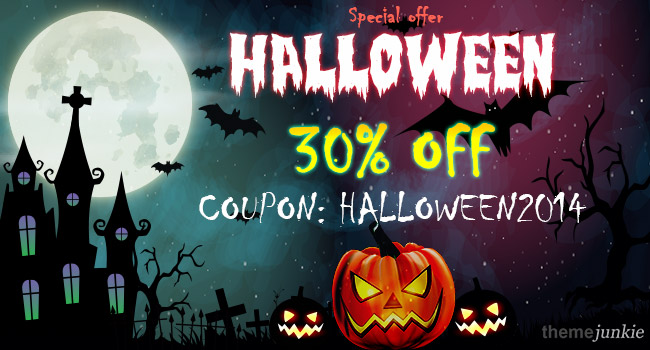 To make your Halloween celebration even greater, here at ThemeJunkie we have prepared a great Halloween Promotion – we are offering you a generous 30% Discount on our Standard Membership (valid for new and existing customers (renewals+upgrade)). Please note that the promotion is valid for ONLY 4 days (until 1st of November, 2014)!
HOW TO BENEFIT?
1) Choose the membership plan – simply head to the Theme Pricing Page and choose the membership plan, then click the "Buy Now" button to get all our themes
2) Include the coupon code – enter the Coupon Code "HALLOWEEN2014" in the "Coupon Code" field of the checkout page and proceed to payment
3) Enjoy – you can now download your WordPress Themes from our member area anytime you want.
In addition, we will release a Responsive WordPress Video Theme shortly, stay tuned!