WordPress Widgets vs Plugins: What's the Difference?
WordPress is a CMS (content management system) full of various features and options. Two of the most popular features on the platform are plugins and widgets.
There are many different types of plugins and widgets that allow you to extend the functionality and add additional elements to your website. WordPress comes with a set of widgets built into the system. Some plugins will even add extra widgets to that collection. There are also widgets that could replace plugins as well.
To someone new to WordPress, all this jargon can be quite confusing. What's the difference between plugins and widgets anyway? Which ones should you be using to make your website better? Let's find out.
What Is A WordPress Widget?
Widgets are a type of tool that allows you to add more features and segments your WordPress website, more specifically to your website theme design. With widgets, you can add sections to your website or blog sidebar.
For example, if you want to show an advertisement in the sidebar area, you can do so by using a widget. You can also add email subscribe boxes, buttons to social media accounts, showcase the most popular blog posts, and so much more with the help of widgets.
Every WordPress installation comes with a set of pre-installed widgets. This collection of widgets will grow once you start installing plugins. Some plugins come with its own widgets that perform specific functions related to the plugin.
Why & How To Use WordPress Widgets
WordPress widgets play a crucial role when it comes to growing your email list, monetizing your website, and reducing bounce rate. Simply put, your blog sidebar will be an empty space without widgets.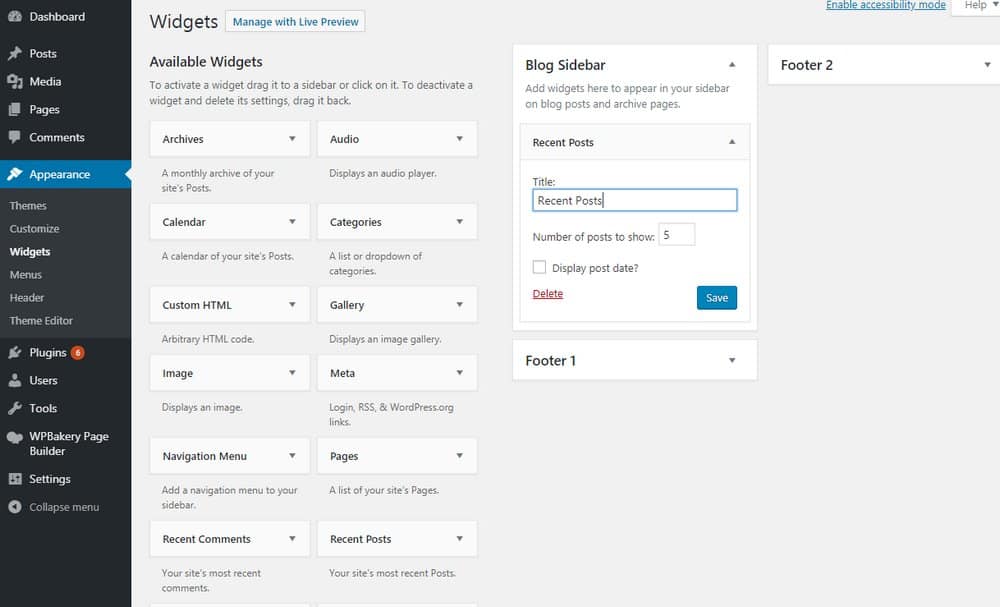 To use Widgets, all you have to do is login to your WordPress dashboard and go to Appearance >> Widgets. On this page, you'll see sections for the different sidebars on your website.
Simply drag a widget from the widgets section and drop it in the appropriate sidebar section to add a new section to your blog sidebar.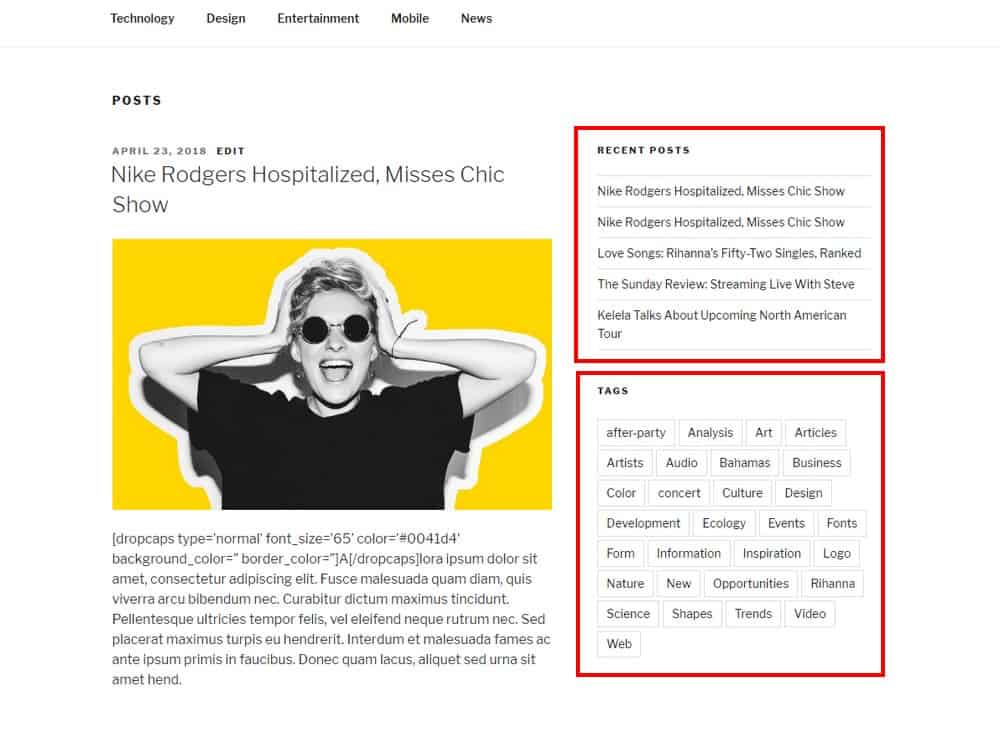 What Is A WordPress Plugin?
Your WordPress website wouldn't be complete without plugins. Plugins help extend the functions of WordPress to take your website to the next level.
Think of plugins as the apps you install on your smartphone. Your phone can perform many tasks on its own but installing additional apps makes it even more powerful and makes it more useful. Plugins are just like those apps.
For example, if you want to sell an eBook on your website, you can use a plugin to add a payment processor to sell the book directly from your website. You can also use plugins to create an online store, setup popup messages to grow your email list, and so much more.
How To Install & Use WordPress Plugins
With more than 50,000 plugins available on the official WordPress directory, you'll surely find a plugin for every function or feature you want to add to your website.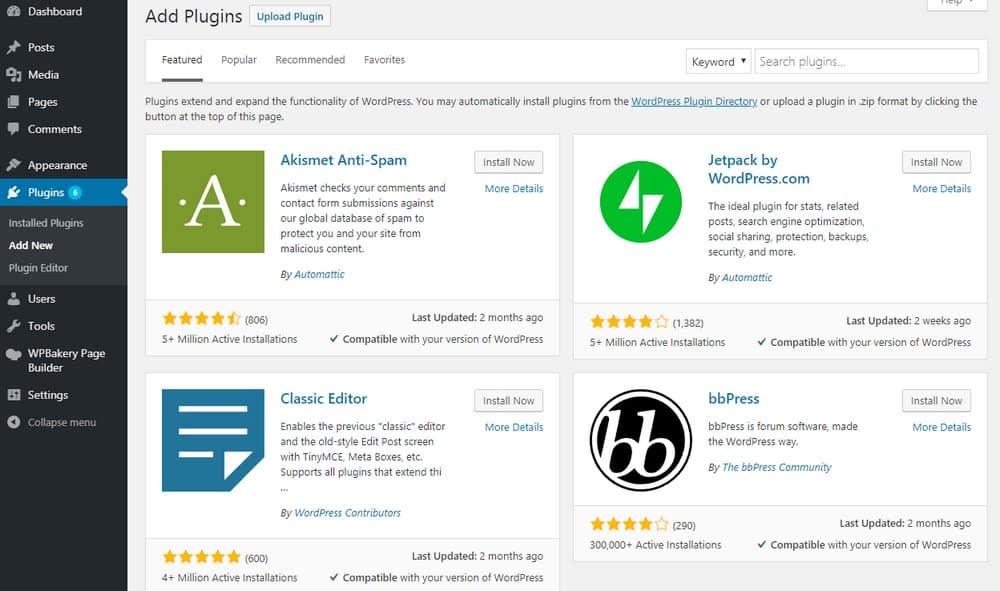 To install a new plugin, go to Plugins >> Add New page and then you can search for a specific plugin and click on the Install button.
If you've bought a plugin from a third-party marketplace like CodeCanyon, you should first download the plugin from the marketplace and then upload the ZIP file to install the plugin.
Main Differences Between Plugins and Widgets
While there are many similarities between plugins and widgets, they are made for two different purposes. Here are just a few differences between the two tools.
Plugins Make Your Website More Powerful
In comparison, WordPress plugins are much more powerful than widgets. With plugins, you can add features to extend your website functionality.
With plugins like WooCommerce, you can turn your entire website into an online store and sell products. You can use membership plugins to build premium online community websites. Or use list building plugins to grow your email list.
Widgets Help Improve Website Interactions
Widgets are helpful in making the most of your sidebar areas. Whether it's to add a Google Adsense ad to your blog sidebar, add an email subscribe form, or add a trending posts section, widgets help make the most of your website.
Plugins Can Speed Up Your Website
Another reason why plugins are superior is how they allow you to improve your website performance and optimize for speed.
With plugins like WP Super Cache, you can optimize your website to reduce website load times. You can also improve your website's Google ranking with a plugin like Yoast SEO.
Widgets + Page Builders = Awesome Designs
Even if you don't have a sidebar area on your website, you can still use widgets to design landing pages and website designs with unique interactions using page builder plugins.
Page builders like Elementor let you use third-party WordPress widgets to add unique functions and features to your page designs. For example, if you're creating a unique product page layout for your online store, you use a widget to add a rating section or an image gallery to that page.
In Conclusion
We hope this helped clarify the difference between plugins and widgets for you.
If you've just installed a new website and can't figure out which plugins or widgets to use, check out our picks of 20 must-have widgets and 10 best free plugins lists to get a head start.
Looking for WordPress hosting? We use Kinsta. They offer world-class WordPress hosting, built to keep your website fast, secure, and always online.