Turn Design Concepts Into Prototypes With Wondershare Mockitt
Having a platform where you can design and prototype in one place is a dream for most designers. Wondershare Mockitt will make those dreams a reality.
Wondershare Mockitt is an all-in-one UI/UX design tool where you can craft everything from vector graphics to user interface designs and even turn your designs into interactive prototypes using a simple drag and drop editor.
In this review, we take a closer look at Wondershare Mockitt to see what it can really do and how it can supercharge your design workflow.
What Is Mockitt?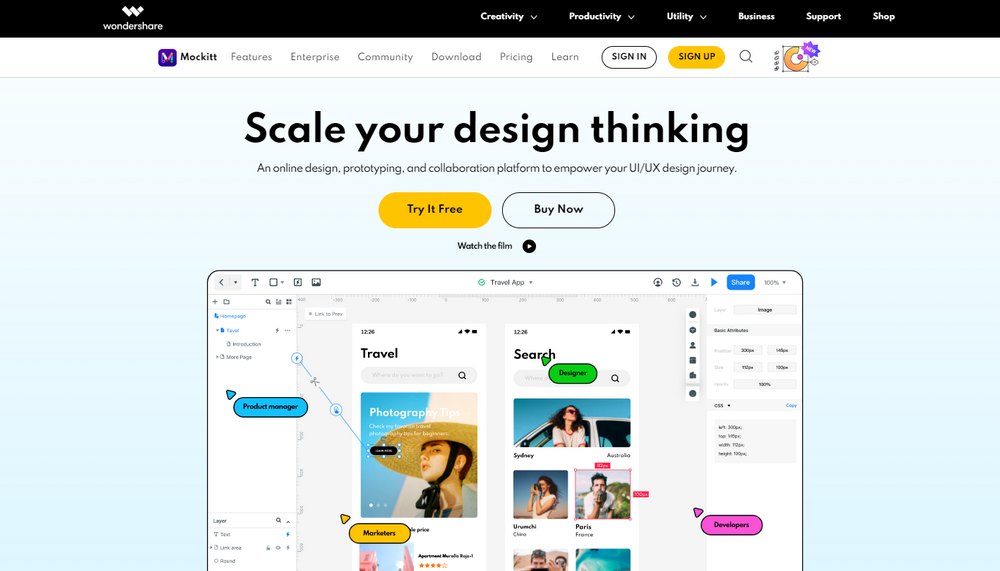 Wondershare Mockitt is a UX design platform and a prototyping tool that allows you to craft vector designs, quick prototypes for user interfaces, app screen layouts, dashboards UIs, and much more. The app is used by even some of the biggest brands like Apple, Uber, IBM, and PayPal.
Mockitt has a powerful design tool and a smooth drag and drop editor for crafting prototypes with zero coding. It also includes lots of templates, pre-built components, widgets, icons, and other resources you need to design things with minimum effort.
Simply put, Mockitt allows you to create vector graphics and interactive prototypes with animations, gestures, transitions, and even work on projects as a team in one place.
Why Use It?
Normally, you have to use two different software to create your vector designs and then another for making prototypes. But with Mockitt, you can do both tasks and more in one platform.
With a design and prototyping tool like Mockitt, you can work on your vector graphics, import designs from Sketch, and even turn your designs into prototypes within minutes, there's no coding required.
It also features seamless team collaboration and you can share your projects with clients with just a few clicks. You can save hours of time and work that goes into long email thread discussions with your team and clients, endless revisions, and frustrated hair-pulling by using a platform like Mockitt.
Create Vector Designs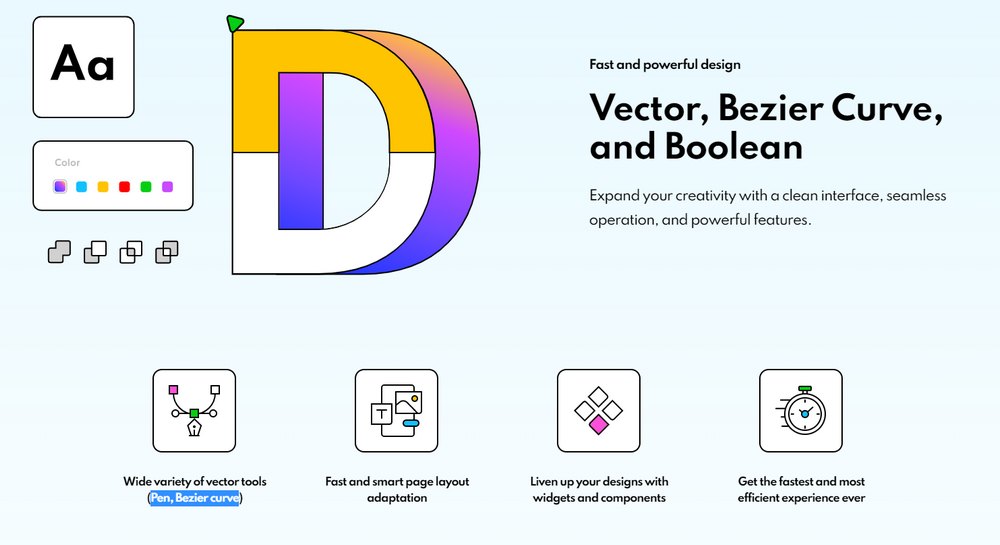 Mockitt comes with a powerful design tool where you can craft vector designs such as icons and creative illustrations to use in various projects.
It provides you with flexible tools like a Pen tool and Bezier curve that allow you to design sophisticated and scalable vectors.
UX Design and Prototype in One Place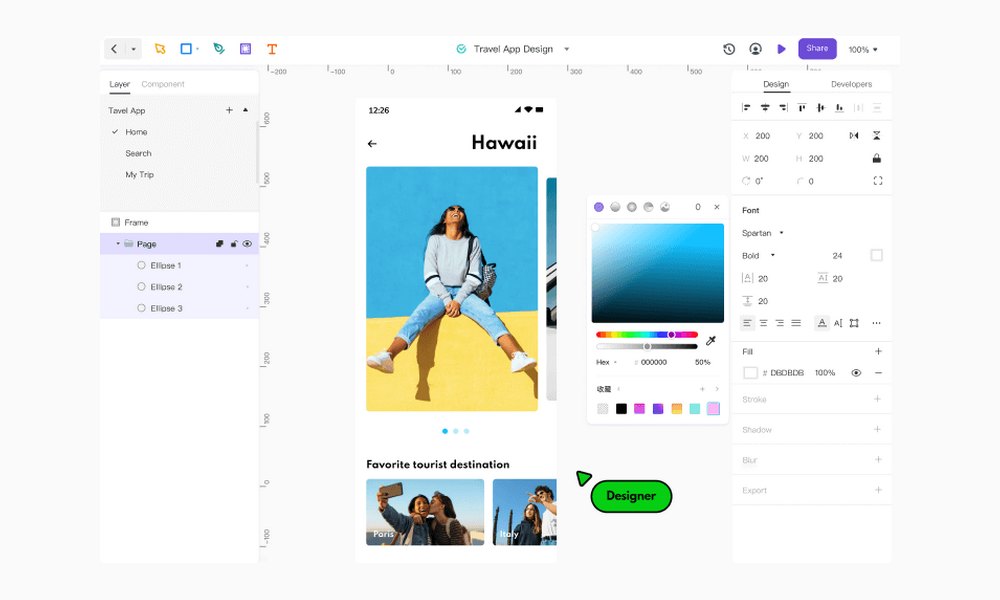 Mockitt has a prototyping tool that lets you turn your UI designs into interactive prototypes. The very beginner-friendly drag and drop editor lets you prototype anything from a simple app screen to a sophisticated user interface without needing any coding knowledge.
You can choose from over 600 unique UI components to design unique prototypes. Or you can grab a pre-made template from its 500+ template library to get a head start in your designs.
Add Interactive Elements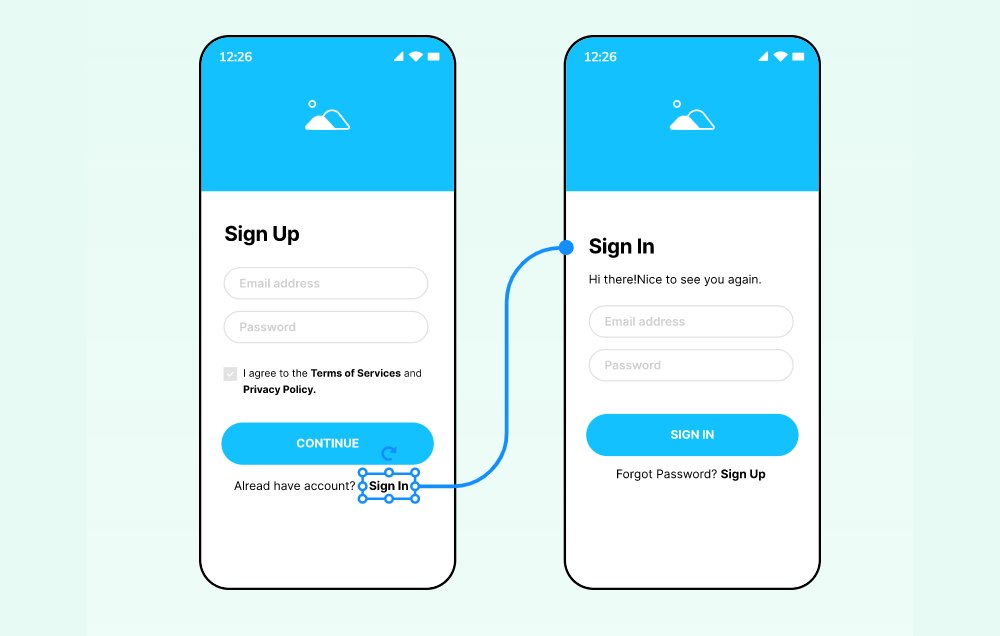 Mockitt also supports a wide variety of interactions and animations. With these interactive elements, you can add functioning components in your prototype like clickable buttons, links, search bars, gestures, and fully map the flow of the prototype.
This breathes life into your static app screens and user interfaces, allowing clients to see how the design will function as a finished product.
Craft Flowcharts and Mindmaps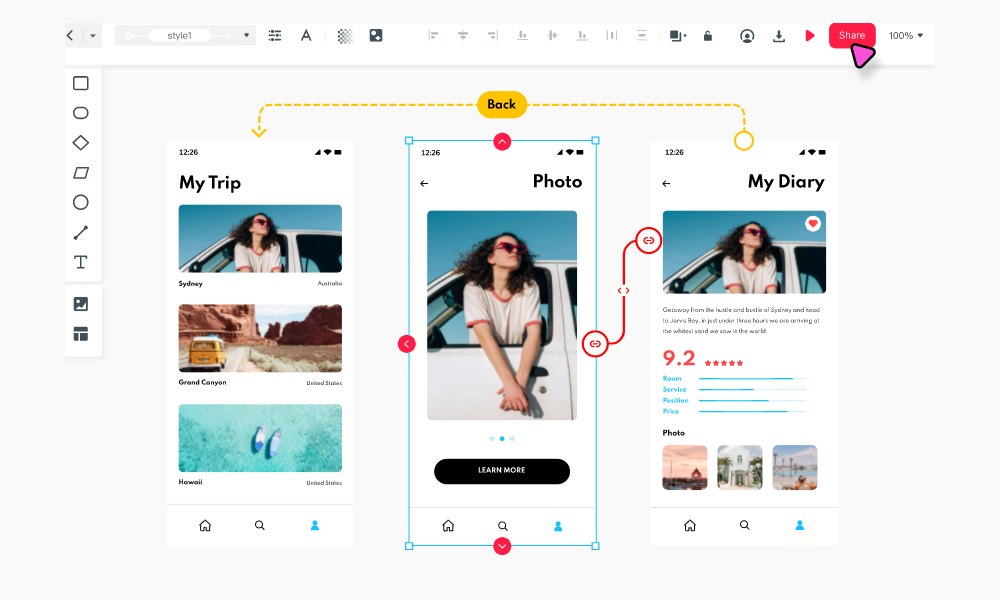 What happens when a user clicks on the "buy" button? Which screen opens when a user clicks on a link? What is the buyer's journey look like for the app?
With the help of flowcharts and mindmaps, you can easily answer these questions by visualizing the flow of each process in your UI design. Mockitt has a built-in flowchart maker that lets you easily map the flows of your designs with only a few clicks.
Collaborate With Your Team in Real-Time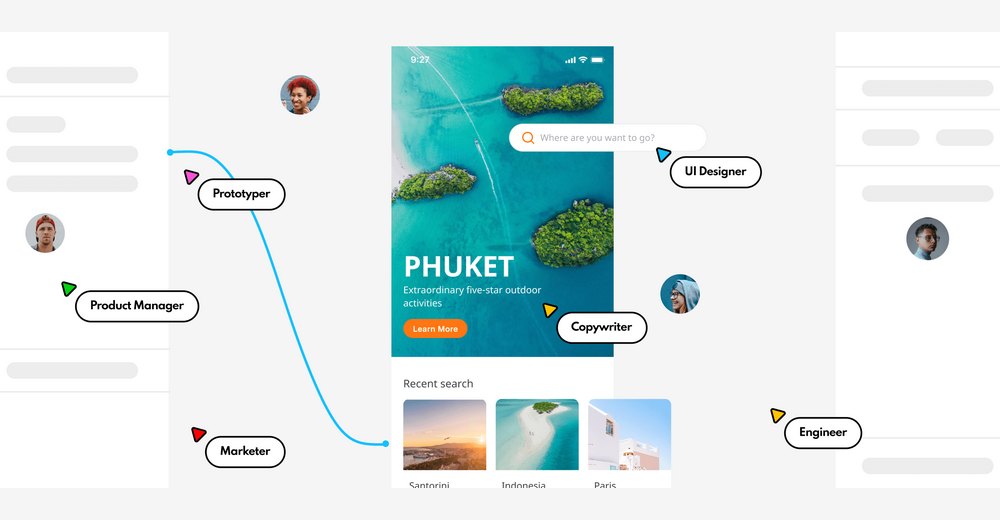 Mockitt is a great tool for design teams as well. It allows you to collaborate with other members of your teams in real-time to craft vector designs and prototypes together.
The fast and lightweight design of Mockitt allows you to instantly get feedback on design changes, share your designs with just one click, or even export designs in APK or HTML for offline sharing.
More Than 5,000 Widgets & Templates
Mockitt comes with a huge library of assets you can use to craft designs, wireframes, mockups, and prototypes.
There are over 5,000 widgets, icons, stock photos, sounds, and more to choose from. In addition, there are more than 600 pre-made UI components and over 500 customizable templates included with the software.
Many Other Great Features
Wondershare Mockitt simplifies the process of designing everything from mobile app screens to high-fidelity prototypes. All of this is made possible with its amazing feature-packed tools. Here are just a few of those great features:
Import designs from Sketch to quickly turn them into prototypes
Create and store unlimited projects on the cloud for easy sharing and collaboration
Export designs and flowcharts in PNG, PDF, APK, HTML, CSS, and SVG
Mockitt works on the cloud. You can use it anywhere from any computer. Desktop software is optional
Share your projects with clients via sharable links or QR codes
Collaborate with multiple team members at once in real-time
Add from over 13 gestures and 35 animations to make interactive prototypes
Generate code for CSS, Swift, and Android to seamlessly handover projects to developers
Ability to create different versions of the designs to trace and restore history whenever it's needed
How Much Does It Cost?
Wondershare Mockitt comes in many different pricing plans and bundles to match your needs. It also has special plans made for individuals, students, teams, and businesses.
For individual freelancers and designers, pricing plans start at $19 per month. Switching to quarterly and annual plans will help you save money as well
For teams, pricing starts at $159 per year per user
Mockitt is also available bundled with other Wondershare software at very affordable prices. These bundles are perfect for creators
There's also a free plan with limited features for test driving the app
Who Should Use Wondershare Mockitt?
Whether you're a freelance UI/UX designer, marketer, web designer, or even working as a team, Wondershare Mockitt is a simple yet powerful tool you can use to easily create interactive prototypes in just a few minutes.
The powerful design tool, prototyping tool, collection of pre-made templates, widgets, and components makes this a useful tool for all kinds of designers and even for developers.
Learning to use the app is also a walk in the park thanks to its simplified interface as well as the collection of free tutorials and guides.
Mockitt is free to try. Give it a test drive and see for yourself.