Plausible: Privacy-First, Lightweight Analytics for WordPress
Plausible is one of the best web analytics platforms available today that respects user's privacy while providing a lightweight and simplified experience to website owners.
Google made some big changes to its analytics platform in all the wrong ways after replacing Universal Analytics with the new Google Analytics 4. Google Analytics is needlessly complicated and sophisticated to the point that forces you to take an online course just to explore some basic stats of your website.
Web analytics should not be rocket science. It needs to be simple enough for even an eight-year-old to understand how many people visit a page and where they come from.
That's exactly why we need better analytics solutions like Plausible, now more than ever. Let's take a look at Plausible and its WordPress plugin to see if it's actually worth switching to.
What Is Plausible?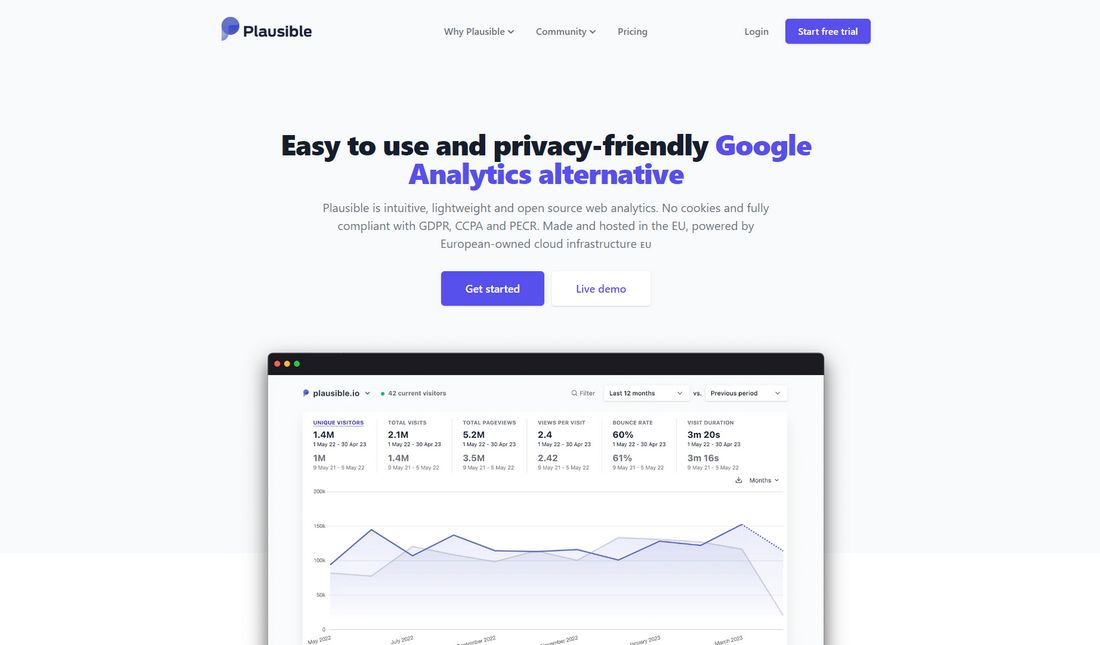 Plausible is a Google Analytics alternative that offers a simple and lightweight platform for viewing all the important stats about your website visitors, without having to navigate through a complex interface.
Plausible simplifies web analytics for all. Instead of adding layers upon layers of privacy-invading tracking, Plausible follows a privacy-first approach for tracking stats without even using Cookies.
Plausible comes from an independent company that's proud of the fact that it's self-funded. This gave them the freedom to create this open-source, privacy-friendly analytics platform.
Best Features of Plausible WordPress Plugin
Plausible is quite easy to setup on WordPress websites thanks to its free WordPress plugin. This allows you to easily integrate the analytics platform with your website.
Simplicity is the biggest selling point for Plausible. But, that doesn't mean it lacks good features. Here are some of the best features of Plausible and its WordPress plugin.
Simple and Straightforward Stats
To view some of the most basic stats about your website on Google Analytics, you have to navigate through several pages. Even then it overcomplicates things with weird terms and abbreviations that only Google knows about.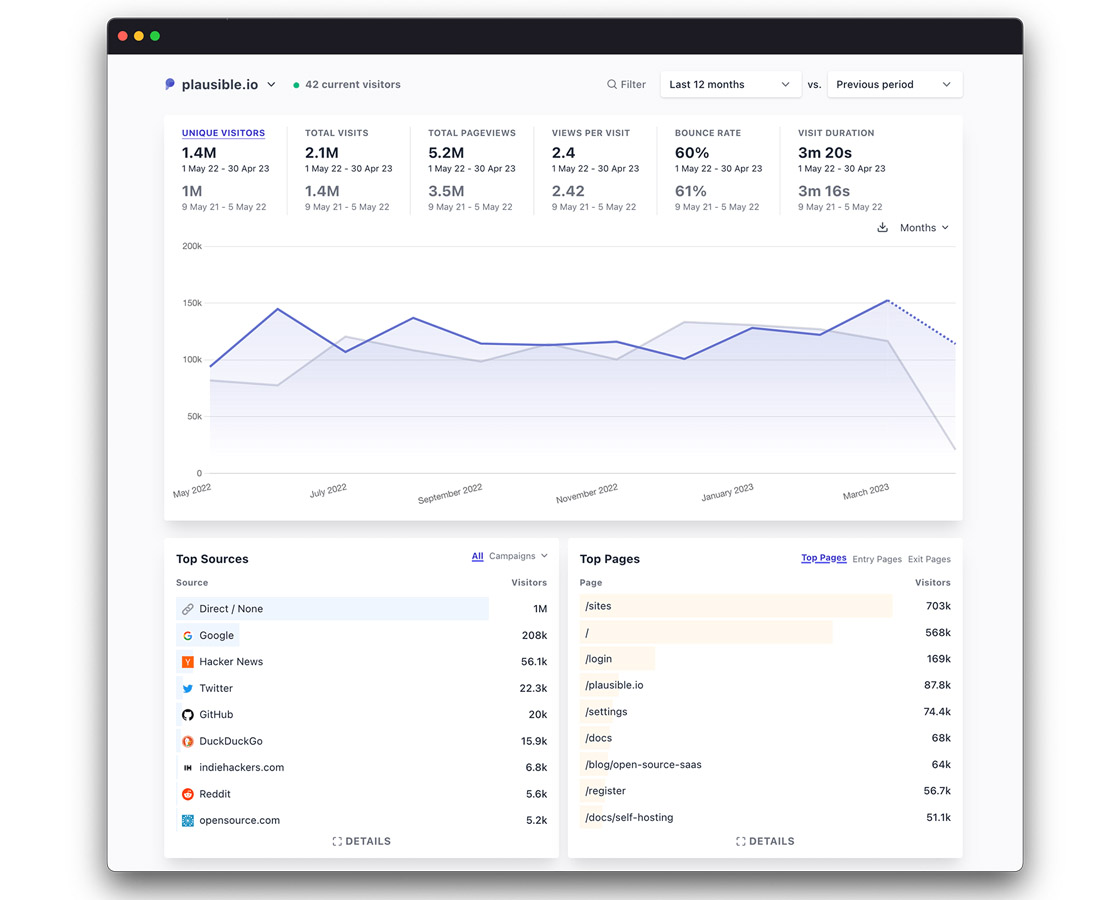 With Plausible, all your website stats are on the first page of the dashboard. The charts are easier to understand and the analytics are explained in simple terms for anyone to read at first glance.
This is what web analytics should be. It's simple, straightforward, and beginner-friendly.
Beginner-Friendly Interface
The main navigation menu on Google Analytics has over 40 sub-categories, in 20 of those sub-categories there are more sub-sections. It makes up a total of over 290 metrics. Let's face it, no one needs this much tracking to maintain any type of website.
Plausible breaks down its statistics into just a few groups like unique visitors, total visits, total pageviews, and bounce rate. All of these stats are available at a glance on the main dashboard page. You don't need to watch any tutorials or take online courses to understand these metrics.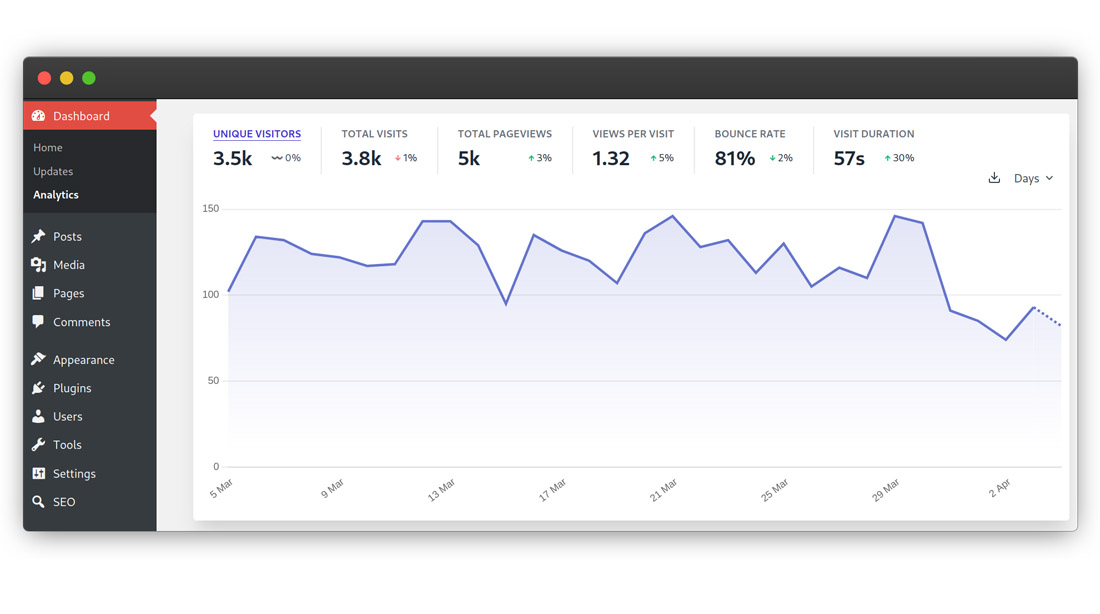 With the Plausible WordPress plugin, you can view all these stats directly from your WordPress admin dashboard as well.
Privacy-Friendly Analytics
One of the most attractive features of Plausible is its privacy-friendly approach. Plausible tracks and gathers all the metrics from your website usage without collecting any user personal data.
This is made possible by minimizing the amount of data Plausible collects. By removing all those dozens of unnecessary metrics and data collection, Plausible is able to fit all the important stats on a single page. And that's also part of why Plausible is lightweight.
Lightweight (<1 KB) Script
Plausible features a very lightweight script that comes in under just 1 KB. That's 17X smaller than the script used by Google Analytics and 45X smaller than the recommended Google Analytics integration.
Even though Google tells you to speed up your website page loading times, it doesn't tell you about how its own analytics script affects your website speed.
GDPR, CCPA, and PECR Compliant
When using Plausible, you don't have to scare your website visitors with any cookie consent messages or GDPR-compliant popups.
Plausible does not use Cookies and it does not collect any user personal data. All data is gathered anonymously without doing any privacy-invading tracking. Plausible is also hosted in the EU using European-owned cloud infrastructure.
This means your website will be GDPR, CCPA, and PECR compliant. However, if you use any other third-party services like Google AdSense or email optin forms, you will have to show those Cookie consent messages on your website.
100% Data Ownership
Plausible gives you full control over the data you collect from your website. Since Plausible doesn't sell or share data with any third parties, you own 100% of the data you gather. You can even self-host Plausible on your own server if you choose not to use its cloud-hosted service.
Advanced Tracking Tools
Even though Plausible is all about simple metrics and privacy-friendly data gathering, it also includes some advanced tracking tools to help your more complex projects.
You can create goals for campaigns to track progress. There are also tools for tracking goal conversions, 404 error pages, external link clicks, and file downloads as well.
Pricing Plans
Google Analytics is available for free as it shares the user personal data with third parties and monetizes it through other services. Plausible does not make profits that way. Instead, it charges a monthly subscription directly from the website owners.
Plausible costs $9 per month to setup analytics for websites that generate up to 10k views. It's $19 per month for up to 100k views. And $29 per month for 200k views.
Each plan allows you to add up to 50 websites, maintain unlimited data retention, and have unlimited team members.
Is Plausible Worth The Price?
How much do you respect and value user privacy? Do you prefer simpler analytics over complex metrics?
If you can answer these two questions, it will be much easier to make a decision on whether you should switch to Plausible.
You are being tracked no matter where you go on the web and as a result, you are bombarded with privacy-invading adverts, scam calls, and emails. This should not be the norm.
If only half of the websites that use Google Analytics switch to open-source, privacy-first analytics platforms like Plausible, we can make a huge difference and deliver a strong blow to tech giants that dominate and monopolize the Internet.