ipwhois.io: A Secure & Reliable IP Geolocation API For Developers
Localization is one of the most critical aspects of building successful websites. It not only helps to break the language and cultural barriers but also improves the overall user experience in many ways.
Most websites and apps achieve this goal with an IP Geolocation API, which goes a long way to help understand the audience.
Today we take a closer look at one of the best IP Geolocation APIs available, ipwhois.io. This geolocation API service is easy to install and quite affordable. In fact, it even comes with a free plan for your personal use.
Let's dive in and see what else ipwhois.io has to offer.
What Is IPWhoIs?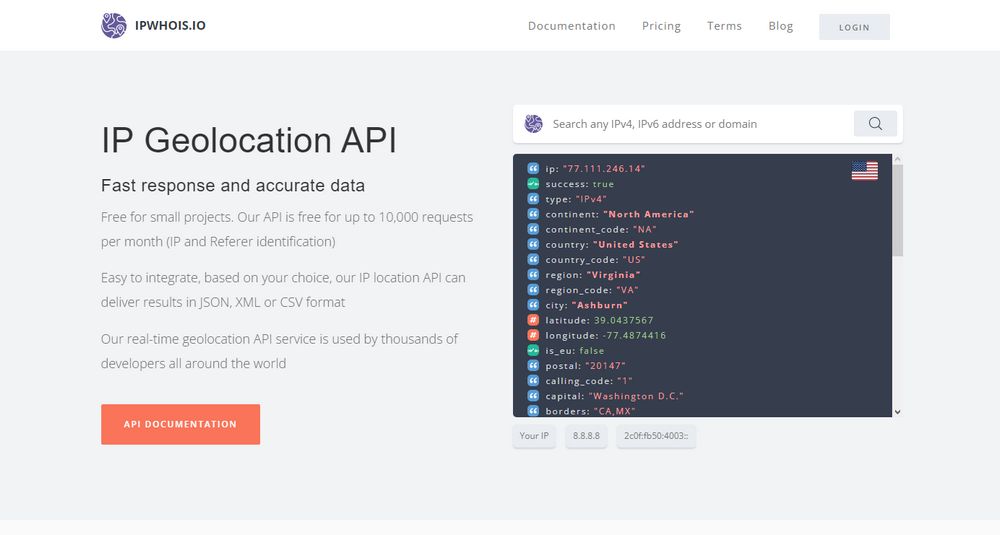 IPWhoIs provides a fast and secure IP geolocation API for developers that can be implemented on websites and apps to better understand the target audience.
ipwhois.io is much more beginner-friendly than most other geolocation API services. ipwhois.io is very easy to integrate with your website and allows you to get the data in JSON, XML, or CSV formats. It offers a generous free plan for beginners to test out the service too.
When tracking users you should always consider the user's privacy and security. ipwhois.io servers are protected by 256-bit SSL encryption to ensure the safety of your user data.
The service also uses a self-learning neural network to update the database in real-time to deliver the most accurate geolocation data to you.
Why Use ipwhois.io?
The biggest channel on YouTube, MrBeast has over 100 million subscribers. But he recently realized that most of his audience comes from not just the US but from many other countries. He then translated his videos into different languages and delivered the content through multiple channels.
This allowed him to double his audience in a very short time. This was all possible because of the statistics provided by YouTube. Websites do not have a way to acquire such user data. And the data provided by analytics platforms are also limited.
This is why, regardless of the size, many small to large websites use geolocation API to deliver a more localized and convenient experience to their users. And it's used by almost all types of companies as well.
News and magazine websites such as Huffington Post use geolocation APIs to understand their target audience to deliver content in different languages
eCommerce websites use it to offer pricing in local currencies based on the user's location. As well as to show localized ads and promotions
Government, banking, and finance websites use geolocation APIs to prevent fraudulent activity such as to prevent users from creating accounts by providing false location information
And most other websites use geolocation APIs to detect suspicious activity based on user locations to prevent hacks and malware attacks
Using ipwhois.io will help you to better understand your target audience as well as protect your website from hackers and fraud. It will help you get ahead of the competition by providing localized services. And you can use it to boost SEO as well.
Best Features of ipwhois.io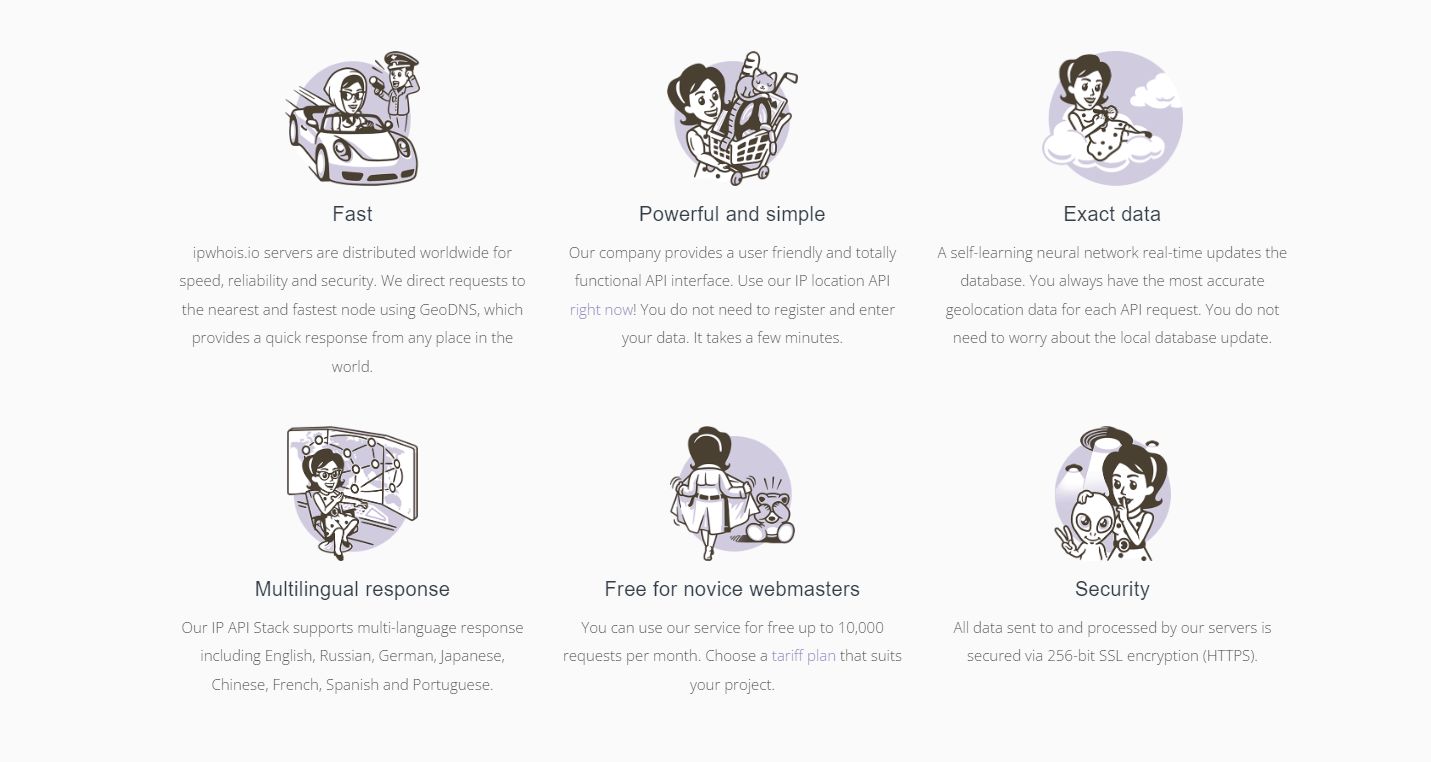 ipwhois.io comes with plenty of great features and benefits. Here are just a few of them:
Offers a user-friendly and functional API interface
Easy and beginner-friendly installation process
IP API Stack with multi-language response
Self-learning neural network delivers real-time database updates
Currency personalization features for eCommerce websites
Servers protected by 256-bit SSL encryption (HTTPS)
Data can be delivered in JSON, XML, and CSV formats
Ability to use the free plan without access tokens
How Much Does It Cost?
Pricing for ipwhois.io is affordable and it offers multiple plans to choose from.
Basic: For $10.99, this plan gives you 250,000 requests per month with usage statistics, currency data, and more.
Business: For $39.99, this plan gives you 1.5 million requests per month with usage statistics, currency data, security data, bulk endpoints, and more.
Premium: For $89.99, this plan gives you 6.5 million requests per month with usage statistics, currency data, security data, bulk endpoints, and more.
As we mentioned earlier, ipwhois.io also offers a free plan that offers up to 10,000 requests per month. This plan, however, is not allowed to be used on commercial websites but it's ideal for personal websites and for testing purposes.
Should You Use ipwhois.io?
While there are many options out there to choose from, ipwhois.io is one of the few geolocation APIs that provide highly accurate data at incredible speeds and at an affordable price.
Whether you're looking to increase sales with localization, offer content in other languages, or even protect your website from fraudulent activity, ipwhois.io is a service that will help you in many different ways to boost your business.
Since there's a limited free plan available, you can use it as an opportunity to test ipwhois.io and see if it's useful to you before committing to a paid plan.