Why to Use WordPress for Your Political Campaign
Can having a website really increase your chances of winning an election? Reach out to voters more easily? Understand voter's likes and beliefs? The answer is yes. A website can help you run a successful political campaign. Here's how.
Bernie Sanders took advantage of his website during his 2016 Presidential election campaign. During a speech, he urged people to visit his website to make a small donation. He managed to raise a whopping $8 million for his campaign using his website alone.
While having a website for your political campaign can certainly help raise more money, it can also boost your campaign efforts in many ways.
Thanks to WordPress, you can now build your own election campaign website for less than $100. Keep reading to find out just a few reasons why and how to create a political campaign website for your candidate using WordPress.
We've made our own free political WordPress theme for you to download as the perfect starting point for your political campaign or candidate website.
You can use drag-and-drop functionality to build your own free political website with WordPress, accept donations, integrate social media, showcase your candidate, share policies, maintain a blog, and much more.
It's completely free to download, try out, and customise with you own content. No strings attached!
Download our Free Political WordPress Theme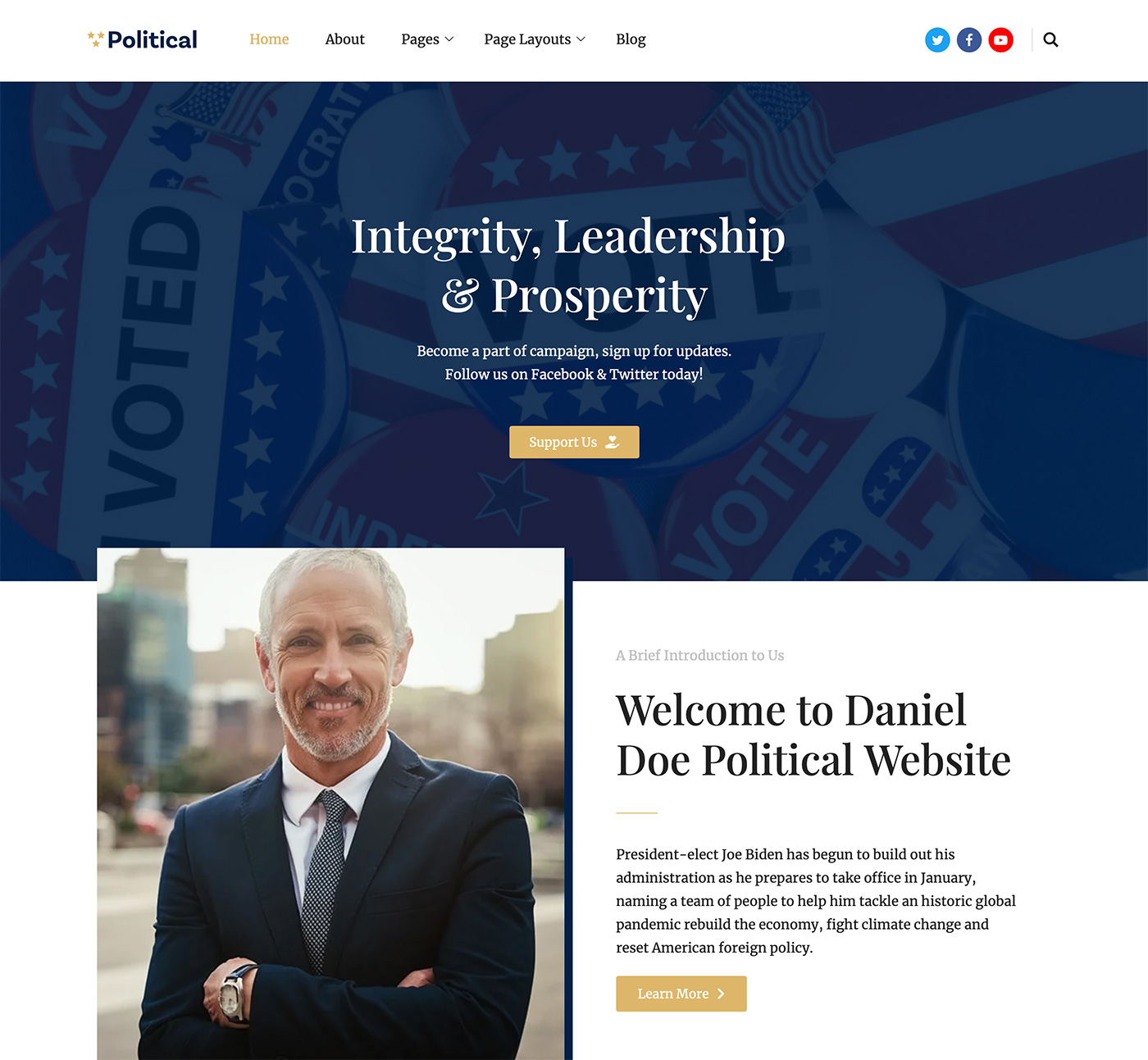 Generate More Donations
People are still divided on whether Donald Trump is a good president or not. But, we can all agree on one thing, that he ran a pretty successful election campaign. His catchy slogan alone was turned into memes around the world.
What most people don't know is how Trump raised over $280 million in donations. Yes, you guessed it. He used his website.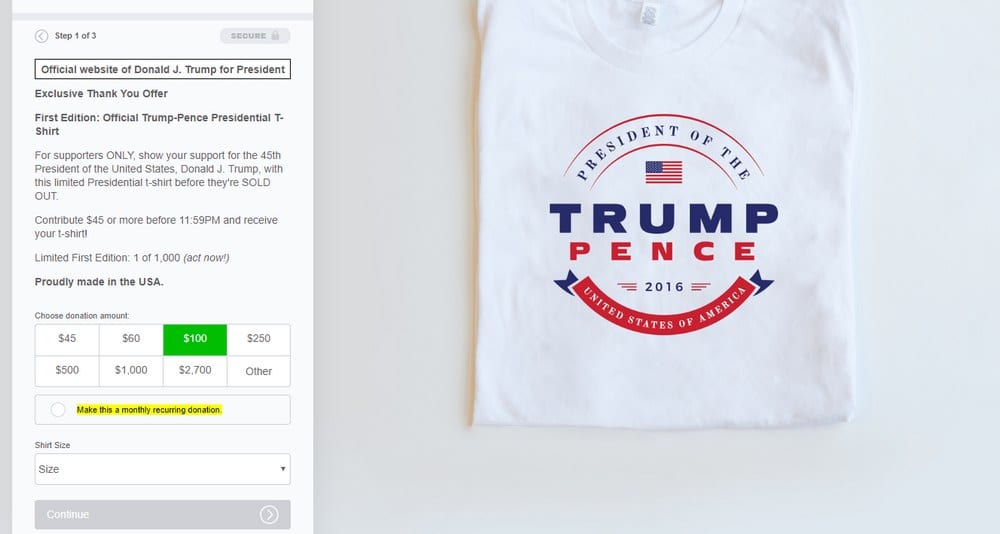 Trump ran a successful ad campaign on social media driving people to his official election website where he had a donations page setup. On this donations page, Trump offered a T-shirt for every donation of $45 or higher. It's through these small donations he managed to raise most of his funds.
You can also use this same strategy with your own political campaign website. WordPress makes it easier to integrate a donations page on your website. All you need to do is install a free plugin and it will handle all the payment processing and gather the donations for you.
Grow An Email List
Almost all types of political campaigns involve working with focus groups. These focus groups help you find the right ideas and the causes to promote during the speeches and the entire election campaign.
Having a website will make this process much easier. Instead of gathering a small focus group of 5 or 10 different people, you'll have a chance to build a group of thousands of people by growing an email list.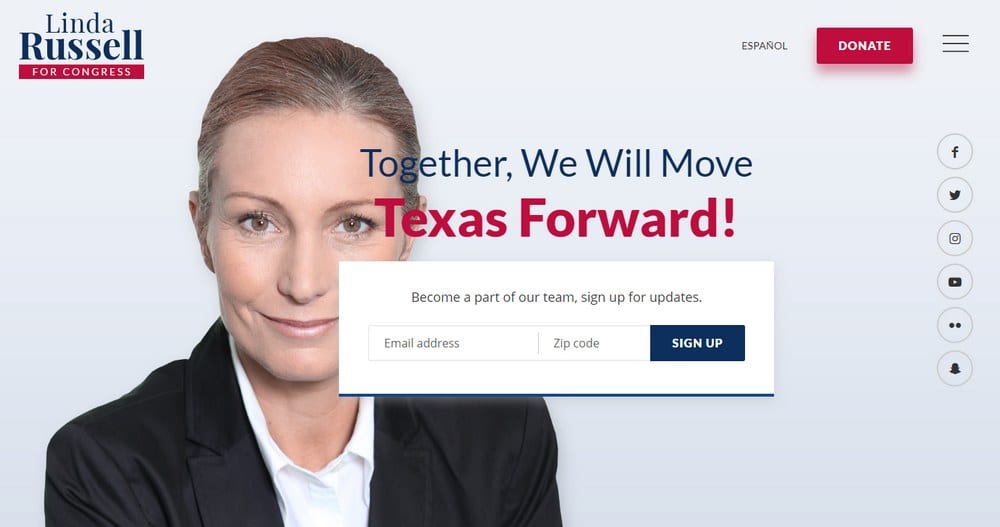 (Example: inForward WordPress theme)
You can easily install an email optin plugin, like Sumo, and show a popup message on your website to ask visitors to subscribe to your email list. You can collect all their emails using an email marketing service like MailChimp and run email campaigns to promote your message.
Conduct Surveys and Polls
Once you have an email list, you can use your subscribers as a focus group to conduct surveys and polls to learn more about your audience and fine tune your political campaign. Free tools like TypeForm will come in handy for such occasions.
The website itself can also be used to gather data from your visitors. For example, there are many great WordPress plugins that allow you to setup polls and surveys directly on your website.
This will definitely offer a great opportunity to gain more insights and even test different ideas using your audience. Best of all, it won't cost you anything.
Use In Offline Advertising
Of course, there won't be enough space on your banner ads and posters to tell the people about your future plans, goals, and all the causes you believe in. Having a website can change all that. Simply add your website URL to your print and offline advertising campaigns to give people a chance to learn more about you.
In fact, you can even track your offline campaigns to see how effective they really are. For example, when using WordPress, you can easily create landing pages to drive people from different ad campaigns to different landing pages on your website. You can use a simple URL shortener to direct people to different pages.
Set Up A Shop
Much like Trump, you can also setup a shop on your WordPress website to sell goodies and memorabilia to raise more funds for your election campaign.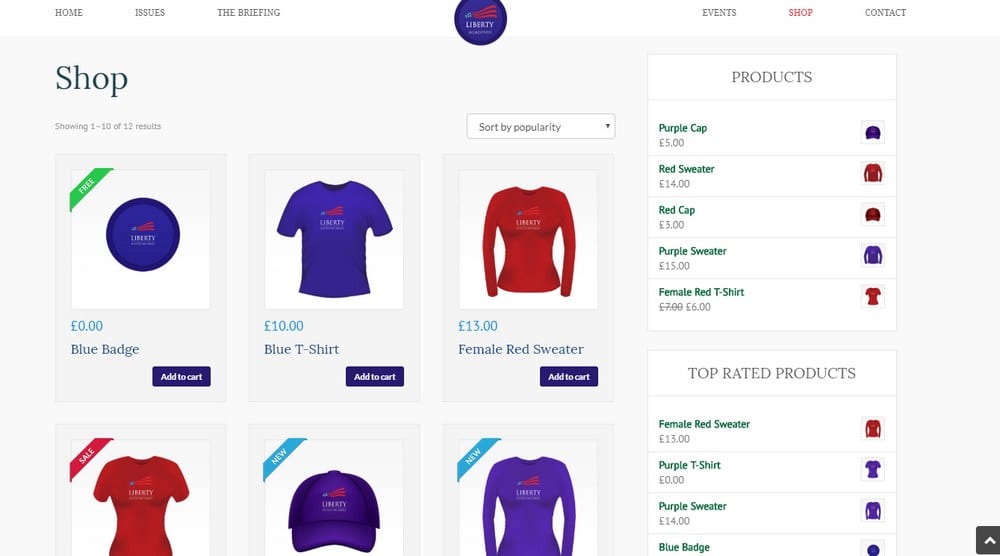 (Example: Liberty WordPress theme)
Most WordPress themes come with a shop section built-in to the theme design. Use those themes to easily get started on selling memorabilia. Or, you can install a plugin like WooCommerce to setup an eCommerce section on your website to sell products.
How To Setup A Political Campaign Website
You don't have to hire web developers or expensive web design agencies to build a website for your political campaign. With WordPress, you can build the website all by yourself with just a few clicks.
Use A Memorable Domain Name
Get started by choosing a memorable domain name for your website URL. You'll notice that almost all the major domain names for popular names are already taken by other websites. So, you'll have to get creative when choosing a domain name.
For example, you can use your slogan instead of your name for the website. Or you can add an extra word in front of your domain name (eg: VoteJohnDoe.com).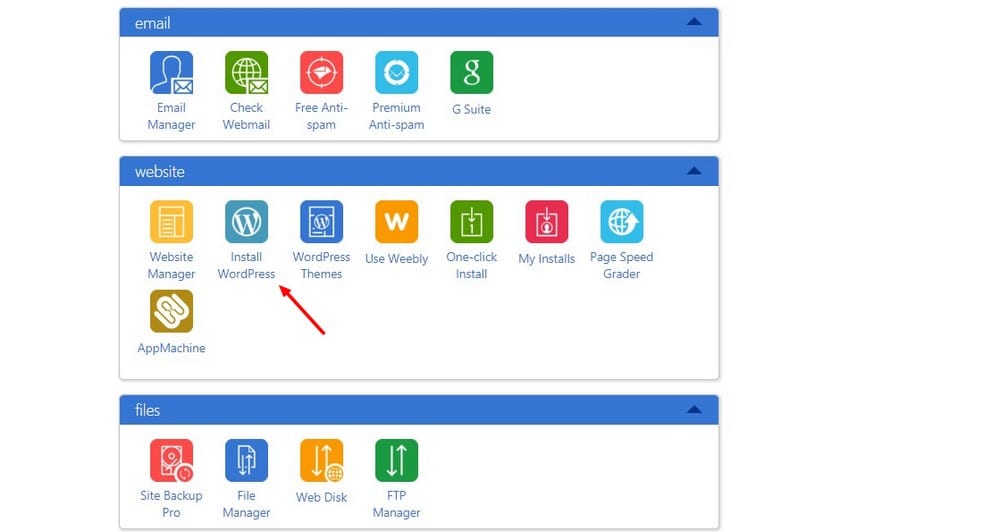 Using a platform like Bluehost, you can get a free domain name with hosting for your website for as low as $3.95 per month. Once you register, you can install WordPress with just one-click from the Bluehost account dashboard.
Choose A Professional Design
Choosing a great looking theme for your website design is the next step. There are plenty of free themes out there, but it's important to choose a professional looking design that allows you to customize its colors to match your campaign colors and also to highlight your candidate.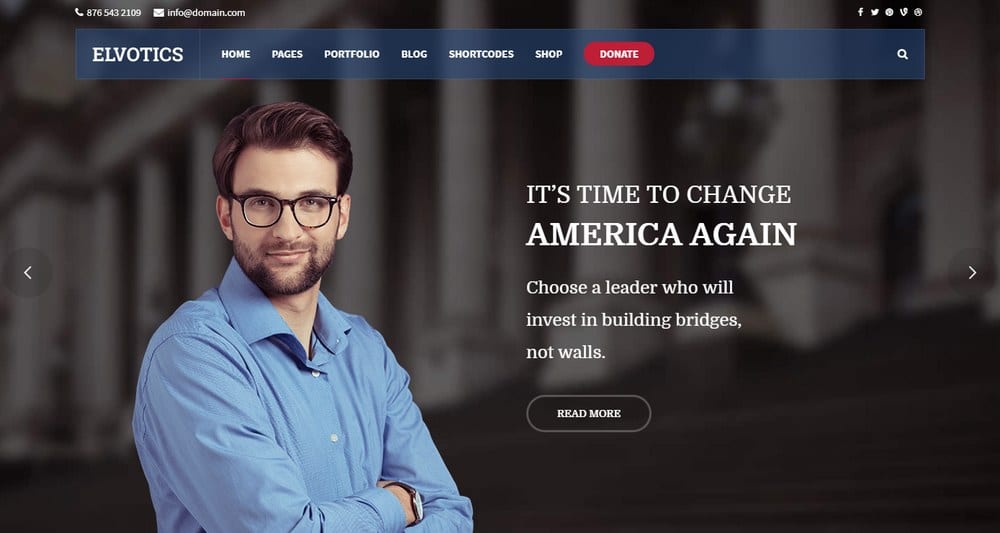 (Example: Evoltics WordPress theme)
Important Sections To Create
There are a few special sections that you need to create on your political campaign website to make it more effective. You can look for these sections when choosing a theme for your website or you can easily create them yourself.
A donations page
A page to accept volunteers
A map with directions to your campaign headquarters
A shop to sell memorabilia
A contact page
A campaign calendar section
Interaction with social media
Polls and surveys
In Conclusion
As you can see, setting up a website for your political campaign is quite easy. It will make your candidate more discoverable by making the website appear on Google searches and help build more authority over the competition as well.
Check out our collection of the best political WordPress themes to find a great looking design for your election website.