8 Best Wedding Website Examples + Theme Suggestions
Most couples start planning their wedding right after getting engaged. This is when you think about which style of wedding invites to use, the design of decorations, and bridal dresses. Now, this process also includes setting up a wedding website.
Since everything happens online these days, setting up a wedding website is the smartest choice you can make to create a hub of information about your special event. This way, you can keep all your guests well informed.
Setting up a wedding website is easy. If you're not sure where to start, we're here to help. In this post, we'll show you some of the best wedding website examples to find inspiration for your own website. Along with a few wedding website tips.
Get everything you need to build your next website with one simple subscription. From $16 per month, get unlimited access to nearly 2 million WordPress themes, web templates, fonts, graphics, and photos.
What Makes a Great Wedding Website?
There are things that you should and should not include in your wedding website. Here are a few things that you must include to make the most of your website.
All Important Information in One Place
The main purpose of a wedding website is to create a hub where you include all the important information about the wedding in one place.
This includes information about the wedding venue, a Google Map to find the location, event schedule, and more. Your goal is to make sure your guests can find the venue, help them find a place to stay the night, and plan ahead.
Tell Your Story
You can also leverage your wedding website to tell your story. Most wedding websites use a timeline section to tell the story of how the couple met each other.
It's a great way to show your guests how special this day really is. As well as to give more personality to your website.
Showcase Your Photos
If you have photos from your wedding pre-shoot or special memories, use the website to showcase them all. It's very easy to create image galleries, especially when using WordPress.
Make an Online Wedding RSVP
There's no need to print out RSVP cards and send them one at a time. That's the old fashion way. Now you can do it online.
You can easily add an RSVP form to your website to collect RSVPs from your guests.
Add a Wedding Gift Registry
If you have a wedding gift registry, you can present it to your guest through your website as well. With a simple WordPress plugin, you can setup and manage your gift registry and even allow guests to check things off your list.
How to Make a Wedding Website
Thanks to WordPress, setting up a wedding website is very easy. There's no coding or expert web design knowledge necessary.
Here's what you'll need.
Domain Name: First you'll need a domain name. You can buy this separately or most web hosting providers will give you one for free.
Web Hosting: Choose a good WordPress hosting plan as they come with WordPress pre-installed. It will make the setup process easier.
WordPress Theme: Find a great wedding WordPress theme. You can use our best wedding themes collection to find inspiration for a design.
You can read our guide on how to build a wedding website to learn more about how to setup a WordPress website.
Best Wedding Website Examples
With the wedding website examples below, you'll be able to get an idea of how to approach the design of your own website. To make things much easier, we've also included theme suggestions for each example. Have a look.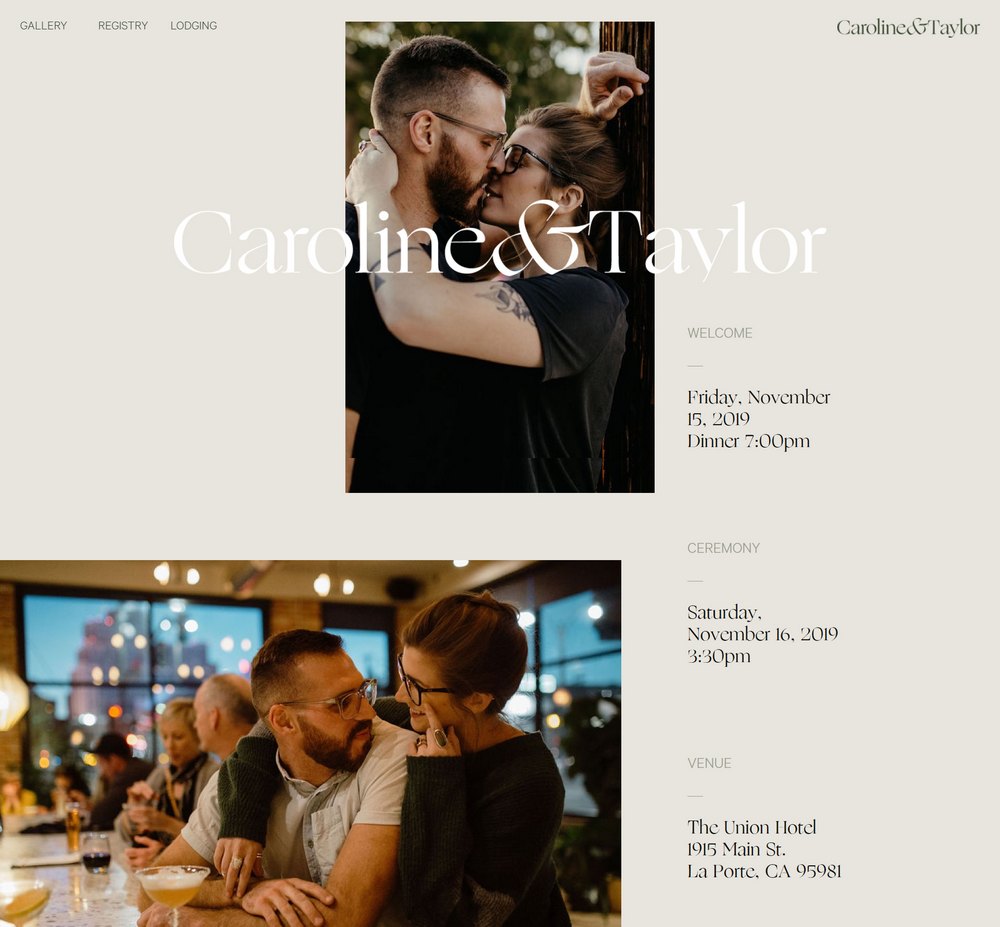 The wedding website for Caroline and Taylor uses a modern design giving them center stage throughout the site layout. The site also effectively highlights details on how to get to the venue, details about lodging, and much more.
Recommended Theme: Solene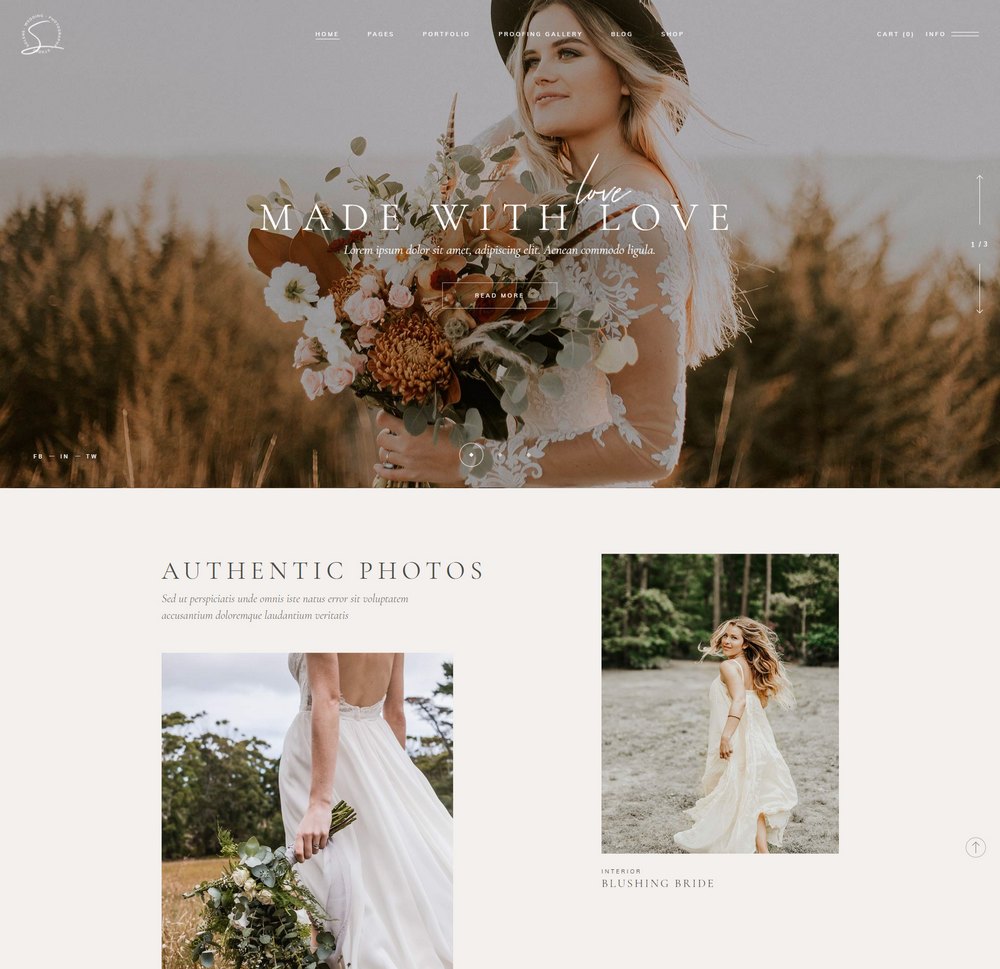 Solene WordPress theme comes with multiple homepage layouts, including one with a modern section-based design. It has a content layout similar to Caroline and Taylor's website with lots of space for showcasing photos as well as other information.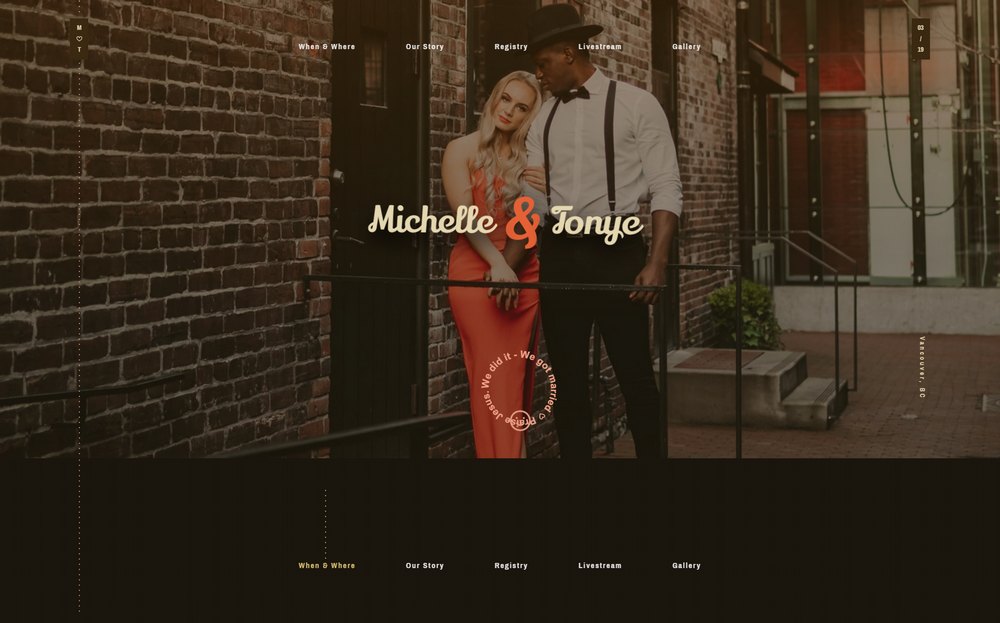 This beautiful wedding website combines elements from modern and vintage designs to create a moody effect. It has a section-based design that showcases Michelle and Tonye's story as well as their gift registry and even a link to watch the Livestream.
Recommended Theme: Moments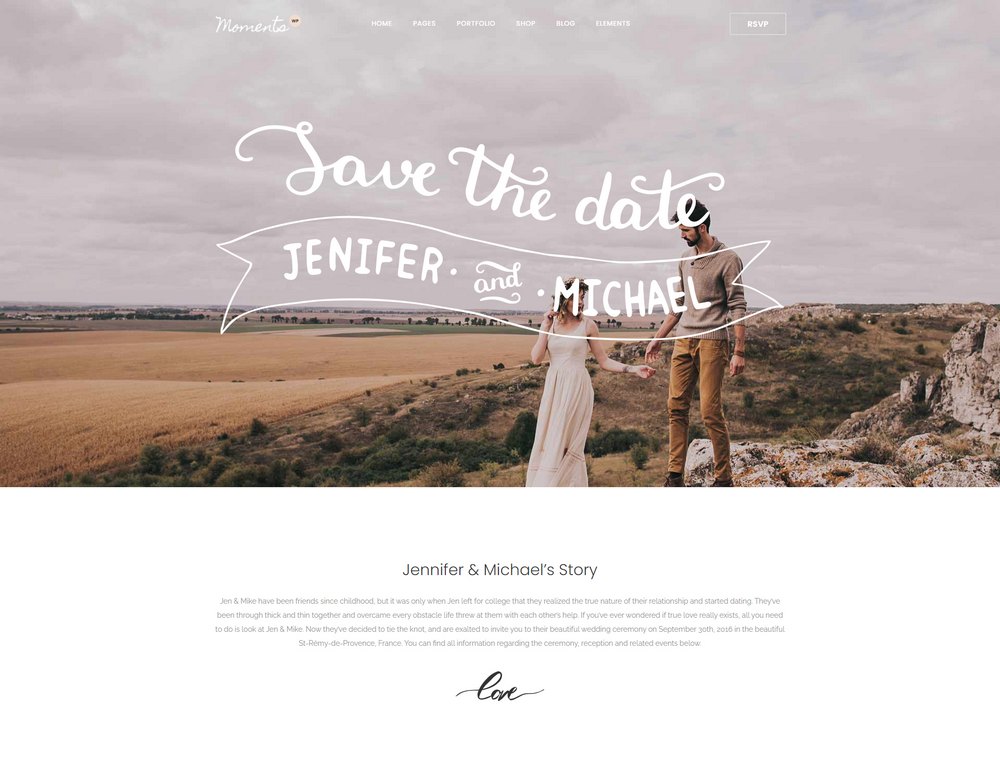 Moments is a wedding WordPress theme that has a pre-built template with a design similar to Michelle and Tonye's website. It has a fullscreen design with many sections for adding photo galleries as well as information about the event.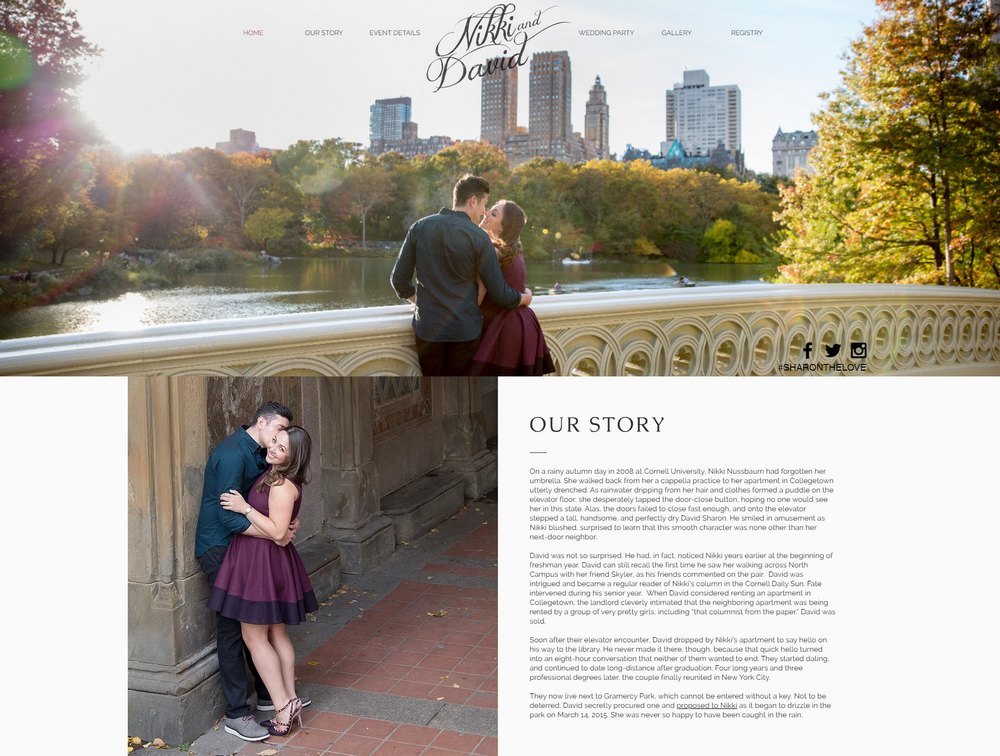 Nikki and David's wedding website features a modern design where they use lots of large photos throughout the layout. It's also has a great example of our story sections where they tell their love story in detail.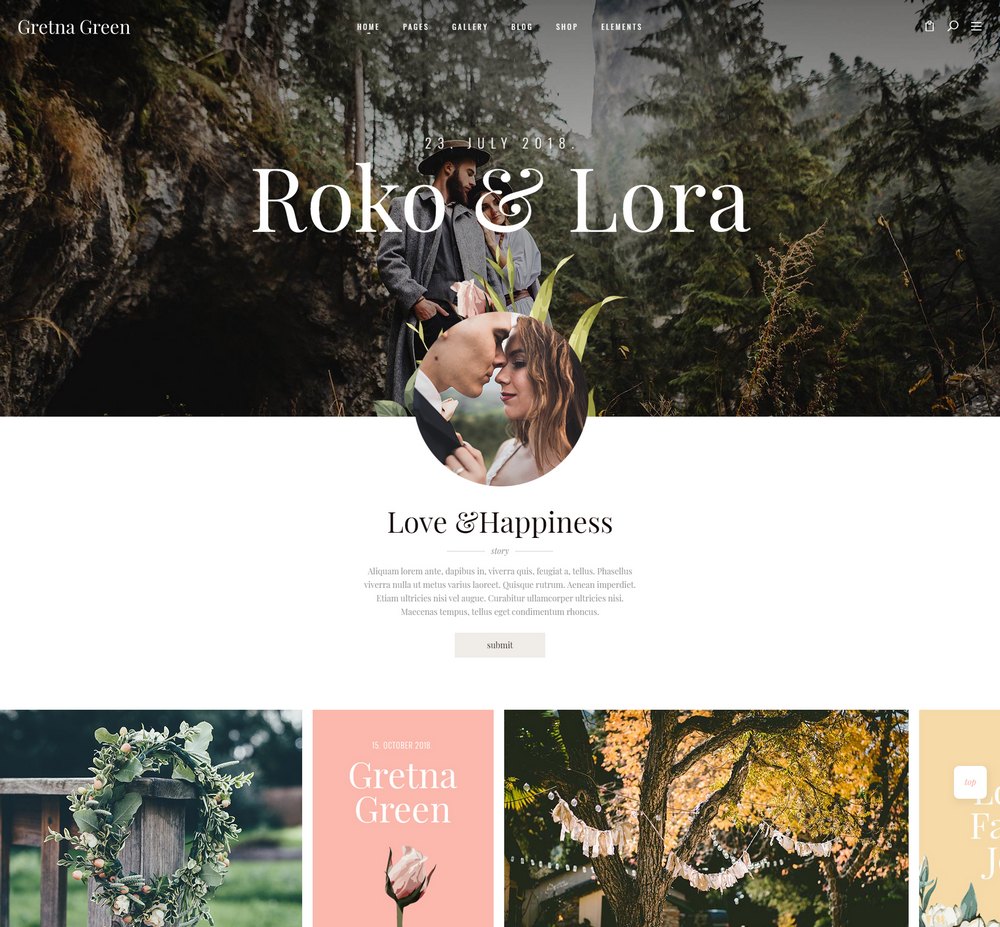 Gretna Gree WordPress theme also features several homepage layouts with similar website designs. In fact, the designs in the theme look even better than the example website. The theme also has built-in RSVP forms.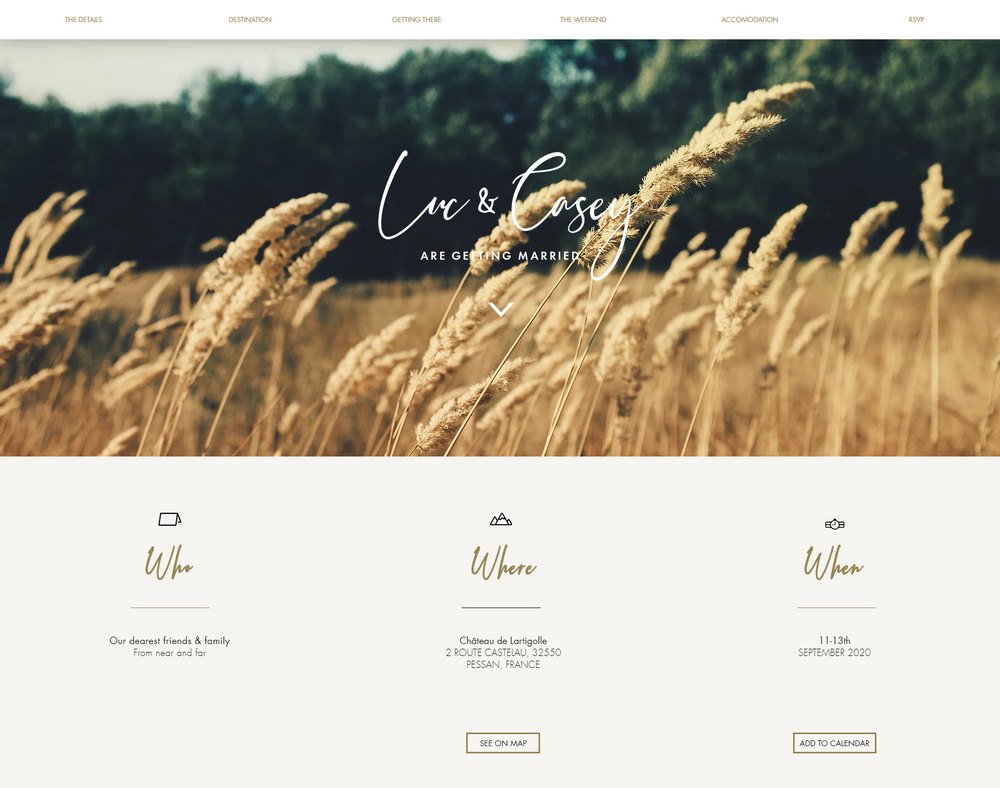 As we mentioned earlier, a wedding website is a hub for all your information. Casey & Luc's wedding website is a good example that shows how to leverage your website to showcase all the info in a creative way. You'll also notice that the site uses fewer photos of the bride and groom.
Recommended Theme: Marriage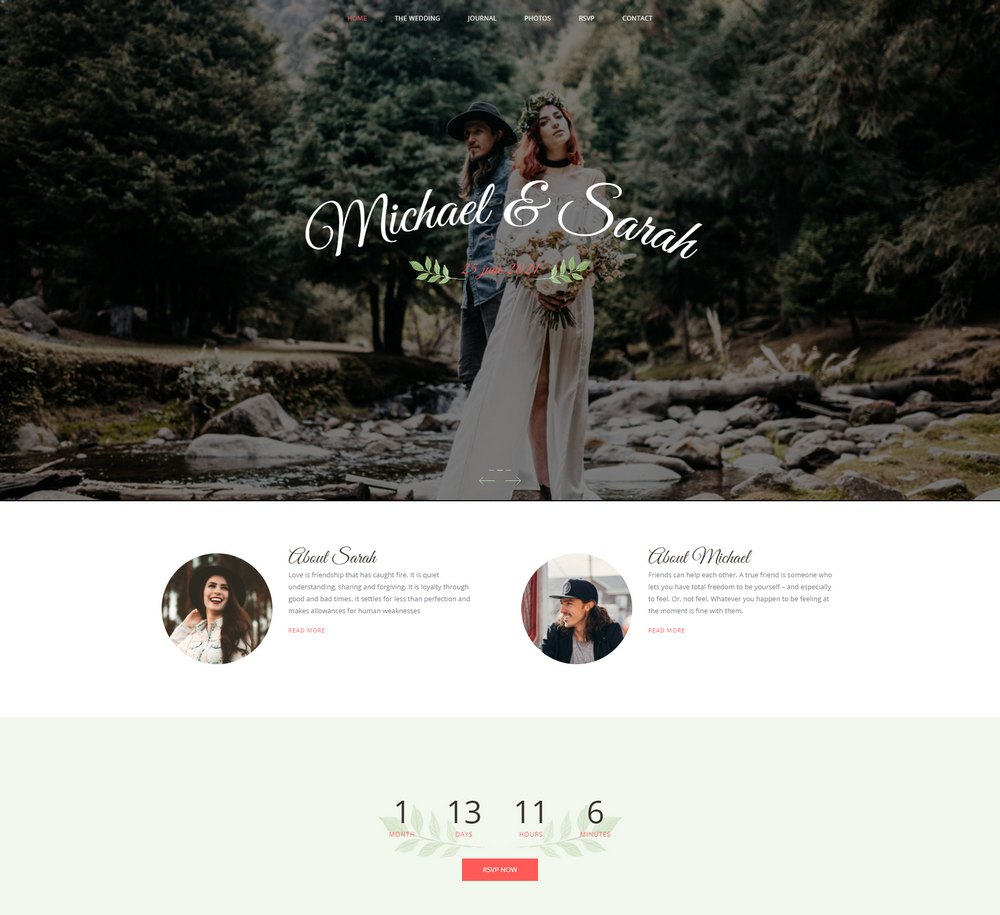 This theme is perfect for making a wedding website with a more focus on providing information about the event. It has lots of space and page layouts for including all the details about your wedding.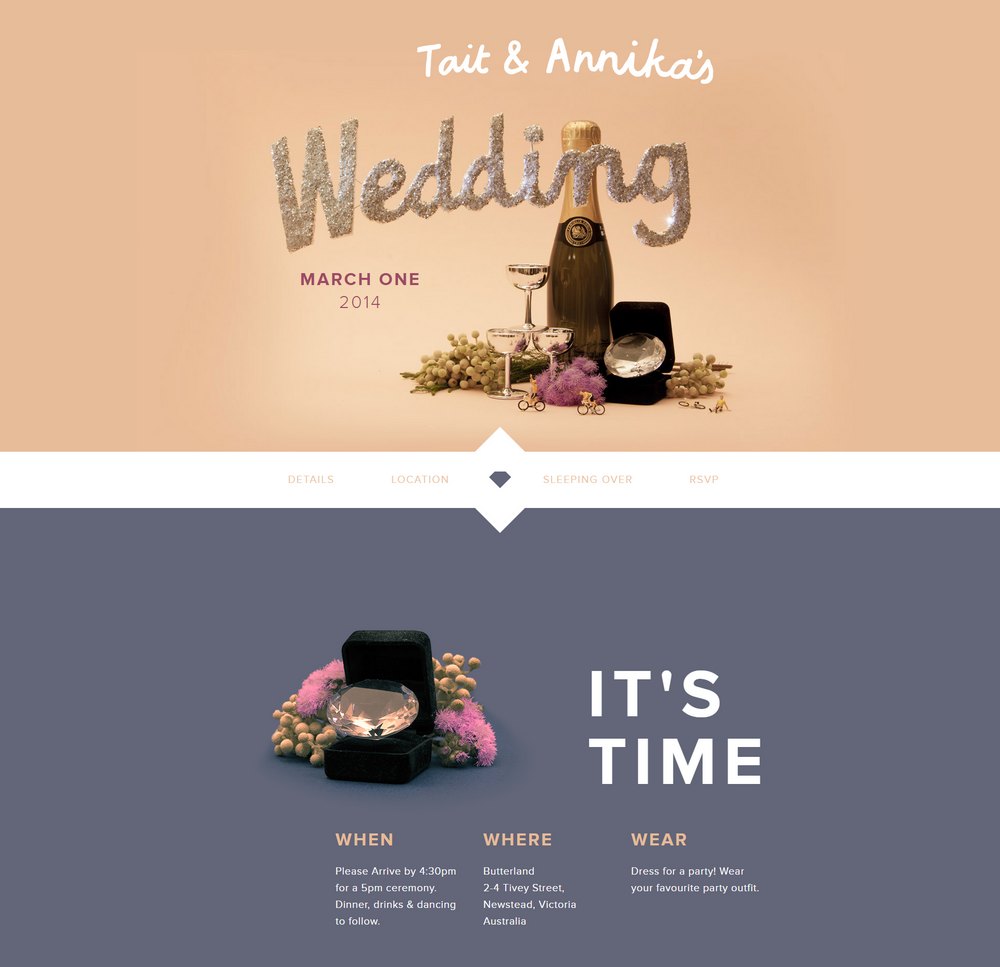 This wedding website takes a very unique approach where they showcase all the information about the wedding without showing any photos of the bride and groom. Instead, attractive illustrations and videos can be seen throughout the site.
Recommended Theme: Fleur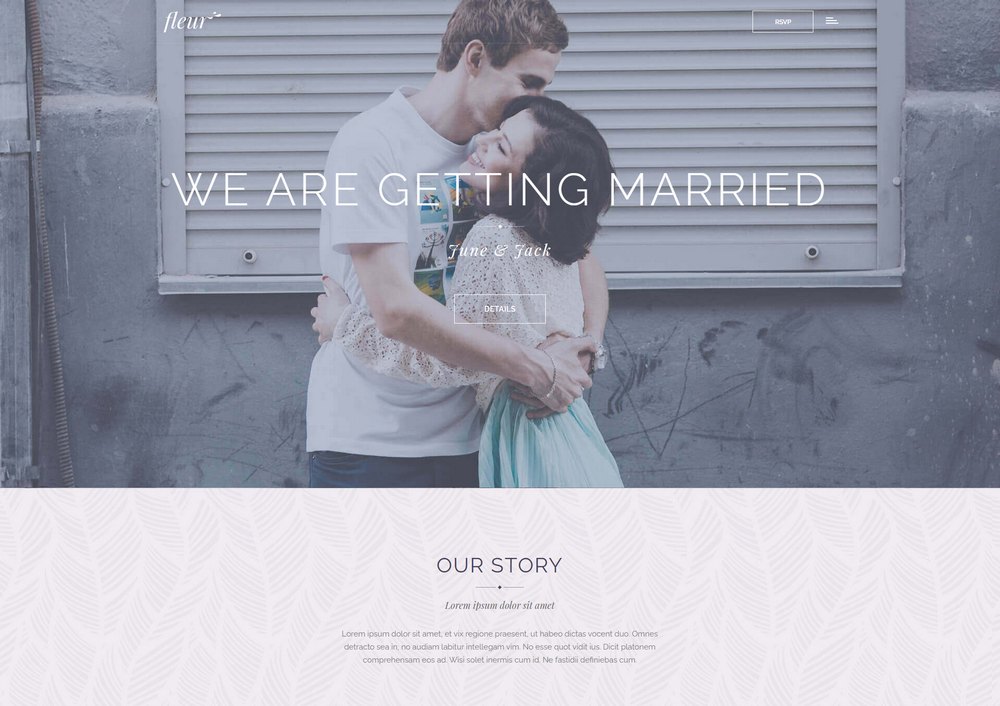 Fleur WordPress theme features a stylish template where you can create a detailed wedding announcement website. It includes all the necessary sections for telling your story, adding a photo gallery, and outlining wedding event details.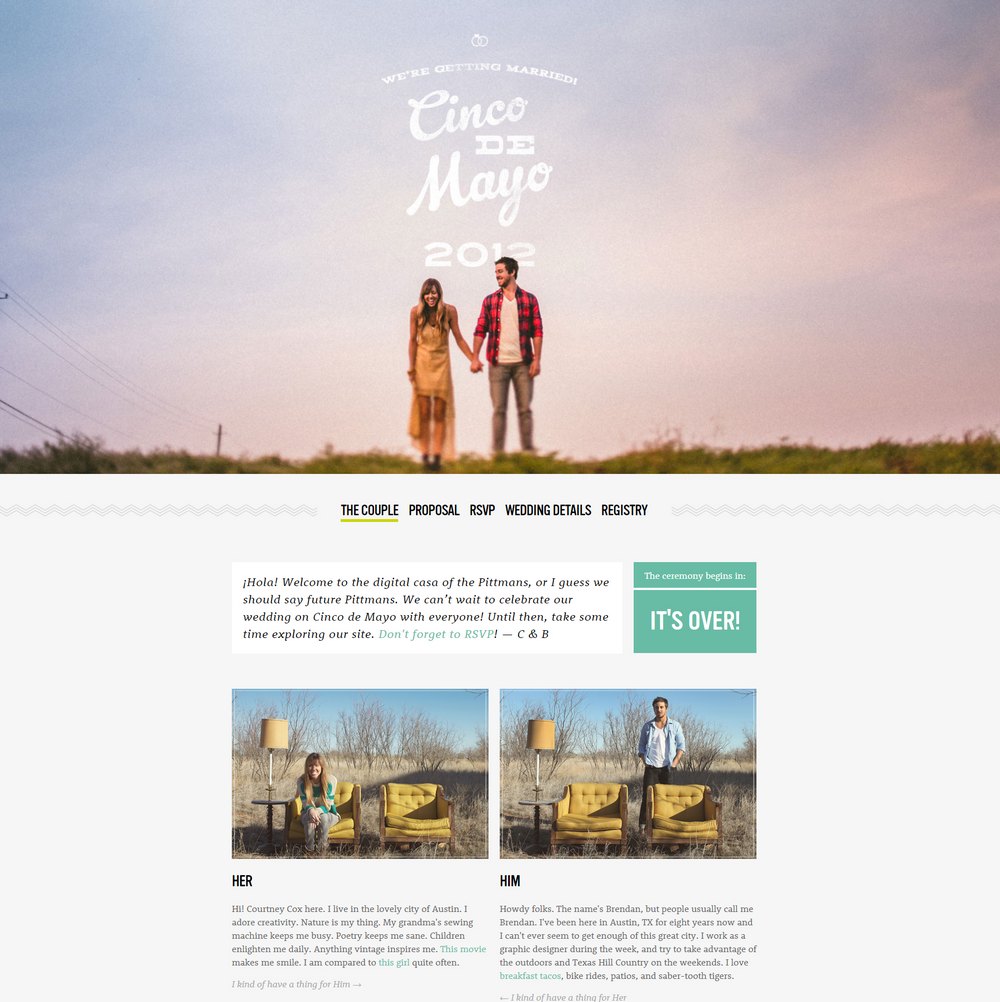 The Pittman's use a very fun and humorous approach in their wedding website design. Everything from their choice of colors, photos, and even the website copy tells the story of how the couple enjoys life.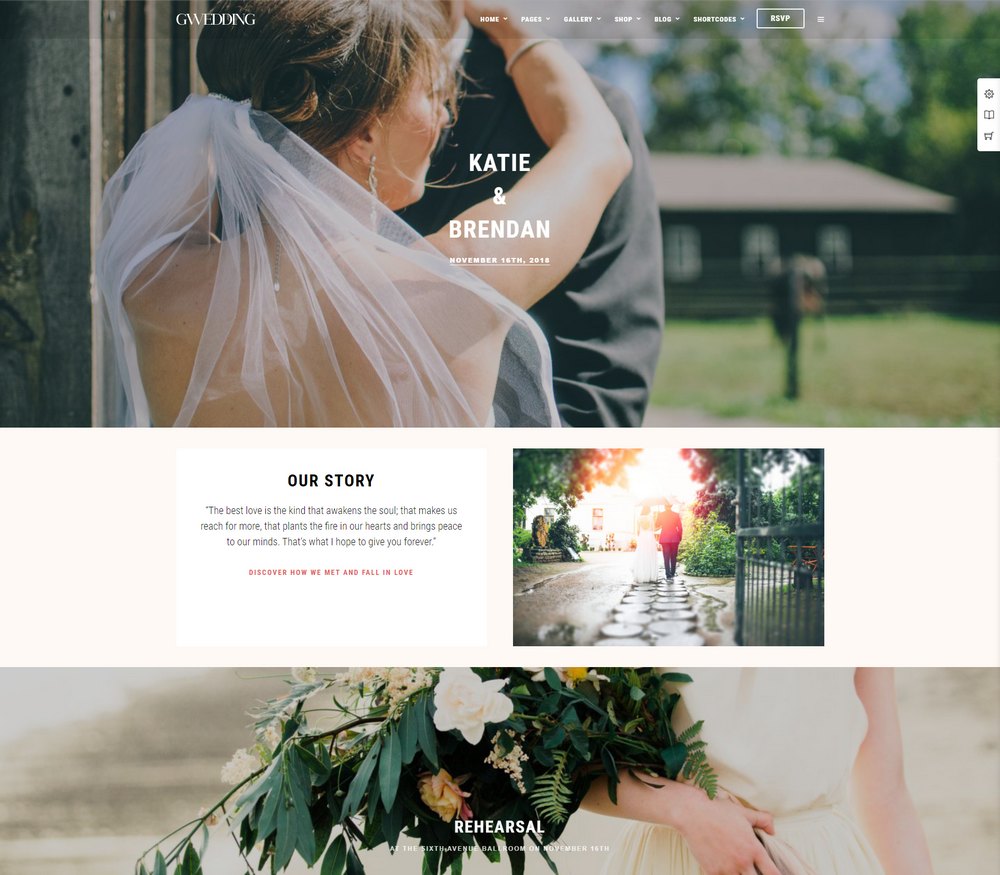 You can use a theme like Grand Wedding to create a similar wedding website experience. It has plenty of space for showcasing your photos and telling your story.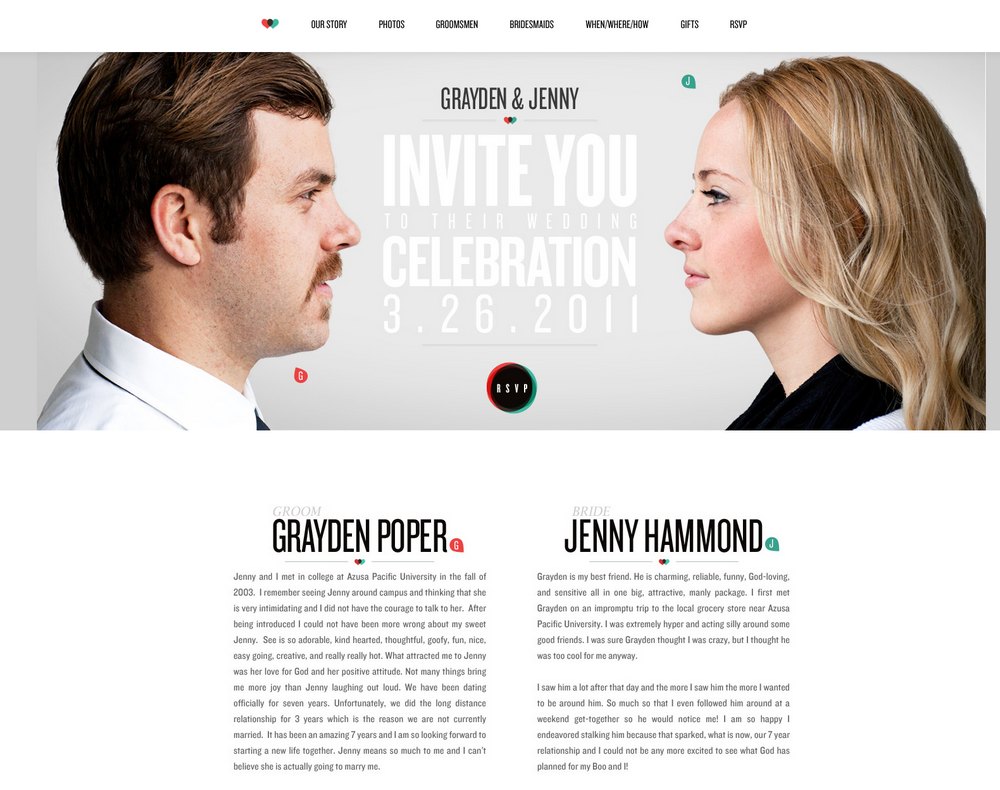 Jenny and Grayden's wedding website features a very official look and feel. One special feature of the site is the section where the bride and groom are introduced to the guests. It uses a creative profile-like design.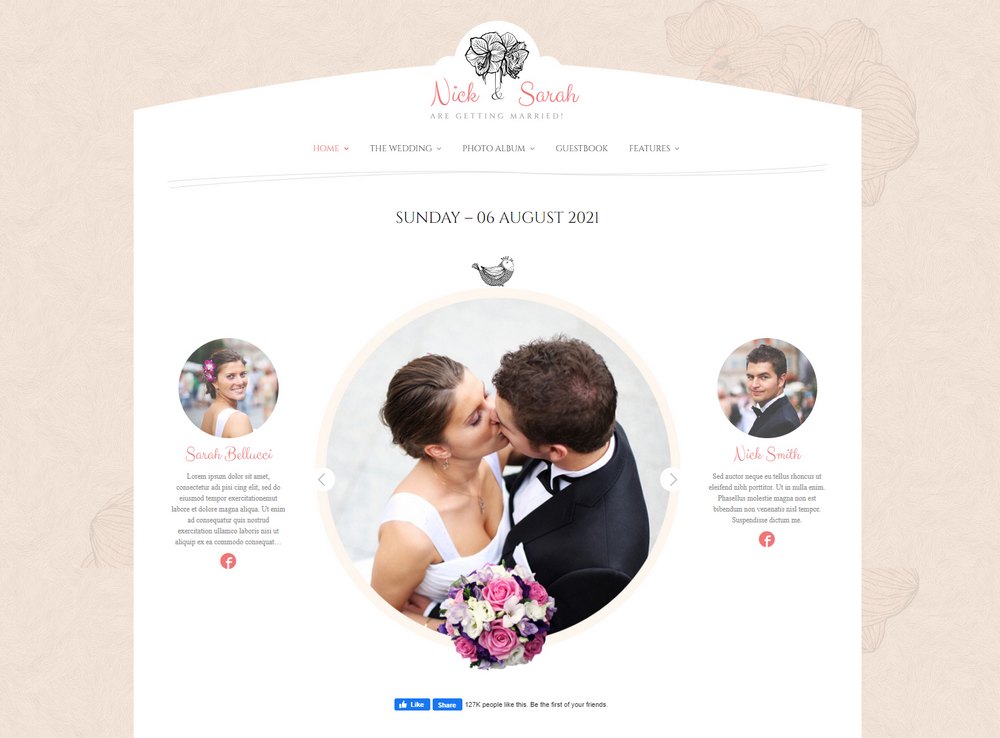 The Wedding Day WordPress theme features a design similar to Jenny and Grayden's website. It also has a section for introducing yourselves with profile-like layouts.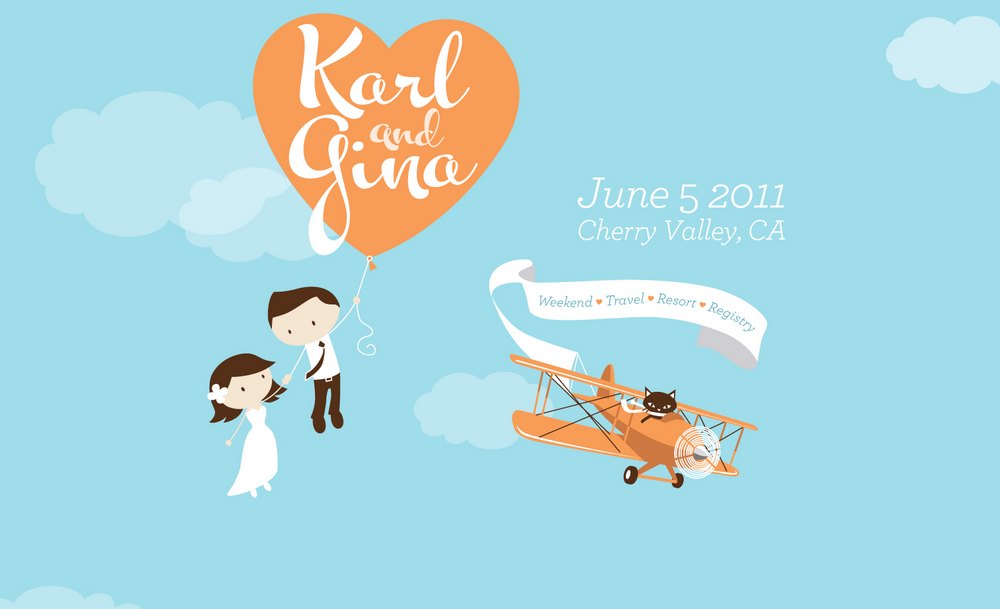 Karl and Gina's wedding website has a very adorable design. The site uses cute illustrations throughout website with a beautiful background. It also features sections for sharing their story, gift registry, venue information, and much more.
Recommended Theme: Avala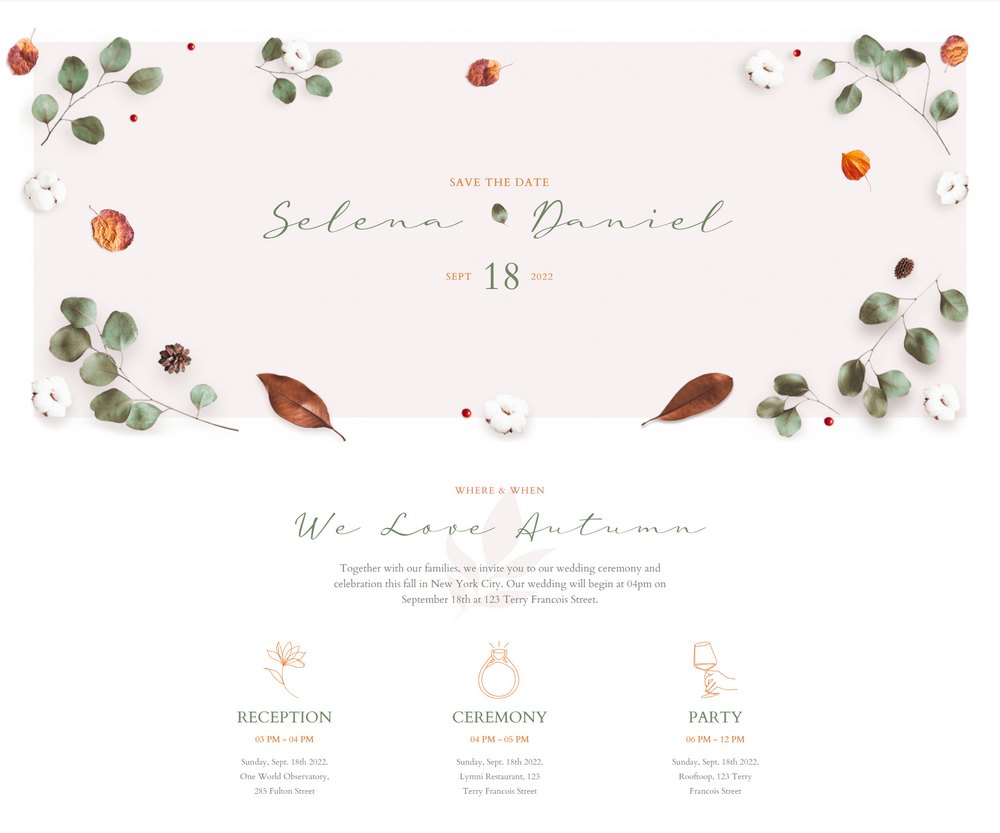 Avala is the closest thing you could get to create a website similar to Karl & Gina's wedding site. Usually, you have to get such websites custom-made. But this theme will help you create a design similar to it.
Conclusion
Setting up a wedding website will take away some of the frustrating tasks of planning a wedding, like managing RSVPs and helping guests to find the location. And it will also be part of that special memory as well.
If you're a DIY type of person, be sure to check out our best Lightroom Wedding presets collection for editing your wedding photos. As well as the wedding fonts for invitations collection for crafting your own invitations.
Looking for WordPress hosting? We use Kinsta. They offer world-class WordPress hosting, built to keep your website fast, secure, and always online.