How To Build a Wedding Website with WordPress
Your wedding day is a magical time for both the bride and the groom. And the best way to make sure that your special day goes according to plan is to keep all your guests informed on everything that's happening at your event. There's so much to consider, a wedding website can help you stay organised, and keep everyone updated!
Many couples are skeptical about making a wedding website. Is it worth the investment? What's the purpose of having a wedding website? These are some of the questions that you're probably also thinking about right now.
Today we're looking at how you can build a wedding website with WordPress, inexpensively (or free!), and have it be the perfect accompaniment to your big day!
Get everything you need to build your next website with one simple subscription. From $16 per month, get unlimited access to nearly 2 million WordPress themes, web templates, fonts, graphics, and photos.
Why Make A Wedding Website?
You've already spent lots of money on printing the perfect invitations, and calling all your friends and relatives to let them know about the big day. So, why go through the trouble of making a wedding website?
Well, a wedding website is more than just making an announcement. It's actually a central hub for all-things related to your wedding. A place to feature everything from your events schedule to wedding photos and more.
You can use your wedding website as a way to inform your guests of all the important aspects of your special day, including the dress code, the registry, more details about the location of the wedding, the location, and much more.
The affordability is what makes it even easier. Today, you can easily build a website using WordPress, spending less than $100. You can buy web hosting, a domain name, a great looking wedding WordPress theme, and build the website all by yourself.
Here are some of the ways to make the most of your wedding website.
Tell Your Love Story
Not everyone that attends your wedding will know your story and how the couple met. Some will be colleagues from work and distance relatives whom you've barely met and talked to. You probably won't get a chance to explain to each and everyone the story of how you met your bride or groom during the wedding day.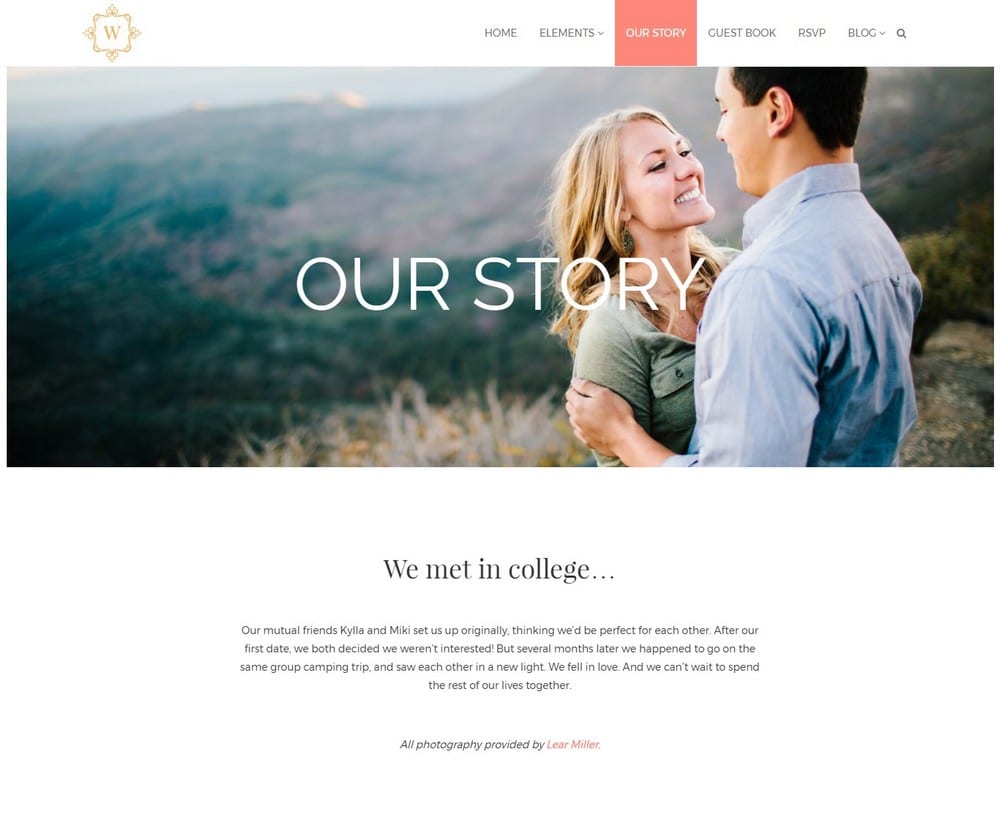 (Example – Wedding Events WordPress theme)
So, why not use your wedding website to share your special story with everyone. Use your wedding website's homepage or a separate page to tell your love story. How you two have met, how your first date went, the way you proposed, and share the whole story to make everyone understand why you've decided to spend the rest of your lives together.
All The Event Details In One Place
A common problem with weddings is most guests often get confused about the schedule of the events. As a result, they either arrive late or end up attending the wrong event at the wrong time.
A wedding website will help you easily fix this by clearly and precisely detailing the upcoming schedule of your wedding. You can also use this page to share details about the organizer behind specific events, the time schedule, venue, and many other details.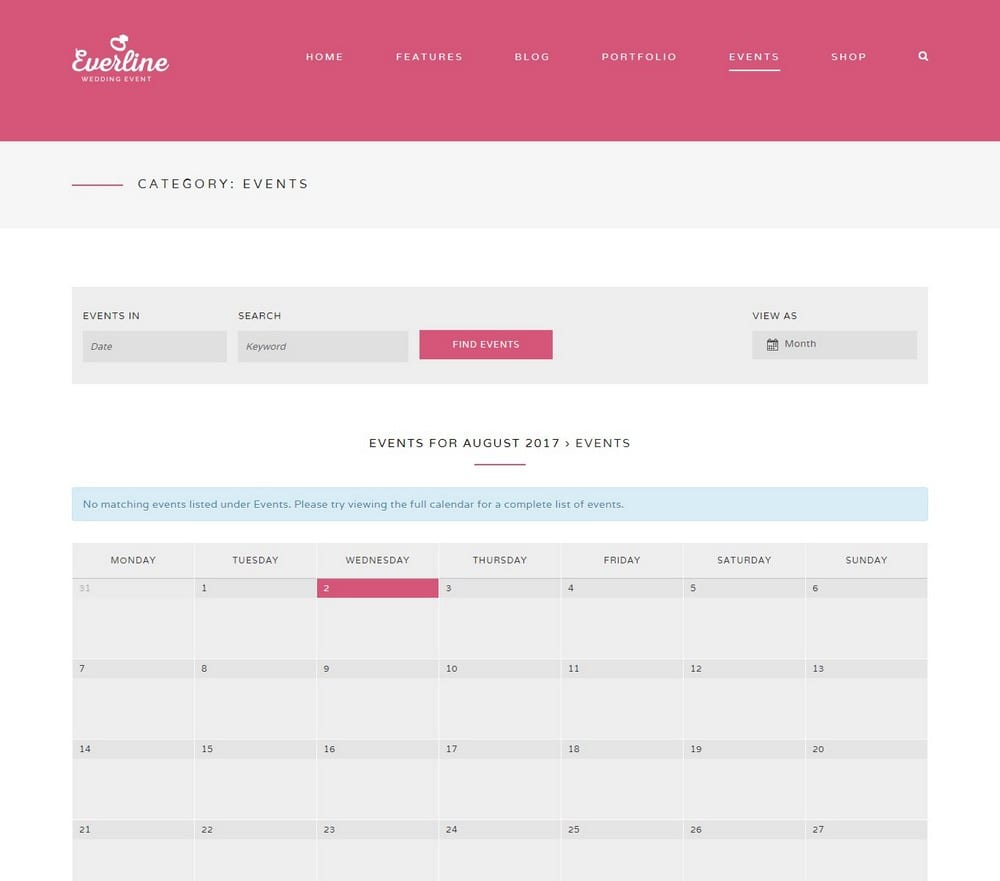 (Example – Everline WordPress theme)
If you pick the right WordPress theme, you'll also be able to clearly organize all the details with an events calendar to make things easier for your guests to view the events schedule.
Countdown To The Big Day
Nothing builds more hype for a special event than a countdown timer. It helps you to create a sense of excitement for the guests and yourself.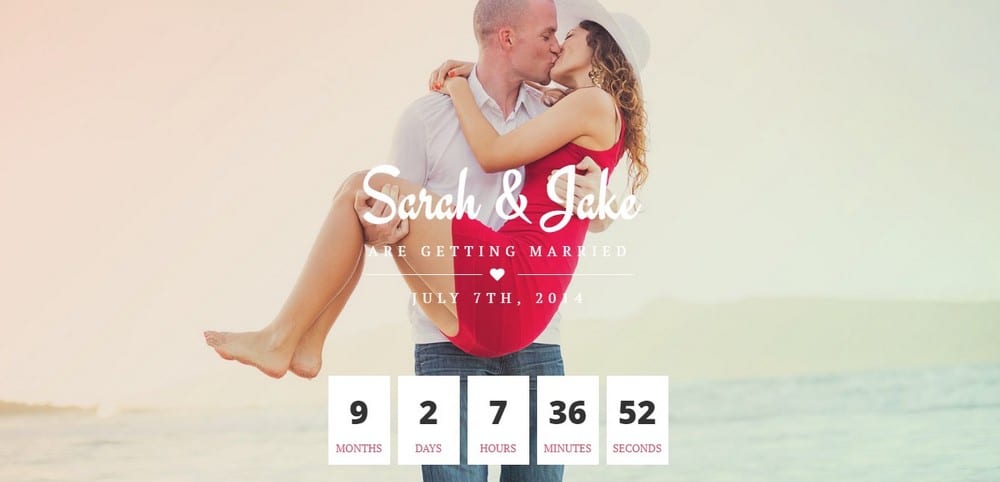 (Example – Perfect Couple WordPress theme)
Most wedding WordPress themes come with a built-in countdown timer. Use this feature to show your visitors how excited you are for the big day.
An Online RSVP Page
People hate replying to RSVP invites. If people take too long to reply to your invites, it might even delay your wedding. Then you have to personally contact them to get an official response. Why take such a risk and go through all the outdated nonsense when you can get that job done from your website.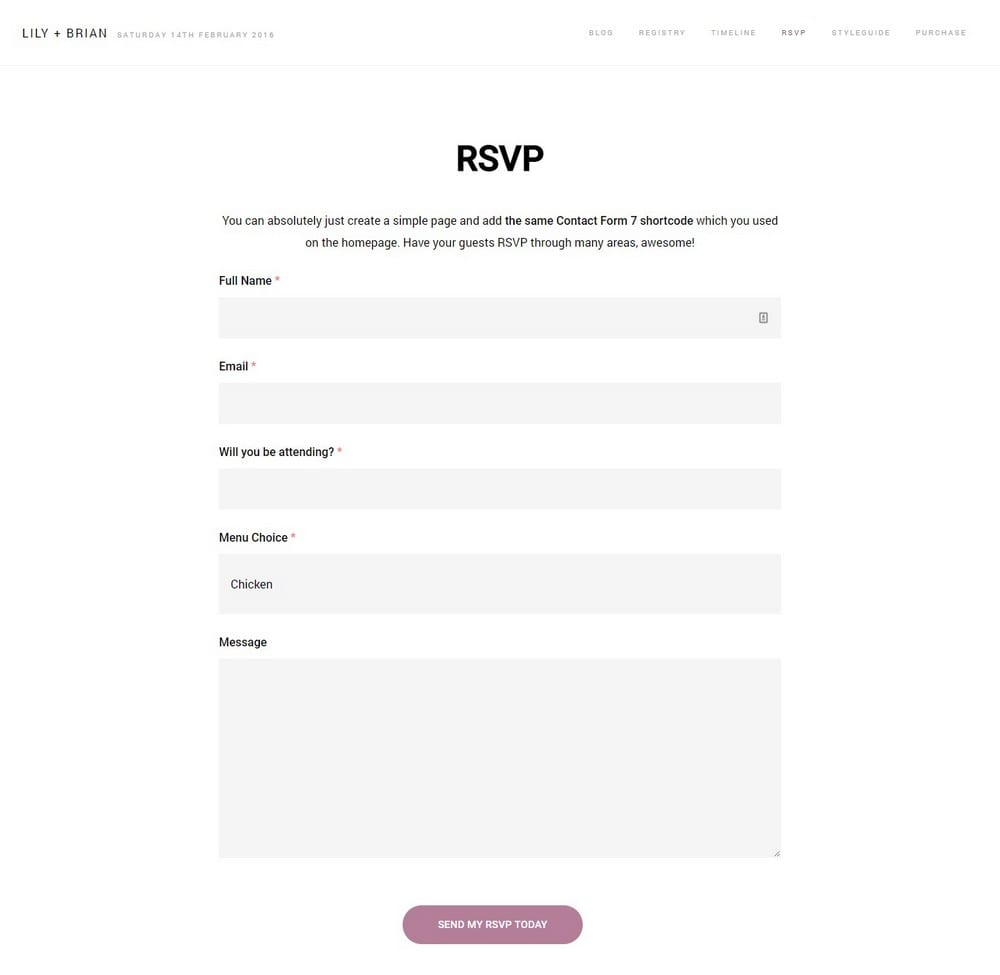 (Example – Lily WordPress theme)
Simply mention your website address in your invite and ask people to use your website's RSVP page to submit their response. It'll be more convenient for both you and the guests.
Show Off Your Wedding Photos
Of course, one of the main purposes of a wedding website is to host all your wedding photos in one place. Make sure to find a WordPress theme with a beautiful gallery where you can show off your wedding photos and videos to everyone who visits your website.
Not all photos make the cut to get featured on the wedding album. You can use your website's photo albums to show all your photos from pre shoots to wedding photos and everything else. Don't let any photos go to waste.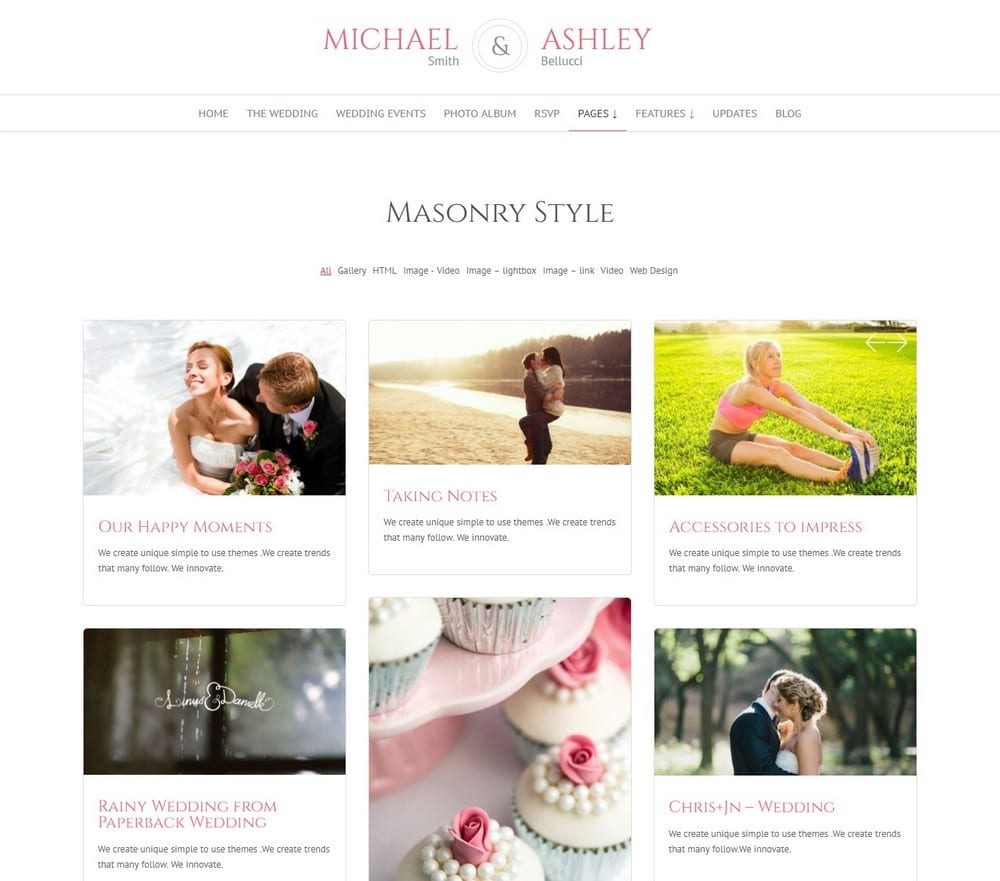 (Example – Honeymoon and Wedding WordPress theme)
You'll also be able to use this feature to give a behind-the-scenes look at your wedding day to show people how you managed to put together everything perfectly.
A Digital Guest Book
Don't you just hate it when you have to wait in a long line just to sign your name on a guest book? Well, imagine how your guests might feel when they have to go through the same process at your wedding.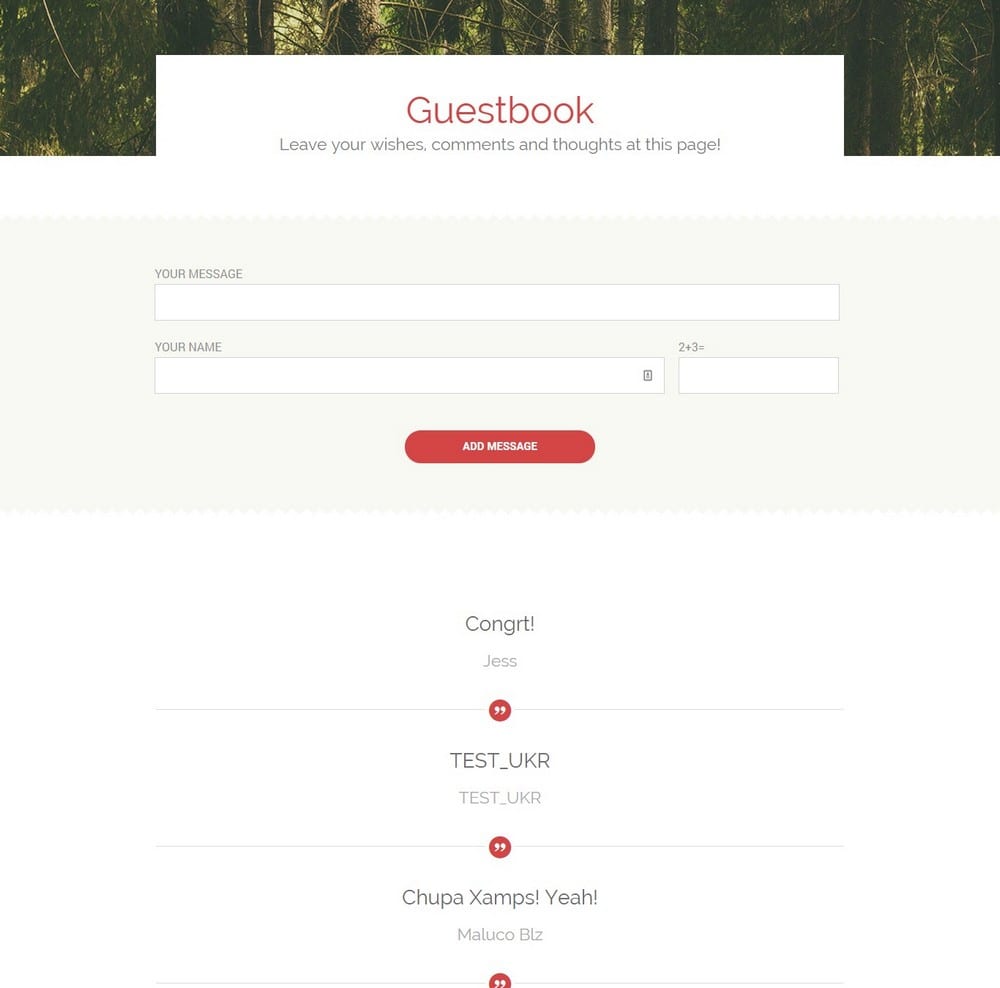 (Example – GeekLove WordPress theme)
Why not save them the trouble. Use your wedding website to create a digital guest book to let your guests easily leave a thoughtful message without having to wait in lines. Let's face it, this will turn out better than a normal book because writing online gives your guests more time to think of something better to say as well.
Conclusion
The day of your wedding will be filled with memories that you'll want to cherish for a long time. A wedding website will give you a convenient way to make those memories last and share them with your friends and family for many years to come.
Check out our handpicked collection of the best wedding WordPress themes to find a great looking theme for your website.