20+ Travel Brochure Templates (For Travel Agents, Vacation Rentals + More)
Sometimes our feet just get this insatiable itch to traverse new surroundings. This is where travel brochures come in. They are a globetrotter's best friend. Not only do they tell us where to go, but they can also tell us what to do — and not to do.
The travel brochure examples below are some of the most interesting ones we've seen so far. Whether you work with a travel agency, tourism office, or are promoting your own attraction, creating a travel brochure is a tried and tested way to help tourists that will be appreciated and pay off.
These brochures are meant to draw people to visit interesting places and help them plan an itinerary. A good travel brochure has to be well-composed, inviting, and ultimately, easy to navigate.
If you want to create your own, or if you're just interested in looking at different samples, we've collected a few exemplary travel brochure templates to inspire you.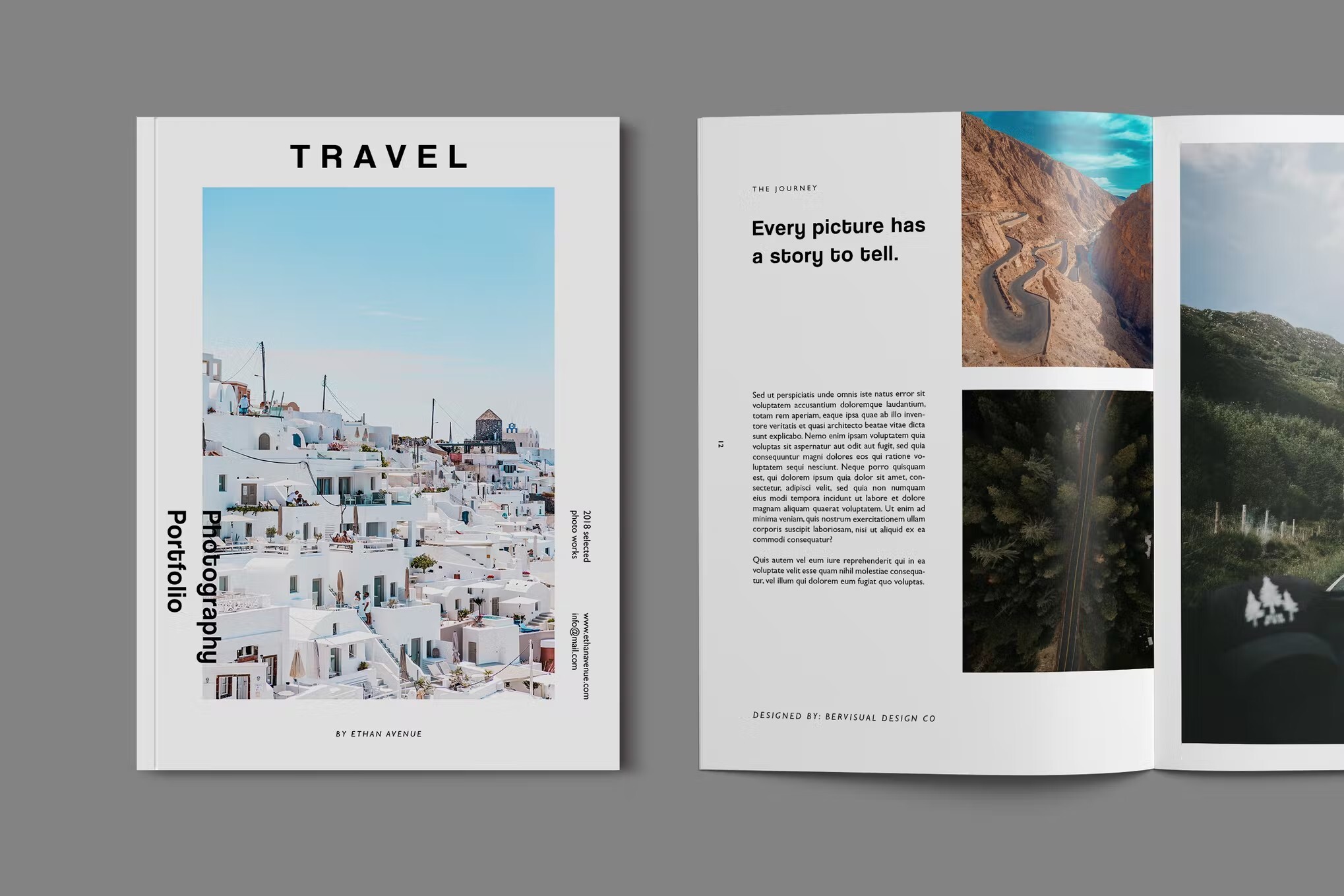 For a travel agency, the process of creating a brochure should be anything but boring. You probably have access to amazing photos from different destinations, so put them to good use. Follow in the footsteps of this editable free travel brochure template design example and see what you can mimic for your business.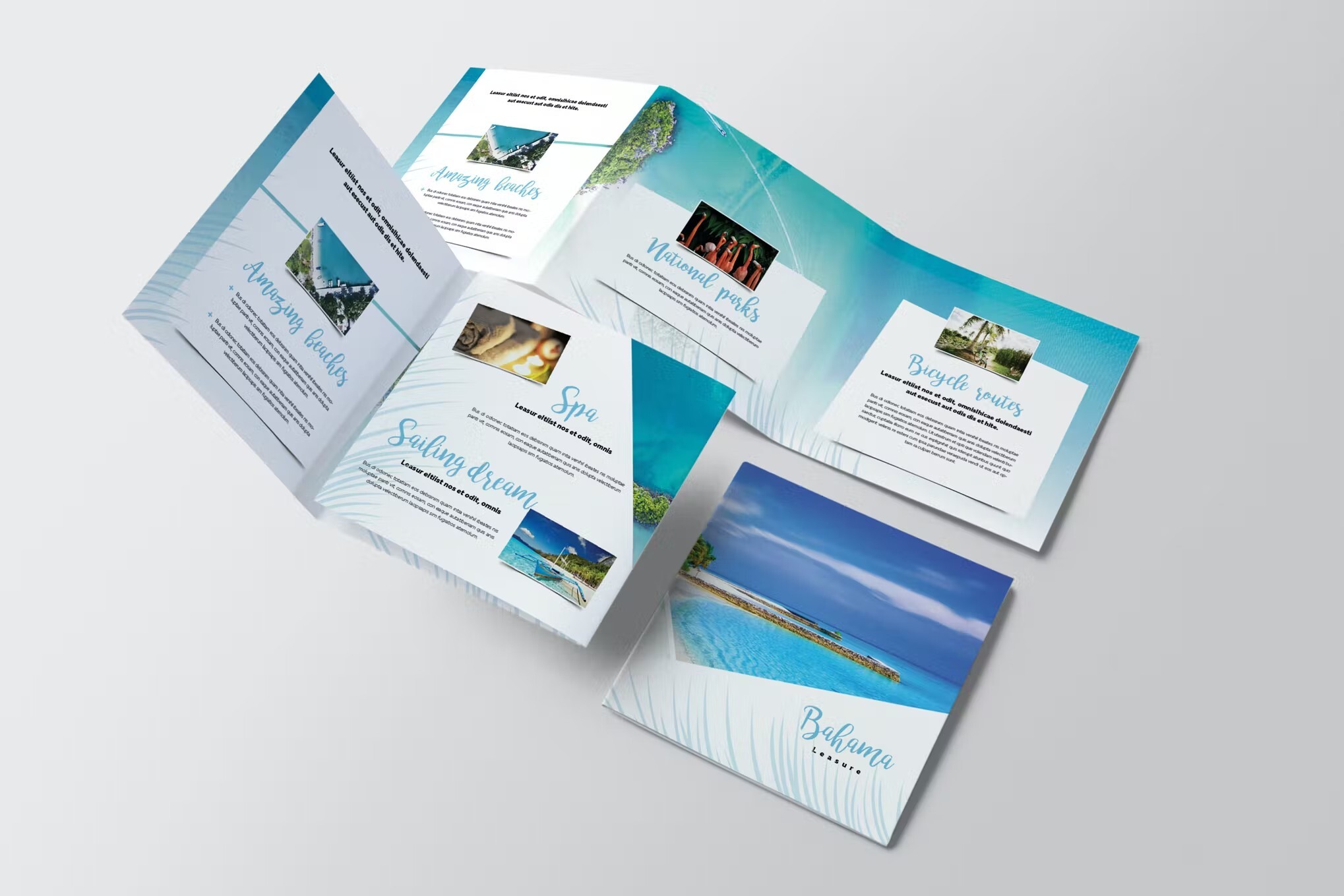 When you're in possession of amazing, breathtaking holiday pictures, it's time to put them to good use. Take the example of this square holiday promotion brochure design and follow along the clearly set guidelines. This is just one idea of what you can do when designing your double holiday promotion brochure template.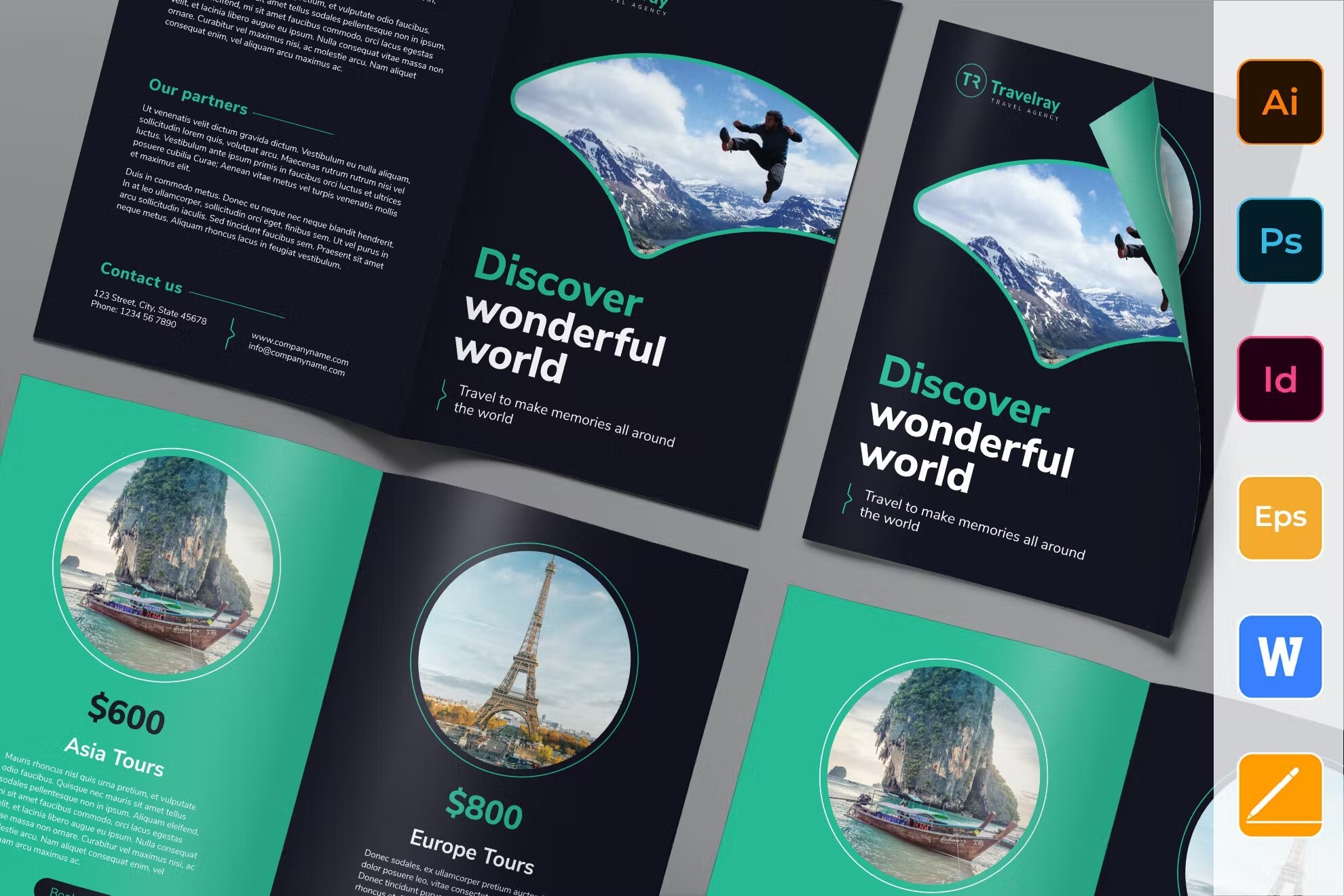 A great way to advertise your tours and travel services is by using this editable bifold brochure design sample. It's practical and easy to use. For a more polished look, you can easily add your brand color, fonts, logo, and more. Try it out!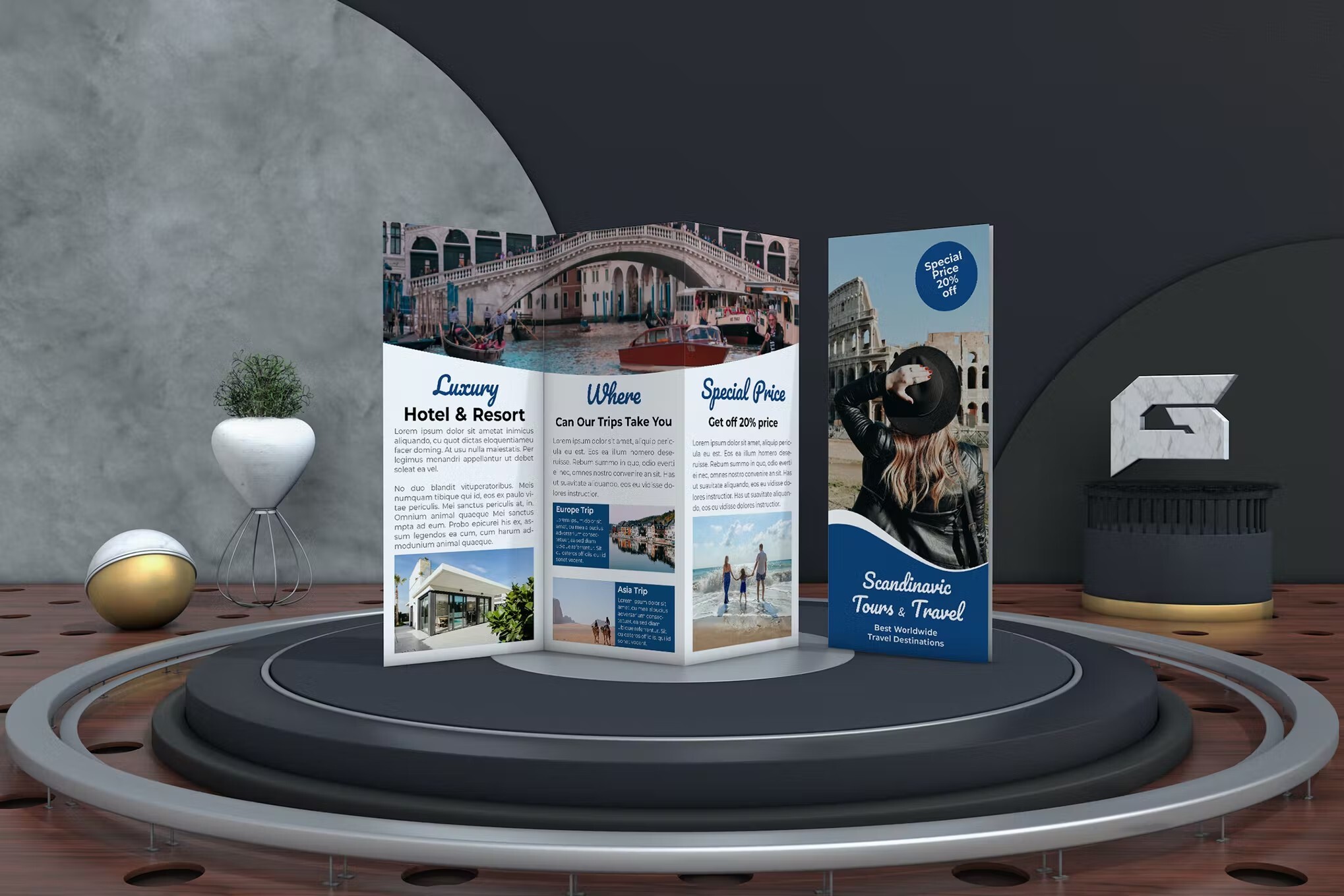 Help people plan the vacation of their dreams by using this editable travel brochure template. For a unique look, switch up the color scheme and coordinate the colors with the entire theme of your brochure. Get creative!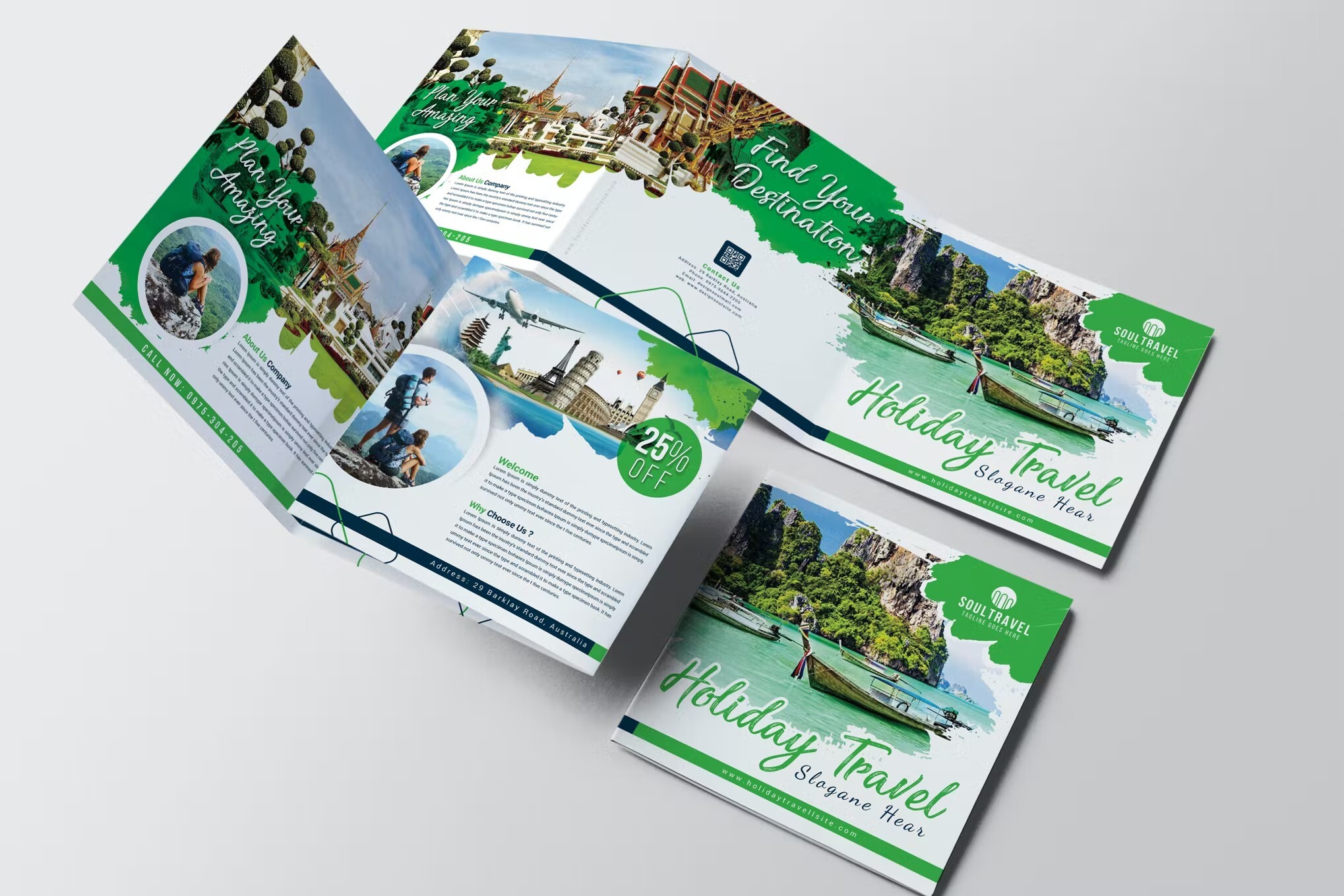 We live in such a beautiful world! If you look around and feel inspired, you might feel the same way about this simple square brochure template. It's easy to make it your own. Put your camera to good use to take some beautiful shots for this project, then simply add them to this design. It has a drag and drop functionality, so it couldn't be easier!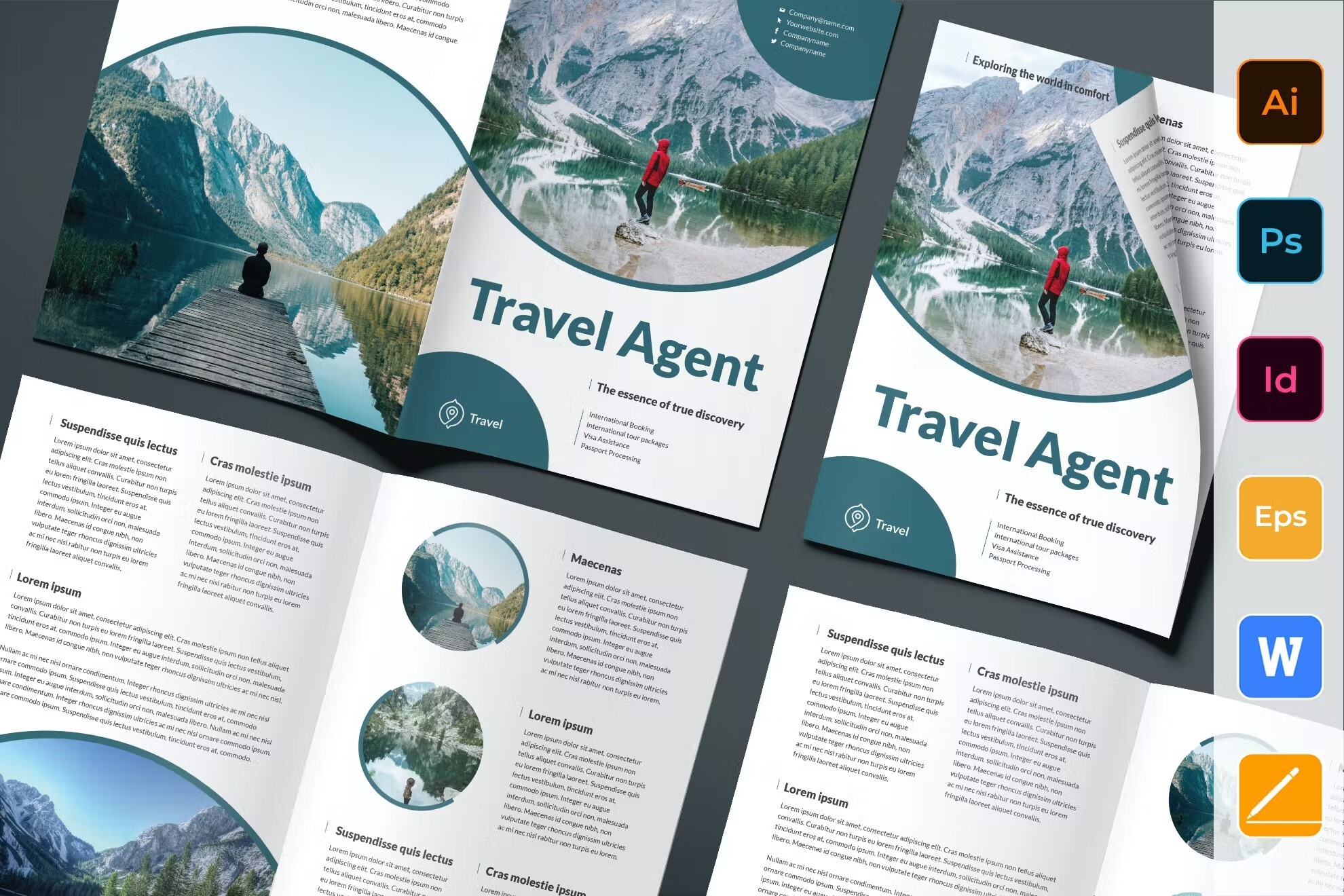 Help your customers collect moments, not things, by filling out this bi-fold travel brochure template and present your best offers. This creative layout filled with eye-catching photos will definitely attract potential customers.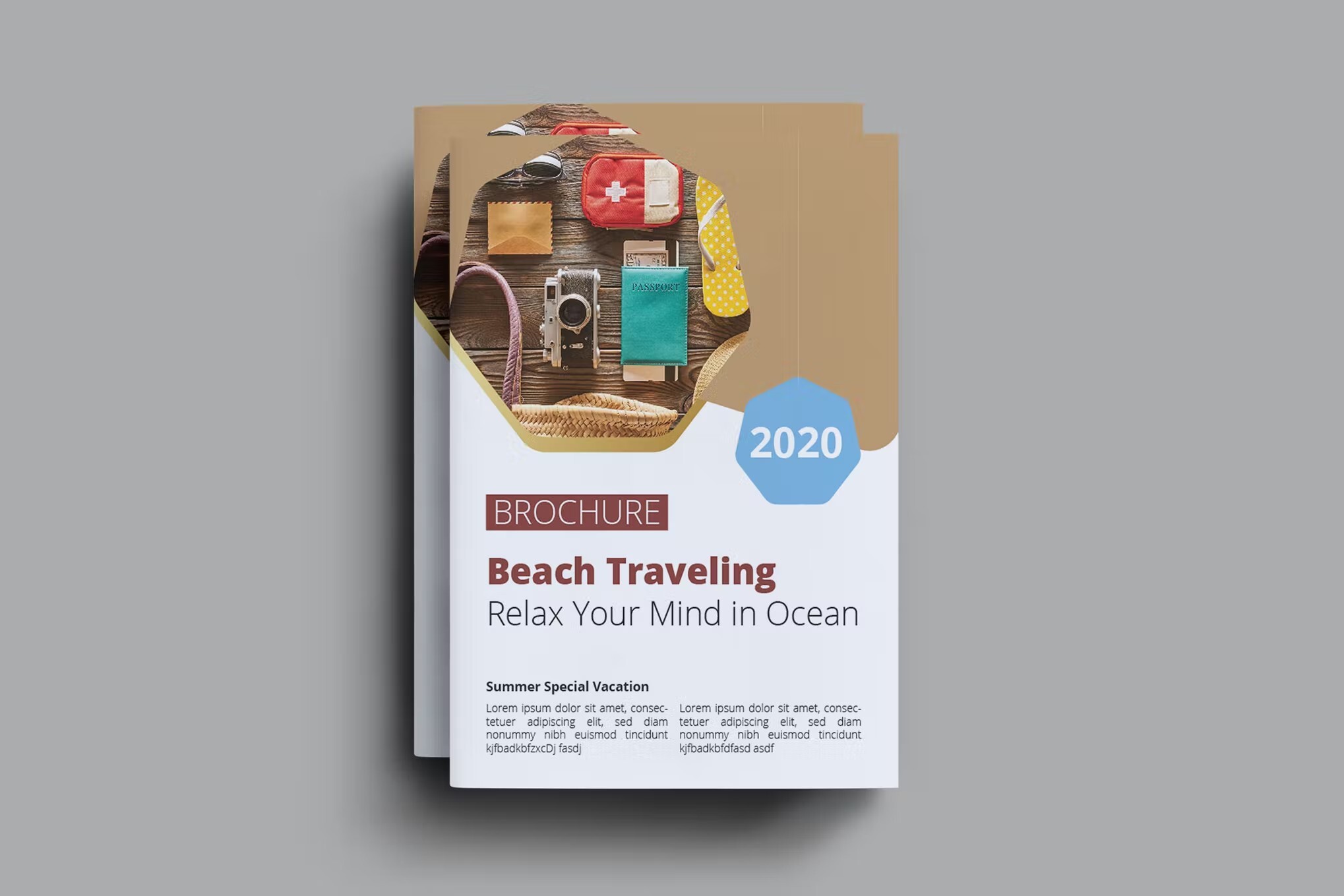 Stay ahead of the competition with the help of this gorgeous travel brochure template that you can edit in no time. Write about your best offers, insert the most breathtaking photos, and change the colors and typography if you want. Or, you can leave this template exactly as you wish and only populate it with your own descriptions.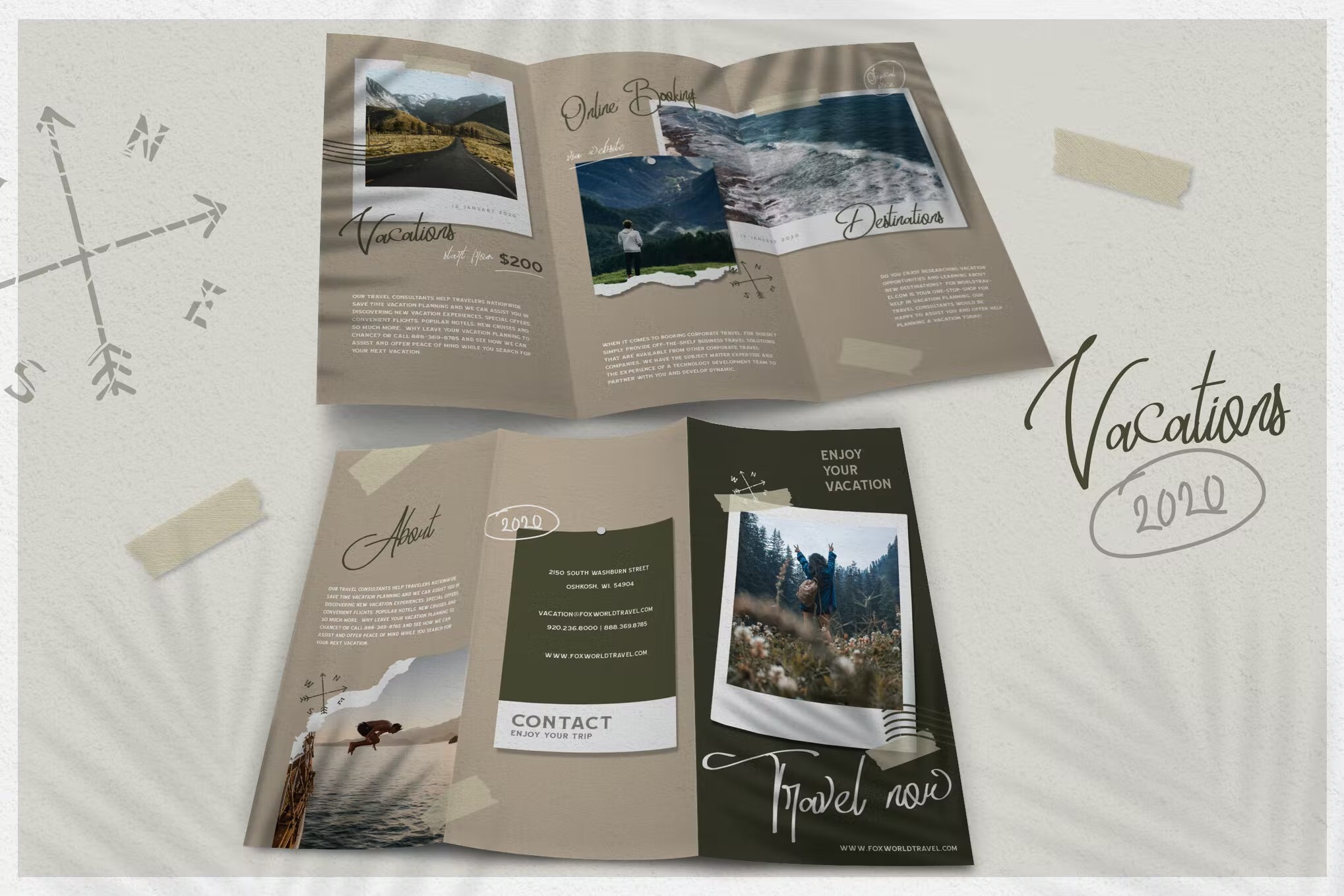 Here we bring to you a customizable trip brochure template created specifically for the travel industry. Tourists will be happy to see what attractions they can visit, and to learn more about the culture and the local cuisine. Information regarding accommodation and transportation is now much easier to organize and present.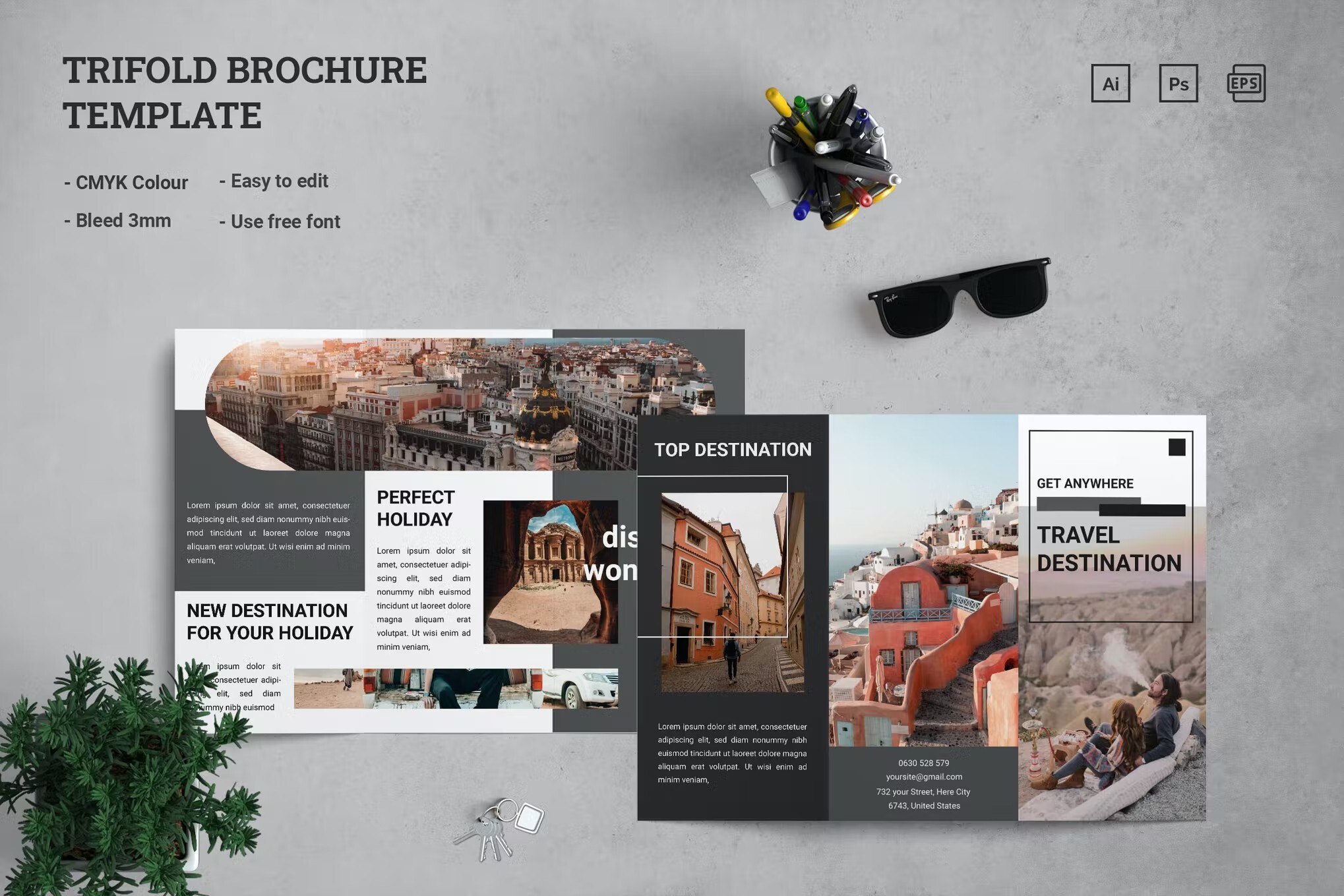 One of the latest trends in the travel industry is all about local experiences. Staying and eating with locals and truly experiencing the way they live. How about you start a travel business like this and while you're at it, you can use this printable travel brochure design template. It's so easy to edit and it will help you lay out all your services neatly.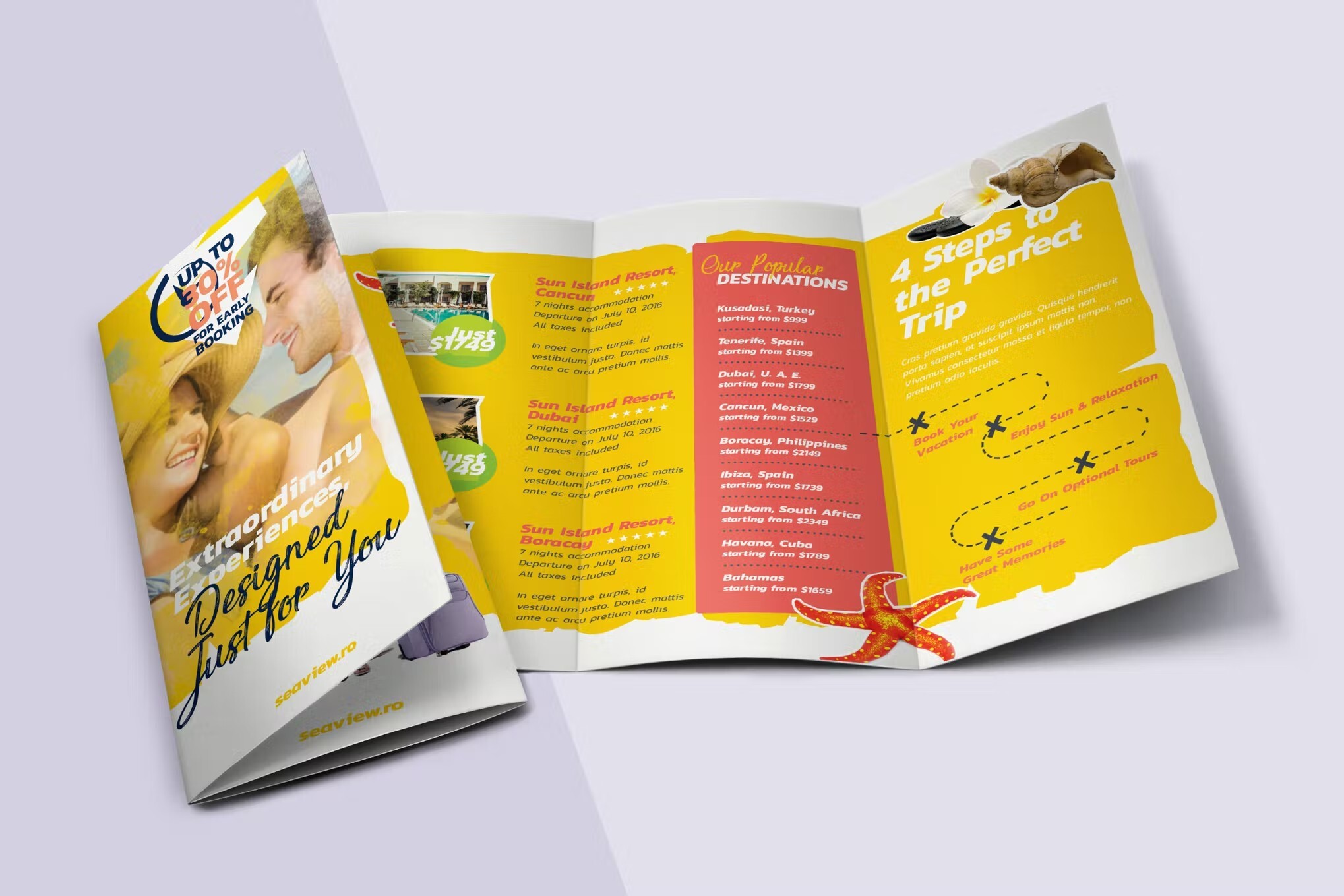 This joyful template is best suited for exotic travel packages due to the used graphic elements, which are characteristic of tropical holiday destinations. This gorgeous travel brochure template is completely customizable and it's designed to promote multiple vacation destinations.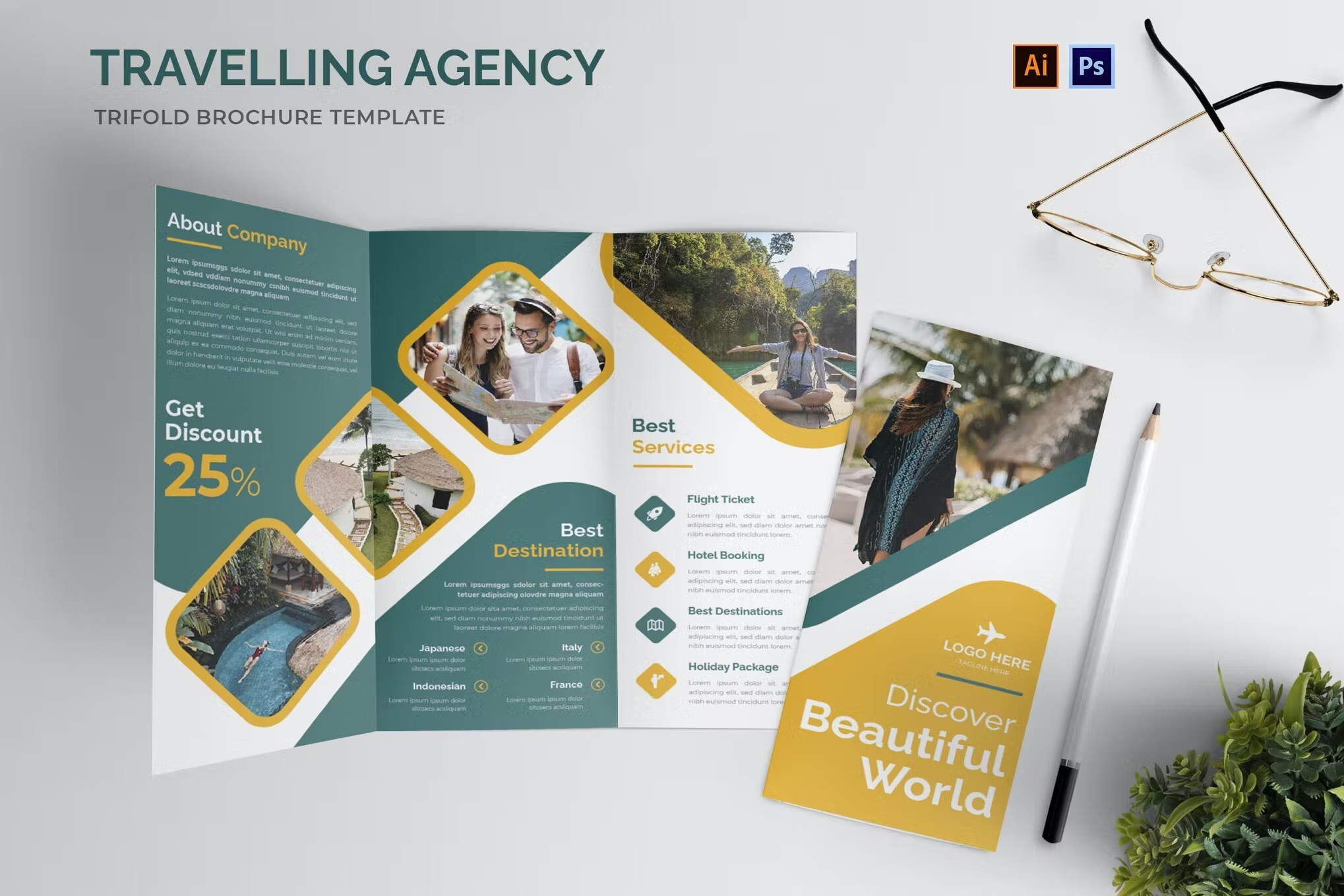 Conquer the world with this editable vacation brochure template. It's the perfect solution to boost your travel agency. The layout looks colorful and fresh and it makes you wanna buy a one-way ticket everywhere! Download, print, and share this stunning travel brochure template online via social media.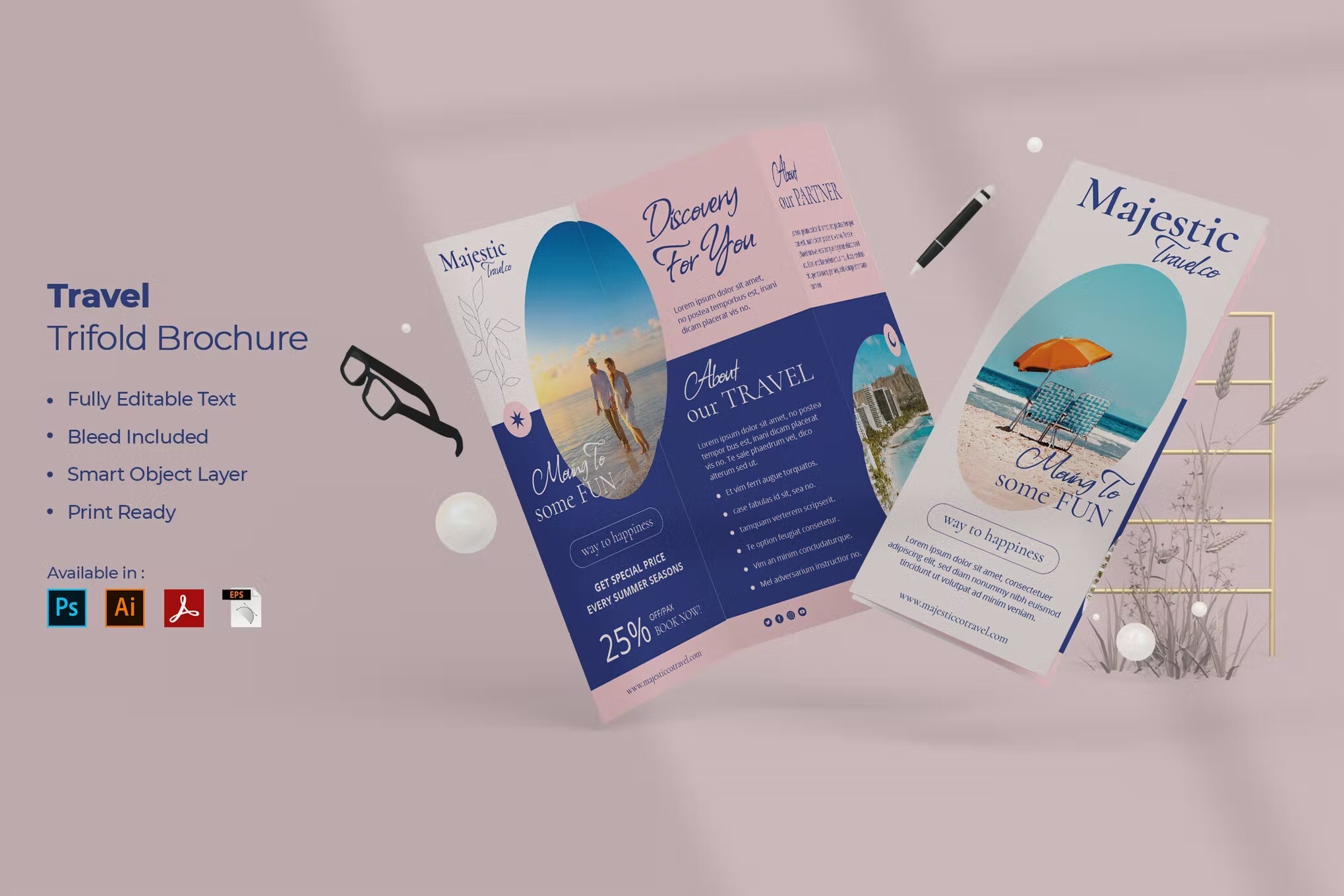 Tourism is a big industry. In order to capitalize on that, tourist destinations around the world have invested heavily in attracting the right people. Now is the perfect time to showcase beautiful locations with this tourist brochure template. It's easy to add pictures of any beautiful city, beach, or mountain. Let travelers know that they have to look forward to with this travel brochure template.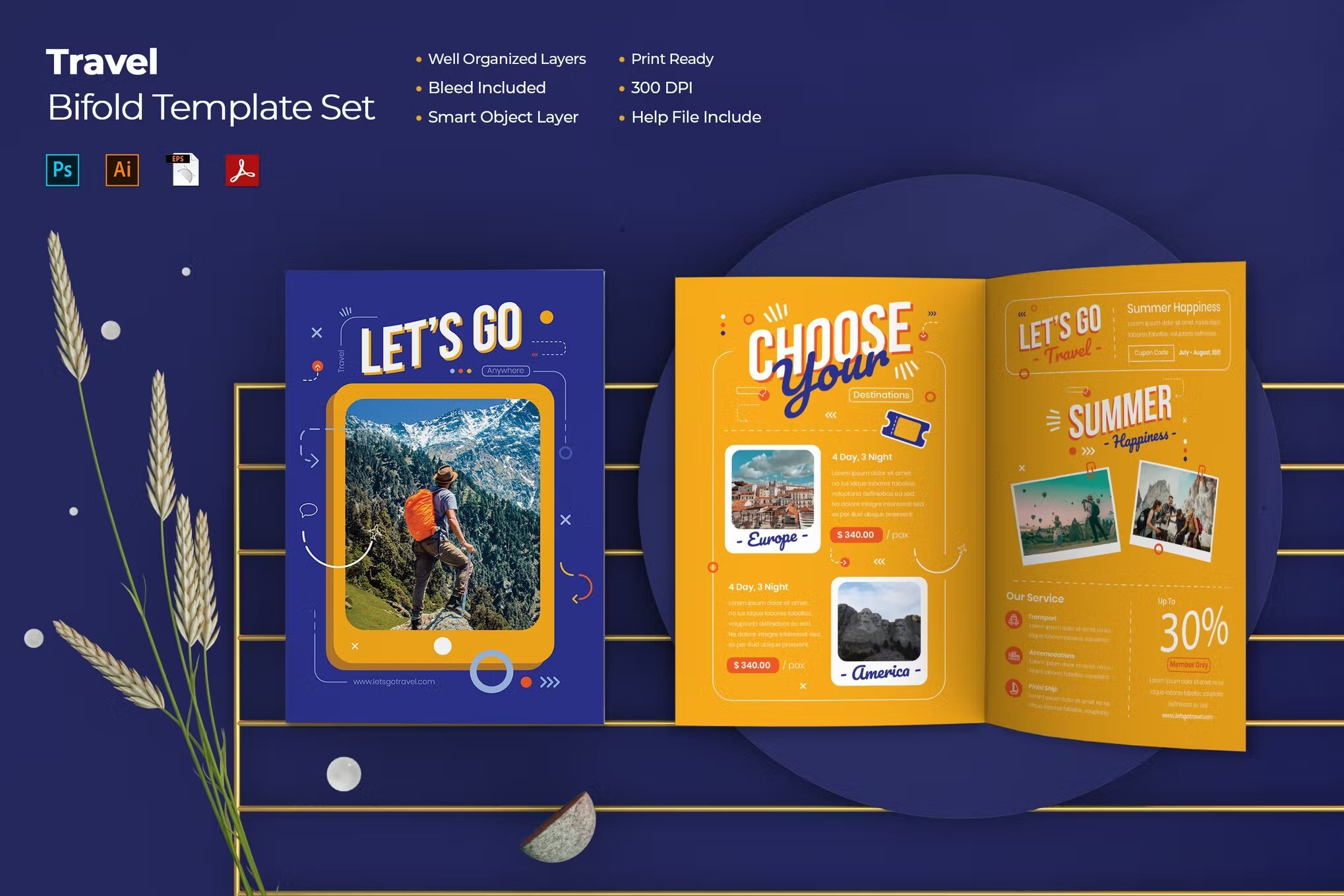 What a great opportunity to impress your clients with a customizable informative travel brochure template like this one. It features stunning photos, cool colors and elegant fonts. Just perfect for your travel agency, right? And the best part is that you can edit this brochure template exactly as you wish.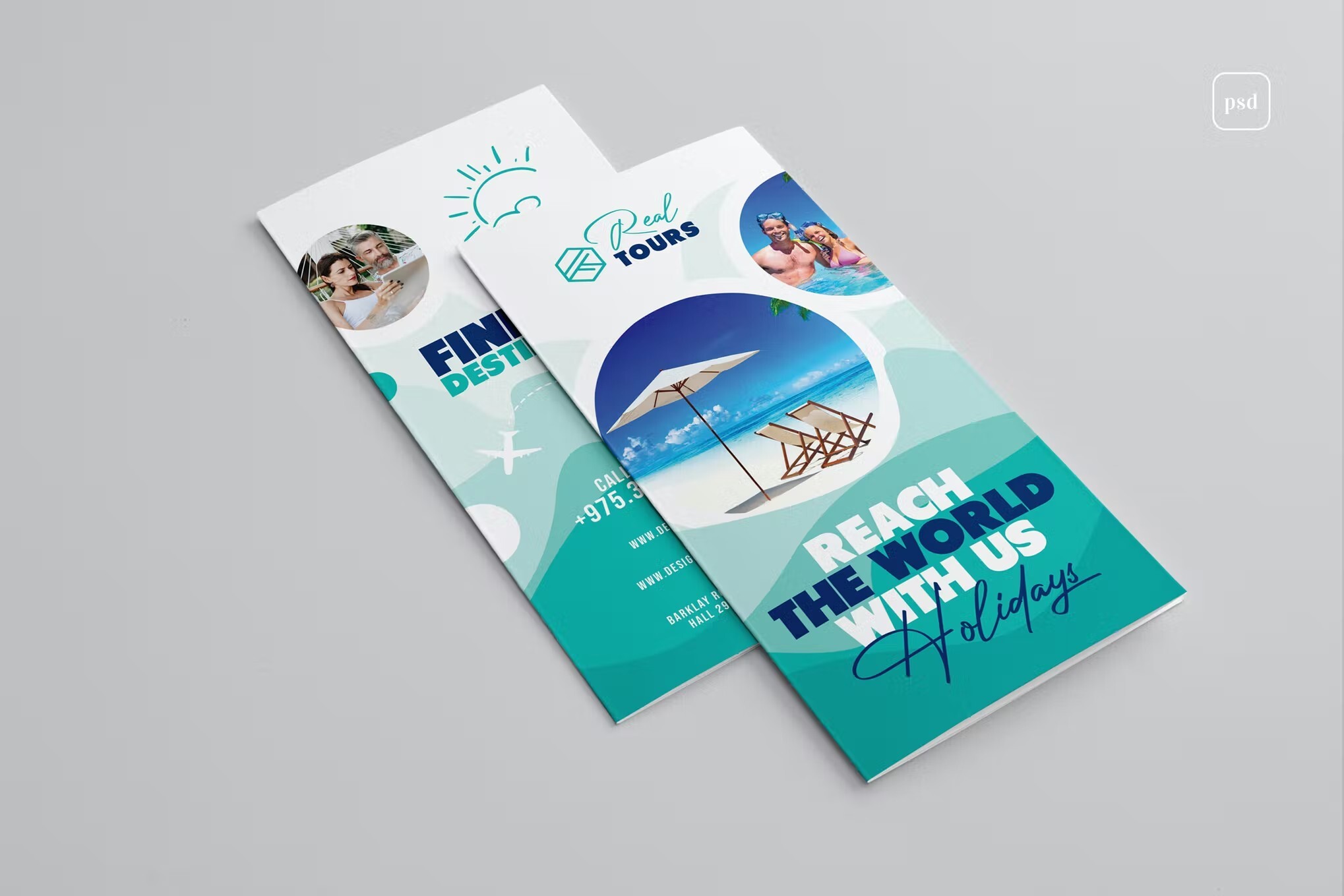 People often save for years to afford their dream vacation. Even if they don't, it's safe to say that they're pretty excited to get away. This exotic holiday brochure template is perfect for showing them just a taste of their destination before they actually get there.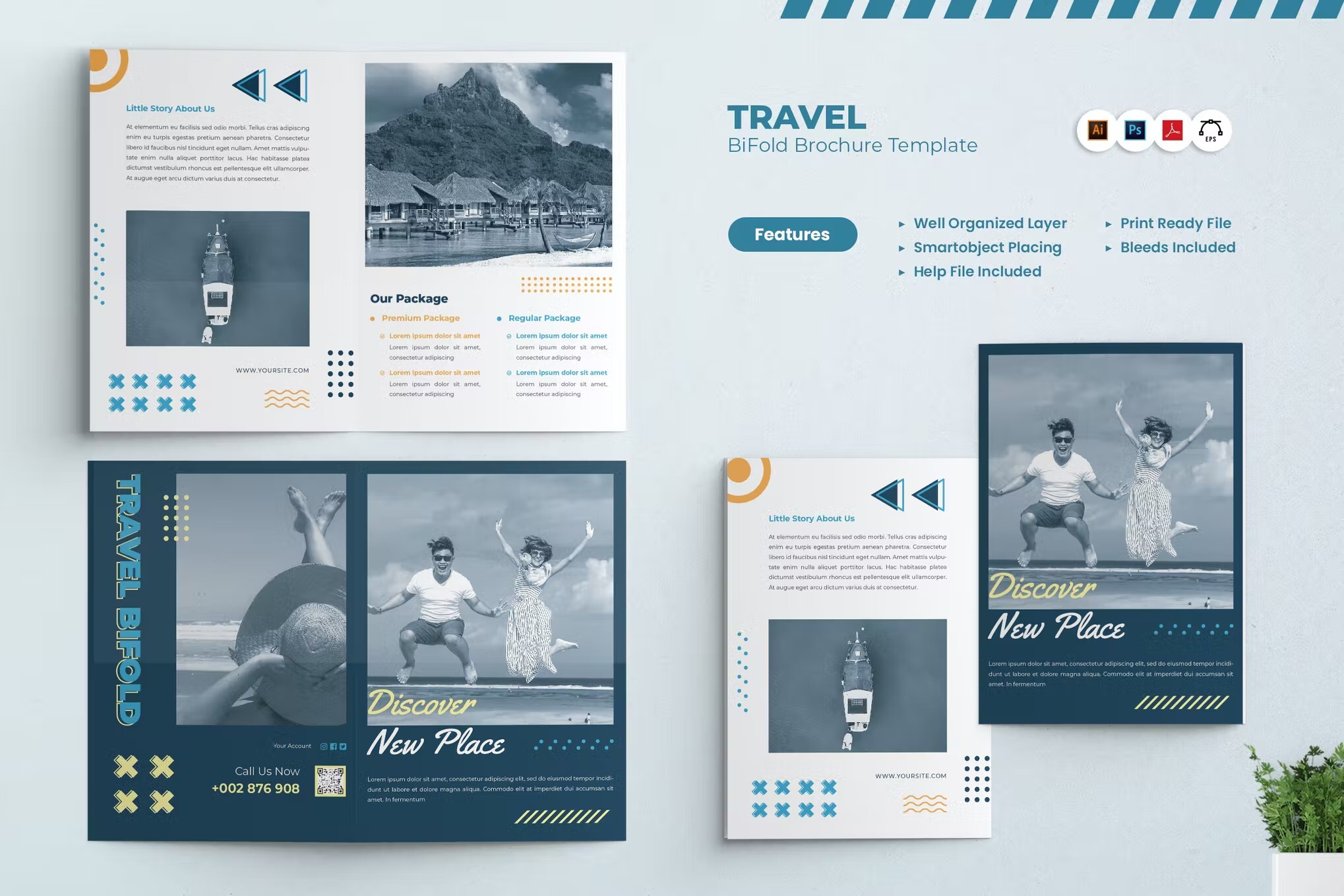 Paris? Egypt? New York? Wherever you're going, it would look great with this travel brochure design, don't you think? It's a simple design but it sure gets the job done. Honestly, most people don't need any extra convincing to take a vacation, but this travel brochure design will surely help you guide them on where to go. So don't wait. Grab it today.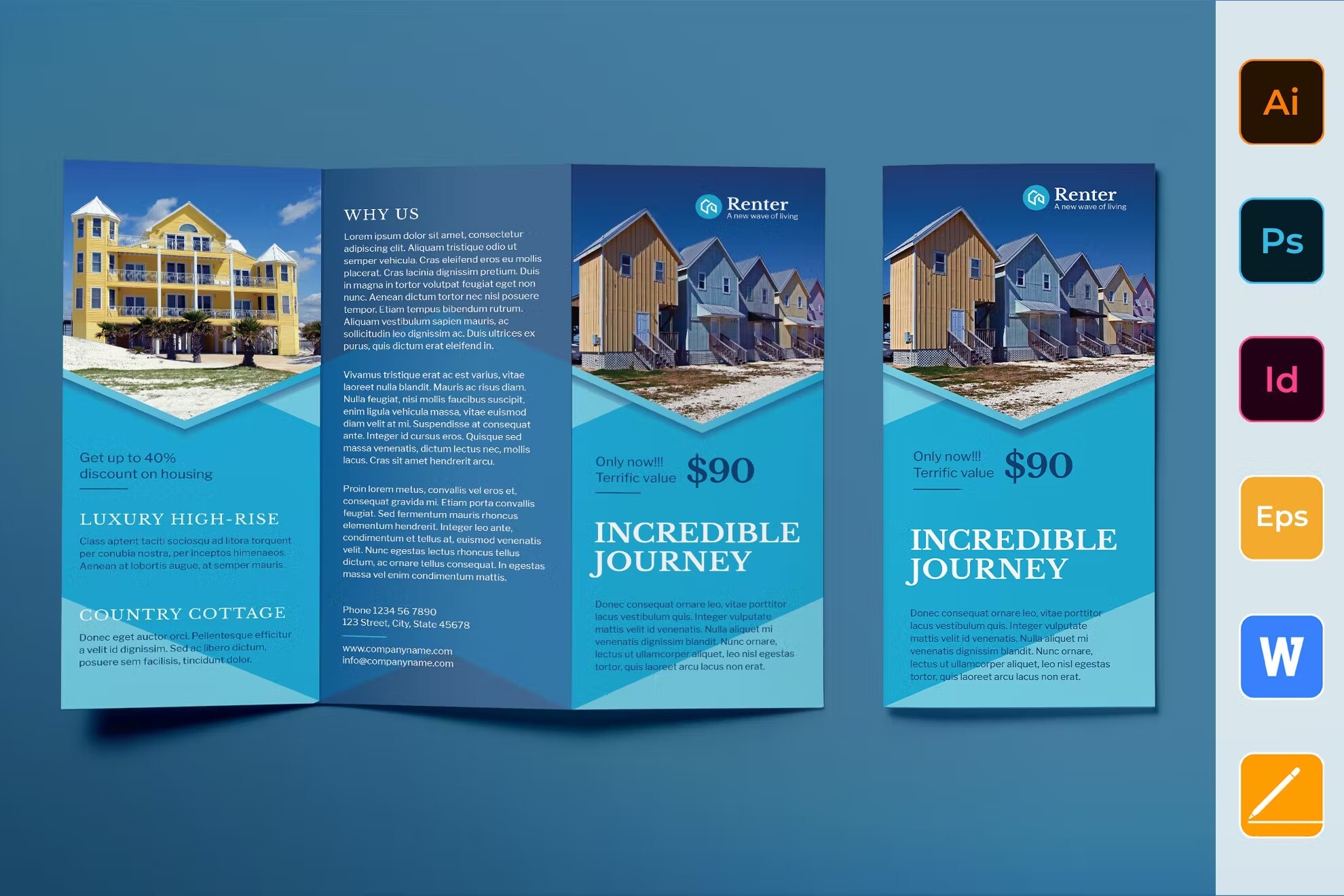 There are many travel agencies in this world, and we know how difficult it is to stand out from the crowd. If you think you're running out of ideas that can improve your travel agency, we've got something for you that will make you happy: a multipurpose travel brochure template. It features stunning landscapes, beautiful text descriptions and gorgeous types of fonts. Feel free to use it and change anything you want.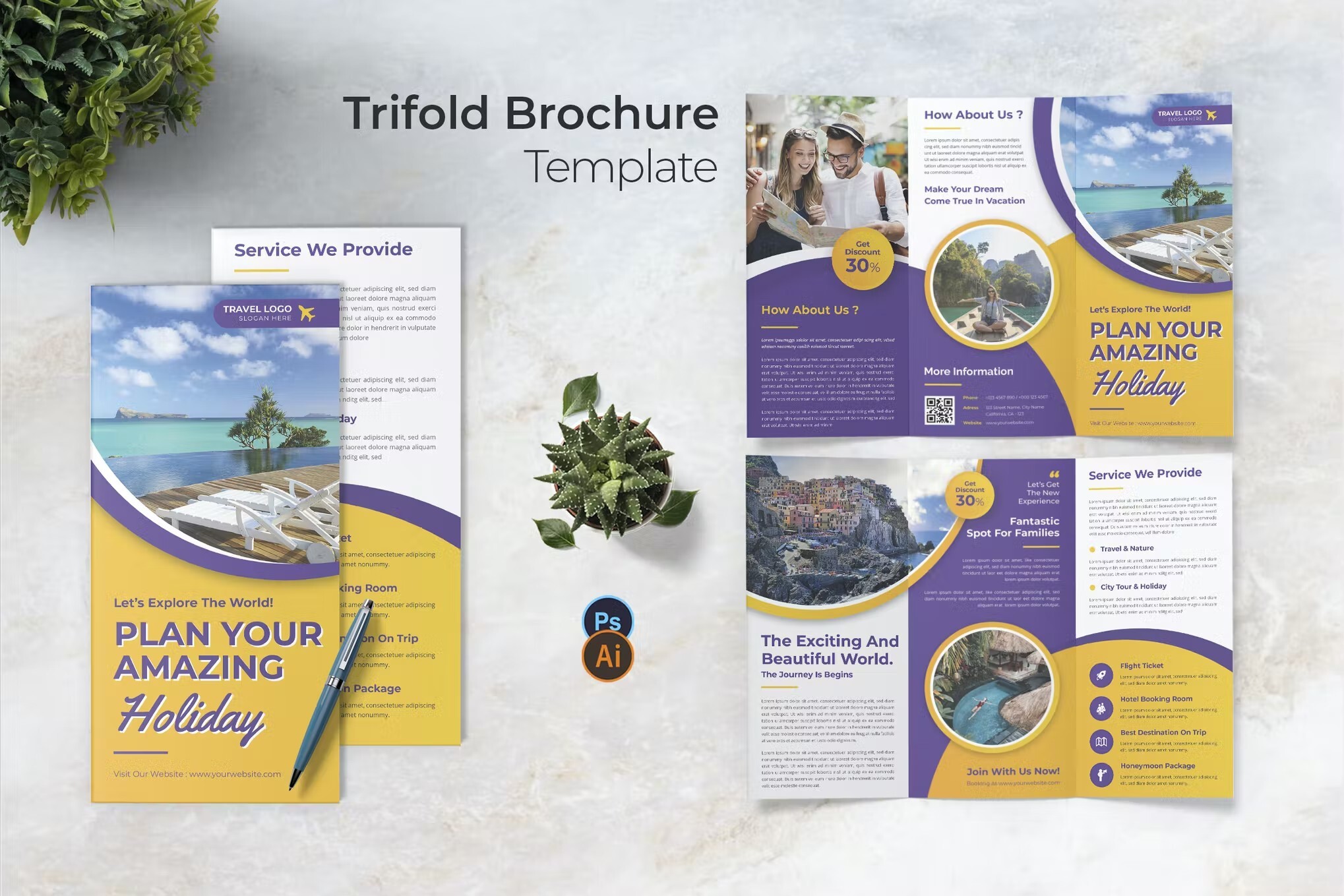 Encourage people to dream, travel, explore and discover new places by choosing this outstanding holiday brochure template! Inspire them to start a wonderful journey through the mountains! It's such a huge blessing to breathe the fresh air, to climb the majestic mountains and to escape the ordinary. We assure you, your clients will love this travel tri fold brochure template and will desire to become even more adventurous. Personalize it by adding your own images, texts and fonts! As simple as that!
Free Travel Brochure Templates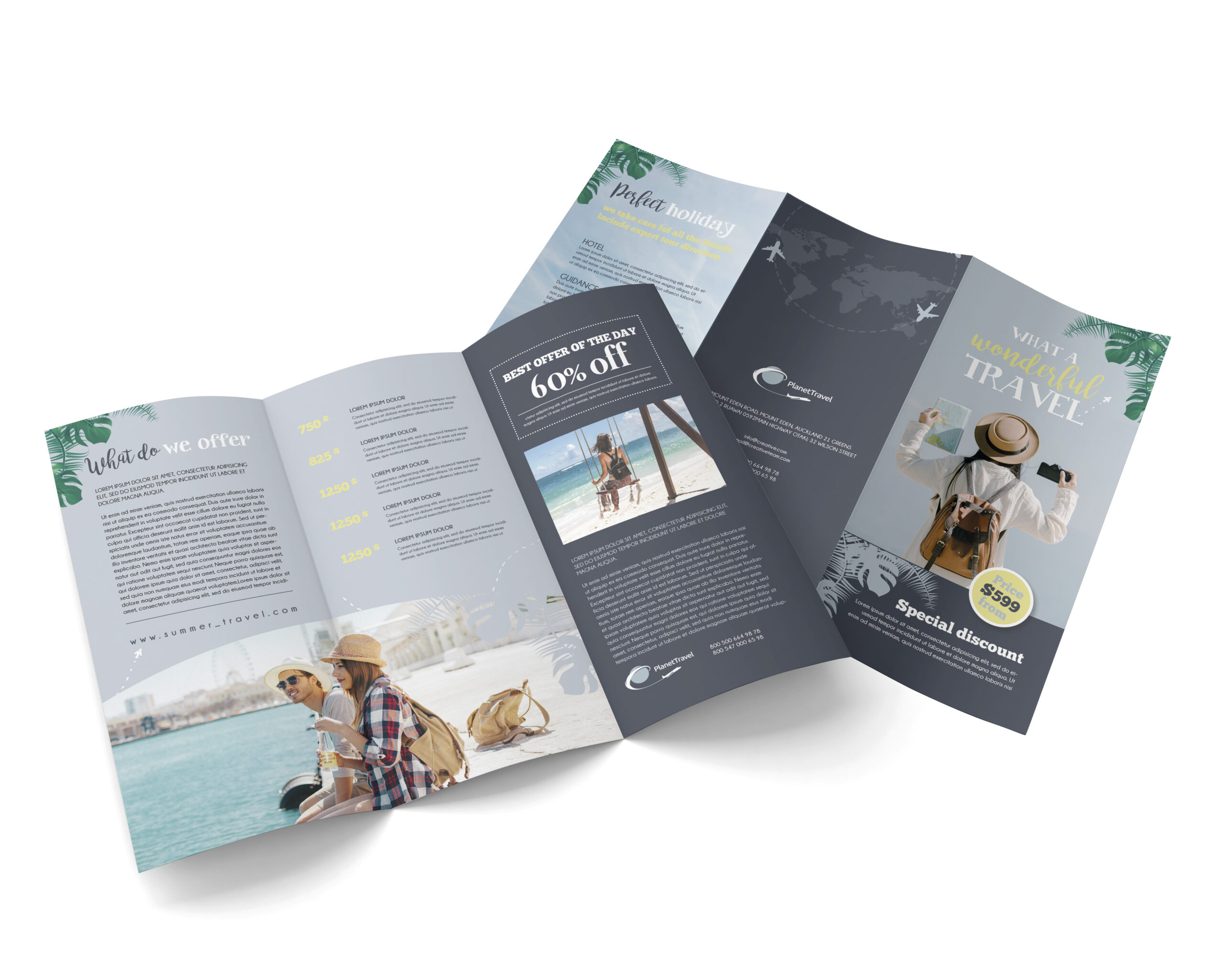 If you're running a travel agency, this summer travel trifold brochure template is perfect for you! The design is simple and minimalist and it can be easily customized. You can describe the city's history, add breathtaking images or marvelous landscapes and even insert some useful tips and tricks for the passionate travelers all over the world.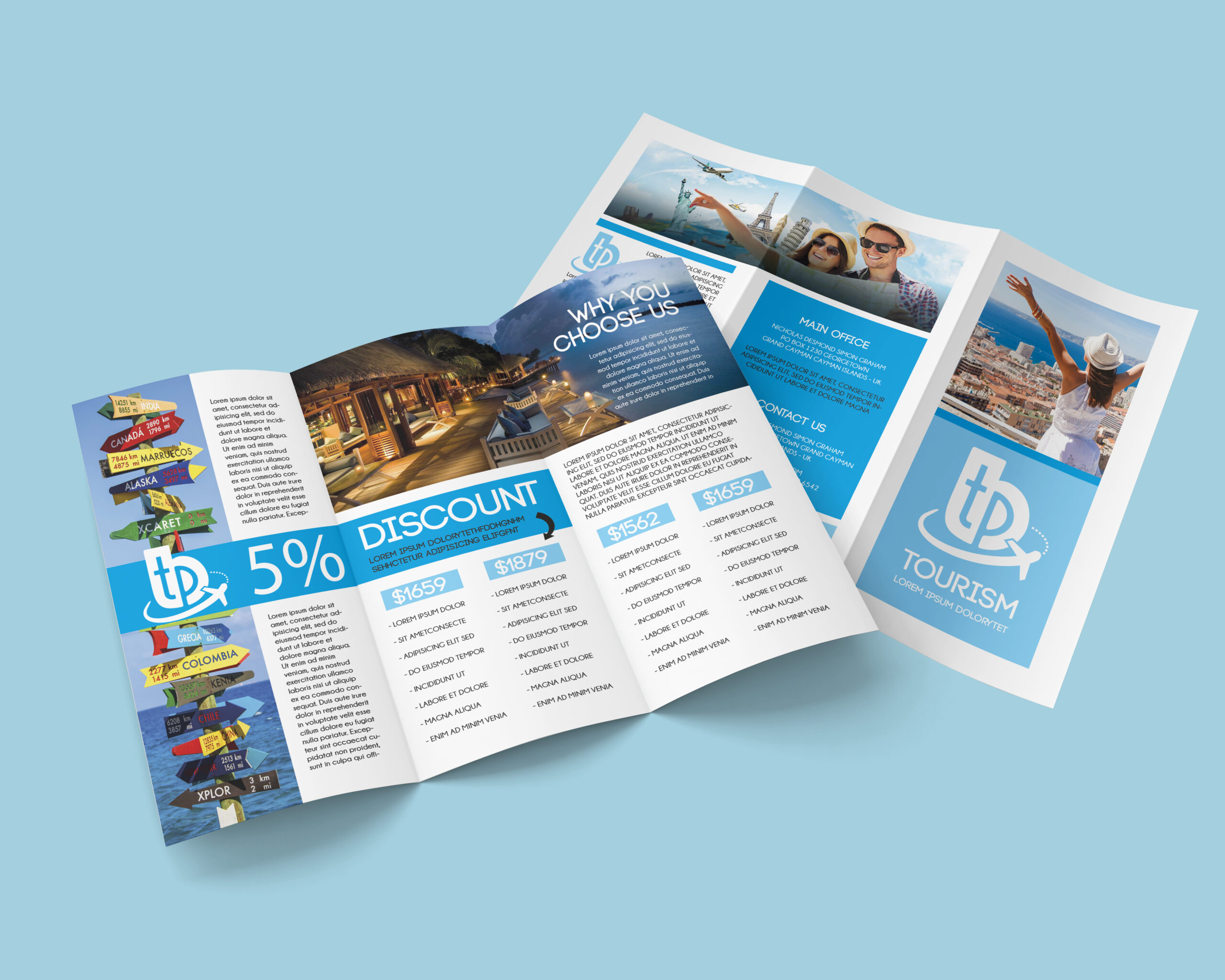 Whether you're an avid traveler or simply running a travel agency, this free travel trifold brochure template is the best solution for you! The colorful design will draw the travelers' attention and inspire them the magical feeling of wanderlust. Take advantage of this trifold brochure template and promote the best destination ever. Pick stunning images, choose eye-catching colors and show off with the most spectacular trifold brochure! It's so easy to do it!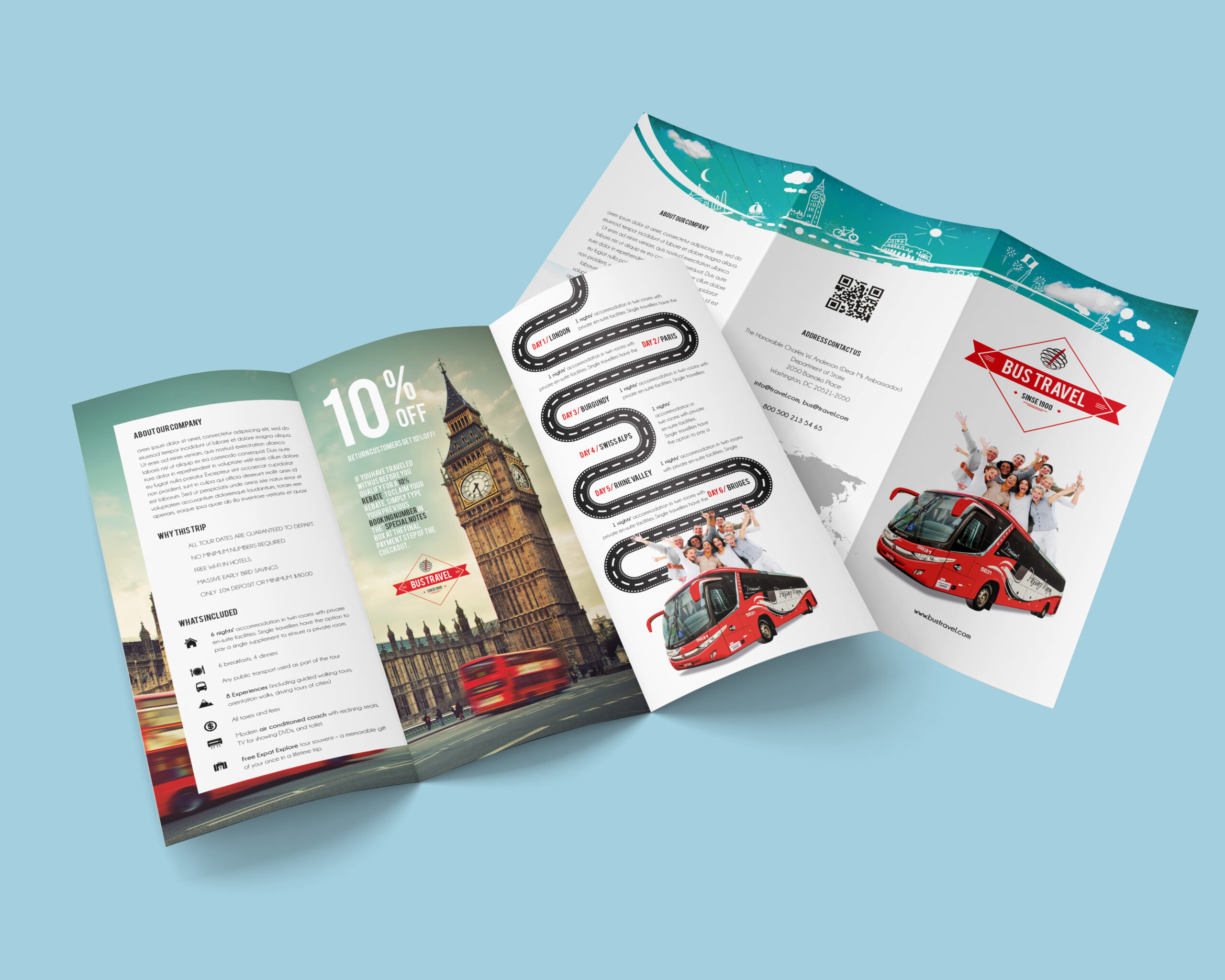 There is just something so magical about traveling, seeing new places, wandering the streets of a new city, immersing in a totally new culture. A stunning travel & tourism brochure template is the best way to get noticed. With stunning shots of beautiful locations, this template is easy to customize to your needs. Edit now!