SuperNews: Multi-purpose WordPress Theme With Drag n Drop Feature!
Wow! It's been almost 2 months since we released the latest theme VideoZ. But, we have a very good reason why we have not released any themes until now. We decided to take our new theme to the next level, a Multi-purpose theme! Multi-purpose means you can use this theme for various types of website.
SuperNews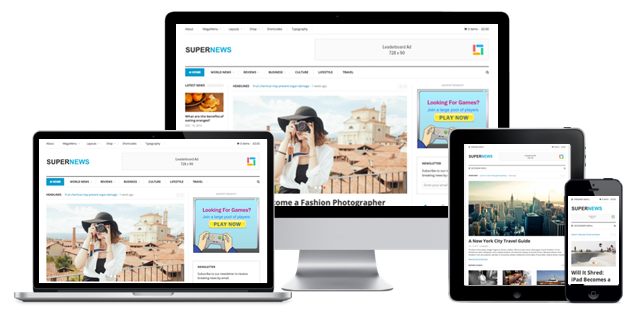 Please welcome to our new and fresh and awesome WordPress theme, SuperNews! SuperNews is a responsive, flexible and super Multi-purpose WordPress theme. It supports drag n drop feature plus WooCommere! We are talking about Multi-purpose theme, so, in this theme we bundled a lot of new features.
SuperNews Features:
#1. Multiple Page Layouts
The most advanced features in SuperNews(maybe

) is it has ability to change the layout per post/page basis. There are 6 type of layouts you can choose from, please click the link to see how the layout in action:
The layouts works for all custom post type, including WooCommerce. Also, in the Customizer you can setup the default/global layout for all page/post.
#2. WooCommerce
What is WooCommerce?

WooCommerce is a famous ecommerce plugin for WordPress in the market. Yes, ECOMMERCE! SuperNews smoothly integrate with it. If you running a blog and at the same time you selling a product on your blog, so, you are the person who need SuperNews!
Just like I said above, layouts feature is support all WooCommerce pages. Please click the link to see the demo:
#3. Page Builder
We believe page builder function will give you more flexibility to customize your website, that's why we added this feature to SuperNews. We also included some custom blocks/widgets for you to use within the page builder.
Please take a look the home page demo to see the page builder in action. Everythings you need to know and how to use the page builder is available on the documentation, so don't worry if you are not familiar with the page builder. 🙂
#4. Categories Layouts
Another fresh feature is Categories Layout, you can set up the layout each category in the category edit page. Curious how it looks like? Please click the link to see the demo.
But not just the post list layout, you also can change the featured posts layout. There are two style for the featured posts, Please take a look the posts list at the top.
Please note, the featured posts only shown on category page.
#5. Mega Menu
There are 2 types of mega menu you can use. Links mega menu and Category mega menu, please see the demo, you can see the Links mega menu by hovering the primary menu and Category mega menu by hovering the secondary menu. For the category mega menu, it display recent posts from the parent category.
#6. Responsive
Responsive feature is a must in every of our themes. Please try the demo on your mobile device to see the responsive layout of this theme.
***
SuperNews comes with a lot of awesome features, but the features above is the most advanced and useful features. So what are you waiting for? Go purchase it!
Don't forget to leave a feedback about this theme, we are so excited to see what you will do with SuperNews!