40+ Best Sketch iOS App Templates 2023
Designing a user interface kit for an app-based design project can be daunting, and it can be difficult to know where to start. So why not make things easier and use a professionally designed Sketch iOS app template that's available for you to download and customize straight away?
These fabulous Sketch app templates will allow you to create a stunning, unique set of iOS mobile device screens in a fraction of the time it would take you to plan and create a UI kit from scratch, and they're all expertly created using extensive layering and customization options, meaning you'll still have full creative control over the end result. What's not to love?
Read on for some of the best Sketch iOS templates for your next app-based design project.
Get everything you need to supercharge your Sketch workflow. From just $16, get unlimited access to thousands of Sketch templates and add-ons, as well as Photoshop actions, Lightroom presets, templates, graphics, fonts and photos.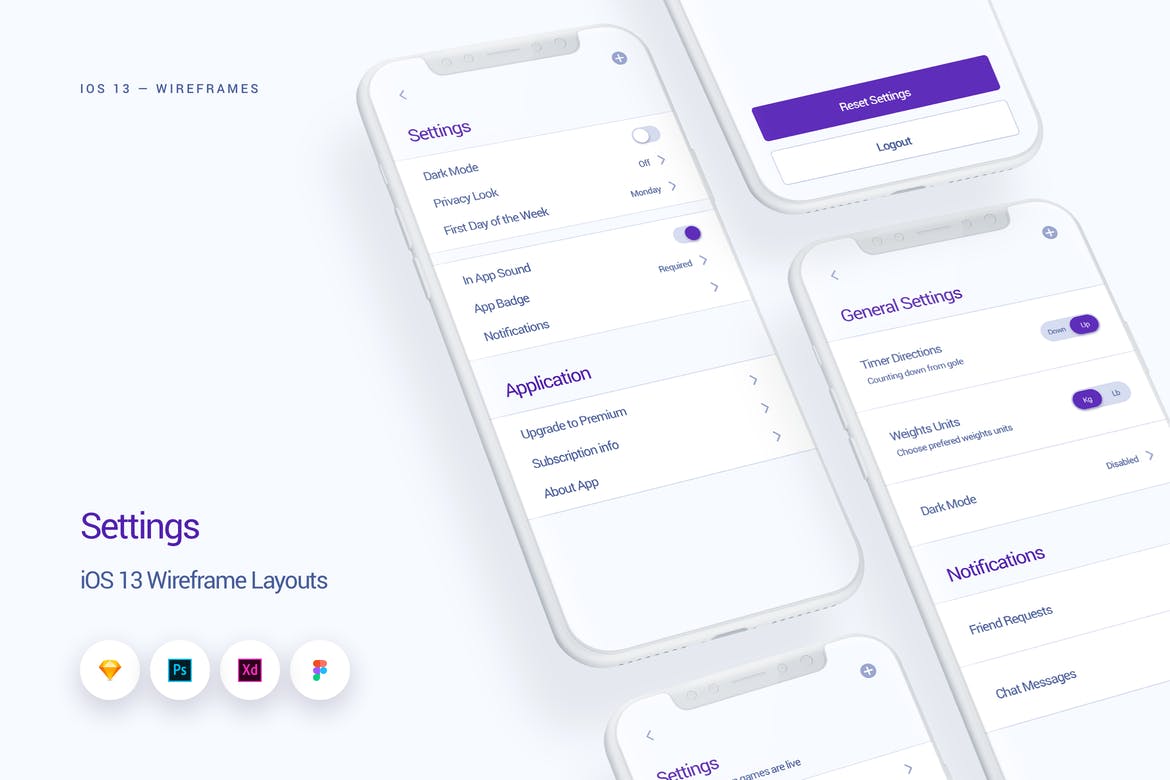 This super-versatile collection of Sketch iOS templates features a range of 13 popular mobile screens for the latest versions of the iPhone and is perfect for customizing the settings section of your new app. It offers a minimal and modern design with scalable vector graphics and free fonts.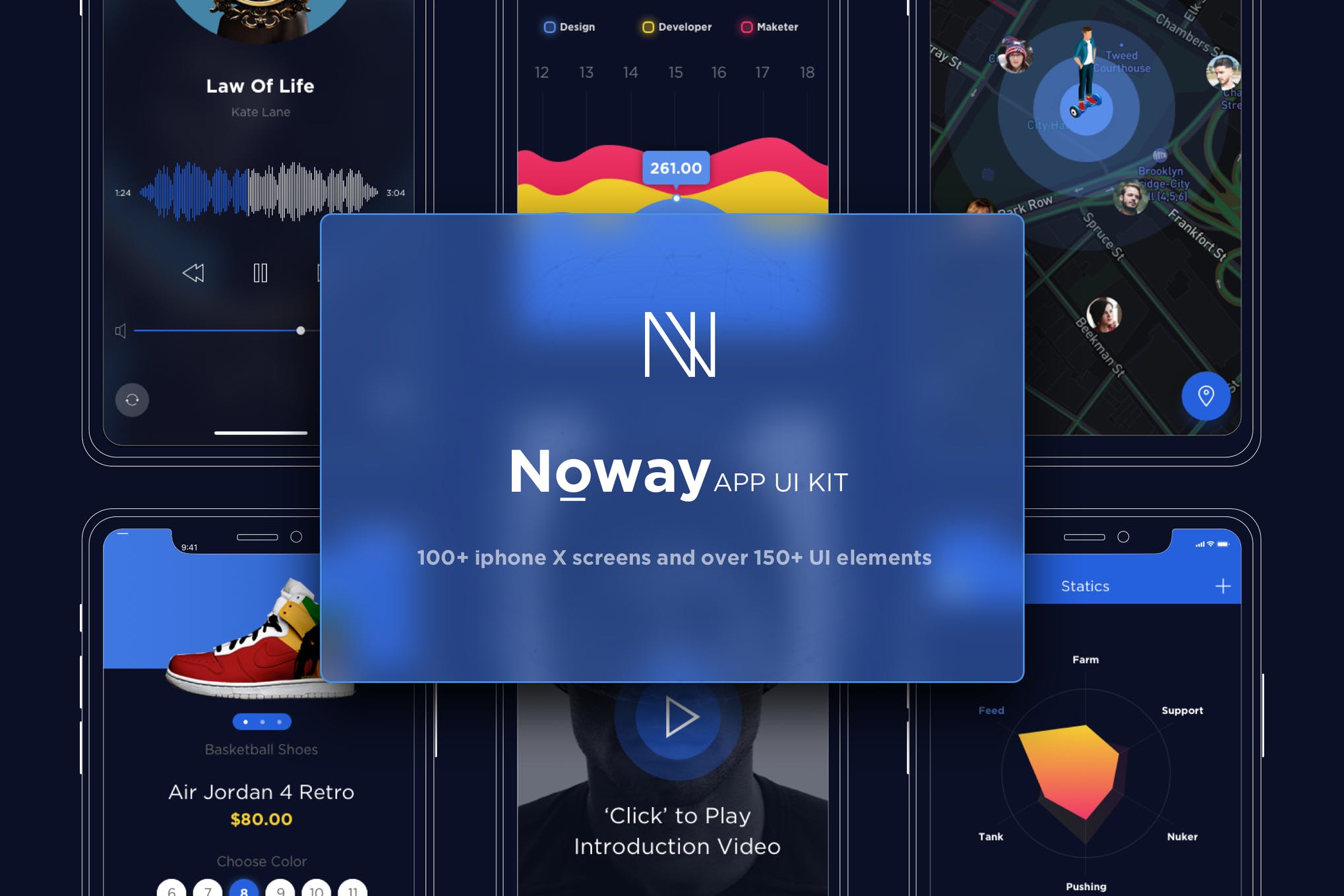 Check out Noway, a remarkably unique UI kit that comes equipped with a smorgasbord of iOS screens, and UI elements that you can make your own in just a few clicks. Compatible with Sketch and Adobe XD, customizing every component of the kit is a breeze.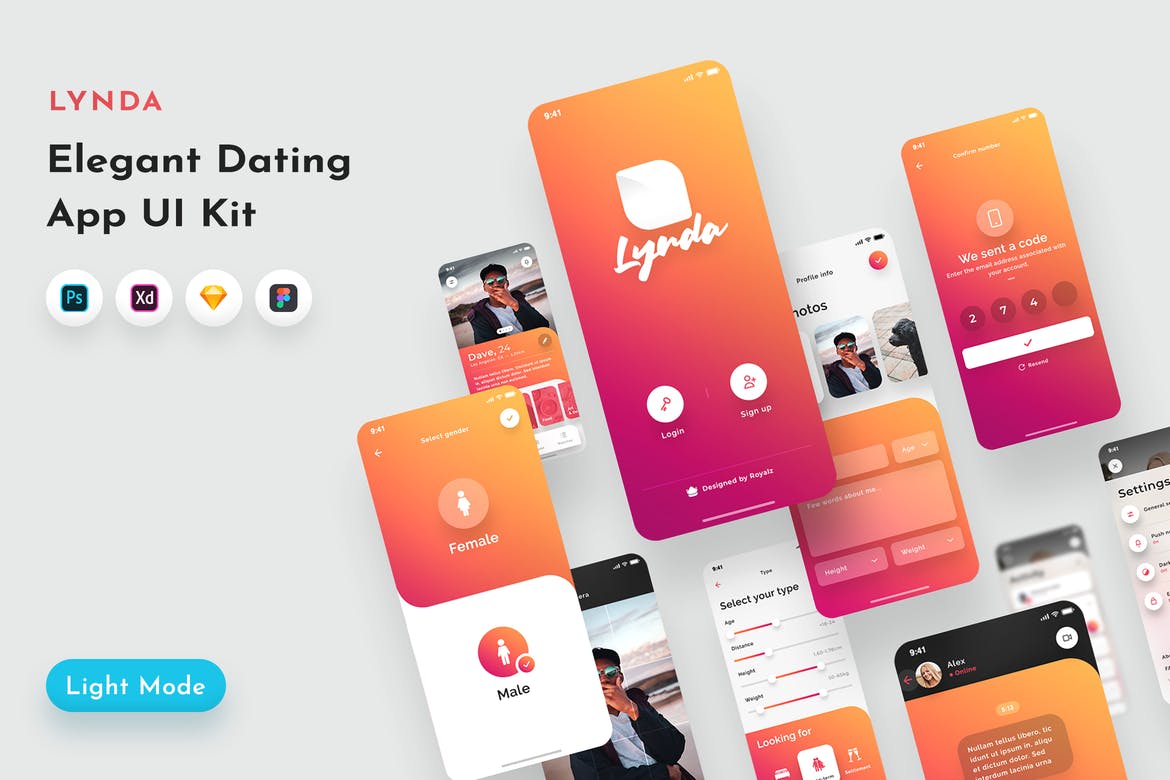 If you're putting together a dating app, then this elegant user interface wireframe kit for Sketch will make your life a whole lot easier! It comes with a huge selection of 44 screen templates for you to customize and also includes more than 100 components that you can mix and match.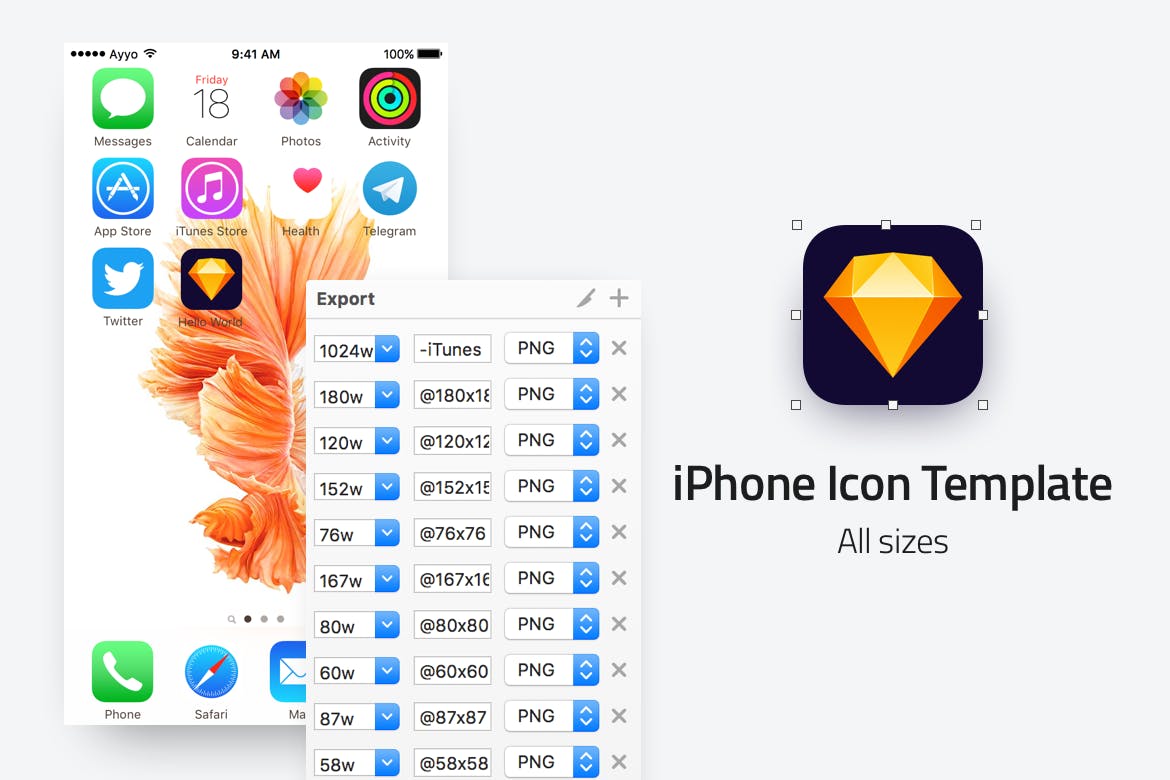 Here we have a collection of both multipurpose and specialized icons for iOS that are perfect for adding into your latest app design! It offers unlimited sizing options, and best of all you only need to edit a single icon in order to preview and generate the entire set.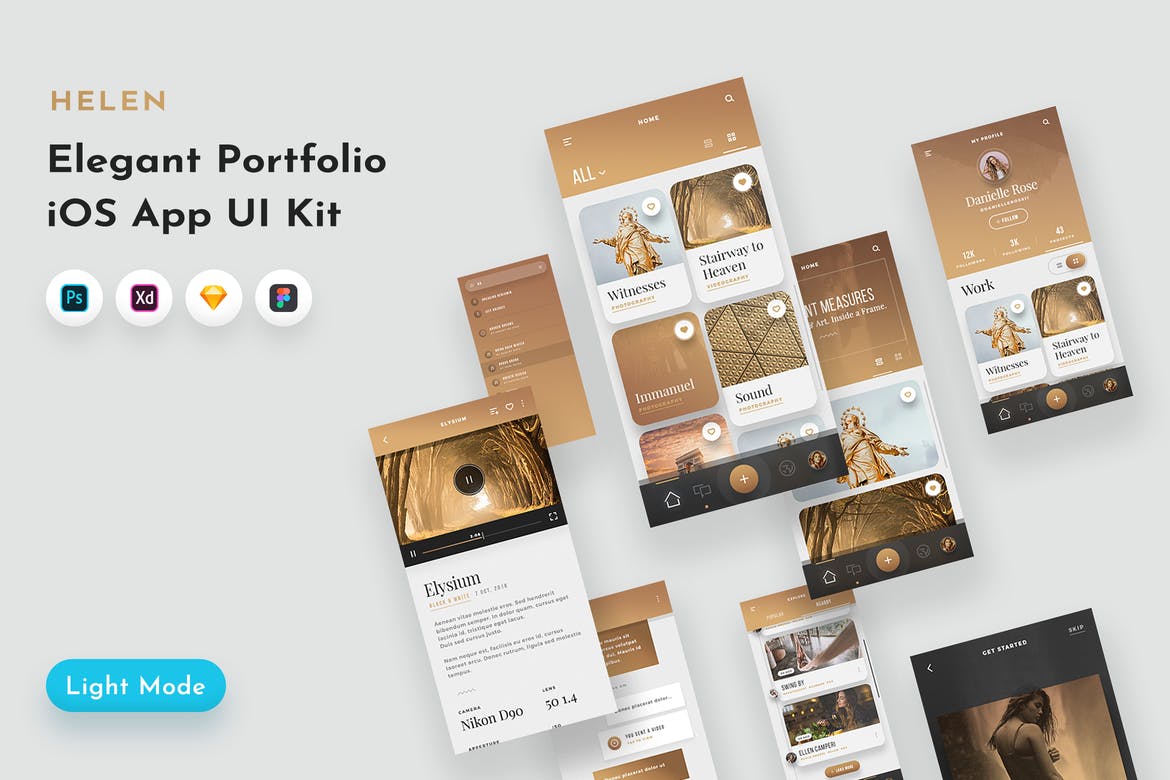 The next in our selection of the best sketch app templates is Helen, a beautifully crafted user interface kit that's been specifically designed for creating a portfolio-style app across iOS devices, and includes more than 40 screens with dark and light modes and a luxurious, modern design.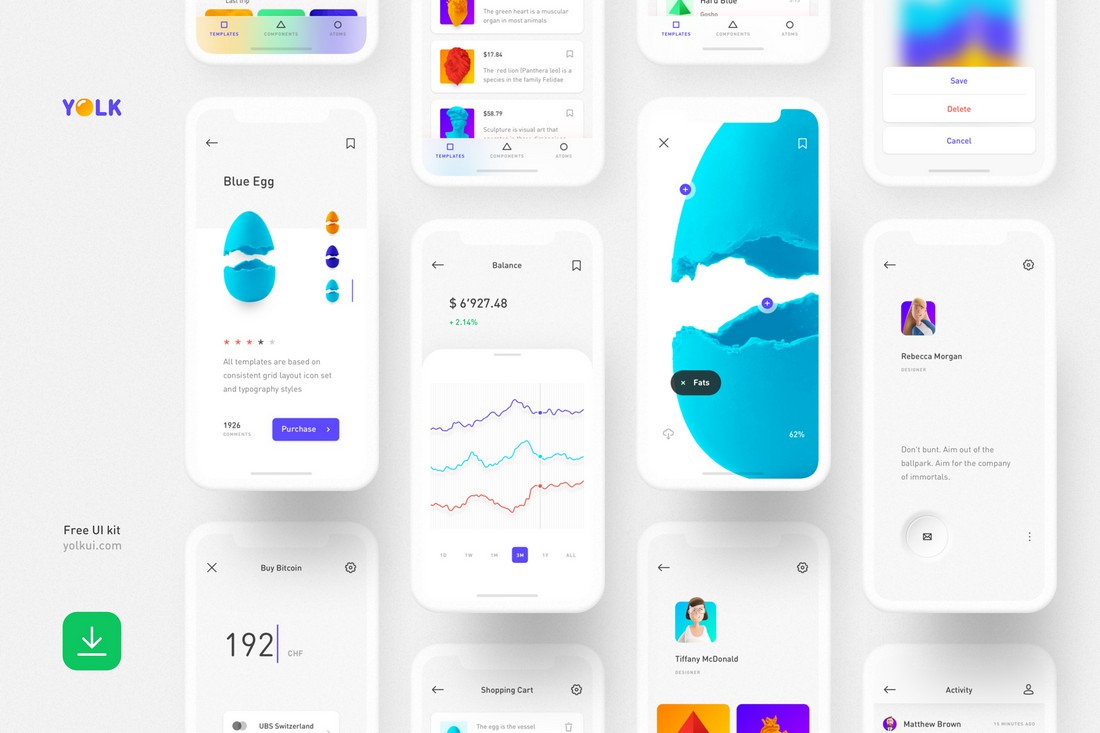 It's hard to believe that this iOS app UI kit is free to download. It includes so many useful elements, app screens, and templates you can use in your own app design projects. Be sure to add it to your collection.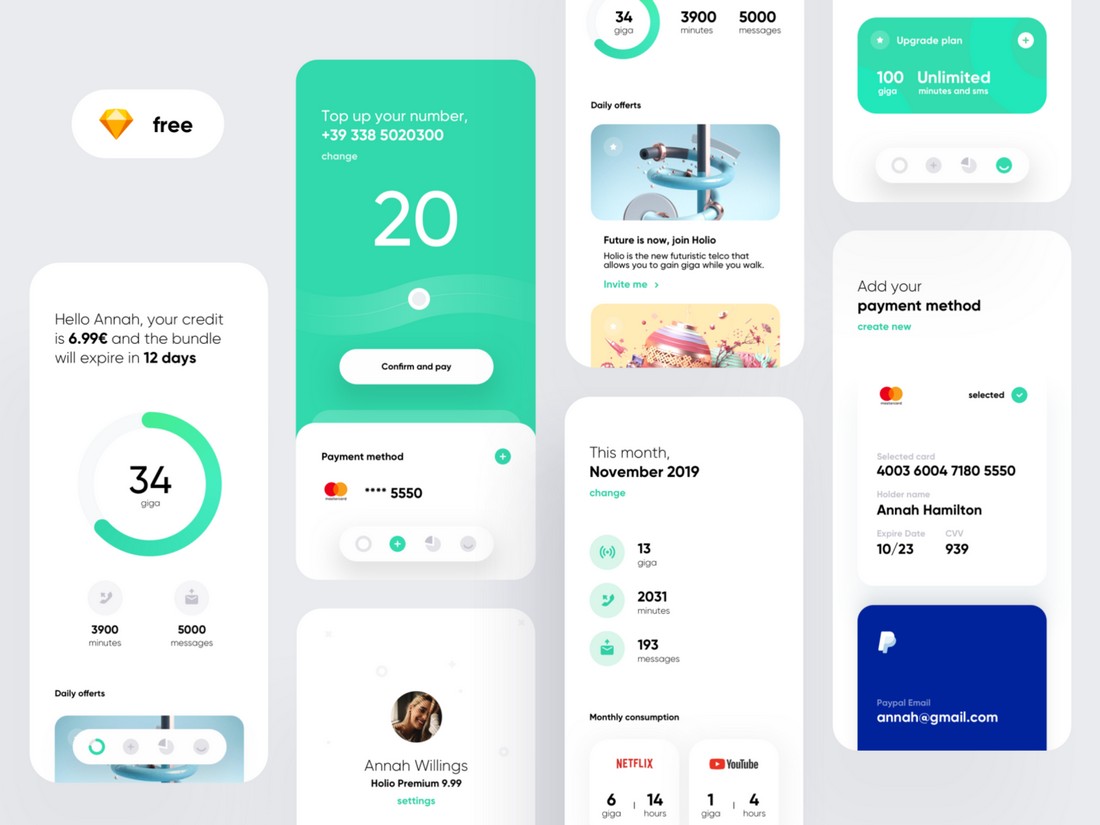 This Sketch iOS template is also free to download and use for experiments. It's a concept app UI design made as a Telco companion app. It includes several beautiful app screen designs.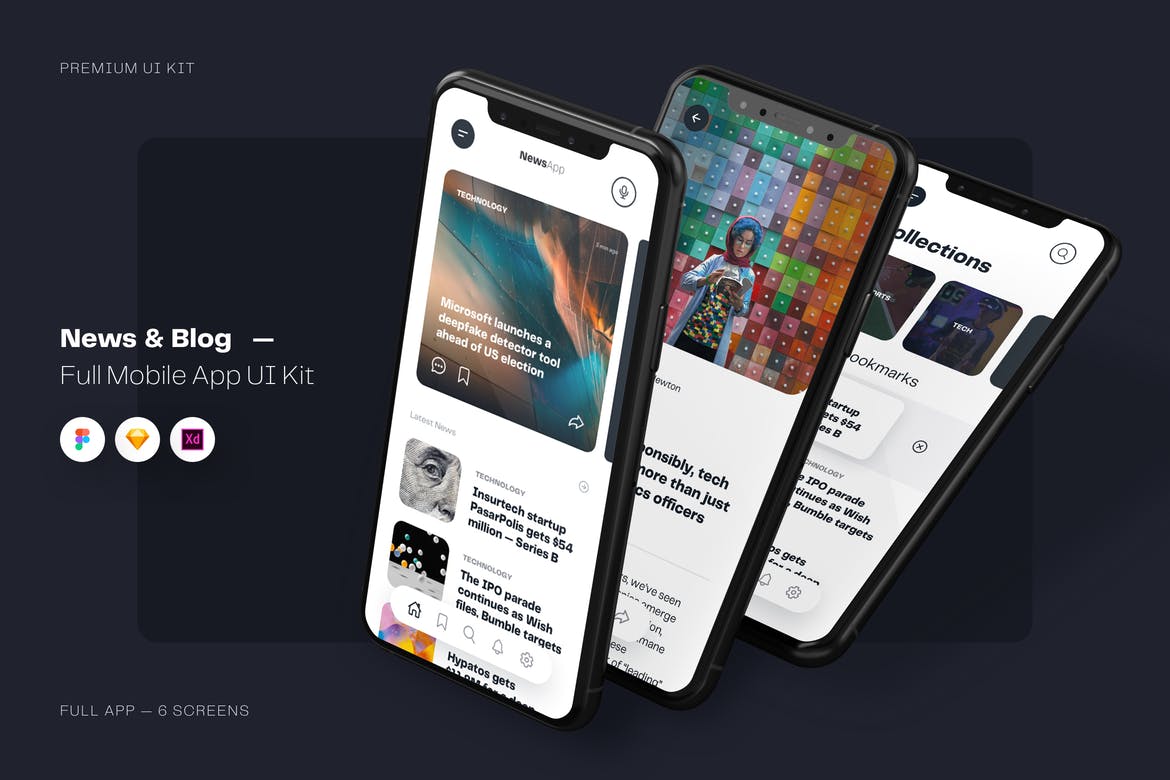 Staying up to date with blogs and news sites while on the go is a great idea, so why not build an app for just that, using this handy Sketch wireframe kit for iOS? It features a wide range of screen layouts with scalable vector elements, free fonts, and a unique and stylish look.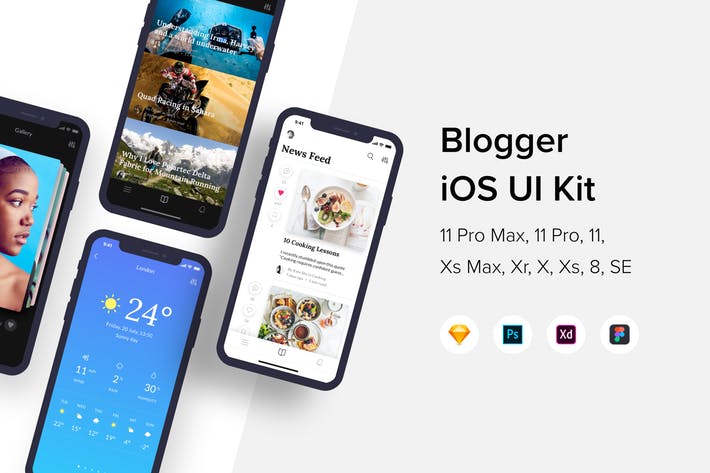 The next of our Sketch app templates for iOS is a UI kit designed specifically for bloggers. It includes a set of four high-quality templates with 520 icons, two free fonts, and a range of vector graphics. It fits all iPhones, and all of the graphic elements are fully layered, scalable, and customizable.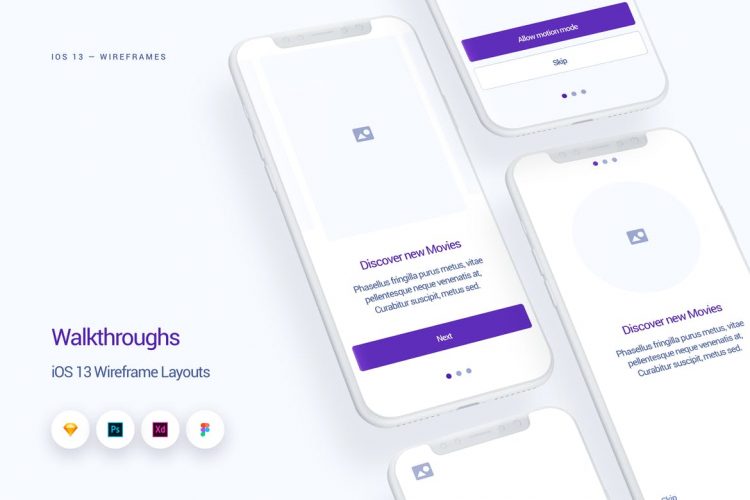 This collection of walkthrough screen templates features a minimal and modern design with fresh, clean color themes and scalable, layered vector graphics for easy customization. It includes iOS 13 compatibility as well as full product update support.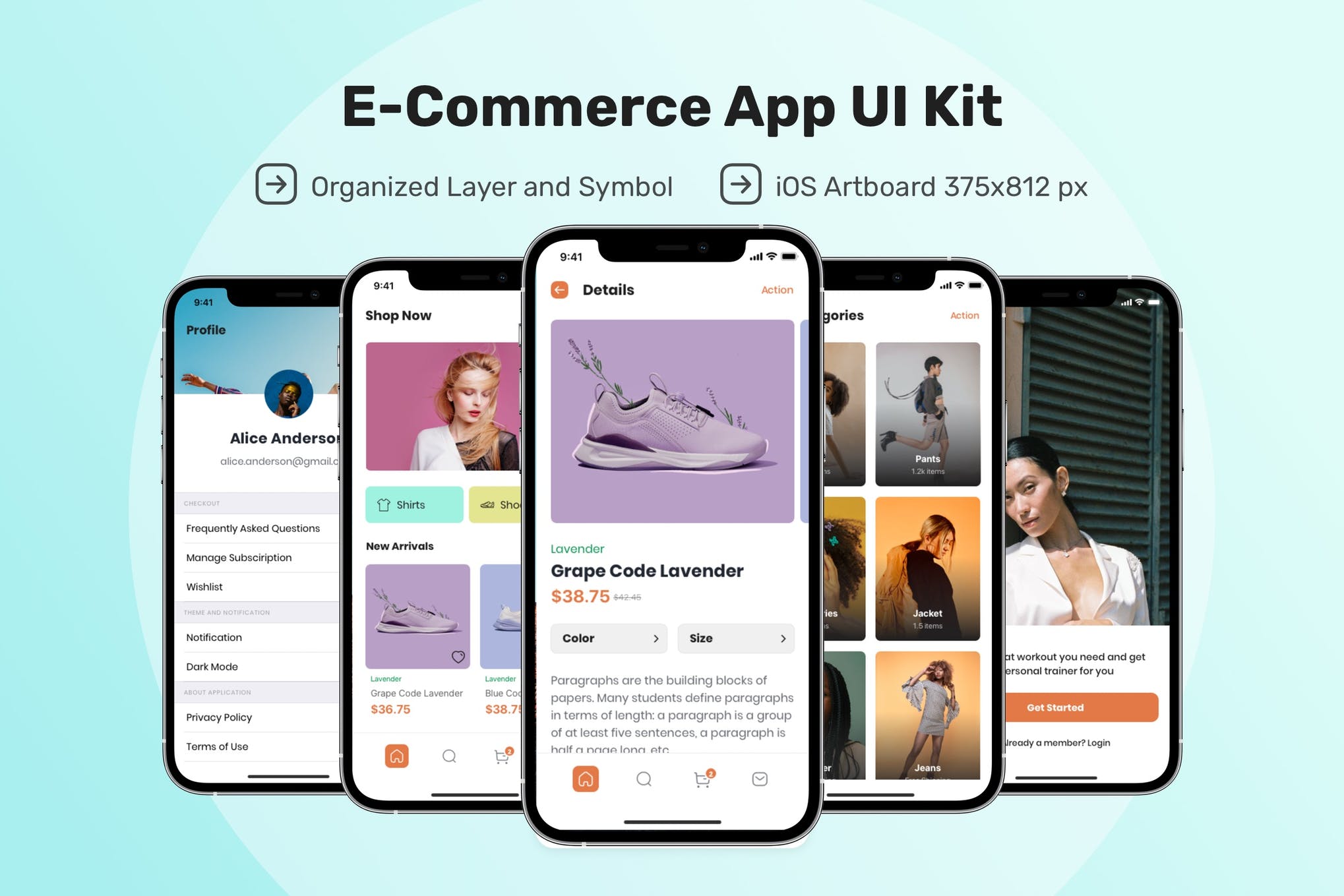 If you're looking to create an e-commerce store, this UI kit can provide a great foundational platform to bring your ideas to life. It features neatly grouped layers, and components, that can be edited to your liking in Sketch, Figma, and Adobe XD.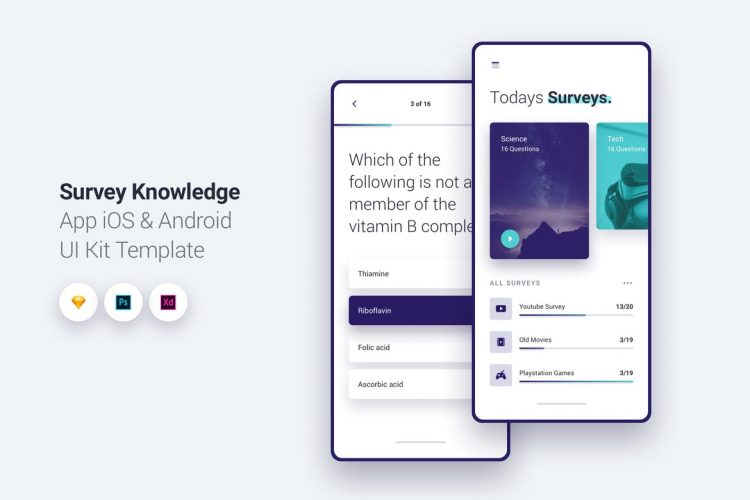 Our next Sketch iOS template is a set of survey app screens ideal for any kind of quiz or questionnaire, featuring a stylish and modern design with full customization options, resizable vector graphics, and free fonts. It's also compatible with Photoshop and Adobe XD.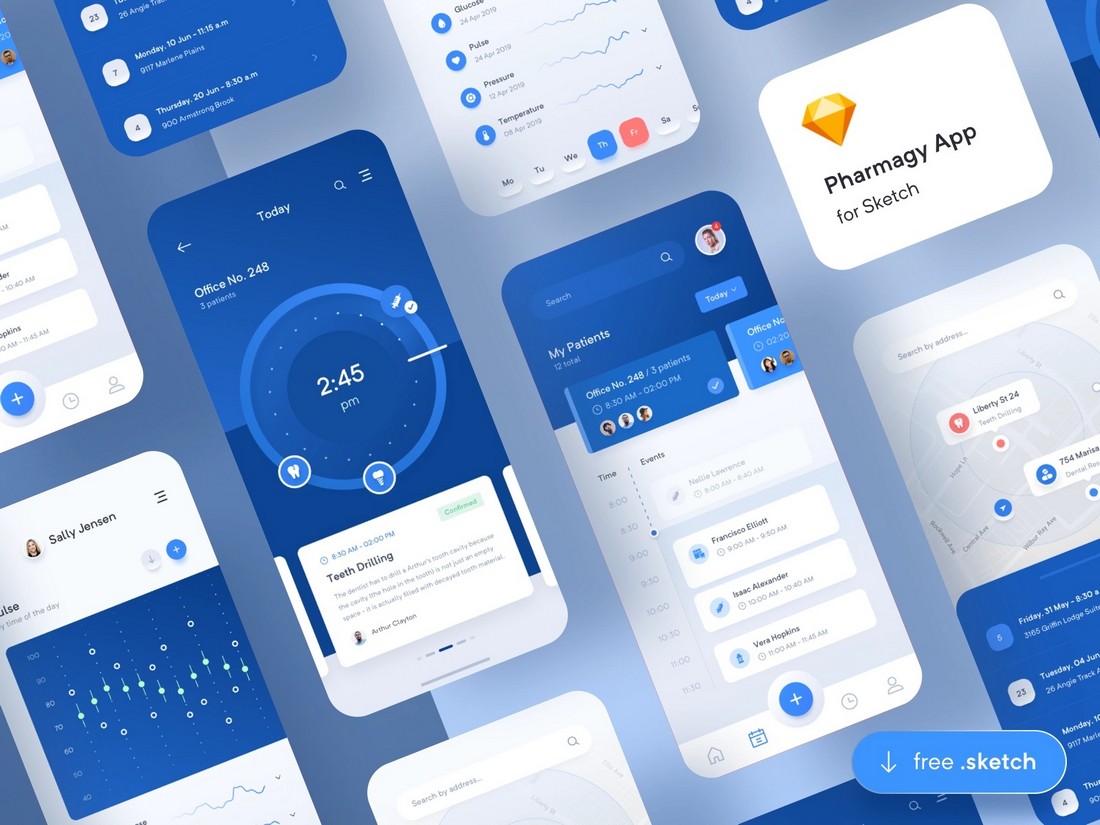 This free Sketch iOS app template comes with multiple app screen designs that you can edit and customize however you like. It's designed for making medical-related app layouts.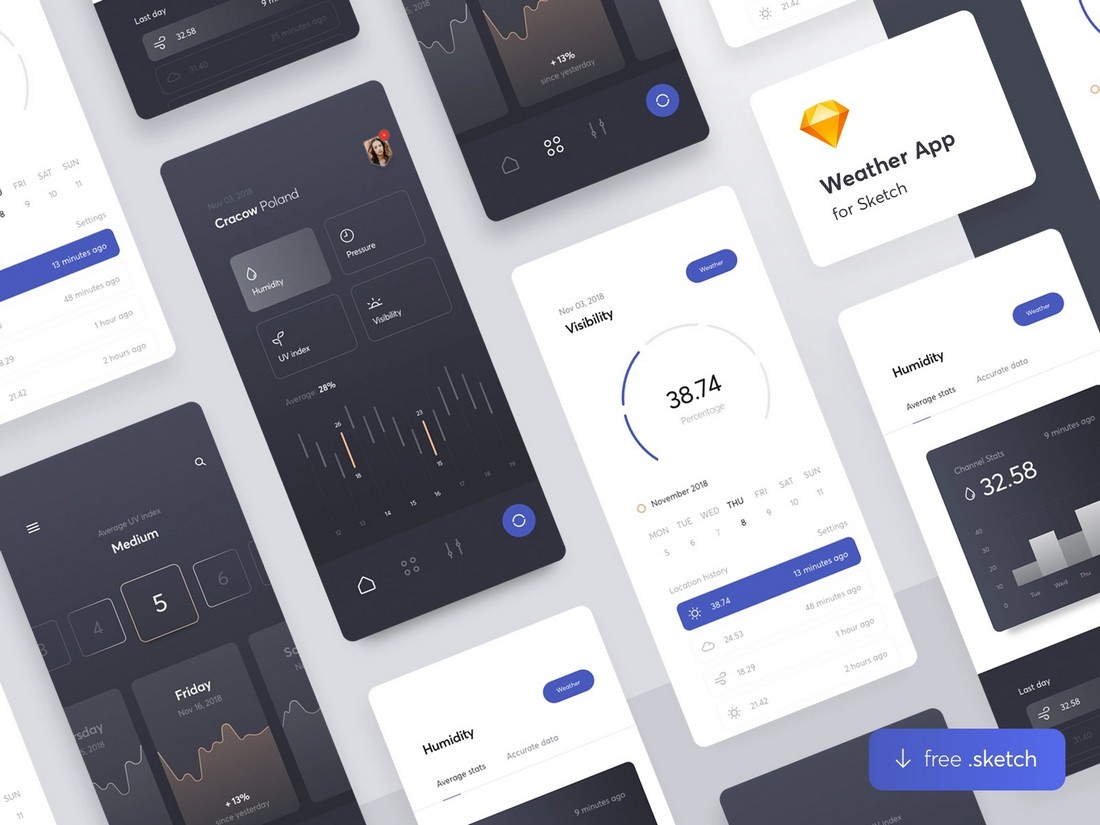 A great weather app will tell you more than just weather. This app UI is designed for creating such apps that go beyond the weather forecast. It's free to download so make sure to use it to learn and experiment.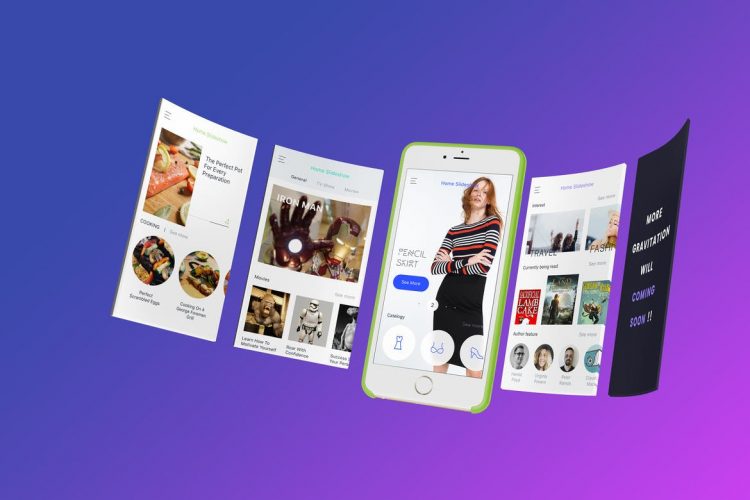 Perfect for a portfolio or gallery style app, this beautiful Sketch template is compatible with Android as well as iOS, and includes a range of premium icons as well as four unique screen layouts for a visually appealing and easy-to-use slideshow app.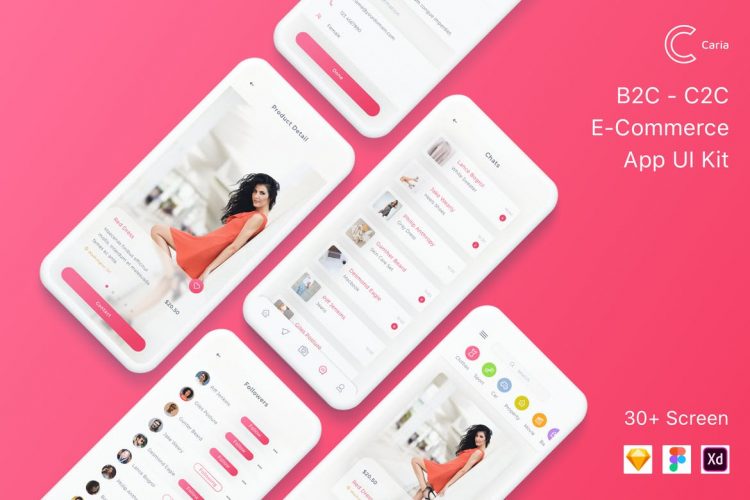 The Caria Sketch template has been purpose-built for e-Commerce apps, incorporating modern design trends and pixel-perfect graphic elements into a set of 30 high-quality iOS screens that are suitable for both small and large businesses. The layers, vector shapes, fonts, and colors are all customizable.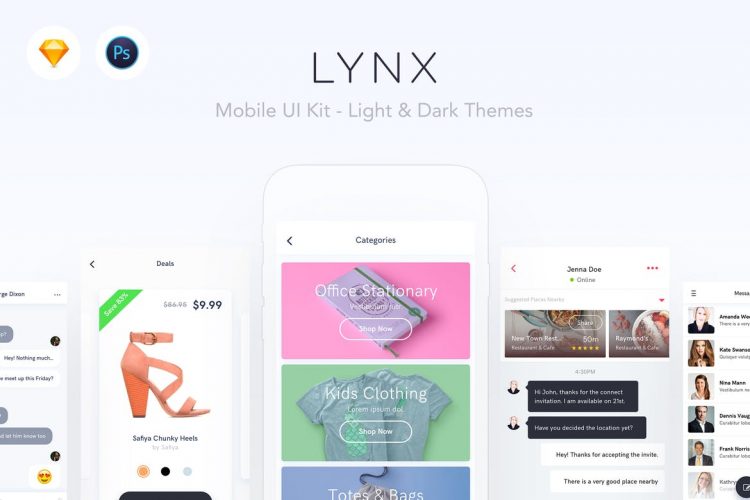 Perfect for online shopping apps but also highly versatile and able to be customized to suit a range of other purposes, the Lynx template is a clean, playful collection of 51 UI screens featuring a minimal, flat design and 100% vector layers. It includes both light and dark versions, and can also be used for Android apps.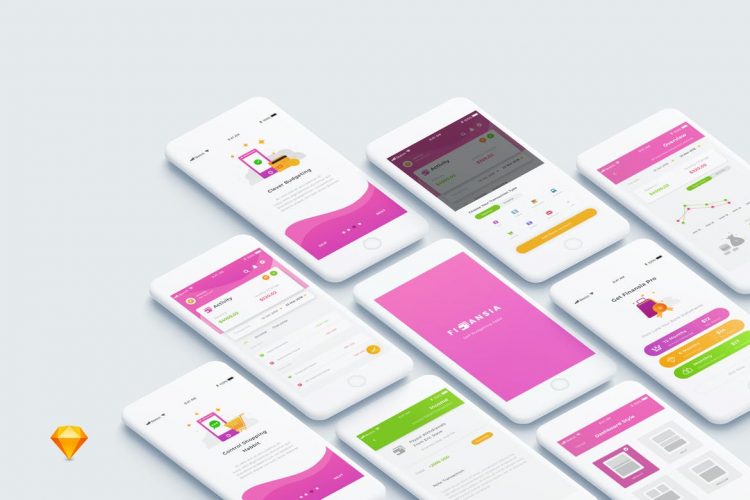 The Finansia Sketch template is a UI kit containing 36 highly customizable artboard templates that have been specifically designed with a personal budgeting app in mind. It includes a range of options for each screen and a modern design with gradient color variations, and all elements are 100% scalable and vectored.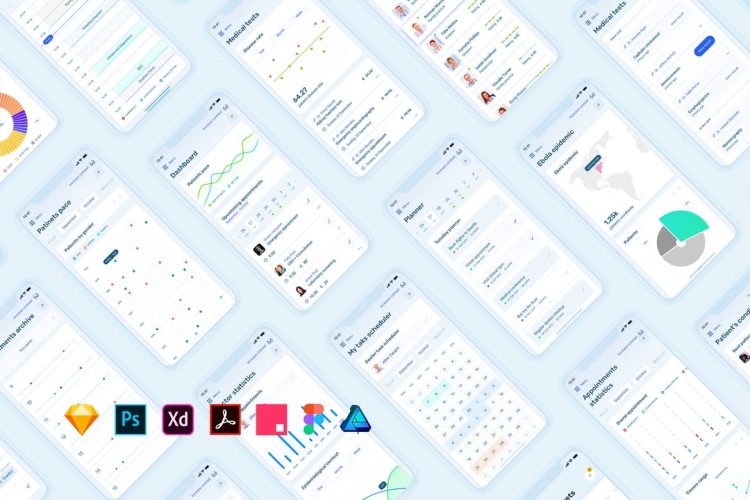 A professional dashboard UI kit featuring medically themed layouts and designs, this Sketch template is ideal for hospitals, clinics, and laboratories. It includes 38 pre-built layouts, and over 50 widgets with different features and options, all of which have been designed using the latest design trends and standards.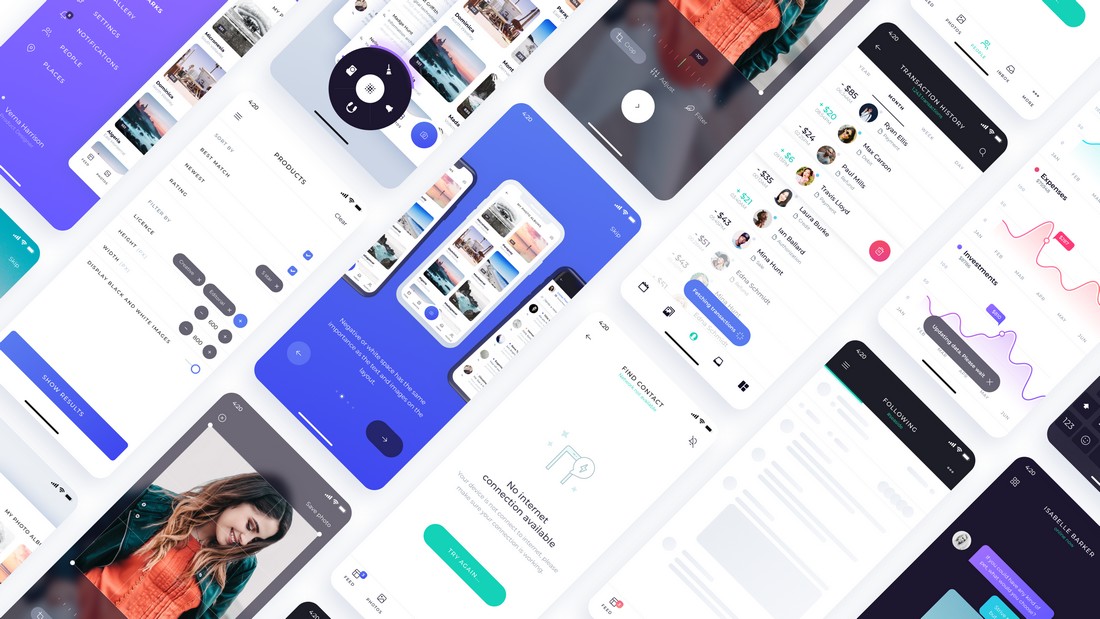 Atro is a complete iOS app UI kit for Sketch that comes loaded with tons of templates, elements, and app screens you can use to build various types of apps. It's free so be sure to download and add it to your personal collection.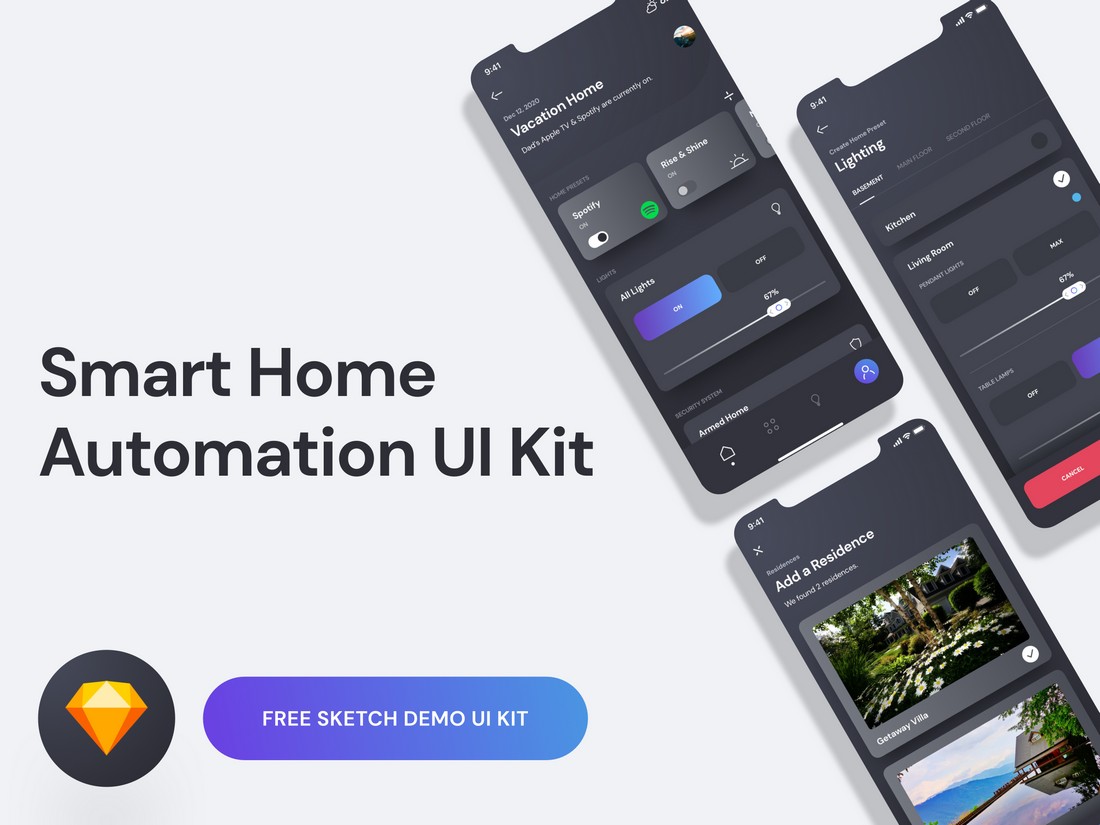 Looking for inspiration to make a smart home app UI? Then this free Sketch template kit will come in handy. It features multiple app screens with beautiful designs for making a modern smart home companion app.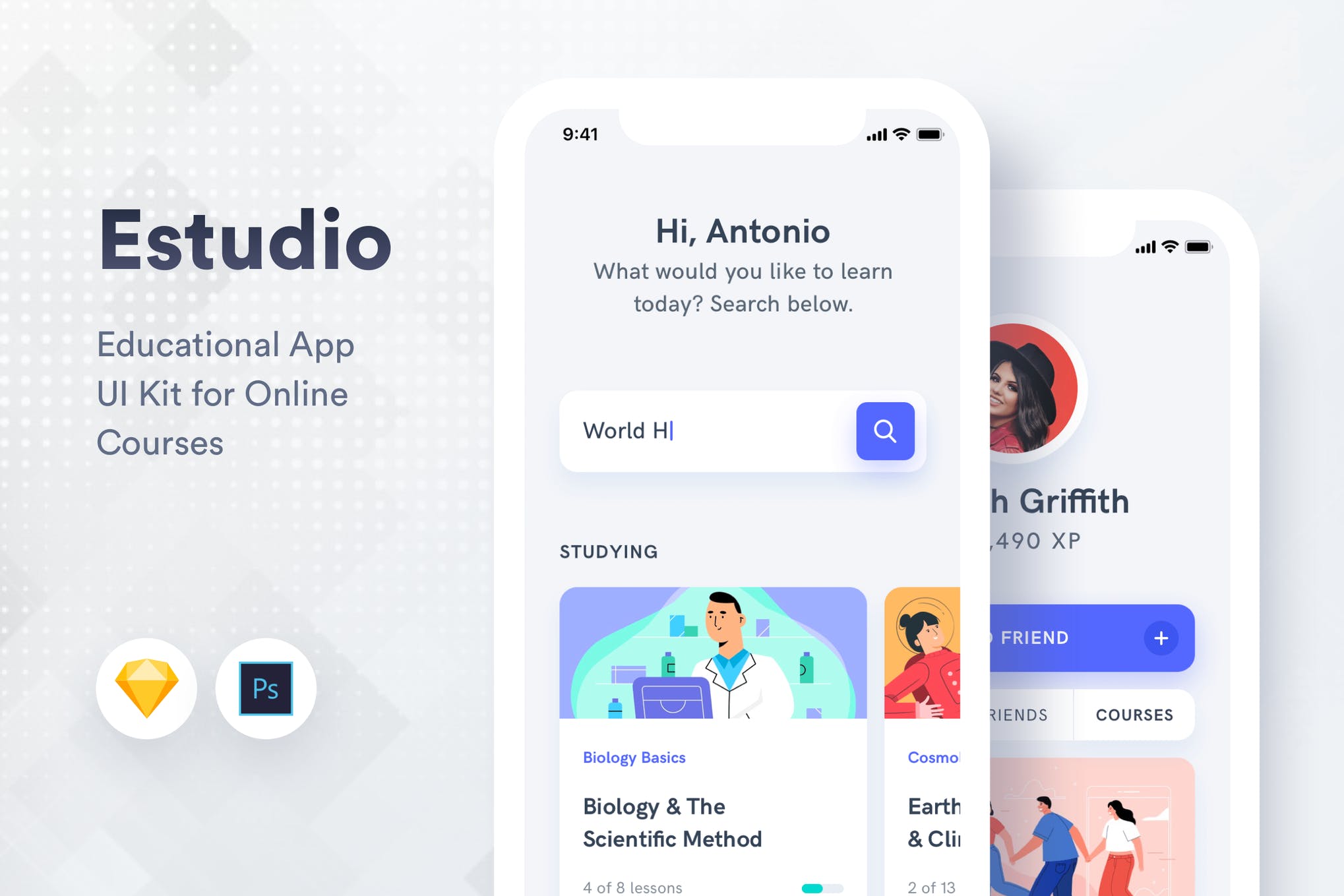 Estudio is an iOS UI kit that will help you create education and learning based apps without sweating over endless hours designing everything from scratch. It comes with 58 screens, light and dark color modes, free fonts, and vector elements.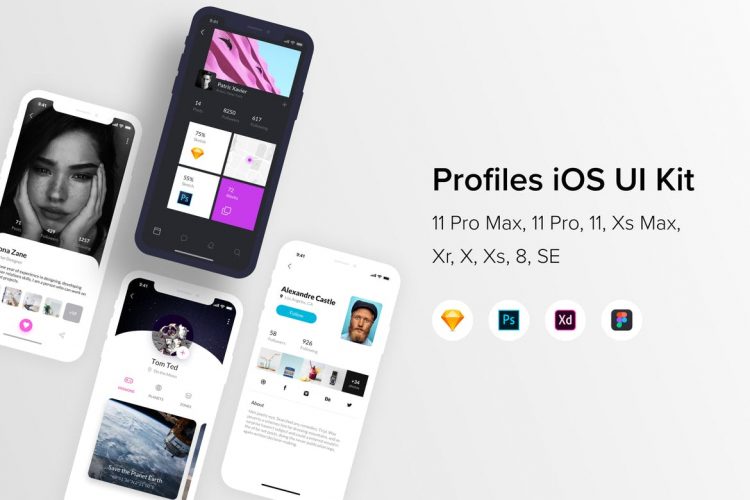 This set of 4 high-quality iOS premium templates is a perfect option for any profile-based app and can be customized and adapted for a wide range of uses. It features high-quality graphics and over 500 icons and is compatible with all iPhones.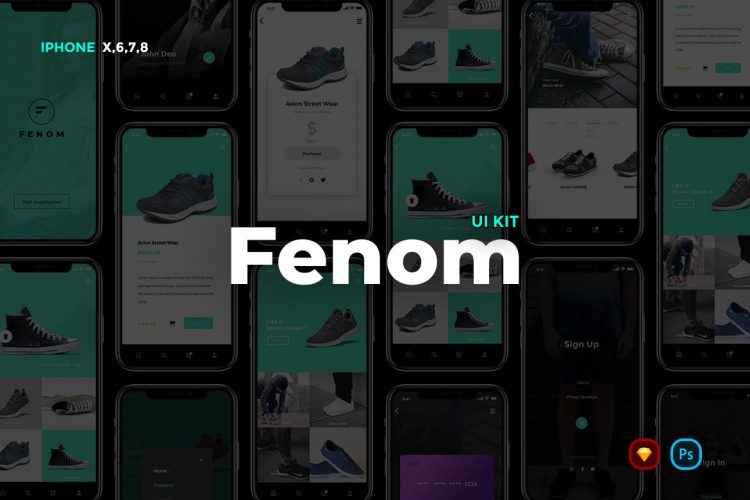 The Fenom template is a modern UI kit that's been designed for both small and large businesses to use in designing creative online shopping and e-Commerce apps and features 10 artboards and a range of fonts, stock photos, vector icons, and graphic components.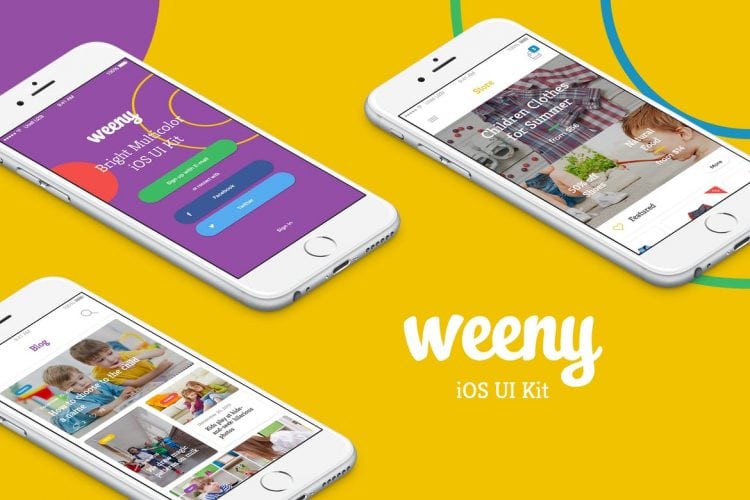 This super colorful, fun Sketch app template includes 50 iPhone screen layouts across seven different categories, making it appropriate for a wide range of applications and business types. It features pixel-perfect graphics, vector shapes, free fonts, and full product update support.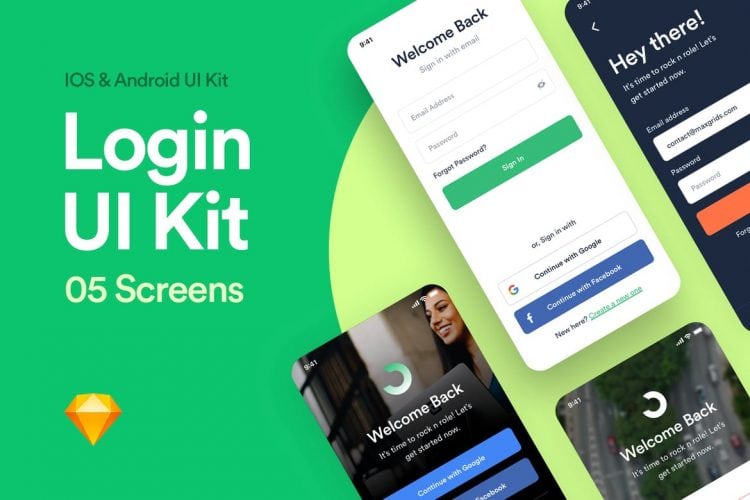 Perfect for any app login screen, this Sketch iOS template comes with 5 different designs for a modern and easy to use login screen, and is useful for any app that requires a user login. Designed for conversion, it's easy to edit and features organized layers for a great design experience.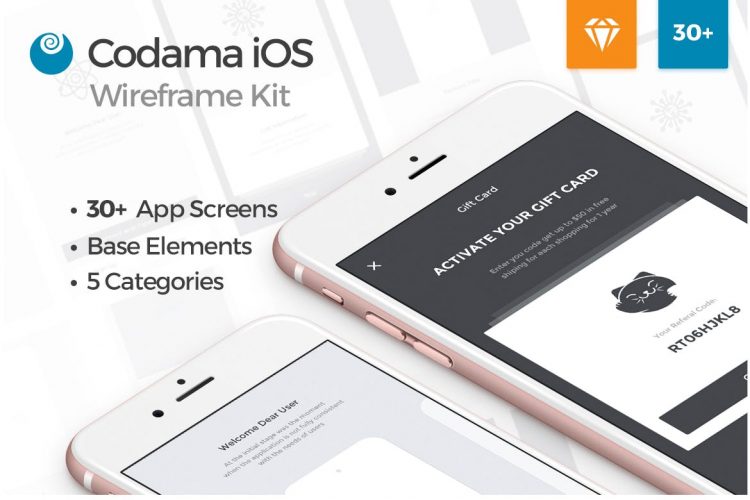 The Codama template is one of the most versatile Sketch app templates and has been designed with profile-based and e-Commerce apps in mind, but it is so easy to customize that you can apply it to just about any kind of purpose. All screens and elements are fully adjustable, including shapes, colors, and effects.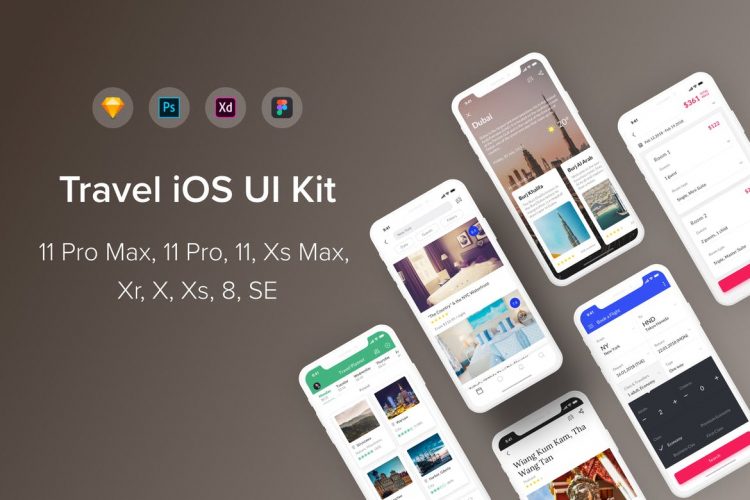 Brilliant for travel-themed apps, this option features 6 high-quality premium templates that can be scaled to fit any iPhone, each of which includes pixel-perfect graphics, scalable vector elements, and 520 icons to help you customize to your app's specific needs.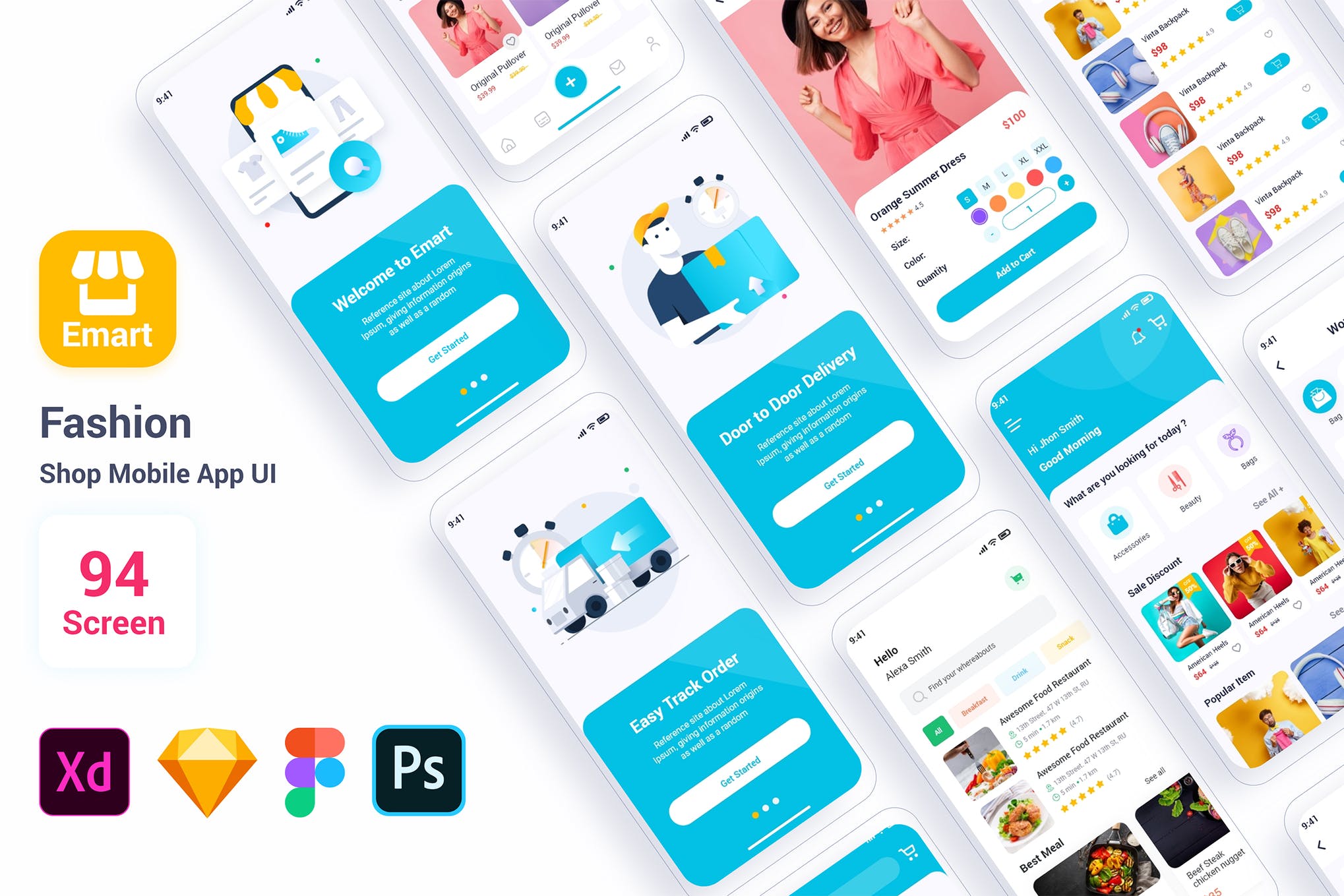 Emart is a high-quality mobile UI kit that will help you create a modern, and eye-catching fashion e-commerce store in no time at all. It arms you with 94 pre-designed iOS screens that you can completely customize to suit your requirements.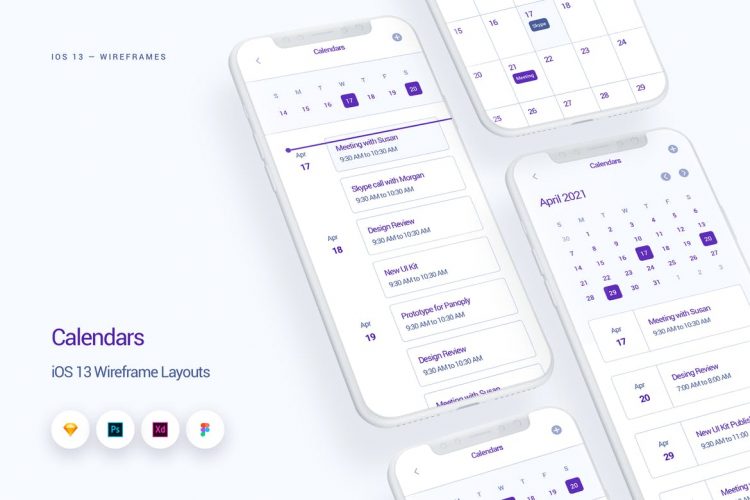 The next of our Sketch iOS templates is a set of beautifully designed calendar screens featuring minimal and modern layouts, scalable vectors, and free fonts, allowing full customization with Sketch as well as Photoshop, Adobe XD and Figma. The effective and simplistic use of color gives the design a cohesive and professional finish.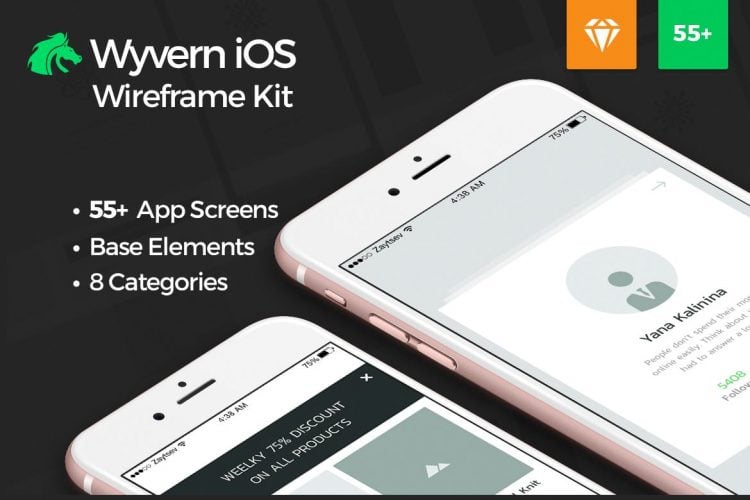 Consisting of more than 55 ready-to-use app screens, the Wyvern Sketch app template is highly versatile and can be customized to suit a range of app types, from eCommerce to communication and networking platforms. It includes clean, minimalist layouts across eight different categories.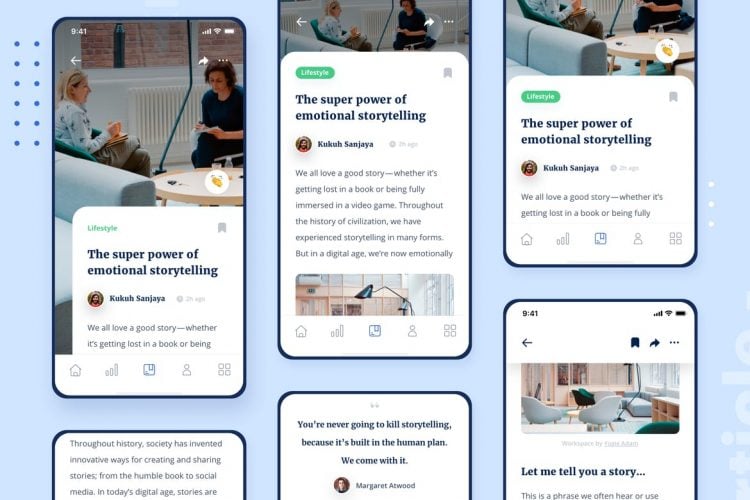 The Bacao Sketch iOS template is a unique and visually appealing option that's been purposefully designed for reading and news applications. It includes 3 iOS screen layouts, full-color customization, vector-based components, and well-organized layers to make editing a breeze.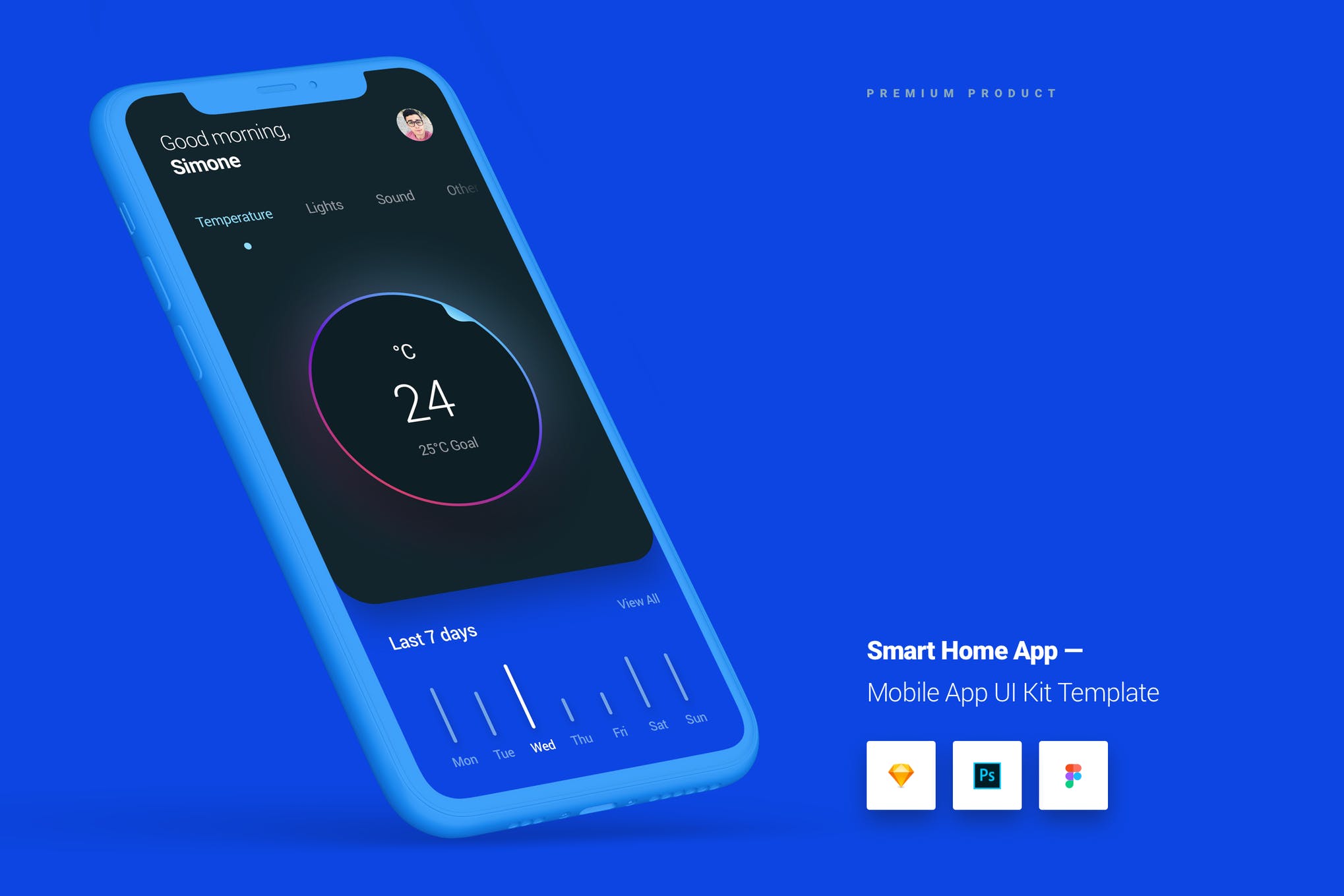 This iOS and Android UI kit is an excellent tool that will help you design smart home applications with minimal effort. It comes with a bunch of modern and clean layouts, scalable vector elements, free fonts, and a lot more. Check it out now!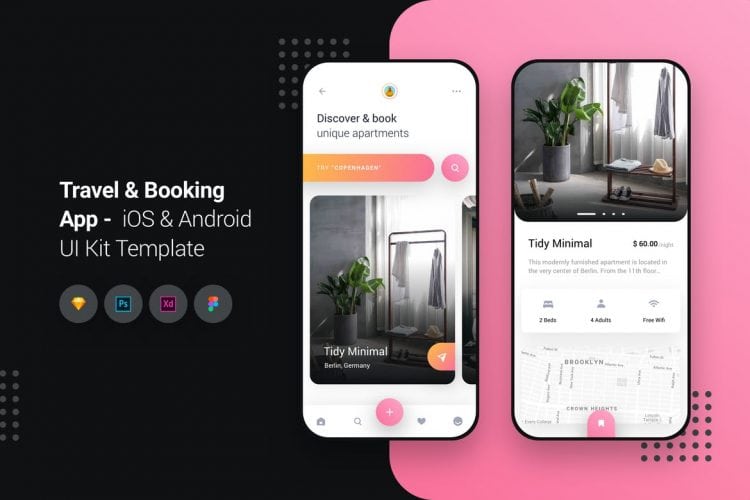 This option is perfect for travel and reservation apps, such as accommodation and restaurant booking services. It features a range of tidy, minimal, and intuitive layouts with stylish design aspects – all of which can be fully customized, from the vector graphics to the colors and fonts.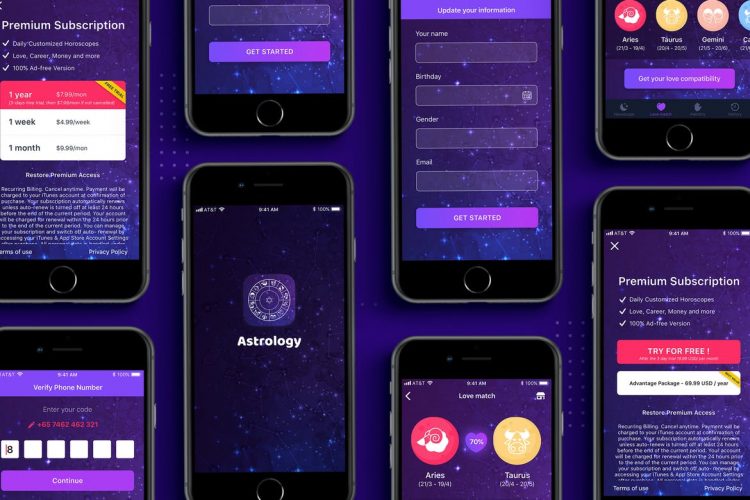 For something a bit different, this zodiac-themed Sketch template is ideal for any astrology app and features galactical design elements with eye-catching colors and a clean, easy-to-follow layout. It's also fully layered and scalable, allowing for easy customization to adapt each screen for different uses.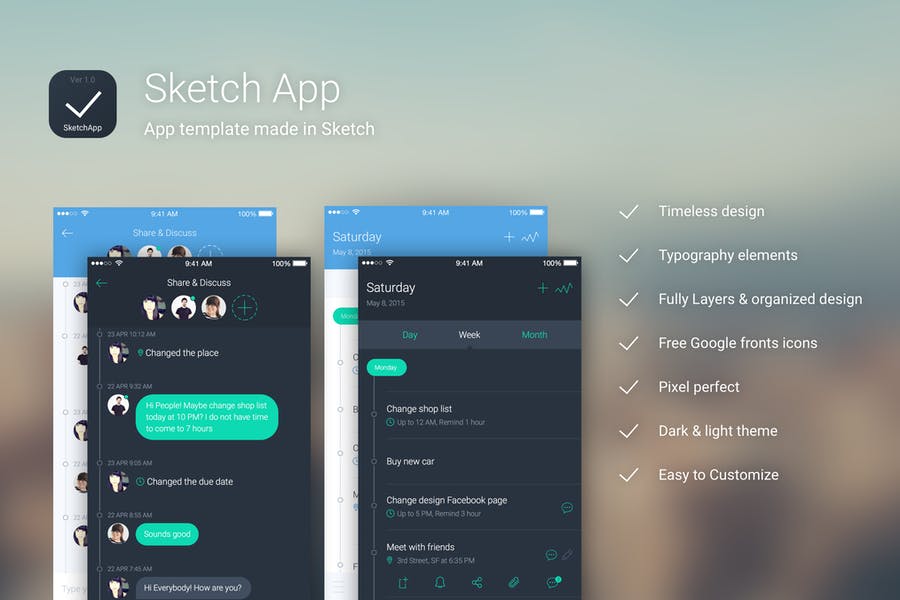 This high layered Sketch iOS template is designed specifically for creating a to-do list app, and includes a wide range of fully customizable layouts, each featuring a timeless design, high-quality vector graphics, clean typography and both a dark and light theme for you to choose from.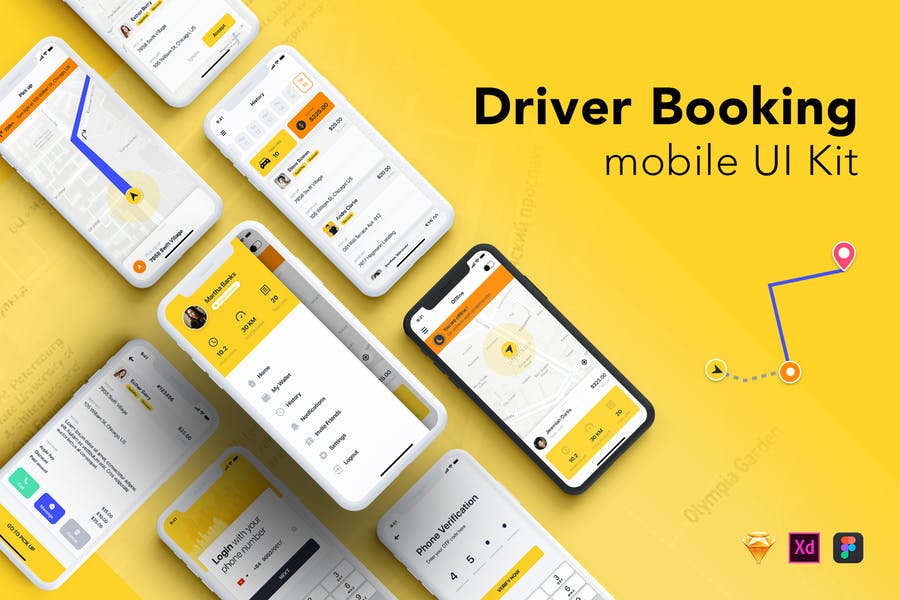 The next of our featured Sketch app templates is for a professional-looking taxi driver booking app, and contains 32 ready-made screen layouts for you to customize and use for your own iOS app. Each screen design features pixel-perfect graphics and is fully editable, and comes with a style guide, typography and interchangeable color schemes.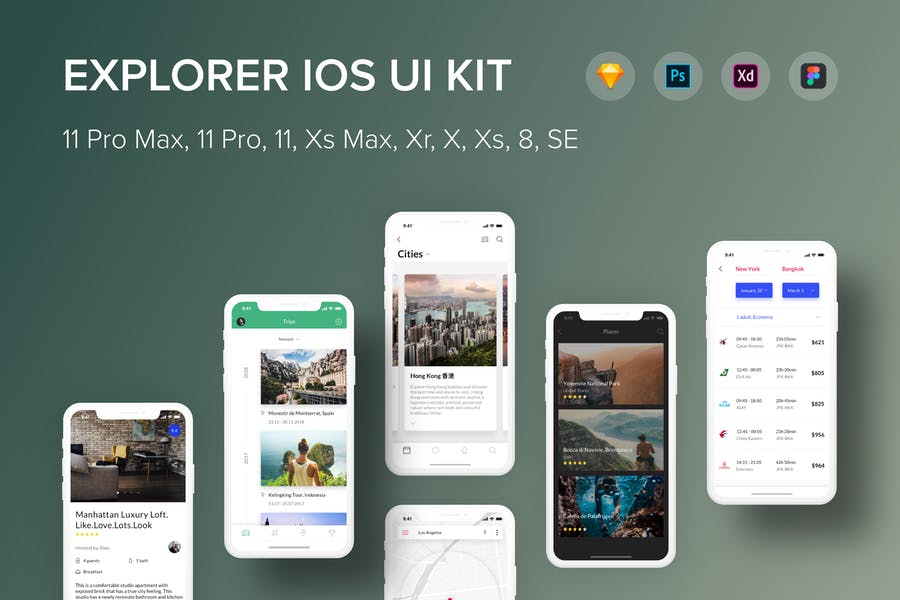 The Explorer Sketch iOS template has been handcrafted with ease of use and a clean, aesthetically pleasing design aesthetic. It includes six unique screen layouts, fully scalable and customizable vector graphics, and will perfectly fit all iPhone models.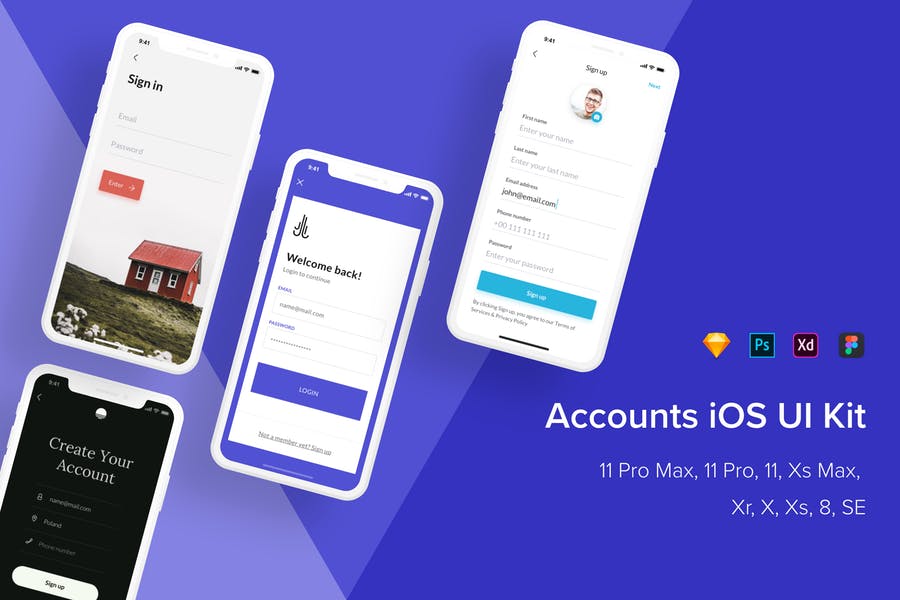 If you're looking to create an iOS app for accounts or finance purposes, this accounts themed Sketch app template is a winner. It offers four pixel-perfect screens and 520 vector icons you can use to help you customize. All elements can be edited, and it's compatible with every type of iPhone.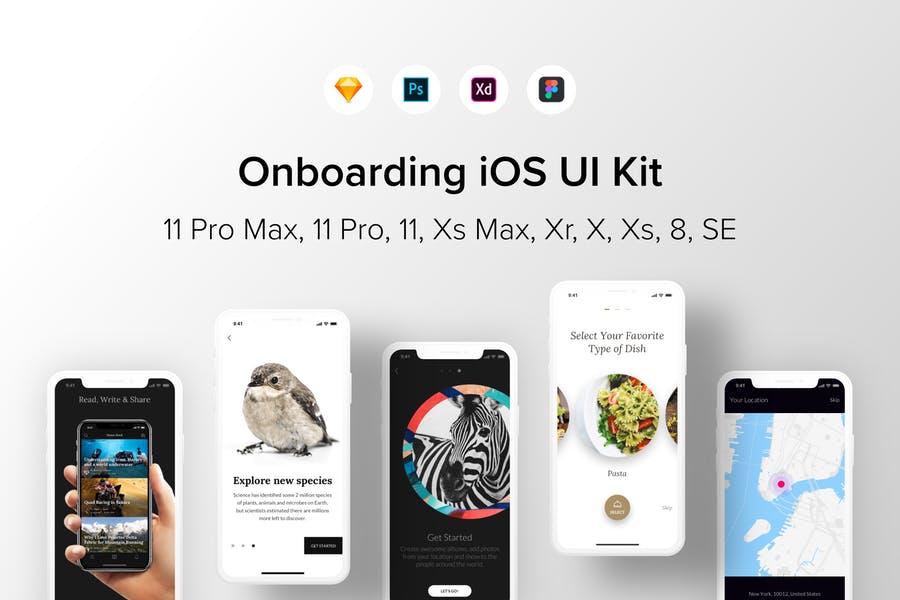 One of the most versatile Sketch iOS templates we've found is this onboarding template, which offers six unique premium screen layouts for you to customize and adapt to your own app. They're fully editable, and the layered vector graphics and the high resolution will give it a super professional finish.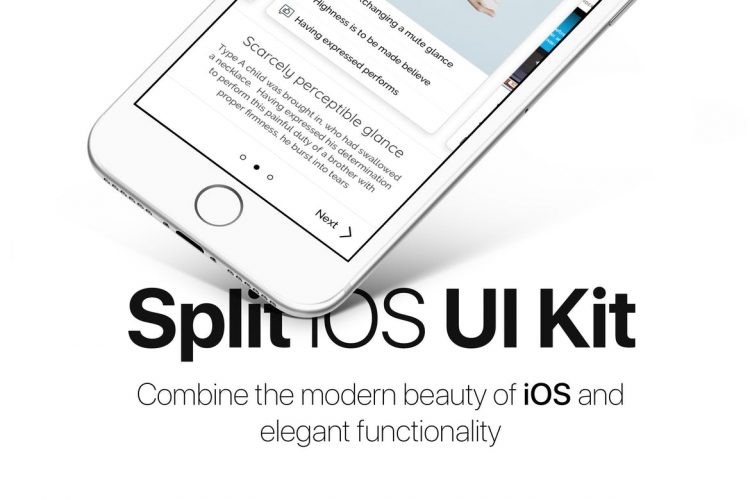 The last of our Sketch iOS templates is a highly versatile option, featuring ultra-modern black and white designs and a high-quality retina display resolution. All elements can be customized, but the elegant simplicity of each of the original screens means you most likely won't be needing (or wanting) to change much!
And there you have it – the best Sketch iOS templates, all ready to download and able to be fully customized to your heart's – or client's – content! We think you'll agree that there's no point wasting hours on creating an app UI kit from scratch when these stunning templates will allow you to generate a professional and high quality result in a fraction of the time. Happy Sketching!