Silvia – Free Photography WordPress Theme
We're so excited to announce that our 7th free WordPress theme has been released, we call this theme Silvia!
Silvia is a clean, elegant, minimalist Photography theme with a grid layout that offers beautiful and easy-to-use options to present your photography, artwork or portfolio work. It's ideal for website focused on photography, graphic design, fashion, art, architecture, interior design, and other creative fields!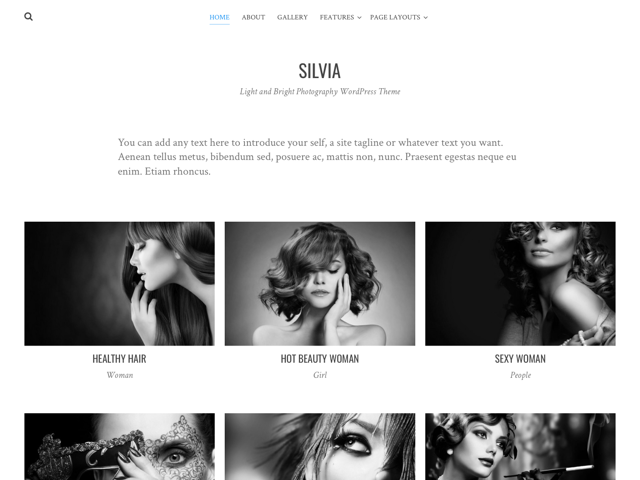 Features Include:
* Responsive
Your website will look beautiful even on mobile devices
* Retina Ready
Silvia is optimized for retina device
* WordPress Customizer
Silvia theme options are powered by WordPress Customizer. The Customizer is a new and exciting feature that combines theme options with the ability to live preview those changes before saving them! It allows you to modify various options including colors, typography, layout, logo, favicon, etc.
* Unlimited Colors
You can customize the colors in almost every area of the theme!
* 2,3 or 4 Columns
Don't like the default 3 columns? Don't worry, you can easily to change it in the customizer.
* Page Layouts
Silvia provides 3 layouts for pages, please have a look:
* Popup WordPress Gallery
Silvia supports a nice popup in a gallery when you click the image. Please try it out: http://demo.theme-junkie.com/silvia/2015/06/21/healthy-hair/
* Detailed Image Exif Data
Want to show the exif data for your image? It is possible in Silvia! The exif data will appear on attachment page, please take a look: http://demo.theme-junkie.com/silvia/?attachment_id=81
* Smart 404 Page
The 404 page displays latest posts, please take a look: http://demo.theme-junkie.com/silvia/404
Please let us know what you think about this by leaving a comment below! 🙂