20 Scary, Creepy & Spooky Fonts (For Halloween & More) 2021
There is a special excitement that comes over us when we get to dress up for Halloween. The spookiest and creepiest season of the entire year. But have you ever considered bringing that same fun and enjoyment to your font choices? There are a plethora of spooky fonts just waiting out there to make your next project that little bit extra scary.
Today we'll take a look at a range of Halloween fonts you can get your hands on right away. From spooky fonts, creepy fonts, downright scary fonts, and everything in between.
Read on to see our selection of the best premium and free scary Halloween font choices!
Get every varied font and typeface you could ever need with one simple subscription. From just $16, get unlimited access to thousands of fonts, typefaces, graphics, templates, photos and illustrations.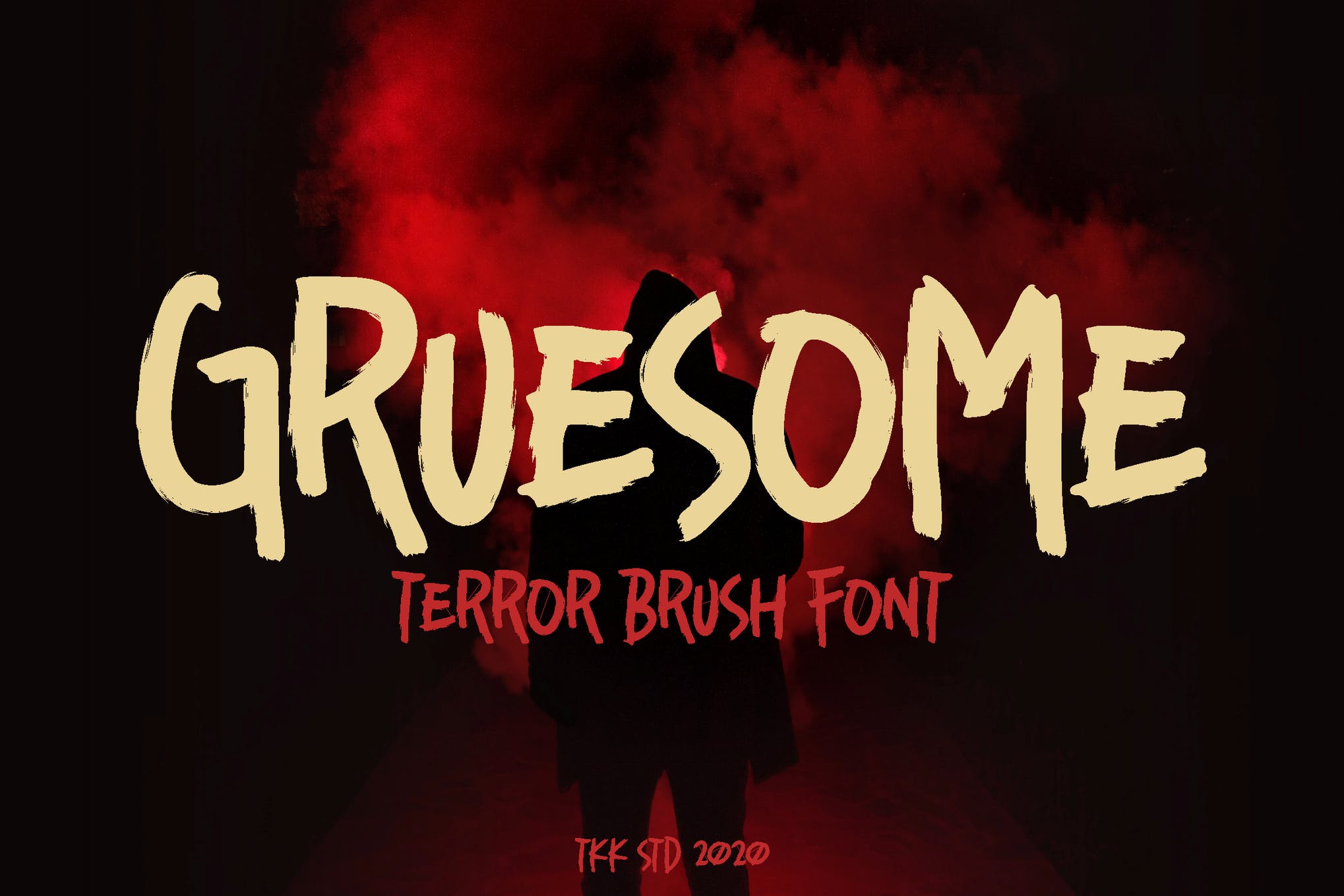 Much as the name suggests, Gruesome is a downright horrifying typeface, one of those scary text fonts that brings you back to the era of slasher films of the '90s and early 2000s. With its rough and jagged brush texture, Gruesome is ready to bring a little scream out in your projects.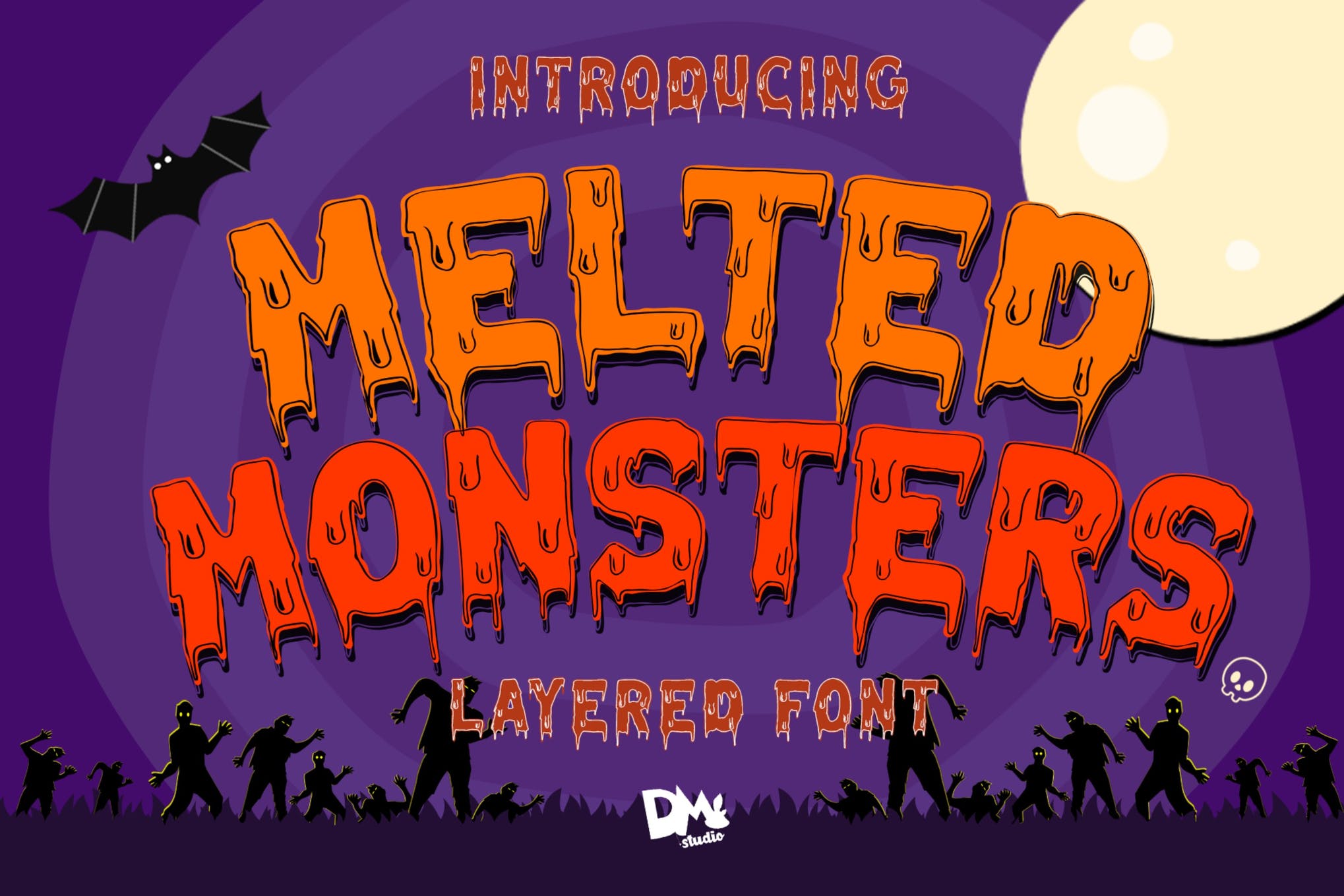 Create that special child-like Halloween aesthetic with the Melted Monster font pack. A font designed after the spooky and fun designs of children's candy, the Melted Monster font pack doesn't lean too heavily into the scary elements and instead strikes that fun balance between scary and child-like joy.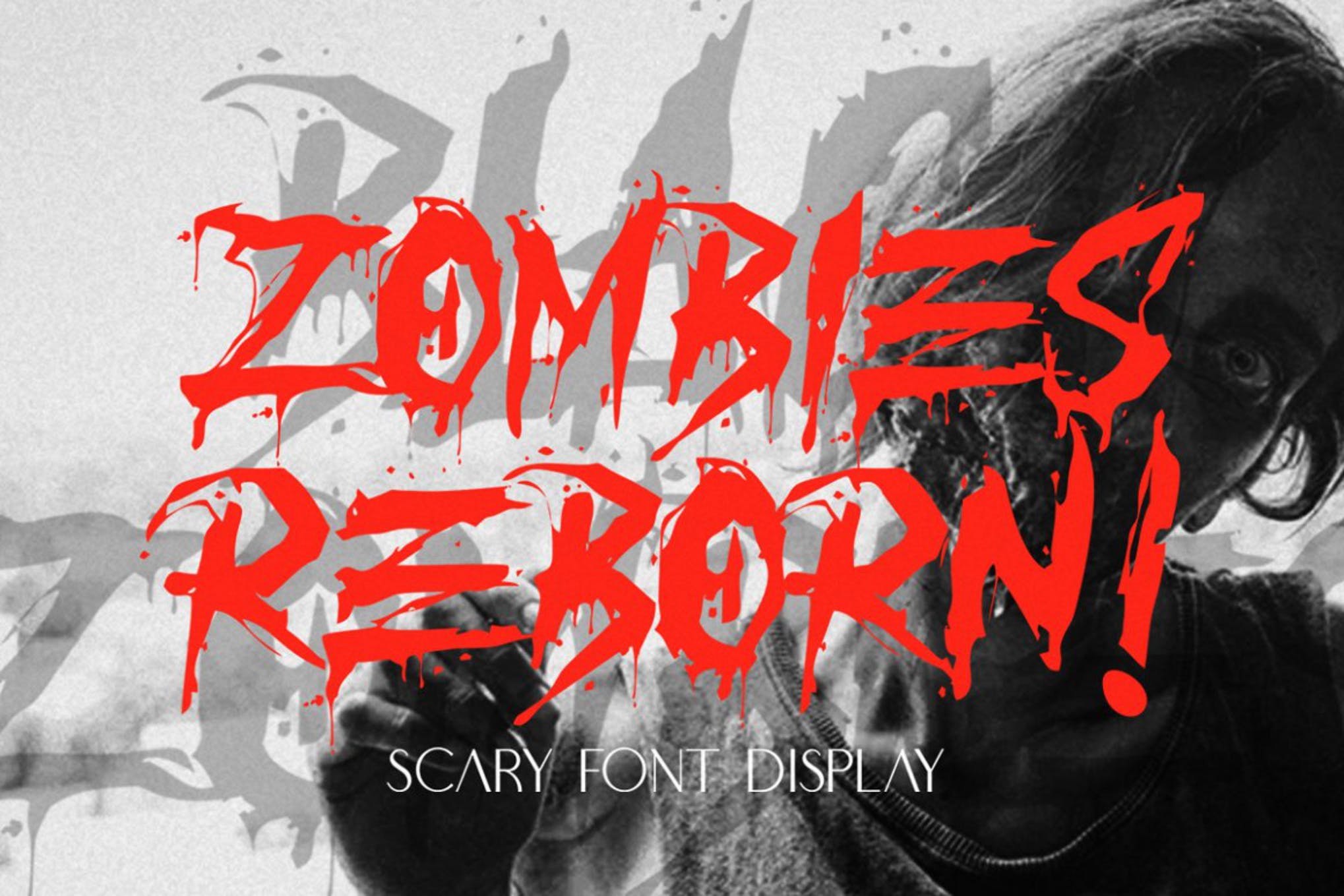 Zombies Reborn is a hyper-stylized horror font that is hard to take your eyes off. With each character in the typeface looking like they were written in blood, this one of the most successful creepy fonts is an absolute heartbeat skip of an aesthetic.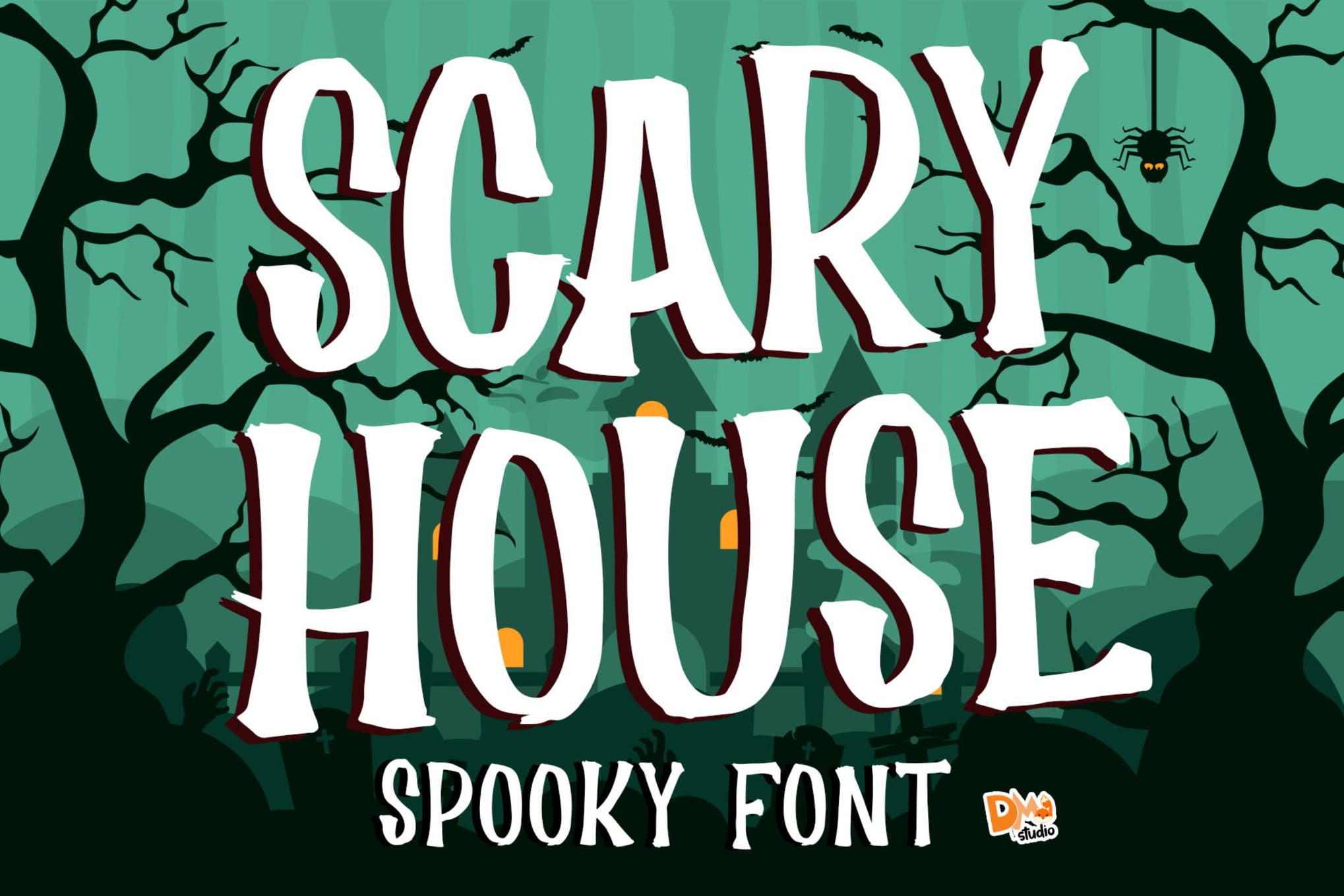 Scary House is a font that brings us back to shows like the Adam's Family, with its slab font typeface design. Using a minimalist border, and erratically proportioned character design, Scary House is well suited as a primary display font for a wide array of branding style projects.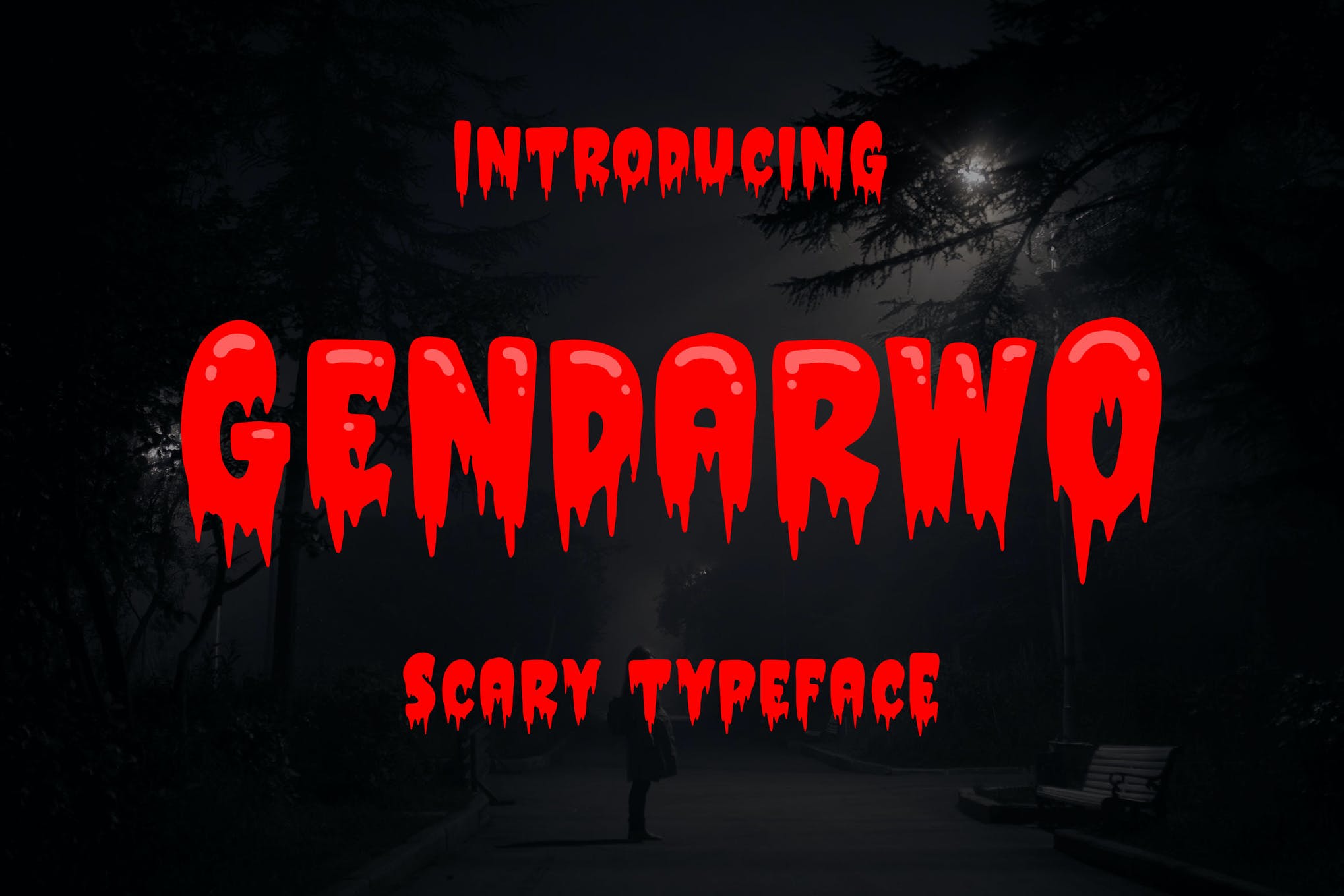 Gendarwo is one of those scary Halloween fonts that brings us back to the likes of Goosebumps and many horror films of that generation. With a classical bleeding bubble-like design, Genarwo is a highly versatile display font with incredible readability. Sometimes the classics are a classic for a reason.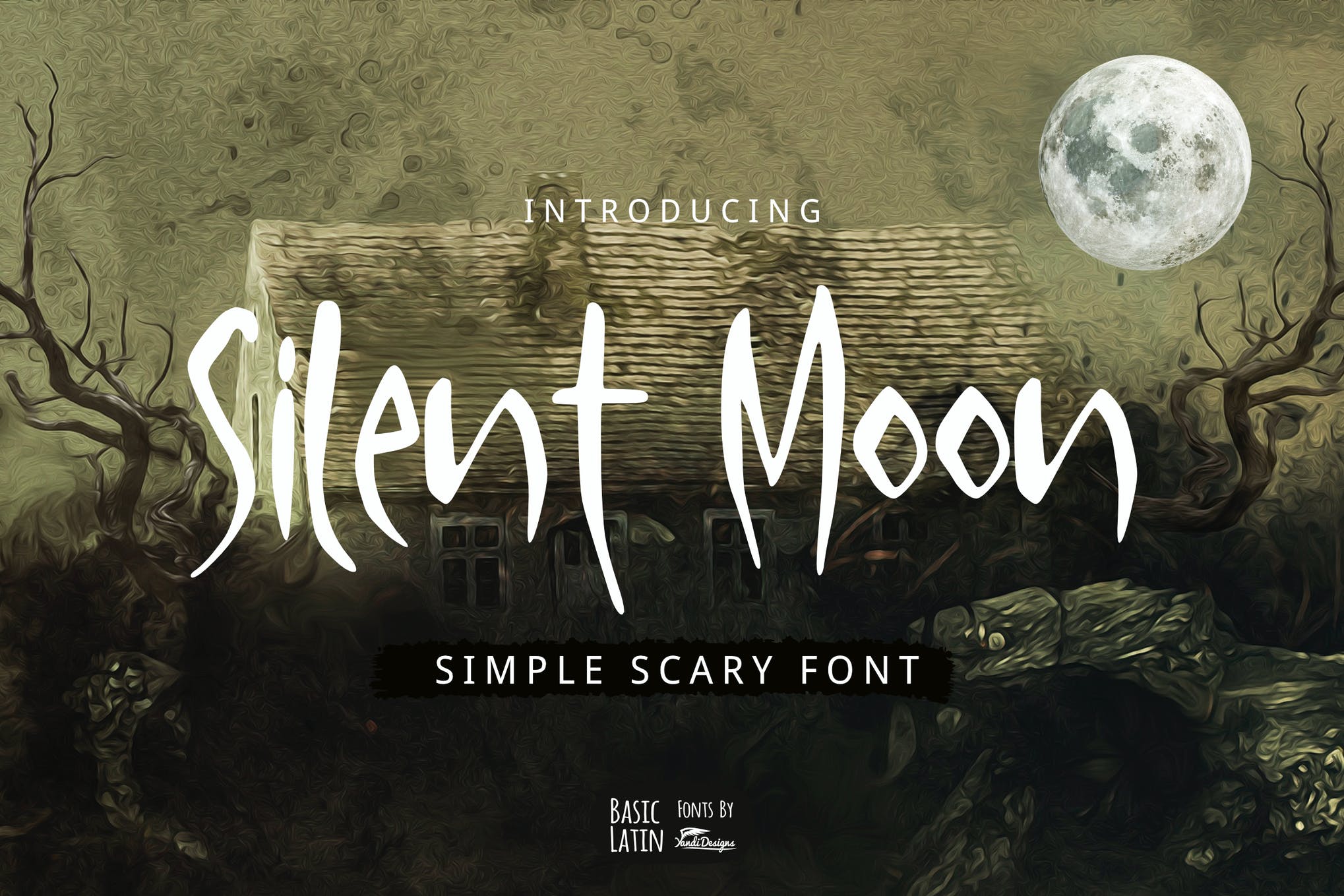 Silent Moon is a sans-serif typeface, mixed with a handwritten design. Bringing us one of those scary looking fonts that aren't trying too hard, but put a little fright in our hearts all the same. Reminiscent of the black and white horror movie era, Silent Moon is ready to add a dash of scare to your display font, without taking over the page.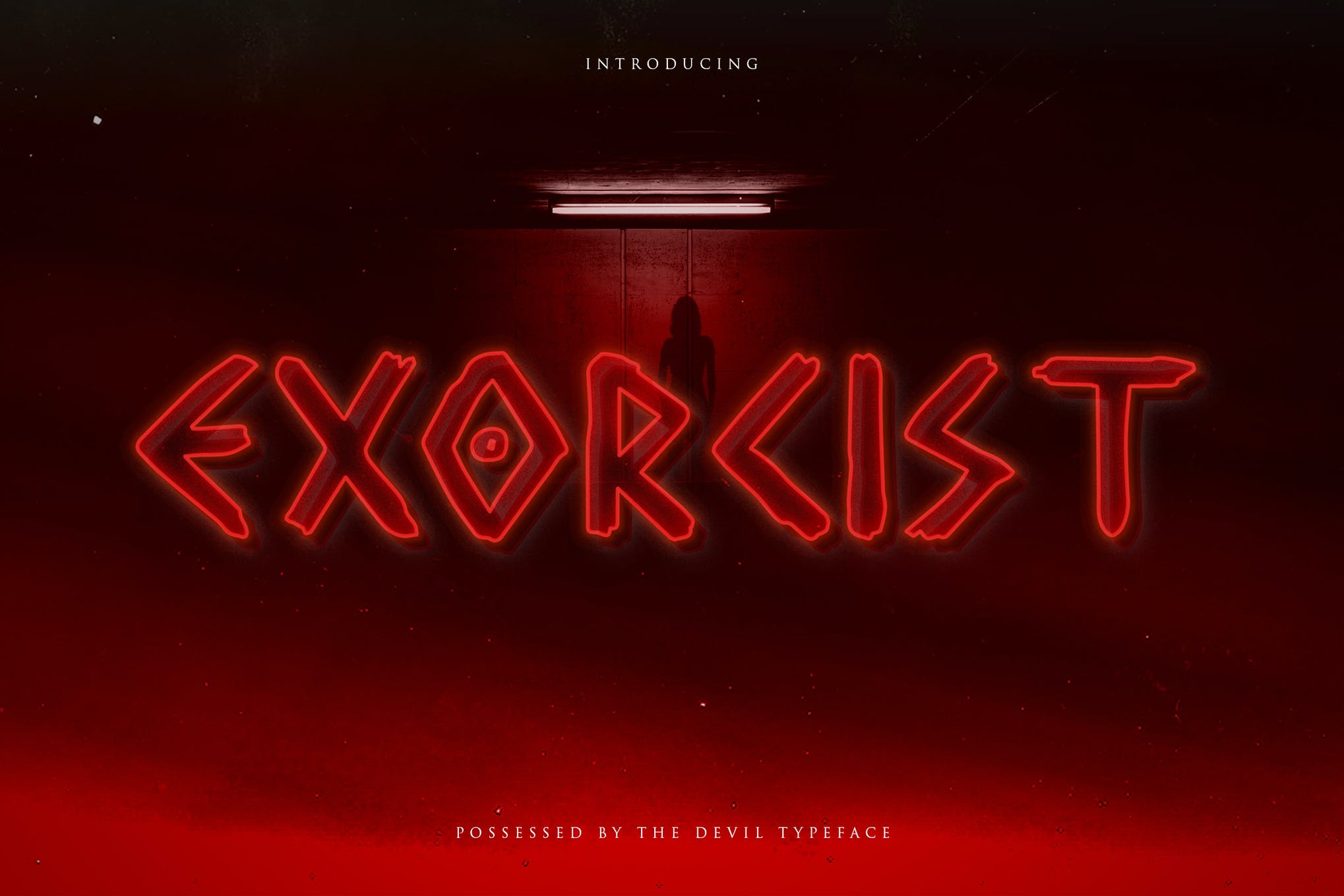 Exorcist is a horror display font that is designed to look like the frightening satanic runes of the Exorcist series. With its straight-line design, and brilliant little design choices such as the eye in the middle of the O, the Exorcist is one of the finest scary fonts that excels at creating a terrifying vibe. A great choice for a display font if you're looking to make people audibly gasp.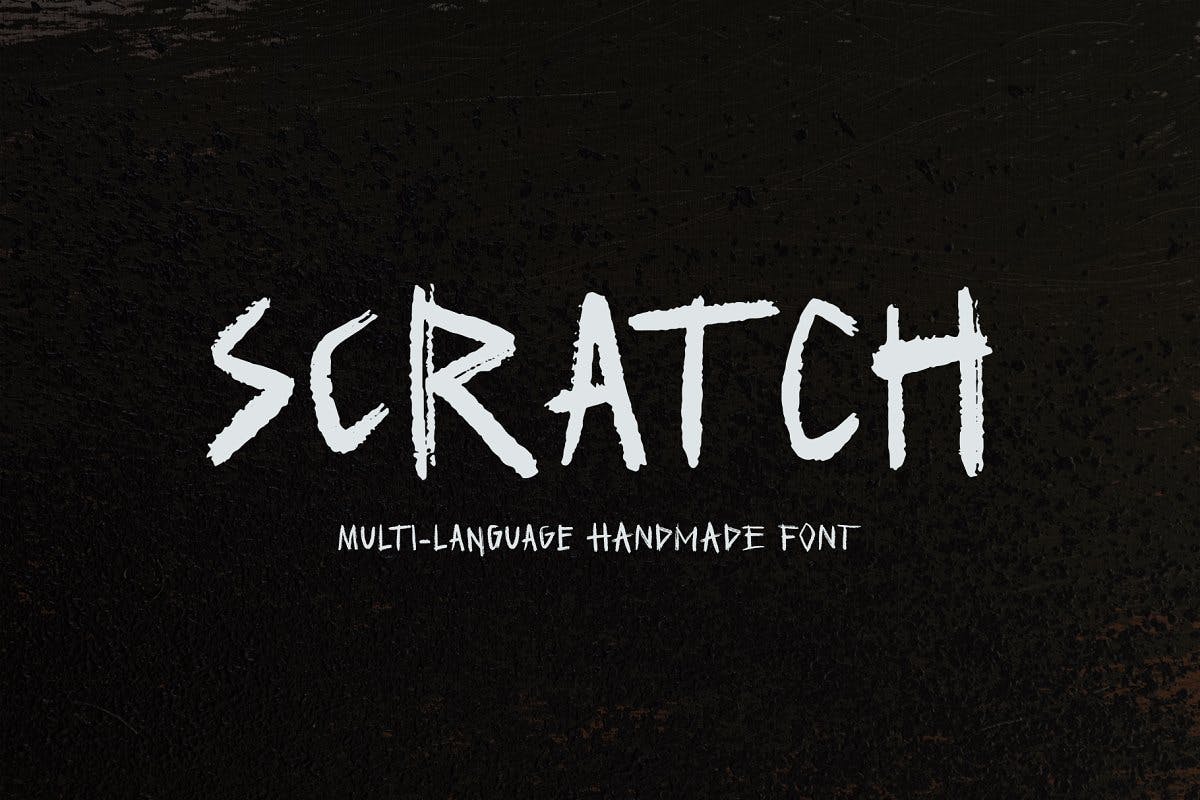 Scratch is a moody, edgy, sans-serif typeface with a handwritten aesthetic baked into its design. Looking like the font choice that a murderer would choose to leave a haunting note behind. Scratch is a highly adaptable font for both display and body text applications.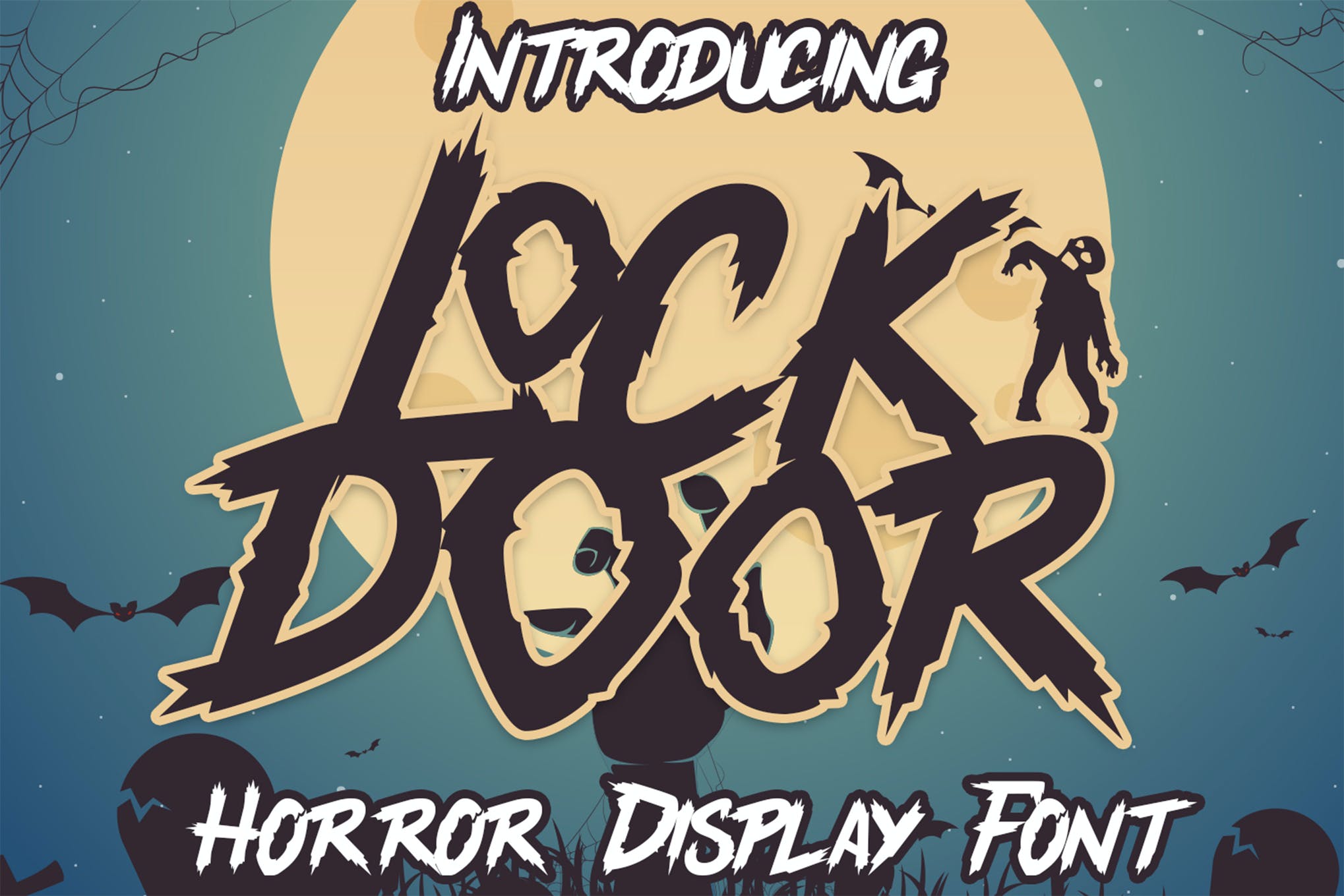 Lockdoor is a carefully crafted Halloween font that uses a thick and impressively stylized typeface to capture your attention. A great choice for a display font, and well suited to your branding, fashion, apparel, album cover, logo, and social media projects.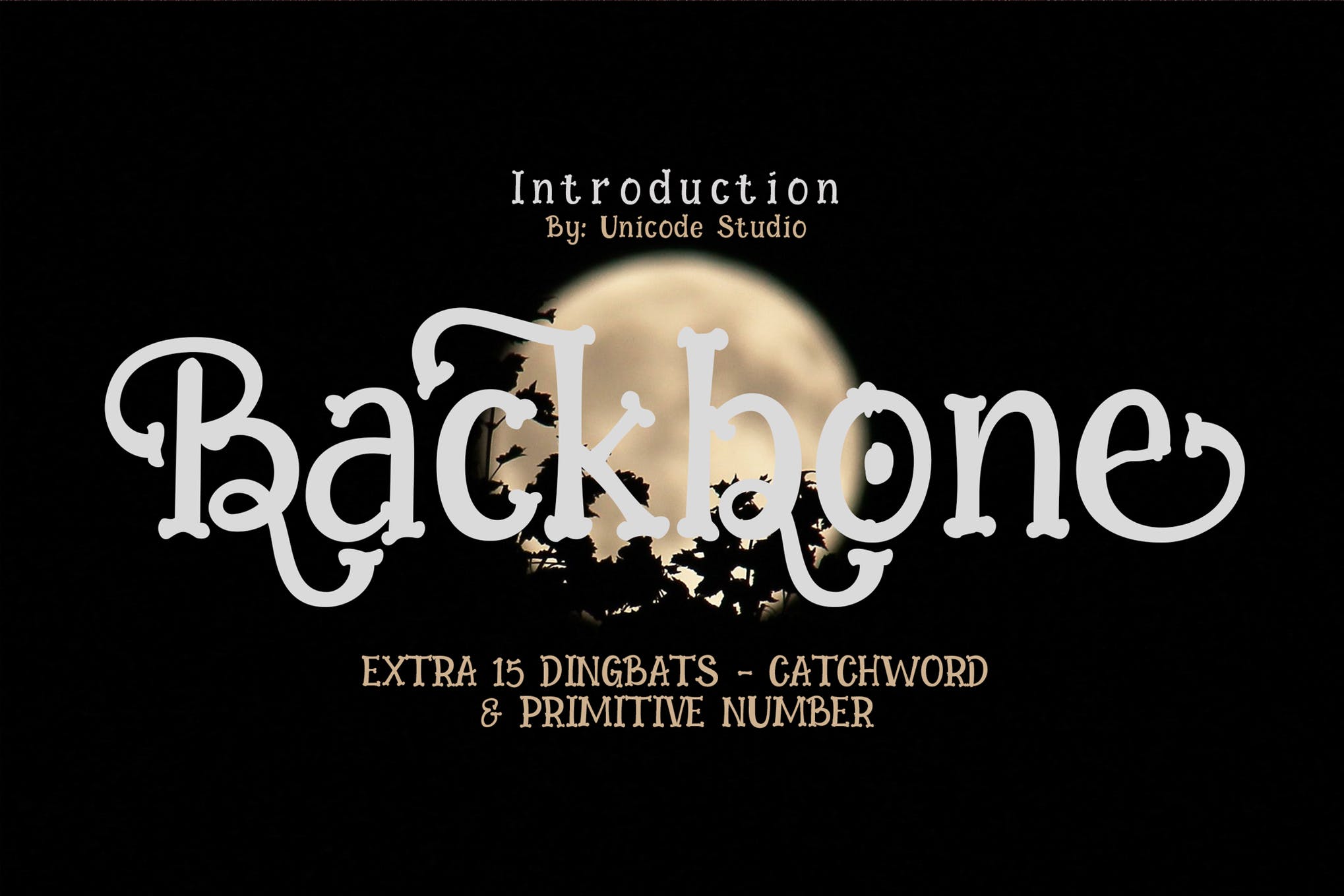 Backbone is a sans-serif inspired typeface, with a decorative touch added to each character. With each letter looking like it is made up of curved bone, this font is both creepy, but also charming. A highly versatile font to bring that playful Halloween vibe to your creative project.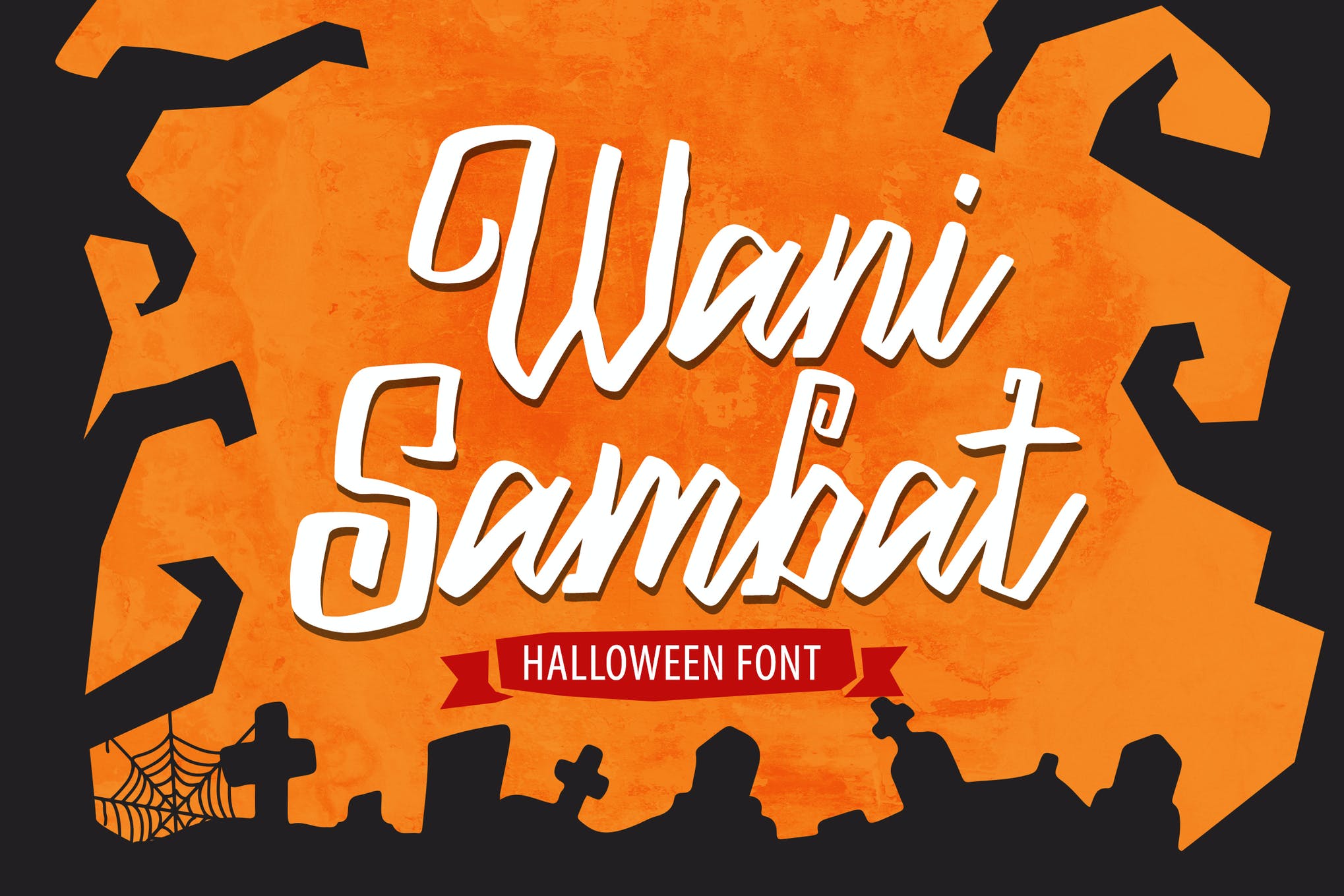 Wani Sambat is a more traditionally looking Halloween font, looking like something pulled from a Tim Burton movie. A charismatic take on the spooky aesthetic, Wani Sambat is a fantastic display font choice that maintains impressive readability despite its cursive design.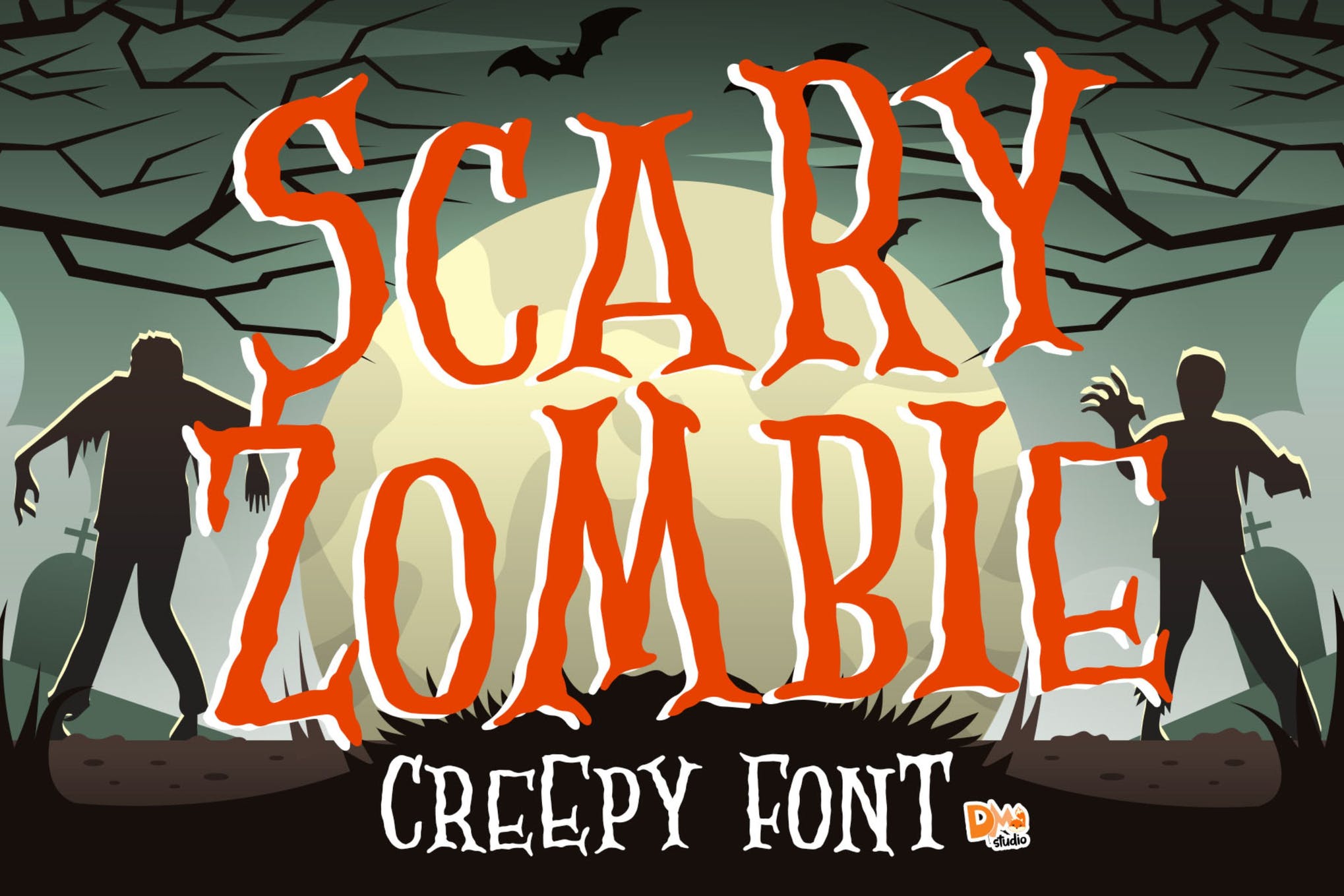 Scary Zombie is a script font, mixed with a dash of handwritten elements. With each letter looking like it's coming from that traditional Brother's Grim styled aesthetic, Scary Zombie is a spooky font choice with a touch of Halloween fun and joy. A versatile display font that is well suited to a wide range of branding projects.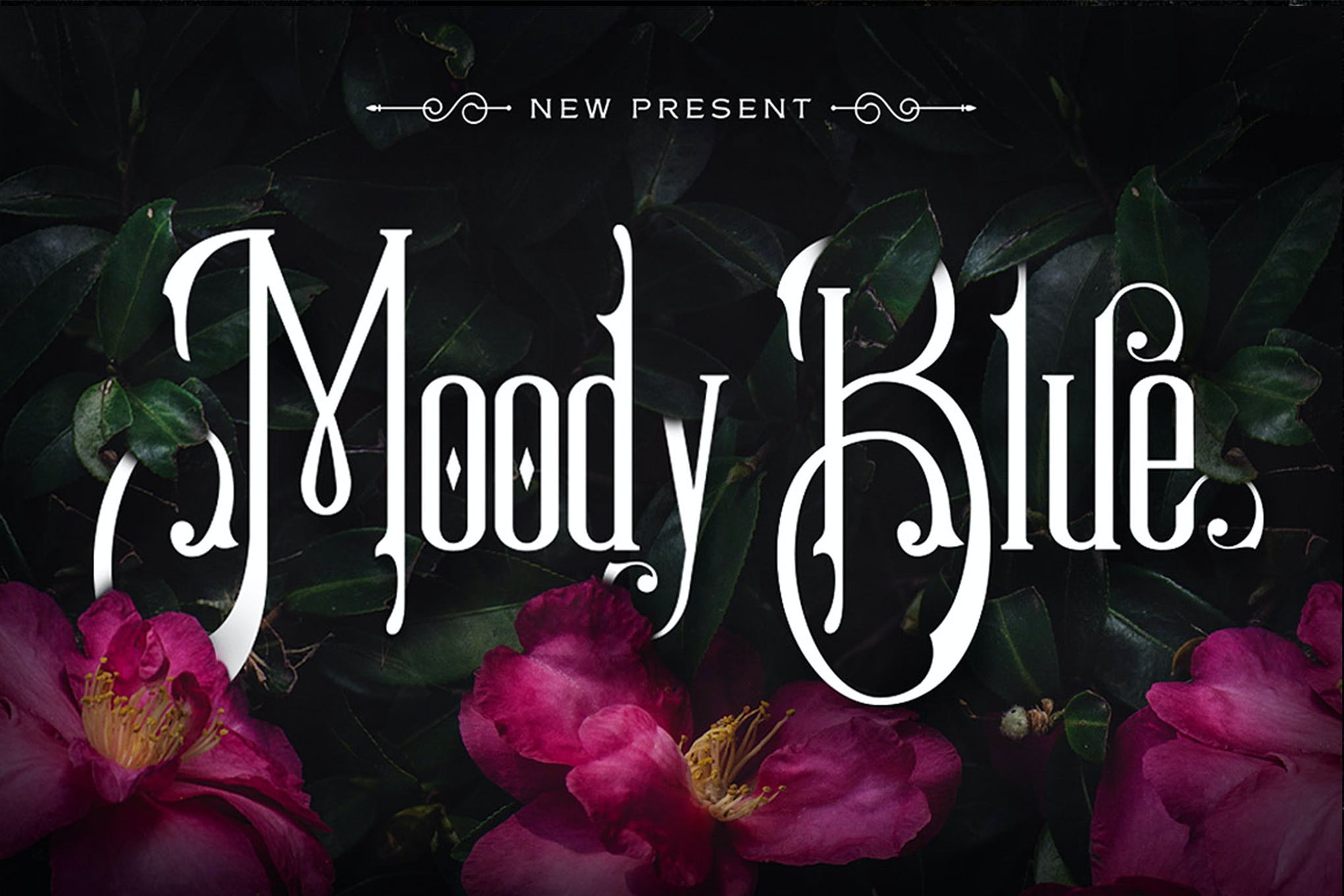 Moody Blue is a serif typeface that is a more classical styled font. With long straight line work designs, mixed with the stylized character design that reminds us of many heart throb vampire romantic novels, Moody Blue is ready to give you that classical horror feel without being too forceful in its themes.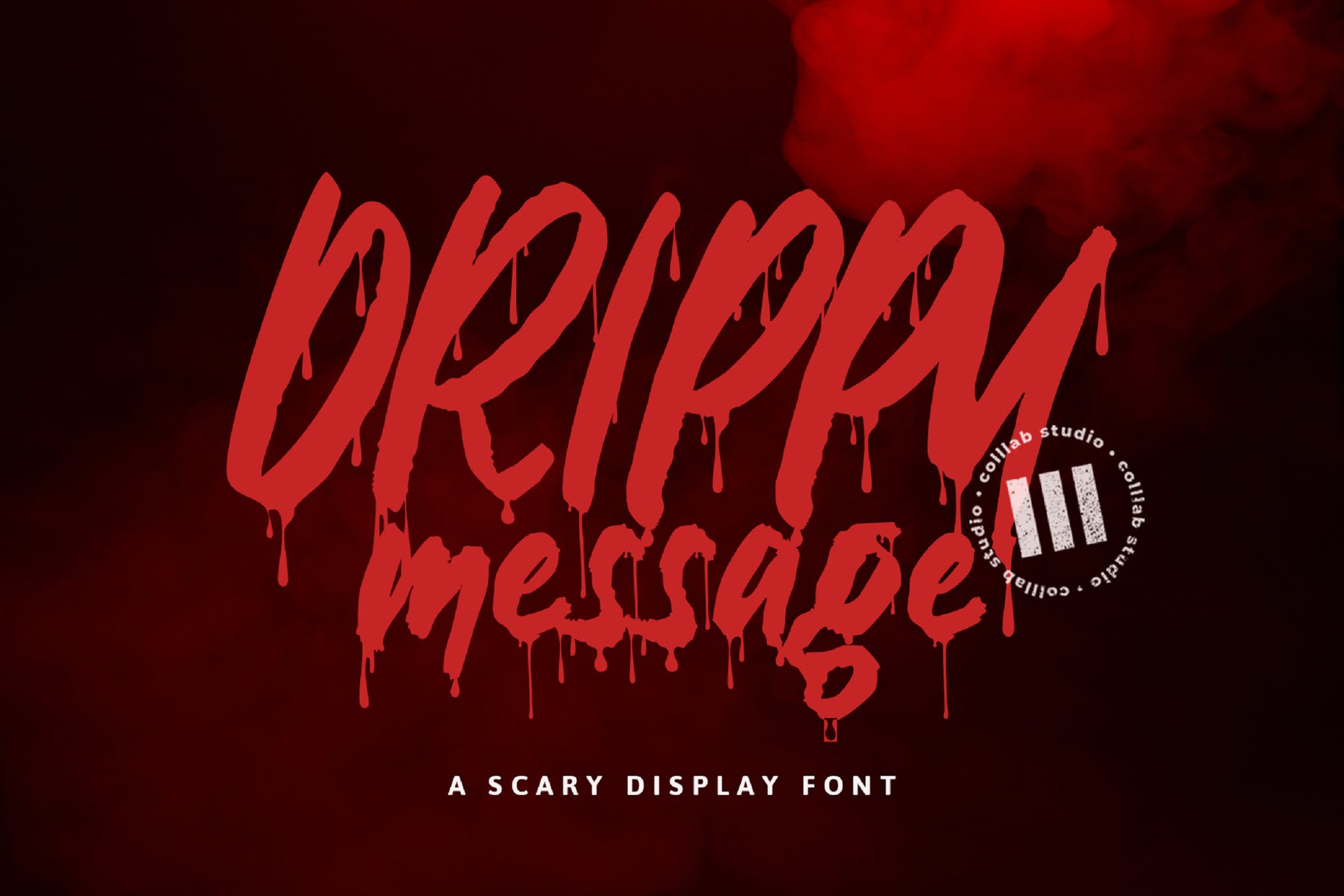 Drippy Message is a unique display font modeled after a script typeface, with expertly crafted decorative letters that make a page look like it has been stabbed. A uniquely cursive style compliments the horrific design to make it a captivating display font choice for a wide range of creative applications.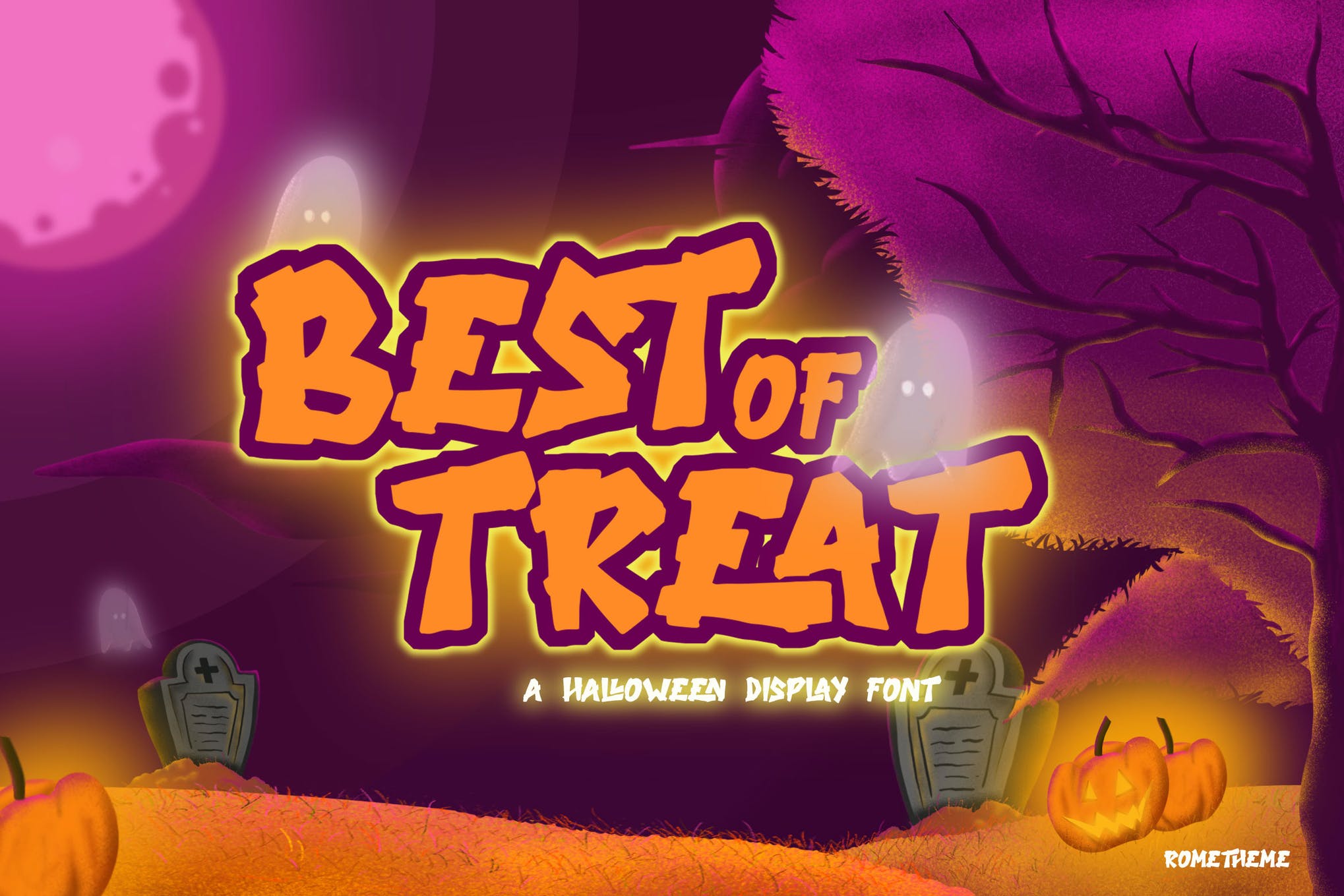 Best of Treat is a hand drawn font that is styled with a hint of tattoo inspiration, mixed with the thick line work designs of a slab font. A highly readable, fun, and joyfully spooky font choice that is well suited to your branding project, poster design, and much more!
Free Halloween Fonts
You don't have to bust out the eggs and start throwing to get your hands on a range of scary text fonts. There is a wide range of free creepy fonts just waiting to be given out. Let's take a closer look at some of the best scary Halloween fonts.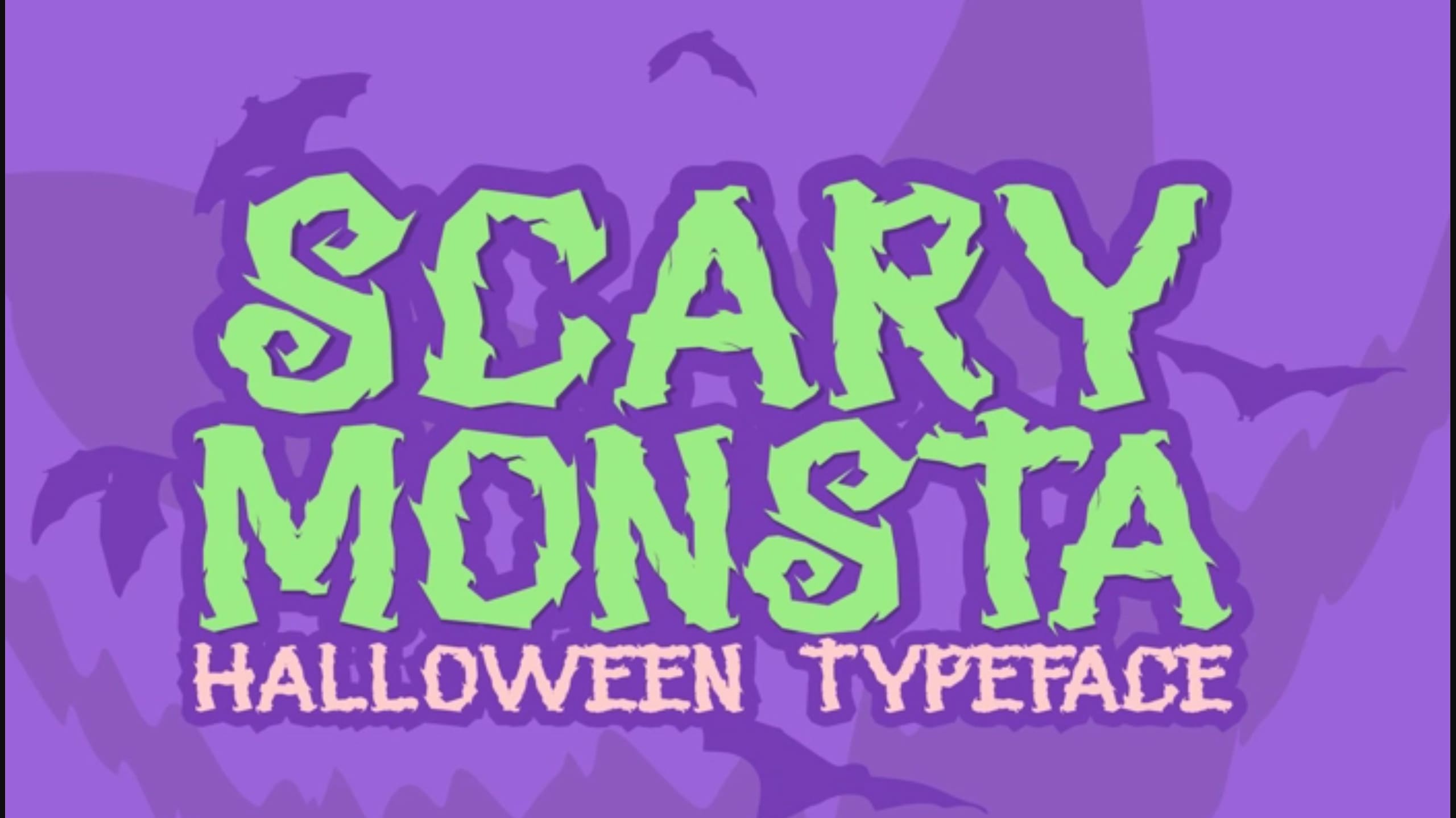 Scary Monsta is a uniquely designed typeface, with a solid line work design complimented with an interesting spooky aesthetic. With deeply curved characters, and each letter looking like it may just take a bite out of you, Scary Monsta manages to strike that balance between creepy and fun.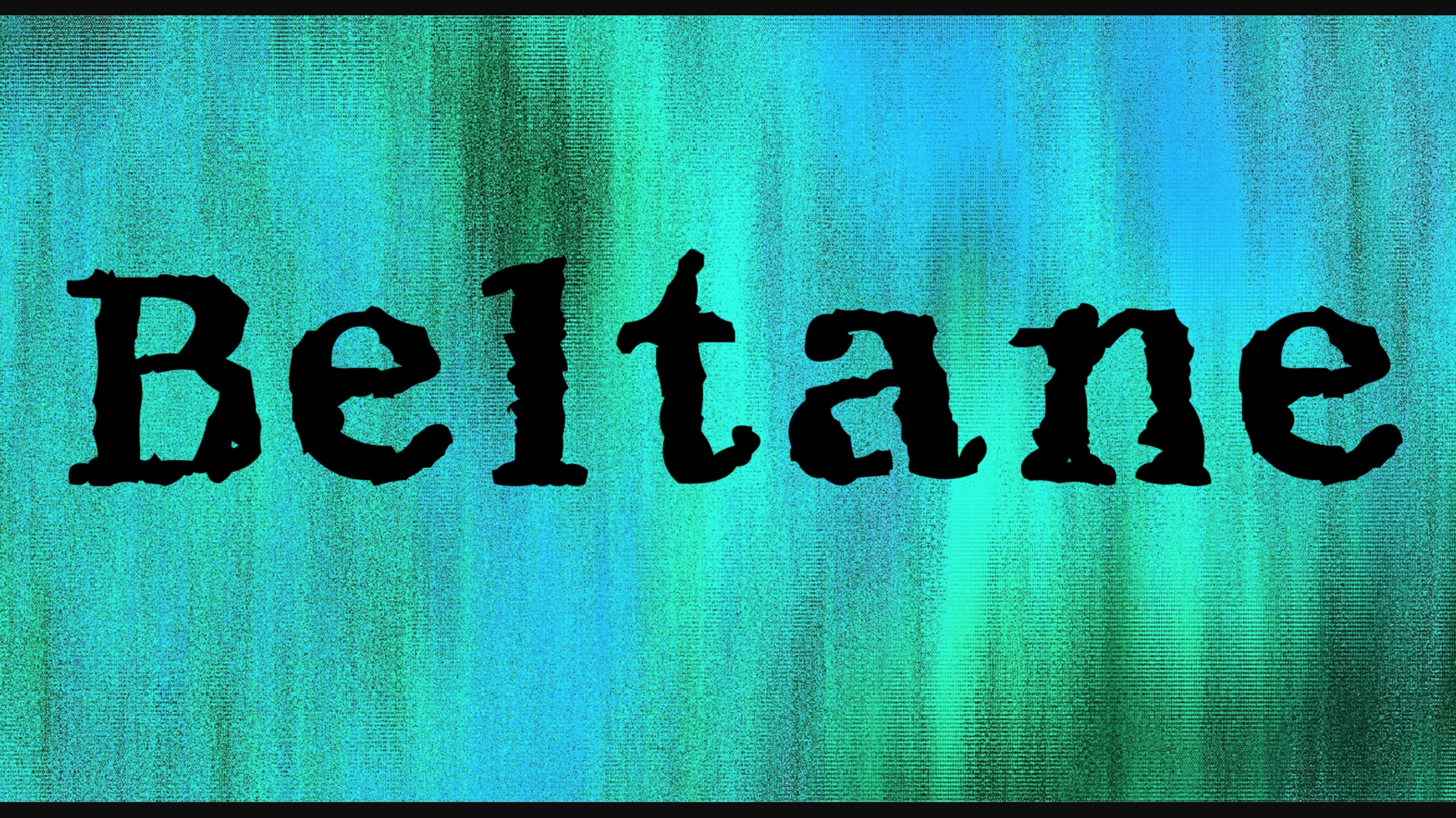 Not every Halloween styled font needs to be overly designed. Beltane takes a more minimalist approach to its aesthetic. Layered over with a gritty typewriter feel, and that eerie ghostly vibe, Beltane is both a great display font, but also a highly readable body text font choice as well.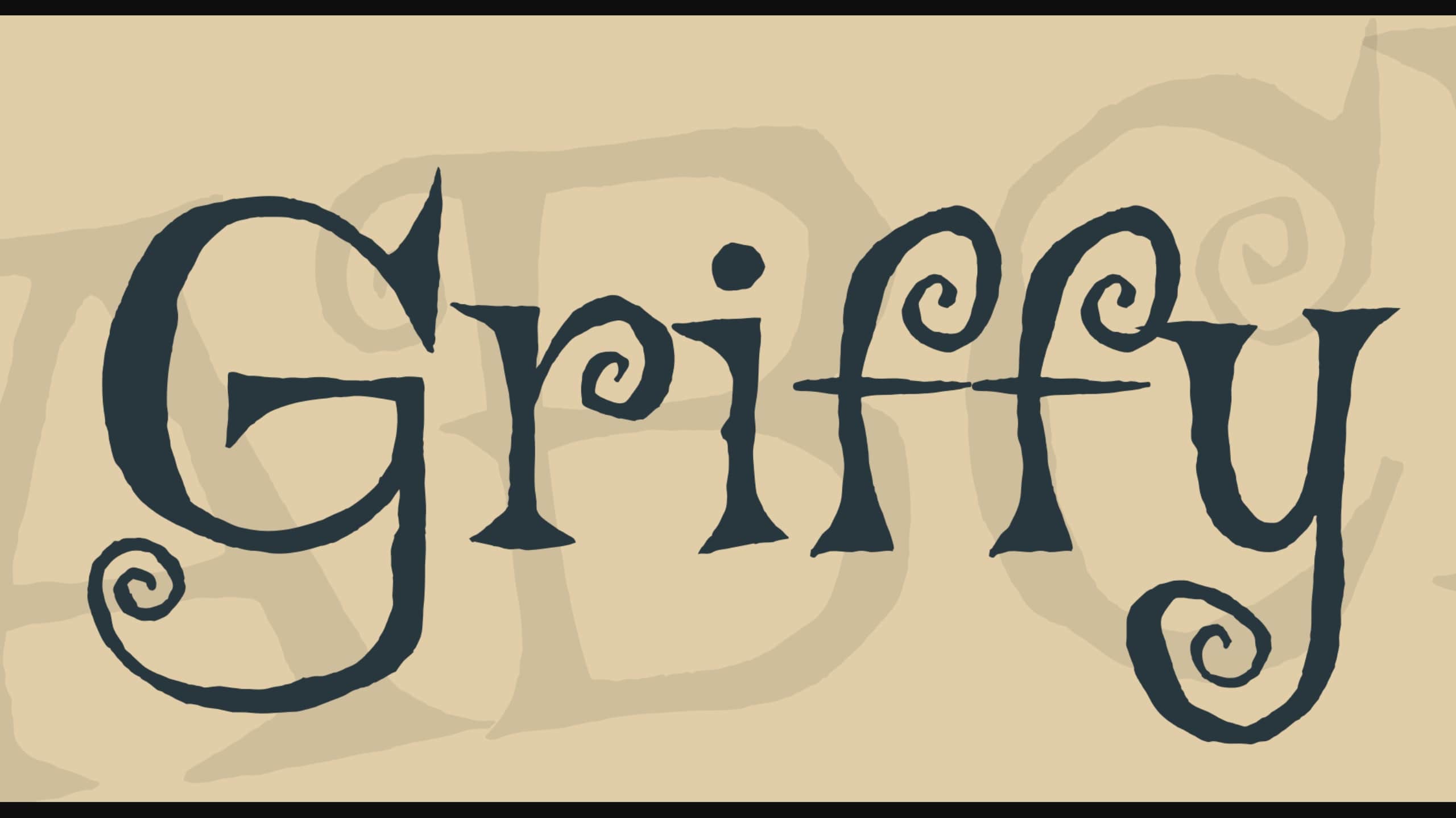 Griffy is another minimalist Halloween styled font. Looking as if it was taken from a Lovecraft novel, the font uses a thin linework design that curves in on itself, to create a beautifully crafted typeface. Undoubtedly, one of the most popular scary looking fonts there is.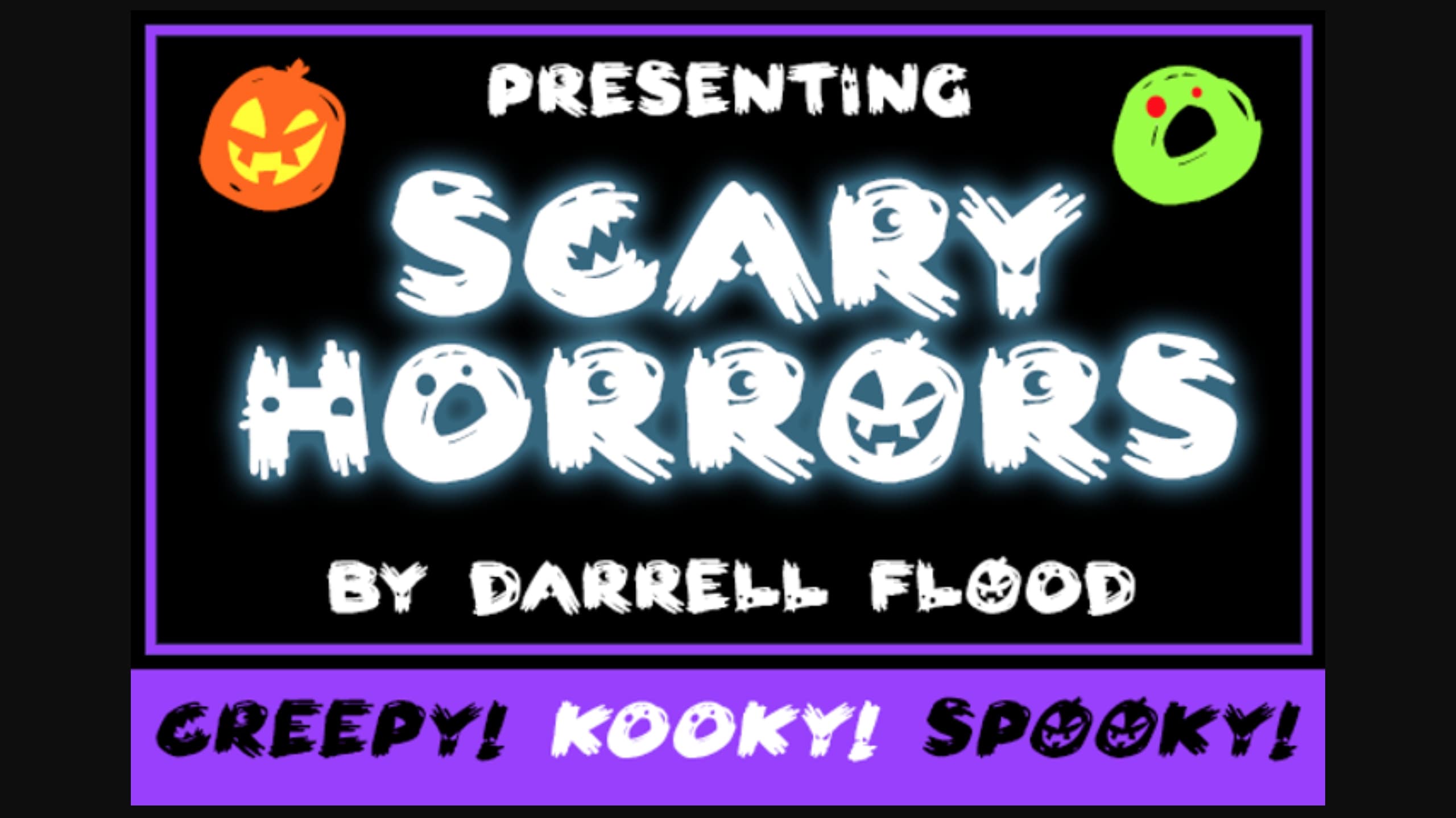 The Scary Horrors font is an expertly crafted display font. Using the slab font base, and mixing it with a creepy handcrafted character design, Scary Horrors is a great title font for you to use in a range of creative projects.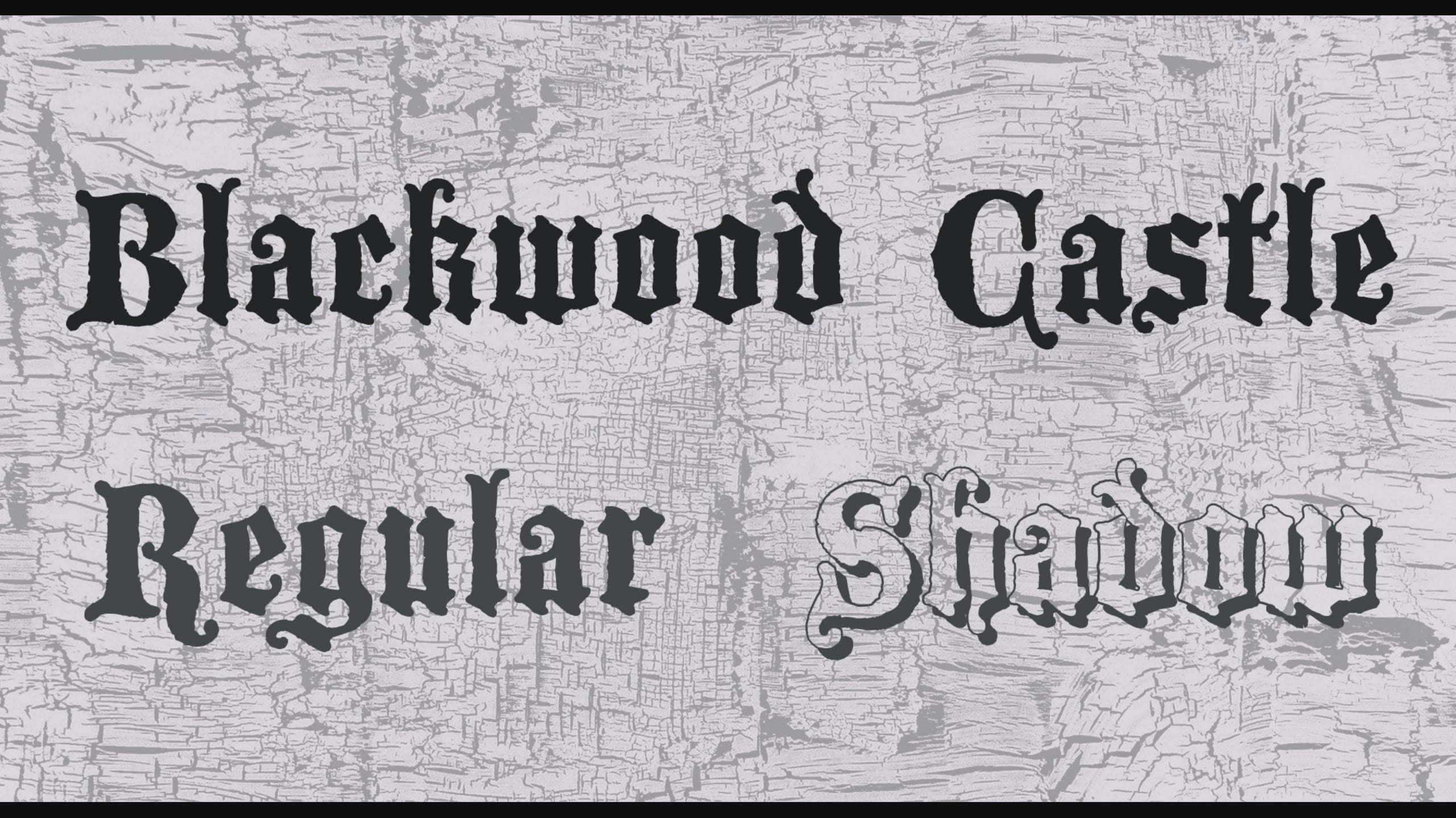 The Blackwood Castle Font Family is an interesting typeface. Combining the elements of a gothic style, with a subtle creepy aesthetic to every character. A highly versatile font that works great as a primary display font for your creative projects, but also a highly readable body text font choice as well.
Put a Some Fright Into Your Words With A Spooky Font Today!
With a wide range of fun, joyful, spooky, and downright creepy Halloween fonts out there to choose from, it has never been easier to bring Halloween to your projects. With every font just oozing with that horror aesthetic, don't be surprised if you get a few screams from your next project.