Salient WordPress Theme
Salient is a very popular multipurpose WordPress theme, which has recently been updated to version 7 for 2016. In this Salient WordPress theme review, we'll be exploring the features as well as taking a look at the different demo versions you can use to create your website in extra quick time.
No matter what type of website you're building, Salient aims to provide you with everything you need to get online in style. From corporate homepages and creative agency websites, through to multimedia portfolios and online shops, Salient has a prebuilt demo to match. If your needs are more bespoke, then the wealth of customization options give you the freedom to mix and match the best elements of Salient to get the right look and feel for your project.
However, with so many WordPress themes vying for your attention, is Salient the right choice and is it time to finally stop searching, make a selection, and start work on your project?
In our Salient WordPress theme review, we'll evaluate this multipurpose theme to help you decide if it meets your needs, or if your search for the perfect theme continues.
Who Should Choose Salient?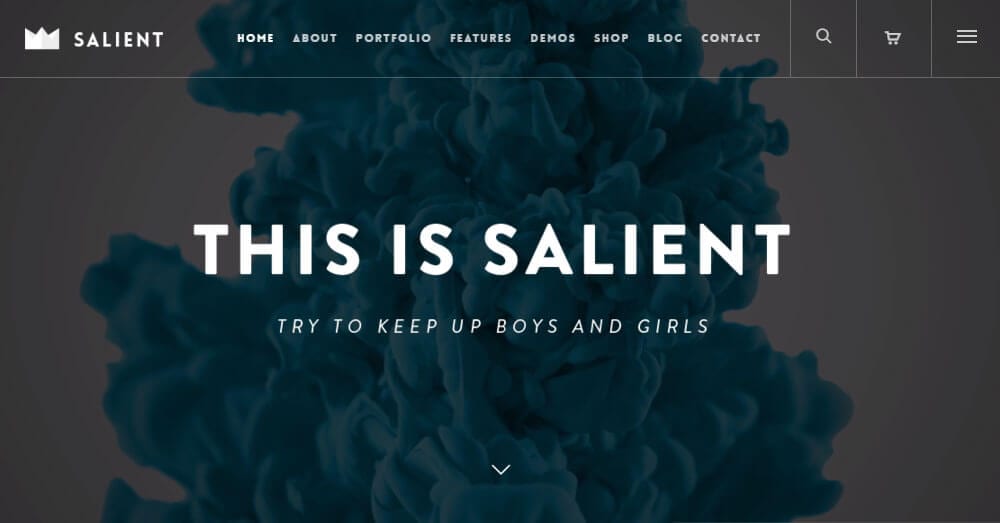 As Salient is a multipurpose theme, it can be used for a wide range of projects. Therefore, if you're happy to use WordPress as the foundation for your website, Salient aims to make it as easy as possible to give your project a professional yet custom design.
As we'll soon see, Salient comes with a number of useful demo versions, and no matter which one you choose, the attractive looks of your website will be combined with an impressive set of features and tools to ensure it makes a positive impact on your visitors.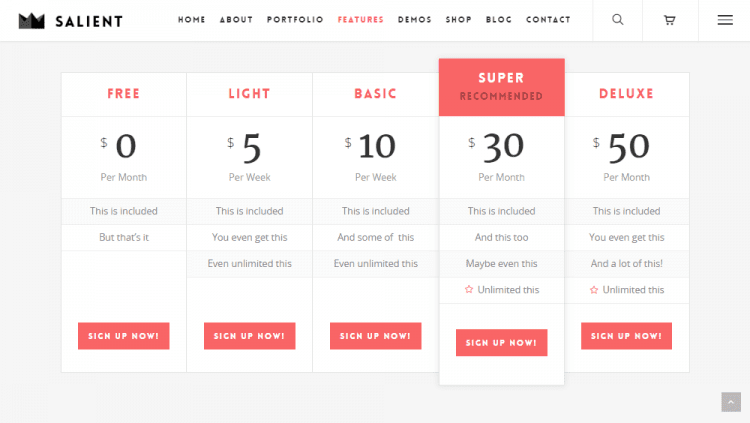 Salient is best suited to someone either starting a new website or preparing to give their existing site a complete design overhaul. Furthermore, Salient is a good option for those who are happy to choose from a selection of prebuilt demo modes, and then apply them to their site wholesale or just make a few customizations through the theme options or page editor tool.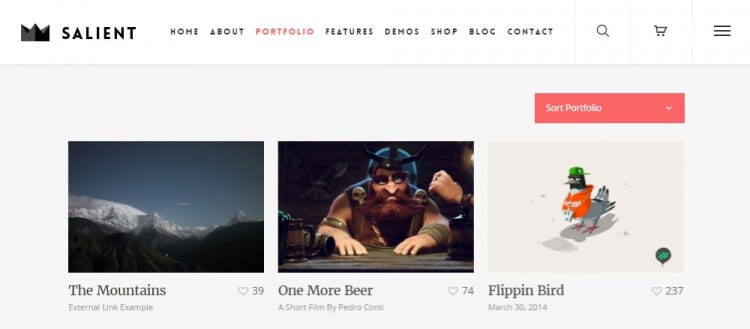 Salient is more focused on non-coders who prefer to configure their website through a set of visual controls
If you're more of a developer or web designer, seeking a theme that you can stamp your personality on or even fully modify to create a custom design for your site, Salient might not be the best choice. With so many prebuilt templates and layouts, not to mention customization options and theme settings, Salient is more focused on non-coders who prefer to configure their website through a set of visual controls, rather than digging into the code.
It's fair to say that Salient is the polar opposite of developer-focused themes like the Genesis framework from StudioPress. This is neither good nor bad, just two different ends of the WordPress-theme spectrum.
Salient Theme Features: Why You Should Consider This Theme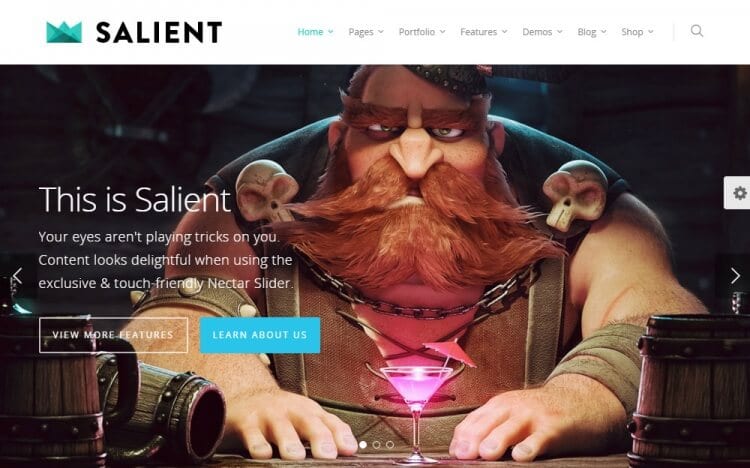 Looks and features are perhaps the two most important aspects of a WordPress theme. So, to help you decide if Salient has the right mix for your project, here are the best features of Salient, as well as a look at its design style.
Multiple Demo Versions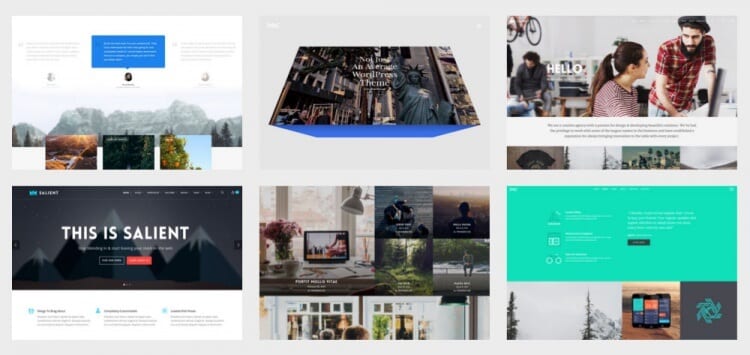 The Salient WordPress theme is all about giving you the power to build your own stunning website, without the need for any coding skills. This is possible thanks to the impressive selection of demo versions or prebuilt configurations you get access to.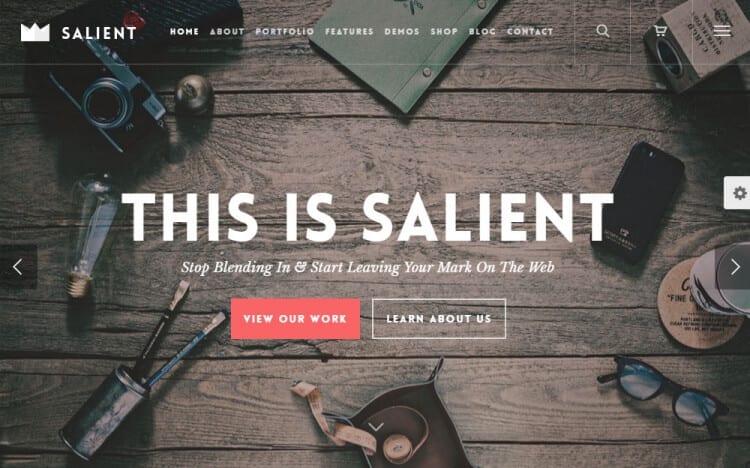 At the time of writing, there are eight demo versions of Salient to choose from, and each of them can be applied to your WordPress website in just a few clicks.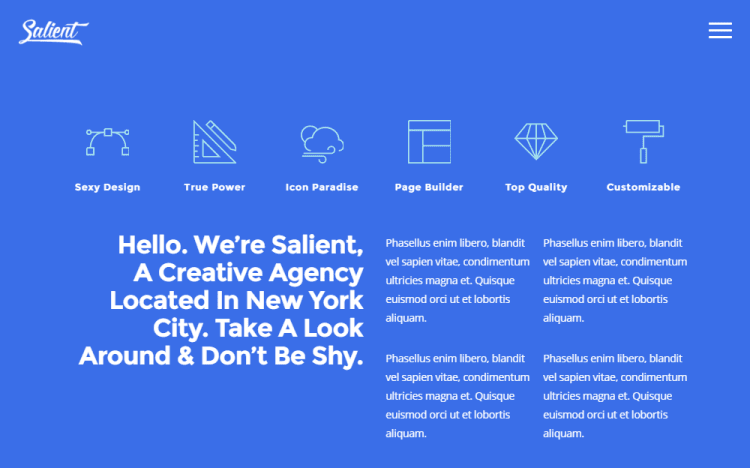 The demo versions cover a range of project types, including the default corporate configuration, an agency demo, a one-page layout, a blogging mode, and an e-commerce store for selling your products and services online.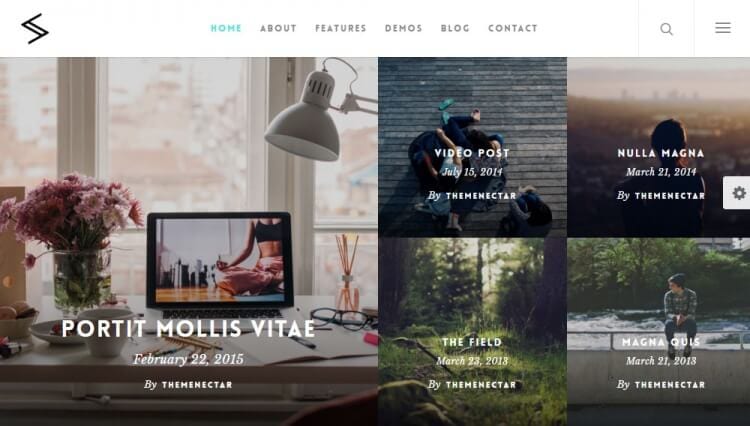 Therefore, if the project you're working on falls into one of these categories, you could have your new website up and running in no time at all. However, even if none of these demo versions matches your needs, Salient has a few more tricks up its sleeve to help you get your website online with as little effort as possible.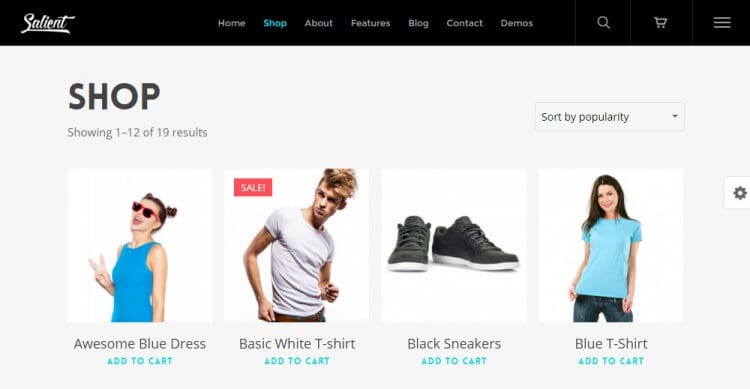 Salient Visual Composer Page Builder Tool
As well as the prebuilt demo versions, Salient comes equipped with a powerful drag and drop page builder tool. This is, in fact, a customized version of the leading Visual Composer page builder WordPress plugin that has been upgraded by the Salient development team.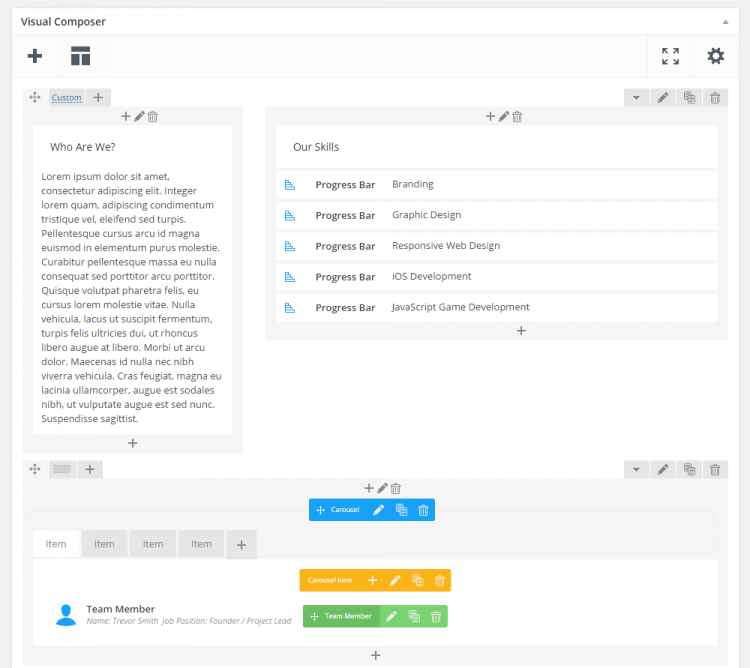 Not only can you use this premium page builder to create your own custom layouts and designs from scratch, all through a drag and drop visual editor, but you can also modify any of the templates and layouts that make up Salient and its demo versions.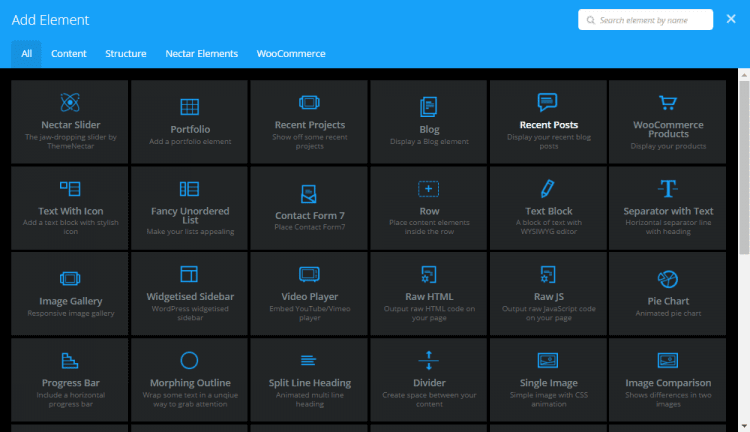 Visual Composer is packed with genuinely useful elements, each of which can be dragged and dropped into your page layouts to enhance your content. As part of their customization of Visual Composer, the Nectar development team has added a few bespoke elements of their own to the builder, making it even more useful.
Salient Theme Options Control Panel
If you don't want or need to start creating your own custom page layouts or modifying the demo templates, but still want to personalize the look and feel of your site, then the Salient theme options control panel will be of more interest to you than the Visual Composer page builder tool.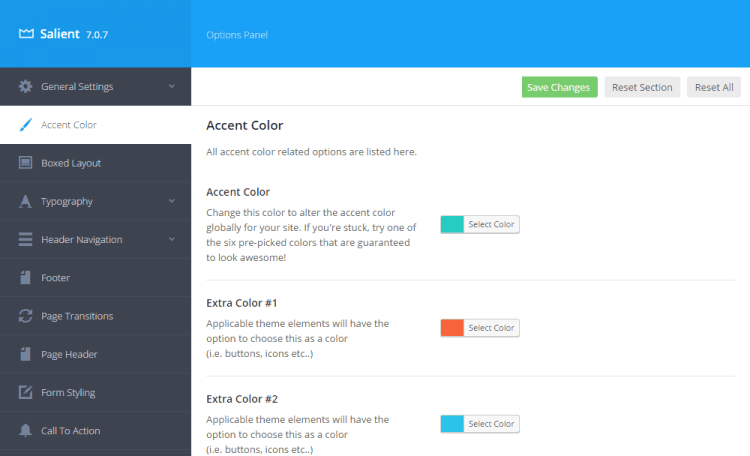 Through the Salient theme options panel, you can modify many aspects of your website, including:
Colors and fonts
Layout settings
Navigation functionality
Page transitions and animation effects
Header and footer configurations
Call to action text
Social media integration
1-clck demo content import
Salient also includes some support for the WordPress Customizer tool. This allows you to personalize a few of the aspects of your website through a live, front-end interface. More support for the Customizer is always appreciated, so it would be good to see more compatibility for this tool added in the future.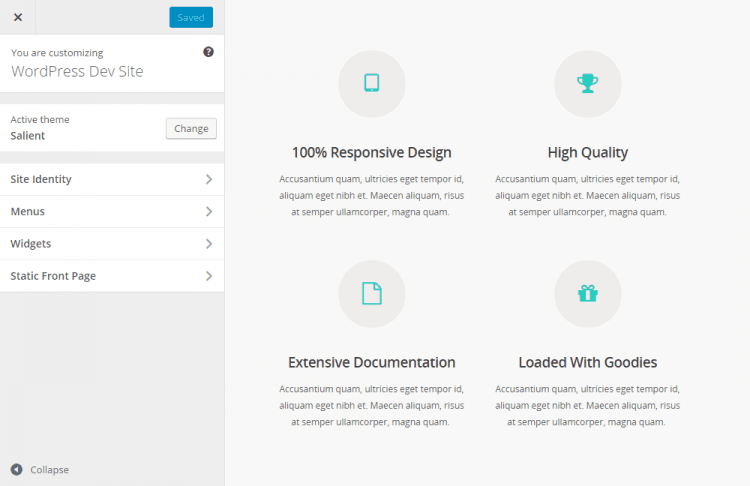 As you can see, Salient is a highly customizable WordPress theme. Whether you want to redesign the included templates, create your own from scratch with the Visual Composer page builder tool, or tweak the existing settings through the theme options panel, you shouldn't experience any difficulties.
Other Reasons to Choose Salient
As well as the above highlights, Salient is packed with many other useful features to rival any modern WordPress theme. Some of the key features include:
Full-screen video and image backgrounds
Fully responsive layout and retina ready design
Multiple post, page, and header layouts
Selection of templates including landing pages
Custom sidebar and footer widgets
Online portfolio publishing tool
Infinite scroll and parallax animation effects
Huge font and icon library
Custom post types for better content organization and presentation
Full WooCommerce support for selling online
Narrated video tutorials
Although Salient was first launched back in 2013, it's been constantly updated and improved since its initial release and is now on version 7. Therefore, if you have any concerns about building your website or online business around a theme that will soon go out of date or no longer be supported by its creators, Salient, and the ThemeNectar team have a proven track record in this department.
With a price tag of just $59, Salient is a competitively priced theme that is hard to beat on value.
Salient WordPress Theme Review Final Thoughts
There's no doubt that Salient is an impressive WordPress theme. The collection of eight prebuilt demo modes each look different enough from each other to give you a wide range of options for building your website.
Furthermore, thanks to the inclusion of a drag and drop page builder tool, customizing any of the demo content is relatively straightforward. Then you have the control panel and its set of options for personalizing many other aspects of your WordPress website.
The only real downside of Salient is that it finds itself in the very competitive multipurpose WordPress theme category. Here you'll find themes like the incredibly popular Avada, X, and Divi. Each of which is just as feature rich, if not more so, than Salient.
All of these are great WordPress themes – Salient included – but as each project is different from the next, it's highly recommend that you check out the competition to see which one best meets your needs. If you find that Salient is the best match, then you can proceed with confidence, knowing that you are getting a solid, stylish, feature-rich theme that is well supported by its creators.
Pros
Several demo sites make getting started simple
A long track record of support and theme updates
A custom Visual Composer setup is tailored specifically for this theme
A true multipurpose theme for building any type of website
Cons
Not the best theme if you want deep, code-level control over your theme