35+ Best Professional Business PowerPoint Templates (PPT)
Your next work project or pitch is looming, and you know your stuff – but how are you going to present it without losing the focus of your audience? Forget trying to pull together a set of slides from scratch, muddling your way around color schemes and text fields – we've come to your rescue with these amazing professional business PowerPoint templates.
There's an option for every industry and business type imaginable, and each one has an extensive array of customization options so that you can be sure your presentation completely embodies your business objectives and wins you the recognition you deserve.
Between the time you'll save designing and editing your slides, and the impact these stunning templates are sure to have on your audience, using a professionally designed business PowerPoint template will be one of the best business decisions you'll ever make!
Get everything you need to give the perfect presentation. From just $16, get unlimited access to thousands of PowerPoint presentation templates, graphics, fonts, and photos.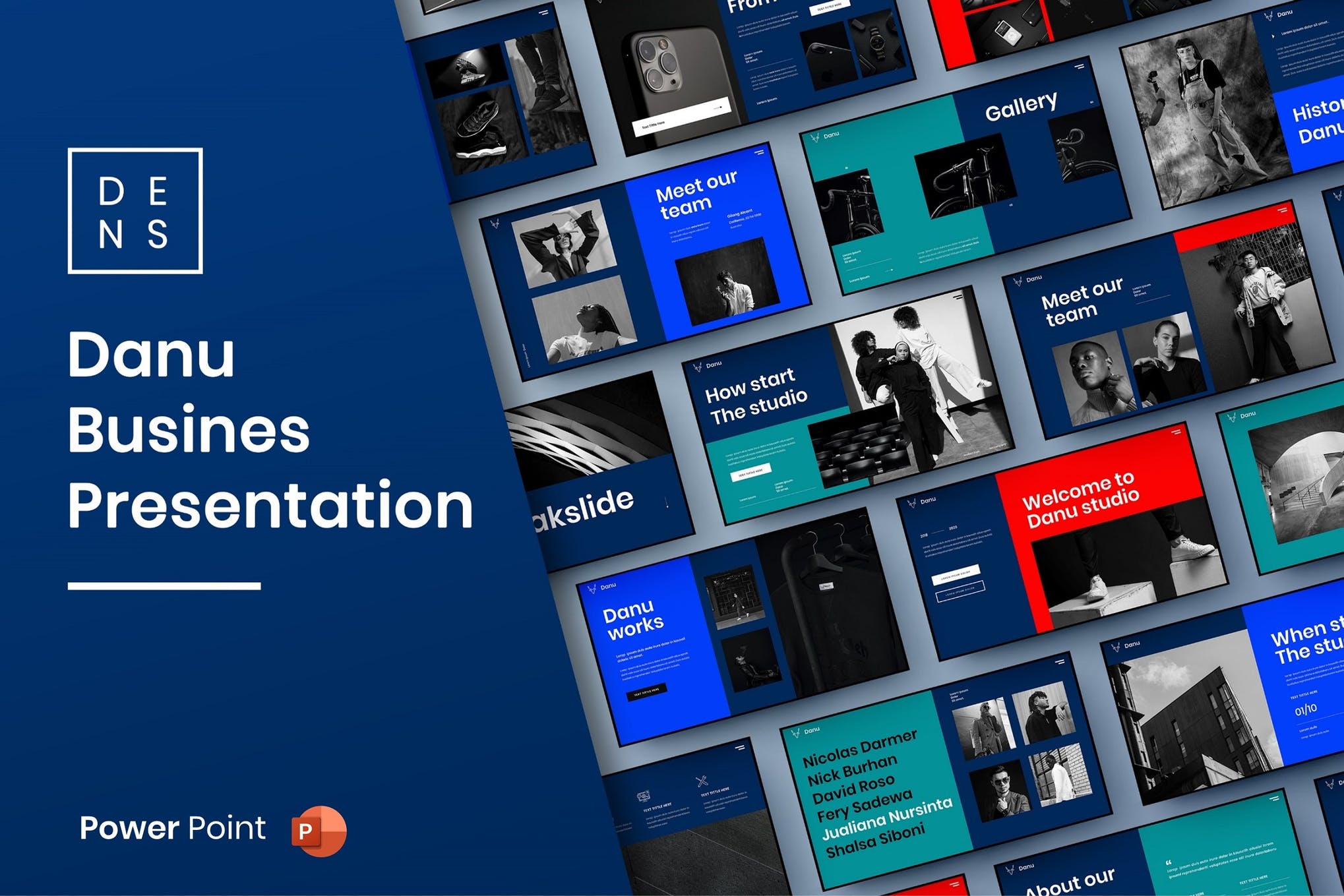 Danu is a clean, professional, and multipurpose PowerPoint template that can be put to use for a variety of purposes from pitch deck and company profile, to startup investment presentation and personal portfolio.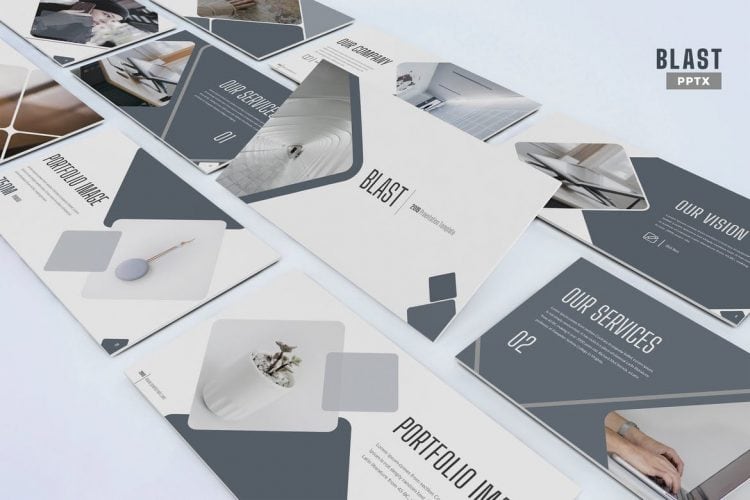 The "Blast" is one of the most stylish professional PowerPoint templates we've seen, and features modern, minimalistic design elements laid out in a professional and visually appealing way. With 30 unique slides and five different colorways included, however, you've got plenty of room to be creative.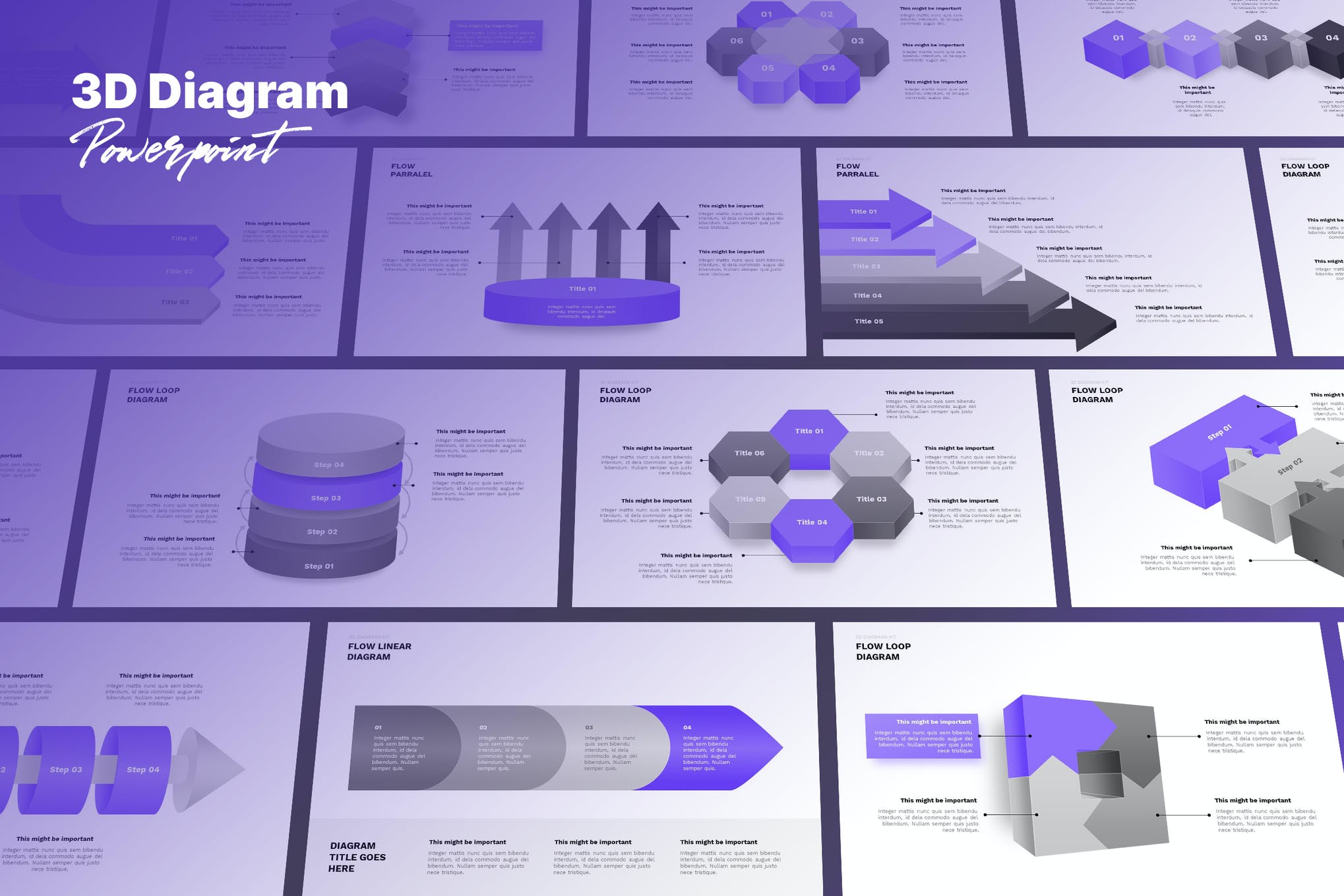 If you're looking for an infographic presentation that really stands out, check out this modern and professional 3D diagram ppt containing 30 unique slides that can be completely edited to your heart's content.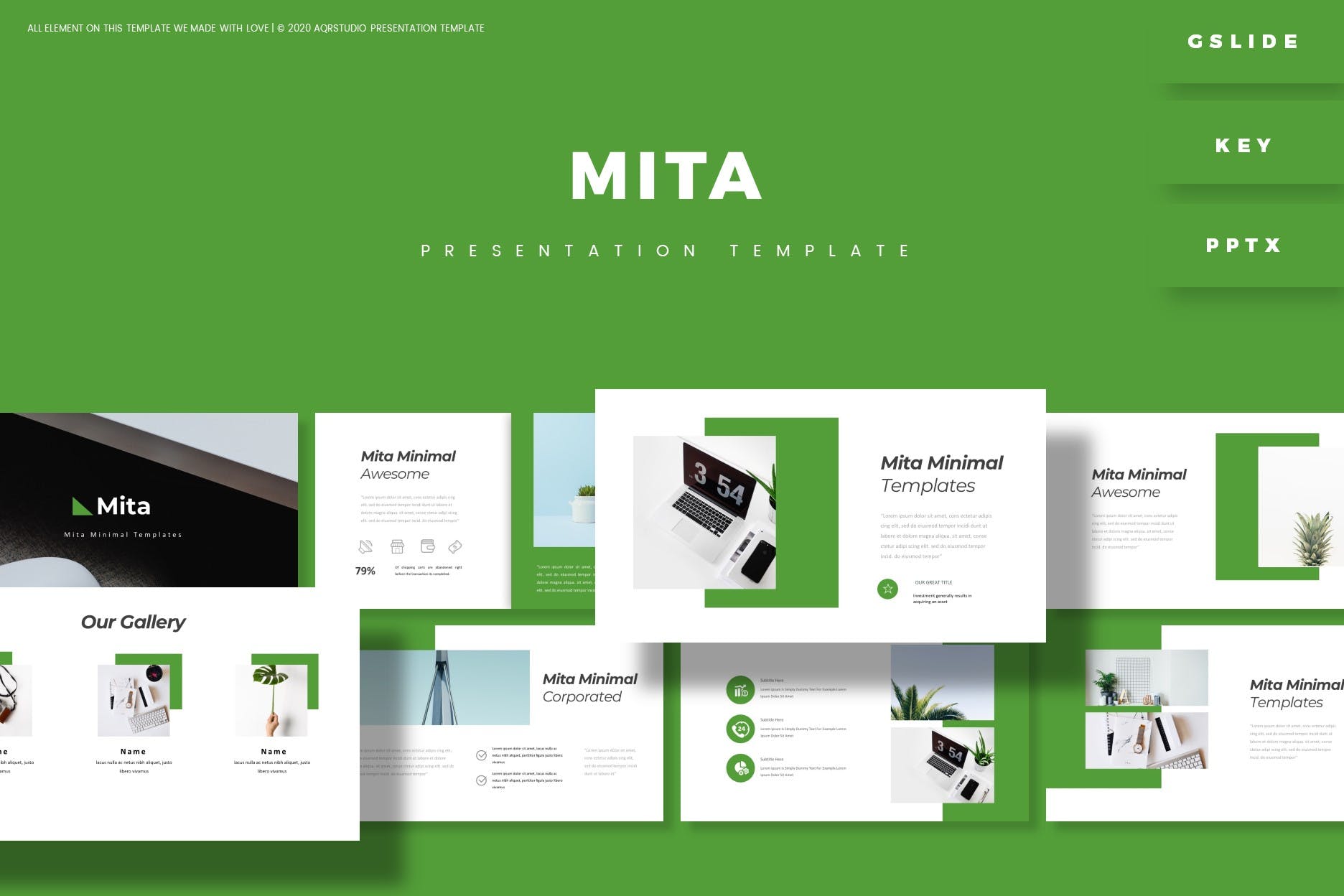 Wanting an uncluttered, pretty-looking Powerpoint template to nail your next business presentation? Mita has you covered. It comes with a modern, sleek layout, a range of slides, color variations, and so many other features for you to enjoy.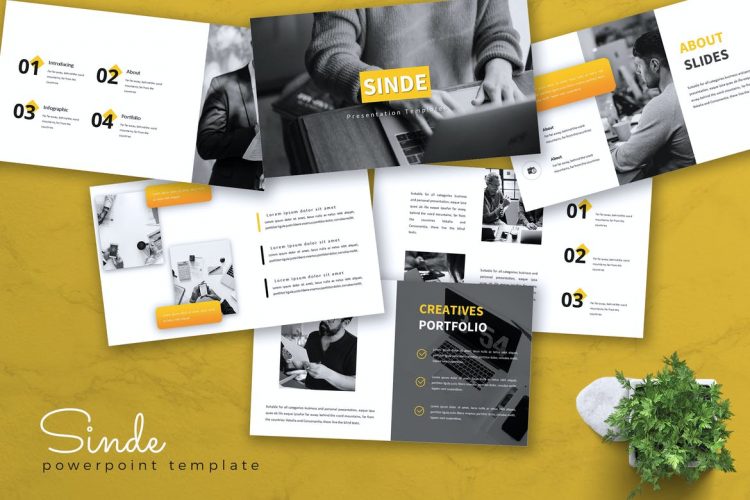 With a total of 150 unique slides, five eye-catching color schemes, and stunning vector-based graphics, the Sinde template is a sophisticated and modern option for a creative business. The dramatic greyscale images contrast perfectly with the splashes of bold color, and each of the design elements is purposefully arranged to give a minimal yet unique vibe.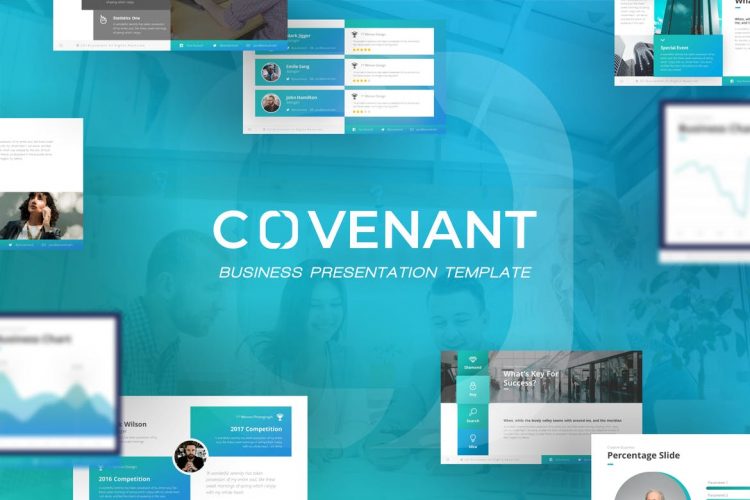 Another highly professional option, the "Covenant" template is super modern, lending itself perfectly to a software or telecommunications project. It comes with 75 unique layouts and unlimited color customization options, which also makes it easily adaptable to your own business branding.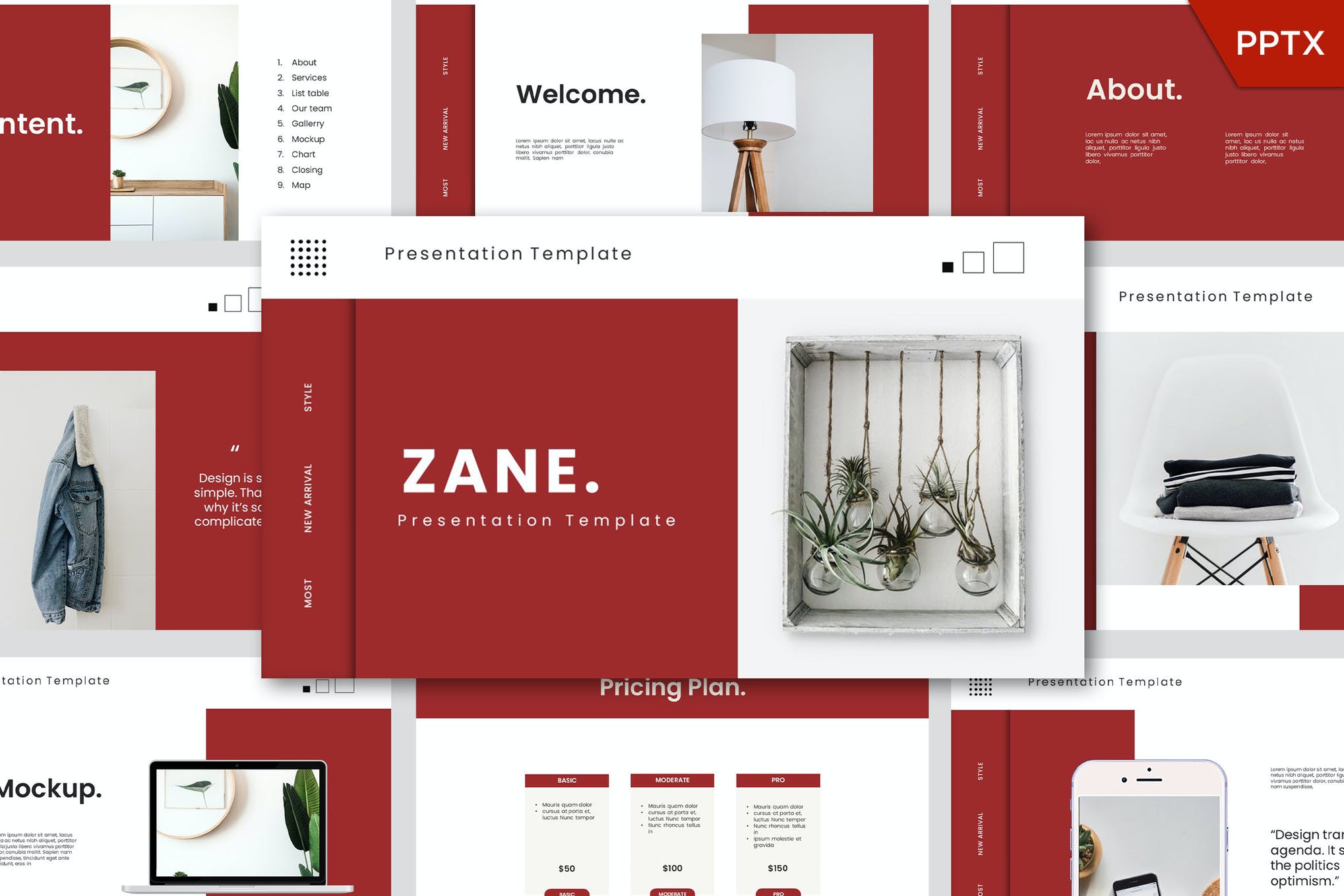 Next up we have Zane, an absolute dapper of a presentation template featuring 36 gorgeous slides, image placeholder, free fonts, editable and resizable graphic elements. It's a template that will pay for itself many times over.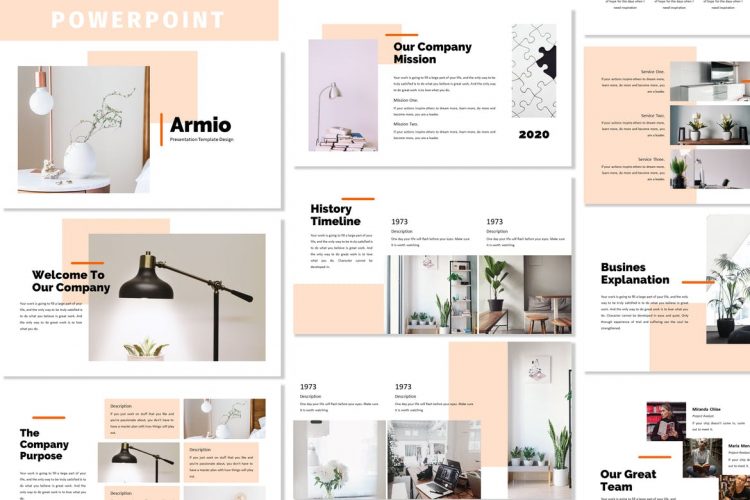 Armio is a sweet, fresh PowerPoint template that's great for a quirky yet professional presentation. It features five sorbet-inspired color themes, thirty slide layouts and a clean widescreen format, as well as drag and drop functionality for easy editing. Suitable for any purpose, it also includes prebuilt gallery and portfolio slides.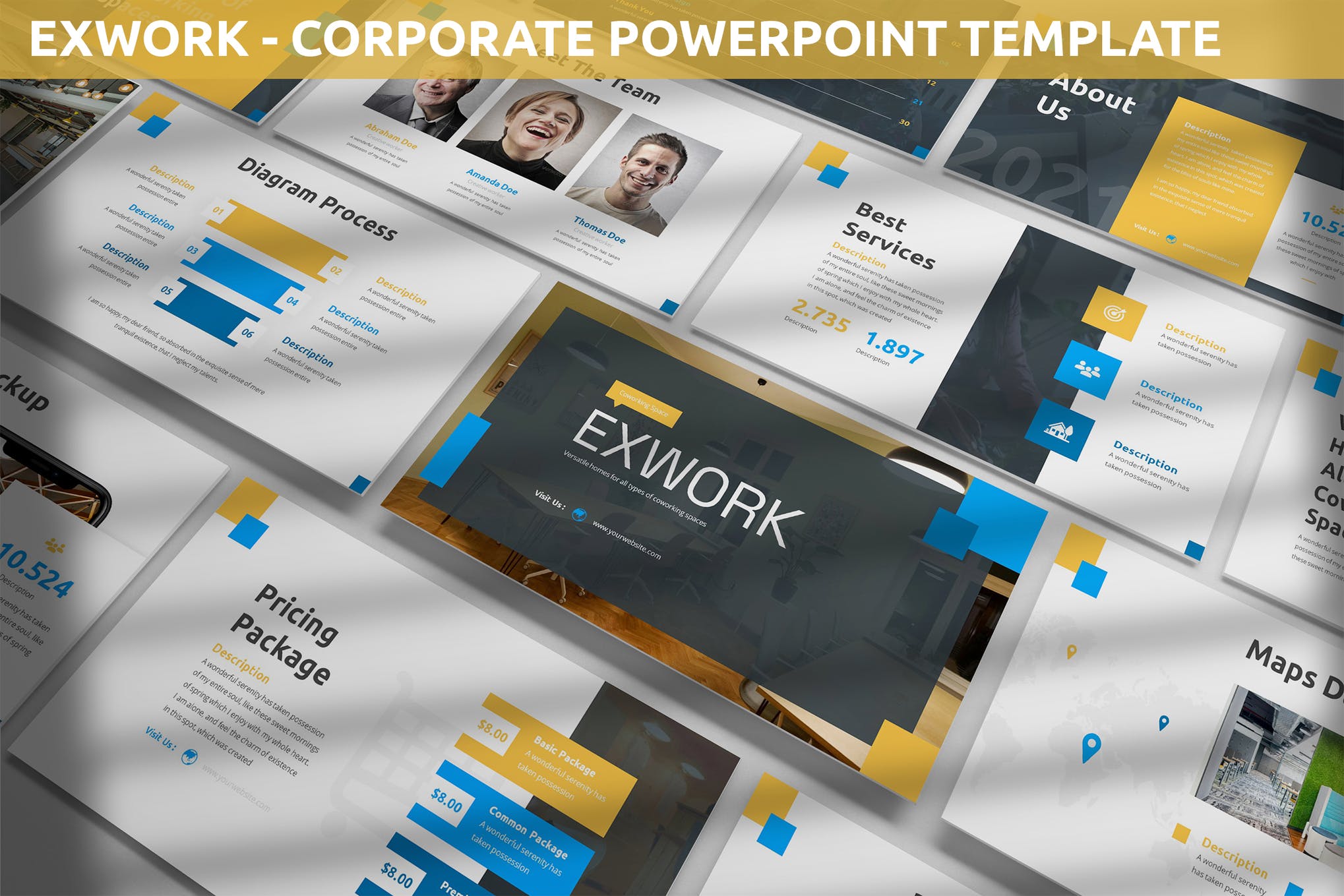 Check out Exwork, a contemporary corporate PowerPoint template that will suit all your business-related needs. Equipped with 30 unique slide designs, animations, color theme variations, the template is hard to pass up.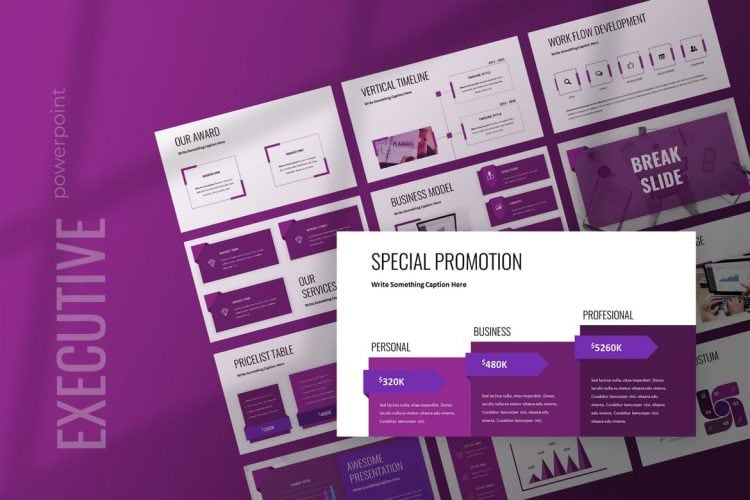 If you're drawn to professional PowerPoint templates that feature a strong use of color, look no further than this handsome, organized set of 40 unique slides, which includes over 500 vector icons (all fully resizable and editable). Again, the bold design can be customized to suit your own corporate colors.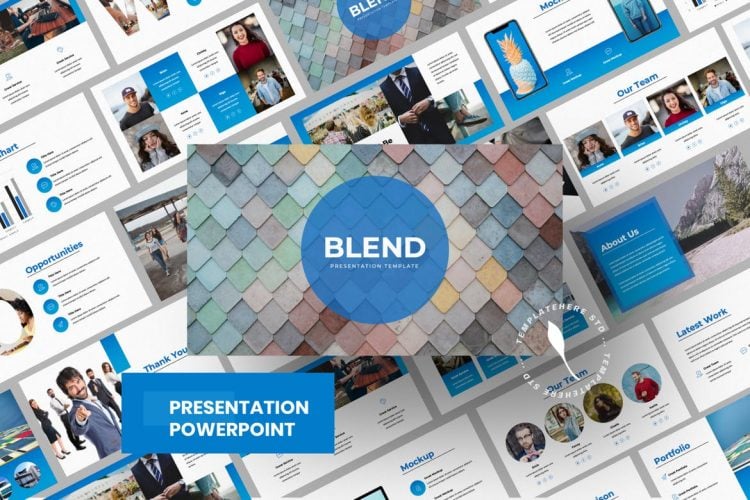 The "Blend" template is a set of 50 unique slides with a highly professional and ultra-modern feel and includes a huge variety of layouts incorporating text, images, infographics, and other design elements. It's also super easy to customize and is ideal for a portfolio or promotional project.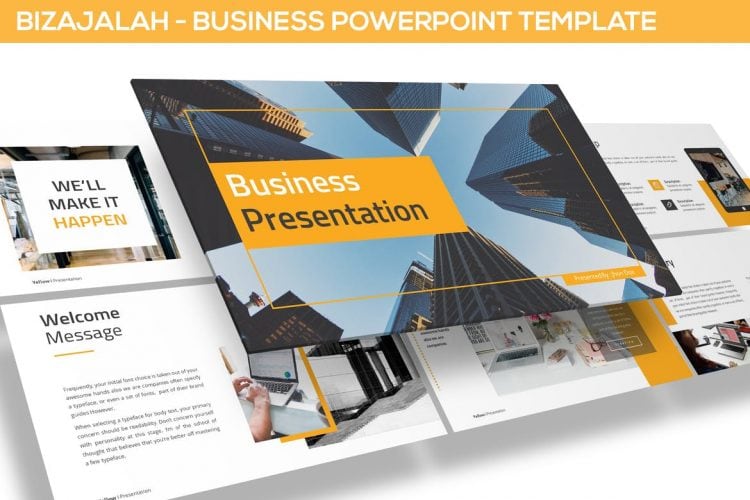 Perfect for financial or investment business purposes, this template requires minimal editing and comes with five ready-to-go color schemes. Its clever use of angles, shapes, and lines gives the otherwise clean and simple feel of the slides a bit of an edge.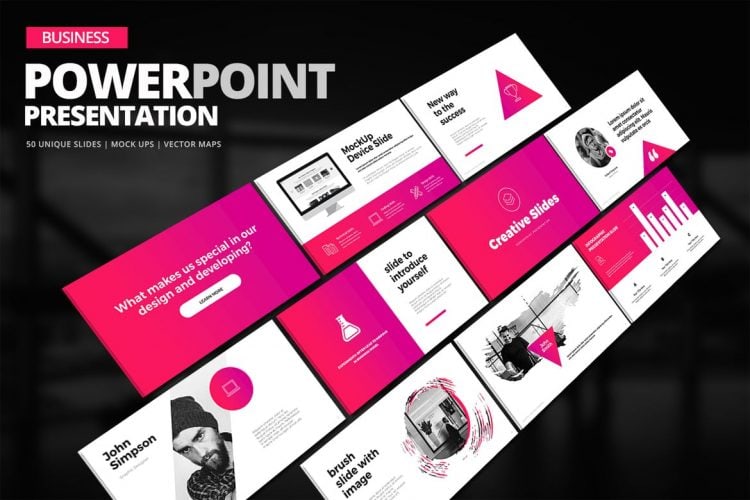 The most effective business PowerPoint templates are modern, simple, and eye-catching – and this set of 50 slides ticks all three boxes with its bold, cohesive use of color, intuitive layouts, and vector maps and icons. It includes mock-ups, as well as drag-and-drop placeholder images, making it brilliant for any kind of professional use without having to do too much fine-tuning.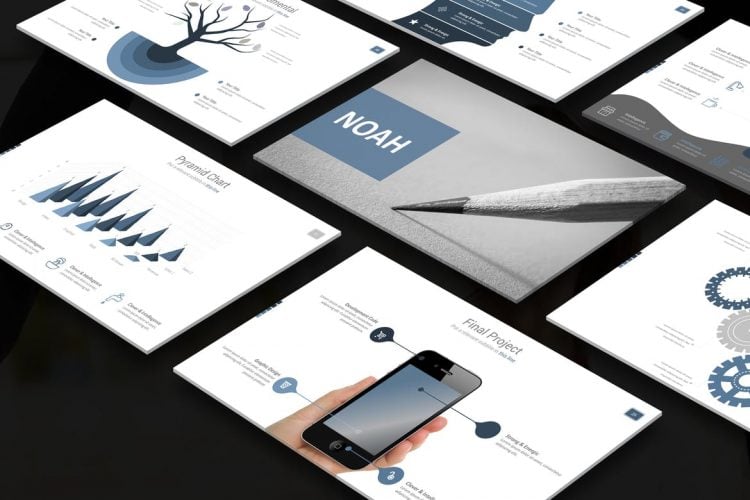 The "Noah" template is so simple, but there are so many ways to make it your own! The package includes over 1,000 icons and hundreds of vector shapes for you to use, as well as an incredible 50 premade color themes. Clean, scalable, and truly versatile, it's the perfect option for start-ups in the technology or e-commerce industries.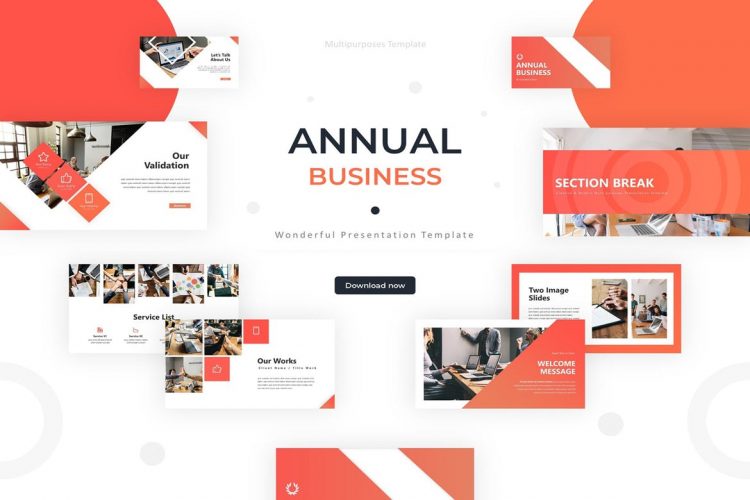 As the name suggests, this option is ideal for annual company meetings and reporting presentations. It features three premade color schemes, picture placeholders, a range of purposefully designed layouts, and variations for both light and dark backgrounds, as well as widescreen and standard aspect ratios.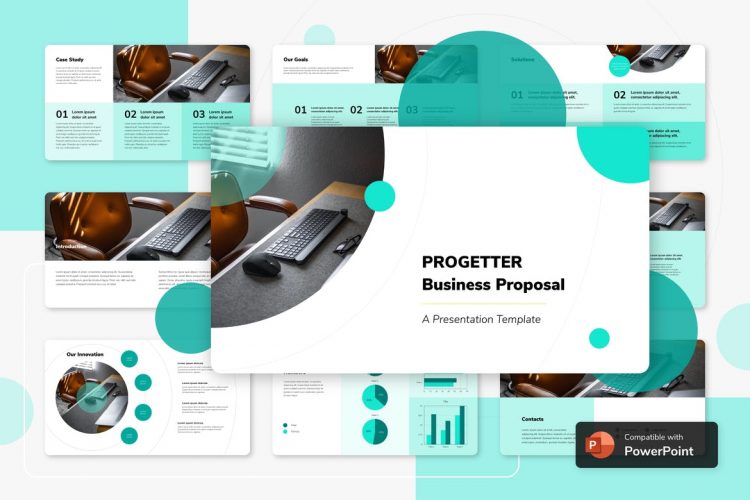 The "Progetter" is a smart, uniform set of 30 professional slides, featuring the effective use of circular graphics and a clean, monochromatic colorway to tie each slide together and really make an impact. It's easy to use, simple to customize, and can be used for pretty much any kind of professional purposes – but we think it'd be especially great for business proposals.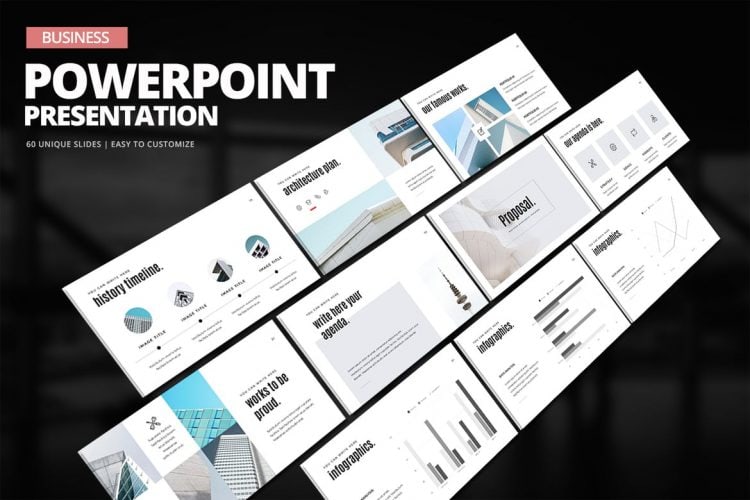 This template means business! Its strong typography and emphasis on facts and figures through the use of infographics make it the perfect option for a project delivery or reporting presentation. It includes 60 unique slides in a 16:9 widescreen aspect ratio.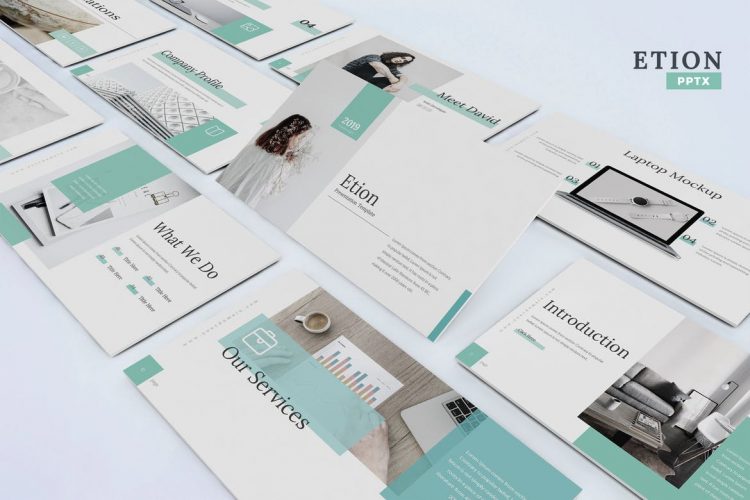 "Etion" is a playful, clean set of 150 slides, which includes 30 unique layouts across five different color themes. It's perfect for professional presentations within creative spaces, such as graphic design or architecture.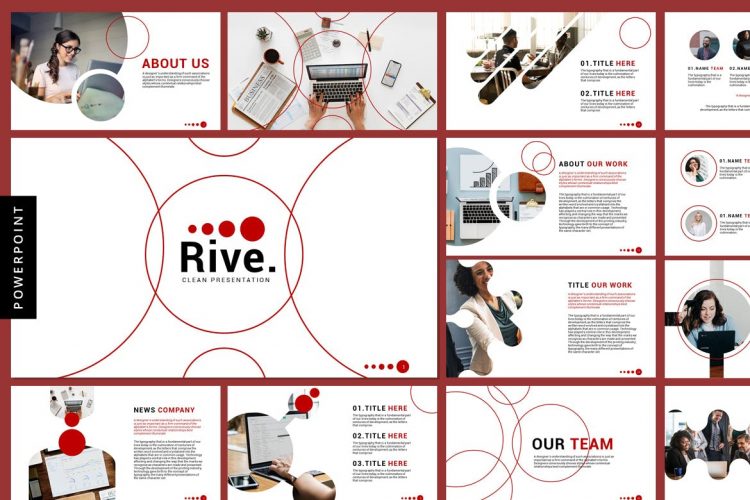 Ideal for use within the advertising or marketing industries, the "Rive" template comes in two color themes and features sixty simple yet attention-grabbing slides, each one fully editable using the vector infographics, icons, elements, and PNG files that are all included.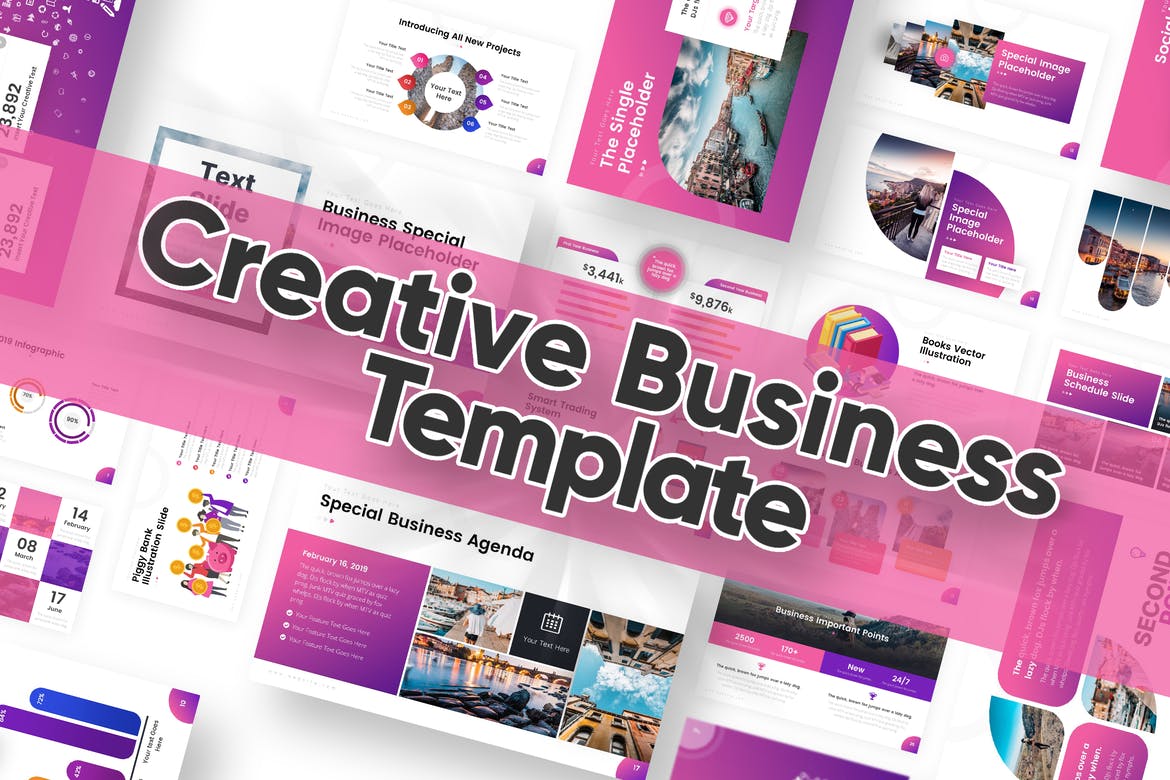 Here we have a fun, creative set of 25 versatile slides that can be easily adapted to suit any kind of business, and are ideal for use as a company profile or introduction. It comes with handmade infographics, fully customizable graphics, and unlimited color options that enable you to easily reflect your brand.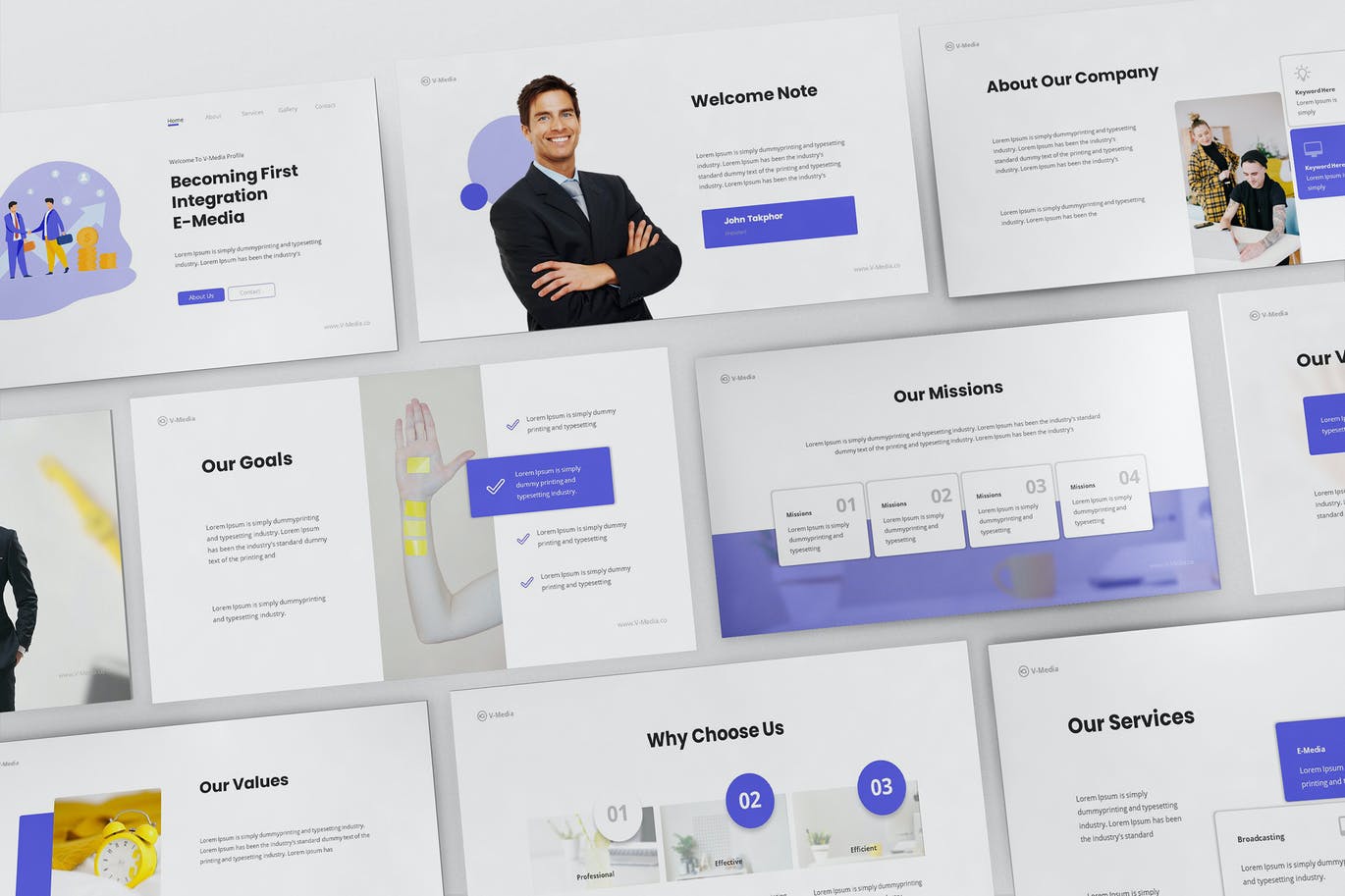 Next up, we have the V-Media theme, a super professional PowerPoint template that's been specifically designed to help you introduce your company to the world. The 30 unique slides have a clean, modern look, and you have a choice between two size aspect ratios.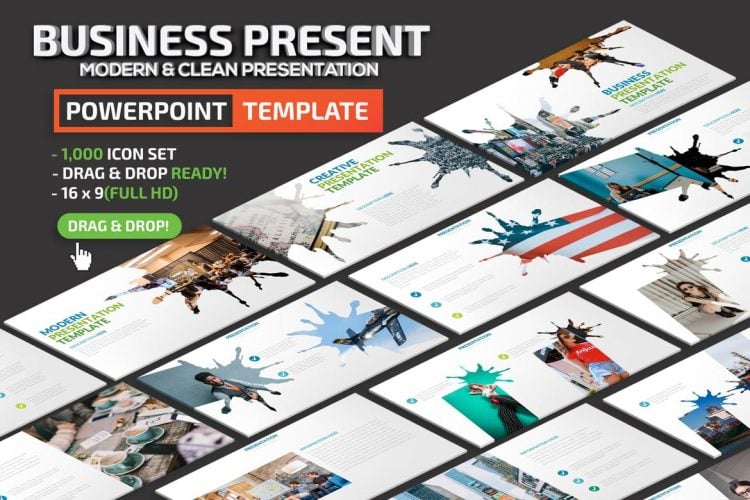 Despite the nondescript name, this 16:9 high definition template has a funky, youthful vibe, and features splashes of color combined with slick, clean fonts. It includes over a thousand different icons and drag-and-drop placeholders to make customization a breeze, and is fully animated.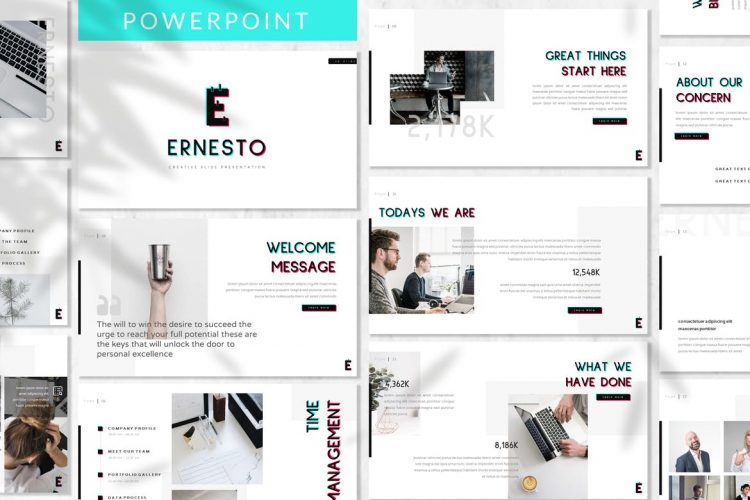 With five premade colorways and a futuristic design style, this template incorporates contrasting graphic elements for a format that's sure to command the attention of your audience. It's available in both widescreen and standard aspect ratios.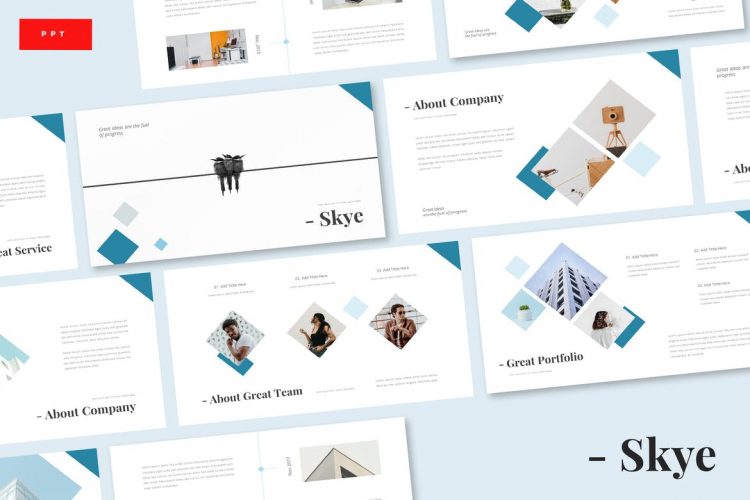 The "Skye" template is a beautiful, minimal set of slides that can be adapted for a range of industries and business purposes. It features 5 color themes, drag and drop placeholders for easy editing, and both widescreen and standard sizing options.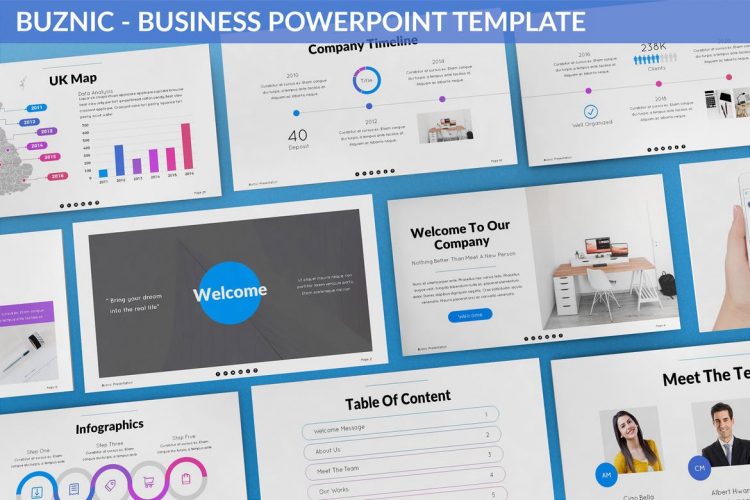 The "Buznic" option is just about as professional as business PowerPoint templates can get! It integrates a straightforward, intuitive layout with eye-catching typefaces and graphic elements, and can be easily adapted to fit your specific business needs. We think it's particularly fitting for use within the technology and finance industries.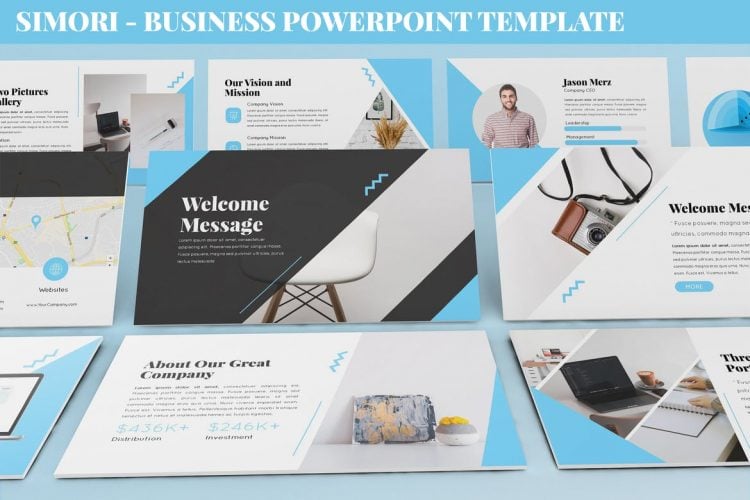 Incorporating bold angles, eye-catching images, and funky graphic elements, this template is a fun, creative solution for use within a vast range of industries, but is still simple enough for your content to be the true focus of the presentation.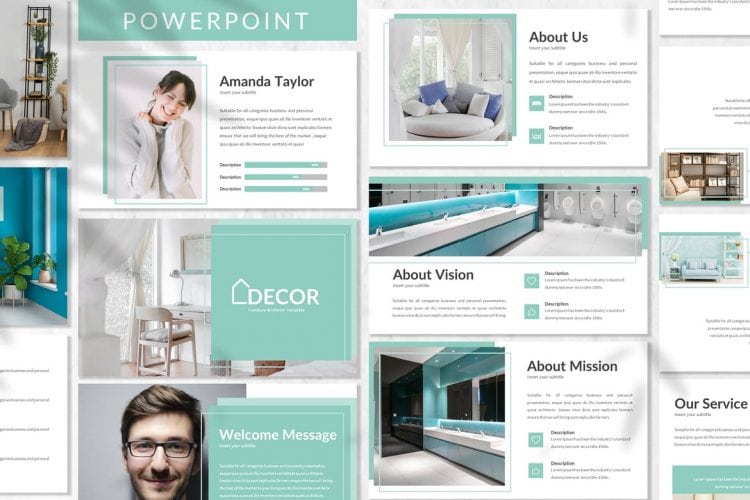 Perfect for creative industries such as interior design or photography, this option has a gorgeous, minimalistic approach to business PowerPoint templates, and uses infographics and cohesive color themes to give it a polished and professional finish.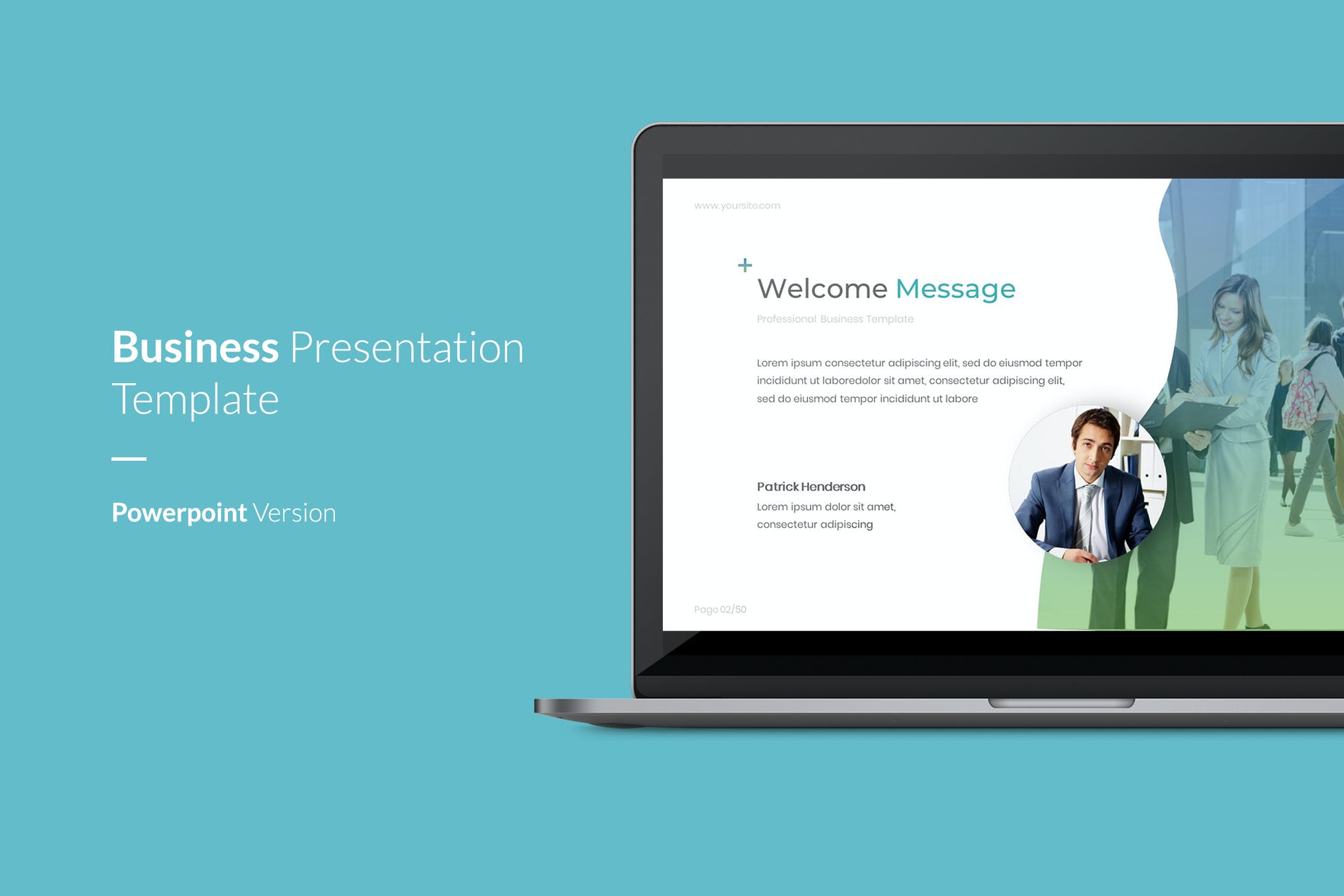 This minimalistic set of 50 slides is easy to customize, and is fully editable through drag and drop functionality. It's ideal for a company introduction, strategy briefing, or as a marketing or promotional tool to secure funding and win projects.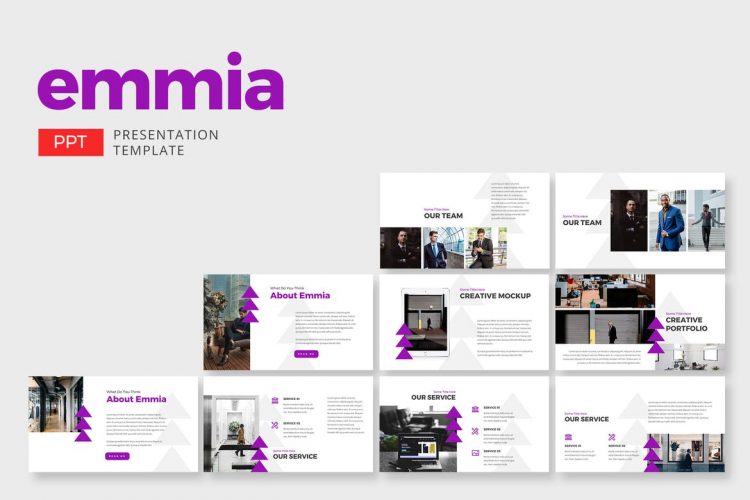 For a clean, creative presentation, consider the "Emmia" template. It features 30 slides with a 16:9 aspect ratio and editable vector icons and shapes, as well as a variation of eye-catching layouts and a subtle color scheme that can be customized to fit your own business branding.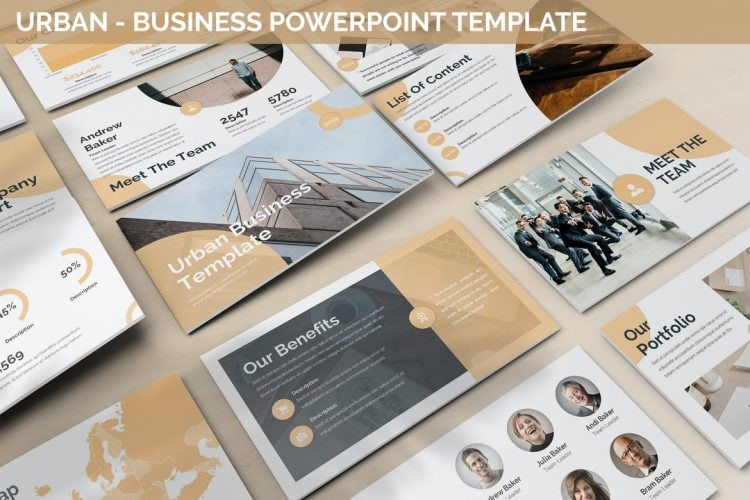 For a professional business presentation with a more muted color palette, look no further than the Urban template. It's ideal for a huge range of industries, and includes easily adjusted colors, backgrounds and pictures to help you customize in a flash. It also comes in both widescreen and standard formats.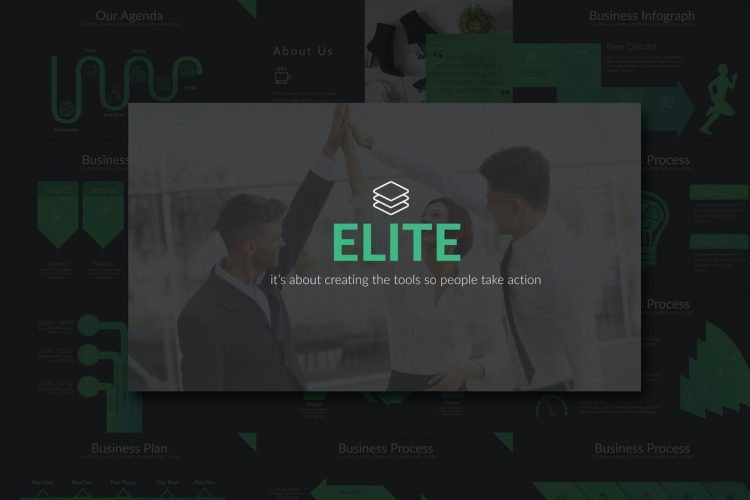 Dark, dramatic and highly professional, the Elite business PowerPoint template features 140 unique slides that have been preformatted to include a variety of information content, including infographics, diagrams, maps, timelines and charts. The beautifully simplistic color themes and high-quality graphics give it a polished finish.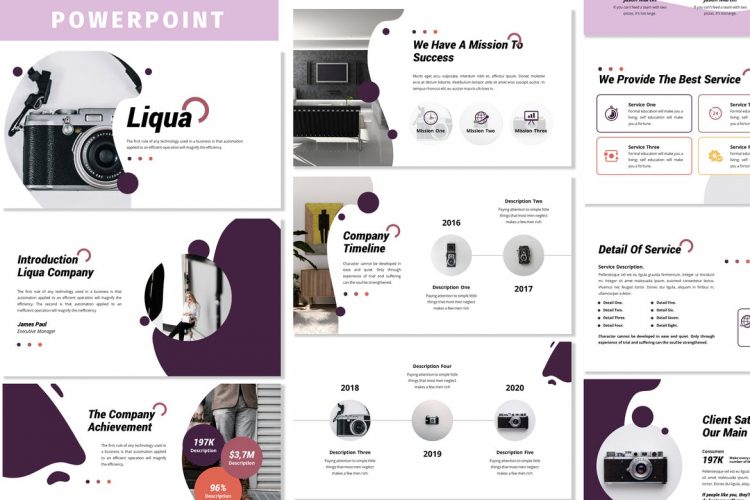 An elegant and minimalistic template that can be used for any kind of business project or pitch, the Liqua template includes funky graphics, attention-grabbing color themes, and intuitive information presentation methods. The drag and drop images and prebuilt slide layouts make it incredibly simple to adapt to your needs.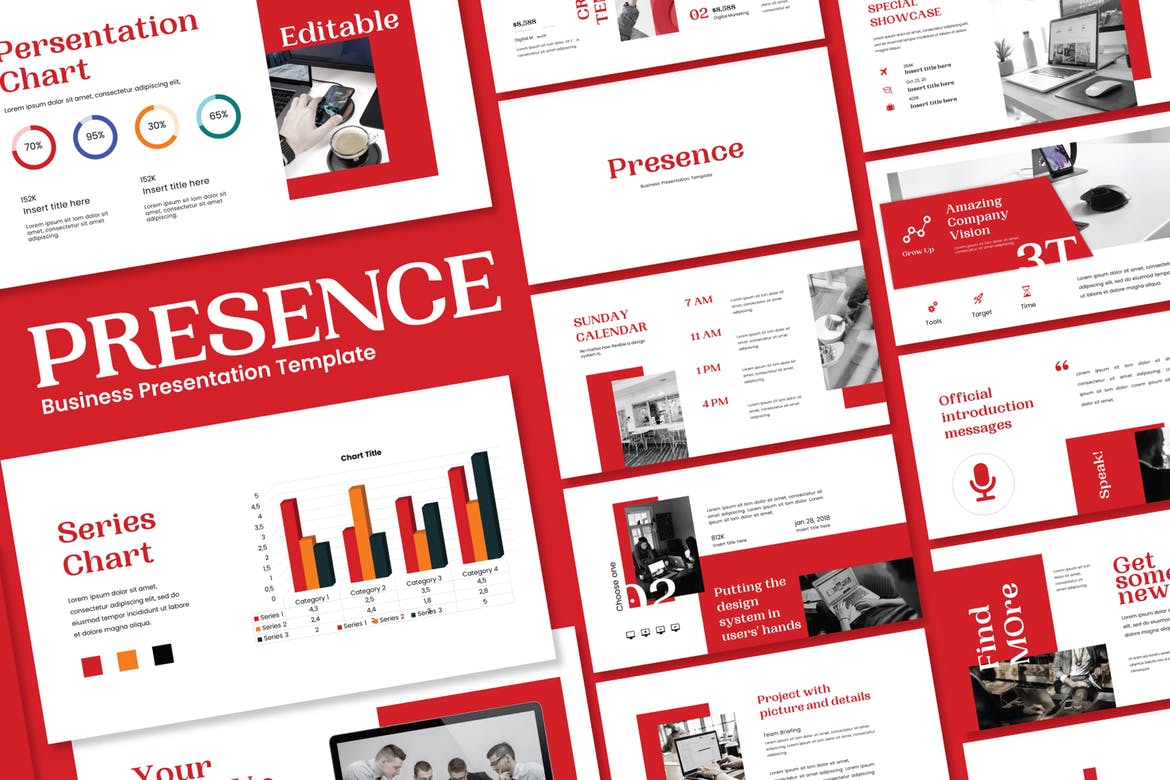 The Presence theme is one of the most versatile business PowerPoint templates around – it features 30 unique and fully customizable slides with image placeholders, master layouts, and easy to change color options. The clean, modern design will give your presentation a fresh corporate look.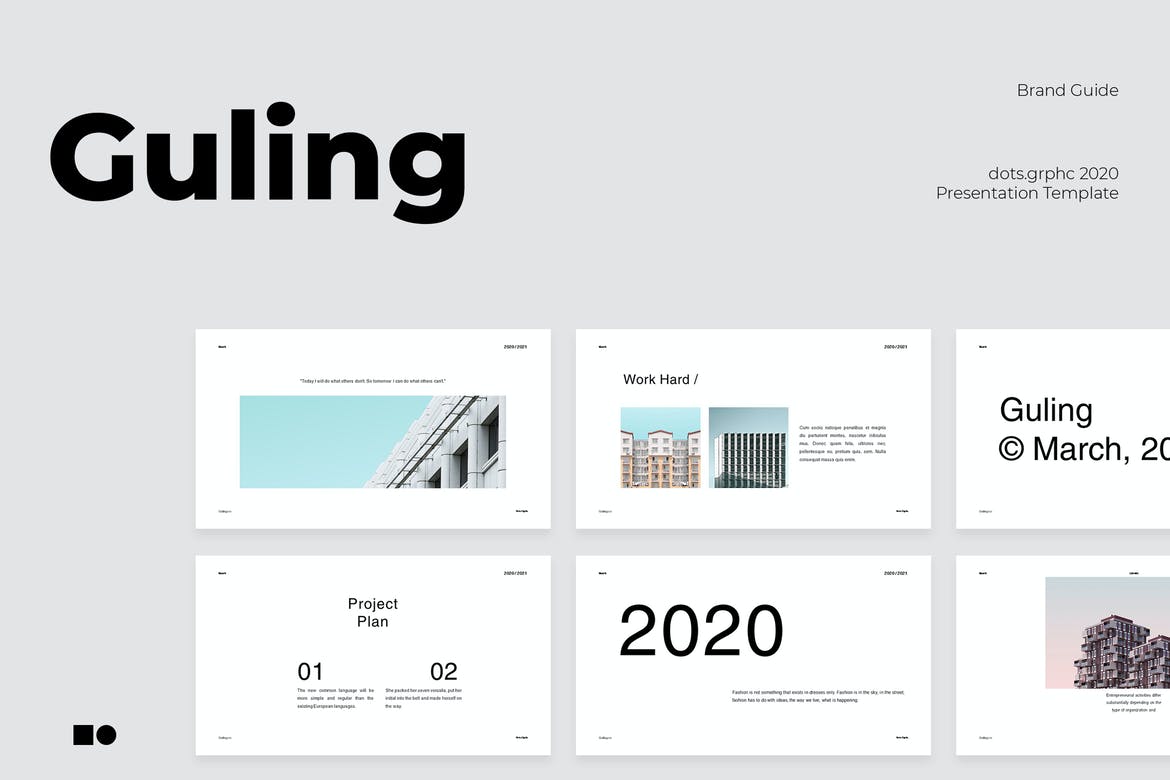 Next up we have Guling, a muted and elegant option that's ideal for an ultra-modern design-oriented business, such as an architecture firm, to use for its presentations. Featuring a stylish and minimal look, it can be used as a portfolio, as a company profile, or to promote your products and services.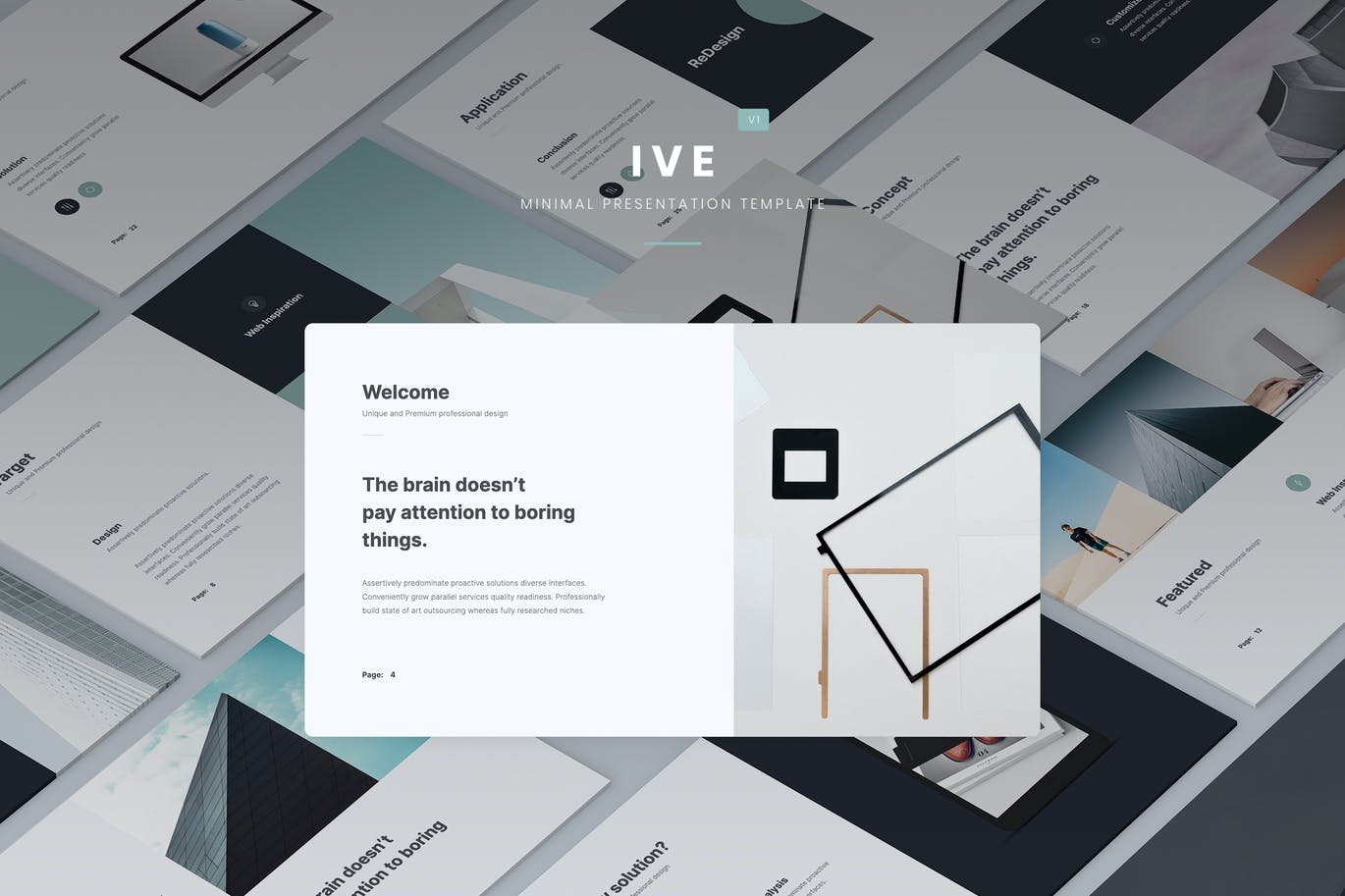 The final option in our lineup of the best professional PowerPoint templates is IVE, a minimal multipurpose theme that offers fully responsive and high-quality design elements, vector shapes and icons, unlimited color options, and a range of customizable infographics for you to use.
And with that, you have some of the best professional business PowerPoint templates to choose from for your next project or pitch. Don't waste any more time trying to fiddle your own way through a substandard set of slides – go with the professional option, and your presentation will be sure to wow your audience and garner the results you deserve.