25+ Best Procreate Tree, Flower & Grass Brushes 2023
We are so lucky to be surrounded by breathtaking landscapes. It's truly an artist's dream. Everything from the bright and colorful flowers, and magnificent trees to lush green grass, and foliage, instill magic into our lives. Needless to say, these natural elements can do wonders when used to create designs on the digital canvas.
For professional and hobbyist illustrators, Procreate provides a range of brushes to help you achieve realistic scenery however with so many options to choose from, it's easy to get overwhelmed.
To help you get through the brush minefield safely, we have put together a list of the best free and premium flower, trees, and grass brushes for Procreate. Let's get right to it.
Download thousands of versatile Procreate add-ons, brushes, presets, palettes and more. From $16 per month, get unlimited access to thousands of resources to help you draw, illustrate, design, edit and create with Procreate.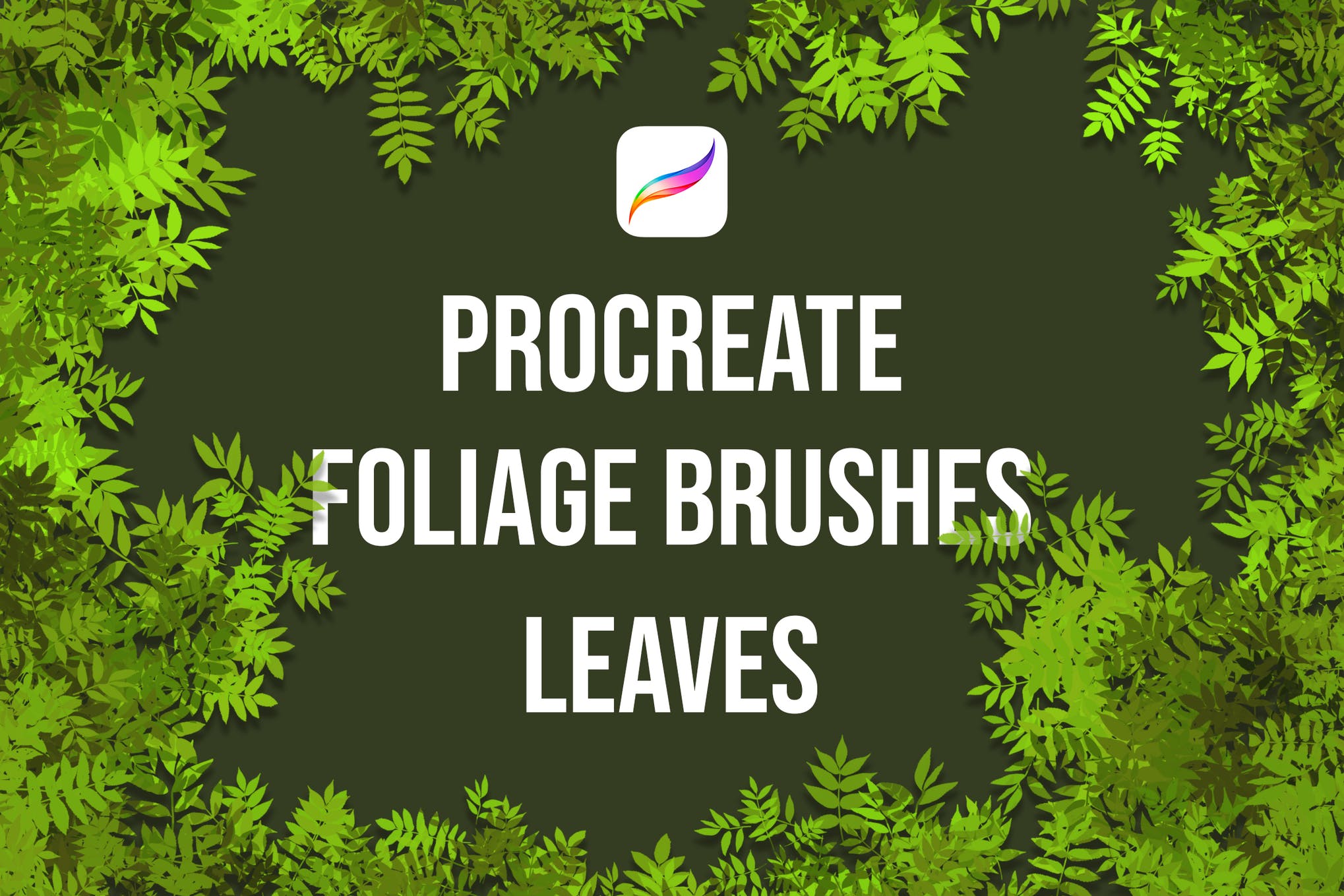 If you are into painting foliage, landscapes, and trees, this set comprising 5 leaf brushes including spruce, willow, maple, oak, and tiny pointy can come in very handy. With this Procreate collection at your disposal, you can be on your way to creating your next digital masterpiece.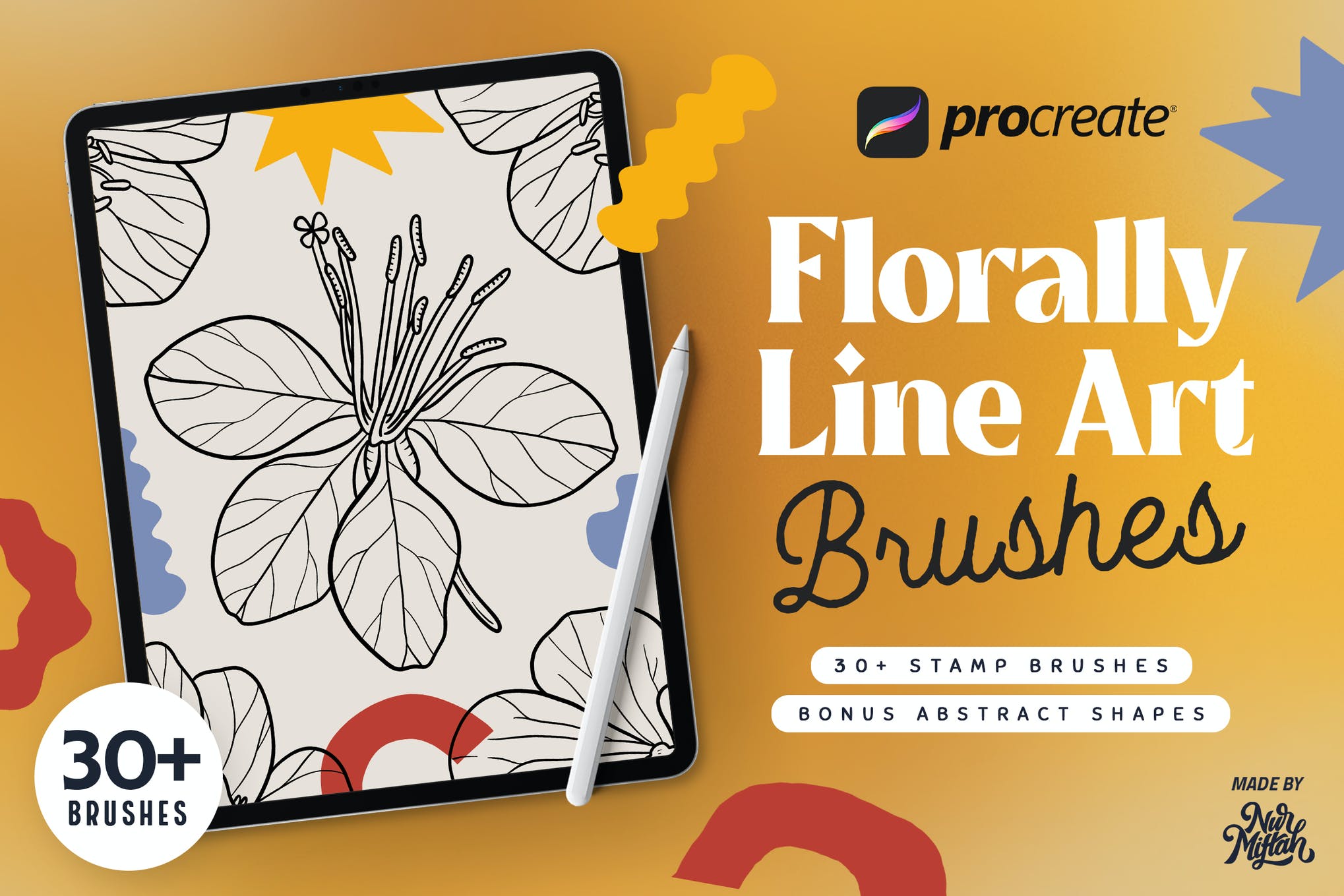 When looking for the best Procreate flower brushes, this product is not to be missed out on. It features 30 plus floral line art stamp brushes that can help you design beautiful artworks including but not limited to wallpapers, logo designs, and t-shirt designs. The pack also comes with bonus abstract shapes.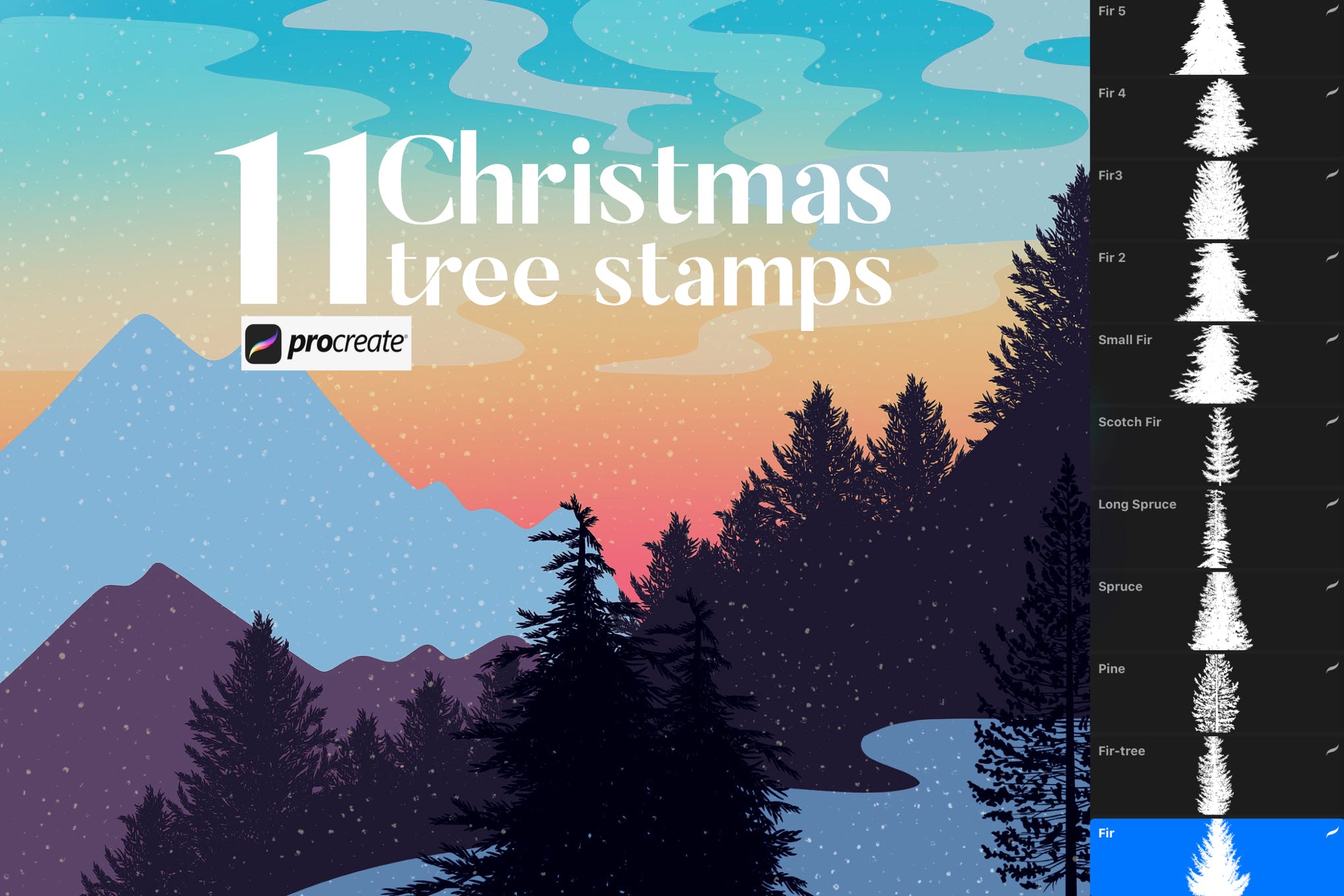 With the holiday season right around the corner, you are most probably buried neck-deep in Christmas design projects. To help accentuate, and add detail to your work, this collection of 11 Christmas tree brushes can be right up your alley. These are certainly some of the best Procreate tree brushes available on the market right now!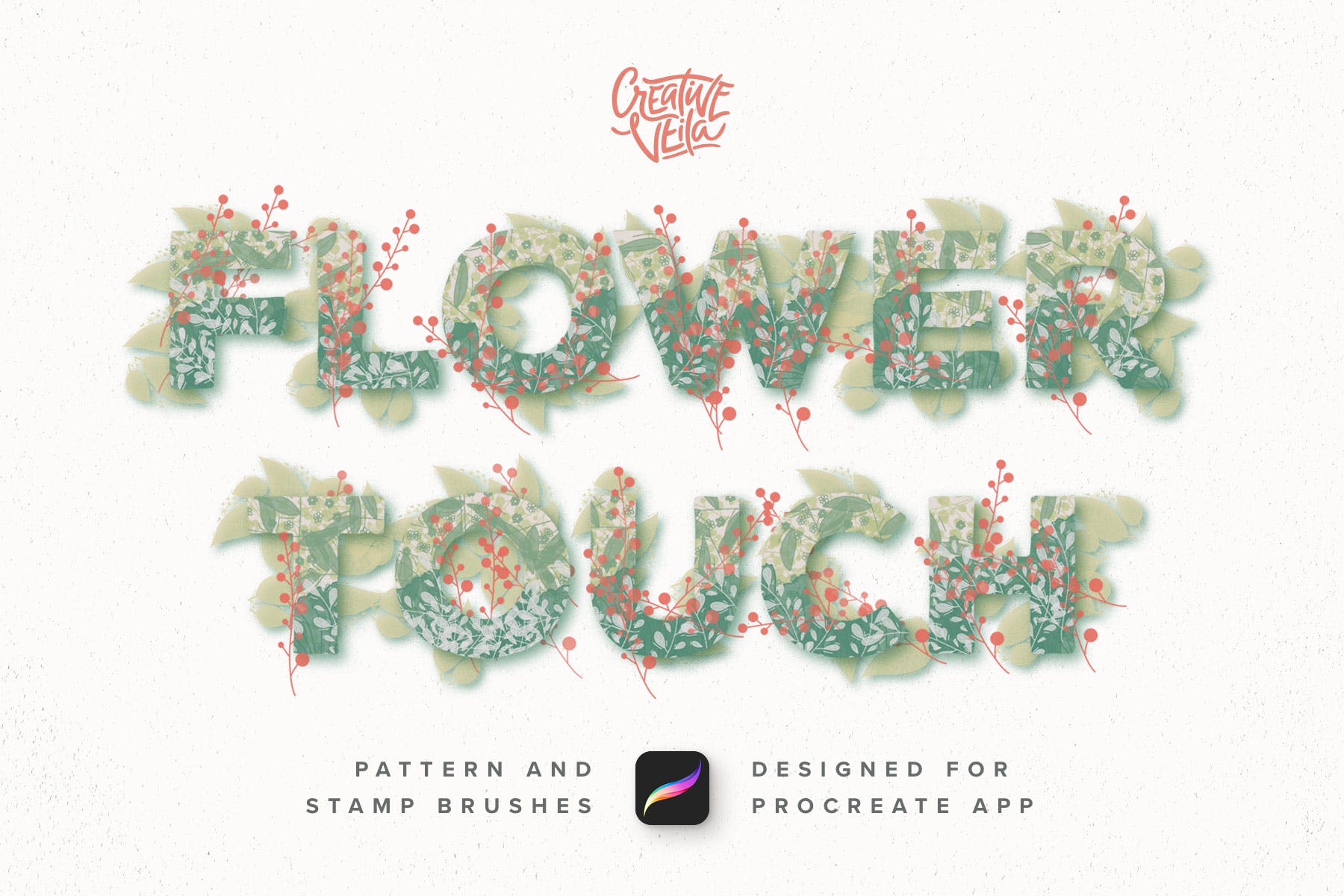 Here we have an extensive collection of Procreate flower brushes that will help take your illustration game to a new level. There are 103 pattern brushes, and 57 stamp brushes inside the package, with each option aimed at filling your digital canvas with colors, and joy.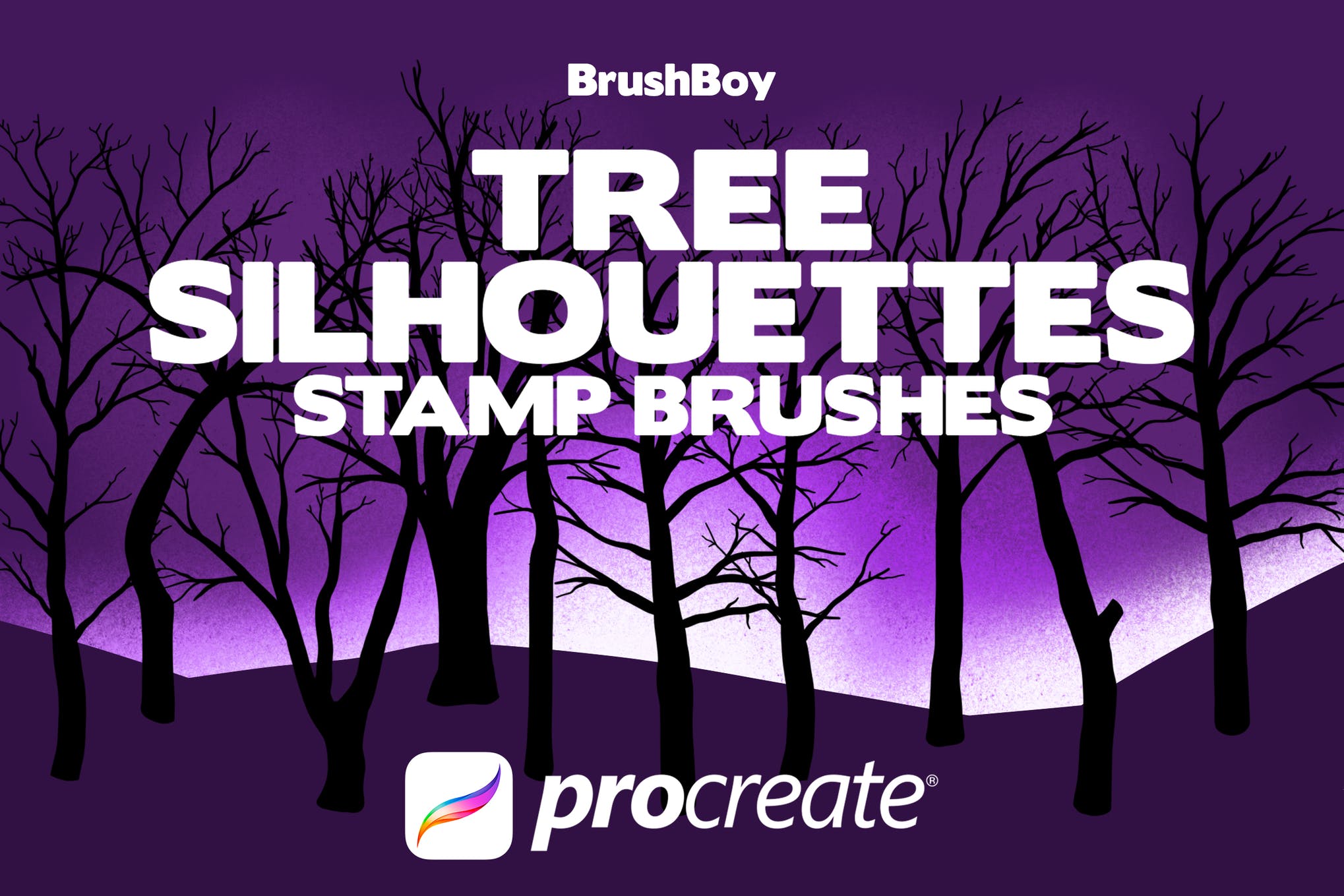 Drawing perfect-looking trees on a digital canvas can take hours of your time, which is why it makes sense to invest in a good collection of Procreate tree brushes. This product will tremendously speed up your workflow, allowing you to create nature scenery in just a couple of minutes.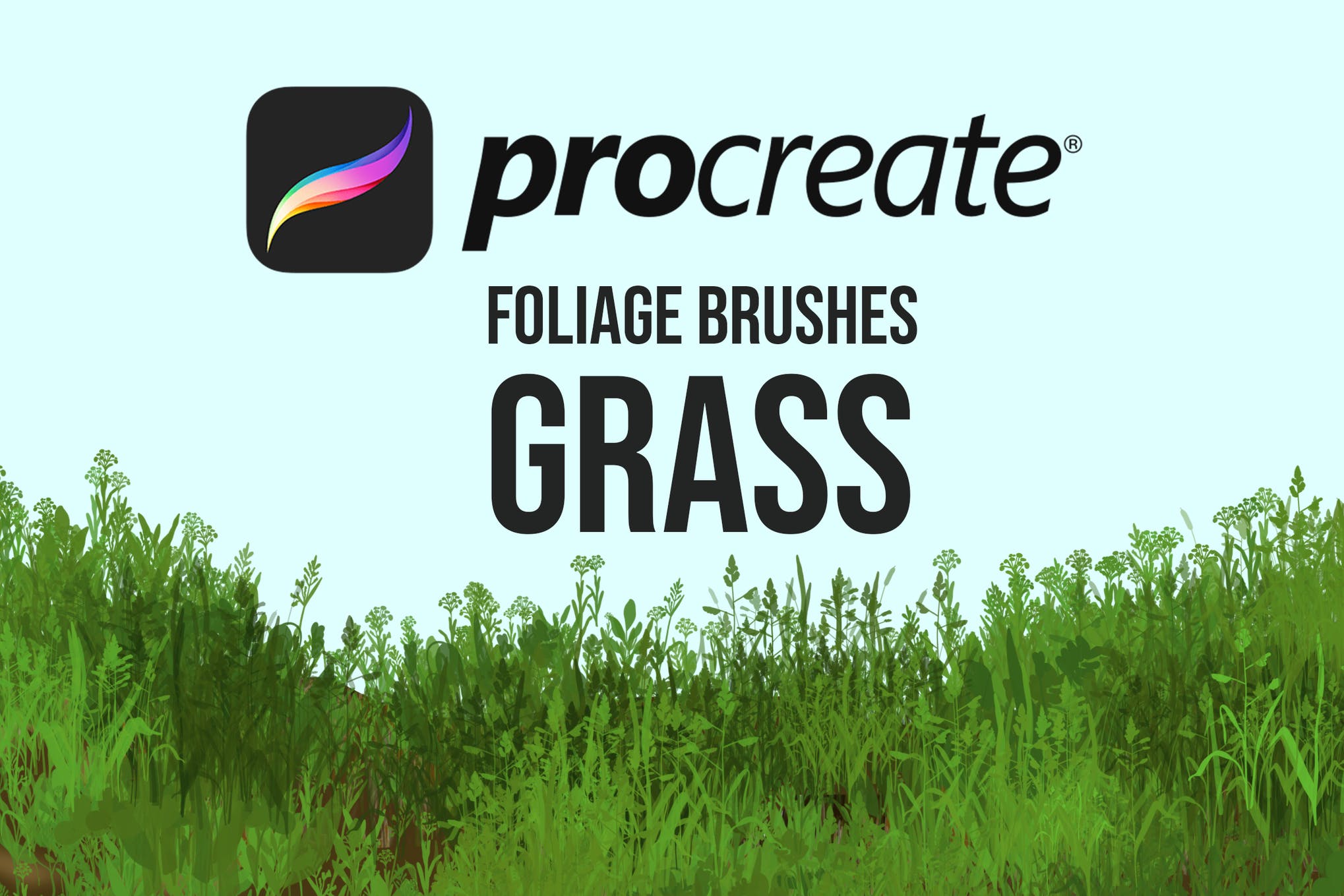 Need to add grass elements in your landscape painting? Look no further than this bundle of 5 grass brushes for Procreate that will bring personality to your work, and help you create something truly magical. The brushes have pressure-sensitive opacity.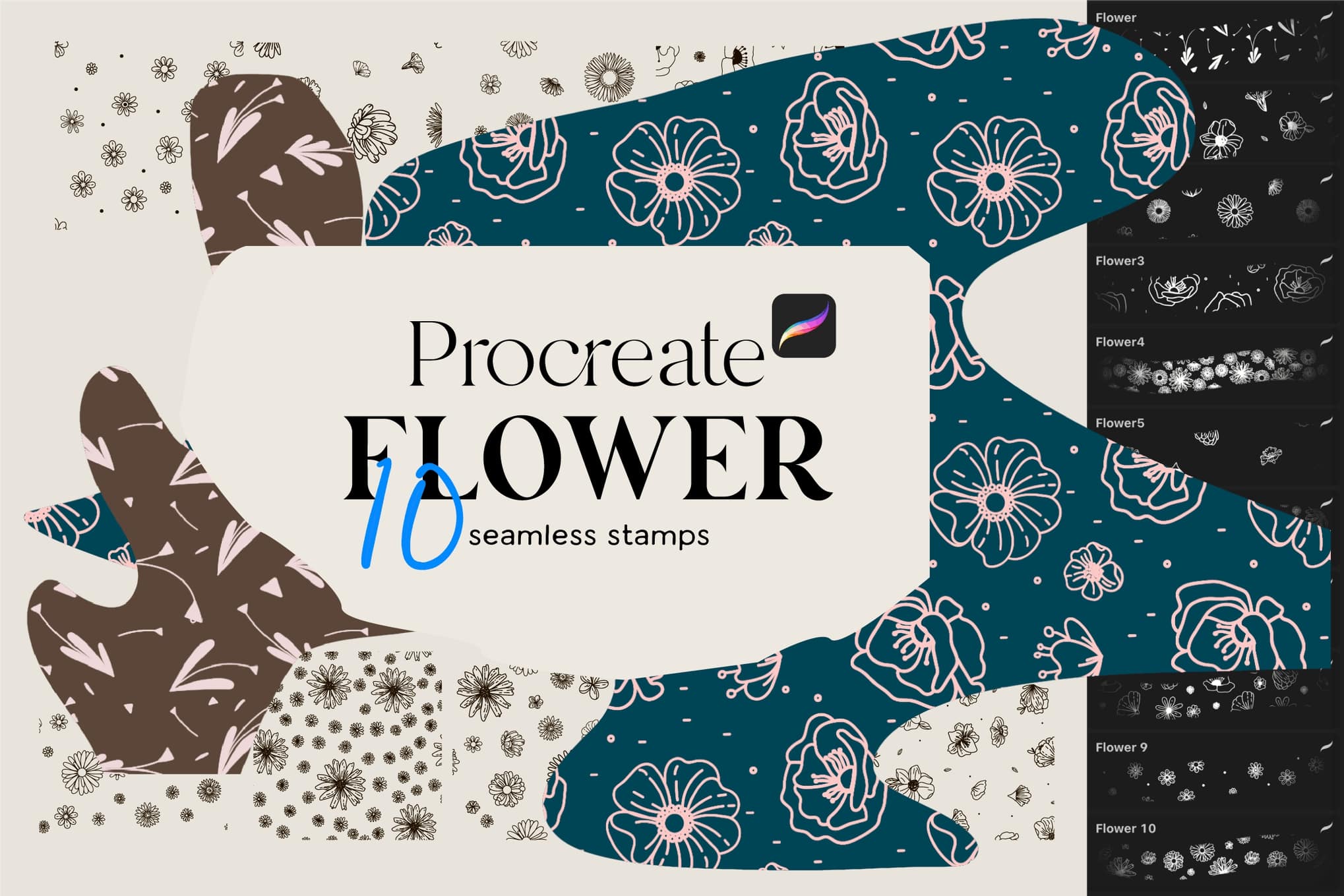 If you're looking for a magnificent collection of the best Procreate flower brushes that really help your designs stand out from the pack, these stamps might be of interest to you. The brushes work seamlessly with nearly every version of Procreate.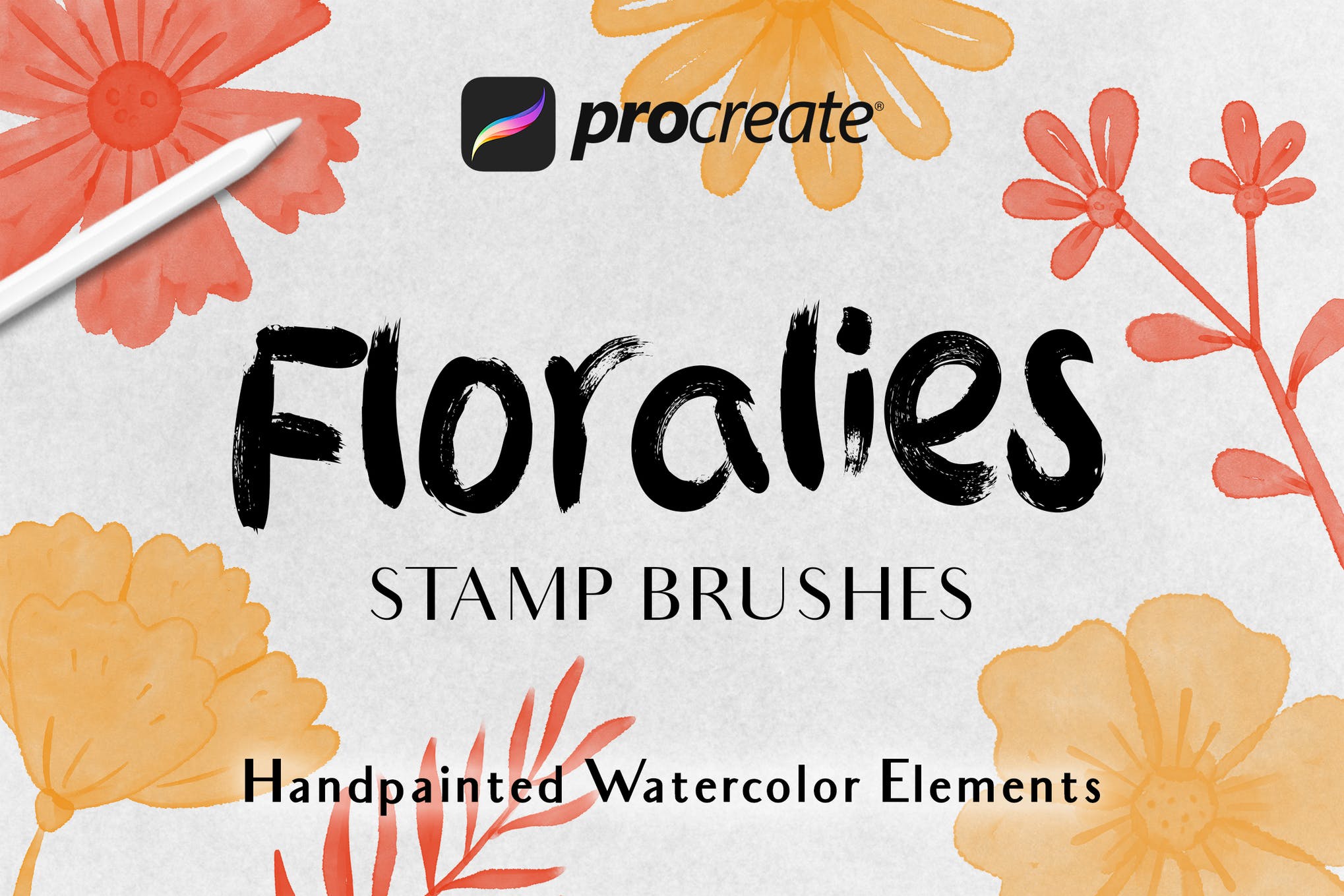 Whether your design project needs you to create floral-themed backgrounds, logos, or illustrations, these stamp brushes can certainly deliver. The kit comes packed with 20 easy-to-use Procreate flower brushes perfectly fitting to artworks that require a handpainted watercolor touch.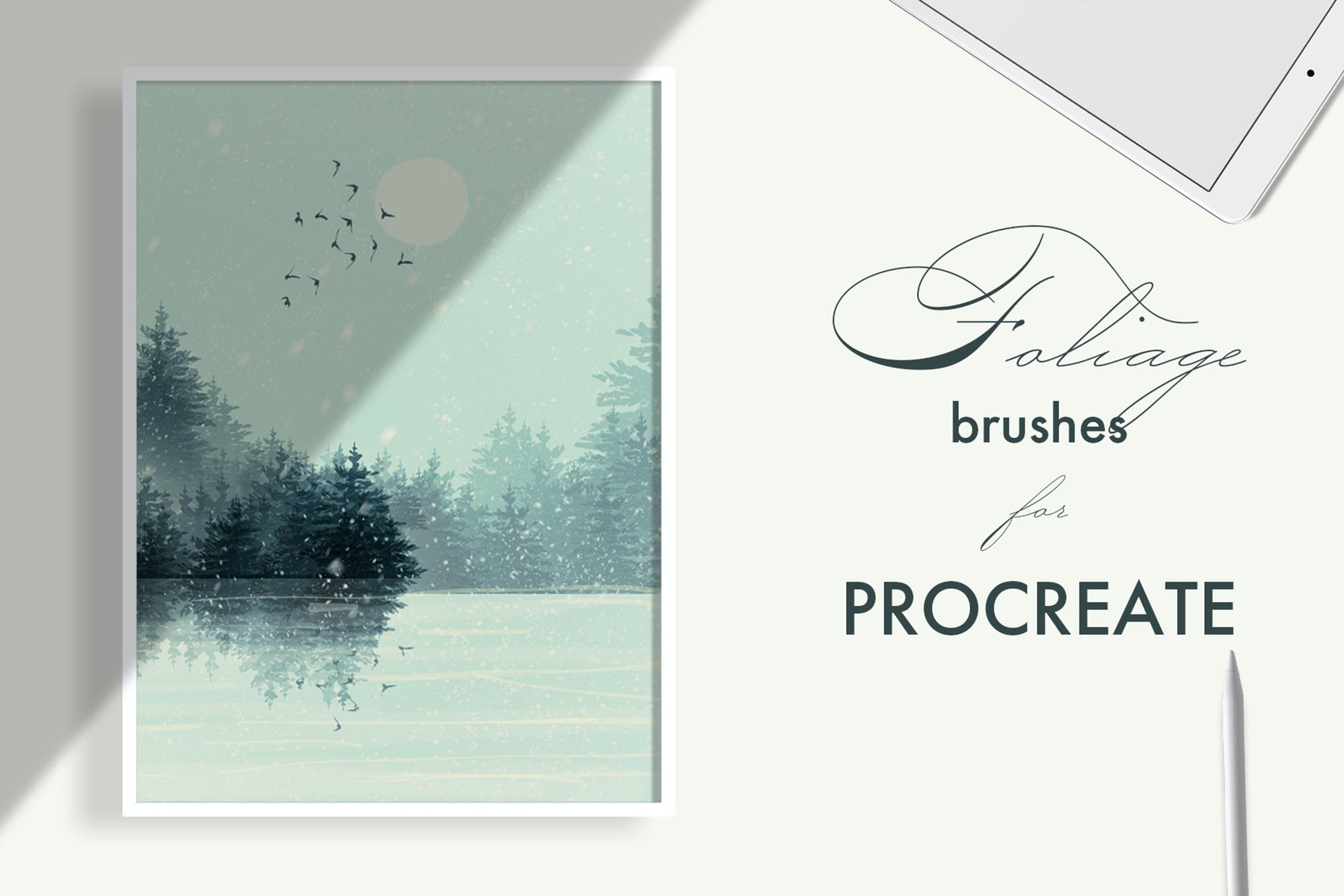 Providing you floral, grass, leaves, and tree brushes under one roof, this killer Procreate collection has literally everything you might ever need to draw a realistic landscape. The brushes are quite easy to use even for a beginner and as such, we'd definitely recommend giving this product a try.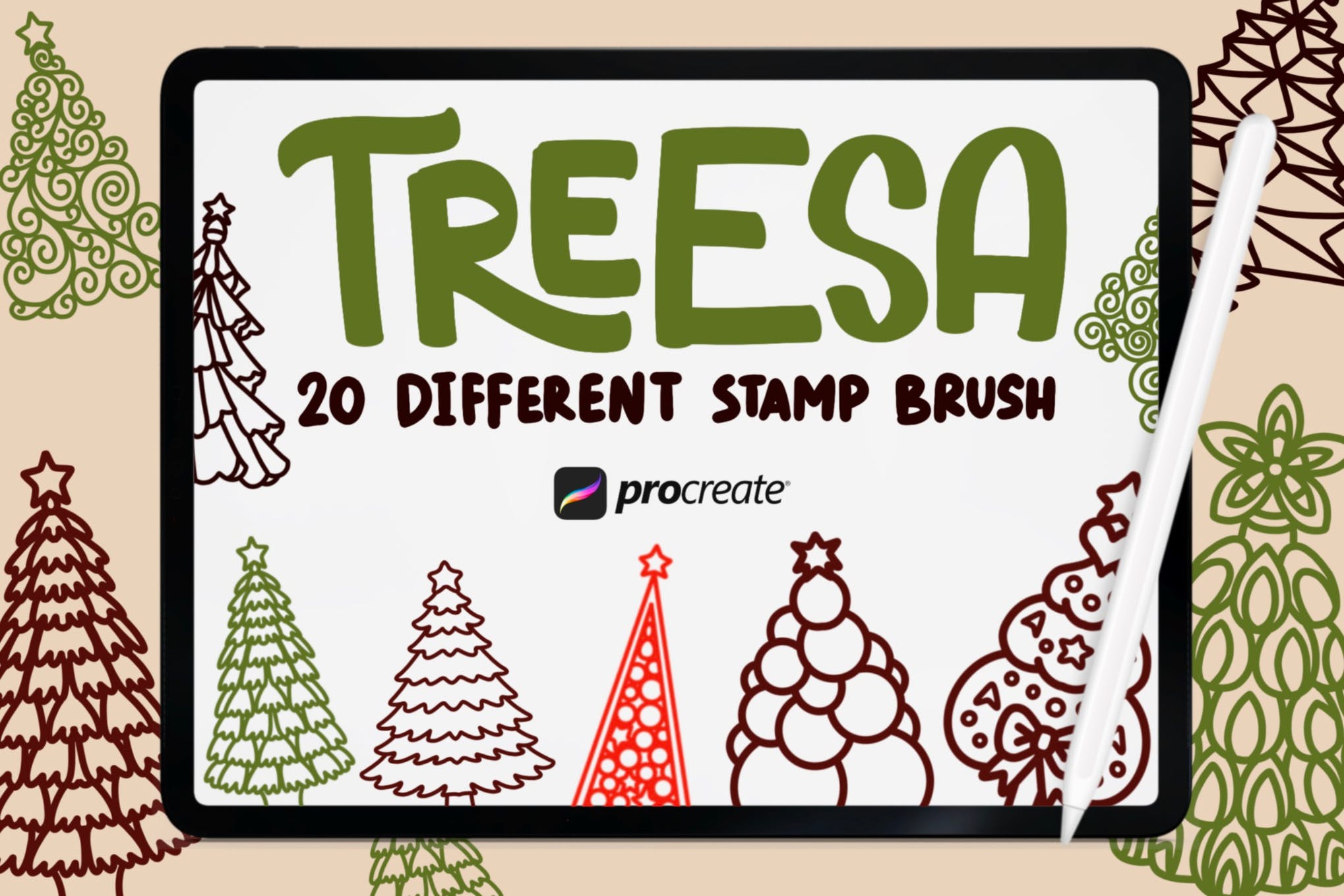 This product can ensure that your patterns, illustrations, and ancillary design assets look just right. It features 20 tree brushes for Procreate that will boost your productivity, and you'll have a gala time creating the most dynamic, and awe-inspiring artworks imaginable.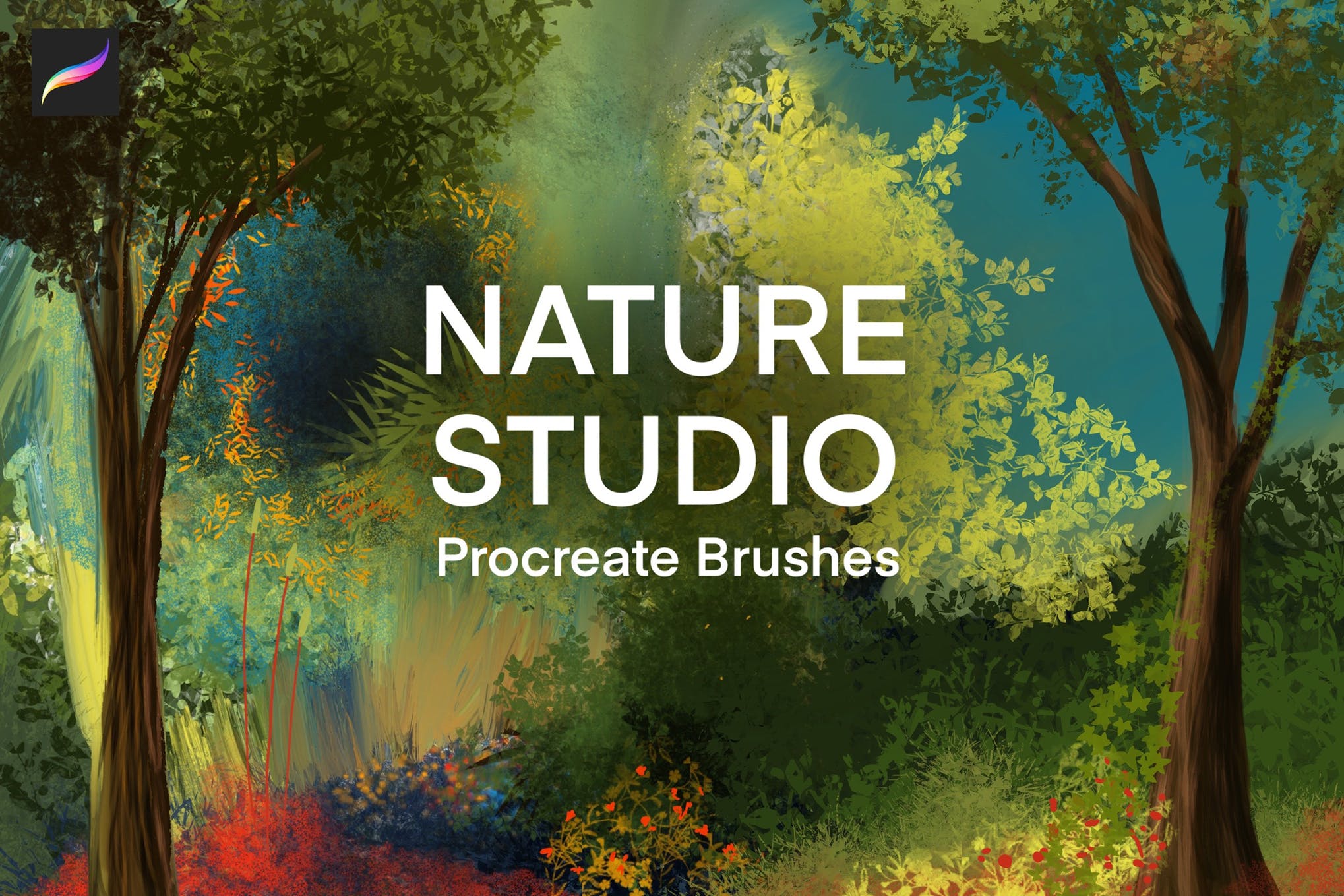 If you wish to see your landscape drawings come to life, the Nature Studio bundle consisting of trees, leaves, and grass brushes for Procreate can do it easily enough. It also offers a range of base brushes, helping you to sketch, smudge, and paint incredibly beautiful natural scenes.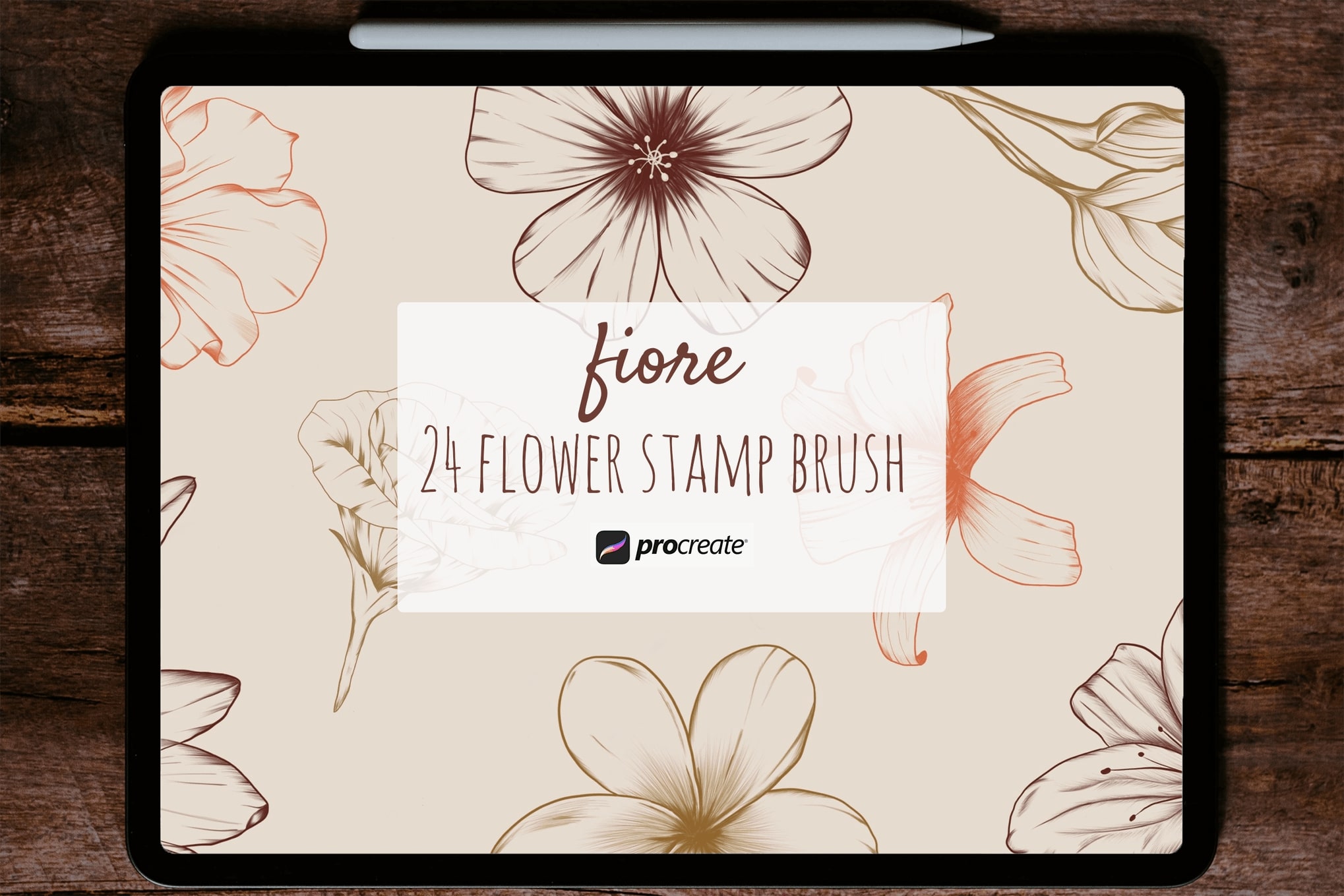 Created to provide artists the best setup for floral-themed projects, Fiore is a wonderful set of Procreate brushes that deserves a spot in your painting toolkit. While Fiore boasts an impressive assortment of flower brushes and a solid range of customization options, it's also easy enough for amateurs to use, and embark on their painting journey.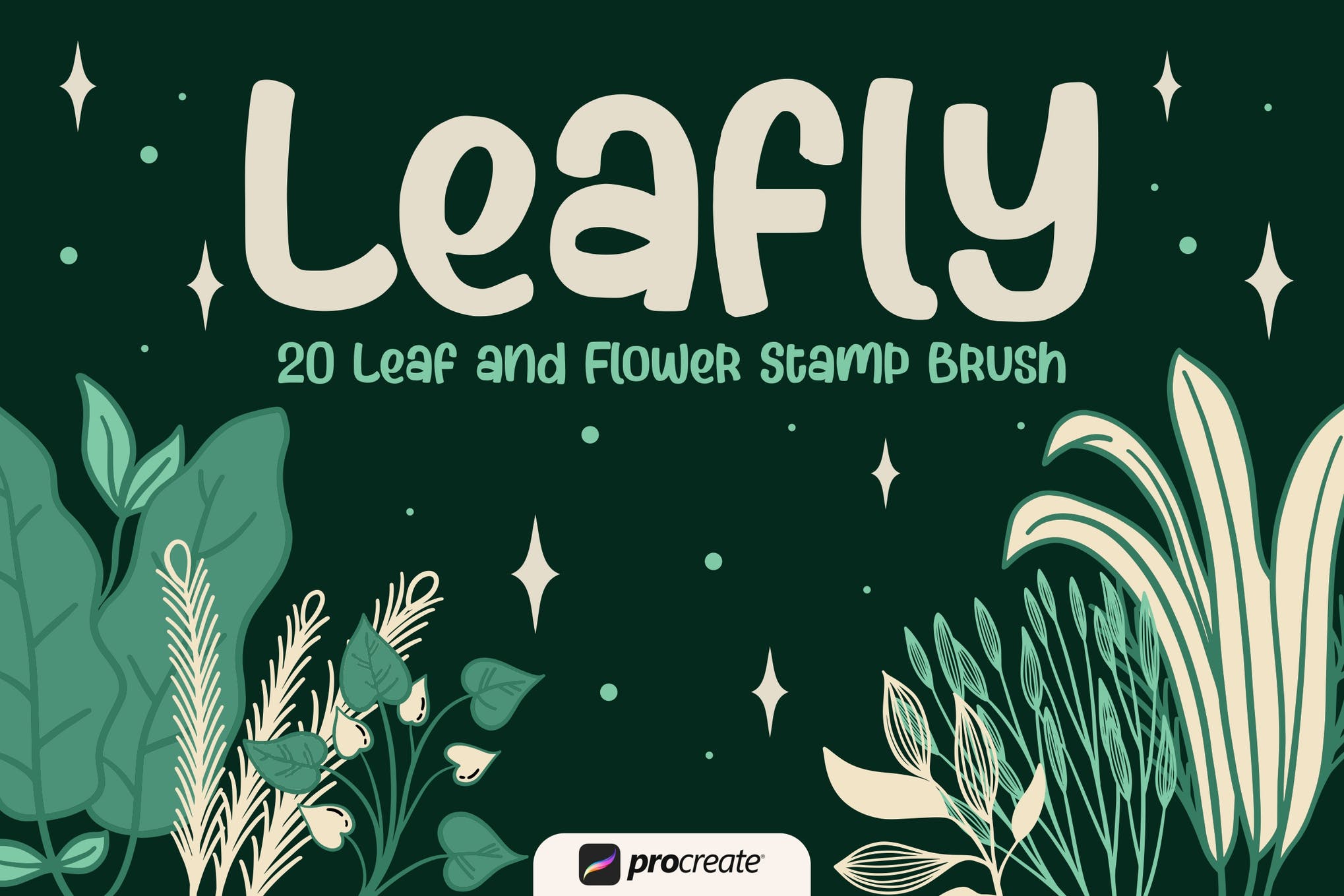 For serious artists looking for a kit that covers just about any leaf and flower style one can think of, Leafly is well worth checking out. Filled to the brim with remarkably flexible, and practical brushes, Leafly is guaranteed to become an indispensable, and treasured part of your toolbox.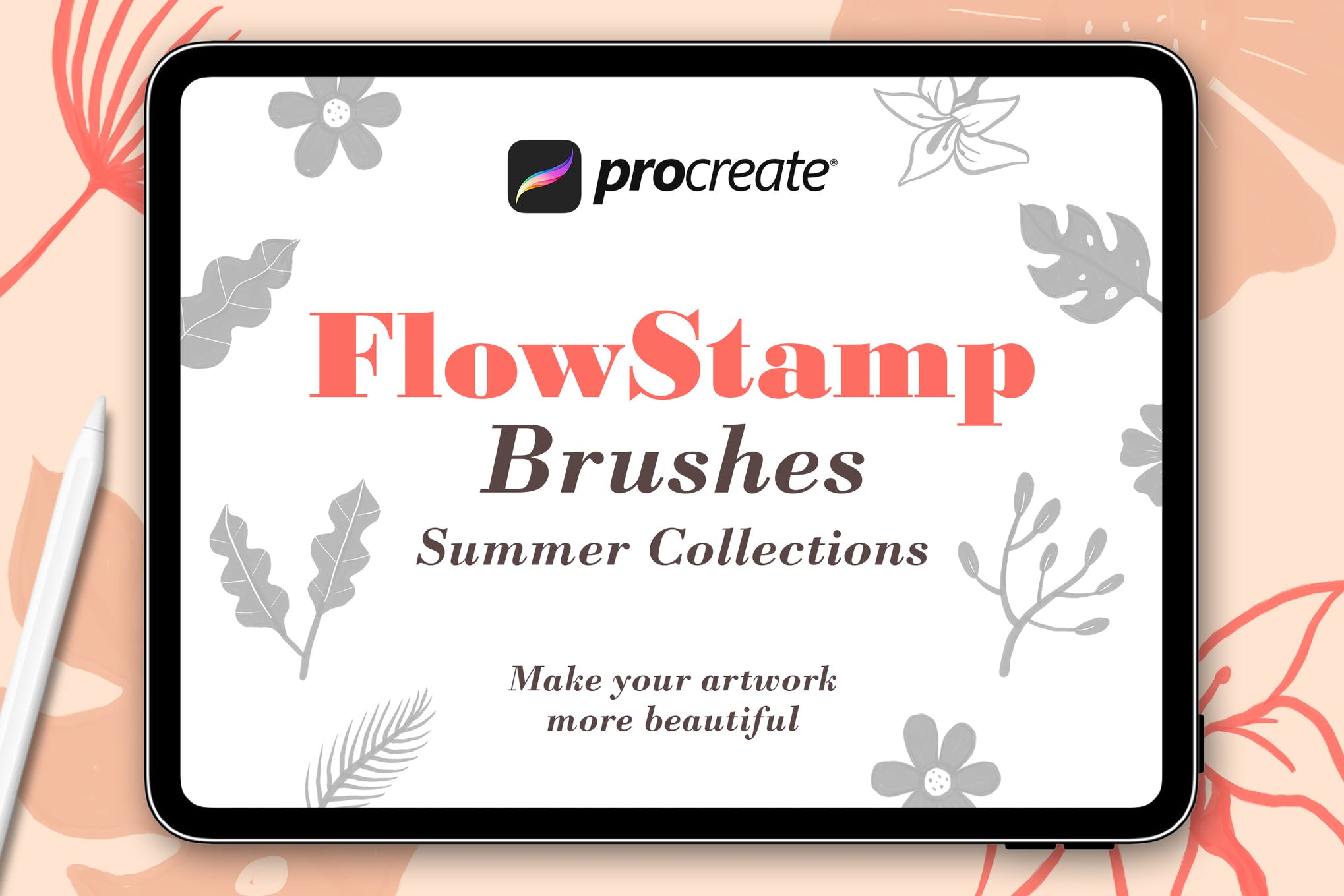 FlowStamp is perfectly suited for quickly creating flowers and leaves for the summer season. Whether you need to paint countryside scenes, design mobile back covers, or draw thank you cards, this Procreate package is the best bang for your buck.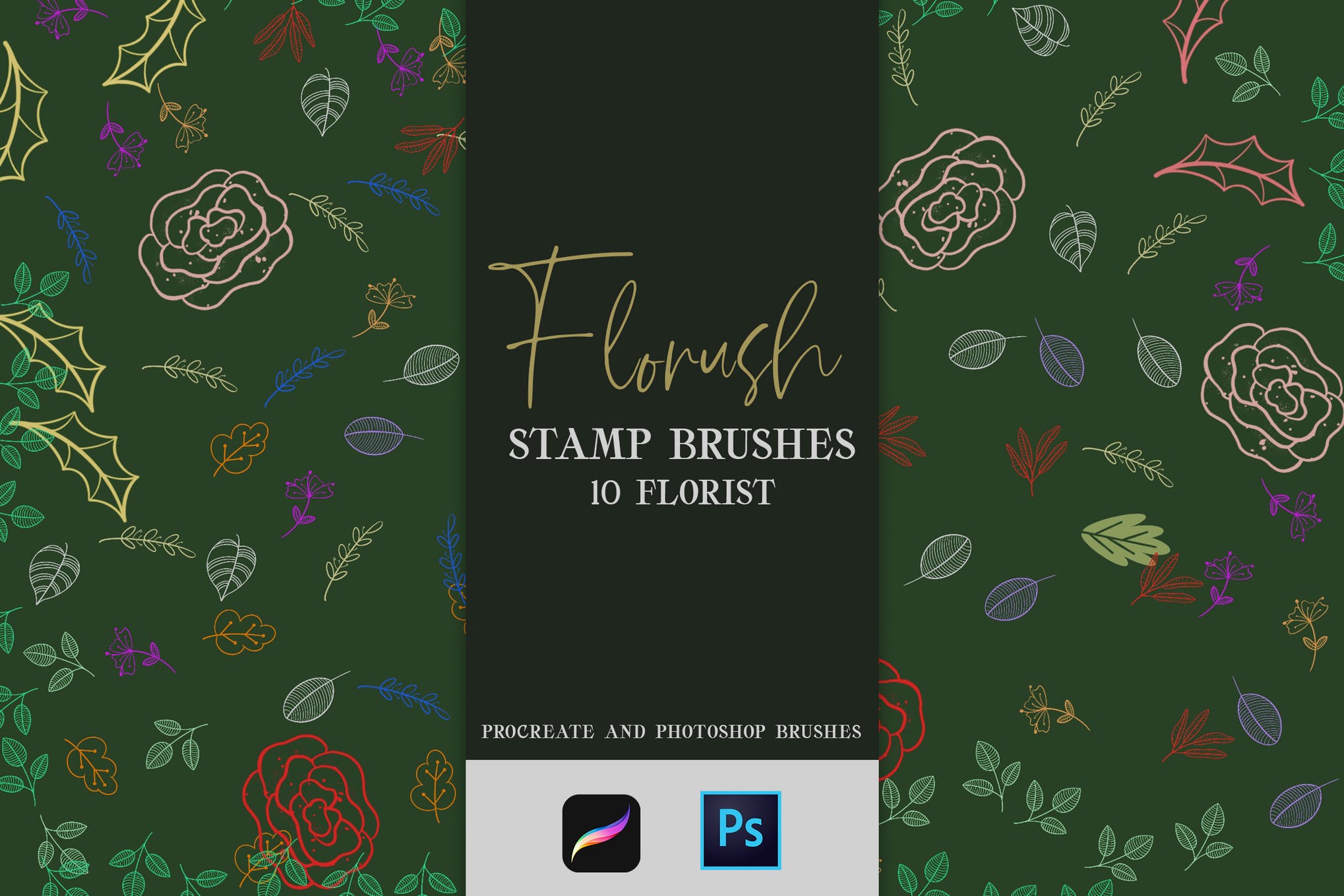 Featuring 10 delightful stamp brushes that you can use to create alluring compositions in Procreate, the Florush kit provides you the freedom to experiment with various flowers and leaves styles. With this product in your toolbox, the only thing that can keep you from creating your magnum opus is your own imagination.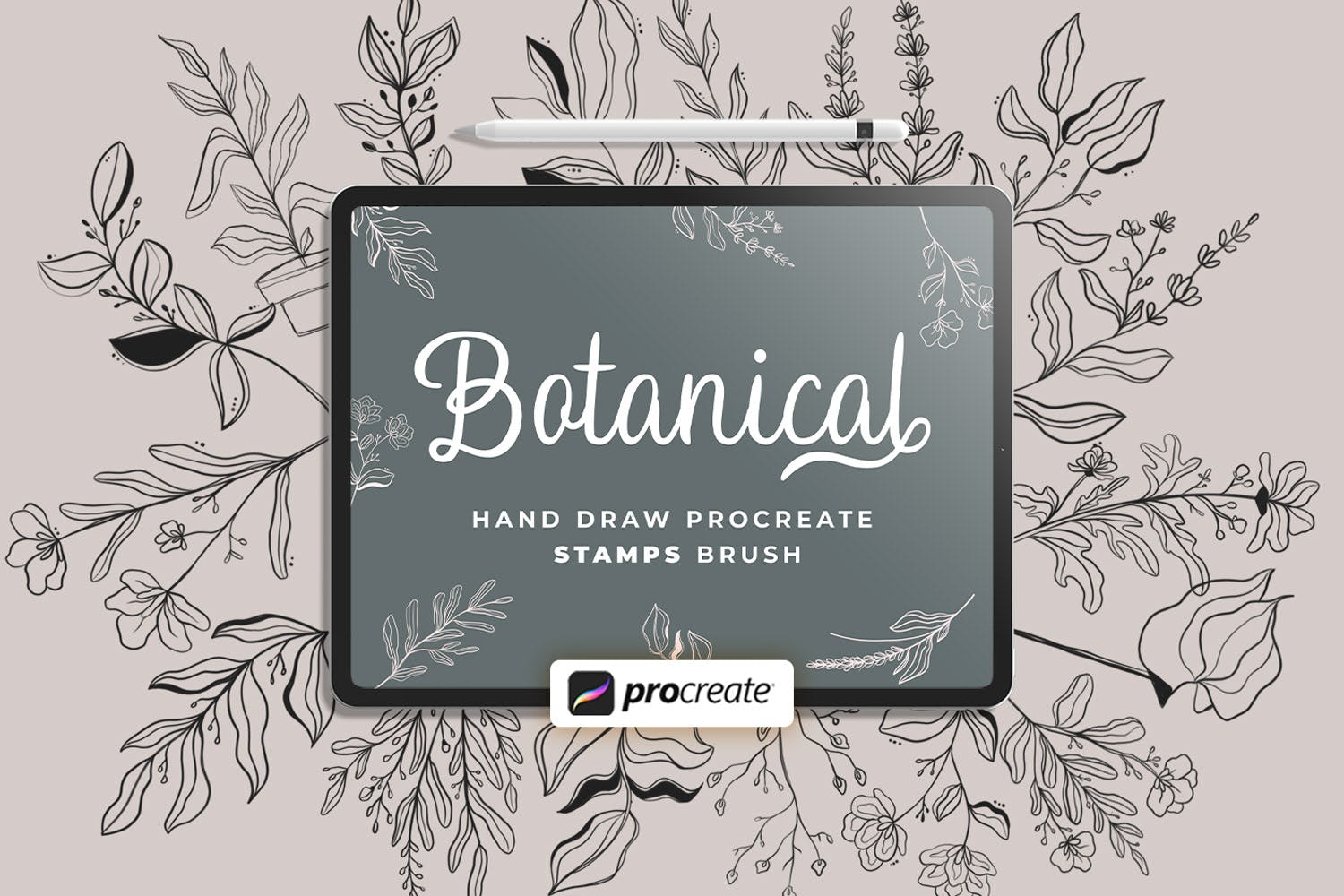 This kit comes with 27 flowers and leaves brushes which are very useful for beautifying your botanical-themed projects. The best part is that whether you are a pro artist or just dabble in digital painting, this collection will help you achieve a natural painterly effect with ease.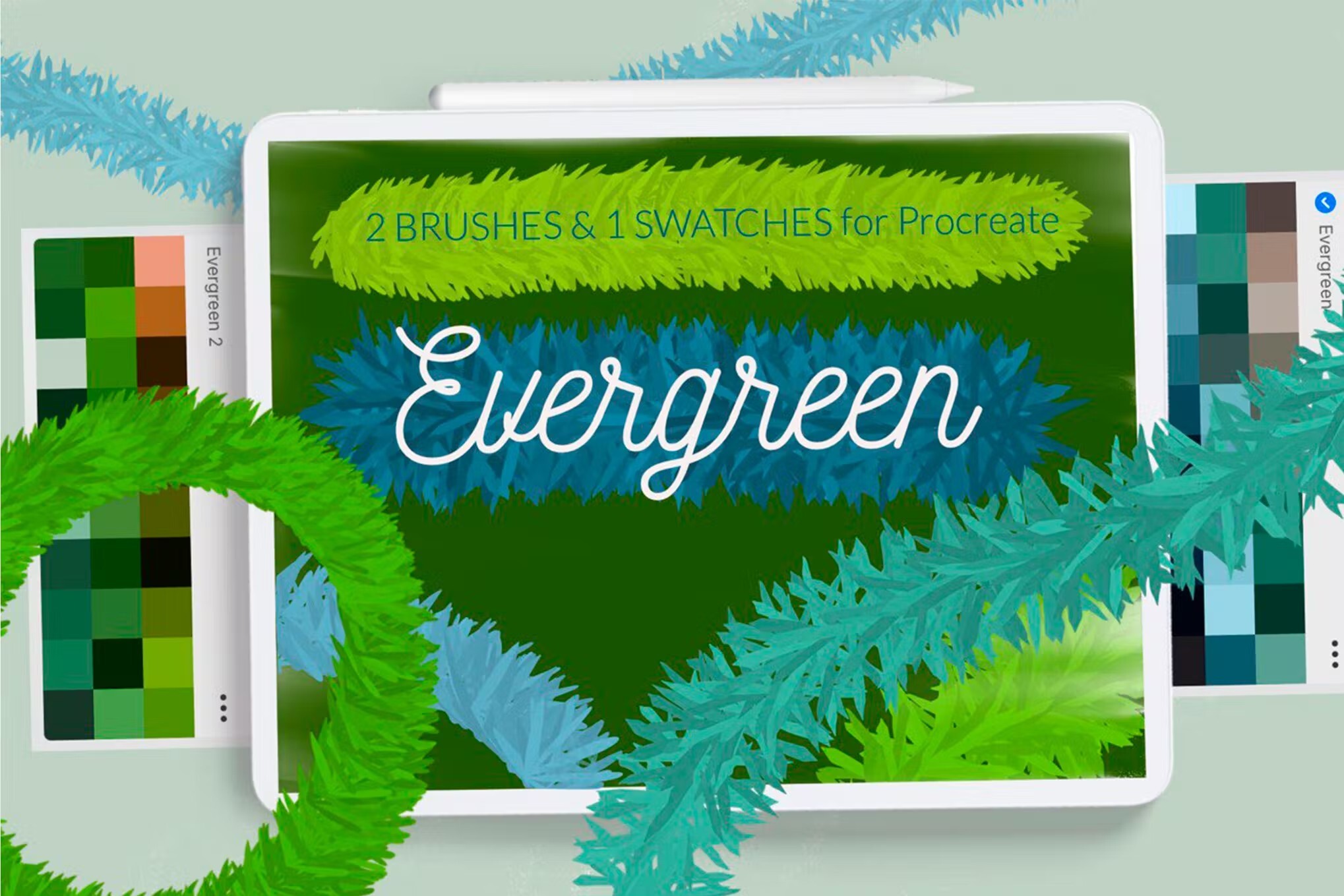 This collection includes brushes and swatches for Christmas tree. Perfect for your digital art drawing, greeting card creation, wall art, posters, social media decoration, and more.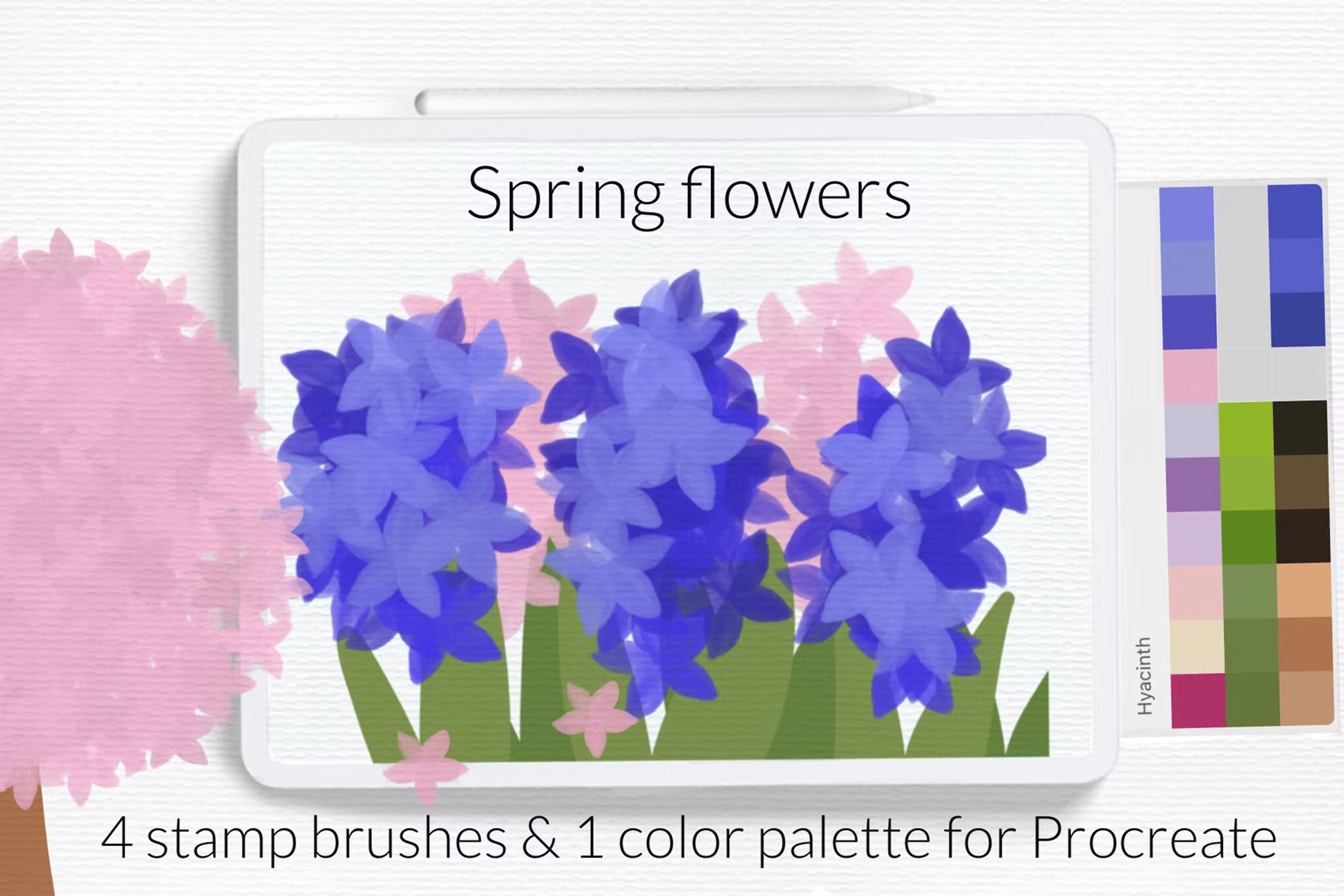 The spring blooming collection includes 4 stamp brushes and 1 color palette for your digital illustration on iPad. Use this set to create spring blooming hyacinth, lillac or blooming trees like sakura, apple tree, peach in a minute.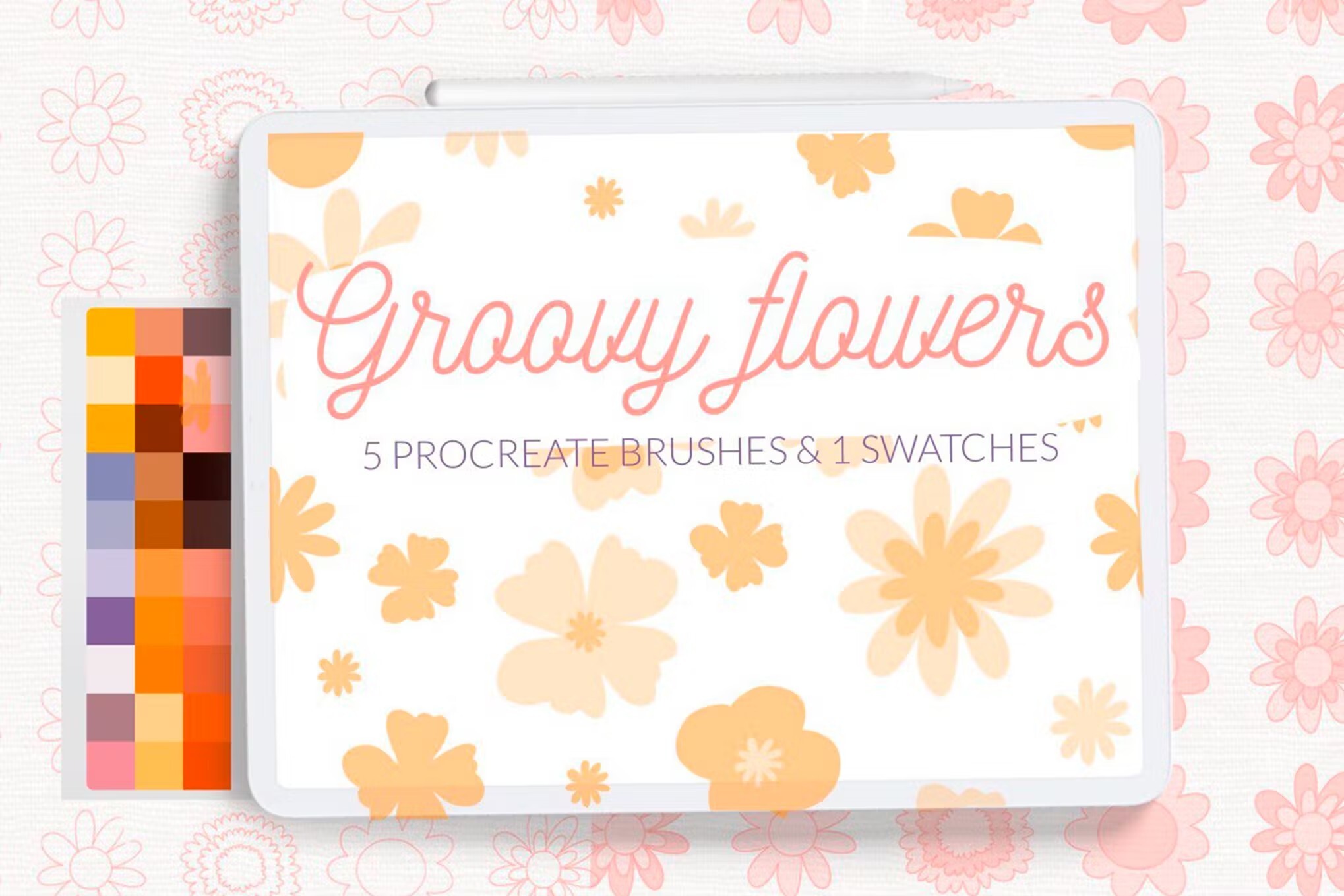 Here we have a fabulous collection of Procreate brushes that will allow you to draw groovy flowers on the digital canvas in just a few easy clicks. Don't hesitate to check it out.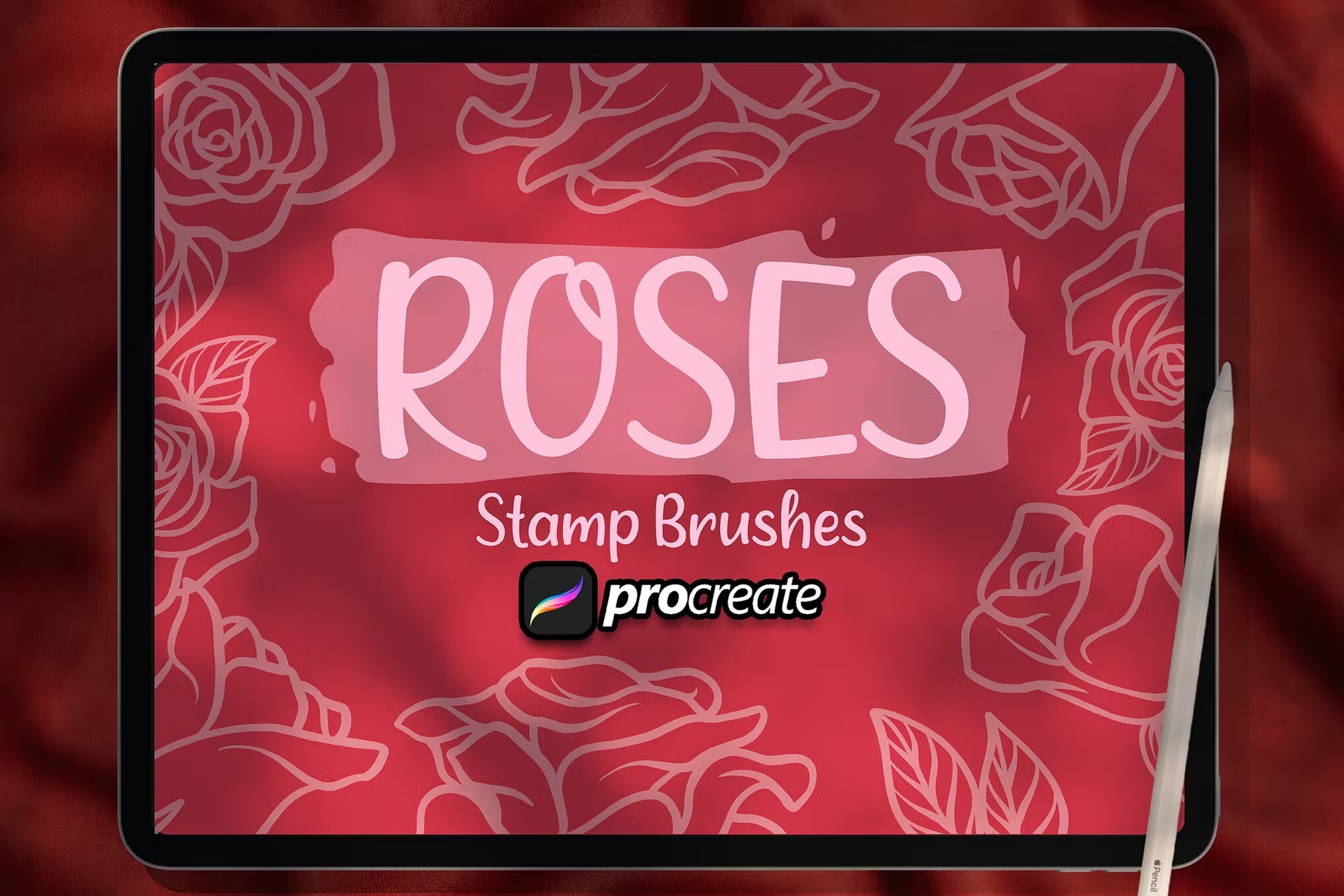 In this package you will find everything you need – there are beautiful rose stamp brushes for making logos, illustrations, or special backgrounds!. Using a brush is very simple – just place the brush strokes and select the appropriate brush from the brush panel.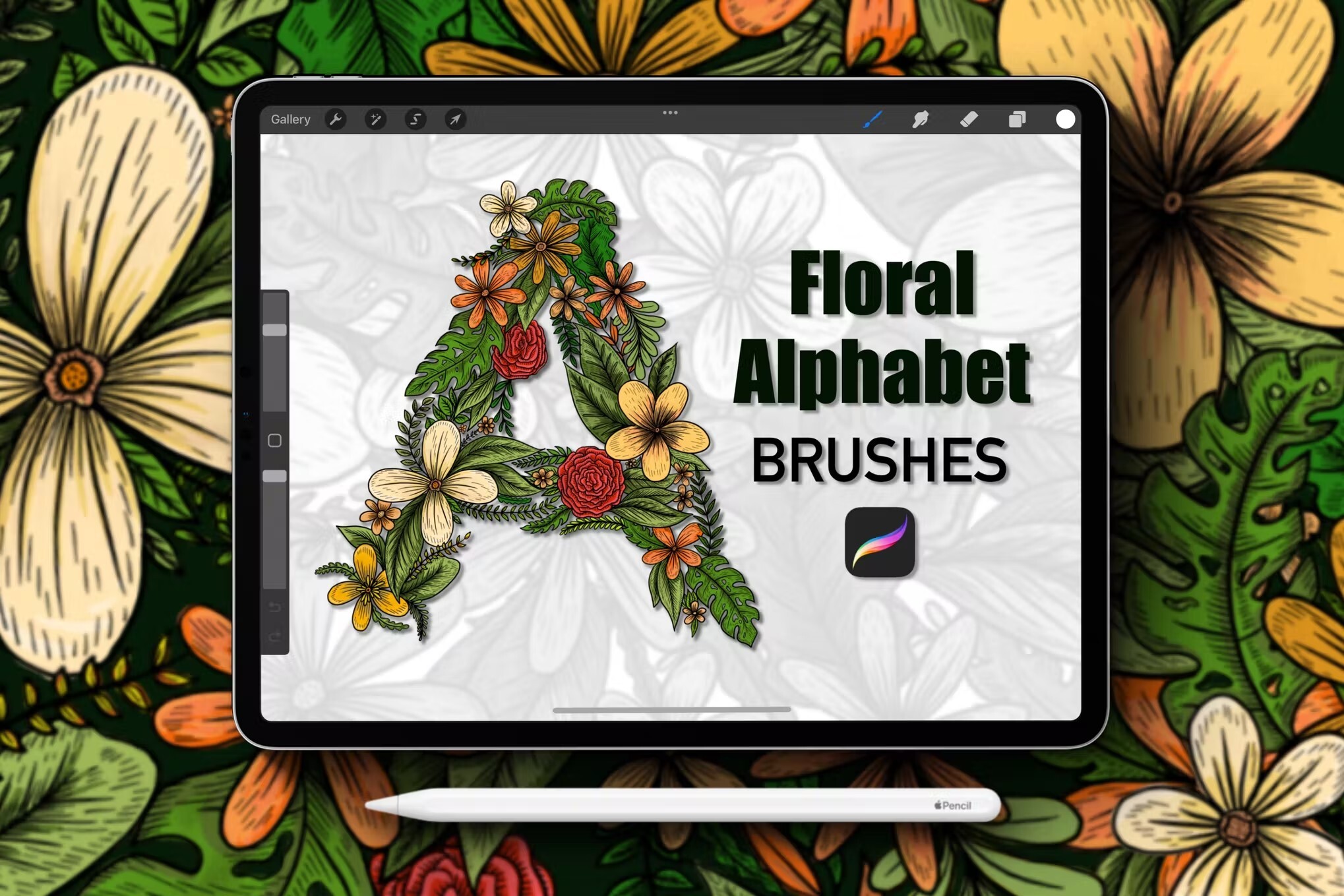 Check out this set of Procreate brushes that can be used to create floral alphabets in an easy breezy manner. These stamps are not pressure sensitive and can be used with third party stylus and you can change the size , opacity and colour of each stamp.
Free Flowers, Trees & Grass Brushes for Procreate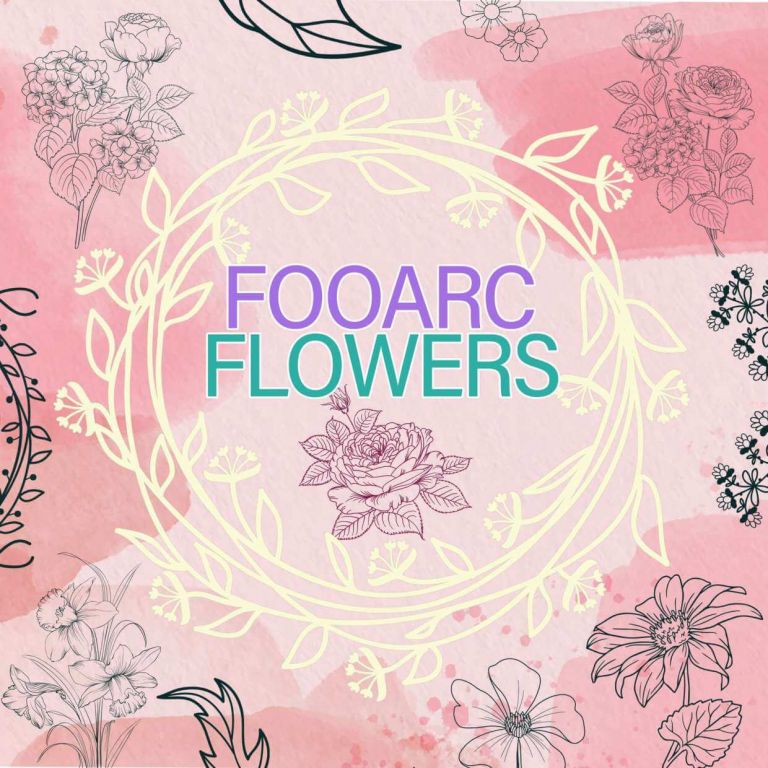 The 30 brushes featured in this Procreate collection work swimmingly for all kinds of floral-themed artworks. There are different types of flowers with beautiful shapes, and customization options, allowing you to play with the elements and create something truly out worldly.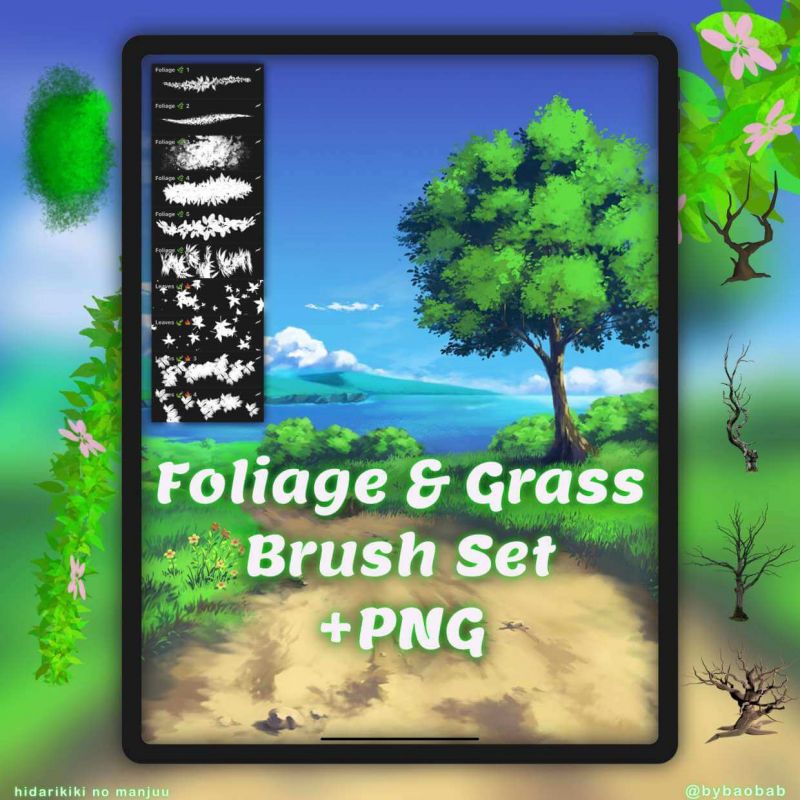 For your nature and environment themed painting, this Procreate freebie can be of great help. The product contains a range of brushes that will help you quickly create realistic grass and foliage on the digital canvas and is fondly regarded as the best Procreate grass brushes by its existing users.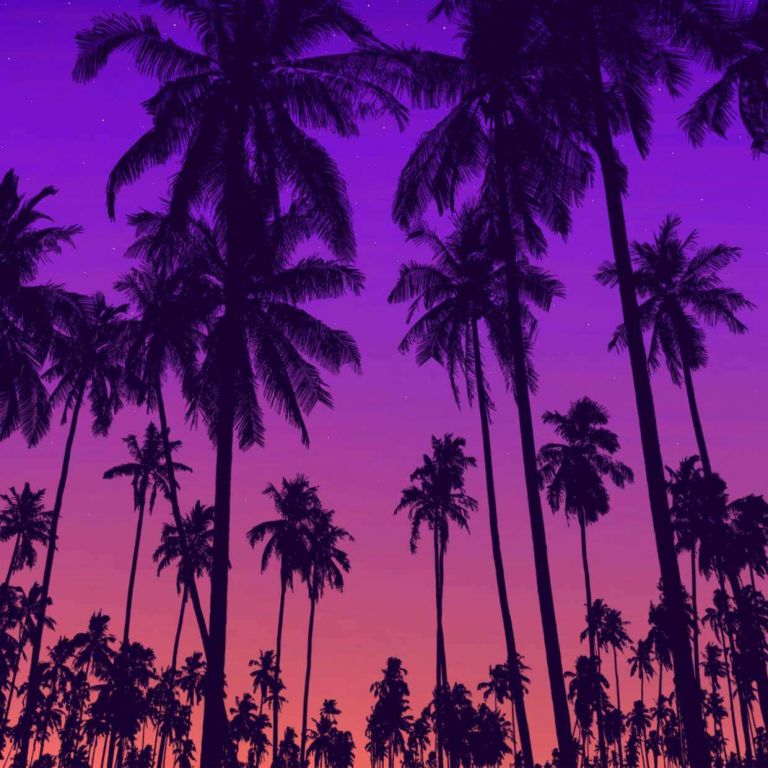 This is such a marvelous collection of free Procreate tree brushes that are not just very simple to use but also fun to work with. This item is especially useful if you're painting forest scenery with beautiful mountains, and pine trees.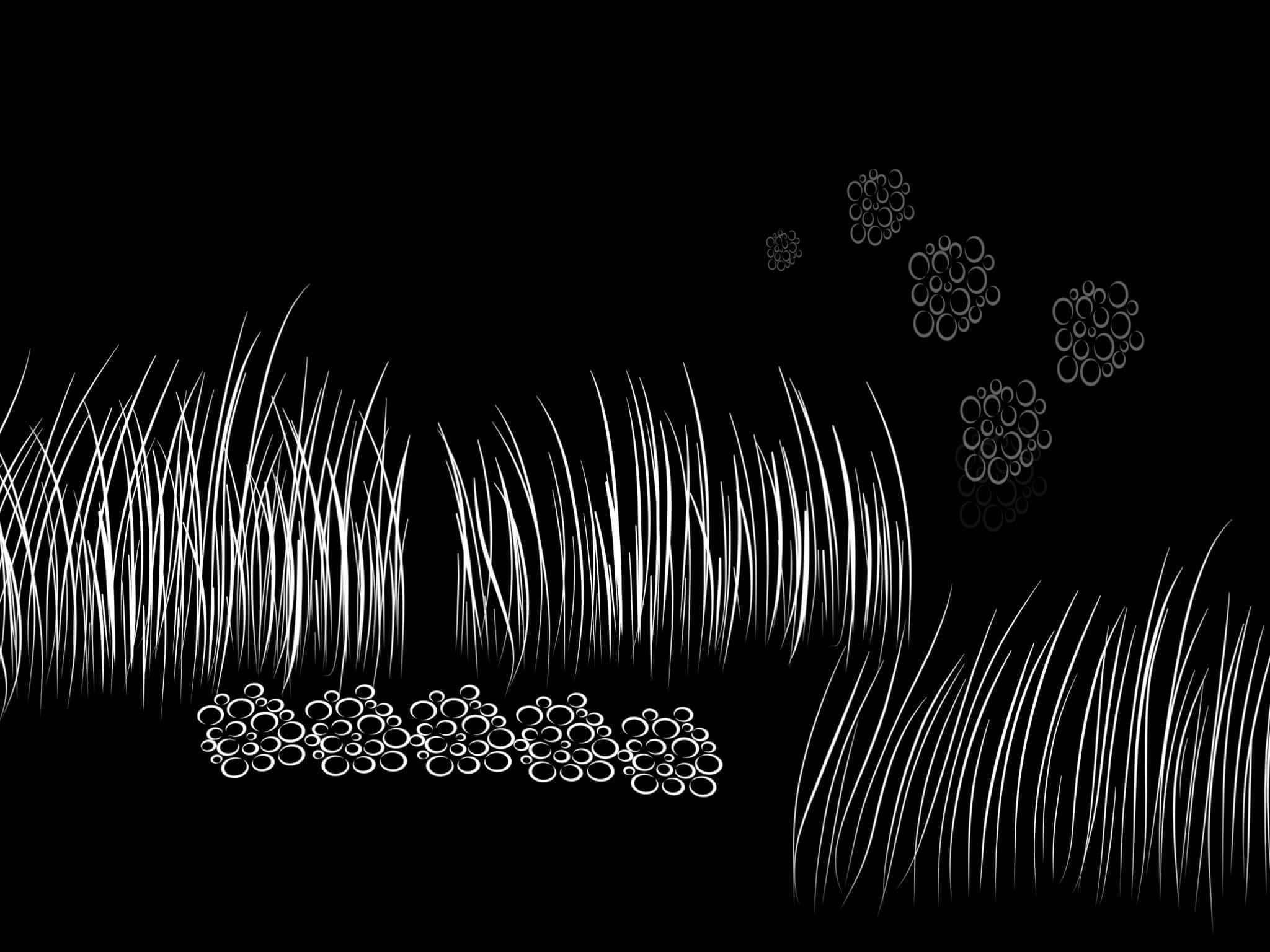 For adding an ornamental decor to your designs, this bundle of Procreate grass brushes and pebbles is a fantastic choice. It's not everyday that you get a product as amazing as this one for free, so we'd recommend you get your hands on it ASAP.