30+ Best Photoshop Text Actions 2021
In a world where instant gratification has become a way of life, people don't stop to read (or even notice) things unless they really jump out and demand attention. So if you've got something to say, how do you make sure the world is listening?
Say goodbye to boring fonts and dull typefaces, and transform the way you communicate with pre-made, professionally designed Photoshop actions, specifically designed to bring your words to life and grab your audience's attention instantly. And there are so many of these actions available that we've decided to make things even easier for you by compiling a list of the most unique and effective ones.
Here are the best Photoshop text actions for you to choose from.
Get everything you need to supercharge your Photoshop workflow. From just $16, get unlimited access to thousands of Photoshop actions, Lightroom presets, templates, graphics, fonts and photos.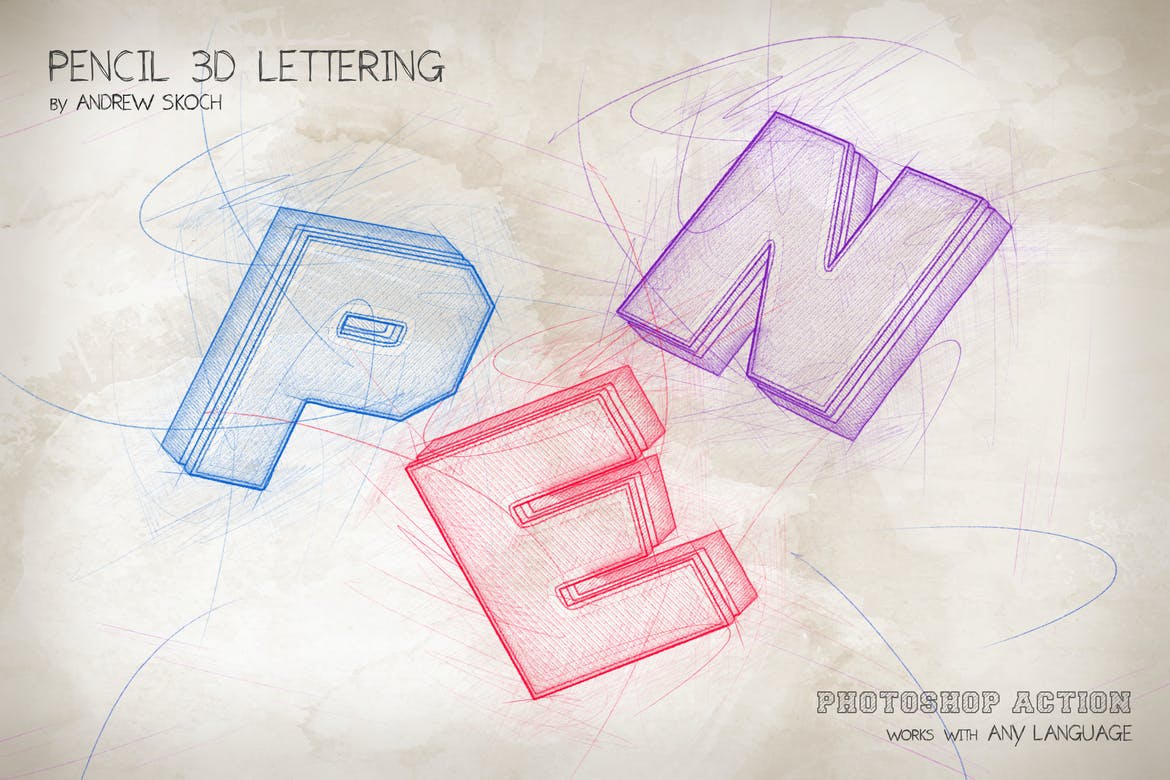 This amazing and super versatile Photoshop text action will turn your words into a realistic-looking three-dimensional pencil sketch in a variety of colors, and with several depth directions to choose from. It works on a range of elements, from text to logos to pixel layers and smart objects.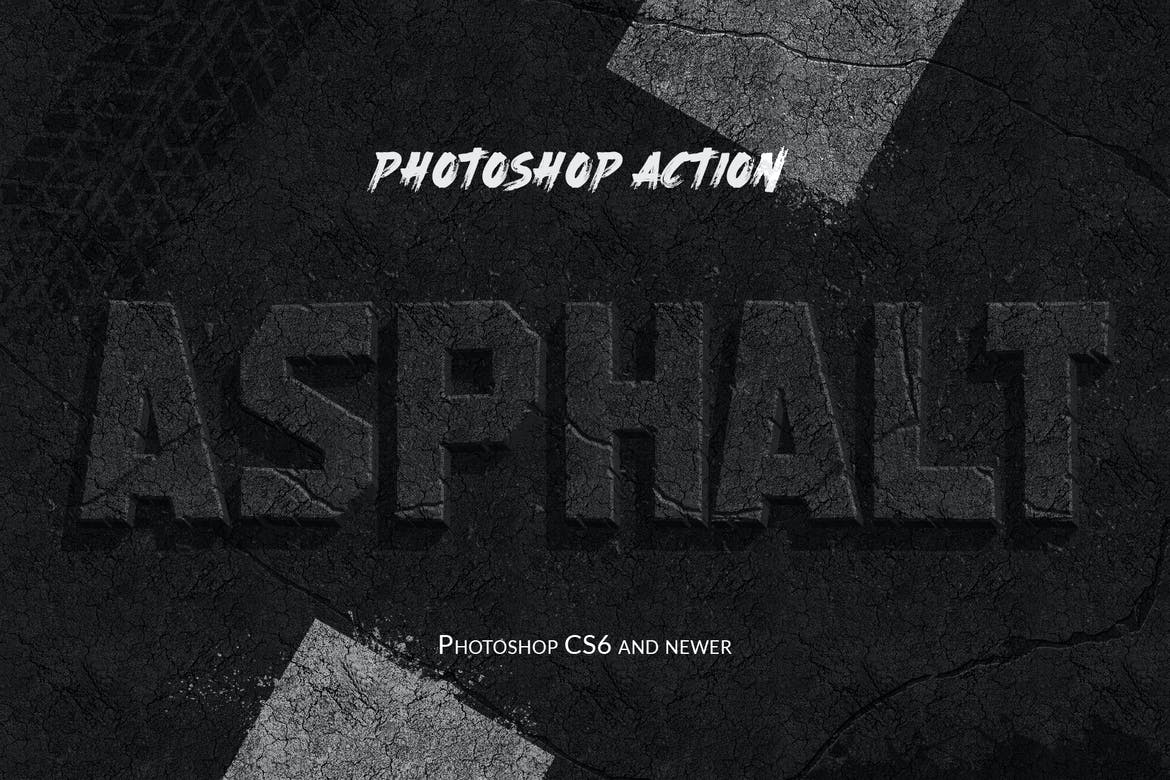 As the name suggests, the Asphalt Photoshop action will turn your text into an authentic asphalt or stone imprint, and offers several different effects for you to mix and match, including dark, medium, and light stone effects, plus classic asphalt and even red stones!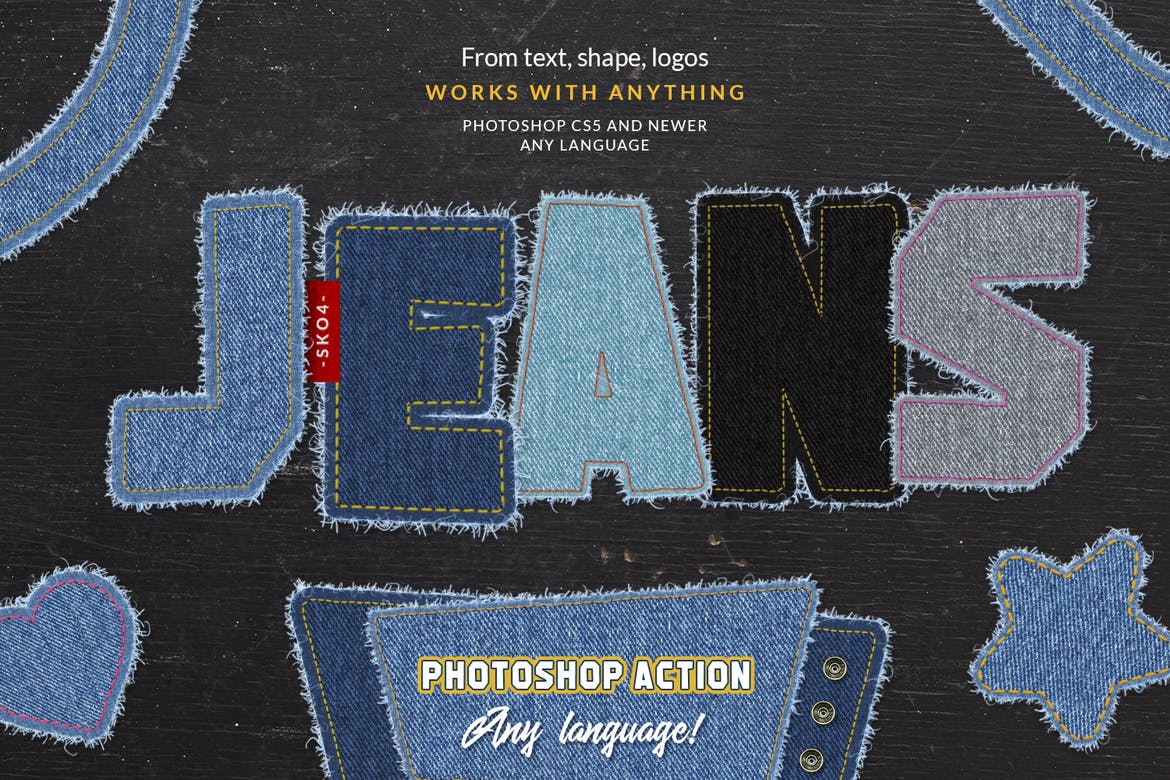 Perfect for those who love arts and crafts, or simply for your next creative print project, this Photoshop text action will transform your titles and logos into torn up pieces of denim fabric in a range of colors and textures. There are even different edge lengths and stitch sizes to choose from.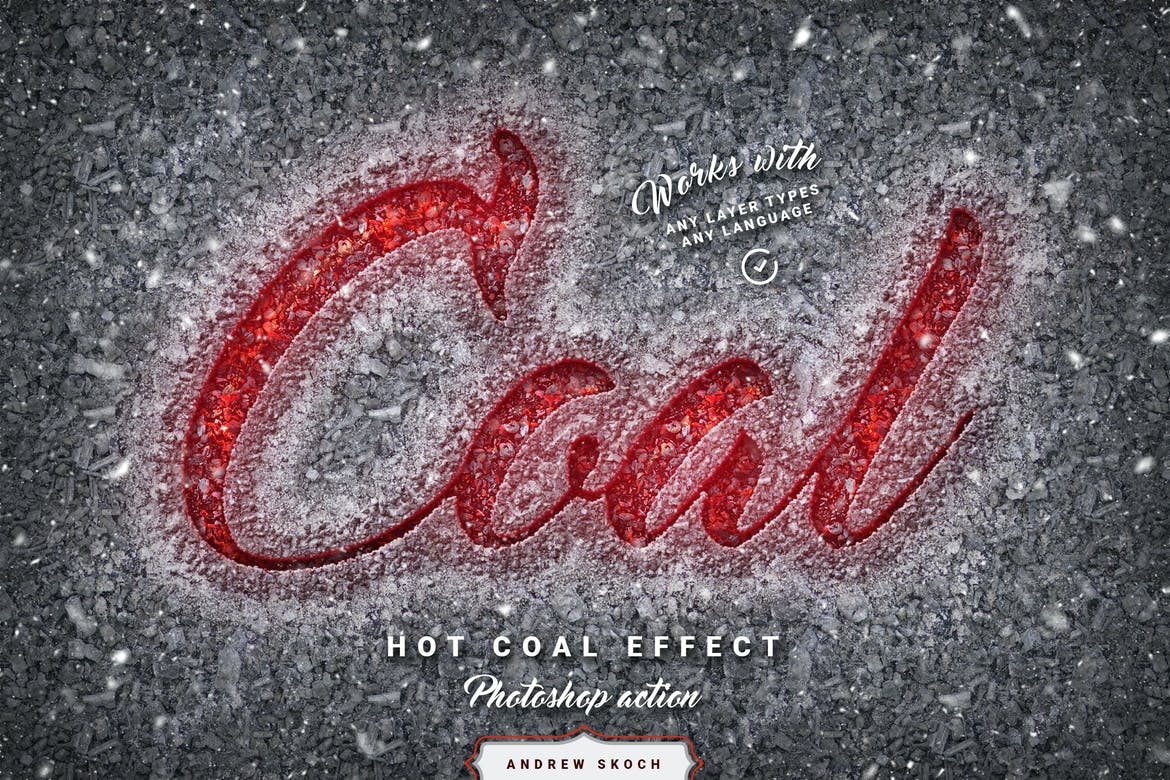 Next in our list of the best Photoshop text actions is Hot Coal, which does exactly what it says on the tin – turns your text into hot coal that looks as if it's about to burn right through your screen! It works with any layer types and is compatible with Photoshop versions CS3 and newer.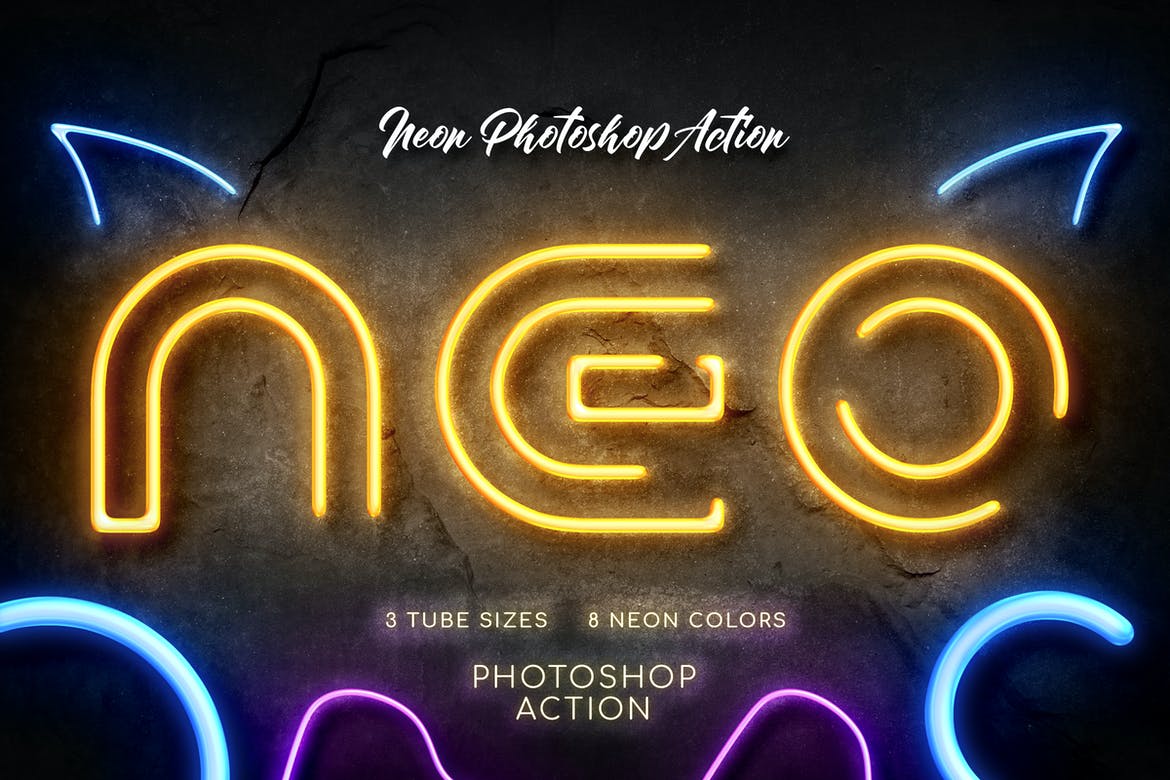 For a stunning neon effect that can be customized to suit either futuristic science fiction inspired projects or a retro 80's themed creation. It offers eight different neon colors and three unique tube sizes for you to mix and match, giving you endless neon possibilities!
The next of our amazing Photoshop text actions will allow you to turn your text into a sprinkling of flour or powder, which is otherwise incredibly difficult to replicate! It works in just a few clicks and promises high-quality, realistic-looking results.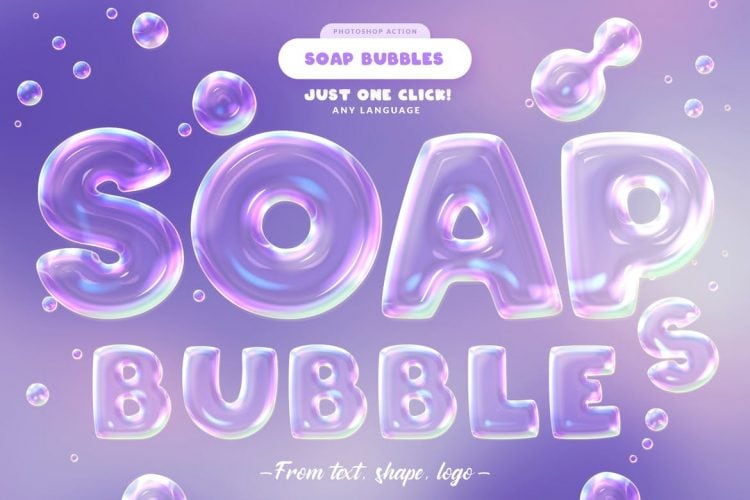 Transform your text into soap air bubbles with this quirky Photoshop action! There are options for small and large bubbles, as well as simply adding a rounded bubble effect to your font of choice. The shiny, reflective finish makes the lettering really pop out from the screen.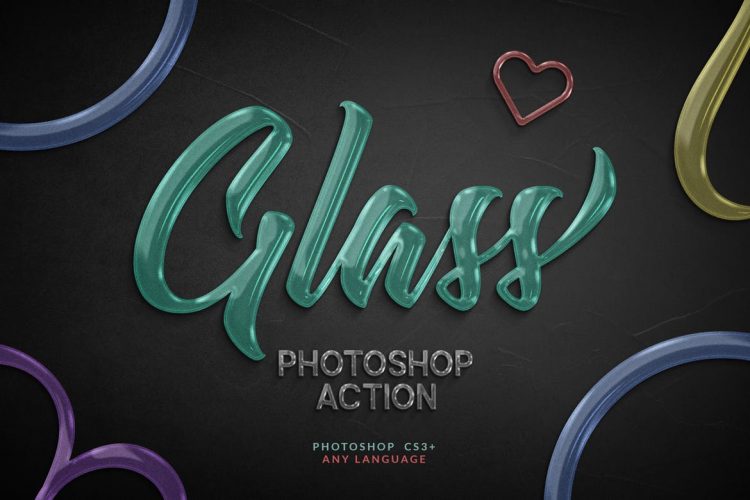 Emulate the look of glass with this aptly-named action. It gives your text a three-dimensional glass-like quality, with many different color settings as well as sizing options, light functions, and shadow directions. You can even choose between a transparent and matte finish.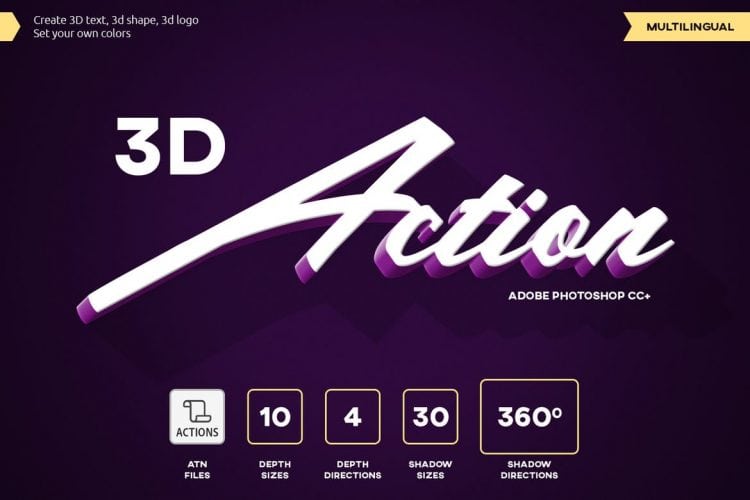 This multipurpose action will transform your text into three-dimensional objects and includes a huge variety of customization options, making it a highly versatile choice. You can set your own colors, so it's ideal if you're needing to match corporate branding, and can be used on other object types as well, such as vector shapes and smart objects.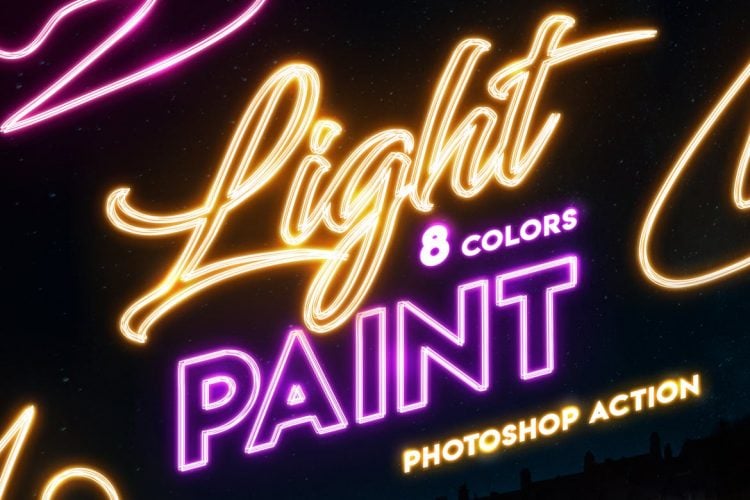 Your words will take on the effect of a shutter speed photo with the Light Painting Photoshop text action, which will give it a cool neon glow in your choice of color. For a true retro vibe reminiscent of an eighties nightclub, pair your light painting text with a dark background.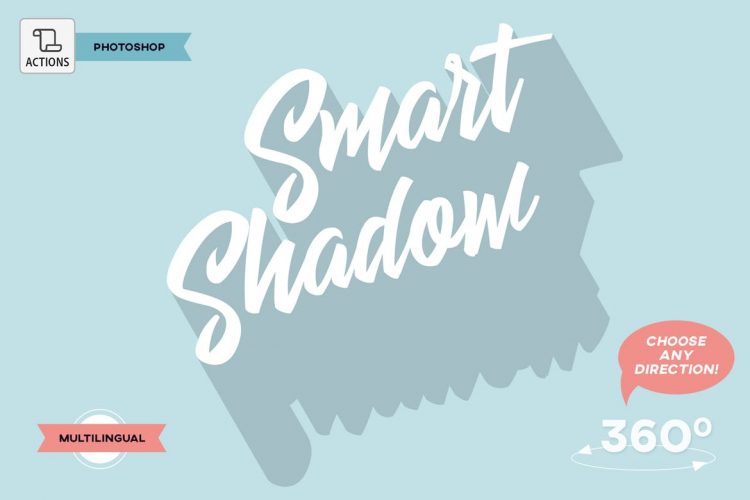 This action can be applied to any object or layer but is particularly effective when used with text. It provides options for solid and transparent shadows, with a 360 degree global light setting and direction customization option.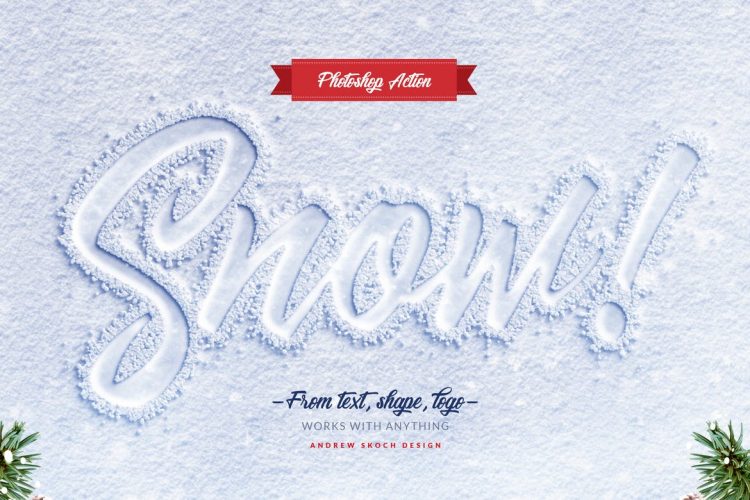 One of the most festive Photoshop text actions, this effect makes your words look as if they've been written in the snow. It includes additional settings to depict text written with snow on red salt, or with snow on an icy surface.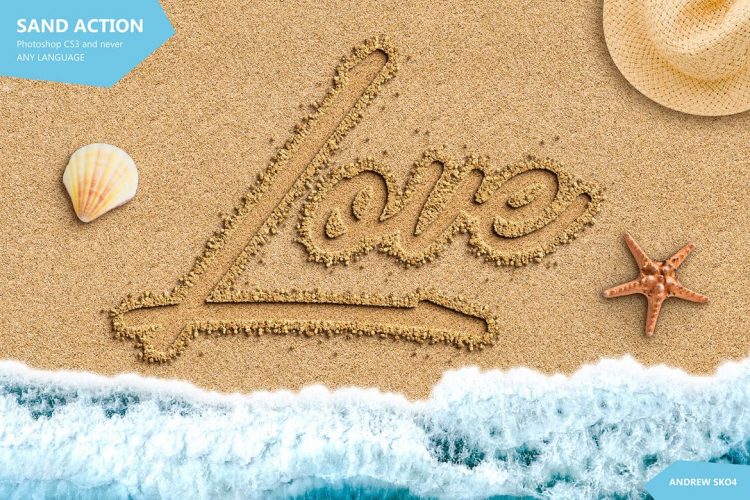 A similar concept, but for a different season, this action simulates the effect of text written in sand. A fabulously summery way to write greetings and headings, the tool includes different brush styles and patterns for an authentic and unique result.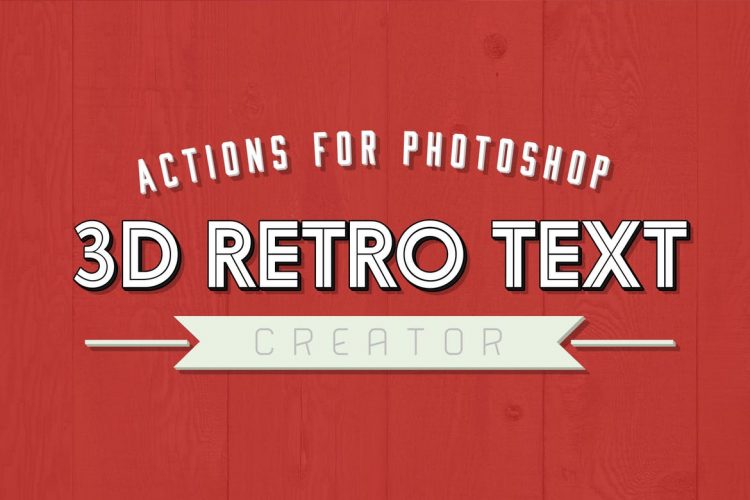 An effective three-dimensional filter with a retro spin, this action is a great way to turn your dull, flat text into beautiful typography that jumps out of the page. It offers different settings for shadow direction, several text styles, and sizes, and can be applied to multiple layers or grouped objects.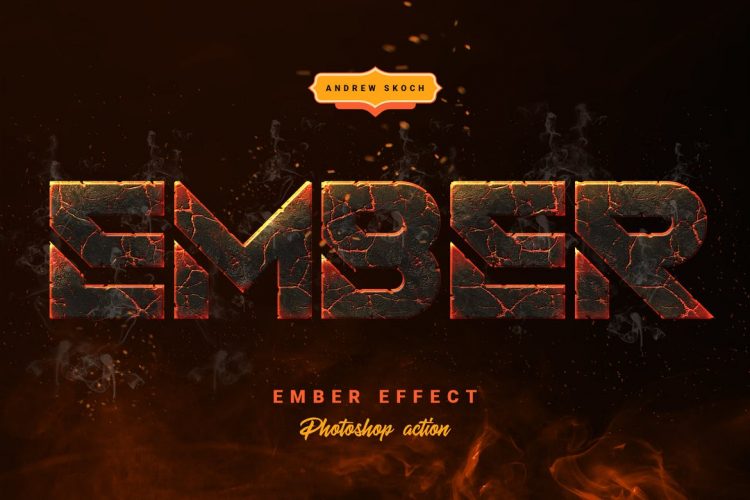 Set your words alight with this smoldering Photoshop action, which emulates the effect of burning embers. There are different styles and color tones to choose from, and it looks equally effective on bold, chunky lettering as it does on fine, delicate font styles.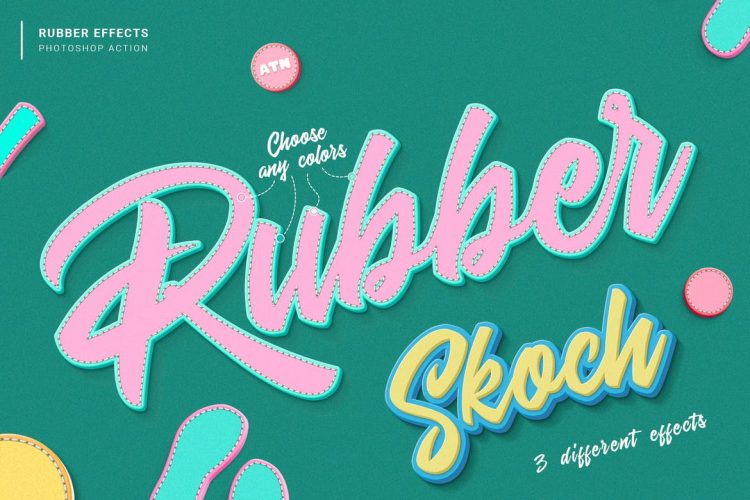 This cute, fun effect turns your text into rubberized lettering, with different color options for the base, stitch, stroke, and edge of each letter. You can also choose alternative stitch sizes and set the shadow direction as desired.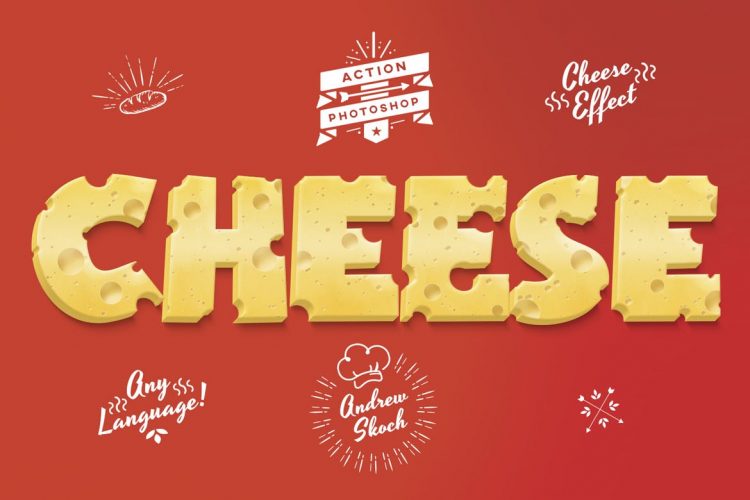 The Cheese Photoshop text action is a quirky way to customize your lettering, and the results look good enough to eat! It includes several different cheese styles for you to choose from and is a winning choice for any food bloggers or cooking enthusiasts.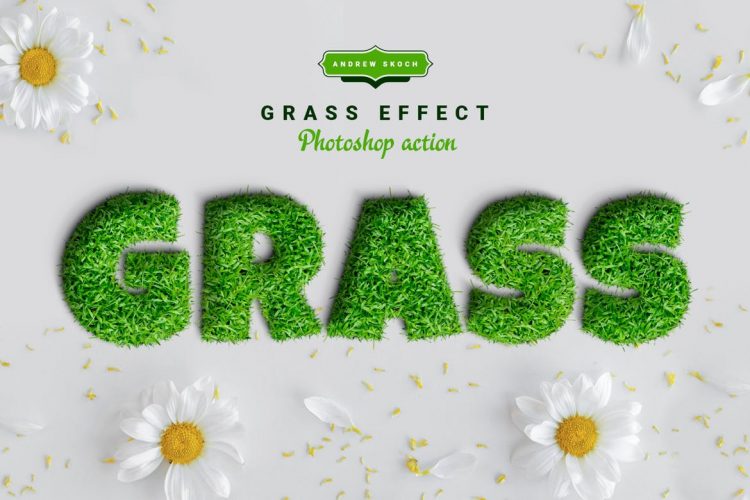 This hyper-realistic effect can turn your text into a patch of grass in only a few clicks. Choose from the green grass, red grass, autumn grass, or tropical grass, and watch the results grow before your eyes! This action is perfect for landscape designers or any businesses within the agricultural industry.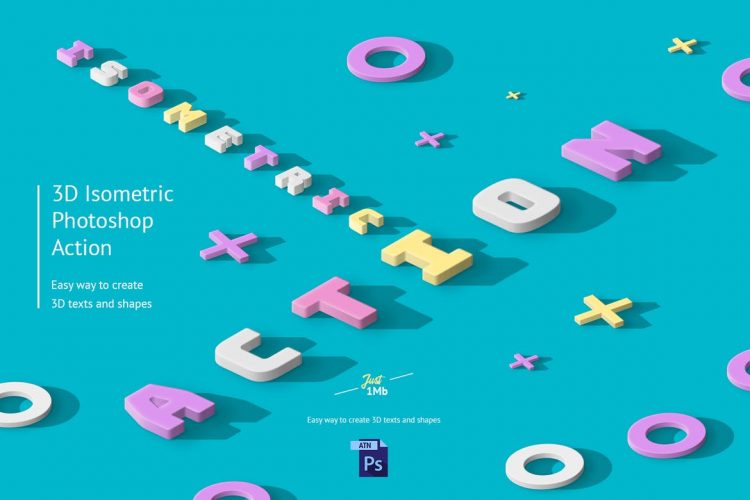 Another example of three-dimensional Photoshop text actions, this option is one of the most versatile. It allows you to choose your own color and font and provides extensive customization settings, including extrusion sizes and shadow directions. The result is highly detailed and ultra-realistic.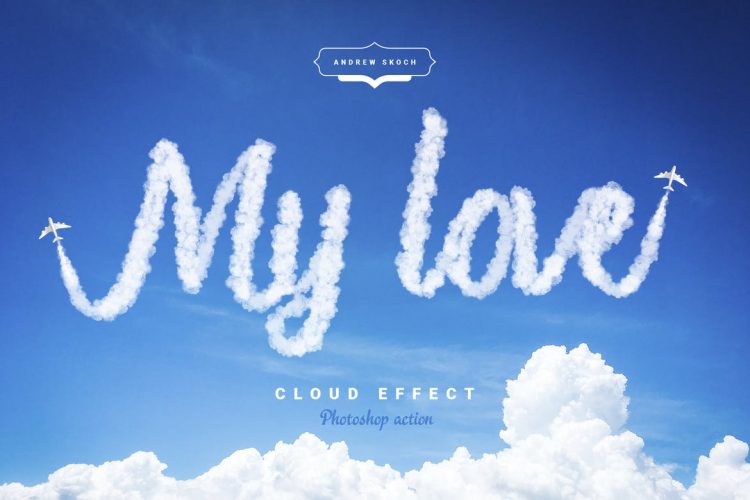 This skywriting Photoshop text action is a fun and unique way to get your message across! It depicts your text as if it were written in the cloud across a bright blue sky, and can be used for a wide range of purposes, from advertisements to romantic gestures.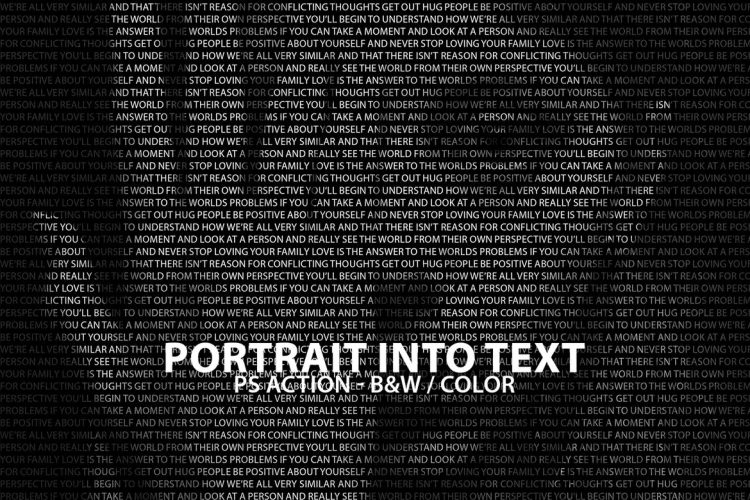 Effective when used with both black and white and color photos, this action does exactly what it says and turns a portrait into lines of meaningful text. This can be used as a marketing tool or to get across a message that otherwise would be difficult to write in a concise and noticeable way.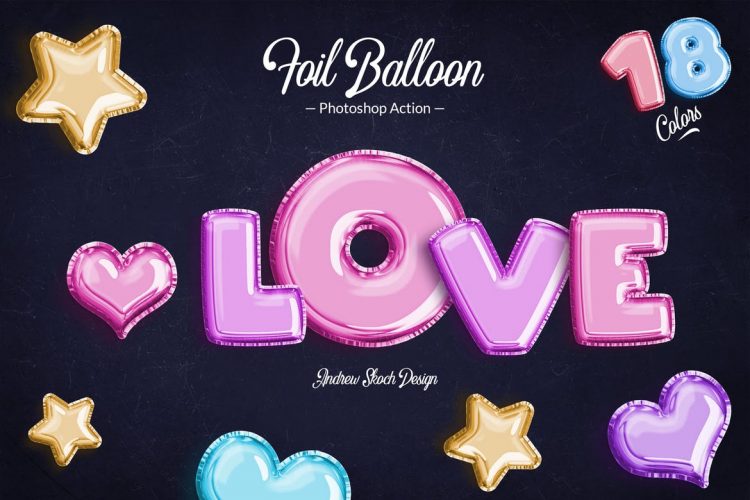 For a fun and playful effect, the Foil Balloon Photoshop text action turns your words into big metallic balloons! With a huge variety of colors to choose from, this tool is a brilliant way to send a message on any occasion and can be used with other types of objects as well as text.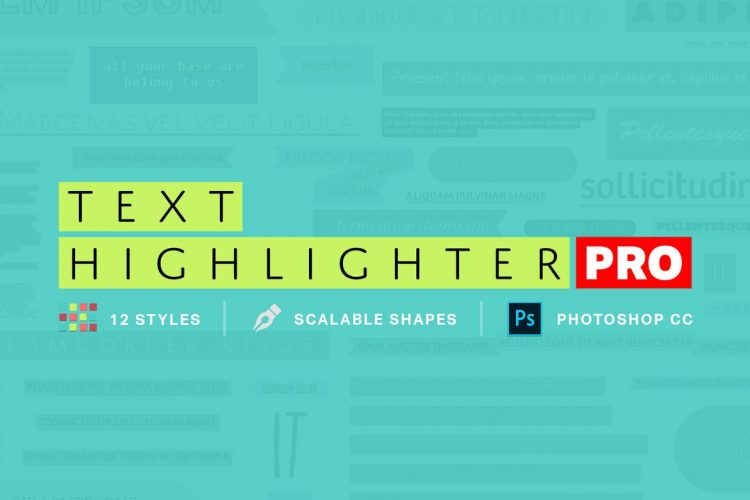 While this tool sounds fairly basic, it includes many different variations that can be used to apply a highlighting effect to your text. It's a great way to create eye-catching, colorful headings and to emphasize quotes or key messages within a larger context, such as on a pamphlet or longer publication.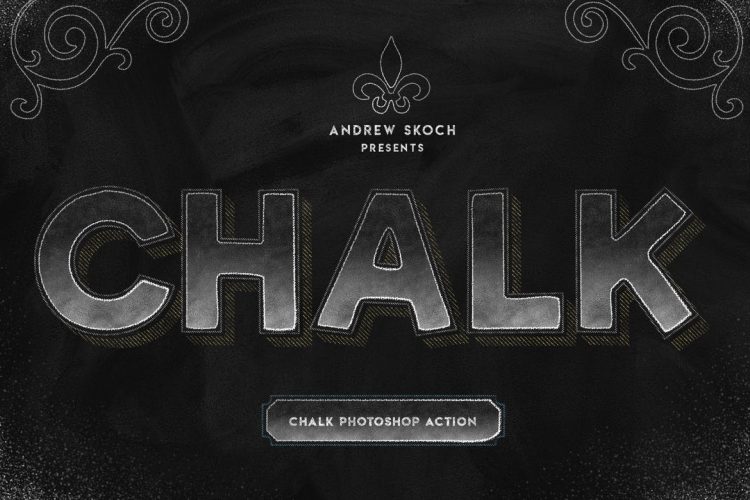 Ideal for rustic and school-themed creations, this action imitates the effect of chalk on a blackboard, but without getting dust all over your hands! You'll feel like a kid again as you play around with the different colors, fills, and outlines that can be applied.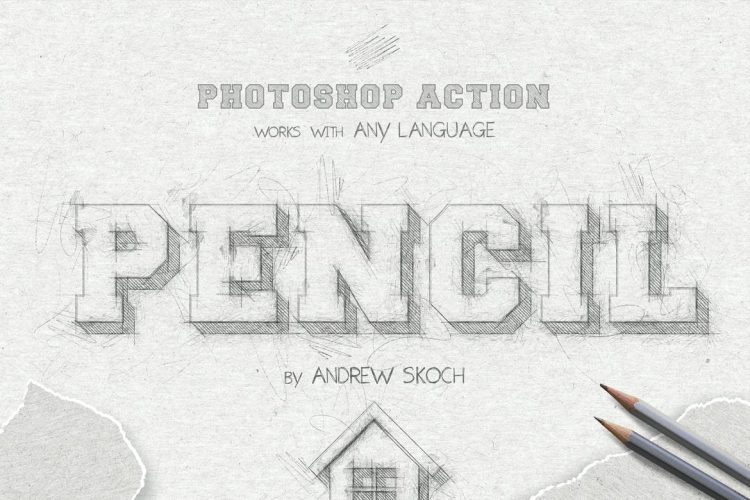 Turn your text into a realistic looking pencil sketch with this fun Photoshop text action, featuring four unique effects – three dimensional, scratched, sliced and blueprint style pencil sketches. It can be used with any language and can also be applied to vector shapes, pixel layers, smart objects and folder groups!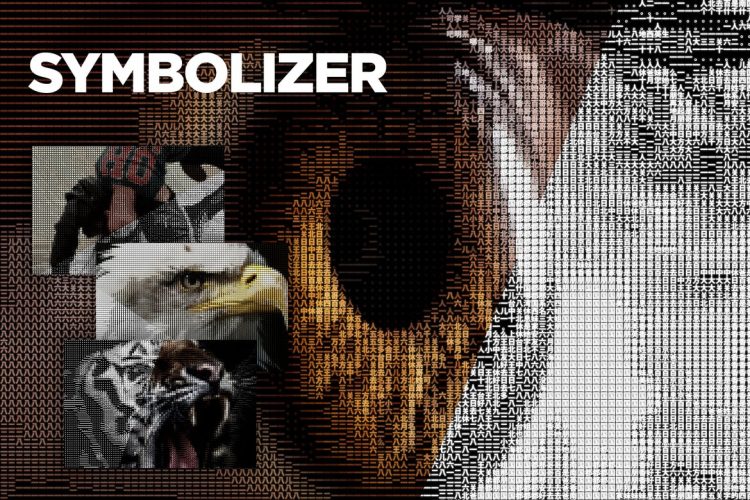 The Symbolizer Photoshop text action will add an abstractive matrix effect to your words in a few simple steps. It works with any image size, but looks best with larger pictures, is fully compatible with foreign language characters, and can be used with any font to create both color and black and white results.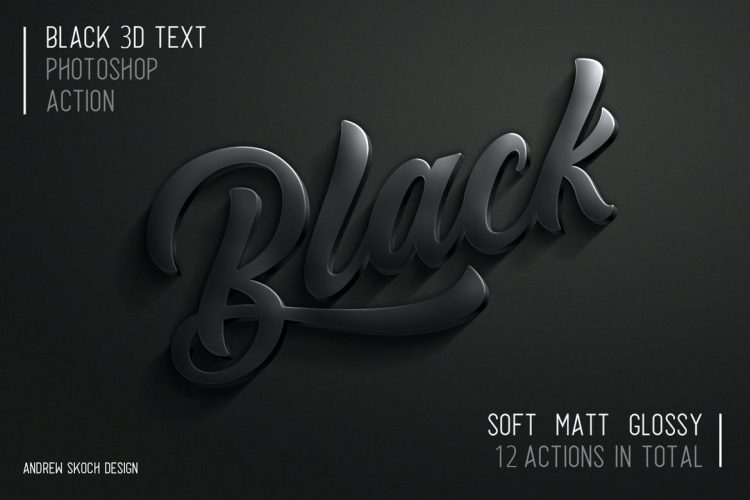 Featuring a one-click action, a wide variety of customization options and a high-quality professional finish, the 3D Black Photoshop text action does exactly what it says – turns your text into a three-dimensional black object, with a range of shadow, extrusion and light settings to choose from.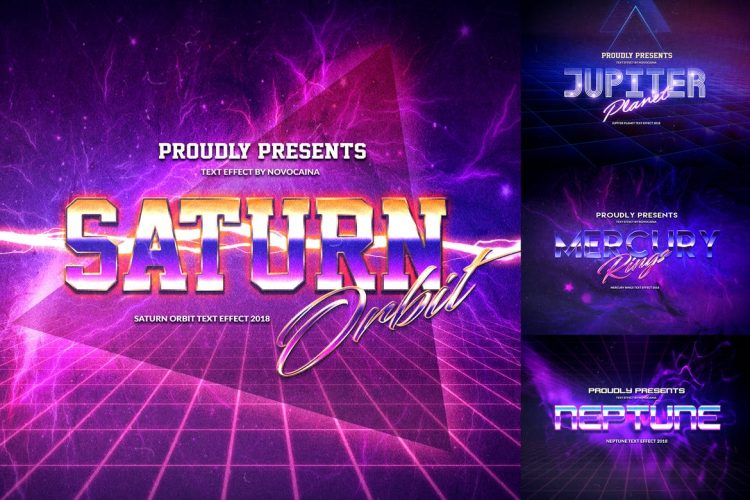 For a funky retro vibe or a 90s nightclub feel, look no further than the Retro Planet Photoshop text effects, featuring four fully layered settings each with a unique and professional look. Each of the effects is easy to customize and can be applied to any text, as well as shapes and other layers.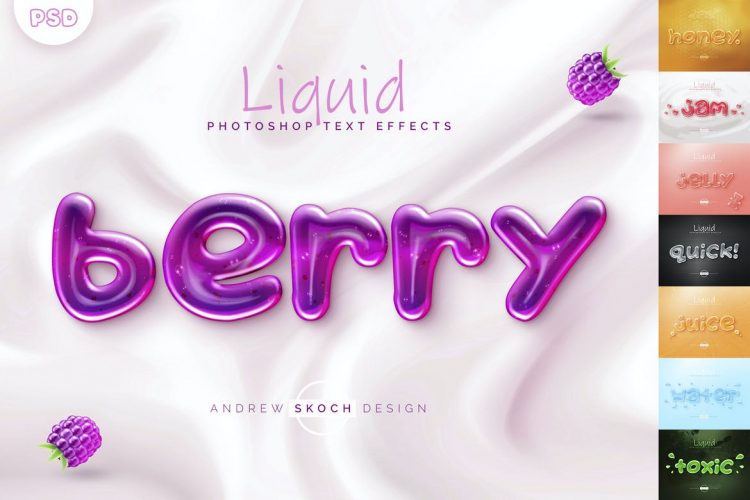 With the Liquid Tasty Photoshop text effects, your words will look good enough to eat! This package includes a range of different edible liquid effects, including jelly, jam, honey, and juice. Each option is 100% editable and features well-organized layers for ease of use.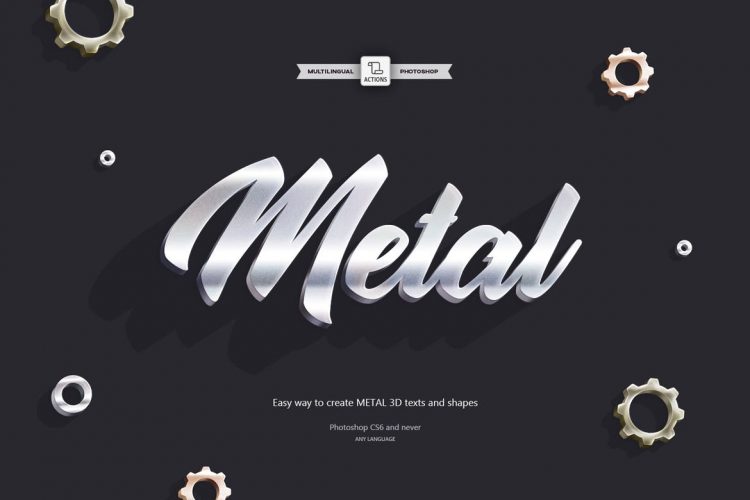 Featuring steel, copper, and bronze aesthetic options, the last of our Photoshop text actions allows you to turn your text into three-dimensional metal objects, complete with effective shadow and extrusion options, as well as a full-range global light setting. It's a great way to add an industrial or space-themed element to your design!
With these fun, unique Photoshop text actions, your words will take on new meaning and grab the attention of your audience like never before. Choose one that matches your business, style, or personality and see how the results speak for themselves!
Looking for WordPress hosting? We use Kinsta. They offer world-class WordPress hosting, built to keep your website fast, secure, and always online.