42+ Best Portrait Photoshop Actions & Effects 2024
Wanting sophisticated, professional portraits, but not too keen on shelling out thousands of dollars for a private photo shoot and then waiting weeks, or even months, for processing? You'll find thousands of professionally designed, purpose-built Photoshop portrait actions to help you process your photos quickly and easily, with timeless and stunning results guaranteed.
Perhaps you've got the raw images already, but you need to edit them, and you've got no idea where to start. Lucky for you, the internet (as always) has the answer.
Whatever kind of effect you're going for – vintage, artistic, moody, or colorful – someone out there has already built a filter that's perfect for you. To help you narrow down your selection, here are some of the best portrait Photoshop actions for you to choose from.
Get everything you need to supercharge your Photoshop workflow. From just $16, get unlimited access to thousands of Photoshop actions, Lightroom presets, templates, graphics, fonts and photos.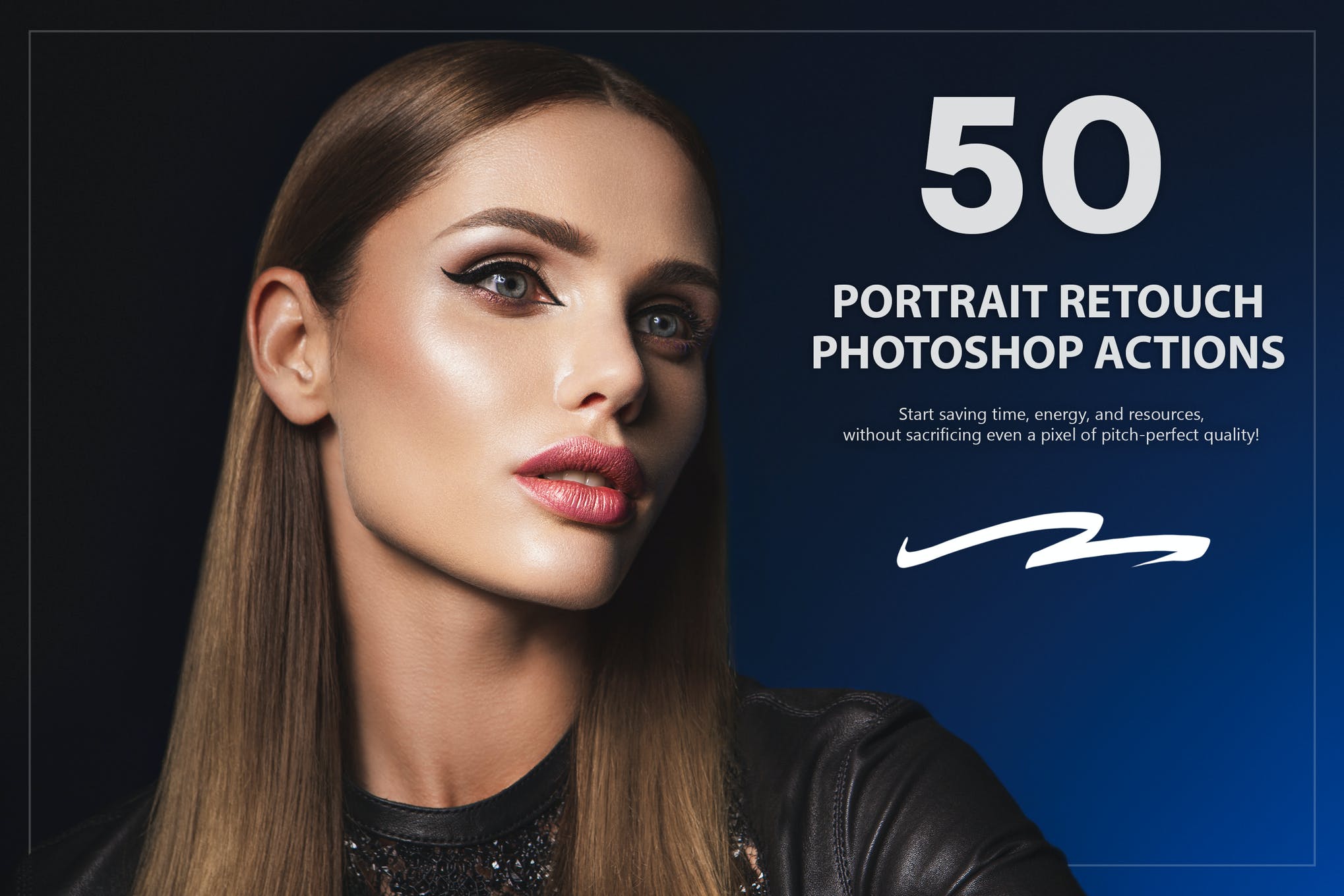 Wanting an all-in-one Photoshop Action that can meet all your photo editing needs? The Retouch Bundle has you covered. With 50 Portrait Photoshop Actions, you can adjust tone, soften skin, refine details, and much more without having any prior experience with the software.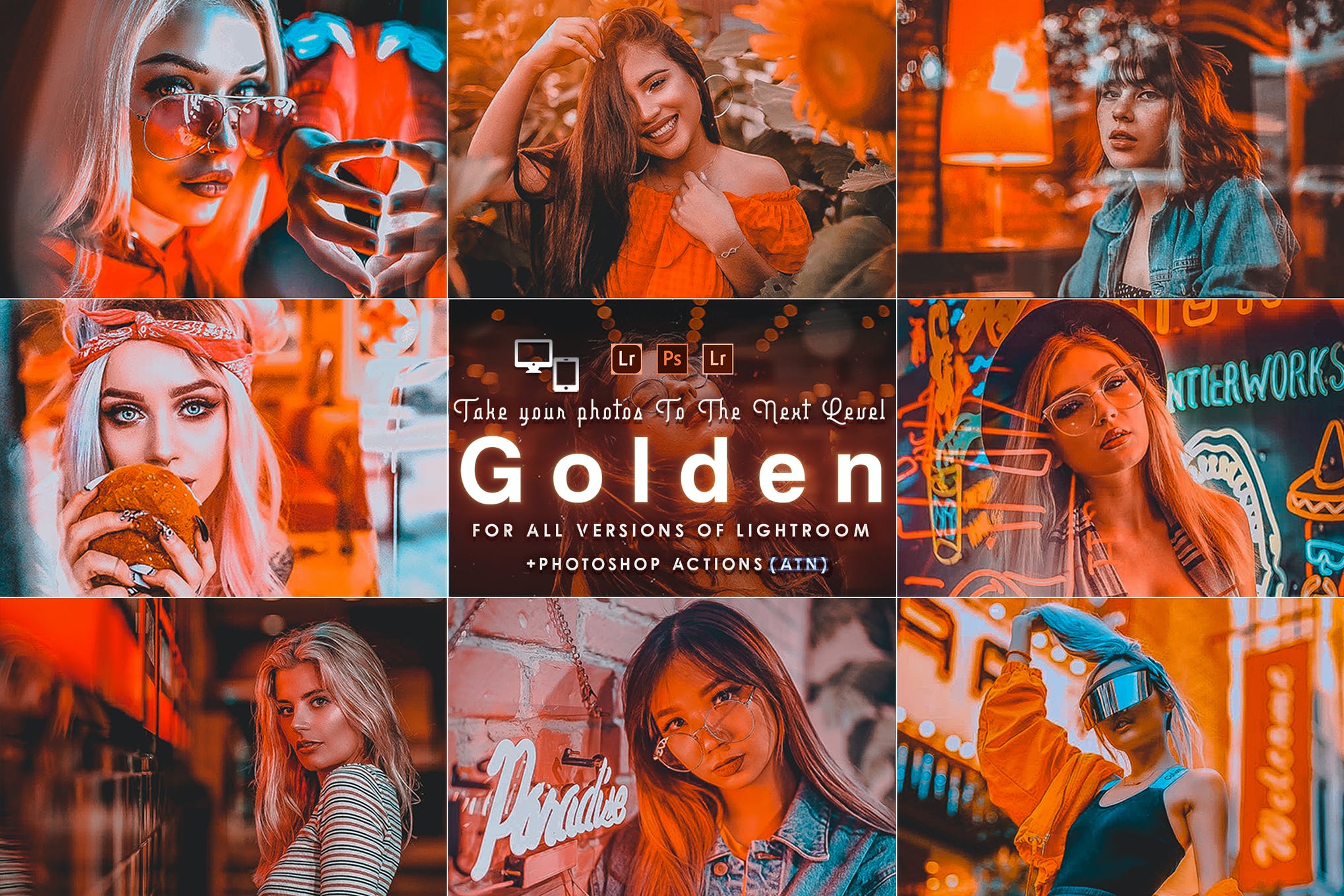 If you are a blogger looking for a set of Photoshop Actions that can help your everyday pictures make an impression, our next option is your best bet. This bundle of actions and presets has virtually everything you might need to achieve with your portraits. It's compatible with both Photoshop and Lightroom.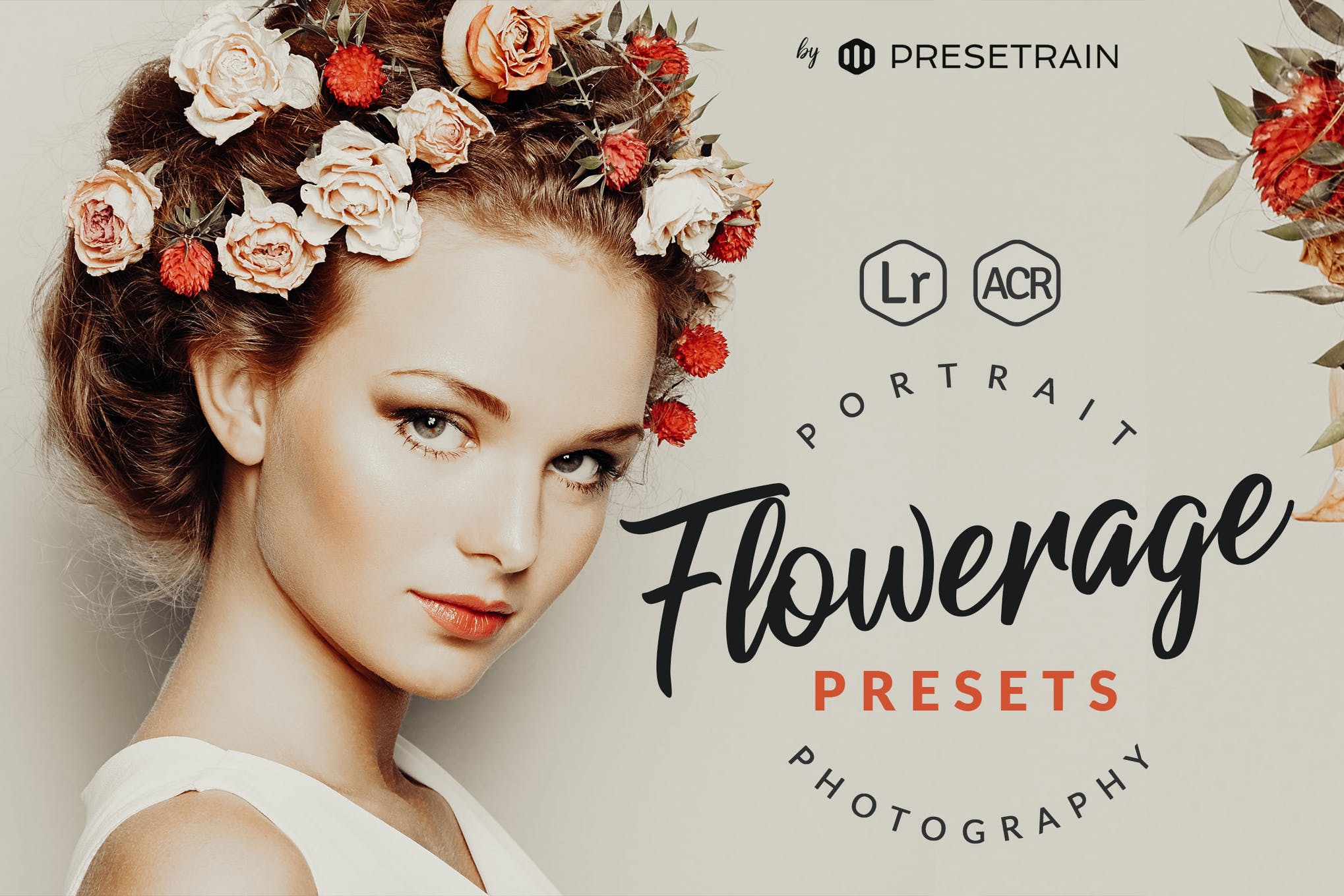 Here we have a set of 24 portrait effects Photoshop Actions that are exclusively created for natural light portraiture, wedding, and art photography. The presets are fully customizable and compatible with both Adobe Lightroom and Photoshop.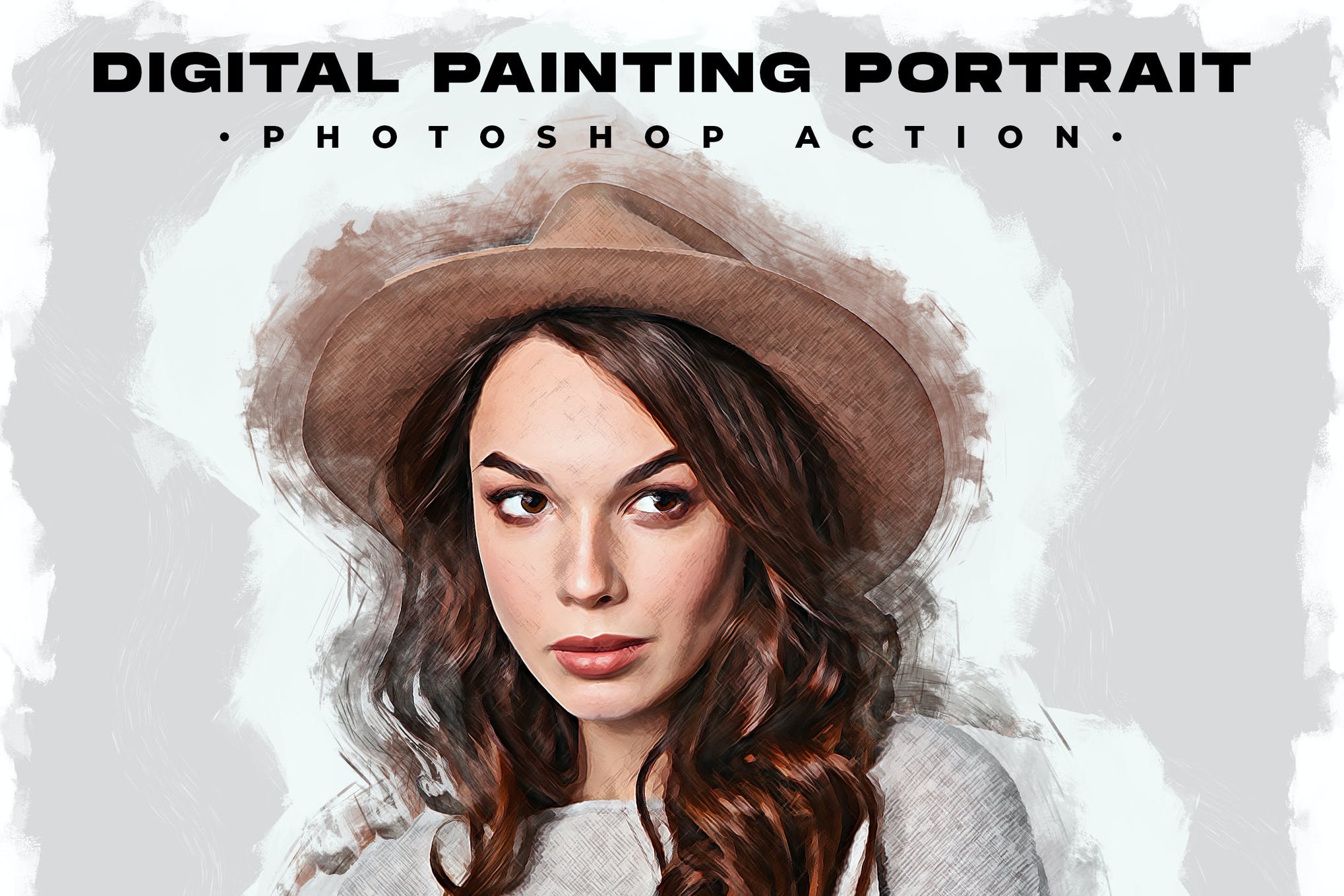 Transform your photos into digital paintings with our next Photoshop Action that contains exhaustive techniques and brushes, editable masks, canvas colors, backgrounds, and a range of other super amazing features.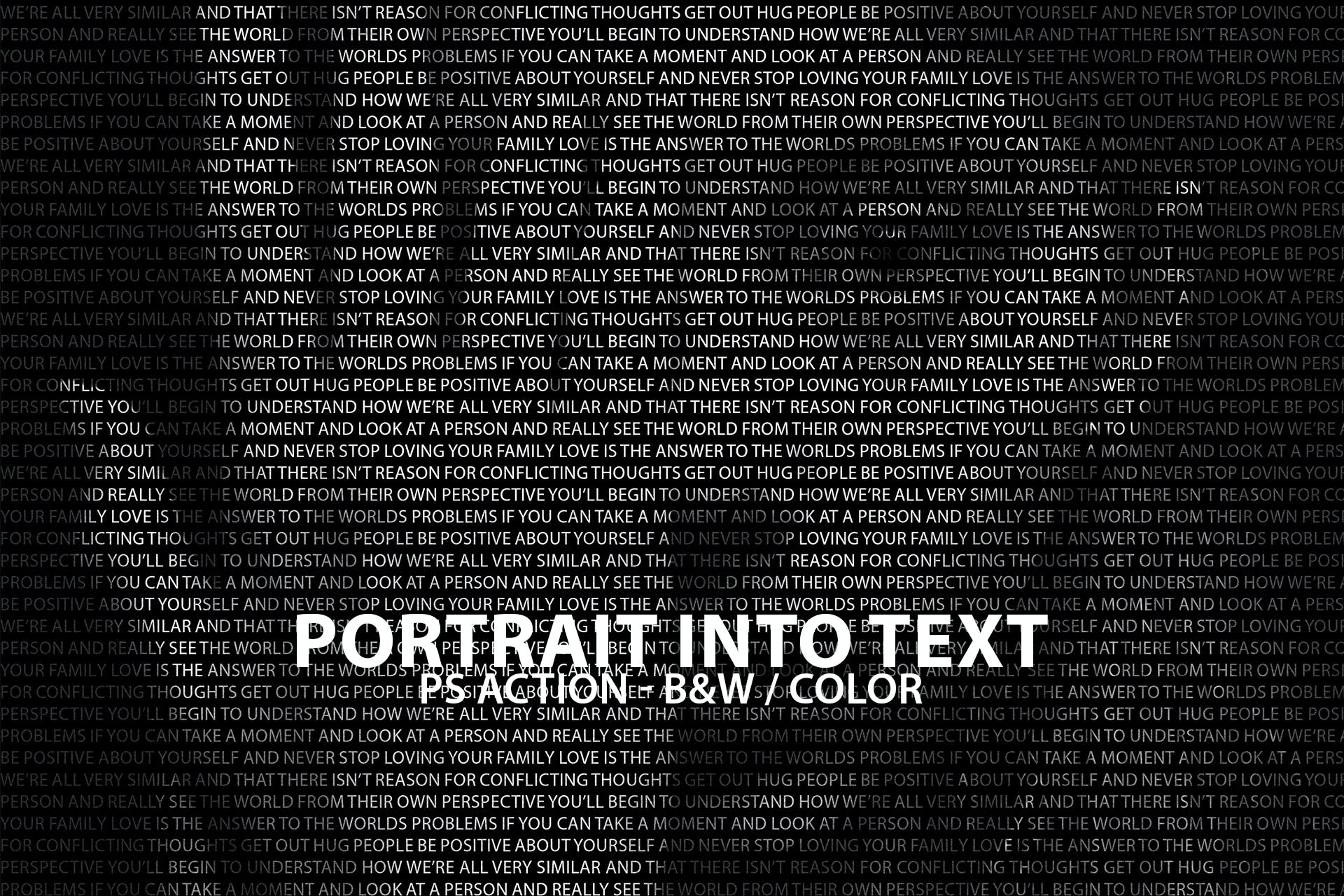 If you're looking for an edgy, out-of-the-box Photoshop effect, look no further than our next option. With this action, you can easily convert your portraits into lines of relevant text in just a matter of few seconds. It works best with both colored and monochrome photos.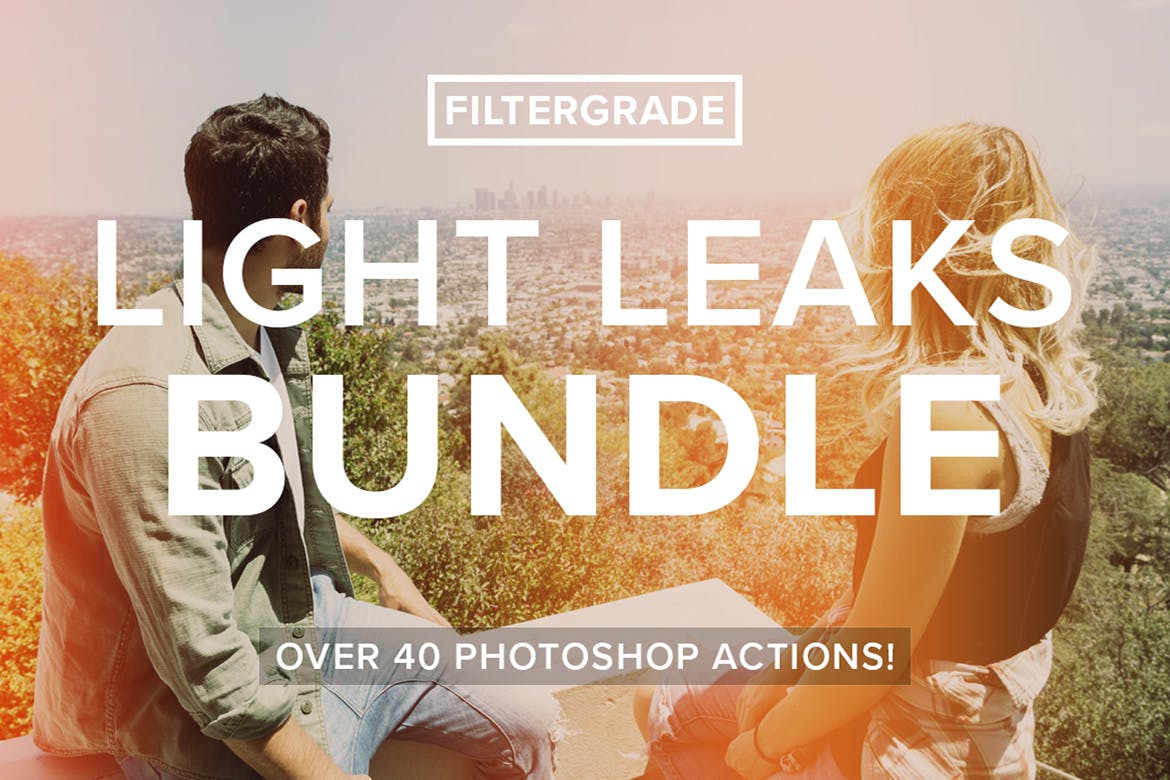 Here we have a collection of 32 light leak Photoshop Actions, and 8 custom film effects, that will give your portraits a realistic film-like appearance. With this package, you get 5 color tone variations, plus a help file so you can make the most of the effects.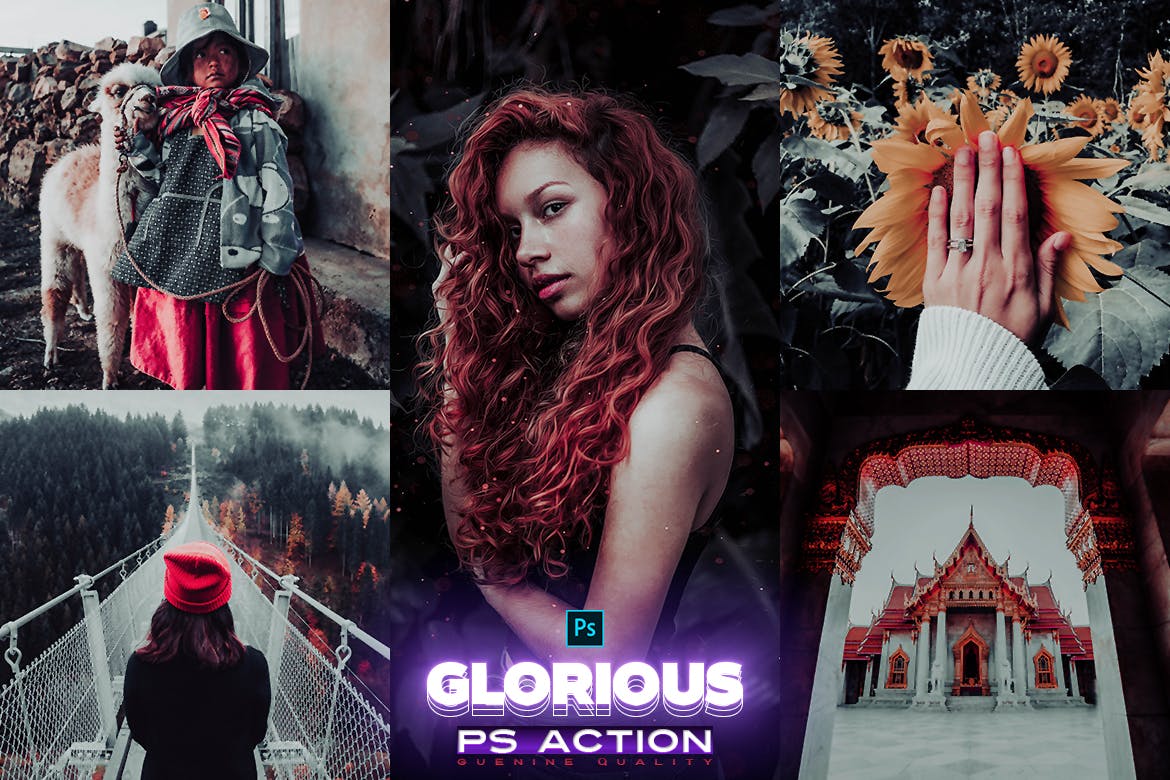 The Glorious Photoshop portrait effects action bundle is a stunning collection of filters and effects that will add a dramatic and professional-looking cinema-inspired element to your photos and works particularly well for boudoir or other moody styles of portraiture.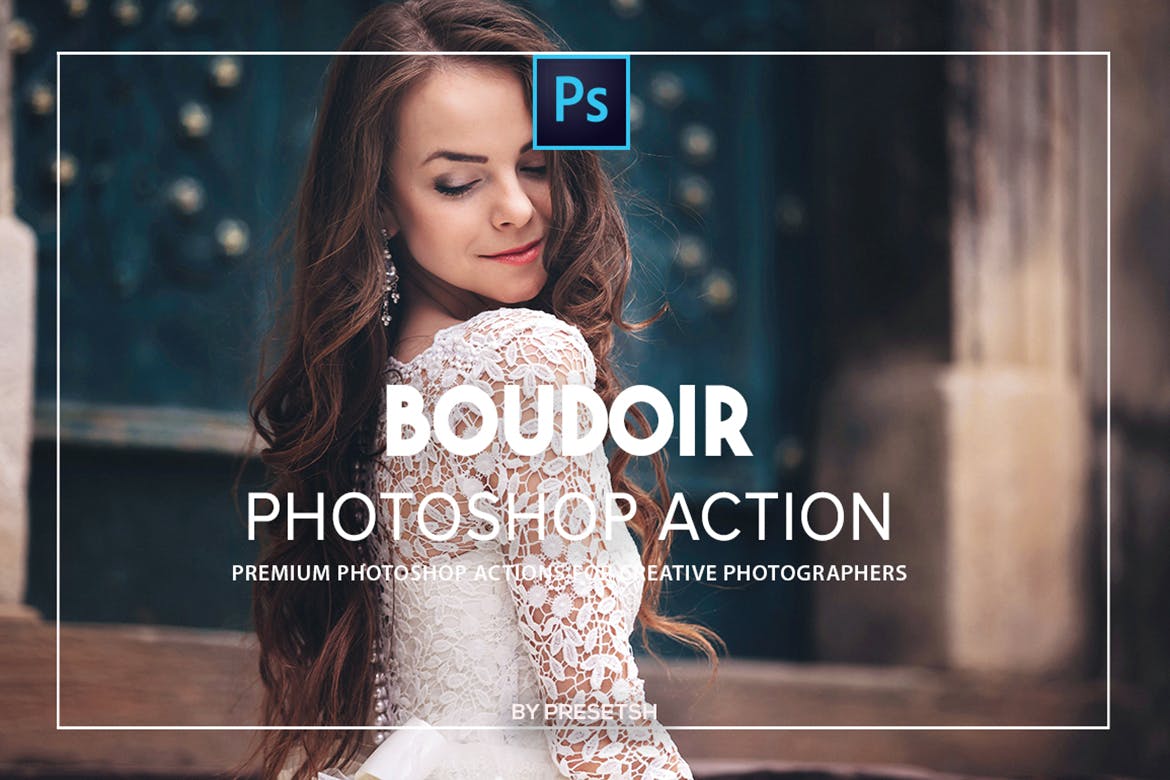 Speaking of boudoir, this collection of amazing Photoshop actions has been made specifically to enhance your boudoir photography and give your images a sultry, somewhat atmospheric look. It also works well for wedding day preparation photos featuring the bride and her helpers!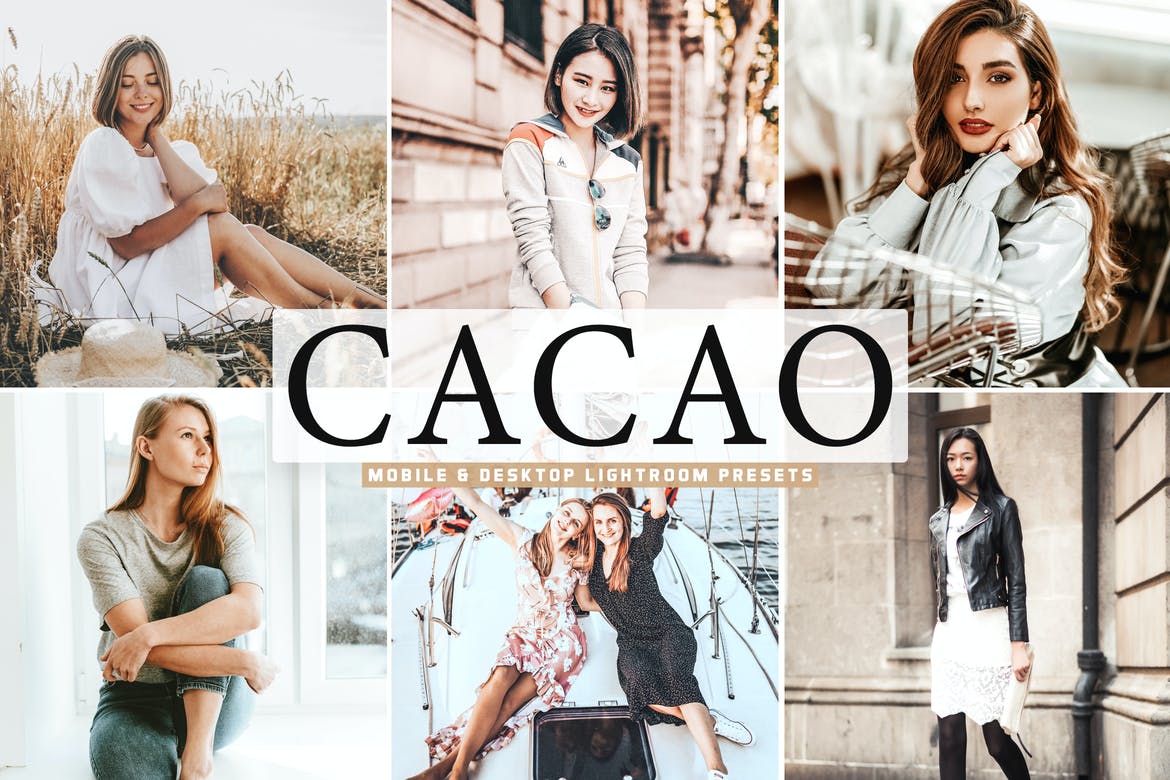 If you love warm chocolatey tones and hazelnut-inspired hues, consider using the Cacao collection of Photoshop portrait actions for your next portfolio addition. It comes with 13 unique filters that will add soft, dramatic, and moody tones with hints of tan and beige.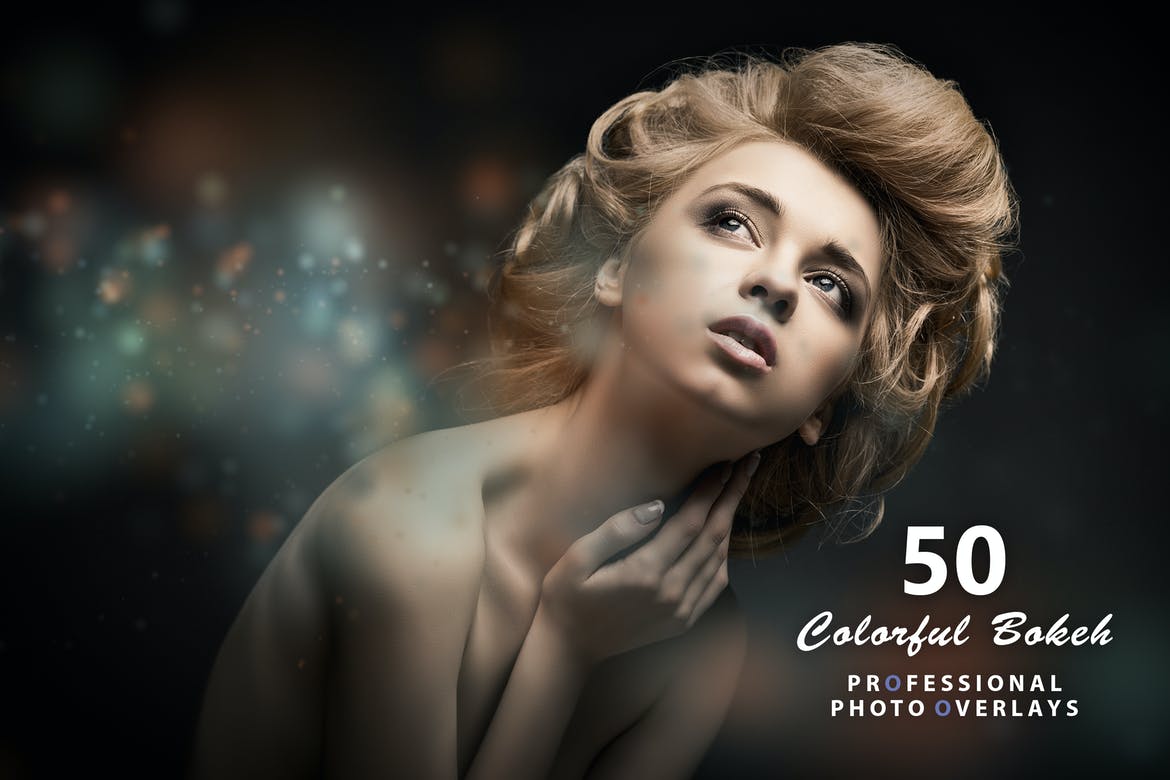 Adding a subtle bokeh effect to your portrait photography is an easy and natural-looking way to add a mystical and alluring atmosphere, and with this set of 50 colorful bokeh Photoshop portrait actions, you'll never be short of different ways to incorporate this amazing trend into your images.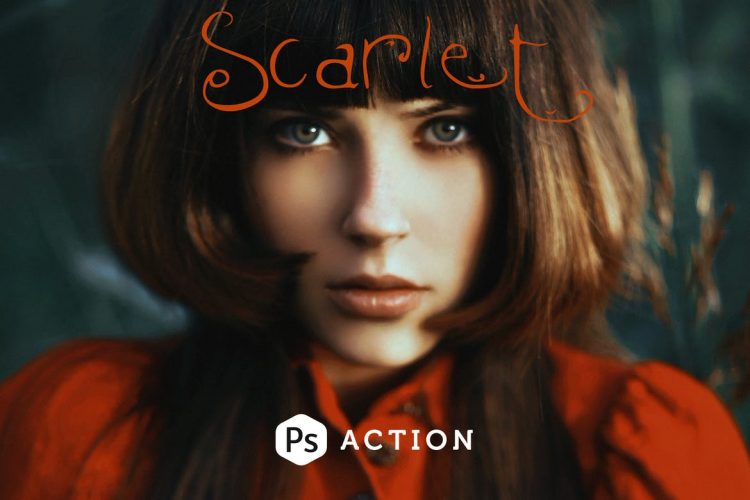 The Scarlet action is an advanced color-process filter designed for natural and mixed light portraits with warm tones. It'll give your photos a rich, atmospheric quality and is also great if you want to add fantasy-inspired elements. It includes a standard action as well as a darker version for flat or overexposed images.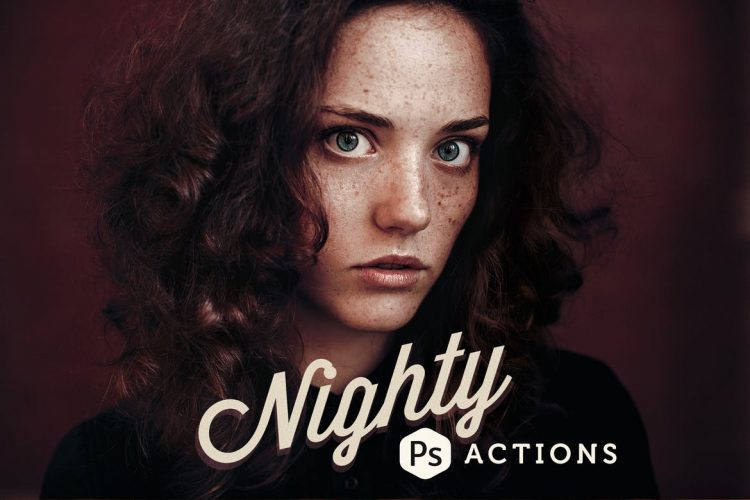 For artistic and expressive portraits, the Nighty photoshop action includes nine creative toning options and will give your photos a dark, mysterious, and unique style. It's particularly good for glamor and fashion portraits.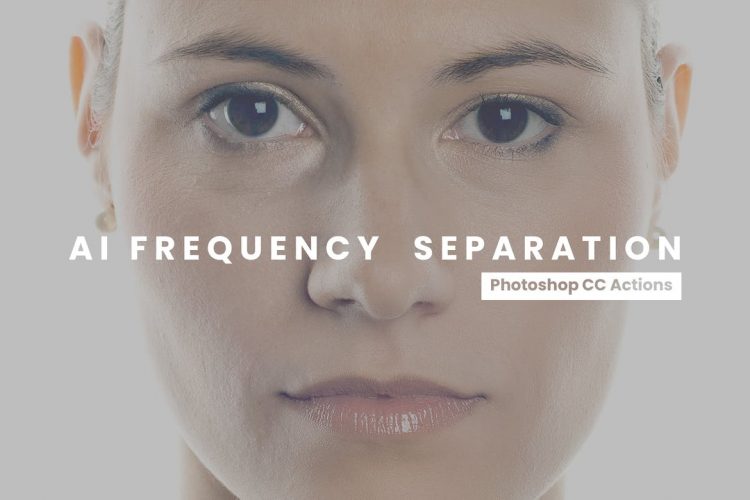 In portrait photography, it's important that skin has the desired appearance, and this action will help you achieve this. Frequency separation is a common and effective method of airbrushing the skin, allowing you to quickly and easily remove blemishes and perfect your subject's complexion.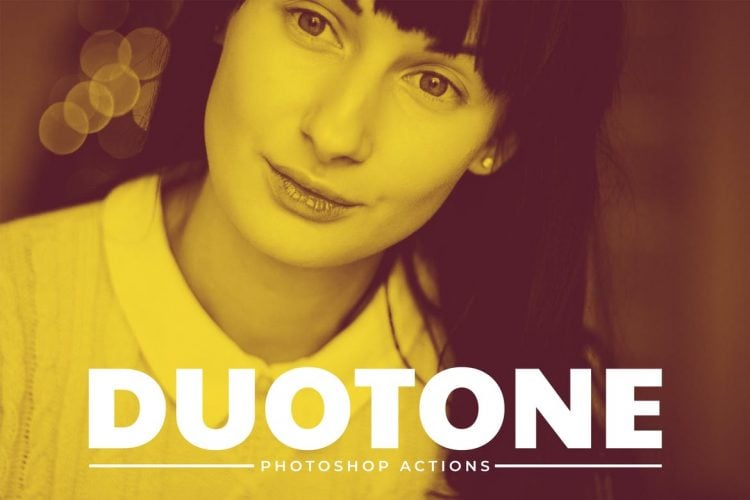 For a colorful, stylish approach to photo processing, try out the 50 different options included with this duotone photoshop action. It's a safe and easy way to transform your images, featuring 1-click processing, a non-destructive workflow, and fully editable layers.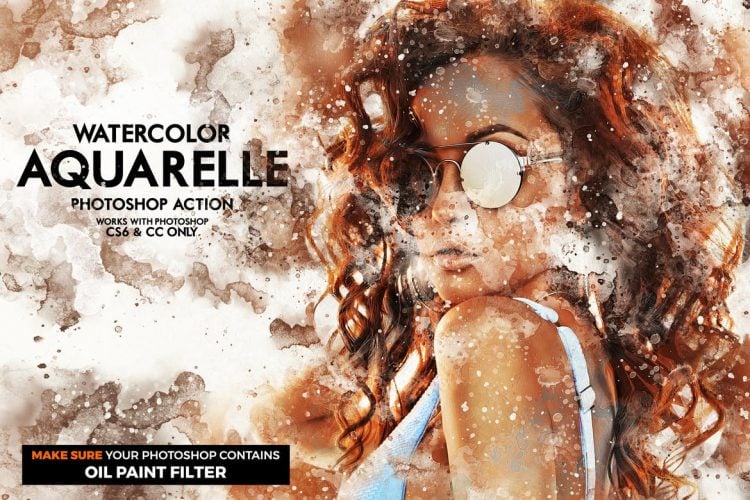 Another creative option, the Aquarelle, is one of the most artistic portrait Photoshop actions and will give your photos an eye-catching watercolor quality. You can play around with different effects and use layering techniques to create a truly unique watercolor portrait – without even picking up a paintbrush!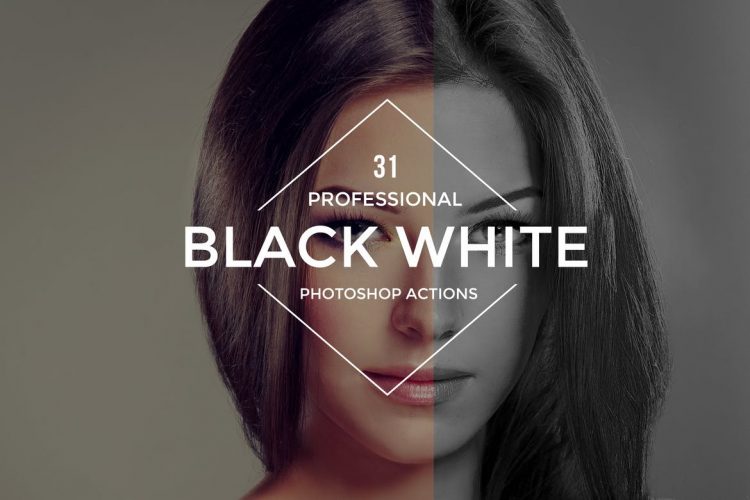 A portrait photography staple, black and white processing is an easy and effective way to create classic, memorable images. This action contains 31 unique greyscale styles for you to experiment with and is fully compatible with both PC and Mac.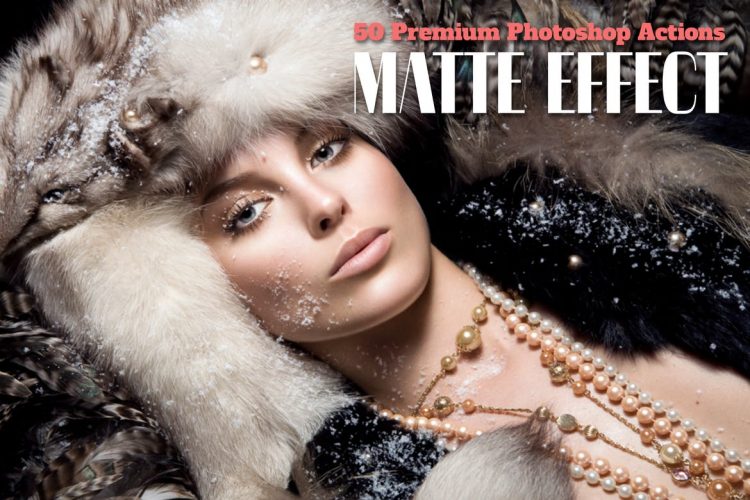 For a beautiful, polished, and highly professional finish, these matte-themed filters will enhance the colors of your portraits and perfect your photos in a natural and subtle way, to create stunning images that you'll be proud to show off.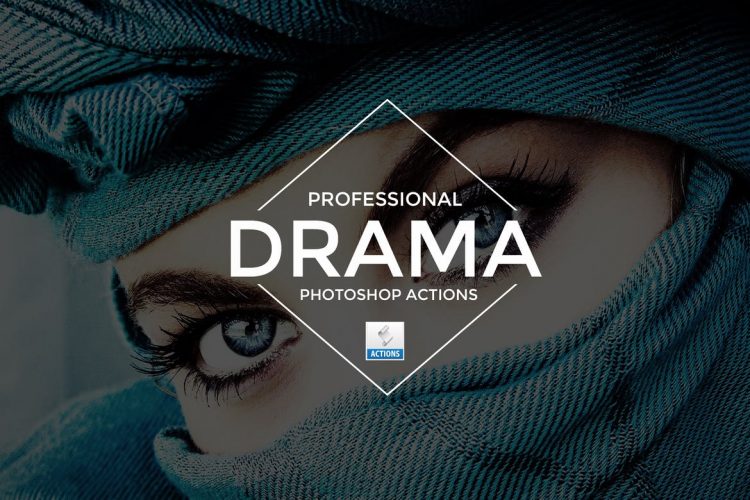 It's all in the name – this Photoshop action will add a touch of drama to your portraits by retouching and bringing each image to life. Created using precise calibration adjustments, it promises a truly professional result.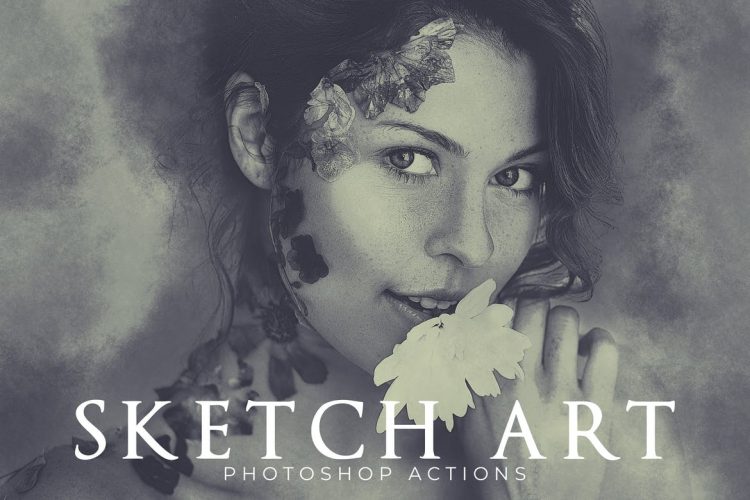 A gorgeous, creative way to reimagine your portrait photography is by turning them into stunning pencil sketches, using this high quality professional Photoshop action. Forget hours of slaving over a pencil and paper, and render a captivating "hand-drawn" portrait in a single click!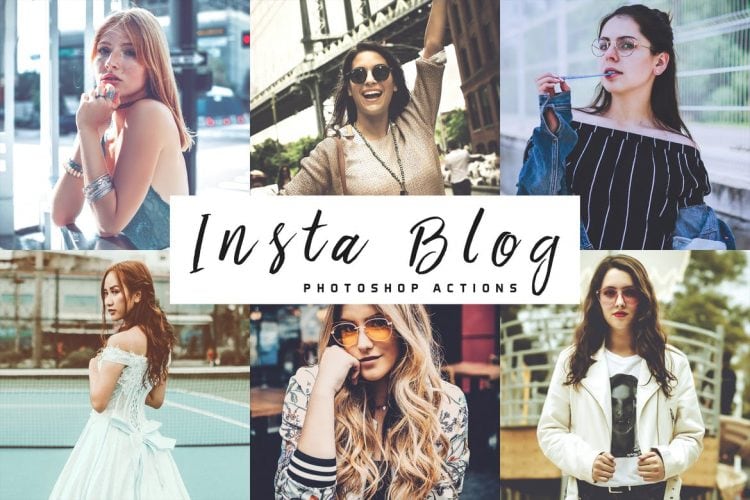 Insta-bloggers rejoice – one of the most popular portrait Photoshop actions, this set of specially handcrafted filters will add that sought-after retro-inspired style that influencers all over the world have fallen in love with. It's sure to win you a heap of new followers.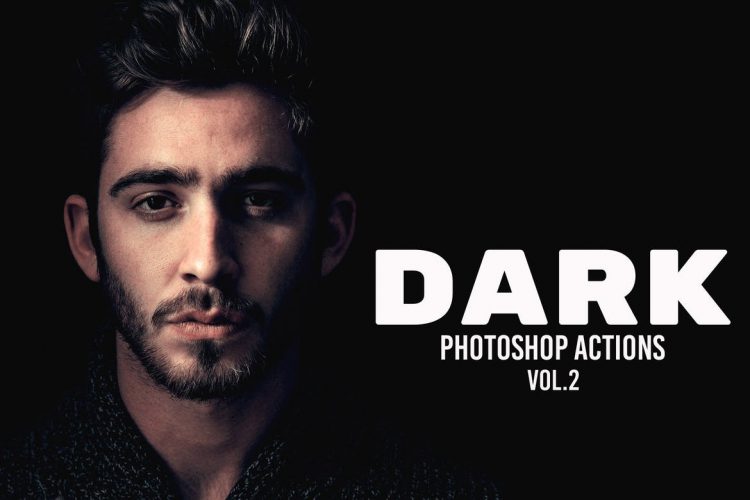 Dark, dramatic, and brooding, this action will transform your portraits into Gothic masterpieces. It's also a great tool to use for nature and travel photography to add a mysterious or even sinister element (if that's what you're going for!).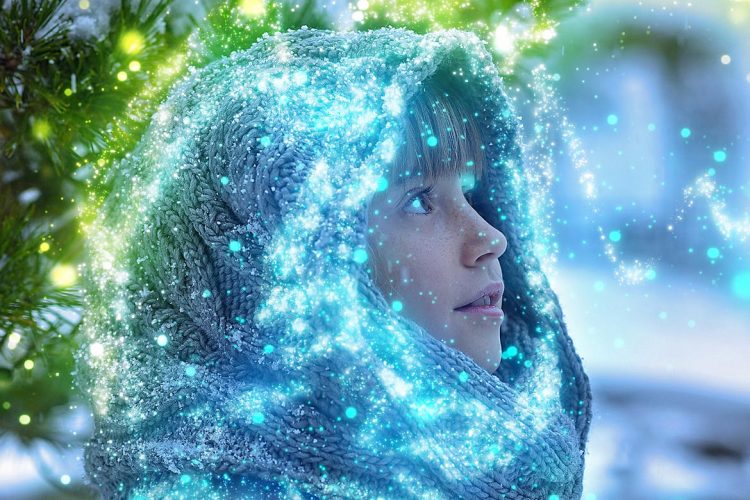 Add some sparkle to your photos – literally – with this magical Photoshop action. Simply brush over the desired area, and the tool will match the color and create sparkles instantly!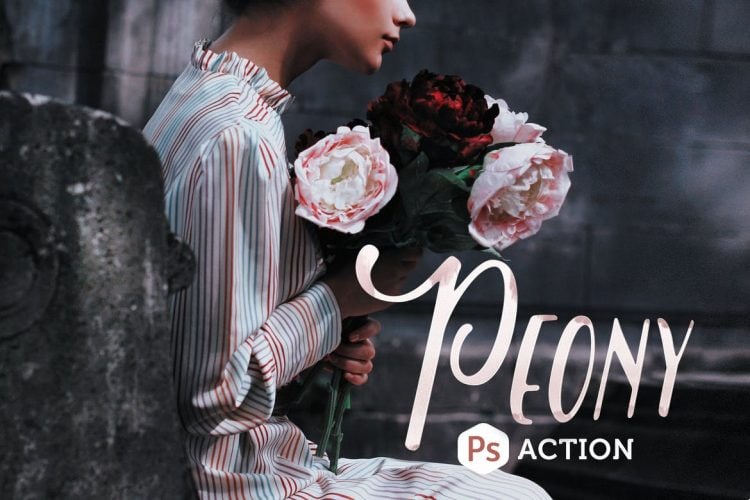 The Peony action creates a rich, natural tone, giving your portraits a regal, fine-art quality. It adds volume and color depth, as well as a color shift tune-up to flowers and foliage, hence the name. If you ever wanted to know what you'd look like as a royal, here's one way to find out.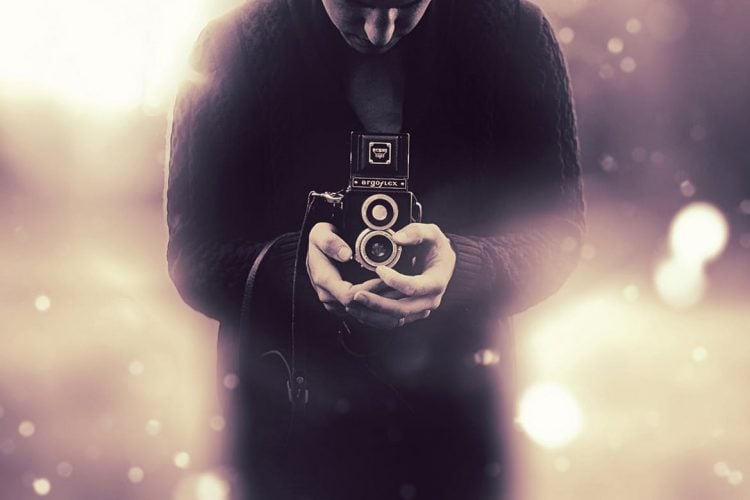 One of the most romantic portrait Photoshop actions, this ethereal filter allows you to brush over the area that you'd like to remain in focus, and then blurs the untouched sections, giving your photo a mystical, dreamy element.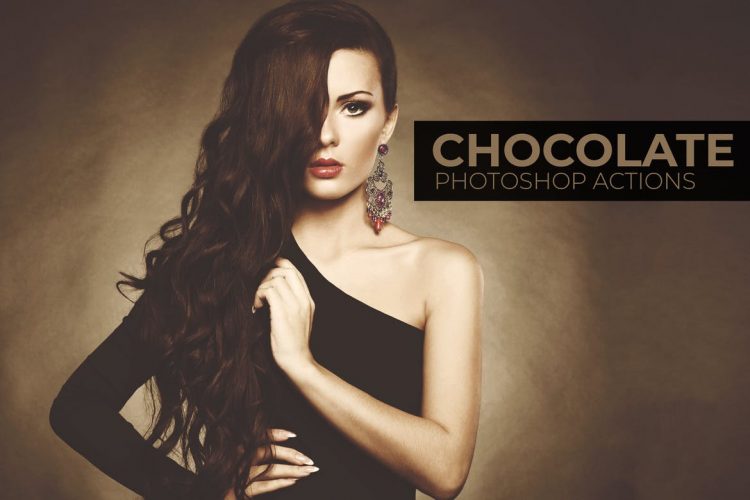 Perfect for glamor, fashion, and artistic design portraits, the Chocolate action is a set of 10 filters that add a sophisticated, elegant quality to your photos. It produces high quality images that render well in both web and print media.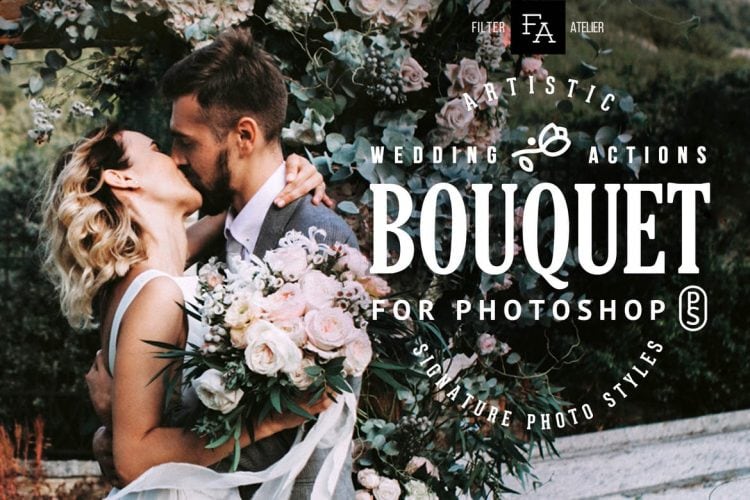 The Bouquet Photoshop action is ideal for wedding portraits and comes in six romantic signature color styles, all natural looking and effective for enhancing your photos in an artistic and professional way.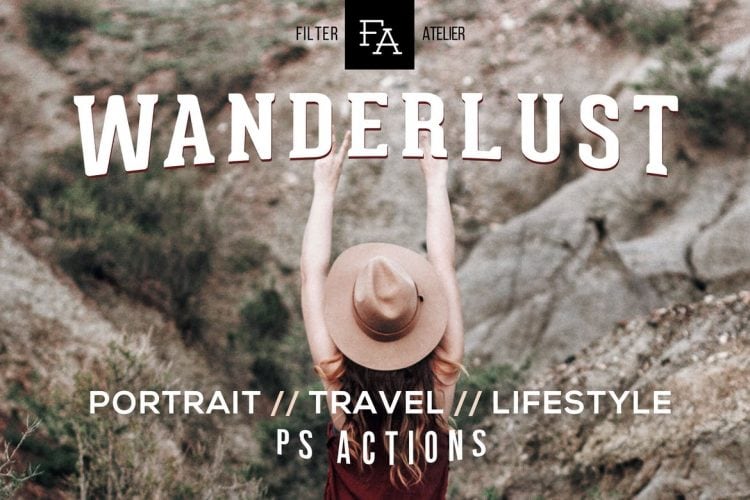 A film-inspired set of filters, the Wanderlust action is perfect for travel and lifestyle portraits, adding deep shadows and natural color elements to enhance the mood and overall aesthetic of your images. It includes three different styles – dark and moody, lite, and standard.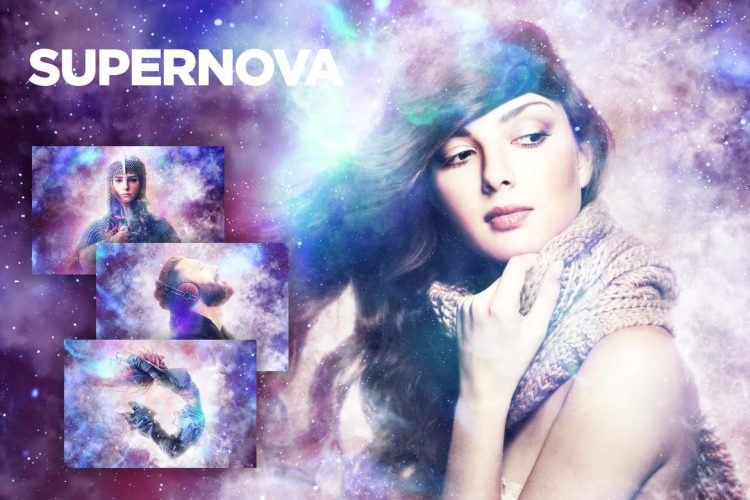 One of the most out-there portrait Photoshop actions, the Supernova style is out of this world! Featuring a magical galactical effect, this is a great option for fantasy or science fiction-inspired portraits and is sure to make an impact.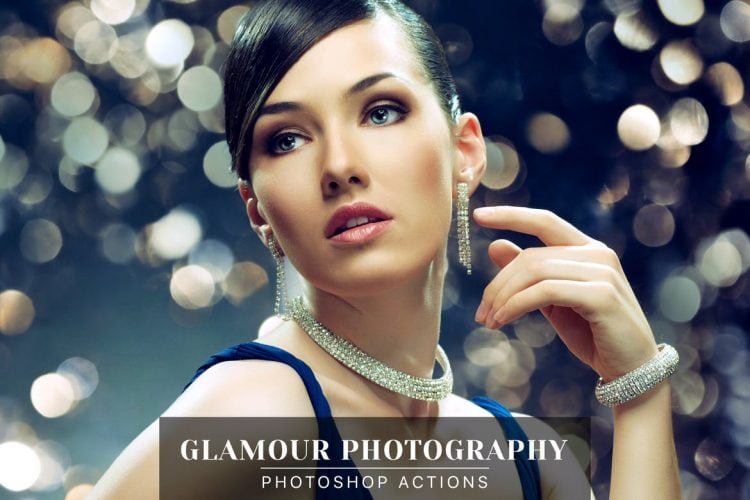 As the name suggests, this elegant, vintage-inspired Photoshop action is ideal for glamor and fashion photography, adding a sophisticated and almost magical effect to your close-ups. It includes 15 individual styles for you to play around with.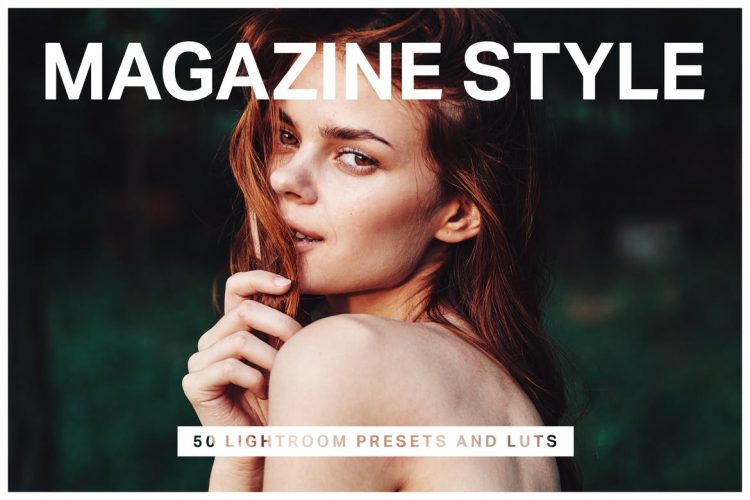 Inspired by magazine editorials and film photography, this classic collection of 50 Photoshop portrait actions will add a chic sense of nostalgia to your photos, and features five different themes, including Kodachrome-esque colors, retro style elements, and high fashion hues. It's compatible with both mobile and desktop versions of Photoshop, as well as Adobe Lightroom.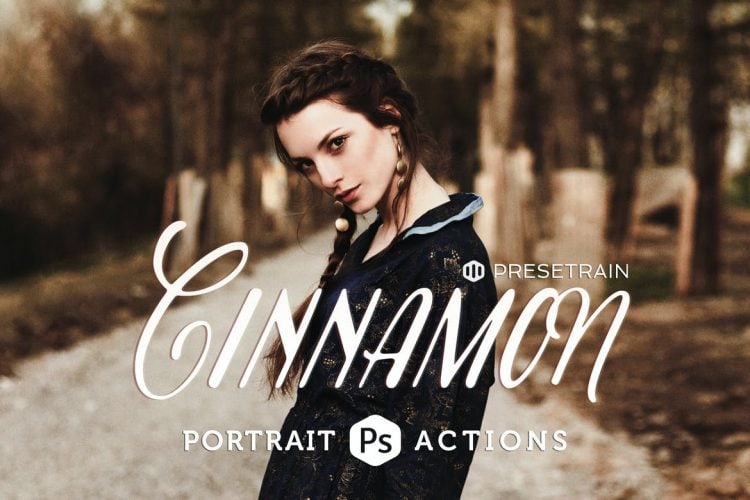 Perfect for both outdoor and studio photoshoots with natural lighting, the Cinnamon Photoshop portrait actions include six unique filters, each featuring mysterious, fantasy-inspired elements to add an enigmatic quality to your images. This option is particularly great for high fashion and fine art photography.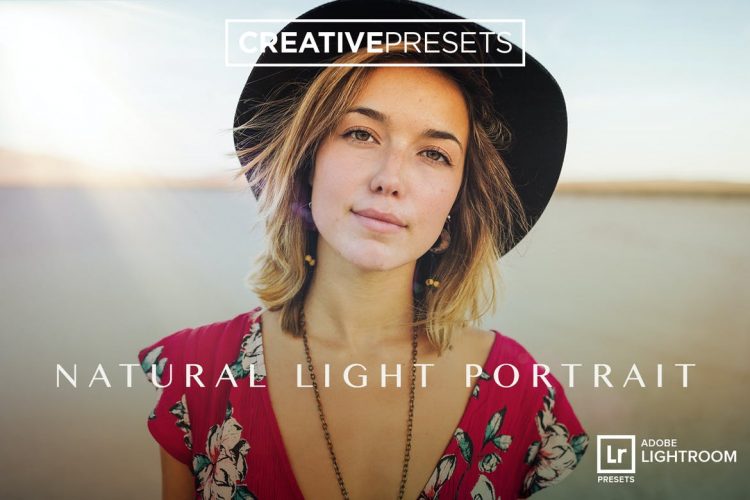 As the name suggests, this versatile set of Photoshop portrait actions has been specifically designed to enhance natural light portrait photography and will add bright tones and a beautiful airy effect to your images for a warm and cozy result.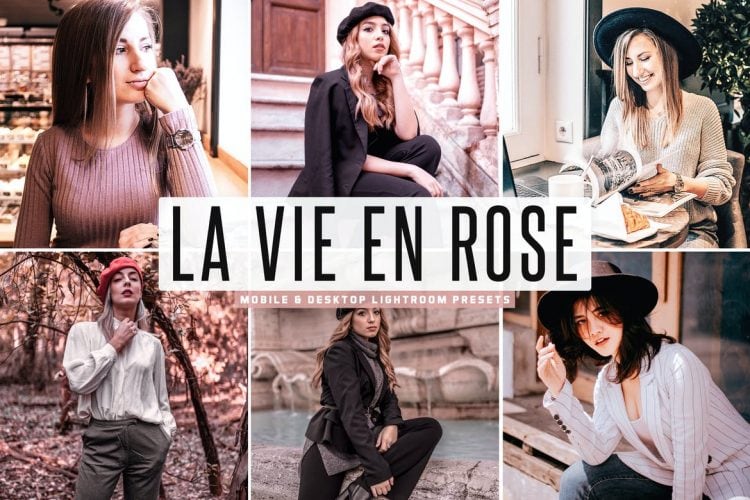 La Vie En Rose is a series of gorgeous, Paris-inspired Photoshop actions that will add bright, low contrast, rosy tones to all kinds of portrait photography. This option will give your images a warm pink glow and a unique airy look that can be achieved in a single click, with a high-quality result that can be easily adjusted to your preferences.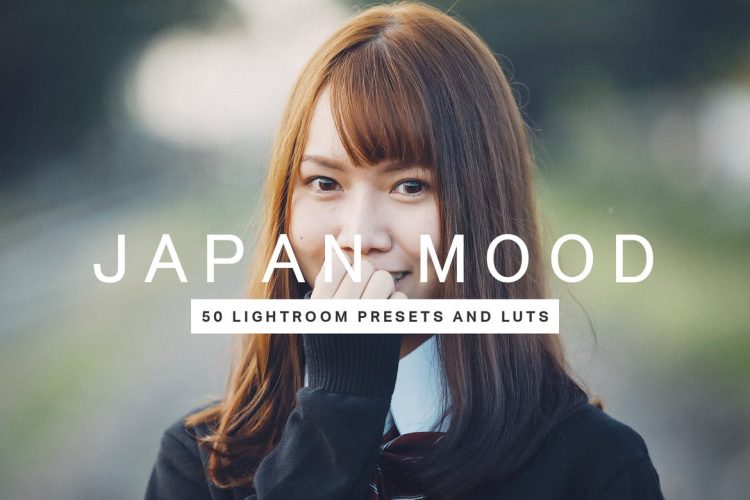 To add moody, Japanese-themed tones to your portraits, consider this beautiful set of Photoshop actions designed to create a matte pastel look. Each of the 50 individual filters includes skin tone protection and adjustable slider settings for a high-quality and natural-looking result.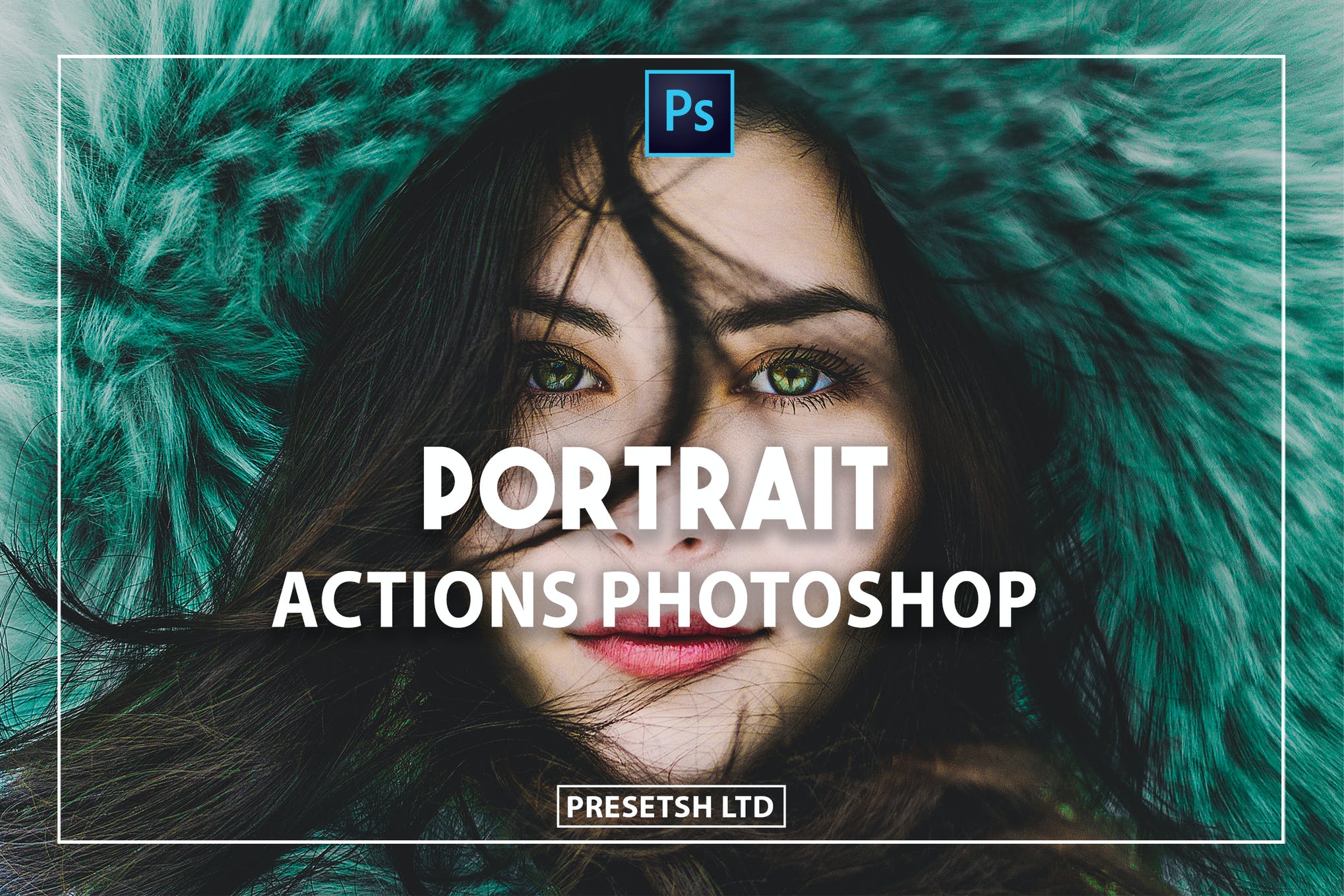 Portrait Photoshop actions create stunning images faster letting you spend more time doing what you love… taking memorable photos. These Photoshop actions turn what used to take hours into just a few minutes of editing time.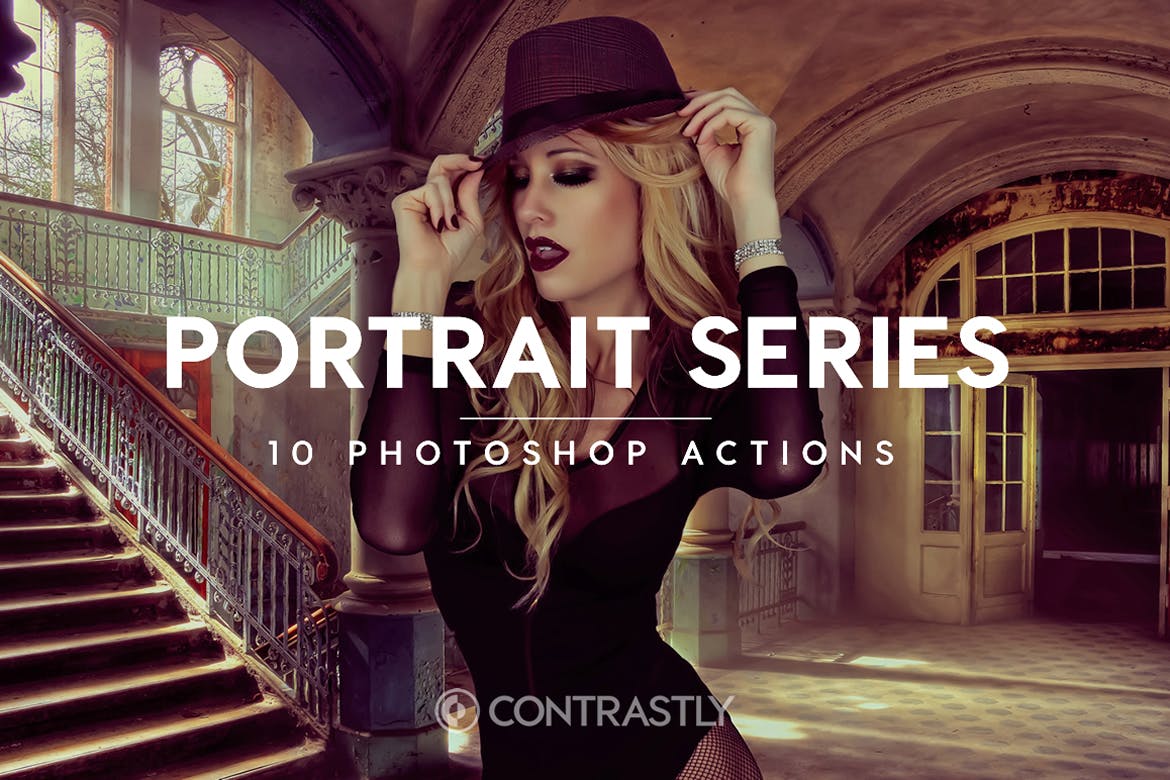 Those actions were carefully designed to retain as much of the vibe of the original photograph as possible. Some of the actions in the set are quite subtle while others will create a bit more of a dramatic effect.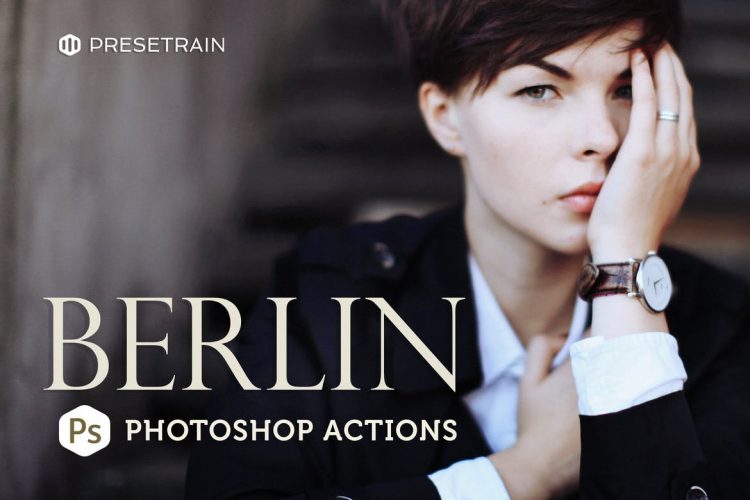 And finally, the Berlin action is full of low-key, Euro-chic style, providing a moody, atmospheric quality. It works best with natural light photography and comes with four base filters, as well as four lite variations to match different lighting conditions.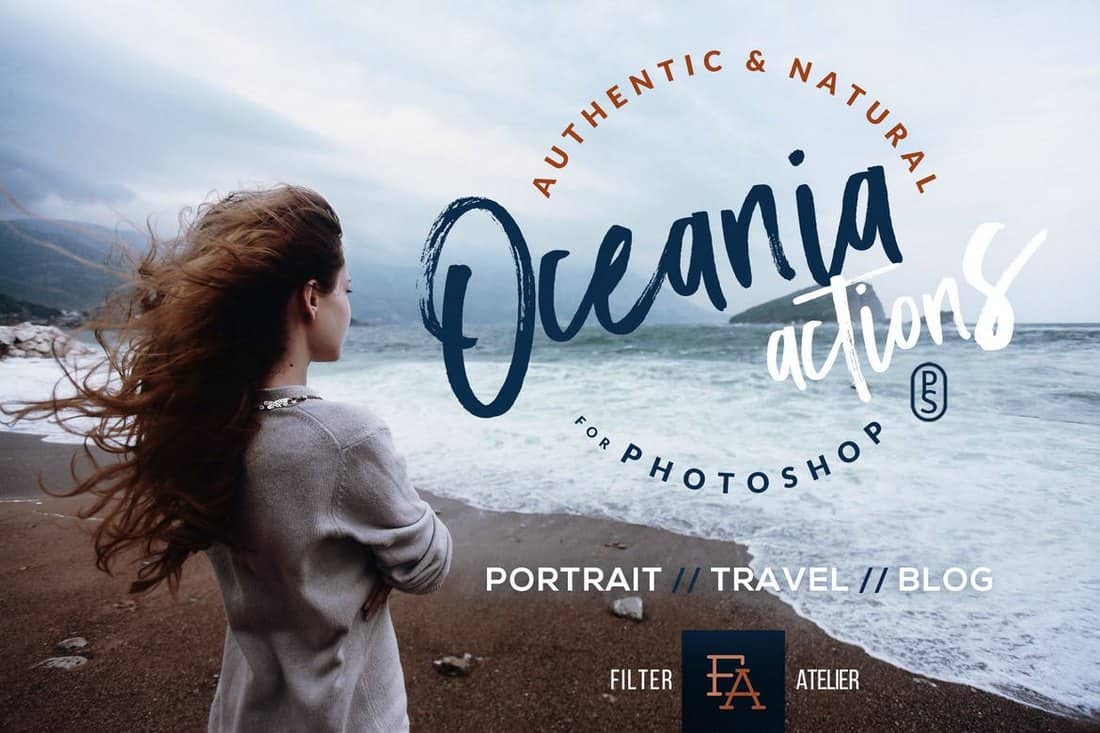 Oceania is a collection of professionally crafted Photoshop actions you can use to optimize your portraits, travel, and social media photos. It includes 5 different actions with various color styles and effects. The actions work with Photoshop CS4 and higher.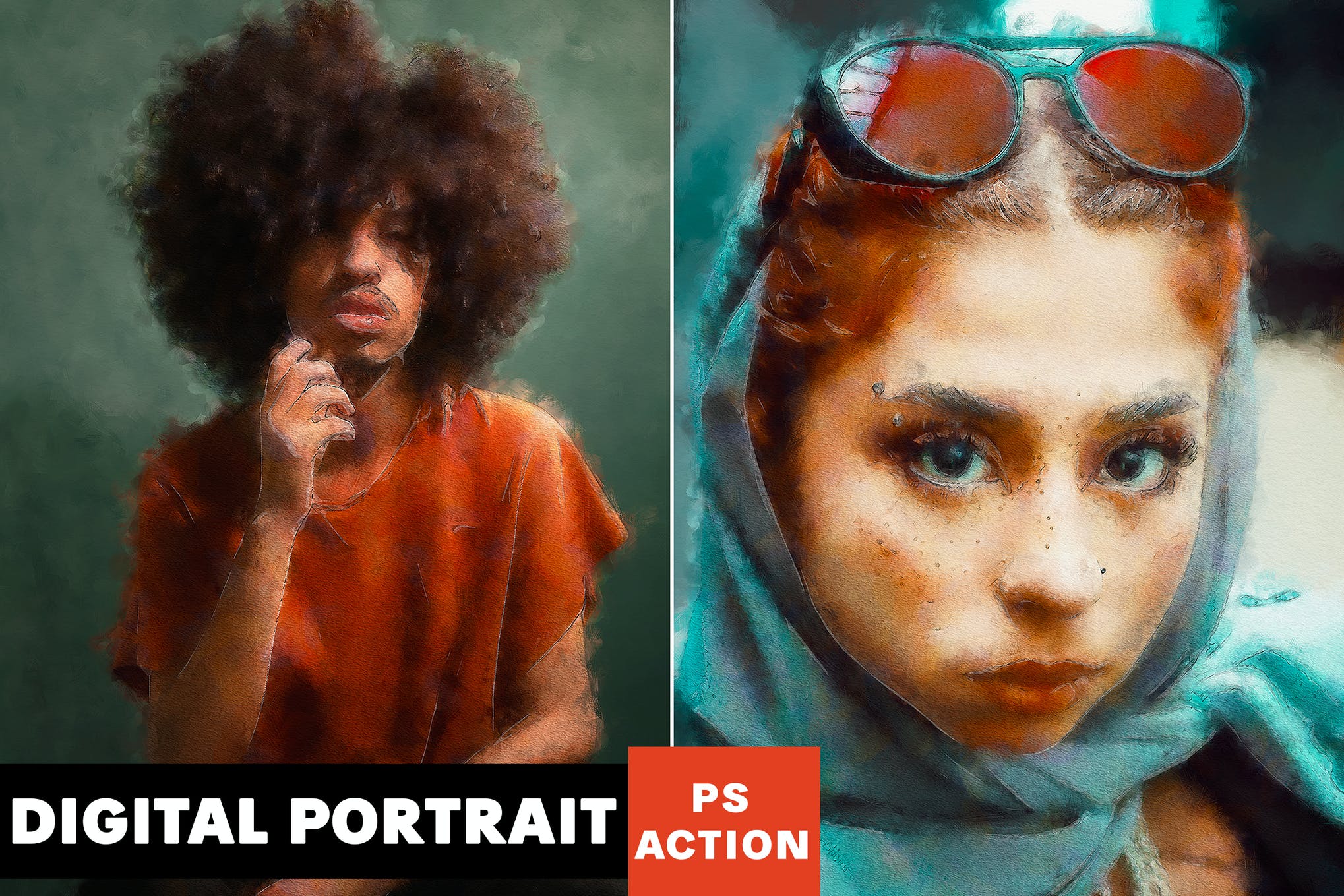 This digital portrait Photoshop action is a must-have for every graphic designer and photographer. It will bring out your artistic side, and help you create stunning artwork. Grab it right now!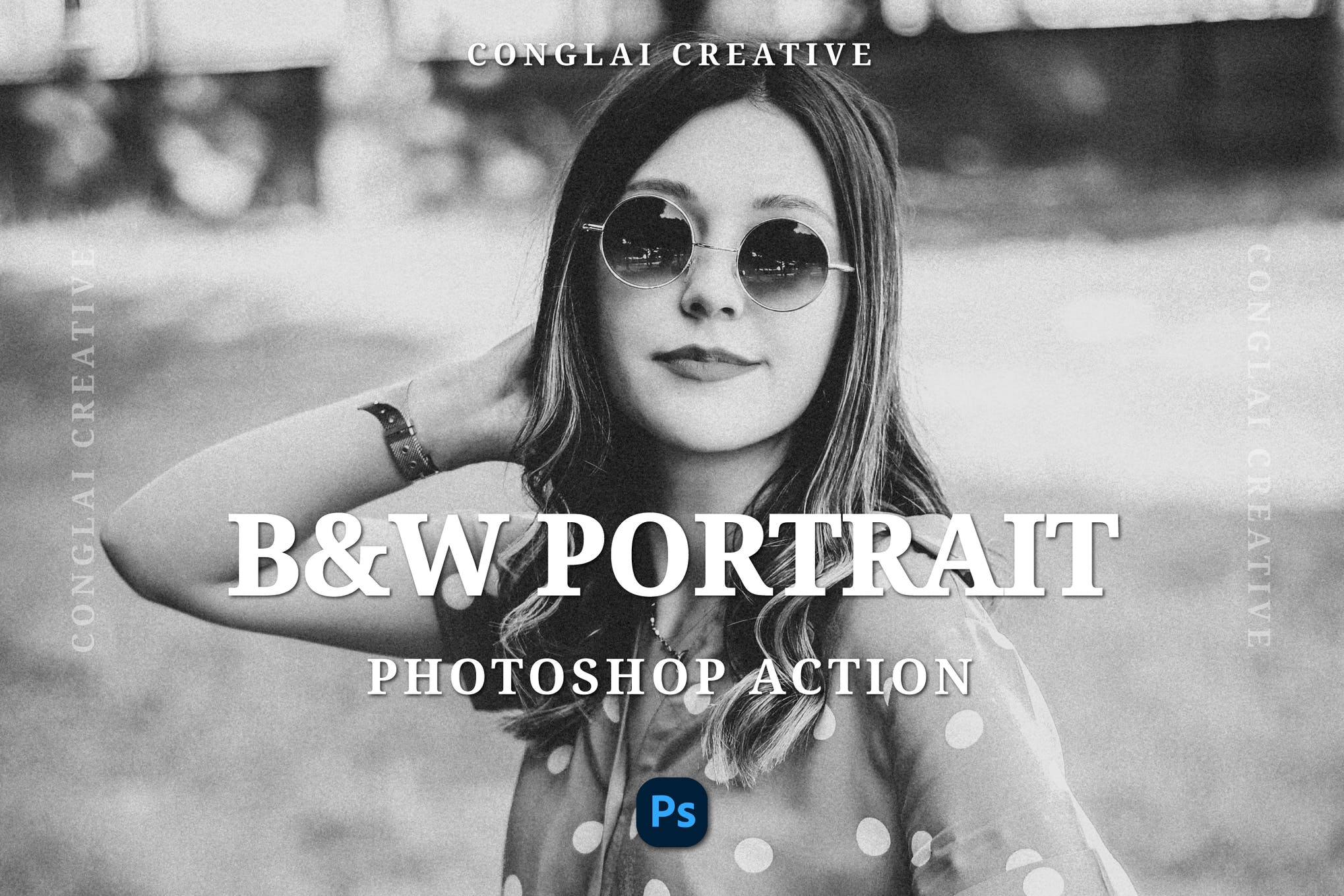 Our next option provides you with 10 black and white Photoshop actions that will add a touch of vintage charm to your portraits. The product comes with a step-by-step instruction manual helping you make the most of the effects.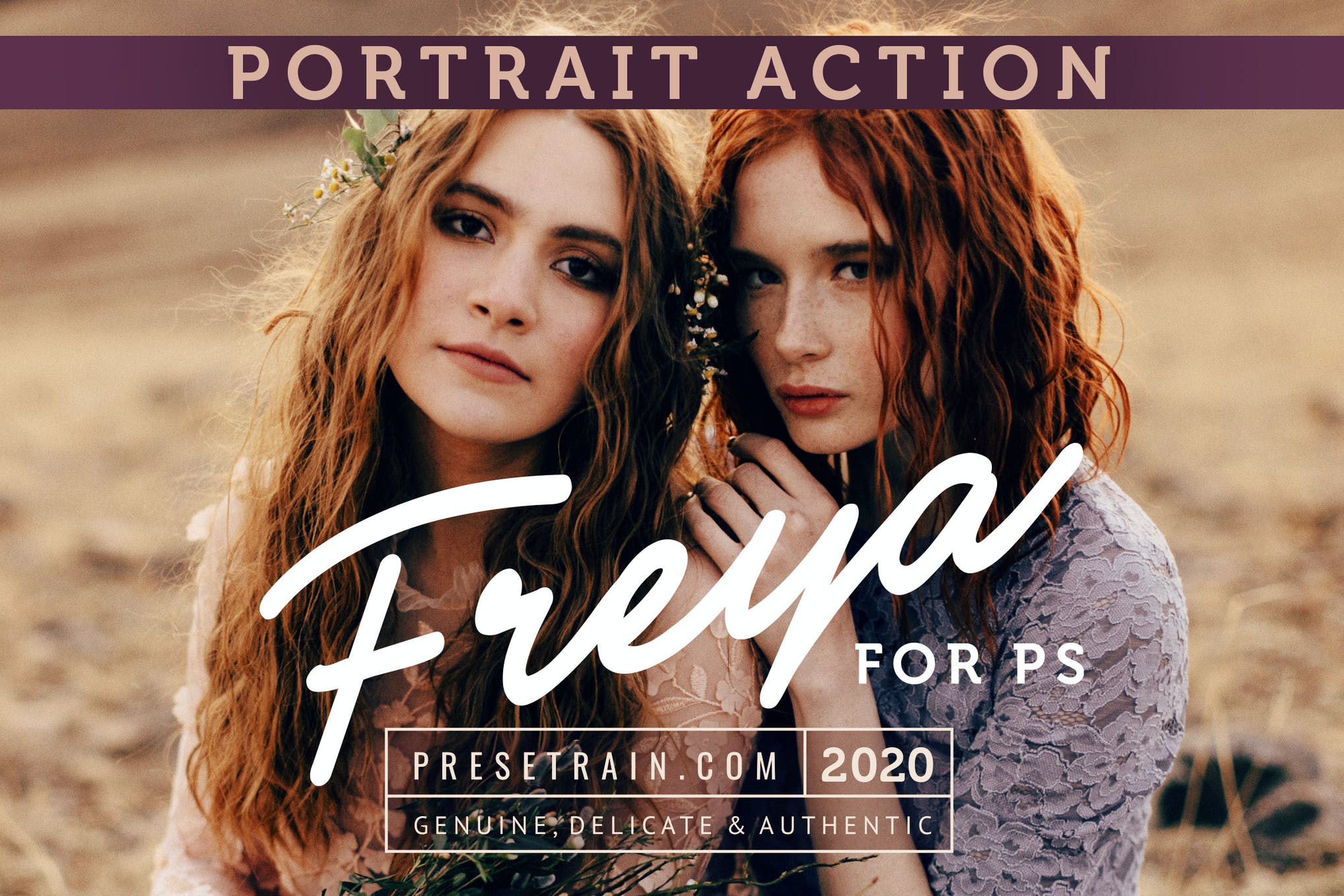 Perfectly suited for portrait, wedding and event photography, Freya is a fully-automated set of five photoshop actions designed to improve the overall appearance and mood of your pictures. It offers gorgeous non-destructive and customizable skin tones with soft matte touch transforming your images into stellar shots.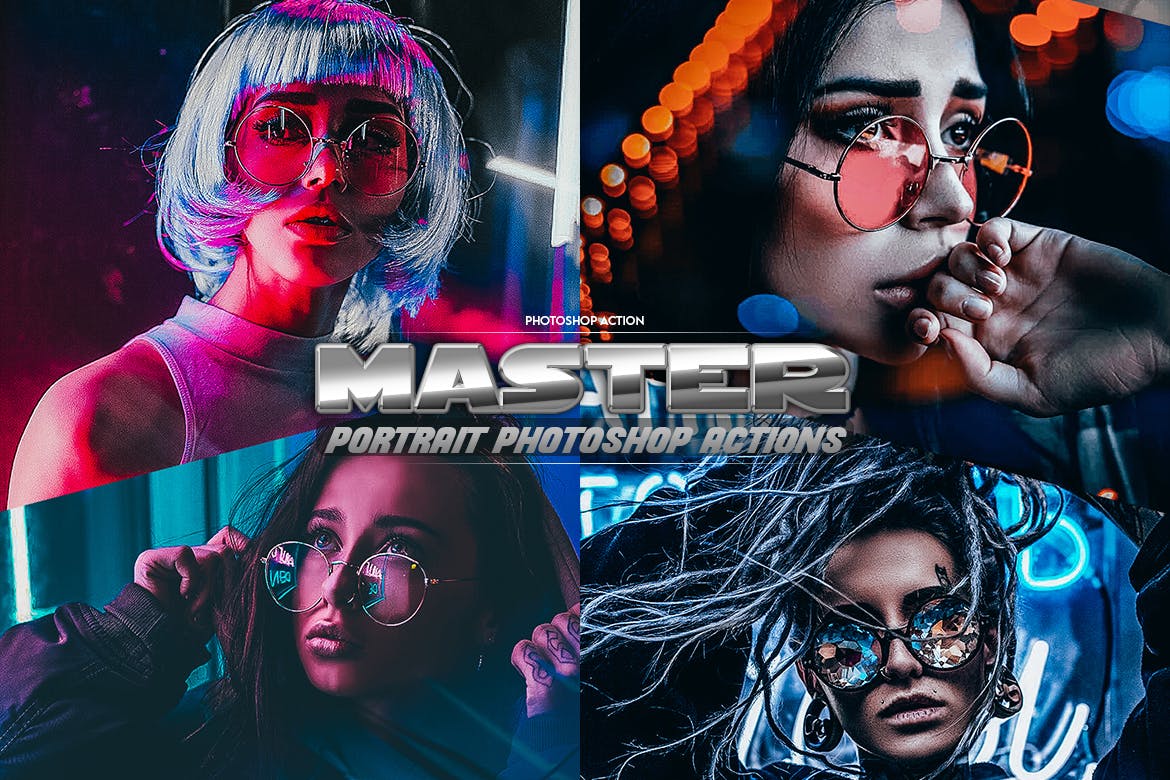 Kickstart editing portraits with this fine-tuned and one-of-a-kind Photoshop action. It converts your photos into amazing-looking portraits in just one click and is non-destructive enabling you to get back 100% of your original photo.
And these are some of the best portrait Photoshop actions out there, all so simple and easy to use that you'll be transforming your portraits within minutes of finishing this article. Don't believe us? Give it a go, and you'll be pleasantly surprised!