20+ Best Marketing Plan PowerPoint (PPT) Templates for 2020
Whether you work in marketing, or you're working on a marketing strategy for your business, you'll know that when it comes time to deliver a world-class marketing plan presentation to clients, colleagues and other stakeholders, a brilliant set of slides is absolutely crucial to back up your content. But you're a busy person, and you've got much more important things to do than fiddle around in PowerPoint with fonts and color schemes, right?
Thanks to the following list of the best marketing plan PowerPoint templates for 2020 that we've put together for you, you'll no longer have to worry. These templates are all professionally designed, fully customizable, and ready to be downloaded straight away. Within minutes, you could have your very own professional marketing plan PowerPoint template on the screen in front of you, ready to be filled with your own content – wouldn't that be amazing?!
If you agree, just read on and choose your favorite template.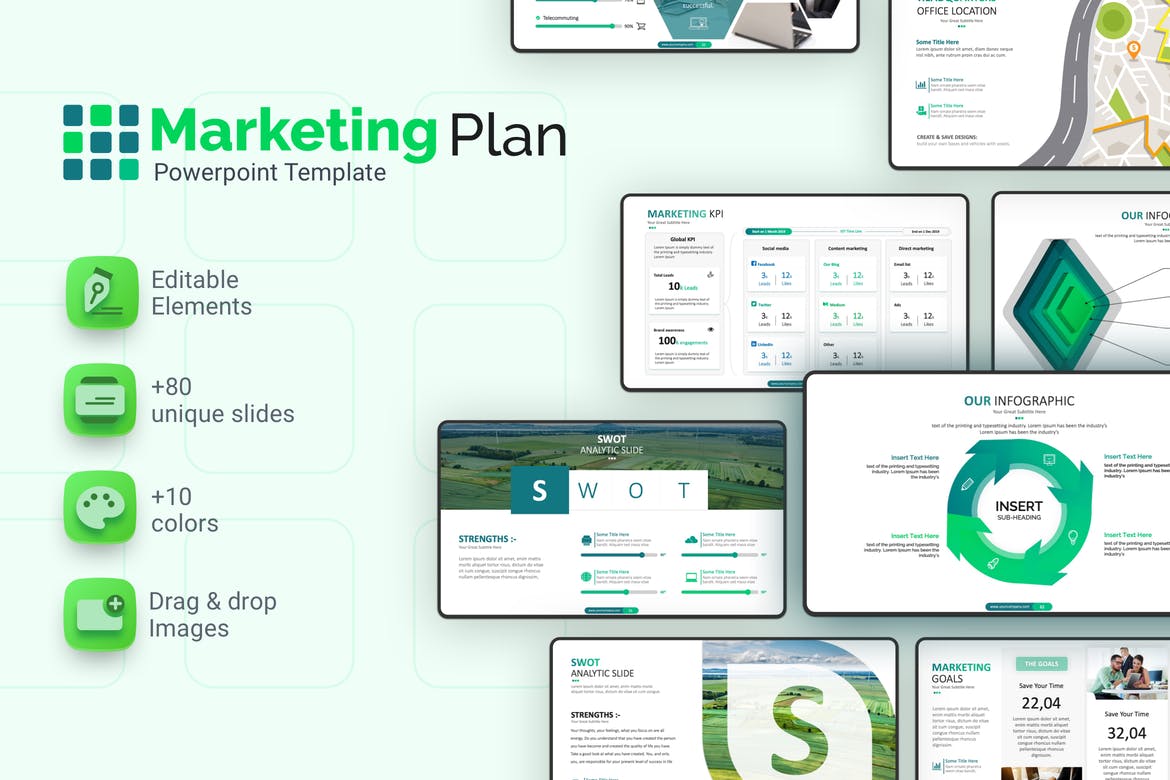 Our first marketing strategy template PPT is a premium option from Envato Elements, and features more than 80 unique slides, each with drag and drop image functionality, light and dark background options, and 30 different color schemes to choose from. It also comes with 16 purpose-built sections.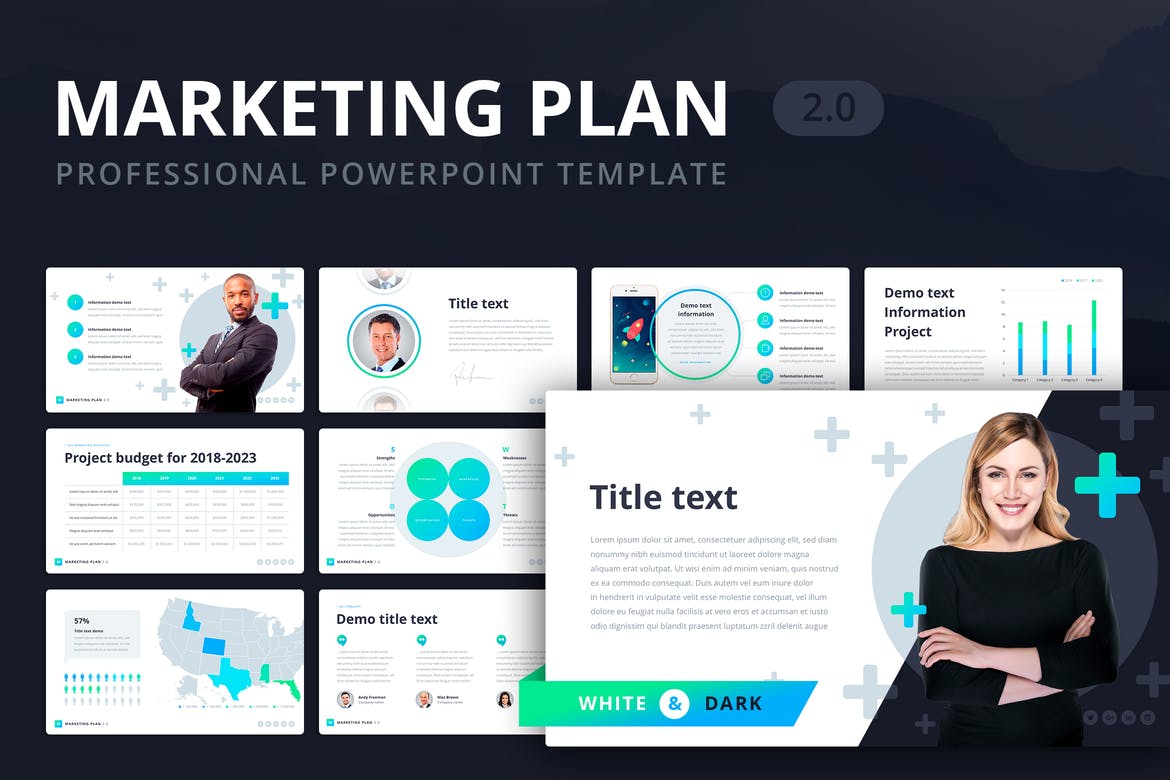 Next up, we have a clean and modern marketing plan PowerPoint template that's perfect for a corporate marketing presentation. It includes subtle animations, free web fonts, device mockups, and a range of professional-looking slide designs. You'll have more than 30 layouts to choose from and 10 premade color options.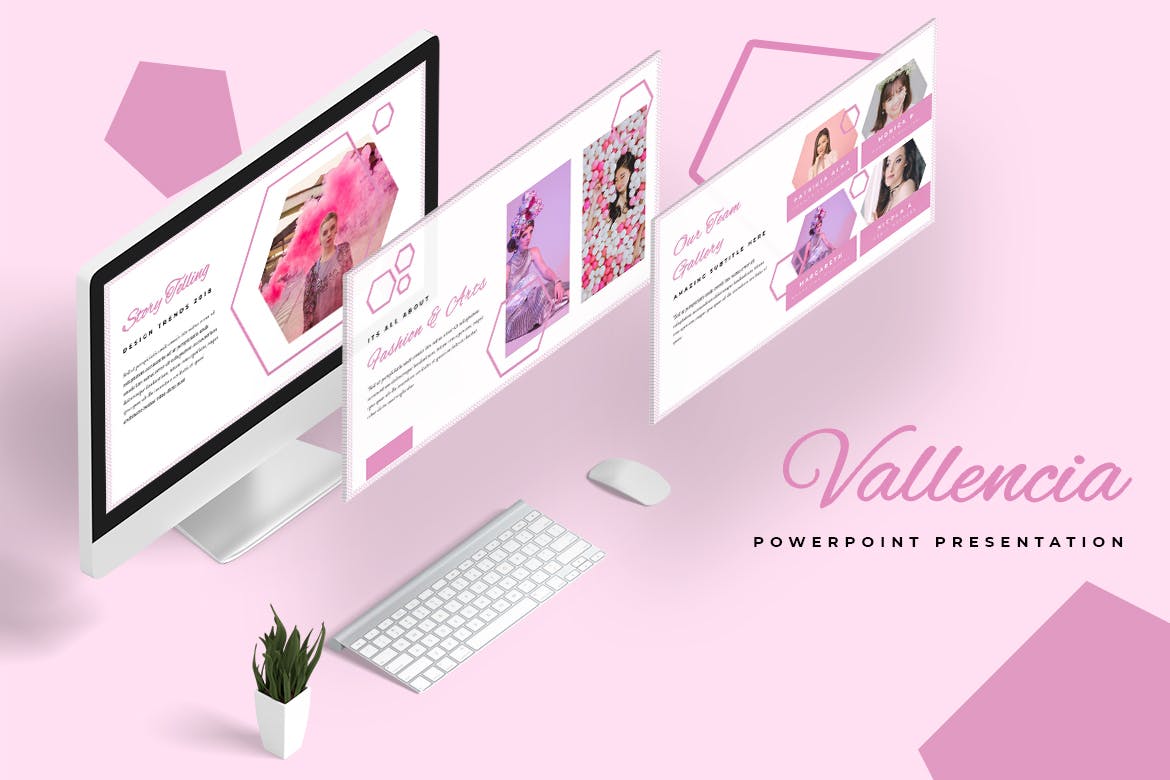 For a more feminine approach, check out this stunning design – featuring 45 beautifully crafted slides and an elegant, sophisticated style, it's perfect for any fashion or beauty marketing plan presentation. Drag and drop images and fully customizable graphics make it simple to customize.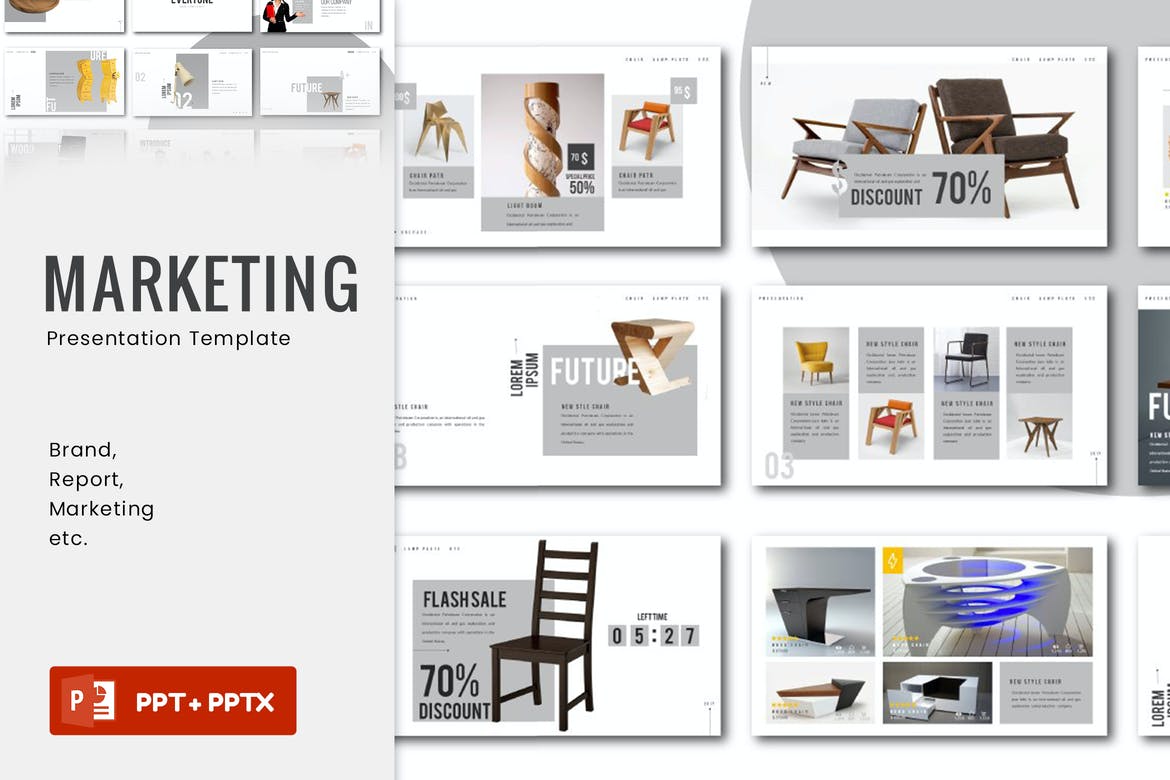 Here we have an ultra-modern professional marketing presentation template that's super easy to edit and features a range of unique portfolio slides to help showcase your products and services. It also comes with media placeholders, predefined text styles, and a full HD resolution.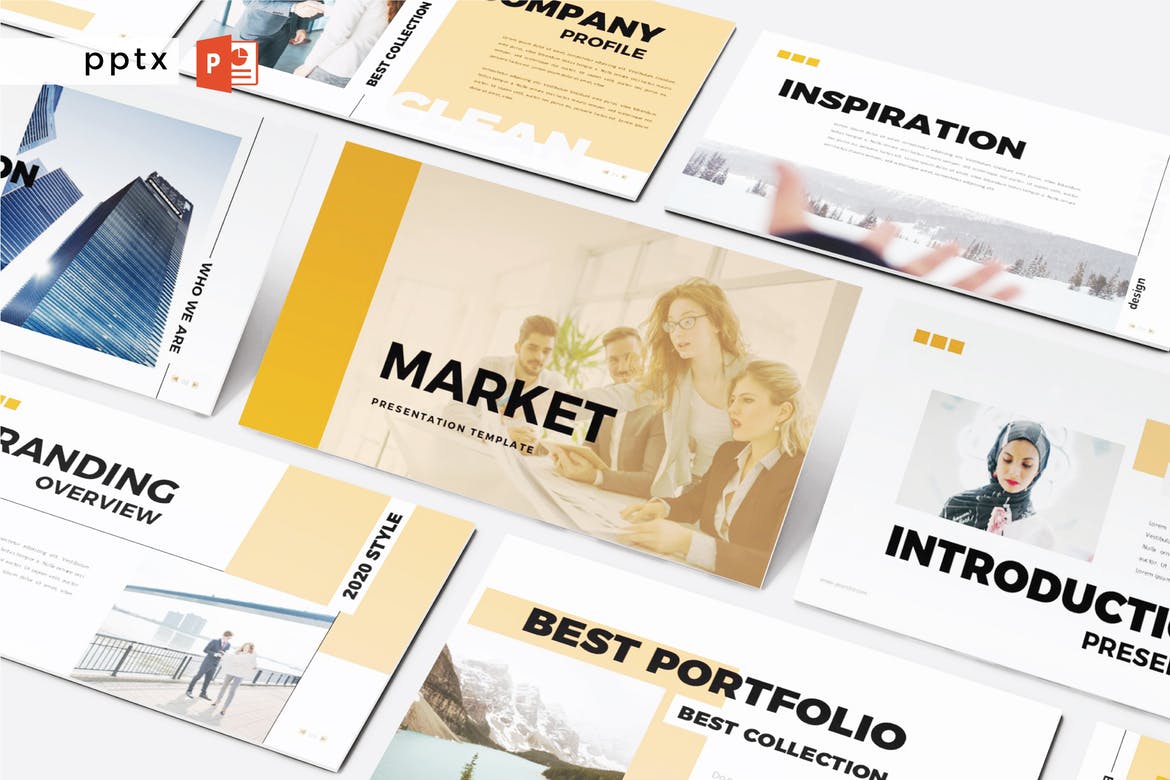 If you're wanting a simple yet engaging marketing PowerPoint template for your project, this option is a solid choice. It consists of 150 total slides, including five color schemes, each of which features a clean and minimal design that's easy to customize using drag and drop placeholders and resizable vector icons.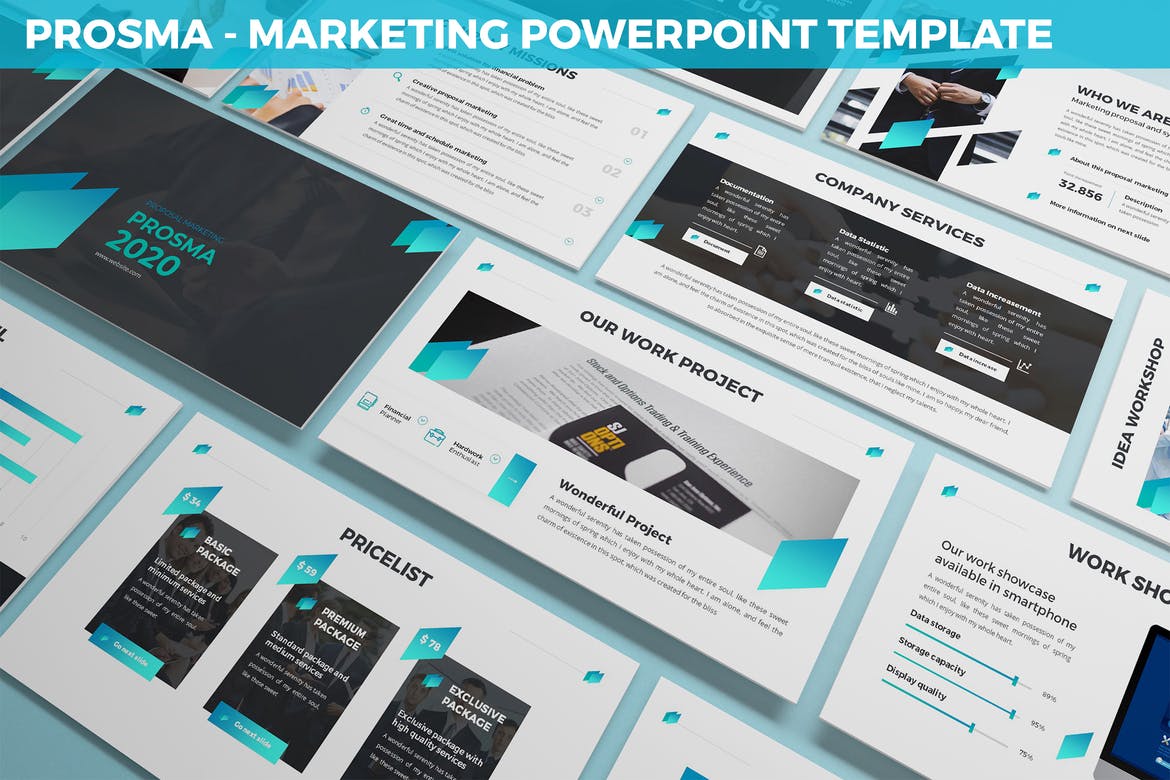 The Prosma marketing presentation template features an abstract design with strong use of gradients and cohesive colors to create a unique and modern look that's ideal for any kind of marketing plan. It offers widescreen and standard sizing options, dark and light backgrounds, and a range of premade content slides to save you even more time.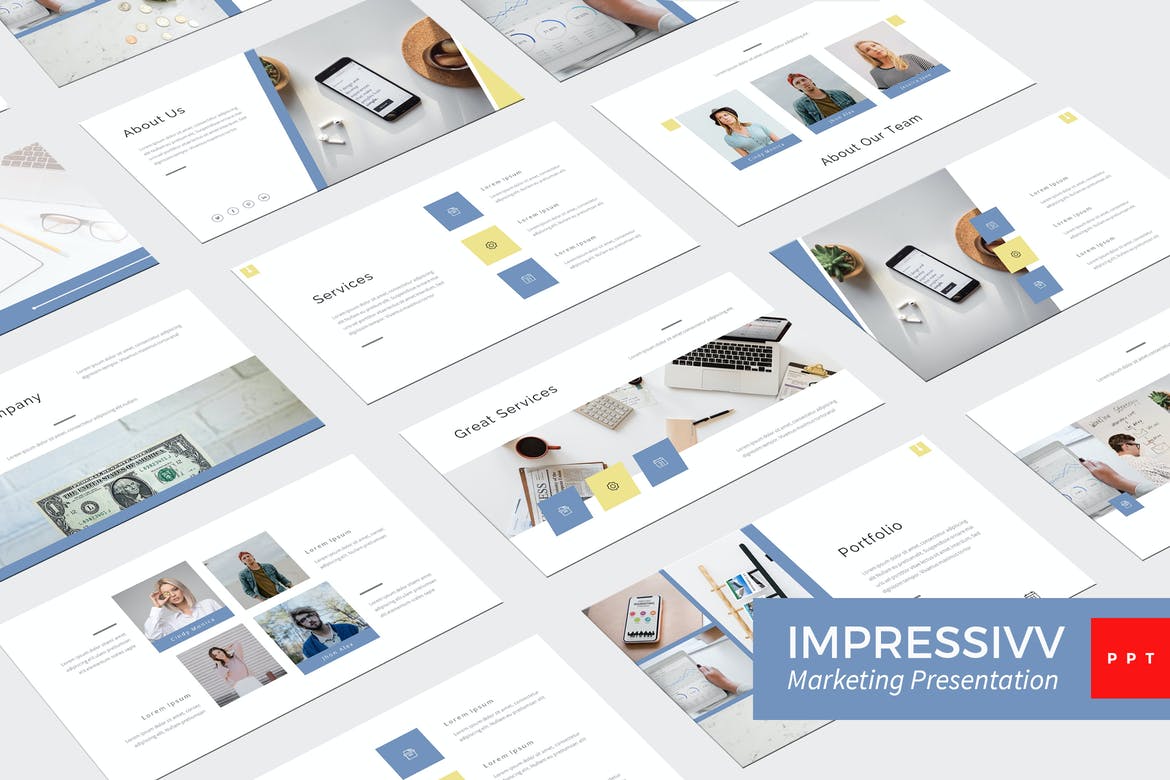 Next, we have Impressivv, a marketing strategy template PPT that lives up to its name! It includes 30 professionally designed slide layouts with modern design elements, high-quality vector icons, a 16:9 aspect ratio, and free web fonts. Every element of this template is fully editable.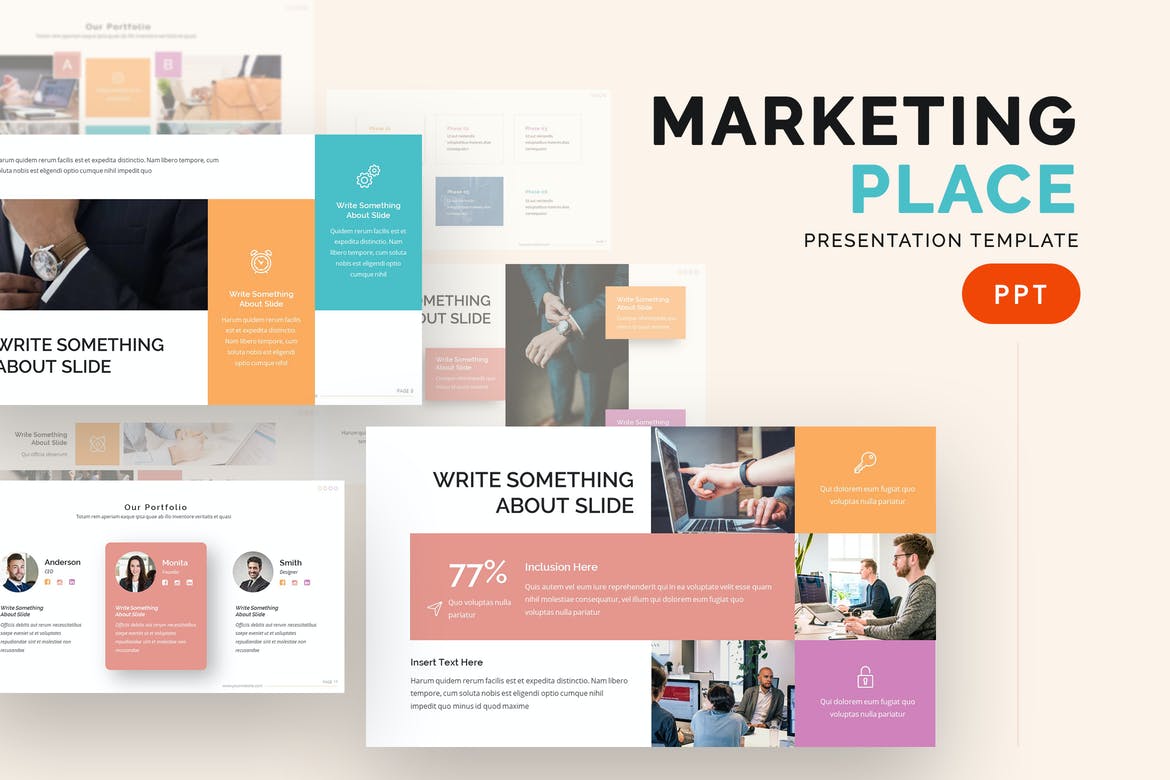 Here we have a creative, colorful collection of 30 unique slides, featuring an eye-catching color palette, widescreen ratio, and several handy premade content slides. The design is clean and modern, with simple sans serif fonts and a grid-based alignment, and it's perfect for a new business or startup to really impress their audience.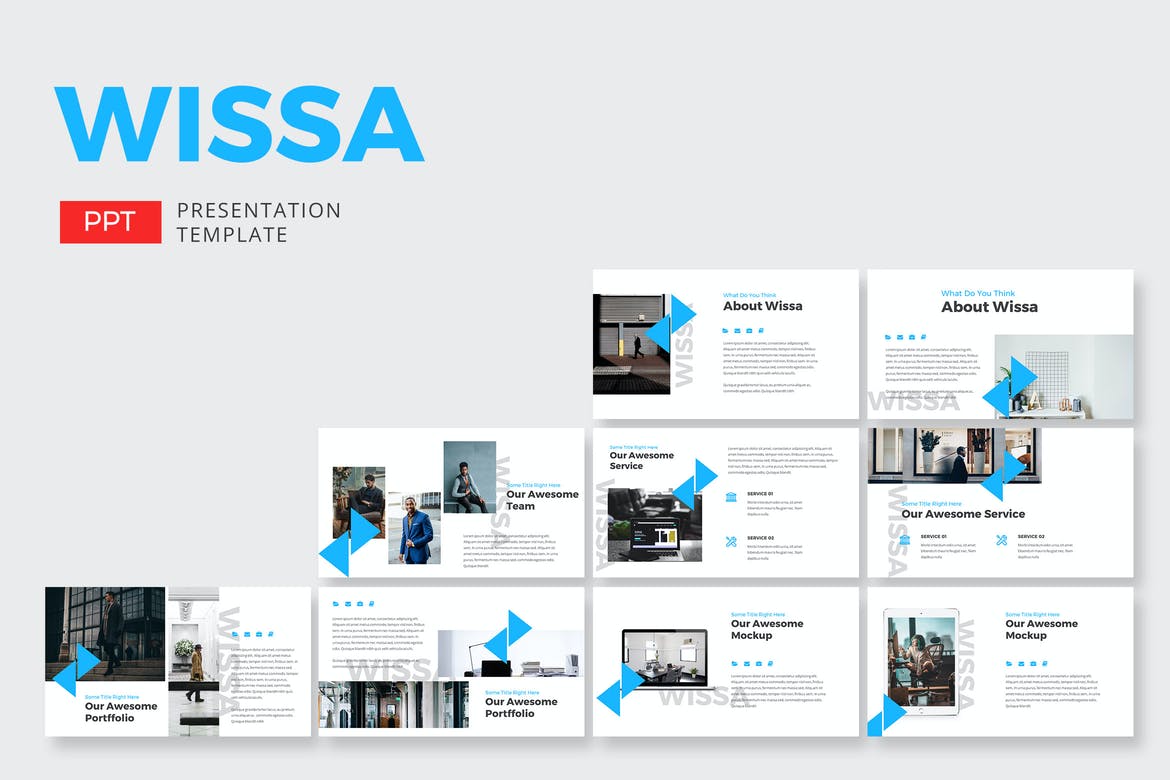 Here is another clean and modern set of 30 slides that's perfect for a marketing strategy presentation, and uses master slides to make it easy for you to customize according to your project's specific requirements. It offers editable vector icons and shapes, as well as full supporting documentation.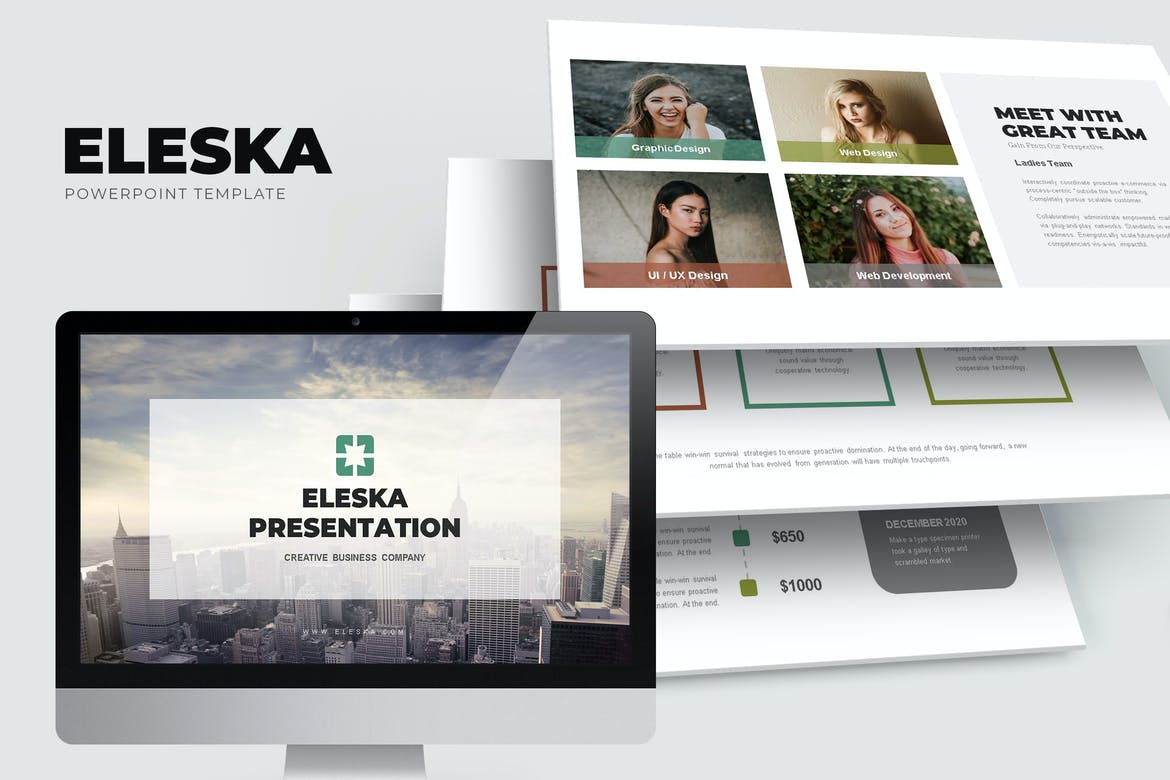 Eleska is a highly versatile marketing presentation template that features plenty of space for both images and text and gives you a total of 120 slides to mix and match, plus four color variations. There are also image placeholders, editable icons, and vector shapes to help you customize.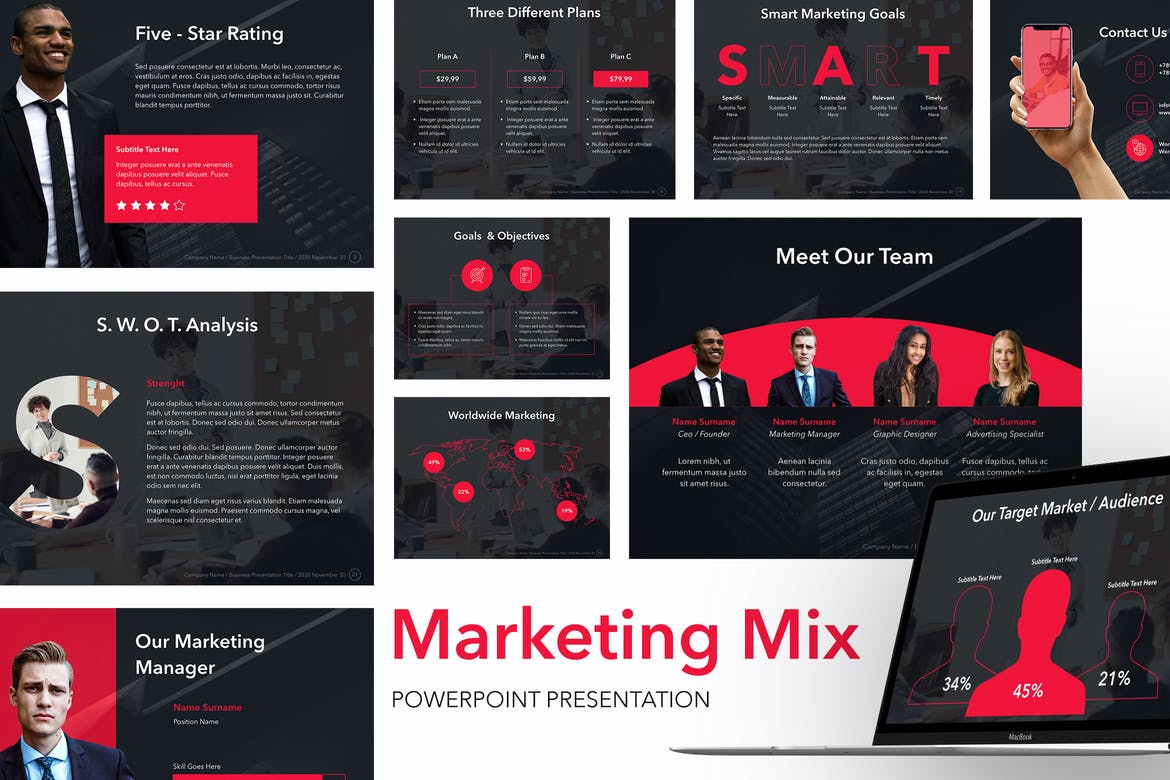 For an ultra-modern design, consider this dark and sophisticated set of 30 master slides, featuring two size format options, versatile layouts, drag and drop placeholders, and a range of data visualization tools such as charts and diagrams that you can customize for your project.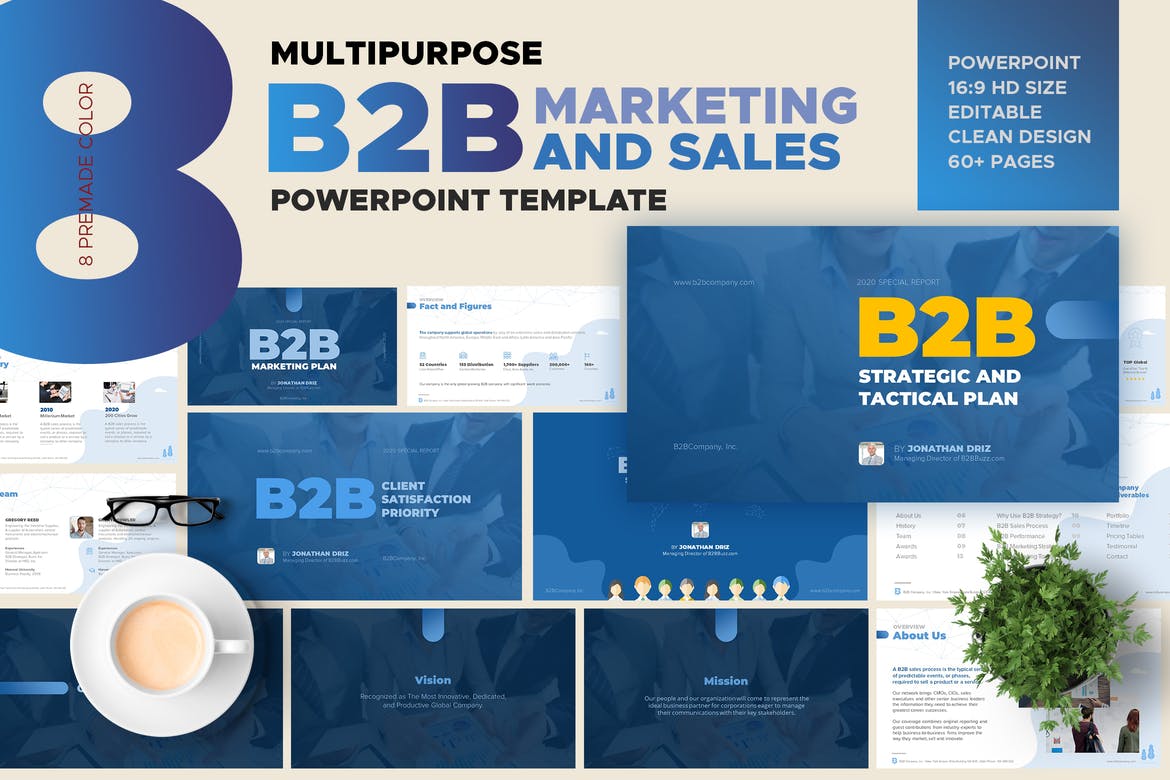 Designed specifically for business to business sales and marketing strategies, our next presentation PowerPoint template features more than 60 unique slides with unlimited color options and fully editable graphics, making it easy to adapt for any industry and to suit your company's corporate colors.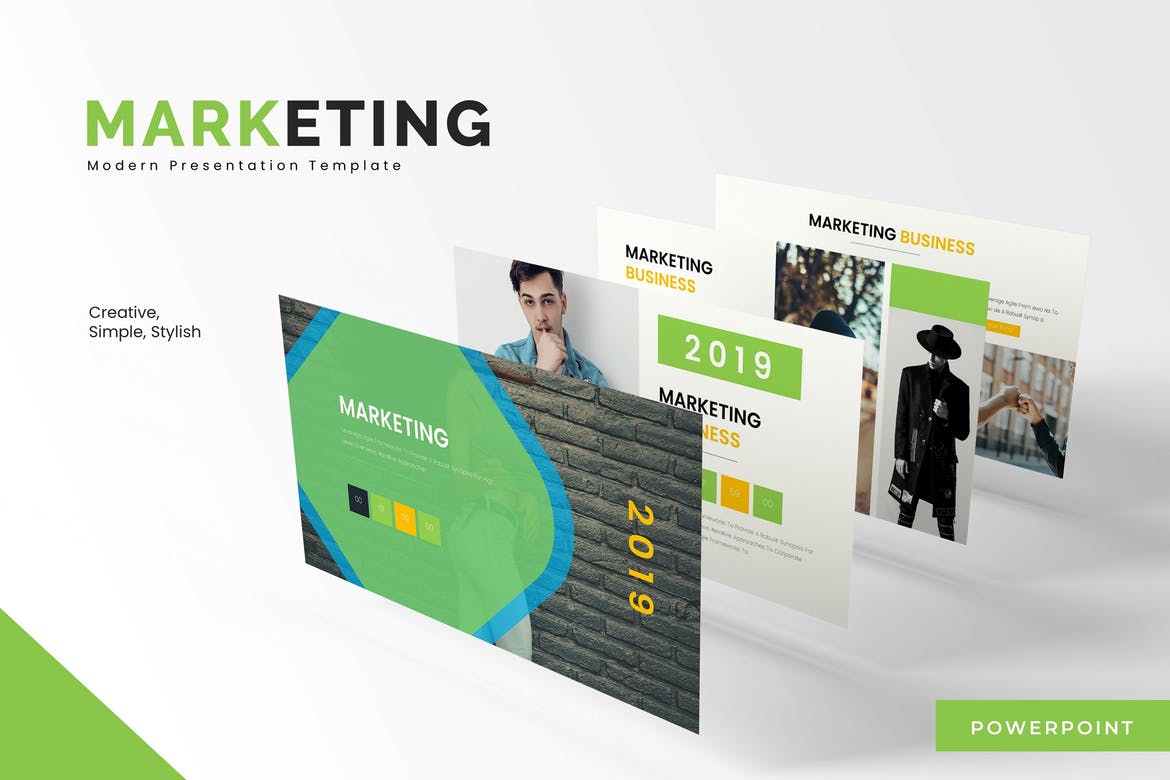 Offering five color variations, 30 slide layouts, and a pixel-perfect resolution, this simple yet stylish marketing strategy template PPT is sure to impress. It comes with a range of handcrafted infographics that you can populate with your own facts and figures, as well as gallery and portfolio slides to help showcase your offerings.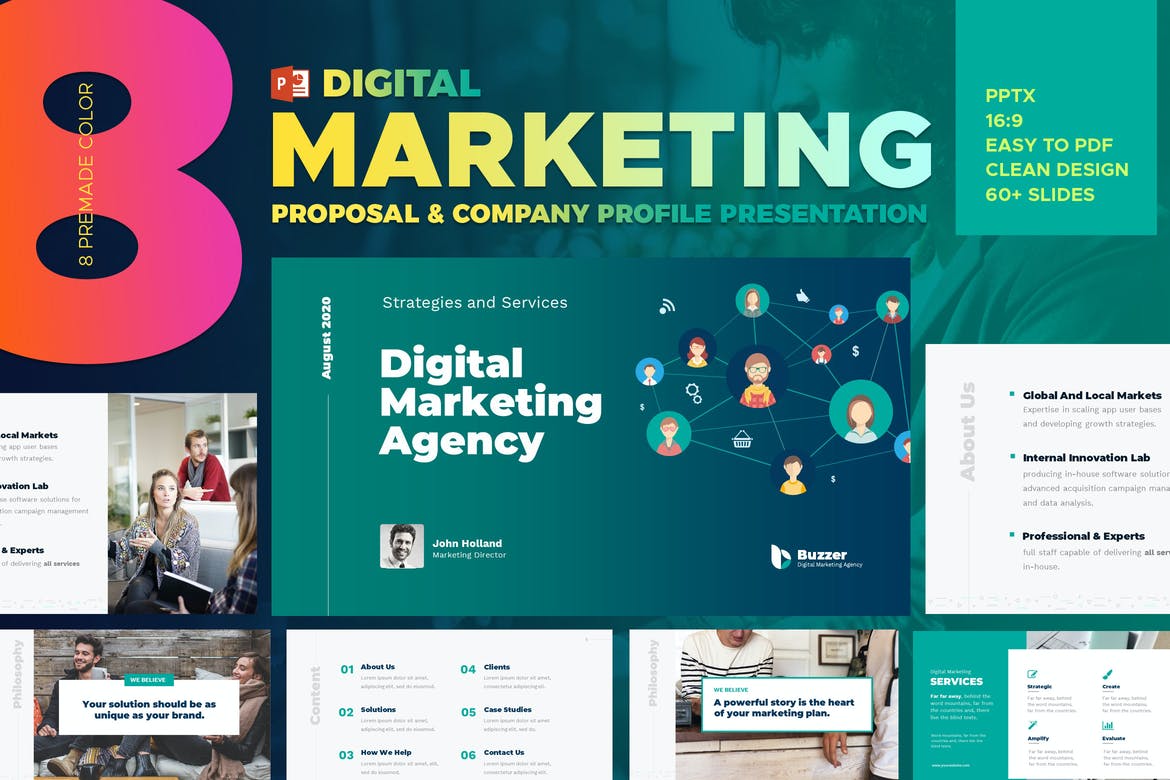 Next in our roundup is this clean and modern set of 60 unique slides, purpose-built for use by a digital marketing agency to demonstrate their strategy. It comes with eight different color choices, fully editable layouts, and free fonts, and will give your presentation a professional and upmarket feel.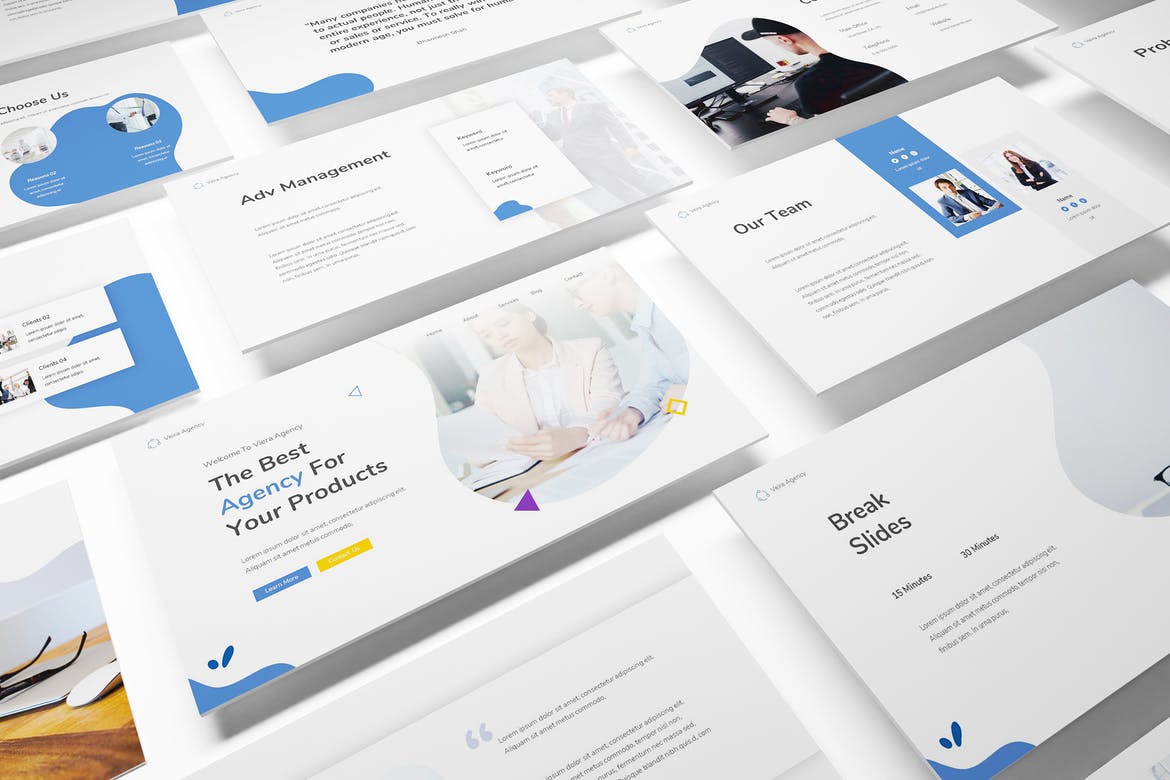 Perfect for a corporate marketing strategy presentation, this marketing PowerPoint presentation features a simple, flat design with classy graphic elements and a minimalistic layout, making it easy to adapt for different industries and aesthetics. It also comes with animations and transitions for you to use.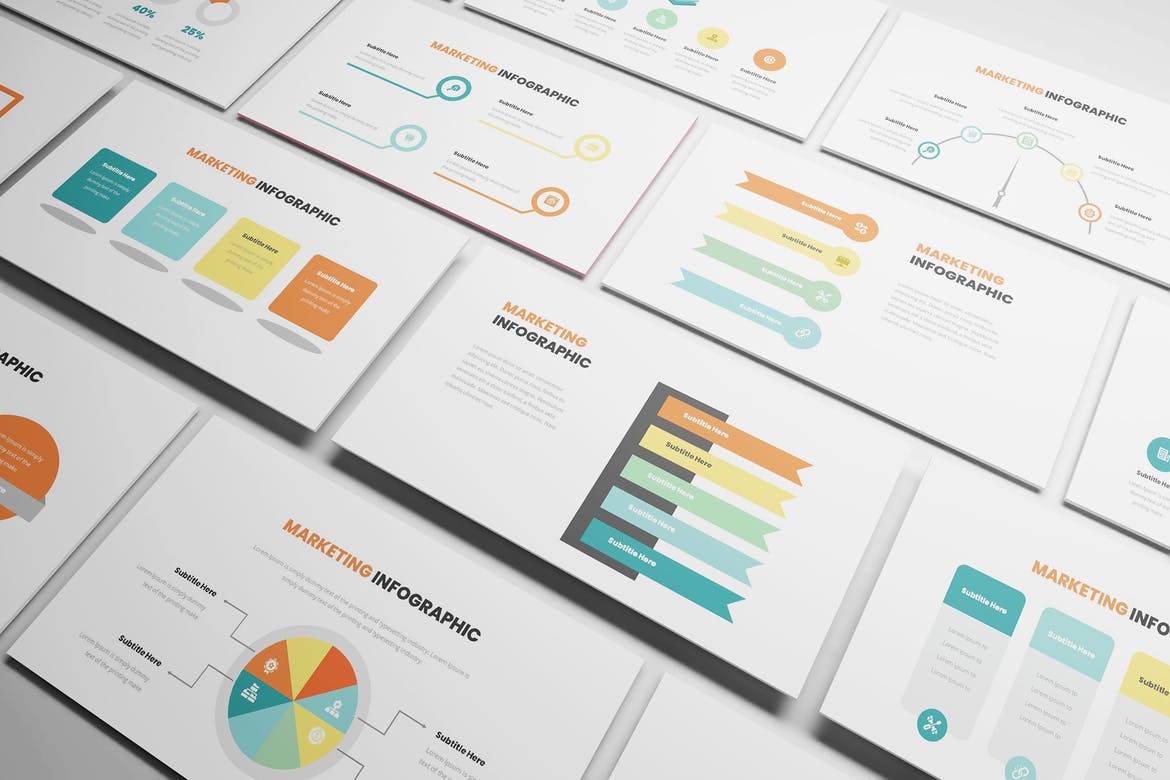 If you're wanting to include lots of interesting and useful infographics in your marketing presentation, this is the template for you. It offers 30 slides with modern and fully customizable infographics, including charts, graphs, diagrams, and more, perfect for sharing all those facts and figures without resorting to long paragraphs of text!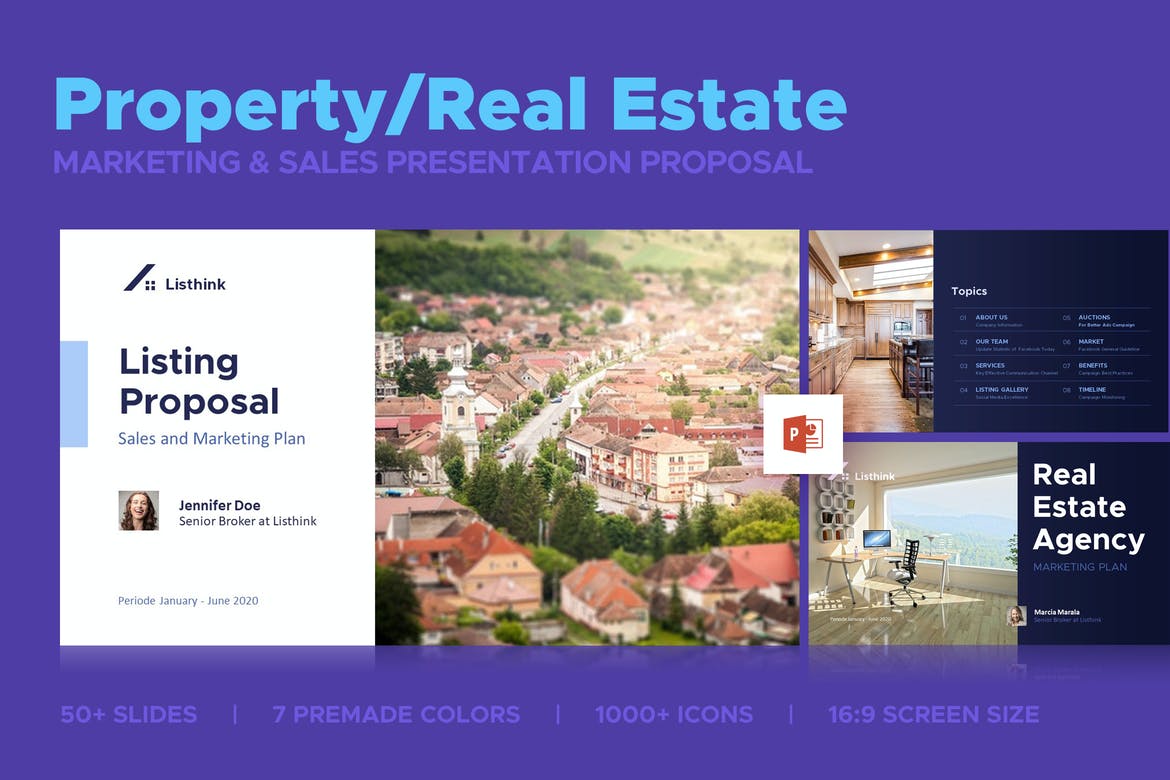 Perfect for real estate marketing plan presentations, our next template is based on the property sales industry, but is versatile enough to be adapted to fit other businesses as well. It comes with 50 slide layouts and seven different color themes, plus a thousand vector icons and a range of animations and transitions.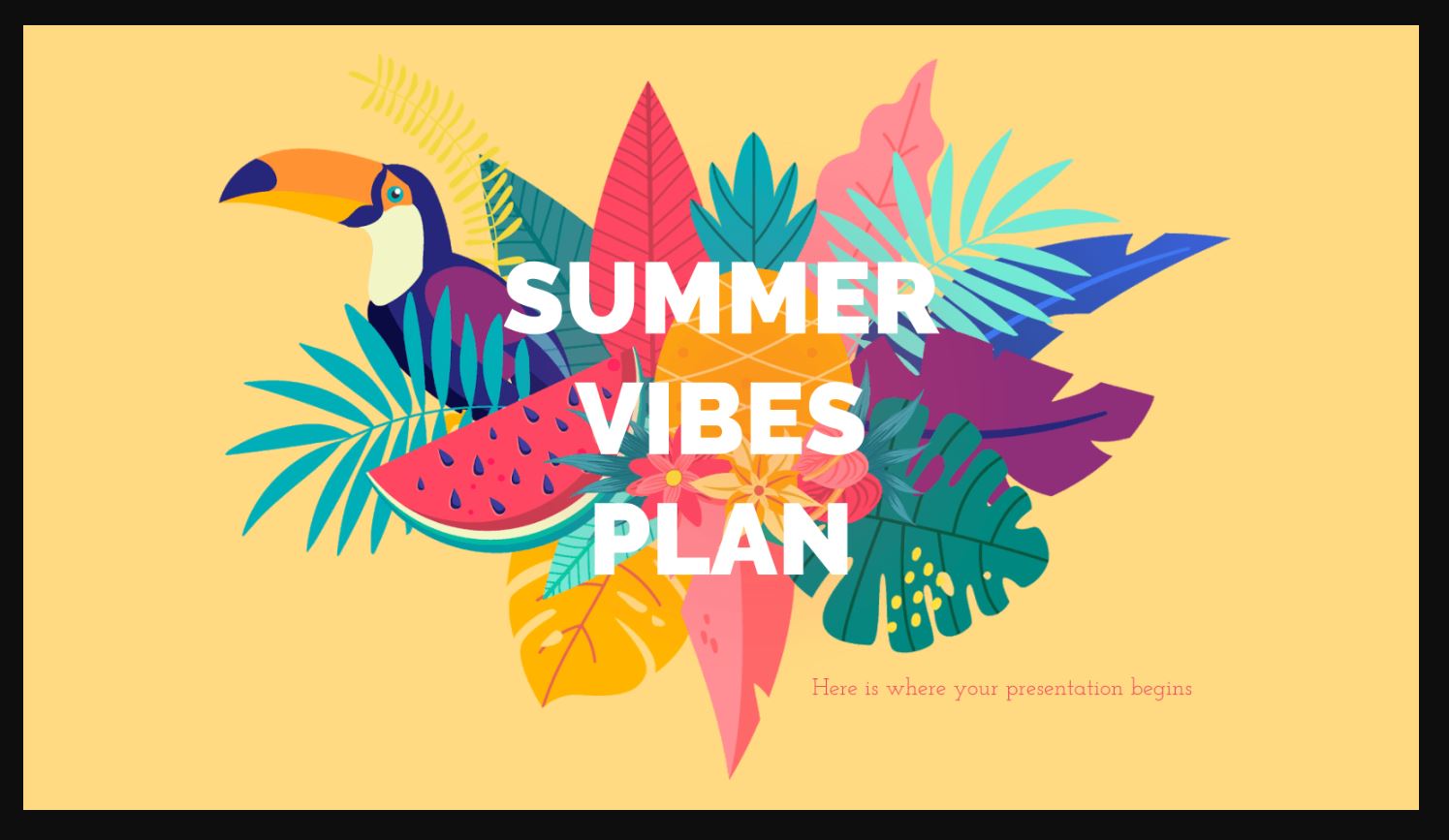 We'll now feature some free marketing plan PowerPoint templates, starting with this fun download from SlidesGo featuring a bright and cheerful design with summer-inspired elements, perfect for a hospitality or retail business to use for their next marketing strategy presentation.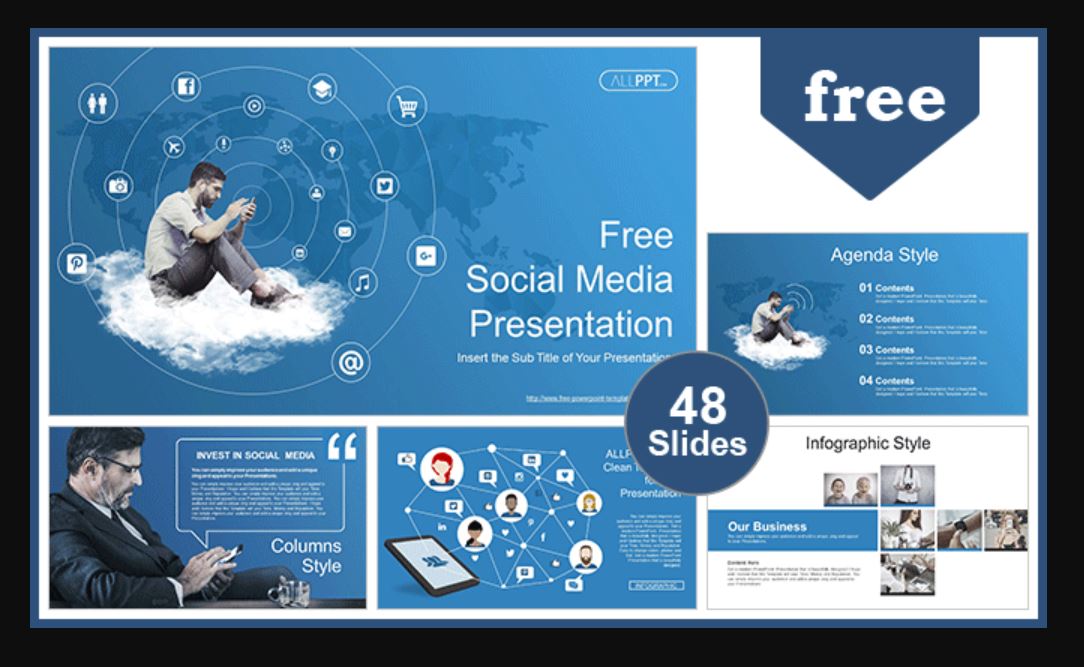 A strong social media presence is essential to any modern business, so it makes sense that social media marketing strategies are commonplace in many larger companies. Utilize this free social media marketing PowerPoint template for your own strategy presentation, available for free from Free PowerPoint Templates Design.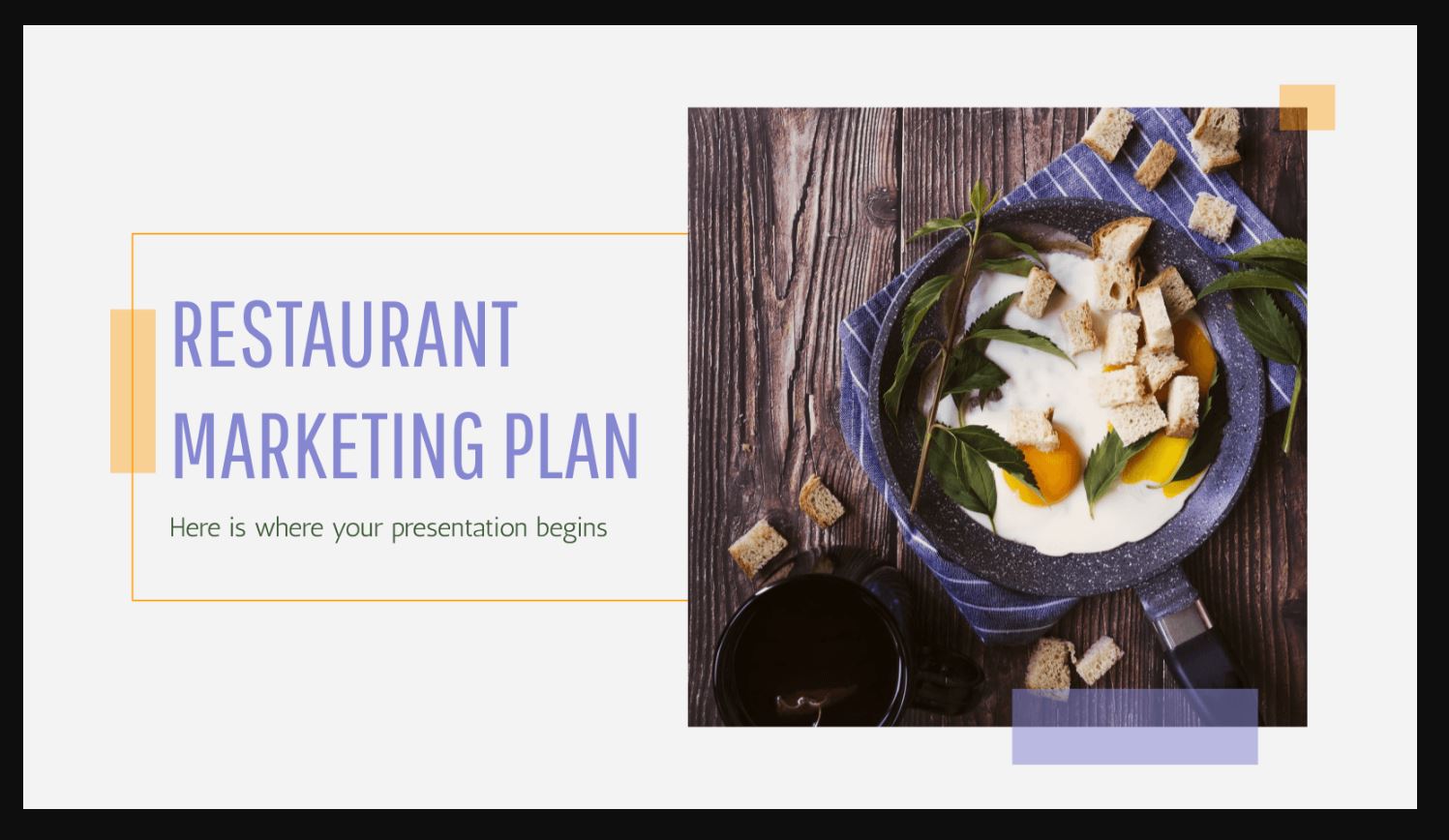 And finally, we have a fresh, modern set of 22 unique slides that's been designed specifically as a restaurant marketing presentation, but can be customized to suit most hospitality or food and beverage businesses. It offers a thousand vector icons, fully editable graphics, and a clean, geometric design.
And that's it! Thanks to our list of the very best marketing plan PowerPoint templates for 2020, your marketing strategy presentation will now have a seriously impressive deck of slides to back up your brilliant content, giving you one less thing to worry about when preparing your project.
Looking for WordPress hosting? We use Kinsta. They offer world-class WordPress hosting, built to keep your website fast, secure, and always online.