25+ MacBook & Laptop Mockup Templates for 2023
Finding the best mockup to showcase your work on a website or present designs to a client can be a time-consuming task.
More often than not you'll end up scouring the web for hours to find a great-looking laptop mockup template only to see it has an expensive price tag.
Today, we're going to change things by providing you with a handpicked collection of laptop mockups and MacBook mockups with high-quality designs.
The best part about these mockups is that you can download them all (and more) for a single price. They are all from Envato Elements, which offers unlimited downloads under its subscription plan.
If you're low on budget, don't worry we included a few free laptop mockup templates for you. Check them all out below.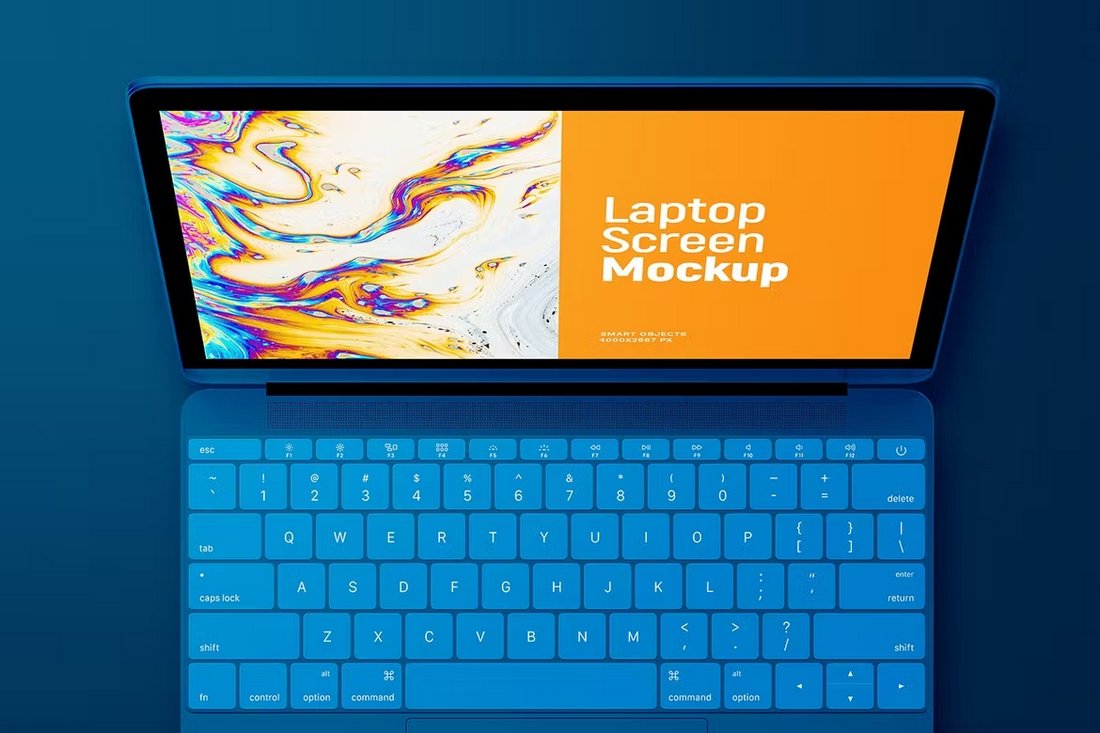 This mockup features a beautiful top-view of a MacBook giving a close-up view of the screen. It's made based on a real photo and allows you to present your designs in a very natural way. You can also customize the background and change the screen using smart objects.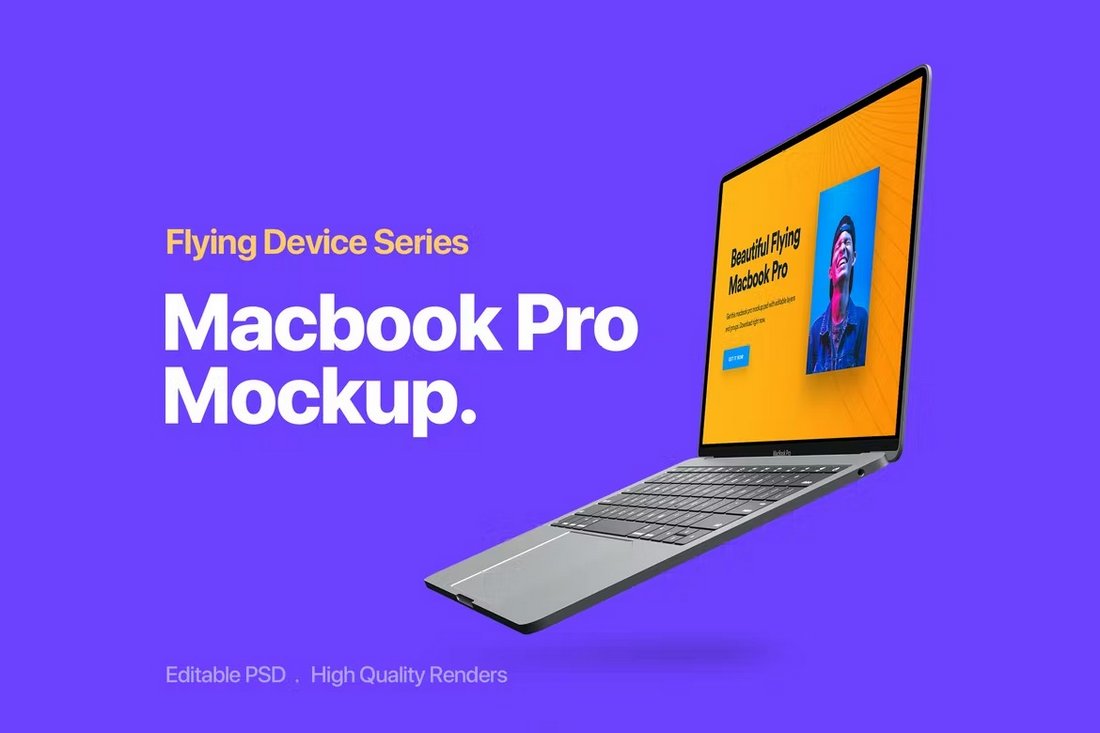 Using this mockup template, you can show a side-view of your designs using the floating MacBook Pro device. The clean look of the scene will make sure your design gets more attention. The template also features editable backgrounds with organized layers.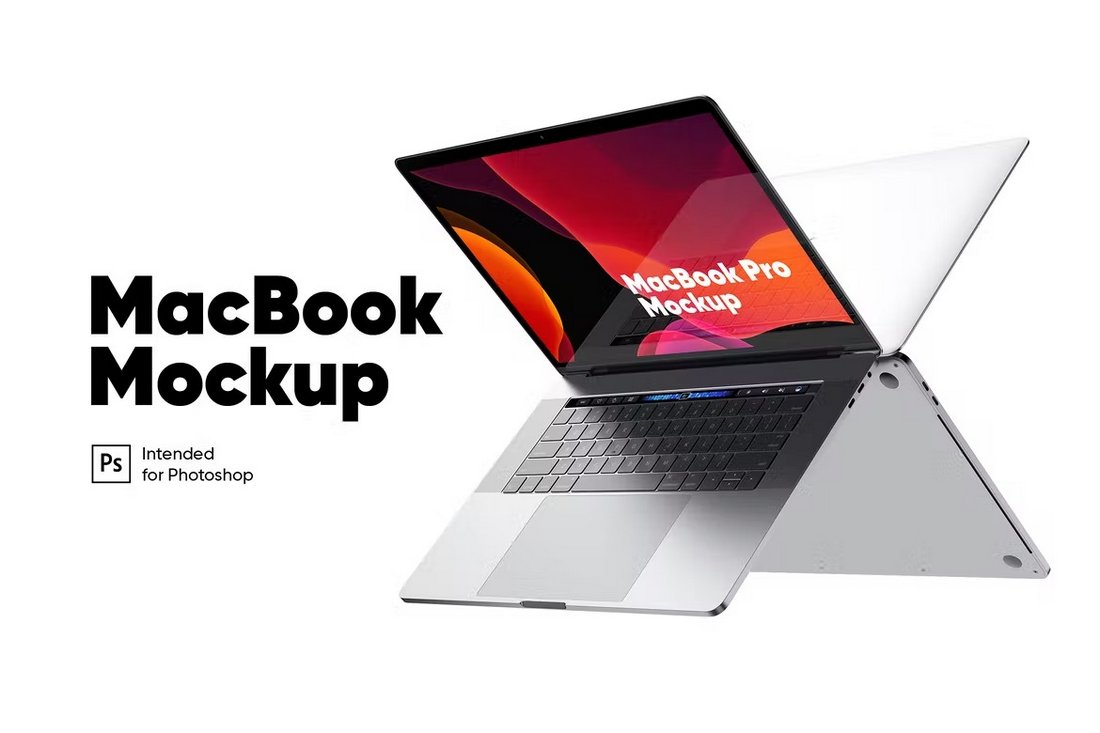 This stylish MacBook Pro mockup is perfect for product promotions and website header designs. It's especially great for portfolio items too. The template comes in a PSD file with separate layers to let you easily customize the mockup however you like.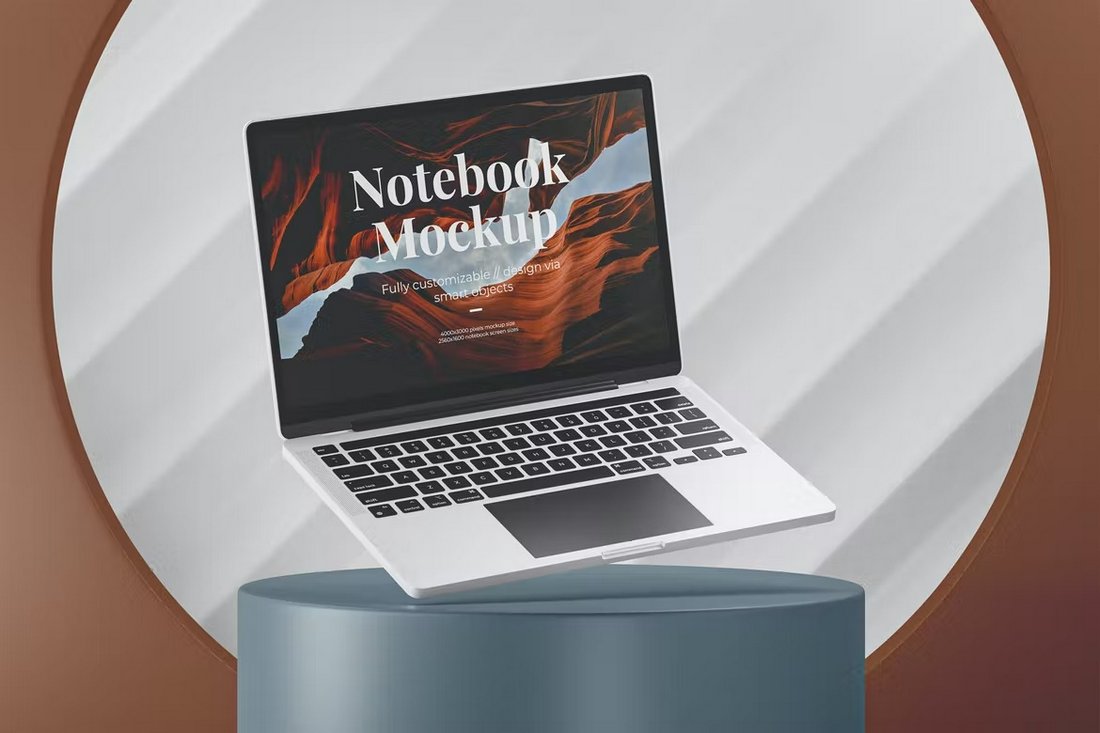 A stylish laptop mockup featuring a floating device in a modern scene. This mockup offers an elegant look that's ideal for showcasing designs related to high-end and luxury brands. You can change its background color and place your design in the device mockup using smart object layers.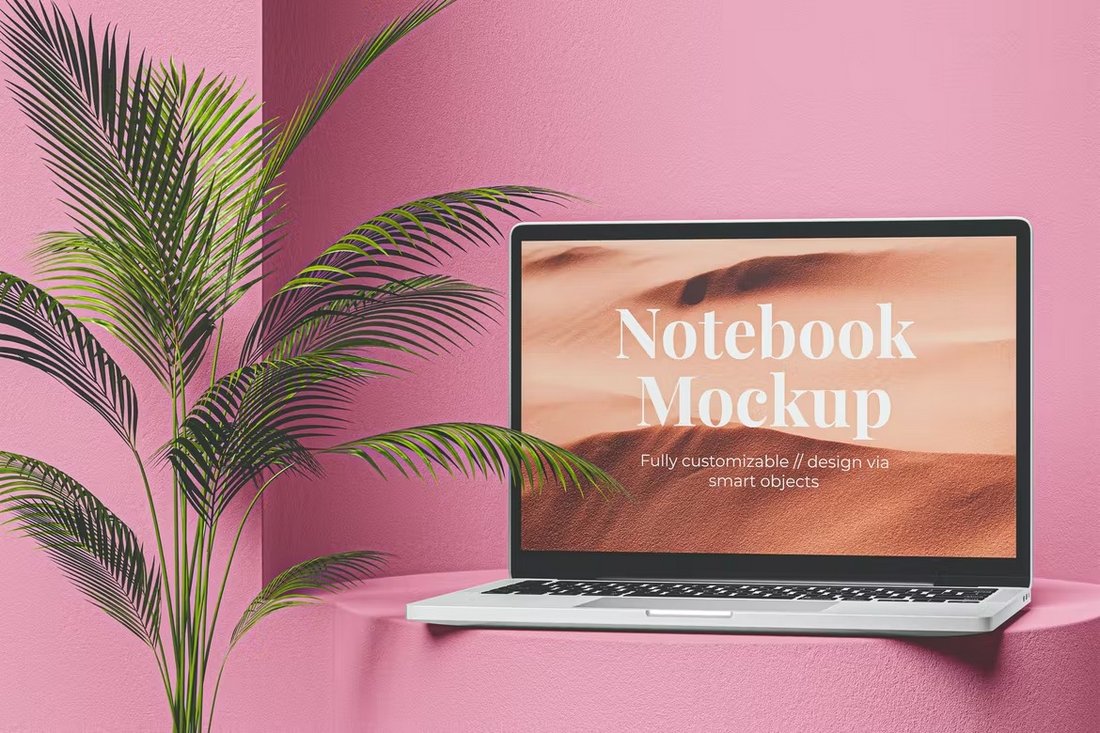 Featuring a beautiful and creative scene, this laptop mockup comes with the perfect design for showcasing work related to fashion, beauty, and lifestyle. The template is also great for promoting products on websites and social media.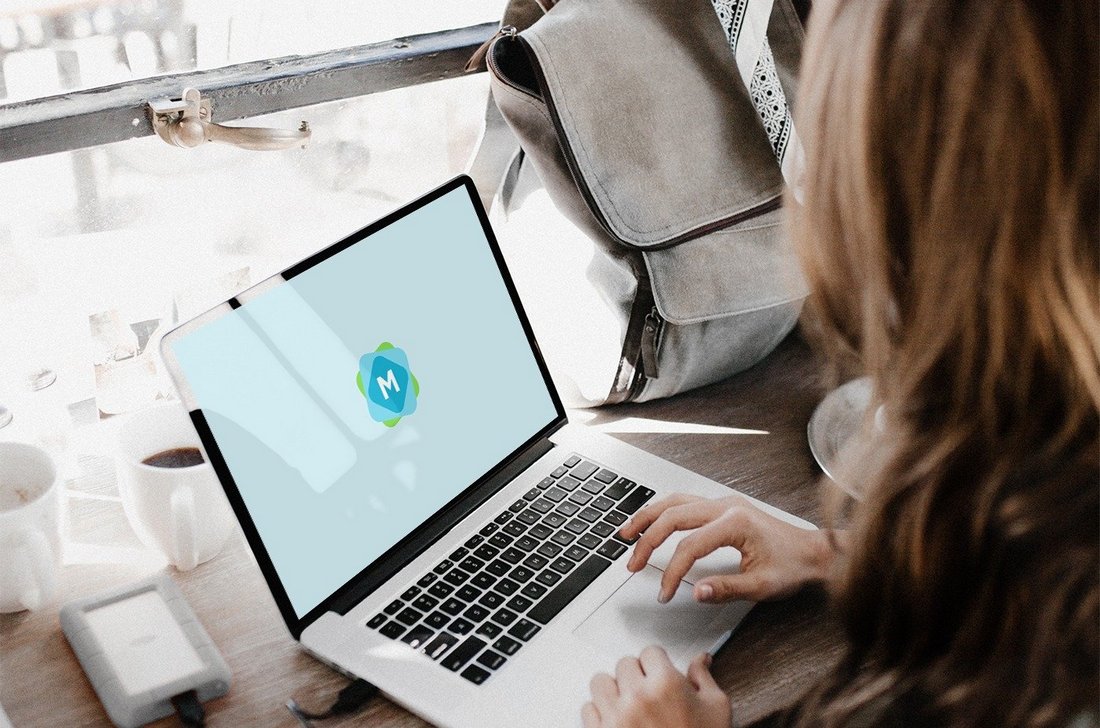 This is a free MacBook mockup that shows a woman working on a laptop. It's made based on a real photo and offers a realistic environment for presenting your designs. The template includes smart objects as well.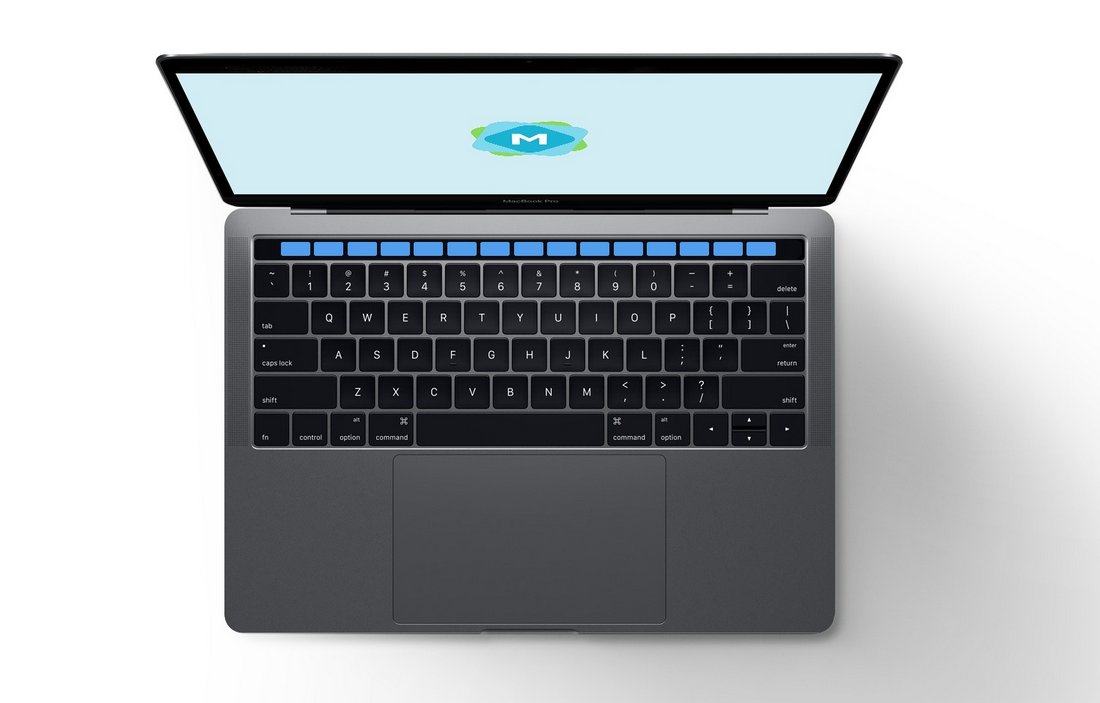 This MacBook Pro mockup is also free to download and use. A special feature of this mockup is that it includes a touch bar mockup set, in addition to the screen mockup. It's perfect for showcasing app designs.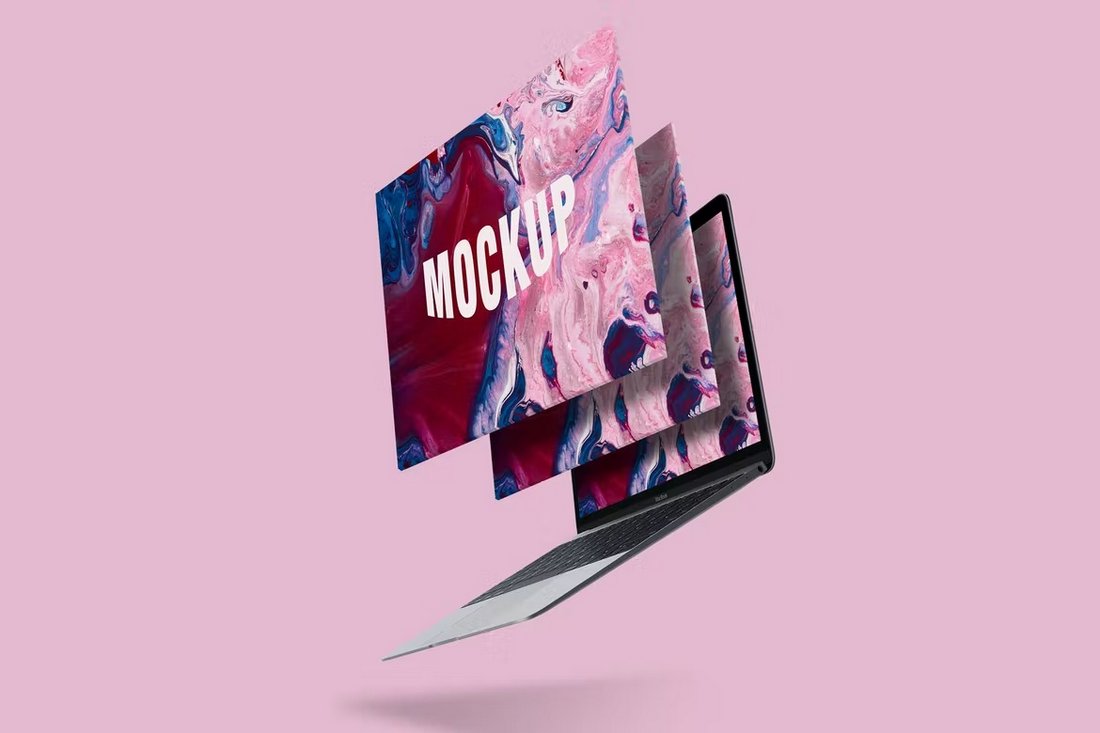 A multipurpose mockup template that looks perfect for all kinds of presentations, including social media promos, portfolios, and website headers. This mockup includes multiple screens on a floating MacBook Pro. The background can be changed as well.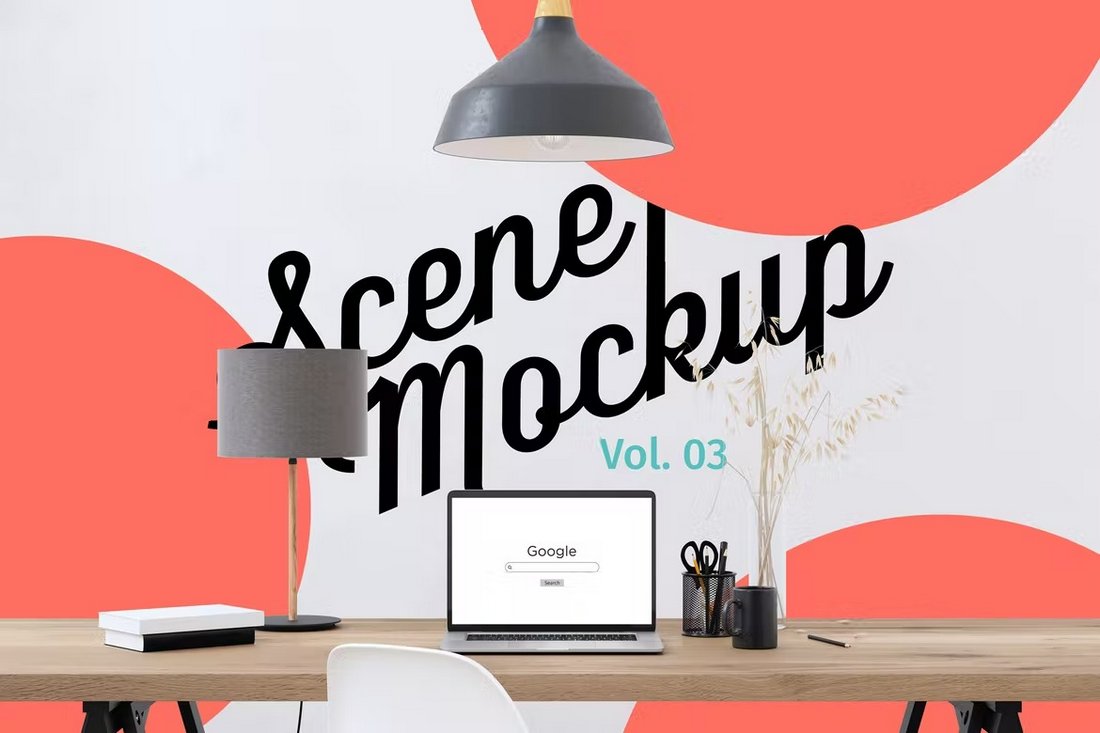 If you want to showcase your design on a creative workspace mockup scene, this template is perfect for the job. It features a fully customizable workspace desk scene featuring a MacBook device. The template is suitable for everything from creating hero scenes to portfolio items.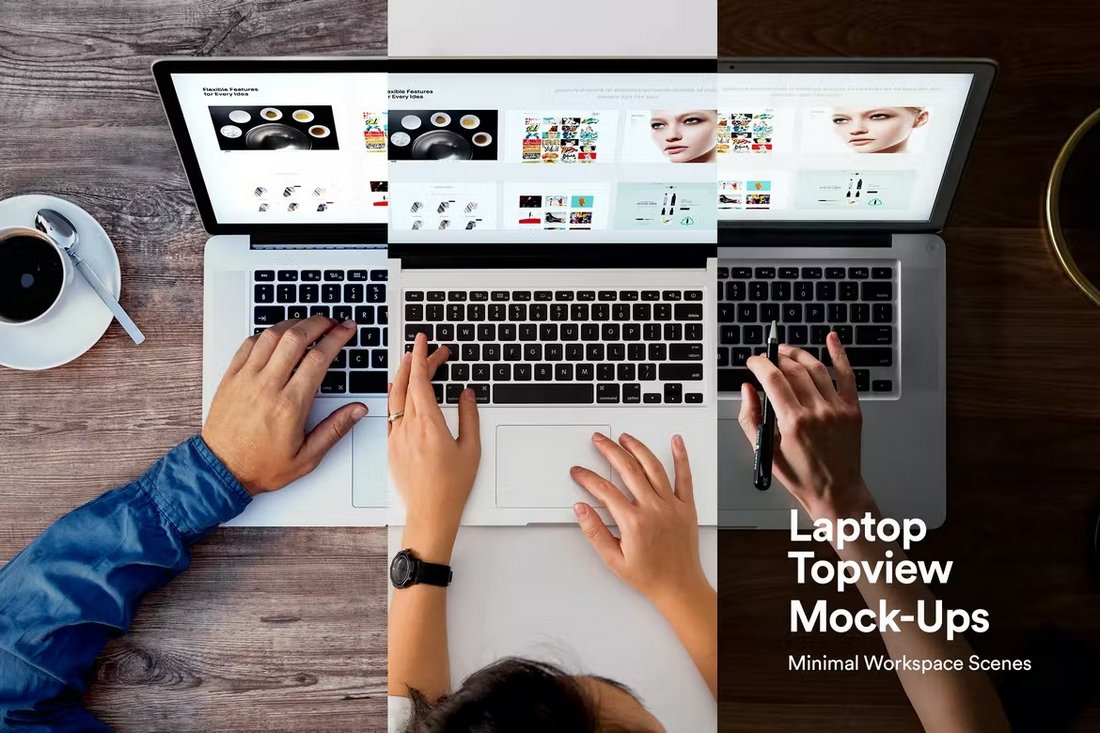 This is a collection of laptop mockups that shows a working environment. It includes 3 different mockup scenes that show male and female hands working on a laptop. Each mockup features real photo backgrounds and includes smart objects for easier editing.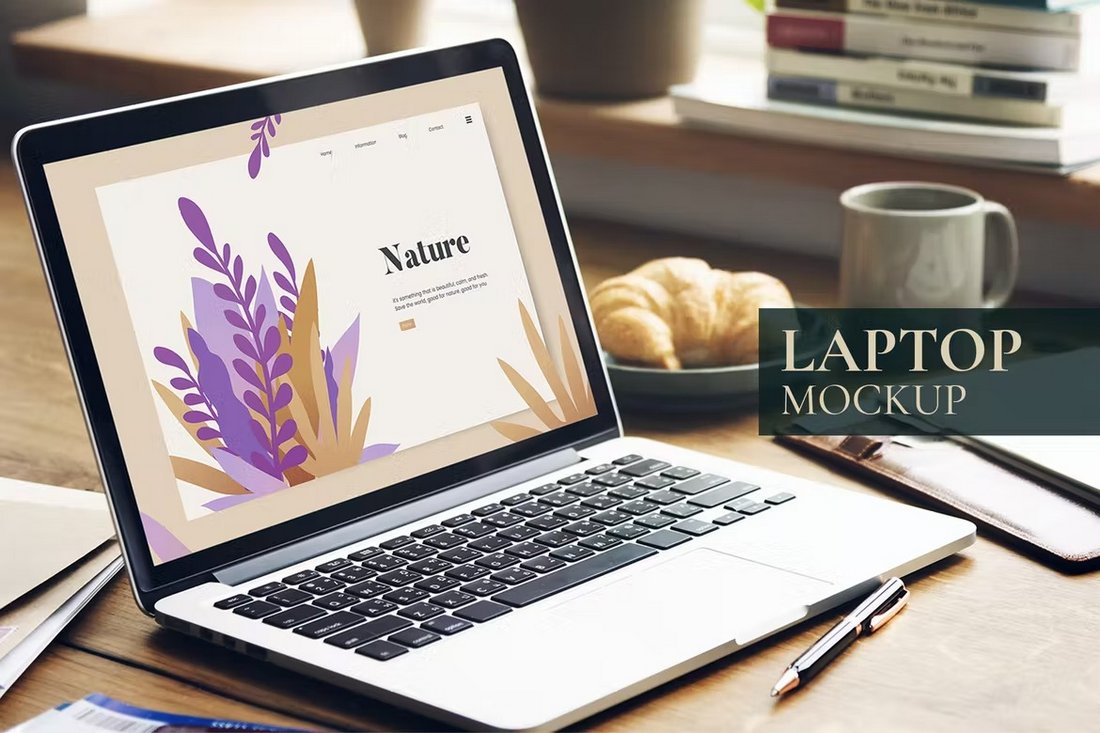 This mockup template comes with a very realistic scene. It features a workspace environment with a laptop. It's also based on a real photo scene. The PSD template includes organized layers and smart objects as well.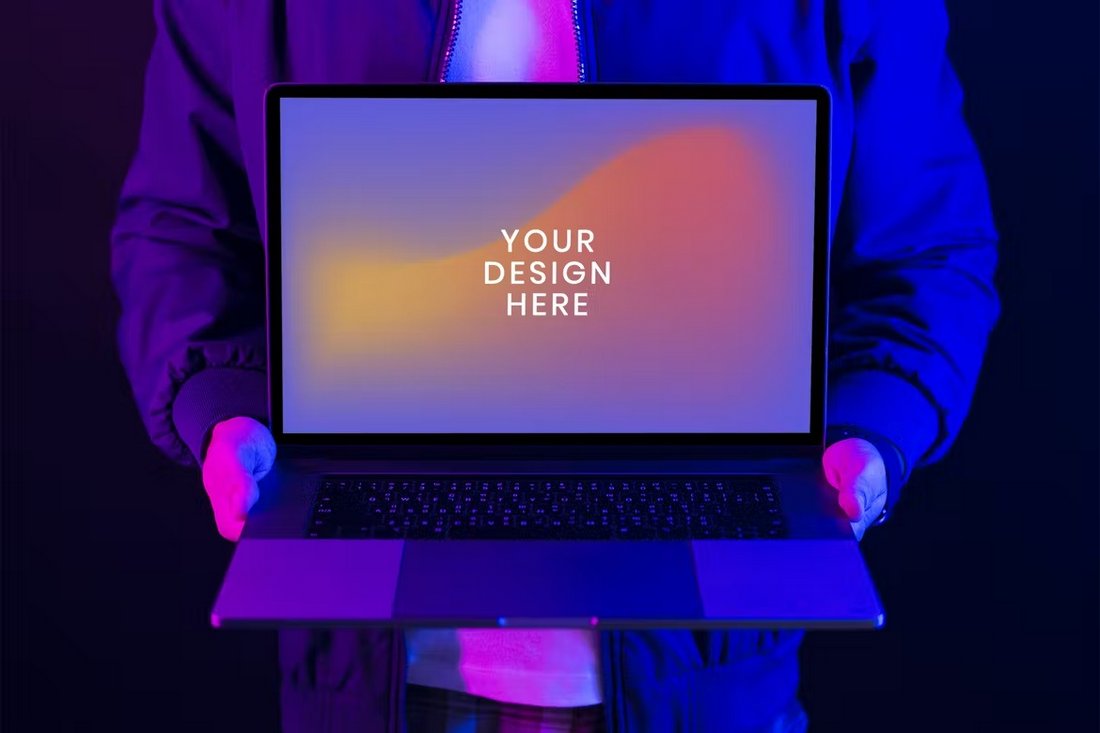 A great laptop mockup template for presenting designs to clients and promoting products on social media. This mockup features a man holding a laptop. The dark background environment of the mockup will also easily highlight your design.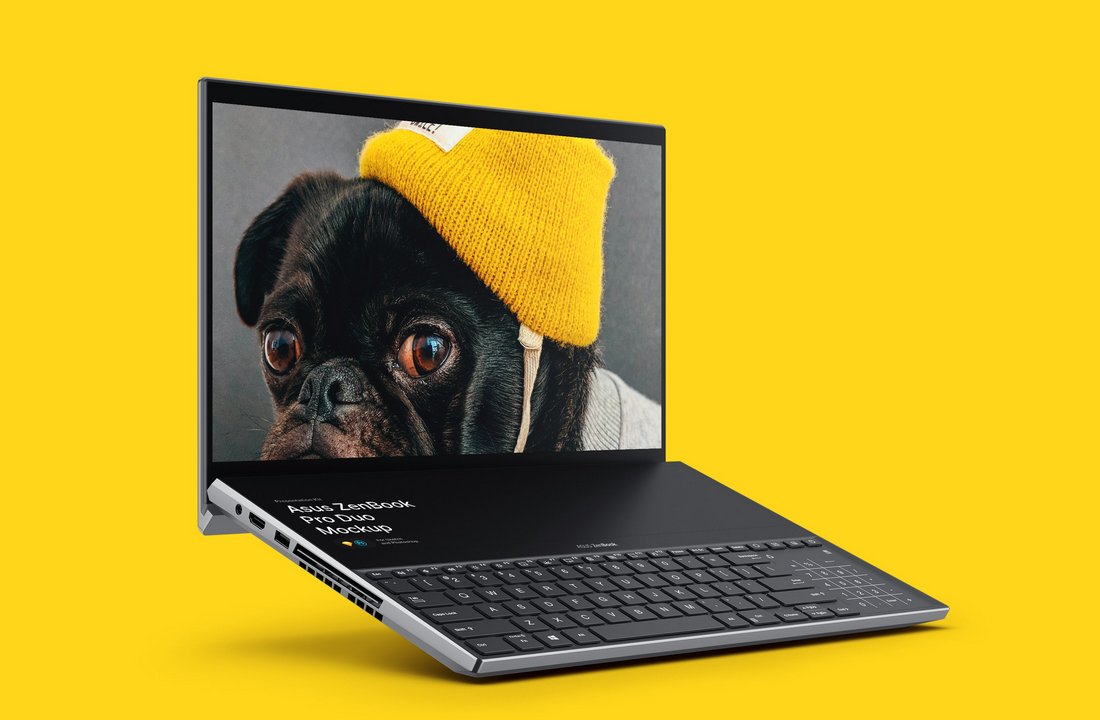 This is a collection of laptop mockups featuring the ZenBook Pro Duo device. It includes multiple mockups featuring realistic device mockups as well as clay versions of the device. You can even change the colors of the clay mockups quite easily.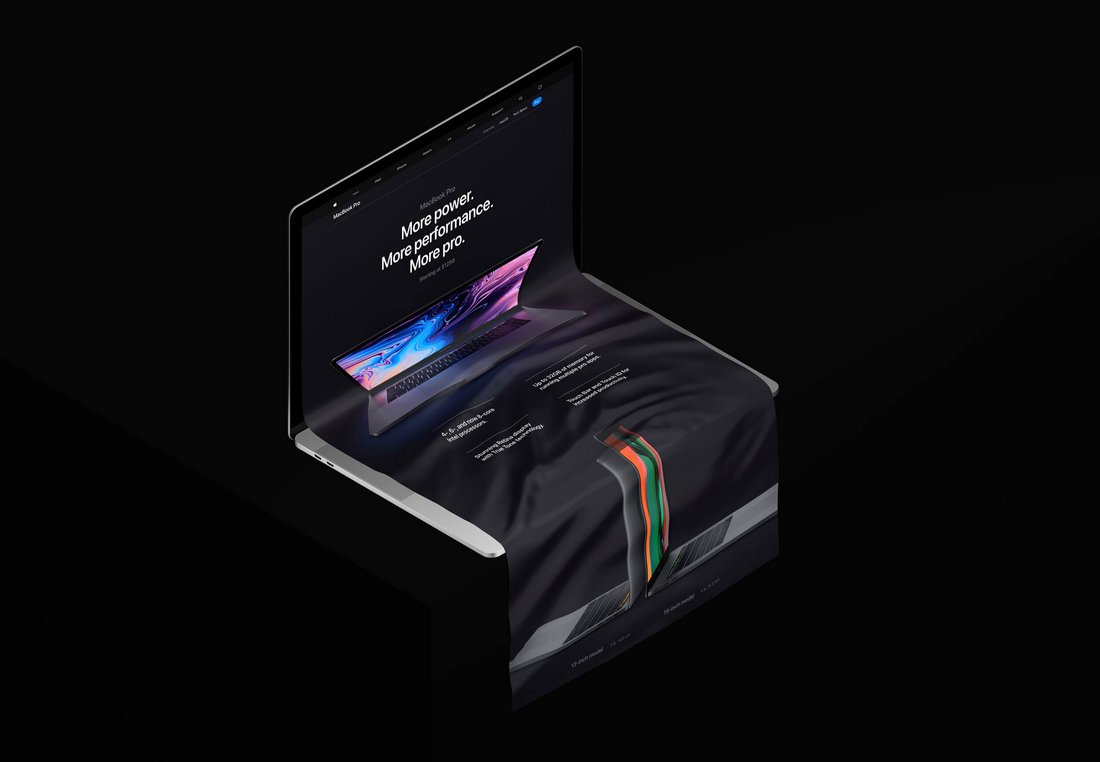 A unique mockup template that allows you to showcase a long scroll screen of your website designs. It features a stylish design that will make your portfolio case studies look even more attractive.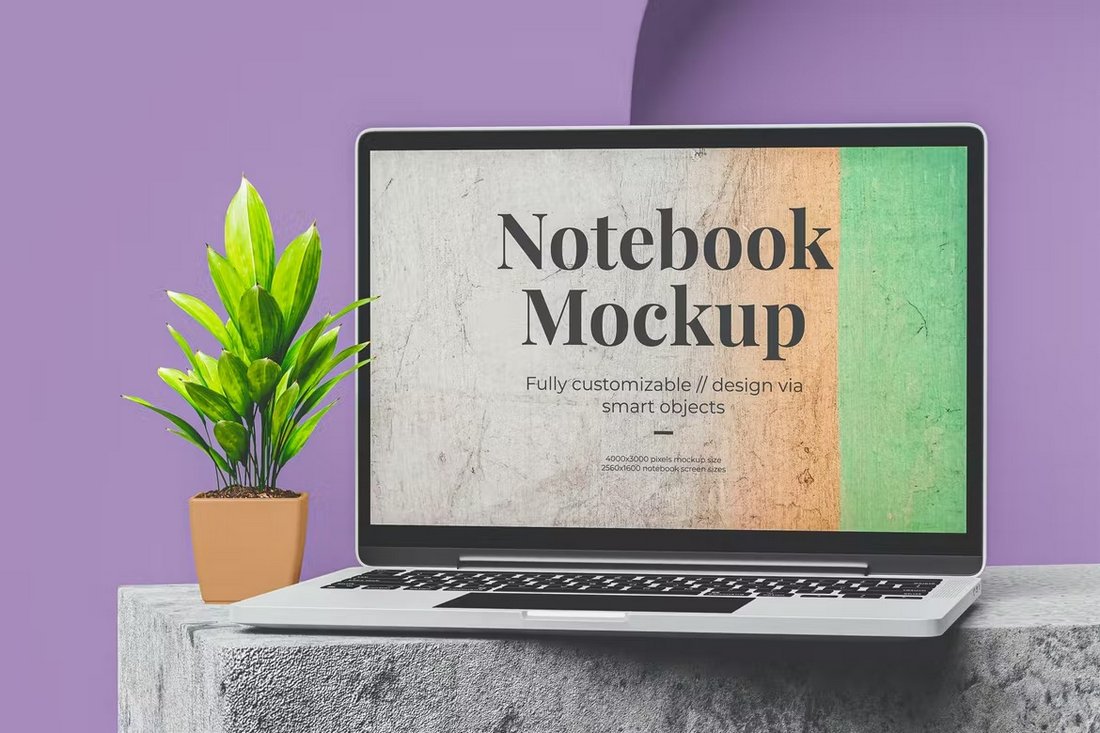 This laptop mockup features a modern look and feel that will make your design look much more professional on portfolios and websites. It comes with a customizable layout with editable background and organized layers. The scene also has a 3D-like feel to it too.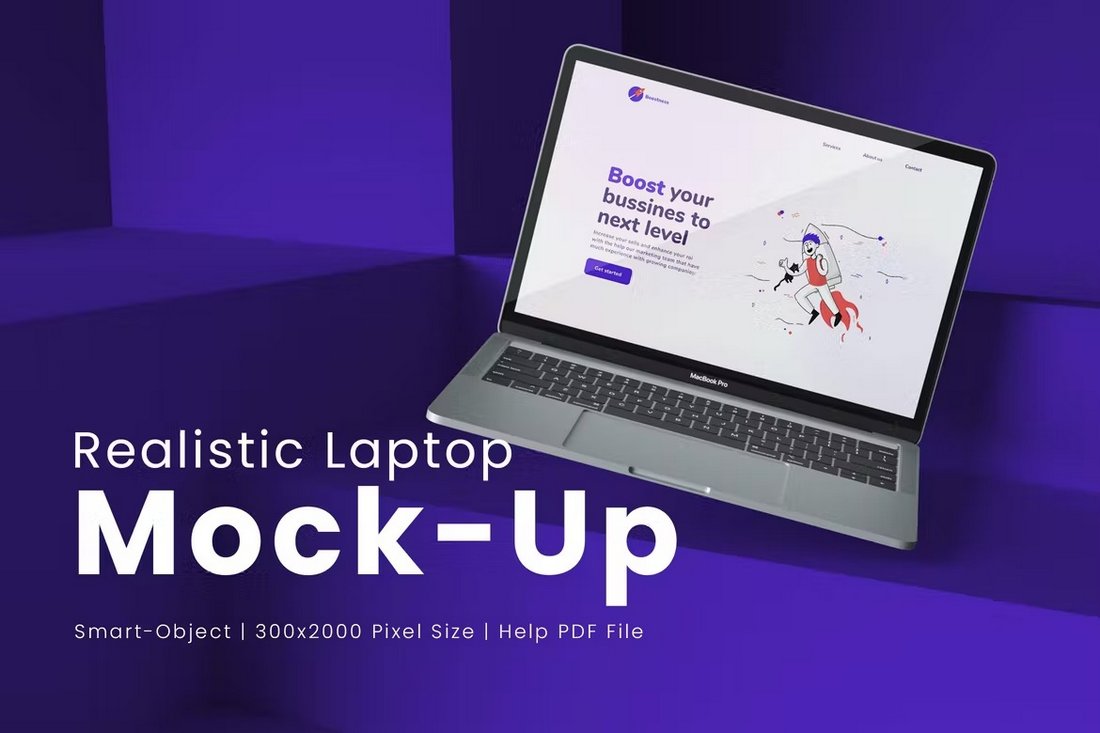 A fully customizable laptop mockup features a realistic design. This mockup comes with a changeable background that lets you instantly transform the mockup scene into anything you want. It also includes smart objects.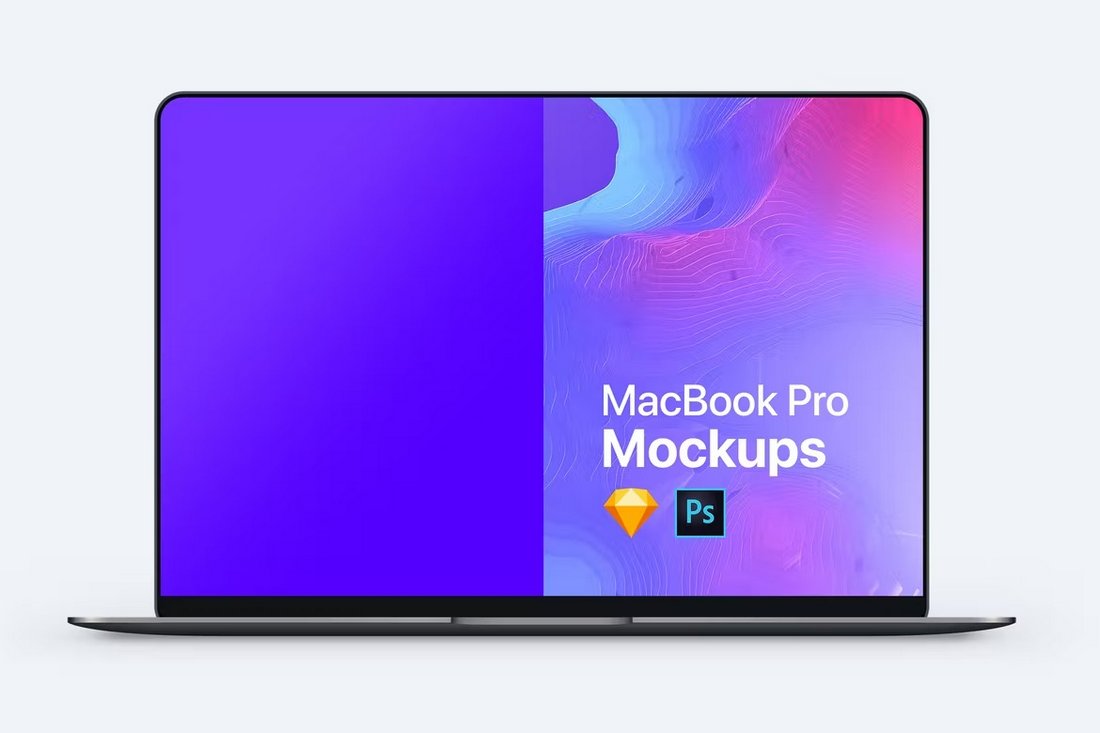 A simple and clean MacBook Pro mockup that offers a straight front-facing view of the device. The mockup is most suitable for showing off your work on portfolios as well as for showcasing products on websites. It's available in both Photoshop and Sketch formats and in 4K resolution.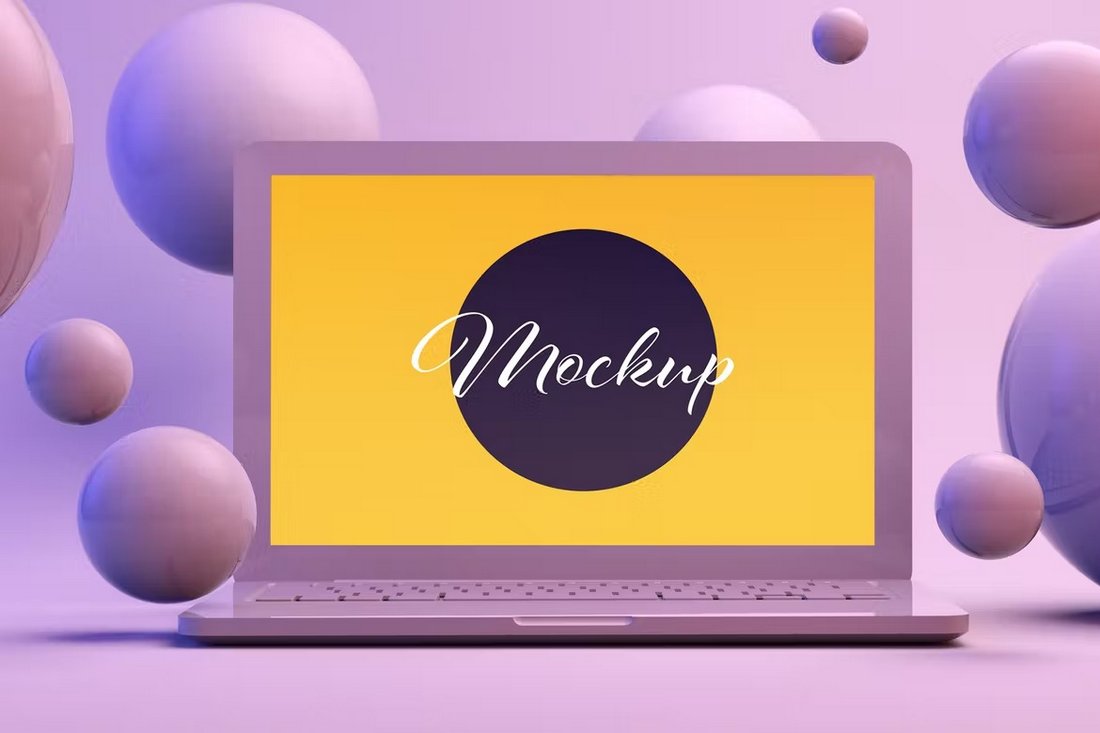 This mockup template is perfect for presenting and promoting feminine designs. The beautiful pink environment and the floating 3D spheres add a unique look to the mockup scene. The template is easy to edit and customize as well.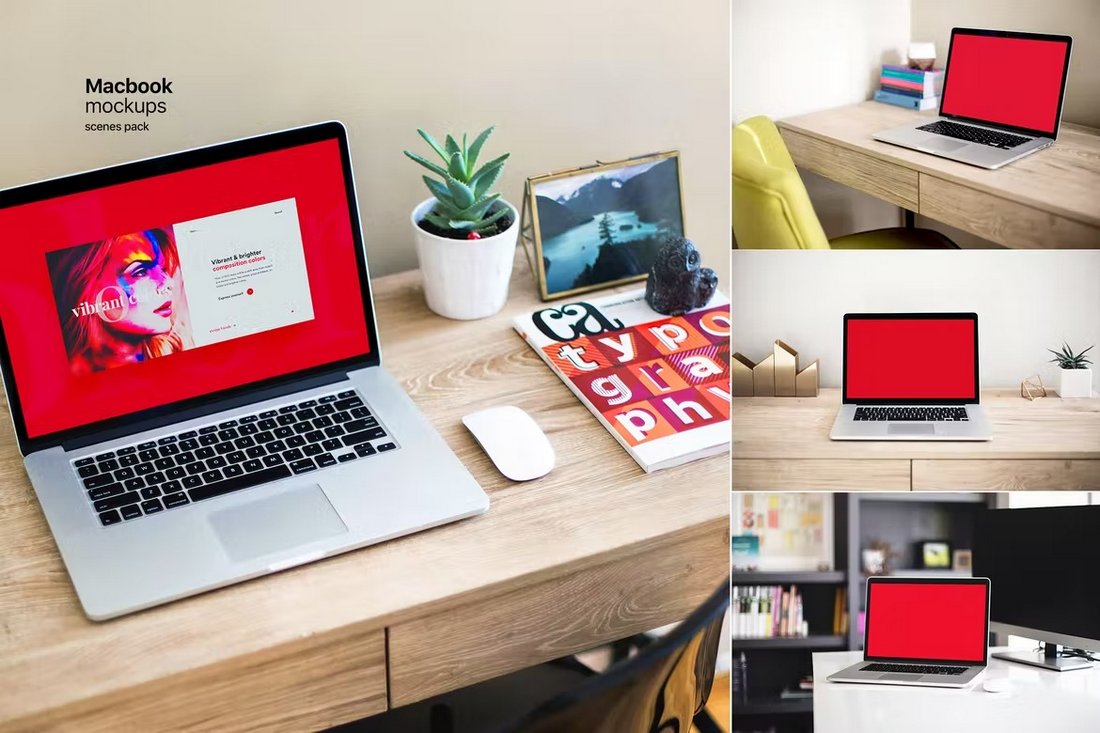 If you're looking for a creative laptop mockup scene to present a graphic design or website design, this templates pack is a great place to start your search. It includes 5 different mockups featuring workspace desk environments. Each template also features a MacBook Pro from different angles.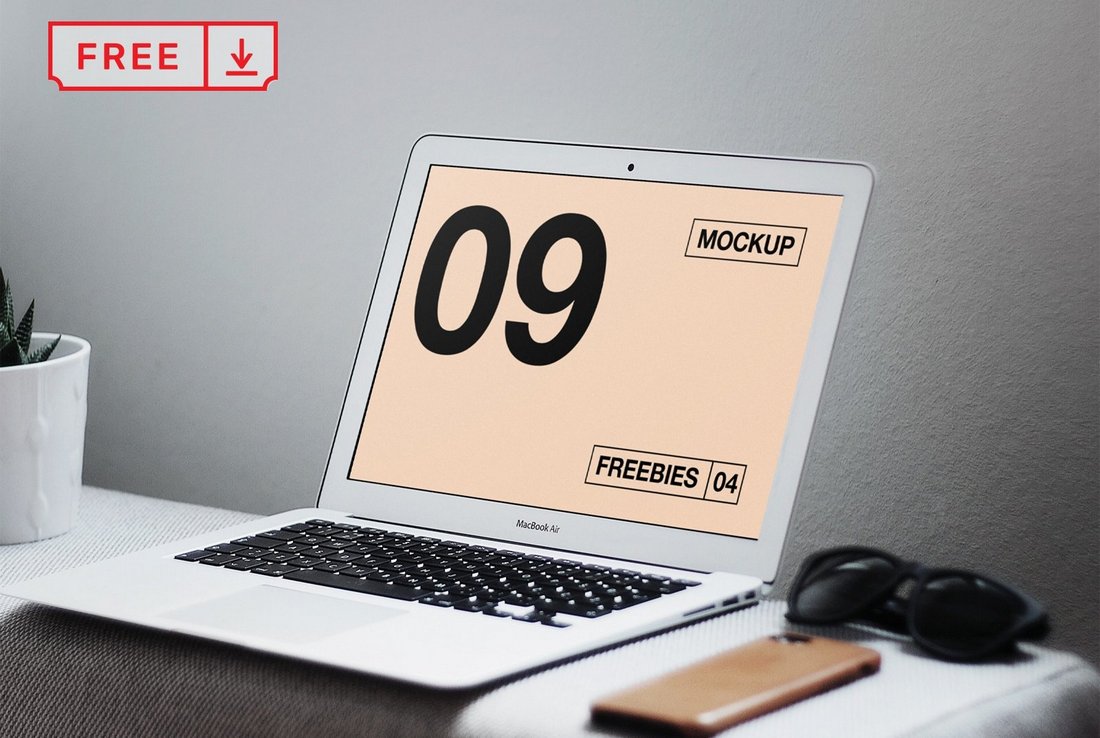 This free laptop mockup is great for showing off graphic designs and illustrations on portfolio websites. It features a MacBook Air mockup on a table workspace environment.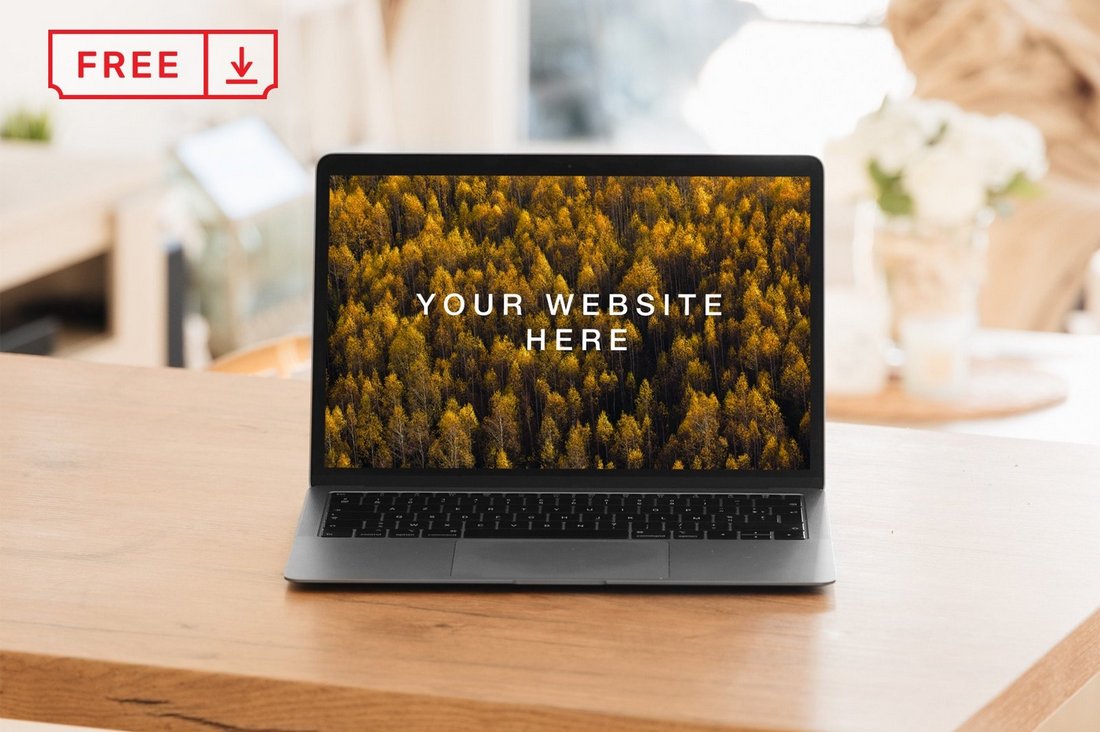 Grab this free mockup template to present your designs in a cozy living room environment. The template shows a MacBook Air in a beautiful background based on a real photo.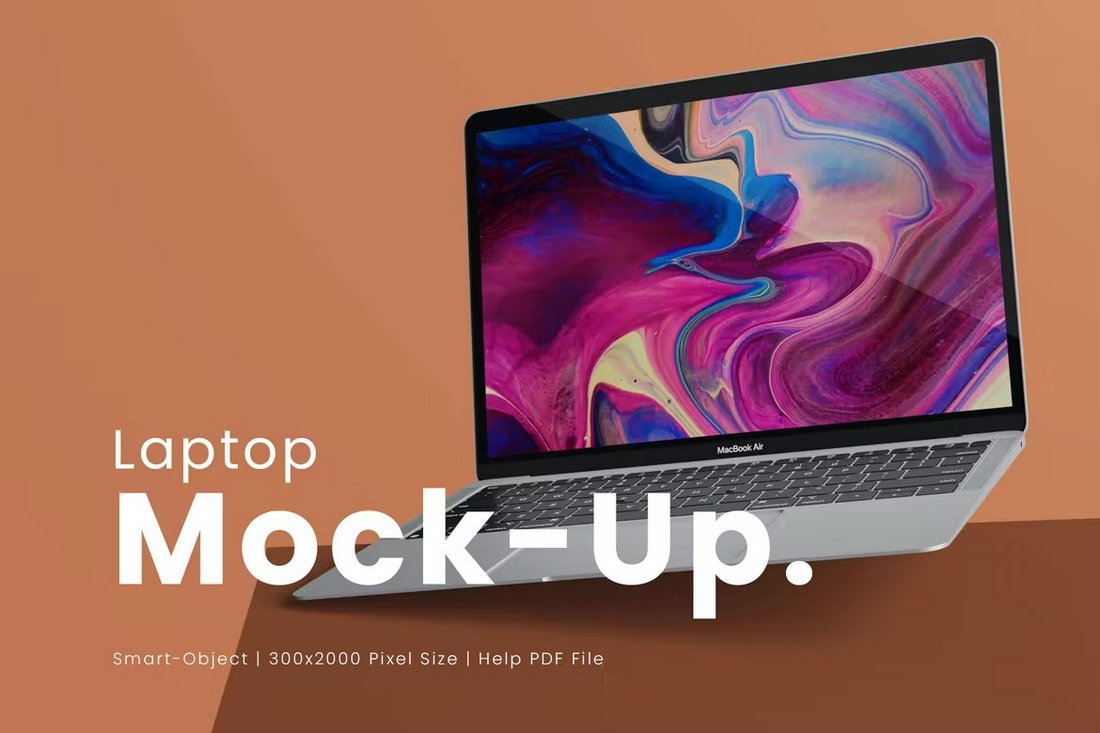 A simple yet beautiful laptop mockup template for showcasing your professional designs. This mockup features a slightly angled MacBook Air laptop for showing your work in style. You can change the background color of the scene as well.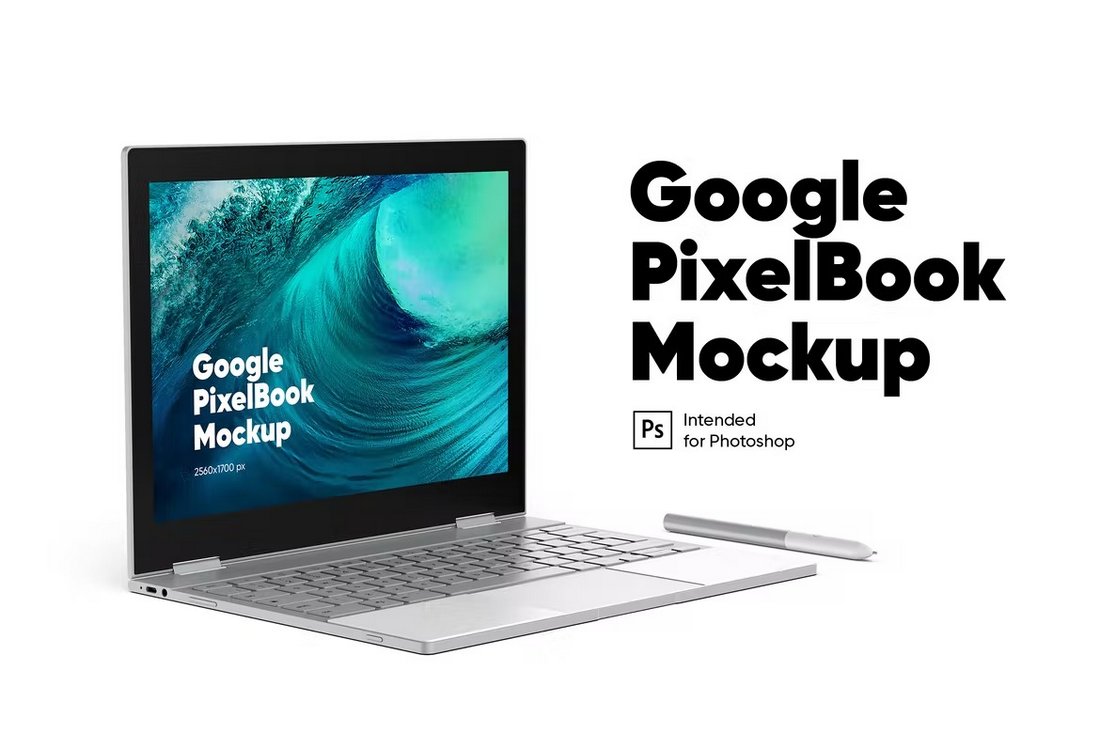 This mockup features a classic Google PixelBook laptop for presenting your designs on a Chromebook. It offers a simple scene with an editable background. You can use this to present all kinds of web and mobile app designs too.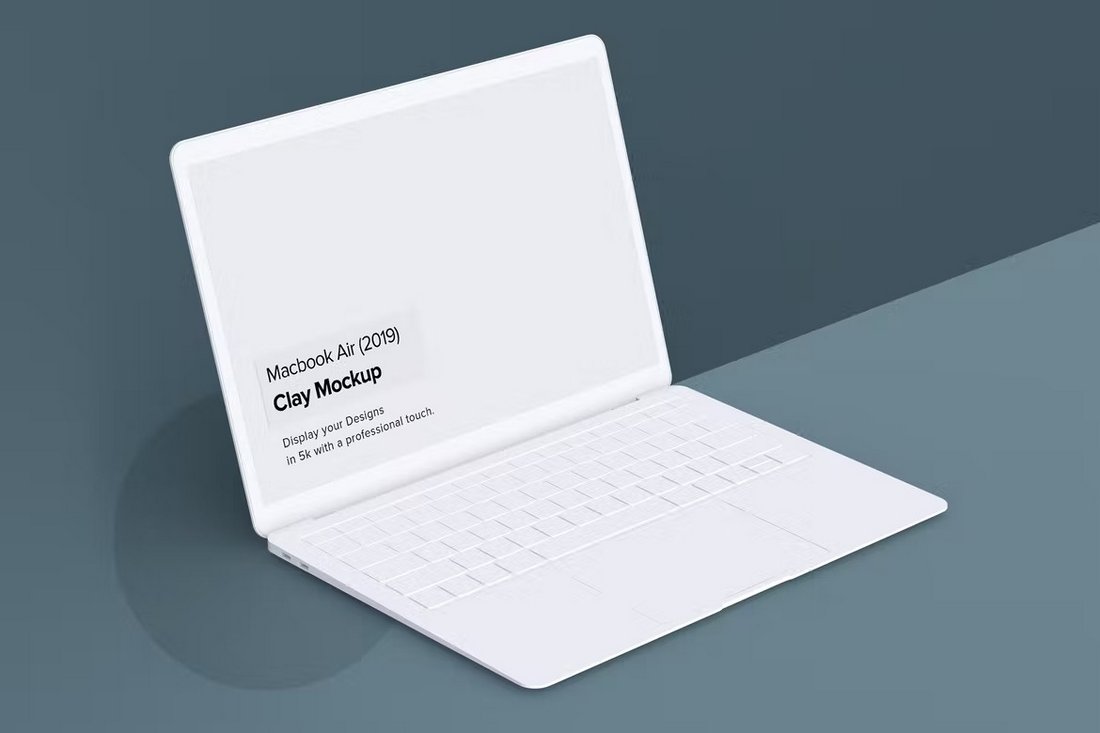 If you're a fan of clay device mockups, make sure to add this template to the collection. It features a minimalist MacBook Air mockup made in clay style. The mockup comes in 5 PSD templates featuring different angles of the device.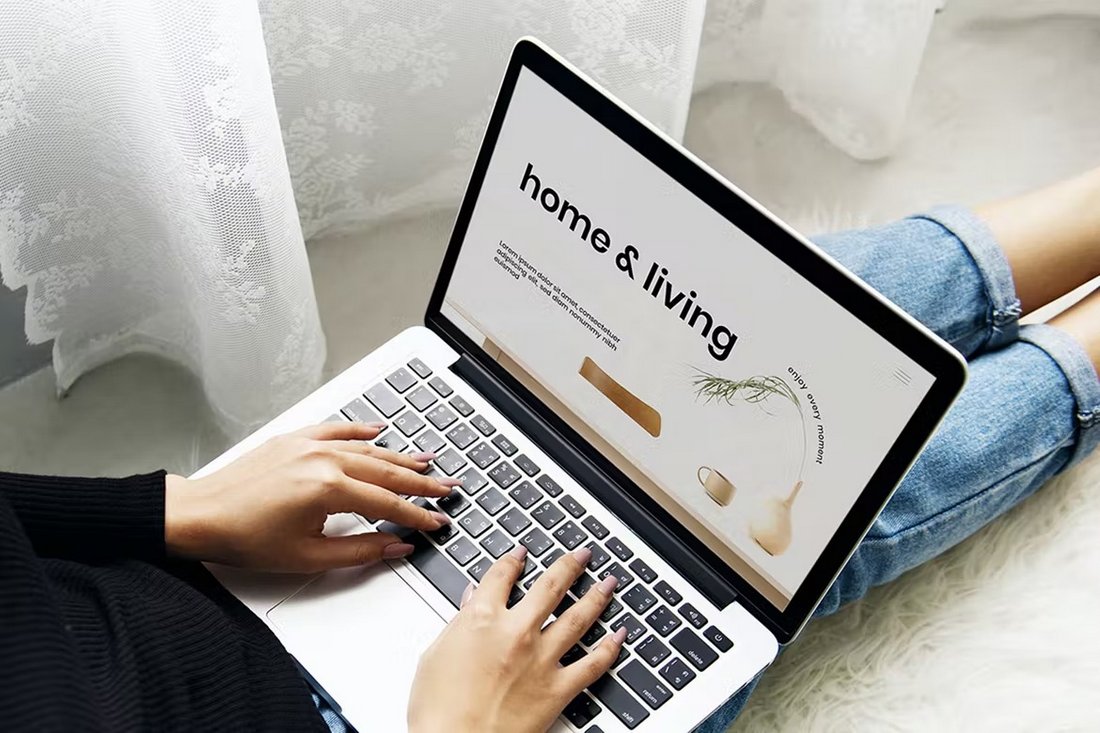 This mockup template features a work from home style scene that shows a woman using a laptop while sitting on the ground. It's great for promoting products, services, and designs related to remote work as well as others.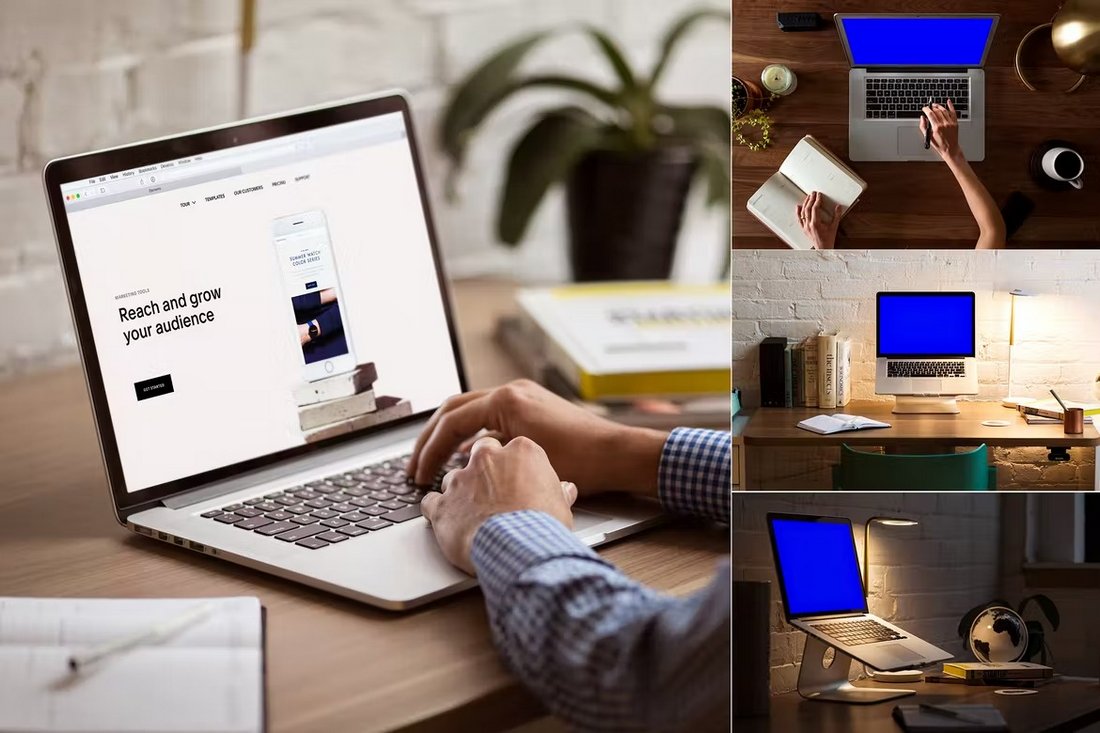 A collection of laptop mockups showing work environments. It features 5 different mockup scenes that show women and men working on a laptop. They also feature different backgrounds and environments as well. Each template comes in PSD files with organized layers.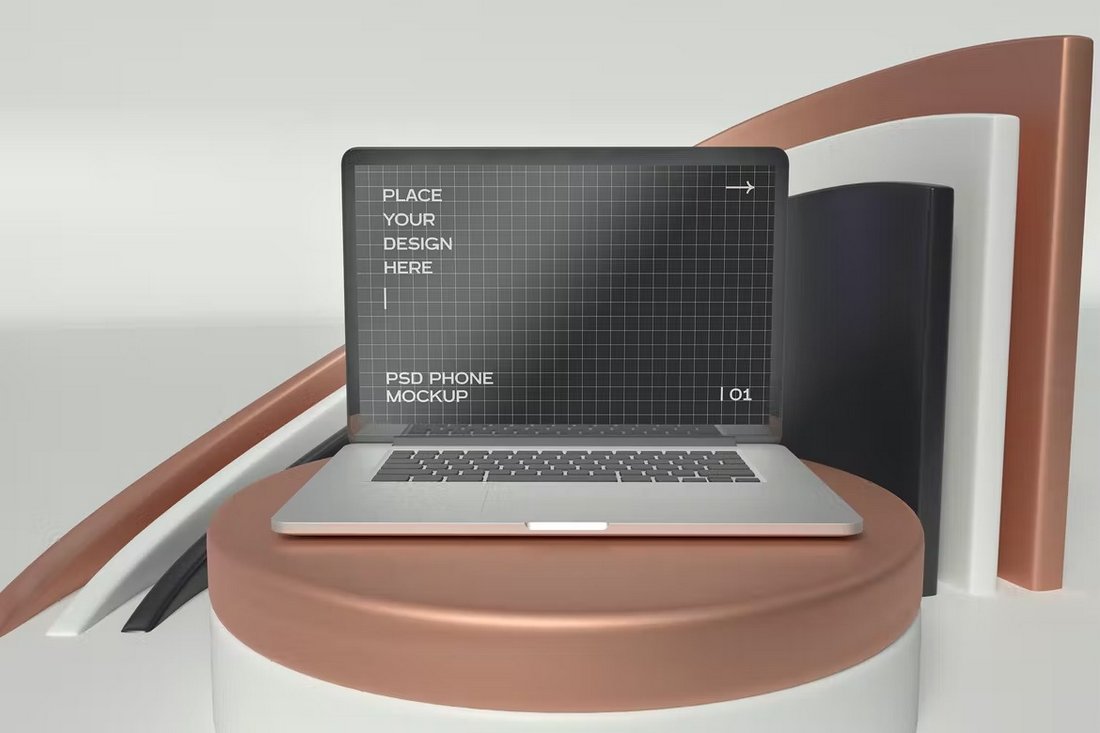 You can show off your designs for luxury brands and high-end products using this stylish laptop mockup. It includes a 3D-like scene featuring a front-facing laptop. The template features color layers so you can change the colors of the background objects as well.
For more great mockups, be sure to check out our best Photoshop mockup templates collection.