Keynote vs PowerPoint vs Google Slides vs Prezi: Pros & Cons
One of the first decisions you have to make when creating a presentation is choosing the right software. It may seem like a simple decision but there are a lot of things to consider when making that decision.
Should you use PowerPoint because it's the popular choice? Or use Keynote because it's free? Will your clients or other people on your team have access to your software to be able to view and edit your presentations? These are just a few of the questions you'll be asking yourself when deciding between presentation software.
The key to choosing the right presentation software is learning more about them. This post will help you understand the most important features of the popular presentation software available today. We discuss both pros and cons of using each software so you can pick the right platform for your work.
Let's get started.
Get everything you need to give the perfect presentation. From just $16, get unlimited access to thousands of PowerPoint presentation templates, graphics, fonts, and photos.
Using Keynote – Pros & Cons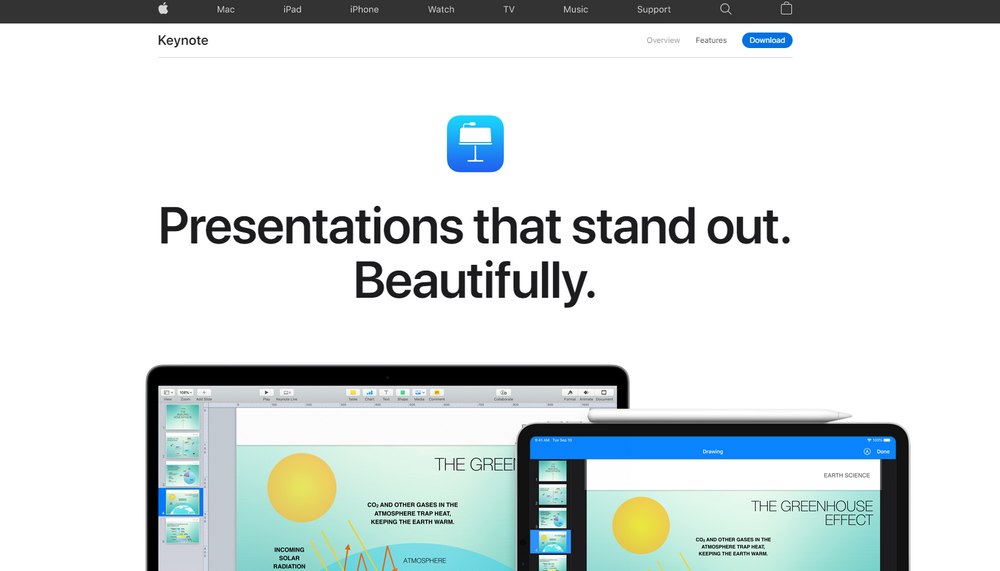 Keynote is the official presentation app for Apple devices. It's available exclusively on Mac, iPad, and iPhone.
There are many reasons to use Keynote. The smooth and simple interface, beautiful presentation designs, and ease of use are among them. But the biggest selling point of Keynote is that it's free for Apple users.
Some say presentations designed with Keynote are better-looking than the presentations made using other apps. We'll let you be the judge of that.
Pros of Using Keynote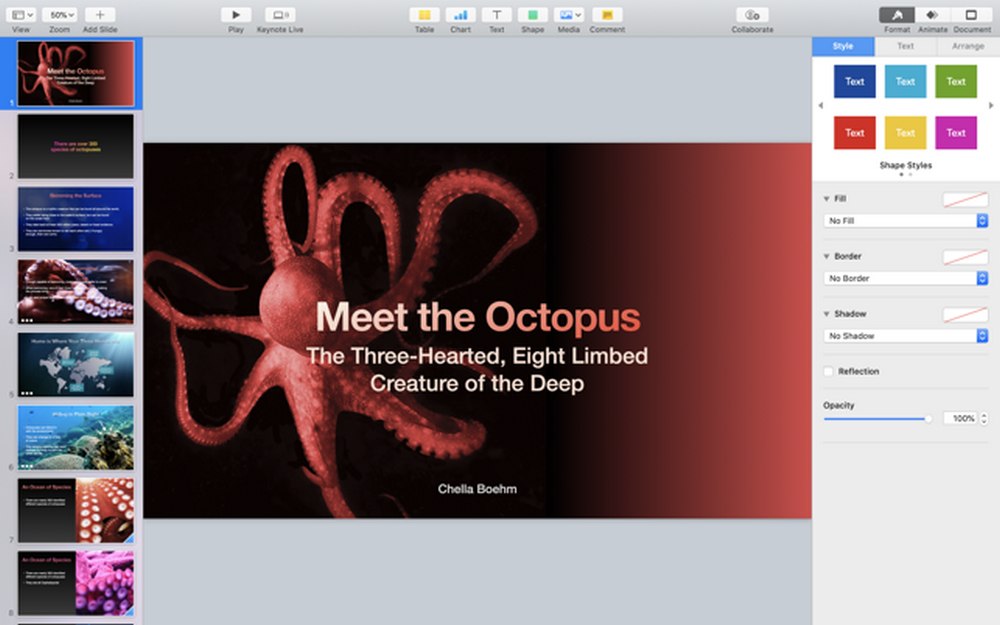 Keynote comes pre-loaded with new Apple devices or you can download it free from the App Store
The user interface on Keynote is quite simple and makes it much easier to design presentations even for beginners
The app comes loaded with 30 pre-made templates with gorgeous designs
Includes a library of over 700 elements to add shapes, charts, and galleries to your slides
Cons of Using Keynote
Keynote is only available on Apple devices. A web-based version can be accessed from Windows but it's not as fluid as the desktop app
Keynote lacks some of the advanced features available on other presentation apps like support for additional file types
Using PowerPoint – Pros & Cons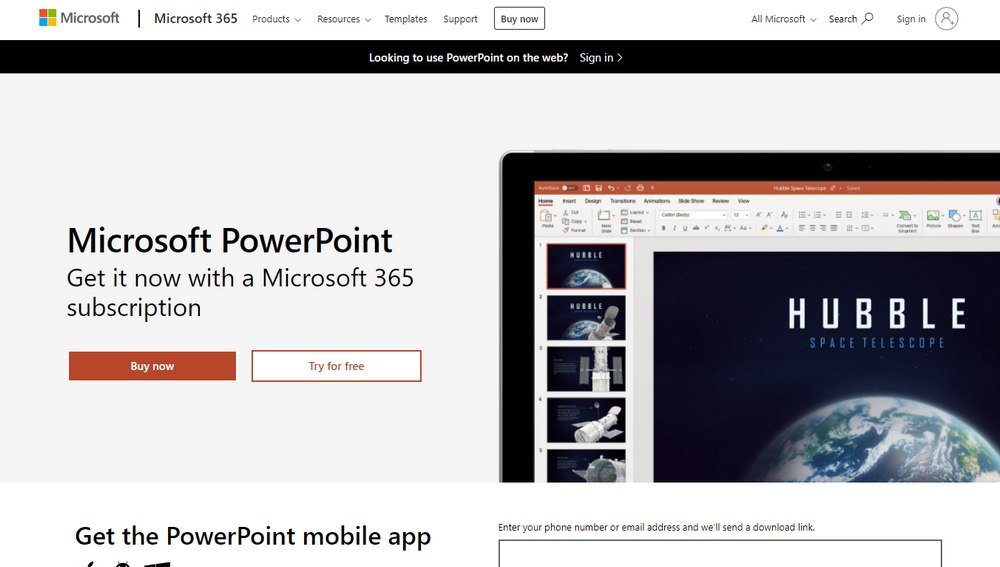 PowerPoint is arguably the most popular software used for presentations. It's so popular that many people use the word PowerPoint when referring to presentations.
Similar to Keynote, PowerPoint is a desktop app and it's also fairly easy to learn. However, it comes with lots more options, functions, and features than Keynote. This makes it a more suitable option for advanced users.
You can access PowerPoint by either purchasing the Microsoft Office package or subscribing to Office 365.
Pros of Using PowerPoint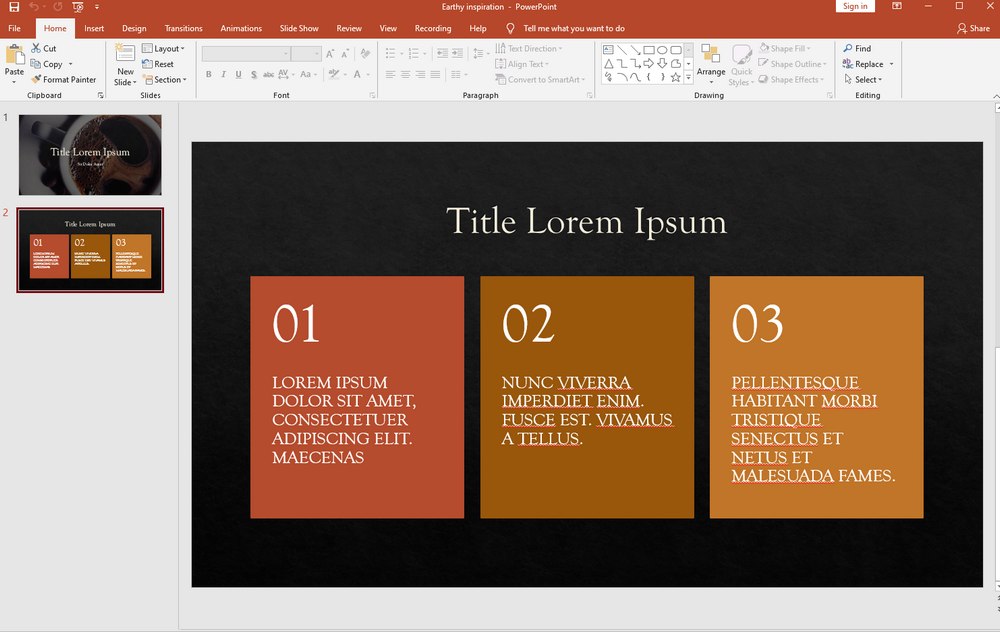 PowerPoint has a very simple interface with clearly labeled functions, making it easier to learn the app
PowerPoint supports more file formats than any other presentation app. You can export presentations in various formats including PDF and MP4 videos
The app also includes more than 50 different animations, transitions, and effects
PowerPoint has a much wider community and with it comes better-quality pre-made templates and themes
Cons of Using PowerPoint
Getting access to PowerPoint can be a bit expensive. However, a web-based version is available for free with limited features
The default templates included in the PowerPoint app have outdated designs
Collaborating on projects as a team is not as seamless as other apps
Using Google Slides – Pros & Cons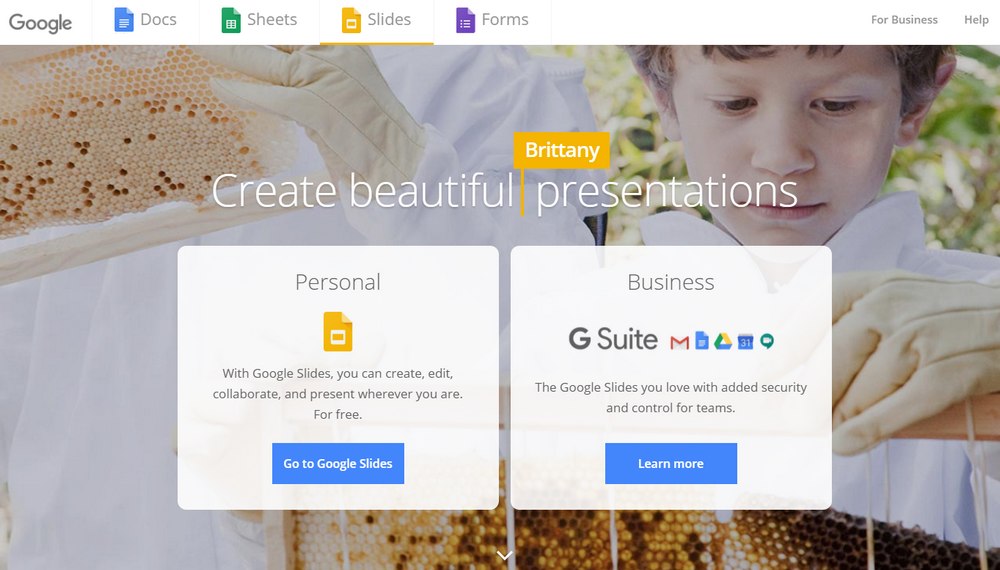 It took a while for Google to catch up with Microsoft and Apple to release its own presentation software, but when they did it got everyone's attention.
Much like every other app in Google's office apps package, Google Slides works completely on the cloud. And it's completely free to use. All you need is a Google account and an internet connection.
This also means that the app is cross-platform. No matter what kind of device or platform you use, you can use Google Slides using a browser. Making it the best presentation app for collaboration projects.
Pros of Using Google Slides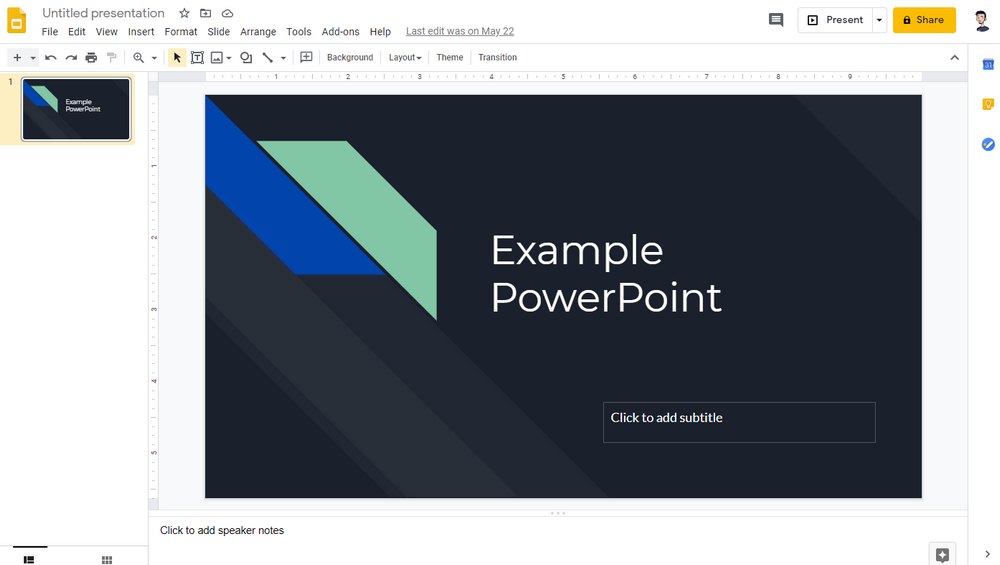 Google Slides is completely free to use and works fluidly on all modern browsers
Since it's on the cloud, all your Google Slides projects are saved on Google Drive. You can access them on any device from anywhere you want
Google Slides comes with a simple user interface with all the necessary tools for creating professional presentations
It's so much easier to collaborate on Google Slides. You can even collaborate on projects in real-time
Cons of Using Google Slides
Google Slides doesn't have advanced features as other apps, like exporting presentations in video format
Google Slides has an option to work offline when enabled in Google Drive but with limited functions
You can import PowerPoint templates in Google Slides but there aren't as many templates available exclusively for Google Slides
Using Prezi – Pros & Cons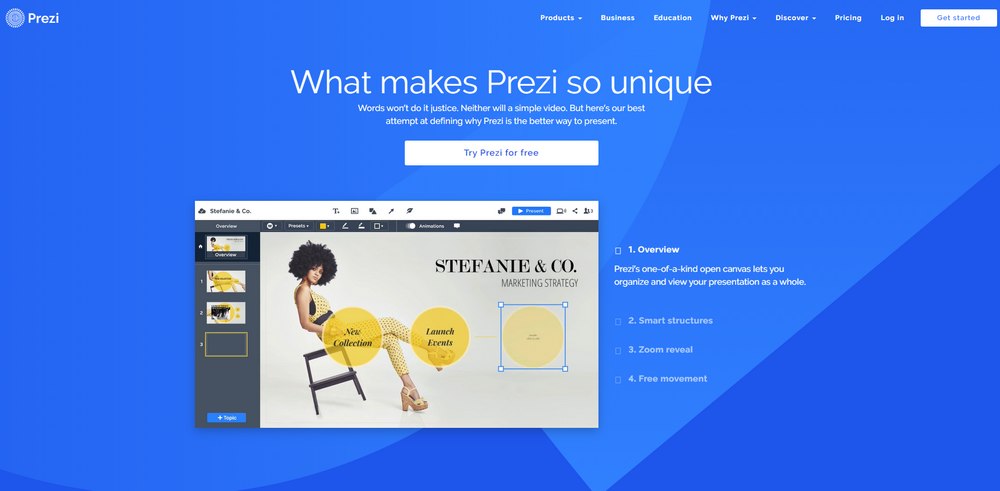 Prezi is a fairly new contender in the presentation software market. Prezi is a platform that houses 3 different apps. Prezi Video lets you create video content. Prezi Design helps you design infographics and charts. And Prezi Present lets you create presentations.
Similar to Google Slides, Prezi also works on the cloud. But also has a desktop app you can use to present slideshows while you're offline. And it's cross-platform as well.
Prezi is a premium software but has a Basic plan that gives you access to just the basic tools for free. Premium plans start at $7 per month.
Pros of Using Prezi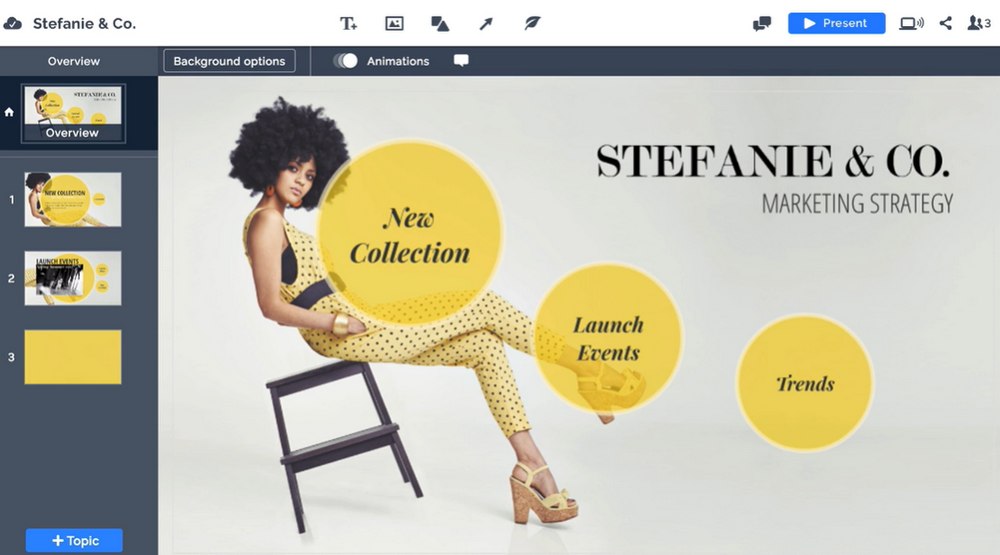 Prezi Present is a software made specifically for presentations and it's one of the easiest apps you can learn
Prezi claims to have millions of presentations shared by the community, which you can use to create your own presentations
The app also features some innovative technologies that help you deliver more interactive presentations, especially in-person
Prezi integrates seamlessly with third-party apps like OBS Studio, Zoom, Slack, YouTube, and more
Cons of Using Prezi
To get the most out of Prezi, you'll need the premium plan which is quite expensive
Prezi lacks some of the advanced features of apps like PowerPoint and Keynote
You can import PowerPoint templates to Prezi, but you can't download Prezi templates from third-party marketplaces
Keynote vs PowerPoint
Let's try comparing these apps side-by-side. First, let's see which desktop app does the best job of creating presentations.
While Keynote is available for free, its' exclusivity to Apple devices limits its reach. For this reason, even most of the Apple users prefer using PowerPoint. Especially when their colleagues don't have access to the app.
PowerPoint offers much more advanced features and functions than Keynote. While that makes the app feel cluttered and confusing to beginners, the software is very easy to learn. And it's widely supported by its international community.
You'll also find beautiful pre-made templates for both Keynote and PowerPoint apps in many different third-party marketplaces like Envato Elements.
Google Slides vs Prezi
When it comes to web-based presentation apps, Google Slides takes the lead for being completely free to use and for its ease of use. Unlike Prezi and the web-based versions of Keynote and PowerPoint, Google Slides is more fluid and feels like a complete software even when it works online.
Prezi, however, has more innovative features. Like creating interactive objects in each slide in your presentation to offer more in-depth details. Being able to combine Prezi Present with Prezi Video and Design makes it an even more powerful software.
Which Presentation Software Should You Use?
PowerPoint is clearly the superior option when it comes to creating presentations if you can afford it. PowerPoint features more useful features, better animation effects, more templates, and its easier to use.
If you're a Mac user, Keynote should be your go-to choice. Mainly because it's free. And it also has better support and templates as well.
Of course, Google Slides is another popular choice among many users lately. Since it's cross-platform, it's more accessible and easier to use as a team. It's a great choice for creating small and simple presentations as well.
Overall, when choosing a presentation software, it really depends on how and what type of presentations you create. Most of the apps have free versions. Be sure to try them out before making your final decision.