50+ Best Google Slides Themes & Templates 2023
Whether you're preparing a presentation for school, work, or something in between, we know how hard it can be to create the perfect set of slides. You've already done so much hard work researching, planning, and preparing your content – and now it all seems to hang in the balance of how quickly you can learn to use Google Slides!
But it doesn't have to end like that. What if we told you that someone out there had already created the perfect set of slides for you? Enter our list of the best Google Slides themes and templates. No matter what kind of presentation you're preparing, or what kind of audience you're delivering to, there's a fantastic option here for every situation, and they're all super easy to customize.
No more wasted hours trying to create the perfect set of slides for your next project or pitch – here are the best Google Slides themes and templates, all ready for you to update with your own content and branding, for an instant, professional presentation that's bound to impress.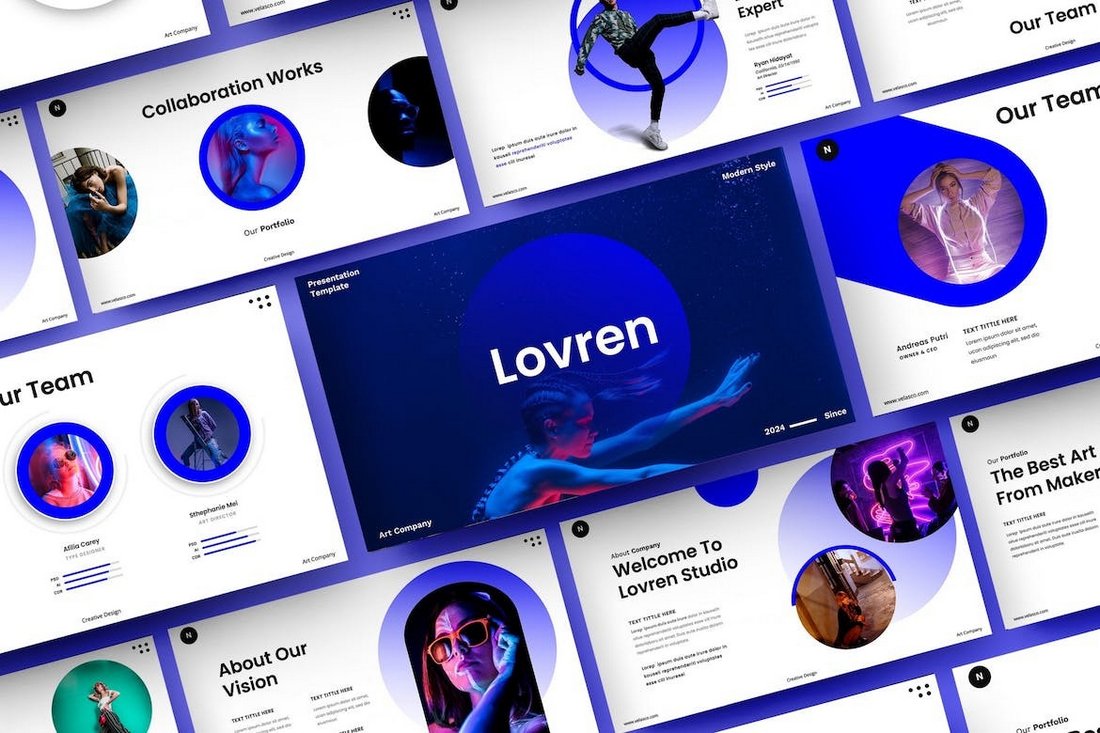 Lovren is a new Google Slides template that comes with stylishly modern aesthetics. It's the perfect choice for designing bold and professional presentations to showcase your business and the services you offer. The template includes 39 unique slide layouts with editable graphics, free fonts, and vector icon packs.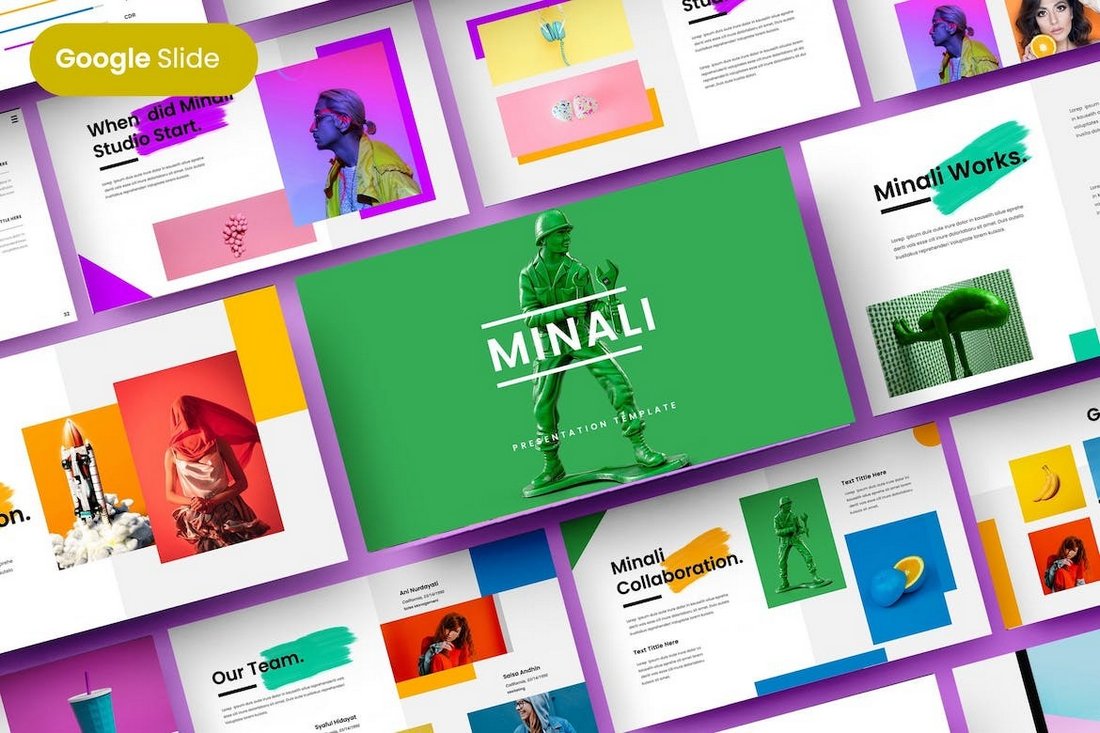 If you prefer a more colorful slide design to craft a presentation for a creative brand or agency, this Google Slides template is for you. It has more than 30 different slides to choose from and you can easily edit and customize them to change colors, fonts, and images to your preference.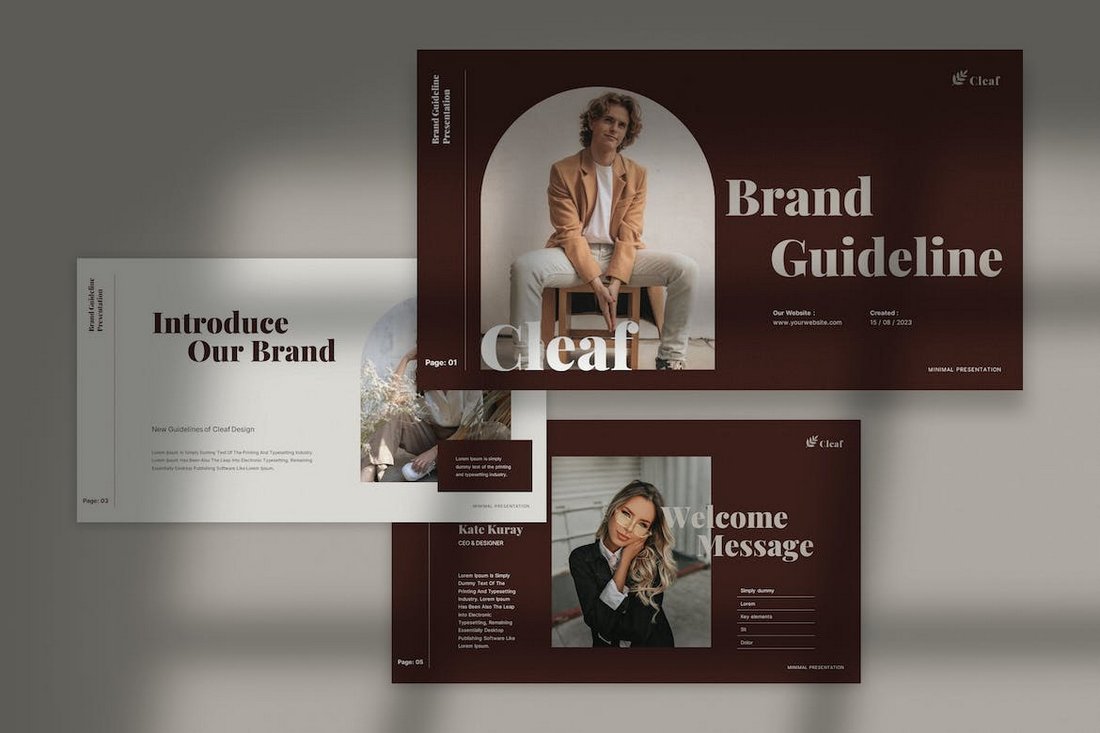 You can design an elegant brand guidelines presentation for your business using this Google Slides template. It features a minimal and clean design that utilizes typography and shapes to create a bold look for each slide. The template comes with 20 unique slides.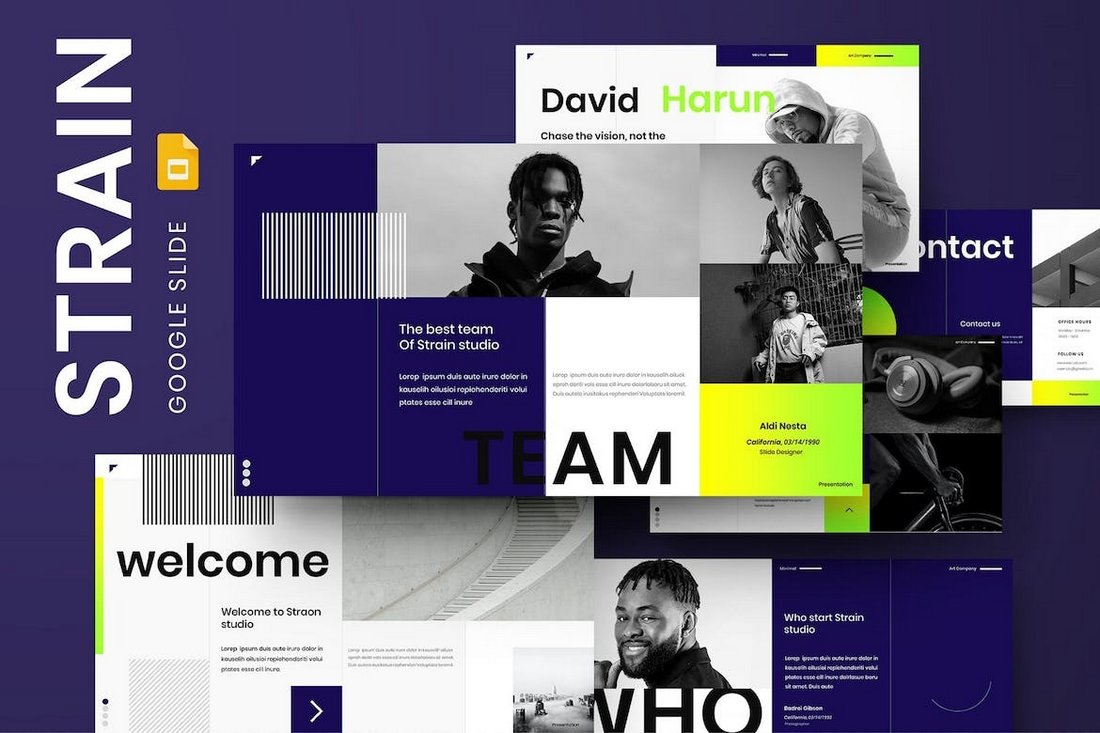 Strain is a modern Google Slides template made for business presentations. It uses creative modular layouts that allow you to show off more images alongside big titles. The template is ideal for fashion and lifestyle business presentations. It has 39 unique slides.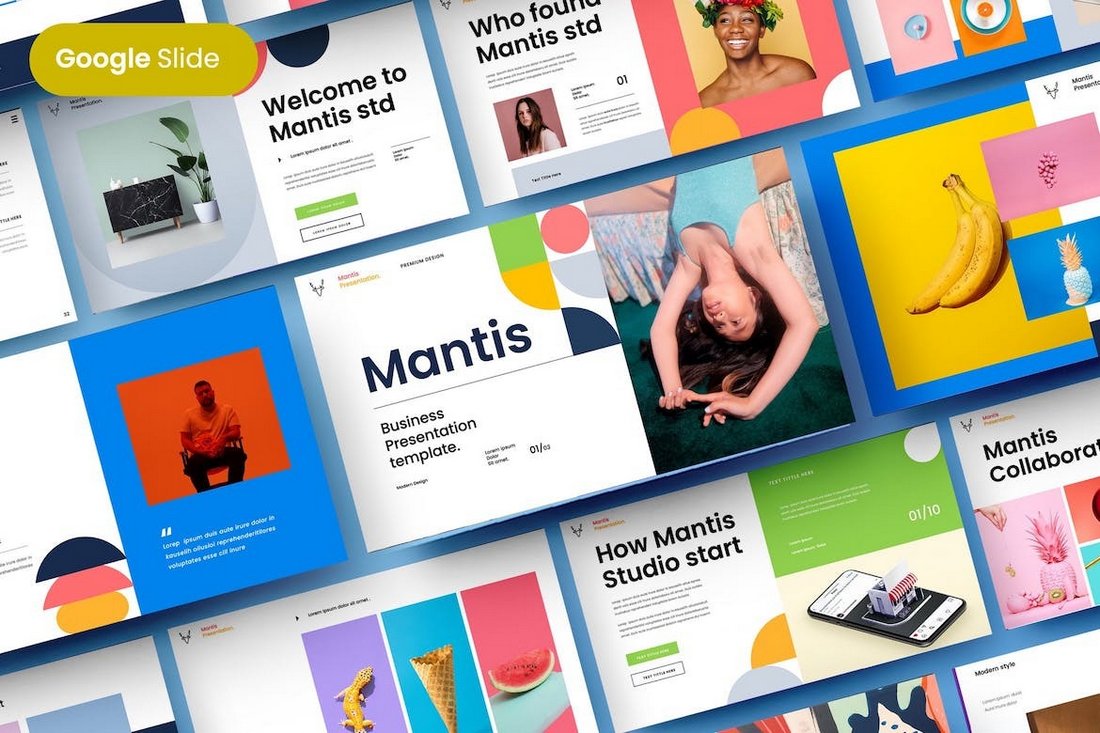 Another creative and colorful Google Slides template that comes filled with beautiful shapes and lots of image placeholders. This template is most suitable for creative agencies for attracting new clients. There are 39 different slides included in this template as well.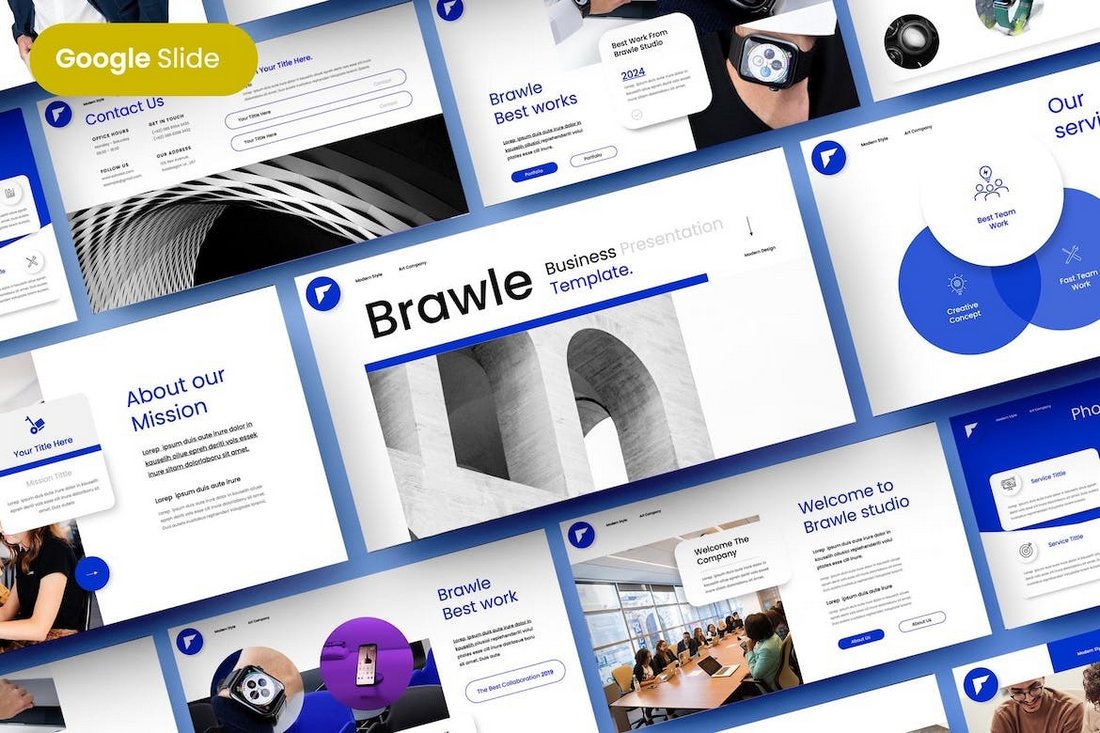 Brawle is another modern business presentation template for Google Slides. This template comes with a clean and minimal design that will allow you to craft more professional-looking slideshows for small businesses as well as corporate brands. The template includes over 30 unique slides.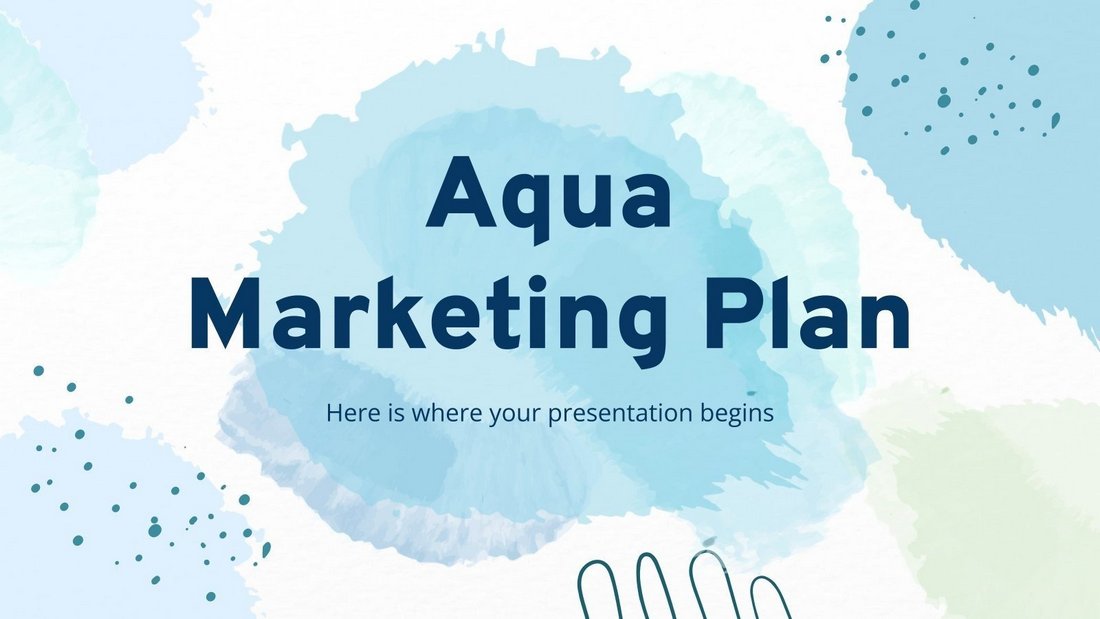 This free Google Slides template uses a creative watercolor-themed design across all of its slide layouts. This adds an extra layer of uniqueness to your presentations. The template has 32 different slides that are available in 5 different color schemes.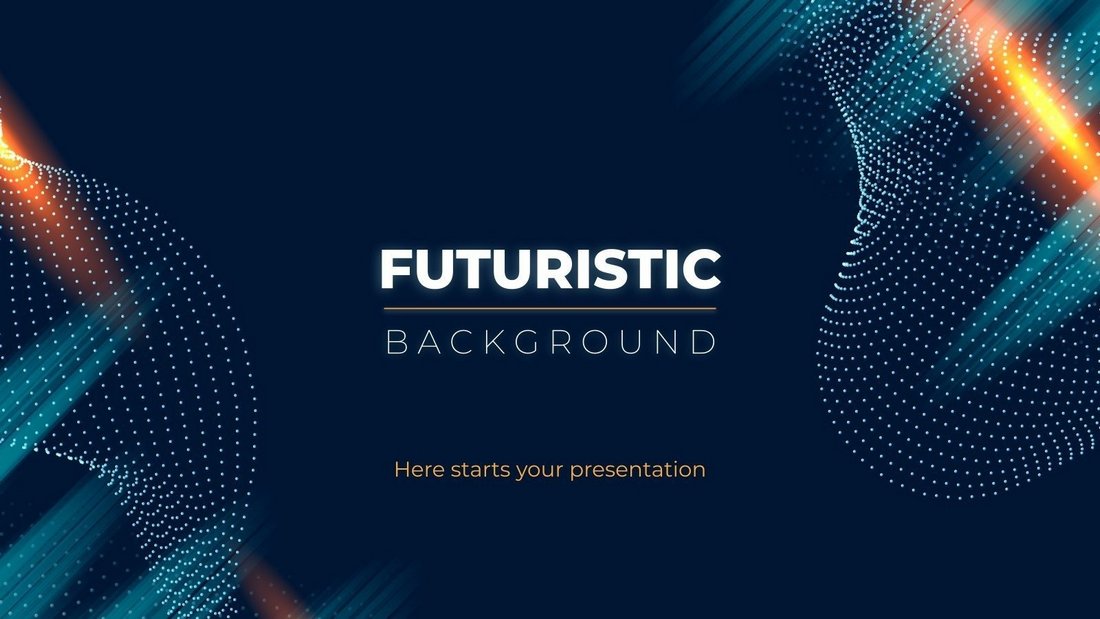 This Google Slides template is also free to download. It features a futuristic-looking slide design that's most suitable for technology-themed presentations and startups. The template comes in 5 color schemes and has 31 slides.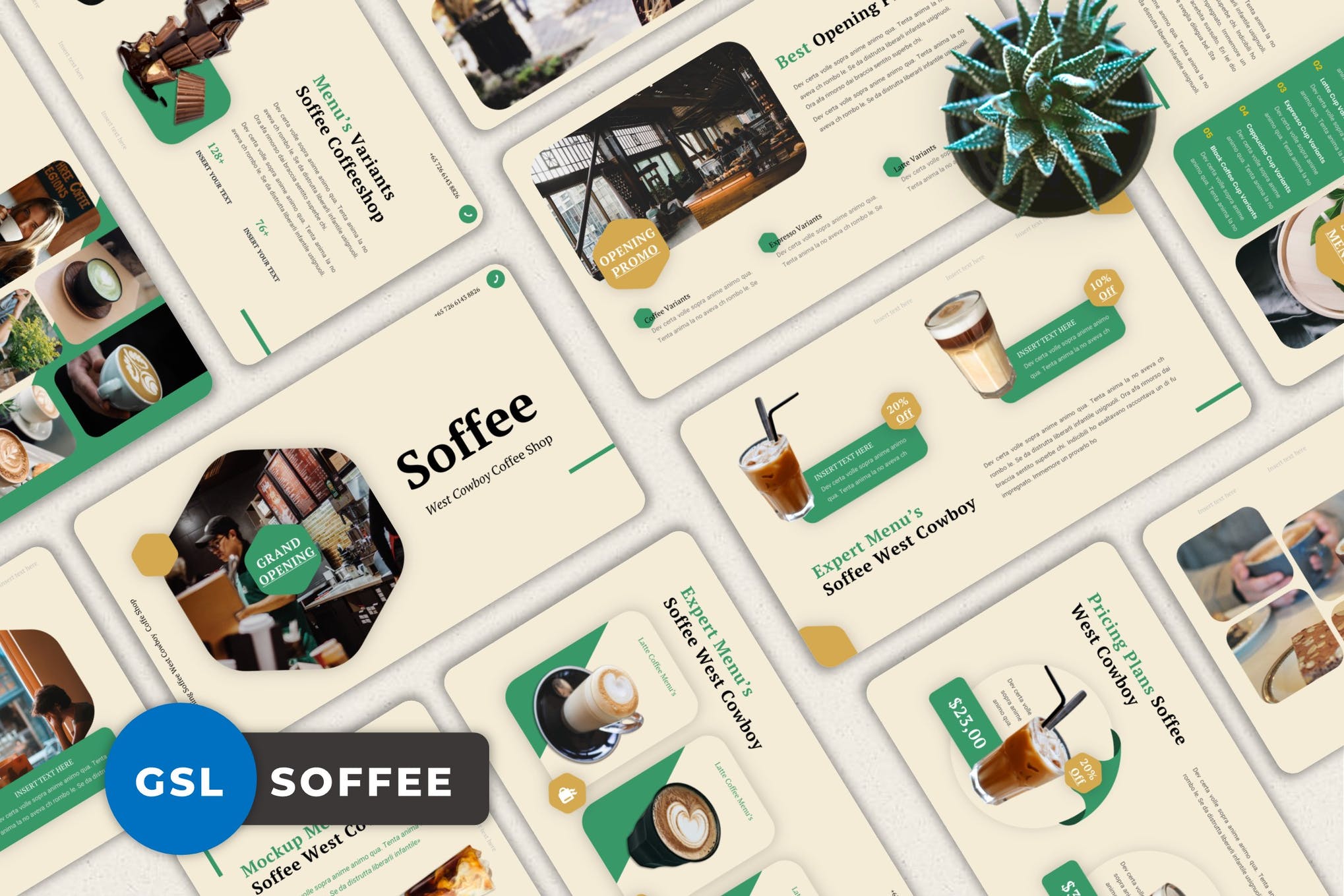 If the name didn't give it away, Soffee is a presentation template for coffee shops looking to get initial funding or secure beneficial clients. That being said, Soffee's versatile design allows it to be used for a variety of creative purposes. It offers 40 beautiful slides, fully customizable to your liking.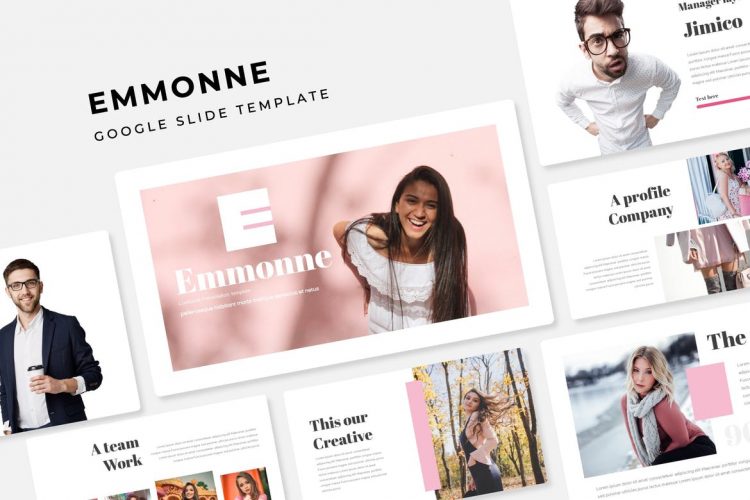 The "Emmonne" is an elegant, feminine template featuring 30 unique slides and 5 different color themes. Its pixel-perfect illustrations, drag and drop image placeholders, and clean, gallery-style layout makes it the ideal option for a creative project or portfolio.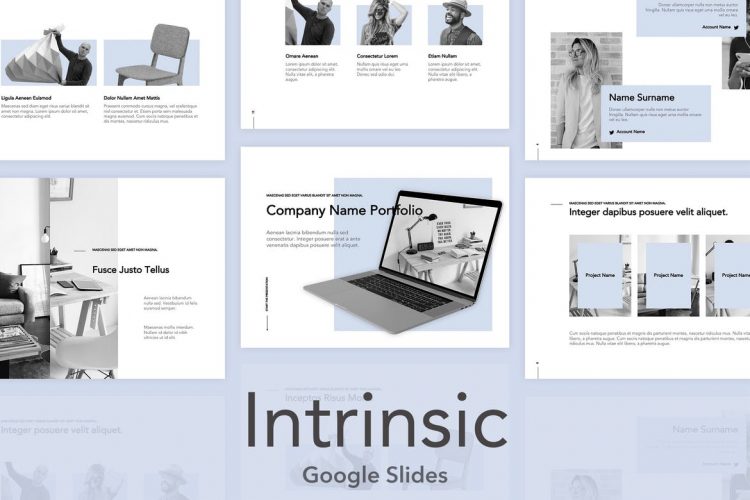 A sophisticated and highly professional template, the "Intrinsic" is a set of neat, color-coordinated slides that are ideal for a business presentation. It features a wide range of editable design elements and can be fully customized. A data-centric option, it also includes premade charts, diagrams, and tables, ready for you to populate with figures.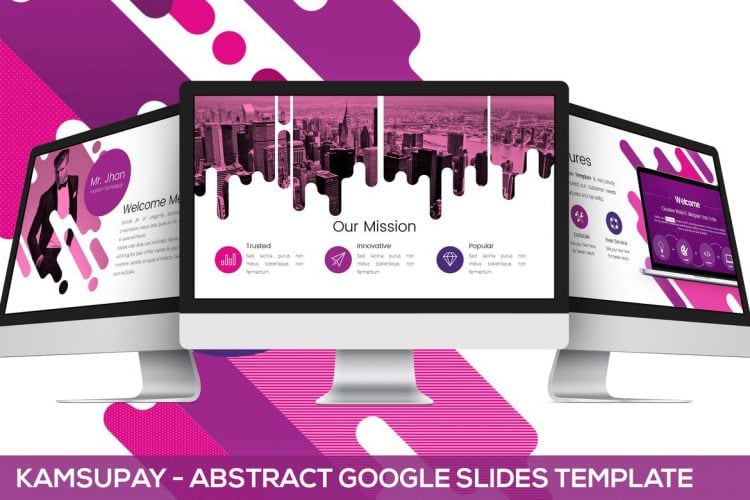 One of the bolder Google Slides themes available, this is a fun, colorful template featuring abstract design elements and geometric imagery. With 20 animated slides, it offers options for both dark and light backgrounds, widescreen and standard aspects, and three different colorways.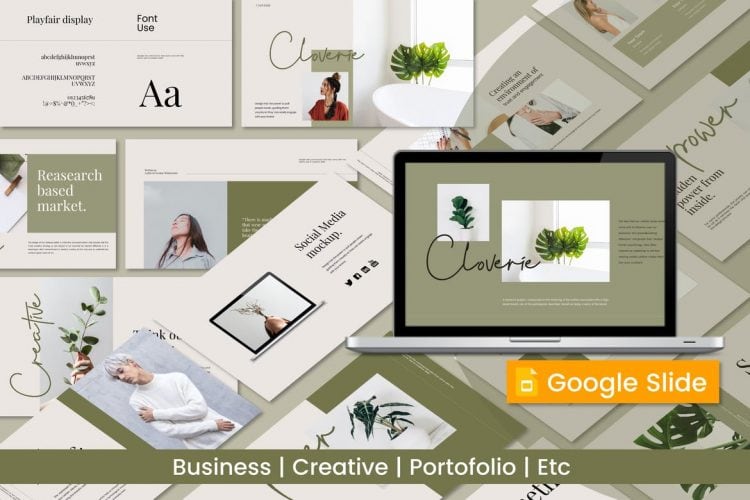 The "Cloverie" theme is a clean, modern template consisting of creative graphics and elegant typography, and featuring a calm, earthy color scheme that lends itself perfectly to an eco-friendly business or project. It's set out in a gallery-style portfolio and is a popular choice for creative professionals.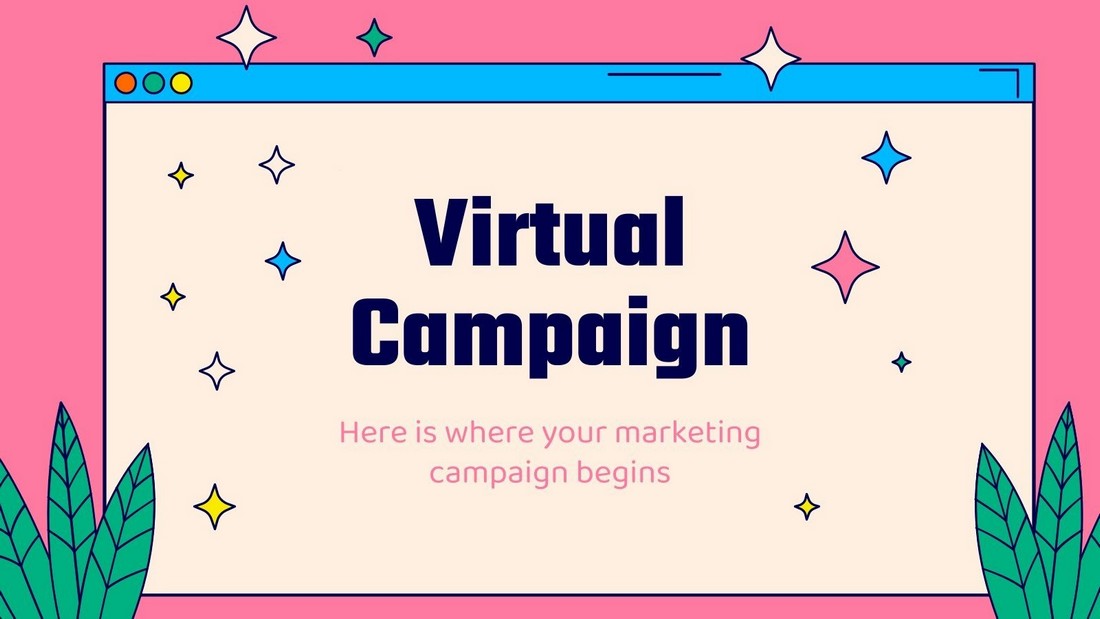 This free Google Slides template comes with a vivid and colorful design that will instantly grab the attention of your audience. It's designed for delivering virtual presentations for showcasing your products, brands, and businesses. The template includes 30 unique slides.
If you're looking for a Google Slides template to create a professional presentation, this free template will come in handy. It lets you choose from 39 different slide layouts for making business and corporate profile presentations.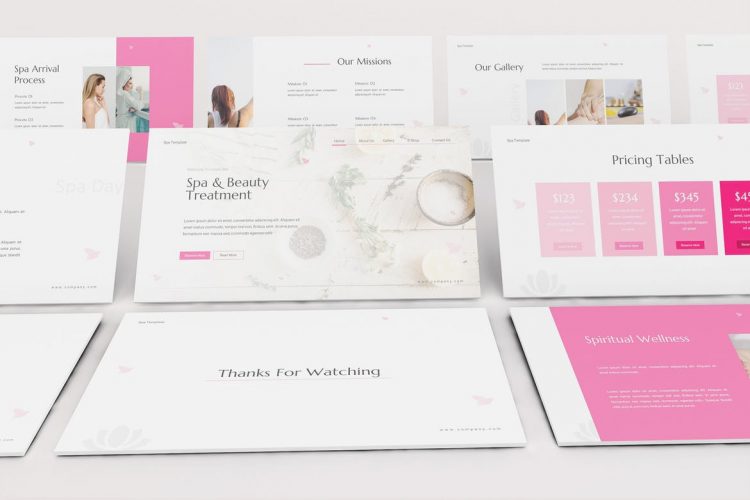 As the name suggests, this theme is ideal for health and beauty professionals to use as a personal portfolio, client information leaflet, or promotional tool. The pretty, feminine color scheme and delicate typography are complemented by the use of bold lines and angles.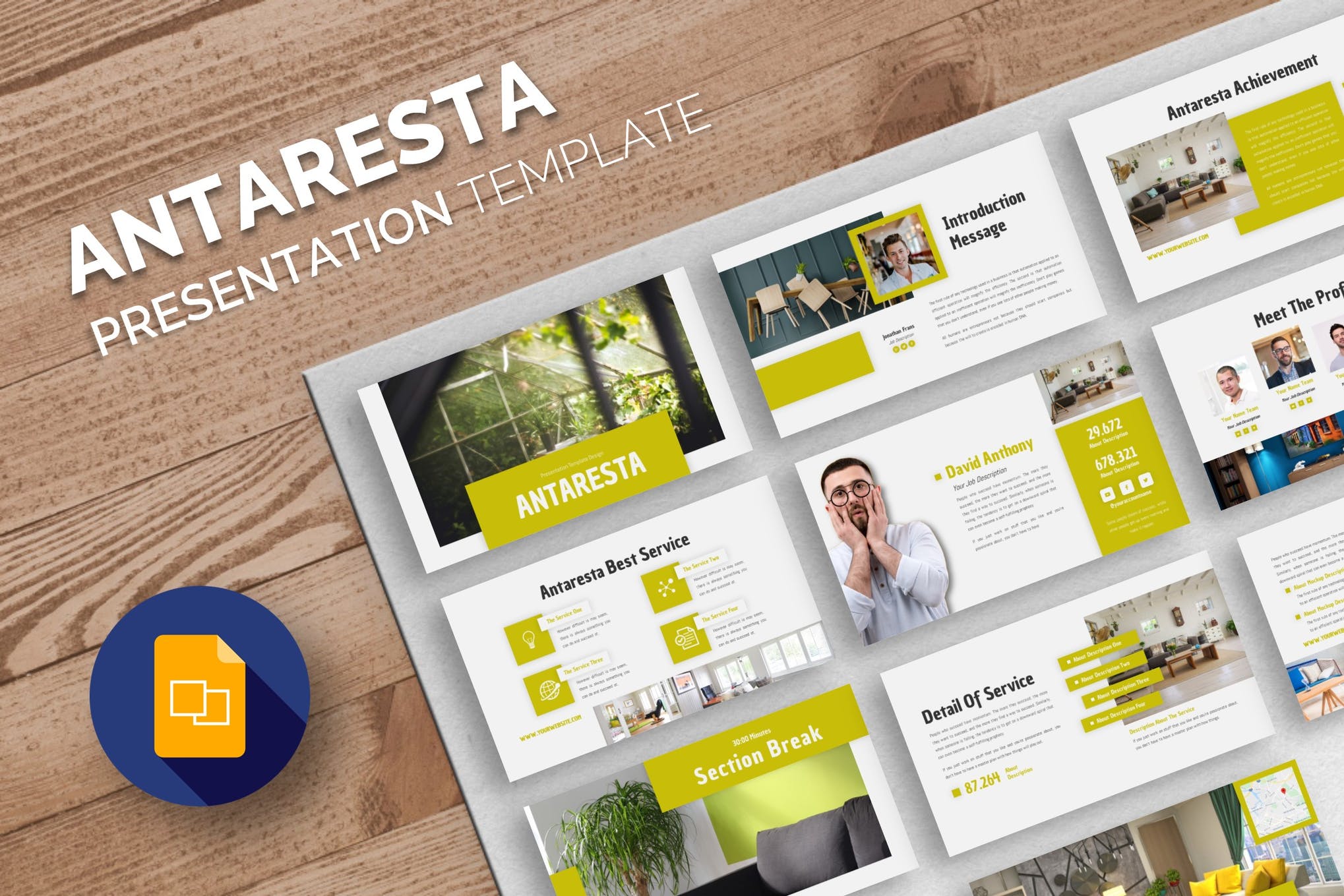 If you are looking for a presentation template that truly stands out both in terms of style, and efficiency, Antaresta should be your go-to template. It has a unique and professional layout that works quite well for virtually every business purpose under the sun.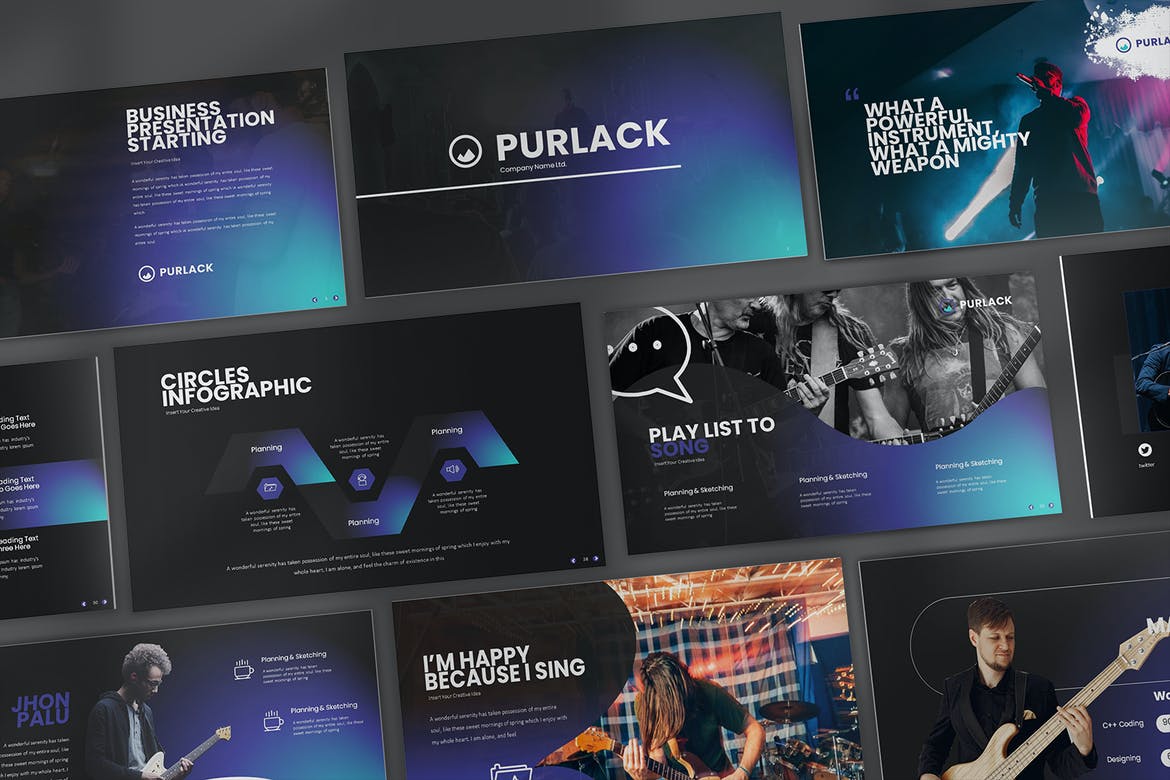 Next up, we have Purlack, a dramatic and eye-catching Google Slides theme that can be adapted to suit creative and business presentations alike. It features clean, scalable graphic elements and includes vector icons and free fonts for your use.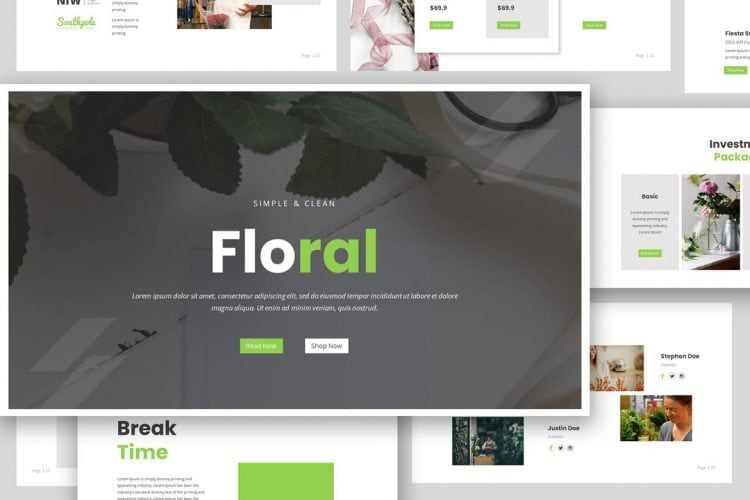 Again, as the name suggests, this charming theme has been designed for floristry professionals. However, it can easily be adapted to suit any kind of e-commerce business. Featuring clean, simple layouts and an uplifting color palette, it includes 30 slides in retina and full high definition, with both standard and widescreen sizing.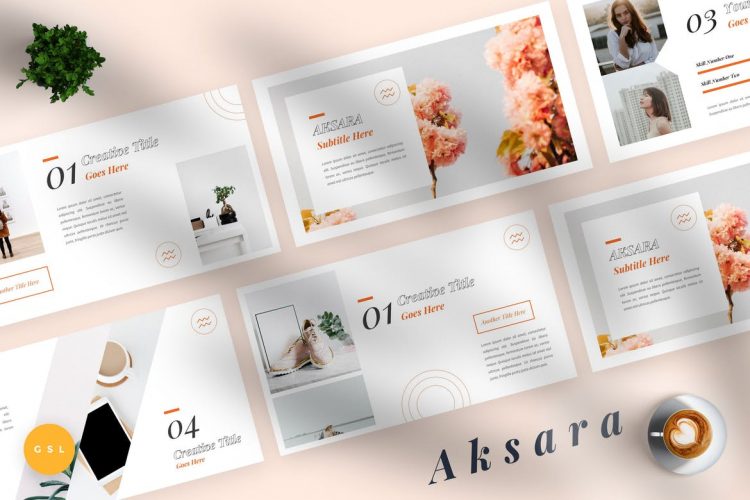 A beautiful, contemporary theme with classical design elements and soft colorways, the "Aksara" template is perfect for creative portfolios and professional lookbooks. It includes vector icons, fully editable graphics, and complete supporting documentation for easy customization.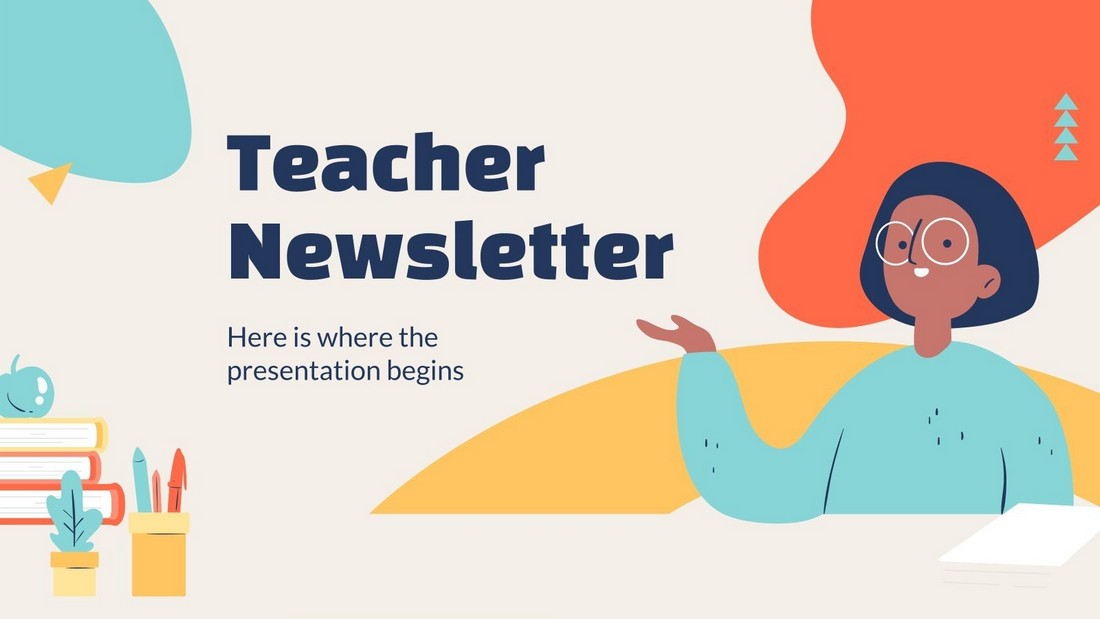 This is a free Google Slides template designed with teachers in mind. It's perfect for creating presentations for making announcements to your students as well as for educating them on a new syllabus. The template includes 26 slides.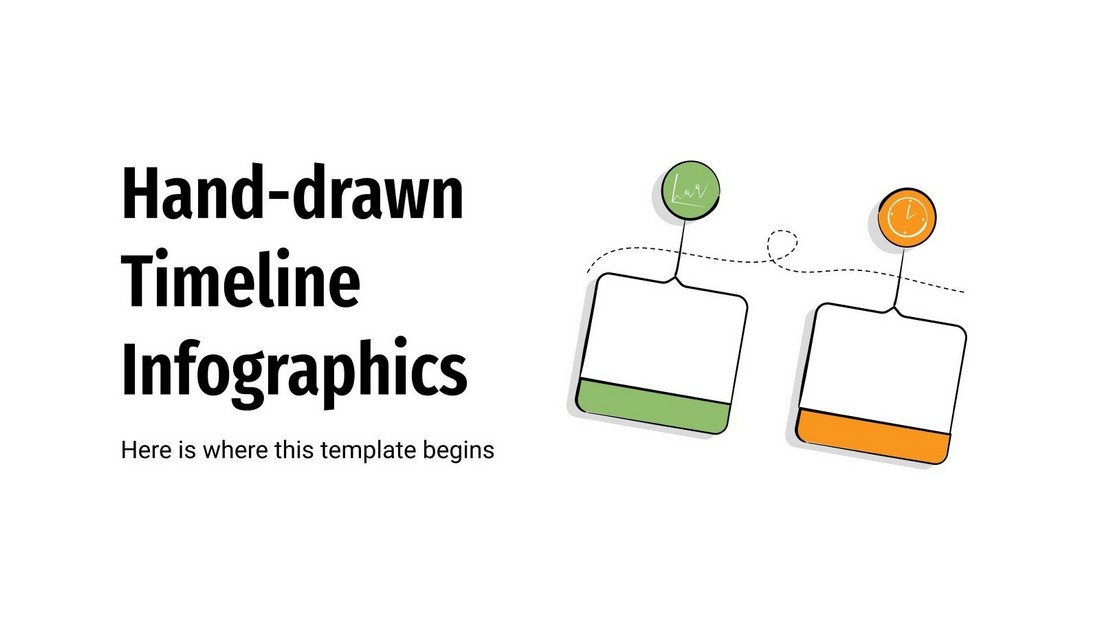 Infographics play an important role in visualizing ideas in presentations. With this free Google Slides template, you get 30 different timeline infographics to highlight your project plans and campaigns. It's available in both Google Slides and PowerPoint formats.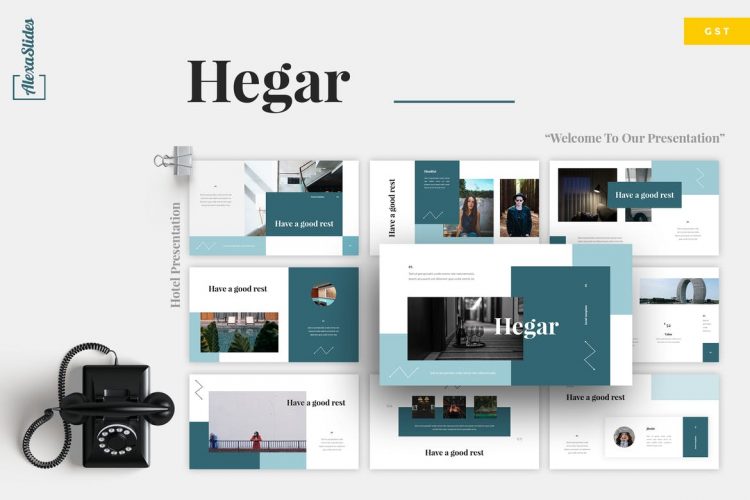 This fresh, innovative theme has been designed as a hotel marketing tool and consists of cool, dramatic color blocks against concise text captions and creatively placed graphics. It's both artistic and functional and can be easily customized for both personal and professional use.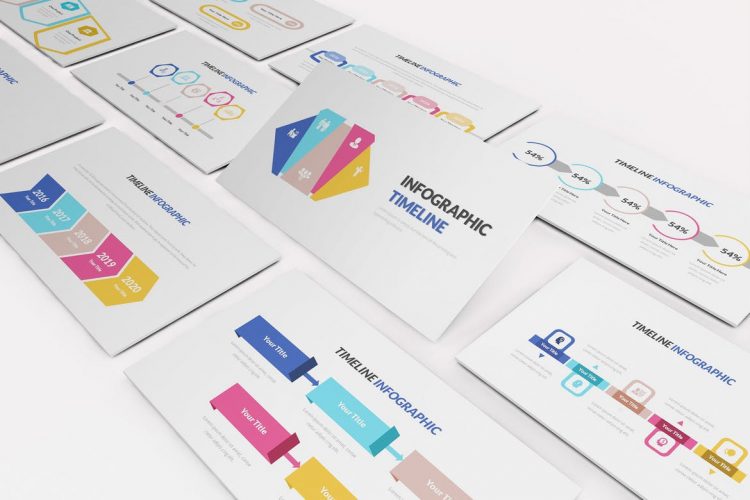 If you're searching for Google Slides templates that will help you display your facts and figures without any of the extra fluff, look no further – featuring a clean, simple design with preset animations and transitions, this theme is perfect for the presentation of marketing, reporting, and statistical data.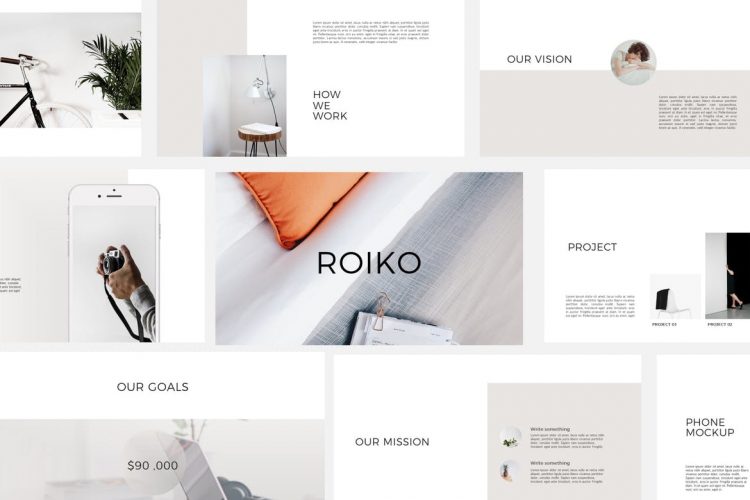 The "Reiko" theme is a beautiful, minimalistic set of 40 slides, expertly designed as a modern, professional, and highly versatile option for any kind of presentation. It's particularly appealing to those in the architecture and interior design fields.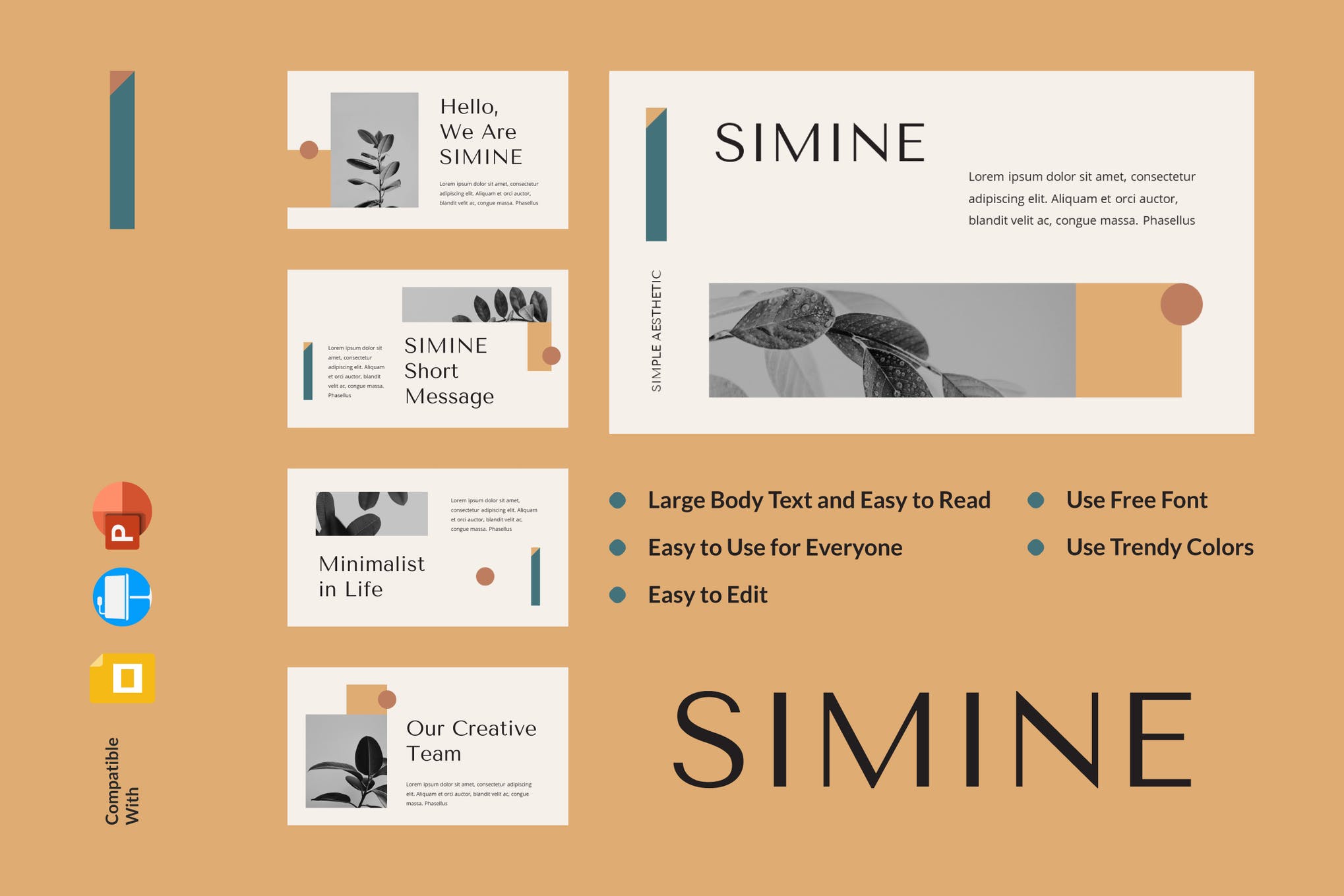 Featuring large body text, and easy readability, Simine is one of the best Google slides templates on our list. It comes with 30 clean, and professional slides, free fonts, trendy color schemes, and a range of amazing features so you can create an impressive presentation with minimal effort.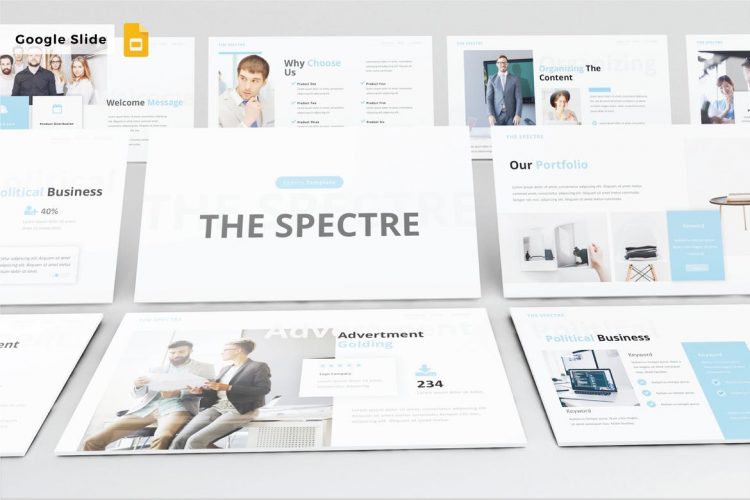 Ideal for business pitches and agency marketing materials, this template is a clean, polished, and highly professional set of 30 high definition slides available in a widescreen aspect ratio and with five different color schemes. It features fully editable vector icons and image placeholders for instant customization.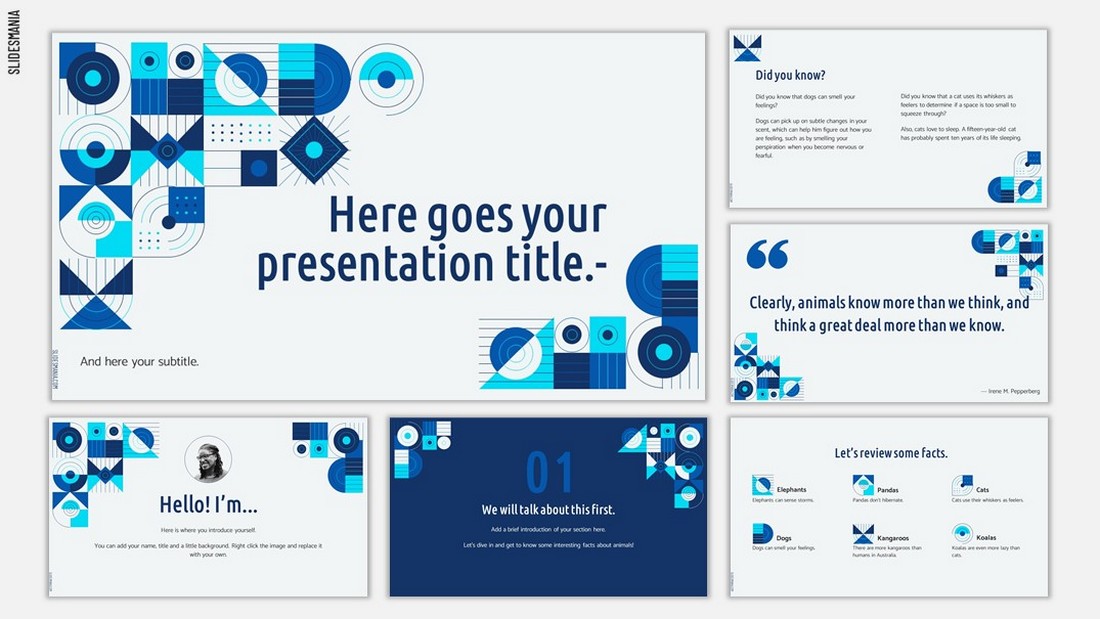 Another great Google Slides template you can download and use for free. This template features more than 20 different slide layouts filled with geometric shapes, vector graphics, and device mockups.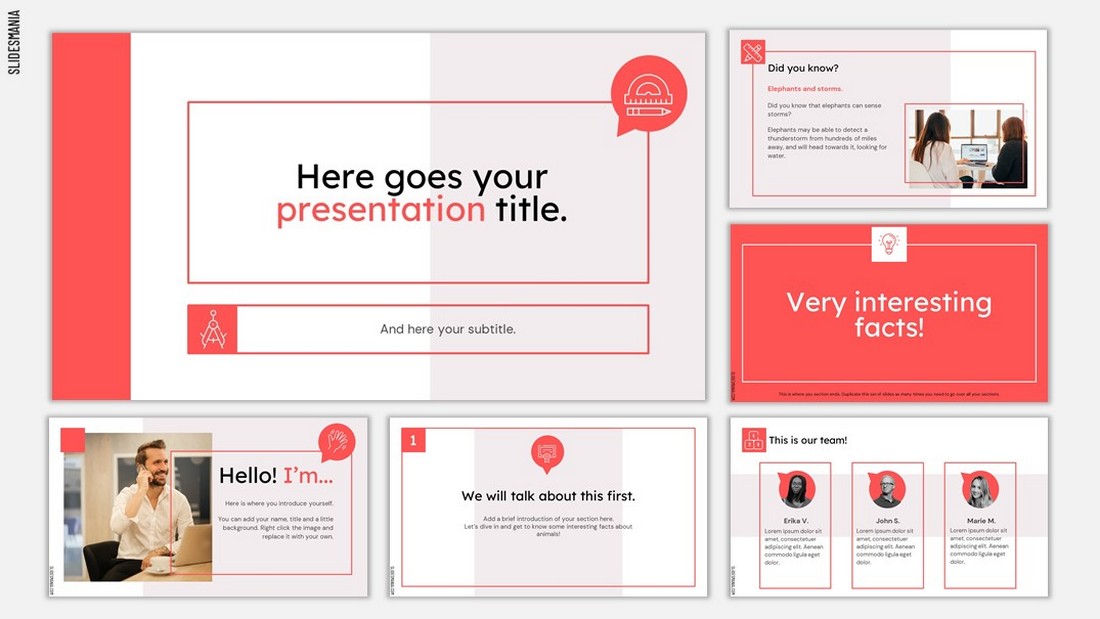 You can use this free Google Slides template to create effective slideshows for presenting your new business plans and proposals. It features 20 slides that you can customize in Google Slides or PowerPoint.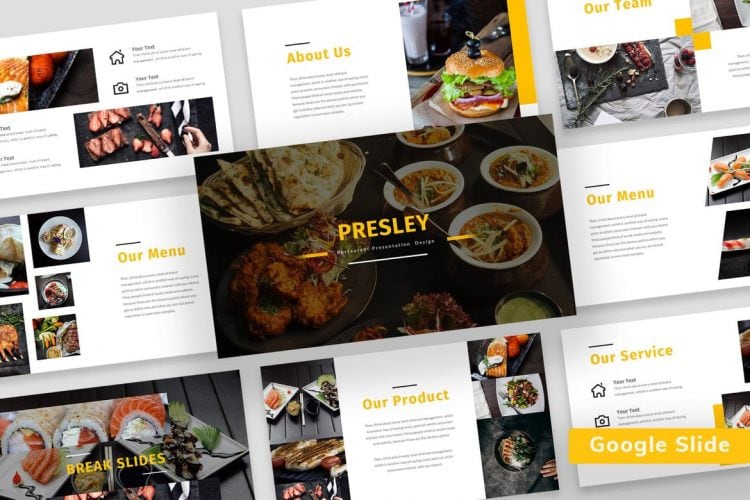 Intended for use as a restaurant menu or lookbook, this collection of slides can be easily customized to suit a range of different professional or personal needs. It features 22 unique, high-definition layouts with image placeholders and fully editable graphics.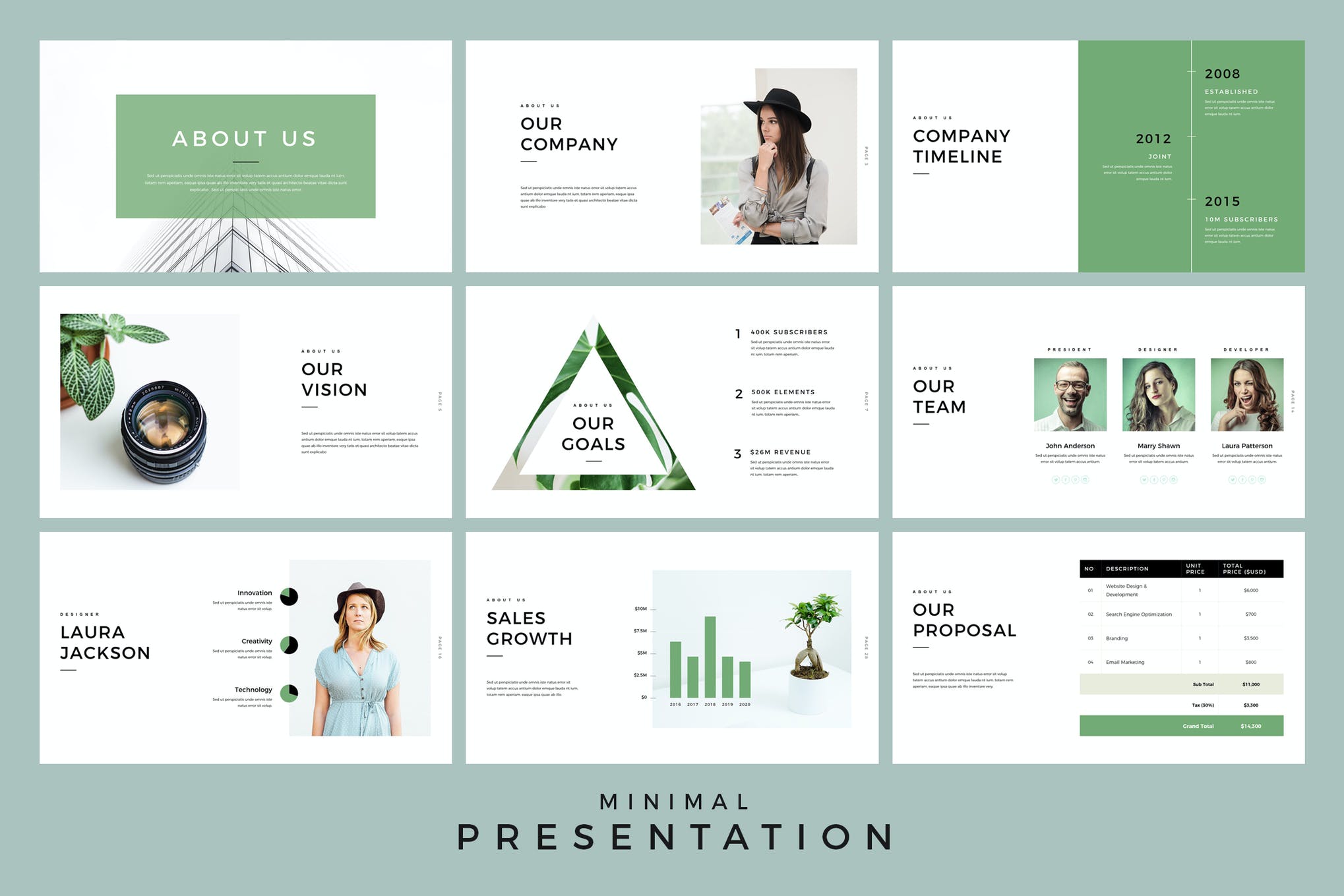 Check out this collection of 10 Google slides templates, with each having a distinct style and personality. The package has a total of 300 slides, 10 color scheme variants, over 4000 vector icons, and a lot more.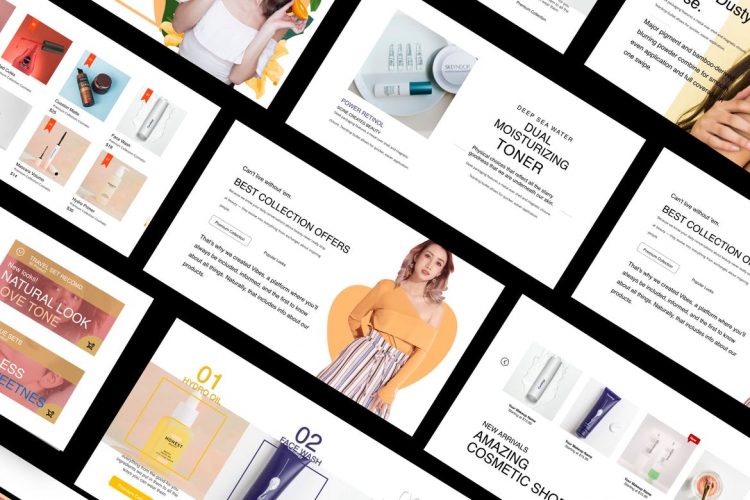 A creative, multipurpose template designed as a product lookbook, this theme consists of bold graphic elements, neutral colors, and simple, clean typefaces, giving you complete flexibility in how you choose to customize it for your own business or personal presentation.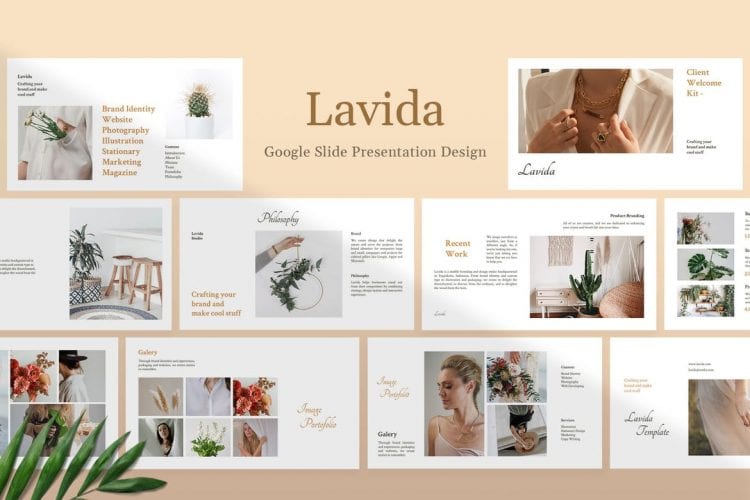 The "Lavida" theme is a stunning, sophisticated set of 22 slides, polished to perfection and brilliant for bridal or fashion purposes. The contrast of elegant typography, soft colorways, and angular, grid-like layout creates a design that's both classic and contemporary.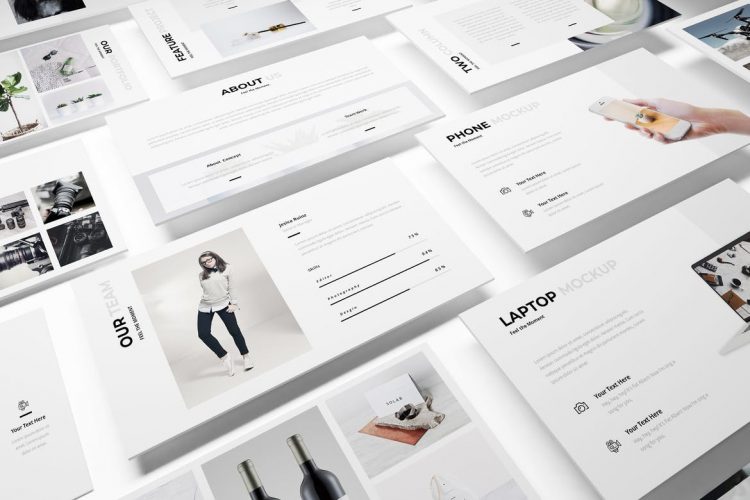 This template features modern, minimalistic design elements and a strong sense of organization, making it an undeniably professional option for any kind of gallery or product brief, as well as photography or design portfolios.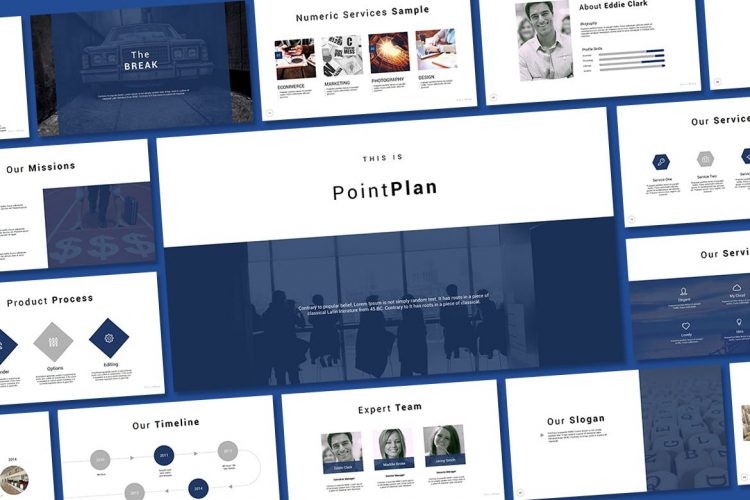 Another example of business-minded, minimalistic Google Slides templates, this theme consists of 30 slides with uniform graphic elements and a clean, professional color scheme. All design content is fully editable, with supporting documentation included.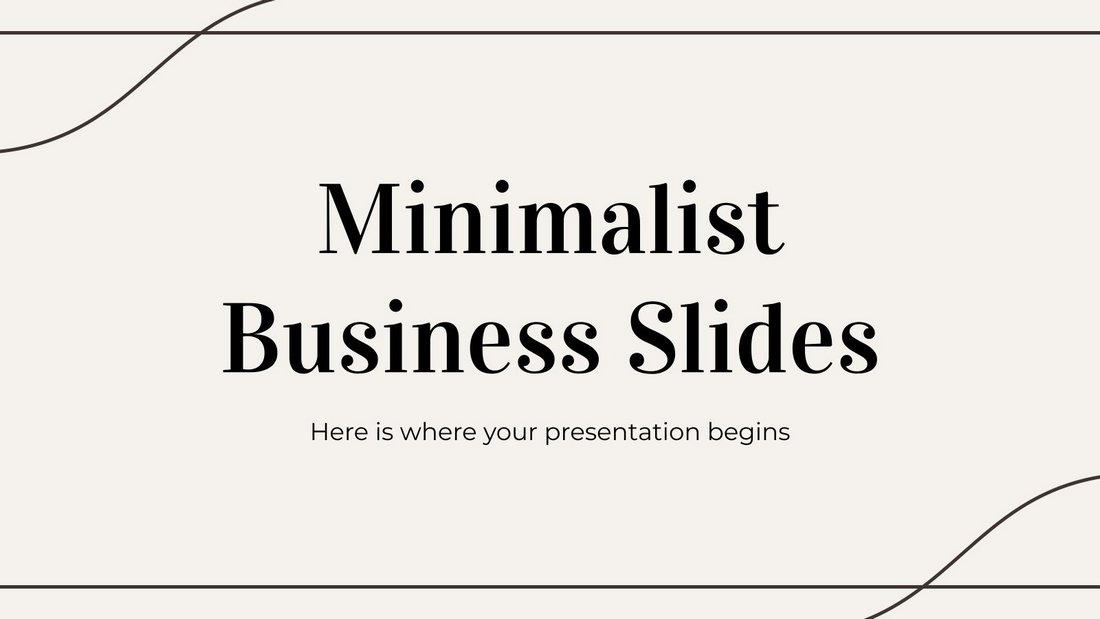 You can download this Google Slides template for free to design minimalist presentations for business projects. The template features 5 different color themes across 35 unique slide layouts.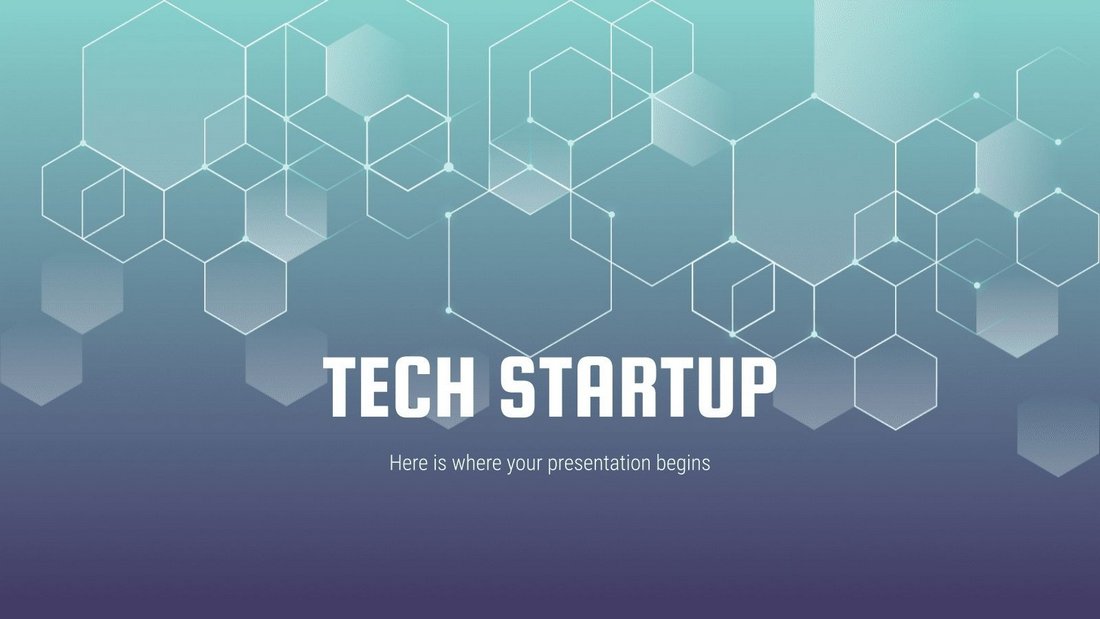 This free Google Slides template is designed with startups and technology companies in mind. It comes with 25 unique slides featuring editable maps, graphics, and a big icon pack of over 1000 icons.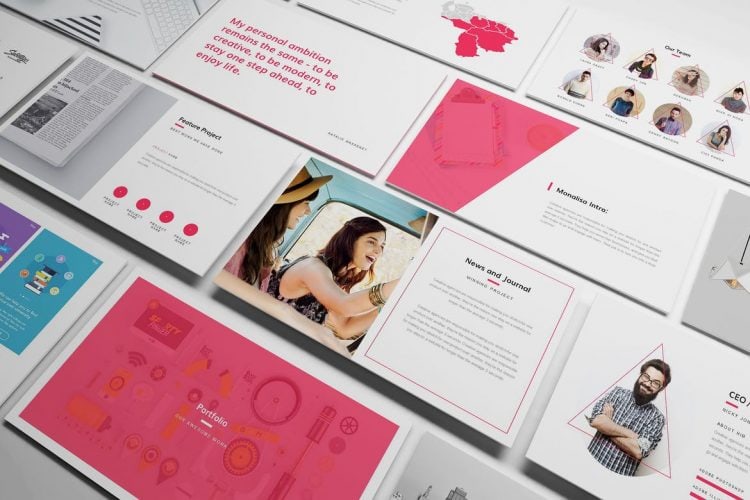 True to its name, this theme is creative, fun, and authentic, and can be applied to a huge range of purposes, from creative agencies to product pitches to online galleries. It features 90 high definition slides and includes prebuilt infographics, mockup devices, icons, and object placeholders.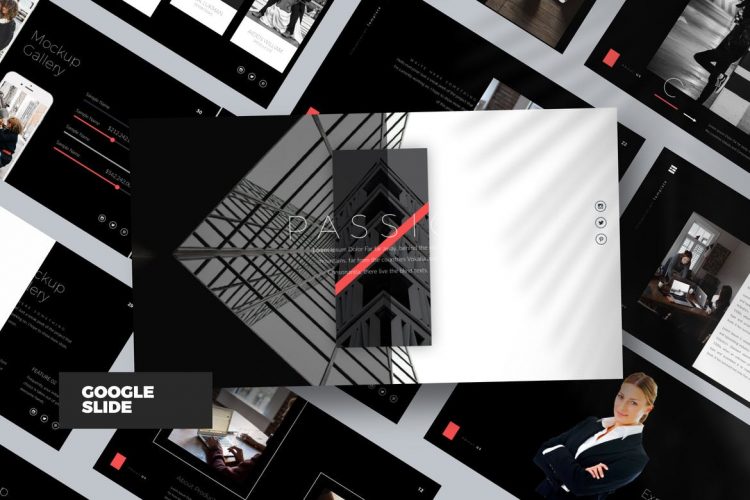 Dark, dramatic, and just waiting to capture your audience's attention, the "Passion" template is a stylish and sleek interpretation of a professional business presentation. By changing elements such as the color scheme and graphics, you can also adapt it for personal use.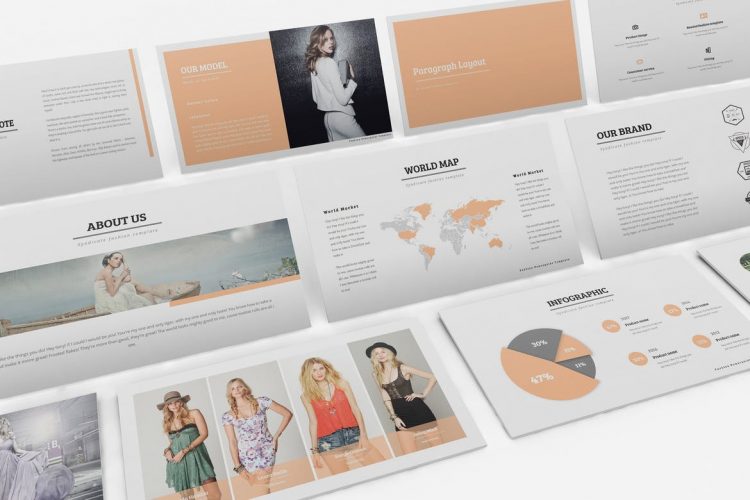 This fashion-focused template is essentially a ready-made brand introduction presentation – simply can customize with your own color scheme, products, and information, and it'll be ready to go. It'll look so professional, they'll never guess how easy it was!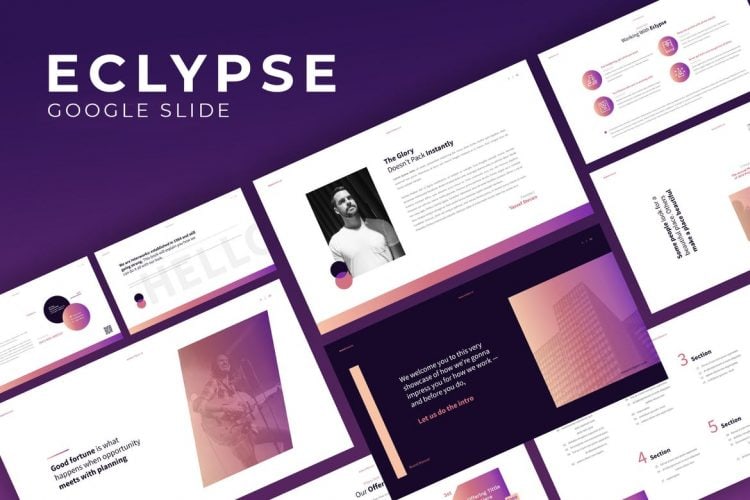 The "Eclypse" template is an eye-catching, minimalist set of 50 slides. Clean, modern, and unique, its use of gradient colors and effective object placement makes it perfect for a start-up company, or a professional within the entertainment industry.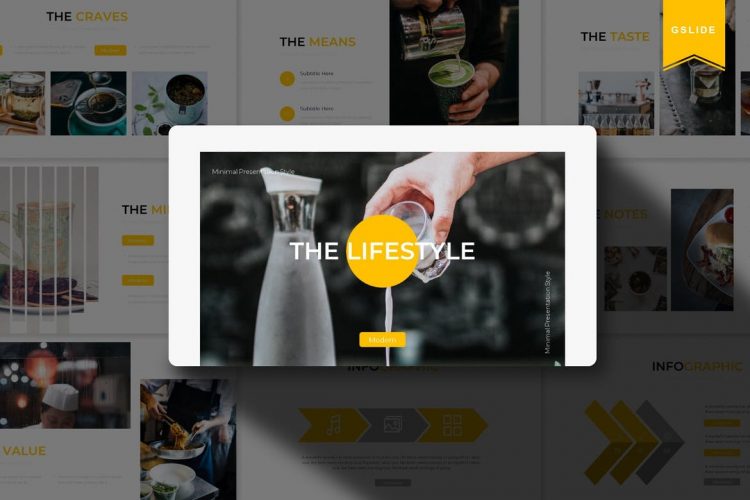 The Lifestyle Google Slides template is a highly versatile set of 150 unique slides that are perfect for all kinds of personal or professional presentations. A popular choice for startups and entrepreneurs, it includes five premade color schemes, animations, pixel-perfect illustrations, and fully editable graphic elements.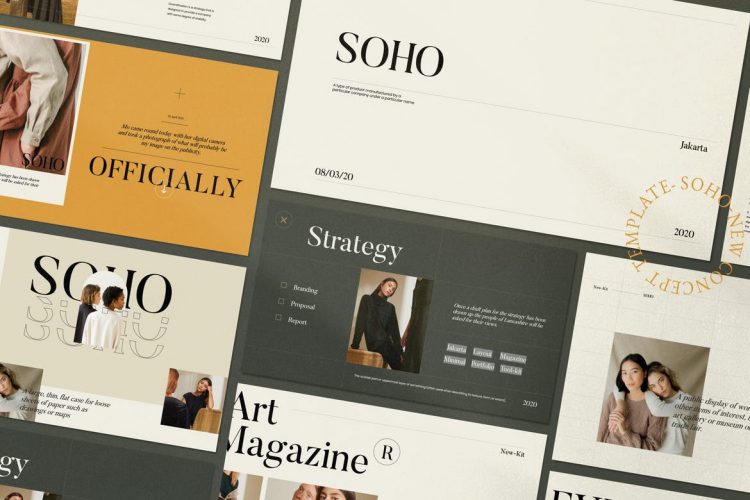 A modern, artistic presentation template with creative vintage elements, the Soho Google Slides theme features stylish, earthy color schemes and classic serif typefaces for a sophisticated and functional approach that's ideal for a small business or professional to use for their next project or pitch.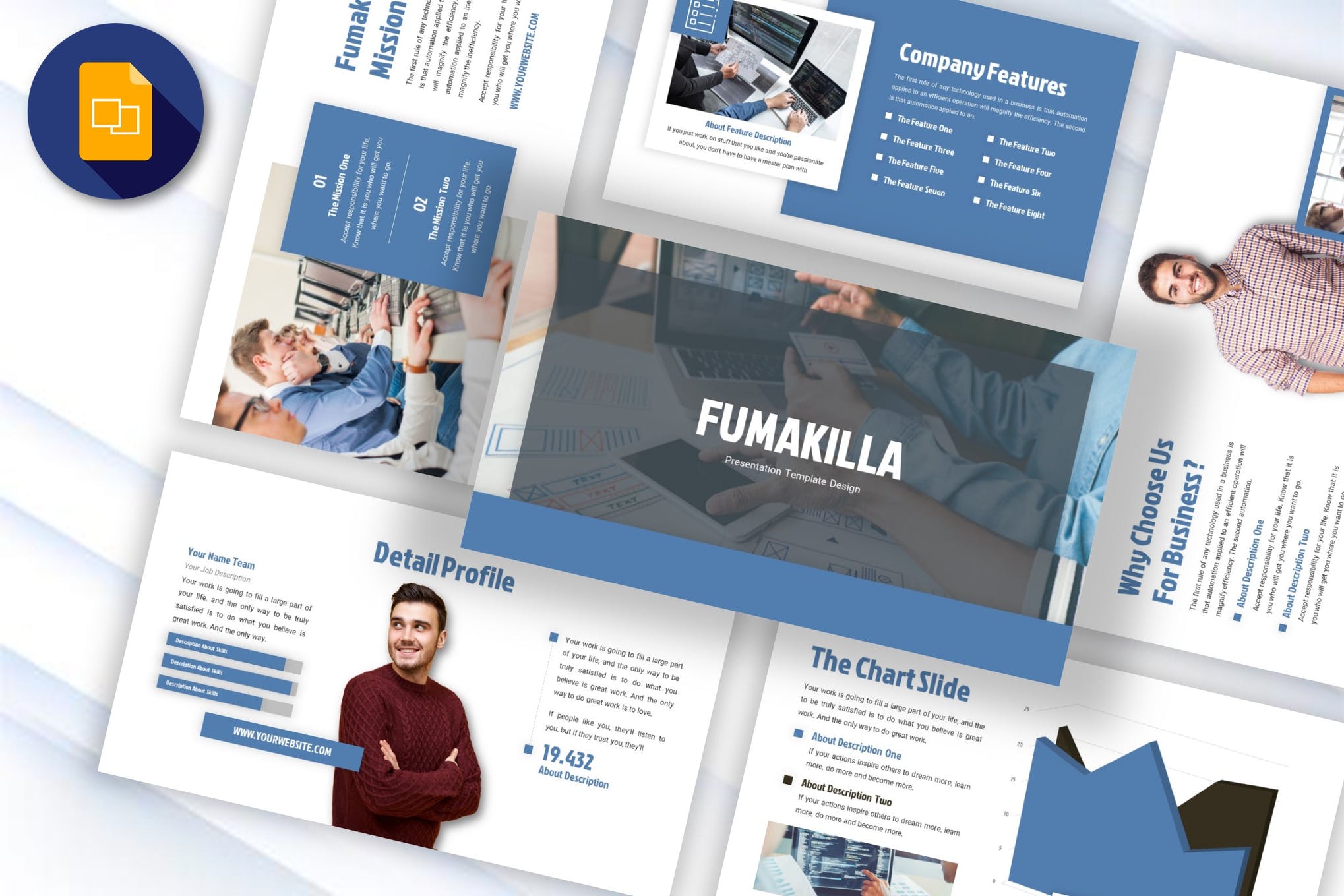 Next in our list of the best Google slides themes is Fumakilla, a presentation format created with attention to detail, and lots of love. It features a range of stunning slides, and color schemes, allowing you to choose the one that best suits your needs.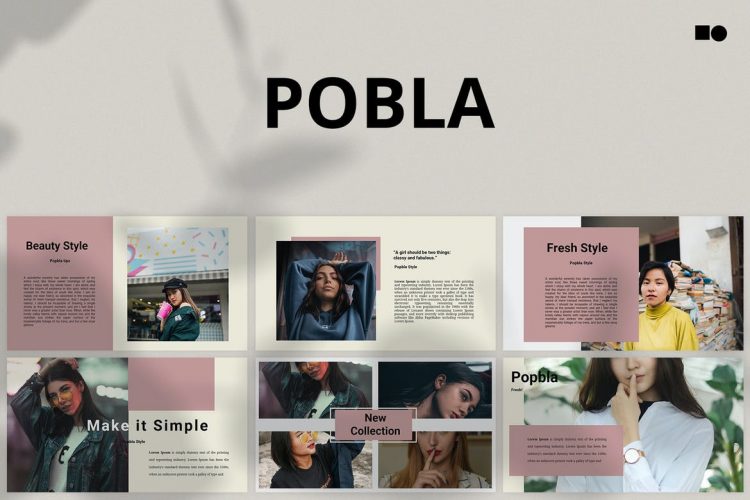 Featuring 50 stunning high-resolution slides, a range of modern typefaces, and strong, intuitive layouts, the Pobla Google Slides template is a popular choice for fashion and beauty presentations, as well as portfolios and galleries for showcasing creative pursuits such as photography and design. All graphic elements are fully editable, and complete supporting documentation is included.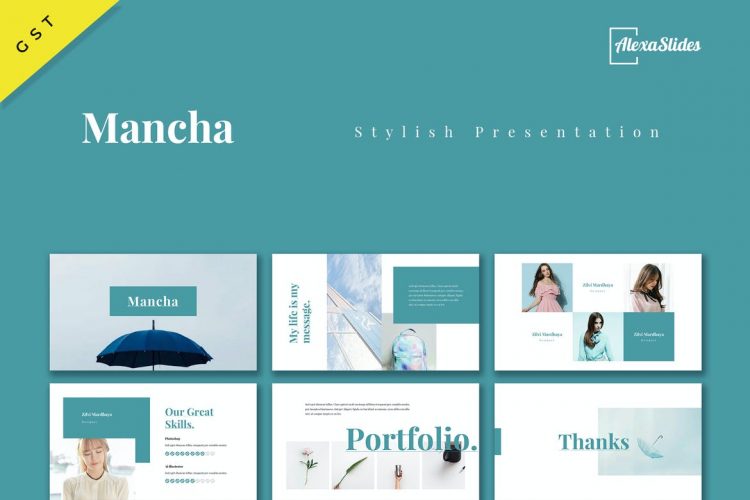 The Mancha Google Slides presentation theme is a stylish collection of 30 creative and eye-catching slides, featuring a stunning teal color scheme, a range of high-quality vector icons and shapes, modern layouts, and fully editable graphics. It's a sure winner for any design-oriented professional presentation or portfolio.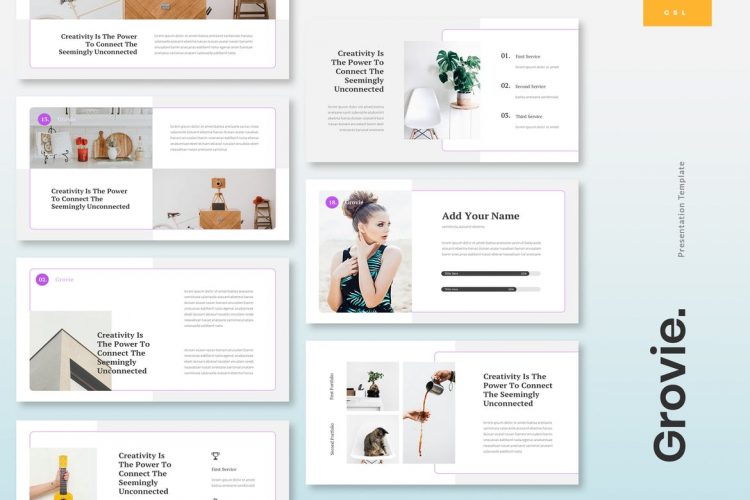 A clean, minimalist option, the Grovie Google Slides template is an innovative set of slides that have been purposefully designed with ease of use and functionality in mind, from the easily editable graphics and design elements to the intuitive flow between each slide. It includes free web fonts, vector icons, and a 16:9 aspect ratio.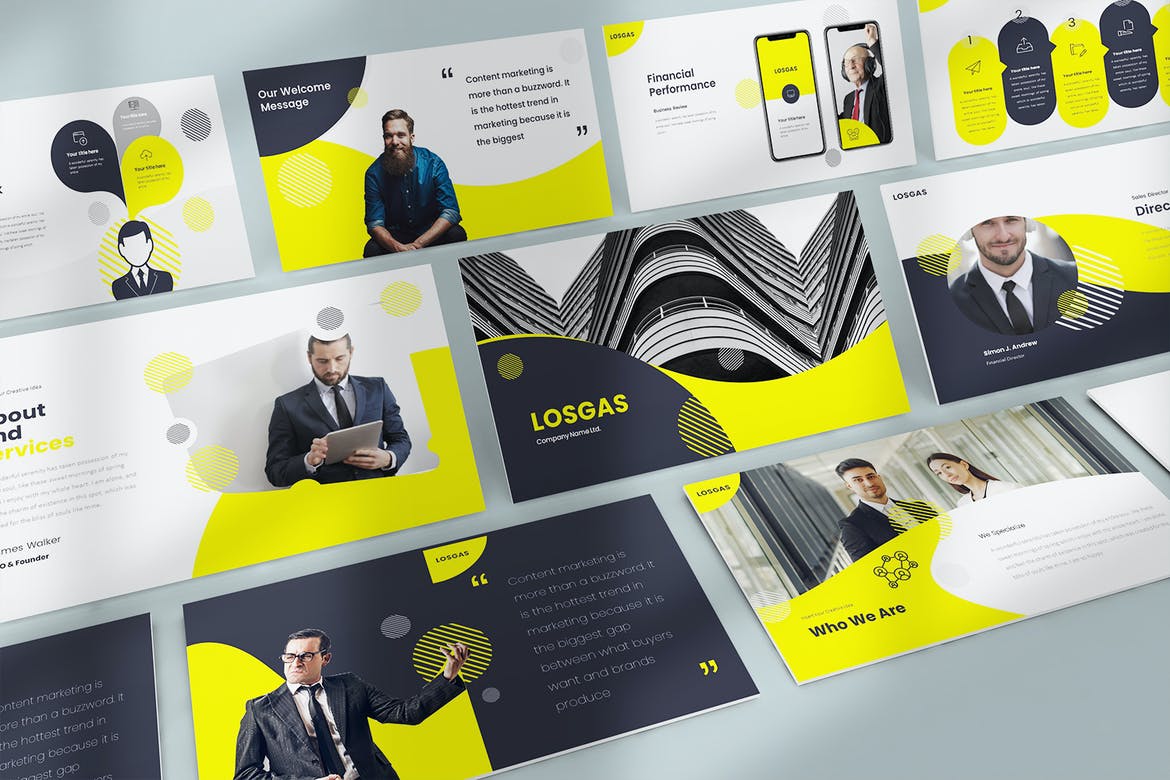 The Losgas Google Slides theme is a dynamic and colorful set of 100 slides with a range of vector elements to help you customize, as well as light and dark template versions and free fonts. It's ideal for any business or professional theme that requires a corporate look.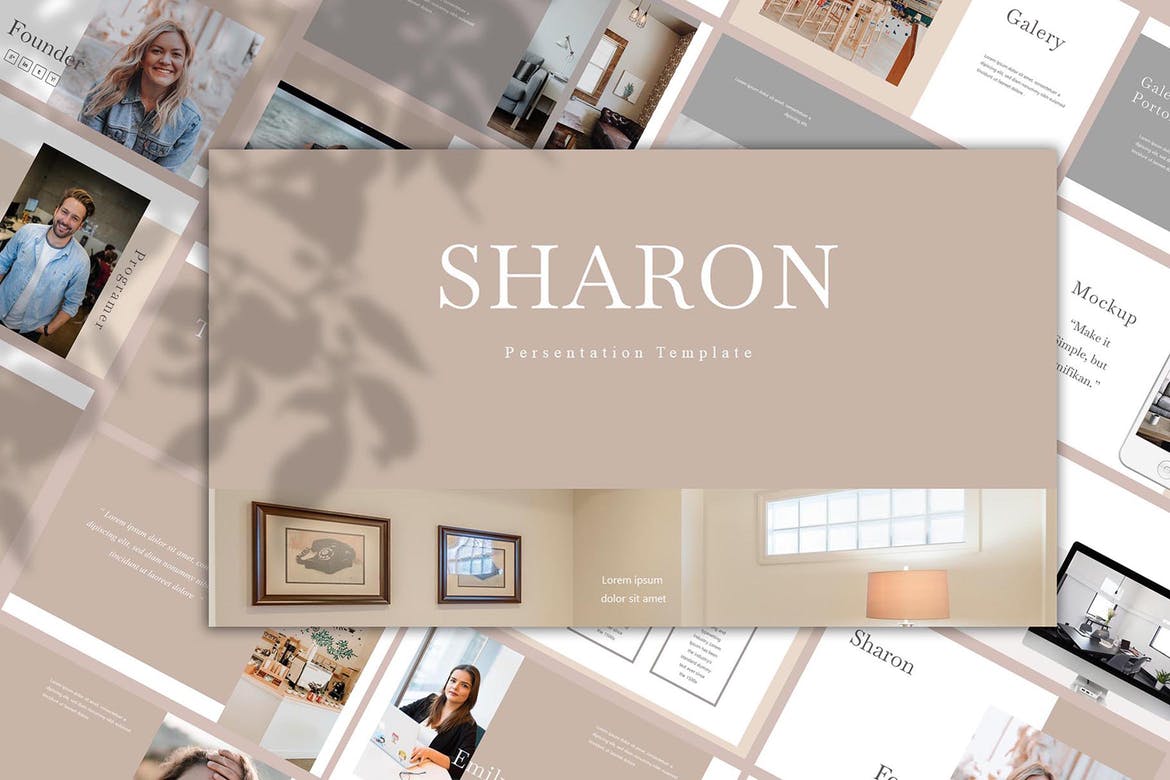 For a stunning and elegant Google Slides template that can be used for any modern creative project, consider the Sharon theme. It comes with 40 unique and fully customizable slides with several color theme options and easy to edit design elements, plus drag and drop image functionality.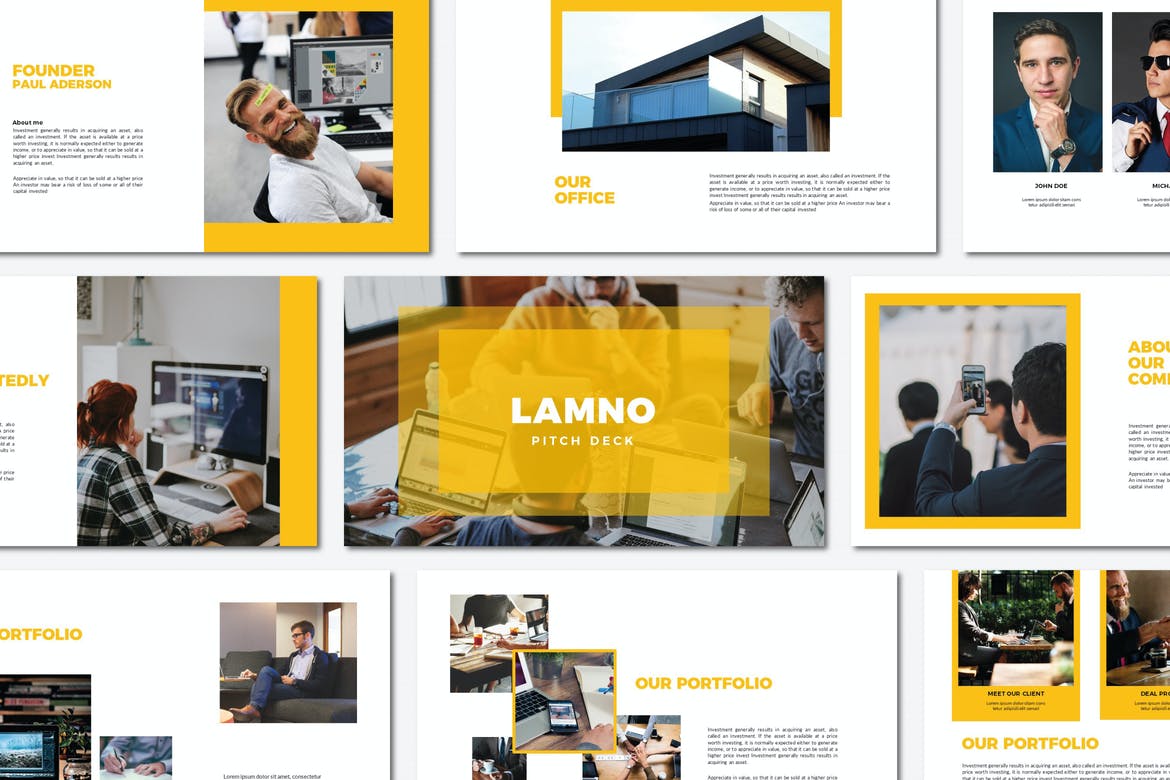 Here we have another Google Slides theme that's ideal for a corporate presentation in virtually any professional services industry. It features 30 slides with a handy widescreen aspect ratio, free fonts, and master page layouts, as well as fully editable graphic elements.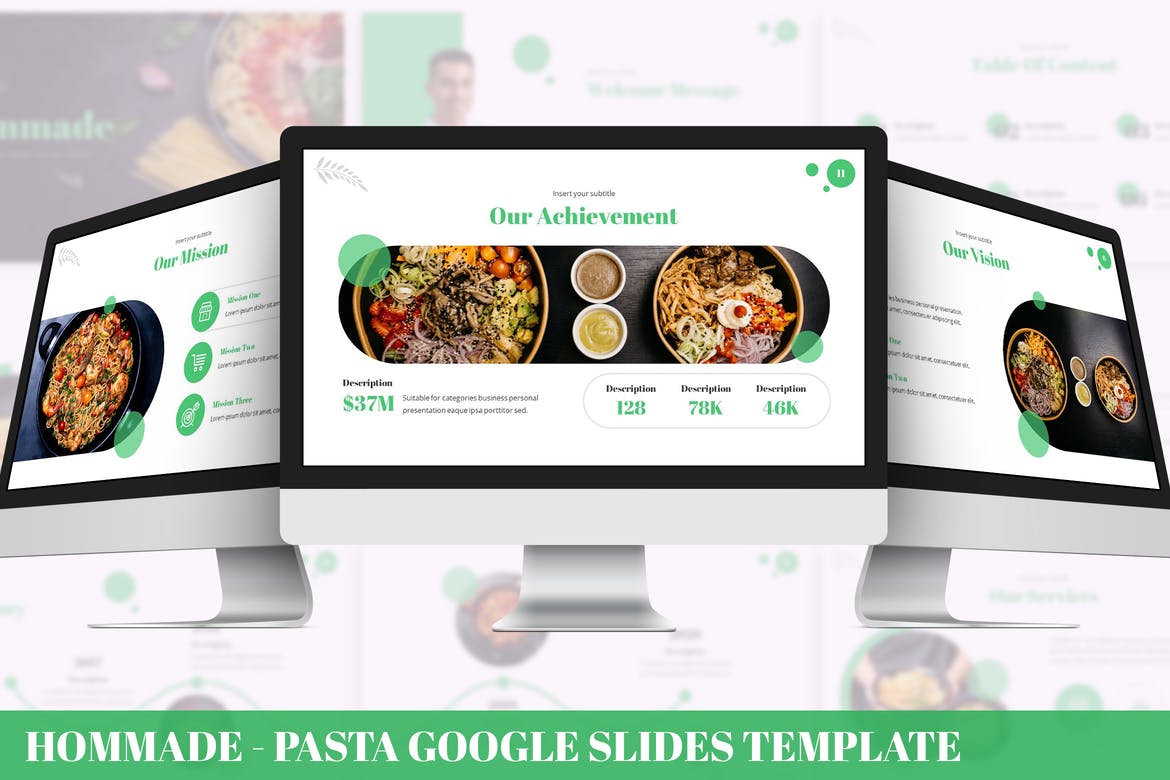 For a Google Slides template that looks good enough to eat, consider the Hommade theme – a set of 30 professionally designed themes with a delicious pasta theme! Ideal for any restaurant or cooking themed presentation, it offers three color schemes, animated slide layouts, and a range of versatile premade slide designs.
By now, we've provided you with a huge range of brilliant Google Slides themes and templates, and there's bound to be one that's perfect for your next presentation. Save your time and energy for the stuff that matters, and nail your presentation with help from the professionals to get you the results you deserve.