10+ Free Kawaii Tumblr Themes
Are you a fan of the Japanese kawaii culture? Want to make a blog to show your love for cuteness? We've picked some of the best kawaii Tumblr themes you can use to make a beautiful Tumblr blog.
When it comes to cute and adorable art and creations, nothing comes close to the culture of cuteness in Japan. This unique and adorable style of design is so popular that it has its own name. Kawaii actually stands for the Japanese word for "cute".
Kawaii style of design is widely popular in not just Japan but also in western culture. Artists, designers, bloggers, YouTubers, and social media users often use kawaii inspired designs to make their work look more adorable and cute.
If you're planning on starting a kawaii inspired blog on Tumblr, we found a set of great themes you can use to give that same Japanese cuteness to your own Tumblr blog. These themes are free to download.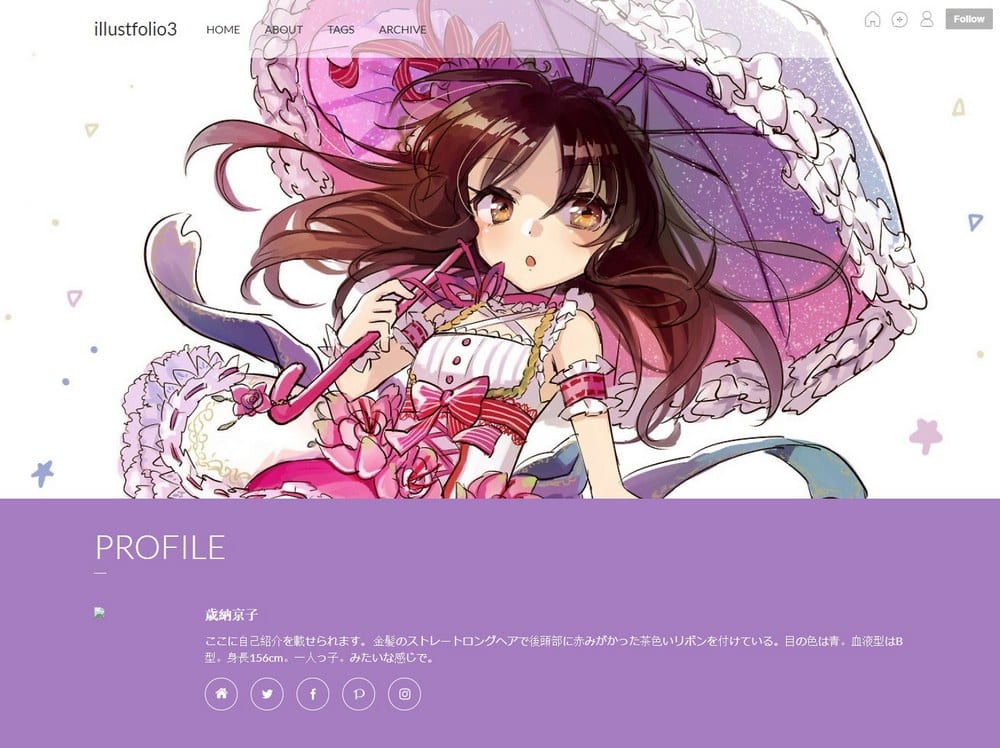 Illustfolio is a creative Tumblr theme that comes with an adorable Kawaii themed design. It's perfect for setting up a portfolio website to showcase your art, drawings, illustrations, and designs. The theme features infinite scrolling, editable colors, and a customizable header section.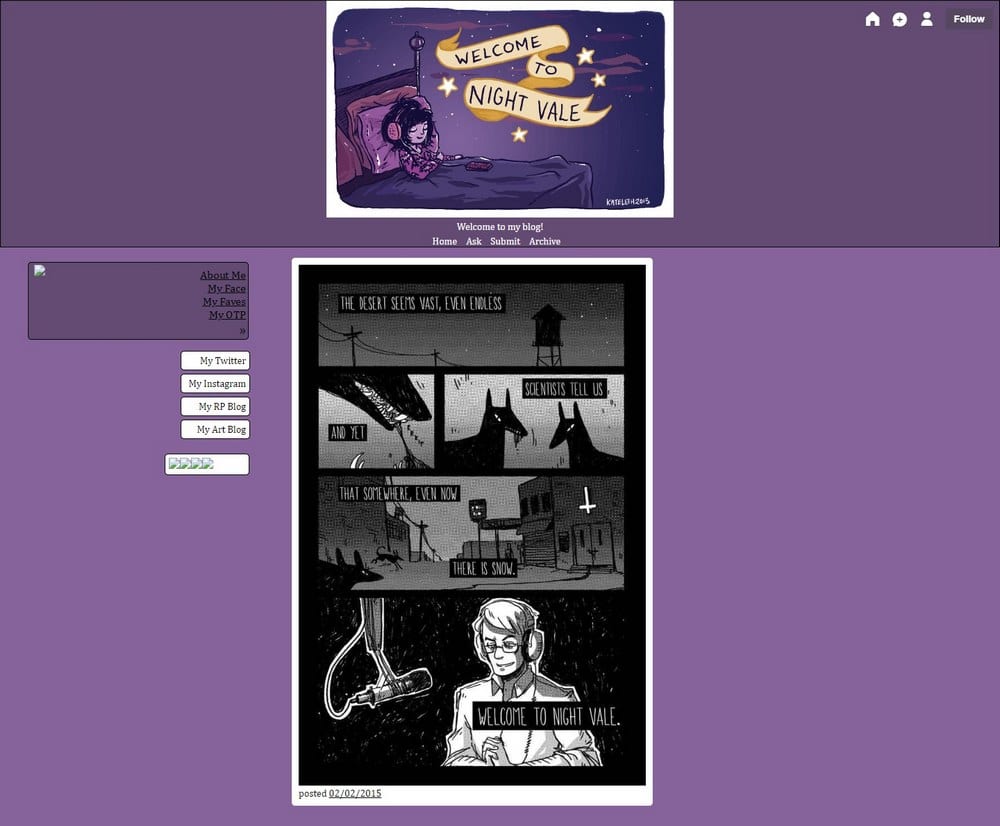 Tailormade is a Tumblr blogging theme featuring a colorful design. This theme includes an attractive header section where you can include an image and links to your pages. The sidebar supports many widgets, tags, and the colors can be easily customized to your preference too.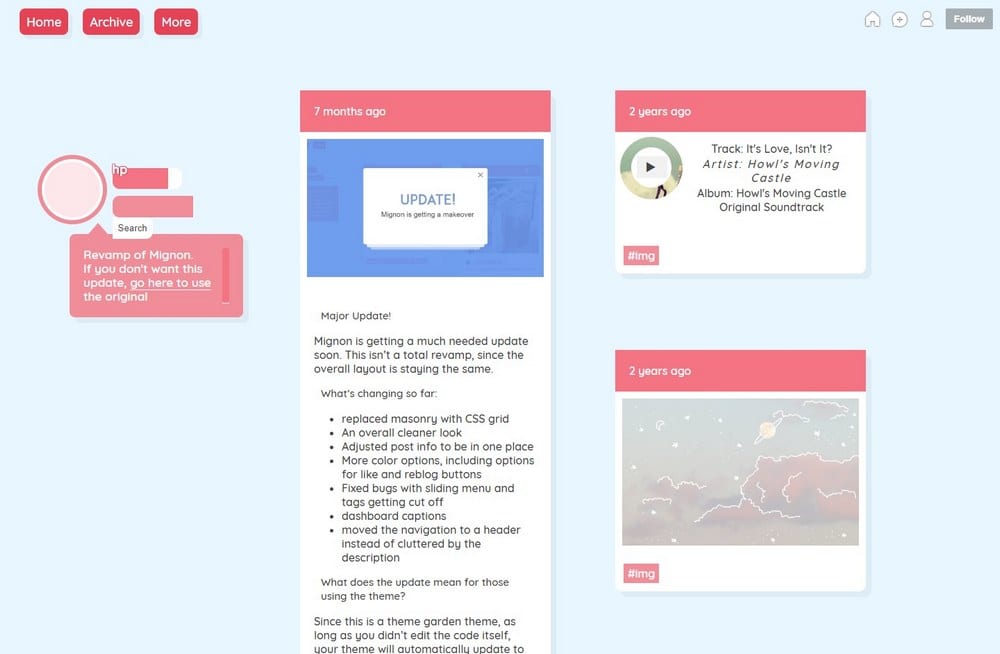 Mignon is an adorable Tumblr theme with pink all over the design. This theme features a masonry style grid-based post layout and has a sidebar for including widgets and links. The theme is perfect for creating a feminine blog, a cute journal, or even using as a portfolio.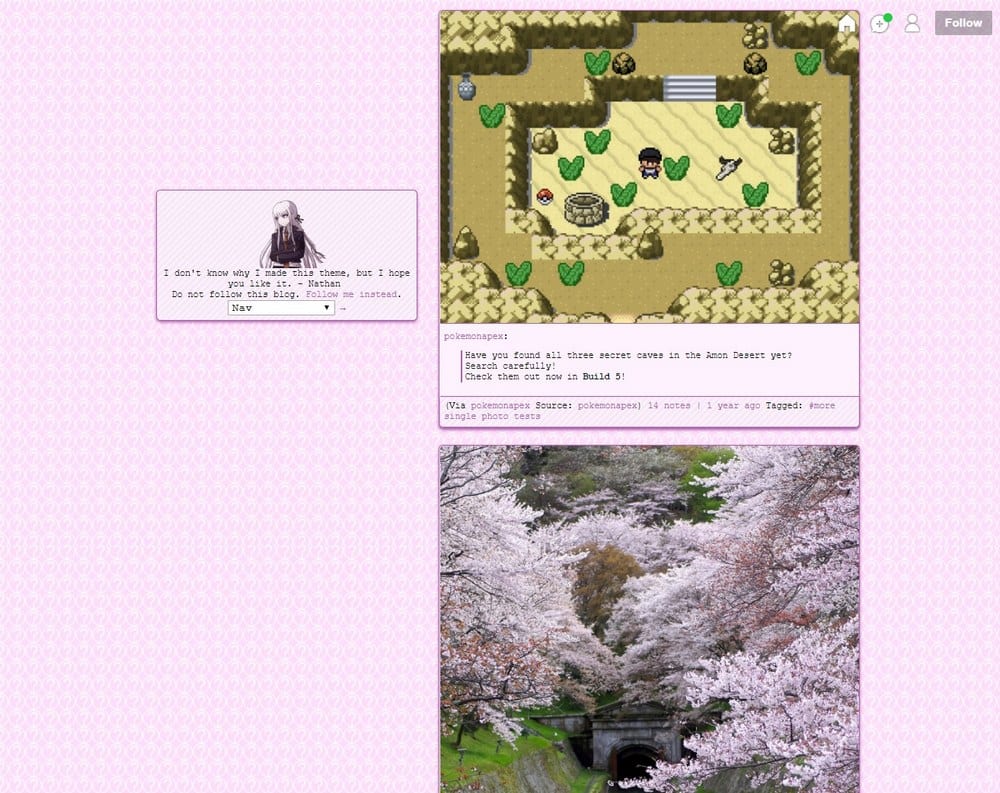 This creative Kawaii theme is perfect for fans of 8-bit pixelated games and art. The Kawaii Pixel theme features a minimal design with pixelated borders and post designs. The theme colors and fonts can be easily customized and the sidebar can be reversed as well.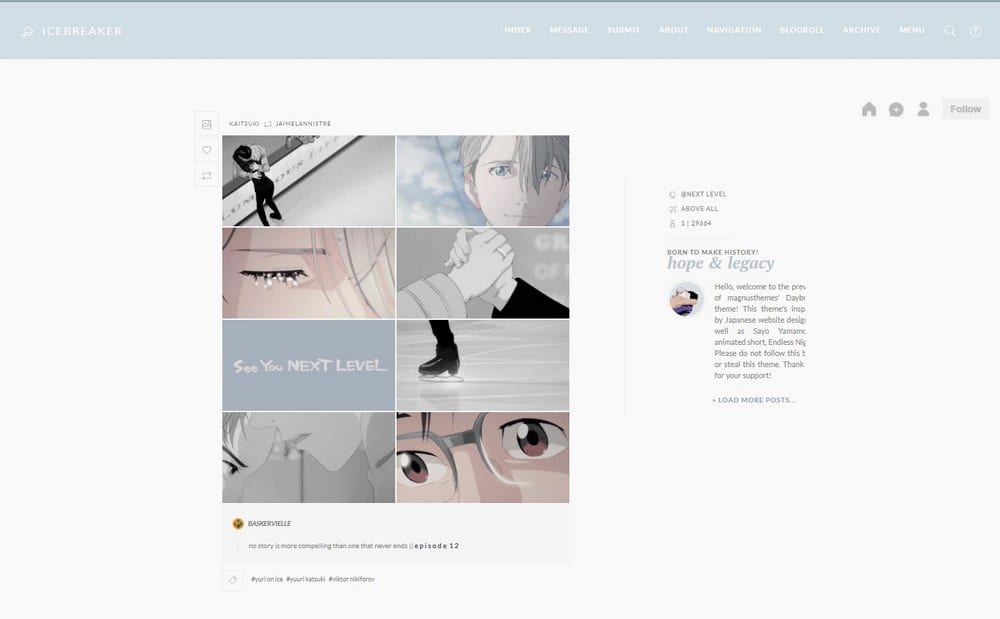 Daybreak is a minimalist Tumblr theme featuring a Kawaii design. This theme is ideal for making a blog or a journal. It comes with a floating header menu that scrolls down with the page, a sidebar for including an author profile widget, and more. The theme also supports infinite scrolling and customizable fonts.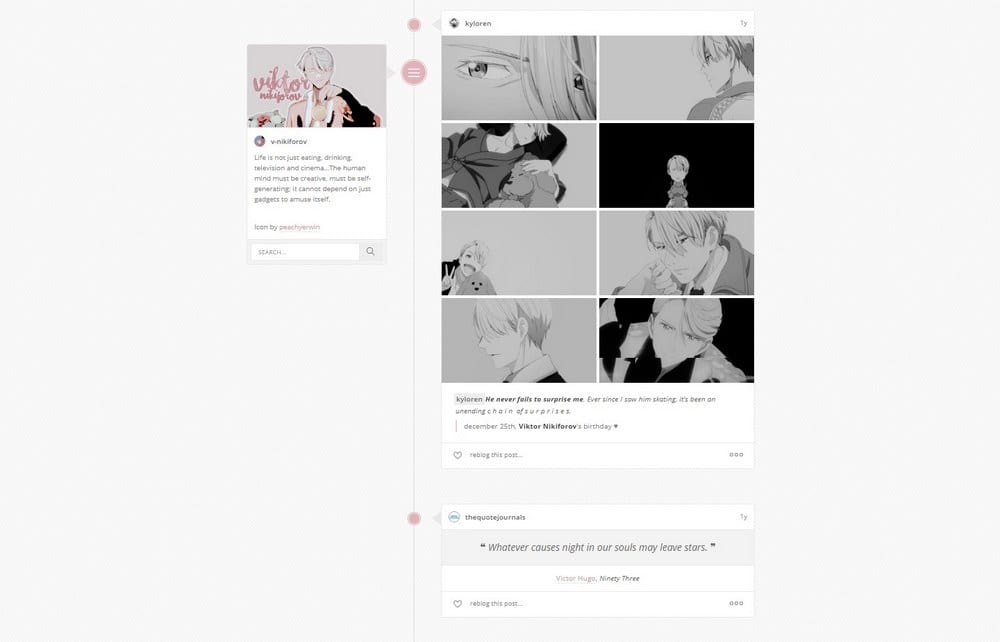 Mercurial is a clean and a modern Kawaii-themed Tumblr theme you can use to make a cute portfolio or a blog on Tumblr. The theme lets you choose from 7 different post sizes to customize the post layout of the design. It also features a fixed sidebar for including a logo and widgets and a customizable popup widget.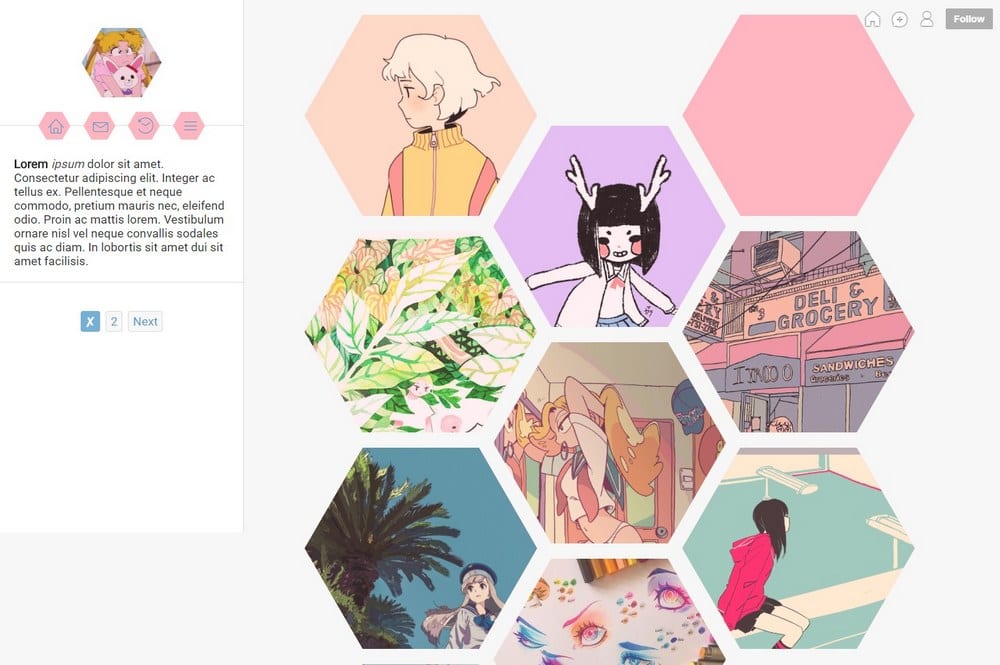 Honeycomb is a unique portfolio theme for Tumblr that comes with an attractive post layout. It's perfect for making a portfolio to showcase your designs and illustrations. The theme also features a fixed sidebar where you can include widgets, a description, and a logo as well.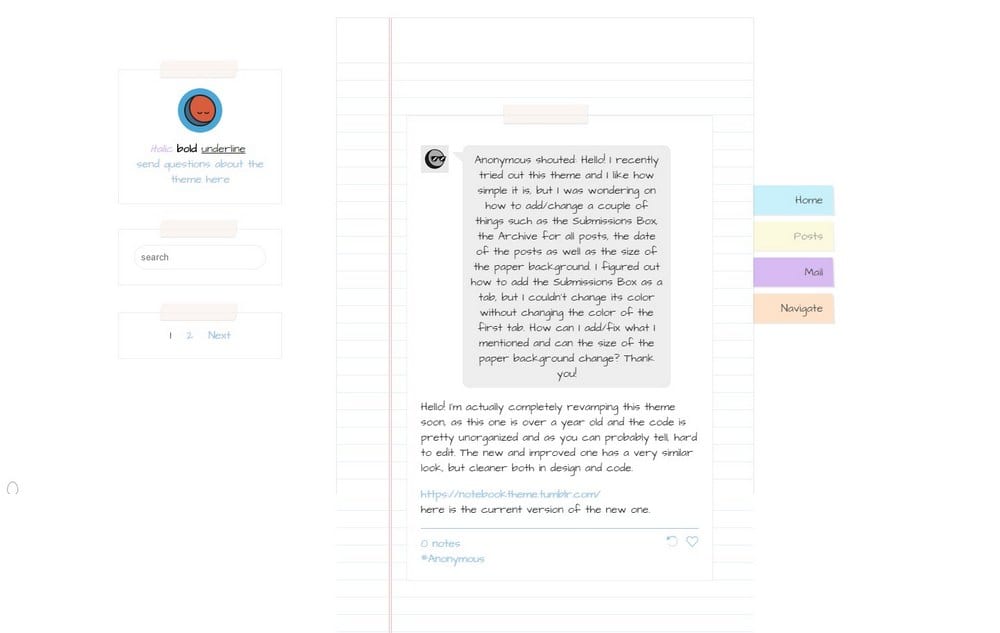 This minimalist Tumblr theme features a design that will make your Tumblr blog look like a notebook. It's perfect for making a journal or a blog on Tumblr. The theme features a fixed sidebar and tabbed content. It supports Google Fonts and you can change the background image as well.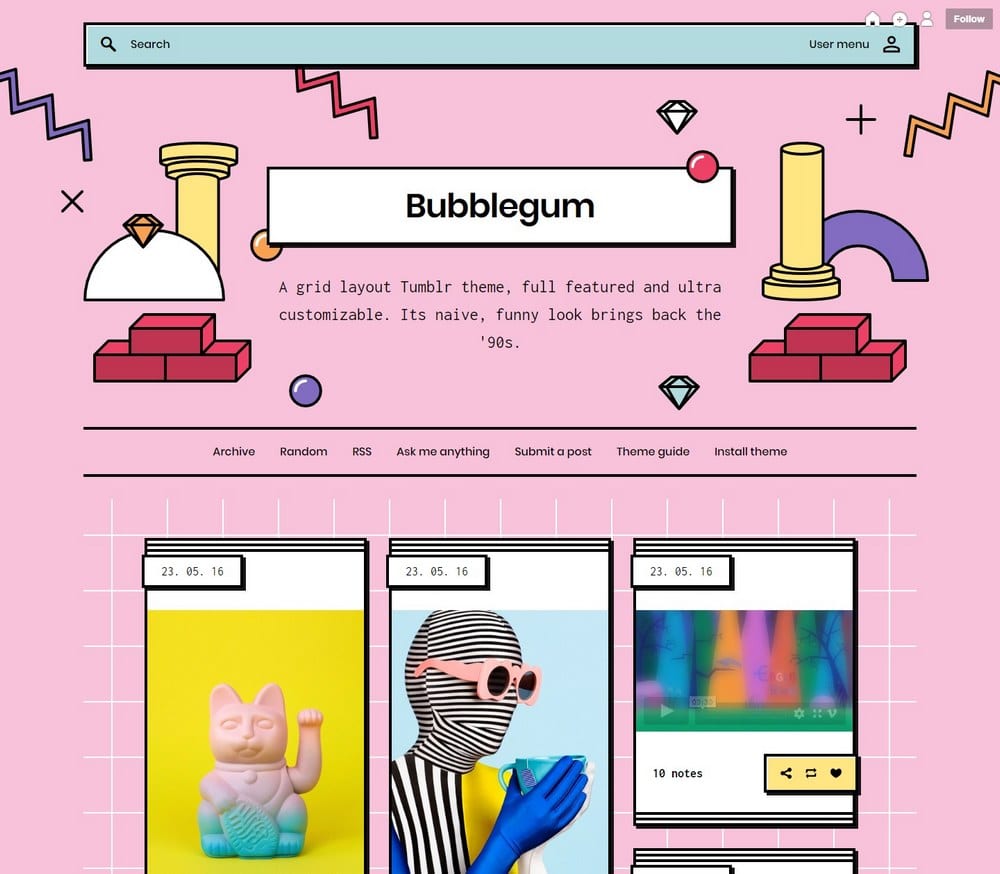 Bubblegum is a retro-themed Tumblr theme that features a colorful design. You can use it to design a blog or a portfolio with a creative classic design. The theme sports unique post designs with reblogging and share buttons and you can easily change its fonts using Google Fonts.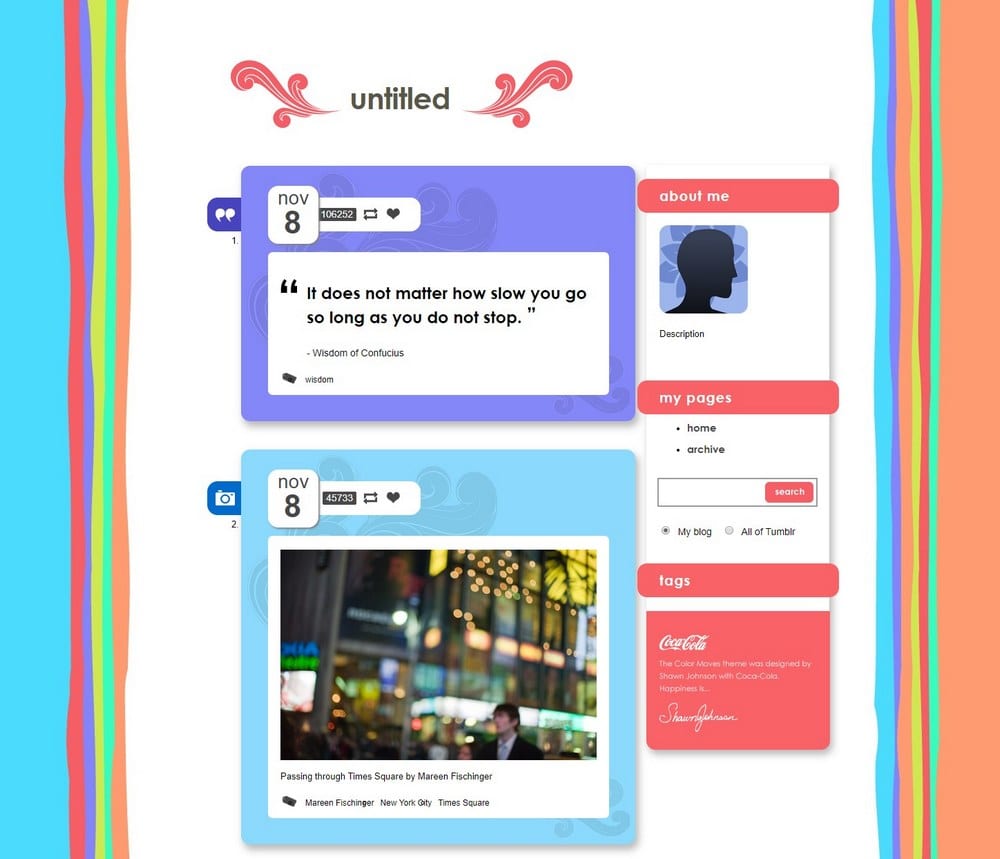 This adorable Tumblr theme comes with lots of colors and cute shapes all over its design. The theme is perfect for making a cute journal or a personal blog. It features unique post designs for each post type and includes a fixed sidebar where you can include social feed widgets, logos, and more.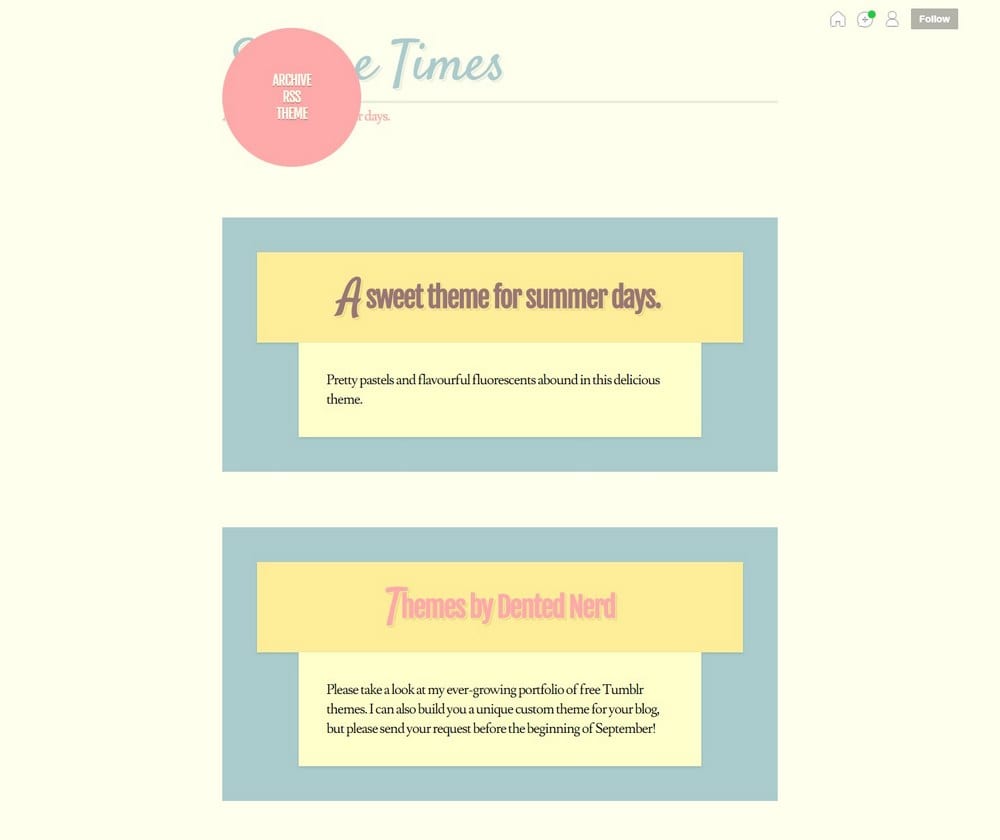 Sundae Times is a colorful Tumblr theme that comes with adorable pastel-colored post designs and a minimalist layout. It can be easily customized to include your own logo. You can use the theme to make a blog or a cute portfolio as well.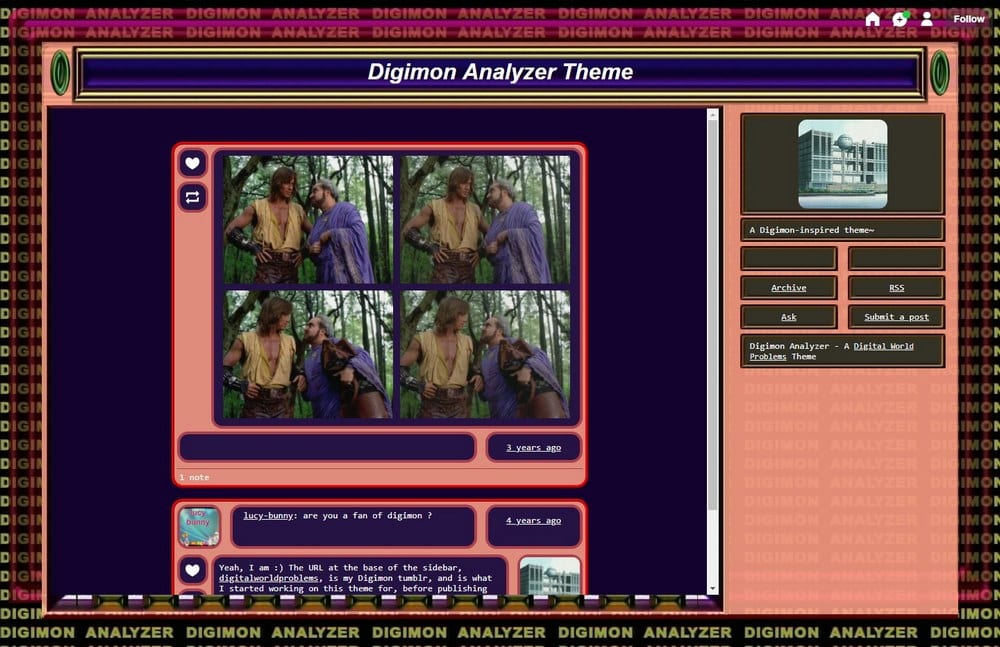 Inspired by the classic Japanese anime, Digimon Adventure, this theme comes with a design that depicts the Digimon Analyzer UI from the anime series. The retro-themed look of this design will surely help you get the attention of the fans of the popular anime series.
Check out our collection of the best cute Tumblr themes for more adorable theme designs.