38+ Best Tumblr Themes 2023
If you're planning on making a new Tumblr blog this year, this collection of the best Tumblr themes will help you find a professional design to make a website that stands out from the crowd.
Tumblr is a platform filled with all kinds of blogs and websites. In 2017, the platform had a little over 357 million blogs. As of April 2018, Tumblr has more than 425 million blog accounts. That's how fast it's growing.
Making a unique Tumblr blog is not as easy as it used to be. You can no longer get away with using free themes when making new blogs. To stand out from the crowd, you need to think more creatively and find uncommon themes to give a fresh look to your website.
This is where we come to help. We handpicked this collection of the best Tumblr themes for that exact purpose and to help you find the right theme design to make your Tumblr blog look unlike any other website on the platform.
This selection includes the best Tumblr portfolio themes, creative blogging themes, agency website themes, and much more. Plus our five must-have features for a great Tumblr themes! Keep scrolling down to browse all the themes.
5 Must-Have Features For A Great Tumblr Theme
These tips will help you find a theme with the best features for your Tumblr website.
1. Clean And Responsive Layout
When talking about Tumblr, most people immediately think of blogs and photo albums. But this platform can be used for much more than that.
With the right theme design, you can make blogs, magazine websites, agency websites, business websites, portfolios, and much more while getting free hosting from Tumblr.
If you're making a professional or a business website, it's best to avoid using free themes. The best Tumblr themes can be found on premium marketplaces. Find one with a clean and responsive design to make your website look great on all platforms and devices.
2. A Sidebar With Support For Widgets
A sidebar is a must-have feature for Tumblr blogs and websites. This is the area where you can add tag menus, categories, social media links, and email subscribe boxes.
Make sure the theme you pick has a sidebar that supports all the important widgets. Most premium Tumblr themes include support for MailChimp widgets, Instagram and Twitter widgets, and about author widgets as well.
3. Support For All Post Types
Tumblr is a blogging platform that supports multiple types of posts to allow its users to share their ideas and content in many different ways. These post types include Text, Photo, GIF, Audio, Video, and Image. Check to see if your custom theme supports all these types of posts.
4. A Tag Menu And Customizable Backgrounds
Every website needs a clear navigation menu to allow visitors to easily explore the website and find the content they're looking for. See if your Tumblr theme comes with a tag menu.
Also, look for a theme that supports custom backgrounds, if you want to personalize the theme design with your own unique background images.
5. Google Analytics And Disqus Comments Integration
If you're an advanced user or planning on hosting a professional website on Tumblr, integrating Google Analytics is important as it allows you to track visitors and learn more about your website traffic.
If you have a blog or a magazine website, switching the default comments system to the Disqus comments system will allow visitors to easily leave comments even if they don't have a Tumblr account.
How To Install A Custom Tumblr Theme
Installing a custom Tumblr theme is super easy.
First, download the ZIP file for your premium theme. After extracting this ZIP file, you'll find a text file or an HTML file with the HTML code for the theme design. Copy this code and follow the steps below.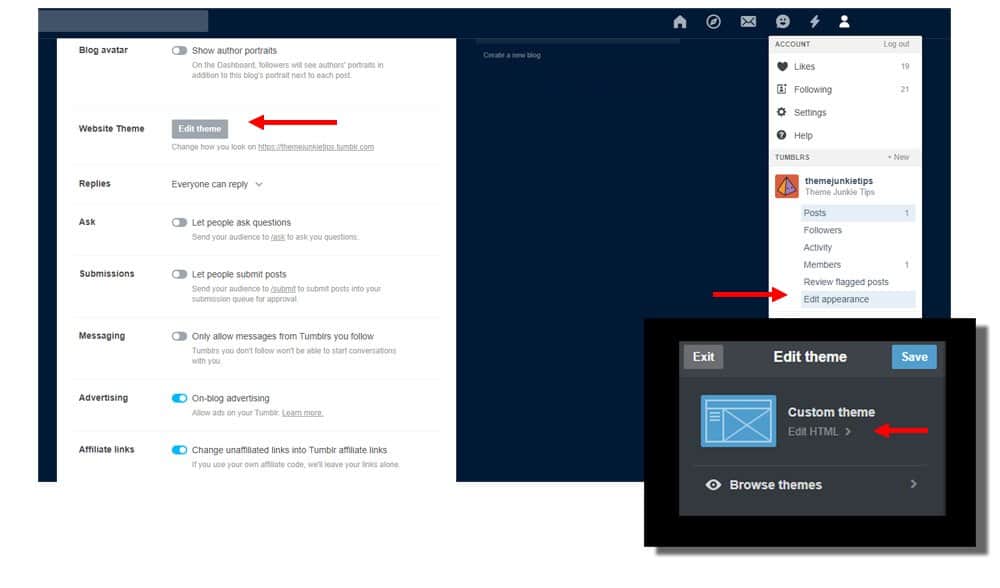 Login to your Tumblr account
Click on the Account icon and select Edit Appearance
Click on the Edit Theme button in the Website Theme section
Then click on the Edit HTML link and Delete all code on the page
Copy the HTML code from your downloaded theme
Paste the code in Tumblr and click Update Preview
If the theme preview looks right, click Save
Remember to make a backup copy of your existing Tumblr theme HTML code, just in case.