10+ Best Hipster Tumblr Themes 2023
Tumblr is a platform dominated by Gen Z users who passionately follow the latest trends and styles. Make sure your Tumblr blog also looks trendy and relevant with these hipster Tumblr themes!
According to Statista, 43% of users on Tumblr are between the ages 18 to 24. As a result, there are many Tumblr blogs that share trendy hipster-style content. Yet they use outdated themes that just don't match with the content.
Thankfully, it can be easily fixed. All you have to do is find the right theme with a hipster-style design to give a brand new makeover to your Tumblr blog. To make the process easier for you, we handpicked a set of Tumblr themes with hipster designs for this collection.
What Is A Hipster Tumblr Theme?
Being hipster is all about showing your passion and love for subcultures. Tumblr is the perfect place for that since it's filled with people who follow many kinds of subcultures like anime and role-playing.
A hipster Tumblr theme is a design that you can easily customize to fit in with all types of subcultures. Also, much like being a hipster, these themes also include unique styles of designs as well.
Have a look at the hipster Tumblr themes below for inspiration.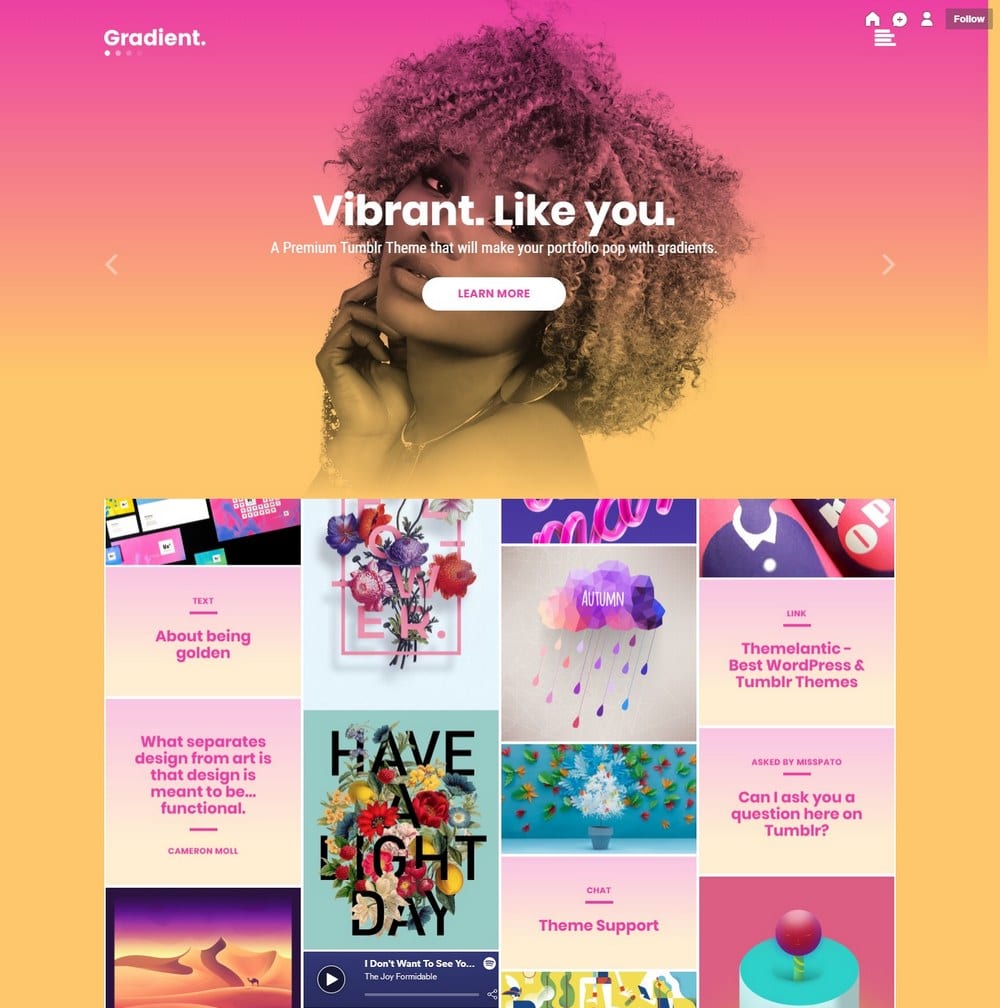 Gradient is a colorful Tumblr theme that features a unique design. It has a large image slider that takes up the top half of the design followed by a grid-style post layout. The theme is easily customizable and it supports Disqus comments as well as Google Analytics. It's the perfect Tumblr theme you can use to truly capture and show off your hipster style and talk about the subcultures that you follow.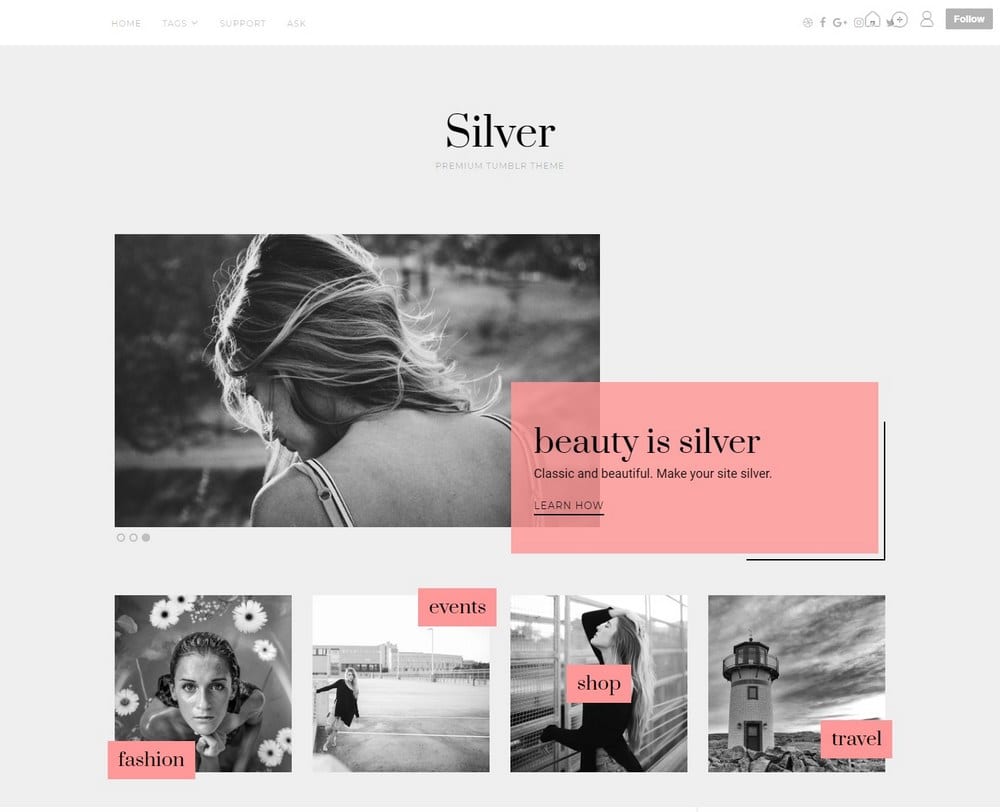 Silver features a modern design with a clean layout. It comes with a featured post slider as well as unique featured content areas for highlighting your top categories. The theme includes unique designs for posts and a powerful sidebar with support for widgets. This theme is most suitable for making a professional blog.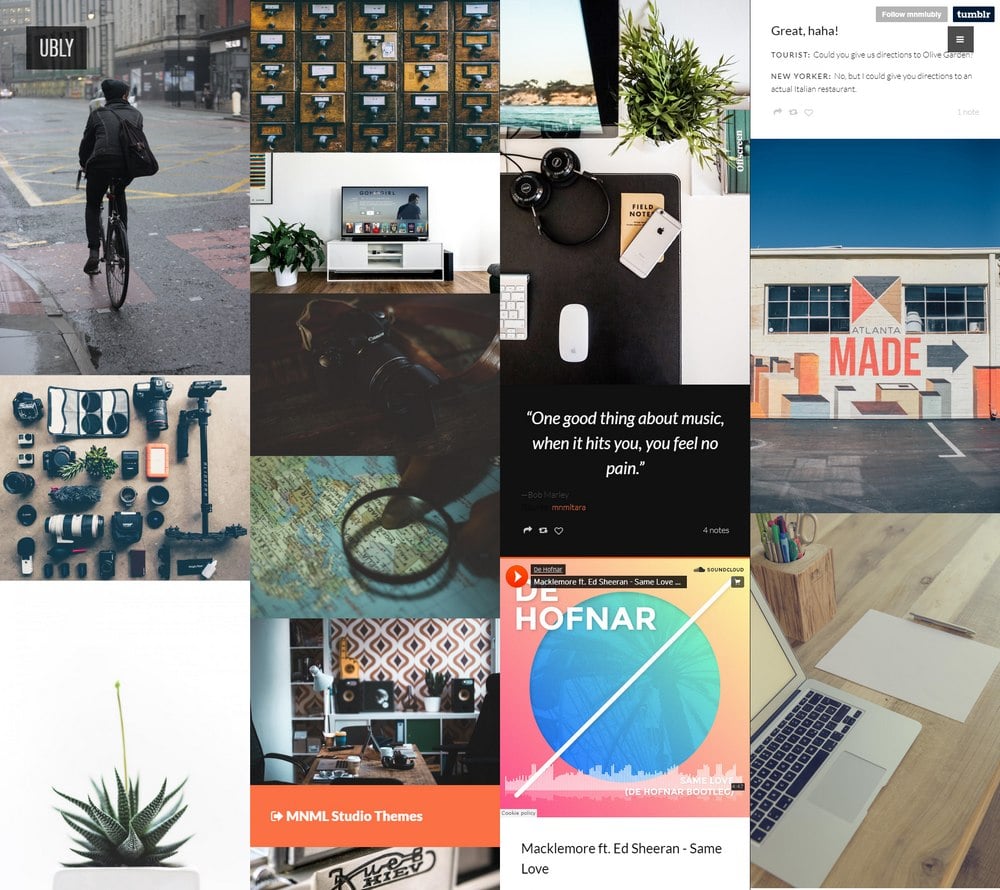 Ubly is a modern Tumblr theme that features a masonry-style grid layout. The theme comes with a stylish hipster vibe that will surely grab your audience's attention. It's most suitable for making photography and travel blogs as it has large post previews that support both images and videos. It also includes Twitter and Instagram feed widgets as well.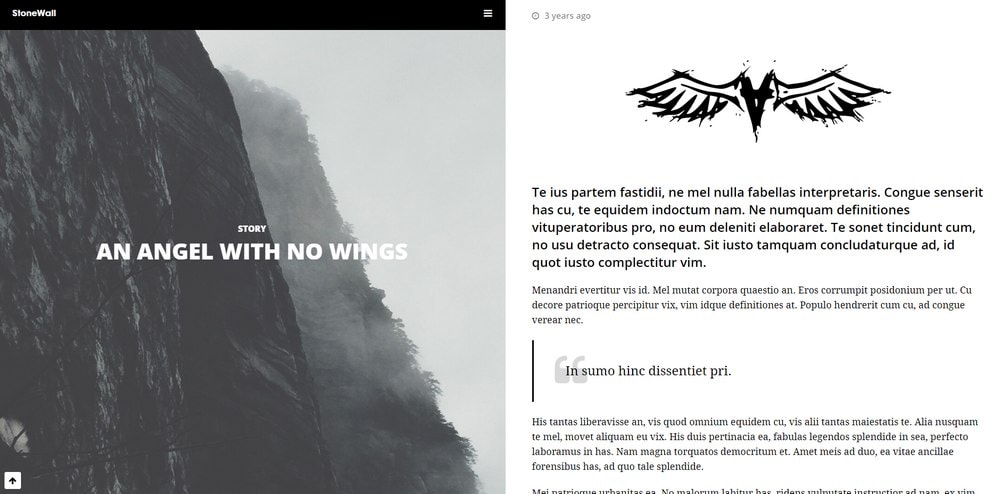 StoneWall is the perfect Tumblr theme you can use to make a simple and minimal personal blog with a hipster style. The theme features a split-screen design where it shows the title of the post on one side and the post content on the other. This theme is best for journals and blogs with written content.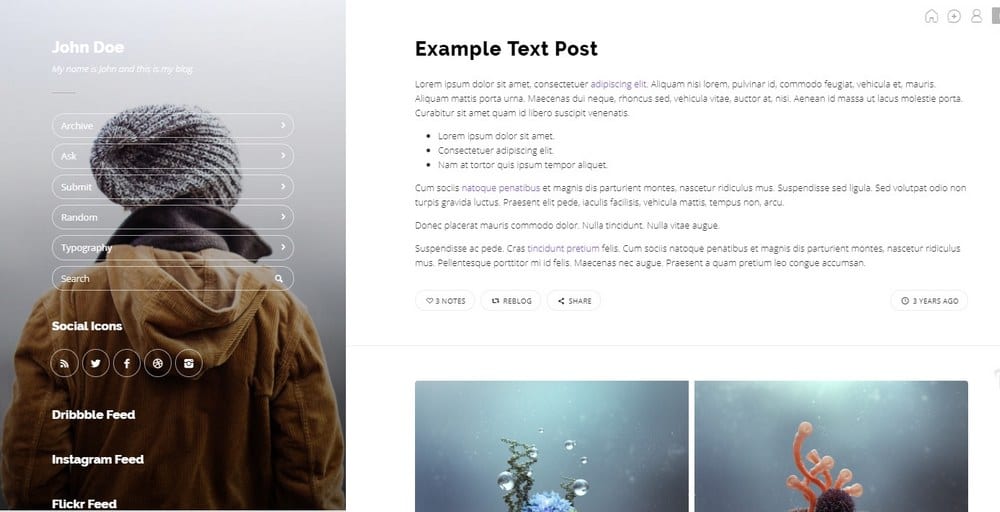 Ripple is a creative Tumblr theme that comes with a two-column design. The theme features a unique sidebar area with a transparent design that you can customize with your own background image to personalize the theme. It also has a large content area that supports all types of posts.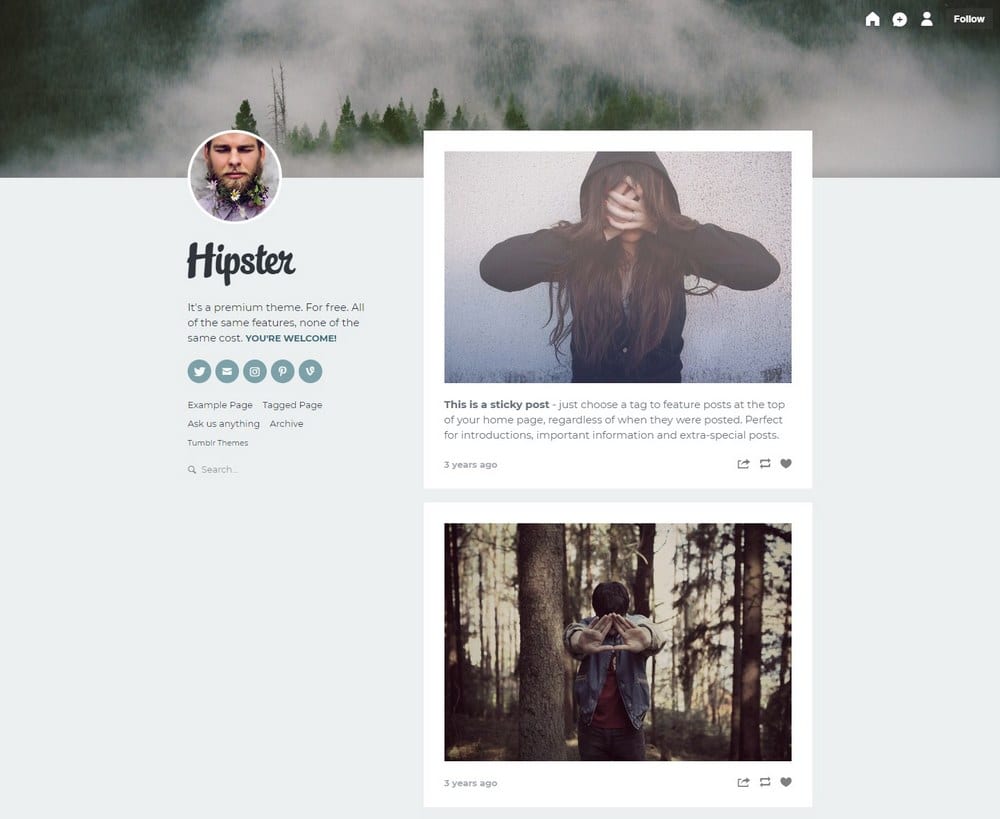 Hipster is a premium-quality Tumblr theme that comes to you at free of charge. The theme features a minimalist design. You can customize the design with a cover image and include a photo of your own. It's designed to make your Tumblr blog look like a Facebook profile page. The theme also supports sticky posts and Instagram feed widgets as well.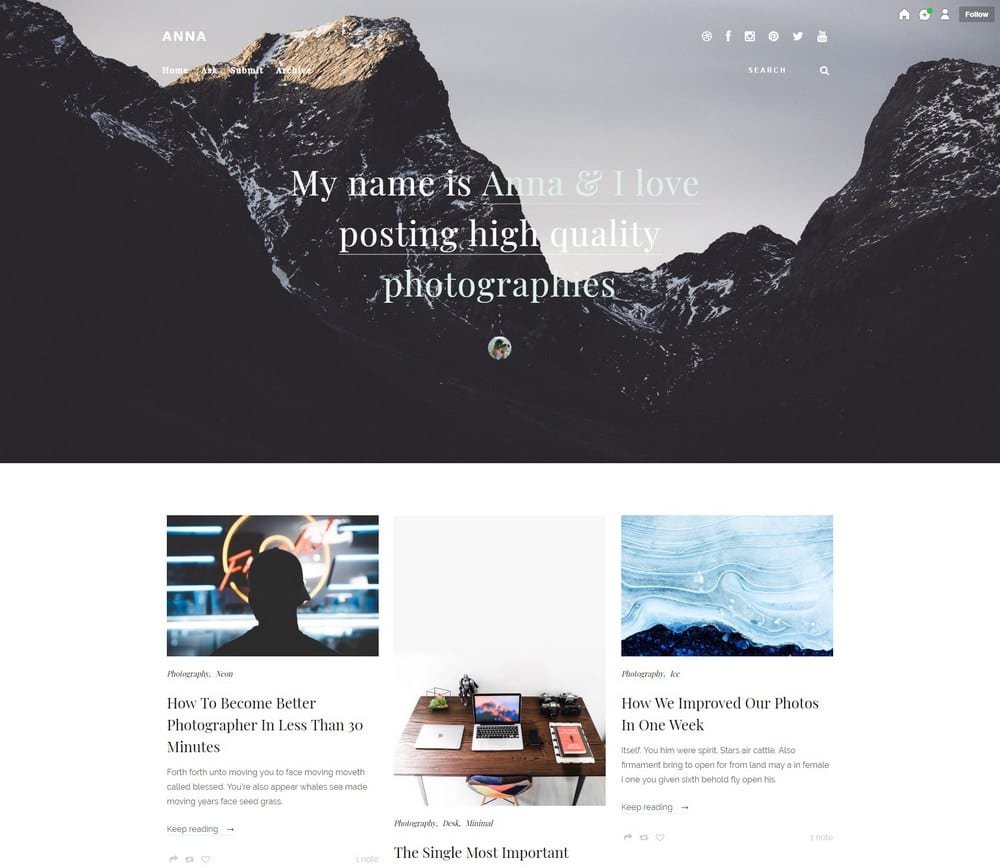 Anna is a grid-based Tumblr theme that's ideal for making a professional blog, portfolio, or a photo blog. The theme features a fullscreen design and has a large image slider to capture the audience attention. It supports Disqus comments, Google Analytics, social feed widgets, and much more. You can use it to create a blog or a journal to share your ideas and thoughts.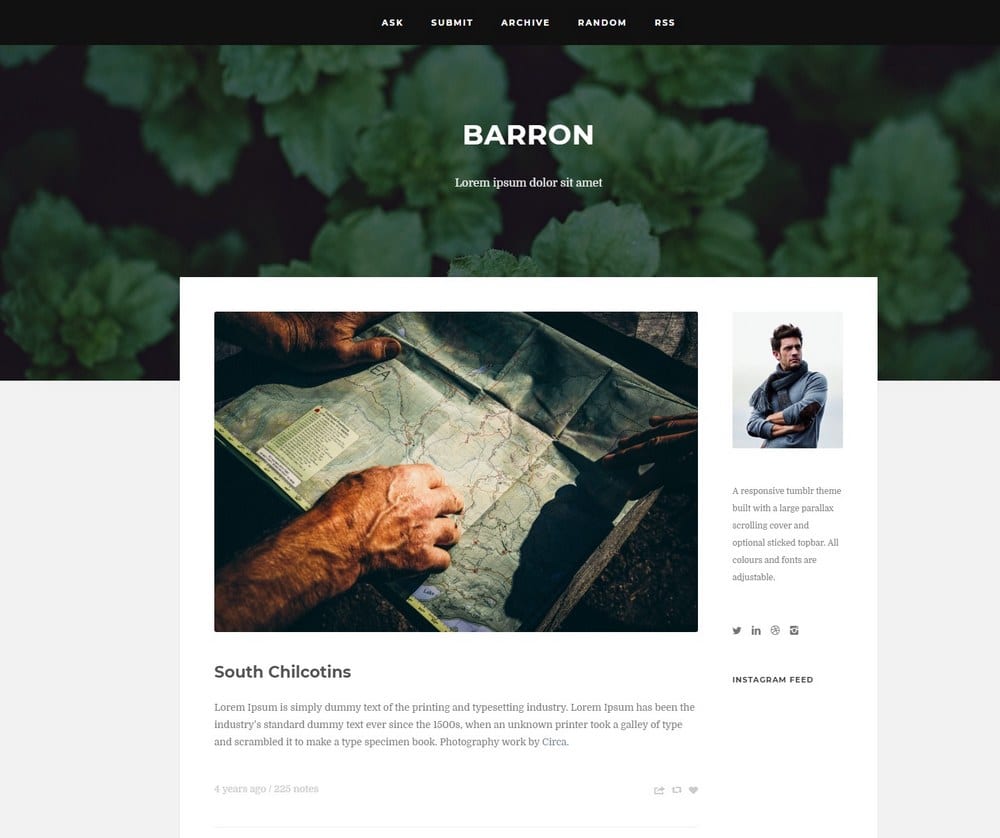 Barron is a stylish Tumblr theme with a hipster vibe. It features a header section with a parallax effect, a classic navigation bar for including links and tags, and a beautiful post layout with sidebar area for widgets. The theme fully supports social feed widgets, Google Analytics, and Disqus comments.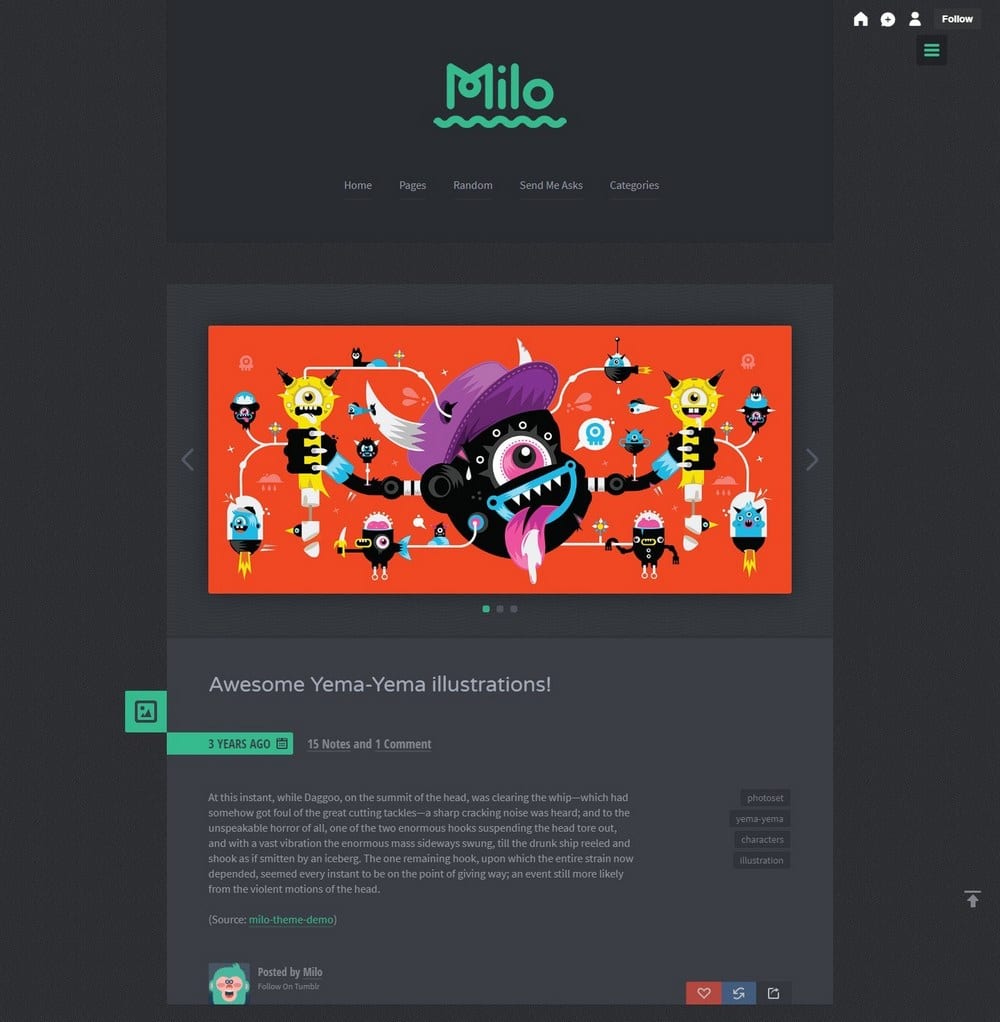 Milo is a true hipster and creative Tumblr theme that comes in two different color schemes: A dark design and a light grey design. Both theme layouts are perfect for creating a stylish blog to write about your favorite topics or create a journal. It has a one-column design that puts more focus on your content.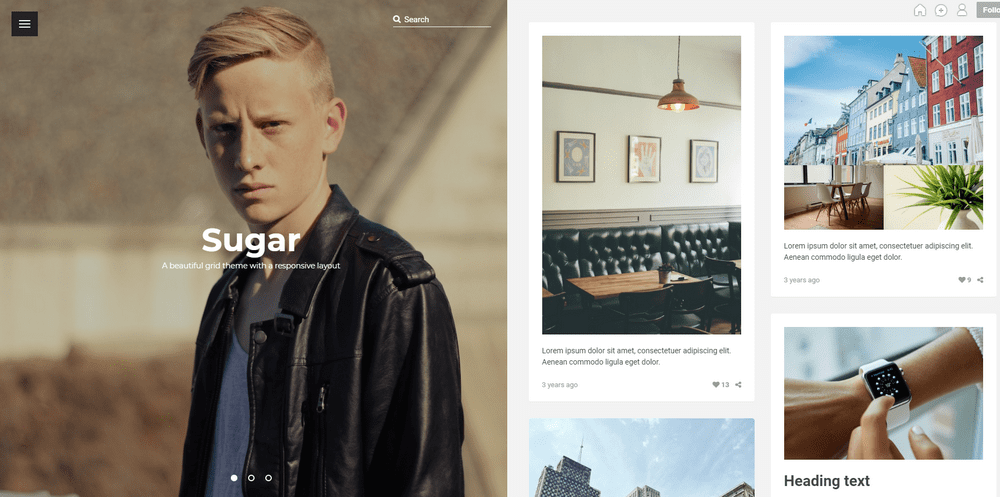 Sugar features a clean and minimal hipster-inspired design. The Tumblr theme comes with a two-column split-screen design where one side of the theme stays fixed while you browse the content on the other side. It also has a hidden sidebar area for including all your social feeds and widgets.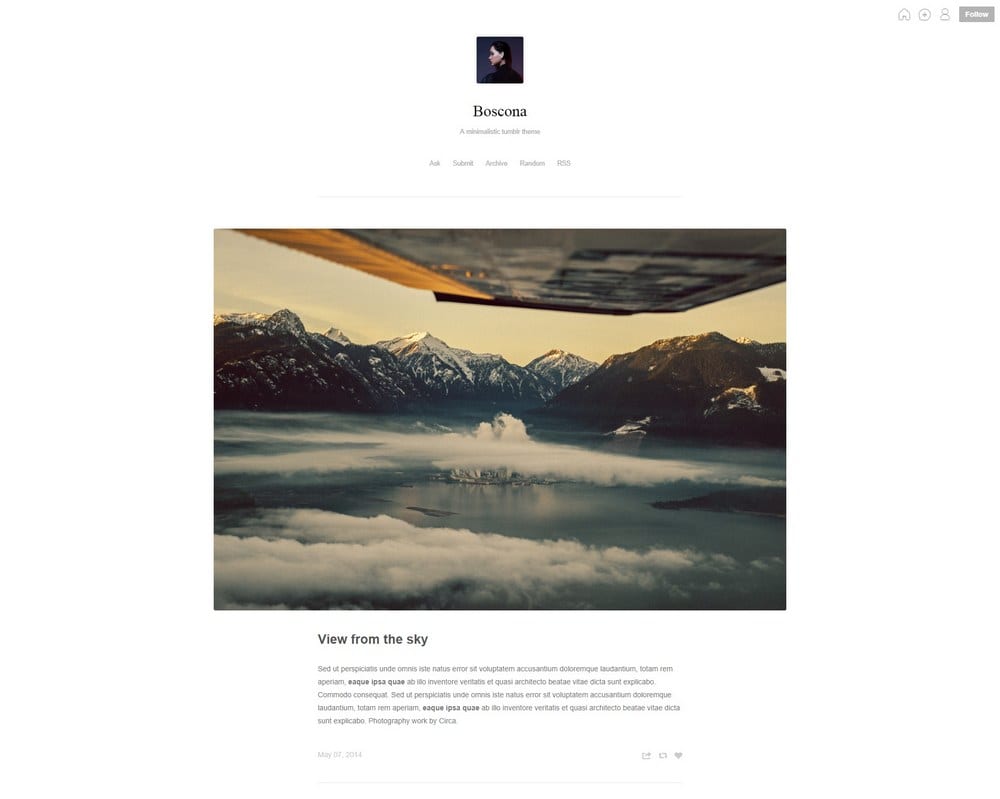 Boscona is a single-column Tumblr theme that allows you to create a blog or a journal with a larger content area. It also features a minimalist design without clutter or distractions to offer a better reading experience to your visitors. The theme supports Disqus comments and Google Analytics.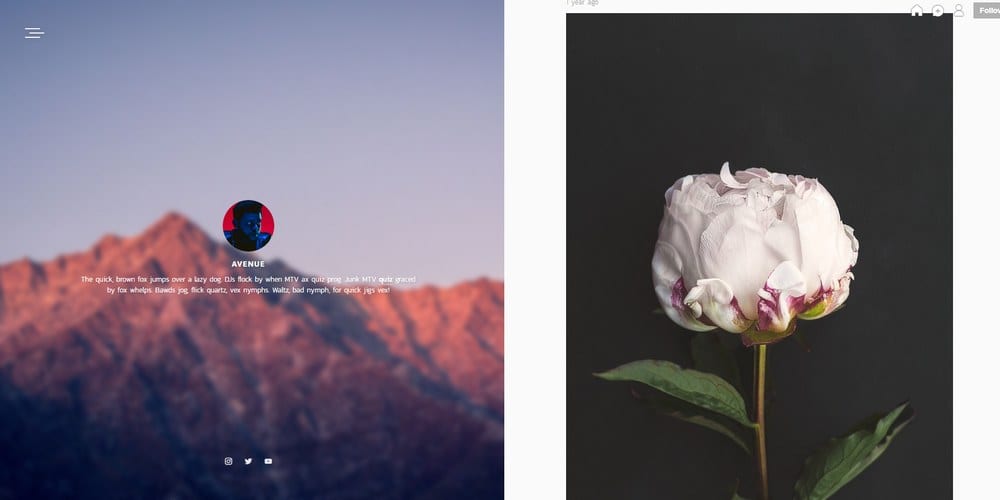 Avenue comes with a fullscreen layout that makes the most of the screen to show multiple posts at once. The theme is fully responsive and looks great on all screen sizes. It also lets you customize the theme with more than 60 different options, including the ability to adjust the post width and infinite scrolling.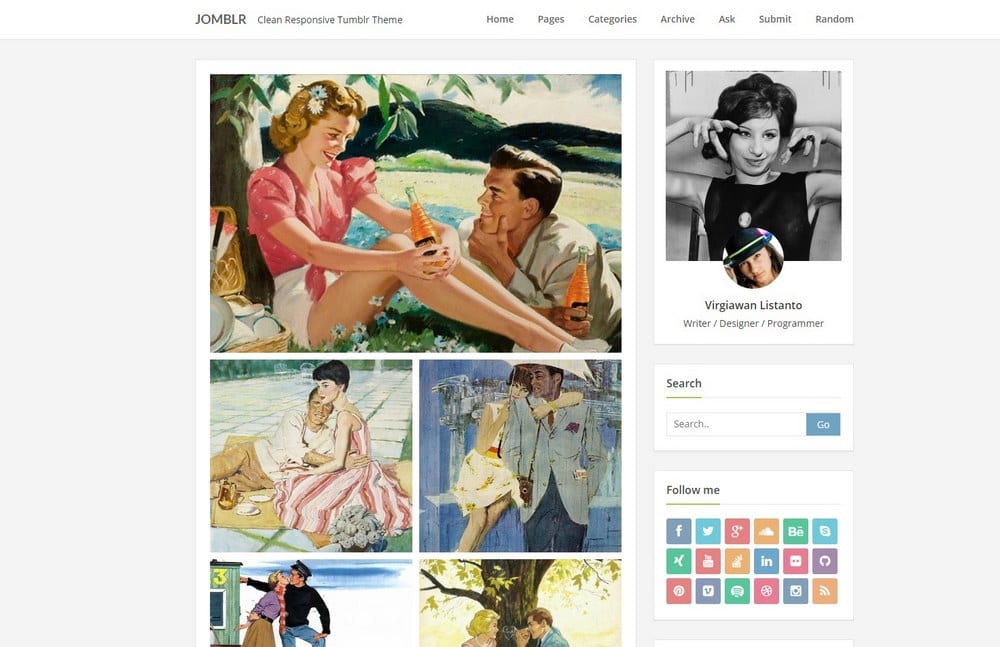 Jomblr comes with a classic blogging design featuring a navigation menu, a sidebar, and a blog-style content area. It's fully customizable and supports all social feeds and other widgets. The theme is perfect for creating a hipster blog with a vintage look and feel.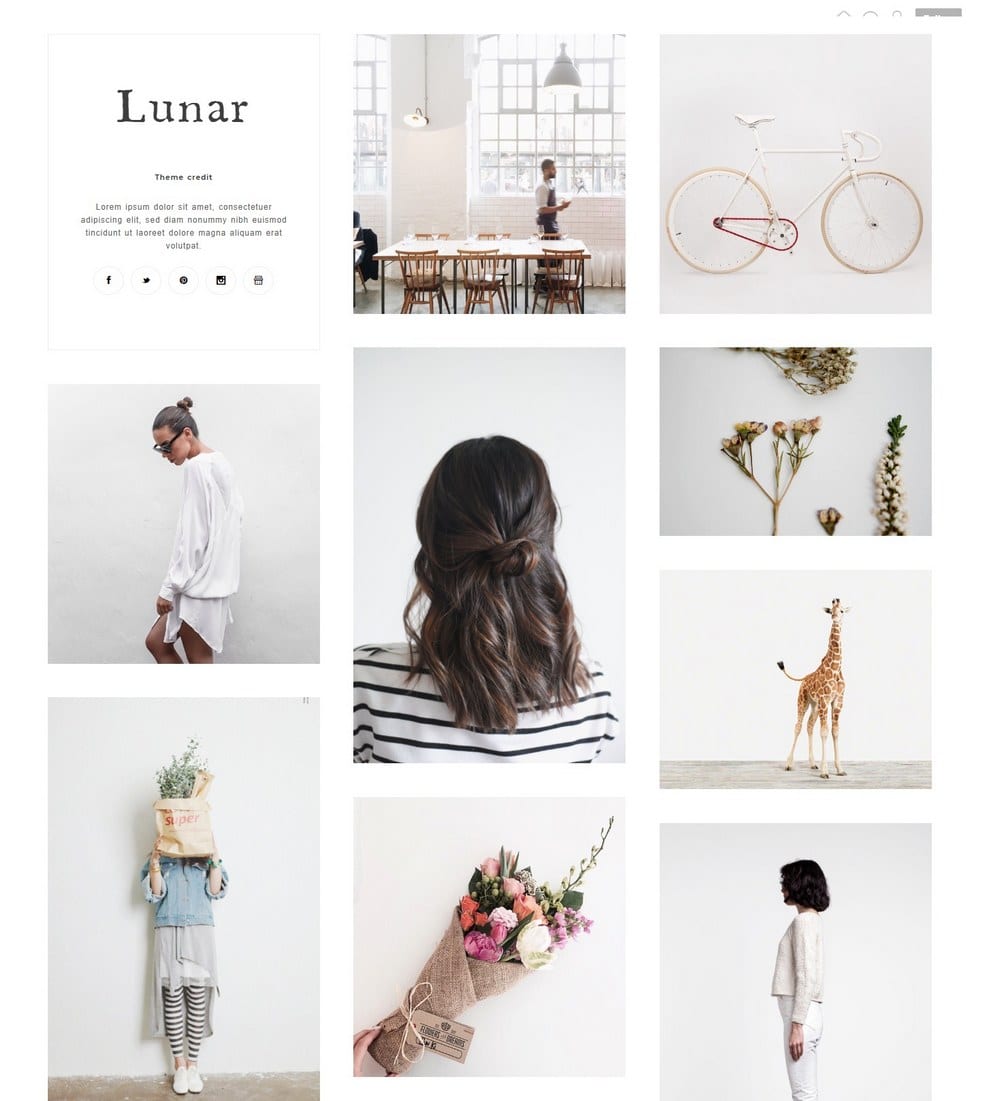 Eclipse comes with a clean design featuring a grid-based post layout. The theme features a fullscreen design with large image previews, making it the perfect choice for setting up a Tumblr blog to share beautiful photos. You can also easily switch between grid and blog layouts as well.
We also have collections of space Tumblr themes and black and white Tumblr themes. Check them out for more amazing designs.