45+ Best InDesign Calendar Templates for 2023
Need a bit more organization in your life? Keep forgetting appointments, birthdays, or even what day of the week it is? A calendar is the perfect solution – and even better, with this amazing range of free and premium templates that can be customized using Adobe InDesign, you can create your very own unique calendar that's ideal for your own use, or as a corporate or personal gift!
From small desk calendars to classic wall hangings, and from creative colorful designs to functional corporate layouts, there's something for every possible calendar requirement here, and they're all available online for you to download straight away, from Envato Elements and other free online sources. Let's take a look!
Get everything you need to supercharge your InDesign projects and workflow, with InDesign templates for every idea you can imagine! From just $16, get unlimited access to thousands of professional InDesign templates for flyers, brochures, books, magazines, proposals, reports, and much more.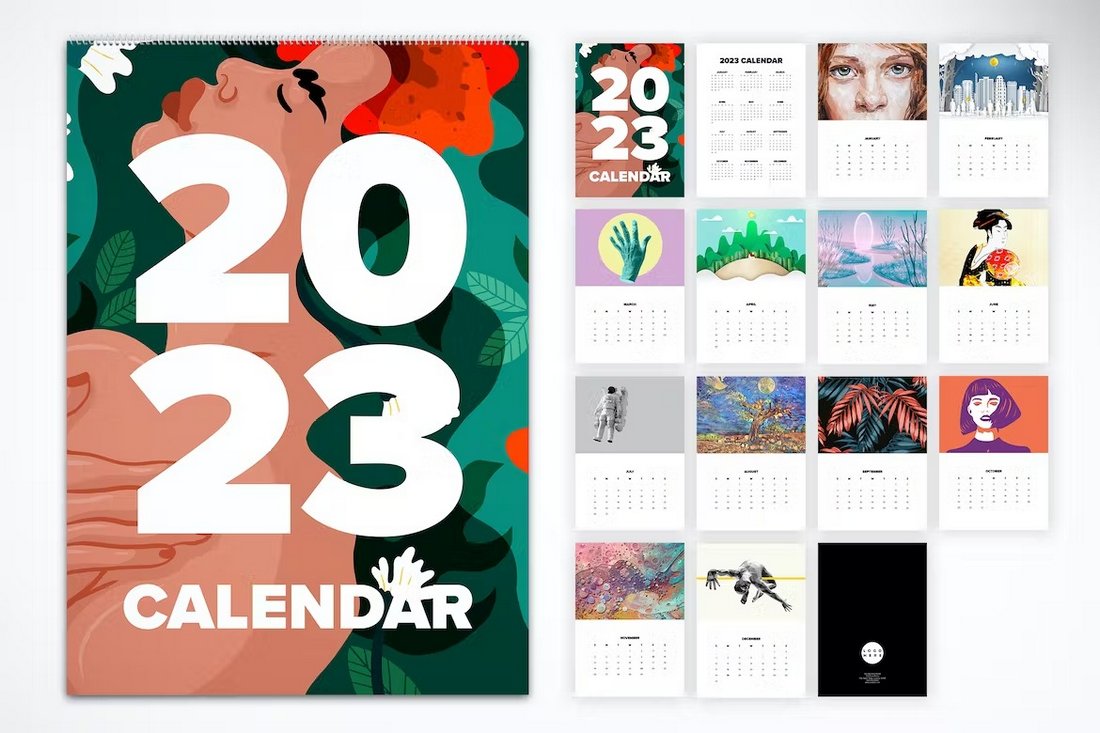 This colorful and creative wall calendar template has a simple design where you can easily showcase your brand, products, and various photos on every page. The photos shown in the preview are not included but you can easily add your own images with just a few clicks.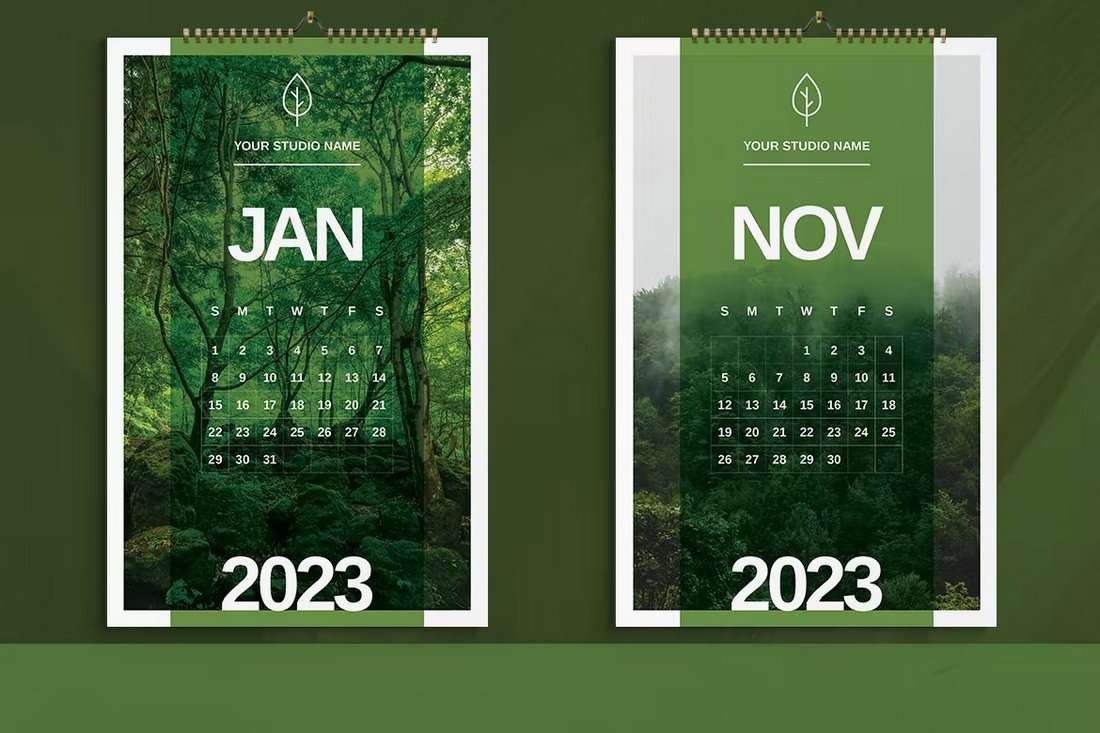 This 2023 calendar template features a nature-themed design with a stylish layout. There are placeholders on every page for you to add your brand logo and business information. The images are placed on separate layers so you'll be able to change them however you like.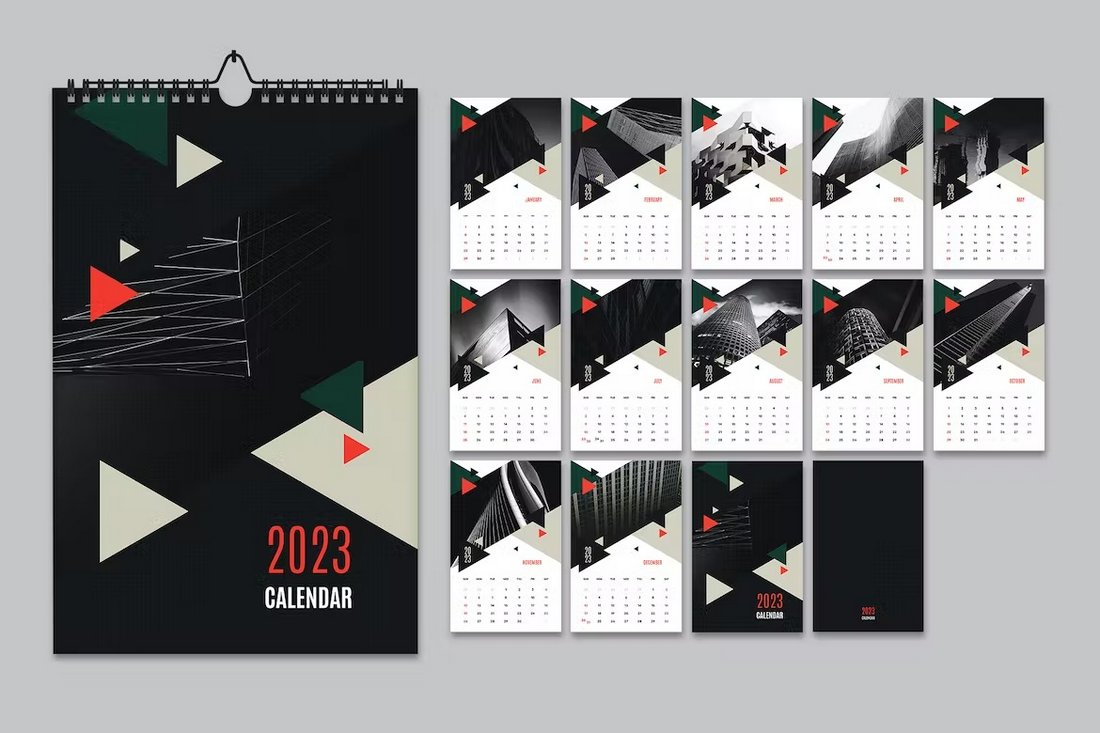 If you want to make a modern wall calendar with your business branding, this InDesign template is perfect for you. It features the 2023 calendar with a clean design. The template also features stylish shapes with image placeholders.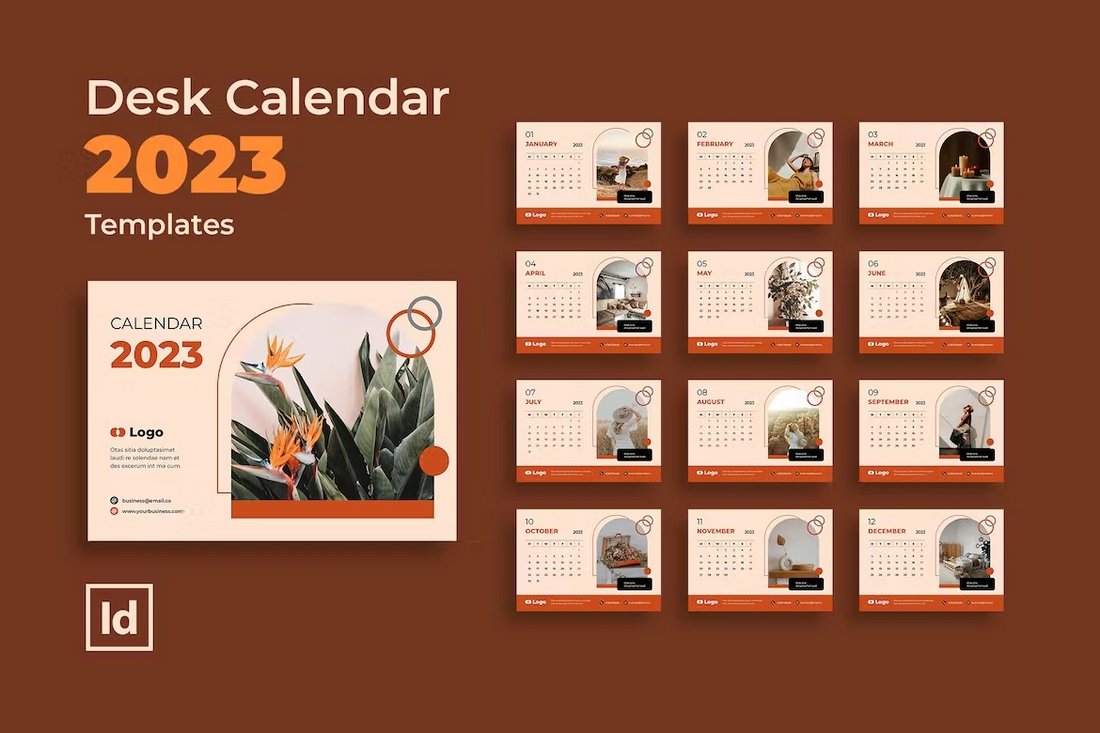 This is one of the most beautiful desk calendar templates on our list. You can use it to design a simple desk calendar for a creative design agency, fashion brand, photography, and more. The template is fully customizable.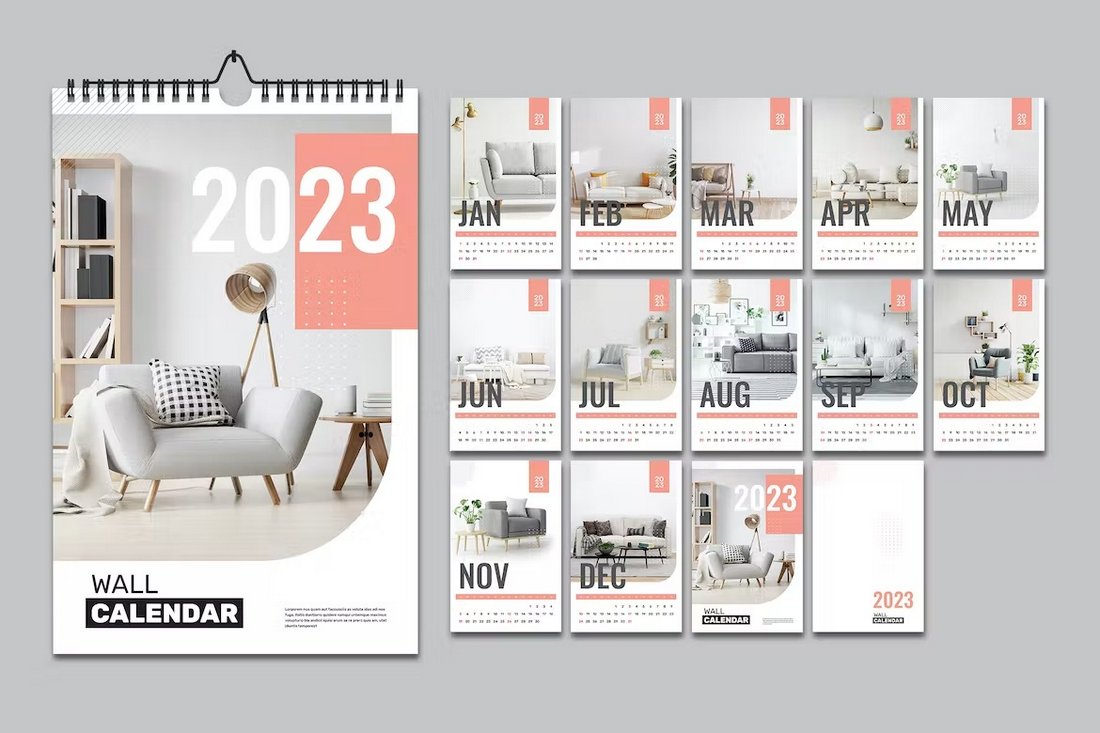 Another minimal wall calendar template with a modern minimal design. This template is ideal for making a calendar for an interior design or furniture brand. It lets you show off large images in a beautifully structured layout.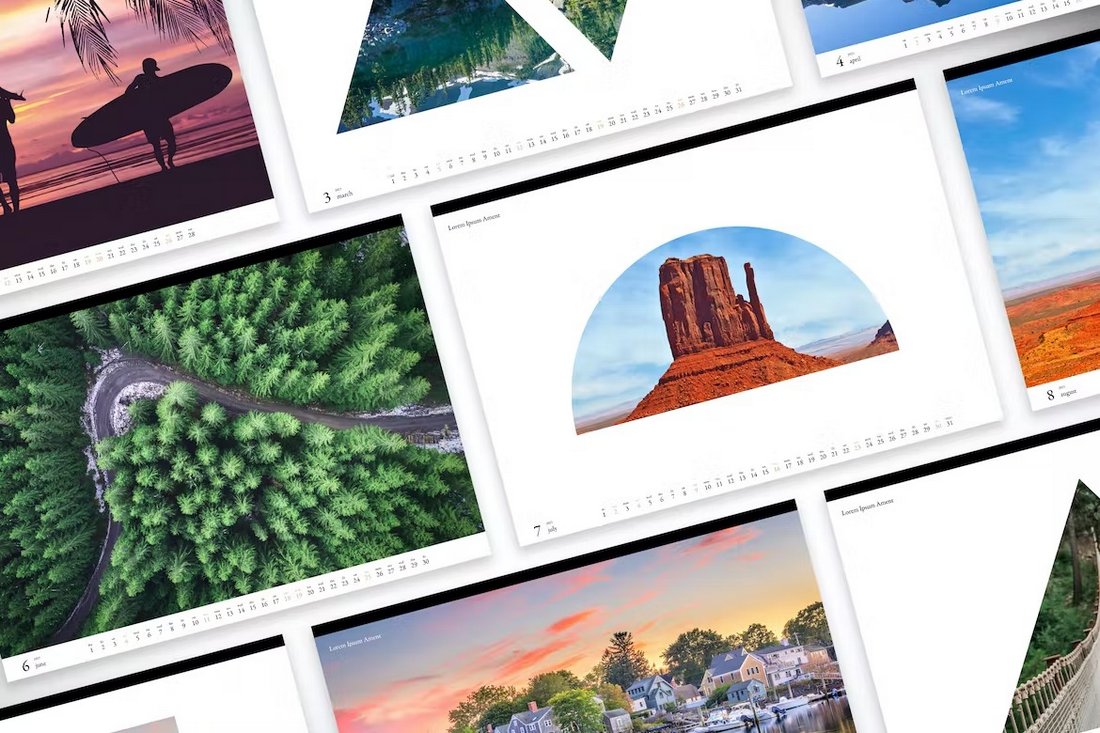 This is a very unique calendar layout that features a minimalist design. It has shaped placeholders for adding large images on every page. The calendar is available in A3 size and you can customize it using InDesign CS4 or higher.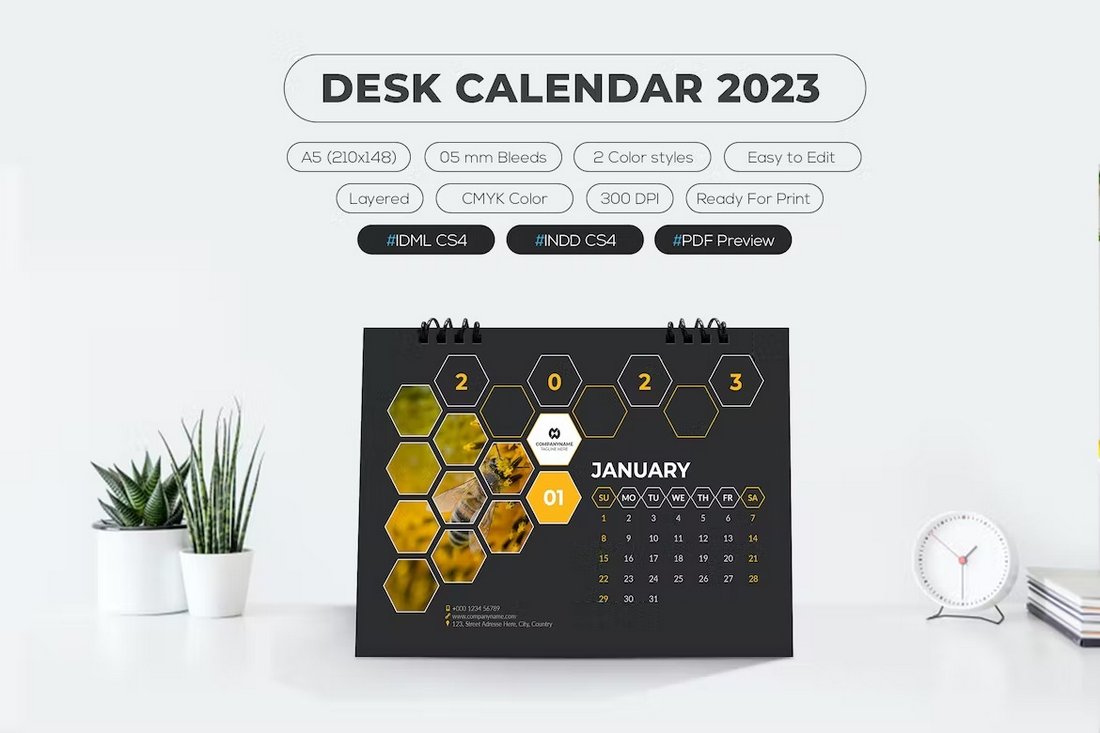 You can use this 2023 calendar template to craft a modern desk calendar for a corporate brand or agency. It has a creative design featuring hexagonal shapes. These shapes act as placeholders for images, which you can customize to your preference.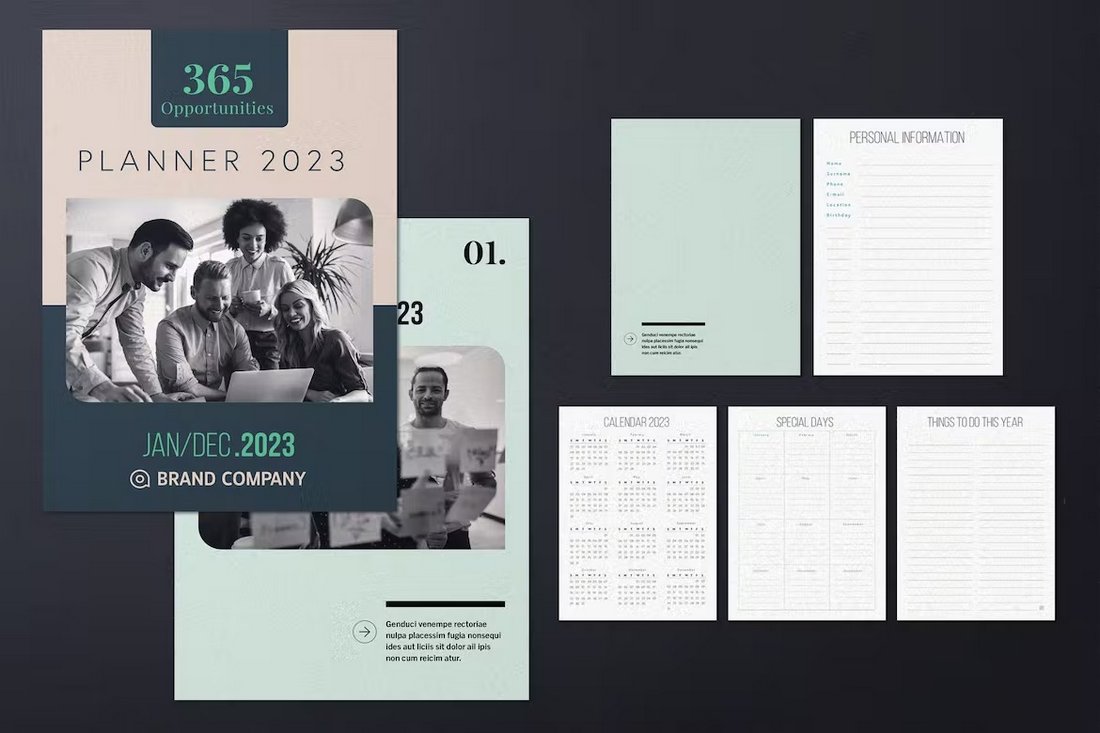 While this isn't exactly a calendar template, we wanted to include it in our list as it can be useful for you. It's a daily planner layout template for 2023. With this template, you can design a simple daily planner with your business branding.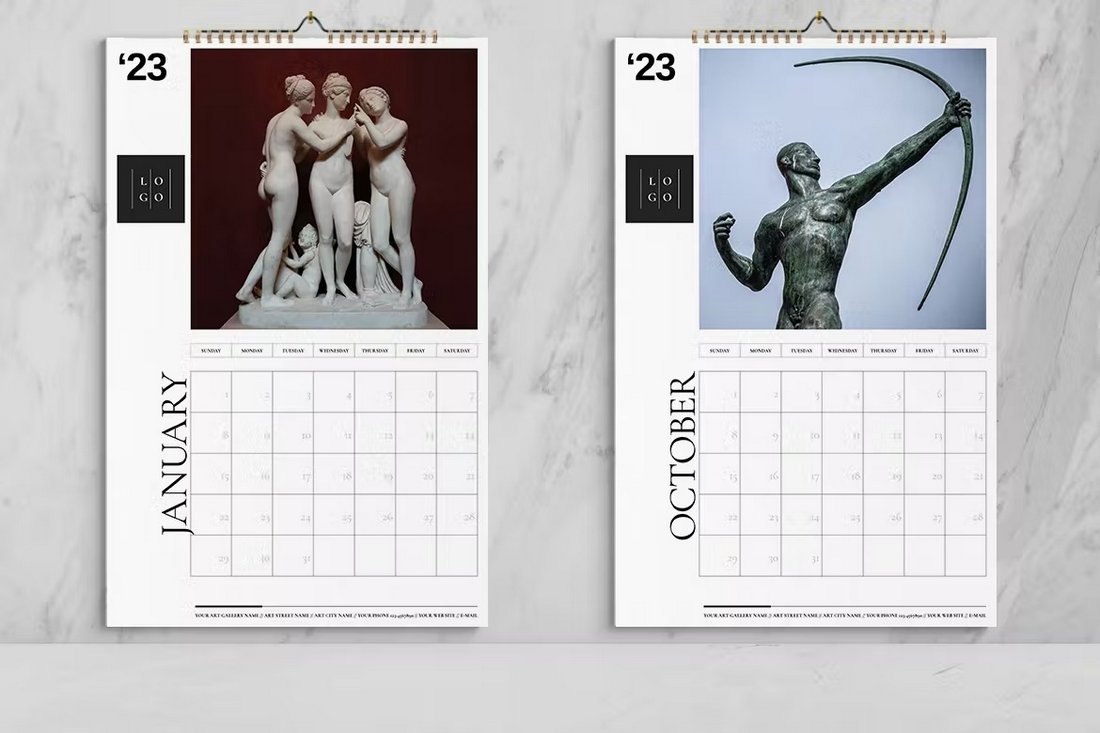 This 2023 calendar template comes with an art gallery-themed layout. Even though the photos are not included in the template, the layout of the calendar is inspired by modern art galleries. Of course, you can easily find your own images online for this calendar for free.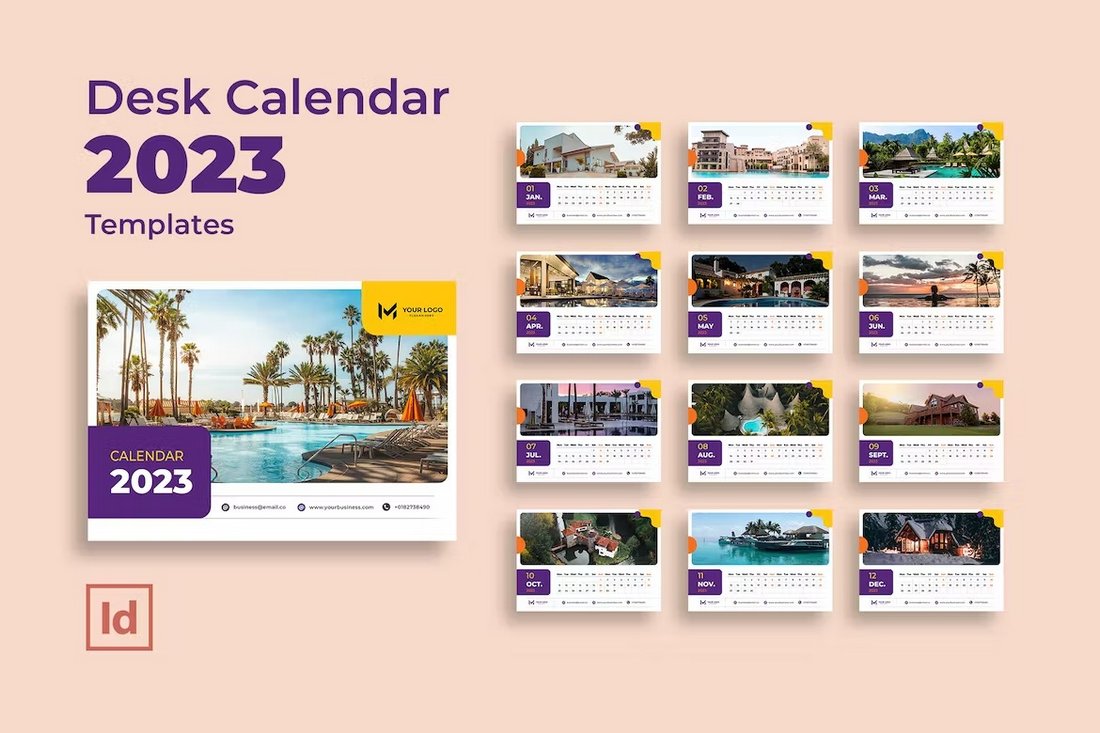 The colorful design of this desk calendar gives it an energetic and creative vibe. The template is perfect for travel, tourism, and even fashion brands. It comes fully layered with image placeholders for easy editing.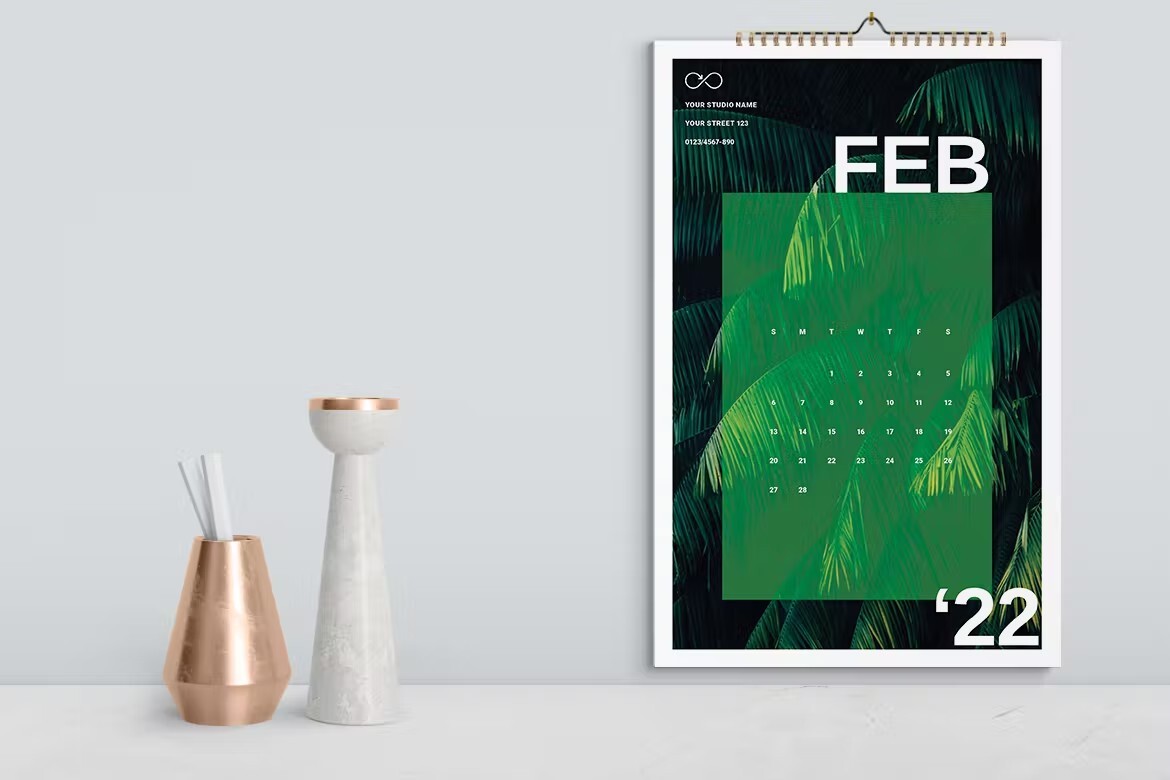 Check out this botanical-themed wall calendar featuring a beautiful layout perfect for your home, or office. packed with gorgeous page layouts that can be mixed and matched to create a custom calendar, this template is certainly one of our top recommendations when it comes to the best Indesign calendar templates 2022.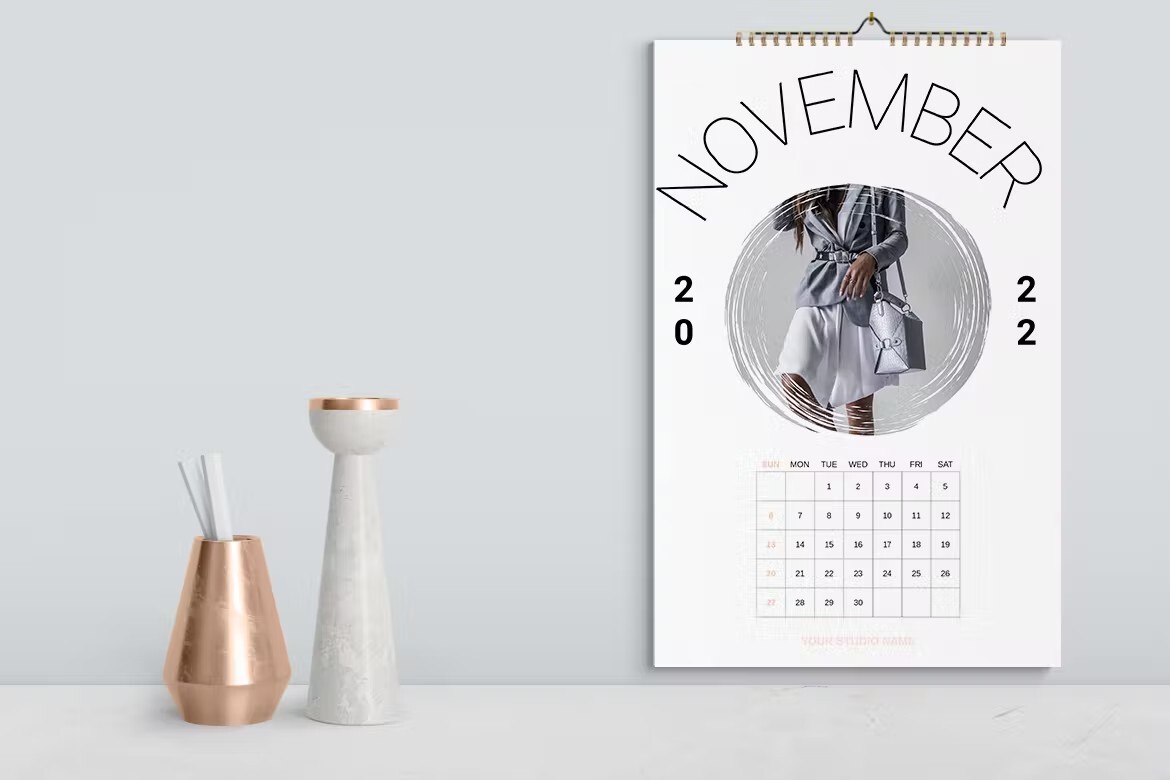 Here's another InDesign calendar template that we absolutely love. It has a clean, and elegant look that will suit almost any industry ranging from fashion, photography, design, and art. This level of versatility is hard to find in free InDesign calendar templates.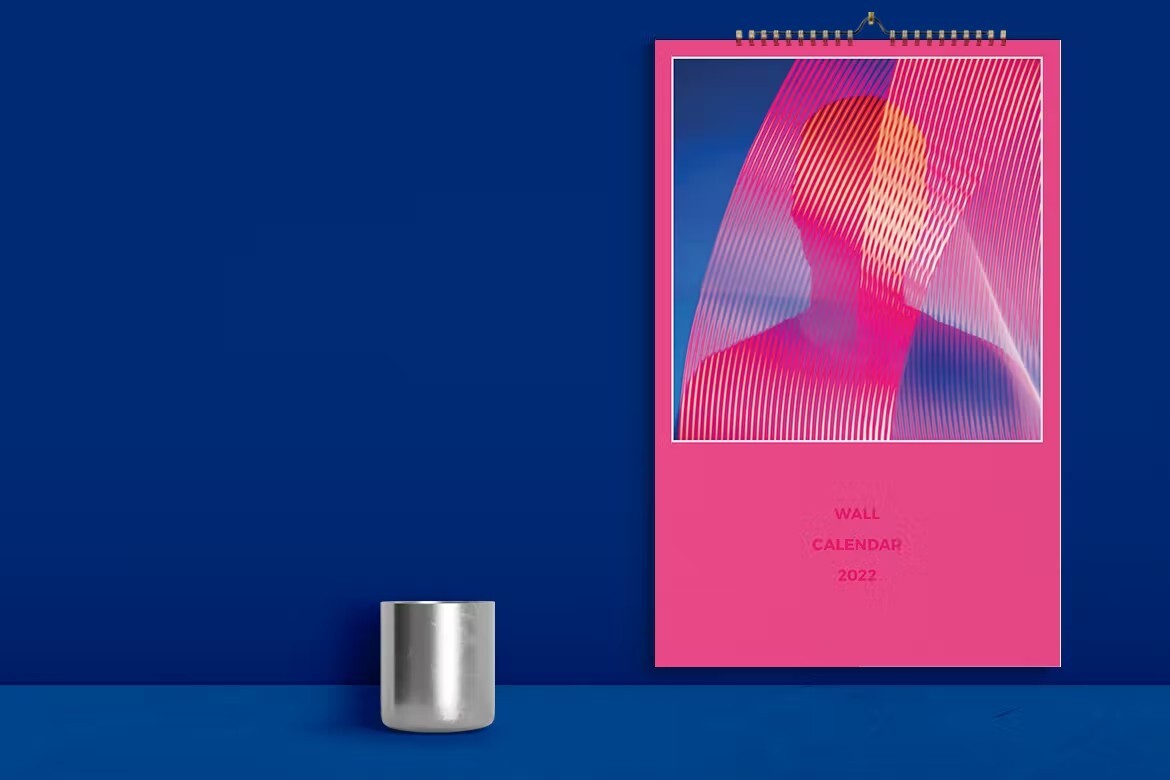 This stunning template is a perfect choice for anyone looking to go bold with the choice of their new wall calendar. Featuring a striking pink color, and strong typography, this InDesign template is an impressive pick that will get you a lot of compliments.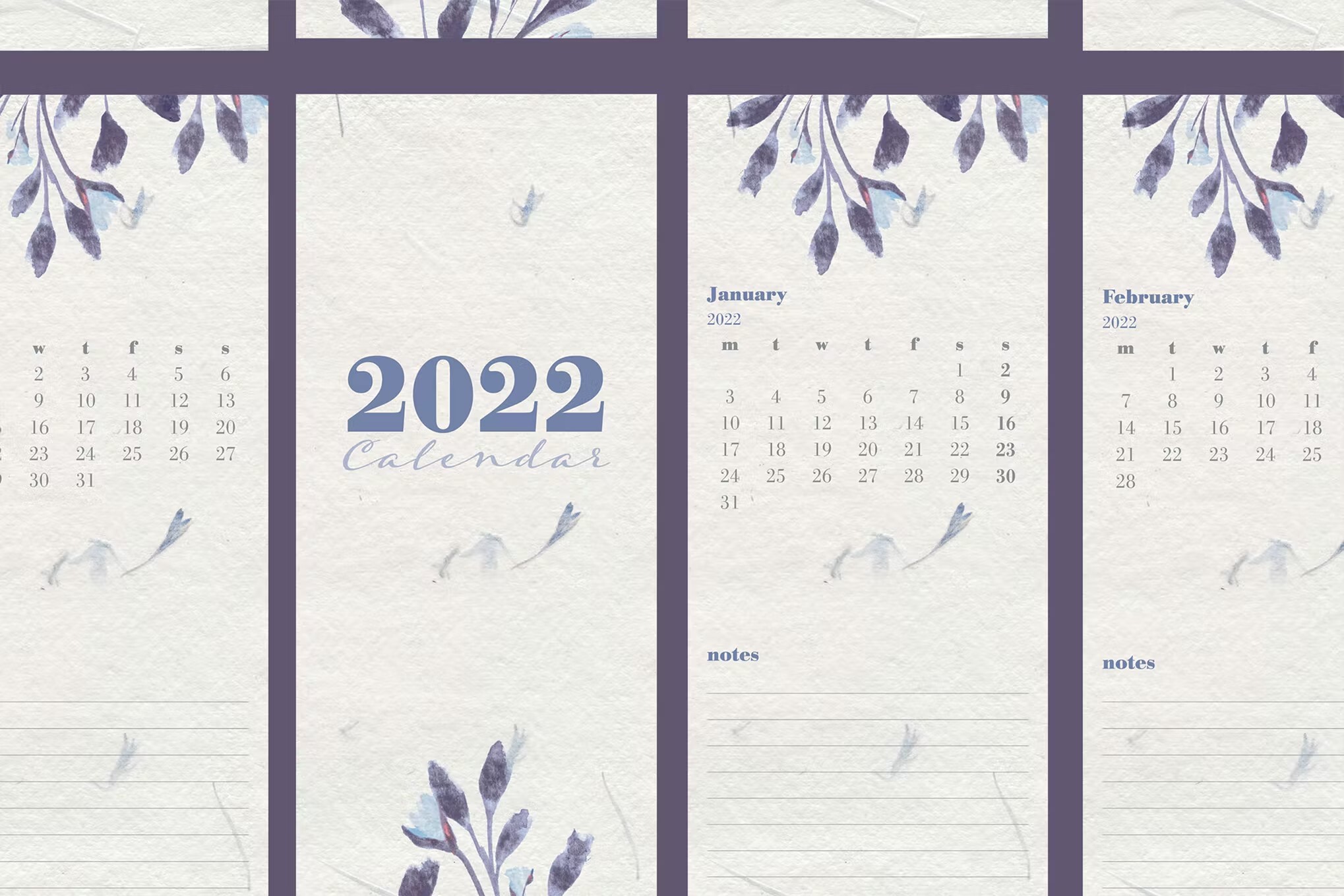 If you're looking to hunt down the best InDesign calendar templates, the above-featured product should be able to impress you. It features a clean, and minimal design that can be completely customized to suit your taste and preference.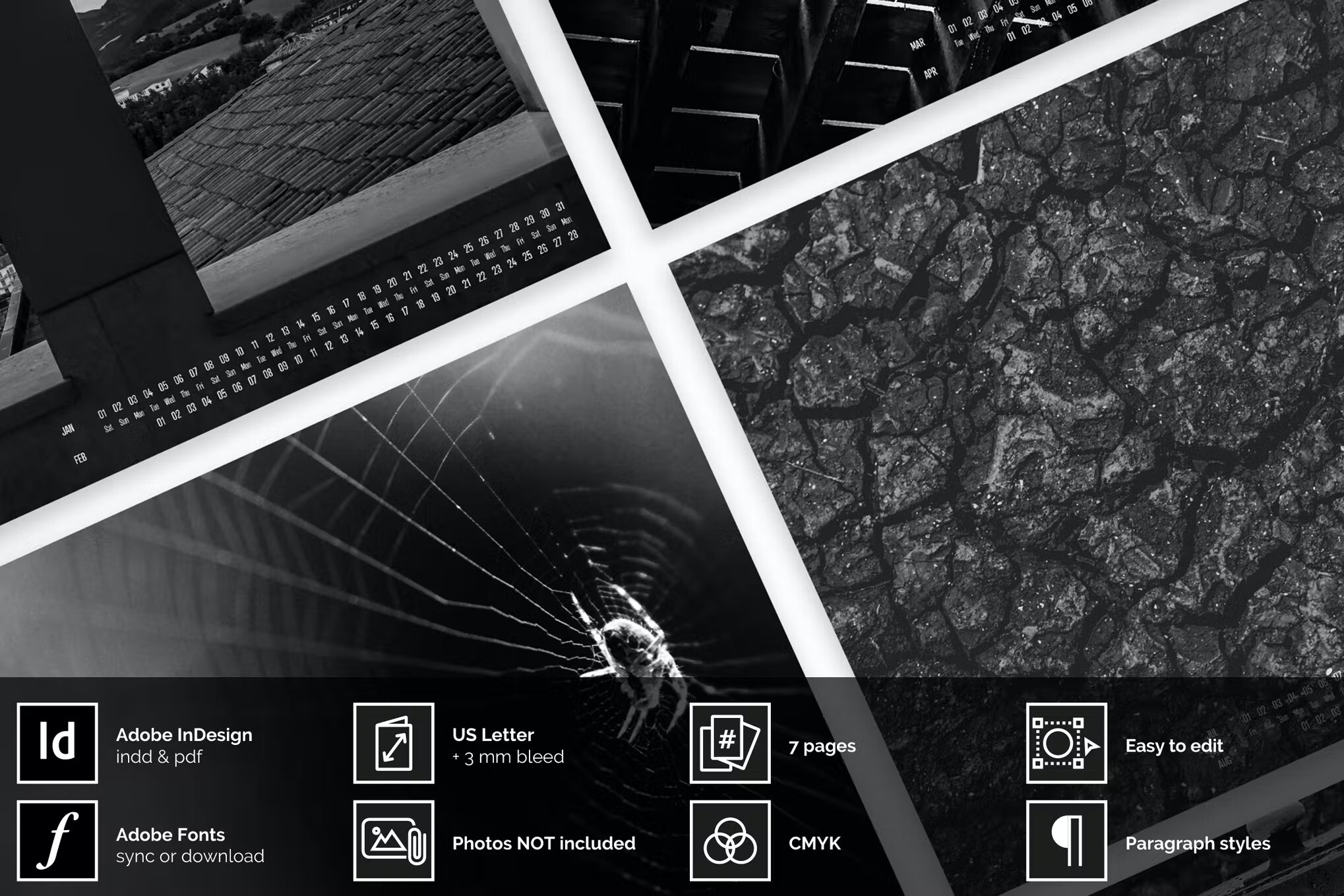 Photographers, graphic designers, and illustrators wanting to show off their work must consider this beautiful InDesign calendar template. This modern, and elegant portfolio style calendar is just what you need in 2022. Get it now.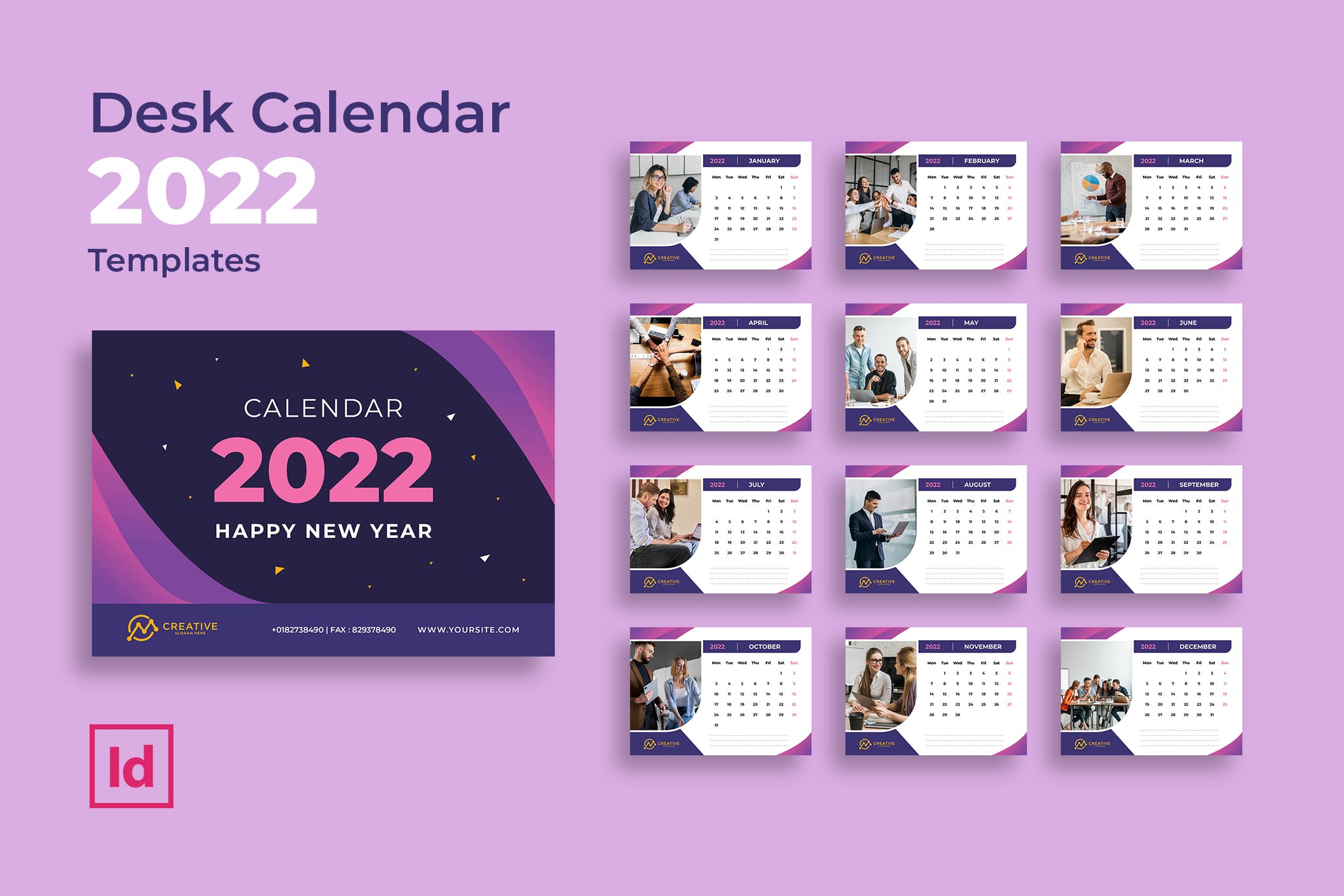 New year is coming! Here is a simple & minimal-looking wall calendar for your whole 2022 year. You can put this calendar design for the desk. All the elements in the design such as text, colors, styles, and images can be easily edited.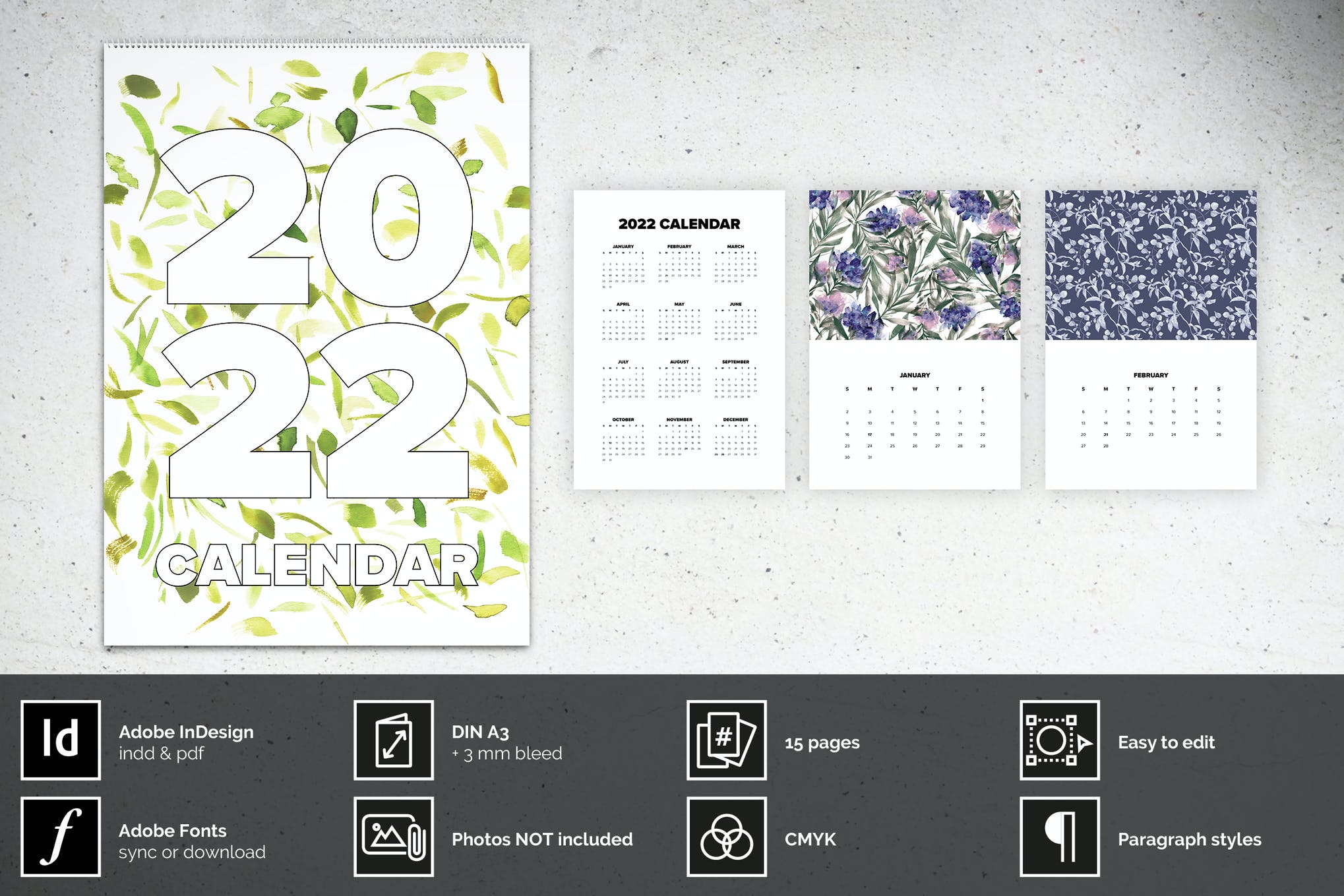 You can create a stunning minimalist wall calendar with this download. There are 15 pages included here, and they're all easy to edit. Even though photos aren't included, you can easily add your own to this photography calendar template.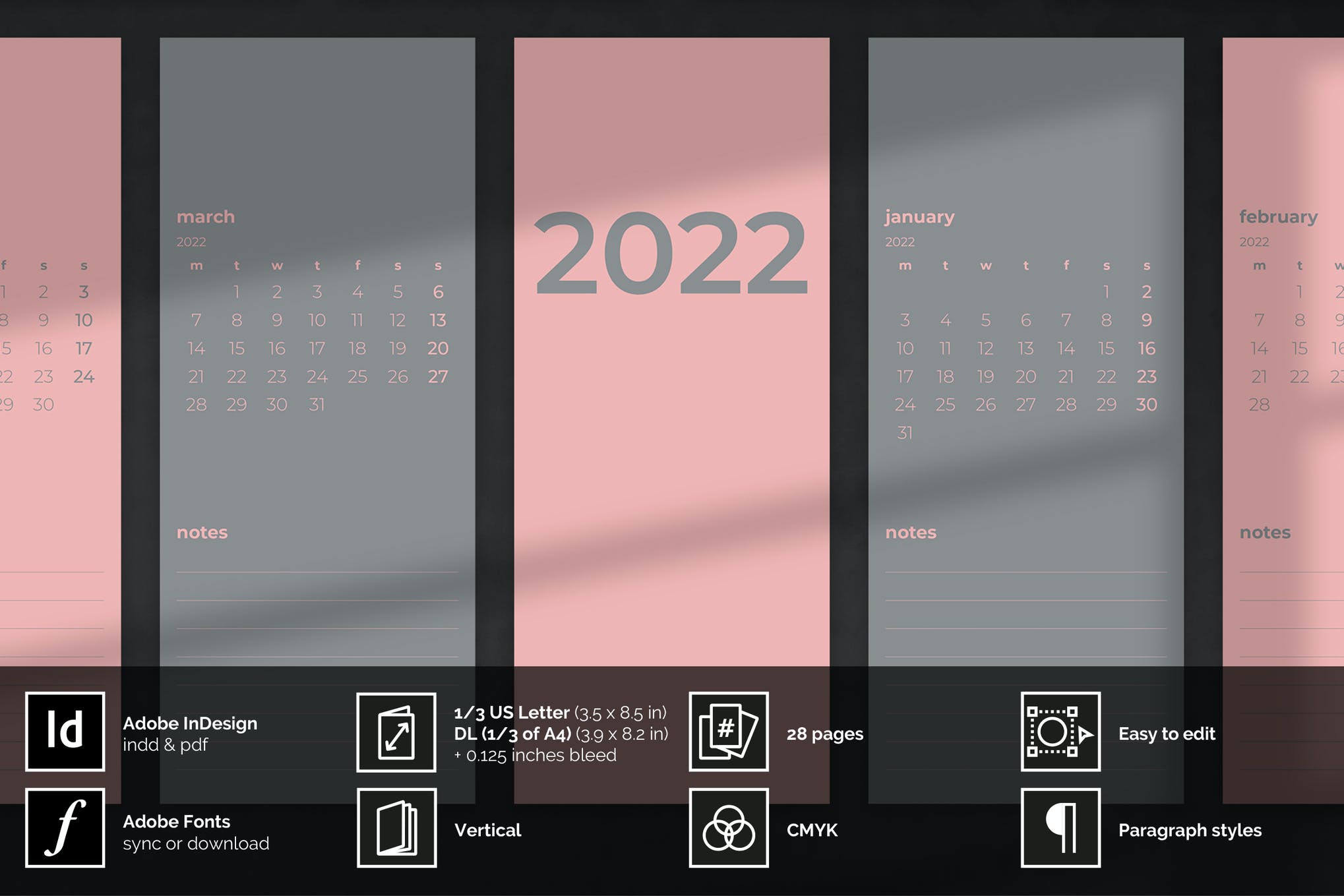 Pink and Gray is an accurate title for this InDesign calendar template for 2022. It features no pictures and has a design focused on two colors. You can also edit the colors in the layout to match your brand or the style you're into.
Check out this modern, and stylish calendar template for Adobe InDesign that you'll have a hard time passing up. It features a beautiful design, 15 pages, free fonts, color palette, A4 Letter size, and many more amazing features you're surely going to love.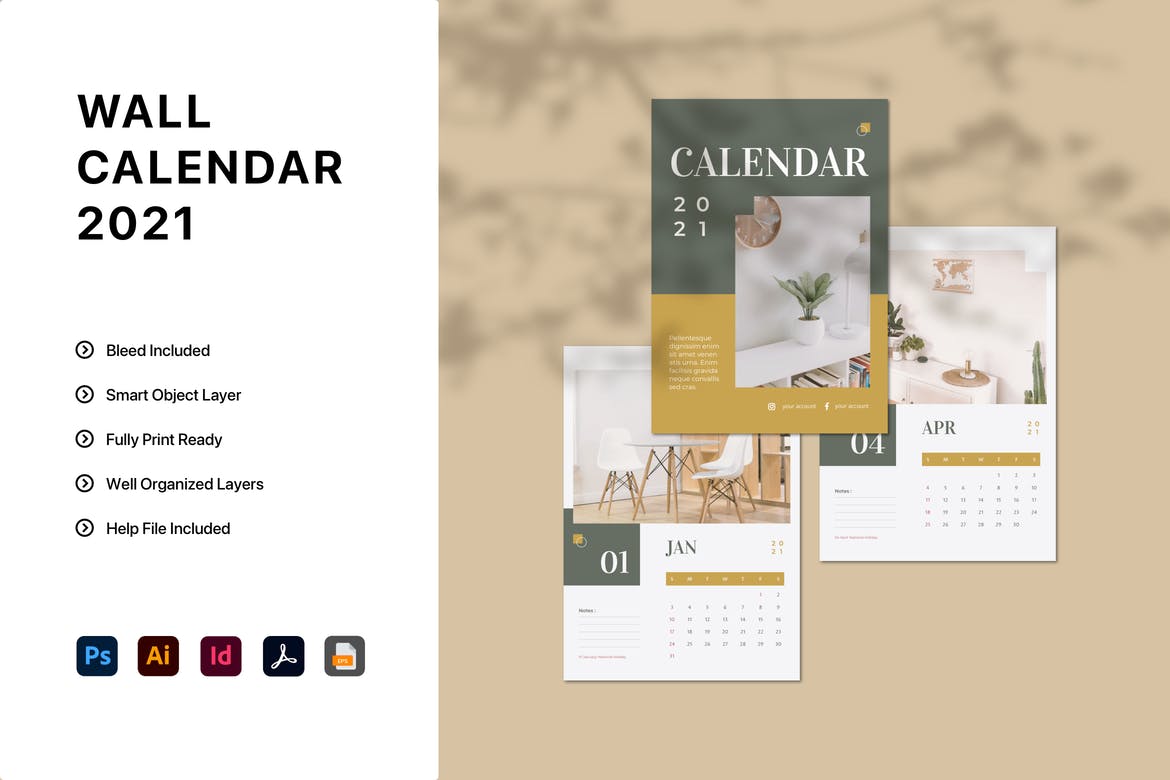 This minimalistic wall calendar design for 2021 is a great choice for an elegant calendar featuring floral or interior design imagery and would look perfect hanging in a kitchen. It comes with well-organized smart object layers and includes free fonts and a versatile A3 paper size.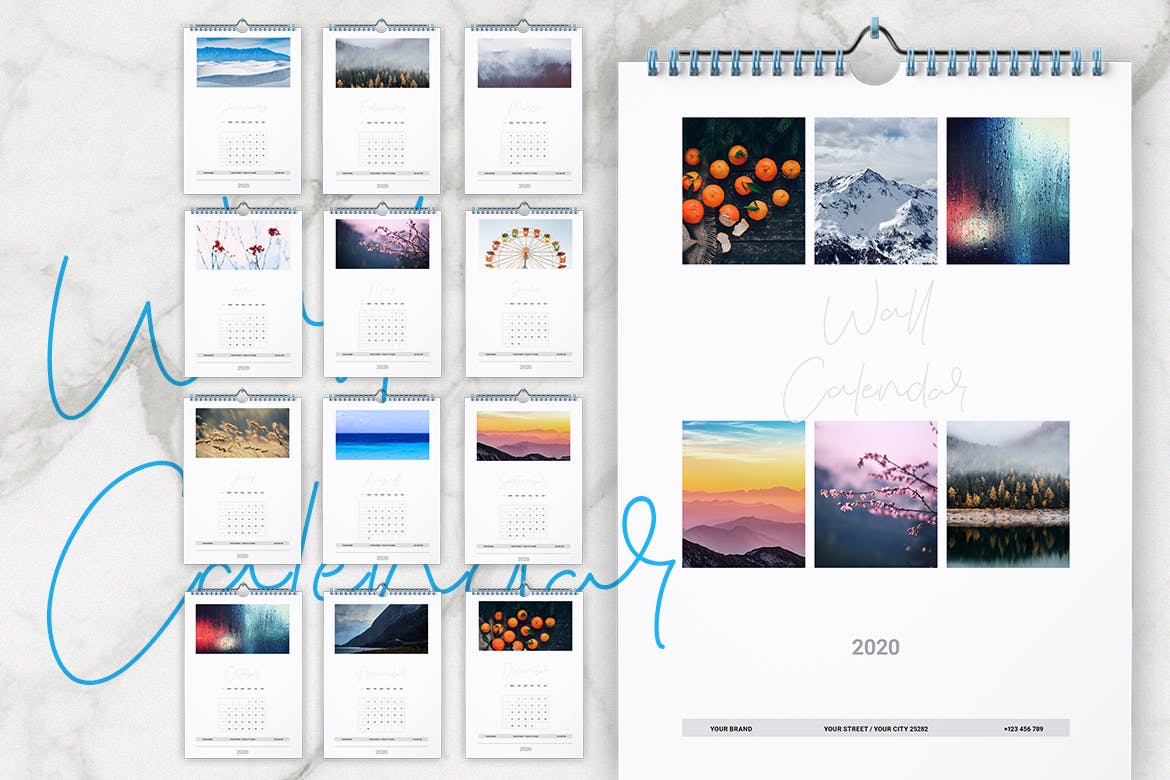 Our next wall calendar design is a beautifully crafted layout offering a stunning minimal design with 12 elegant pages. It's fully editable, including text fields, graphic elements, and images on separate layers, and comes with a customizable color palette, professional-looking grid layout, and free fonts.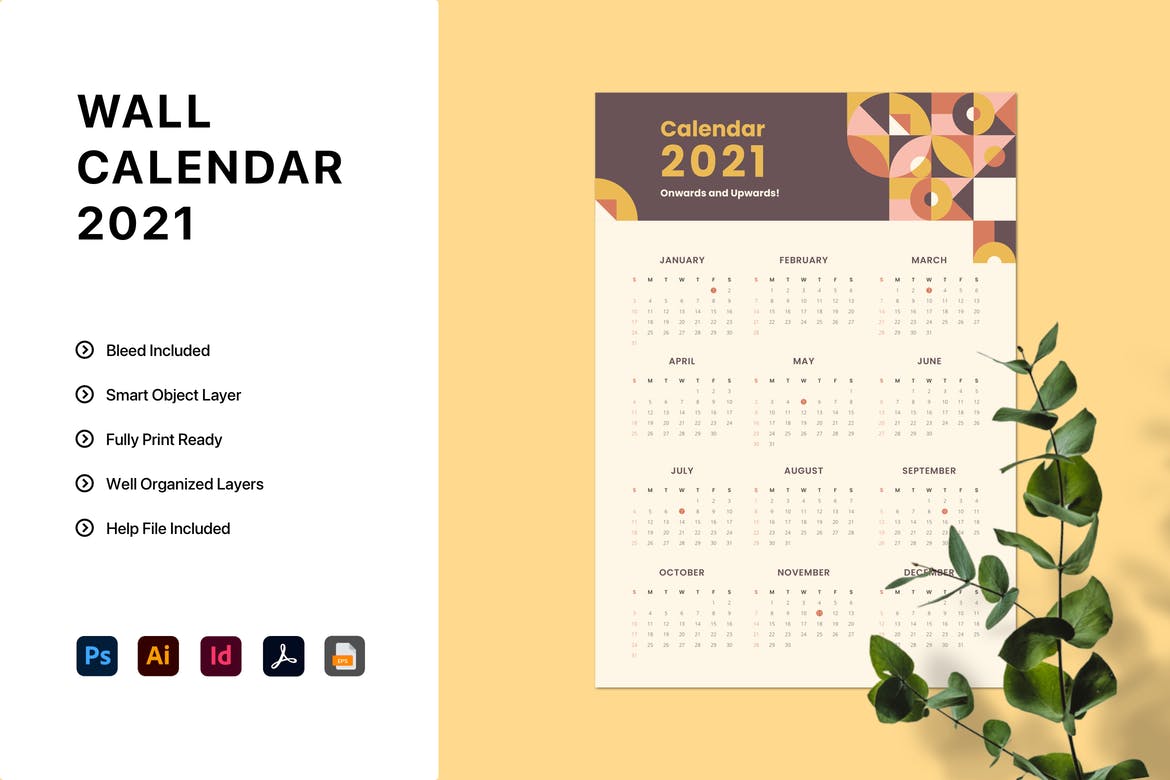 Next in our collection of the best InDesign calendar templates is this retro-inspired wall calendar design featuring geometrically themed graphic elements and a fun color scheme that can be fully customized in InDesign, Photoshop, or Illustrator.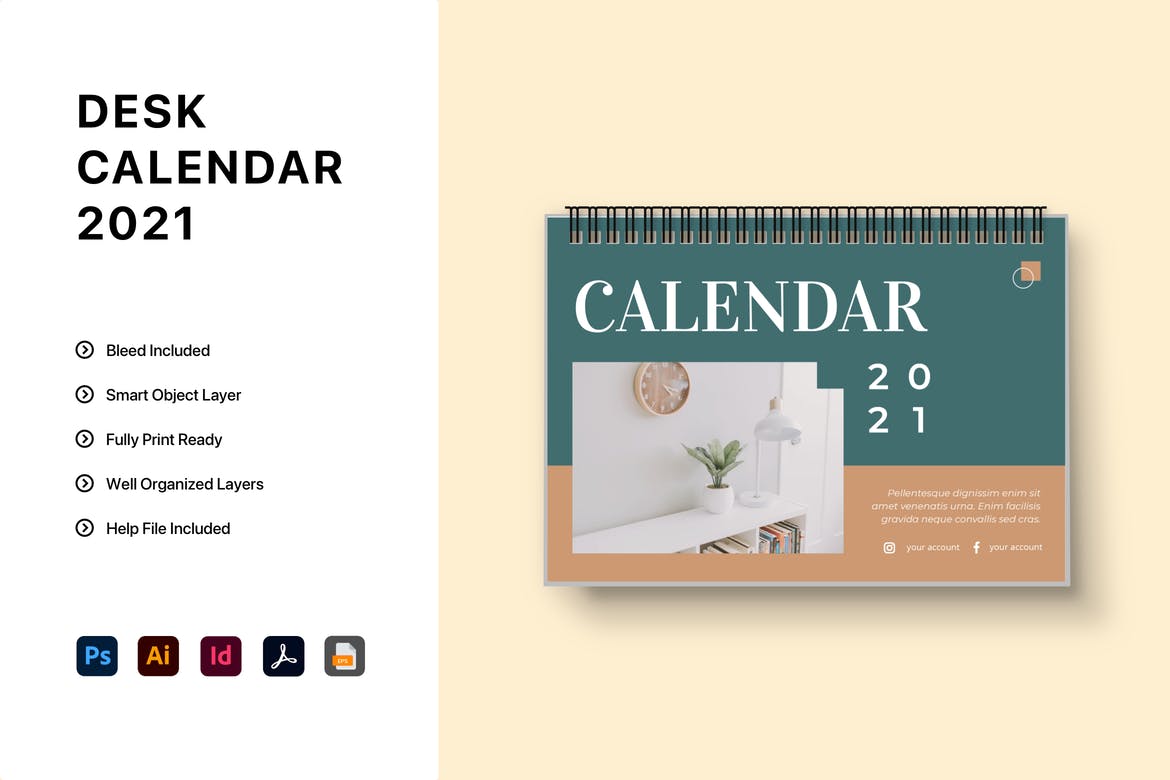 Here we have a modern and minimal desk calendar template for InDesign that features a beautiful block color design with bold serif typography and fully editable graphic elements. It comes with 15 pages, including each of the twelve months plus two covers and a back page.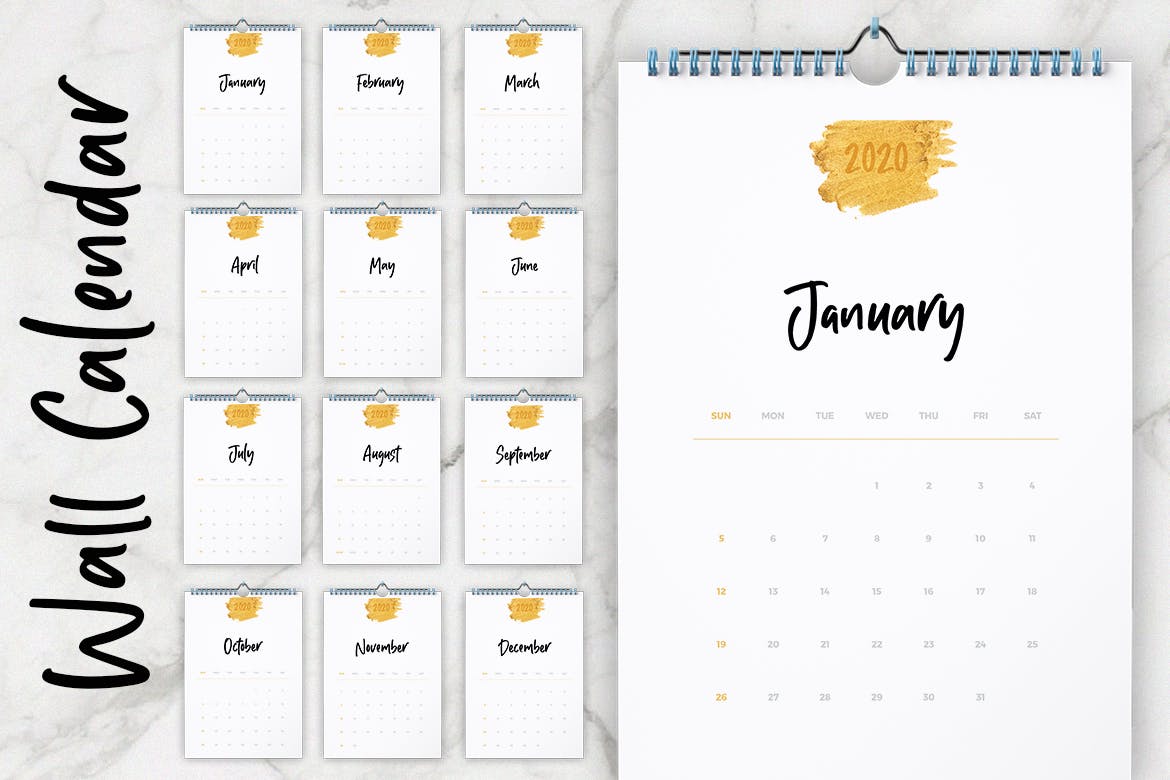 The next of our featured calendar templates for InDesign is a professionally designed traditional layout that's perfect for hanging on your wall. This versatile option offers a minimal design with 12 unique pages, each of which comes with a range of fully editable graphic elements.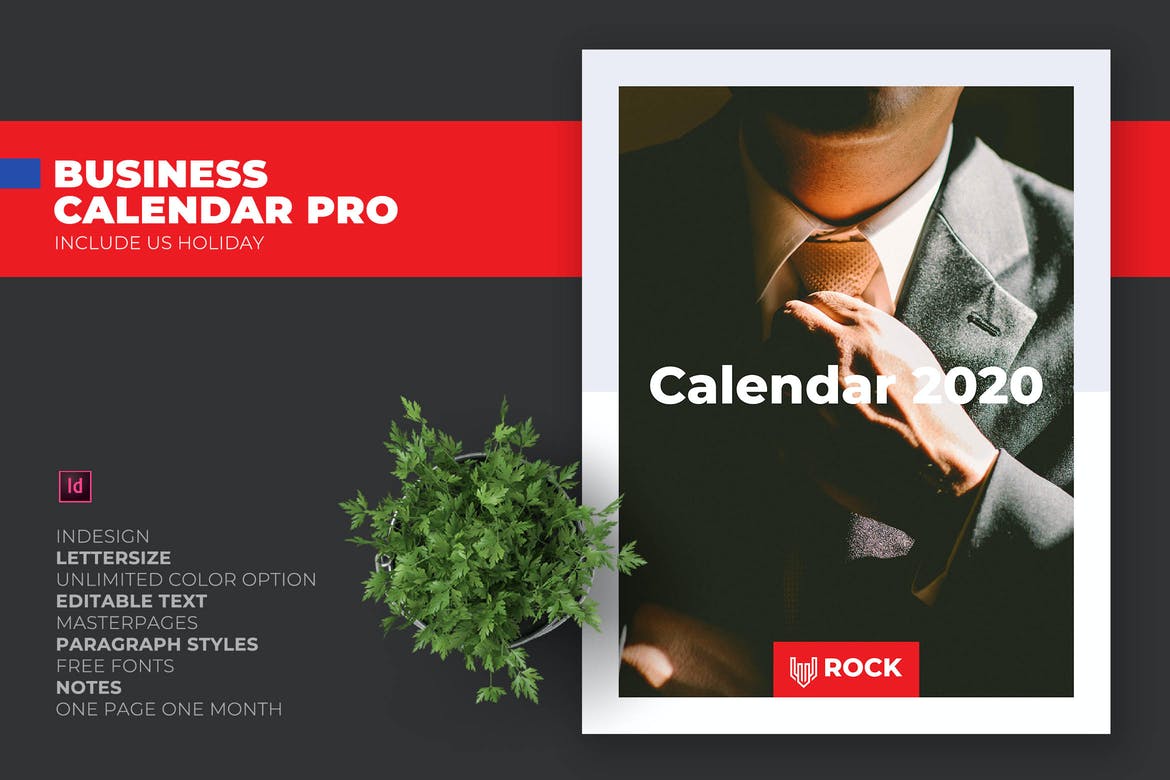 If you're looking for the perfect InDesign calendar template to use for creating your own business calendar, this clean and professional option is a great choice. It includes US holiday dates, unlimited color options, and a new page for each month, plus paragraph styles and free fonts to keep your design consistent.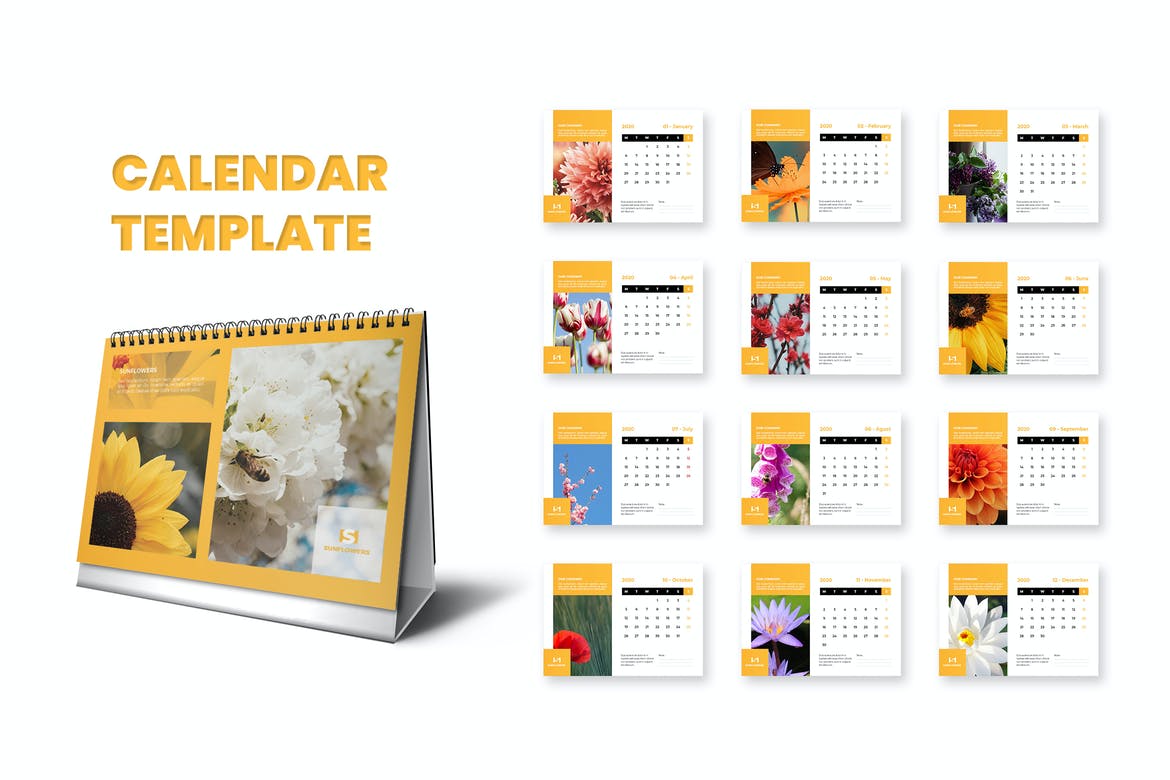 Next up we have an InDesign calendar template that's designed to stand on a desk or shelf and comes in an A5 size format with twelve-month pages and a cover, free fonts, and a high quality 300 DPI resolution. It's fully editable and includes a range of vector graphics that can be easily customized.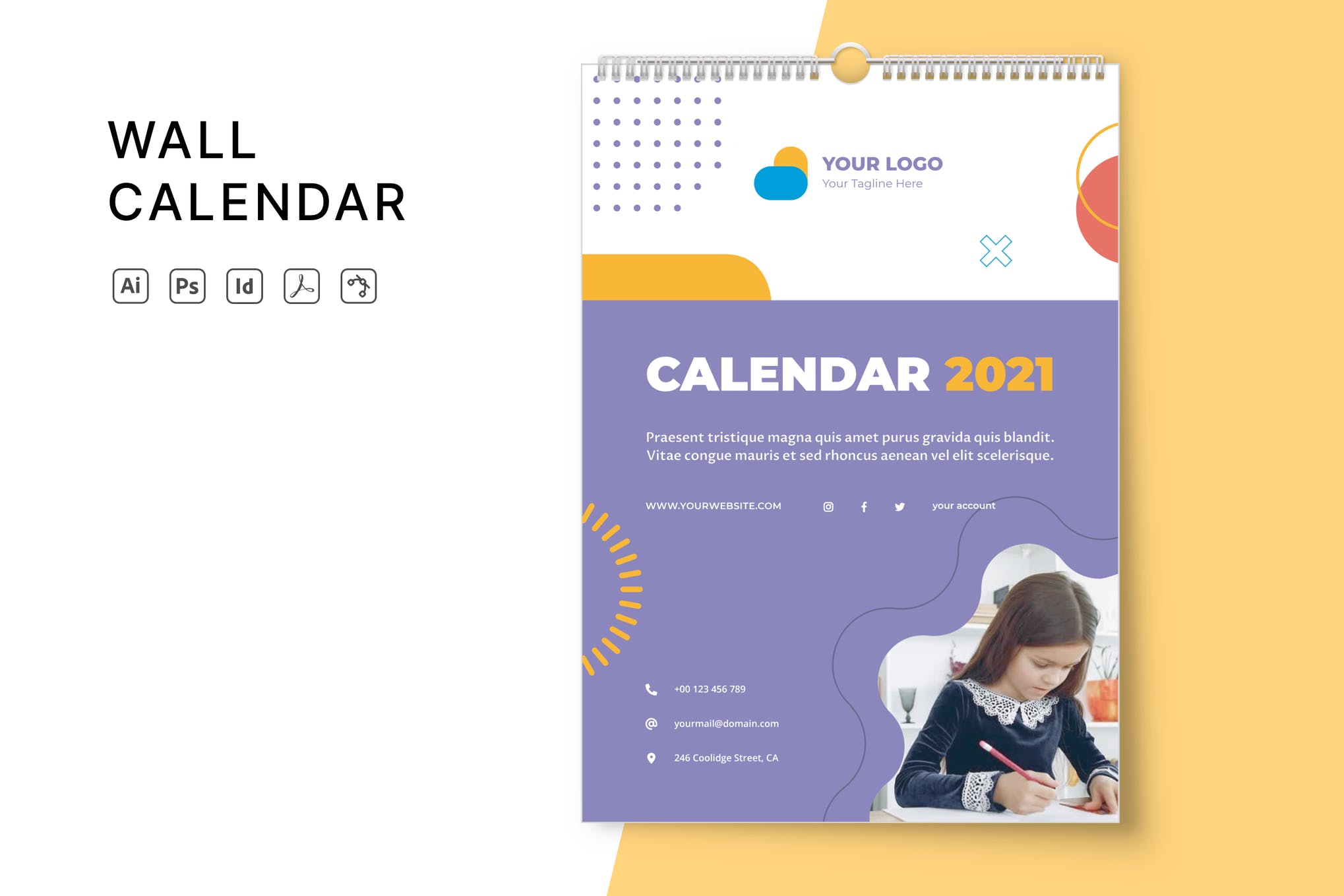 Imagine this gorgeous calendar hanging on the wall of your room or office? Looks beautiful, no? It's a great template for decoration purposes, yet has a professional touch to it making it perfect for corporate settings. Grab it right now!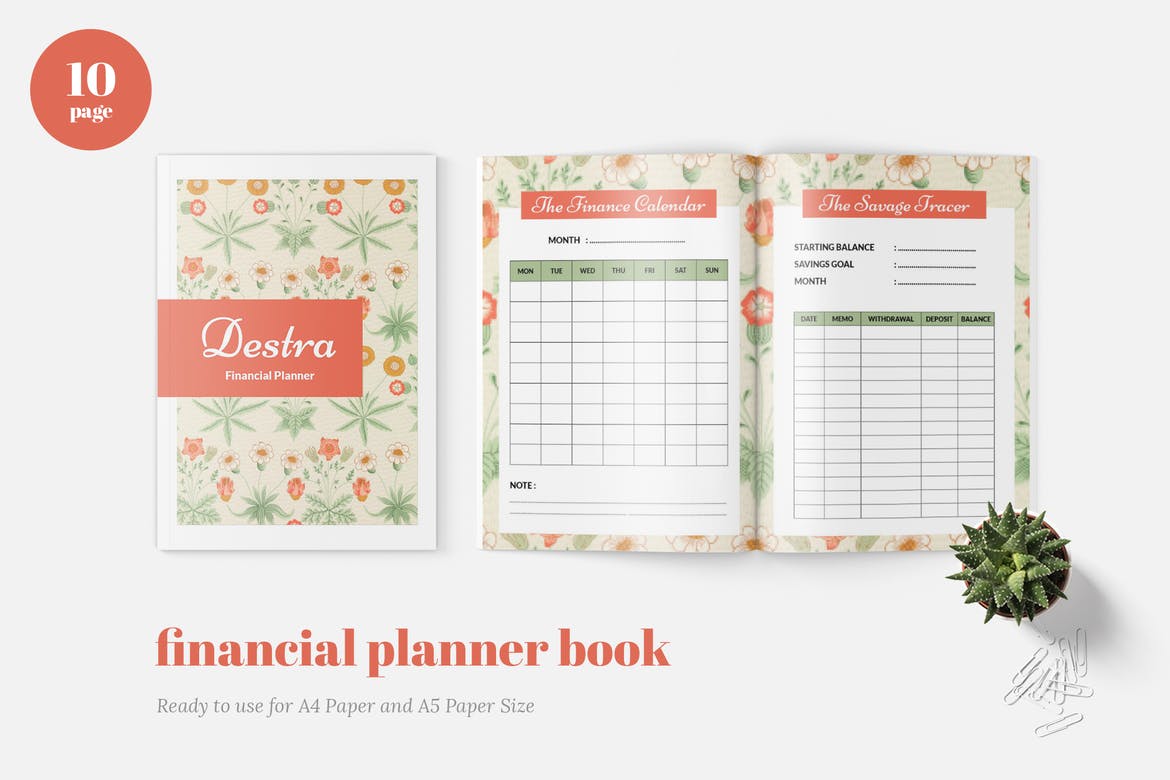 Another corporate-themed calendar template for InDesign, this option is designed for use as a financial planner and features a book-style layout with 20 minimal and unique pages with column and grid alignment. It includes fully customizable vector graphic elements and is layered for easy editing.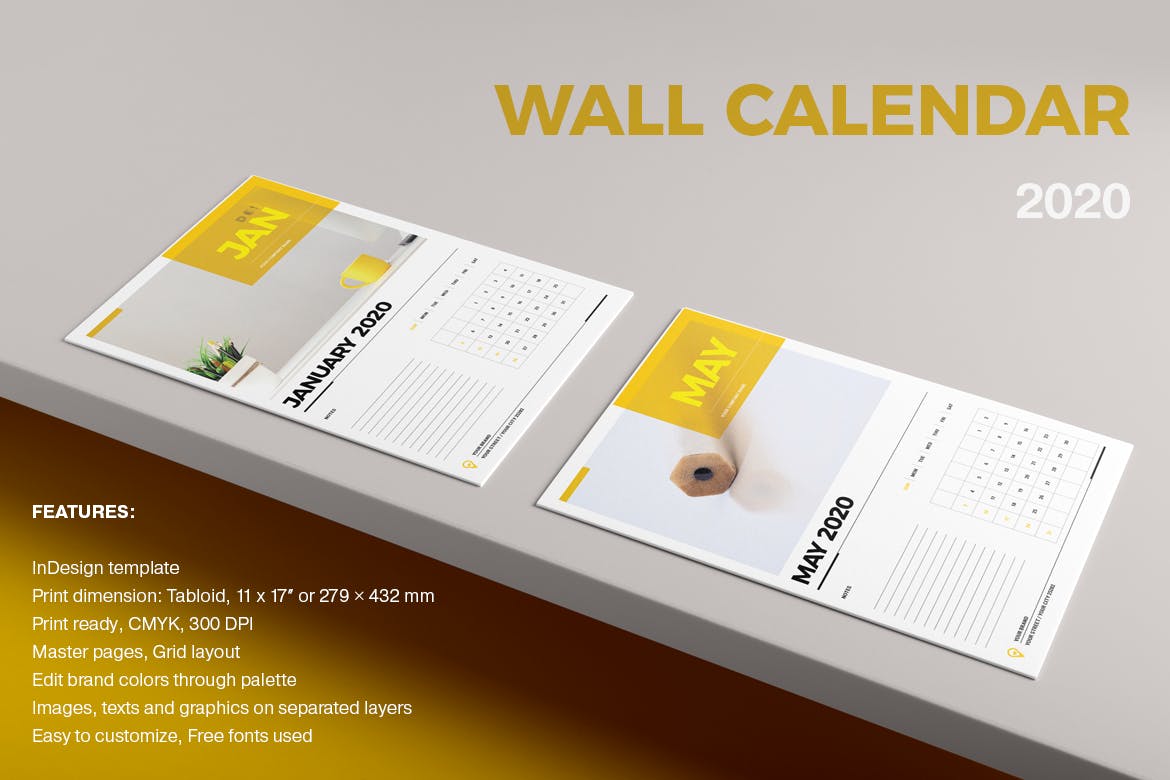 Here we have a simple, modern wall calendar template for InDesign that features a minimal design, excellent use of white space, and strong typography for a versatile and uncluttered calendar that can be fully customized. It comes in standard tabloid size and is compatible with InDesign versions CC, CS4, CS5, and CS6.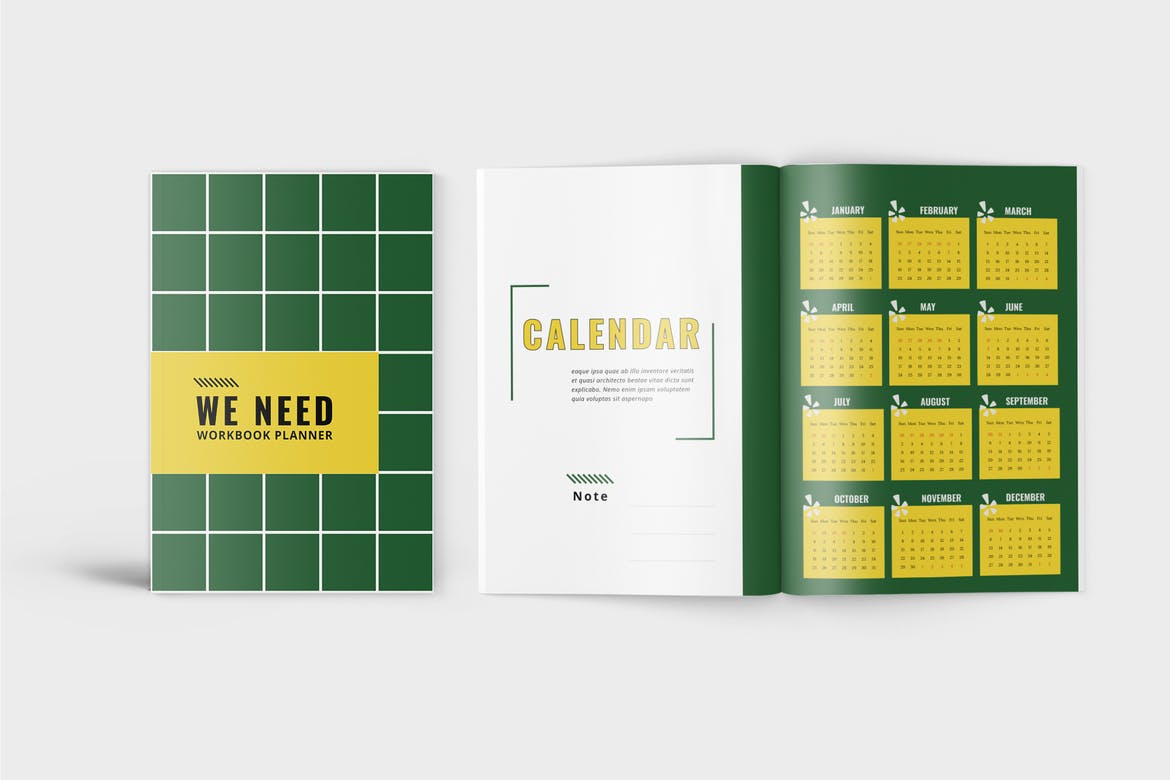 Next up is a workbook-style calendar template featuring 25 unique pages in A4 letter sizing that's ideal as a day planner. It offers a minimal, multipurpose layout, column and grid alignment, and the option to design a custom brand color palette, plus free fonts and paragraph styles.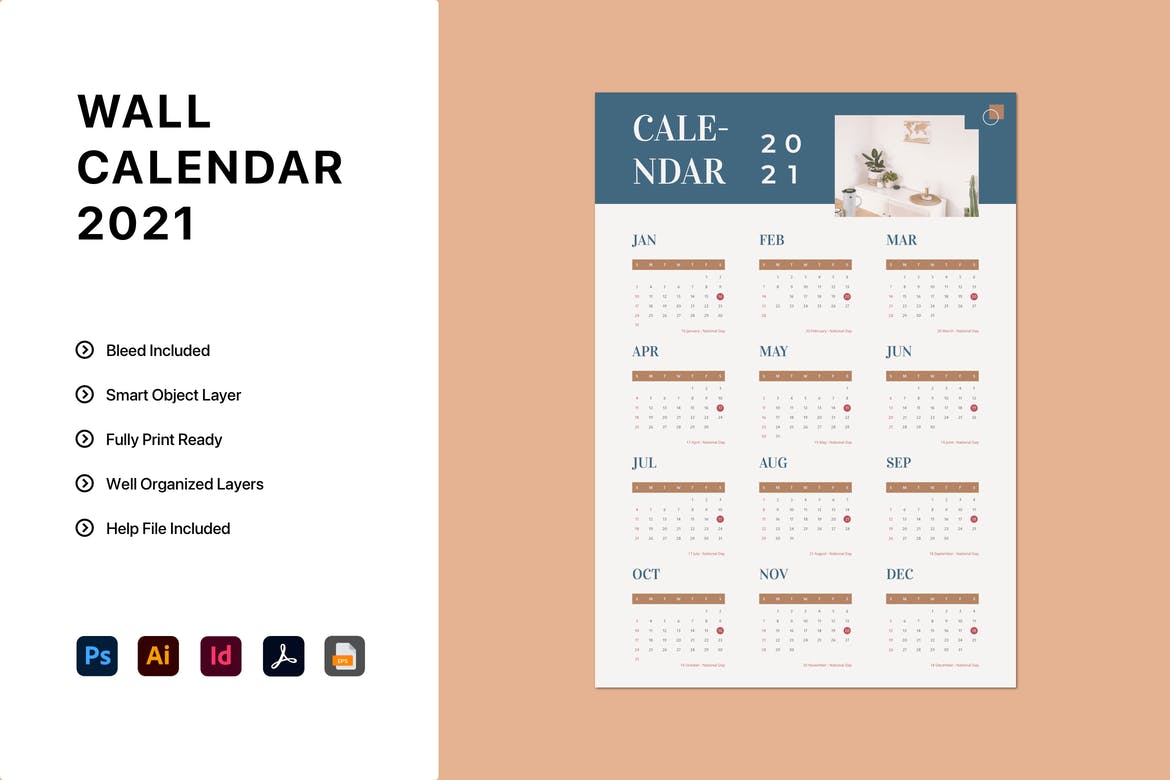 Next up we have an interior furniture-themed wall calendar design for InDesign that comes with a single well-organized and fully layered page featuring free fonts and a print-ready finish. It's also compatible with Photoshop and Illustrator and includes a handy PDF help file.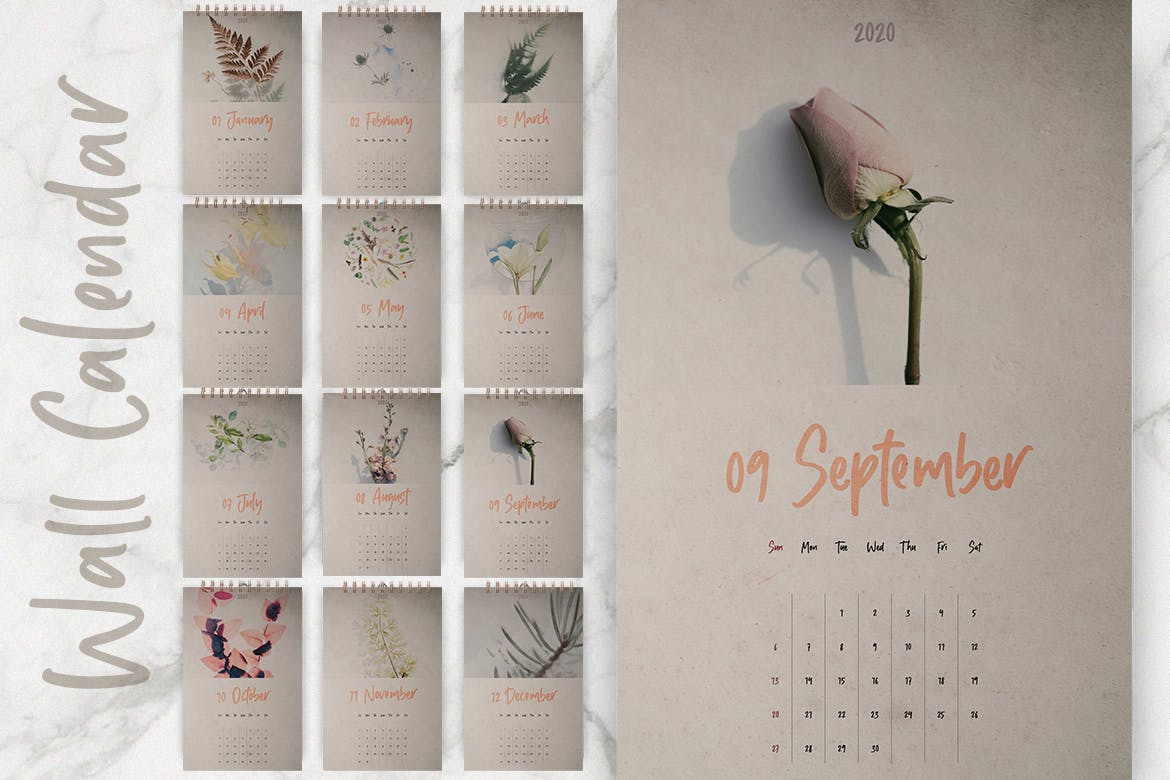 This gorgeous wall calendar template is a perfect choice for an elegant and unique calendar and can be easily customized using InDesign versions CC, CS4, CS5, and CS6. It features a grid-based layout and separate layers for images, text, and graphics, making it super easy to edit.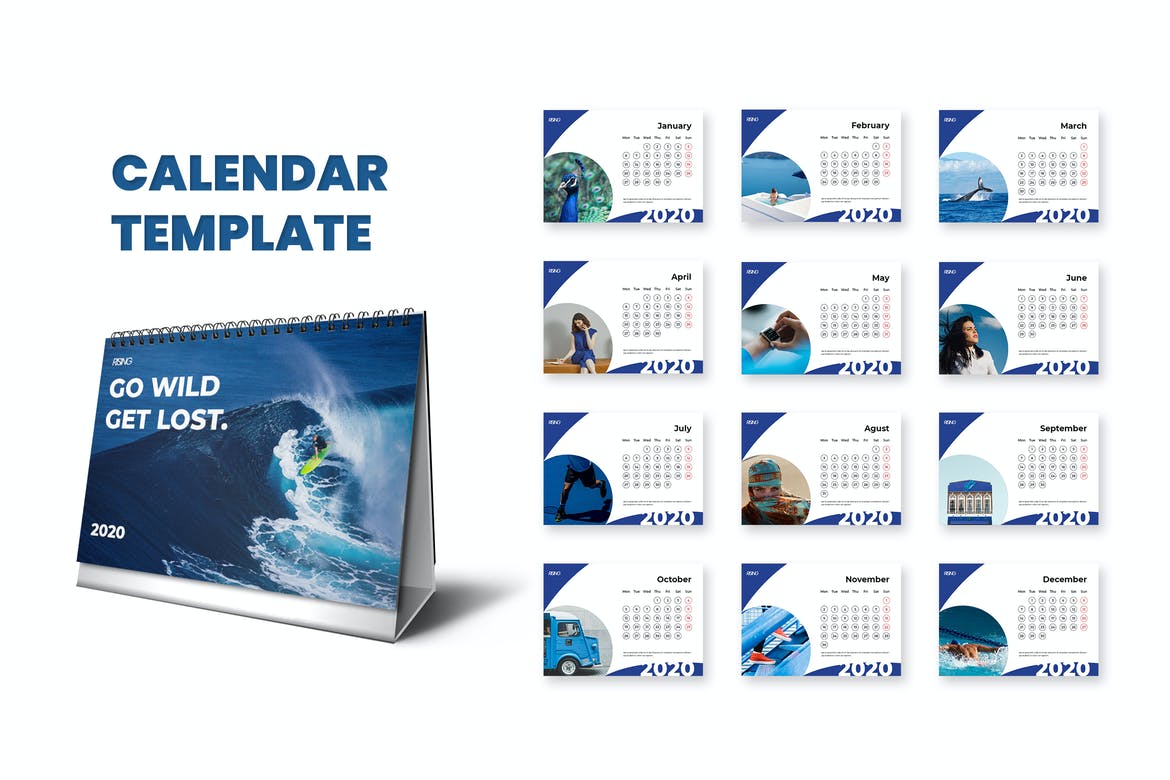 Next in our lineup of InDesign calendar templates is this fully layered desk calendar option featuring a simple, clean design, perfect for use as a corporate or company branded calendar. All elements can be easily edited, and the CMYK color space and 300 DPI resolution make for a high-quality finish.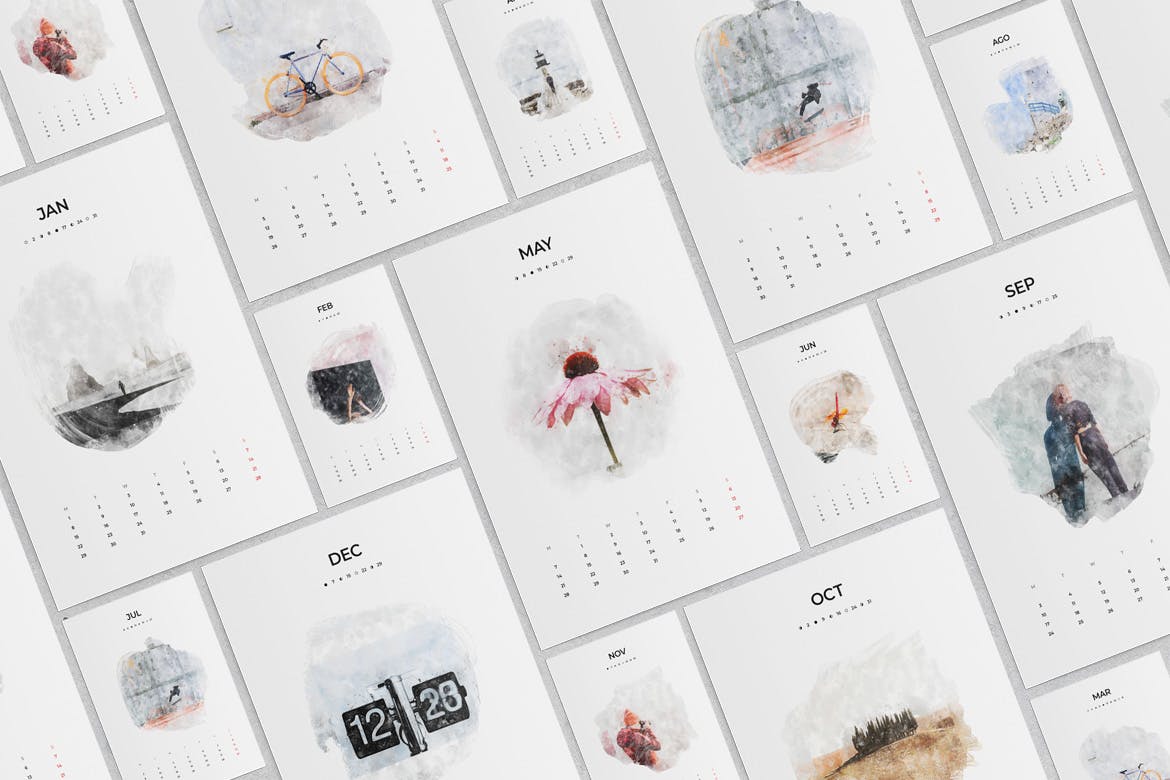 This beautiful watercolor-themed wall calendar template for InDesign versions CC, CS4, CS5, CS5.5, and CS6 is the perfect choice if you're wanting an elegant, vintage-inspired aesthetic for your calendar project. It includes 12 unique pages, A3 and A5 sizing options, and a customizable color palette.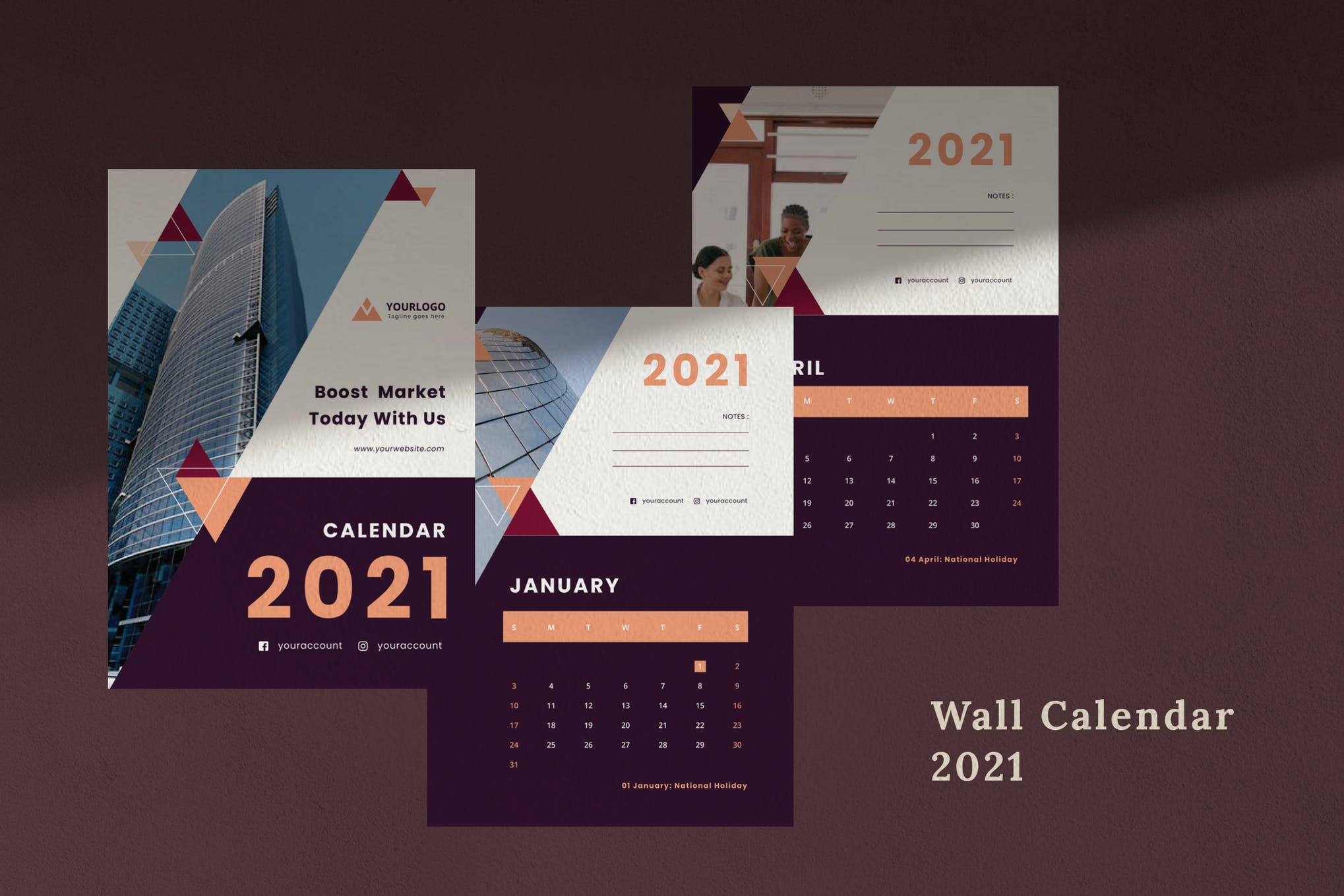 This calendar template is purpose-built for businesses looking to revamp their offices including the color of the walls as well as the stationery. It can be completely customized to suit your organization's brand needs. Check it out now!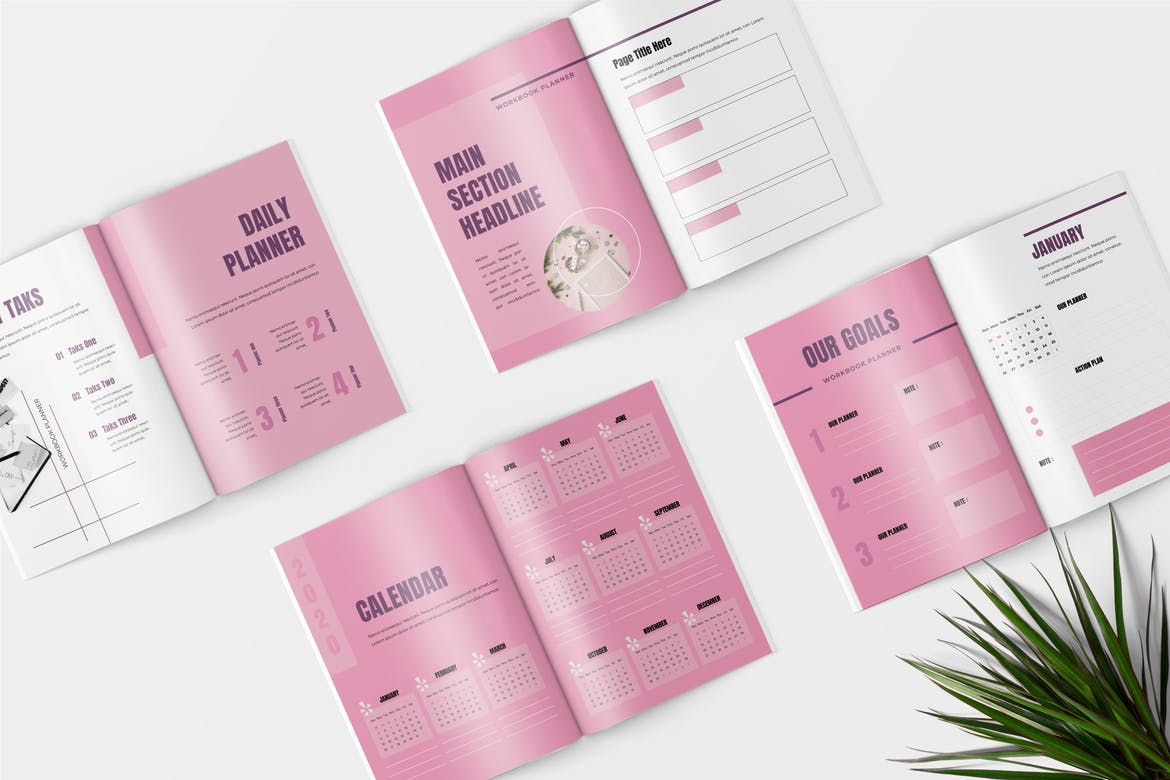 Next up is the Pinkle workbook-style calendar template that's ideal for use as a day planner. This 25-page print-ready template offers a professional column and grid alignment, A4 letter sizing, vector graphic elements, and full layering for ease of use, plus free fonts and helps documentation.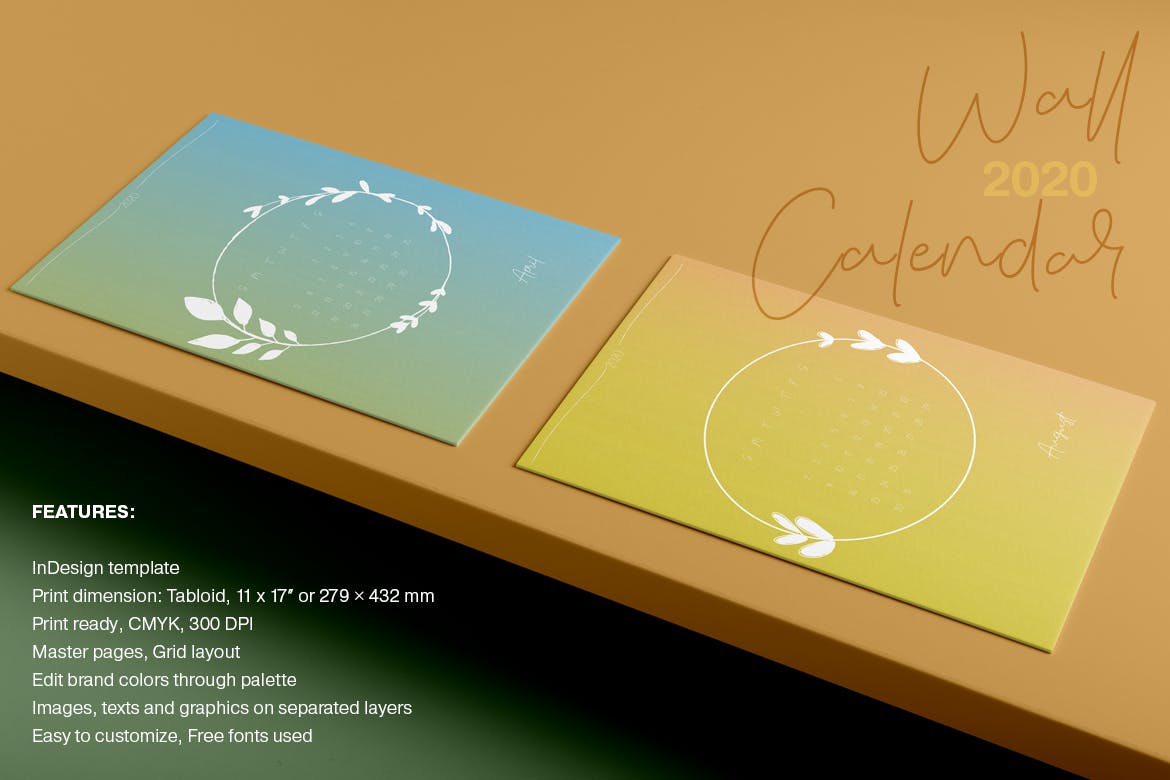 Here we have a super stylish wall calendar template for InDesign that features funky, customizable graphics, bold font use, and a color palette that you can edit to your own requirements. It comes in Tabloid sizing with a print-ready CMYK color space and 300 DPI resolution.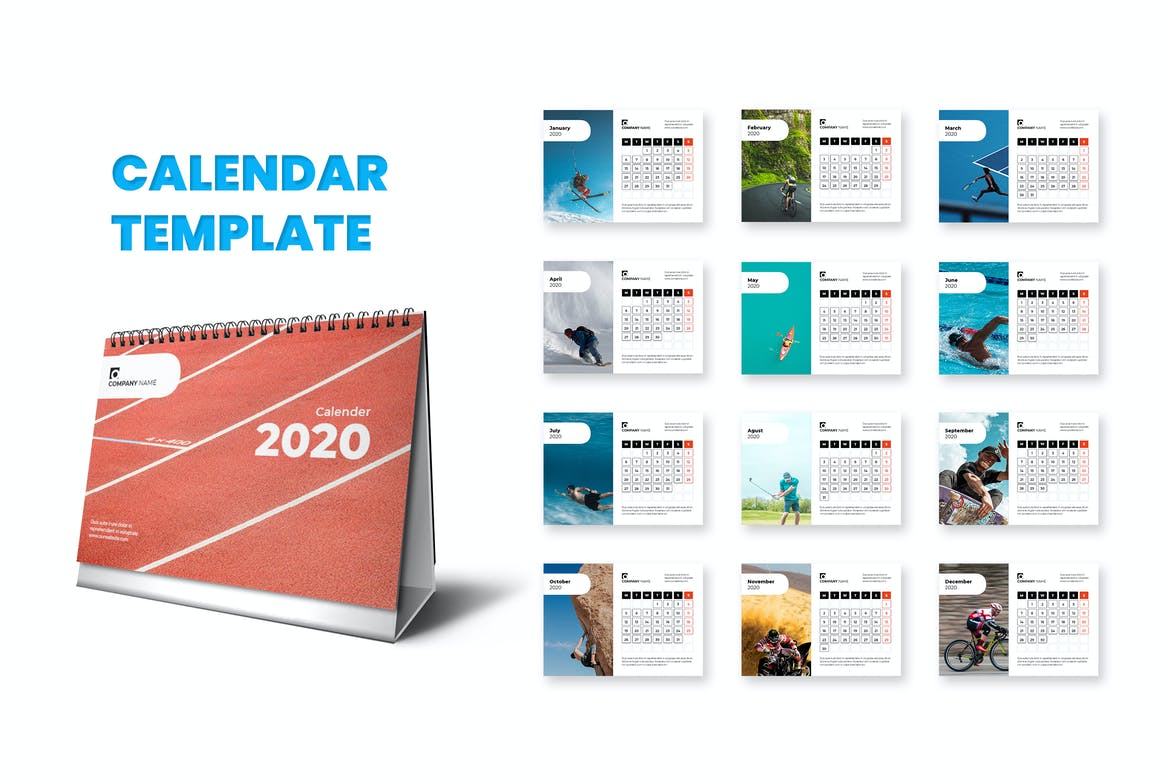 A great choice for a professional-looking desk calendar, our next template comes with each of the twelve months laid out on unique pages with a clean, minimalistic design that gives you the opportunity to choose a large image to showcase. It's fully editable and comes in A5 size.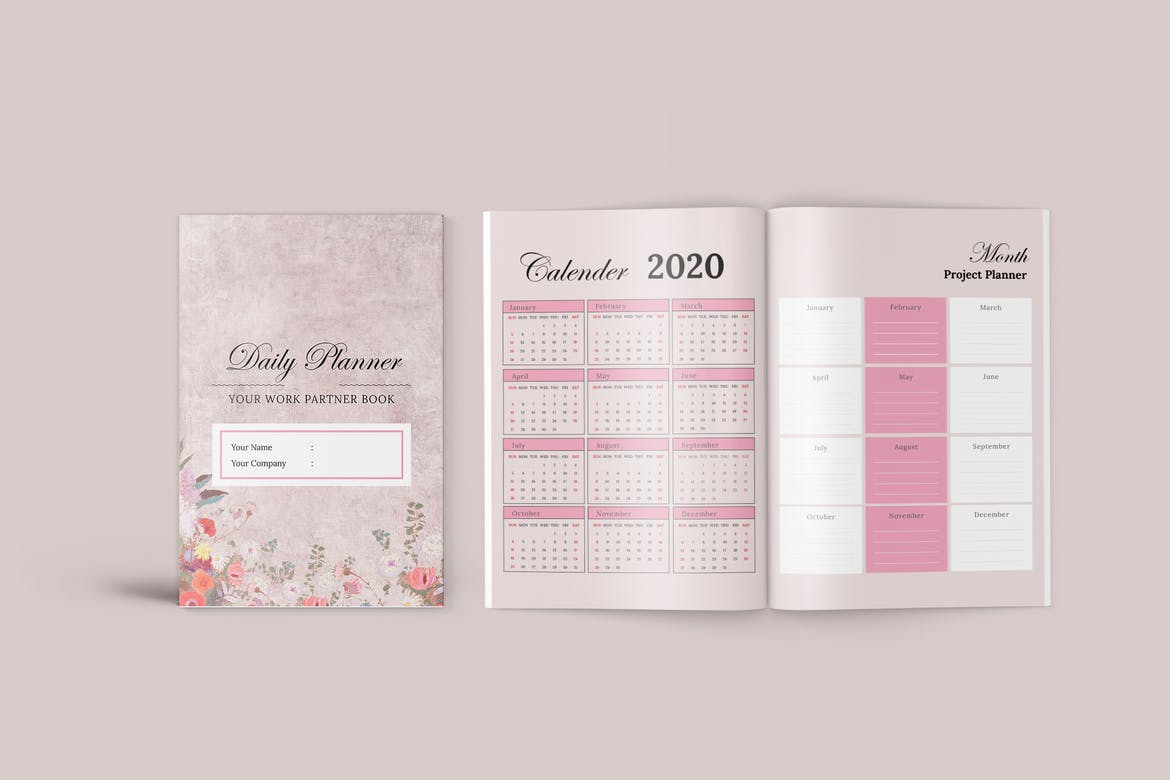 If you're looking for a feminine book-style calendar template, consider this gorgeous day planner option that offers 25 unique page layouts in A4 letter sizing, perfect for a range of purposes. It uses free fonts and a column and grid-based alignment for an elegant and professional finish.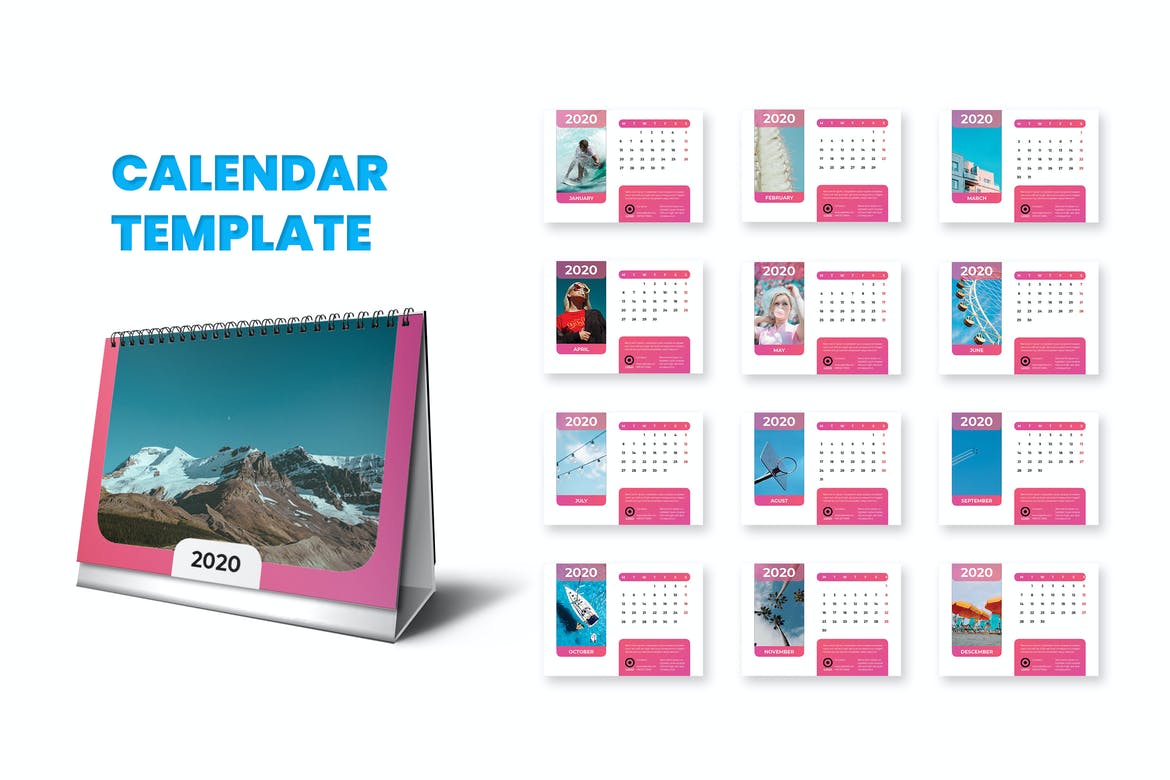 Next in our lineup of the best InDesign calendar templates is this desk calendar featuring a simple, creative design with a high-quality CMYK color space and 300 DPI resolution. It offers free fonts, fully layered graphics, and 12 unique pages that can be edited to suit your style.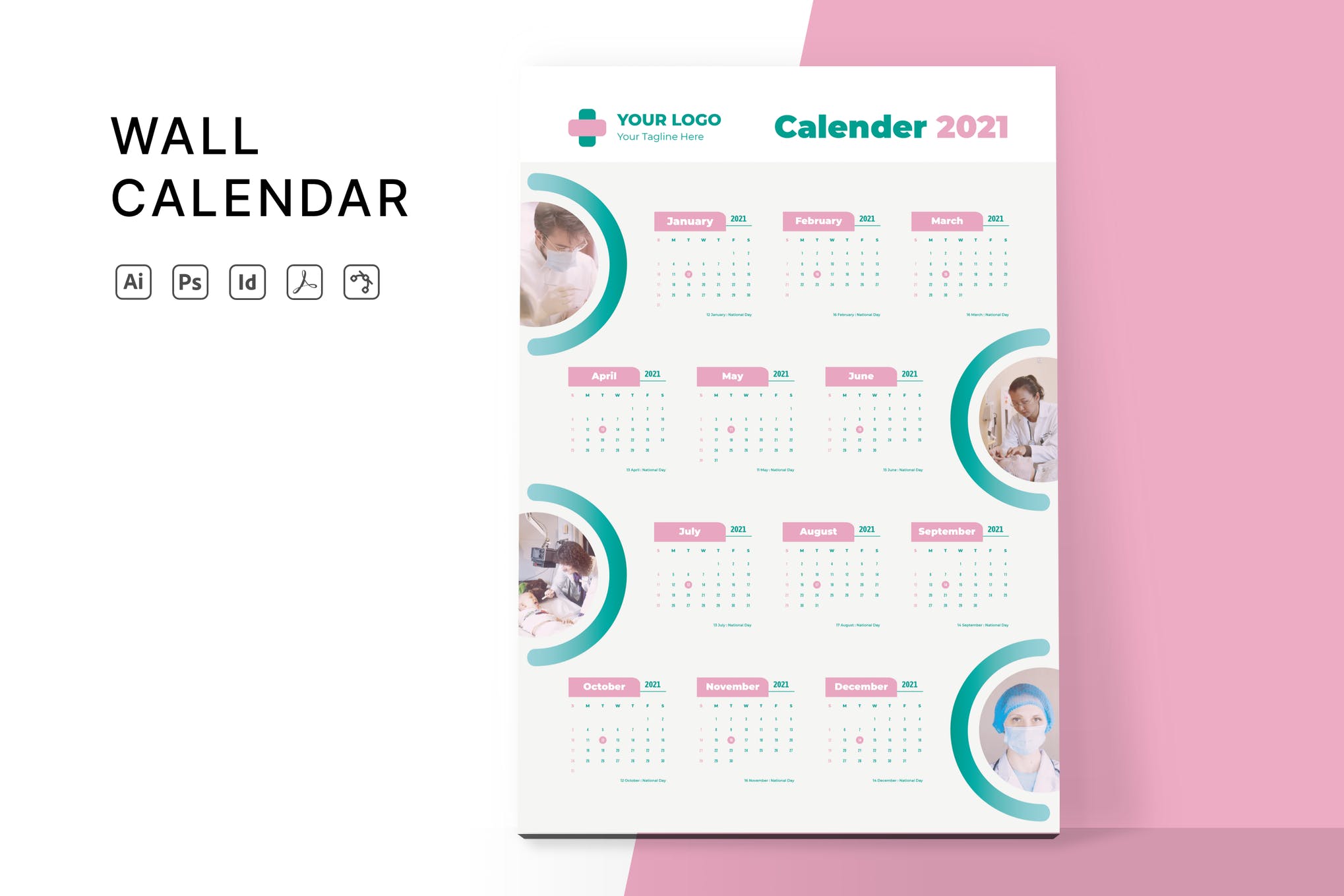 Next up is a gorgeously designed wall calendar template that is sure to make an impression. From its simple, sober yet eye-catching design, to the level of customization available, there's a lot to love about this Adobe InDesign template.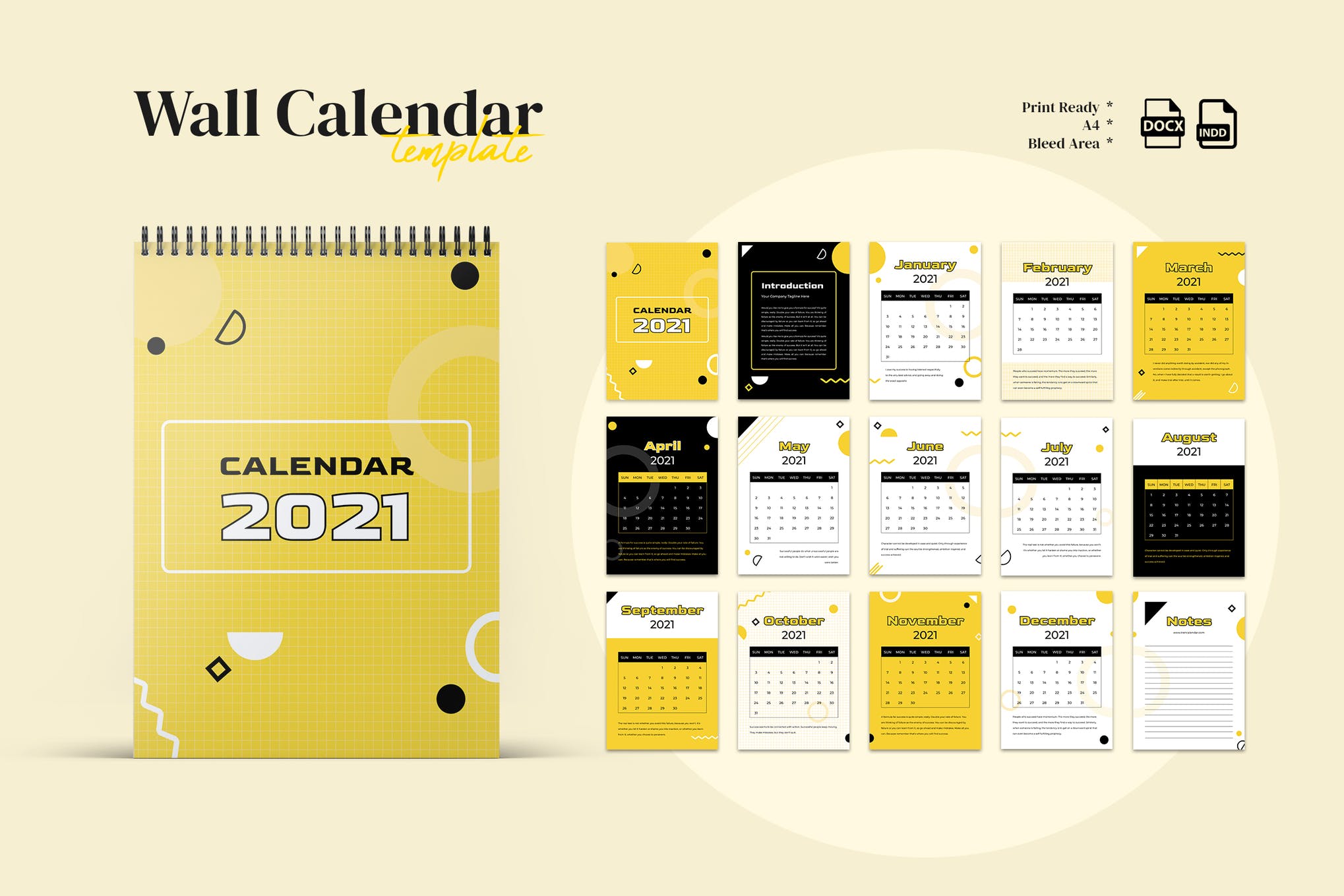 If you are looking for a minimal calendar that still manages to bring a unique personality to the table, this Adobe InDesign template is well worth checking out. It has everything you might need to decorate your wall with a calendar that reflects your business goals, and long-term vision.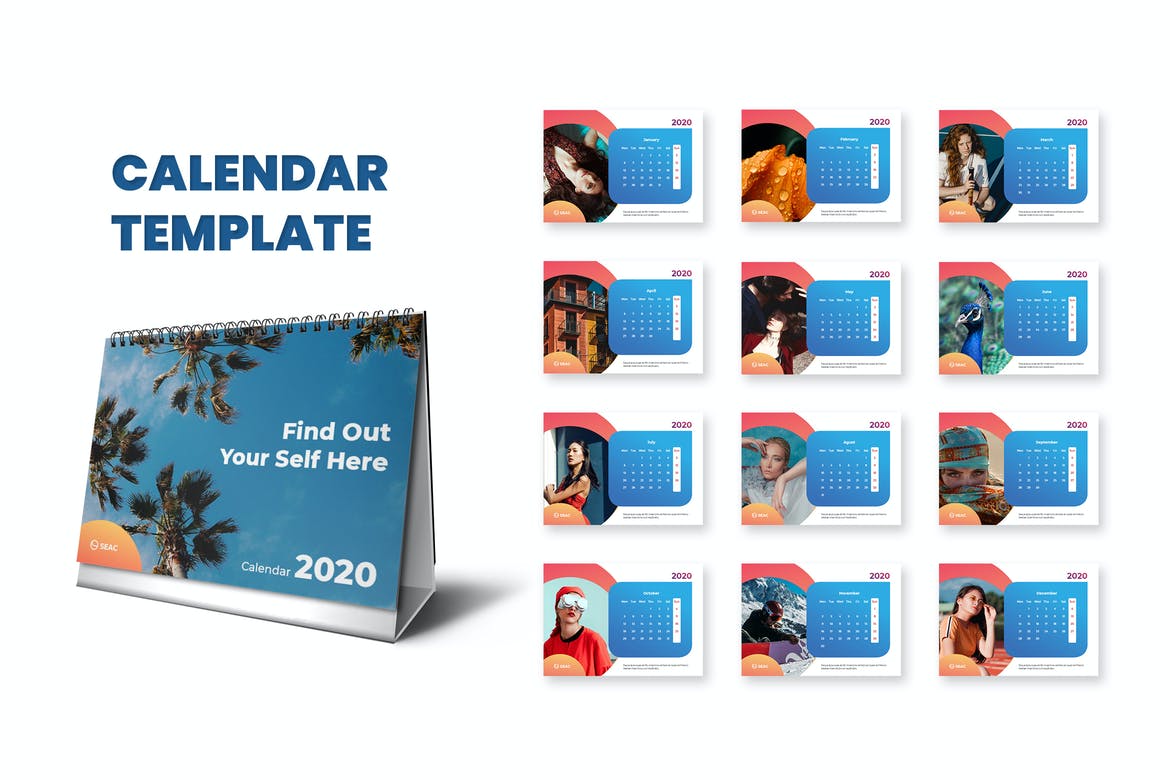 Here we have another modern and minimal desk calendar InDesign template which is perfect for creative businesses. It comes in A5 paper size with free fonts and professional-looking vector graphics, and it's fully layered for ease of editing.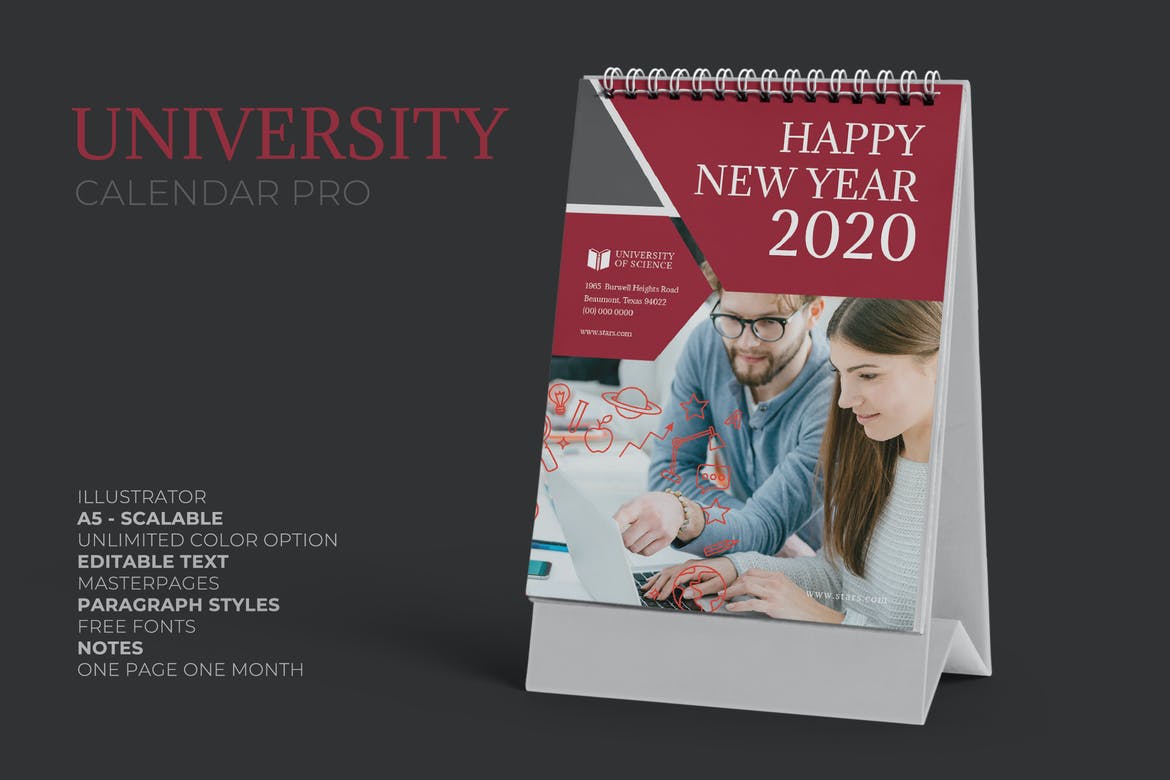 If you're searching for a desk calendar that's ready for use in the education sector, this university-themed A5 template is a brilliant option. It's completely editable to suit your own style and color schemes and features free fonts, paragraph styles, and individual monthly page layouts.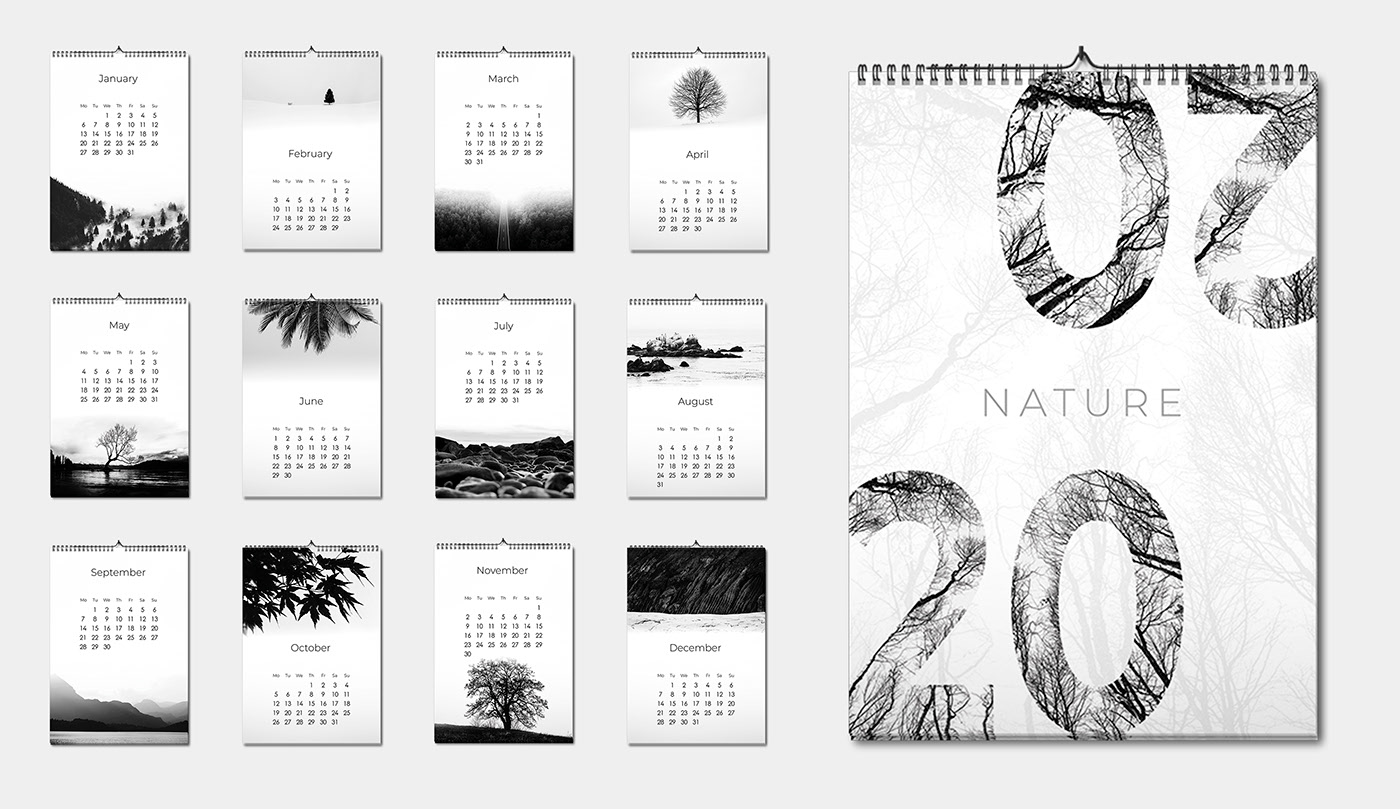 We'll now take a look at some free InDesign calendar templates, starting with this lovely minimal design which offers a simple greyscale design with hand-drawn nature-themed illustrations. It's the perfect choice if you're needing a versatile option that will suit a range of decor styles.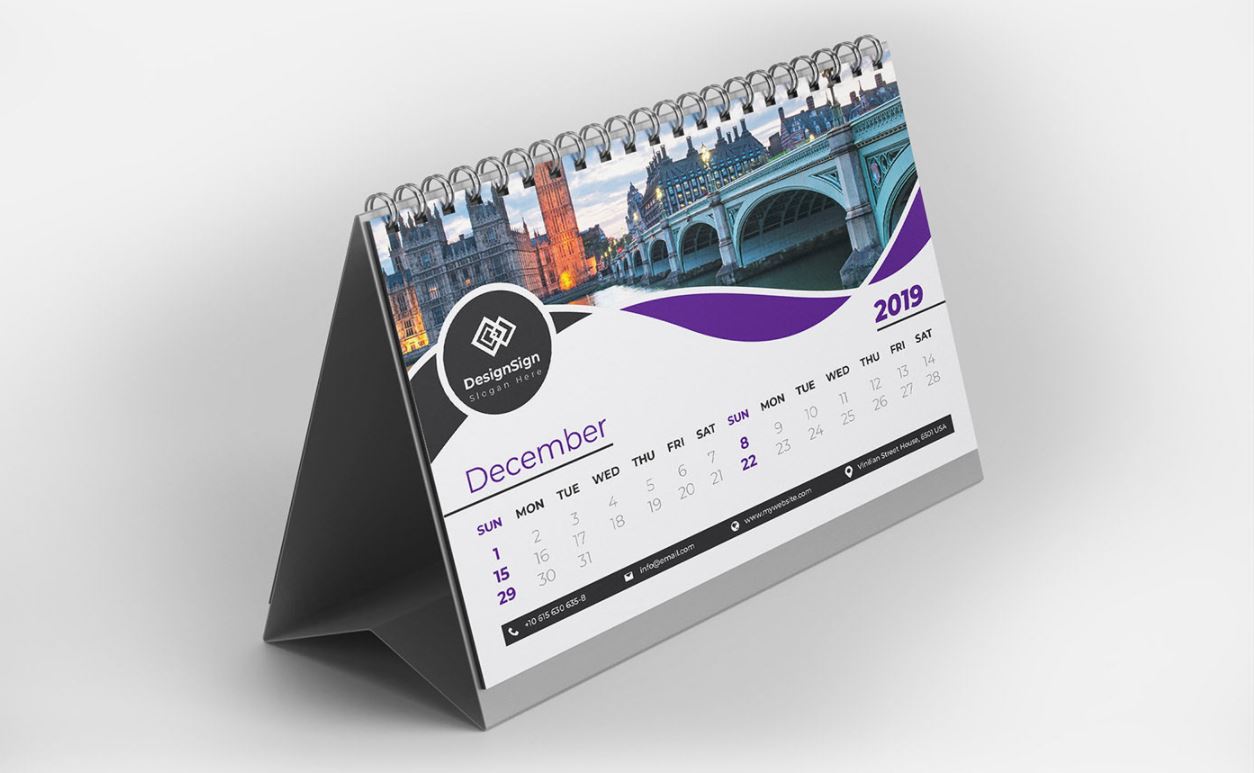 This desk calendar template features a traditional layout with clean sans serif fonts and bold use of colors to tie each page together. It's the ideal base for creating a corporate calendar to distribute to employees or clients and can be downloaded for free from Behance.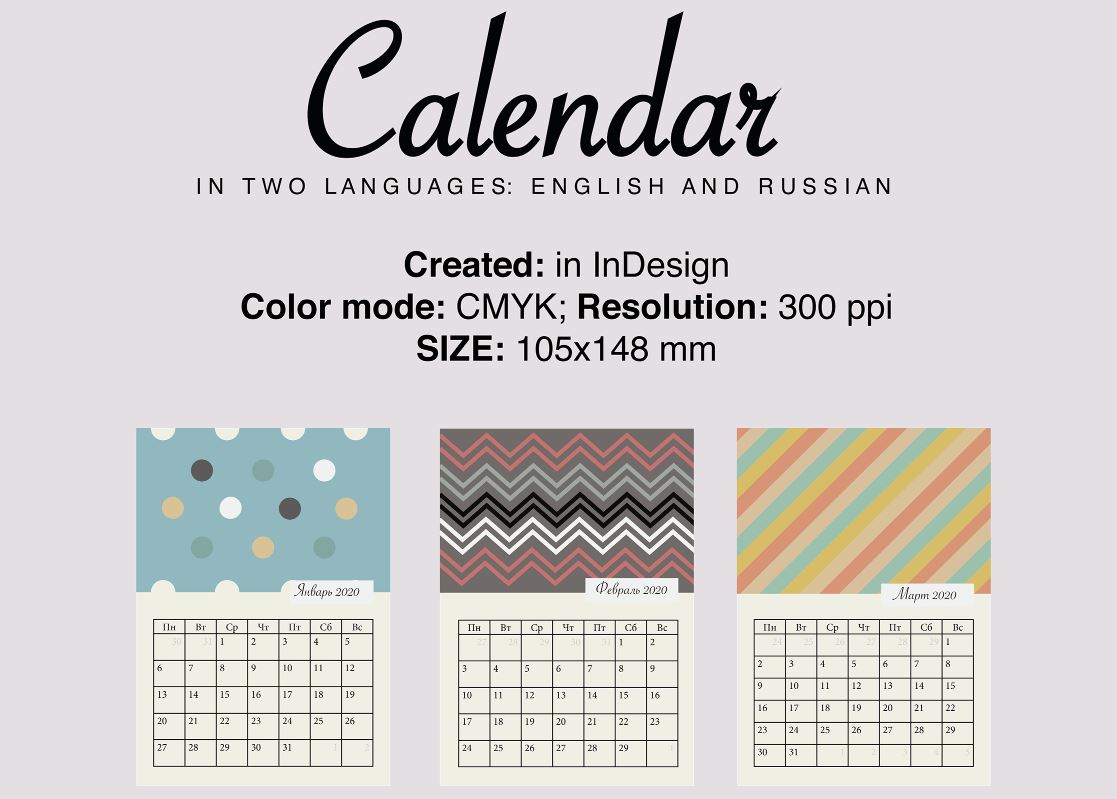 Next up, we have a cute and quirky wall calendar design that offers both English and Russian options! Each of the 12 months features a different geometrical pattern in a beautiful soft color scheme, and there's room to write events and reminders for each individual day.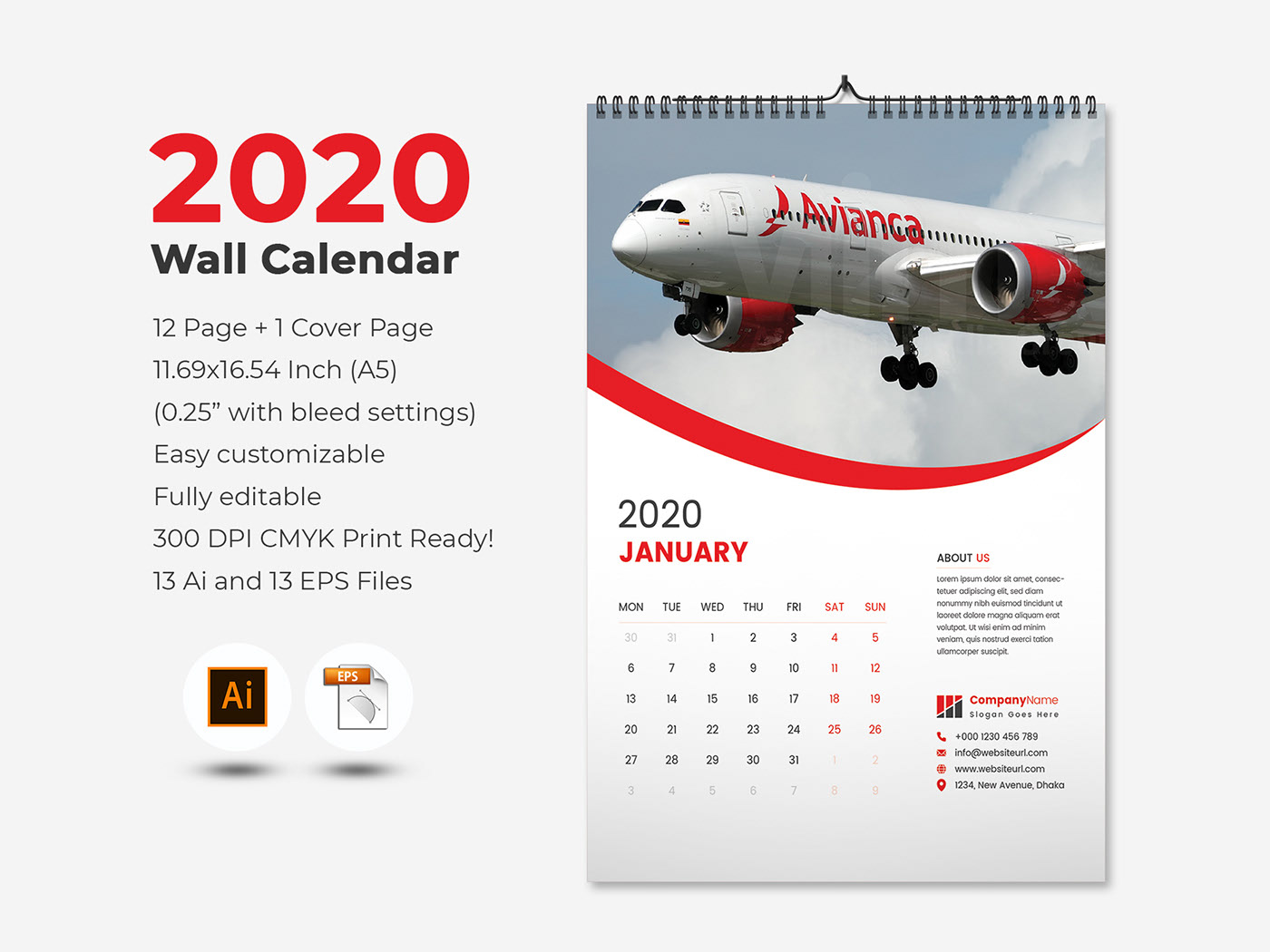 Finally, we have this free wall calendar template that's available as a free download from Behance and is ideal for a corporate calendar for use in the office or for giving out to clients and shareholders. It's quick and easy to customize in InDesign, Illustrator, and Photoshop.
These calendars are the perfect way to brighten up a boring old office desk, and they also make a great gift for clients, shareholders, or even just for your friends and family. Whatever your style or budget, there's an InDesign calendar template just waiting for you to download and customize today!